How much do you know about saffron? What does saffron taste like?
Saffron is a spice which becomes more and more popular because of its benefits and interesting facts. However, this "queen of all spices" has a lot of hidden information that makes people curious about it.
If you are finding more about this seasoning, you have come to the right place. Today, I will be your buddy on the way, exploring magical inside stories of saffron. I will let you know everything!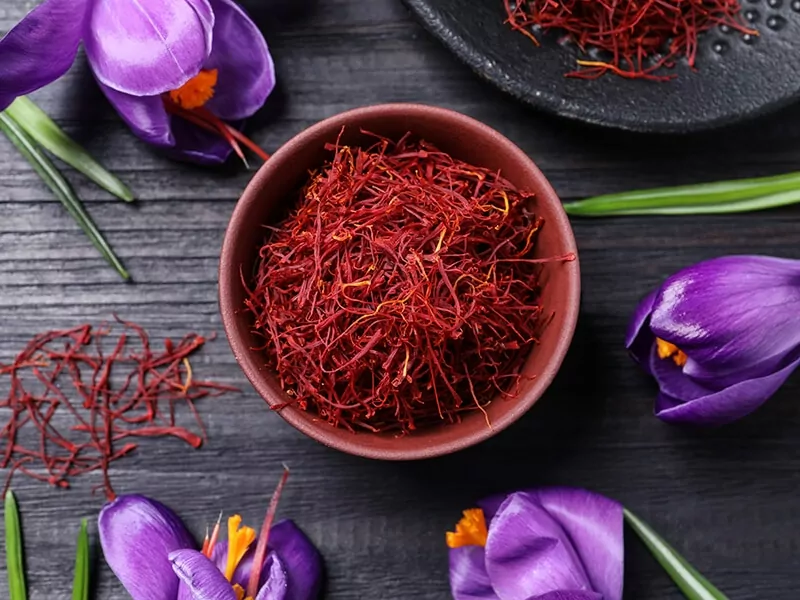 Does Saffron Have A Sweet Or Bitter Taste?
Saffron has a complex taste and aroma. Its taste is supposedly a mixture of sweet and floral. Surprisingly, saffron will bring different flavors when combined with some distinctive food, including:
Risotto
Pudding
Ice cream
Paella
Bouillabaisse
Besides an additional spice for these recipes above, saffron is also a notable candidate to swap for turmeric or other seasonings. However, it has 4 main types with different characteristics. Sounds interesting, right? So, let's keep on reading!
1. Overview About Saffron That You Should Not Ignore
Saffron is a famous kind of spice extracted from the flower of Crocus sativus. It has an attractive red color which is threads. People harvest the flower's stigma and treat it by drying processes before delivering it to the users.
Besides cooking, saffron is also used for dying cloth in Asian nations, particularly China and India. Plus, people also use it as a constituent in cosmetic industries.
Thanks to its benefits, this spice has become the most expensive seasoning and is commonly used worldwide.
This seasoning's origin is a big question mark for the majority of people. Someone supposes that it comes from Iran. In contrast, others argue that Greece and Mesopotamia were the first nations that produced this spice.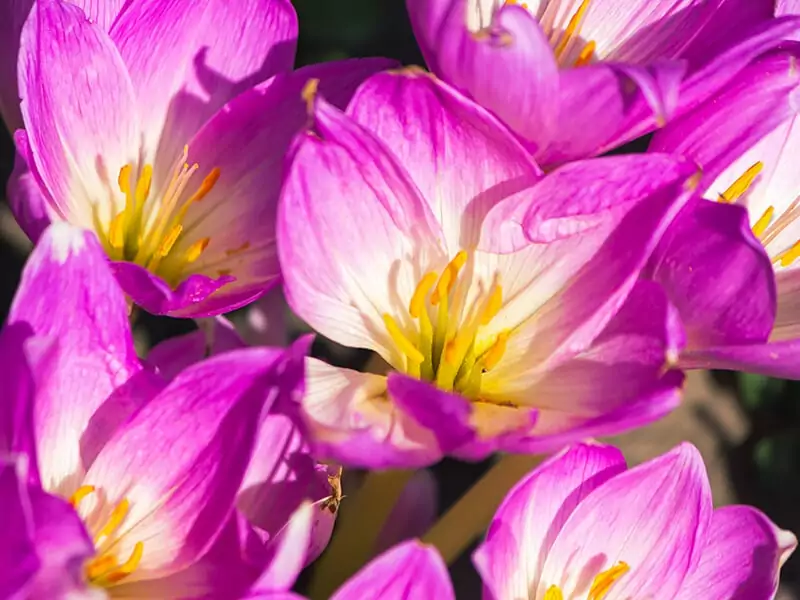 2. Time To Discover Four Types Of Saffron
As mentioned, there are 4 primary types of saffron that you should know, including Sargol, Super Negin, Negin, and Pushal. But, they are not the same! Keep reading to see the details of each type.
| Types | Sargol | Super Negin | Negin | Pushal |
| --- | --- | --- | --- | --- |
| Color | Completely dark red | Attractively red | Red color (contains some orange and yellow parts) | Red color but contains orange and yellow |
| Aroma and Taste | Most powerful | Potent | Not as strong as Sargol and Super Negin | The least strong type |
| Value | High in value and quality | High in value and aesthetics | Quite valuable | Not excellent in value and quality |
Sargol Saffron
It is hard to miss Sargol saffron, which has the highest quality with a beautiful red color among the four kinds. This kind of saffron is extracted from only dark red stigma tips.
That is why it has a strong flavor as well as an excellent color-creating ability. And, of course, pure Sargol is also the most costly spice.
Super Negin Saffron
If you are finding saffron which is good in quality and aesthetics, consider Super Negin. With these features, Super Negin is bought by many people.
The taste of Super Negin is less potent than Sargol. Plus, its color is still all red with a medium length, not longer than Negin.
Negin Saffron
Although Negin has orange and yellow parts, it still has a specific aroma and good quality.
Producing Negin requires high precision and meticulousness. So, Negin is not only an expensive kind of saffron but also not commonly produced.
Pushal Saffron
When you come to any store to buy saffron, it is not hard to see Pushal or Poshal. Pushal has a low price because it contains yellow and orange threads. With these parts, Pushal saffron is not of much use-value compared to Sargol, Super Negin, and Negin.
Learn more interesting facts about different types of saffron. Watch this video:
The Secrets Behind The Taste Of Luxurious Spice, Saffron
Saffron lovers often describe this spice as evocative of a faint honeydew with a hay-like and earthy taste. Moreover, others suppose that saffron is slightly sweet, even sometimes bitter.
For me, I believe that the flavor of this spice depends a lot on your feelings. The flavor of saffron is hard to mistake because it is special and powerful. To find something that can replicate saffron's unique taste, you'll have a long way to go.
With just a tiny pinch of saffron in your dish, you will make your food taste like something on the menu of a five-star restaurant. In this part, I want to describe distinct flavors when you add this seasoning to some distinctive food.
Risotto
With risotto, you can add this seasoning to enhance its fragrant smell. Saffron transfers risotto into a surprisingly appropriate dish to serve your Swiss friends. Instead of making it with water, you should pour some white wine to level up this traditional dish's potent taste.
Do not worry much about the texture! This spice does not change the creamy texture of Risotto.
Pudding
An interesting fact is that this spice works well with sweet dishes, such as pudding. And, of course, the taste is so lovely! If you want to see more about this saffron pudding and how to create it, continue to read my suggestion below.
Ice Cream
Another sweet thing that saffron can go along with is ice cream. This combination is soft and mild. On my own, when eating, I feel the flavor of this cream like a fusion between honey and grass.
Paella
Although saffron is a pretty expensive spice, many people still see it as a must-have ingredient for paella. This unique spice somewhat enhances the taste and the color of the dish.
Bouillabaisse
Without any unique part like saffron, your bouillabaisse is not perfect anymore. Someone told me that adding saffron is a secret key that helps this food become more successful with a sweet taste and excellent fragrance.
There are so many other foods that can go along with saffron, no matter if they are sweet or savory. For example, one of the tastiest sweet treats in Sweden also has saffron in it. But, make sure to add this spice as soon as possible when cooking so it can infuse thoroughly.
One more thing, if you don't like the bitter aftertaste of saffron, you can press its threads between two aluminum sheets and then use it to suit your purposes.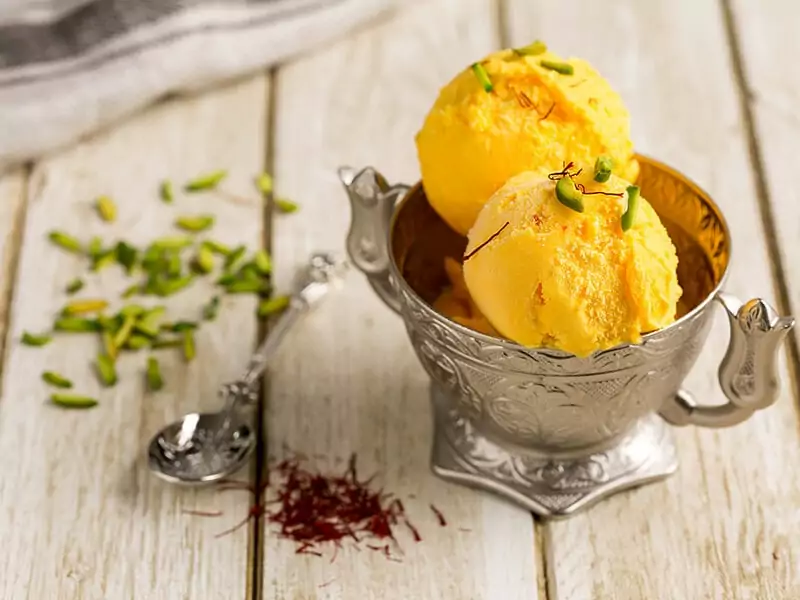 How Should You Store This Costly Spice?
Unlike other spices, saffron will not go bad. But, this spice still has a shelf life and will lose its particular flavor and aroma after expiry. Saffron is worthy of your protection! Therefore, you should follow its expiry days as well as the proper storage.
The most critical factor in maintaining saffron is to prevent it from light and moisture. It must be kept in an airtight box with a cool, dark place, such as the pantry.
With freezing saffron, it is better to store it after wrapping it with aluminum foil and putting it into a sealed bag or box. Moreover, remember to take note or save this shelf-life chart of this spice:
| Name | In cool, dark place (at room temperature) | Freezer |
| --- | --- | --- |
| Saffron threads | Up to 3 years | 1-2 years |
| Ground saffron | Up to 1 year | Does not require freezing |
How To Distinguish Authentic Saffron
When you spend a lot of money to buy expensive things, it is better to receive high-quality products. The same rule applies to buying saffron.
If you are curious about whether your saffron is qualified or not, no worries, you can still realize the authentic products through 5 simple tests.
1. Color
Firstly, the color of saffron is the easiest to know whether your spice is pure or not.
The utterly red color is a good sign of a reliable saffron source. Besides, it does not matter if your saffron has some orange and yellow tips.
In contrast, low-quality saffron will have pale streaks and even sometimes look frayed.
2. Use Cold Water
Red dye of fake saffron can be disintegrated immediately in the water while the others diffuse the yellow as tea dispersion.
So, if you suspect your saffron at home, you can put some threads into cold water for 10 to 15 minutes and wait for the result.
Moreover, you should notice the color of this seasoning. Specifically, the red color of pure saffron will stay for a while, but the fake one will release the color quickly.
3. Rub By Your Hands
After soaking in cold water, you can rub some threads on your hands several times. You can easily see the fake one will be broken apart compared to the hard, tough original saffron. Moreover, real saffrons will leave pigmented streaks on your hands.
4. Taste And Scent
Other indications to distinguish authentic saffrons are taste and scent. When you use original saffron, you can feel a natural floral smell, and its flavor is very mild, floral, or a bit bitter. In the case of an unreal product, there is no scent from it with a metallic taste.
5. Use Baking Soda
You can observe the reaction of saffron in baking soda. Mix it with baking soda in a bowl or container. Then, pour some drops of water over the mixture. As a result, pure saffron will turn yellow.
Separating and using high-quality saffron will bring results as you expected. Watch this video:
Ground Saffron: A Spice Makes Your Dish Special
After buying saffron, you can add a new spice to your dish, called ground saffron. This seasoning is considered a special seasoning in Persian recipes. This spice not only adds an attractive color to your plate but also "brings a new breeze" to the taste of food.
Although purchasing already made products in stores is an option, I suggest you make it from home to get pure ground saffron. This spice is not hard to prepare; try it by yourself!
What You Need:
Saffron
Sugar
A mortar and pestle
Salt (optional)
Instead of sugar, you can use salt in this process. But, I think sugar will be more beneficial as an abrasive, and it will not make the spice too salty when cooking.
Step 1: Put saffron to your mortal and grind it with the pestle.
Step 2: When the threads break down, add a small amount of sugar.
Step 3: Continue to grind the mixture until you achieve the desired consistency.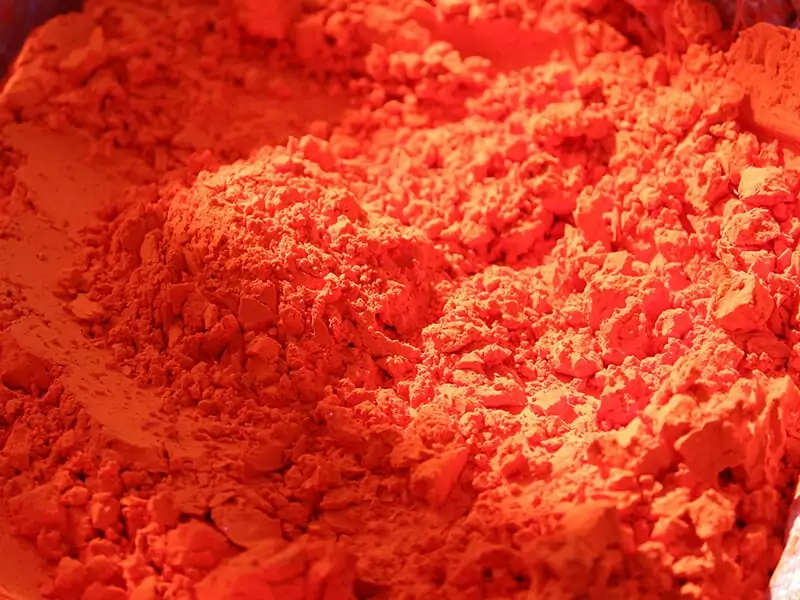 Why Is Saffron Worth Your Attention? Unexpected Benefits
Saffron is a great helper for your health and even your skin improvement. Now, you should check out the excellent benefits of this costly spice. I believe you will be amazed by them!
1. It Is Good For Your Health
According to experts, using saffron will undoubtedly bring positive results to your body after a while. I will show you benefits for health below:
Support you to reduce memory loss, stress, emotional improvement, etc.
Because it can help to make your feelings better, saffron is considered a dose for curing depression.
Crocin and kaempferol in saffron also prevent your body from cancer, such as breast cancer, lung, skin, and so on.
Help women to decrease symptoms of PSM (premenstrual syndrome), which causes pains, headaches, etc., to women beginning a menstrual period.
Level up your sex life. Once you use saffron with your partner, it will increase your partner's libido.
Support you to lose weight and make your diet more diverse.(1)
2. Saffron, The Key To An Extraordinary Beauty
If you want to find things that solve your skin problems naturally, remember to see them now! This is also one of the reasons why this spice is the most costly seasoning until this moment.
Mix saffron with rose water to make your skin lightening and smooth.
Adding to your mask is the easiest way to get glowing skin.
Massage with saffron when taking a shower to treat your acne.
An alternative product from nature upgrades your skincare routine and the level of skin UV protection.
Bring A Unique Taste Into Your Meals With This Costly Spice
Time for cooking! You know, finding ways to spice up meals will help you satisfy your day without thinking a lot about what dish will be served tonight.
To make it easier, add saffron to your cooking bowl. I am sure that your dishes will be more flavorful, elegant, and effortless with this seasoning.
Saffron rice pudding is one of the most famous desserts that come from Texas. It has an attractive appearance with a floral smell of saffron and rose water when eating.
The taste of it is a bit savory but very mild and creamy due to the butter inside. This dessert will be the best for winter or cold days because it brings a cozy feeling.
Tomato risotto is an incredible plate that you can eat throughout the year, especially for those who love juicy tomatoes.
You can eat along with tasty grilled meats. Moreover, this healthy dish is a great choice when going on a vegetarian diet. And, of course, saffron works well to add more savory flavor to your tomato risotto idea.
The pleasing main dish is always the critical element for a hearty meal. Therefore, I will give you this second cooking solution which is seared cod with saffron rice.
Whether you have made a seared cod with rice before or not, adding this precious spice to rice will enhance your dish's taste. Aside from cod, the saffron rice can also go with mussels or other seafoods. It'll add more color to your dinner table as well.
A keto dieter should not miss creamy Tuscan chicken because it will be your favorite dish just after a try. Plus, Tuscan chicken is straightforward to cook in just around 30 minutes for a perfect dish.
I often prefer chicken breast with a creamy sauce to suit my desire. If there is no breast in your fridge, chicken thighs are not a bad option. Last but not least, forget putting saffron will be a big mistake due to its beautiful color and flavor.
What do you think about a combination of seafood with saffron? It is happening and working!
While cooking this delicious dish, I always add Parmesan cheese as much as possible to upgrade the creamy level of my fish and shrimp casserole. And, of course, I recommend you put a pinch of this spice to experiment with a new flavor.
FAQs
I get some queries about saffron taste and its use, so I appreciate answering them to help you understand deeply. You can see the solutions to some unclear things with this seasoning or share the answer with your friends if they are curious, too.
Other Things About Saffron That I Wish I Learned Earlier
What does saffron taste like? I assure you have the answer. On my own, saffron always has mysteries along with the magical benefits that you and I are constantly discovering about this luxurious spice.
Now, after reading this post, you can take it as an ingredient with food to serve for your family meal tonight. If there is no idea, I am glad to see you try my suggestions above. Lastly, feel free to share with me your other ideas with saffron, your cooking experience!
References
Healthline. 2021. 11 Impressive Health Benefits of saffron. [online] Available at: <https://www.healthline.com/nutrition/saffron>.
Rxlist.com. 2021. [online] Available at: <https://www.rxlist.com/saffron/supplements.htm>