What to serve with mussels? Even though mussels have a distinctively sweet flavor that seem to be difficult to pair with other dishes, mussels' flavor will be even more outstanding if it is served along with the right side dishes.
And finding suitable side dishes is not challenging anymore as you are already here. I will provide you with 26 dishes whose textures range from crunchy, crispy, to creamy. The recipes are extremely simple to make. Explore now!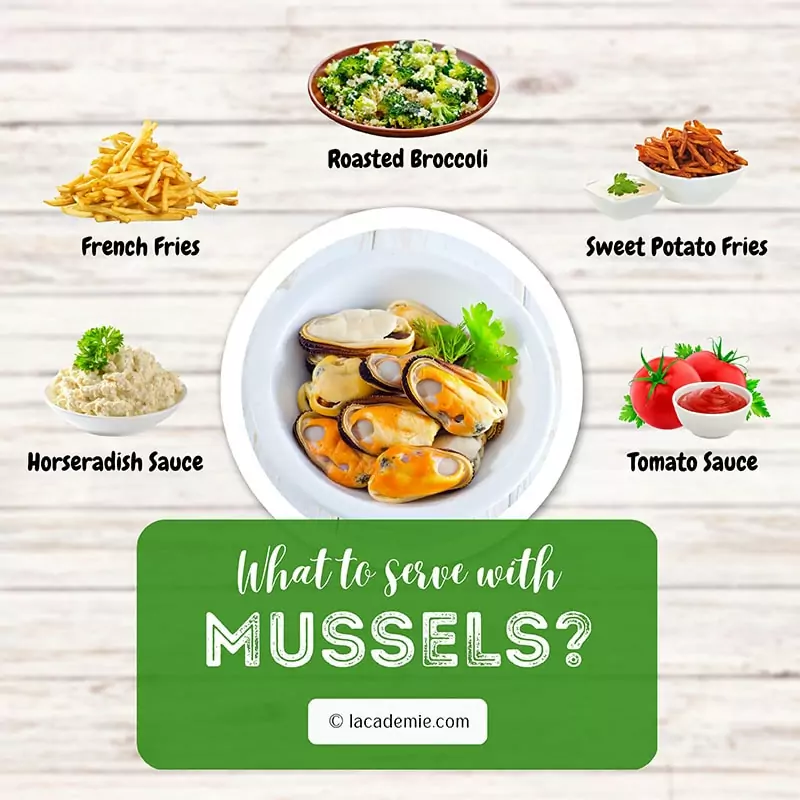 French fries are everyone's favorite food pairing with fried chicken. Its versatile and tasty nature makes it a perfect accompaniment to any dish. And mussels are no exception.
Since mussels have a slightly sweet taste, some potato fries with tomato sauce add more briny and tangy flavor to them. French fries are undoubtedly the most delicious and easiest recipe to make. Try them today!
If you want more sweetness, choose sweet potato fries. Briny on the outside and sweet on the inside, they deserve to be placed next to mussels.
This dish can be made with various methods. You can fry them with an air fryer, bake them in a roast oven, or a microwave, depending on whether you want to cook it with or without oil.
Here it is, the best sauce for mussels. It is creamy and garlicky. These two flavors are the best compliment for the sweetness of mussels. This is the most popular sauce to go with mussels. You shouldn't miss it.
It's great to have some pasta, too. White wine sauce, mussels, and pasta is the killing combo for a flavorful meal.
Making white wine sauce is much easier with this recipe. Let's see this video to know:
Needless to say, tomato sauce is one of the most versatile sauces in the world. It can be served with almost every dish. A balanced combination of sugary and sour flavors with mussels tastes heavenly.
The secret to the best tomato sauce is fresh tomatoes. San Marzano tomatoes are believed to be the most suitable variety to make perfect tomato sauce.
Have you ever heard of horseradish sauce? When you eat steak, you will notice that creamy white sauce. Interestingly, you can serve mussels with horseradish sauce as well. If you want some different flavors for your mussel meal, it is my top recommendation.
Horseradish itself has a pungent and spicy taste and scent. But the spiciness will be balanced with other ingredients, such as sour cream and mayonnaise. You don't have to worry that it will bring tears to your eyes.
Let's go for a green and refreshing dish. Fennels are a healthy and tasty vegetable. Fennel salad has the crunchiness of fennel bulb and the acidity of vinegar and lemon.
You can also add some nutty, fruity flavors with walnuts and apples. This flavorful salad will make your mussel meal become more healthy and refreshing.
Jicama is not a common ingredient. However, if you love its crunchiness, you should think of making jicama salad and serving it in your mussel meal. It will be a great appetizer.
Besides being crunchy, jicama has a mild sweet flavor, which may not be very attractive. But when you add lemon, bell peppers, orange, or mango, it becomes sweeter and more acidic.
If you are a huge fan of tomatoes, you cannot miss tomato salad. This refreshing summer salad with a fruity, herby, and acidic flavor will make your experience with mussels more remarkable.
In addition, the dish is also colorful with red, orange, green, and purple hues, which promises to serve as a decoration for your mussel dishes as well.
Broccoli is a highly nutritious vegetable, and it can act as a good accompaniment to many foods, like fish or meaty dishes. Of course, it tastes very delicious as well. You will love its crispiness. Roasted broccoli is a well-matched side dish for mussels and many other dishes.
The golden brown color and salty taste of roasted broccoli will not disappoint you. Other than that, it is very easy to make. It just takes you 5 minutes to prepare and 20 minutes to roast.
This is another roasted vegetable dish to serve along with mussels. Similar to roasted broccoli, this recipe is very simple to make.
It is crispy, salty, and peppery. You can serve it with mussels in the springtime. Asparagus is not very popular but it is worthwhile to try.
This is the only soup on this extensive list. That's why it is so special. This soup is creamy, milky, and slightly greasy. If you eat mussels in the winter, a bowl of potato leek soup is the best side dish to warm you up.
Leek and potatoes are a great combination. The sugary, garlicky, and oniony flavor create the depth for this delicious soup.
Potato leek soup will be your favorite soup after you try this recipe. Watch this video to know:
Green salad is super versatile. It can pair with any dish, including mussels. What is great about green salad is that you can make your own recipes by adding your favorite flavors.
If you want a fruity and astringent salad, add lemon, cucumber, and other fruits. For a savory salad, use vegetables and garlic to make the dressing. Serve mussels with this healthy and tasty salad for your parties!
Want a starchy appetizer to fill your stomach while eating mussels? Garlic bread is among the top choices.
When you eat garlic bread, every bite is starchy, crispy, buttery, and garlicky. But that's not all. Its depth is intensified by parsley, pepper, and salt, making the whole bread more flavorful. You will not be able to resist it.
Garlic bread can be made in various ways. Let's see this video to know:
This beautiful yellow rice will fulfill your mussel meals with its starchy and buttery flavor. It is a festive and quite luxurious rice because of saffron. But you just need a little bit of saffron to create the flavor.
It is ideal to serve saffron rice with mussels in the winter. And the flavor of saffron will take you by surprise. Its floral aroma and earthy flavor is the reason that makes it a unique dish on the table.
The name says it all. This pasta contains the ink of the squid. Therefore, it is black in color, which makes it stand out from the rest. In Italy, the dish is famous in Venice and is called Lasagnetta Al Nero Di Seppia (little lasagna with black squid ink).
Are you curious about how it tastes? It has a briny oceanic flavor. You will be obsessed with it once you try. Its flavor pairs well with any seafood, which makes a perfect side dish of mussels. Don't let it wait anymore.
This is another amazing dipping sauce for mussels. Its light yellow color and thick creamy texture may remind you of mayonnaise. But this sauce is slightly different from it. Aioli is always garlicky, while mayonnaise is tangy. Both are delicious emulsions.
Aioli's recipe is very simple. You can also make aioli from mayonnaise, just by adding some garlic. If you want some heat, try the spicy aioli recipe below.
Let's learn how to make the best aioli sauce from chefs:
This is the easiest appetizer ever! With only several ingredients and 15 minutes of baking, you will have some crunchy baguette slices to enjoy with the chewiness of mussels.
You should serve toasted baguette alongside mussels, fresh salads, heartwarming crockpot soup, and flavorful dipping sauce. This will be a perfect combination.
The golden and crispy bread cannot go wrong with mussels. In every bite, you will experience a crispy texture on the outside and an airy and soft texture on the inside.
In addition, the bread's honeyed and salty taste is amazing. It is one of the easiest but delicious bread to make. Dip it in tomato sauce, and you will be amazed at its mouth-watering taste.
I have recommended a lot of dishes with a garlicky flavor, and this shrimp and tomato dish is my favorite. It is not only garlicky but also salty and semi-sweet because of feta cheese and shrimp.
Look at it! Such an attractive dish to go with the yellowish orange color of mussels. Its red, orange-pink, and green colors with fantastic aroma will make you crave. Serve it with mussels on a cozy night, and you will have an unforgettable meal.
Let's go for a sour and spicy dish. Pickled mushrooms will be served as a great appetizer for every dish, including mussels.
This dish takes more time to make because you have to marinate the mushrooms and wait for them to fully absorb the flavor. But the result is worth it. The mushrooms will get crunchy and have a tangy flavor.
Linguine is another pasta recipe that I suggest you serve with mussels. While other types of pasta have a round shape, linguine's shape is quite flat and elliptical.
This linguine dish is creamy, buttery, and garlicky. Herbs and ground pepper work as garnishes and seasoning, making it an appealing pasta to try. You can also add shrimps, bacon, and veggies such as broccoli so the linguine will become healthier and more flavorful.
This pasta has a beautiful name. And it looks super attractive, too. It is made with the typical pasta's ingredients but is uniquely tasty. Angel hair pasta is the thinnest pasta in the world.
Similar to other pasta that I have introduced, angel hair pasta can serve as a comforting appetizer alongside mussels. It is the best choice if you want pasta with thin strands and a light sauce.
Try to make this wonderful angel hair pasta recipe right now. Watch this video:
I highly recommend this side dish if you are preparing steamed mussels for your meal. The white wine adds a little bit tangy and alcoholic taste to the garlicky leeks, making it a perfect companion with the chewiness and freshness of steamed mussels.
Leeks are a nutritious vegetable. Provided that you know the correct method to store leeks, you'll be able to retain the vegetable's nutritional values and flavors. So, you should not ignore this delicious and healthy side dish.
24. White Wine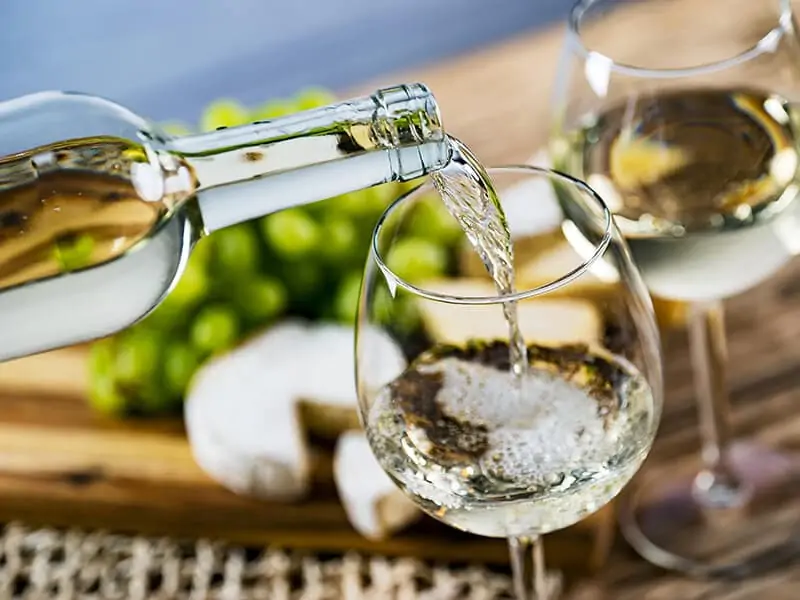 Mussels are often steamed with wine, especially white wine. Interestingly, you can drink it during your mussel meal. This is the chefs' recommendation to enjoy the best taste of mussels.
So why not serve white wine with mussels? Its fruity and light taste is enough to warm up your stomach. On the other hand, you can serve this ideal wine on your fondue night. And the combined tastes of the dish and this drink will taste like heaven.
25. Fruity Red Wine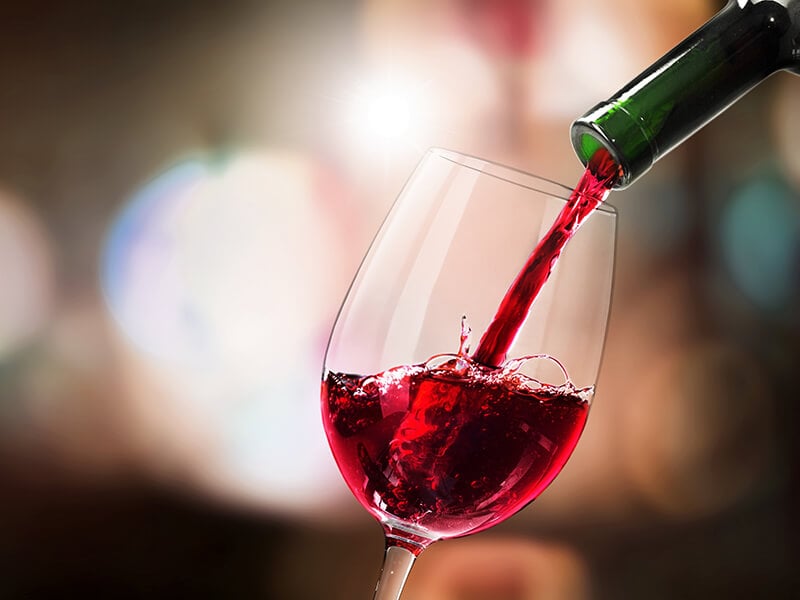 If you plan to serve mussels with tomato sauce, fruity red wine will be a great companion. It pairs very well with the tangy taste of tomatoes.
You can choose any kind of red wine depending on how fruity you want it to be. Some good options to consider are Merlot, Beaujolais, Pinot Noir, and Red Zinfandel.
26. Rosé Wine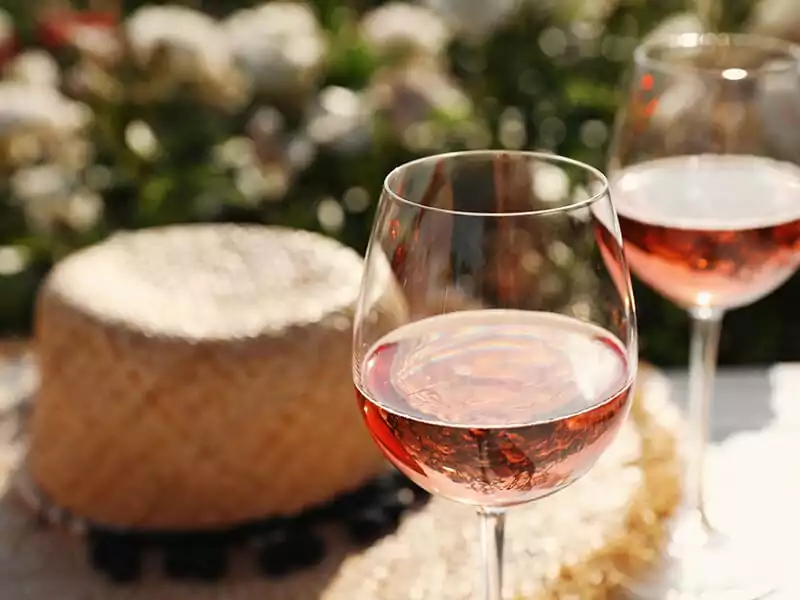 Róse wine is also light and fruity. And it tastes particularly fantastic in the summertime. Interestingly, it is also used to steam with mussels, which is the reason it cannot be absent from this list.
In addition, its beautiful color and fresh smell will make your mussel meal more fragrant and fulfilling.
There Is No Need To Be Concerned With Mussels Side Dishes
What to serve with mussels? Now it is not difficult to answer. I have given you all possible flavors to go with mussels, from veggies to starchy dishes and creamy sauces, you now have plenty of ideas.
The best side dishes depend on how you cook mussels. They can be steamed, grilled, roasted, and cooked with soups. Steamed mussels pair well with savory dishes and dipping sauce, while grilled mussels are best to serve with salads and bread. Never forget a glass of wine!
What is your plan for your mussel meal tonight? Have you ever tried these delicate recipes? Share your ideas with me in the comment box below.
Nutrition Facts
4 servings per container
---
Amount Per ServingCalories407
% Daily Value *
Total Fat 0.2g

0

%
Sodium 14mg

1

%
Potassium 923mg

27

%
Total Carbohydrate 35.6g

12

%

Dietary Fiber 5.4g

20

%
Sugars 2.6g

Protein 3.8g

6

%
---
* The % Daily Value tells you how much a nutrient in a serving of food contributes to a daily diet. 2,000 calories a day is used for general nutrition advice.