When hosting a dinner party, you may find air fryer side dishes very helpful as they save you tons of time in the making. In addition to that, these tasty side dishes are an excellent company for your convenient and lip-smacking air fry dinner recipes.
Side dishes are usually bread or salad; some other side dishes can consist mainly of vegetables like potatoes or tomatoes. But, these recipes are more than just bread and vegetables. If you want to know what I'm talking about, keep on reading!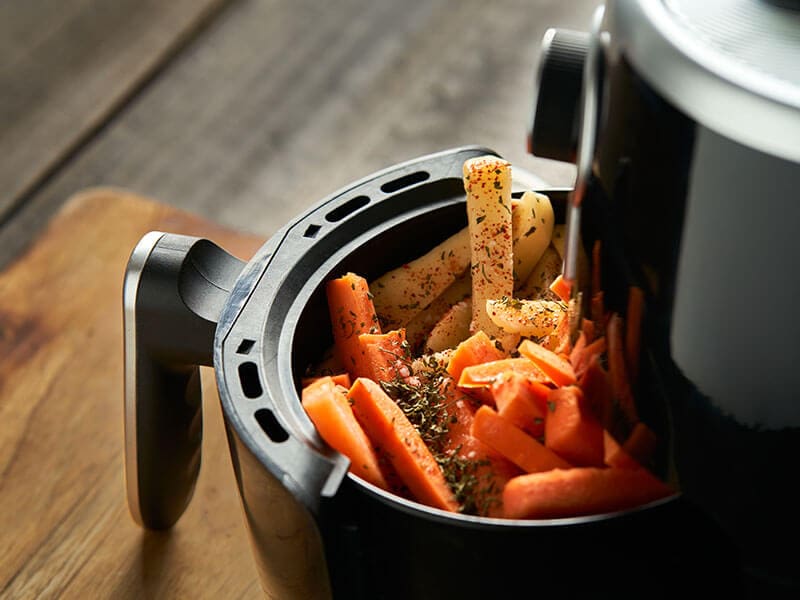 Cooking Is No Longer Challenging With These Delightsome Air Fryer Side Dishes
Whether it's salad, fried delights, or baked vegetables, these impressive recipes are perfect when you need a dish to pair your main course with. Below is a wide variety of healthy and tasty recipes and ingredients that can help elevate your main dish significantly. Let's get started!
Total time: 25 – 35 minutes
Potato au gratin is a side dish famous for its creamy and silky texture. The phrase "au gratin", in French, means to be sprinkled with grated cheese and browned. Therefore, potato au gratin is baked potatoes topped with cheese and breadcrumbs.
Yukon Gold is a great kind of potato for this recipe since it doesn't break down easily or get starchy in the air fryer. Naturally, this type of potato is best for ensuring the needed texture of your Potatoes Au Gratin, leaving you with perfectly shaped yet tender slices of potatoes.
What's awesome about this recipe is that it only takes around 30 minutes to make with an air fryer, whereas it would normally take almost 2 hours to bake a tray of Au Gratin. And, feel free to serve your Potatoes Au Gratin next to some roasted beef and lamb.
This is the best air fryer Potatoes Au Gratin tutorial for you.
Total time: 35 minutes
I feel like I have to clarify with you that this dish is more than just butternut squash. It's a roasted vegetable dish consisting of butternut squash, mushrooms, and onions.
If you happen to prefer something light and healthy yet flavorsome, this recipe is the perfect one. Specifically, the naturally sweet taste of butternut squash, together with the woodsy flavor from button mushrooms, creates an umami taste note for this dish.
This recipe is my personal favorite since it's a great air fryer menu friendly for vegetarians. This means you can pair it with a side of grilled vegetarian patties or some tofu because it tastes superb!
Moreover, to enhance and balance the taste, everything is topped off with some dried cranberries, which carry a slightly tangy and sweet note. One more thing to note about this recipe is that you can sprinkle some green onions on top for that herby flavor.
Total time: 15 minutes
Bacon-wrapped asparagus is a very common dish that's loved by everyone. For some people, it's an appetizer at dinner. And what's better than making delicious appetizers with an air fryer? But for others, they prefer serving it with BBQ and steaks as a side dish as well.
There are no special skills required to refine the taste of your bacon-wrapped asparagus in the air fryer. But picking large and fresh stems of asparagus will secure a firm and crunchy taste in the end.
Since there will be fat and juice coming from the bacon, bigger stems will remain crunchy without getting soggy.
Total time: 23 minutes
Mac and Cheese, or Macaroni and Cheese, is a classic side dish. It's a milky and creamy pasta menu that usually goes with BBQ meat or steak.
In this recipe, the original method requires as few as 3 ingredients, which are dried pasta, milk, and cheese. Then, all you have to do is put them into the air dryer baking pan. But it is important to stir your Mac and Cheese while cooking to prevent them from sticking to the pot.
There's also a list of other ingredients to elevate your Mac and Cheese. For example, for a smoky taste, you can add some bacon or ham.
And if your family prefers a casserole type of Mac and Cheese, this recipe also mentions how you can make a crumbly top layer for your Mac and Cheese the right way with breadcrumbs and onions.
When your Mac and Cheese is ready to serve, pair them with a side of BBQ ribs, and you will for sure want to come back for a second serving.
This is how you can cook mouth-watering Mac and Cheese with an air fryer.
Total time: 25 minutes
Zucchini is a healthy yet plain-tasting type of vegetable. So what better way to spice it up than by turning it into crispy strings of fries?
Since they don't carry much significant flavor, it's better to be generous with the seasoning, so the zucchinis don't turn out to be bland. For this recipe, it is important to season your breading mix with condiments like garlic powder or cayenne along with salt and pepper.
In terms of taste, you can cook some finger-licking ground beef dishes with an air fryer as they are extremely compatible with your zucchini fries as the main dish.
Another special point to note is that you should try to find a spiralizer to produce the nicest-looking strings of zucchini. It also prevents your zucchini strings from breaking down during the frying process in the air fryer.
Total time: 30 minutes
This recipe is a healthier, keto-friendly version of the Southern dish of fried tomatoes as it's made with an air fryer instead of being deep-fried. Also, it is one of the many delicious keto air fryer recipes that I regularly make.
Air-fried green tomatoes are heaven on earth if you love your food crunchy. In this recipe, the green tomatoes tend to double in crunchiness when coated with a layer of almond flour-based breading mix. This is because they're already crunchy on their own.
The key to the perfect texture of this dish lies in the firmness of your tomatoes. If your tomatoes happen to be too ripe, they may not be suitable for this dish as they will produce more juice and sog the coating.
Total time: 18 minutes
Gnocchi is an Italian potato dish that takes the form of dumplings. It's made by mixing potatoes, eggs, and flour.
This recipe is one of the most effortless chicken casserole side dishes to make yet never fails to amaze me with its taste. All it takes is throwing in some salt, garlic powder, and olive oil together with the Gnocchis before putting them into the air fryer.
The texture of this dish is a pleasant surprise as it's crispy on the outside, which is the polar opposite of its soft and smooth interior.
Now there are different ways you can serve Gnocchis. You can either pair your freshly fried Gnocchis with some breaded chicken breast. Or, in my opinion, you can try tossing your Gnocchis with pesto or marinara sauce and serve them on their own.
Total time: 16 minutes
These adorable round balls of fried cornmeal called Hush Puppies are happiness in a bite. Normally, like the majority of Southern bread side dishes, Hush Puppies are deep-fried. However, this recipe will show you a healthier and more light-weight version.
Since cornmeal tends to make your Hush Puppies a bit sweet and mild, some chopped Jalapenos will enhance the flavor with their bold taste. You can also add some Cayenne for extra spice, but it's optional to do so.
Another tip I find extremely helpful while recreating this recipe is to slowly add milk into your Hush Puppies mix. Doing this will help hold all the ingredients in place, preventing them from getting flaky. Remember to cool off your Hush Puppies for a few minutes before serving them with some fish.
Did you know air-frying is one of the greatest ways to make Hush Puppies?
Total time: 15 minutes
You might find fried cabbage an unusual dish, but it's pretty common in Asian cuisines.
What this simple recipe attracts me is how it doesn't take much to create such wonderful flavors. You will only need basic seasoning ingredients and condiments like salt, pepper, olive oil, and some garlic.
A tip to make perfect air-fried cabbage every single time is to preheat your air fryer properly and to cook your cabbage on medium to high heat to preserve the crunchiness until the end.
Fried cabbage goes great with a side of white rice and chicken dishes as it complements other dishes excellently.
Total time: 17 minutes
If you're looking for a change from your regular French fries, sweet potato fries might be the perfect answer for you. These are a cousin to French fries; they are a slightly sweeter and softer version, to be specific.
For this recipe, I believe that less is truly more. Since sweet potatoes are naturally packed with a pleasant flavor and delectable sweetness, there's no need to overseason your fries with any fancy seasoning besides salt and pepper, garlic powder, and paprika for extra depth.
There are, however, a few things to look out for. You shouldn't overcrowd the air fryer with your sweet potatoes as they won't be able to crisp up. Another tip is to flip your fries so the heat can spread out on them evenly.
Try this tutorial if you want crispy air-fried sweet potato fries.
Total time: 15 minutes
You may have heard of corn on the cob or Elotes – a Mexican delight. Aside from the fact that it's a fun experience to eat the corn right off the cob, you won't be able to resist the colorful and delicious taste notes of these corn on the cob.
This recipe is perfect for the summer days, as you can instantly feel that smoky and nutty fragrance from the grilled corn. And the sauce is indeed a symphony of flavors hitting your mouth with bold tasting ingredients like garlic, cilantro, chili powder, and lime juice.
Normally, these corn on the cob, or Elotes, go extremely well with seafood dishes, like some freshly air-fried shrimp menus.
It's nearly impossible to depict exactly how luscious and powerful these corn on the cob tastes. I can only advise you to try them on your own, then you will understand what I'm trying to describe to you.
Total time: 20 minutes
Onion rings are a popular side dish and sometimes an appetizer in American cuisine. These are perfect for adding the crunch factor to your main dish. What's more, it could be a new favorite treat cooked by an air fryer for weight watchers.
As they contain natural sugar, onions have a subtle sweet taste after frying. And knowing how to fry them properly in the air fryer will complement the sweetness and bring out the crispiness even more. The key is not to crowd or stack them in the air fryer as they will get soggy.
Your onion rings would go perfectly as a side dish for burgers. Though this is not included in the recipe, I'd still like to share with you the perfect dipping sauce for onion rings, which is a mixture of mayonnaise, horseradish, and ketchup. It is simple yet impressive.
Total time: 9 minutes
Bok Choy is a type of cabbage widely present in Chinese cuisine, whether in a stir fry or a soup. Air-fried baby Bok Choy isn't a common side dish, but that doesn't mean you should overlook its taste and flavor.
This menu is perfect for Asian dishes like seafood or vegetarian dishes, and it also takes very little time and very few ingredients to make. You will only need baby Bok Choy, some oil, and garlic powder, which makes it a perfectly healthy air fryer dish for people on a diet.
As the Bok Choy is rather mild-tasting in this recipe, make sure to pair it with something a little more significant in the seasoning, like roasted chicken or pork dishes.
Total time: 2 hours 22 minutes (including 2 hours of proofing time)
Garlic Knots are a type of bread that came from New York City, mostly from pizzerias. The reason why they're called Garlic Knots is that bakers often tie the dough into knots before baking, hence the name.
I love this recipe for many reasons, one of them being how perfect the taste and texture are. Especially when you're making your dough at home, you'll get to experience fluffy Garlic Knots, especially the ones where you freely coat them with garlic butter and Parmesan cheese.
The strong taste of garlic and the silky mouthfeel from butter altogether create a complete symphony inside your mouth. What's even better is the Parmesan which brings out that extra milky flavor for your Garlic Knots. Pair them with some pasta or pizza, and you're good to go.
This is the only tutorial you will need to make mouth-watering air-fried garlic knots.
Total time: 1 hour 32 minutes
Dinner rolls are a kind of round bread that accompany many main dishes. Now usually, dinner rolls come in separate servings, but this recipe will combine the two best recipes and show you how to make pull-apart dinner rolls.
In this recipe, your dinner rolls will come out tasting a little mild yet fragrant and buttery. However, that's what makes them so special. Because of the subtle taste, you can pair your dinner rolls with almost any dish imaginable, whether it's soup, pasta, a stew, etc.
You should let your rolls rest and proof as this will allow time for your dough to rise. Properly proofed dough will give out that airy and fluffy texture dinner rolls should have. And you'd be surprised to learn that even on their own, your dinner rolls are still delicious.
Total time: 1 hour 3 minutes (including 30 minutes of soaking time)
You've probably had French fries, but have you ever tried the delicacy of garlic Parmesan French fries?
It's hard to believe that from Yukon Gold potatoes, some parmesan, and basic seasonings like salt and garlic powder, you can create such a fine dish like this. French fries, as you already know, have a crispy exterior as opposed to their smooth interior. Now, toss them with cheese.
This Parmesan and garlic mixture is what brings your fries to the next level as it brings out all the best fragrant and textures of this dish. The cheese is creamy, whereas the garlic is powerful in flavor. Combine these two with your French fries and they will taste ten times better.
Total time: 55 minutes (including 30 minutes of soaking time)
It's amazing how you can make so many dishes from a potato. In this case, you have hash browns, a common side dish of deep-fried chopped potato patties that you can combine with other nutritious air-fried breakfast menu items for a complete meal
One thing I've noticed through my experience of cooking potato dishes is that you have to soak them before frying. The same goes for this recipe; you have to soak your shredded potatoes in water to remove the extra starch so that they can crisp up in the air fryer.
Hash browns are a great side dish for breakfast foods like pancakes, bacon, omelet, etc. But it's also very tasty to eat on their own, with a side of ketchup.
Did you know making air-fried hash browns was this easy?
Total time: 7 minutes
Throughout this article, I've mainly talked about side dishes that are rather on the starchy side, so this one, just like the recipe above for Baby Bok Choy, is a fresh breeze to your dinner meal.
For this recipe, it's better if you use Broccolini, just like the title, instead of broccoli. This will make it appetizing for everyone since broccolini tends to be sweeter and less bitter compared to ordinary broccoli.
Broccolini, though sounding Italian, is actually a type of Chinese broccoli that's well suited with seafood dishes, like these amazing air-fried fish dishes.
And to upgrade this recipe, it's good to cook your broccolini in a short amount of time to preserve their crunchy texture. Then, when you serve them, squeeze a bit of lemon juice on top and your broccolini is ready.
Total time: 31 minutes
This dish is also one of the less common side dishes that you don't normally see. Having said that, the earthy flavor of the Portobello mushrooms will get you hooked and will easily become your top favorite dish to make.
Portobello is a mild and earthy type of mushroom that's perfect for making stir-fries, soups, and in this case, deep-fried side dishes. Now scrolling through the ingredients, you may wonder why there are so many seasonings like Italian seasoning, garlic, onion, and paprika powder.
By seasoning the mushrooms with bold condiments like those, the dish will carry a more significant flavor which is necessary for a fried side dish. Since the mushrooms are air-fried crispy, they would taste a little bland and dense if there's no seasoning.
Total time: 8 minutes
No words can fully do justice to everyone's all-time favorite, garlic bread.
What's best about this recipe? It requires very little effort to make extremely delicious garlic bread. All you need to do is prepare the garlic butter mixture before putting it on your bread. To make it more special, this mixture also includes Parmesan cheese for that extra stretchy factor.
Air frying your garlic bread shouldn't take too long, but it's possible to cook it for an extra minute or two if you prefer your garlic bread extra crispy. After that, all you need to do is serve your bread with some pasta, and dinner is ready!
Total time: 35 minutes
By the name of this dish, I'm sure you can already tell how wonderful this baked potato dish must be. Double baking means double the deliciousness, don't you agree?
What I love about making twice-baked potatoes with an air fryer is that there's no need to prep the potatoes in advance. You can just put your potato halves in the air fryer and wait for them to cook before scooping them out to prepare for the second baking round.
For this recipe, you will need some sour cream and cheese, as well as some pre-cooked bacon as it can be a little plain if you eat the potatoes on their own. And yes, you can cook your bacon in the air fryer before cooking the potatoes for extra flavor absorption.
Total time: 10 minutes
These green bean fries are my go-to healthy side dish whenever I'm craving fries. This is a much healthier and less greasy and starchy version of regular French fries. Which, I think, is perfect for you and your weight-watching diet.
It only takes 10 minutes to make these beautiful green bean fries coated with the infamous garlic and Parmesan mixture. The green beans in this recipe do a wonderful job of resembling the crunchiness of your regular fries while providing tons of nutrition and vitamins.
Remember to pick large and long strings of green beans to replicate the crunchiness of regular fries. And in my opinion, some pork chops would be the perfect fit for these beautifully air-fried green beans.
Less Time Yet More Flavor And Fun With An Air Fryer
A pattern you would see among these recipes is how little time it takes to make such wonderful dishes, with the exception of bread dishes where they need resting. It goes to show that good food no longer requires a long amount of time to make.
In addition to that, it is just impeccable how an air fryer can preserve all the essence of your food while keeping it healthy and less greasy. I honestly consider this a life-changing cooking equipment.
I hope these recipes have helped you as much as they have me. Feel free to add to my list of air fryer side dishes here with your own favorite recipes in the comment section. And why don't you send this article to some of your friends? Sharing is caring, don't you agree?
Nutrition Facts
6 servings per container
---
Amount Per ServingCalories261
% Daily Value *
Total Fat 20.6g

31

%
Cholesterol 42mg

15

%
Sodium 972mg

41

%
Potassium 372mg

11

%
Total Carbohydrate 3.8g

1

%

Dietary Fiber 1.7g

4

%
Sugars 1.5g

Protein 15.7g

30

%
---
* The % Daily Value tells you how much a nutrient in a serving of food contributes to a daily diet. 2,000 calories a day is used for general nutrition advice.