You may wonder, why bother using an air-fryer to make these appetizers instead of following the standard way? Well, there are actually hundreds of reasons to do so.
First off, using an air-fryer means cutting down the amount of oil used, thus making your dishes identically crunchy without turning greasy.
Also, less oil means fewer calories, so you can freely enjoy your dishes without having to worry about heartburn and other health problems.
This appliance, on the other hand, allows you to make many air-fryer keto dishes with various health benefits. These foods can promote weight loss and regulate blood glucose. So if you haven't bought an air fryer, you might change your mind after checking this post.
Of course, you can prep your meals in pressure cookers as well. However, with the notable dissimilarities between pressure cookers and air fryers taken into consideration, you'll realize that there are many air-fryer dishes you can't cook in pressure cookers.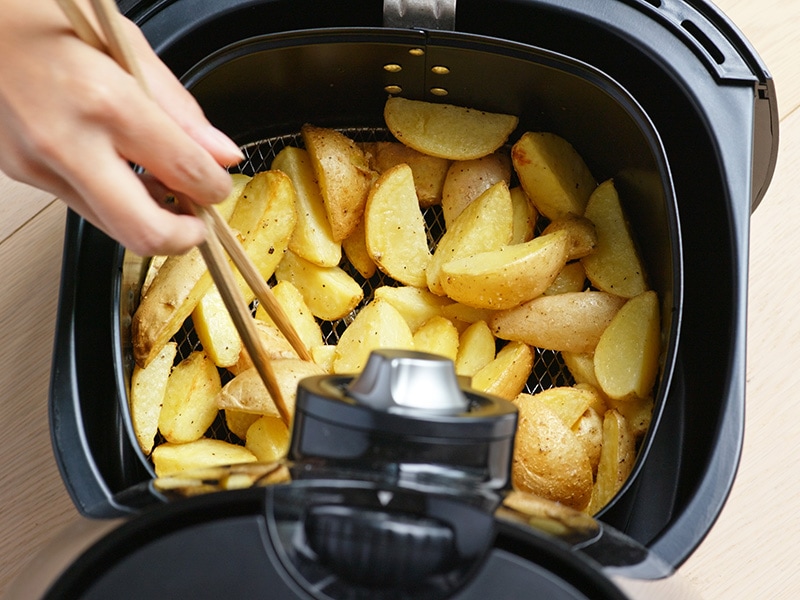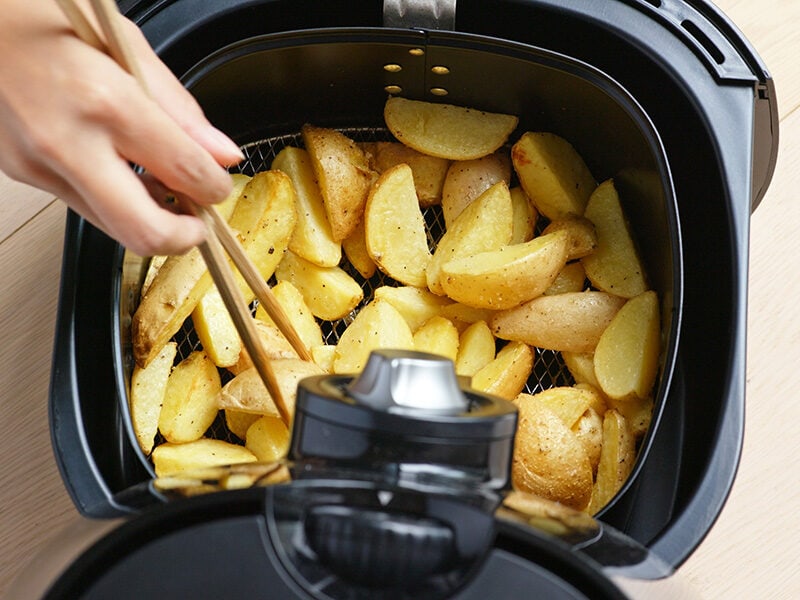 You'll Love These Air Fryer Appetizers Right Away!
Regardless of what versions of air fryers are available at your home, these appetizer recipes take less time and effort than making them the standard method. You don't have to face tons of clean-up afterward, either.
Vegetable Dishes
Air Fryer Zucchini Fries
Air Fryer Green Tomato
Air Fryer Fried Pickles

Air Fryer Cauliflower

Air Fryer Cauliflower Gnocchi
Air Fryer Mashed Potato Balls
Air Fryer Potato Wedges
Air Fryer Falafel (Fried Chickpea Balls)
Air Fryer Onion Rings
Air Fryer Pakoras (Indian Vegetable Fritters)
Cheese Dishes
Air Fryer Mozzarella Sticks
Air Fryer Mac And Cheese Bites
Air Fryer Potato Skins
Air Fryer Stuffed Mushrooms
Air Fryer Jalapeno Poppers
Chicken Dishes
Air Fryer Buffalo Wings
Air Fryer Bang Bang Chicken
Air Fryer Chicken Tenders
Air Fryer Chicken Meatballs
Seafood Dishes
Air Fryer Crab Cakes
Air Fryer Shrimp
Other Dishes
Air Fryer Garlic Bread
Air Fryer Egg Rolls
Air Fryer Samosas
Air Fryer Arancini (Italian Rice Balls)
Pull out your air fryer and get started now!
These Air-Fried Vegetables Appetizers Are Fresher Than Ever!
Vegetables are the most regular choice for appetizers since they are light-flavored, keeping your stomach at bay for other following courses.
Speaking about how creative it is in making appetizers, German starter ideas are excellent examples. And with some air-frying techniques, you will never want to stop eating these dishes.
Fried food can't be healthy? I bet you want to take that back after trying these zucchini fries. This dish is the final decision for the question: Which is better between deep fryers and air fryers?
With the help of an air fryer, this dish doesn't require much oil or frying time, making it less oily than other deep-fried recipes.
Also, one small word of advice for you: Zucchini contains lots of moisture, so you'd better sprinkle some salt on these slices for several minutes before frying to get all the excess moisture out.
These air fryer zucchini fries are delicious and healthy at the same time! You can see this video to know more:
While ripe tomatoes seem superior with their sweetness, green ones still have their own worth, and that reflects through this appetizer.
There's no way red tomatoes can make it in this recipe since they have already turned soft and juicy. Only hard, unripe ones are suitable for it.
Don't worry if they are too firm or too sour. After being fried, these tomato slices will turn soft enough and also develop some sweetness.
These fried pickles are crispier than normal ones while needing less oil. You can now enjoy their flavor to the fullest without worrying whether frying reduces any of their nutrients.
These air-fried pickles are less greasy, more nutritious, like hitting two birds with one stone for me. Not to mention, this method also reduces the cooking time.
This recipe goes perfectly with various sauces, from simple cajun sauce to spicy mayonnaise or blue cheese dressing.
Why bother air frying tofu when I can pan-fry them like usual? I bet some of you are thinking like that. But, with this method, you'll get crispy, flavorful tofu with fewer calories than those oily ones.
Without a doubt, it is one of my favorite dishes to prepare with Ninja air fryers. However, regardless of the brand, these cookware will ensure the best-quality food for your highest level of satisfaction.
All the necessary steps to do this dish are just flavoring your tofu and placing them in one layer in your air fryer. These pieces will take less than 15 minutes to complete. Also, make sure you use super firm or extra firm tofu instead of silken ones.
This air fryer tofu is tastier than you thought. You can see this video to know more:
What can I do with cauliflower besides boiling or mashing them? Let's put this air-frying method on the top of your list now! Thanks to it, you'll have a batch of crispy cauliflower that tastes like a snack.
iIt is also a perfect air fryer idea for weight watchers as cauliflower is low in carbs. You can also scatter some Parmesan cheese on top of these cauliflowers before air frying them for more richness. Besides dipping sauces, a dressing sauce like buffalo one is also ideal for this dish.
It's hard to find some dish as friendly as this cauliflower gnocchi. It's a paleo-friendly, gluten-free, and vegetarian air fryer dish at the same time, so you can serve it to almost any guest without having to worry about their diet.
People often say healthy dishes never taste good, but that doesn't apply to this cauliflower gnocchi. Since you make it with your air-fryer, this cooking method reduces a great amount of oily in this dish, making it crunchy without being greasy.
Mashed potatoes are a standard appetizer that can go with any meal. However, seeing a palate full of something white and mushy can kill your appetite immediately. Thus, I found this recipe to liven things up with this familiar appetizer.
Just take your mashed potato and make it into bite-sized balls. Then, coat these balls with bread crumbs mixture before air-frying them all. Your potato balls will come out crunchy on the outside while still creamy on the inside.
This appetizer is incredible as a side dish or snack as well. With their crunchy exterior and soft interior, these wedges can satisfy anyone, not to mention all the seasonings on them.
There's no limit on these spices. You can go all simple with just salt and pepper. Or add some heat with paprika or cayenne pepper. Herbs are also a great way to enhance these wedges' flavor.
These air fryer potato wedges can satisfy anyone, even your children! You can see this video to know more:
For those who don't know falafel yet, it's a traditional dish made of ground chickpeas with other spices and herbs in the Middle East. Original recipes require deep-frying, so these balls can have a crispy crust.
However, that method is not healthy at all and can leave you with a mess after cooking. Thus, I recommend using an air-fryer to make this dish. The result is identical to the initial ones, if not better, but much more health-friendly.
In my house, a giant bowl of air-fried onion rings is never enough. The moment you look elsewhere, others will swiftly grab a bunch of onion rings to eat. My kids even eat them right when they just come out of the air fryer.
The reason is just that these rings are too delicious to stop. They are as crunchy and flavorful as those deep-fried. But they don't feel any greasy even when exposed to air for a long time.
Pakodi, pakoda, bhaji,… are just some of the numerous names that people call pakora. But no matter what they call this dish, its nature doesn't change: An Indian fritter made with vegetables coated in flavored flour batter. The dish is also a well-loved street food in Pakistan.
Most of the time, pakora filling contains onions and spicy seasonings. You can make the South Indian version by adding tons of onions to the batter. At the same time, the Northern region prefers it spicier and crispier.
Begin Your Meal With These Tasty Air-Fried Cheese Dishes!
I always have a soft spot for cheese dishes as the melted cheese is exceptional in both flavor and texture. With an air-fryer, you now can enjoy these dishes below to your heart's content.
Melted cheese inside crispy coating. I must say this is an ideal combination, no matter if it's an appetizer or a snack.
However, to attain that, you need to coat these cheese sticks twice in the panko crumbs mixture so that the cheese won't leak out when frying.
This dish can become even better if you flavor the coating with your favorite spice mixture. For me, I often choose Italian seasoning as it'll provide different layers of flavor to the dish.
You can't believe how low calories these air fryer mozzarella sticks are! You can see this video to know more:
All adults and children love mac and cheese. But make them into an appetizer? Yes! With this recipe, you can enjoy your favorite mac and cheese right at the start of your meal.
And don't worry, you won't get a bowl filled to the brim that leaves you no room for the following course. Here, mac and cheese will be made into bite-sized balls with a bread crumbs coating.
Also, the best choice for this dish is refrigerated mac and cheese. So, you can make it for dinner and save the leftovers to make these bites.
As for the rice balls, you can make them to your likings. The most convenient version is using your leftover risotto for this arancini. Or you can prepare some cheese, ragu, and ham to stuff your rice balls.
If you have some potatoes left unused, take them out for this recipe. Slice them in half and dug out all the flesh inside. You can use them for your main dish. Then, fill your potato skins with your favorite ingredients like bacon and cheese.
After baking them in the air-fryer, you'll get a batch full of fragrant potato skins with a crispy exterior. Not to mention, this dish takes less than an hour to complete, compared to when you bake them in the oven.
Have you tried authentic Cajun appetizers with stuffed mushrooms? This recipe might be quite different from the Cajon version, but every bite of them will enchant you.
I love having stuffed mushrooms as an appetizer for more formal parties since they are all bite-sized, so you don't have to worry about all the etiquette when eating them. Also, compared to their elegant appearance, these are really easy to make.
In their simplest form, you just need to fill these mushrooms with all kinds of cheese. But then, why stop there when you have all sorts of ingredients in your fridge? Feel free to swap in, swap out every component and make as many combinations as you like.
Sometimes, my family would have a meal full of appetizers. Yes, you don't hear me wrong. In those days, I won't make any main courses but cook tons of appetizers instead. And jalapeno poppers are an indispensable dish.
With all the cheese and bacon stuffed inside, this dish is just irresistible. Not to mention, you can sprinkle some panko on top, so they are crunchier. And since these jalapeno peppers are small, you can eat as many as you want.
These air fryer jalapeno poppers will be the star of your next potluck party! You can see this video to know more:
Air-Frying Makes These Chicken Starters More Delicious!
Nothing doesn't taste better with the help of an air-fryer, that includes these chicken appetizers. No more sweating over preparing them and cleaning up afterward. Air-fryer makes things super simple for you!
While Buffalo wings are a perfect American starter dish with their hot and sweet flavor, making them can be pretty challenging and sometimes leave you with tons of cooking tools to clean up afterward. That's why many people would rather order a take-out than make this dish themselves.
But now, with this recipe, you can complete these Buffalo wings without sweating a drop. Just let the air fryer perfect the chicken wings for you. At the same time, you can make your own version of Buffalo sauce.
You won't catch air fryer buffalo wings this good anywhere else! You can see this video to know more:
This dish has no connection with the Chinese Bang Bang chicken. While the Asian recipe involves shredded cooked chicken dressed in a spicy sauce, this one makes fried chicken pieces instead.
And yes, this dish has an accompanying sauce, too. But it's more on the sweet side with honey or mayonnaise. If you want to make this Bang Bang chicken in Keto-friendly style, switch out honey for monk fruit sweetener.
You may wonder how chicken tenders are different from the regular chicken breast? Well, the most significant gap between them is that, just like its name, the former is more tender than breast meat.
However, these two are mostly the same, so if you can't find chicken tenders in your area, feel free to replace them with chicken breast strips. With some dipping sauces like BBQ, ranch dips, you have an easy and more-than-perfect appetizer for your family.
These air fryer chicken tenders are so simple that you can make them with your eyes closed. You can see this video to know more:
When it comes to meatballs, most people would think of cooking in the oven or on the stovetop. However, after all the experiences, I realized these chicken meatballs taste best after being cooked in the air fryer.
And as a workaholic, I also find these treats are much quicker with mouthwatering frozen meatballs so all I have to do is just throw them in my air fryer.
This way, your meatballs remain tender and juicy while having a lovely crust on the outside, just like being baked. But air-fried chicken meatballs don't take as long as those baked ones. You can add some grated zucchinis so they can become moister.
Top 2 Most Fantastic Air-Fried Seafood Appetizers!
Compared to other ingredients, seafood belongs to a higher class as it's more pricey. However, to retain their freshness and natural sweetness, making them with an air-fryer is the most appropriate choice.
Nothing beats having crab meat right before the main dish, especially when mixed with panko crumbs and Old Bay seasoning. Just one bite of these seafood-based appetizers makes you feel like sitting by the sea with all the ocean flavor bursting in your mouth.
Aside from these main ingredients, feel free to add other foods to this batter based on your preferences. For example, some celery and green onion will make your crab cakes more refreshing. Then, serve them with some herb dip or tartar sauce for a perfect appetizer.
Are air-frying shrimps a bit too boring compared to other seafood dishes? I beg to differ. With just some Old Bay or South Western seasoning, your shrimps will taste like a roller coaster of flavors: sweet and savory with a hint of extra heat.
Or you can just cook your shrimps just as they are and use them with a cocktail sauce. This is an excellent recipe for your frozen shrimp, but you can also use fresh ones. You don't even need 15 minutes to complete it.
You can see this video to know more:
Other 5 Priceless Appetizers With Air-Fryer For You To Try!
These appetizers don't have specific main ingredients like those above dishes. But that fact doesn't lower their yumminess. In fact, now, you can enjoy all the different flavors at the same time.
If you don't know what appetizers to make for your dinner, garlic bread is always a safe option. Any dish can follow it, no matter if the subsequent courses are meat, seafood, or pasta.
And with the aid of an air fryer, this dish can't get any easier. Spread your garlic butter on one side of your bread slices and leave them in the air fryer for roughly five minutes. You can let them stay for longer if you want a crunchy crust.
Egg rolls are a familiar dessert in almost all American Chinese restaurants. Despite their name, this recipe doesn't contain any eggs. Compared to the authentic Asian spring rolls, these have a thicker wrapping.
As for the filling, there's no limit on what you can put in these egg rolls. Traditionally, they are often filled with both vegetables and pork. But you can add other ingredients like tofu, shrimp, ground beef, etc.
You won't ever order a take-out anymore after trying these air fryer egg rolls. You can see this video to know more:
If you are tired of all those familiar appetizers above, then it's time to try out new recipes like these samosas – a symbolic food in the Indian appetizer menu. They are pastries with savory fillings. They appear in various sizes and shapes, but the most well-known is the triangular one.
Samosa filling tends to depend on the chefs. Most of the time, it'd be spiced potatoes, onions, cheese, and sometimes meat is added too. Samosas taste best with chutney, so make sure you make some while waiting for samosas to be cooked in the air-fryer.
The beauty of samosa is you can either prepare it with meat or omit this ingredient entirely. In the culinary world of Nepal, samosas are often made without meat, allowing even vegetarians to enjoy this scrumptious treat. And fear not, even without meat, samosa tastes amazing.
Arancini is an iconic dish in Sicily made of rice balls with different fillings. Italian people often bread-coat them before deep-frying for crunchiness. However, that method isn't good for your well-being, so I'll switch it with air-frying.
There are fixed recipes on how to make these rice balls. You can stuff them with all the foods you want, like cheese, bell peppers, ground meat, etc. And if you run out of time, you can just make some risotto for this arancini.
Your Party Will Be Much Livelier With These Air-Fried Appetizers!
Actually, you don't need to wait until some large gatherings to make these appetizers. Feel free to cook them for your everyday meal. Or make your family's dinner time into a small party full of appetizers.
There is so much use for your air fryer, so don't hesitate to share other starter recipes with other readers in the comment section below. And remember to introduce this article to your family and friends!
Nutrition Facts
4 servings per container
---
Amount Per ServingCalories80
% Daily Value *
Total Fat 3.5g

5

%
Cholesterol 52mg

18

%
Sodium 413mg

18

%
Potassium 149mg

5

%
Total Carbohydrate 7.6g

3

%

Dietary Fiber 0.8g

0

%
Sugars 1.4g

Protein 5.3g

10

%
---
Calcium

90

%
Iron

1

%
Vitamin D

4

%
* The % Daily Value tells you how much a nutrient in a serving of food contributes to a daily diet. 2,000 calories a day is used for general nutrition advice.