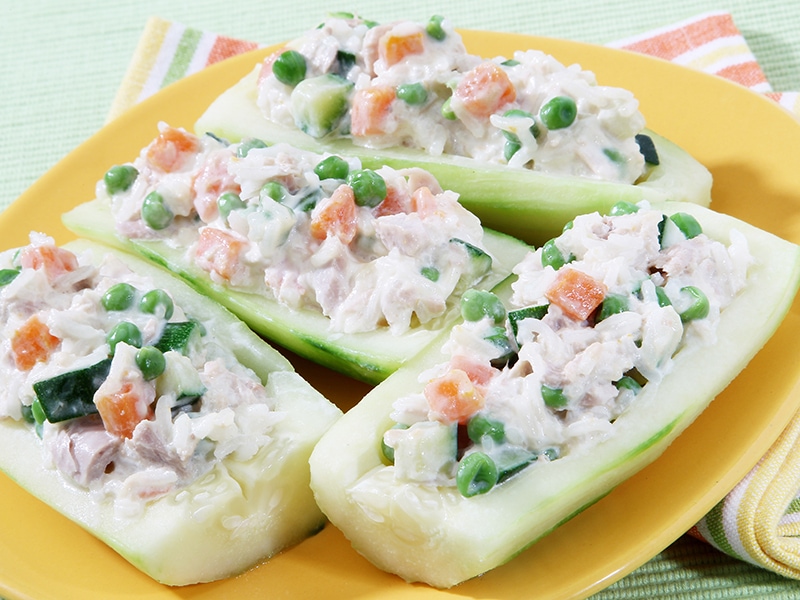 These recommended cucumber appetizers below must be the easiest but the most brilliant dishes to start your meals with high satisfaction. Besides, cucumbers are a familiar and easy ingredient; thus, combining them with other elements is also much easier.
The post here will suggest a lot of insane ideas for making appetizers with crunchy cucumbers. They are diverse to satisfy your expectations about the excellent appetizers. Take a look around to find out the best ideas.
What Are The Most Worthy Cucumber Appetizers To Eat?
The list below will reveal the best but easy and quick appetizer recipes to make with cucumbers. Cucumber appetizers are divided into four groups so that you can quickly find out what to make for the next meal.
Bite-Sized Cucumber Appetizers For A Catchy Starter
Cucumber Appetizers As Bites With Meat And Seafood
Cucumber Avocado Appetizer With Shrimp
Cucumber Tuna Salad Bites
Korean Beef And Cucumber Appetizers
Salmon Cucumber Bites
Shrimp And Cucumber Tzatziki Bites
Cucumber Avocado Appetizers
Bite-Sized Cucumber With No Meat
Cucumber Cups With Greek Style Filling
Cucumber Hummus Bites
Falafel-Spiced Cucumber Bites
Cucumber And Cream Cheese
Greek Cucumber Walnut Bites
Cucumber Bruschetta
Cucumber Sandwiches
Greek Salad Sushi
Other Sizes Of Cucumber Appetizers
Chinese Cucumber Salad
Cucumber Kimchi (Oi Kimchi)
Cucumber Fruit Salsa
Cucumber Pineapple Thai Salad
Greek Pita Spread
Cold Cucumber Soup
Stuffed Cucumber Boat
Cucumber-Stuffed Cherry Tomatoes
22 Healthy And Easy Cucumber Appetizers For Your Meals
Continue reading to know about detailed information about these suggested dishes. You can also consider these recipes as dishes to serve as cold appetizers. And as there are so many appetizers for you to choose from, I'm certain you'll find one that fits your family's interests.
Bite-Sized Cucumber Appetizers For A Catchy Starter
Cucumber is famous for creating appetizers with a bite for all. Beginning your meals with these pretty and delicious appetizers will make your meals more mesmerizing. Plus, you can use various types of cucumber to create a unique taste and texture.
Arousing Appetite By Bite-Sized Cucumber With Meat Or Seafood
Regardless of whether you should store cucumbers in freezers, for these recipes, you should go for fresh ones. The combination of cucumber and meat/seafood won't let you down. They'll offer you wonderful ideas for healthy and nutritious appetizers.
These shrimp cucumber bites are some of the most wonderful appetizers because they are delightful and appealing to start your meals. Cucumbers topped with avocado and full-flavored shrimps will raise the interest in eating the following main courses.
This recipe will significantly contribute to a balanced meal when it is healthy and nutritious, making it a great choice for your family party.
Your appetizers will vanish quickly with the appetizer of cucumbers and shrimp! Watch this video:
With this recipe, plain cucumbers paired with flavorful tuna salad are also an excellent choice as a great starting point for your meals.
These bites are best when you let them cool first before serving. This recipe is easy and quick to make. Thus, you can make it for your daily meals or special occasions.
If you like beef, using it to top over cucumber slices must be a great deal for you now. The addition of cream cheese and sauce will show elegance and luxury. If you plan to have a party, this recipe is the best choice ever.
Beef with low fat and highly high protein is a common choice for making main and side dishes, and now this recipe will significantly contribute to the big feast of beef.
Another fish you can use to create an incredible appetizer is salmon. Trust me, the combination between cucumber's refreshing flavor and the taste of salmon will impress even the pickiest eater.
What's more, the crunchiness from cucumbers harmonizing with the freshness of smoked salmon and sauce will surely satisfy you. This appetizer's catchiness will trigger your tastebuds and make your meal even more delicious.
With how easy it is to make this recipe, you can serve the crowd in no time. And with high-quality smoked salmon readily available everywhere, I'm certain that this cucumber appetizer will soon be a frequent occurrence on your dinner table.
Instead of using avocado puree, you can use tzatziki sauce to go with shrimp and form extremely flavorful bites.
Often, you use the sauce as the best side to chips because it can elevate the deliciousness level of any accompanying ingredients. With the shrimps, everything becomes much more stunning.
Tzatziki sauce goes with crunchy cucumber rounds and marinated fried shrimp to make an easy but tasty appetizer for your family meals.
The mixing of avocado puree and goat cheese will light this recipe and add many good flavors. The light green avocado mixture going with the dark green of cucumbers creates an eye-catching appetizer for you.
If you need to feed the crowd, this recipe is very suitable because it doesn't require much time for cooking and assembling.
With No Meat, Bite-Sized Cucumber Appetizers Are Also Delectable!
Without the absence of meat, do you think your cucumber appetizers with a bite for all are appealing enough to attract your family members to enjoy them? I'll show you the answers below.
These Mediterranean cucumber cups are simply pieces of cucumbers topped with the mixing of the Mediterranean salad. The recipe is flavored with a wonderful dressing, creating irresistible flavors.
You need to gather all prepared ingredients for Mediterranean salad, except cucumbers, and then add the salad to the cucumber cups to get the recipes done.
You must be addicted to this recipe after making it for appetizers. Not like many other recipes, just eat them whenever you like as they are a healthy dish.
Have you ever heard about hummus? Hummus is a healthy and nutritious paste to go with cucumber to form a pretty and wonderful dish at the beginning of meals. This combination has an unforgettable taste.
Making appetizers with cucumber and hummus paste is crazy simple and quick. You can use store-bought hummus, but it is definitely not as good as the homemade one. So, if you plan to serve your family members with this recipe, make it in advance to save time.
Bring this healthy and fabulous appetizer for your meals now! Watch this video:
9. Falafel-Spiced Cucumber Bites
No one can refuse this recipe because of its heaven and appeal. This appetizer recipe is easily made with cucumber, chickpea puree, and many other fresh herbs to add distinct flavors.
At first glance, you might think this recipe is very complex to make but actually not. If you have a food processor, making this dish becomes very simple within 30 minutes.
In this recipe, your cucumber bites will be topped with cream cheese that everyone loves eating. I think that deciding to serve your meals first with this recipe is a wise choice because it can raise the excitement of eating more.
You can save a lot of cooking time with this recipe, so just make it for your next meal if you like it. You will be satisfied with it, believe me!
If you're not super into cream cheese, let's try making the cucumber bites with walnuts that contain tangy, mild, and earthy flavors.
Besides, walnuts also add your appetizers with the crunchiness and necessary nutrients, which makes them a comforting and nutritious choice for your meals.
Another easy cucumber appetizer is cucumber bruschetta which contains toasted baguette slices topped with a fresh and flavorful mixture of feta cheese, Greek yogurt, and crunchy cucumber thick slices.
The recipe will bring you a sense of freshness and heaven when you enjoy eating them at the beginning of your meals.
With outdoor BBQ parties, cucumber sandwiches will be the best hit. They're elegant and delicious to taste. Besides, preparing ingredients for making and assembling them just takes a few minutes.
This recipe came from Britain during the Victorian era and has become famous worldwide as a good appetizer.
This Greek salad sushi has a beautiful appearance and wonderful flavor. To whip up this tasty food from Greece, use thin cucumber slices to wrap Greek salad and create sushi rolls for the wonderful appetizer.
This is a great way to make a fun take on traditional Greek sushi and also create the diversification of appetizers with cucumbers.
An easy salad sushi with cucumbers in a Greek-style will be ready on your table meals in few minutes. Watch this video:
Can Cucumbers Make Only Bite-Sized Appetizers?
Definitely no. Even though cucumbers seem to be easy to make appetizers with just a bite, they also get involved in many other recipes, from salad to soup. And these are some highly recommended ideas for you.
Have you ever tried sunomono, a refreshing vegetable recipe from Japan? If you know and love this scrumptious Japanese cucumber salad, chances are you'll love this Chinese recipe for cucumber salad as well.
Dressed with simple ingredients such as vinegar and light soy sauce, this Chinese cucumber dish boasts a delicious swirl of flavor that'll remind you of sunomono. However, what makes this dish stand out is a dash of chili oil, which gives it bold spicy flavors.
Instead of using cabbage to make kimchi, making this famous Korean dish with crunchy and fresh cucumbers is also an excellent way to create a good appetizer for your meals. Besides, cucumber kimchi is much easier than cabbage kimch
If your meals contain cooked white rice with grilled meat or soup, you must not forget to make this recipe as it will add crunchiness and spicy, slightly sour, and sweet flavors.
Your meals will be more appealing with the recipe of cucumber kimchi! Watch this video:
Cucumber and peaches are a dream combo for making salsa. This recipe is considered an expensive dish in most restaurants, but you can make it at home with the same flavors with a tight budget.
Your cucumber fruit salsa is the best to go with tortilla chips as a comforting recipe for appetizers.
Want something fun and exciting? How about trying out some exotic appetizers from Thailand? This Thai cucumber salad with pineapples is one of the best choices to introduce your friends and family to the many wonders of Thai cuisines.
This dish is not as complicated to make as it looks. With some inexpensive ingredients, you can get the dish finished.
Your appetizer is also satisfying with the idea of eating Greek layered dip with pita crisps. This recipe is ranked as one of the most fantastic Greek cuisines, and it will disappear quickly at your party.
Greek pita spread includes various fabulous Greek ingredients like feta cheese and olives, making it a special spread worldwide. You can try making this recipe to feel how good it is!
Is it good to cook soup with cucumbers? Ten minutes is the required cooking time to make cucumber soup. Thus, even if you do not have a lot of time for cooking, this recipe will help you complete your meals on time.
You had better serve the soup cold to get the best taste. Just make it first, and then refrigerate it while making other dishes.
Serve your family members with a wonderful cold cucumber soup! Watch this video:
Let your meal be fun with the idea of cucumber boats stuffed with dill cream cheese! Besides, if you are not a fan of cream cheese, just fill the cucumber boats with creamy smoked salmon, tuna, or crab meat. That's also a good idea!
This recipe offers you many variations for good appetizers, making you never get bored with enjoying meals.
My sister loves making this recipe for her children to encourage them to eat tomatoes, as they seem to be one of the most nutritious veggies on this planet. Therefore, with the creamy stuffing of cucumbers, eating tomatoes will be an exciting thing for them.
Besides, let the stuffed tomatoes chill in the fridge a few hours before serving; you'll feel the best taste.
Other Possibilities Of Using Fresh Cucumber In Appetizers
Besides the suggested recipes in the post, you can use cucumbers to make many other appetizers like spicy pickled cucumbers, ranch cucumber bites, bagel cucumber bites, etc. They have distinct flavors with a beautiful appearance that will satisfy you.
If you can find any good appetizers with cucumber, let me know by leaving the comment below, and I'll add it to my list as soon as possible. And if my post gives you good information, help me to share it.
Nutrition Facts
8 servings per container
---
Amount Per ServingCalories104
% Daily Value *
Total Fat 5.6g

8

%
Cholesterol 16mg

6

%
Sodium 105mg

5

%
Potassium 560mg

16

%
Total Carbohydrate 12.8g

4

%

Dietary Fiber 2.7g

8

%
Sugars 6.3g

Protein 3.2g

6

%
---
* The % Daily Value tells you how much a nutrient in a serving of food contributes to a daily diet. 2,000 calories a day is used for general nutrition advice.