Indian appetizers are diversified and delicious. Why are they diverse? Because different regions in the same nation have different traditions, beliefs, and culinary practices, Indian food is diverse and unique.
In India, cooking is art therefore, Indian appetizers are the foreplay of the artist. And today, I have compiled this list to expose you to these culinary works of art with 33 appetizer ideas that I believe will gratify you.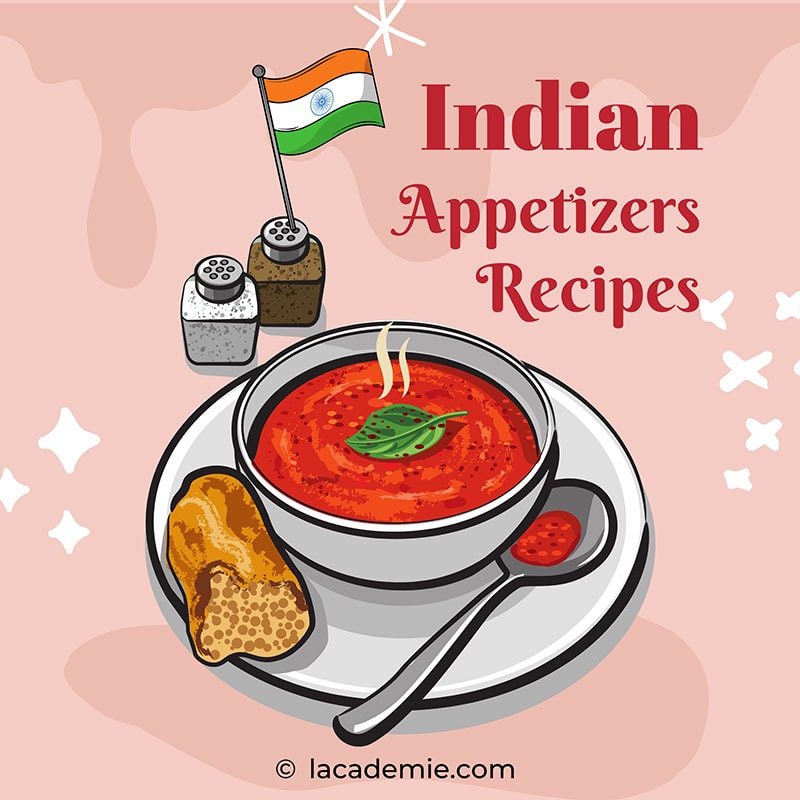 What Are The Top Go-to Indian Appetizers?
These 33 top-picked Indian appetizers are not only delightful but also healthy. They will come in with 9 different parts for different styles of appetizer such as Pakora, Samosa, Tikki, Tikka, Kabab/Kebab, Soup, Salad, Bread, and Other Indian appetizers. Let's take a look.
Indian Pakora Appetizer Recipes
Cauliflower Pakora
Onion Pakora
Cabbage Pakora
Mixed Vegetable Pakora
Chicken Pakora
Indian Samosa Appetizer Recipes
Keema Samosa (Patti Samosa)
Pinwheel Samosa
Sweet Potato Samosa
Indian Tikki Appetizer Recipes
Aloo Tikki (Aloo Ki Tikkia)
Sabudana Tikki
Idli Tikki
Indian Tikka Appetizer Recipes
Hariyali Paneer Tikka
Tofu Tikka
Chicken Tikka
Indian Kabab/Kebab Appetizer Recipes
Shami Kabab
Hara Bhara Kabab
Dahi Ke Kabab (Dahi Kabab)
Veg Seekh Kabab
Indian Soup Appetizer Recipes
Indian Tomato Soup
Carrot Tomato Soup
Lauki Soup (Bottle Gourd Soup)
Mango Soup (Fajeto)
Indian Salad Appetizer Recipes
Kala Chana Chaat ( Black Chickpea Salad)
Kachumber Salad (Cucumber Tomato Onion Salad)
Indian Cabbage Salad
Indian Bread Appetizer Recipes
Masala papad
Naan Bread
Other Indian Appetizer Recipes
Dahi Papdi Chaat (Aloo Papdi Chaat)
Masala Vada (Lentil Fritter)
Indian Bread Roll
Mysore Bonda
Sev Puri
Khaman Dhokla
Pakora – An Iconic Street Food For Spiced Indian Appetizers
When I talk about Indian appetizers, I must begin the list with pakora (or pakoda). They are spiced veggie fritters or chicken fritters in India served with sauces. So if you are a fan of fried food, I bet you will love it because of its unique flavor right from the flour mixture.
Cauliflower – a healthy vegetable is wide-used to make appetizers in many delicacies around the world. In India, they are no exception.
With this recipe, cauliflower will be covered by the seasoned batter and deep-fried. You can also serve it as a side dish in your Indian-themed meals. And if you wonder whether pakora is a gluten-free dish, well, most of them are.
Plus, if you are concerned, this deep-fried cauliflower pakora is rich in fat and calories; you can bake them. However, they might come out as not crispy as you expected.
Onion pakora is a well-loved snack in India during Monsoons. This recipe, obviously, is super easy and quick. These onion pakoras are addictively delicious, and they are way better if you dip with some Indian-authentic chutneys.
One more factor in ensuring your onion pakora is perfect is that you should cut them thin and evenly. And do not heat the oil too hot; otherwise, onion fritters are easily burned as they are thin.
Watch this video to know more:
The ingredients for making this tasty cabbage-based Indian dish are the same as the 2 recipes above, though I will use cabbage to increase the crunchiness for this pakora recipe.
Beside cabbage, I also add other herbs like cilantro and mint. If you do not like mint, you can skip it. Cabbage will be chopped before mixing them into the batter mixture. Then shape them into a bite-sized treat to make delightful appetizers as usual.
Do not forget to use a paper towel to absorb the excess oil after you deep-fried them. Or use an air fryer for cooking to have a healthier diet.
Now, let's combine as many veggies as possible to make a perfect greens pakora. Therefore, cauliflower, broccoli, carrot, and potatoes are the dream combination for this mixed vegetable pakora.
You can chop these veggies by hand or use a food processor, but do not puree them too smooth. Moreover, you do not need to boil the vegetables first because they will be cooked entirely in tiny pieces.
Alright, it is enough for vegetable pakora for now. Let me introduce to you another fried chicken version that I especially love. That is Indian chicken pakora.
Cut chicken thighs into pieces, then mix them with ginger, chili, herbs, chili flakes, and flour. Do not forget to add baking soda to make them have a fluffy shape after frying. And that's how to have a brilliant appetizer with a golden color that you cannot resist.
Samosa – The Outstanding Pastry Appetizers From India
Samosa is a savory pastry that comes in various shapes. They are very popular in many South Asian countries and are considered must-try dishes in Nepalese cuisine. Here are 3 iconic samosas for your Indian appetizer menu.
Keema samosa (or patti Samosa) is a triangular pastry stuffed with ground beef, onion, spices, lemon juice, and chopped veggies. With a crispy exterior and yummy filling, you will never get bored with them.
There are 2 parts of cooking for this dish. First, you will cook beef with other ingredients. Second, after stuffing this mixture into patty sheets, you will deep fry them again in medium heat.
If you're anxious about how to shape the sheets, so the filling does not leak out during the frying process, just follow the instructions; you will find it is not too difficult.
If you are too lazy to shape samosa by patty sheets like in the above recipe, this one is totally for you. Pinwheel samosa is a favorite snack for every Indian that is convenient to make and delicious on many levels.
They are also the solution for leftover potatoes. All you have to do is mash potato and combine it with Indian spices, roll out the dough but not too thin, and place the potato mixture on this dough. Then roll them and cut them into smaller slices. And that's why they call pinwheel samosa.
Sweet potatoes also fit with any samosa to increase the sweetness in the overall flavor. You can use store-bought patti sheets or use the dough to make the wrap.
Actually, making the sauce for dipping them in is the most exciting part of this recipe that I'd like you to know. Instead of the usual Indian chutney, I will make mango sauce to serve with sweet potato samosas.
To make the sauce, you need a food processor to puree mango, mint, and salt. You can add water if they are too thick.
Tikki – Fried Indian Appetizers That Melt In Your Mouth
In Hindi, tikki means small patties and served with Indian-style sauce. They are the well-liked choice for making a tasty appetizer. With the 3 most famous tikki recipes below, let's learn how to make them.
Aloo refers to potatoes. These herby, crusty and golden brown aloo tikki can easily be seen at India's street vendors. Plus, many Indian regions have their own versions of aloo tikki.
This recipe is for aloo tikki in the Northern style. Cooked peas and potatoes are the two primary components. Mash them to make a coarse texture.
Mashed potatoes with spices and herbs will be formed into medium patties and filled with mashed peas, which will be tightly sealed to prevent the peas from leaking out. Make sure you follow basic rules to thicken mashed potatoes since the final result will be a mess if they are soggy.
This melt-in-mouth appetizer with potato will be a big hit in your meal.
Sabudana (aka sago) is the extraction in starch form from the tropical palm tree. They are white in color and tiny pearl-shaped. However, you need at least 3 hours to soak the sabudana until softened to make this appetizer.
Sabudana tikki is made from sabudana, mashed potatoes, green chilies, herbs, and lemon juice. Similar to aloo tikki, they are crispy, crusty, and super delicious. For the best-enjoyed appetizer, serve them with farali chutney – a dipping sauce made of coriander leaf, green chili, and coconut water.
11. Idli Tikki
But first, what is idli? They are the rice cakes that are widely consumed in South India. In this recipe for this food that begins with "I", the ingredients to make idli tikki are idli, carrots, peas, beans, herbs, and spices.
One of the advantages of this appetizer is that it does not require a lot of oil to be deep-fried. This recipe will alleviate your concerns about leftover idli since it is ideal for transforming your idli into a new dish that is both nutritious and delicious.
Tikka – Indian-inspired Skewers For The Fantastic Appetizers
Tikka is a similar dish to kebab. The vegetables and meat will be put together on the skewers. And the popular way to cook them is grilling. In Indian cuisine, there are some special techniques to make the tikka tastier and turn it into an outstanding appetizer.
Hariyali paneer tikka is made of veggies and paneer – an Indian cheese with a mild flavor that is not too different from other cheeses.
The critical step of making this tikka is marinade preparation. Combine cilantro, mint, yogurt, lemon juice, and other typical Indian spices to puree in a blender. Cut paneer into square pieces and toss them with the pureed mixture.
Finally, add veggies and seasoned paneer to skewers to grill. Save this recipe now and try them when the BBQ season kicks in.
This unique tikka with veggies and paneer cheese is definitely an ideal appetizer for any meal.
Tofu is a common ingredient in making vegan dishes in Asia. So, let's use them to make tikka and see what the outcome looks like.
For adding a little heat to the flavor, tofu should be marinated with yogurt and Indian spicy spices such as ginger and red chili powder. Tofu tikka has such a bursting taste that I am sure your guests will be amazed.
Here is a tikka for non-veggie eaters. Chicken tikka is also an ideal Asian food with instant pots to offer juicy and soft meat cubes. Similarly, ingredients will be marinated with yogurt and other spices.
So the longer you marinate the chicken, the more delicious it will be since the flavor of the yogurt mixture will have more time to penetrate the chicken.
Kabab/Kebab – A Toothsome Indian Appetizer With Different Shapes
Kabab (or kebab) can be found all over India as they are simple and yummy snacks. They can be a good starter for any party. Here are the 4 most authentic Indian kabab to satisfy your hunger.
Shami kabab is a meaty kebab that is popular in Indian culinary world and some South Asia countries. Beef and chicken are the 2 common types of meat that are used to make shami kabab.
Chickpea lentils, meat, and other Indian spices will be cooked first on the stovetop. After that, they will be pureed by a blender (or a food processor); however, make sure this mixture is not too wet. Pour egg into this mixture, then shape them into small round patties before frying them.
A successful shami kabab will have a golden brown color outside and a delicate inside. And do not forget to serve it with mint chutney.
Once you see these kebabs, you just want to eat them right away because of their color. They are light green vegan patties with some golden brown spots on the surfaces, creating a green-looking and healthy appetizer for everyone.
The reason why hara bhara kabab are green is that their ingredients are potatoes, spinach, and green peas. You can even add green bell pepper if desired.
If you want the crispier hara bhara kebab, you can roll them with crumbs and deep fry them. Otherwise, you can bake them in the oven.
Here is the expert's instruction to make the soft and beautiful hara bhara kababs.
One of the main ingredients in dahi kabab is the curd. You can buy them in the markets or make them at home; however, the process of making curd is quite time-consuming.
Once your curd is ready to use, you can easily make dahi kabab as the rest of the preparation and cooking are straightforward. To make dahi kabab, it simply combines all ingredients and forms into flat round patties, then shallow-fried them with medium heat until browned.
Last but not least, here is a veggie seekh kebab for your vegan-friendly Indian appetizer menu with a simple recipe and easy-to-find ingredients. In fact, this has become insanely popular food in Bangladesh, which goes to show how widely beloved seekh kebab is.
After cooking the chopped veggies, you will put them on the skewer to grill if you are in the mood to throw a BBQ party. Do not forget to apply some oil to your palm before shaping them on the skewer to avoid sticking.
In another way, you can shape them like patties similar to the 3 above recipes and cook them on a pan.
Soup – The Delicate Appetizers In Indian Theme
Soup is a liquid dish that is perfect for a comforting appetizer. They are generally served hot or warm so that they are ideal for cold weather. So, let's find out what makes Indian soup become a must-try appetizer all the time.
Here is another hearty Asian-style appetizer. Tomato soup might be too familiar to many of you. But when it comes to Indian recipes, their flavor is totally different from the previous tomato soup that you have tried.
The difference that I am talking about is the spices. Garam masala, ginger, turmeric, and cayenne pepper powder will make your soup become the most comforting tomato soup that you have ever eaten.
Moreover, butter and heavy cream should be added after the soup is done to make them creamier and tastier.
How about adding some earthy taste of carrot to the tomato soup? And I guarantee your soup will come out amazingly.
It is a smooth and nutritious soup that is perfect for an appetizer, similar to tomato soup. Besides, carrot tomato soup is a great dish to start if you are new to cooking.
To boil the vegetables with broth and spices, you may need an instant pot or pressure cooker. Then puree them in a blender until smooth. You may serve the soup with bread or toast to turn it into the main dish.
Are you trying to lose weight but still can enjoy delicious food? Try this light lauki soup.
Lauki soup (also known as bottle gourd soup) is a gluten-free, low-carb soup that will fill you up without causing you to gain weight. Plus, this rich, warm, and creamy soup can be made in just 20 minutes. So perfect for busy people, isn't it?
But what is the best thing about this soup? Besides its delectable taste, lauki soup is a big package of nutrients that boosts your digestion and improves your skin health. So why don't you make them every weekend?
Mango soup (or fajeto in India) is a light and healthy soup mainly made from ripe mango. Therefore, they have a bright yellow color which makes you feel appetite right from first sight.
This soup with a well-loved fruit in India is versatile and can serve as an appetizer or a side dish. There are too many tones in one taste, such as sweet, tangy, spicy, and creamy, which distinguishes this soup from others. Therefore, it is such a pity if you do not try them once.
Salad – Let's Have Some Refreshment In Indian-style Appetizer
Greens, vegetables, and spices will create the finest salad plate. They are a great starter to increase your hunger with small servings. So it would be a big mistake if I skip any Indian-style salad in this list. Let's keep rolling down for more information.
Kala chana refers to black chickpea in India. They are a good package of nutrients; therefore, when you combine black chickpea with other veggies and avocado in this recipe, they become a super-protein source for a simple but healthy salad.
The flavors of every ingredient blend and make a perfect balance that you cannot stop eating. Fresh, flavorful, and easy to make, kala chana chaat totally deserves a try.
Kachumber salad is simply a salad made of chopped cucumber, tomato, and onion with lemon dressing. They are not only a supreme appetizer but also a delicious dip with chips. Plus, you can add this Indian dish to a keto diet.
Just around 10 minutes to prep, there is no reason that you should make it at home. With a little hint of chili powder, kachumber salad is suitable for spicy food fans. You can also add red radishes to increase the flavor and contrast color for this salad.
Watch this video to know more:
This Indian cabbage salad is an excellent accompaniment to butter chicken dishes, so why don't you make them for the next potluck dinner?
Unlike other Indian salads, this recipe does not require too many spices. Cabbage, carrots, and coconut are the ingredients that decide the overall flavor of this salad.
Besides cabbage and carrot, you can add green bell pepper and onion to have various flavors that make this salad more delectable.
Indian Bread – A Unique Kind Of Bread For Appetizers
In every appetizer, bread is a must-have item. However, bread varieties in India are different from other nations' bread. So, let's find out what makes them so unique.
You might find some strange ingredients in this recipe if you are not a native. One of the most important components of making masala papads is papad. In short, papad is a thin wafer, like a flatbread in Indian style made from dried lentils or other beans.
Papads are super crunchy as they are fried or dry-cooked. With masala papad, this flatbread will be topped with various chopped veggies; popular ones are tomatoes, red onion, green chilies, herbs with a hint of lemon juice. So they are a perfect choice for vegans.
Naan bread is the traditional Indian bread that has a unique way of baking. They will be placed inside a hot clay oven; underneath are wood or charcoal with very high heat.
But here, I will show you an easier way to make them by using a cast-iron skillet but still keep the same texture as baking in the hot clay oven.
And because there are no special Indian-authentic components, the ingredients are very simple to get by in any supermarket. So, if you want to change your family's eating style, let's try baking one this weekend.
Just look at how cute these bread rolls are. The golden-brown rolls along with cilantro chutney or ketchup are such a wonderful idea to enjoy your day. Besides bread, potatoes are the star of this recipe. And that's why they have another name as 'Indian potato croquettes'.
They have become one of India's favorite foods, made with mashed potatoes, bread pieces, onions, and other ingredients to produce a crispy and delicious meal that can be eaten for breakfast, lunch, snacks, or as an appetizer.
And Other Popular Indian Appetizers That You Will Love
Here are 6 more appetizer options that demonstrate the diversity of Indian cuisine. So, stay tuned to be astonished.
Dahi Papdi Chaat (or Aloo Papdi Chaat) is a well-known street food in Delhi, India. If you are looking for various flavors in one bite, this appetizer will be an excellent choice.
With crispy papdis (small flatbreads made of flour and spices), sev (an Indian chickpea-flour crunchy noodle), yogurt, and chutneys, you can taste the tangy, sweet, and spicy flavors at the same time.
Masala vada (aka parippu vada) is a deep-fried patty mainly made of lentils. They are an authentic South Indian snack that can be served as an ideal appetizer for any party, potluck, or meal.
The ingredients are very simple: lentils, onion, and spices. They will be pureed by a food processor and formed into a small flat ball shape. Do not forget to soak lentils for at least 4 hours or overnight to soften them.
Though many Indians choose mysore bondas as an evening snack, they can still serve as a delicious starter for every meal. Crispy, golden brown outside, and soft, fluffy inside are all the characteristics of a fantastic dish, right?
Mysore bonda is a deep-fried snack with a ball-shaped. They are made of flour, plain yogurt (curd), and spices. Do not worry if deep-fried food is not good for your health. With these ingredients, mysore bondas are the protein package that you cannot find anywhere.
Plus, if desired, you can add veggies like peas, carrots, or potatoes into this recipe to increase nutrients.
Sev puri might look similar to dahi papdi chaat dish as both are made of crisp papdis and sev. However, another key ingredient to make sev puri is potatoes. With some Indian ingredients, you can find them at your local India-themes stores, or you can order online for more convenience.
Sev Puri is also a common street food in India, especially in Maharashtra. Since it is so easy to make, Sev Puri is a fantastic appetizer with a flavorful, sweet, and spicy flavor.
Khaman dhokla is a fluffy, soft, and full of protein appetizer. They are a typical cake in Gujarat – a Western India region. As they are so popular, you can easily spot them in local grocery stores. But homemade khaman dhokla is more interesting.
With only 5 to 10 minutes to prepare, they are great savory cakes for last-minute cooking. You can cook them in the microwave or by a steamer; however, the steamer may take a bit longer.
This appetizer is served hot with many kinds of chutney (tamarind, mint, date, or tomato are ideal).
Indian Appetizers Are The Pieces Of Art
With 33 authentic and unique ideas of Indian appetizers here, I hope you can save the Indian-style treats to cook for yourself, your family, and your friends. But if you think they are too spicy for you, you can adjust the spices for your preference.
So what do you think about my list? Please feel free to add your thoughts to discuss in the comments area. And if you want your friends to enjoy the trip to India with you through these appetizer ideas, please click share so everyone can have a wonderful time in the kitchen.
Nutrition Facts
2 servings per container
---
Amount Per ServingCalories60
% Daily Value *
Total Fat 0.9g

0

%
Sodium 317mg

14

%
Potassium 267mg

8

%
Total Carbohydrate 9.9g

3

%

Dietary Fiber 2.7g

8

%
Sugars 2.5g

Protein 3.7g

6

%
---
* The % Daily Value tells you how much a nutrient in a serving of food contributes to a daily diet. 2,000 calories a day is used for general nutrition advice.