There are many foods that start with "I". Yet, somehow, many still struggle to find foods whose names begin with each letter in the alphabet, or in this case, a simple letter: I. Don't worry! That's the reason I'm here
After reading this article, I hope you can gain some exciting knowledge and develop more ideas about foods beginning with I. So, don't hesitate anymore! Let's start right now!
Savory Dishes
Idli/ Idly
Idiyappam
Indian Curry
Irish Nachos
Israeli Falafel
Instant Noodles/Instant Ramen
Irish Stew
Isi Ewu (Goat Head Soup)
Italian Sausage
Italian Wedding Soup
Desserts
Ice Cream
Ice Cream Cake
Ice Pop
Icing
Imarti
Italian Kisses
Instant Pudding
Italian Ice
Iced Gems
Beverages
Ice Tea/Iced Tea
Irish Coffee
Iced Coffee
Irish Cream
Ice Cream Soda
Instant Coffee
Irish Whiskey
Fruits
Inca Berries
Iboga
Icacina
Icaco Fruit
Ilama Fruit
Illawarra Plum
Ice Apple
Indian Almond Fruit
Indian Corn
Indian Squash
Indian Peas
Italian Sweet Peppers
Italian Plum
Imbe Fruit
Ita Palm Fruit
Iyokan
Indian Cucumber
Indian Fig
Indian Gooseberry
Indian Prune
Indian Sherbet Berry
Indian Strawberry
Indian Wild Pear
Indonesian Lime
Vegetables
Iceberg Lettuce
Indian Mustard
Ice Plant
Inga Edulis (Ice Cream Bean Fruit)
Italian Parsley
Italian Red Onion
Irish Moss
Others
Italian Dressing
Iodized Salt
Icelandic Rye Bread
Instant Oatmeal
Irish Soda Bread
Inebriant
Savory Dishes
1. Idli/ Idly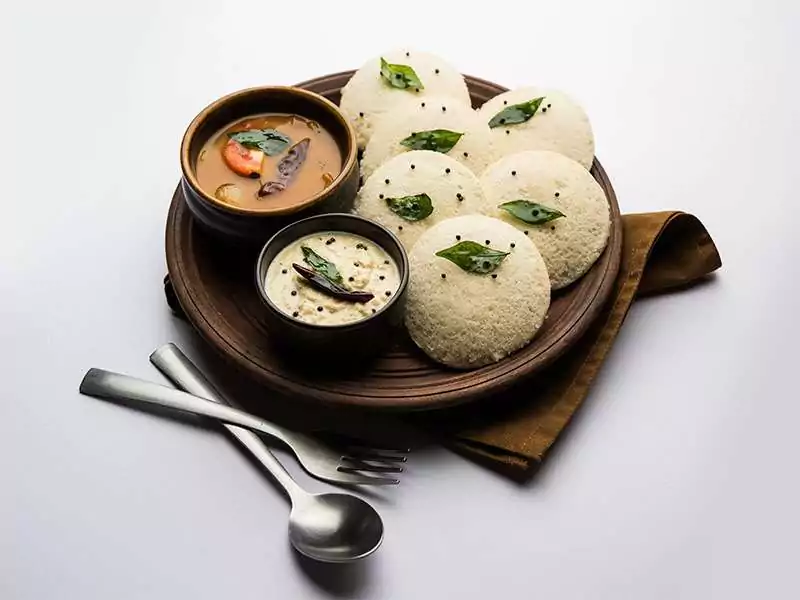 Idli, a soft, fluffy, oval-shaped savory rice cake, appears on many breakfast tables in India and Sri Lanka. Its batter is a mix of fermented black lentils and rice, which is full of nutrients. Its roots remain a mystery, ranging from Indonesia to Karnataka or Tamil Nadu in India.
Since I'm concerned about health, Idli is my favorite breakfast. Idli is naturally vegetarian, vegan, and gluten-free, which even babies can eat. It's tastier when paired with a famous Tamil dish named Sambar (lentil-based stew), chutneys, or curry.
Making Idli is more challenging than it looks. First, soak rice and lentils. Then, grind it to a semi-fine consistency with a stone grinder or a mixer grinder.
Keep the batter fermenting for at least 8 to 9 hours (or overnight) until it doubles or triples in volume. Finally, steam it for 15 to 20 minutes.
2. Idiyappam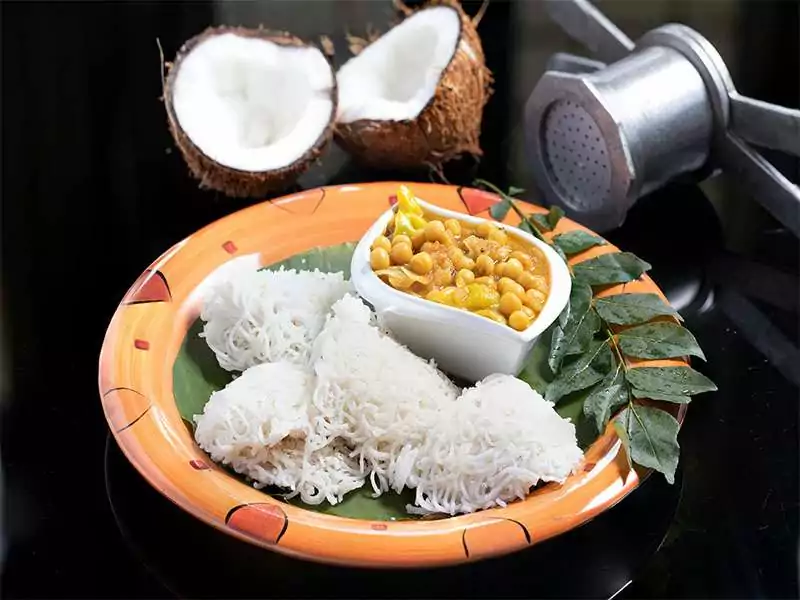 Idiyappam, also known as Noolputtu or Noolappam, is a steamed rice noodle dish. These thin strands of noodles are made from white rice flour.
This dish holds a special place in the culinary scenes of South Asia, particularly India and Sri Lanka. I even find it in other Asian countries, like Malaysia and Indonesia.
Savored as a breakfast dish in Malaysia with brown sugar and coconut, Idiyappam goes well with chicken stew, chicken curry, pea curry, or vegetable kurma. And it can also transform into a dessert when served with ghee, sugar, sweetened coconut milk, and grated coconut.
Learn how to make the famous Idiyappam with my favorite guide.
3. Indian Curry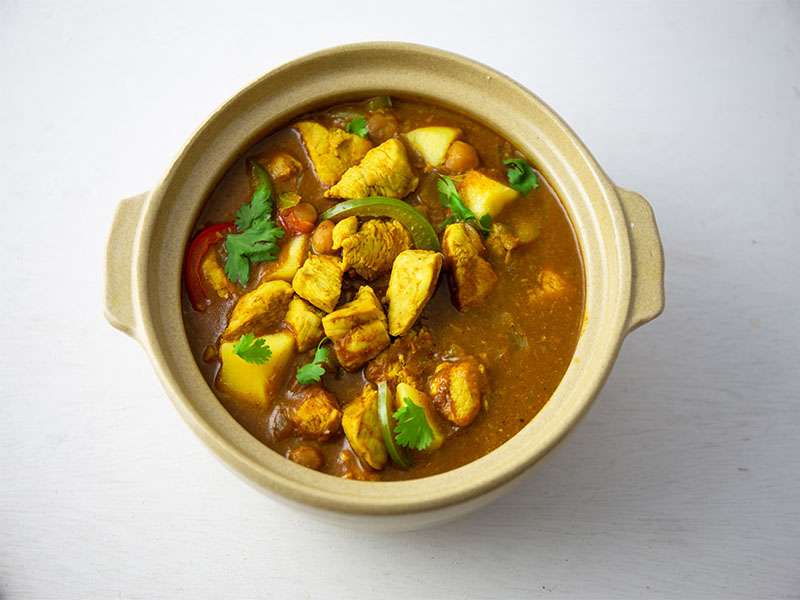 Indian curry is a blend of fragrant spices, with cumin, turmeric, and ground chili peppers forming a versatile base. The vibrant red, green, and yellow hues mirror their flavor profiles, ranging from mild to spicy.
Another time-saving option is curry powder, often featuring add-ons like garam masala and tamarind. That explains why Indian curry has the same complexity as European stews. I sometimes use it to season other Indian dishes: Tandoori, Tikka Masala, Rogan Josh, etc.
The word 'curry' is from the Tamil 'kari', translating into sauce or soup often served with rice. Therefore, Indian curry is best savored with rice, naan, chapati, or salad, complemented by chutney or poppadoms.
Recognized worldwide, it's no surprise that this dish is India's most famous export. Now, when I want authentic Indian curry in England, I'll go straight to the Balti Belt in Birmingham.
Chef Gordon Ramsay will teach the tastiest Indian curry at home.
4. Irish Nachos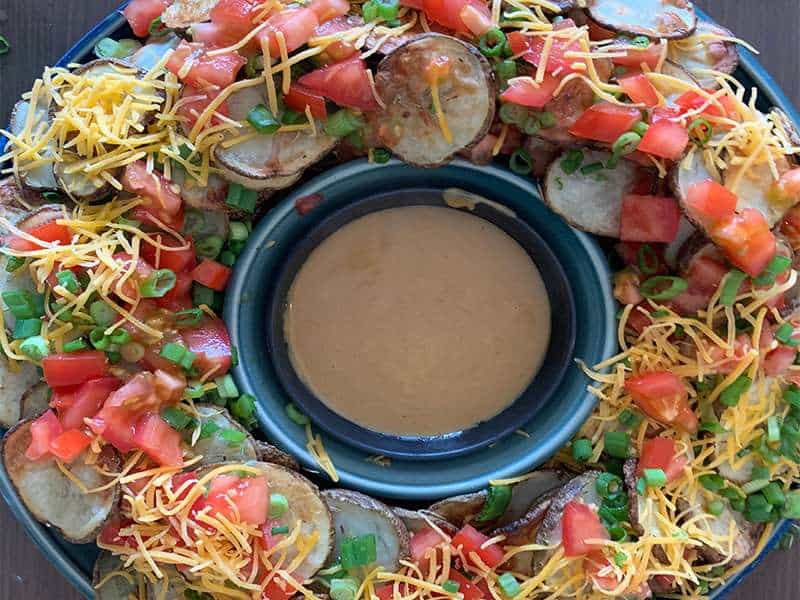 Irish nachos are a perfect appetizer, lunch, snack, or dish for the St. Paddy's Day party. They contain thinly sliced baked potatoes with several seasonings such as rosemary, thyme, salt, and pepper.
I often serve these nachos with sour cream or guacamole in the center with some side veggies. Eating them with a cheesy bacon layer on top is also one of my favorite ways due to the buttery, smoky, yeasty taste.
One serving of Irish nachos contains many nutrients like fiber, vitamins A and C, calcium, carbohydrates, proteins, and potassium. So if you are on a diet, pay attention to how many calories are in your Irish nachos.
5. Israeli Falafel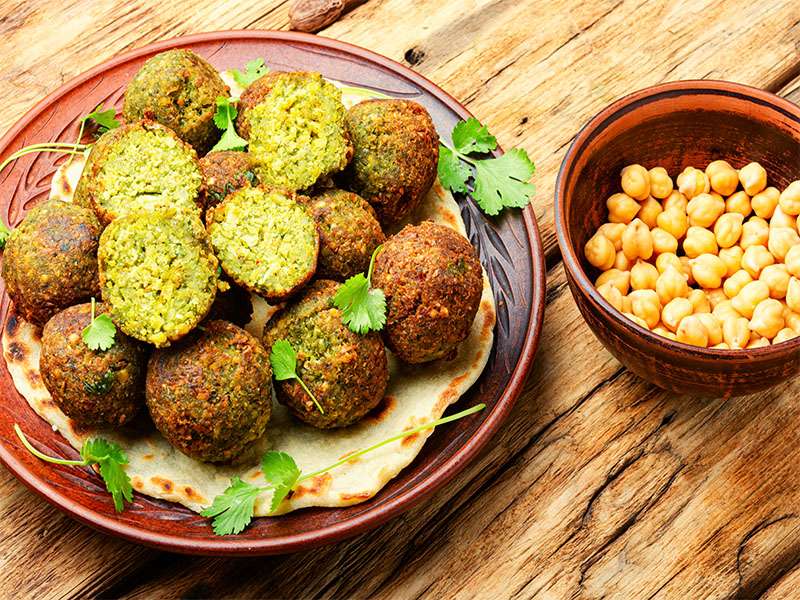 Israeli falafel is a wholesome Middle Eastern fare loved in Israel, Egypt, and Palestine. It is deep-fried little balls or patties made from ground chickpeas, fava beans, or a mix of both and is nestled in a pita or taboon flatbread.
Falafel is an exquisite street food in many cities throughout North America. It also appears in fast food restaurants but is undeniably more nutritious than most American fast foods.
People usually eat Israeli falafel alone or with salads and sandwiches. It's also topped with hot sauce, salad, hummus, baba ganoush, or pickled vegetables like tomatoes, lettuce, cucumbers, and other garnishes.
Flaunting a low glycemic index and cholesterol level, falafel has a high protein, fiber, and complex carbohydrate content. When baked, it's even healthier.
6. Instant Noodles/Instant Ramen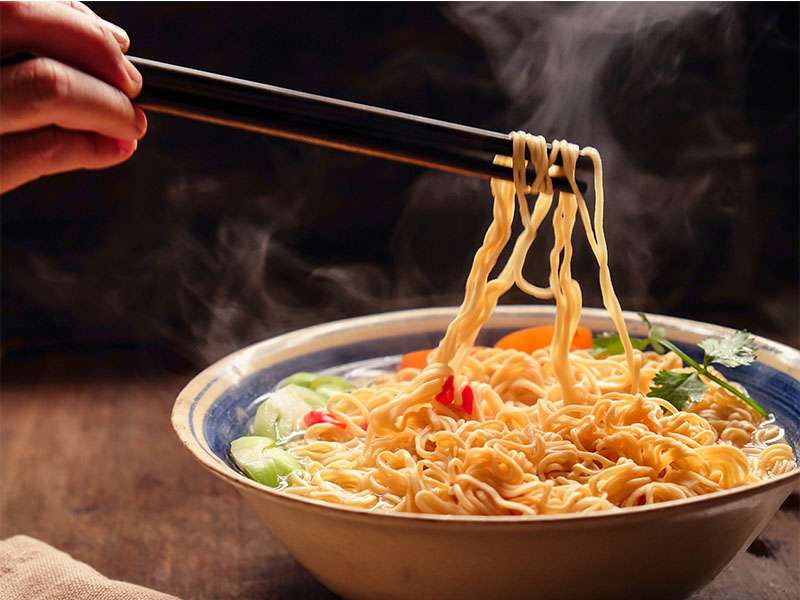 Instant noodles, a dehydrated noodle snack native to Japan, have claimed a spot in American pantries with brands like Top Ramen and Cup O Noodles. They are also eaten all over the world.
Prepared by adding boiling water, flavoring powder, and seasoning oil, these noodles become a quick meal in under five minutes. So, there's no surprise when many love this convenient and inexpensive fast food.
Instant noodles include flour, salt, and palm oil. The seasoning usually contains dried pieces of vegetables, some spices, and monosodium glutamate (MSG). Instant noodles are packed in small yet colorful packages or disposable one-time-use cups.
While they supply some manganese, vitamin B, and iron, they may not provide enough protein, fiber, or calories and could be short on vital vitamins and minerals. You should also consider their high sodium content before eating.
7. Irish Stew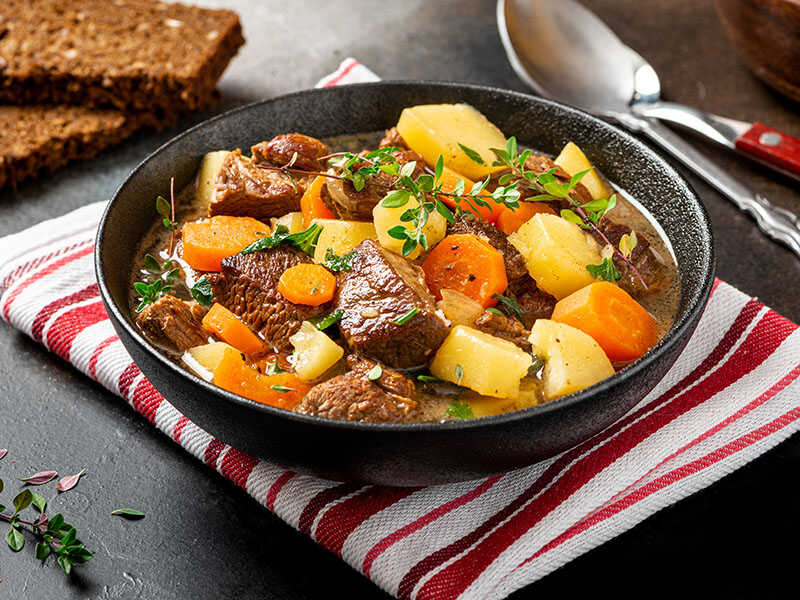 Irish stew has its roots in Ireland, hence the name. It's a traditional dish that pairs mutton (sheep) or lamb with onion and potatoes, creating a rich, comforting meal. I also add other ingredients like celery, carrots, and cabbage for a heartier dish.
In some Americanized versions, lamb gives way to beef. Still, what defines Irish stew is the special gravy, a blend of Guinness or dark beer mixed with red wine.
After boiling and simmering for up to two hours, you'll get a balanced dish of protein and veggies adored across Europe.
8. Isi Ewu (Goat Head Soup)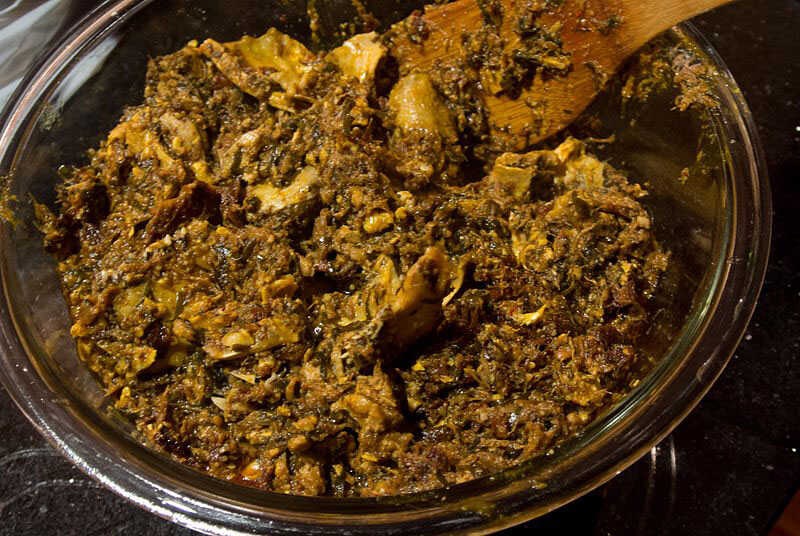 Isi Ewu is a fascinating part of Nigerian cuisine. It takes the bold step of using goat head or cow feet, including the brain, tongue, and cheeks. After a thorough cleaning, they're seasoned and boiled until tender.
Isi Ewu often comes with a spicy pepper sauce that adds a fiery kick. Complementing this dish are plantains, yams, or fufu, a starchy side made from cassava.
9. Italian Sausage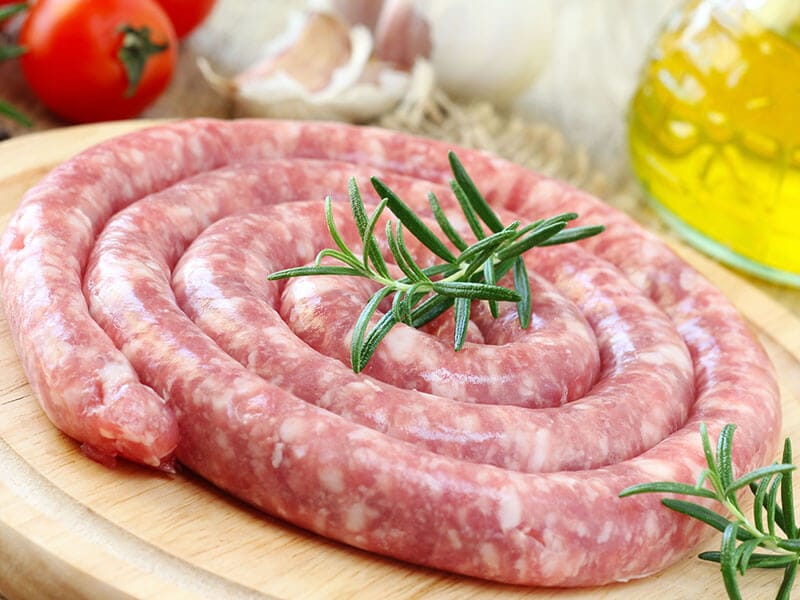 Despite its name, Italian sausage is actually an Italian-American pork product in North America with a distinct kick. Its seasoning blend includes salt, pepper, garlic, fennel seed, and anise seed, providing a slightly spicier note than traditional sausages.
This versatile ingredient can go alone as a main dish but also shines in sandwiches or other recipes. Whether nestled in a hoagie or submarine-style bun or mixed with other fillings, Italian sausage is a surefire crowd-pleaser.
10. Italian Wedding Soup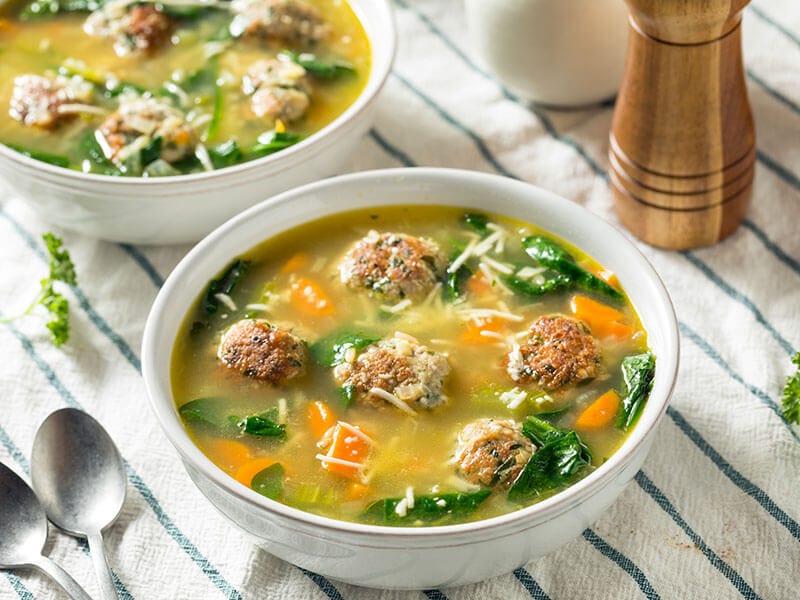 From the family kitchens of Lazio and Campania comes Italian wedding soup or Minestra Maritata. It's a delightful medley of meat and green vegetables: endive, escarole/cabbage, lettuce, kale, and occasionally spinach.
Swirling in this mix is either sausage or meatballs filled with parsley and Parmesan. Carrots, onions, celery, eggs, and pasta occasionally join the party, all swimming in a beautiful clear broth.
Italian wedding soup is a modest meal, with a cup containing just 190 calories, yet high in fiber, protein, and nutrients. So, it makes a light dinner option or a nutritious side dish.
Desserts
11. Ice Cream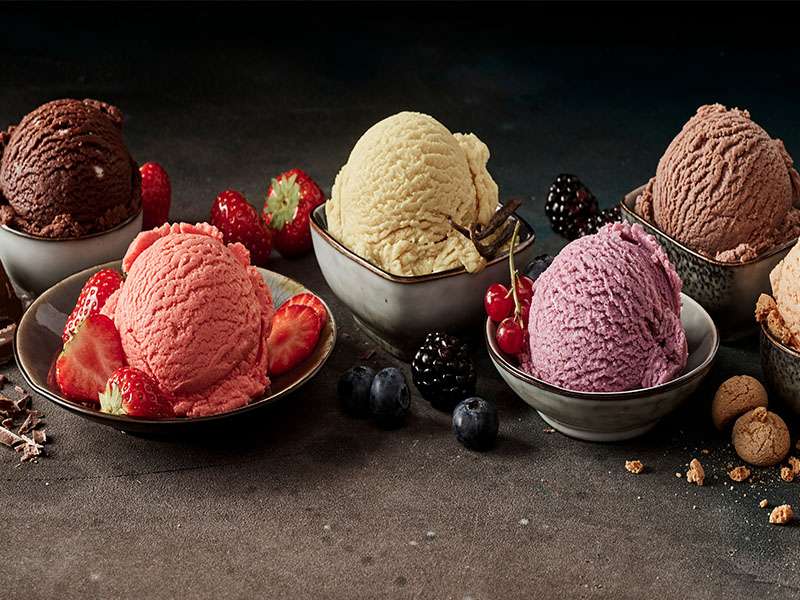 Ice cream, a familiar frozen dessert, is basically a dairy blend of milk and cream or dairy alternatives sweetened with sugar and flavors.
This delicacy comes in many flavors, from ice cream found in parlors to soft-serve variations at fast food outlets. Vanilla, chocolate, and strawberry might be the most adored, but there are more adventurous tastes of licorice, pistachio, bubblegum, or Skittles.
You can make ice cream even sweeter with fruits, chocolate chips, candy sprinkles, Oreos, or hot fudge. Ice cream is still tasty whether in a cone, a waffle bowl, atop a banana split, or in a sundae.
The original ice cream was made from snow in China around 200 BC. (1) And its popularity surged in America during the 1930s, leading to top consumers in the US, Norway, and Australia today.
Its influence has also spawned numerous types of ice cream in various regions, like Italian gelato and French sorbet, and lactose-friendly alternatives made with almond or coconut milk.
12. Ice Cream Cake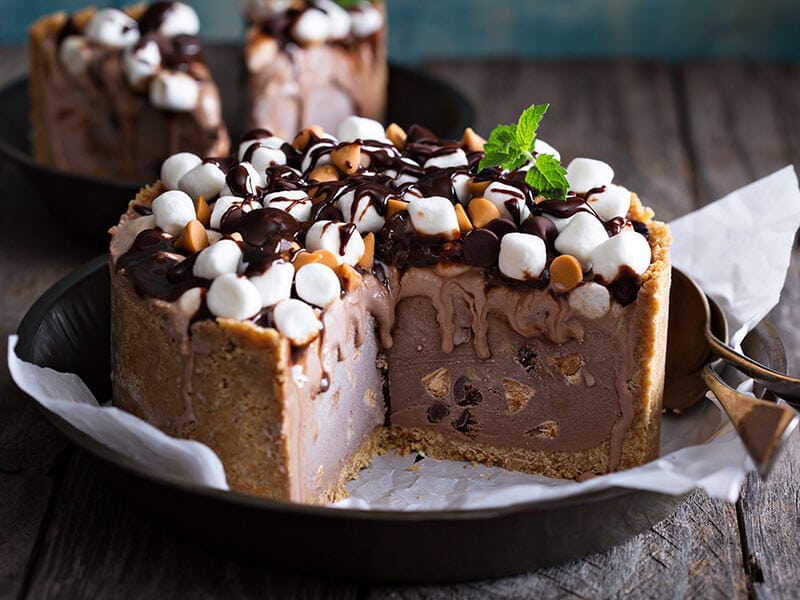 As the name says, ice cream cake combines ice cream and cakes, topped with cookie crumbles and whipped cream.
Ice cream cake is an incredible dessert with plenty of ways of organizing: Either using ice cream entirely and frosting it like a traditional cake or alternating layers of sponge cake and ice cream.
In the 1600s, an old-fashioned method lined a pan with crushed cookies and filled the rest with ice cream. Nowadays, supermarkets and ice cream retailers keep this delightful dessert in stock.
Ice cream cakes are the party's soul, the summer's famous face. It often serves at birthdays, weddings, and other celebrations, particularly in North America and Australia. It is less well-known in Europe.
13. Ice Pop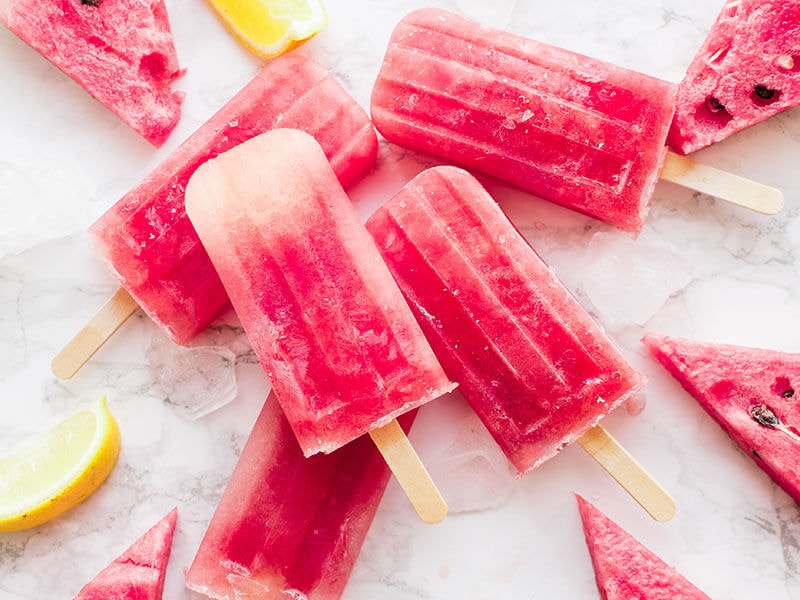 You may be familiar with the terms ice lolly, popsicle, etc. Those are the famous ice pops that I'll talk about. With water or milk as a base, ice pop has various flavors, from refreshing lime and coconut to sweet banana and other fruity tastes.
This tasty chill was unintentionally discovered by an 11-year-old boy, Frank Epperson, in 1905. Initially named 'Epperson icicles', these lollies on a stick became patented as ice pops when Frank was thirty.
People usually mistake ice pop for ice cream. But the main difference is ice cream follows the non-ice crystal formation, and ice pop is full of ice without any dairy. Because of the base, ice pop is a solid block of ice after being frozen.
Normally, there is a stick to hold an ice pop, but it can be a plastic tube instead. So if you didn't finish it fast enough, it would melt on your hands and get sticky.
14. Icing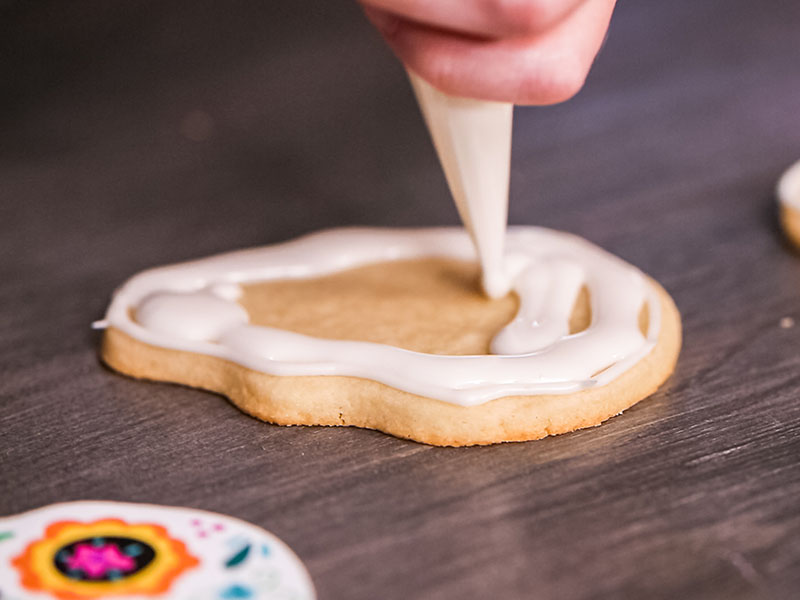 Icing is a spread on the tops of cakes and other sweets. It's less dense than frosting yet not as light as glaze. Its base is a simple combination of powdered sugar, butter, and a liquid like water, milk, or juice.
To elevate its taste and appeal, you can add some flavorings, vanilla or food coloring. Cakes, cupcakes, donuts, and pastries are icing's common companions, either draped in its sweetness or filled with it.
Icing can be runny or solidified, transforming into a delightful fondant to enhance baked goods.
15. Imarti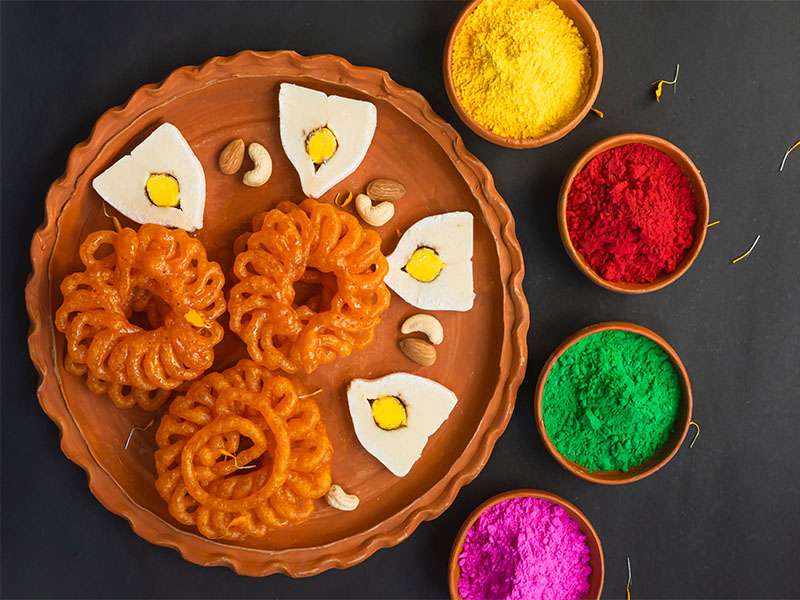 Imarti has tons of names: Amriti, Jangri, Emarti, Omritti. With likely Persian roots, it came from the Mughal kitchens of Fatehpur Sikri. This treat was once a royal confectionery exclusively savored by Mughal and Rajput courts.
Imarti combines all-purpose flour, corn flour, and besan (dal flour) with yogurt, turmeric, baking powder, ghee, and lemon juice. It is deep-fried in a circular, spiral shape like a flower. Its sweetness comes from sugar syrup, subtly infused with rose essence, cardamom, and saffron.
Appearance-wise, people likely confuse Imarti with Jalebi, another popular Indian sweet. The difference is in their ingredients. While Jalebi is made with maida (Indian all-purpose flour), Imarti uses besan flour for its dough. Therefore, Jalebi is thinner and sweeter than Imarti.
16. Italian Kisses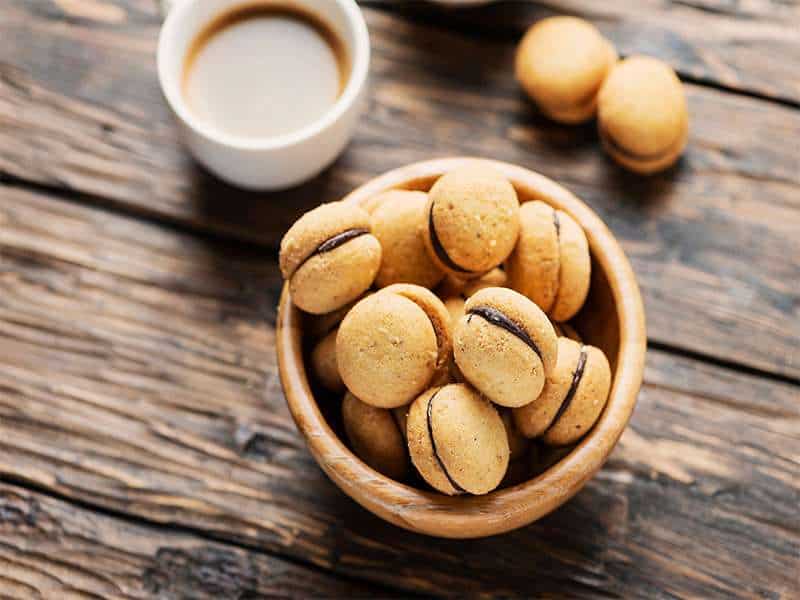 Italian kisses, affectionately known as Baci, are a beloved confectionery from Italy. These little wonders are simply vanilla or mint ice cream covered in melted chocolate. Crushed nuts or coconuts are sprinkled on top for extra flavor.
This petite dessert, pulled straight from the freezer, is preferred to relish after a big dinner, perhaps with a cup of coffee.
These lovely chocolate Italian kisses will be complete in only five minutes!
17. Instant Pudding
Instant pudding is a powder blend of flavoring agents, sugar, and thickeners. Just mix this magic powder with milk or your choice of ingredients, and you've got a pudding! Today, there's a plant-based version, like vegan vanilla pudding, for dairy-intolerant people.
18. Italian Ice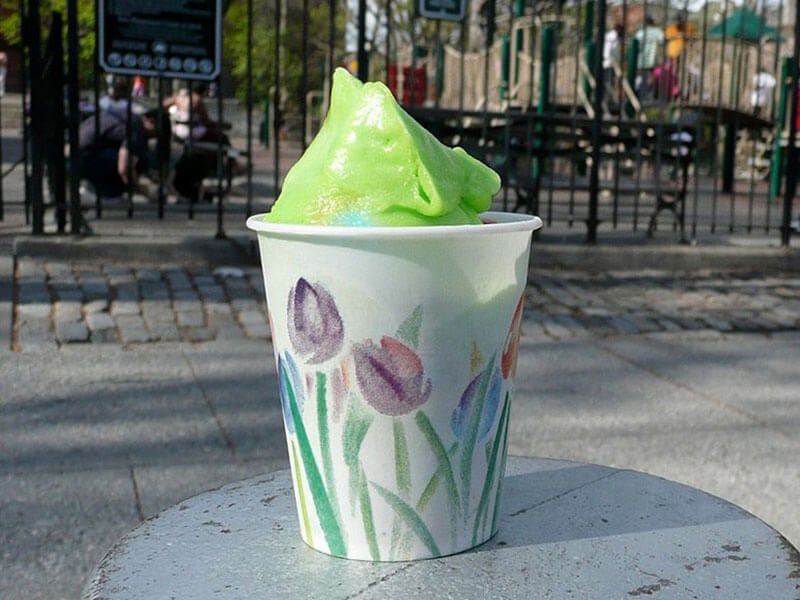 Italian ice is a delightful dessert, similar to sorbet, Hawaiian shave ice, or snow cones. It's crafted from a blend of fruit, juice, concentrates, or purees, providing a sweet taste without dairy or eggs.
This treat makes a splendid ice cream replacement for vegans, vegetarians, or those on a dairy-free diet. Plus, it has fewer calories and less sugar than traditional ice cream.
19. Iced Gems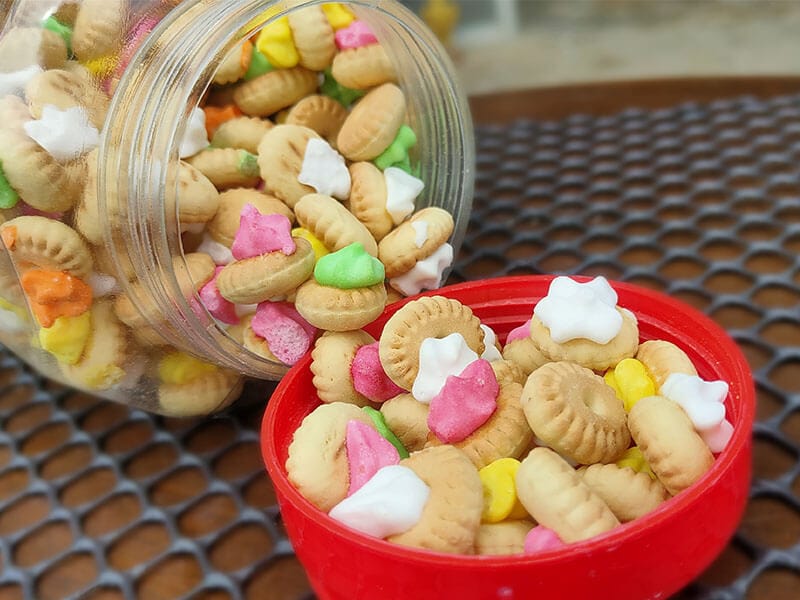 Iced Gems are quite popular in the UK. As a kid, I used to bite into these tiny, colorful meringue-frosted biscuits and savor the sweetness of the buttery dough beneath a crown of hard icing.
Various sprinkles and candies add an extra touch of fun to the munch. It's not just about the taste, but the warm, nostalgic feelings they evoke, reminding many of their childhood.
Beverages
20. Ice Tea/Iced Tea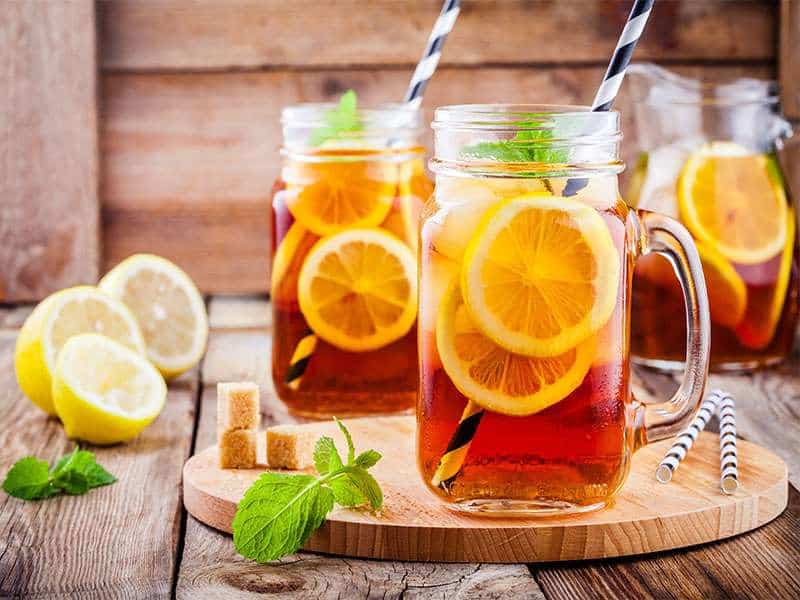 Fresh iced tea is an excellent thirst-quencher in the summer treatment for anyone. It also holds a special spot in the southern United States. Here, it adopts the moniker "sweet tea," as it is iced tea with a hefty dose of sugar.
Do you know drinking a cup of green or black iced tea daily can improve your memory by up to 50%? With this interesting fact, I hope you will drink more iced tea.
21. Irish Coffee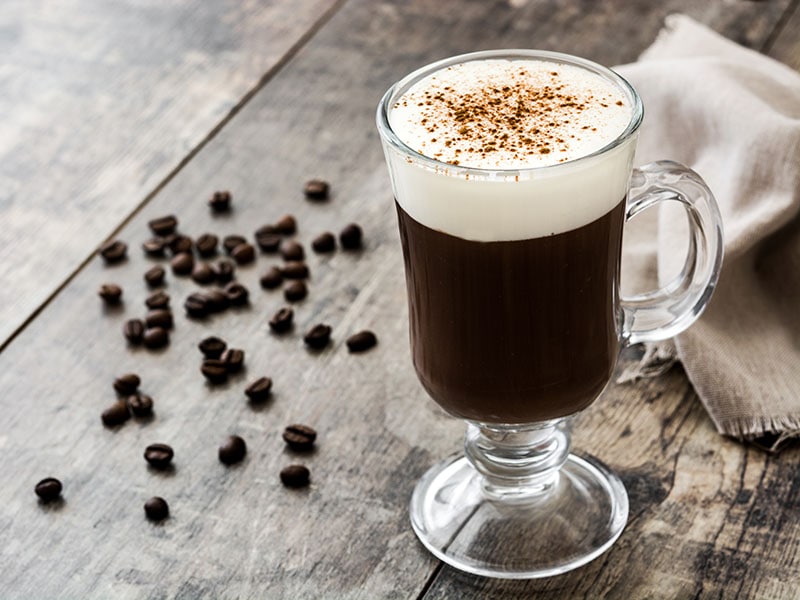 Irish coffee, a classic cocktail with roots in Vienna and Germany, offers a comforting blend of sugar, sweetened hot coffee, and the right amount of Irish whiskey. It is definitely a must-try for wine and coffee lovers out there.
Served in a clear glass stemmed mug, this alcoholic delight gets topped with heavy cream and sometimes a sprinkle of chocolate shavings. Despite its mighty name, the whiskey component remains modest. On St. Patrick's Day, it's a tradition to toast with this beloved beverage.
22. Iced Coffee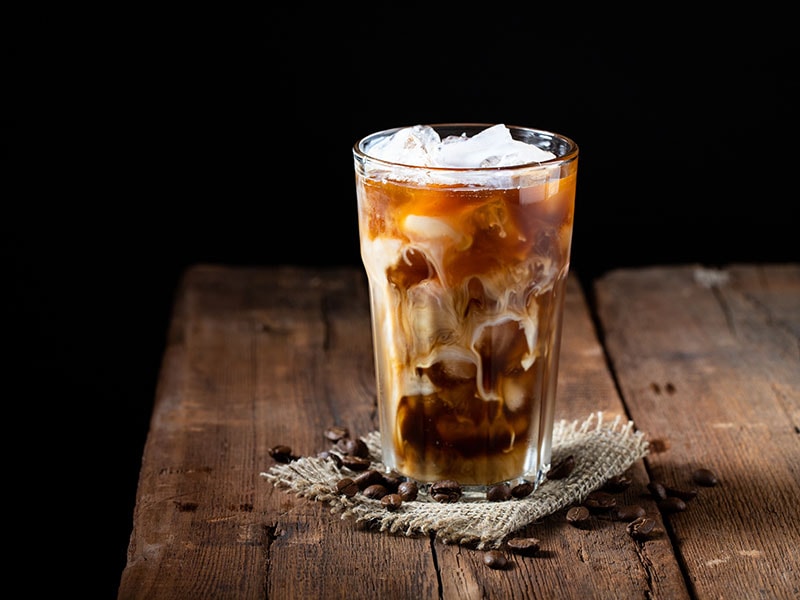 Combining chilled coffee, milk, and various flavorings, iced coffee is the ideal summer drink. Most coffee shops have it on their menu, with multiple variations, including iced mochas and lattes.
The preparation ranges from brewing coffee hot and combining it with ice and cold milk to cold brewing. Internationally, it has unique additions, like tea in Hong Kong or chocolate and soda in Brazil.
Not just refreshing, it's healthier than hot coffee, possibly reducing heart disease and type 2 diabetes risk. (2) The flavor is unmatched, whether instant coffee or a stronger French press brew. Still, the latter brings a more robust result.
23. Irish Cream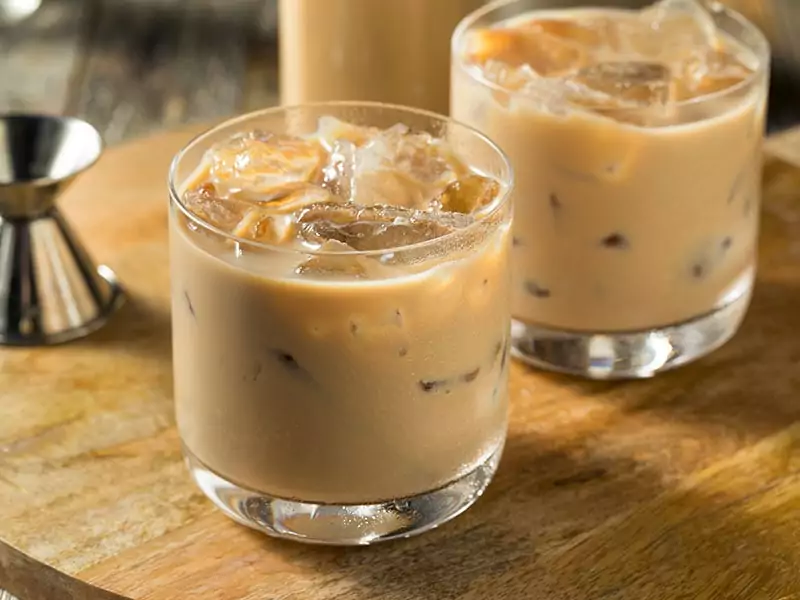 Irish cream is an alcoholic beverage consisting of Irish whiskey, cream, and different flavorings, such as the original, orange, coffee, and chocolate. This smooth, creamy, and sweet drink is super versatile in use.
Feel free to sip on Irish cream over ice or use it in mixed drinks like Irish coffee or desserts. Despite its Irish origins, this treat's popularity extends far beyond the emerald isle, particularly in the United Kingdom, Canada, and the United States.
24. Ice Cream Soda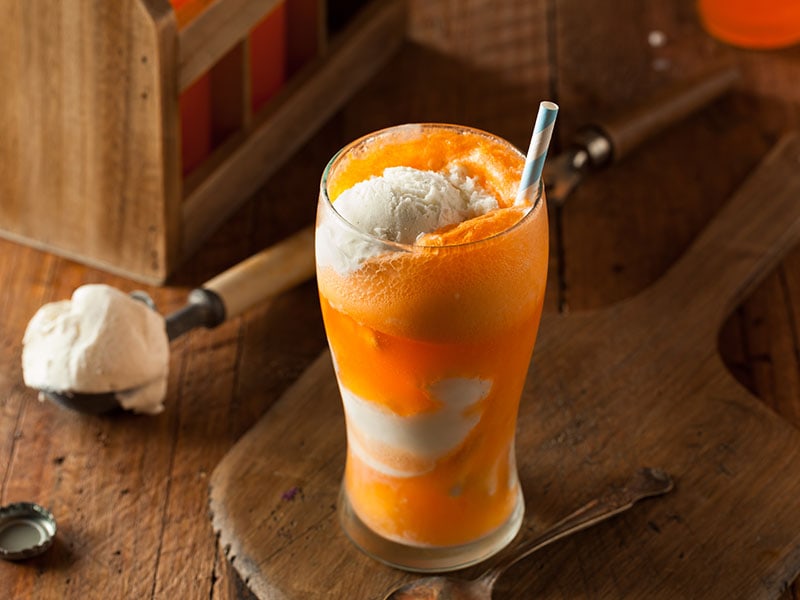 Ice cream soda, also known as an ice cream float, is a chilled, non-alcoholic beverage that combines ice cream with a soft drink or carbonated water and flavored syrup. Credit goes to Robert McCay Green, who used vanilla ice cream when he ran out of ice.
Over time, various versions have emerged, such as the root beer float with vanilla ice cream, the Coke float, and the Boston cooler combining ginger ale and vanilla ice cream.
One of my favorite versions is the chocolate ice cream soda, using chocolate syrup, chocolate ice cream, and carbonated water, topped with whipped cream and a cherry.
Still, no matter which version, a defining characteristic of this chilled beverage is the creamy foam that forms when the ice cream slowly melts into the drink.
25. Instant Coffee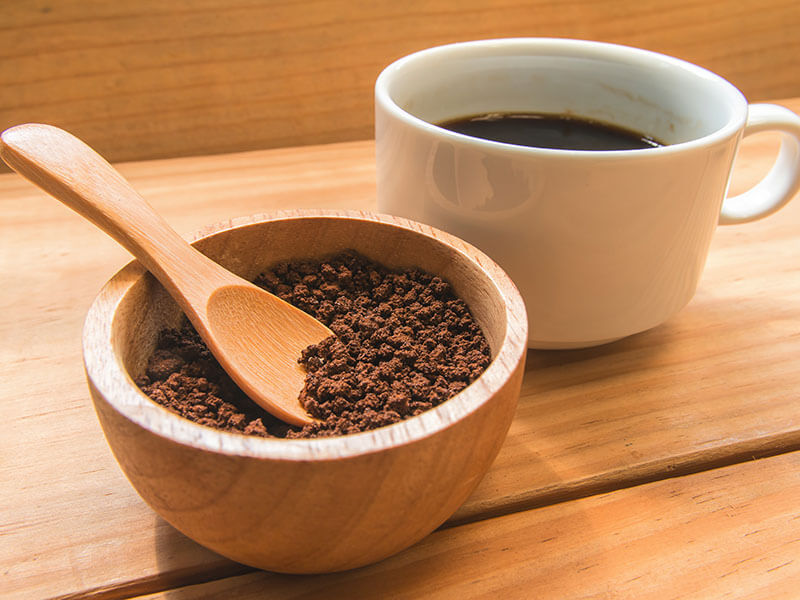 Instant coffee, a form of dehydrated coffee crystal or powder, comes from roasted and ground coffee beans brewed into a concentrate. Just add boiling water, and your coffee is ready in seconds. Cold milk and sugar are your best companions if you like it sweeter.
Instant coffee is versatile enough for any coffee recipe, smoothie, latte, and pastry. Despite its simplicity, this coffee powder preserves regular coffee's essential elements and health benefits but with less than half the caffeine per ounce.
26. Irish Whiskey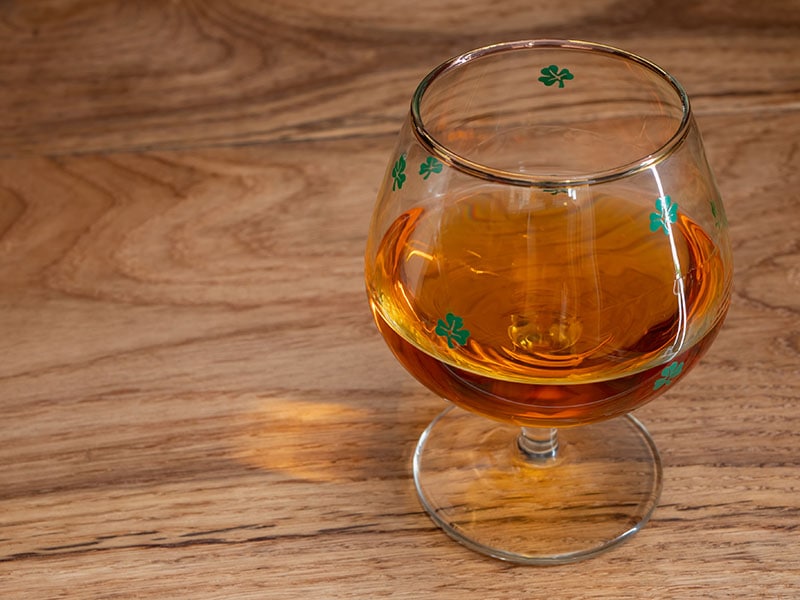 In Gaelic, Irish whiskey translates to 'water of life', and it truly earns that title! Amber in color, this smooth and complex spirit comes from a mash of malted barley, water, and grains like wheat or rye.
This whiskey undergoes triple distillation before maturing in wooden casks, usually oak, to eliminate the smoky and peaty traits of Scotch whisky. Thanks to that, this traditional Irish delight has become a favorite beverage for adults around the globe.
Fruits
27. Inca Berries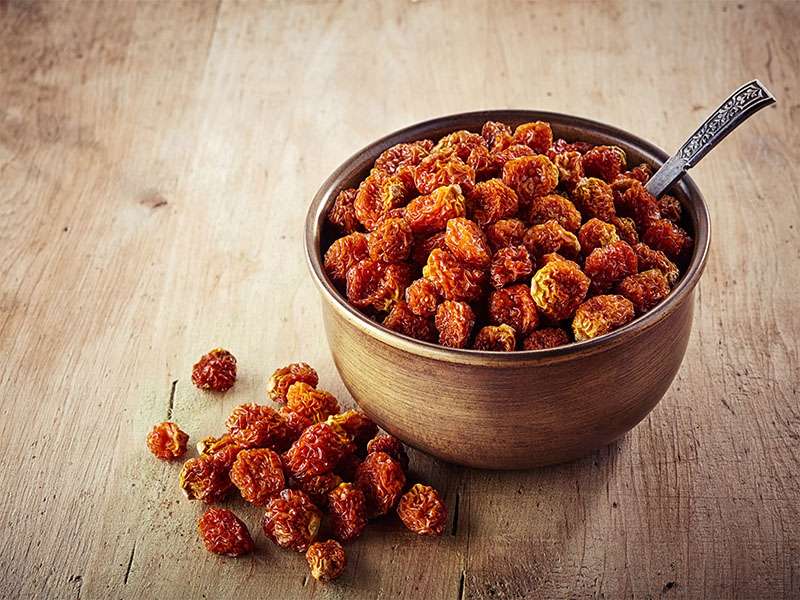 Inca berries, with the scientific name Physalis peruviana, are juicy fruits native to Peru, South America. Don't be fooled by their name; they're not technically berries but more closely related to tomatoes or raspberries, belonging to the Nightshade family.
People usually feel confused about this fruit because it has many names, such as golden berry, cape gooseberry, Peruvian cherry, pichuberry, etc.
Inca berries have a distinct sweet and sour flavor, often compared to sour Skittles! One peculiar thing about this fruit is it gets sweeter when dried. I prefer to eat dried Inca berries because of their complex flavor.
They are suitable for making desserts, jams, chutneys, yogurts, salads, sauces, and pie fillings. And the ornamental outer husk makes them an appealing decoration.
People usually say Inca berries are the next superfood trend because of their health benefits. These berries are high in antioxidants, vitamin C, potassium, and protein! Moreover, they have the highest fiber content of all dried fruit!
28. Iboga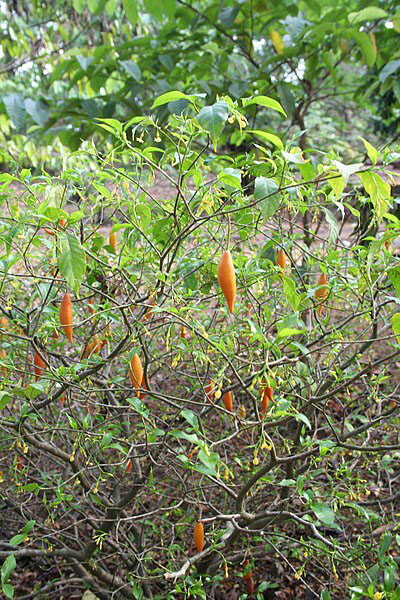 Iboga, or Tabernanthe Iboga, is a shrub-like plant from Central Africa. Its yellow elongated drupes are quite similar to chili peppers.
The plant holds psychoactive compounds like ibogaine, which induce hallucinations and near-death experiences. (3) Hence, it's unsurprising that Iboga is considered an American controlled substance and is illegal in many countries.
29. Icacina
Icacina, or bush banana, is native to Africa. You'll spot it in Angola, Cape Verde, and Congo. It's similar to kiwi fruit, if not for its hairless skin and pink inner pulp.
The plant's root is quite the star in traditional African medicine, known to offer relief for ailments like diarrhea, fever, and respiratory infections. (4)
30. Icaco Fruit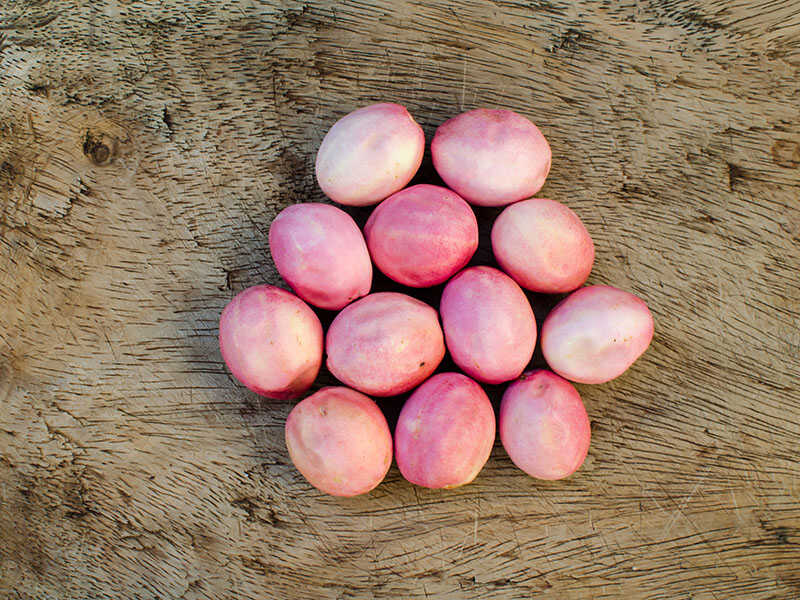 The Icaco fruit, scientifically known as Chrysobalanus icaco, is also called as the cocoplum or paradise plum. This unique fruit hails from shrubs growing near the sea in tropical regions, such as Africa, the Americas, the Caribbean, South Florida, and the Bahamas.
Icaco has thin black or red skin like plum and an oblong-like shape, growing up to 1 ½ inches long. Though it hardly has any taste, its melon-like textured flesh is appreciated in creating jams or simply eating as is.
Interestingly, the almond-like-tasting seeds are also edible. In traditional medicine, Icaco can reduce heart attack risks and improve skin health. It's indeed a hypoglycemic, antioxidant, and antifungal wonder!
31. Ilama Fruit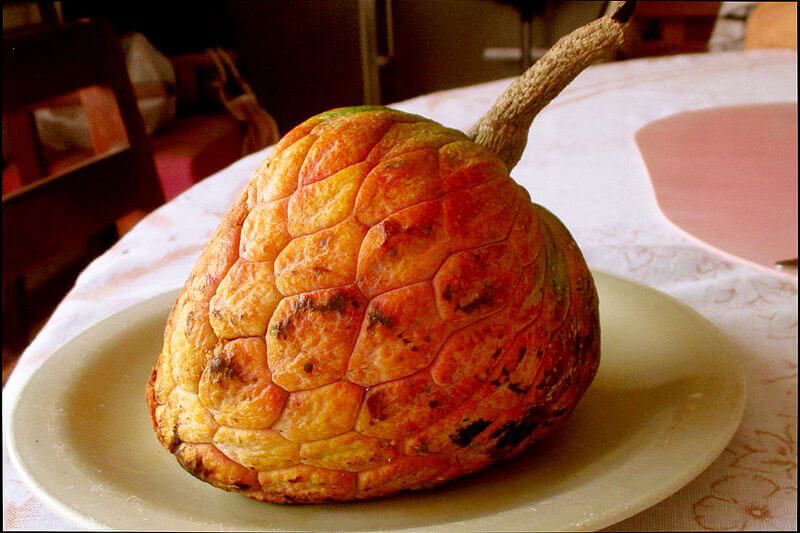 Ilama fruit, scientifically known as Annona macroprophyllata, is a tropical fruit from Central America. Its outer skin has a distinctive scaly appearance, and it comes in both green and pink varieties. While the green variant is sweet, the pink one offers a tart flavor.
I love this fruit served chilled with cream, sugar, ice cream, and lime or lemon juice. Ilama also makes a lovely addition to desserts and drinks. Even the seeds are edible! Nutritionally, it's low in calories and fat while containing many vitamins and minerals. (5)
32. Illawarra Plum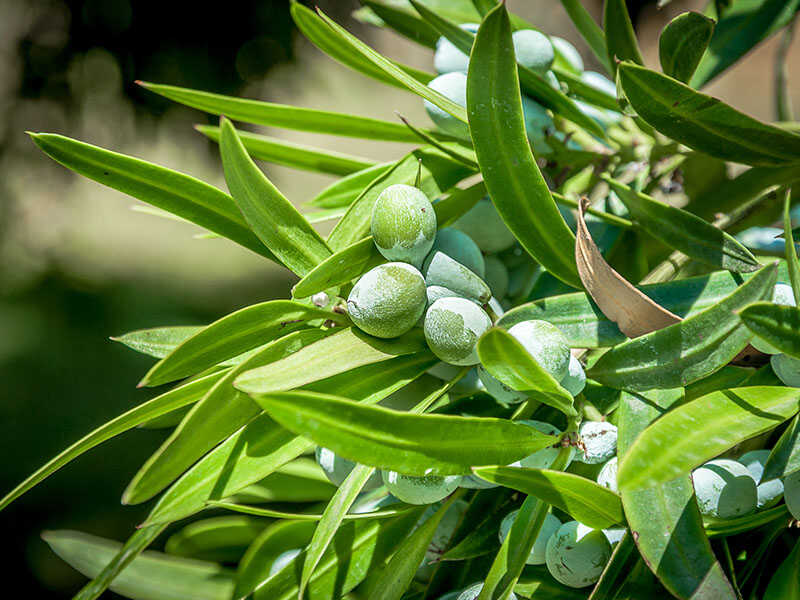 Illawarra plums, scientifically named Podocarpus elatus, are native to Australia and actually fruits of the brown pine tree. With different names like brown pine or brown plum, they once fooled me into thinking they were blueberries.
But bite into one, and you'll experience a unique texture similar to a grape and a pleasing mix of sweet, juicy, and tart flavors. Apart from eating them raw, these plums also make flavorful additions to jams, chutneys, and desserts.
Illawarra plums' high nutrient content, including antioxidants, vitamin C, and potassium, is just as appealing as their taste. (6) Beyond their culinary uses, these trees are grown for ornamental purposes, and their wood is valuable in joinery.
33. Ice Apple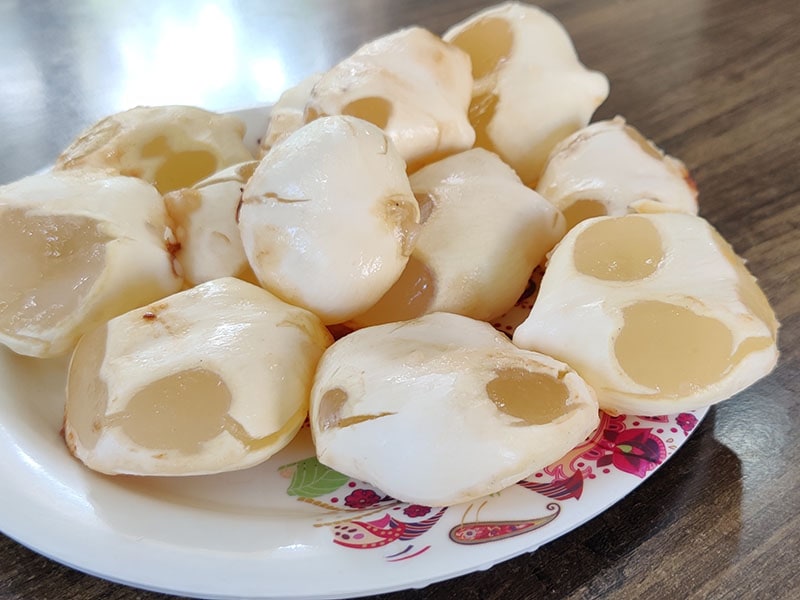 In South Asia, Borassus flabellifer is more than a scientific name of ice apple, a fruit from the Borassus Flabellifer tree also called Nungu. It is native to several South Asian regions like Tamil Nadu, Eastern India, and Maharashtra.
This fruit resembles a mini coconut, from its small, round form to its brown skin! Slice it open, and you'll uncover a clear, jelly-like flesh, not too different from ice, that's sweet when ripe. That's not all! Ice apple contains vitamins A, C, fiber, iron, antioxidants, potassium, and calcium.
34. Indian Almond Fruit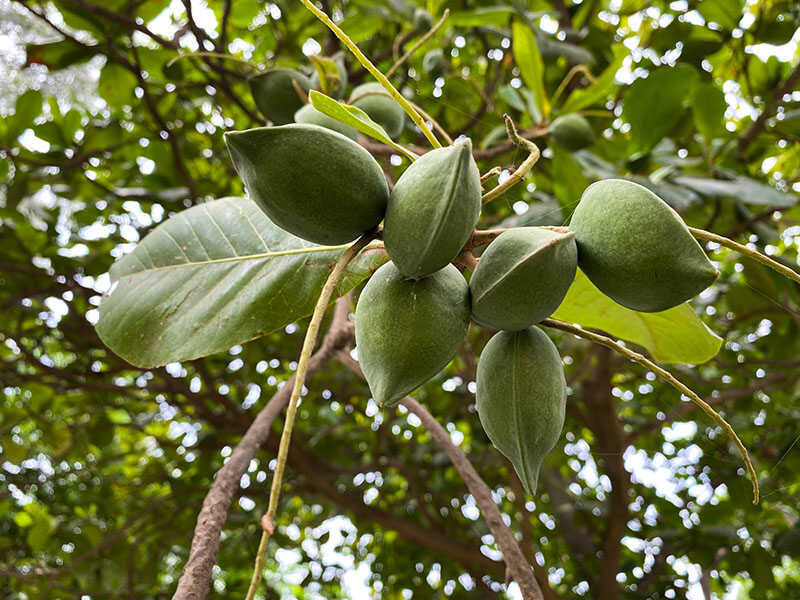 With a rich, nutty taste reminiscent of hazelnuts or almonds, Indian almond fruit, or Terminalia catappa, is a remarkable gift from nature. It's a seed of a large tropical tree native to Asia, Australia, the Pacific, and Madagascar.
Indian almond is so versatile that the oil from its seeds is crucial to many cooking, soap, and skincare products, while ground seed flour is a key player in desserts.
This nutty wonder, found in tropical paradises like Seychelles, also contributes essential minerals to your metabolic processes. (7)
35. Indian Corn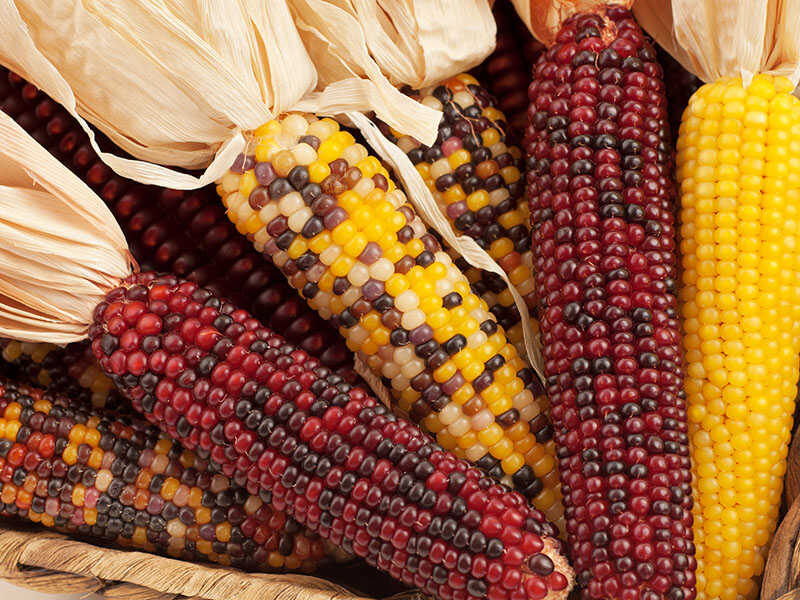 With a scientific name like Zea mays var. indurata, Indian corn might sound like a mouthful. However, this cereal grain, also known as flint corn, field corn, or maize, is a hardy variety native to North and Central America.
The pretty, variegated colors make it popular in Halloween and Thanksgiving decorations. Beyond its ornamental use, Indian corn participates in making flour, cornmeal, and even popcorn!
It's worth noting this low-water-content crop mainly feeds animals and aids in ethanol production, given its resilience to freezing conditions.
36. Indian Squash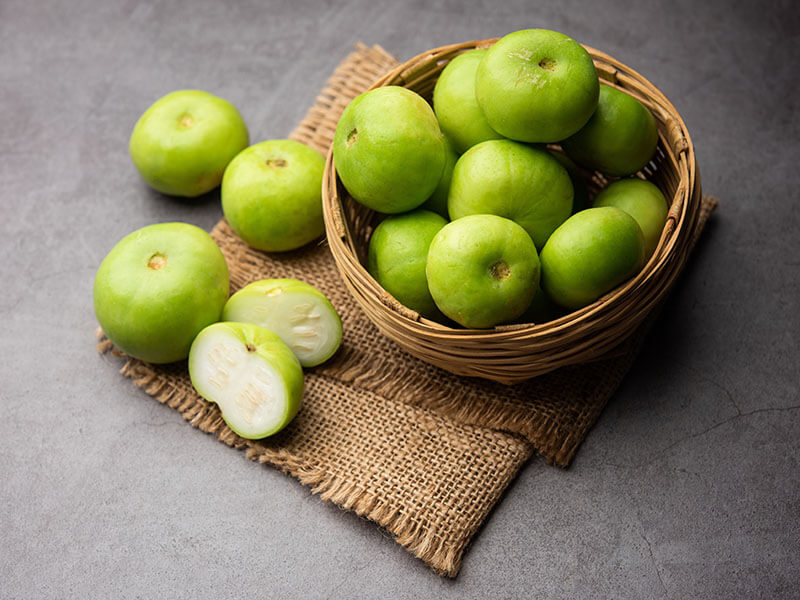 Like a master of disguise, Indian squash is a green, apple-sized cucurbit fruit masquerading as a vegetable. Known by various names, including Tinda, ivy gourd, and apple gourd, this squash-like gourd thrives as a prolific vine.
Its green apple-like appearance makes it a staple in South Asian, Middle Eastern, Pakistani, and Indian cuisines. Indian squash goes well with curry, chili pepper, and other spices. Feel free to make it into a soup and serve it as a main course of a vegan meal or a side dish.
Moreover, it's packed with vitamins, high in fiber, rich in vitamin C and iron, and low in calories.
37. Indian Peas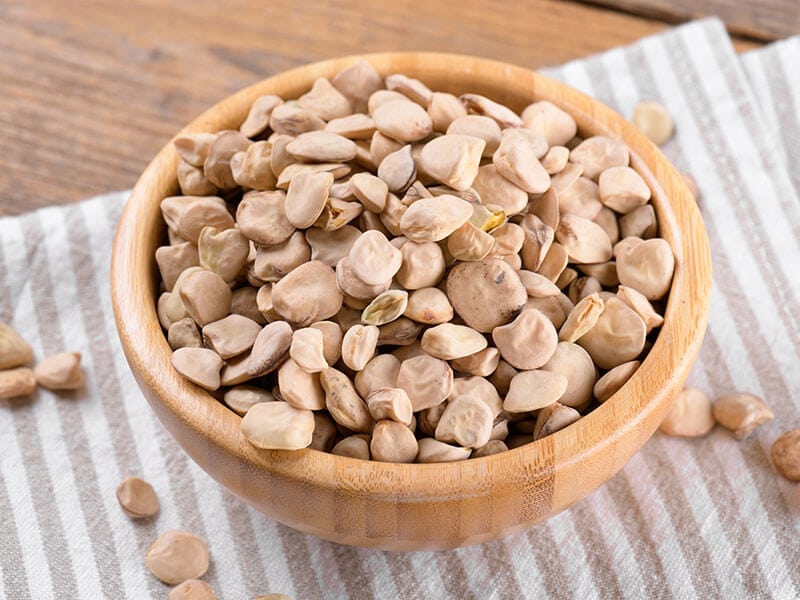 Indian peas, scientifically known as Lathyrus sativus, also answer to names like grass or white pea. This blue flowering plant is part of the legume family and has made its home primarily in Asia, particularly in India.
These peas are a staple food across Asia and East Africa, and I even see them sold as pulse in Italy. These peas have culinary versatility, from making flour to cooking with onions, peppers, and curry spices.
And the greatest strength of Indian peas? They can thrive even in poor soil conditions and stand strong in places prone to famine and drought.
38. Italian Sweet Peppers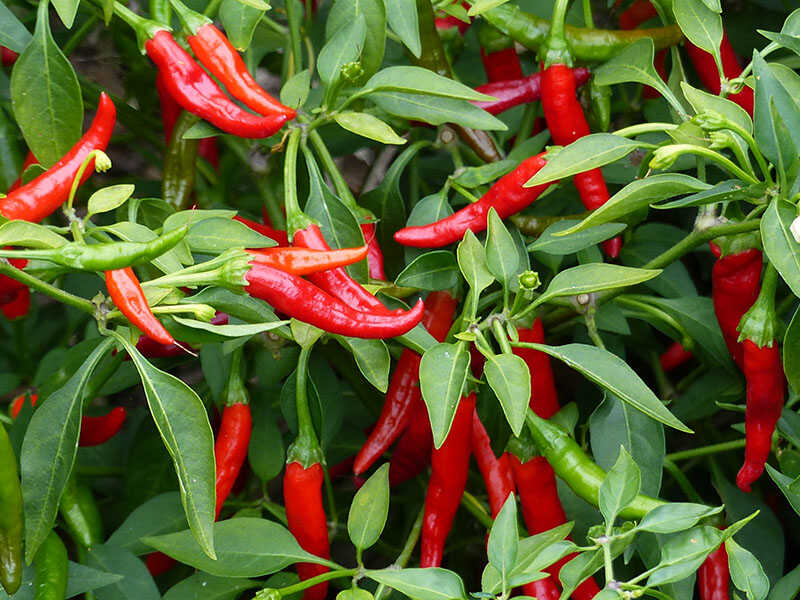 Indian sweet peppers, with their roots in Italy, sport the scientific name Capsicum annuum. Across America, they're recognized as friggitello and pepperoncini.
These long, sweet peppers lend themselves beautifully to salads and sandwiches. Yet their versatility continues beyond there. They also make a great pickled or sautéed dish.
39. Italian Plum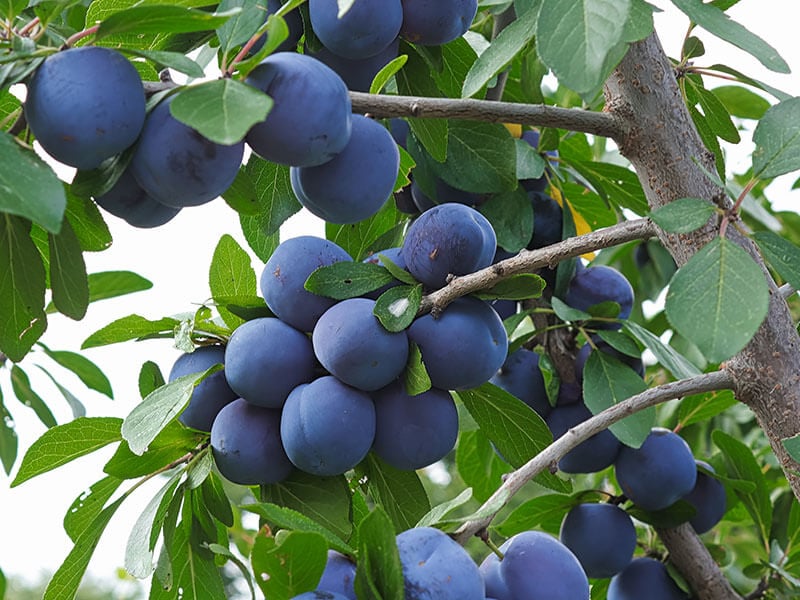 The Indian plum, also known as a prune, is a standout. Its scientific name, Prunus cocomilia, sounds as exotic as its flavor, a delightful blend of sweet, rich, and juicy tastes with a slightly tart note. All hides under its blue-black skin, similar to blueberries.
I have made many dishes with Indian plums, from sweet tarts, pies, and cakes to roasted meats and stews. Besides, this fruit is the star in making delectable jams, jellies, and preserves. Plus, it brings a healthy dose of vitamin C, fiber, and antioxidants.
40. Imbe Fruit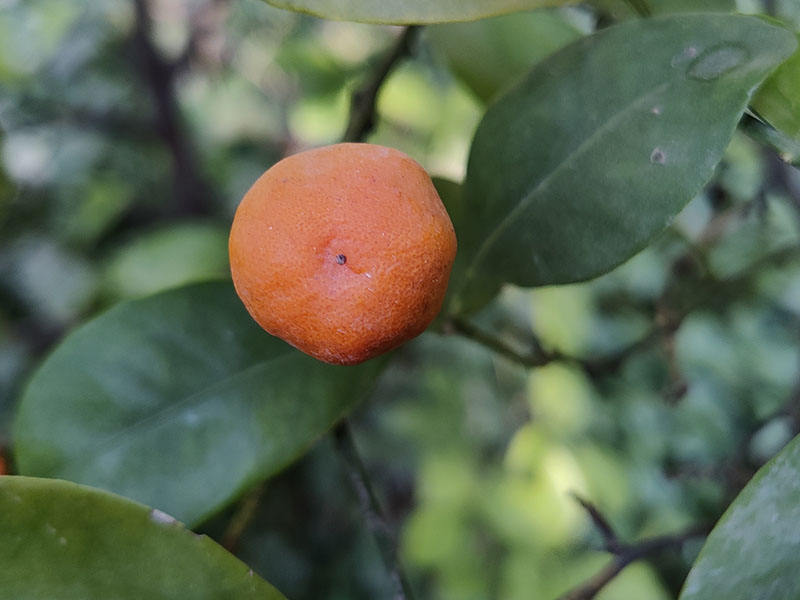 Originating from Southern Africa, the Imbe fruit, scientifically known as Garcinia livingstonei, is small but powerful. Similar to a plum and no bigger than cherries or grapes, it wears a bright yellow or orange coat when ripe.
Florida uses this vibrant fruit mainly in drinks, but its deliciousness also extends to jams and jellies. Besides its versatile flavor profile, Imbe is a treasure trove of antioxidants, vitamins, and essential minerals like potassium, vitamin C, and calcium.
41. Ita Palm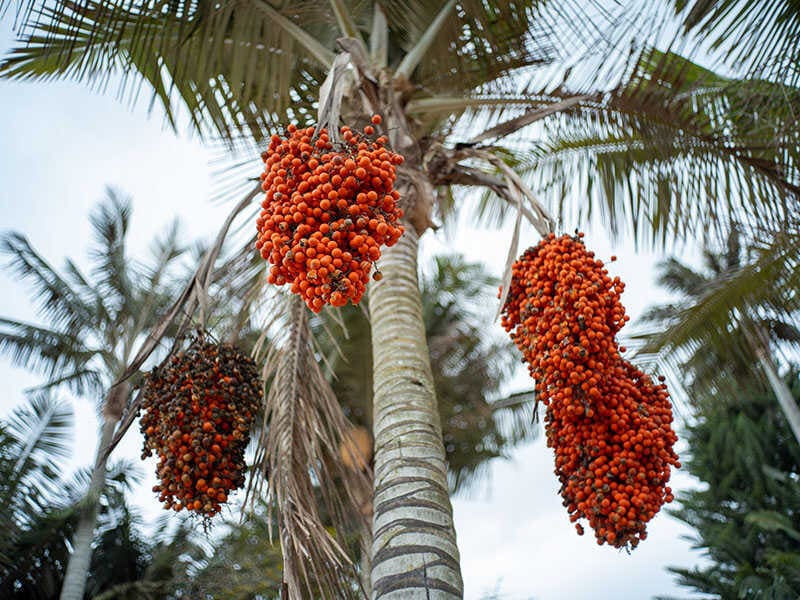 Ita palmt, or as some might call it, jussara or jucara, is a South American native, specifically from Brazil. It fits in swampy regions.
Inside its checkered shell is edible pulp and seed, my favorite in desserts like jams, jellies, ice cream, sorbets, and even an alcoholic treat called jussara wine. Under the scientific name Mauritia flexuosa, it's a reliable source of vitamins A and C, antioxidants, and fiber.
42. Iyokan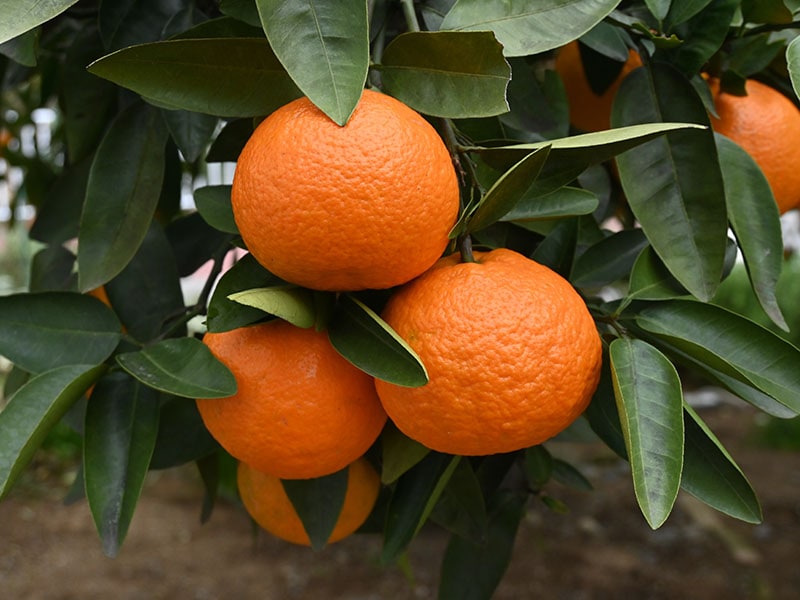 Iyokan, or Citrus × iyo, is a unique citrus fruit from Japan. With its yellow-orange skin, this fruit is a hybrid of pomelo and mandarin orange. Its thick skin peels away easily, revealing juicy flesh, almost like a grapefruit.
Not just for munching, Iyokan has found fame as a limited edition KitKat flavor every spring. It's a star in salads, juices, and marmalades. This fruit provides vitamin C, potassium, and dietary fiber.
43. Indian Cucumber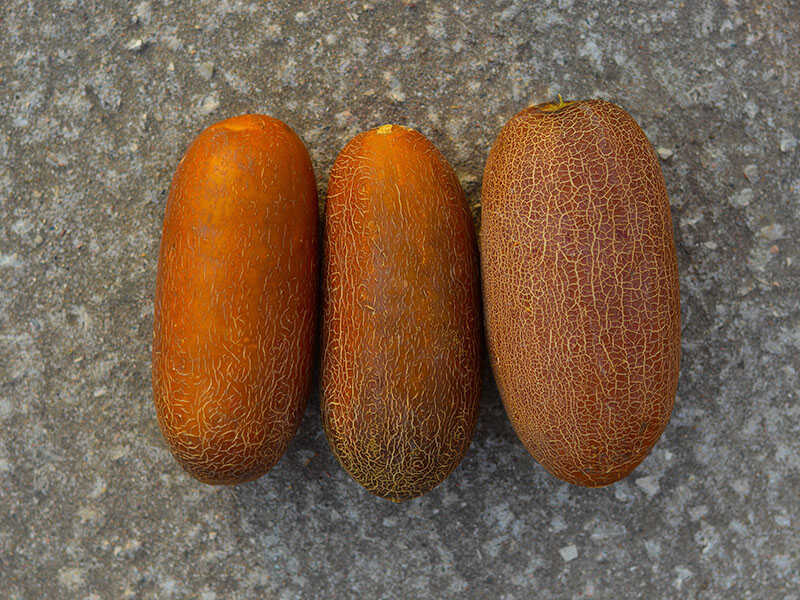 Indian cucumber, or Medeola virginiana, is a member of the Lily family, which calls North American forests its home. This intriguing plant has edible roots that harbor a mild flavor like cucumber. The Native Americans once used these roots as a staple in their diet.
44. Indian Fig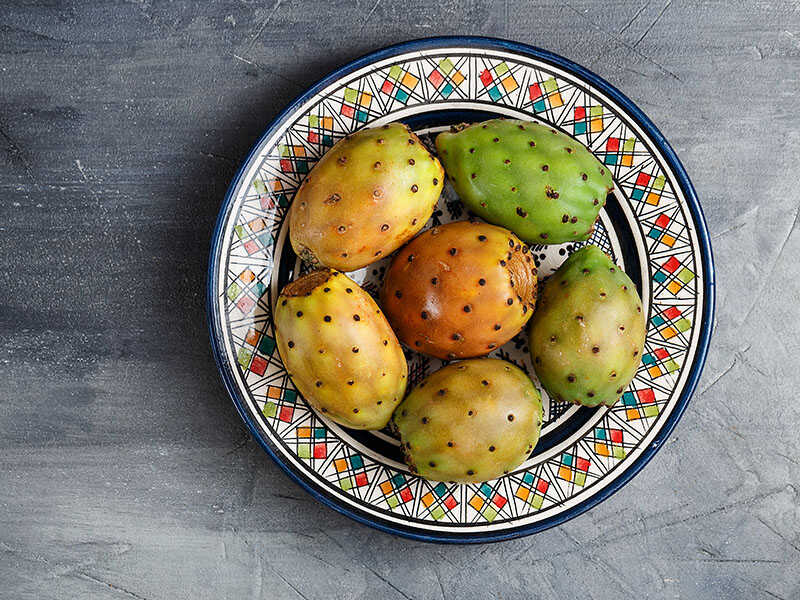 Indian fig, referring to the prickly pear cactus' fruit, belongs to the Americas. Bearing small spines on its oval-shaped exterior, you'll encounter juicy flesh inside that ranges from yellow and red to purple.
This vitamin, mineral, fiber, and antioxidant-rich marvel takes the center stage in many dishes: smoothies, salads, and desserts.
45. Indian Gooseberry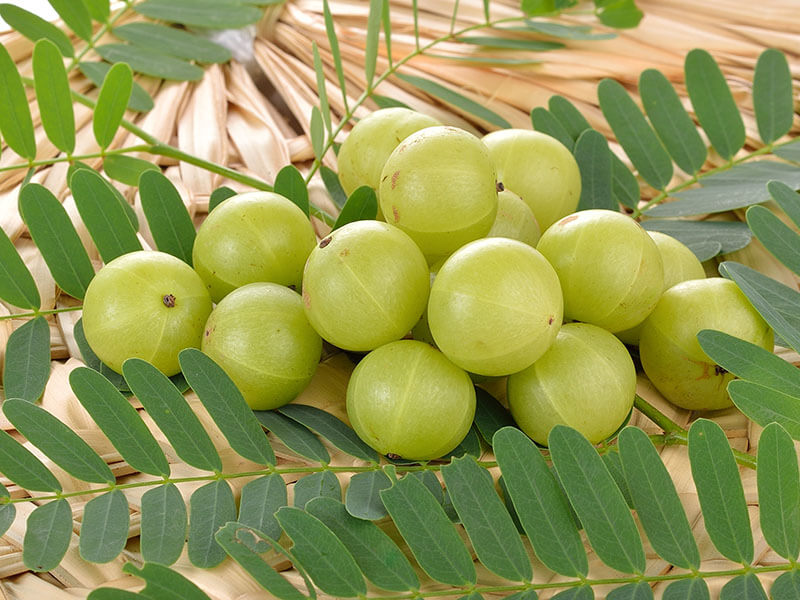 Hailing from India, the Middle East, or Southeast Asia is the Indian gooseberry, also known as Amla. Its sour flavor is perfect for pickles, chutneys, and other Indian condiments, besides flavoring rice dishes, curries, or making jams and sweet dishes.
With the scientific name Phyllanthus emblica, it's an abundant source of vitamin C, antioxidants, iron, and calcium. Offering numerous health benefits, it can lower cholesterol and heal digestive issues and skin conditions.
46. Indian Prune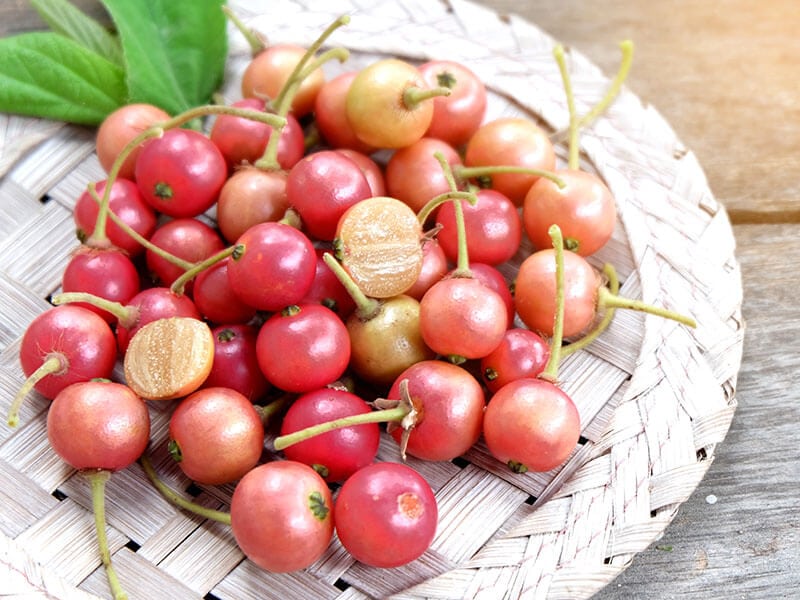 Indian prune, scientifically known as Flacourtia rukam, is a treasure from Southeast Asia, specifically Indonesia, Malaysia, and Polynesia.
This small, oval delight has a red-brown skin hiding its tart, juicy flesh. I'm impressed with its uniquely sweet yet slightly sour taste. More than just a tasty snack, Indian prune is full of minerals, vitamins, and antioxidants.
47. Indian Sherbet Berry
Straight from South Asia comes the Indian sherbet berry, whose scientific name is Grewia asiatica. The fruit itself is small and juicy, having a similar size as a blueberry. Its acidic flavor hints at its name, almost tasting like sherbet!
Folks in India use these berries to make refreshing drinks. Plus, they have lots of vitamin C, antioxidants, and potassium, even helping your digestion.
48. Indian Strawberry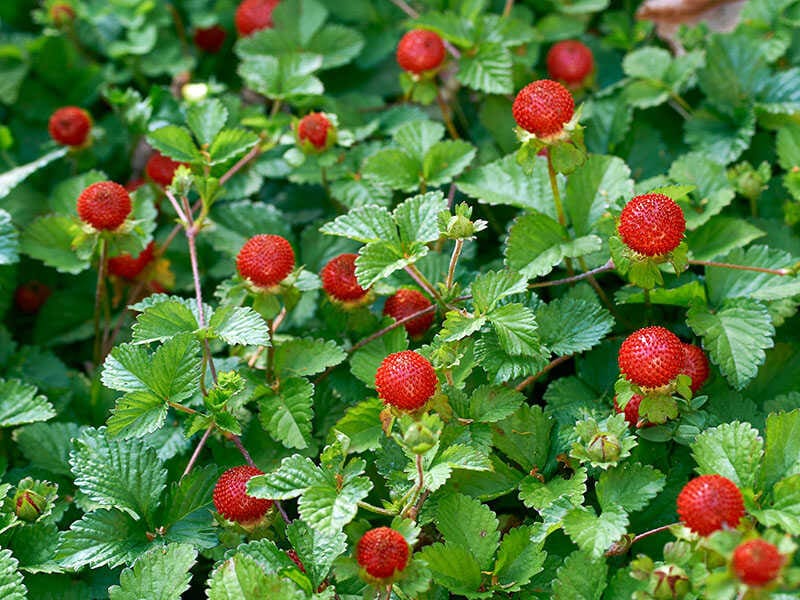 In the world of berries, the Indian strawberry, known scientifically as Potentilla indica, leads a double life. Also called the mock or false strawberry, it's an edible fruit with a taste distinct from its namesake, tending to be bland and dry.
Beyond its palate, this berry is favored for ornamental and medicinal uses, even helping strengthen your digestion.
49. Indian Wild Pear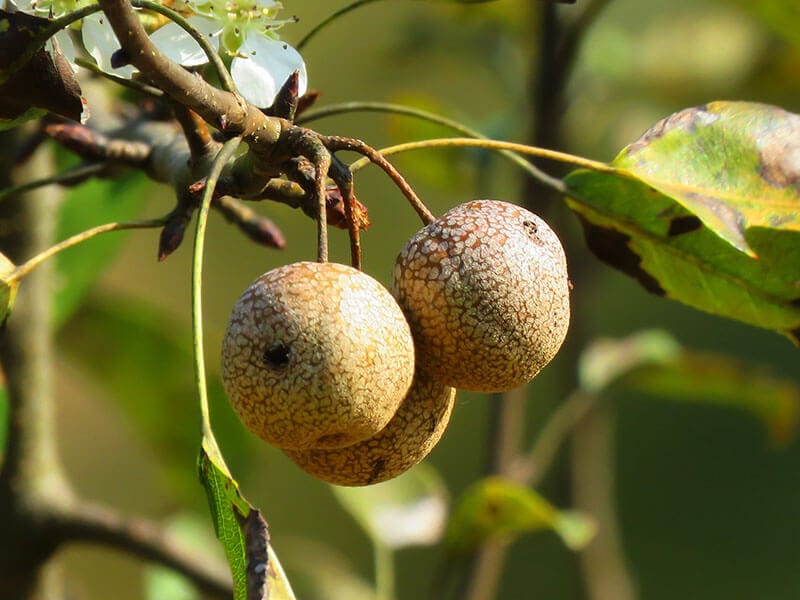 The Indian wild pear, Pyrus pashia, is from South and Southern Asia. It's a pome fruit resembling russet apples. Starting as a green fruit, it matures into a dark brown adorned with yellow spots.
Sweet and tangy flavors await those who savor Indian wild pear, whether raw or incorporated into pickles, chutneys, and other South Asian dishes. Plus, it contains lots of vitamin C, potassium, antioxidants, and fiber.
50. Indonesian Lime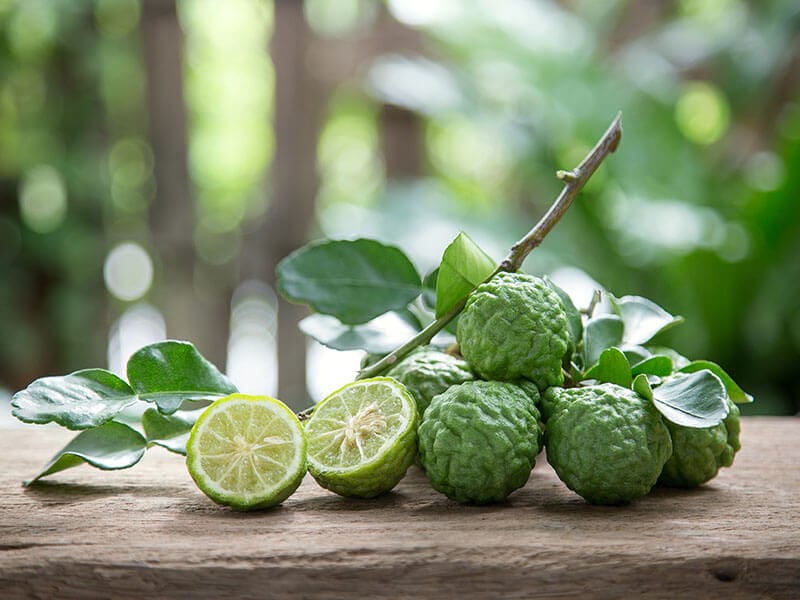 The Indonesian lime is one of the well-known lemon varieties, also known as kaffir or wild lime. It provides Southeast Asian cuisine with its acidic, tangy flavor.
Its scientific name, Citrus hystrix, hints at its uniqueness. Similar in appearance to a regular lime, it sports a distinctive bobbly, brain-like outer skin! Beyond the kitchen, this lime transcends into the world of perfumes and essential oils, further showcasing its versatility.
Vegetables
51. Iceberg Lettuce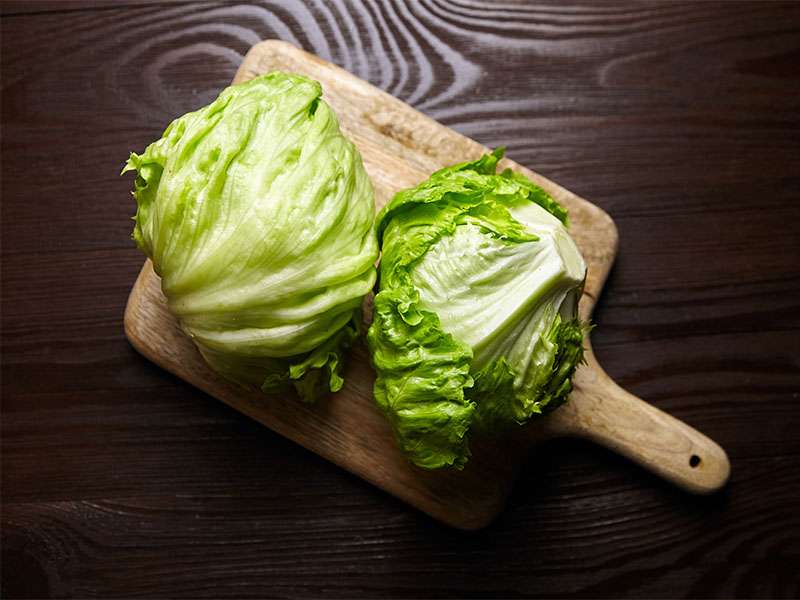 Iceberg lettuce, scientifically known as Lactuca sativa, is a leafy green vegetable cherished for its crispy texture and subtly sweet flavor. Its popularity soars in the United States, appearing in many salads and sandwiches.
This veggie, first developed in 1894, gets its moniker from the 1920s practice of shipping it 'on ice.' The ideal planting environment is at a cool temperature, so it grows more in Europe than in Asia. California deserves special mention, producing 70% of the country's supply.
Like most vegetables, the average shelf-life of lettuce depends a lot on the storage conditions. And as you can probably guess, iceberg lettuce requires refrigeration to maintain its taste and freshness over a long time.
While mostly composed of water and not as nutrient-rich as darker greens, iceberg lettuce's appeal can't be denied. It provides a remarkable amount of vitamins, minerals, and nutrients: vitamins C, K, and A, calcium, folate, and potassium.
52. Indian Mustard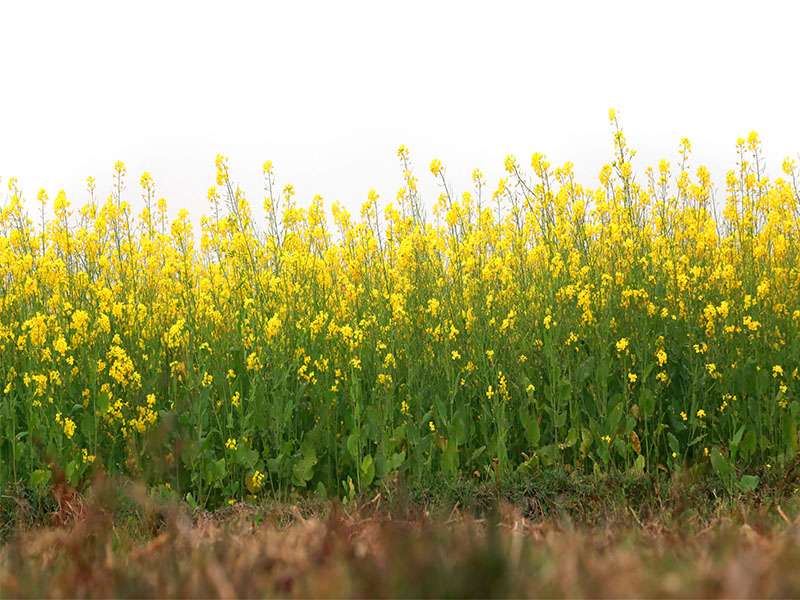 Indian mustard is a type of Indian plant where the leaves, seeds, and stem parts are edible. It is a key member of the mustard greens family and holds a prominent place in South Asian and Nepali cuisine.
Indian mustard appears in Italian, Chinese, Korean, and even African-American cooking. Young leaves are for salads, creating a fresh, spicy flavor. The stem can be preserved and turned into pickled stem mustard, the achar.
Meanwhile, seeds are used to extract essential oil and brown mustard, which is more intense than the regular types of mustard. They are also a familiar face in dal, adding depth and richness to this humble lentil dish.
Eating Indian mustard brings you some incredible benefits. It includes tons of vitamins, antioxidants, minerals, and three times more calcium, potassium, and iron than the typical leafy vegetables. (8)
53. Ice Plant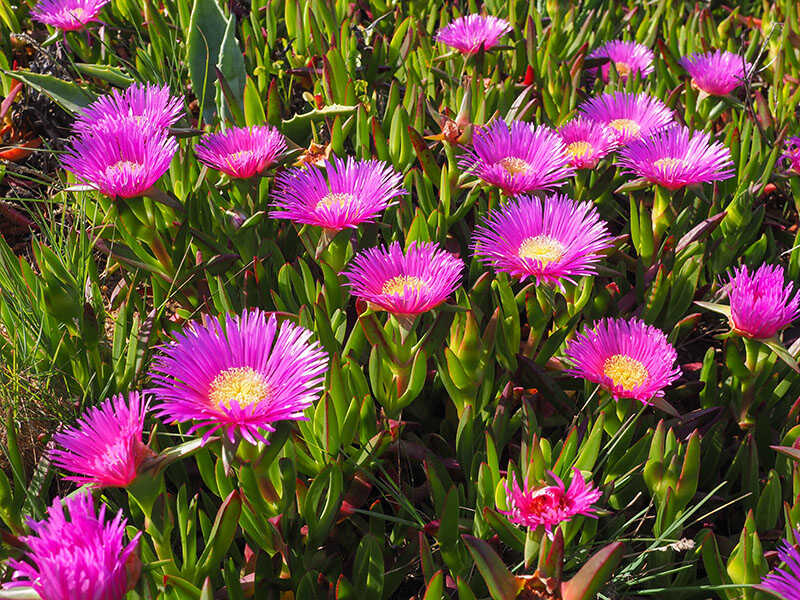 Ice plant, with the scientific name Carpobrotus edulis, is a salad green from South African coastal regions. This edible succulent has both edible flowers and leaves. With a somewhat bitter taste, these elements are a top choice for a tart jam or stir-fries.
In South Africa, they appreciate it for its medicinal properties. People use the leaves for easing digestive issues, and its juice, when applied topically, can act as an antiseptic. Despite being primarily water, it's a low-calorie food rich in vitamins A, B, and C, and mineral salts.
54. Inga Edulis (Ice Cream Bean Fruit)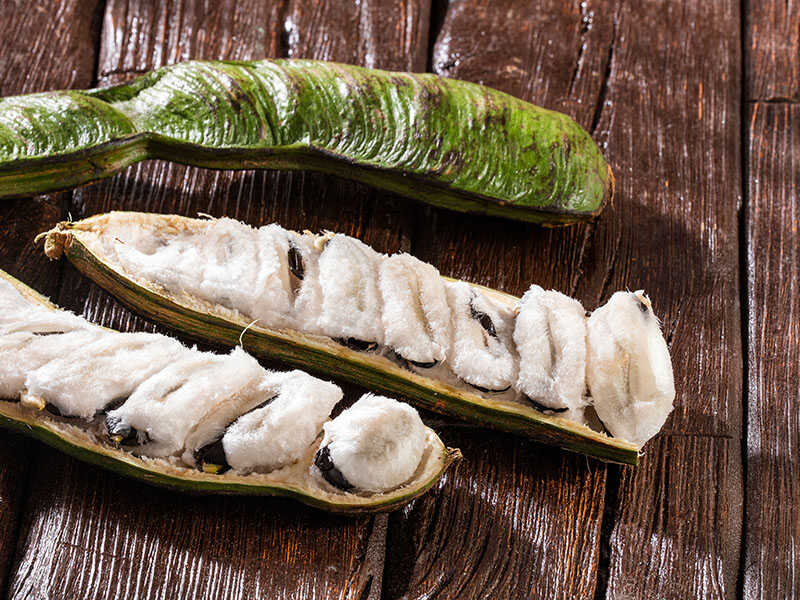 From South America, the ice cream bean fruit, scientifically known as Inga Edulis, isn't just your ordinary bean. This plant produces a unique bean nicknamed 'nature's cotton candy', thanks to the pulpy flesh surrounding its seeds with the same sweetness as vanilla ice cream.
As a bonus, its seeds are also edible when cooked, offering a similar flavor to chickpeas. This fruit is bursting with vitamins A, C, B1, and B2, phytonutrients, antioxidants, and anti-inflammatory flavonoids, standing tall as a delicious and nutritious superfood.
55. Italian Parsley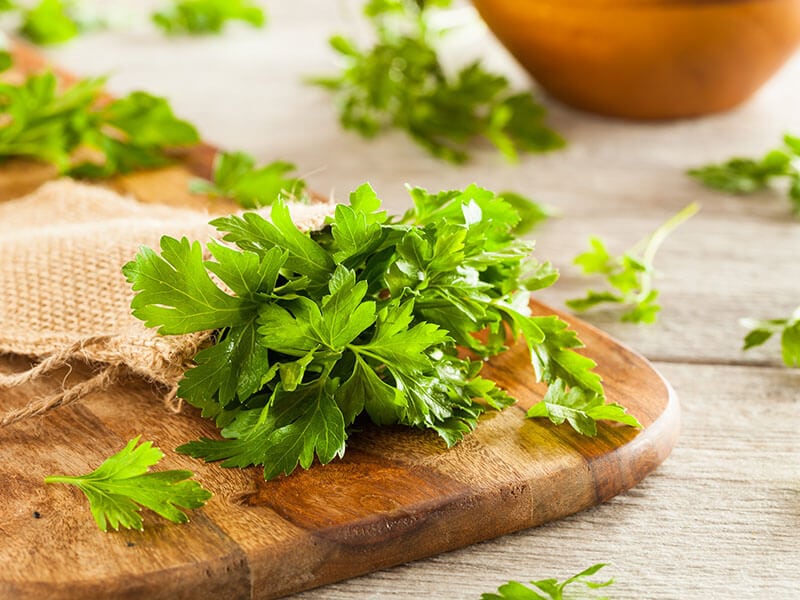 Italian or flat-leaf parsley is a flavor powerhouse hailing from the Mediterranean region. Its flat, dark green leaves make it an excellent addition to any savor dish.
Unlike its curly cousin, it presents a slightly bitter, peppery taste with a touch of earthiness and citrus freshness. Whether fresh or dried, it's an esteemed guest in soups, stews, sauces, salads, etc., as a garnish or a flavoring agent.
Petroselinum crispum var. neapolitanum, as it's known scientifically, is a world-renowned herb that grows in many regions around the globe.
56. Italian Red Onion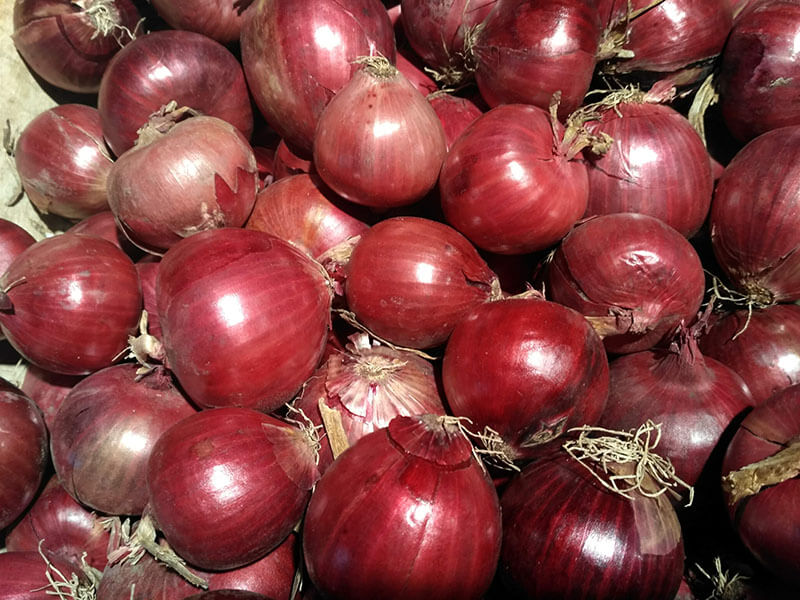 Italian red onion, scientifically known as Allium cepa, is a sweet onion from Southern Italy's Calabria region, specifically the Tropea town, hence its other name: Tropea onion.
Wrapped in deep-red skin, this onion bears a sweet and mild flavor alongside a delicate, juicy texture. When raw, it's an excellent choice in salads and sandwiches, while its sweetness gets amplified when caramelized.
Whether in chutneys, soups, stews, or sauces, this Tropea onion, with its white flesh, is a testament to Italian culinary versatility.
57. Irish Moss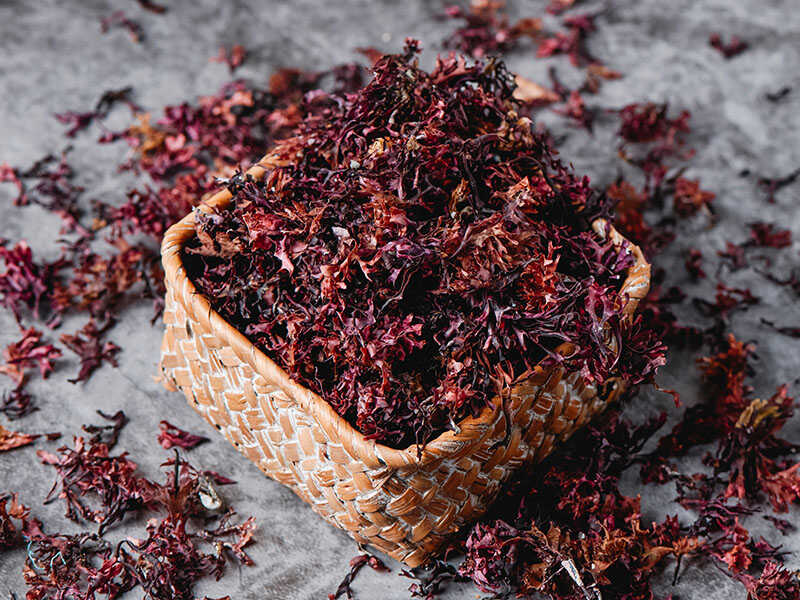 Irish moss, or sea moss, is a type of red algae with the scientific name Chondrus crispus. Its home is the Atlantic coastlines of Europe and North America.
High in iodine, iron, magnesium, and antioxidants, this maritime marvel lends its thickening and emulsifying qualities to various milk and cosmetic products. Whether enriching ice cream or enhancing paper marbling, Irish moss certainly shows off its versatility.
Others
58. Italian Dressing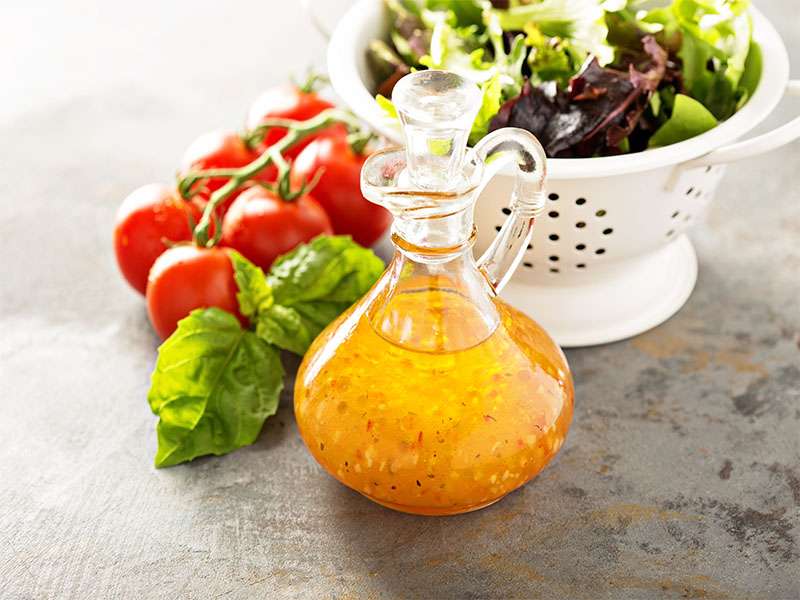 Italian dressing is a vinaigrette-type salad dressing super popular in American cuisine. If you feel bored with salads, pour a little Italian dressing into your salad bowl to enhance its flavor.
American people also use Italian dressing to marinate foods or vegetables. This dressing is healthier than regular creamy sauces because it's naturally lower in calories and fat. It's also a good source of vitamin K.
Italian dressing can last up to two weeks in the refrigerator. So, remember to use up all your dressing before that to enjoy its best quality.
59. Iodized Salt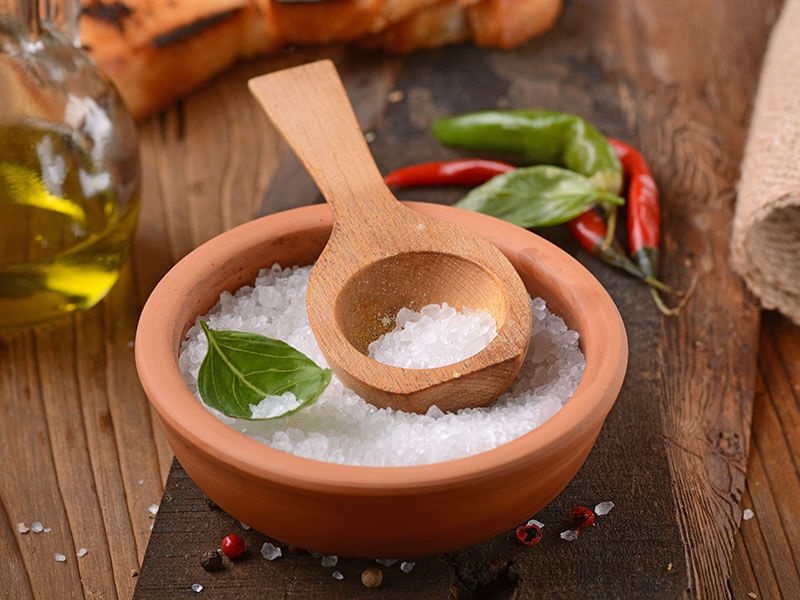 Every American kitchen or restaurant must have at least one box of Iodized salt. It's everywhere not only because of its taste but also its benefits.
When I mention Iodized salt, I mean the chemical element sodium iodide or potassium iodide has been added to ordinary table salt. Since Iodized salt has additional nutrients, it is healthier than many regular variants of salt.
I recommend those with iodine deficiency consume this salt regularly. And for women in their pregnancy, Iodized salts help both the mental and physical growth of the unborn child.
60. Icelandic Rye Bread
Icelandic rye bread, or rúgbrauð, is a celebrated bakery favorite in Iceland. This bread mixes rye flour, sugar, baking powder, and molasses to create a dense texture.
The preparation for this rye bread is unique: it gets slow-cooked for several hours in a pot (or a pottur), sometimes placed in a hot spring or buried underground.
Butter, smoked salmon, or pickled herring makes a savory spread. For a sweet twist, jam or cheese works well. Perfect for toast, sandwiches, or a satisfying snack, it's a delight at breakfast or any time.
61. Instant Oatmeal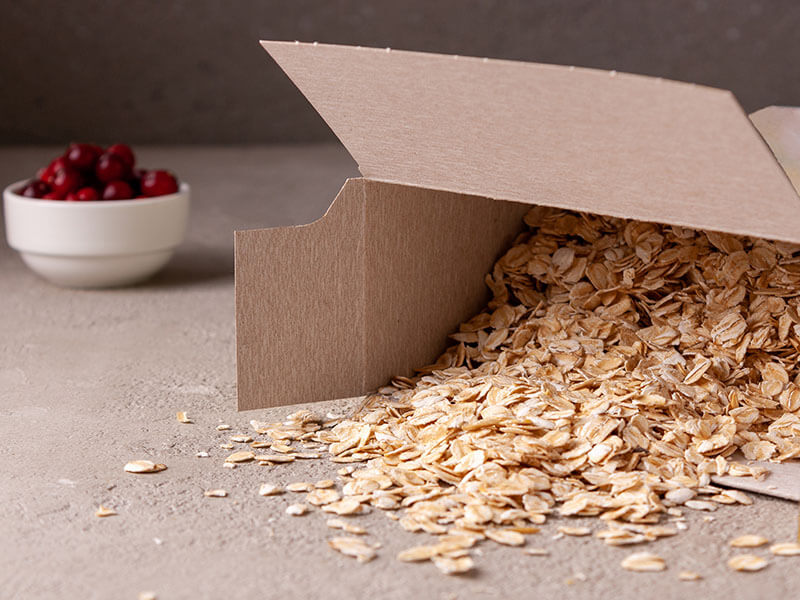 Instant oatmeal, known as quick oats, is a breakfast go-to with only hot water or milk. This more processed sibling of steel-cut and rolled oats may have a softer texture and less pronounced flavor, but its nutritional value is similar to regular or quick-cooking oatmeal.
All is thanks to Henry Parsons Crowell, the founder of the Quaker Oats Company. To jazz things up, consider mixing in fruits, nuts, seeds, honey, yogurt, preserve, or spices. But watch out for those flavored options since they are loaded with sugar!
62. Irish Soda Bread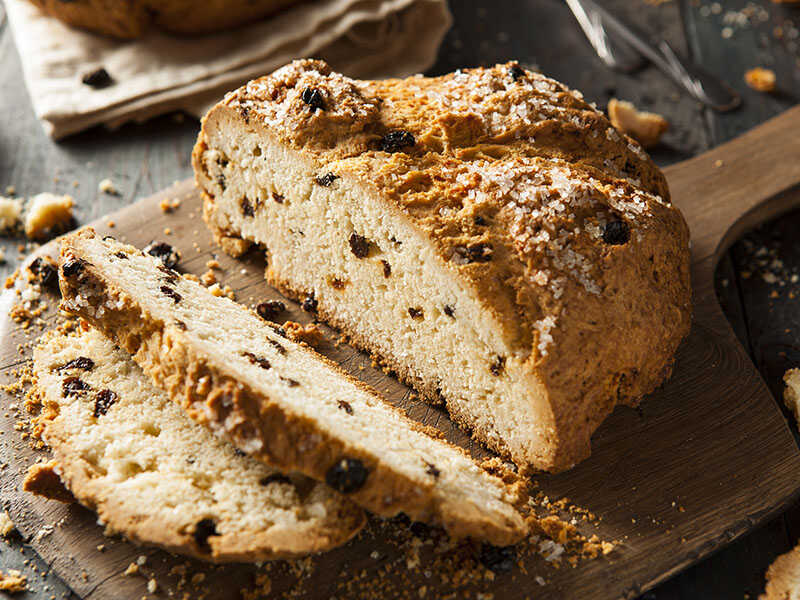 Irish soda bread, a traditional quick bread from Ireland, has the charm of a biscuit. It gets its lift from baking soda and buttermilk, not yeast. The basic ingredients include flour, baking soda, salt, and buttermilk.
Then, this bread is speckled with raisins and caraway seeds for a little extra flavor. This bread, low in saturated fat, cholesterol, and sugar, pairs wonderfully with Irish stew, butter, jam, or cream. You may find a sweeter version made with eggs and butter in the US.
63. Inebriant
Inebriant is a nifty term for any brew or liquor wherealcohol is starring. These are all part of the inebriant family, from homebrew and sake vino to hard cider and aperitif. And sometimes, I even see inebriants in certain desserts, like Irish cream liqueur, for a fun flavor change.
FAQs
More Ideas About Foods That Start With "I"
It's been a long journey, and thank you for patiently staying with me until this line. With these recommendations, I hope you can develop more ideas about foods that start with "I". The culinary world is bigger than anyone could have thought.
Please comment below any ideas about food beginning with "I", so everyone can broaden their knowledge and trigger their curiosities. Remember sharing is caring. Let's share this article so more people know about these foods that begin with an "I."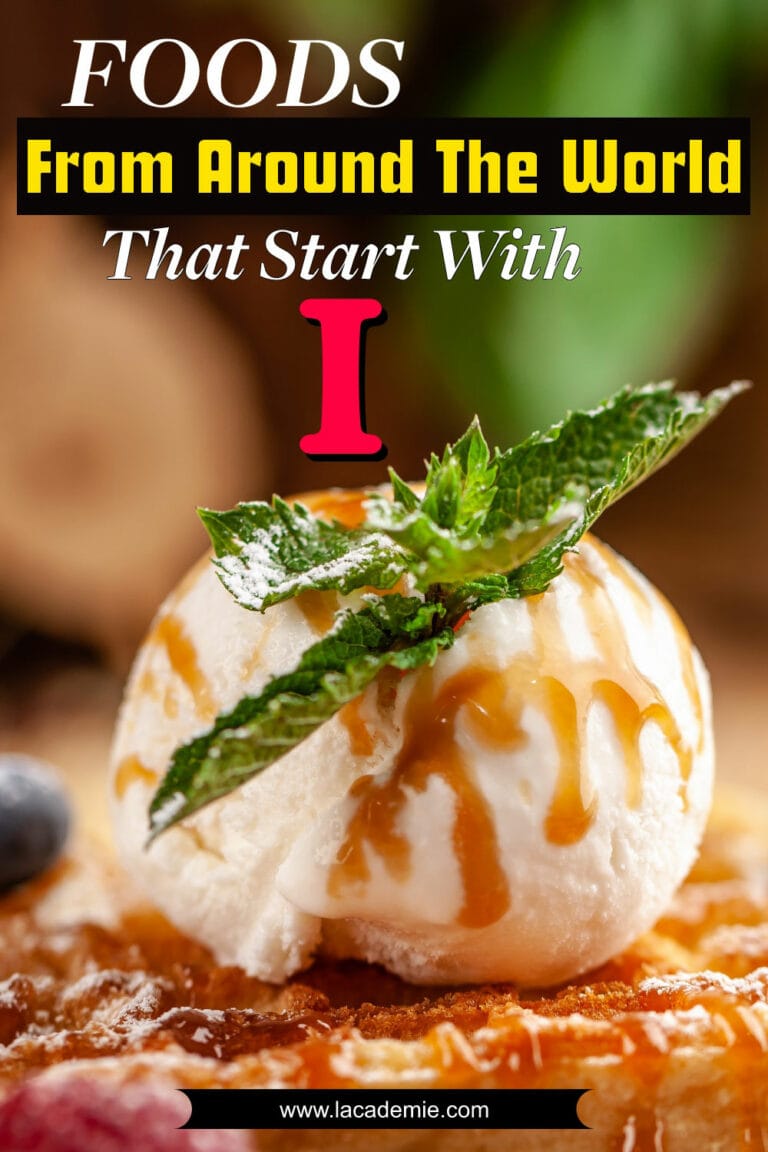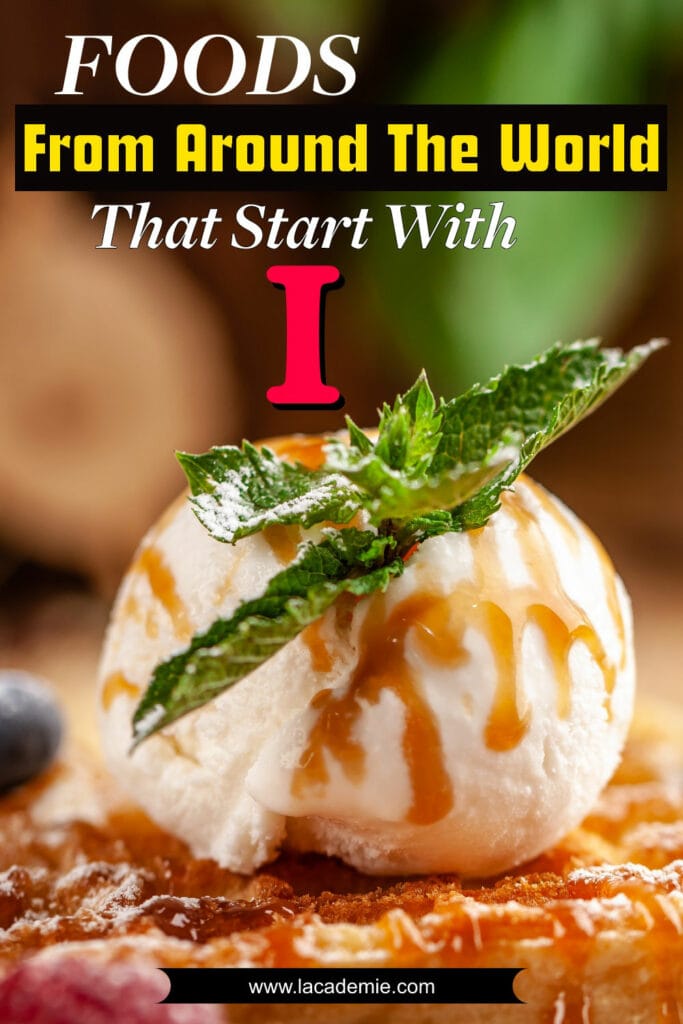 References
CBBC newsround | ice-cream | the origin of ice-cream (2004) BBC News.
LaMotte, S. (2023) New research reveals how coffee and tea can affect risk of early death for adults with diabetes, CNN.
Iboga: Overview, uses, side effects, precautions, interactions, dosing and reviews (no date) WebMD.
Sarr, S.O. et al. (2011) ICACINA senegalensis (Icacinaceae), traditionally used for the treatment of malaria, inhibits in vitro plasmodium falciparum growth without host cell toxicity, Malaria journal.
Site search (no date) All Fruits A-Z.
Symonds, E.L., Konczak, I. and Fenech, M. (2012) The Australian Fruit Illawarra Plum (podocarpus elatus endl., Podocarpaceae) inhibits telomerase, increases histone deacetylase activity and decreases proliferation of colon cancer cells: British Journal of Nutrition, Cambridge Core.
Indian almond facts and health benefits (2019) Health Benefits | Health Benefits of foods and drinks.
Heal yourself with Indian mustard plant (2001) Daily Mail Online.