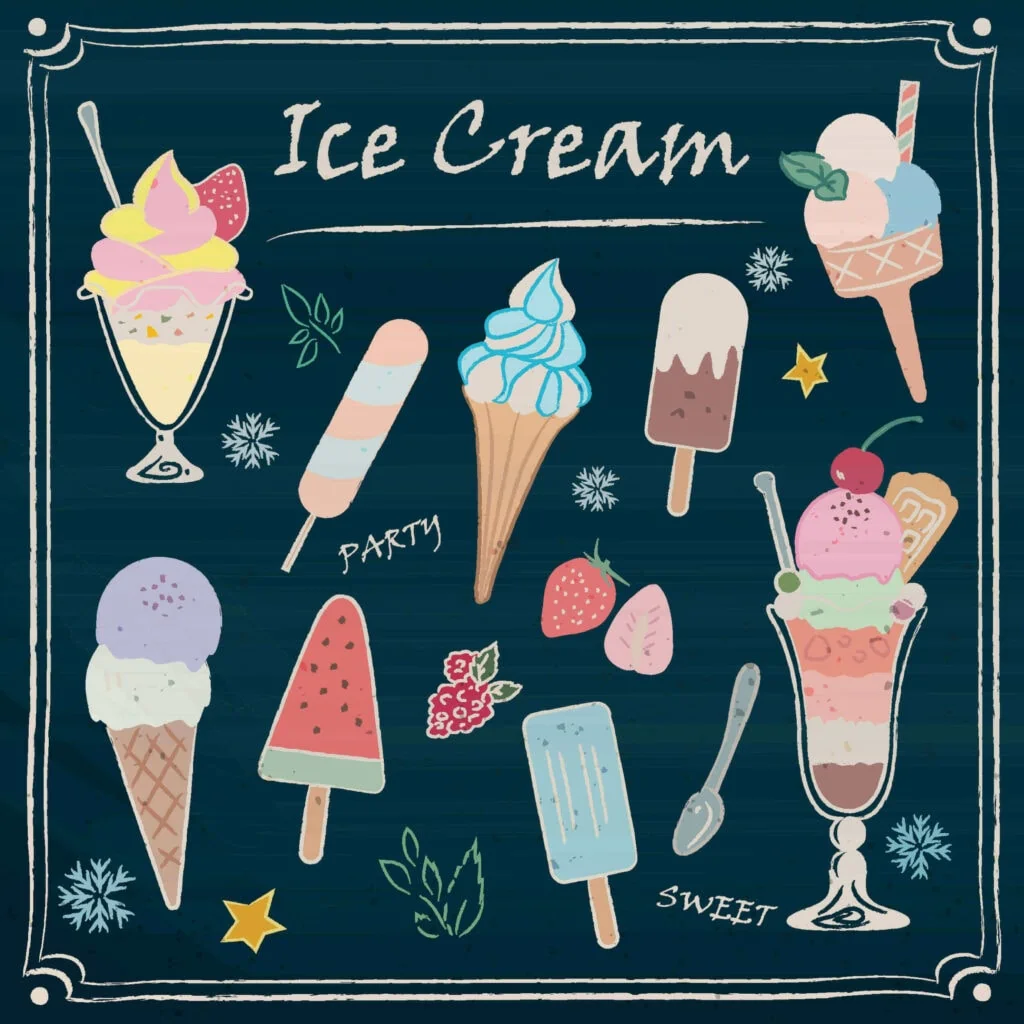 This article includes many different types of ice cream that will amaze you! There is not just one type of ice cream on the cone you usually have. Ice cream can appear in many forms and sizes that you have never expected!
Let's explore these mouth-watering ice cream types and choose the best one for your summer day! The universal love for ice cream will never stop! What are you waiting for? Read this article right away!
What Exactly Is Ice Cream?
Ice cream is definitely the favorite frozen dessert type of everyone around the world. Its most traditional version may include milk, cream, sugar, and many other ingredients and additives. It seduces people by the sweet, creamy, pleasant flavor and velvety texture.
There are many ice cream variations, including no dairy or sugar, that are scrumptious! Ice cream types may vary with thousands of sweet and savory flavors and additives, from the most basic ones like chocolate, vanilla, and strawberry to unusual ones like basil!
Although the sweeteners and additives help ice cream become delicious, they might also affect the gluten-free nature of ice cream. These components sometimes contain gluten, meaning that you should check the label carefully if you have trouble with this protein type.
You can always make ice cream at home or buy ice cream from any grocery store or supermarket around. Whether the ice cream gets spoiled or not depends mostly on how you store it. If you don't store it right, it may go wrong after a few days!
18 Scrumptious Types Of Ice Cream For You To Drool Over
The ultimate list of ice cream is here! It will include everything about the forms and shapes of different ice cream types on Earth! I'm sure you will be super surprised by how many types of ice cream there are!
| Types of Ice Cream | Ingredients | Texture/ Taste |
| --- | --- | --- |
| Gelato | More milk than cream, doesn't include eggs and stabilizers | Denser and richer texture than other ice cream types |
| Soft Serve | Milk, ice, and flavorings; topped with chocolate liquid or rainbow sprinkles | Really smooth, creamy, soft texture |
| Sherbet | Frozen berries, sweet water, and sometimes egg whites | Really light, creamy, and smooth in taste and texture |
| Sorbet | Fruit juice, egg whites, milk or cream, and sometimes gelatin | Texture stands between classic ice cream and Sorbet; taste more acidic and tart |
| Rolled Ice Cream | Basic components like milk, cream; mixing items like Oreos and strawberries | Super velvety and smooth texture |
| Ice Popsicle | Water, sugar, corn syrup, stabilizers, and gum | Velvety and smooth texture |
| Shaved Ice | Fine ice shavings and sweet toppings | Fluffy and soft texture |
| Frozen Yogurt | Milk solids, milk fat, sweetener, and yogurt culture | Light sour, tangy, and tart taste |
| Kulfi | Milk with sugar, nuts, and spices; condensed milk | Custard-like, dense, and thick texture |
| Faloodeh | Thin starch noodles (from arrowroot, maize, potatoes, rice), lime juice, sugar, rose water, ground Pistachios | Unusual but soft and delicious texture |
| Dondurma | Mastic and salep flour | Super dense, chewy, and malleable |
| Mochi Ice Cream | Glutinous pounded rice cover and ice cream filling, natural additives | Light sweetness and chewy, elastic, smooth texture |
| Ice Cream Cake | Ice cream filling and layers of cake or a swiss roll | Soft and melting |
| Granita | Puree of water, fruit, and sugar | Flakey and coarse; texture may vary in different regions |
| Italian Ice | Fruit juice, artificial or natural flavoring items, no dairy products | Extremely smooth and Sorbet-like |
| Neapolitan Ice Cream | Chocolate, vanilla, and strawberry ice cream | Melting and soft |
| Booza Ice Cream | Sahlab (orchid flour) and mastic | Signature chewy and bendable texture |
| Zuccotto | Cake, ice cream, and alchermes | Airy, moist, and super rich texture |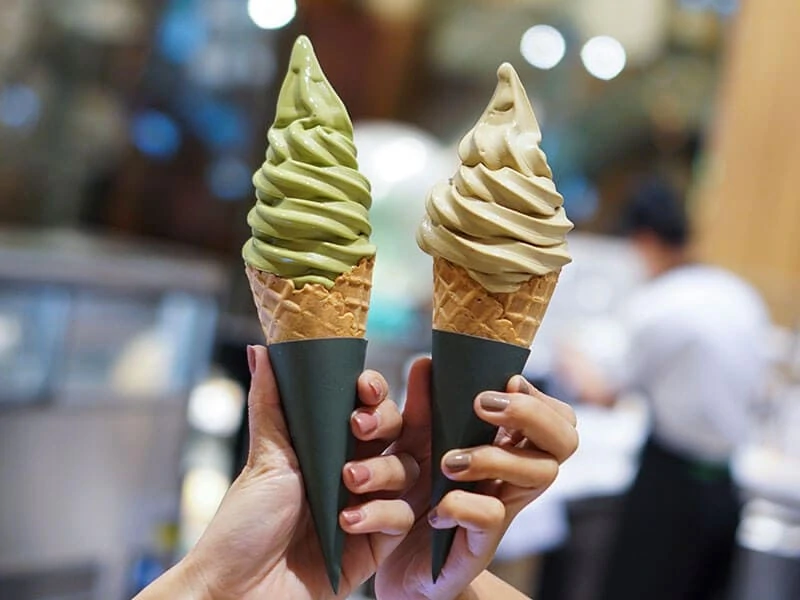 Soft serve, or soft ice, is a classic type of ice cream in America. It includes a really smooth texture with basic ingredients like milk, ice, and flavorings. The special thing is that it is only available in two flavors: vanilla and chocolate or both of them.
Soft serve doesn't consist of eggs, so it has more air than other types and easily gets churned with air. People make this ice cream at a higher temperature than most class types, which makes them become smooth, creamy, and soft.
Those people with digestive problems or the ones who don't like to eat hard-textured ice cream may be really into soft serve! Americans commonly sell this delectable sweet treat at parks, fairs, carnivals, specialty shops, and fast-food restaurants.
People may top soft serve with chocolate liquid or rainbow sprinkles. You can follow a delectable ice cream recipe with Cuisinart maker to make yourself a soft serve! This type of ice cream may be served on a waffle cone or in a cup based on your likings.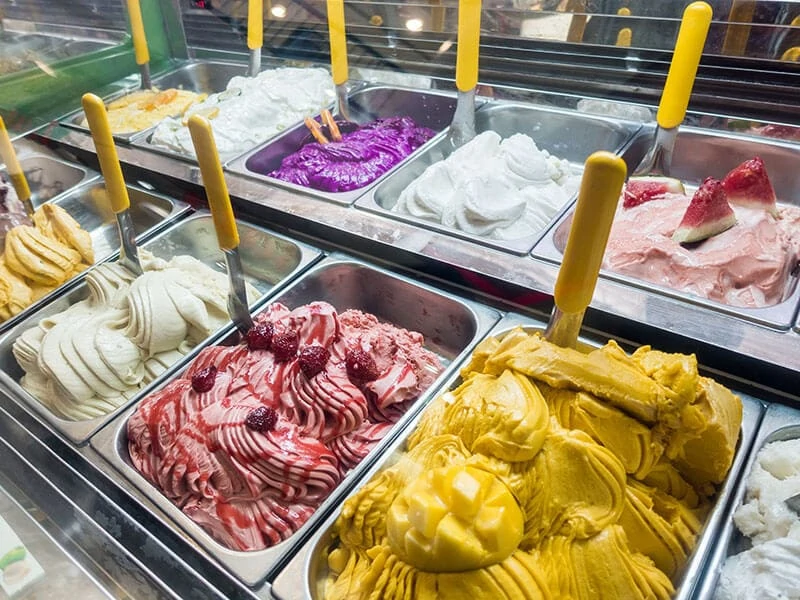 Gelato contains much more milk than cream and 70% less air than typical ice cream, resulting in a denser and richer texture than most standard ice cream types from America. Gelato doesn't include eggs and stabilizers, so it tastes more intense.
Traditional Gelato has a variety of flavors, which can be hazelnut, chocolate, almond, cream, or stracciatella. There are many more modern flavors from fruits, which are apple, lemon, pineapple, and many types of berries.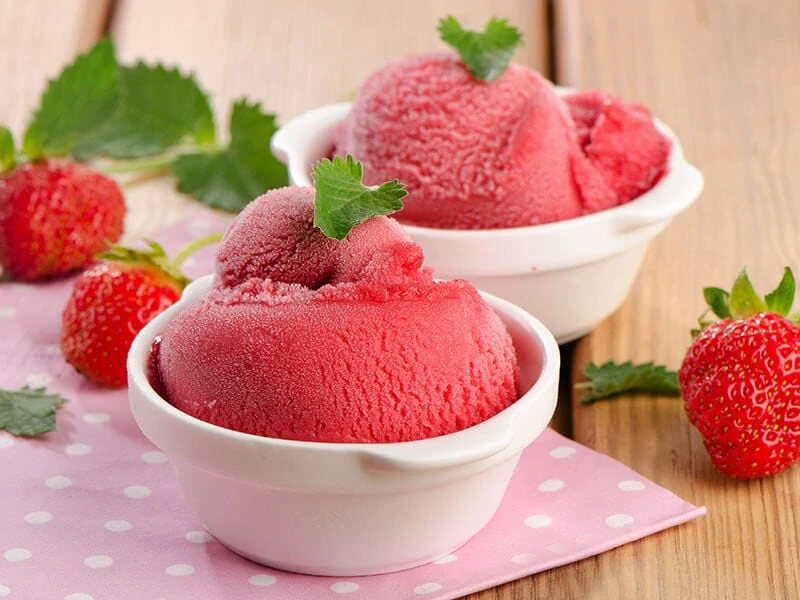 Sorbet includes little to no dairy. It consists of wine, frozen berries, sweet water, and in some cases, it also has egg whites. Sorbet is really light, creamy, and smooth in taste and texture. It is a favorite dessert treat of many people around the world!
You may find a special sorbet variation made of herbs and veggies. People usually serve savory versions of Sorbet as a first course or between the meals as a refresher. Sweet Sorbet will also be a brilliant dessert!
With sweet Sorbet, if it consists of too much sugar, it will become syrupy and soft; but if it has too little sugar, it will be grainy with a rough texture. So, you should be careful with the sugar amount if you want to make it yourself.
If you intend to make Sorbet at home, choose the most authentic ice cream scoop to make the most gorgeous sorbet dish! Its final appearance will depend primarily on how you scoop it at the final stage!
Some Sorbet variations include a lot of different ingredients. For instance, mulled wine Sorbet contains orange, red wine, lemons, ruby port, egg whites, and lemons. You may know about muscat sorbet with lemon juice, egg whites, and dessert wine.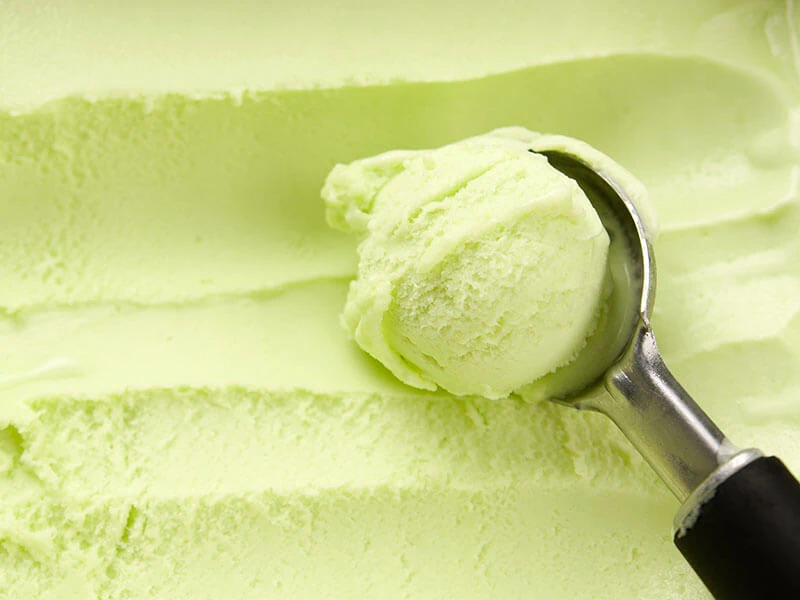 Sherbet is a fruit-based dessert including fruit juice, egg whites, milk or cream, and sometimes gelatin. It usually consists of 1 to 3% of milkfat. Sherber is considered ice cream if the ice cream mixture reaches over 3% of milkfat, or water ice if it goes under 1%.
The texture of Sherbet stands between classic ice cream and Sorbet. It tastes more acidic and tart with fruit juice. People usually consider Sherbet as a fruitier version of ice cream.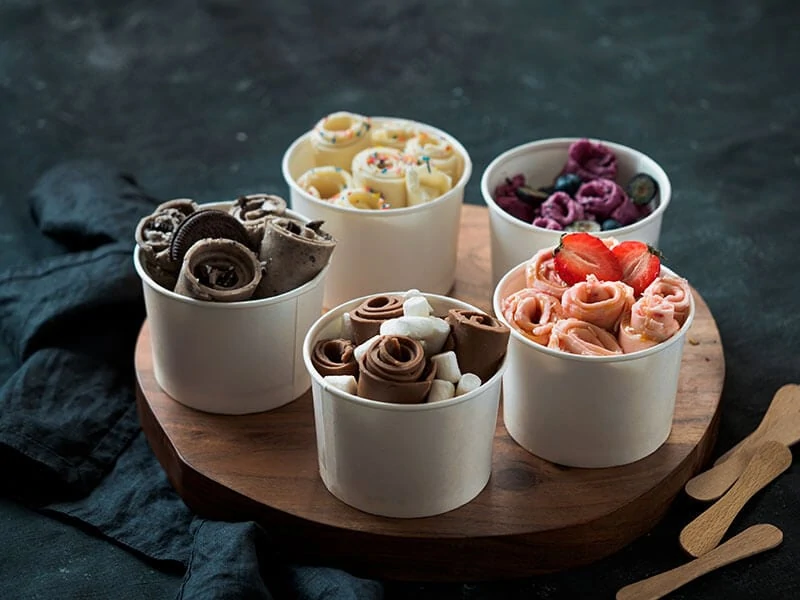 If you have a chance to come to Asian countries like Thailand, Cambodia, Malaysia, or the Philippines, you'll see that they sell rolled ice cream along the street in mobile vendors. It is renowned street food with a super velvety and smooth texture.
The mixture of rolled ice cream contains the basic components like milk, cream, and some mixing food items like Oreos and strawberries.
The seller will pour that mixture to a flat frozen surface and wait for it to get frozen, then use a spatula to roll the ice cream into rolls. They will put the rolls vertically in a specialized container, and then top the sweet treat with a variety of toppings. You'll eat it with a spoon.
Let's see how they make this giant rolled ice cream dish!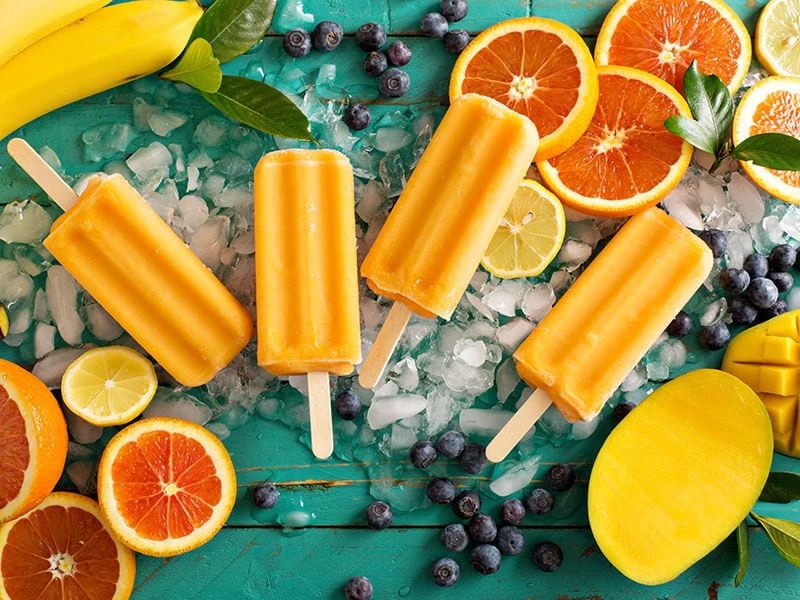 Ice popsicles are a famous ice treat that children around the world really love! It includes mostly water, sugar, corn syrup, stabilizers, and gum. The mixture will be frozen on a stick. You will feel the velvety and smooth texture when the popsicle touches your tongue!
Ice popsicles are super easy to make at home, so many people usually make this quick snack or lovely dessert in the summer. Unlike Sorbet or Sherbet, people won't stir the ice popsicle mixture while freezing but let it freeze like ice cubes.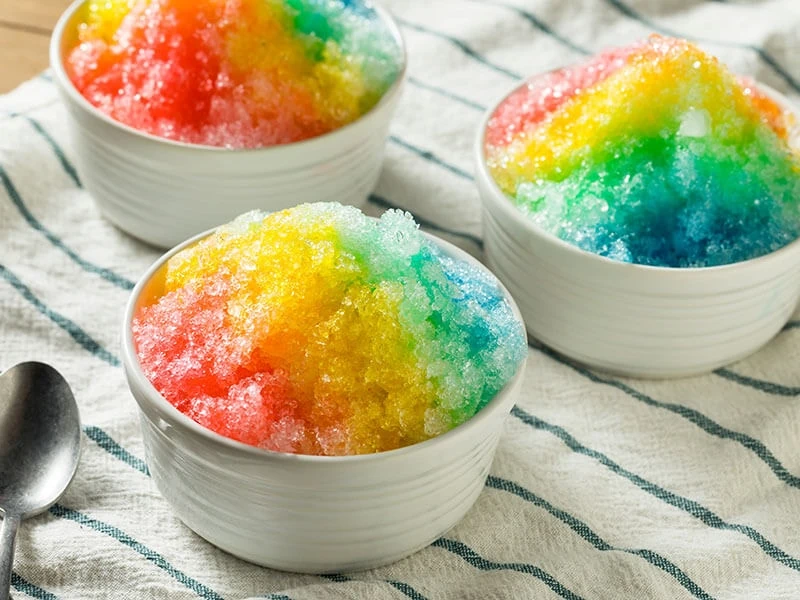 Shaved ice is an ice-based type of ice cream that consists of fine ice shavings and sweet toppings with many options. You may find shaved ice everywhere under different names and versions!
The makers usually shave a big ice cube with a high-quality shaved ice machine. Then, they will top the final product with syrup in the final stage to add flavors.
Snow Cream is a famous variation of shaved ice from Taiwanese cuisine with a fluffy texture. To make Snow Cream, people will freeze a huge cube made of milk and water. Then, they shave the frozen cube super thin to make this super soft and yummy ice treat!
Baobing is also a traditional Taiwanese shaved ice dish that consists of water ice and toppings. The toppings may vary and create many versions of Baobing. They can be condensed milk, mung beans, or tapioca balls.
You may find this delicious sweet treat anywhere in Taiwan, and it is a dessert with a snow-like texture that you must try whenever you have a chance to visit this country! Baobing is also popular in Malaysia and Singapore as a delicious street food.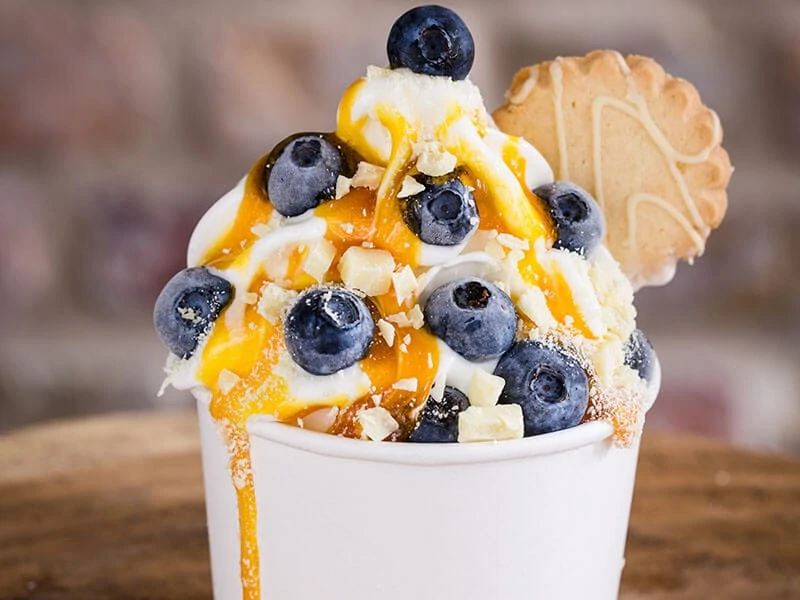 Frozen yogurt, or Fro-Yo for short, is a superstar dessert in America. It has a slightly sour, tangy, and tart taste from yogurt. It includes milk solids, milk fat, sweetener, and yogurt culture. It actually has a much lower fat content compared to those classic ice creams.
People may serve frozen yogurt in many different styles with thousands of topping types, from nuts to fresh fruits, commercial cookies, and candies. This type of dessert also includes some variations without fat or sugar.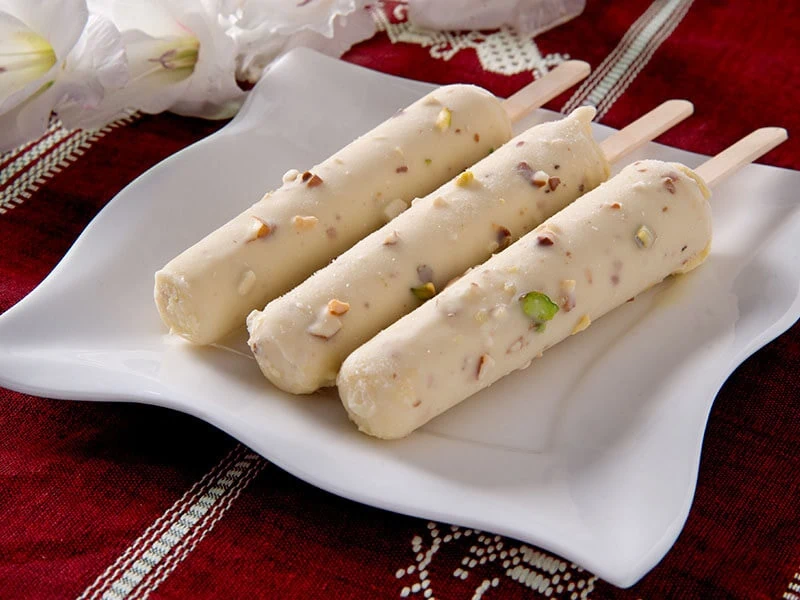 Kulfi is the traditional milk-based ice cream that comes from India. It contains a custard-like texture, which is pretty dense and thick. Therefore, it seems to melt slower.
The traditional flavors of Kulfi are usually savory with rose, cardamom, or saffron. More recent flavors are strawberry, orange, avocado, apple, or peanut.
Indians make Kulfi by boiling milk with sugar, nuts, and spices while stirring. Then, they let the mixture frozen in an ice cream mold with a cone shape. They also like to use condensed milk as a quick method to make Kulfi.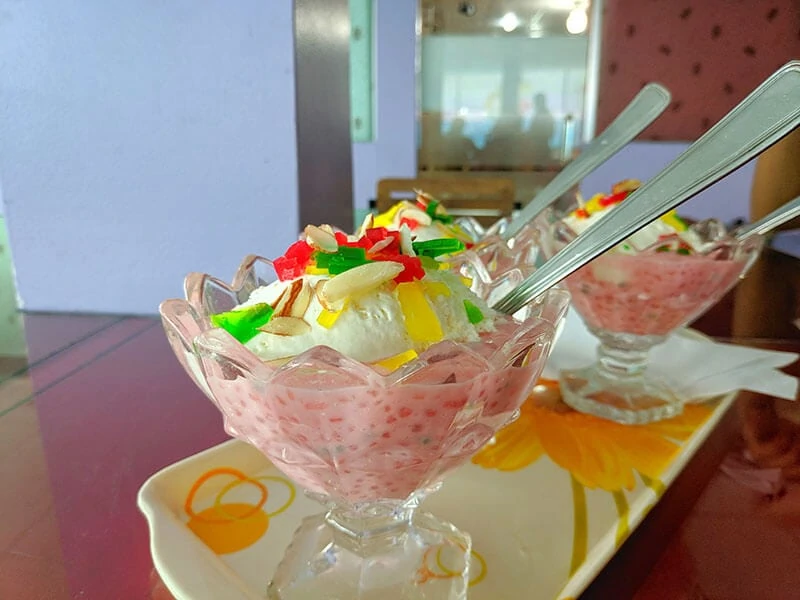 Faloodeh, or Falooda, is a popular ice cream type from Iran. It may remind you of Sorbet. It consists of thin starch noodles mixed with lime juice, sugar, rose water, and sometimes ground Pistachios.
Iranians usually sell this cold dessert in ice cream shops and many cafés. Faloodeh is now an essential dish in the culture of Pakistan and Bangladesh, as well as Sri Lankan. It appears on Islamic holidays, weddings, and many other important occasions.
To prepare the starch noodles, the maker will gently press the starch mixture, including arrowroot, maize, potatoes, rice, etc., through the sieve to get the perfect noodle strings. Its unusual but soft and delicious texture will amaze you on the first try!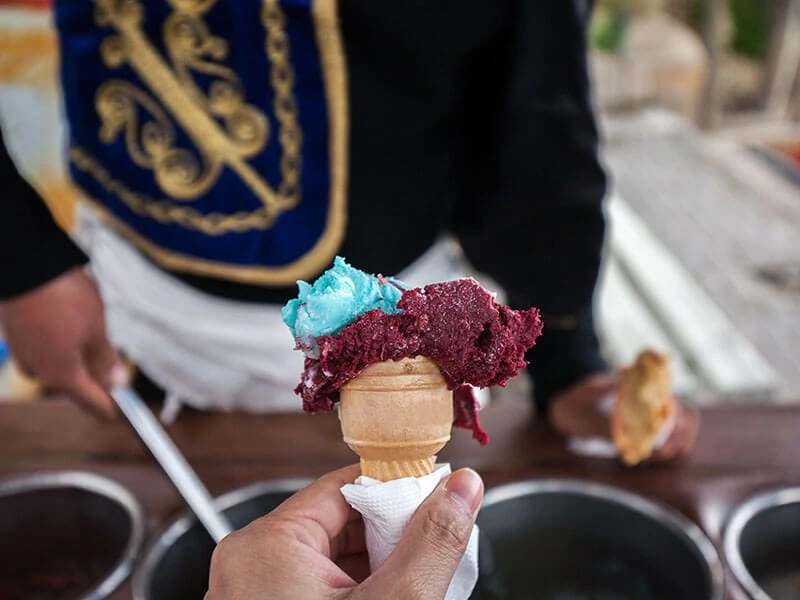 Dondurma is a famous Turkish ice cream. It is also one of the most famous street foods that every visitor should try! The Dondurma mixture contains mastic and salep flour, thereby getting super dense, chewy, and malleable.
It's like a small part of the culture to watch the vendors perform making Dondurma! They will do the "magic trick" to you that it's not easy for you to hold the ice cream cone for the first time!
The vendors wearing traditional clothes of the Ottoman period will serve the Dondurma cone in a stick, then take it away right before it comes to your hand by rotating the stick. This is fun but sometimes accidentally causes confusion and misunderstandings for the customers.
Here's how Turkish vendors play with Dondurma!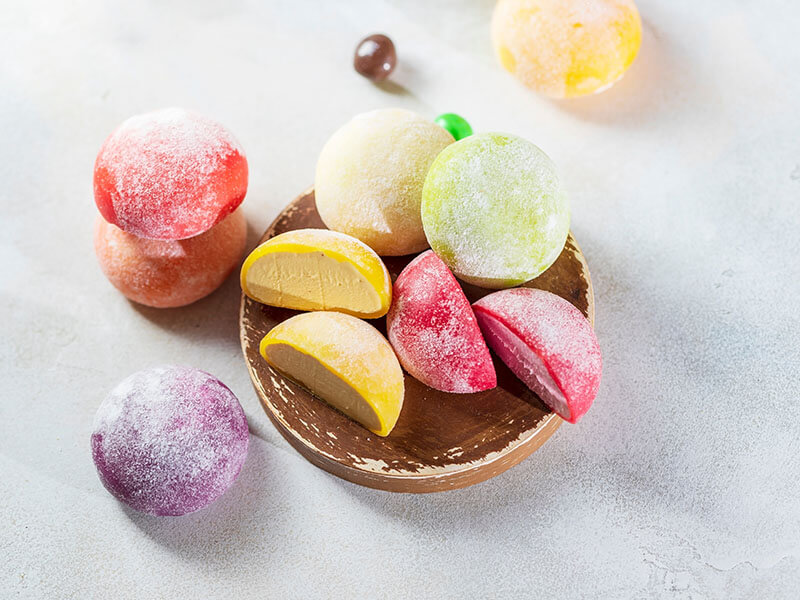 Mochi ice cream is one of the most well-known dessert treats in Japan! It will remind you of the dumpling at first sight with the glutinous pounded rice cover outside and the ice cream filling inside.
Mochi ice cream is a lovely small round dessert with a light sweetness and chewy, elastic texture! It consists of different flavors depending on the ingredients, such as chocolate, green tea, strawberry, vanilla, etc.
This cute little ice cream also appears in many colors with different types of additives, such as jasmine flowers or mugwort. It is really smooth both outside and inside!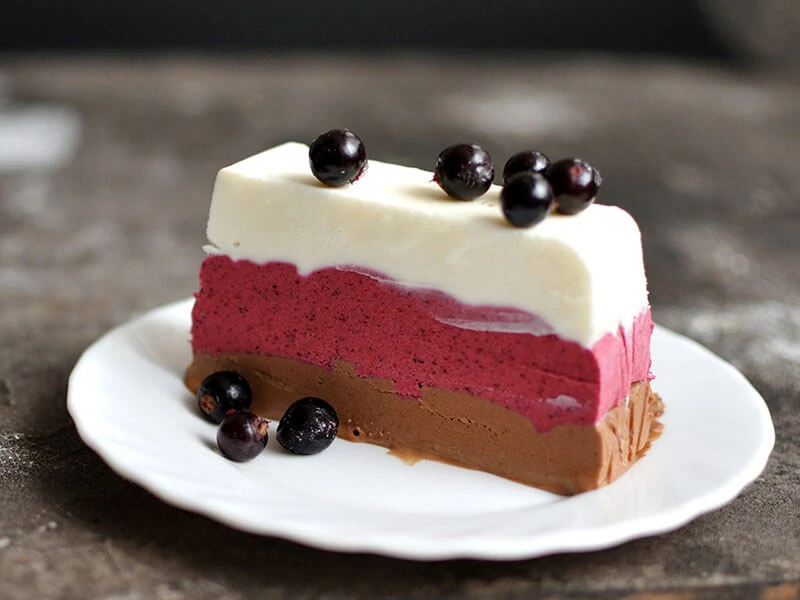 Ice cream cake is a super famous food in Australia and North America to serve during parties. It includes the ice cream as the filling inside layers of cake or a swiss roll. It will be both soft and melting right on your tongue!
There is also a simple ice cream cake variation that doesn't need baking. The cook will layer different flavors and types of ice cream in a loaf pan. It is a famous dish to serve in the Fourth of July celebrations.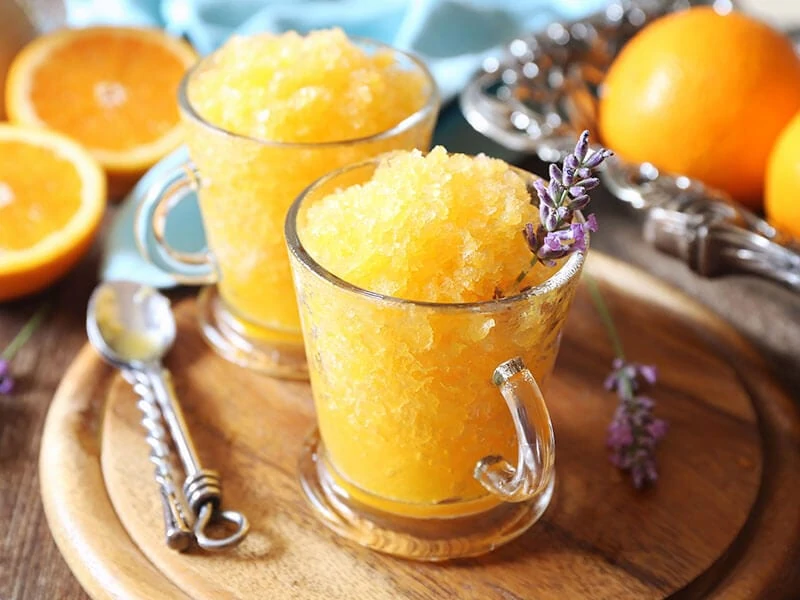 Granita is a semi-frozen fruit-based treat, including a puree of water, fruit, and sugar. It may sound like Sorbet, but its texture actually varies in different regions. Granita in the east has the Sorbet-like texture, and it becomes chunkier in Palermo and the west coast.
This sweet treat originates from Sicily. It appears in Italy in many different forms. The Sicilian ingredients make a big impact on the flavors of Granita. For example, the Sicilian lemons will be less acidic and more floral than ordinary lemons.
There are a lot of popular variations of Granita. In the city of Catania, they usually serve you Granita with almonds; while in the city of Messina, the most famous version is Granita with coffee. You can make the best breakfast by pairing Granita with brioche – a warm pastry.
Learn how to make this eye-catch and mouth-watering watermelon Granita!
Italian ice, also called water ice, is another fruit-based ice cream from Italy. It may remind you of American Sherbet for its appearance. This type includes no dairy or sometimes egg white, and the process of making it is identical to that of classic ice cream.
Italian ice may contain fruit juice and maybe some other natural flavoring items. The Italian ice maker will mix the ingredients together and freeze or semi-freeze them while mixing. It can be remarkably smooth and Sorbet-like in texture.
Some classic Italian ice flavors are cherry, watermelon, blue raspberry, and lemon. You can try them all and choose your favorite one!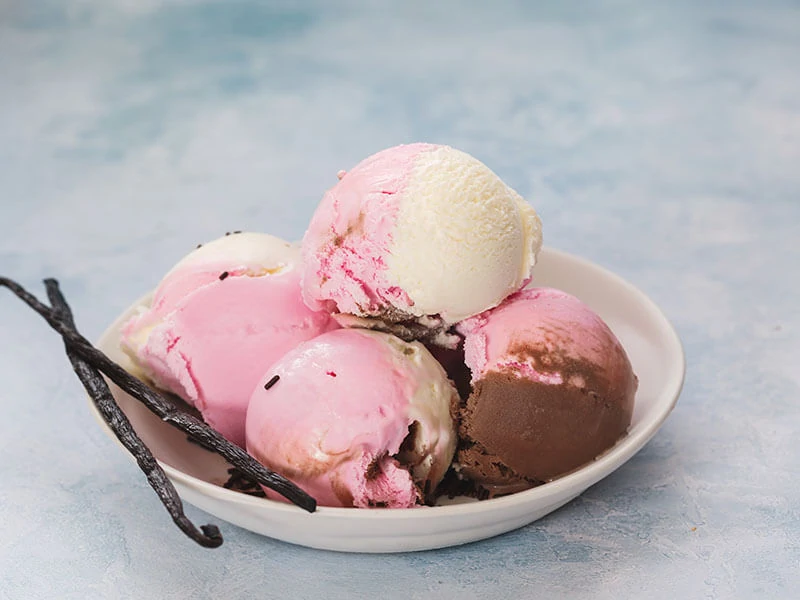 Try this classic Neapolitan sweet course if you like to take three ice cream flavors at once! It consists of three different ice cream flavors to please your sweet tooth! The three classic flavors may include chocolate, vanilla, and strawberry with brown, white, and pink shades.
People will mold the different types of Neapolitan ice cream in one container and serve a dish with many flavors together. They will blend together and turn into the most melting and softest ice cream type ever!
Make the best Neapolitan ice cream of your life with this simple instruction!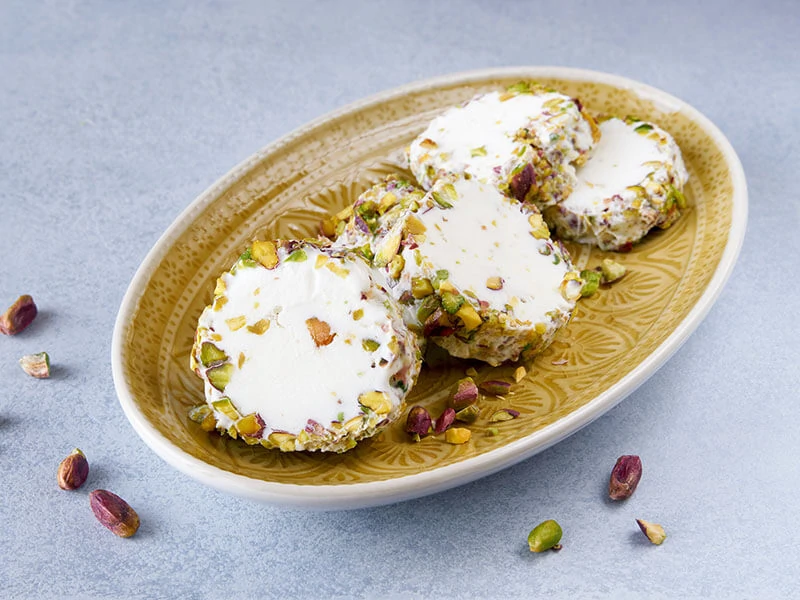 "Booza" is actually "ice cream" in Arabic. Booza ice cream originates from the Middle East. And it includes natural ingredients like sahlab, which is orchid flour, and mastic. This type of ice cream has a signature chewy and bendable texture.
Booza ice cream is a traditional treat first created in 2011 in Australia. The makers will pound and stretch the ice cream mixture in a drum-shaped freezer, which is totally different from other ice cream made with churning methods.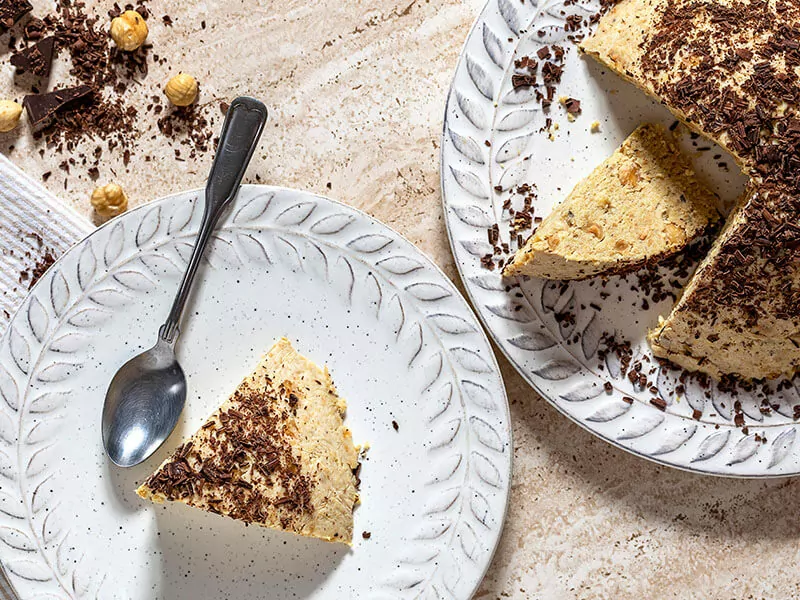 Zuccotto is an Italian semi-frozen ice cream, including cake, ice cream, and alchermes. It is made in a unique mold that has a pumpkin-like shape. Its texture is airy, moist, and super rich!
Many people believe that the shape of Zuccotto was inspired by the dome of the city's main cathedral, which is Florence's duomo, or zucchetto. When eating Zuccotto, you will have to freeze it first, then thaw it before serving.
5 Best Homemade Ice Cream Recipe For You To Make
If you want to make some delicious ice cream at home for your children, it's time to note down these amazing homemade ice cream recipes with super simple ingredients! Let's get started right now!
Cookies And Cream Ice Cream is the gorgeous combination between famous American cookies and heavy whipping cream. This dessert treat with Oreos will be a nice cold treat for your kids in the summer! It is super scrumptious and simple!
Dulce de Leche Ice Cream is the favorite ice cream type of Latin American! You can totally make a homemade version if you are so into caramel! It will be a brilliant and fancy sweet dessert treat for your family! It is packed full of caramel and other basic ingredients.
Mocha Almond Fudge Ice Cream is quite complicated to make, but it will be worth your money and time! You may find the fudge texture of this ice cream like brownies. It will be super smooth and yummy for a chilly day!
You may find Mason Jar Ice Cream super easy to make right at home, with only a few basic ingredients and a glass jar as the container. Spend some hours making this ice cream treat, and you will surprise your friends by serving it!
Butterscotch Ice Cream is a type of no-churn ice cream with a moderate amount of butter blended in. This is a super smooth and delectable treat that is suitable for everyone from young to old! Try to make it, and you'll never disappoint!
How To Store Your Ice Cream?
The most important thing to keep in mind when storing ice cream is to keep the ice cream as cold as possible in the refrigerator or freezer! Keep the ice cream container in the main compartment rather than your freezer door to maintain it under the freezing point.
You should never let the ice cream melt and then refreeze it in the freezer. This process may destroy its initial smooth texture, so you should avoid it altogether. You can replace the lid of the ice cream container with a piece of plastic wrap on the surface to prevent ice crystals.
One more thing, if you buy ice cream from the store, you should consume it within a month after purchasing it to taste the best-quality ice cream! If the ice cream is left for more than one month in your refrigerator, consider discarding it for your health!
Which Ice Cream Will You Choose For A Hot Summer Day?
You have known everything about ice cream types around the world! Some of them appear everywhere, but some only show up in specific countries. Each of them is really unique and tasty with special ingredients!
I hope you have found your favorite ice cream after reading this article! Don't forget to like, share and comment below if you have something to tell me! Have a nice day and see you later in the following articles!