There are many types of frozen desserts with various and stunning appearances. Are you sure you already know these simple desserts l? If not, my article will help you find comforting, refreshing, and luscious frozen desserts to enjoy.
This article will provide you with 18 kind of frozen desserts and their general features. They may contain dairy products or without Dairy products, but they are very delicious and visually appealing. If you love desserts, follow this post to know more about them!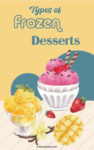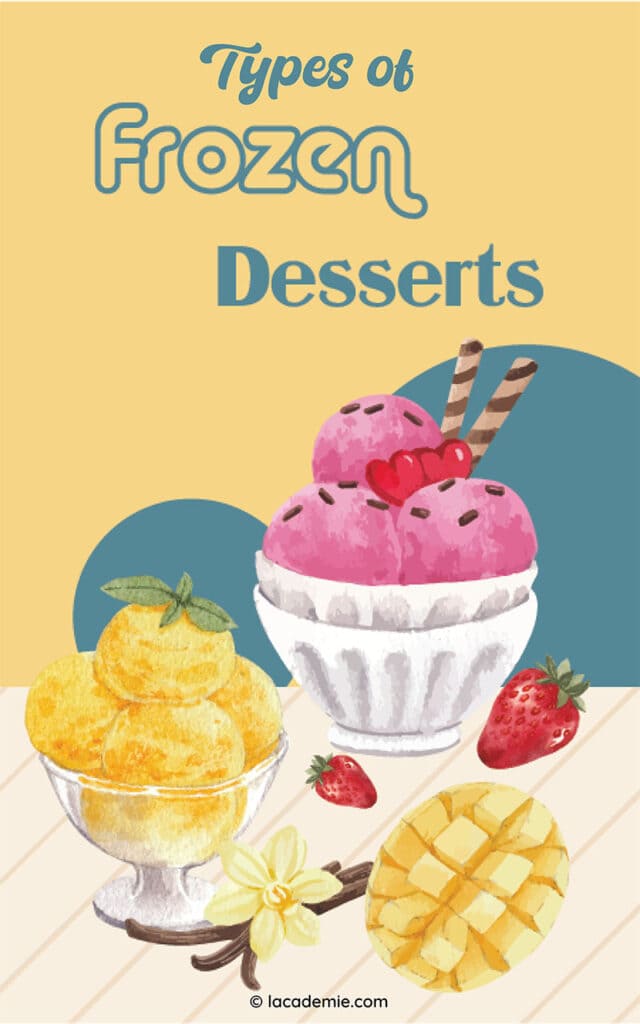 9 Frozen Desserts with Dairy Products
Although dairy products are not suitable for those allergic to milk, they provide numerous nutrients. They are a good source of vitamins, calcium, and protein, ideal for growing children and teens. Take a look at the frozen desserts with dairy products below!
Types Of Frozen Dessert
Main Ingredients
Texture
Gelato
Cream
Milk
Sugar
Flavorings
Dense
Creamy
Ice Cream
Sugar
Cream
Milk
Flavorings
Smooth
Creamy
Frozen Yogurt
Milk fat
Yogurt
Smooth
Creamy
Frozen Custard
Milk
Cream
Sugar
Egg yolk
Thick
Smooth
Creamy
Ice Cream Sandwiches
Ice cream
Wafers (cookies, bread, biscuits)
Fudgy
Creamy
Parfait
French parfait: whipped cream, egg yolks, and sugar
American parfait: cream, ice cream, and fruits
Creamy
Semifreddo
Sugar
Eggs
Cream
Soft
Creamy
Light
Booza
Milk
Cream
Sugar
Sahlab
Mastic
Dense
Creamy
Sherbets
Sugar
Fruits
Water
Milk
Smooth
Creamy
Soft
1. Gelato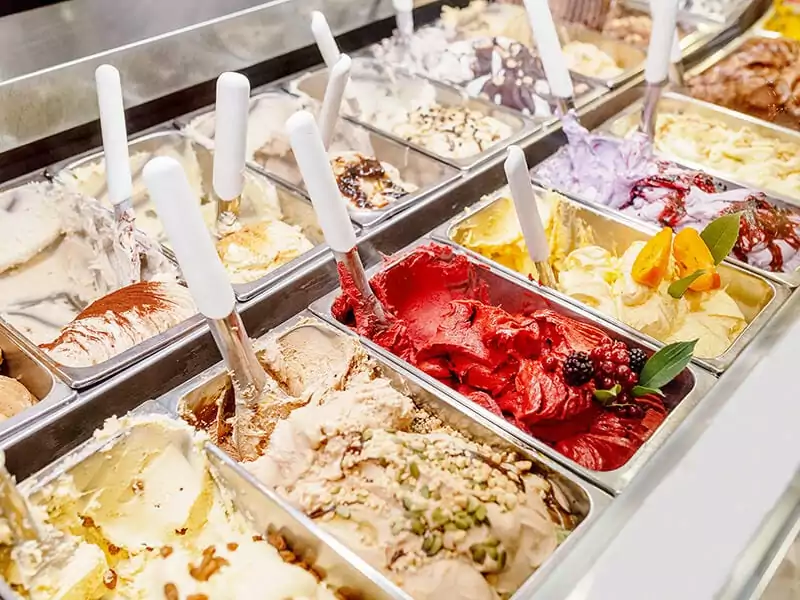 When mentioning a show-stopping frozen dessert in a fine dining restaurant, it is a must to talk about gelato. Gelato is a frozen treat from Italy; its name means "ice cream" in Italian.
This frozen dessert always wow and entertains you due to its appealing presentation and a wide variety of flavors. Containing cream, milk, sugar, and other flavorings, gelato is also a kind of ice cream you shouldn't miss.
Due to the same ingredients, many confuse the differences between gelato and ice cream. The most significant thing is that gelato contains less air than ice cream, making this frozen treat denser and creamier.
Moreover, the amount of butterfat in gelato is substantially lower when compared to that of ice cream. The vibrant and impressive display of gelato often derives from nut butter, chocolate, aromatic herbs, and fruit flavorings.
These additions also play a crucial role in boosting the flavor of gelato, making this Italian-style ice cream more addictive than ever.
2. Ice Cream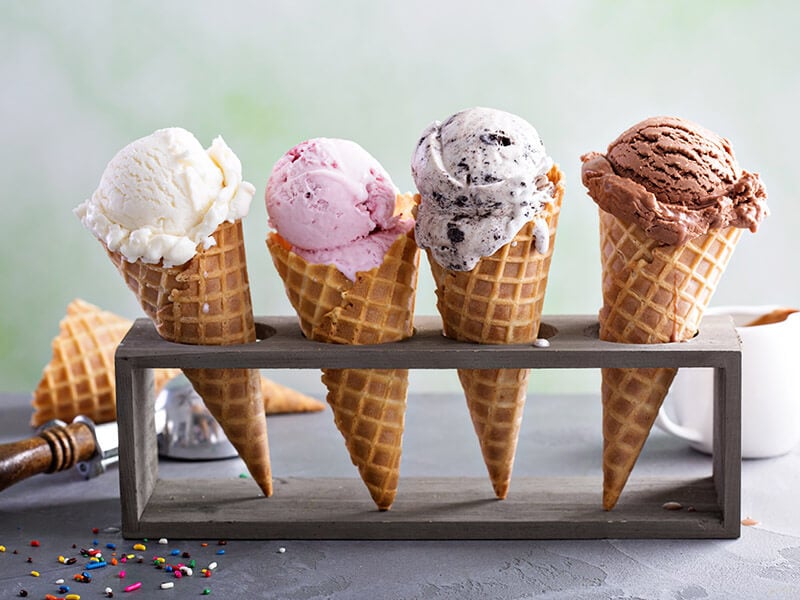 This list cannot be complete without the presence of one of the most popular frozen desserts in the world, ice cream. This summertime staple is a combination of sugar, cream, milk, and other components, similar to the base of gelato.
However, ice cream contains 10 to 16 percent butterfat, much higher than the Italian-originated dessert above. The higher the fat content is, the fewer ice crystals produce. Therefore, ice cream features a perfectly smooth and creamy texture.
In addition, stabilizers are often added to ice cream to keep its texture consistent. The flavors used in ice cream are also diverse, including vanilla extract, chocolate chips, coffee, and nuts. Unfortunately, these components can sometimes affect whether ice cream contains gluten or not.
If you are wondering whether ice cream spoils, the answer is sadly yes. However, you can keep your ice cream good for 2 – 4 months in the main compartment of the freezer.
If you are confused between gelato and ice cream, check here for a better understanding.
3. Frozen Yogurt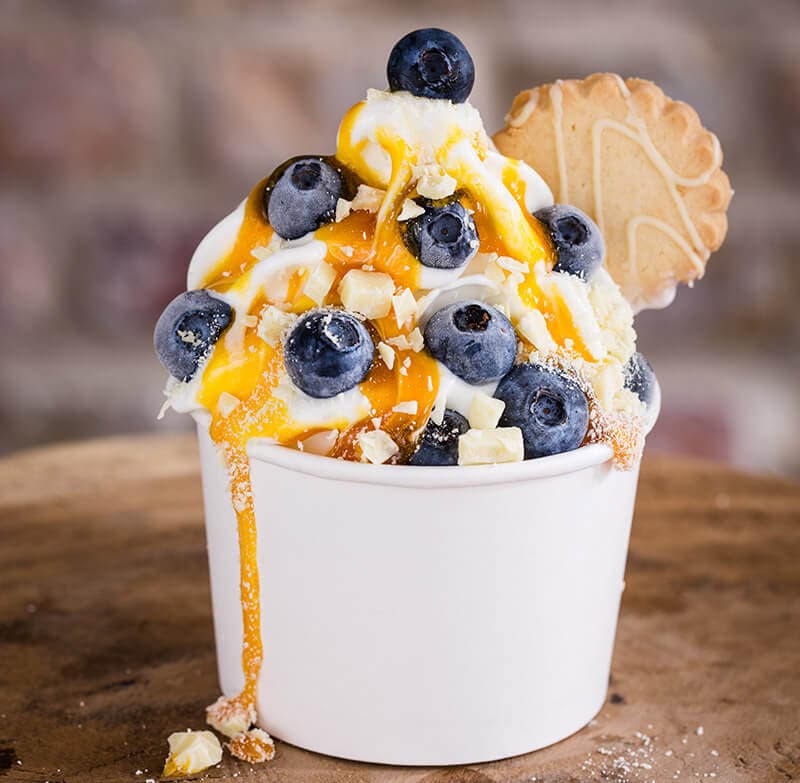 When you are craving something truly satisfying for hot summer days, frozen yogurt has all the indulgent taste and texture that make this dessert your next favorite. Every bite will astound you with its perfectly smooth and creamy mouthfeel.
Frozen yogurt is a dairy product made with milk fat and yogurt (cultured milk). For those unfamiliar with the term, cultured milk is a dairy food that has been fermented with lactic acid bacteria.
This process results in a light and tangy frozen dessert with a slightly sour note. With yogurt as a base, frozen yogurt also includes probiotics. Consuming this dessert in a small serving size and limiting your toppings will improve your health.
Frozen yogurt often contains sweeteners and other flavorings to balance the inherent taste of this treat. If you need a low-fat substitute for ice cream, frozen yogurt is an ideal option for you to try.
4. Frozen Custard
If you are a fan of custard delicacies, you will love this super tasty frozen custard. This dessert is a perfect blend of milk, cream, sugar, and egg yolk.
Including egg yolks also helps your frozen custard acquire a thick, smooth, and creamy consistency. The amazingly dense texture is what sets frozen custard apart from ice cream. This dessert requires at least 10% milkfat and 1.4 % egg yolk.
Some typical ones include candy bars, chocolate chips, fruits, and butter pecan. You can serve this dessert in cups or cones. If you need a flexible dessert, you can pair frozen custard with Italian ice and slushies for a new experience.
5. Ice Cream Sandwiches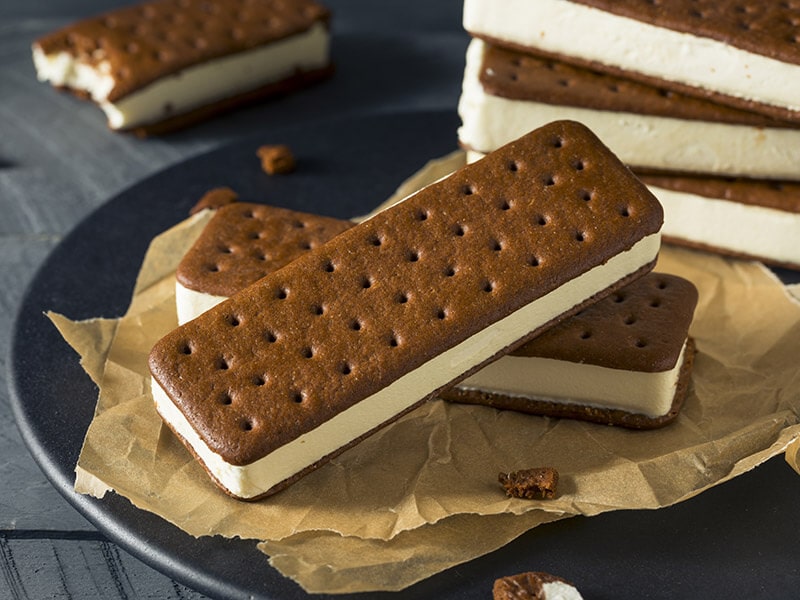 If you are a fan of ice cream, you should try ice cream sandwiches because it is a perfect combination of the two popular desserts. They are ice cream and chocolate wafers. Many also use cookies, biscuits, and bread instead of wafers in this frozen treat.
Like other types of sandwiches, ice cream sandwiches come out in 3 layers. The ice cream layer will be between two wafers. These outer layers will help to hold this sandwich. Your dessert is fudgy on the outside and creamy on the inside, making it more irresistible.
6. Parfait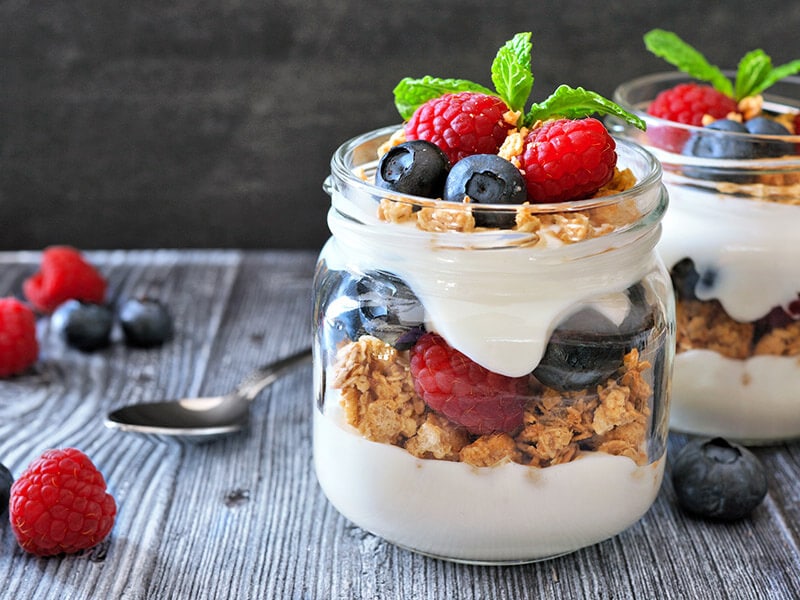 For those not in the know, parfait is a French word meaning "perfect." Through this information, you can guess that this frozen dessert will be fantastic, right? Originating in France, parfait has 2 main variants, including the French version and the American version.
In French, parfait combines whipped cream, egg yolks, and sugar. Moreover, people create savory parfaits with additional ingredients, such as seafood, vegetables, and, in some cases, foie gras (duck liver).
The American version will remove eggs in this recipe. American parfaits use cream, ice cream, and fruits (strawberries, blueberries, peaches, etc.) as the main components. Other healthier ingredients, such as granola, nuts, and yogurts, are also preferable in this version.
Parfait is often served in a tall clear glass for you to enjoy the beautiful layers of its ingredients. It's colorful, creamy, and attractive.
Have you ever heard about "National Parfait Day"? It is celebrated on November 25th every year in the United States.
7. Semifreddo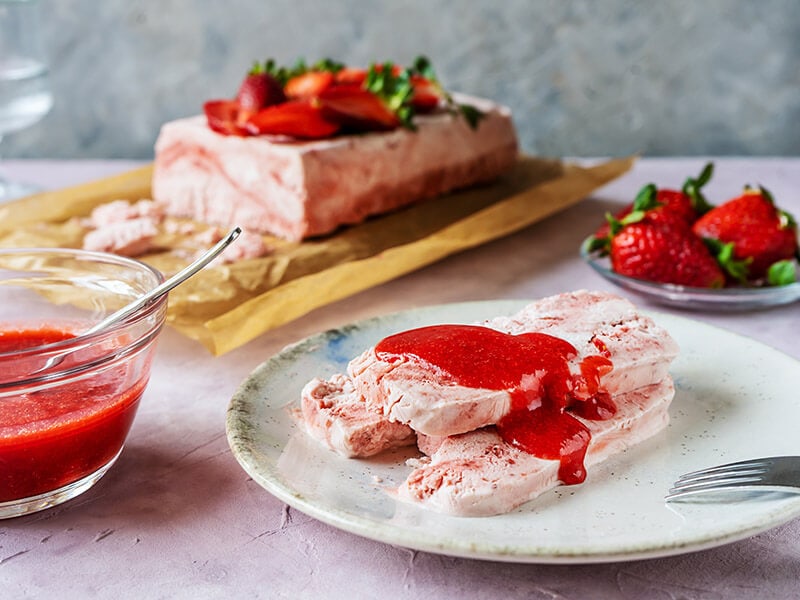 As the name implies, semifreddo is an Italian word used to indicate the texture of this frozen dessert. It means " half cold" or "half-frozen". Unlike ice cream, semifreddo doesn't experience the churning process.
Consisting of sugar, beaten eggs, and cream, semifreddo features a soft, creamy, and light texture. Many people liken the flavor of semifreddo to a cross between ice cream and frozen mousse (a light yet rich food from France). It's sweet and incredibly tasty.
You can also add strawberries, chocolates, or honey to this dessert to enhance your experience. Semifreddo cannot be served with a scoop for enjoyment like ice cream. You must slice and serve this frozen dessert in a loaf pan.
It's very straightforward for you to make semifreddo at home.
8. Booza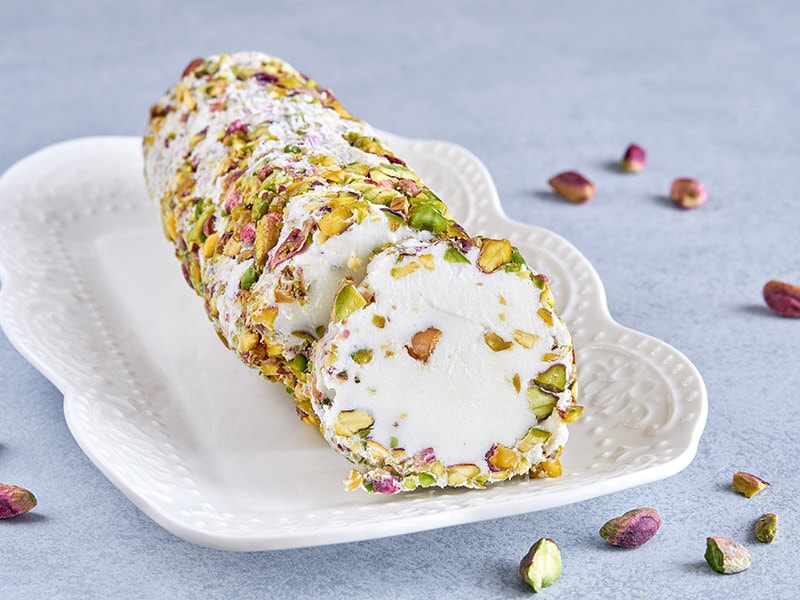 Coming from the Levant and the Middle East, booza is a different variety of ice cream. Booza also contains milk, cream, and sugar like ice cream. Fruits, nuts, and chocolates are preferable in enhancing the flavor of booza.
However, sahlab (Middle Eastern milk pudding) and mastic (Arabic gum) are the two key ingredients making booza different from others. This combination results in a dense and creamy frozen dessert.
This type of frozen dessert doesn't contain air. It acquires a stretchy and chewy consistency thanks to going through the pounding and stretching process.
9. Sherbets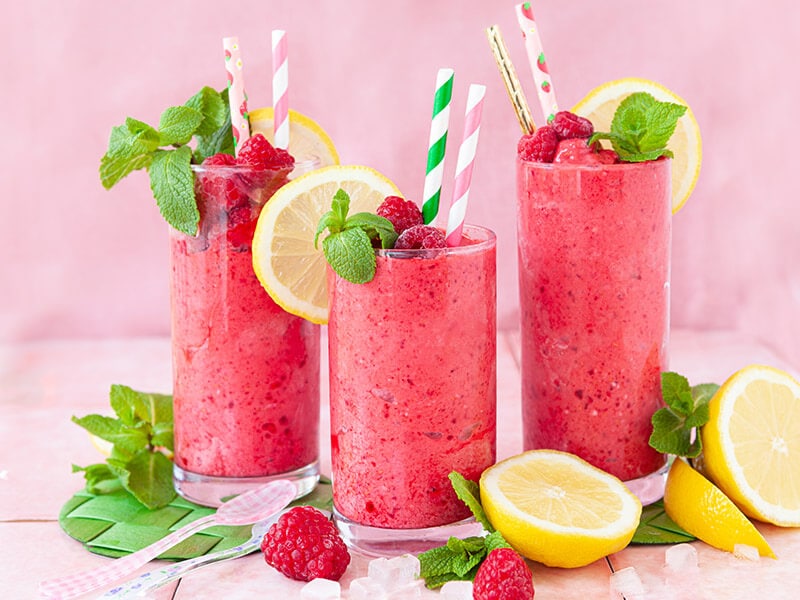 Let's continue with a type of frozen fruity yumminess: sherbets. Consisting of sugar, fruits, water, and milk, sherbet is lightweight, refreshing, and visually enticing.
Due to the low butterfat content (only 1 to 2 percent), sherbet is suitable for a low-fat diet. Moreover, milk gives your dessert a smooth, slightly creamy, and soft texture.
If you don't like something sweet, you should skip this frozen dessert because it contains high sugar content. However, it is this sugar concentration that prevents ice crystals from forming in your sherbet and keeps the dessert soft.
Compared to ice cream, sherbets are fruitier thanks to some fruit flavors, such as orange, strawberries, and lime. However, this feature also indirectly makes more people confuse sherbets with sorbets. Keep in mind that sorbets don't contain milk like sherbets.
9 Frozen Dessert without Dairy Products
If you are following a dairy-free diet, these frozen dessert options below are good for you. You can enjoy them without any confusion. Read and add them to your menu right now!
Types Of Frozen Dessert
Main Ingredients
Texture
Bingsu
Shaved ice
Other ingredients such as condensed milk, fruit syrups, etc.
Delicate
Icy
Fluffy
Sorbet
Sugar
Water
Fruit puree or fruit juices
Smooth
Icy
Granita
Sugar
Water
Other flavorings
Light
Coarse
Crunchy
Flaky
Slushie
Water
Sugar
Other flavors
Smooth
Semi-granular
Sugar On Snow
Maple syrup
Fresh and clean snow
Chewy
Shiny
Snow Cone
Crushed ice
Sugar syrups
Icy
Coarse
Italian Ice
Sugar
Water
Fruity juice or puree
Smooth
Soft
Shaved Ice
Shaved ice
Syrups
Other sweeteners
Fluffy
Light
Ice Pop
Syrups or water
Other flavorings
Melt-in-your-mouth
10. Bingsu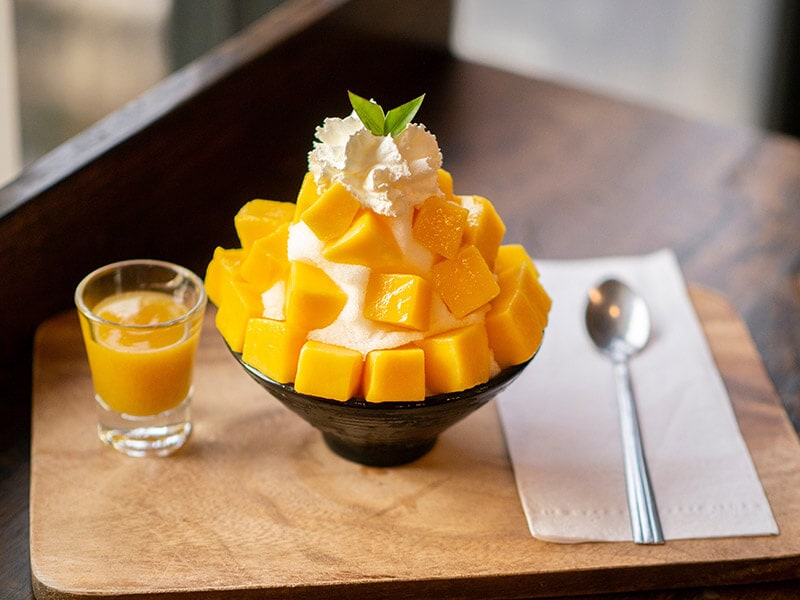 Add a Korean touch to this list with bingsu, one of Korea's most popular frozen desserts. Bingsu is shaved ice made with ice shavings and other ingredients, such as condensed milk, fruit syrups, diced fruits, and rice cakes.
With a sweet taste, bingsu is delicate, icy, and fluffy like snow. There are many options for sweet toppings to go with bingsu, such as frozen yogurt and ice cream. Wide varieties of Bingsu are also very popular such as Patbingsu, chocolate bingsu, and fruit bingsu.
11. Sorbet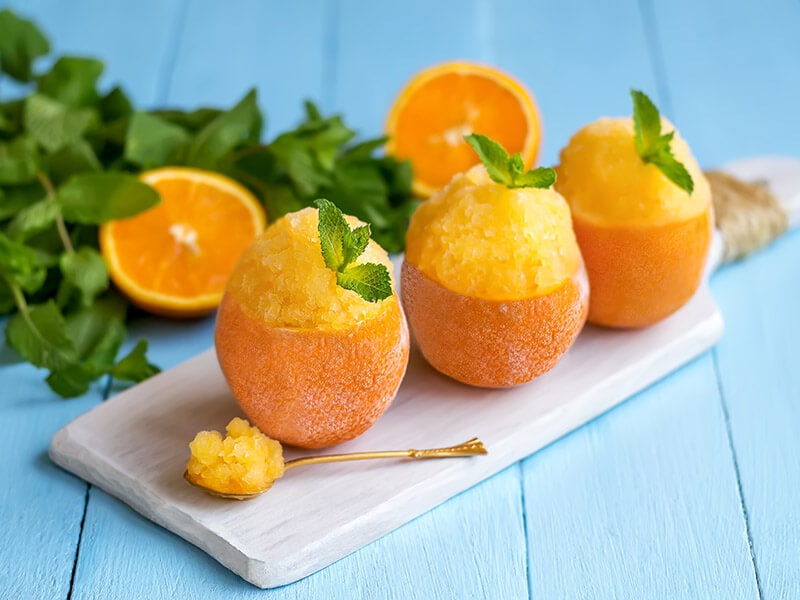 What could be more comforting and colorful on a summer day than a sorbet? Sorbet is a slightly lighter alternative to ice cream due to its lack of dairy ingredients. If you are interested in a fat-free dessert, sorbet is one of your options.
Sorbet, also known as "water ice," is a mixture of sugar, water, fruit puree, or fruit juices. Various flavorings added to sorbets to enhance their flavor include liqueur, honey, and raspberries.
Sorbet flavored with mango is a very popular Thailand-made dessert that you should try. Sorbet is often high in water content, giving this delight a smooth and icy texture.
This type of frozen dessert is drier and tougher when compared to sherbets because it doesn't contain dairy. Still, sorbet is fruity, refreshing, and perfectly cool.
This guide will help you have some fruit sorbets to enjoy right away.
12. Granita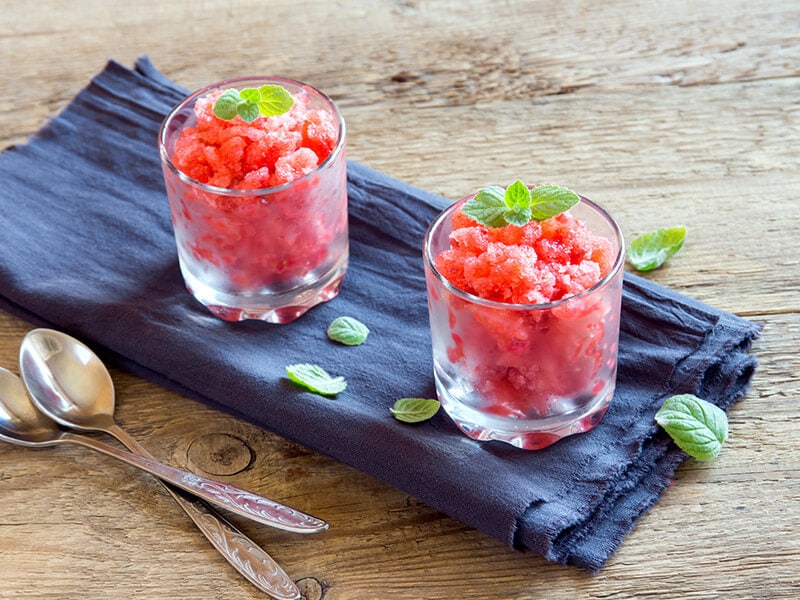 Few frozen desserts are easier to make than granita, another Italian staple. Granita is a summer specialty of Sicily, a region in southern Italy. In this country, granita is not simply a dessert; it is a breakfast tradition eaten with brioche (a bread of French origin).
Whether you require a low-fat, gluten-free, or dairy-free diet, granita will satisfy your needs. This recipe requires simple ingredients such as sugar, water, and other flavorings (fruit juices, fresh herbs, and coffee).
To prepare granita, you should make the syrup with water and sugar. After that, add your favorite flavorings to the syrup. All that's left is to pour liquids into the mixture, freeze it, and occasionally scrape it up with a fork.
In comparison to ice cream, granita has a cleaner and fresher mouthfeel. However, this frozen dessert is lighter and coarser than sorbets. With a delightfully crunchy and flaky texture, granita will help you beat the heat of summer.
13. Slush/Slushie/Slushy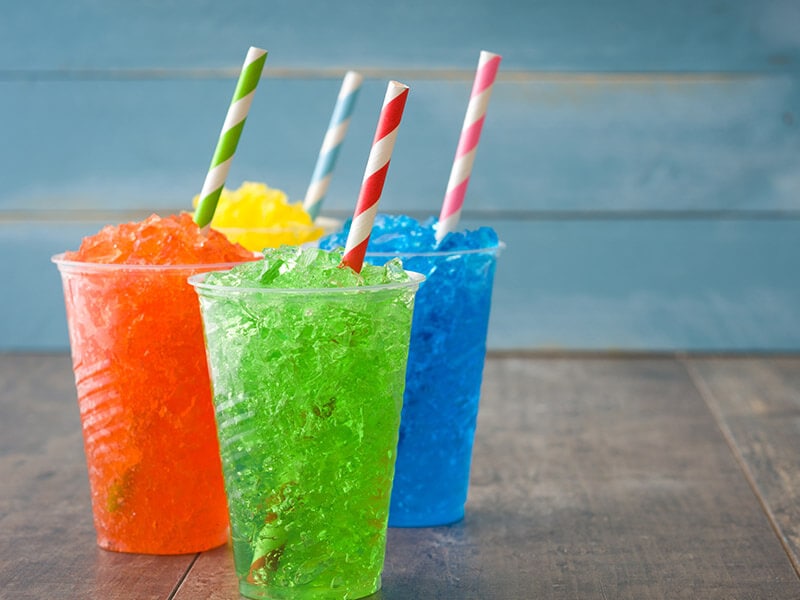 Slushy is a perfect frozen dessert for cooling off on a hot summer day. What would you say if someone asked you to describe this frozen treat in a few words? For me, it's a cool drink more delicious than water and colder than ice.
This sweet treat is an excellent combination of water, sugar, and other flavors. You can add fruits (lemon, strawberries, grapes, etc.) or sodas (like Sprite and Coca-Cola) to enrich its taste.
In addition to enjoying plain, you can serve a slushy in the form of a carbonated drink or pair it with an alcoholic beverage. This dessert derives a smooth and semi-granular consistency thanks to the formation of ice crystals, making it more enjoyable to chew on.
14. Sugar On Snow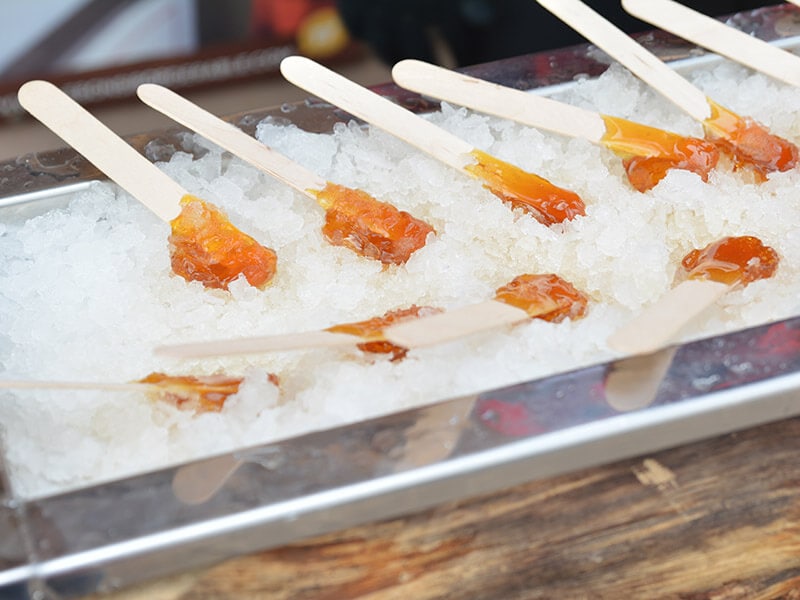 If you have kids, don't miss sugar on snow because it will become their next favorite. Sugar on snow not only requires you a short time but is also very straightforward to prepare.What you need for this ideal frozen dessert is maple syrup plus fresh and clean snow.
All you need to do is boil your maple syrup and drizzle it on top of the snow. After a few minutes, your frozen treat is ready to serve. If you don't have snow on hand, you can use blended ice as a replacement.
Many people use a dinner fork or a popsicle stick to lift this dessert. Your sugar on snow is sweet, chewy, and shiny. Black coffee or doughnuts will complement this frozen delight.
15. Snow Cone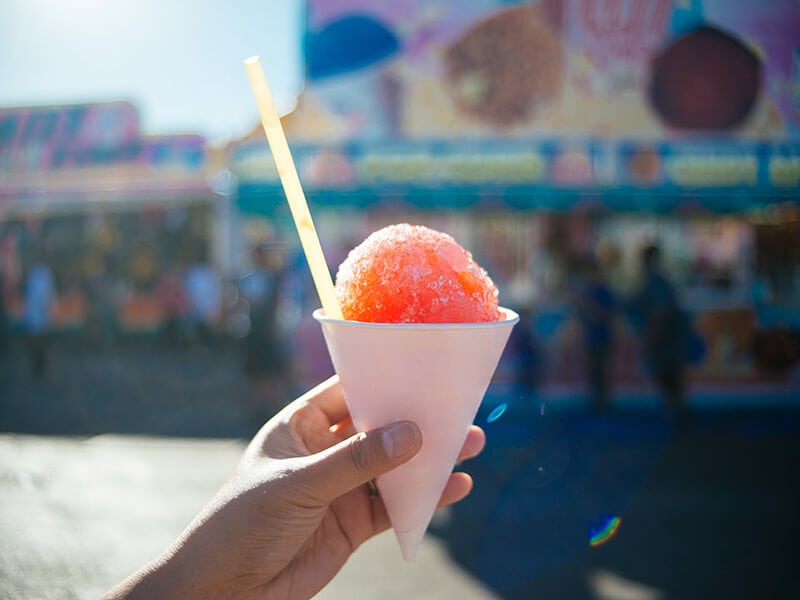 When the weather outside is hot, these snow cones will take the edge off summer. Originating in the Southern United States, this frozen dessert is a perfect blend of crushed ice and other flavored sugar syrup.
A snow cone is generally sweet; however, the flavor will change dramatically depending on the syrup flavors. Compared to shaved ice, snow cones contain larger pieces of ice, featuring an icy and coarse texture.
A snow cone is an ideal dessert for those that are at all ages. It is often served in a foam cup or in a paper cone. If the name "snow cone" is strange to you, have you ever heard about "snowball" or "ice cone"? They are other names for this frozen treat.
16. Italian Ice
When it comes to dessert, it's tough to beat the greatness of Italian ice. An invention of Italian people, or more specifically Italian immigrants to the United States, this dessert is inspired by granita.
Coming out with a smooth and soft texture, Italian ice doesn't contain dairy or egg ingredients. All you can find in this specialty is sugar, water, fruity juice or puree, and other flavorings.
Like sorbet, Italian ice is also flavored with some popular fruits such as lemon, cherries, mangoes, and other things. This frozen dessert is sweet, cold, and deliciously melt-in-your-mouth.
Bring Italian ice home through this instruction.
17. Shaved Ice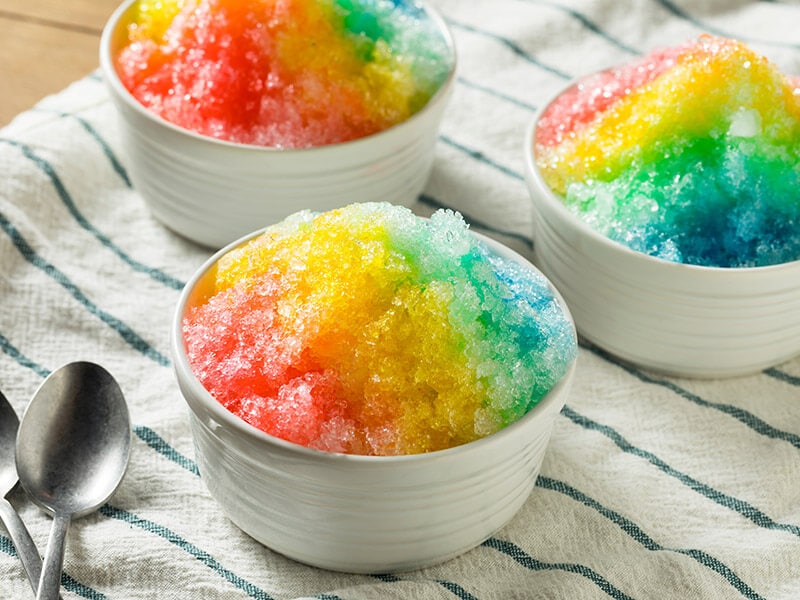 If you are a frozen treat fanatic, you must be familiar with shaved ice. Instead of being made from crushed ice like snow cones, shaved ice is a product of shaved ice (as its name suggests), syrups, and other sweeteners.
Many people also call this frozen delight "ice shave" or "Hawaiian shaved ice". Its name is associated with the Hawaiian Islands because this is where this type of dessert initially appeared when Japanese immigrants created shaved ice based on kakigori, an ice-based dessert.
Shaved ice helps this treat absorb syrup better, making this dessert more mouth-watering and addictive. It has a fluffy and light texture that is almost similar to real snow. The flavors for syrup used in shaved ice are countless.
They can be bananas, pineapple, or watermelon. Just choose the one best suited to your taste. You can see that this ice-based dessert is served in a plastic cup, conical paper, or even in a bowl. It's a delicate and fluffy dessert.
18. Ice Pop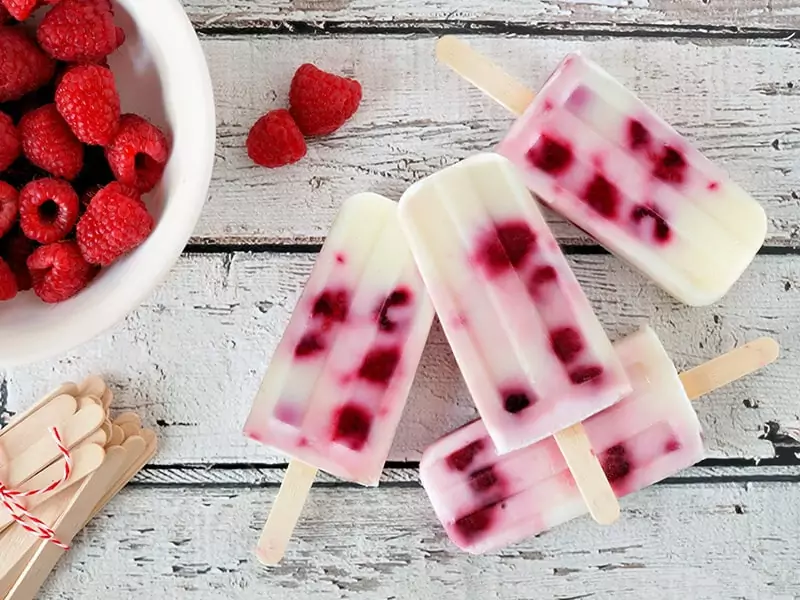 Have you ever heard about ice blocks, ice candy, or popsicles? Yes, they are all the names for ice pops, which are one of the oldest frozen desserts in the world. They are a liquid-based dessert with various rays of color.
You will often find ice pop appearing with a stick in the middle. This stick plays a vital role in keeping this delight together and works as identification of this treat, setting ice pop apart from others.
Although it is not creamy and delectable like other dairy-based desserts, ice pop is colorful and refreshing. It often contains syrups or water. Moreover, adding food dye and other flavorings will give a pop of color and boost the flavor of this frozen dessert.
Unlike ice cream or gelato, ice pop is not whipped during the freezing process. It will form a solid block of ice. Can you guess the texture and taste of ice pop? Yes, it's sweet and seductively smooth.
Frozen Desserts – Melt Away The Summer Heat
After reading this page, I hope you have learned enough about the many types of frozen desserts and their general characteristics. Please don't be afraid to try some of them in your own time since many of them are ideal for making at home.
Finally, if you enjoyed what I wrote here, please like and share it with others. This will significantly inspire me to compose more insightful pieces about the culinary wonders. Don't be afraid to express your ideas in the comment areas. Thank you for your support.