Hawaiian desserts is a true melting pot of cuisines with so many different flavors melding together without losing their integrity. Coconuts, pineapples, and macadamias are prominent ingredients in these dishes, making them a dream come true for any tropic lover.
Throughout the history, Hawaii has various dishes inspired by other heritages joining the islands from around the world. Besides those, this country also creates its own authentic delicacies that have been near and dear to locals for centuries.
Whether you need a culinary guide for your next trip to Hawaii, a tropical dish to bring to your next gathering, or simply a sweet treat for your those sweet cravings, you're in for a special treat. Today, we're scouring the islands to find the most delicious desserts that you need to try.
If you're ready to drool, let our sweet getaway begins!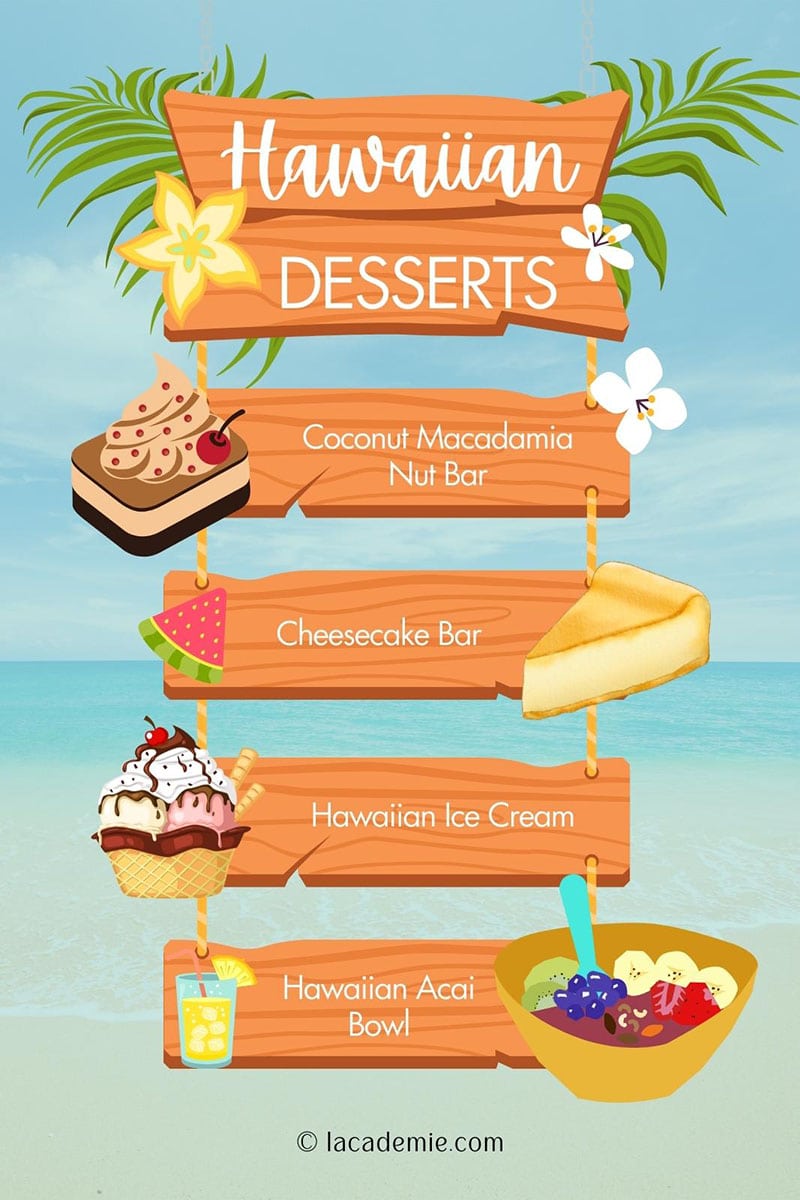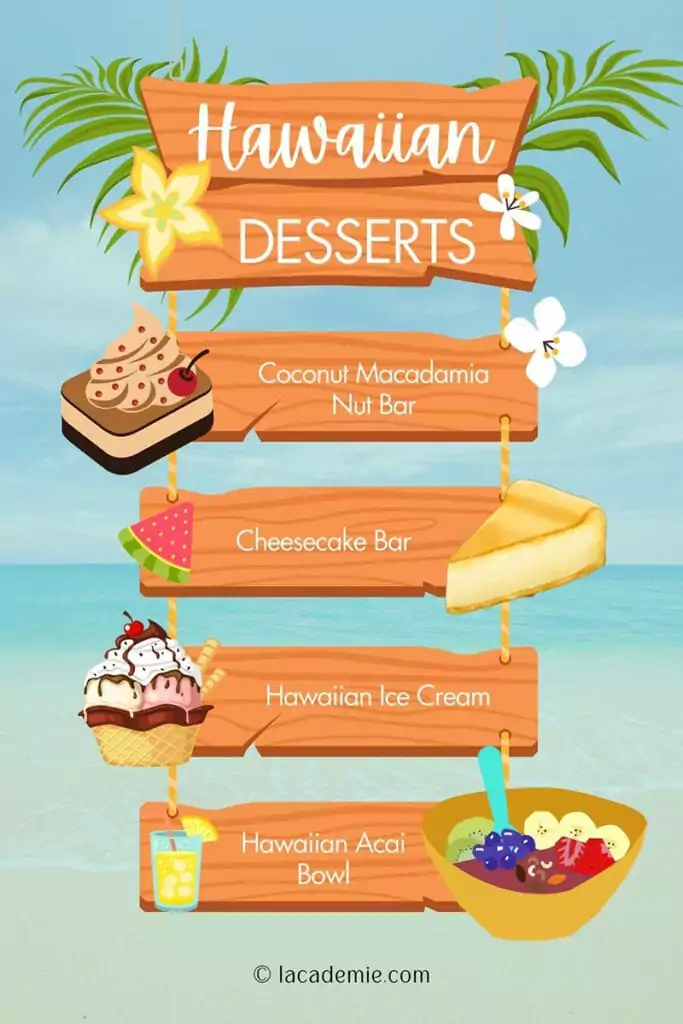 23 Traditional Hawaiian Dessert Ideas For A Crowd
With an abundant bounty of tropical fruits like mangos, pineapples, and coconuts, classic Hawaiian desserts will transport you to an amazing island paradise in each bite. Find your new favorite treat in the quick roundup as follows.
Hawaiian Cakes
Butter Mochi
Chi Chi Dango (Sweet Rice Cake)
Guava Cake
Hawaiian Dream Cake
Pineapple Upside Down Cake
Hawaiian Pies
Chocolate Haupia Pie
Haupia Pumpkin Pie
Hawaiian Hula Pie
Sweet Potato Haupia Pie Bar
Hawaiian Dessert Bars
Coconut Macadamia Nut Bar
Hawaiian Cheesecake Bar
Lilikoi Bar (Passionfruit Bar)
Hawaiian Puddings
Haupia (Coconut Pudding)
Kulolo (Taro Pudding)
Tapioca Pudding
Hawaiian Ice Creams
Guri Guri (Hawaiian Ice Cream)
Hawaiian Shave Ice
Other Hawaiian Desserts
Brown Sugar Grilled Pineapple
Hawaiian Acai Bowl
Hawaiian Banana Bread
Hawaiian Snowball
Malasada (Hawaiian Donut)
Rainbow Jello
What're The Best Hawaiian Desserts That You Should Try?
Hawaiian desserts are characterized by exotic tropical fruit flavors. From decadent cakes and pies to refreshing frozen desserts, here are the best selections of sweet treats to put on the table today!
Scrumptious Hawaiian Cakes For Your Sweet Indulgence
With exotic tropical flavors, Hawaiian-style cakes are perfect for curbing those sugary cravings or round out your meal in the most heavenly way possible.
Unlike the majority of cakes, butter mochi is created from glutinous rice flour and coconut milk. As you may have guessed, this unique dessert is of Japanese inspiration. But now, it has made its way onto all party tables in Hawaii for good reasons.
Visually, butter mochi has a stunning golden color. From the first bite, its chewy, sticky texture combined with a sweet, delicious flavor will blow your taste buds away. It's supposed to be relished fresh out of the oven when it remains bouncy and soft.
It's safe to say that this Hawaiian classic is ridiculously easy to whip up at home. All you need is to mix a handful of ingredients and bake it for an hour. If you have a thing for coconut, don't hesitate to sprinkle some grated coconut on top to suit your taste.
A famous Hawaiian dessert that pays homage to the Japanese origin, Chi Chi Dango are little colorful squares of chewy and sweet mochi. This delight is a traditional staple for the Girl's Day celebration and makes for great party snacks.
Regardless of your heritage, this sweet, delicate cake of goodness will be a huge hit at any family gathering. Asides from the primary flavor of coconut, you can also toss in a touch of rosewater or mangoes to cater it to your taste.
Such a delightful, pillowy soft treat isn't something you can stop after a bite or two. In fact, whenever you're getting bored of those your usual snacks, don't be shy to treat yourself to a batch of Chi Chi Dango.
Pink foods are simply too gorgeous to resist. An authentic Hawaiian-style guava cake consists of three parts: a guava-flavored cake topped with a layer of whipped cream frosting and a stunning guava gel as a finishing touch.
From the first time you lay eyes on it, this iconic dessert is a feast for the eyes. It's soft and fluffy with a deep, complex taste thanks to the layered texture. If you ever need a tropical dessert to please a crowd, this should be it.
While the cake looks like it just came out of a cookbook, it's actually such a doddle to make from scratch. From prep to the dining table, it takes around 30 minutes to come together. However, since it should be chilled overnight, you should prepare it ahead of time.
For a quick direction on how to whip up this beautiful cake, here's a step-by-step guide you can take notice of!
They don't call this dessert a "dream cake" for no reason. Essentially, this gourmet delight is composed of a pineapple-and-coconut laced cake batter and creamy pineapple pudding. The whole thing is then dressed in whipped cream and coconut toppings.
No doubt, this dream cake is a blend of Hawaiian's quintessential flavors. It's decadent, soft, and fluffy without being overly sweet. While you can enjoy it right away, most peeps tend to let it rest overnight in the fridge, giving the flavors some time to meld together.
Whether for rounding out a heavy dinner or a summer potluck, you bet your bottom dollar that Hawaiian dream cake won't disappoint the crowd.
As its name implies, this Hawaiian delicatessen is made with fruit toppings placed on the bottom and a buttery batter put on top. Upon baking, the whole thing is then flipped over onto a plate, ready to be served.
Needless to say, this sweet, decadent cake is near and dear to many Hawaiians of all ages. The uncanny recipe allows the pineapples to release the juice deep down into the batter, giving it a fruity and luscious flavor that's simply addictive.
Generally, pineapples are the most common choice for the topping. But the dessert can be made with virtually any fruit combination. Hence, if you're whipping up this treat at home, don't be shy to shake things up a bit and adjust it as your heart desires.
Delicious Hawaiian Pie Recipes For Every Occasion
What's not to love about those tasty pie treats? Luckily, Hawaiian food culture has a variety of pie recipes that you can relish year-round at the comfort of your house.
For when you can't take the heat from baking all day, this no-bake chocolate haupia pie is your best bet. In essence, this well-loved dish is a combination of a coconut custard pie stacked on top of a flaky pie crust and garnished with whipped cream.
The multilayered structure gives the pie a luscious, rich, creamy taste and a contrast in texture that's sure to impress the pickiest eaters. Besides making a fantastic dessert, this dish also goes well as a filling plate for a simple and delicious dinner or lunch.
A well-kept secret to recreating this recipe from scratch is to allow each layer to set before gently adding another layer so that they don't get mixed into each other.
When the first chill of autumn arrives in the air, treat yourself to a heavenly haupia pumpkin pie. A seasonal treat combined with a tropical classic, this dessert is crazy addictive to any sweet tooth out there.
While the concept may be new for some, pumpkins and coconuts turn out to be perfect complements for each other. The result is a smooth, delicate, and creamy delight that's soon to be your new fall obsession.
Finish it with some whipped cream and toasted pecans, and the pie is ready to be served. For this recipe, most home cooks often buy pre-made pie crust. But if you take it as an ambitious baking project, you can make the whole thing from scratch with ease.
The original hula pie recipe hails from Kimo's restaurant in Hawaii. But it's now considered more popular at Duke's, with so many tourists traveling from afar just to get a slice. In essence, this delicacy is every guilty pleasure dessert combined in one.
With macadamia nut ice cream, chocolate cookie pie crust, hot chocolate fudge, and some macadamia nuts sitting atop each other, hula pie cake is truly a work of art. It's refreshing, sweet, decadent, and absolutely scrumptious.
Owing to the impressive look, not many people know how easy it is to prepare at home. With no baking required and almost all ingredients can be found ready-made, this Hawaiian dessert goes hand-in-hand with those scorching summer days at home.
Made-from-scratch hula pie can be such a doddle with this easy tutorial!
Another rendition of the old-fashioned haupia, these sweet potato haupia bars are a local favorite. Crumbly macadamia shortbread is filled with purple sweet potatoes and finished with a soft haupia pudding.
Visually, this layered delight has a beautiful color that draws you to it. The contrast between the two main layers gives it a complex yet perfect texture. Each bite is crumbly and creamy at the same time. Plus, the nutty, decadent taste is simply irresistible.
Quick And Easy Hawaiian Dessert Bar Ideas
Simple yet satisfying, there's nothing better than a good old Hawaiian dessert bar for pleasing a crowd. Here are some easy bar suggestions that you can whip up like a breeze.
What's the better way to indulge in Hawaiian's beauty than to get a taste of its quintessential flavors? A tasty combination of macadamia nuts, coconut, and chocolate makes this dish feel like a bite of the islands.
The basic shortbread crust is rich without being overly sweet, allowing the chewy coconut filling to shine through with its prominent flavor. With a single bite, your palate will remember it for the longest time.
While you may be tempted to relish this dessert fresh out of the oven, it tends to taste better chilled. Be it a sweet and yummy Hawaiian morning meal, after-dinner treat, or a casual gathering; this nut bar is pretty much perfect for all occasions.
Why decide between cheesecakes and bars when you can have both? Hawaiian cheesecake is an indulgent crowd-pleasure that gets the best of both worlds. Next time you need a crave-worthy dessert to bring to a get-together, this one deserves a try.
For starters, a shortbread crust makes the perfect base that's rich and buttery. Then, a layer of pineapple cheesecake, often loaded with white chocolate and macadamia nuts, is piled on top. A drizzle of toasted nuts is then added as a finishing touch.
Upon baking, this tropical dessert ends up with a decadent texture and mouth-watering taste that really hit the spot. It also freezes well for days, giving you plenty of time to prepare if the next fancy party is around the corner.
Lilikoi is the Hawaiian word for yellow passionfruit, one of the most iconic fruits in Hawaii. This dessert is the Hawaiian take on the classic lemon bar. Typically, it combines eggs, flour, sugar, and lilikoi juice to make a real crowd-pleaser that is sure to satisfy.
A chewy shortbread crust is sprinkled with a dash of powdered sugar and occasionally some fresh whipped cream. As the star of the show, passionfruit gives it a sweet-tart flavor and a unique aroma that draws everyone to it.
From start to finish, this sweet treat comes together in around 35 minutes. It's best served chilled, so you should plan for at least an hour of cooling time if you're planning to make this dessert for your dinner party.
Are you interested in whipping up this lilikoi bar at home? If yes, here's the best way to do it! You can see this video to know more:
Appetizing Hawaiian Puddings You Should Try
Let's be real. Nothing screams pure comfort like a smooth and creamy pudding. When your mood hits, here're the best Hawaiian pudding recipes to keep your belly full and your soul well-soothed.
A signature Hawaiian food that you can't miss, Haupia is a coconut pudding that everyone knows and loves. This simple yet subtle dessert is essentially made from coconut milk, cornstarch, sugar, and water.
The pudding is traditionally cut into petite squares and served chilled. From crushed pineapple, a dollop of vanilla, or chopped papaya, there seem to be endless ways of customizing this treat to suit your taste.
For first-timers, Haupia may resemble a cross between jello and pudding. The bouncy and firm texture makes it easy to eat it with your hands. Smooth, creamy, and delicious without being overly sweet, these little bites of goodness will give your taste buds a tropical vibe.
From afar, Kulolo tends to resemble a piece of cake in the look. But once you bite into it, this dessert feels like a wonderful marriage between a pudding and a fudge. You can find this treat on the tables at luaus, family gatherings, and many other special occasions.
The classic recipe utilizes the irresistible flavors of taro, coconut milk, and sugar. At its best, a tray of fresh-made taro pudding is warm, sweet, and rich in flavor.
Traditionally, Kulolo is baked in an underground oven, which takes a few days to finish. However, now, you can easily make this sweet recipe with your instant pot. It still keeps the original flavor without demanding too much effort.
It's no secret that tapioca pudding is a timeless Hawaiian dessert that'll never go out of style. Though it's widely popular among the Thai and Chinese communities, any dessert aficionado can enjoy this dish no matter the heritage.
In this recipe, the main ingredients include tapioca pearls, sugar, eggs, milk, and vanilla. The whole process spans a total of 30 minutes and is simpler than you may think. It keeps well in the fridge for 3 days, so you can make a big batch and save some for later.
Whether served cold or warm, this sweet is so creamy and rich with vanilla flavor. When you need a feel-good and easy treat to melt your stress away, put on your comfy and have a taste of this tapioca pudding.
Refreshing Hawaiian Ice Creams To Cool The Summer Heat
For days when you can't deal with the scorching summer heat, these light and flavorful ice cream treats are just what you need to cool off instantly.
Nothing beats a tasty ice cream treat in the steamy days of summer. Guri Guri is a frozen specialty unique to the Hawaiian food culture that you can't miss on your travel. The best way to truly describe this treat is a wonderful cross between gelato and sherbet.
At its best, Guri Guri is cold, yummy, and refreshing enough to cool off the heat. Typically, this local favorite comes in two main flavors: strawberry and pineapple, with strawberry being the more popular version.
This ice cream is seemingly hard to find outside of Hawaii. The good news is, with condensed milk, whipped cream, and strawberry syrup, it's not much of a hassle to create your copycat version at home.
Make yourself a tasty Guri Guri treat at home, so you can taste the tropics without leaving your kitchen! You can see this video to know more:
Shave ice is an iconic delicacy in Hawaiian street food culture, which traces its root back to Japanese cuisine. This frozen dessert is so popular; you can find it almost anywhere on the islands with a vast array of scrumptious and fresh flavors.
In essence, shave ice is exactly what it sounds like. The treat is made from thinly shaved ice flavored with sweet condiments, usually syrup or condensed milk. This allows the ice shavings to better absorb the flavors, which sets it apart from the snow cones that you may be familiar with.
Simple yet cold and satisfying, this snack will keep you cool in the scorching summer heat. While it's delicious on its own, when you pile it up with a scoop of vanilla ice cream, it becomes a tropical paradise in your mouth.
Other Classic Hawaiian Desserts For A Taste Of The Tropics
Whether it be a casual gathering, a fancy dinner party, or simply an indulgent treat for yourself, these well-loved Hawaiian desserts will not disappoint.
It's safe to say different kinds of pineapples have been a treasured symbol of Hawaii. Thus, this fruity delight deserves more recognition. Besides pineapples as the main attraction, this recipe calls for some simple ingredients like vanilla, brown sugar, butter, and cinnamon.
Upon grilling, this dish offers a punch of flavors. It's sweet, tart, and covered in a lovely brown sugar glaze that's to die for. Plus, with no prepping needed, you can throw it together in a flash for a hurried meal.
There're endless ways to relish a freshly grilling dessert. Most peeps toss a dollop of vanilla ice cream and some toasted nuts atop to turn it into a refreshing dessert. Meanwhile, others choose to serve it as a quintessential side for other summer main courses.
There're good reasons why acai bowls have been flooding every foodie's Instagram feed. This bowlful of thick smoothies and fresh fruits sure looks like a sight for sore eyes. But more than the look, it's filled with vitamins and minerals to keep you full and healthy.
Ready in minutes, the Hawaiian acai bowl is a quick go-to snack. You can easily customize it by loading it up with your desired toppings or whichever fruits you have on hand. The puree's thick consistency perfectly balances out the crunchy, juicy fruits.
In Hawaii, some of the most favorite toppings for this refreshing treat are bananas, pineapples, nuts, and macadamias. Next time you find yourself lying and chilling on a Hawaiian beach, these cold, yummy bowls are what you'd want to grab and relish.
An all-time favorite that'll transport you to the tropics right in your mouth, Hawaiian banana bread is near and dear to the locals. To create this simple and rich delight, squished bananas are added to a creamed mixture then baked together for about an hour.
Once you try this tropical spin, chances are, you'll never go back to the plain old banana bread anymore. It's so soft, moist, and full of banana flavor. Bite by bite; this treat almost feels like the most delicious, melt-in-your-mouth you've ever tasted.
The secret to success with this recipe lies in the bananas that you use. A ripe, almost gooey texture is the best to look for. Enjoy each slice on its own, or pair it with a nice cup of coffee and relish the tropical vibe without leaving your house!
Let's get some advice to ensure that your Hawaiian banana bread will turn out beautifully! You can see this video to know more:
Mostly associated with Christmas feasts, Hawaiian snowballs are great holiday gifts to wow your guests. In Hawaiian cuisine, most classic snowball recipes give the starring role to macadamia nuts or pineapples.
After baking, the dish is usually rolled in powdered sugar. Pair it with a hot tea, and you can't leave the table without finishing all of these incredible small sweet bites. With every bite, you can taste the chewy, buttery, and fluffy texture that almost melts in your mouth.
No holiday feast is completed without a big jar of snowball cookies. Most of the time, their flavor tastes even better one day after making. If you plan to save them for a whole week of sweet indulgence, be sure to carefully store them in an airtight container.
Originally from Portugal, malasada has now become an essential part of Hawaiian cuisine. These yeast donuts are enriched with eggs, milk, and butter before deep-fried until golden brown. They're then coated in sugar and cinnamon for a finishing touch.
The end result is a nice, crunchy outside, while the inside remains soft, light, and fluffy as you bite into it. Traditional malasadas are not filled. However, you can fill your own version with chocolate, jam, or cream fillings as your heart desires.
Nothing comes close to serving some warm malasadas alongside a cup of coffee in the morning. Be it for casual brunches or holiday festivities; these delightful sweet treats are sure to impress and seriously satisfy your sweet tooth.
Anytime you want to bring a big smile to someone's face, whip up colorful rainbow jello. With multiple layers of alternating colors, usually in rainbow spectrum order, and white milk layers, this one-of-a-kind dish is sure to grab attention.
Flawlessly beautiful as it is, rainbow jello is actually pretty to throw together. A rule of thumb when preparing this dish is that each layer needs resting time before pouring in another. This will keep the colors to looking nice and separated as you wish.
The whole process takes quite a lot of time and patience, but you can rest assured that the end result will be so satisfying. If you've ever been to Hawaii, you'll know that rainbows are a common sight in these islands, hence this jello's popularity.
To perfectly recreate this beautiful rainbow jello, you can take a look at this easy visual tutorial!
Say Aloha To Your New Favorite Tropical Dessert!
As exotic and delicious as our culinary trip may seem, all journeys must come to an end. From the list of Hawaiian desserts above, I genuinely hope that at least one of them is destined to be your next favorite sweet treat of all time.
Almost all of these recipes are perfect for serving at any gathering, including potlucks, dinner parties, and holiday festivities. Sweet and full of tropical flavors, these dishes are sure to satisfy your sweet tooth and please the crowd.
While some desserts easily come together in 30 minutes or so, others tend to require more prepping, baking, and even resting time in the fridge if they're best eaten chilled. Hence, you should plan it ahead of time if a big party is around the corner.
Let's back up for a second. Did I miss something? If you've got another delicious Hawaiian dessert recipe on hand that's missing on the list, don't be shy to let me know in the comment box down here!
Nutrition Facts
16 servings per container
---
Amount Per ServingCalories253
% Daily Value *
Total Fat 16.2g

25

%
Cholesterol 64mg

22

%
Sodium 138mg

6

%
Potassium 42mg

2

%
Total Carbohydrate 24.9g

8

%

Dietary Fiber 0.4g

0

%
Sugars 18g

Protein 3g

6

%
---
Calcium

42

%
Iron

1

%
Vitamin D

3

%
* The % Daily Value tells you how much a nutrient in a serving of food contributes to a daily diet. 2,000 calories a day is used for general nutrition advice.