When coming to Hawaii, Hawaiian street foods are one of the things you should definitely try once. In today's article, I will recommend some palatable dishes, from light desserts to heartier ones. Everything will be absolutely alluring and delicious.
Hawaiian cuisine, in general, is strongly influenced by geography and local produce. Therefore, once tasting the foods from this area, you will find a lovely distinctiveness that is hard to meet elsewhere.
All in all, let's save my suggestions below for your next trip to Hawaii right away!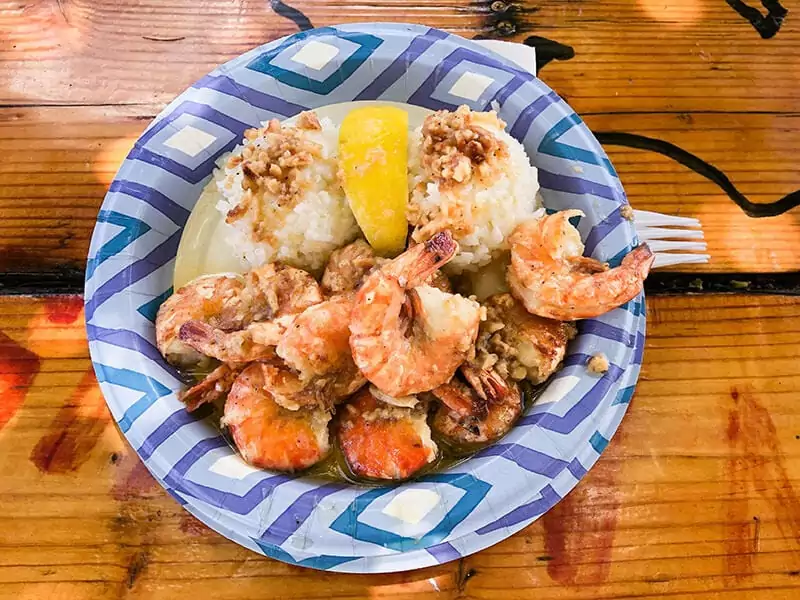 Let's start this article with some most popular desserts and drinks in Hawaii! Don't underestimate these delicacies; they will surely amaze you from the first time trying!
1. Acai Bowl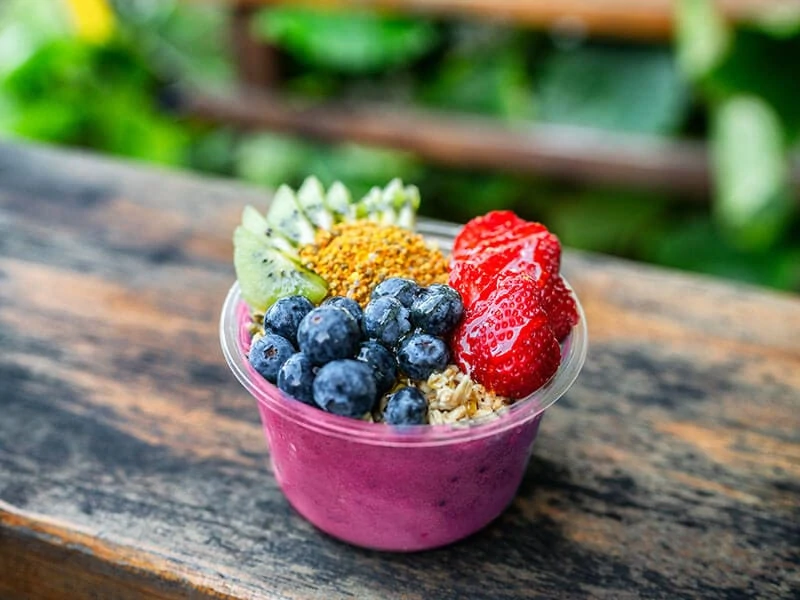 Every time I look at an Acai Bowl, it reminds me of a social media-inspired healthy breakfast with many attractive colors and tempting smooth consistency. A portion of Acai Bowl can come to your hand in various sizes, from a single portion or a bigger one for sharing.
One thing you should know about this Acai Bowl is it was an authentic Brazilian food that was created in the 1970s before spreading its popularity to the other regions. When the dish came to Hawaii, it flourished here.
Besides the traditional Acai Bowl, including Brazilian-originated Acai berries, many other tropical fruits or nuts are used as this dish's toppings. Some of them are papaya, mango, pineapple, and crispy granola.
If you haven't thought of an idea for your Hawaiian breakfast yet, feel free to opt for an Acai Bowl at the street vendors. It will be an excellent first meal of the day.
2. Poi Mochi
(Sweet Hawaiian Fried Snack)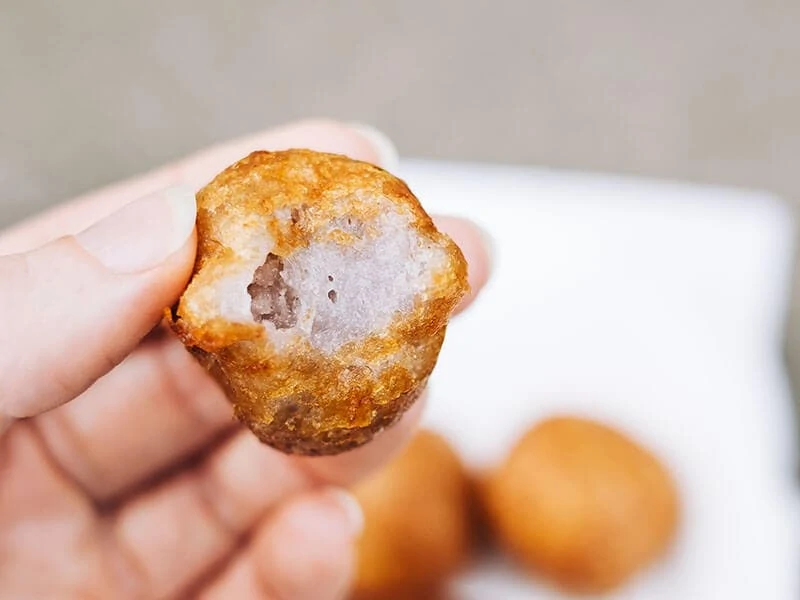 Poi Mochi is the perfect combination of Hawaiian sticky taro (poi) flour and Mochi, a traditional Japanese sweet treat made from sticky rice. These two seemingly different ingredients can pair incredibly well with each other.
Regularly, the cooks will create Poi Mochi with a crispy crust and an extremely attractive chewy filling. There are some shops that have developed their own variations of Poi Mochi by adding other ingredients into the food's filling, such as nuts, spices, or classic Hawaiian fruits.
The first Poi Mochi store on the islands of Hawaii is Uncle Lani's. Yet, this business is reportedly closed temporarily (2023), so you can refer to some other street vendors to find this delicacy.
Don't worry; all kinds of Poi Mochi will be flavorsome, and having them as a street snack on the go will be an exciting experience.
3. Malasadas
(Hawaiian-Style Portuguese Donuts)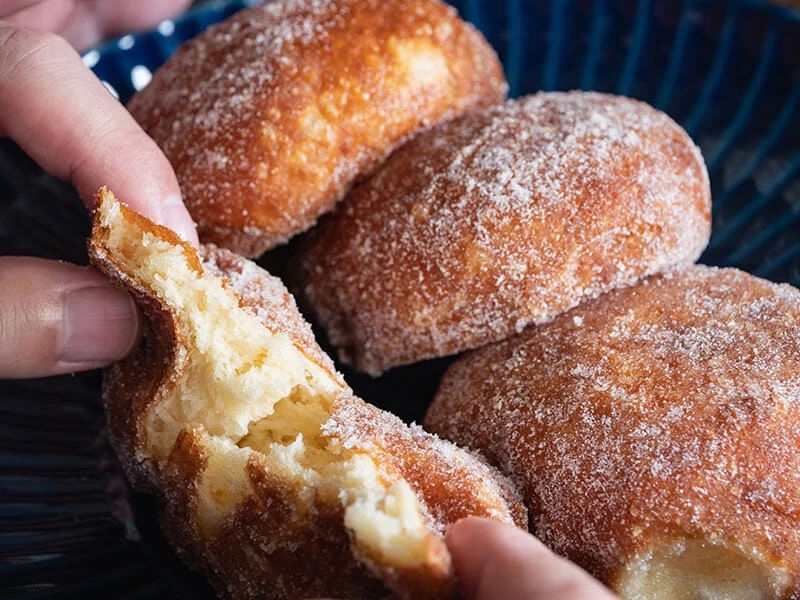 The next suggestion on this list is a Portuguese-originated delicacy that people in Azores's island first made it in 1427. The first immigrants brought their beloved delight to Hawaii and developed it to fit local people's tastes.
Hawaiian Malasadas won't be dull or too greasy since they have a load of fillings. The typical components for Hawaiian-style Portuguese donuts are cream and fresh fruits.
These two things can pair beautifully with the crispy exterior and help the dish deliver a balanced flavor. Yet, the chefs need to wait until the exteriors cool down before putting those components inside them.
At first, Hawaiian people served this dish only on Fat Tuesday; however, Malasadas is now an everyday treat. My tip for you is to buy more Malasadas at once because you will want more after tasting the first one.
4. Andagi
(Hawaiian-Style Okinawan Donuts)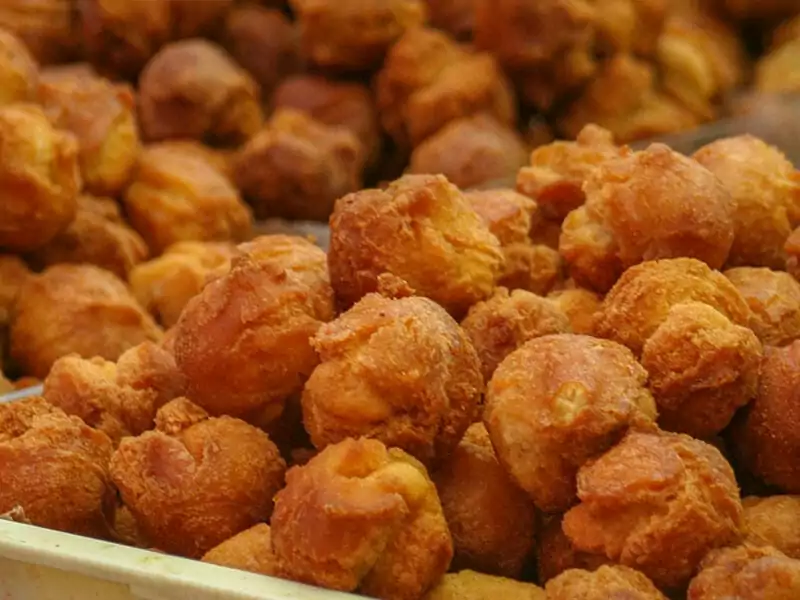 Andagi is the next Japanese-inspired dish in this Hawaiian street delicacies. If it is the first time you try this favorable Andagi, you will now experience how harmonious the combination of these two cuisines is!
When looking at these Andagi pieces, you will think of cute, bite-size fried balls. Once taking a bite, you can immediately feel a perfect crunchiness on your teeth.
These balls are different from the previously mentioned Poi Mochi. Although both are inspired by Japanese cuisine, Andagi doesn't include Mochi filling. It consists of only eggs, vanilla, milk, and flour in its ingredients list.
You can find this delicacy around easier on festival occasions or simply at the street vendors.
5. Mai Tai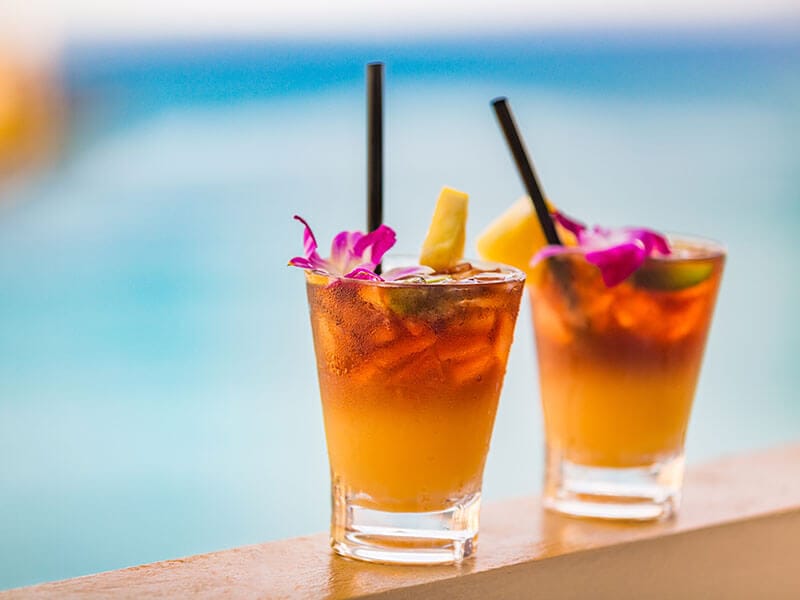 Hawaiian cuisine is often a combination of nature with other diverse ingredients, and Mai Tai is a typical drink that represents Hawaii. Having a glass of refreshing Mai Tai on the beautiful beach of Hawaii will surely be a fascinating moment in your trip there.
Mai Tai is a simple yet tasty Hawaiian cocktail made up of Rum, sweet syrups, lime juice, Polynesian, and other ingredients. The harmonious combination between them creates a unique and unforgettable memory once you have tasted it. 
6. Shave Ice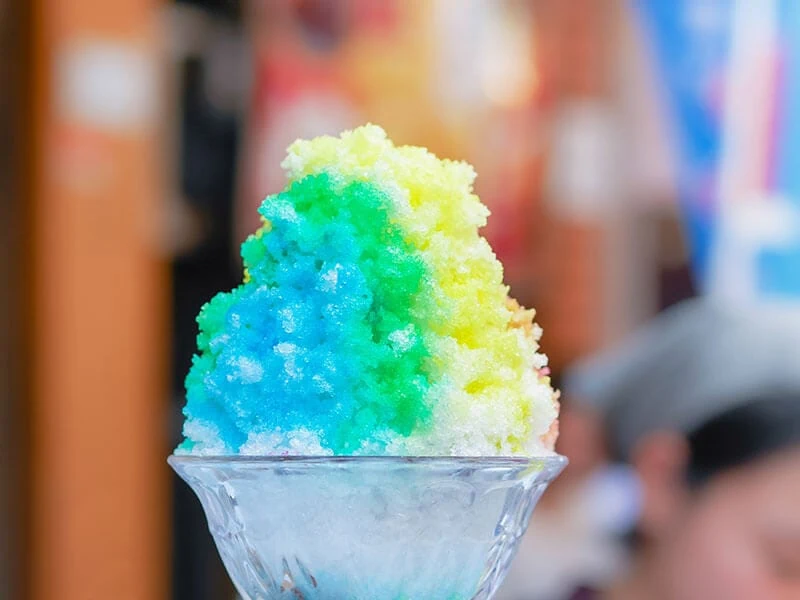 Although you can find various variations of Shaved Ice in another countries, this cool dessert has its origin in Hawaii.
Japanese immigrants were the first one who created it in the mid-1800s, they thought of making this delicacy as a cold treat after a day working on the pineapple field.
The first idea to make Shave Ice was to shave flakes from enormous blocks of ice, then cover with sweet syrup or favorable fruit juice. Once eating, the lovely dessert can easily melt on your tongue and bring a refreshing feeling.
Nowadays, Hawaiian people make Shave Ice with many kinds of toppings. One of those is red beans, the most favorite partner of this delicacy. Therefore, when coming to Hawaii in summertime, you should definitely give this combination a go.
---
For a heartier meal, explore Hawaiian street dishes with rice or buns from our curated list:
7. Spam Musubi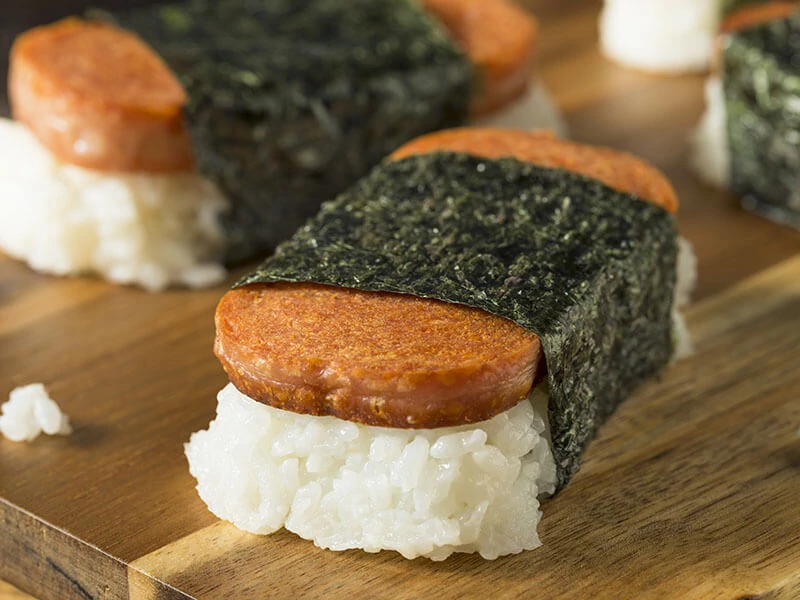 Although Spam Musubi is not an authentic Hawaiian idea, people in Hawaii made a vital twist in the dish, making the food able to stand for the whole cuisine here.
Originated from the Japanese Rice Balls (Onigiri), Spam Musubi still has several resembling features of its roots by requiring dried seaweed (Nori) and flavored cooked rice. The most significant differences between them are the shape and the ingredients.
Instead of having the ball or triangle shapes like Onigiri, Spam Musubi looks literally like a "bed of rice" with a rectangular grilled Spam slice on top. Nori is now responsible for connecting these two ingredients together so that the food's portability is increased.
In Hawaii, people have Spam Musubi in every meal since it is so convenient to bring along.
8. Loco Moco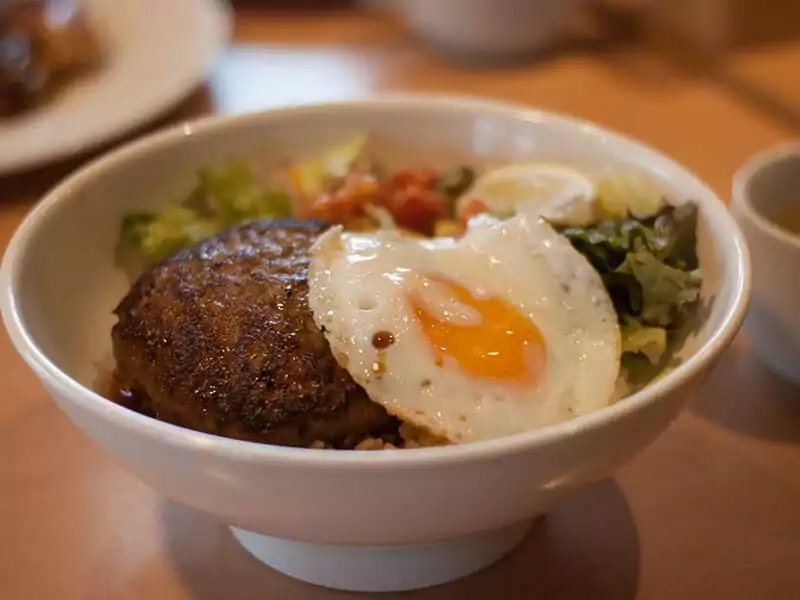 Loco Moco is a familiar traditional dish on Hawaiians' breakfast or lunch menu. The first Loco Moco plate was created in the 1940s on the islands of Hawaii, and the Spanish were the ones who gave this dish a name, meaning "crazy" in their language.
This dish has many ways to prepare; however, the familiar Loco Moco usually consists of steamed rice with a layer of burger patties with a sunny-side-up egg. The vendors/sellers will always serve your dish with luscious dark gravy on top that can elevate the food.
In other variations of Loco Moco, you will find they include plenty of other ingredients such as Fried Chicken, Spam, or Spanish Sausages. Since there are many Loco Moco versions, you can opt for this food almost every day during your trip without feeling bored.
9. Garlic Shrimp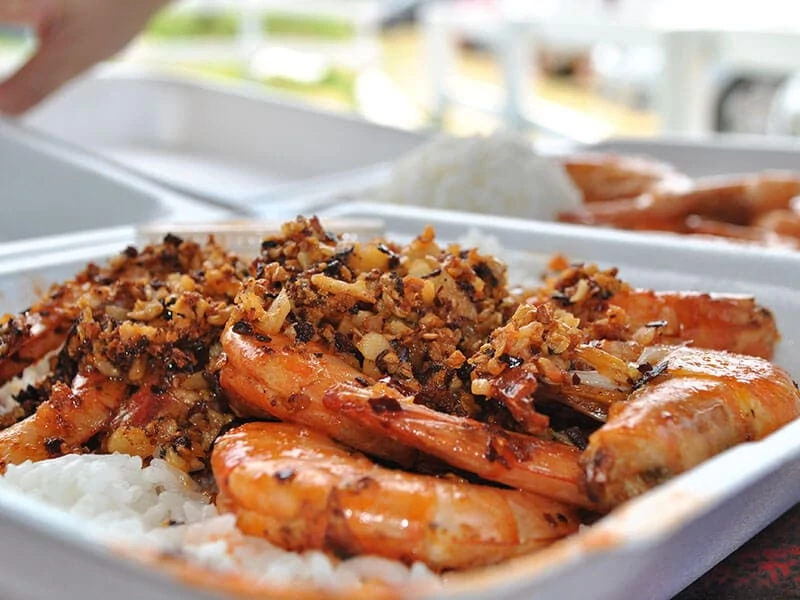 Originating from the North Shore of Oahu, this Garlic Shrimp is now a staple in various Hawaiian food trucks. You can easily see these authentic Hawaiian side dishes anywhere. It might look like a simple dish, but its taste will surely be enticing.
Since Hawaiian shore is a great place to farm shrimp, the shrimp quality in this area is undoubtedly flavorsome. When cooking, the chef will combine the main protein with garlic, oil, and various condiments to taste.
After that, the cooked shrimp will be put on a plate with coconut rice on the side. The light salty, rich, and buttery shrimp will never go wrong when paired with rice, so there is no reason to ignore such a delight like this.
10. Manapua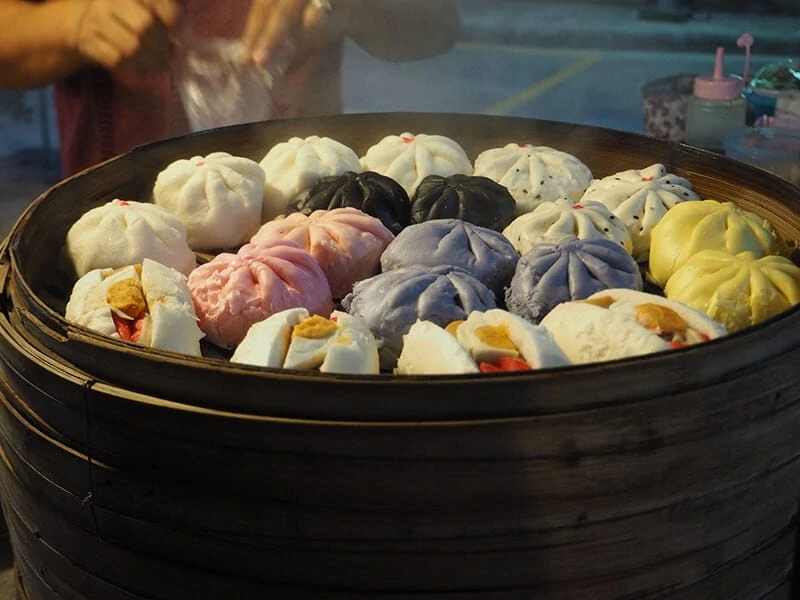 Manapua cars are mainly sold on mobile food trucks or small sidewalk stores in Hawaii. The first idea of creating Manapua started from a famous Chinese recipe, Baozi. Therefore, you can see they have some clear resemblance in appearance.
A portion of Manapua will include a pillowy sweet exterior and juicy fillings with grilled pork, chicken curry, sweet potato, and Kalua pork (traditional Hawaiian pork dish). In Hawaii, people will enjoy Manapua as a street snack, and this dish tastes best when it is hot.
On the other hand, you can go to some Chinese dine-in or takeaway restaurant if it is convenient. Just don't ignore these tasty treats once visiting Hawaii.
---
What else can you expect from Hawaiian street delicacies? Many more! Look at these additional recommended dishes and add them to your foodie list today!
11. Poke
(Hawaiian Raw Tuna Salad)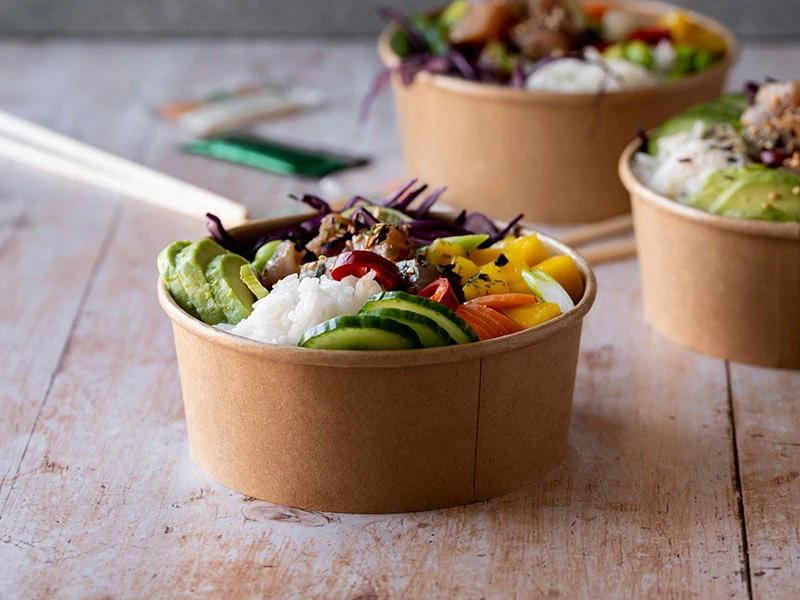 Loved by both locals and tourists, Poke is a healthy dish full of simple yet mouth-watering ingredients. Most versions of Poke use ahi tuna combined with onions, sesame seeds, limu seaweed (local seaweed), and soy sauce.
In some other versions, they can replace tuna with freshwater fish or octopus, but it is essential to keep the delicious taste of the dish intact. One fact about Poke is it doesn't consist of salmon.
About the origin of this food, when Japanese fishers came to Hawaii in the 1800s, they developed their fishing technique offshore to the islands. Later on, in the 1970s, Poke with loads of fresh fish became a staple in any supermarket in Hawaii.
Then, do you wonder what to go with this fish recipe? The answer is steamed rice, and they match each other pretty well. Don't be surprised if you see Poke appearing in all the islands (large to small) of Hawaii.
It is famous for its irresistible deliciousness. Today, you can find Poke in many Hawaiian restaurants around the world.
12. Huli Huli Chicken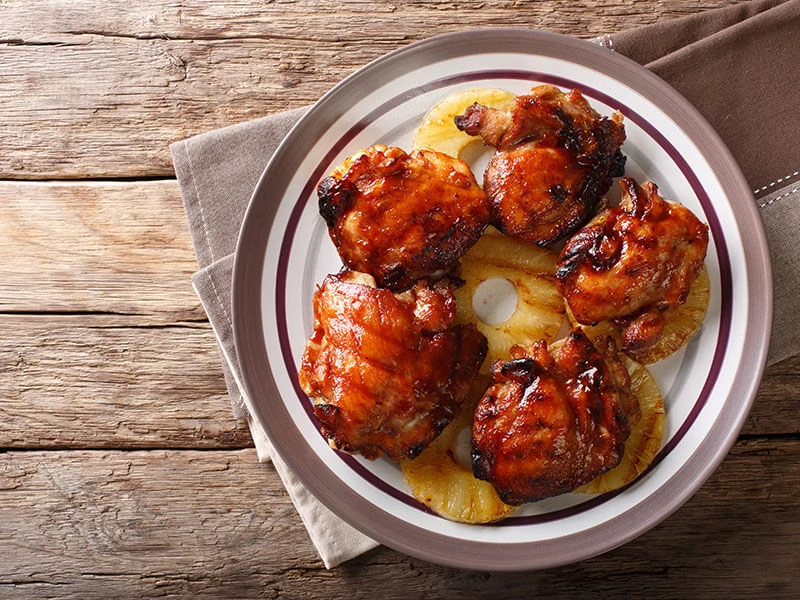 Ernest Morgado, a local Hawaiian businessman, created this luscious Huli Huli Chicken dish in 1955 and shared the recipe with several other farmers in Hawaii.
"Huli" means "turn" in the local Hawaiian language, and Ernest decided to call his chicken dish that way because his food requires grilling the marinated chicken until cooked. The sauce was an esoteric recipe he received from his grandmother.
The unique sauce for this food includes soy sauce, pineapple juice, brown sugar, and ginger before cooking. It might take time for the chicken to absorb all the flavors from the special sauce, yet it will be worth waiting. Trust me; you won't want to overlook this food.
13. Waffle Dog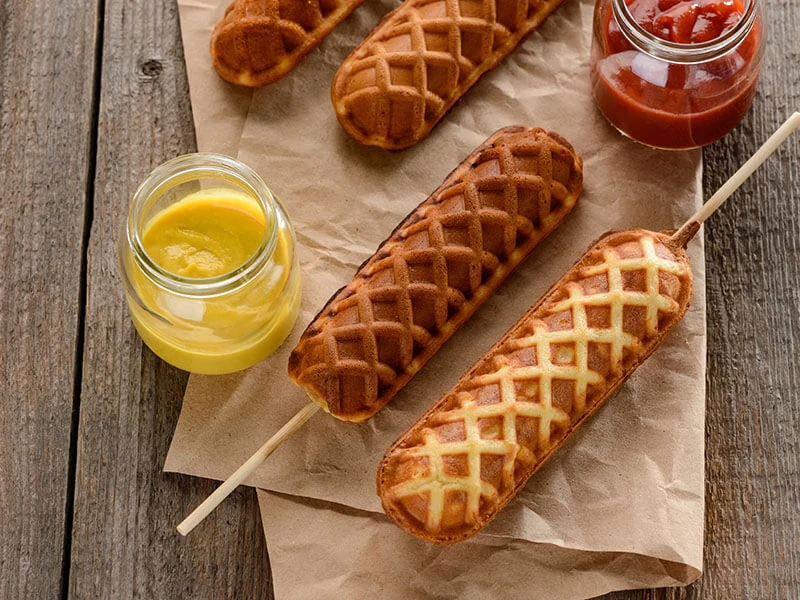 It is not a regular combination of Hot Dog buns with sausage anymore; now, I will suggest Hawaii's unique treat with you, Waffle Dog. Just as its name, the food includes a layer of baked Waffle covering a big sausage inside it.
When you start gnawing, you can taste the flavor of sausage blended together with the mild sweetness of the fragrant Waffle. This dish has been believed to exist in Hawaii for over 90 years, and now Hawaiians love eating it on every special occasion or festival.
For the best experience, you should pair it with some favorable sauces such as mustard and maple syrup. These condiments will elevate the food well.
Don't Miss The Opportunity To Experience Hawaii Street Foods!
Hawaii, known as the "Pearl of the Pacific Ocean," has long been a popular vacation destination, with its tempting blue sea, white sand, golden sunlight, and distinct culture.
The gastronomy cuisine here is not encapsulated just in the list of dishes that I have presented to you today. Have you decided which food to try first? I highly recommend the desserts here. It will be light and easy to consume with even the pickiest eaters.
If you have any other ideas about street food to try in Hawaii, feel free to leave a comment, and I would love to read it. Your contribution is an excellent motivation for my future article.