This article is a list of famous Egyptian street foods. You will find many outstanding information related to these unique African foods to better understand the cuisine of this North African country.
This list will help you get more options to add to your travel book for the upcoming trip to this mysterious country. Let's have some incredible experiences when walking on the streets in Egypt with these foods!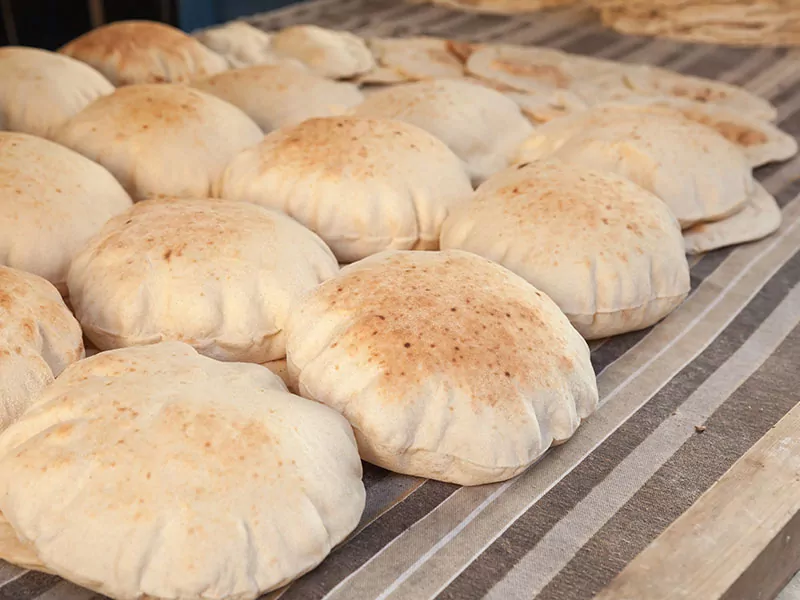 1. Foul Medames
(Fava Beans)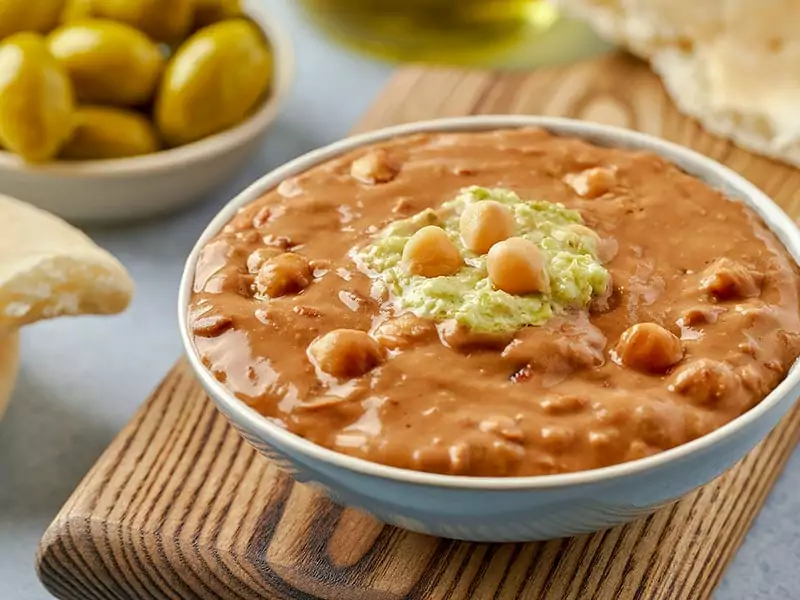 Foul Medames is one of the Egyptian dishes selected by many tourists to enjoy when walking on the streets in Cairo, Egypt. It is the national dish, with fava beans as the primary component.
This protein-rich food is suitable to enjoy with Pita bread, Taameya (chickpea fritters). Also, it is a good choice to mix with Arabian spices' cocktail, lemon juice, and sliced onion.
It appeared from ancient Egypt. Some traces show that it has existed since the era of the 12-century Dynasty (1991 – 1786 BC).
In addition, the evidence of the Foul Medames preparation is shown through 2600 dried fava beans found in Nazareth. This processing method also appeared in the Jerusalem Talmud, showing it existed in the Horn of Africa and the Middle East.
It is time to experience the fantastic taste of Foul Medames in Cairo.
2. Feteer Meshaltet
(Egyptian Layered Pastry)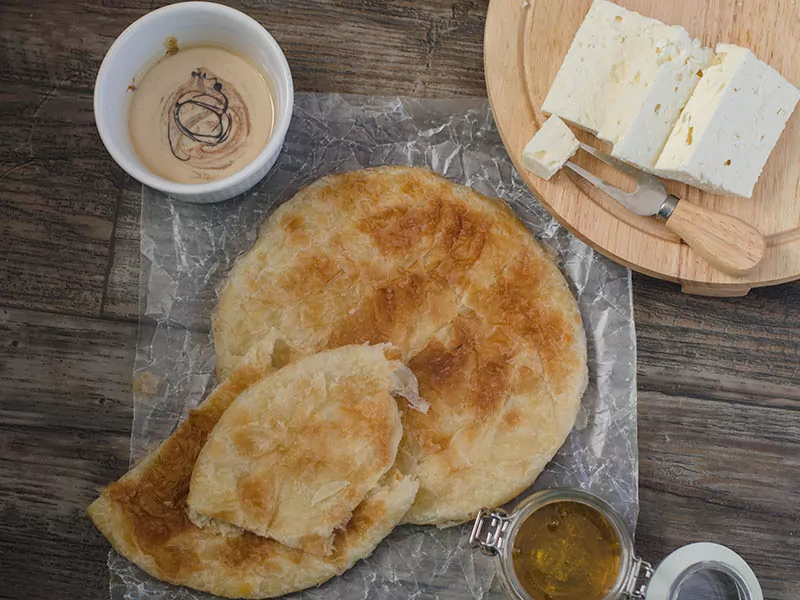 If you search for yummy African food suggestions, Feteer is a must-try street snack when visiting Egypt. You will find many thin dough layers, ghee, and fillings when eating this food. You can choose a sweet version with cheese, coconut, chocolate, or Nutella fillings.
In case you eat savory feteer, you will feel the taste of ground beef, sausage, or cheese in it. In addition, the plain version will be bathed in honey and covered with jam or cheese and served with olives.
It is considered Egyptian pizza, and American President Obama ate it when visiting Egypt in June 2009. It has existed since ancient Egyptians with the name "Feteer Maltoot" and is an offering to the Gods. It usually appears at weddings and holidays.
3. Koshari – The National Dish of Egypt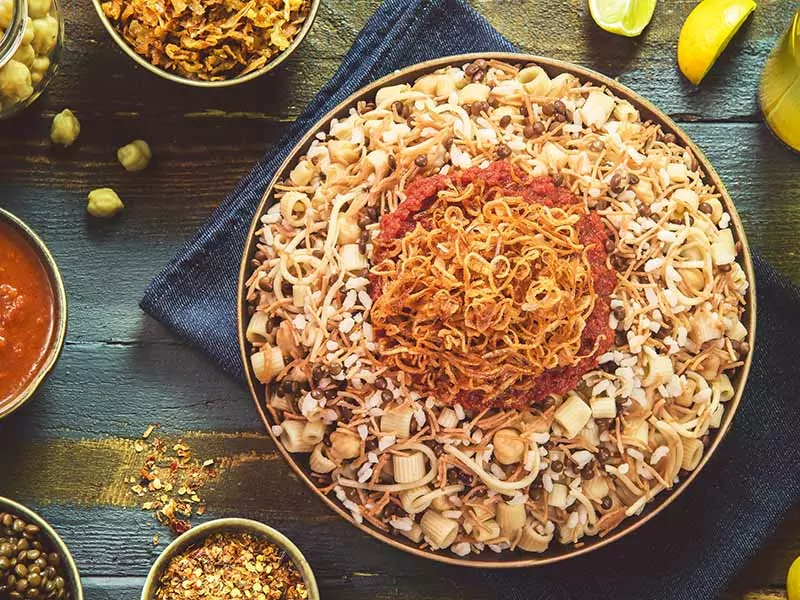 It is a pity if you ignore Koshari when you step into Egypt. This recipe is a harmonious combination of rice, macaroni, lentils, chickpeas, and a layer of spicy tomato sauce on top. Its rich flavor will fascinate you immediately.
Many vendors are selling this famous treat in the country, but Cairo is the best place to enjoy the authentic taste. Regarding its origin, Koshari originated in the middle of the 19th century when Egypt remained a multicultural nation in the economic boom.
Many people believe there is a link between it and Khachdi (a mixture of rice and lentils in South Asia), but macaroni's appearance makes it close to Mediterranean cuisine. It is a favorite option of workers and laborers.
Go to the kitchen to make fantastic Kushari at home.
4. Kofta Kebabs
(Grilled Minced Meat)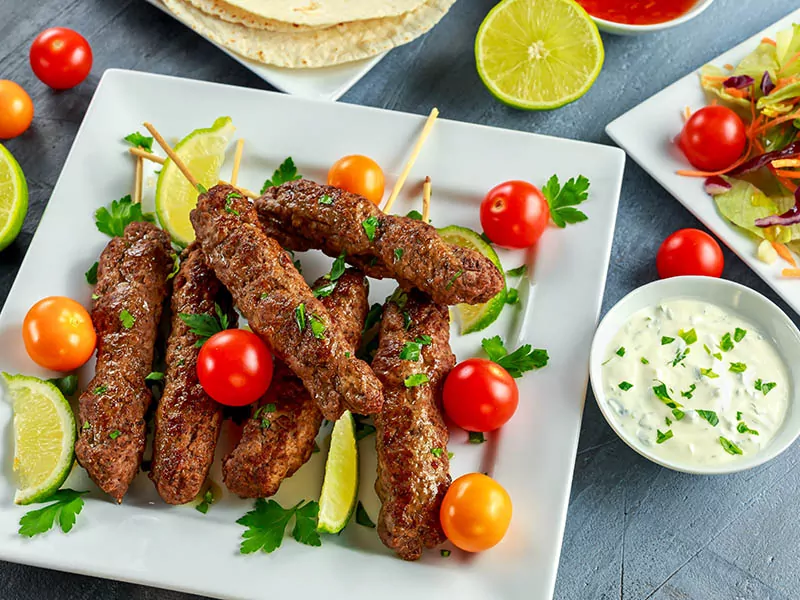 If you are looking for an unforgettable Egyptian culinary experience, you should not ignore Kofta Kebabs. This fascinating recipe is lamb or goat meatballs with a rich and charismatic taste. After skewing to toast, you will immerse in the fragrance of the meat. (xoá internal link này vì đã dùng cho phần introduction).
It is fantastic to sip some beers with Kofta Kebabs on bustling streets in Egypt. This food is also typical in Middle Eastern, South Asian, and Central Asian countries. You can also find this dish on the Somali food menu. It appeared in an Arab cookbook with the name ground lamb meatballs.
5. Roasted Chicken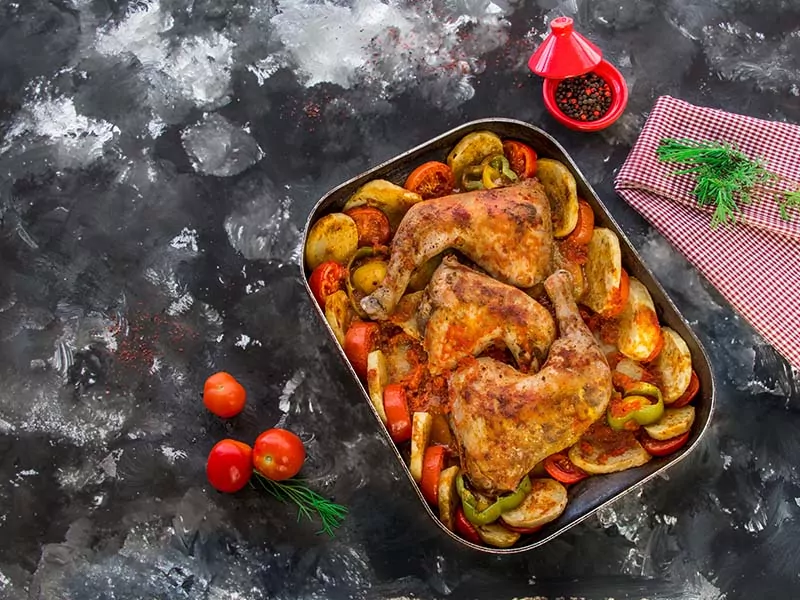 Roasted chicken is one of the African recipes that you easily come across on the streets in Egypt. The chicken that is carefully marinated and grilled with rotisserie will bring a characteristic smoke flavor and charming aroma.
This recipe is famous all over the world. It is the perfect choice to eat with friends while walking the street and enjoying it with a few beers. I believe you will love it on the first try.
6. Hawawshi
(Pita With Minced Meat Filling)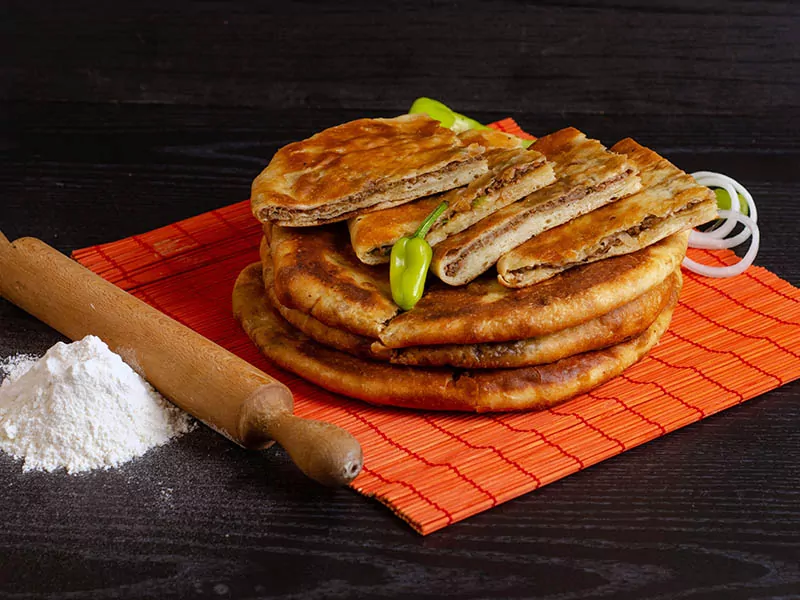 It is time to fall in love with the flavor of Hawawshi. Overall, this is a pita with minced meat, pepper, onions, and parley filling. When enjoying it, you can feel the flavorful filling with crispy bread.
It has various variations in many regions around the world. An Egyptian butcher named Ahmed Al-Hawawsh created this sandwich in 1971. He used his name to call the food. And, he opened a stall in Cairo to sell it and gradually spread it across the country.
Take a trip to Cairo to try the delicious Hawawshi right away.
7. Egyptian Dates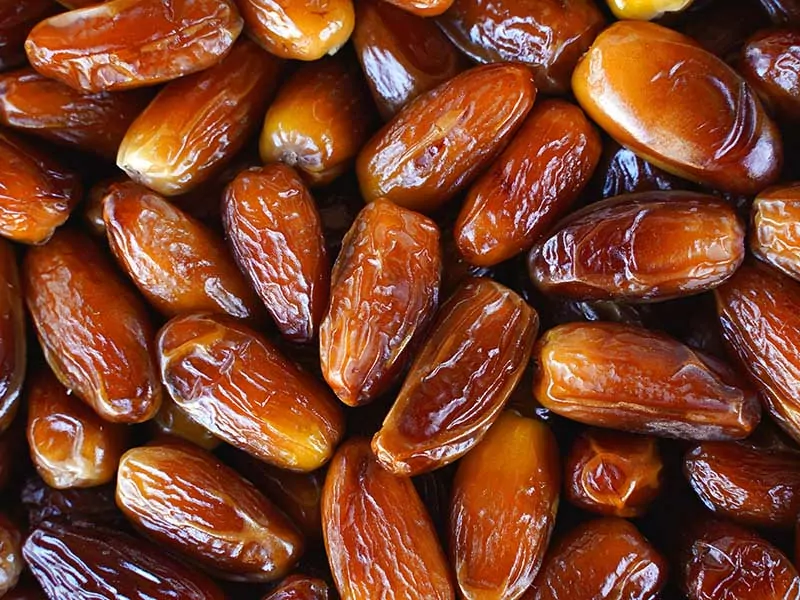 You will easily spot many street stalls selling date fruits as a sweet snack in Egypt. Date palm usually tastes sweet, so you can buy a plastic cup of dates to eat and experience the air in this mystical country.
There is no exact information about its origin. Some information thinks it originated from the Fertile Crescent region, Egypt. However, others said that dates came from the Persian Gulf or Western India.
Ancient Egyptians began planting dates to make wine or eat fresh. Archeologists also found evidence of the cultivation of dates through civilizations in the Indus Valley in the Harappan period (2600 to 1900 BCE).
8. Shawarma
(Doner Kebab)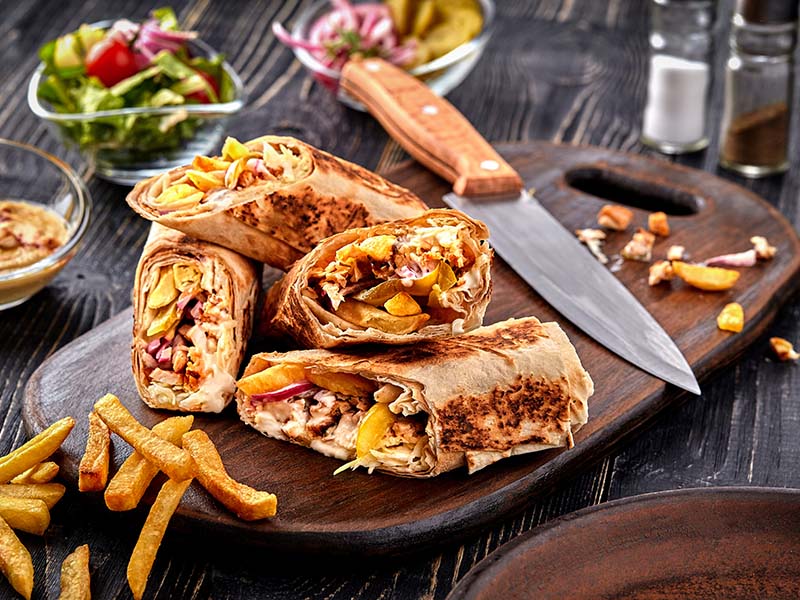 Shawarma is a dish sold in Egypt. It is a famous Levantine Arab food with thin slices of meat attached in a cone-like shape. The chef will use a turning vertical rotisserie to roast meat. Usually, Egyptians will use lamb, chicken, beef, turkey, veal, or mutton for this dish.
The roasting method on a horizontal spit has existed since ancient times, but a vertical stack of meat slices was born in the Ottoman Empire during the 19th century. Besides Egypt, it is also famous in the Levant, Middle East, and Arabian Peninsula countries.
It is a fantastic experience when trying Shawarma in Cairo.
9. Mombar
(Arab Sausage)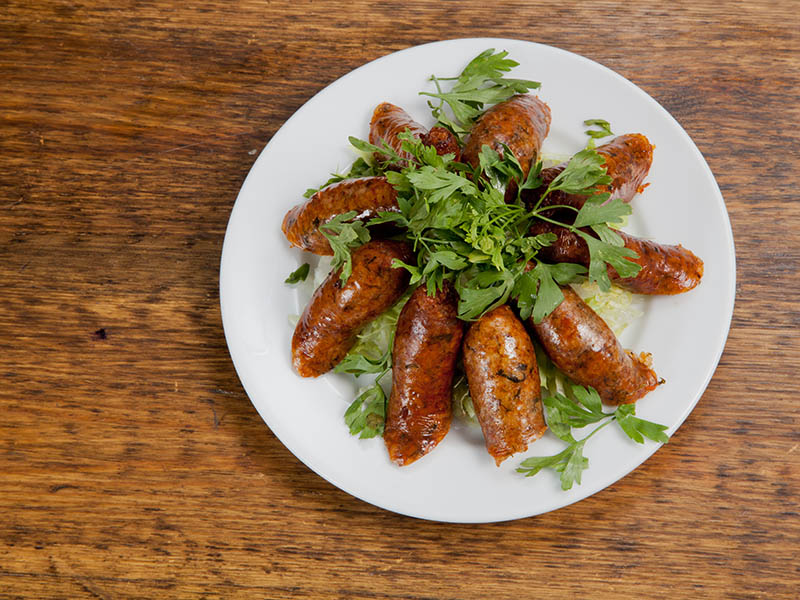 Mombar is one of the leading favorite street foods in Egypt. This Arab sausage food is also known as Sheep Fawaregh. Egyptians will stuff rice and meat inside sheep casing and fry it to create fantastic food.
You can also find this delicious specialty in Lebanon, Libya, Palestine, and other countries under many different names. Its different variants will have various spices added. You will immerse yourself in the exquisite taste when eating it.
10. Kebda Eskandarani
(Alexandrian Style Liver)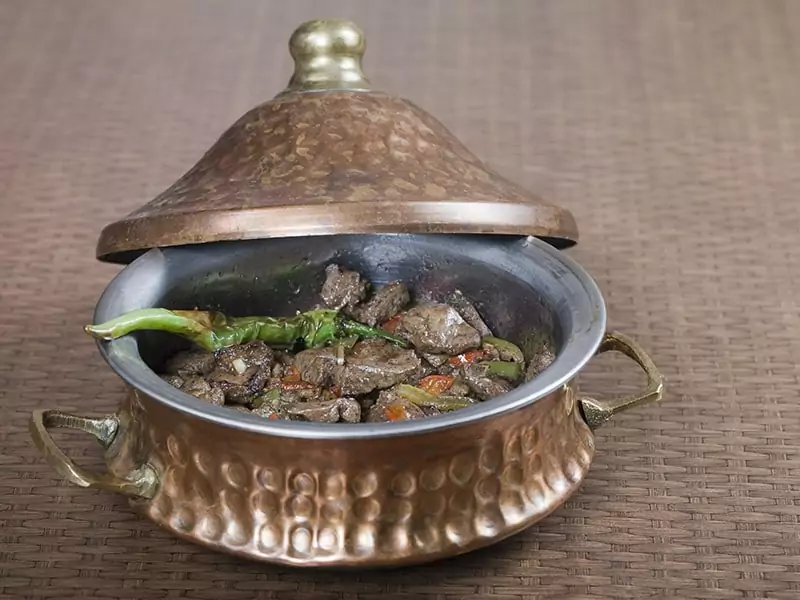 Kedba Eskandarani is a prominent street food of Egyptian cuisine. There is not much information about its origin, but it is a well-known recipe in Alexandria where you can encounter vendors, stalls, shops that sell it on the streets.
Egyptians often eat it with sandwiches and tahini dip. Beef liver is the main material that creates this appealing food. In addition, the typical flavor of cumin, cardamom, chili peppers, and garlic will leave an unforgettable impression.
11. Aish Baladi (Pita Bread)
(Vegan Flatbread)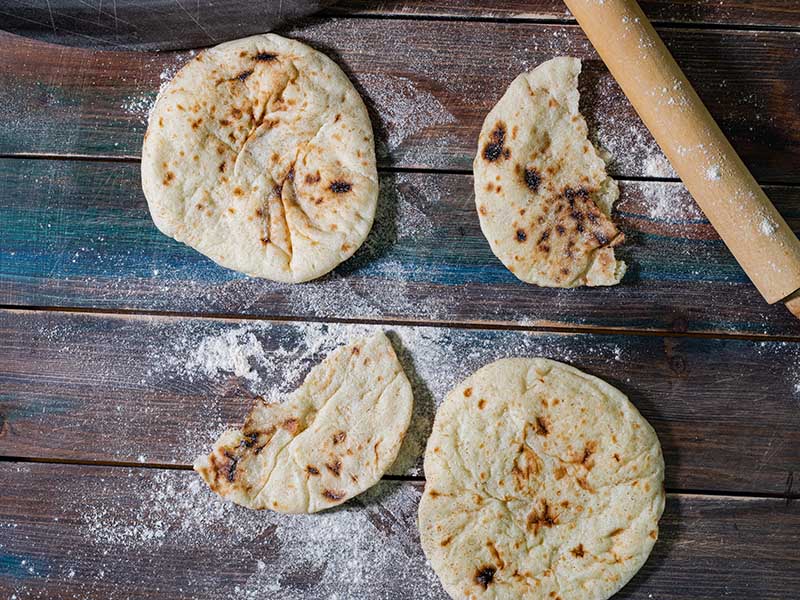 Aish Baladi is an Egyptian Pita bread. The main component in this flatbread is wheat flour. Since ancient Egyptian times, this food had existed when it was created from emmer wheat. Chefs will bake wheat flour in hot ovens to get Aish Baladi.
You will be crazy with the distinctive fragrance and tenderness of this bread. It is fantastic to enjoy Aish Baladi when it is still warm. Its flavor will be better when you are served with sauces as an African side dish. Egyptians often eat it with main dishes. 
12. Taameya
(Egyptian Falafel)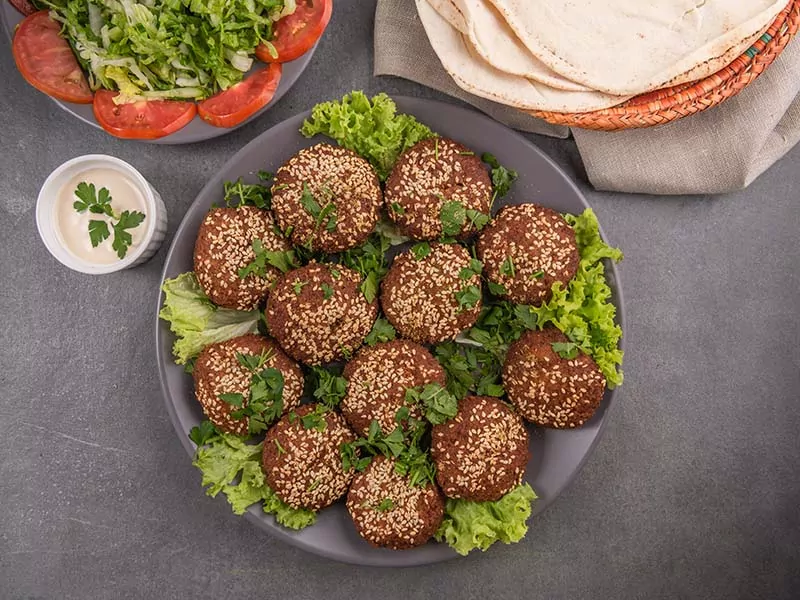 Do not forget to eat yummy Taameya when taking a trip to Egypt. Taameya or Falafel is an attractive dish with fava beans or chickpeas as the main ingredient. These deep-fried balls will make you flutter at the first bite. Morning is the best time for eating Taameya in Egypt.
Egyptians often eat it with salads, pickled veggies, tahini-based sauce, or hot sauce. Many people think it comes from ancient Egypt and appeared in the meal of Coptic Christians in the 4th century during Lents.
However, some other ideas suggested that it existed from Pharaonic Egypt. Records originating from the 19th century showed that the oil used for deep-frying was expensive in ancient Egypt.
13. Basbousa
(Semolina Cake)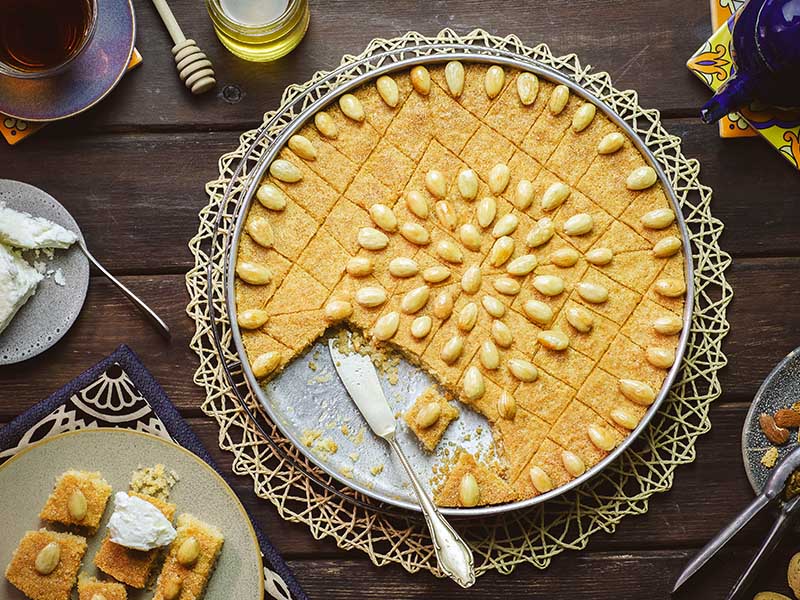 Basbousa is a famous dessert in African countries, such as Egypt. Semolina batter is the key material of this delicious food. After baking it on a sheet pan, the chef will cover it with orange flower water, simple syrup, or rose syrup.
You will encounter it as diamond shapes or squares. It originated from Egypt, and it already existed in many regions of the former Ottoman Empire, such as the Middle East, Turkey, Yemen, and Greece. You can choose vegan Basbousa with apple sauce to eat.
14. Molokhia
(Green Soup)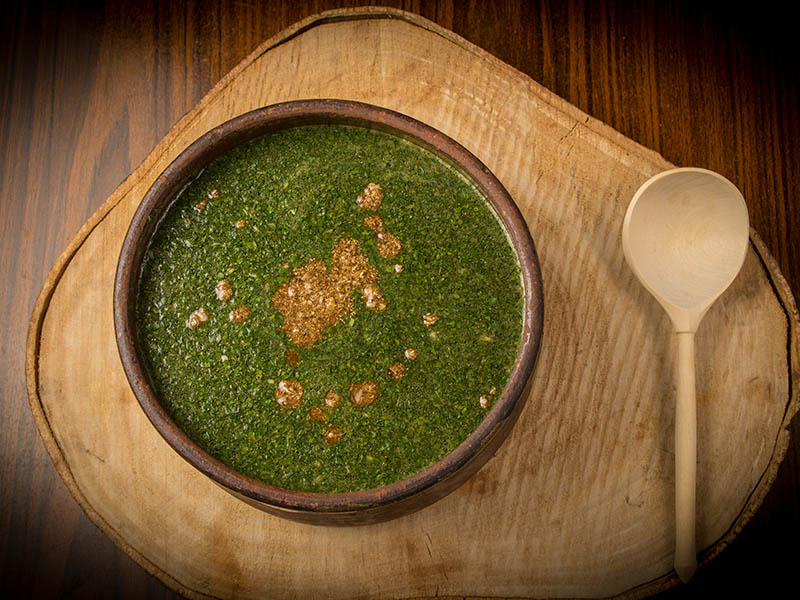 You will feel regret if you do not enjoy Molokhia. The main star here is molokhia (leaves of ​Corchorus olitorius) to create a green dish. It appears commonly in the Middle East, North Africa, and Central Africa.
It is considered a type of soup or stew. The standard Molokhia version contains chicken or chicken stock and is eaten with rice. It was born in Egypt from Pharaohs and attached to ancient Egyptians. Ancient Jews created it first in the world.
Morover, it is a famous food in the Medieval Arab world. The recipe appeared in the 14th century in an Arabic cookbook. According to Egyptian historians, it is the favorite choice of Muawiyah Ibn Abi Sufyan (661-680).
15. Mahshy
(Vegetables Stuffed With Spiced Rice)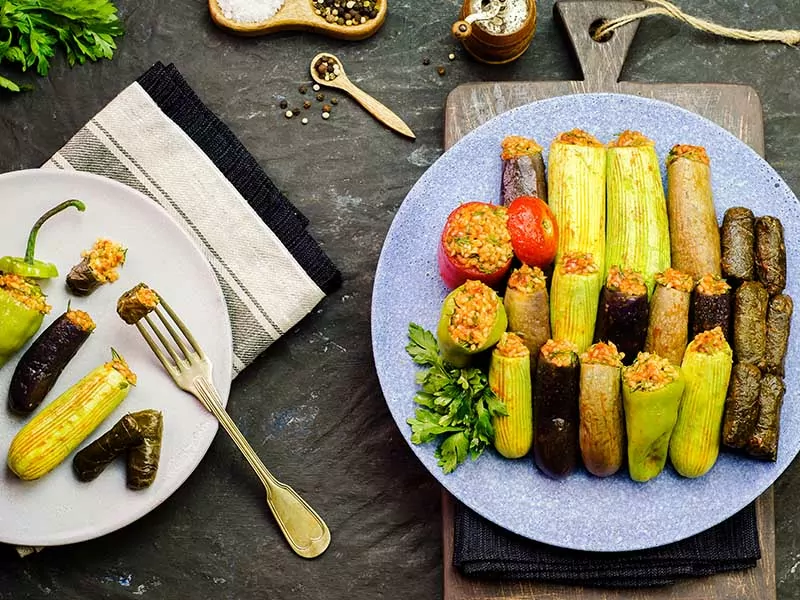 Mahshi is an indispensable recipe in the famous Egyptian street foods menu. It originated in Greek when minced lamb and rice were stuffed in vine leaves. However, some other views said it was born in Turkey and appeared in Egypt in the 14th century.
This food is pretty famous in the former Ottoman Empire region. You will find minced meat and rice in the middle of vegetables like squash or zucchini. It acts as a primary dish and a famous street snack in Egypt.
16. Egyptian Tea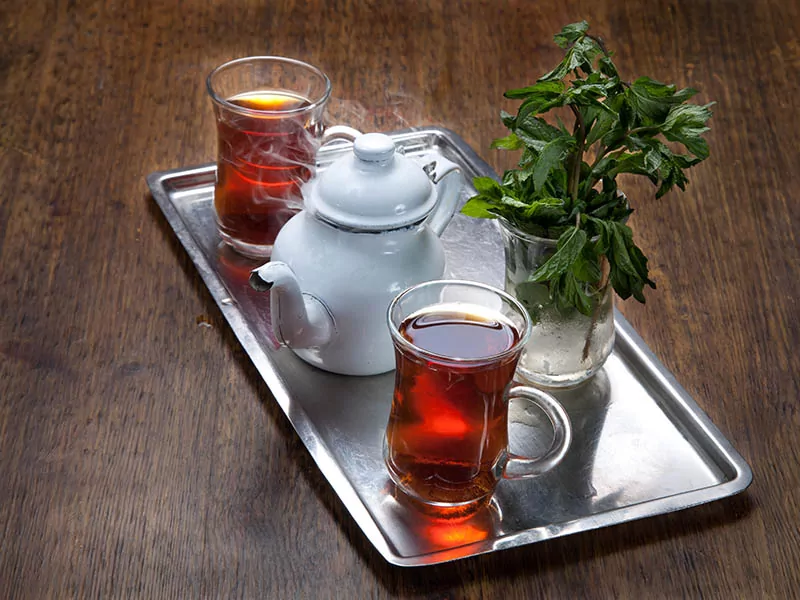 Tea is one of the vital Egyptian drinks loved by many people. Tea appeared in Egypt in the 16th century when the British brought it when they invaded this nation. Gradually, the Egyptians loved it and turned it into a standard drink that you can find anywhere and any street in Egypt.
Egyptians call this national drink "Shai". The fragrant and typical flavor of it helps you feel pleasant when enjoying. Kenya and Sri Lanka are Egyptian tea imports. There are 2 popular teas in Egypt, including Koshary and Saiidi.
You will easily find Saiidi in the south of Egypt. This type is really heavy and sweetened by sugar cane. Koshary is a famous type in northern Egypt, and Egyptians often add milk to sweeten it.
Tea is associated with the daily life of Egyptians. They always enjoy a cup of tea after breakfast. They always enjoy a cup of tea after each breakfast.
In particular, when someone visits home or a private office, a cup of tea is required. In Egypt, tea has a nickname "duty" that shows serving tea as "duty" of the homeowner.
17. Egyptian Pomegranate Juice or Shake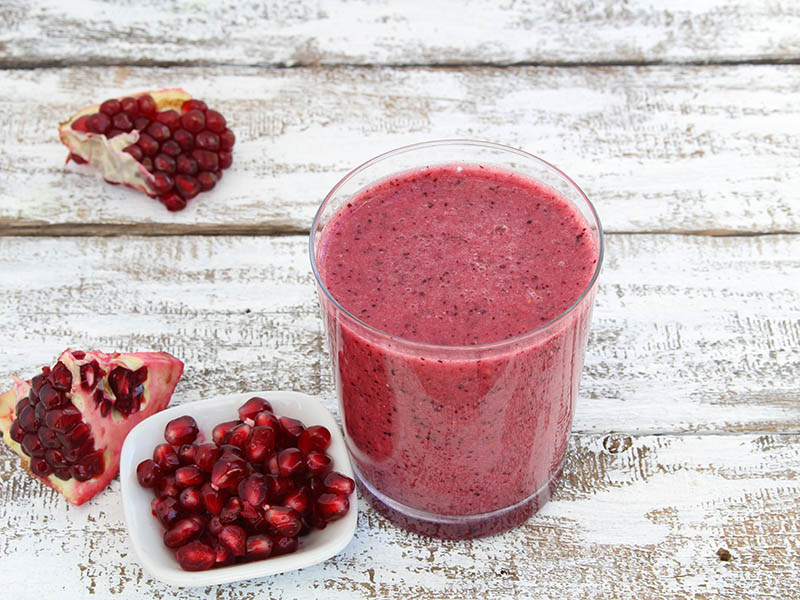 Pomegranate is a delicious fruit that originated from the Middle East, Central Asia, and India. Nowadays, it appears in many parts of the world. People started planting it at the beginning of the 5th Millenium BC.
Pomegranate plays an essential role in health in Egypt. In Ebers Papyrus, medical knowledge from 1550 BC showed that the Egyptians took pomegranate to cure infections and health protection.
The gentle sour and sweet taste of the drink will make you feel pleasant and refreshed when enjoying it. And it is easy to buy because there are many stalls selling this beverage on the streets in Egypt.
18. Egyptian Coffee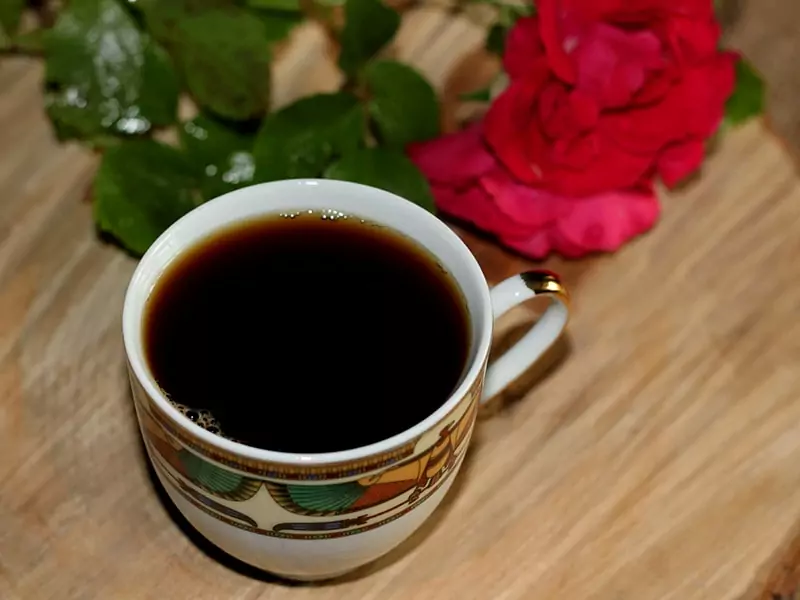 Coffee is a common choice of Egyptians every morning, so you can catch people sitting on the sidewalks with coffee cups here. The characteristic bitter flavor of the coffee will become softer with some sugar added.
Coffee appeared in Egypt in the 16th century. Today, Indonesia is the most coffee exporter in Egypt with 70 percent. The Brotherhood of Sufi Islamic Mystics has developed coffee consumption in Egypt when using it throughout prayers.
In Egypt, coffee plays an essential role in culture and society. In the late 17th century, there were about 643 Bayt Qahwa (coffee houses) in Cairo, and they were regular gathering locations of people in Egypt.
In Egypt, coffee with different strengths and sweetness will have various names like Al Riha, Mazbout, and Ziyada. The non-sweet coffee version is called Sada.
I hope you will have the opportunity to try dishes on this list so that you can verify the information I have provided in this article. I guarantee their flavor will not let you down.
So how many of them you have tried? Do you have any questions about this article? If yes, please feel free to leave your opinion in the comment section. And do not forget to share this post with those around you so they can enrich their knowledge as yours.