Senegalese foods in particular or African foods, in general, might remain unpopular for many people since it might be hard to collect all the information you need. If you are struggling, I highly recommend you look for them following my assistance today.
When coming to Senegal, you might be surprised by how rich this country's rich gastronomy and culture are. Many distinctive aspects of their cultures and luscious foods capture all the best of African cooking ideas and they await you to discover. Move on to the next section now!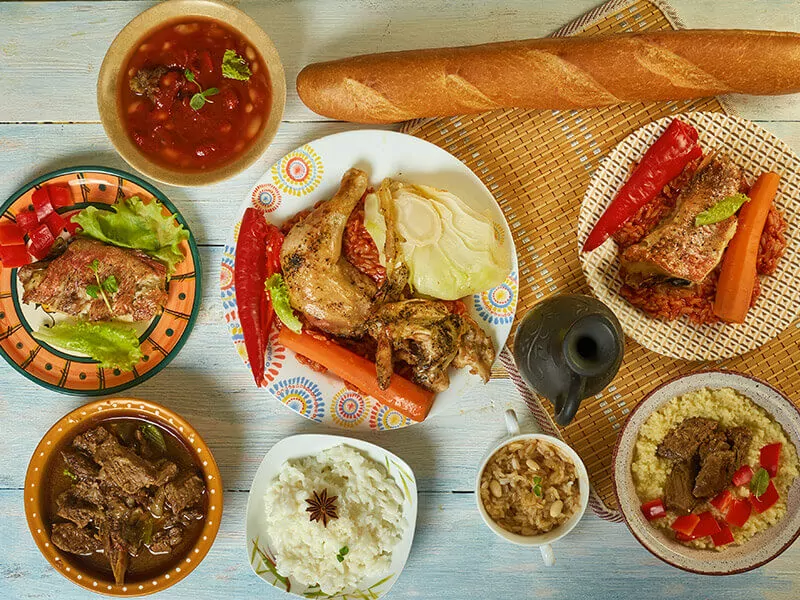 Senegalese Fish and Seafood Dishes
Senegal lies on the westernmost coast of Africa; therefore, there are various seafood dishes that stand for this whole big cuisine. Let's see what they are right now!
1. Firire (Senegalese Fried Fish with Sauce)
There's no reason not to start a seafood category with a fried fish dish. Don't underestimate this seemingly simple fried fish! To offer rich flavors, the existence of the signature Senegalese sauce is indispensable. Almost all Senegalese I met love eating it for dinners.
Thanks to the river system and long coastline, the types of fish used for this dish are relatively diverse.
All the Senegalese people will do next is fry them until crispy and serve as a whole with bread, a signature onion sauce/compote (to balance the flavors), and a fresh green salad.
2. Thiebou Diola or Senegalese C'est Bon (Seafood Platter with Rice)
One notable thing about the Casamance's Diola people (South Senegal) lies in the delicate touch of all the ingredients they use for foods. From there, the natural products, specifically seafood, are accentuated prominently in this special treat.
This food also has a French name since Senegal used to be a French colony; that name is "C'est Bon," which means "It's good". This name also shows you a significant influence from French gastronomy inside this luscious dish.
This food contains seafood (typically fish) with other components. Cooked rice and Moyo sauce (including various kinds of peppers, chili, and mixed condiments) are the best pair for Thiebou Diola.
3. Soupou Kandia/Soupe Kandja (Okra and Palm Oil Soup)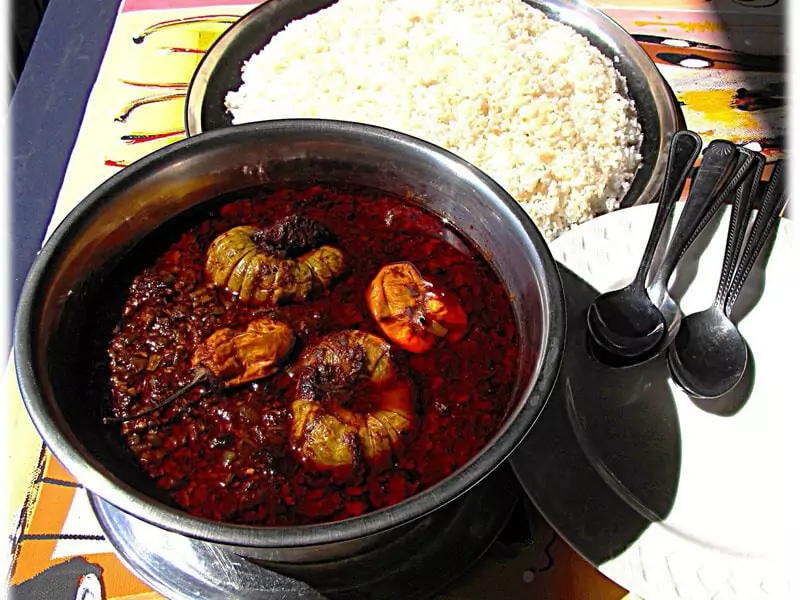 As you have already known, Wolof is the language of Senegal, and "Kandia" (in Soup Kandia) means "okra". In this dish, they will combine this vegetable with some palm oil (a specialty of West Africa), stew the whole thing for a few hours, and serve it with white rice.
In general, okra soup is one of the most typical soups in Africa, for example, in Ghanaian cuisine. The most important component of Soup Kandia is the fish part. You shouldn't expect some fancy fish. 
The fish used inside this treat might not be expensive, but it will definitely be good and full of succulent white flesh.
Something you might want to know about Soupou Kandia will be shown here.
4. Thiéboudienne or Chebu Jën (Traditional Senegalese Dish)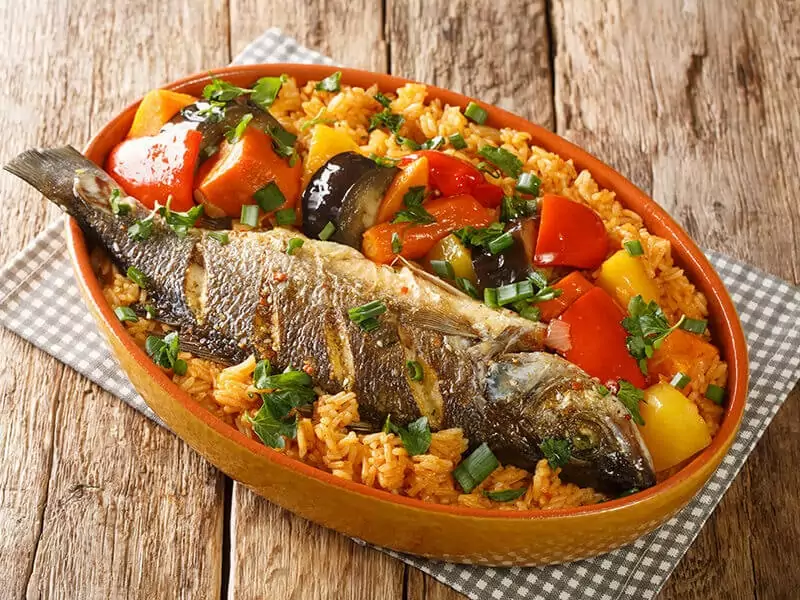 Thiéboudienne (rice of Fish) is the soul of Senegal cuisine, and it is seen as the national dish of this country. The delicacy also originates from Senegal and is prevalent in other countries, where its name is "Diolof Rice".
The first plate of Thiéboudienne was created by Penda Mbaye, a 19th-century chef in St. Louis. Later on, with the appealing taste of fish-cooked tomato sauces, Thiéboudieune is loved by many people and a staple in many Senegalese meals.
One special note, when the Senegalese make this dish, they will include no other veggies in the ingredient list apart from carrot, okra, cabbage, turnip, cassava, and eggplant.
5. Selim Crusted Salmon with Fonio
The remarkable thing about this Senegalese dishes is the unique use of "grains of paradise" (or Selim pepper) and Fonio (ancient West African grain). These two types of grains offer both aromatic spice and the nutrient in the delicacy.
Fonio is a versatile grain that offers various uses, such as a bland base as the side of other proteins. Salmon is the best partner for this combination (Selim and fonio) to enhance the nutrients and flavors of this dish. Don't hesitate, try it immediately!
Senegalese Poultry and Meat Dishes
Now, come back to some other kinds of protein from animals (poultry, meats)! In Senegalese cuisine, many noteworthy dishes are made of poultry and meats, and all of them are good enough to blow your taste buds away. Here are some suggestions!
6. Dibi (Grilled Lamb)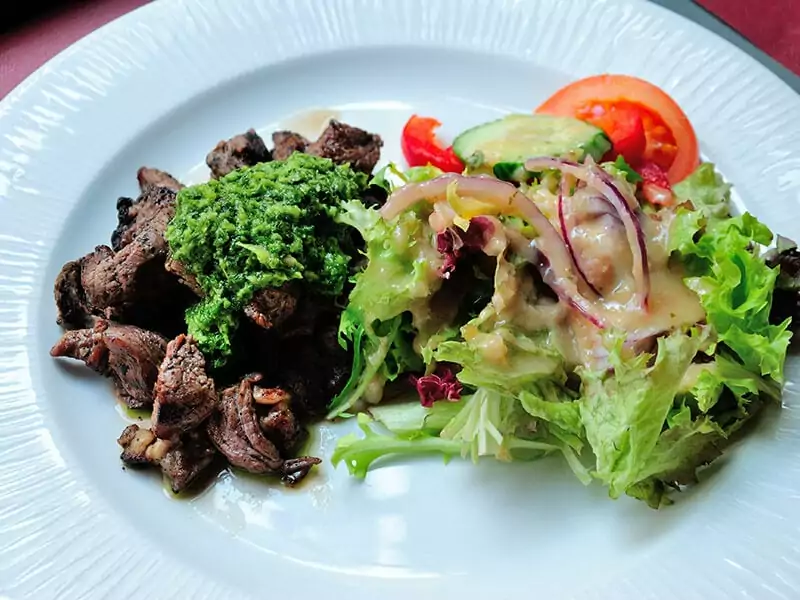 Dibi or Senegalese Grilled/Roasted Lamb is Senegal's fast-food specialty, cut into small pieces and served with some mustard, pepper, onion, and bread. The meat needs to be well-marinated and processed in a particular way to offer an exquisite aroma.
A special onion sauce, Diaga (includes onions, diced carrots, tomato paste, and other things), is the most frequently used sauce to pair with Dibi. Dibi is often made and sold by street vendors or small eateries (which are usually called "dibiterie") of Dakar.
Don't miss this Senegalese Dibi and know more about the delicacy.
7. Thiébou Yapp/Ceebu Yapp (Rice and Beef)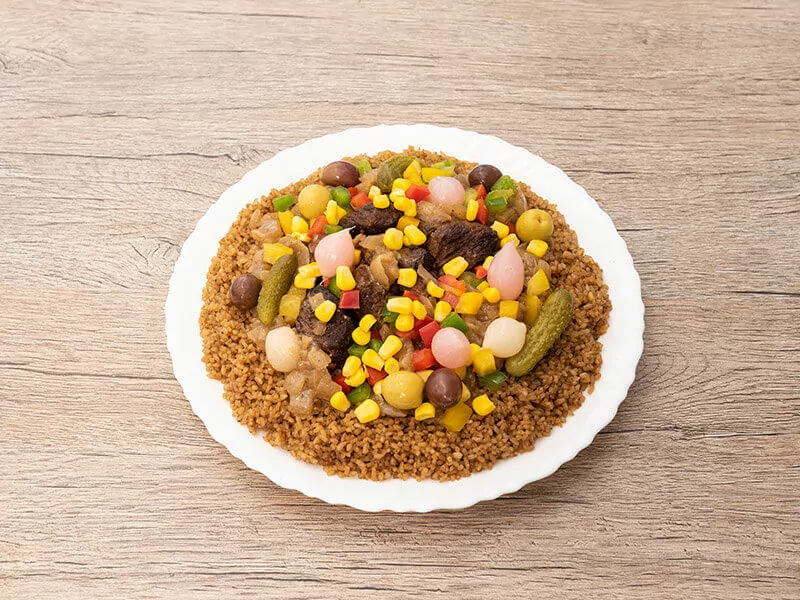 This dish applies a similar idea to the previous Thiéboudienne, yet with a different type of protein. Instead of using fish, Thiebou Yapp calls for meat since it is a unique meat stew (including meat, broken rice, and veggies).
Thiebou Yapp is also called Ceebu Yapp (with "Yapp" means "meat" and "Ceeb" means "rice" in Wolof), which represent parts of its ingredients.
The meat included in Thiébou Yapp is usually lamb or beef, so if you cannot eat them, you can opt for the other variation with fish (Thiéboudieune).
I suggest having this treat for a hearty Senegalese lunch because it is nutritious enough (with various vegetables used such as carrot, eggplants, tomatoes, and so on) and many Thiebou Yapp stores open during lunchtime.
8. Yassa Poulet (Chicken Dish)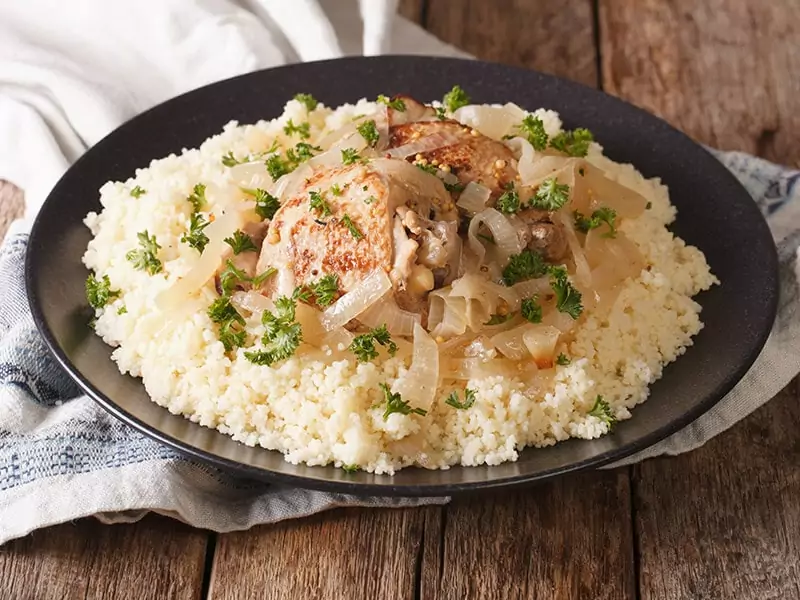 Yassa is a word that generally refers to a spicy Senegalese treat that is usually cooked with meticulously marinated proteins, caramelized onion, and smoked paprika (to create significant spiciness). However, in traditional Togolese foods, Yassa is totally different as it is a braised chicken dish.
Yassa Poulet, a famous type of Yassa, has its roots in Casamance, a Southeast region of Senegal, and is prepared with chicken. Some other ingredients of this dish are vinegar, peanut oil, chicken bouillon, and some condiments to taste.
Rice is often used as the bland base for Yassa, and it helps a lot in harmonizing the overall flavors of these delicacies. If you are not a fan of chicken, you can choose the other variations with different types of protein like mutton or fish. All of them are flavorsome!
Let's check this guide out and reveal the secret behind Yassa Poulet's deliciousness.
9. Vermicelle Poulet (Broken Vermicelli and Chicken)
How about changing the rice in the previous Yassa Poulet into vermicelli? Senegalese people have plenty of ways to process their food, and this exotic Vermicelle Poulet is one of them.
The method to create a perfect portion of Vermicelle has gone through years of development until becoming a treat that many people love. The essential ingredients for the treat are chicken (or lamb, sometimes) and broken vermicelli.
Since it is simple to make, Vermicelle Poulet has become a lazy-festive dish where family members gather together and don't have much time to cook. The food is also served in sacred Senegalese celebrations such as baptisms or weddings.
10. Mafe/Maafe (Peanut Butter Stew)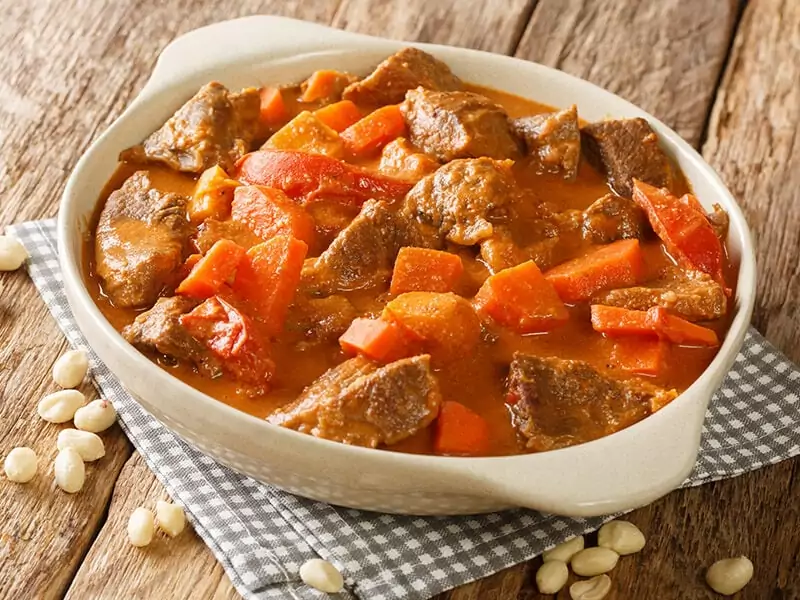 Mafe is a special treat in Senegal and Mali, including white rice/couscous and a distinctive peanut butter sauce (simmered with meat, tomato paste, and potatoes). The meat used is usually lamb/beef since those meats pair well with a peanut butter-like taste.
The peanut stew has a French name called "Sauce D'arachide", with many variations depending on the family. Mafe is called "Domoda" or "Tigadèguèna" in some other West African countries.
Although many countries take the credit for this dish, Mafe is believed to have originated in the Senegal-Mali regions before coming to other West African countries. Liberian cuisine is perhaps the one that welcomes Mafe the most, considering how this dish is so popular in this country.
This is genuinely how Senegalese prepare their pot of Mafe.
11. Dakhine (Spicy Lamb Peanut Butter Porridge)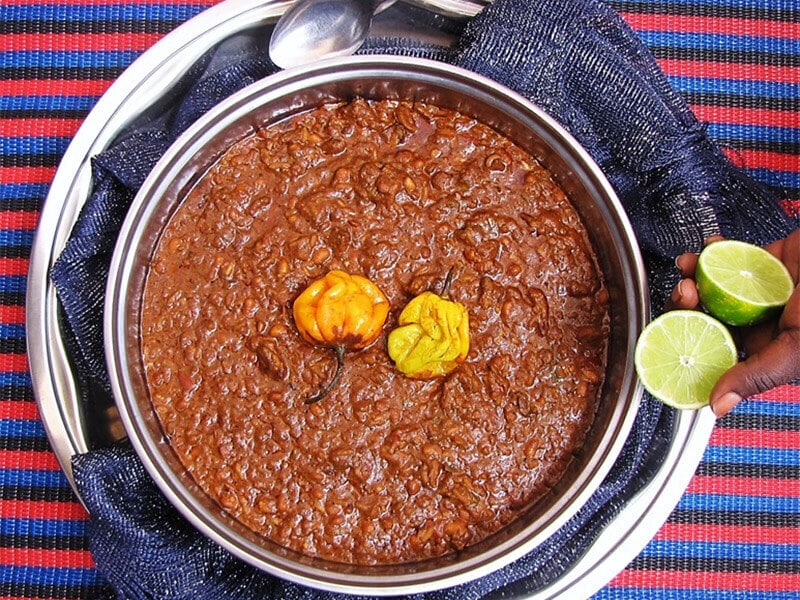 My suggestion for your first-ever dinner in Senegal is this Dakhine or Spicy Lamb Peanut Butter Porridge. The food includes several familiar ingredients in Senegalese cuisine, such as peanut paste, rice, veggies, and some meats.
The nutrition-loaded components make the traditional Dakhine from Senegal a hearty and nourishing delicacy. With the use of hot spice, if you see it is too hot/spicy for the last meal of the day, you can have it for lunch instead.
Senegalese Desserts and Snacks
Let's look at the Senegalese desserts and snacks! When learning about any cuisine, you should also learn about various dishes. So, now it's your turn to dig deeper into the snacks or sweet treats in this African country.
12. Madd (Saba Senegalensis)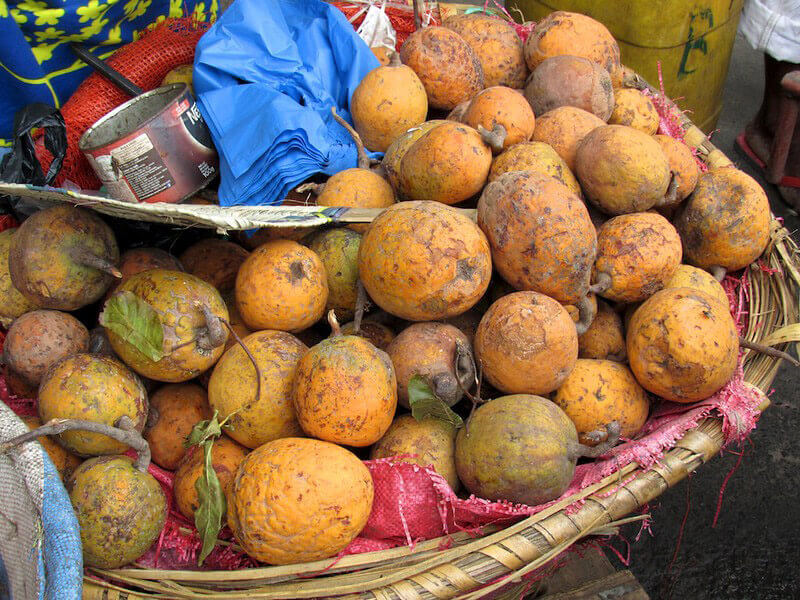 In the Wolof language, this fruit is called Madd, while in other countries, you can know it as Weda (in Moore), Liane Saba (in French), or Kuguissai (in Casamance's Joola language).
The names describe a unique fruit of a creeping plant with yellow skin/pulp, mild sourness (reminiscent of tamarind), and a mango-like taste. The fruits are grown in various African savannahs and are popular street food in Senegal.
Senegalese loves enjoying it raw with sugar, some pepper, and salt to taste or combining the juicy, succulent fruit with some sugar and water to make a refreshing juice. Trust me; you won't regret trying it once.
13. Thiakry (Sweet Millet Couscous)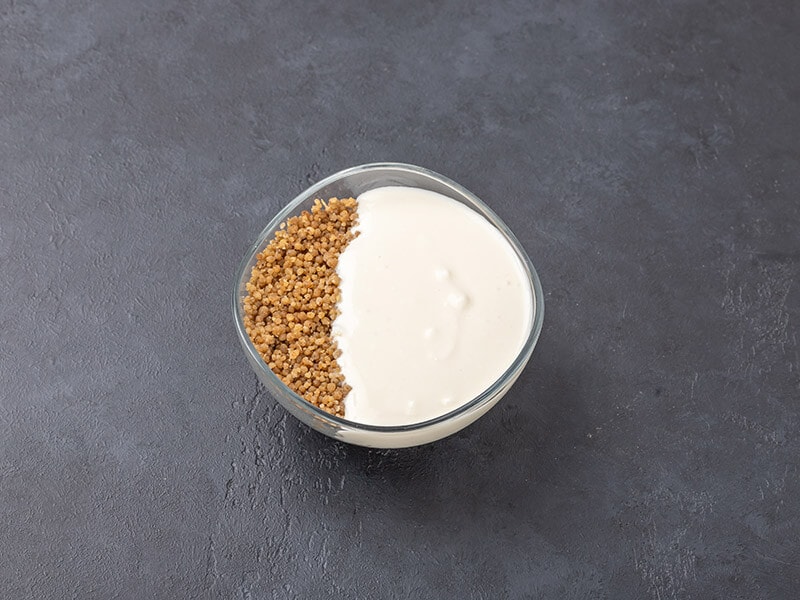 Thiakry is not referring to the whole bowl as illustrated; only the brownish part on the right side of the picture is genuinely the mentioned dish.
There is no clear information about the origin of this kind of sweetened millet couscous, yet, the treat is widely-favored in West Africa, especially in Senegal. Plus, it's also a popular dish in Gabonese cuisine.
When serving, Thiakry (or Thiacry/Degue/Chakery) are usually mixed with various dairy products because their moisture will improve the dryness of Thiarkry.
Yogurt or sweetened condensed milk are the best pairs with this food, and you should match them together once.
14. Sombi (Coconut Rice Pudding)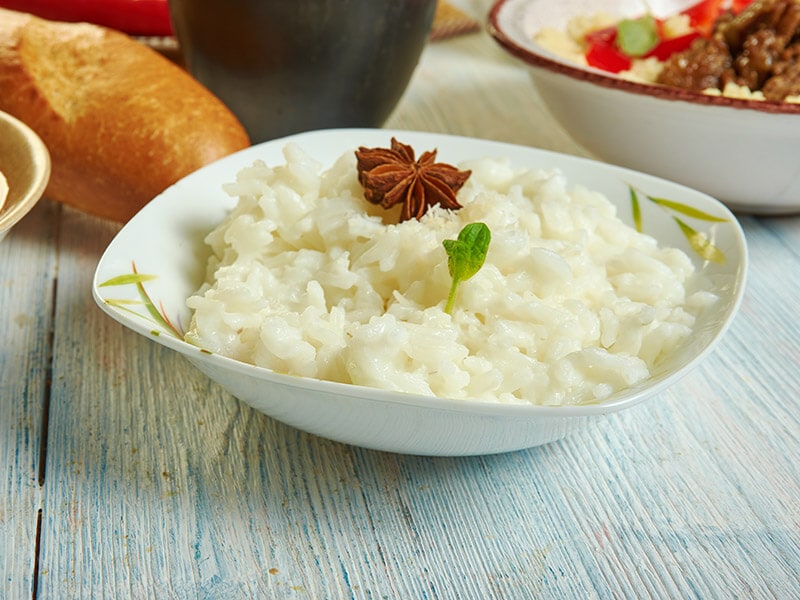 There are many traditional African sweet courses made with coconut, and Sombi is a perfect example. You will hardly ever see a Senegalese child who resists a bowl of Sombi. Even an adult like me craves the milky and sweet flavor of this food.
Sombi is an indispensable dish in a typical Senegalese light breakfast, and it is usually eaten while still warm. The natural starch from rice combined with the thick coconut cream creates a slightly dense consistency that can please your appetite. 
This food can also be served cool when the weather becomes hotter, and at that time, people will crave it more as a fresh and decadent dessert than as a dish for the main meal. Dried coconut chips will also be added to enhance the crispiness of the delicacy.
15. Pastelles/Pastels (Fish Fritters)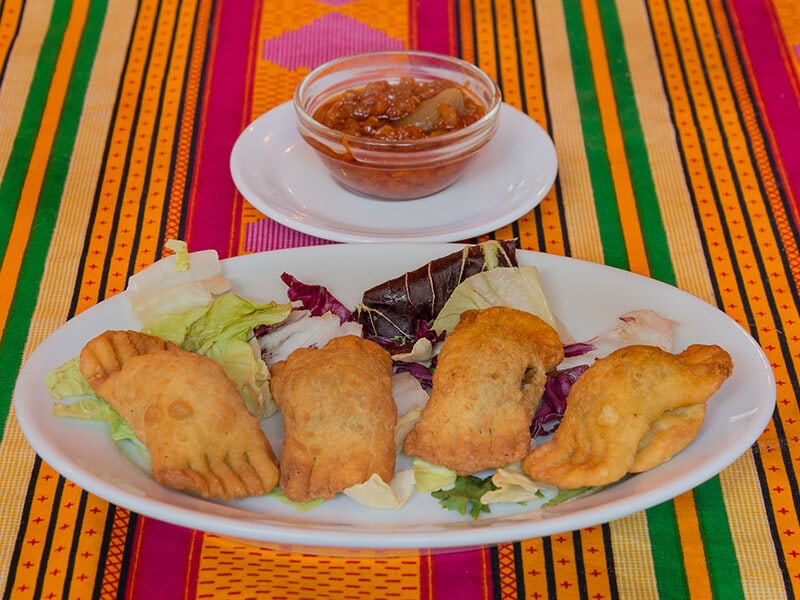 Pastels are affordable street food found in almost every street of Senegal. The food is also frequently sold as an after-school snack with spicy pepper or tomato sauce. Therefore, it might be an irreplaceable memory in many generations of Senegalese.
There is another variant of this dish that has beef-y fillings called "Fataya". Then, it will be your second choice if you don't love fish that much (or you can try both).
16. Ngalakh (Millet Porridge)
When I mention Easter, what is the first thing that springs to mind? Is it a fascinating egg-hunt in your backyard? On the other hand, a Senegalese will most likely give you a completely different answer.
They describe a dessert including peanut butter, baobab cream/juice, yogurt, and millet semolina. The dessert mentioned above is commonly referred to as Ngalakh.
This sweet-tart dish has a place in every Senegalese's heart, and it reflects their people's spirit of caring, sharing, and all the goodness.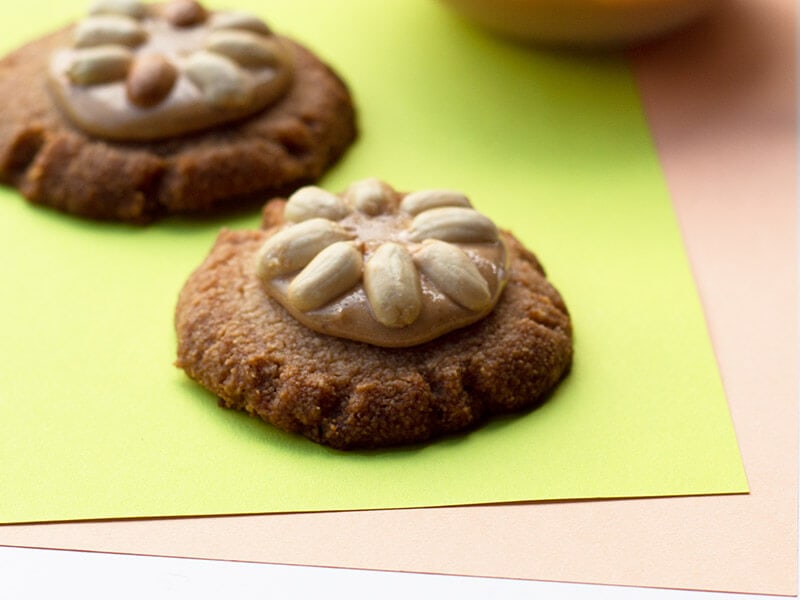 Cinq Centimes is a French word meaning "Biscuits Five Cents" or "Five Cents Cookies". And the delicious peanut butter cookies have this name because they have a small round shape that is just the same size as French's five cents coins.
This well-loved Senegalese treat was first documented by George Washington Carver, an African-American agricultural scientist in the 1930s.
Nowadays, when the dish has become more prevalent worldwide, various variations exist, yet they all have peanut butter as the main ingredient.
18. Banana Glacé (Sweet Banana Dessert)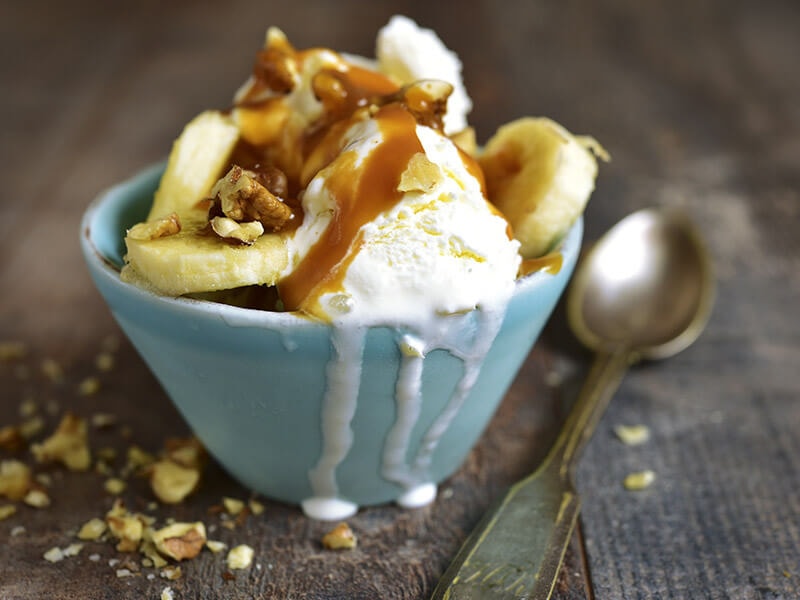 Banana Glacé also goes by the name Mamadou's Banana Glacé, after its creator, and the idea to make it is pretty straightforward. This dessert plate contains four long stripes of banana (the fresher, the better) and mashed bananas mixed with other sweet condiments.
Because the food will be sugary, a cup of aromatic espresso or black coffee will be a crucial balancing component.
The delight was first presented at Dakar's famed restaurant Les Cannibales Deux. After a time, it has steadily crept into various Senegalese hearts with the impression of enticing sweet dessert.
Other Senegalese Dishes
Those above dishes are not all you can expect from such a colorful culinary culture like Senegal. There are many other delicacies from Senegal you can opt for when visiting this country, and below are some recommendations from me.
19. Thiébou Guerté (Rice with Peanut)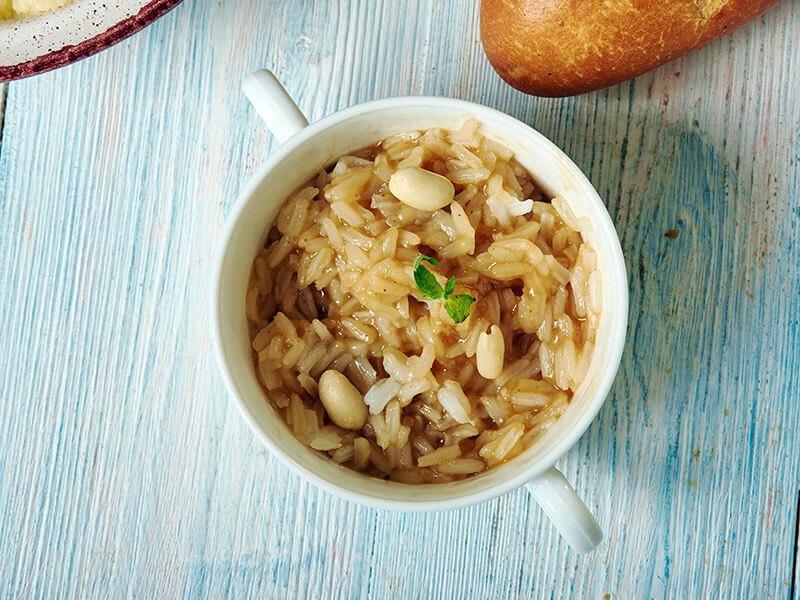 The third "Thiébou" on the list is this Thiébou Guerté or Senegalese Rice With Peanut. I have mentioned fish and meat variations of Thiébou, so it will be a miss if I ignore this festive version.
Thiébou Guerté still calls for meat in its ingredient list, but some significant twists exist. For example, while Thiéboudienne and Thiébou Yapp include mustard inside, Thiébou Guerté needs peanut butter instead.
The rich taste from the ingredient will embrace the meat part and help form a thicker sauce base of the food. If you love peanut butter, you should experience this Thiébou Guerté.
One mindful note about this dish is that Senegalese people are more likely to serve it on special occasions than a daily meal. Therefore, you should ask for some advice from the native to know the best time to eat the treat.
20. Bassi Salte/Bassi-Salté (Millet Couscous with Meat and Veggies)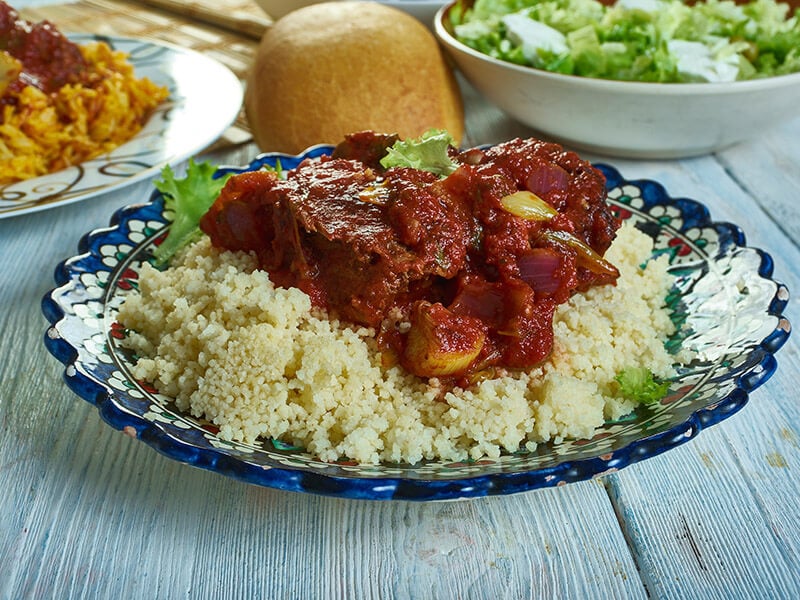 Bassi-Salté is a traditional Senegalese meal that combines sweet and salty flavors. However, you do not need to be concerned about the rise in calories because the sweetness of this meal is entirely natural (from dates and raisins).
The recipe also contains various nutrients, which are essential for long days at work, such as protein from meat (mutton meatballs or diaguas, chicken pieces), fibers, and vitamins (from carrots, cabbages, and beans).
Furthermore, Senegalese people also include a healthy carbohydrate source from cassava. It will be a fantastic dining experience, with an explosion of tastes created from essential ingredients.
To have this treat in an accurate Senegalese way, you shouldn't forget to have a sip of fresh milk after eating Bassi-Salté.
21. Ndambé (Black-Eyed Peas Stew)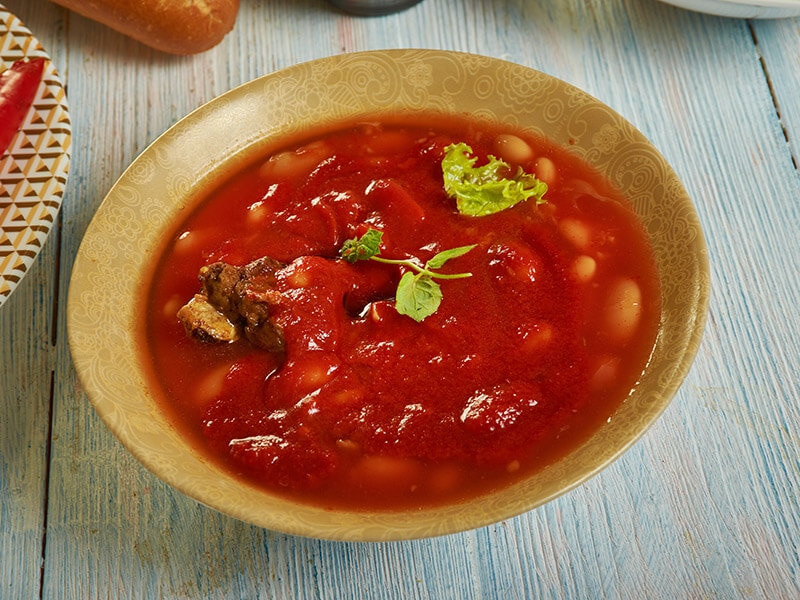 Black-eyed peas are a common ingredient in African foods like those in exotic Nigerian foods. And Ndambé is an enjoyable Senegalese winter specialty cooked with this component.
This stew is ideal for cool periods of the day, such as early mornings or late afternoon/evenings. You will have two options for this dish to choose from, one is vegetarian-friendly, and the other includes meat.
The simpler vegetarian Ndambé will have a tomato base, veggie bouillon cube, and other condiments (vinegar, salt, pepper) and spices. On the other hand, if you are a meat lover, the Ndambé variation with beef broth and meat will be cooler.
Don't ignore the starchy companions of this food! Some rice, healthy couscous/quinoa, or a piece of crispy bread make this traditional Senegal dish more harmonious.
22. Mabakhalou Saloum
This traditional Senegalese dish might not be famous with foreigners, yet, it is extremely popular with the locals.
Mabakhalou Saloum is an authentic Senegalese treat that has its origin from the western Senegal area, Saloum (which belonged to the old Serer kingdom). Because this ancient kingdom was beside the coast, their seafood dishes were developed and palatable.
In this Mabakhalou Saloum, various ingredients such as dried fish, other seafood, cowpeas, peanuts, and no oil are included. Topped with some peanut powder, the rice dish tastes even richer than usual.
---
You Won't Regret Trying These Recommendations Once
Every chance to experience food or culture from any country is precious, so don't miss the opportunity to experience your Senegalese food. Each dish of Senegal has a rustic and traditional color that will surely save an unforgettable experience for you.
The dishes that I present to you today are all worth trying, and you can use them first for your culinary experience. Please leave your comments on those dishes and let me know. Loving is sharing!