Although it is a small country, Ghanaian foods are super fantastic and are waiting for you to explore. Besides its heroic struggles, the country is also famous for its exquisite cuisine. It is hard to find a country with humble populations but diversified dishes like Ghana.
Ghana consists of different ethnic groups, and they have brought their special recipes to adorn the country's culinary culture. If you have a chance to come here, let's spend your valuable time discovering it.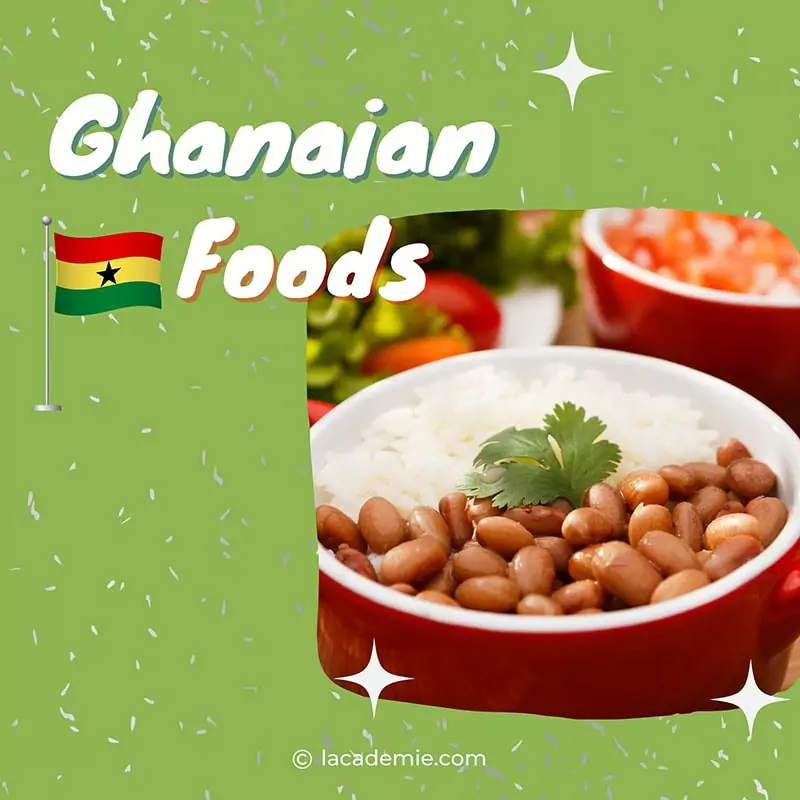 Ghanian Breakfast Dishes
For some people, these Ghanian dishes served for breakfast are quite heavy and can make them sleepy. However, the locals love them as they can provide them with enough energy to do hard work. Let's try, and you will surely fall in love with them.
1. Hausa Koko – Spicy Millet Porridge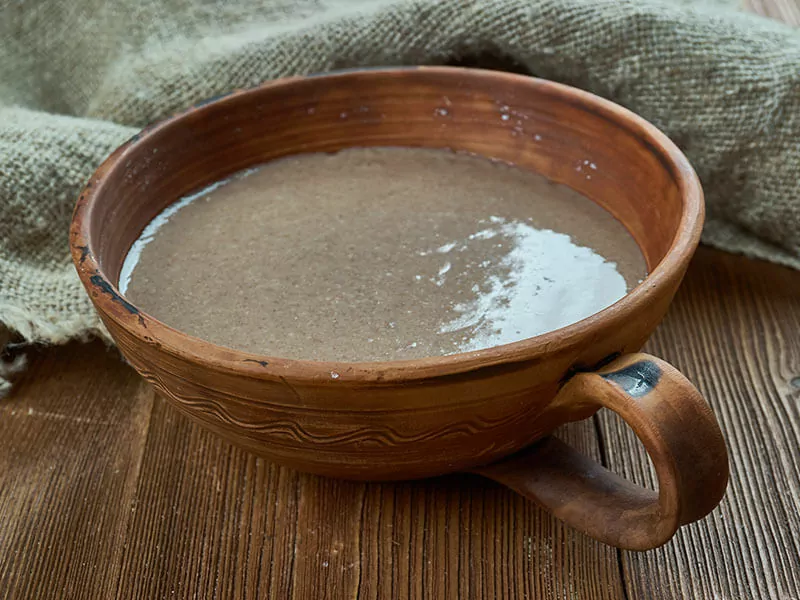 What do you know about Hausa Koko? Not only can you order it for your breakfast but also enjoy it as a snack without worrying about curious sights from other people. The Hausa group has lived in various areas in Africa, including Ghana.
They were the first people to make Hausa Koko, and this dish became an indispensable piece in Ghanian culinary art. Moreover, its name is credited to Northern places. The main ingredient to make the food is millet, one of the core cultivations of these people.
The cooks also add some spices to create remarkable flavor and color to this porridge. To have a fulfilling meal, you can eat it with Koose, a fried bean bun, Araka (bean cake), or Pinkaso (spicy fried dumpling).
2. Rice Water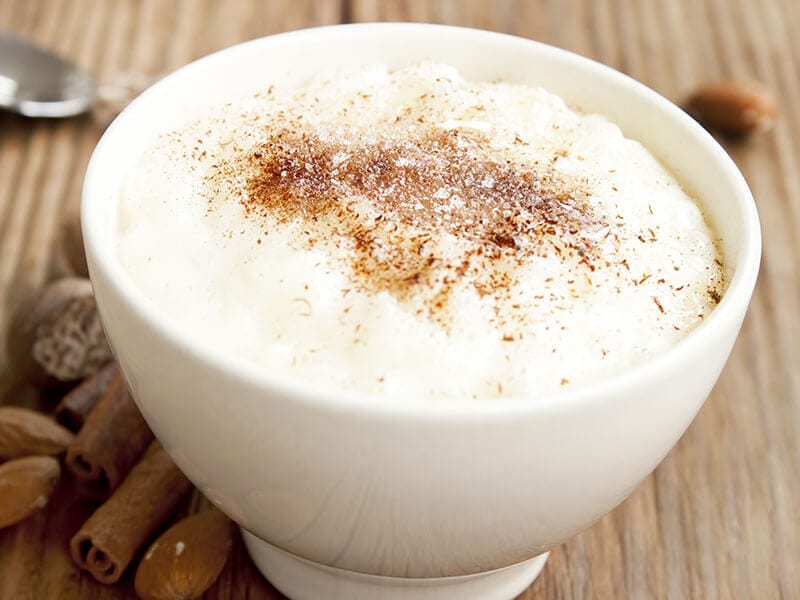 Rice water is a "kill 2 birds with one stone" dish as you can serve it as a breakfast dish or a unique dessert from Ghanian cuisine. Despite its name, the texture looks like porridge with a pure white color that will win your heart after the first try.
This dish is made from Ghanian rice, imported from Thailand or India. Besides, the chefs also use milk, nutmeg, and sugar to create a nuanced and rounded flavor. You can find rice water under different names and textures depending on where the dish is served.
The Frenchies call it "Riz au Lait" while the Portuguese call it "Canja" or "Congee". Yet, for me, the Ghanaian version is the best with the appearance of nutmeg powder. This spice will complement the warm taste of the porridge and leave an unforgettable mark on your mind.
3. Ghanaian Bread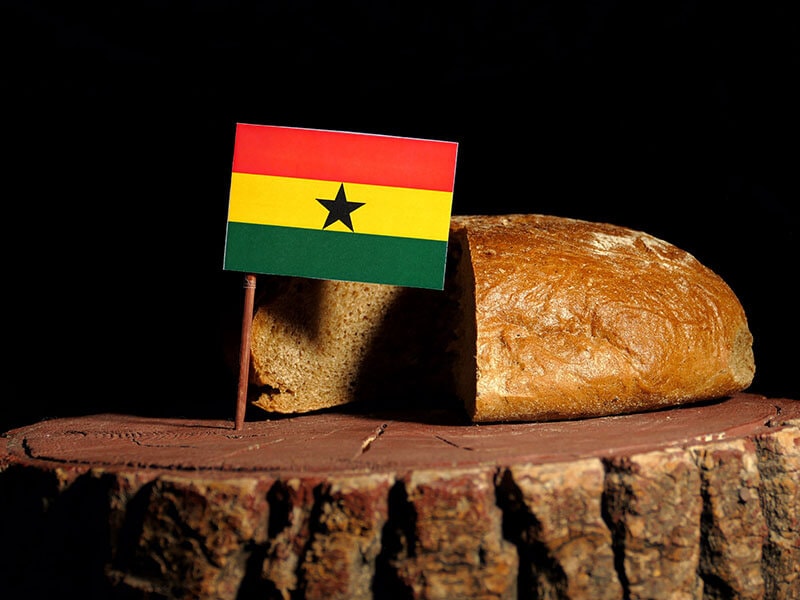 Ghanaian breakfast cannot miss bread. Besides being eaten in this country, bread is also common in other West African nations. You can find 4 kinds of Ghanian bread when entering any bakery here.
Tea bread is simple to imagine as it looks like a baguette, while sugar bread is the best-loved option for Ghanaians. It has a sweet taste with a chewy and dense texture; another surprising thing is that it is rich in vitamin C.
Brown bread is made from whole wheat, that's why it has a unique color. Other bread variants like Rye bread, butter bread, oat bread, and malt bread are also popular. People have a creative way to add more features to bread's texture by using cassava flour besides wheat flour.
4. Waakye – Cooked Rice and Beans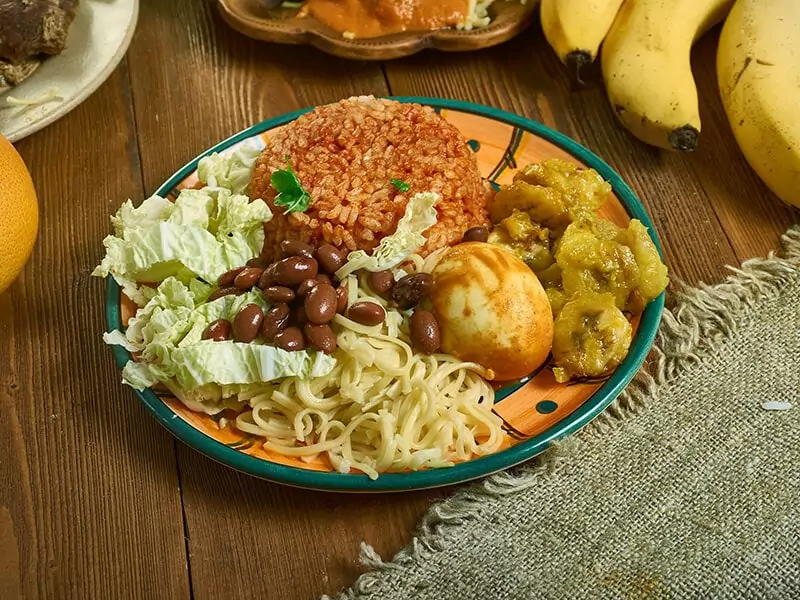 Another dish coming from Northern Ghana is Waakye. It is simply cooked rice and beans, but it can captivate your heart. Many people purchase it from stalls in the streets instead of cooking it at home since it can take you much time to process dry beans.
You can find and taste several versions of this dish in some countries, yet the Ghanian variation is the best. Why? The chefs use millet leaves to help the dish have a rich burgundy color; sometimes, they also use sorghum leaves in case they are short of the millet ones.
Before the 1900s, Waakye was served in thaumatococcus danielli leaves, found widely in Africa and Ghana. However, the strong explosion of polyethylene in the 1900s reduced the use of these leaves.
20 years later, when people are aware of the risks of placing hot food in plastic-based products, they come back with "natural plates". Thus, you can catch the cooks arranging Kelewele, Talia, Shitor, and boiled egg (typical Waakye components) on these leaves.
5. Tuo Zaafi – Maize or Millet Soup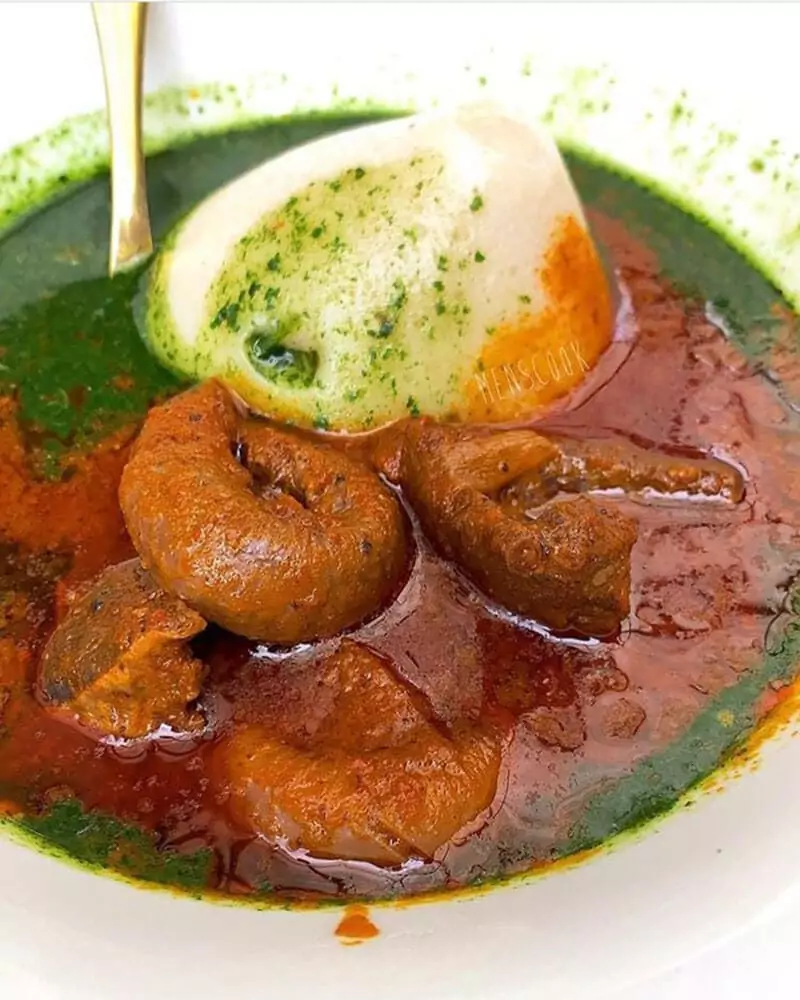 Welcome to Northern Ghana! This area will greet you with a bowl of Tuo Zaafi. Are you ready to try this dish? In the past, it was hard to find Tuo Zaafi in regular restaurants. However, thanks to its popularity, some places have added it to their menu recently.
Not only well-known in Northern Ghana, but you can also order it when you are enjoying the cuisine of Nigeria, Mali, or some other nations of West Africa. Tuo Zaafi originated from the Hausa language, which means "very hot paddling/stirring".
The food uses fundamental ingredients: millet, cornflour, and water. Thus, it has a sticky and tender texture. The locals usually enjoy it with Okra soup, a traditional eating manner for dinner. Its name is usually abbreviated to T-Zed or T.Z. in English.
Ghanaian Lunch and Dinner Dishes
If you are an observant person, you will realize that almost all Ghanian dishes appearing on the table for lunch and dinner are made from starchy ingredients: beans, corn, plantains, cassava, and millets.
With these simple foods, people can make mouth-watering dishes. The delicious dishes for dinner from Ghana will help you get a good night's sleep. The foods are also easy to afford, so tourists can enjoy these delicacies without worrying about their wallets.
6. Banku – Fermented Corn and Cassava Dough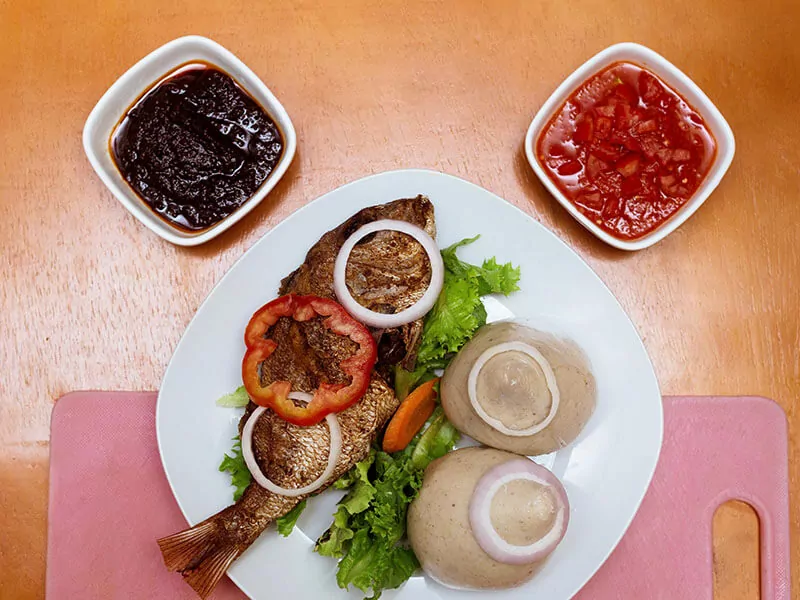 Banku is credited to the Ewe citizens living in the Volta region. Its name originated from the GaDangme language to refer to fermented corn and cassava dough. The areas along the Southeastern Ghanian coast also consume Banku the most.
Another version of Banku is ɛtsew which is drier than Banku and belongs to the Fante people. There is no exact answer to the "when did Banku appear?" question. But depending on several documents, I can tell you this dish has existed for centuries.
In the 16th century, people introduced cassava and corn to replace the former variants made from fermented sorghum, yam, and plantain mixture or millet.
In the 17th century, the Portuguese recorded steamed millet and sorghum bread. Many people realized the connection between Banku and this bread, so they assumed Banku started forming at this time.
The uniquely sour taste from the fermenting process will attract you after the first bite. Banku should go with Okro stew, grilled fish, Shitor Din, and Shito to complete the meal.
7. Garri – Coarsely Ground Fermented Cassava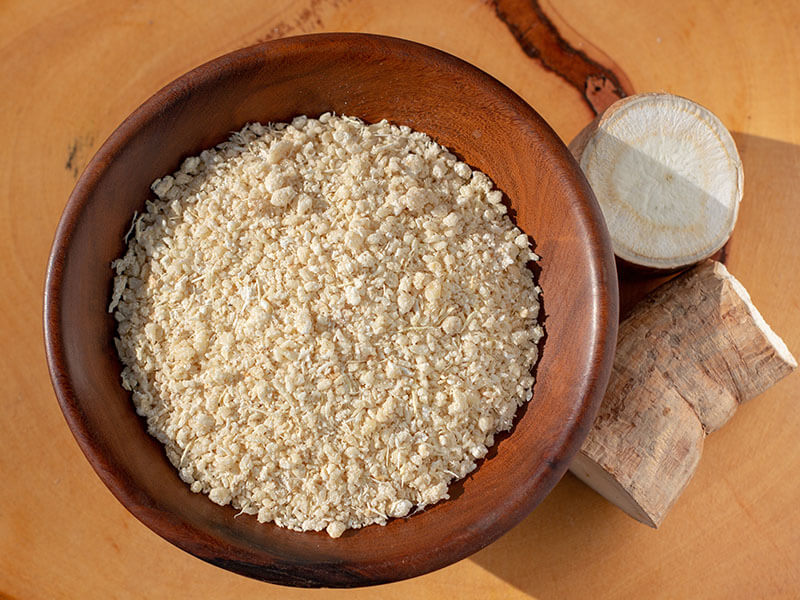 Garri is a granular flour produced from fresh cassava. It is commonly found in West Africa. In Ghana, Garri is divided into 2 categories. The finer texture with a sweeter taste is more expensive than sour with the coarser type.
People can process this flour with cold water, milk, sugar, and groundnut or transform it into porridge as long as the recipes meet your taste. Cassava originated from South America; the Portuguese brought it to West Africa in the 16th century.
However, it was not until the 19th century the enslaved came back from Portugal and started introducing the methods to turn fresh cassava into flour and made Garri popular in Nigeria. This granular has a gentle flavor and smooth texture to satisfy any stomach.
Boarders love this meal so much; therefore, they call it by different names, such as The Student's Companion, The Life Saver, and more.
8. Red Red – Bean Stew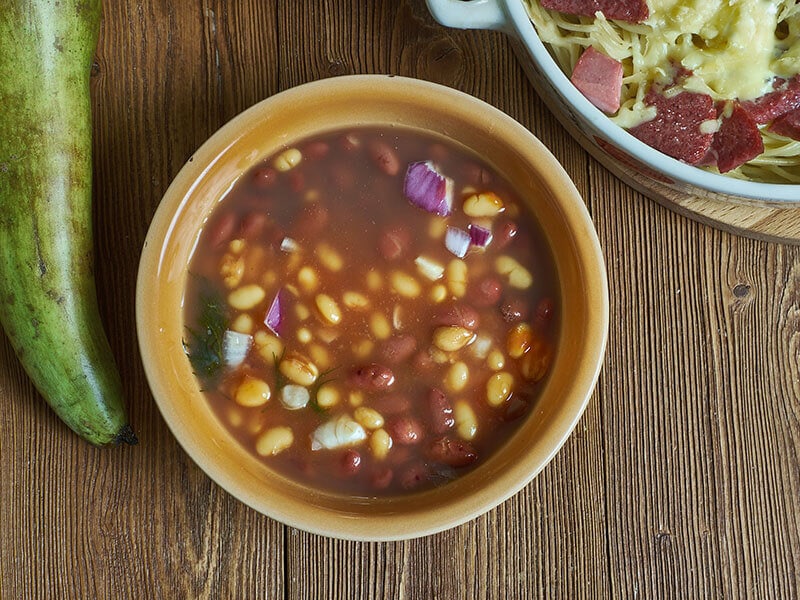 After you see Red Red in menus, are you curious about its taste and looks? Perhaps you have imagined something in your mind such as this stew will have a red color, or it will be spicy.
The former thought is correct; this food has an eye-catching red color thanks to tomato-based liquid. It is one of the dishes you must try when traveling to Ghana as this nation is Red Red's hometown, and you will taste the most authentic flavor.
The cooks can choose cowpeas or black-eyed peas to cook this stew. Besides, they never miss red palm oil. You shouldn't serve Red Red alone; how about pairing it with fried plantain, rice, or Garri to have a complete meal? You can eliminate fish if you are a vegetarian.
9. Kelewele – Spicy Fried Plantains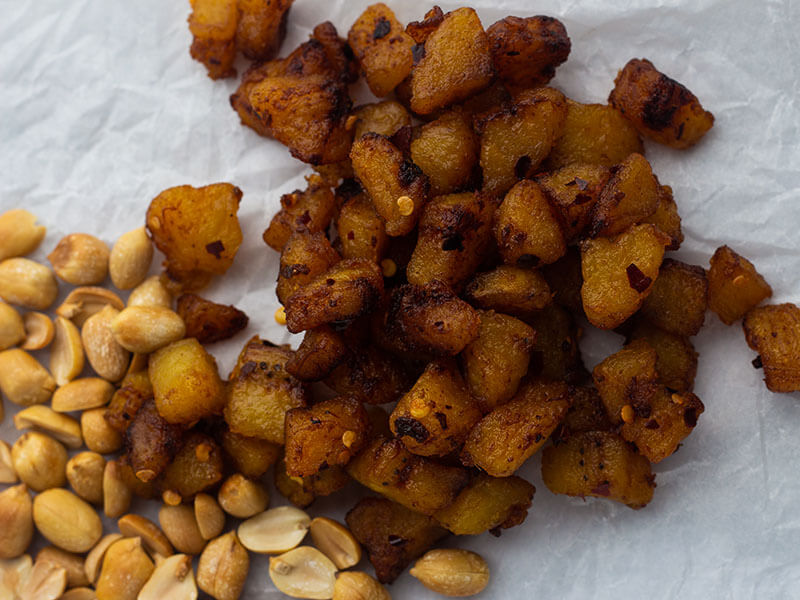 Kelewele is not only fried plantain, but there are also more spices added to this dish. Sometimes you can hear some people call it by the English name "hot crispy plantain".
Besides being a popular dish in Ghana, the dish has also "invaded" the culinary scene of America and Africa, thanks to its presence in Recipezaar, published in 2009.
Normally, you can purchase a bag of hot Kelewele from small kiosks on the streets. You can catch the countryside women arranging their tabletops to sell Kelewele in the afternoon or at night.
You can enjoy it as a dessert or serve it with peanut, bean stews to have a fulfilling meal. The typical Kelewele is made from cayenne pepper, salt, and ginger, yet the locals can make a twist with anise, nutmeg, and cinnamon.
10. Ampesi – Boiled Yam, Cocoyam and Plantain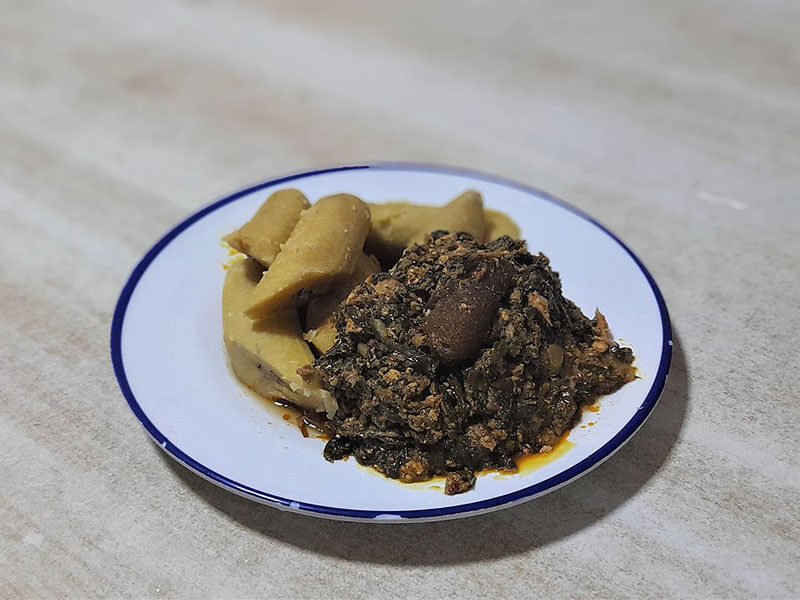 Don't ignore Ampesi, as I know you will regret it. Ampesi is a long-standing dish containing almost signature starchy veggies in Ghana: plantain, yam, cocoyam, or cassava and even their mixture. They are boiled before reaching your hands.
Like other Ghanian starchy dishes, you cannot eat them alone when there are no highlights for the foods. That's why people pair it with Kontomire, a classic combo of stew, gravy, or palm nut soup.
Enjoying Ampesi is an incredible way to taste unique flavors in this nation. Besides, the diversified ingredients help the dish become nutritious. Let's try it and tell me about your thoughts.
11. Jollof Rice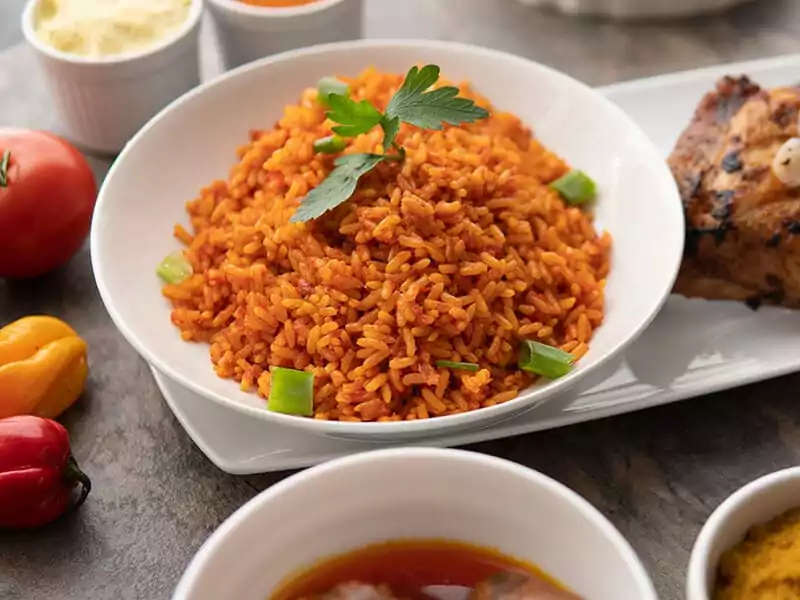 The flavor of Jollof rice is so good that every West African country has created one version on its own; even some of them have had 2, 3, and more variants.
All they want is to add "their characteristics" to this dish by changing a few ingredients. For example, the version in Togolese cuisine includes a generous amount of local spices.
Thus, there is a war among Ghana, Liberia, Nigeria, and Sierra Leone to choose a champion for the best Jollof rice. But you know what? This dish was not created by West Africans; it originated from the Wolof Empire in the 1300s.
Its old name is Thieboudienne, and when the Wolofs were located in different parts of West Africa, they brought Jollof rice and developed it in many ways. The Ghanaian Jollof rice is made from basmati rice, having an aromatic scent, fluffy texture, and delicious flavor.
The dish is usually served with beef, chicken, seasoned fried fish, Shito, or a mixture of veggies. In some parties and ceremonies, the locals can combine it with fresh salads.
12. Tuo/Omo Tuo – Rice Balls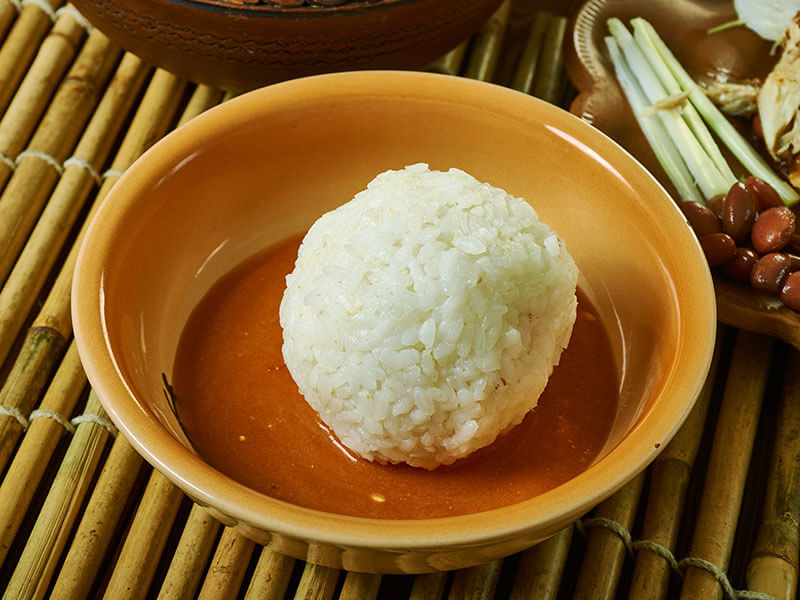 You can mistake Fufu and Omo Tuo due to their similar appearance, yet they are totally different.
Fufu, which is a famous dish in the cuisine of Cameroon, Gabon, and other African countries, is made from cassava. On the other hand, Omo Tuo is produced from rice and people usually call it "rice fufu".
Omoto was created by the Hausa people who lived in Northern Ghana, yet its fame spread throughout the country. Unlike rice, Omo Tuo needs more water; thus, it is soft, smooth, and easy to shape into balls.
The first rice, Oryza Glaberrima, existed in West Africa 3000 years ago. However, in the 1500s, the Portuguese brought Asian rice, called Oryza Sativa, to replace the ancient rice in Africa.
Commonly, people eat Omo Tuo with soups such as peanut or palm nut soup, while the citizens living in Northern Hausa-Fulani serve it with dried okra soup and baobab leaf. Each ethnic group will have different ways to enjoy rice balls, so why don't you try one by one?
13. Angwa Mo – Fried Rice
Are you impressed with Ghanian rice dishes and want to discover more? I have a suggestion for you: Angwa Mo or Angwamu. No matter how people write it, they are the same. This is a classic and straightforward-to-make dish.
Angwa Mo can be translated loosely as "oiled rice" because of its unique cooking process. The rice is immersed into the oil with onion before being cooked in water.
Besides some common ingredients like other fried rice recipes, the chefs need to add tolo beef (salted beef) to elevate the overall taste. All people can enjoy this food, yet the locals assume it is an essential dish for babies. That's why many people call it "baby rice".
Unlike Jollof rice using basmati rice, Angwa Mo uses jasmine rice to have a light texture with a fragrant aroma. You can find several versions of oiled rice when the cooks change the oil or type of rice. I am sure you will be excited to taste all of them.
14. Okro Stew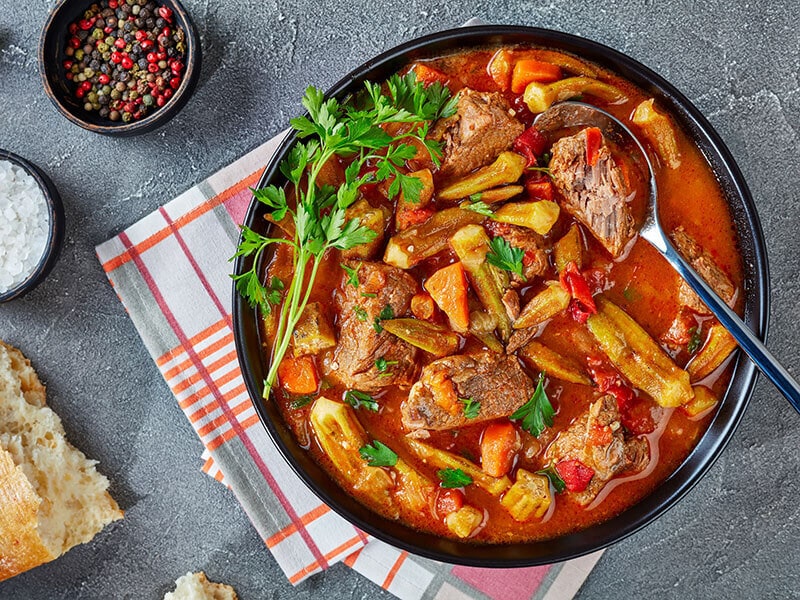 You probably are bored with dishes made from starchy foods; I will bring a new breath to your culinary experience with Okro stew. Okra has a tight connection with cotton and mallow plants; thus, many people believe it is traced from Southern Ethiopia.
Meanwhile, some people assume it comes from South Asia. The word "okra" appeared in West African regions in the 1670s, enough to prove that Okra stew is a traditional dish here. The Ghanaians call it "okra" since it sounds quite close to the "nkuruma" word in the Akan language.
This stew has a bright red color thanks to tomato-based soup and red palm fruit oil. The chefs can change its texture from slim to thick and serve with quinoa or steamed millet to fit with Ghanian cuisine.
This dish has 2 versions: dried and fresh Okra soup. The dried one usually appears in meals of the Northerners while the other was born for the Southerners. The reason is to depend on the location and the weather that allow them to grow which type of Okra.
15. Yam Eto (Baayer Eto) – Mashed Yam with Red Onion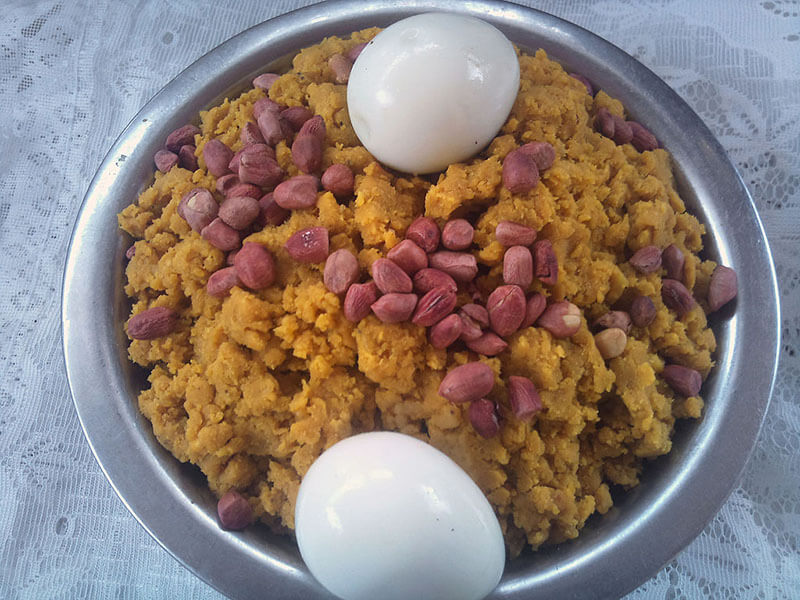 Yam Eto is a special dish served in big ceremonies, including weddings and birthdays. Although it is made from simple ingredients: yam, red onion, and others yet, it consists of meaningful means.
The classic food is credited to the Gas and Akan people dispersing in different parts of Ghana. Moreover, it is made from yam, a national crop in West Africa and Ghana, then served with eggs. Thus, this dish has become an integral part of Ghanian cuisine.
Believe it or not, yam plays an essential role in these regions, and the locals picked a day in the year to celebrate the Ashanti Yam festival to end the harvest and welcome the new year with new crops.
16. Yele Kakro – Yam Balls
If the Western countries have potato balls, the Ghanaians also have their favorite deep-fried ball, Yele Kakro. It is made from yam, one of Ghana's most common starchy crops.
The name "Yele Kakro" came from the Ga language. These balls don't have any filling or other vegetables to jazz up their flavor, yet they still win your heart. Ghana is the dish's hometown, but they also get themselves famous in many West Africa and Nigeria regions.
To complete the taste, you should dip these eye-catchy yellow balls into the spicy sauce, and Shito is my suggestion. Let's double "Ghanaian feeling" by enjoying 2 Ghanian foods at the same time; it sounds interesting, right?
17. Kenkey – Fermented White Corn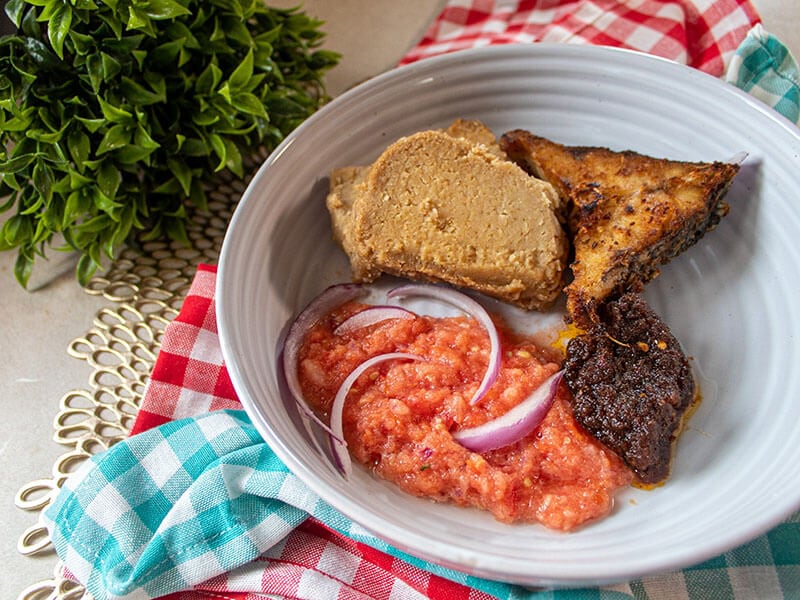 Corn is one of the tropical cultivations of Ghananian; thus, people have many ways to turn corn into scrumptious and unique dishes; Kenkey is one of them.
This food has various variants and different names called by ethnic groups, such as Ga and Fante Kenkey, Ice Kenkey, and more. The Ga version seems to be more popular in some areas in Ghana.
The Gas call it "Komi", the Akans call it "Dokono", while the locals living in Northern Ghana call it "Tamale". No matter its name, Kenkey is prepared from fermented white ground corn. Kenkey is served with fried fish in the West African version as this area has abundant fish sources.
The sourness of Kenkey is the main factor that makes it a great dish to pair with other delicious recipes native to Ghana. People usually make a large batch of Kenkey in advance and consume it throughout the year.
This dish is so famous that people hold a Kenkey festival once a year, allowing tourists to taste fried, salads, and stewed Kenkey.
18.  Kpekpele – Steamed Fermented Cornmeal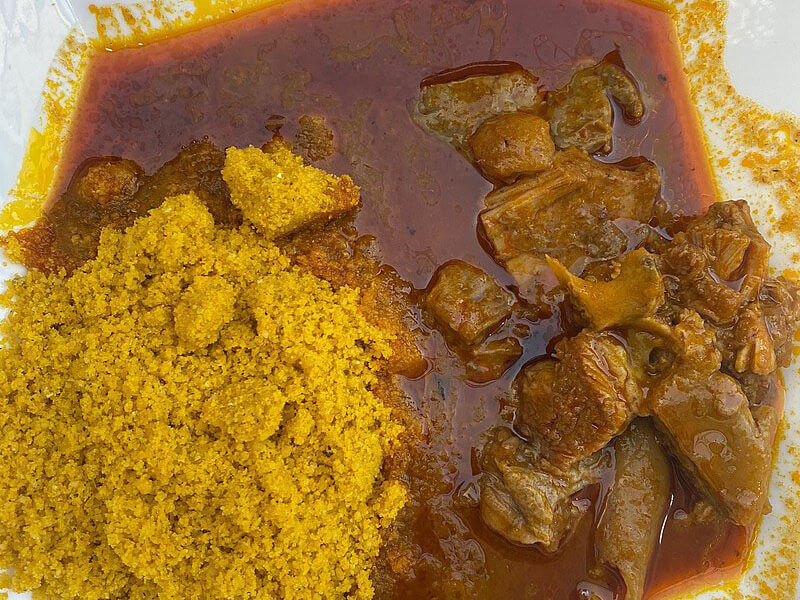 Kpekpele is a long-established dish served during the Homowo festival. For the Ga-Danabe people, it is one of the biggest ceremonies since it is a congratulation for a new year as well as a time to harvest maize, another name of corn.
That's why Kpekpele, a steam fermented cornmeal, is chosen for a celebratory dish. However, processing is not such an easy task. The cooks need to sift cornmeal many times to have a finer texture and add palm oil to color the flour.
I recommend you visit Ghana at this time to enjoy the unique taste of this dish. Don't forget to taste it with palm nut soup and fish to satisfy your stomach. The chefs usually sprinkle Kpekpele around due to religious belief.
19. Ebunu Ebunu (Abunuabunu) – Kontomire Stew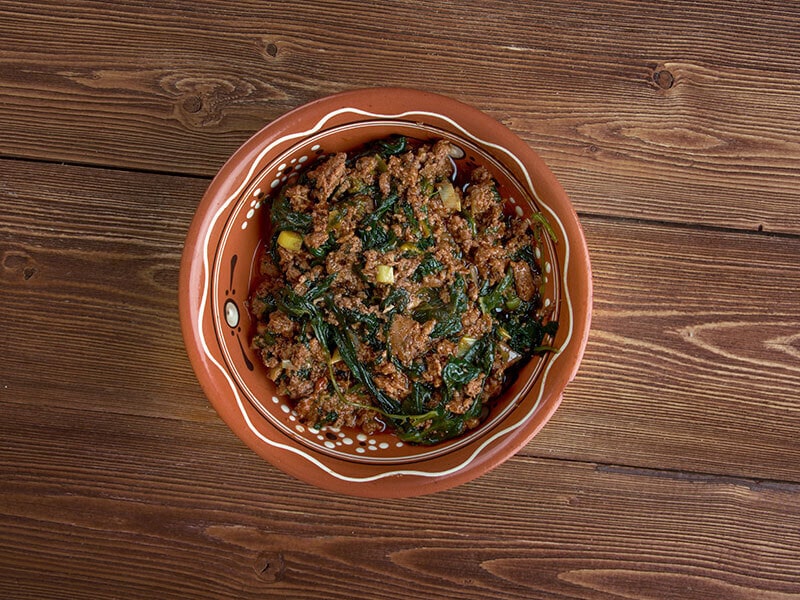 The first time you hear Kontomire stew, do you mistake its sound with Japanese? But this stew is a dish in Ghanaian cuisine. The main ingredient is cocoyam leaves with other components to create a unique flavor.
The Ebunu Ebunu can be translated loosely as "green green" in English. Some people say this food resulted from the meeting between Elminans and a few Europeans before Ghania was independent.
Moreover, it is also a traditional dish in Akan-tribe cuisine. They usually combine it with boiled ripe plantains, rice, and fufu. Besides being popular in Ghana, it also appears in some West African meals.
Steamed rice, cooked plantain, and yam are typical dishes the Ghanaians serve with Kontomire stew.
20. Kokonte – Brown Fufu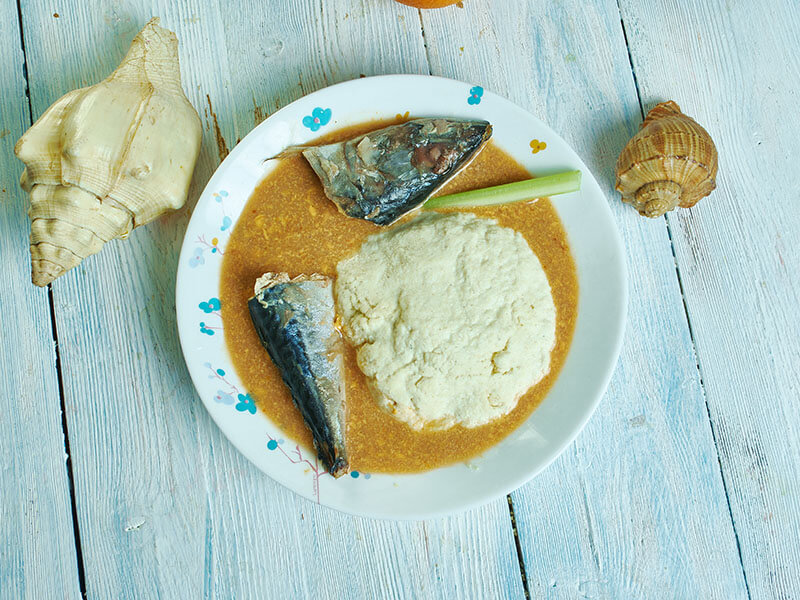 Kokonte is a traditional dish in some African cuisines, including Togo, Ghana, and more. Many ethnic groups consume it, such as the Hausa, Akan, and Ga.
Each group uses different ingredients to create the dish. Thus, you can find Kokonte in various colors such as gray, green, or brown.
Some people usually call it "Face The Wall" as it was for the low class in old-day society. The locals use dried cassava or yam to prepare the food. The dried components, the blacker it becomes.
It is one of the cheapest main dishes that the poor can afford, yet it's still delicious. When you order a bowl of Kokonte, the chefs can recommend you enjoy it with soups, gravy, or ground pepper to have a fulfilling meal.
21. Tubaani – Steamed Black-Eyed Peas' Pudding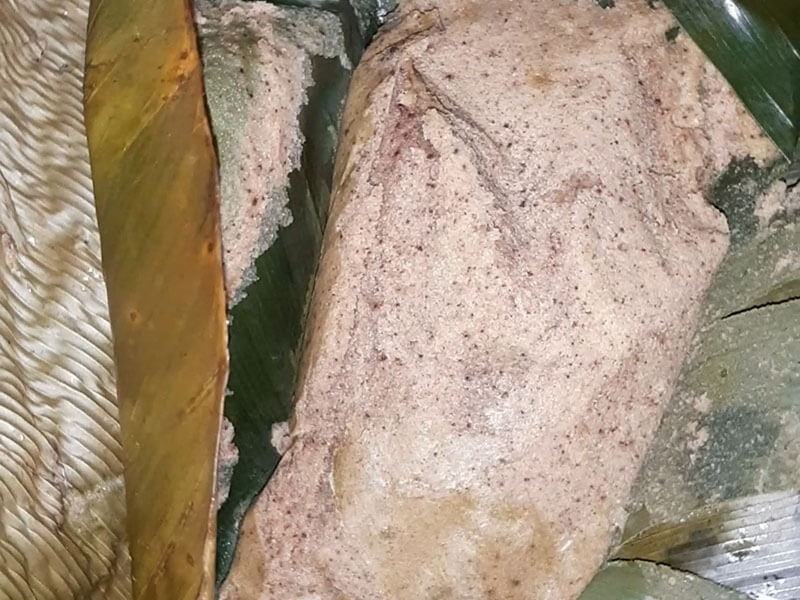 Ghana is a country that loves peas and dishes relating to peas most. You can find many Ghana dishes containing this component, and the food I would like to introduce to you is Tubaani.
The pea type the locals use to cook this dish is black-eyed pea. Cooks will mix them with water to create a paste form. Then, they use Marantaceous herb and Thaumatococcus daniellii leaves to wrap the dough.
These leaves have an attractive scent and sweet taste to level up the overall flavor. Tubaani is a popular dish in Zongo communities living in Ghana and some Northern areas. The locals usually enjoy it with stir-fried pepper and onion or gravy.
22. Wasawasa – Local Yam Flour Meal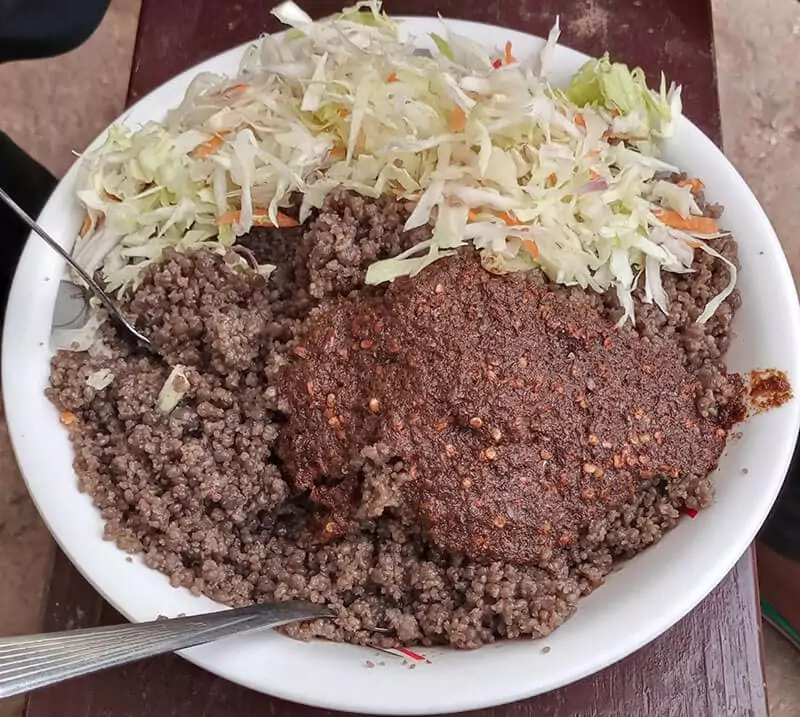 Yam is the most versatile food as people can use it to create numerous unique and delicious dishes , and one of them is Wasawasa. As its name implies, people process this food from yam peeling flour, ground pepper, salt, and water, then steam the mixture.
After the cooking process, it usually turns into black, which can make some foreigners afraid to try it, yet I believe you will be addicted to its taste. People living in the Northern regions of Ghana and several West African nations love this food so much.
The side dishes to serve with Wasawasa are pretty diverse. You can order spicy sauces, a combination of fried fish, veggies, raw groundnut oil or shea butter oil, and onions. The choices depend on your preferences.
23. Fufu – Fermented Cassava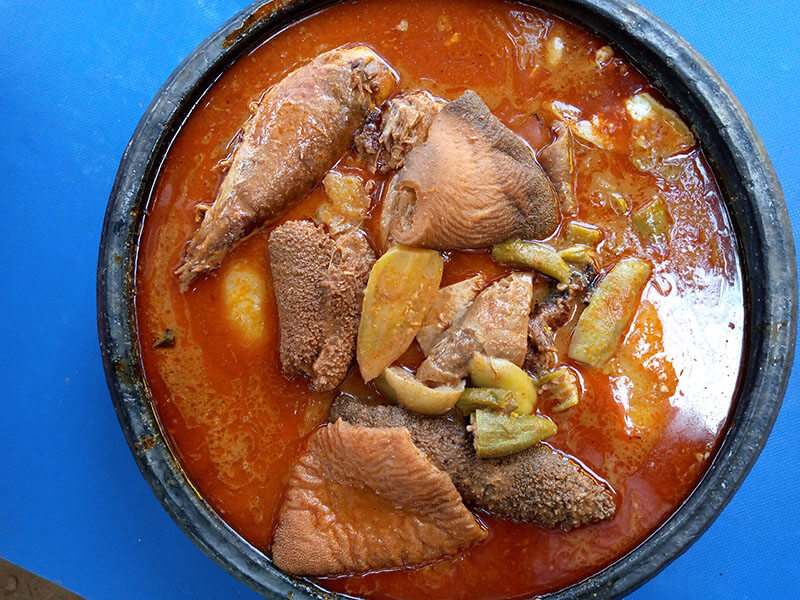 Fufu is a well-liked dish in Central and Western African countries, although its hometown is in Ghana. Therefore, don't be surprised when seeing it in Nigeria, Liberia, and more. Fufu is prepared from fermented cassava, and it has an especially sour flavor.
It appeared in the 16th century thanks to the Portuguese traders from Brazil. The first name was "Fufuo", not "Fufu" like many people call it in the present. Learning how to make Fufu is an essential lesson for young Ghanian women.
They must know how to ferment cassava and shape it into a ball properly. In addition, people also boil green plantain or cocoyam with cassava to have the desired texture.
The locals love the thick texture; when enjoying it with groundnut soup, egusi soup, tomato soup, and others, Fufu will become tender and chewy.
Ghanaian Beverages and Snacks
A savory meal cannot become perfect if it is absent from beverages and snacks. They are national foods that Ghanaians and tourists love. You can save some cents, or you will regret it if you don't taste these recommendations on your trip. Let's choose cleverly.
24. Sobolo – Bissap Drink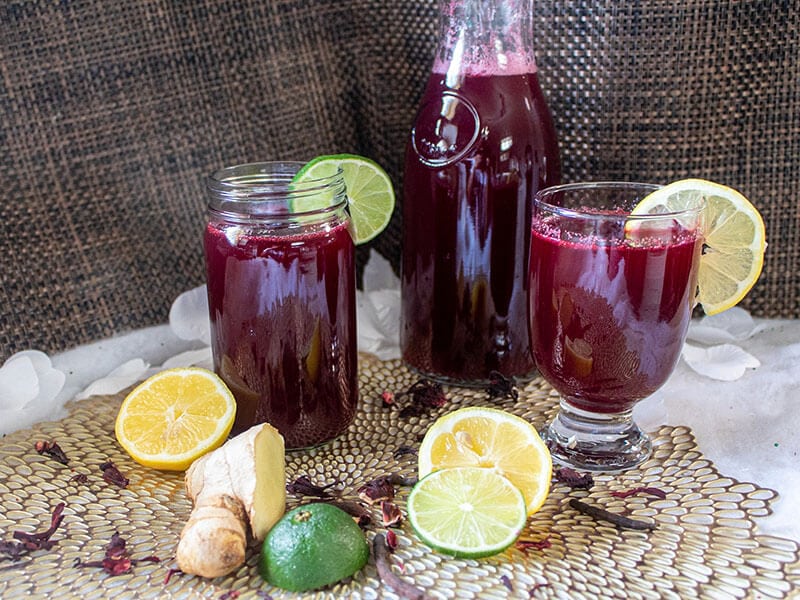 Sobolo is an authentic Ghananian drink, and you can find it under the Hibiscus tea name. Moreover, people in different countries also call it with various names, including "Sorrel" in the Caribbean cuisine or Agua de Jamaica In Mexico.
Although it is considered tea, the West Africans usually drink it when it is cold. Both roselle flowers or leaves can be used to produce this refreshing drink. After soaking it into hot water, the bartenders sweeten it with sugar and let it cold before serving you.
I often ask for adding a little bit of orange essence or pineapple juices and other ingredients to make a twist for this drink. This dark purple-red shade and the grape-and-cranberry juice taste will seduce you right the first sip.
25. Brukina/Burkina – Millet Smoothie
For those who want to have a quick breakfast, I will introduce you to Brukina or Burkina drinks. This is prepared from ground millet and pasteurized milk to create a full-nutritious millet smoothie.
Otherwise, opting for a beverage is not a bad idea. The locals living in Northern Ghana are big fans of this beverage, and they usually call it "Deger". Since the climate in Ghana is warm, almost all drinks are served cold, and Brukina is not an exception.
Your money will be spent in the right place as it is a rich source of calcium, magnesium, vitamin B, D, and more. You have to try this drink on your Ghanaian trip!
26. Boflot/Buffloaf – Puff-Puff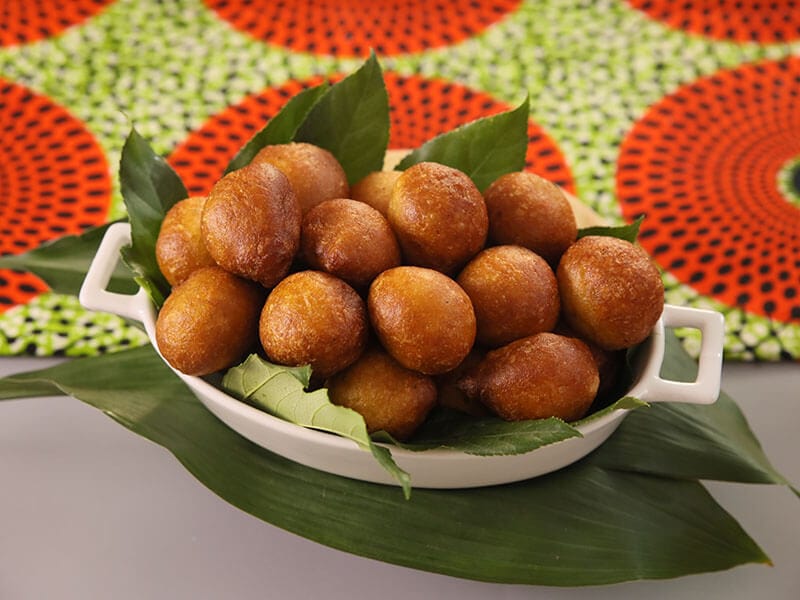 Ghana is a part of West Africa, so the dishes popular in Africa can become common in Ghana, and Boflot is not an exception. It is a traditional African sweet treat made from flour, sugar, yeast, butter, and more.
Sometimes, the locals can use baking powder instead of yeast to create a fluffy texture. You can find it quite similar to French Beignet and Italian Zeppole since these deep-fried balls can be rolled in sugar or a few flavorings such as vanilla, nutmeg, cinnamon, and more.
Besides the Ghanian name, you can realize this treat under different terms in different countries: Legemat, Vetkoek, Amagwinya, and more. In Rwandan gastronomy, it's called Mandazi. 
You can dip this dish into strawberry or raspberry dips. You can even imitate the Cameroonians by tasting it with coffee, beans, or other drinks to have a quick morning meal.
Let's learn how to make Boflot to have a quick Ghanian break at home.
---
Ghanaian – Small Country Yet Diversified Culinary
What do you think about my suggestion? Are you happy with them? I am sure that they are must-try dishes when you place your foot in Ghana. If you have just come back from the Ghanaian trip and you want to suggest other foods for me, don't be shy to comment.
I will be more excited when seeing some words in the chatbox to tell me how much you love this post or you can like and share it. Love you all, and see you in the next post.