Have you ever heard of Togolese foods? They are among the most underrated ones in the world, a sad affair considering their fascinating deliciousness. But it doesn't have to be that way. This post will help you understand what Togo has to offer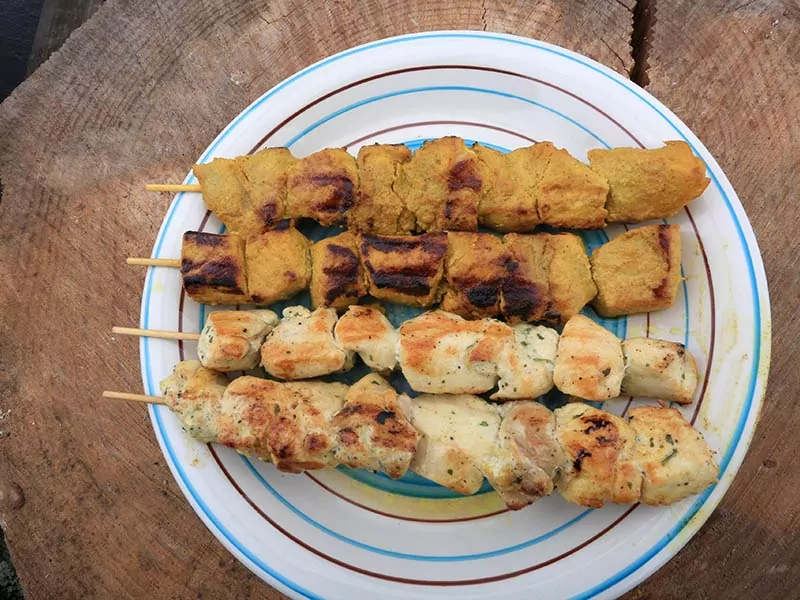 A West African country, Togo derives its dishes from fresh and locally available ingredients. Its colonial history introduced French and German influences to its foods, enriching them even more. The result of that medley is a collection of dishes that will amaze you.
1. Fufu – Doughy Staple Food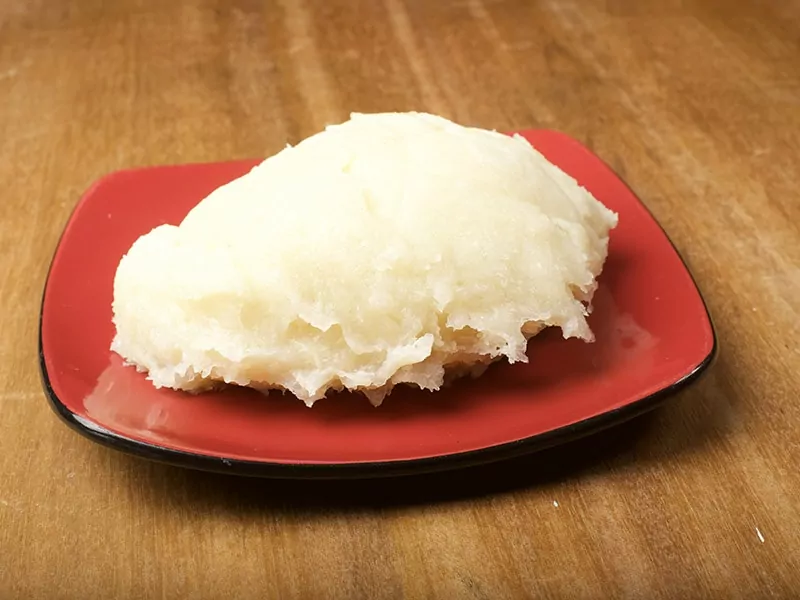 Fufu isn't only popular in Togo but also the heart and soul of West African cuisine. It's an especially beloved dish in Cameroon, Ghana, Liberia, and many more nations.
Almost all mouth-watering Togolese recipes can go nicely with this staple food. Therefore, trying it is a must for those interested in digging deeper into Togolese foods.
There are good reasons to do so since Fufu is brimming with minerals and proteins. What's more, it has no gluten, bad cholesterol, or unhealthy fat whatsoever. Fufu can perfectly function as the building block of a healthy diet.
There are several ways to make this dough-like food, but people usually prepare it by pounding green plantains with cassava tubers. The latter can be substituted with semolina or corn. Add some hot water for consistency, and the slightly sour Fufu is ready to serve.
Join in a tour of a popular Fufu restaurant in Lomé, Togo's capital.
2. Peanut Soup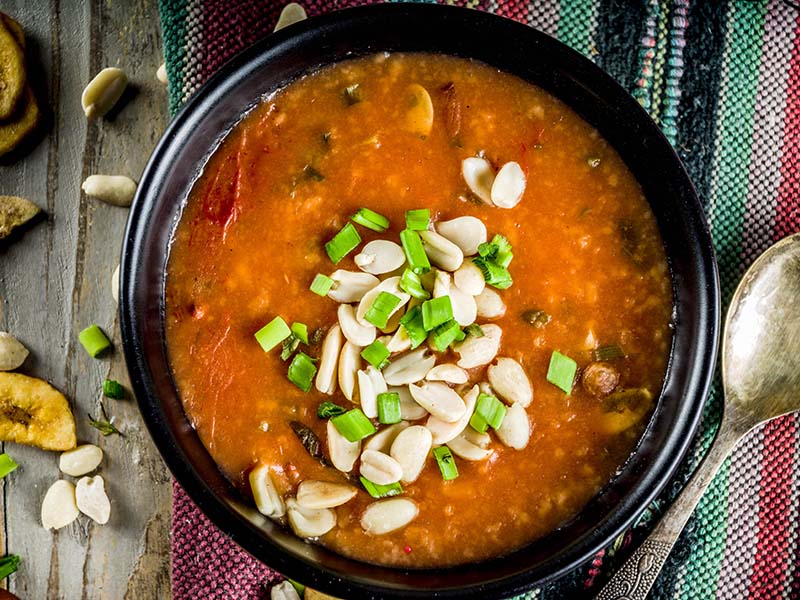 Peanut (or groundnut) is a legume crop of paramount importance in Togo, providing the local people with a healthy source of proteins and fat. One way to make the best of what peanut has to offer is to cook it into this hearty soup.
While peanut soup may sound weird to many parts of the world, it is a mainstay of African cuisine. Besides a finely ground peanut paste, what makes the soup special is the exotic spices from the oldest continent. They are namely bitter leaves and Uziza seeds (African black pepper).
However, a pot of finger-licking peanut soup won't do without fresh veggies such as tomatoes, okra, or eggplants. For the fullest experience, don't forget to serve it with some starchy Fufu.
3. Deku Dessi – Palm Nut Soup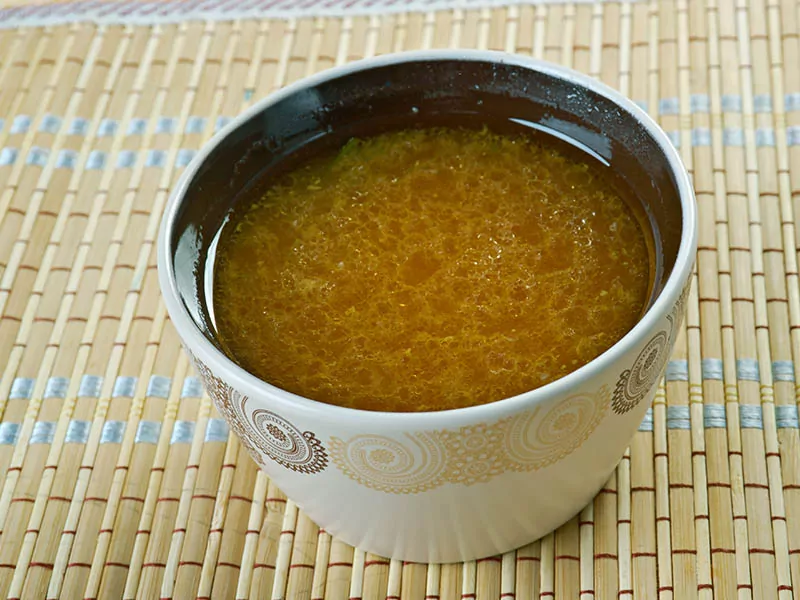 The term "palm nut" actually refers to the fruit of palm trees, which are a common sight in Togo. People elsewhere don't know what to do with it. But Africans, not least the Togolese people, skillfully incorporate the pulp into this specialty.
The making of this soup involves simmering the flesh of palm fruits with fish, leafy greens, and spices. An indispensable ingredient is paprika (dried and ground red peppers). It imparts to the soup a passionate flavor as well as a rosy appearance.
While French is the official language in Togo, locals occasionally converse with each other in indigenous tongues. Therefore, to taste Togolese palm nut soup, you should ask for it by the name Deku Dessi.
4. Akume – Corn Porridge
Corn is the most important food crop in Togo. 40% of the country's arable land is dedicated to cultivating this cereal grain. As a result, plenty of Togolese breakfast dishes revolve around corn. A tasty example of them is the porridge Akume.
It is a ridiculously simple combination of ground corn and fermented cassava. Anyone hungry just needs to heat it in a saucepan and continuously stir until the mixture gets firm. With an additional pinch of salt, they can wolf down the dish to quickly recharge their energy.
5. Ablo – Steamed Rice Cake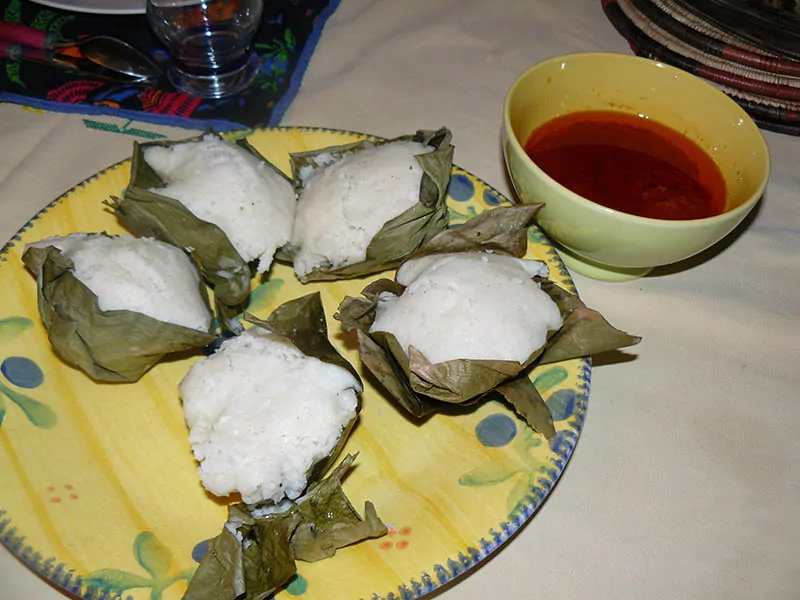 Ablo represents another way to turn cornmeal into delicious dishes. It usually plays the same role as Fufu, a side dish to go with grilled meat, stews, soups, and so on. But Ablo served alone with spicy chili sauces or tomato sauces is also an affordable meal for many people.
The Togolese people prepare Ablo by boiling cornmeal and rice flour in water before adding dry yeast to the mix. Next comes the leavening process, which takes a lot of time, but it will help the cakes become soft and moist.
When the dough starts to rise, divide it into small molds or bowls and put them in the steamer. After 30 minutes or so, white and firm Ablo will be ready to be eaten.
6. Brochette – Skewered Meat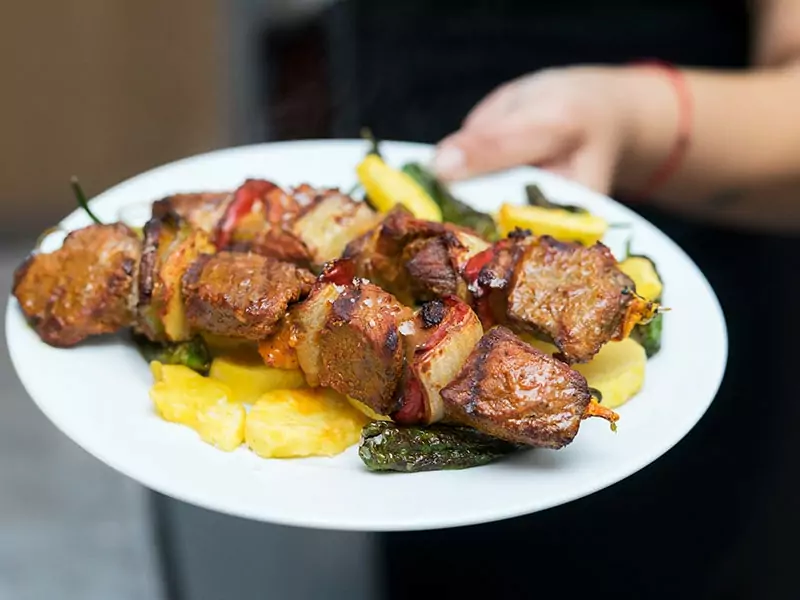 Togolese people have a soft spot for grilled dishes. A trip to any lively market or restaurant will present you with many choices to enjoy smoky, juicy meat. A word to the wise: save your time by going directly for the kebab-like Brochette.
Despite its immense popularity in this West African country, Brochette isn't an exclusive Togolese dish. For example, it's also a well-loved dish in Gabon and Morocco.
It is a dish of skewered and roasted meat that you can effortlessly find everywhere. Since Togo has a sizable Muslim population, pork isn't a common ingredient. But grilled mutton, goat, or beef paired with roasted onions and spicy chili sauce are always within your reach.
7. Gboma Dessi – Beef and Spinach Stew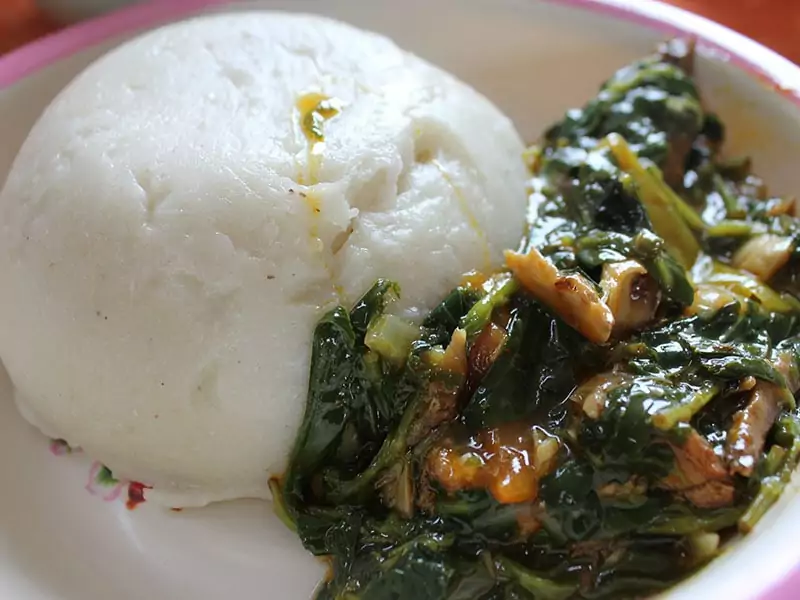 A lot of local restaurants or roadside stalls can offer you this yummy Togolese lunch food. There is nothing fancy about run-of-the-mill beef stew, but Gboma Dessi is luckily nothing like that.
This extraordinary dish starts with a very normal form of preparation, with diced beef stewed with many vegetables and spices. But that is the very thing that creates the magic of Gboma Dessi. The use of potent spices and robust spinach greatly improves the succulent, tender beef.
The stew represents an effective way to regard eating greens as a joy, not a struggle. Each spoonful of its flavorsome broth contains both meat and vegetables, proteins and fiber, scrumptiousness and healthiness.
8. Jollof Rice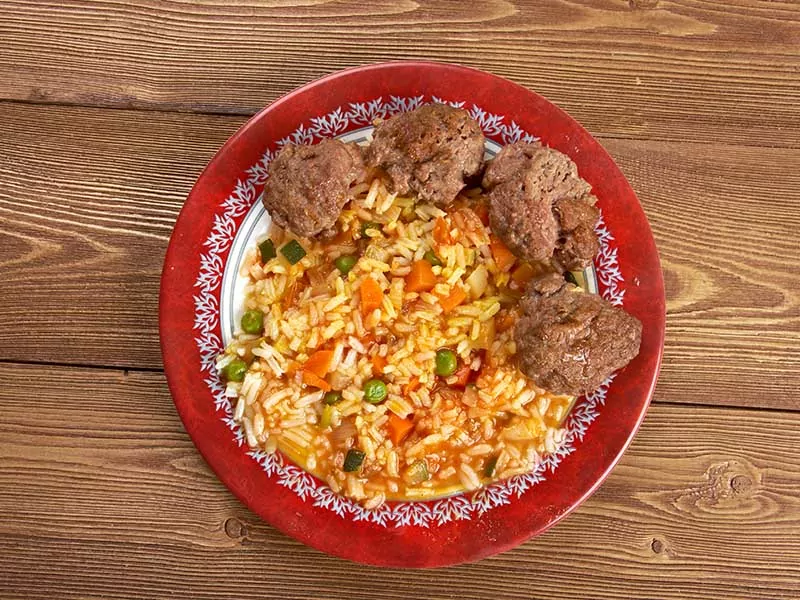 From West Africa to the Caribbean, this one-pot dish is everyone's favorite. Its creation dates back to the 14th century Jolof (or Wolof) Empire, which was once an African force to be reckoned with. As African people moved to other places in the world, so did Jollof rice.
As a shared culinary delight of the region, Jollof rice is prevalent in many countries, not just in Togo. It's among the most beloved dishes in Ghana, Liberia, Nigeria, and more.
However, it is still a cornerstone of Togolese cuisine, a must-try dish that holds the key to understanding this beautiful West African country.
The Togolese version includes aromatic rice, meat/fish, veggies, and all kinds of spices they can gather. If you're wondering about its striking red and orange colors, it's pureed tomatoes. No one can deny that Jollof Rice is both visually and deliciously appealing.
9. Koklo Meme – Grilled Chicken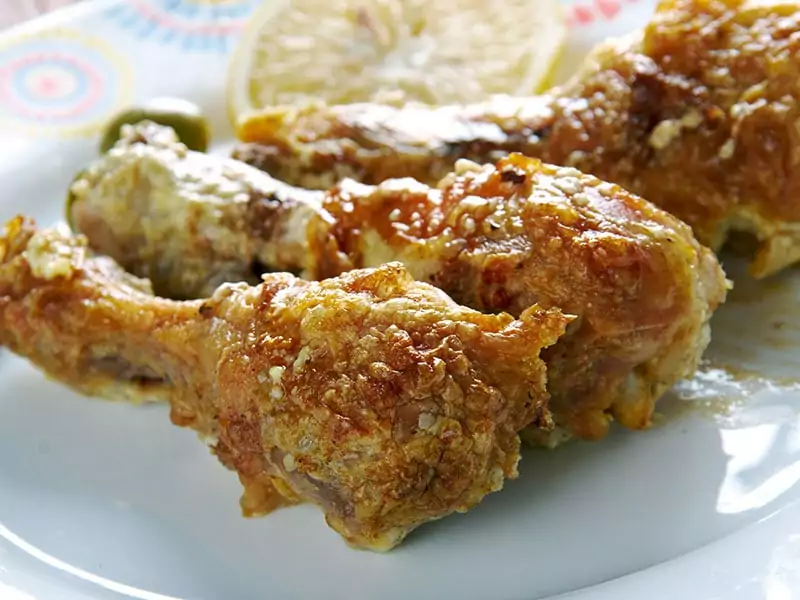 Making grilled chicken is no big deal, right? Correct, but making delicious grilled chicken isn't an achievement that everybody can claim. Fortunately, the Togolese people can because they have a particularly appetizing version called Koklo Meme.
Chicken legs are the preferred ingredients for this dish because they tend to keep enough moisture. The secret to making Koklo Meme successfully is that when you marinate the chicken pieces with spices, add some palm oil for a fattier flavor along with a unique aroma.
The last step is to roast the chicken legs over medium fire until they take on a golden exterior and give out a smoky, fragrant smell. Complete your Koklo Meme by drizzling spicy chilly sauce over the legs and sink your teeth into them!
10. Riz Sauce D'arachide – Rice with Peanut Sauce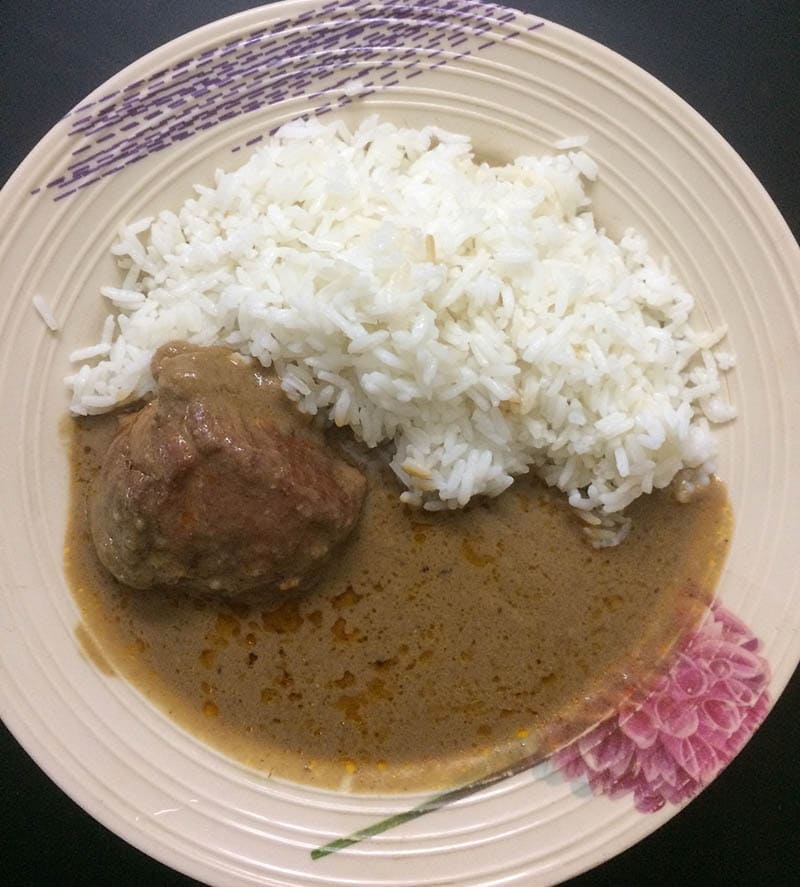 This beloved Togolese dish has a French name, but I'm not sure whether the culinary art of France has anything to do with its creation or not. It probably arose out of the local people's fondness for their staple legume from times long forgotten.
You won't believe how straightforward this recipe is. Riz Sauce D'arachide is all about pounding peanuts into a paste that people mix with oil and spices before pouring over white rice.
Understandably, local inhabitants usually pair it with other foods for a richer fare. It is customary to eat the rice with chicken (du poulet), beef (du boeuf), or fish (du poisson).
11. Yassa – Braised Chicken Dish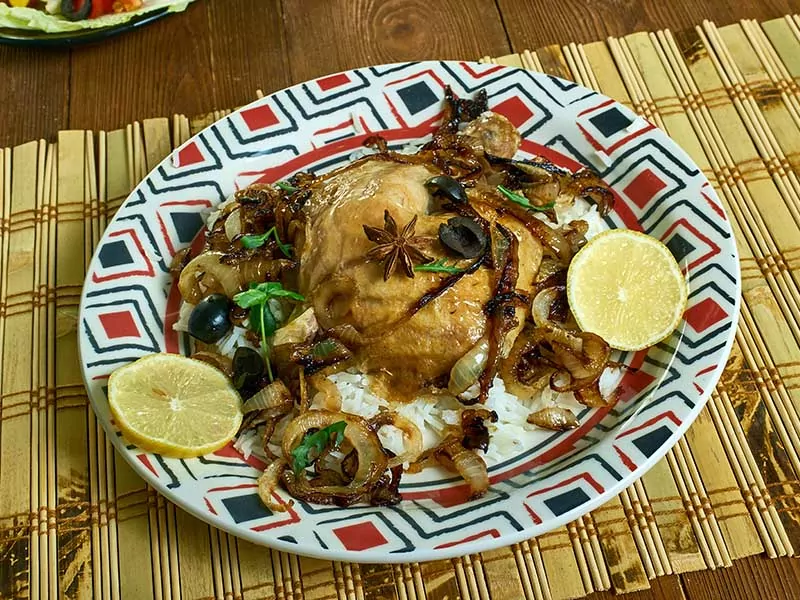 The Casamance region in southern Senegal is the birthplace of this delish Togolese dinner recipe. The details are hazy about exactly how and when it took hold of Togo. But its firm and prestigious status in the country is a certainty.
The first step of cooking Yassa is to douse chicken pieces and onions in a marinade of extreme flavors, the longer the better. There must be acidic lime juice and tongue-burning chili peppers in the mix.
Next, saute the chicken and caramelize the onions separately before cooking everything slowly in a pot. Yassa is ready when the chicken is so tender that you can remove it from the bone with merely your tongue, and the onions lose their pungency to showcase their inherent sweetness.
12. Akara – Black-Eyed Pea Fritters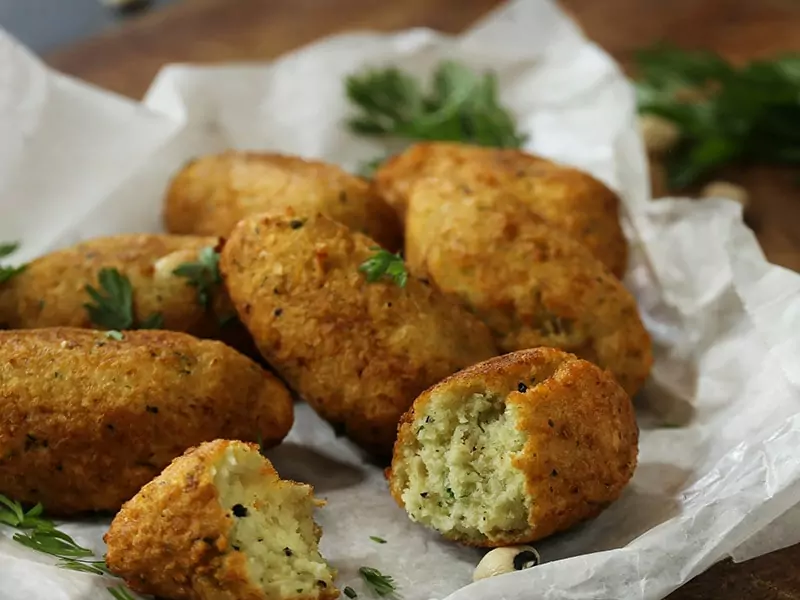 Probably second only to corn in terms of popularity, the black-eyed pea is a vital legume crop to many Togolese families. It provides local people with calories and nutrients, not to mention tons of joy in the form of the superb snack Akara.
How can this popular street food from Latin America be a Togolese snack? Actually, Akara is probably a creation in Nigerian cuisine from the Yoruba people. They used to cook it to celebrate victories against their enemies and to mourn the passing of the elderly.
It somehow achieved considerable popularity in West Africa. As enslaved black people arrived in the New World, the snack took root there, too. Today, it is strongly associated with Brazil and many Caribbean countries.
Anyway, Akara is a spherical spice-packed snack made from black-eyed peas. Some recipes introduce various ingredients, such as cashews, tomatoes, or shrimps for non-vegetarians. People deep-fry those fritters in palm oil, hence their distinct bronze color.
13. Akpan – Fermented Corn Yogurt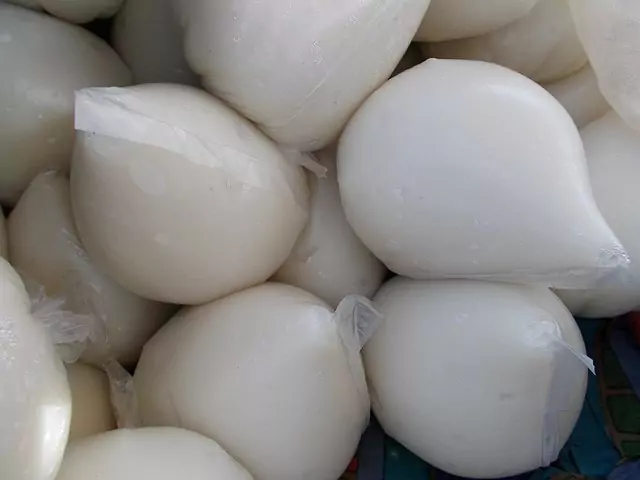 The list of inviting Togolese desserts is incomplete without this tangy treat. Some eco-conscious people may grimace at the fact that it is usually packaged in plastic bags. But the scrumptiousness of Akpan is beyond reproach.
The two principal ingredients for this traditional African sweet treat are corn kernel-based yogurt and condensed milk. The probiotic food is bagged and iced before serving. You can open the wrapping or just bite it off, drink the yogurt, and feel the cool goodness coursing through your veins.
Akpan is also a popular delight in neighboring Benin, where people call it Akassa. In summer, it is your best line of defense against the sweltering African heat.
Experience how the Togolese people in the city of Atakpame make Akpan here.
14. Djenkoume – Tomato Cornmeal Cakes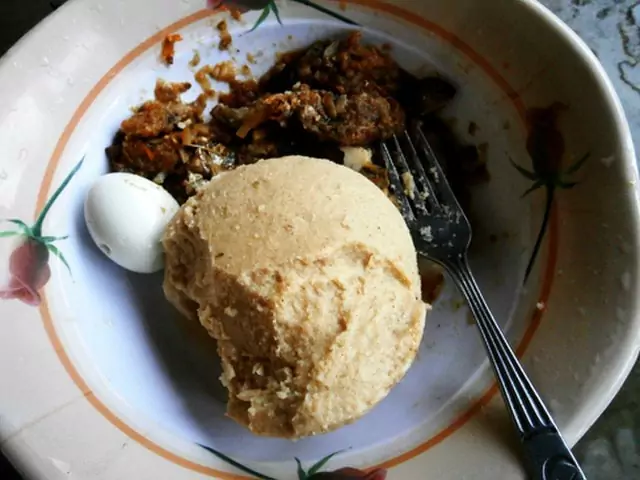 Not only present in the main dishes, but corn also makes its way into the world of Togolese desserts. The combination of the cereal grain and tangy tomatoes, an unlikely ingredient for cakes, results in this flavorful dessert Djenkoume (or Djinkoume).
In addition to cornmeal and tomato paste, the cake also includes coconut milk and a lot of spices. Everything is cooked together into a soft, ginger-orange mixture that you can mold into any shape.
When it cools down, your Djenkoume is ready to serve with spicy sauce. You can even enjoy these beautiful cakes with grilled meat/ fish. The tangy taste of tomatoes and nuttiness of corn will create a feast for your taste buds.
15. Jus De Bissap – Roselle Juice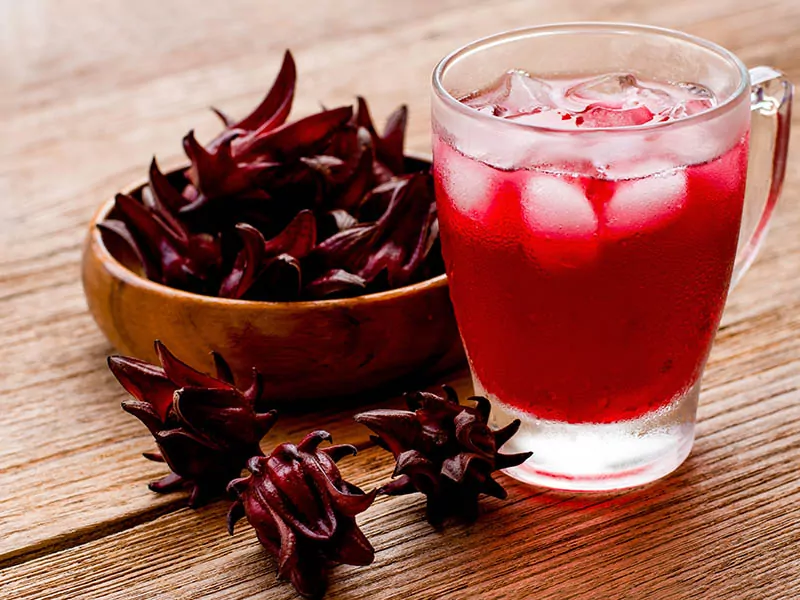 Here is a crash course in African plants. The continent, especially its western region, is home to roselle, a fragrant flowering plant. Its dried cranberry-tasting petals can be infused with sugar water to make a delicious drink.
Actually, it is more like an infusion, but the difference between the two is slight enough to be ignored. A common name for the drink is hibiscus tea, while its fancier French name is Jus de Bissap.
While it is arguably Senegal's national drink, the juice is widespread in Togo. There is nothing more enjoyable than serving Jus de Bissap with mint leaves and ice for a quick escape from the year-round oppressive weather of Togo.
Thanks to the spread of the Roselle plant, you can find dark red-purple juice in many places around the world. It is versatile and can go with many flavorings, vanilla, orange essence, or apple juice.
16. Sodabe – Palm Wine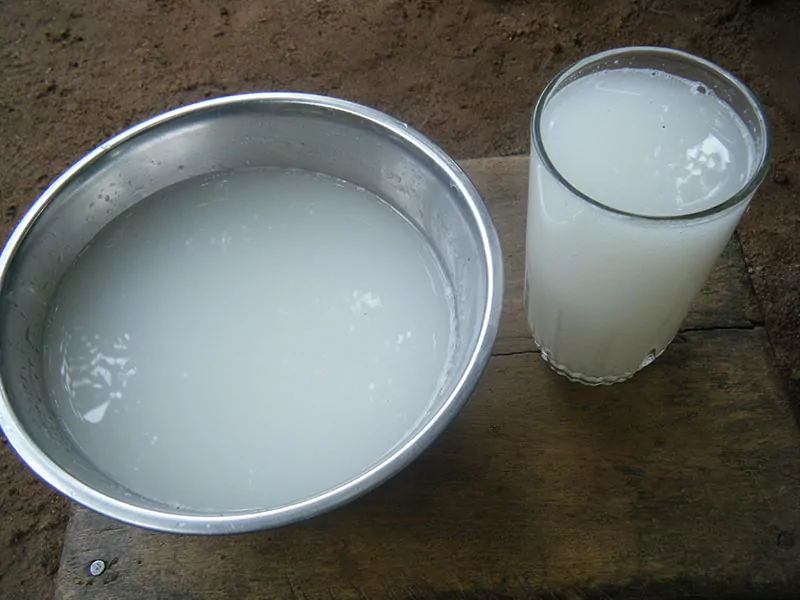 Palm wine is an exotic delicacy from tropical regions. In case you're asking yourself whether it's really wine, the answer is usually yes because its alcoholic content can vary considerably from a mere 4% up to 40%. The Togolese version is well-known under the name of Sodabe.
It is made from the milky-white sugar-containing sap of various kinds of palm trees. In Togo, they are usually wild date palms or African oil palms, although coconut trees are a viable option, too. After tapping the sap, people ferment it with the aid of natural yeast found in the air.
Two hours of fermentation is sufficient for Sodabe to become a sweet, aromatic, mildly intoxicating liquor. The longer it is fermented, the more alcohol and sourness it will get. The wine can undergo distillation to be more alcoholic in a shorter amount of time.
This opaque-looking, syrupy liquor is undoubtedly a very exciting drink. It is nothing like your ordinary beer or champagne. Rounding your meal with it for a Togolese experience is an excellent idea.
Togolese Customs And Eating Etiquette
Overview:

Located in West Africa, Togo boasts a diverse culture influenced by various ethnic groups.
Known for its vibrant festivals, traditional dances, and colorful markets.

Eating Habits:

Meals often begin with a ritual washing of hands, especially if eating with hands.
Traditional dishes include 'fufu' (starchy side) and sauces with fish or meat.

Dining Etiquette:

Before starting a meal, it's common to say a prayer or give thanks.
It's polite to wait until the eldest person starts eating.
Guests are often served first and might be given the best pieces of meat or fish.
If you're full, it's polite to leave a little food on your plate to show the host has provided plentifully.

Communal Eating:

Sharing food from a communal bowl symbolizes unity and family.
It's common for the meat or fish to be in the center of the bowl with the sauce surrounding it, and everyone gets a portion.

Beverages:

'Tchoukoutou' and 'Palm Wine' are traditional alcoholic beverages often served during gatherings.
It's customary to pour a little on the ground first as an offering to the ancestors before drinking.

Gifts and Gratitude:

If invited to a Togolese home, it's a kind gesture to bring a small gift, such as fruit or bread.
Always show appreciation for the meal and the host's hospitality before departing.
A Toast To The Fine Food Of Togo
A country of only 8 million people like Togo doesn't look poised to be a treasure trove of culinary delights. But if you dare penetrate the heart and soul of any cuisine, you will find things worth loving. This rings true even more with African cuisine.
Togolese foods are healthy and delicious to those who know where to look. It will do you a great deal of good to be one of them. The thrilling Togolese dishes full of vim and vigor are waiting for a place in your menu as well as imagination.
If you like this post, you can encourage me by sharing it with other people or hitting the like button. Even better, you can tell everybody your thoughts and experiences in the comment section. Have a good day and see you soon!