Palestinian foods refer to a delectable collection of vivid and flavorful meals with various culinary characteristics of the Middle Eastern and Mediterranean regions.
Nonetheless, Palestinian cuisine has a distinct profile that sets it apart from surrounding areas and around the world.
In Palestine, meals are so much more than fuel and nourishment. Palestinian culture is centered on food. From daily life to holidays, food pervades all facets. It is about spending quality time with family and creating events that stand out from the norm.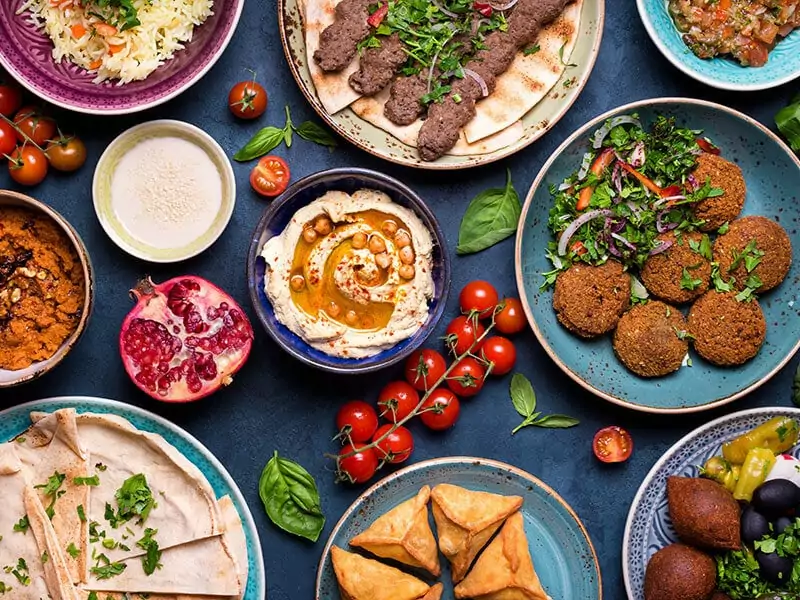 Besides iconic dishes like hummus and falafel, anyone who has visited Palestine once can attest that there is so much more to explore in this diversified cuisine. You can taste amazing rice and meat dishes or enjoy Palestinian famous sweets and pastries.
After reading this article, food will definitely be your main reason to travel to Palestine. Without further ado, let me walk you through the following list of Palestinian dishes that will surely knock your socks off!
1. Freekeh – Roasted Green Wheat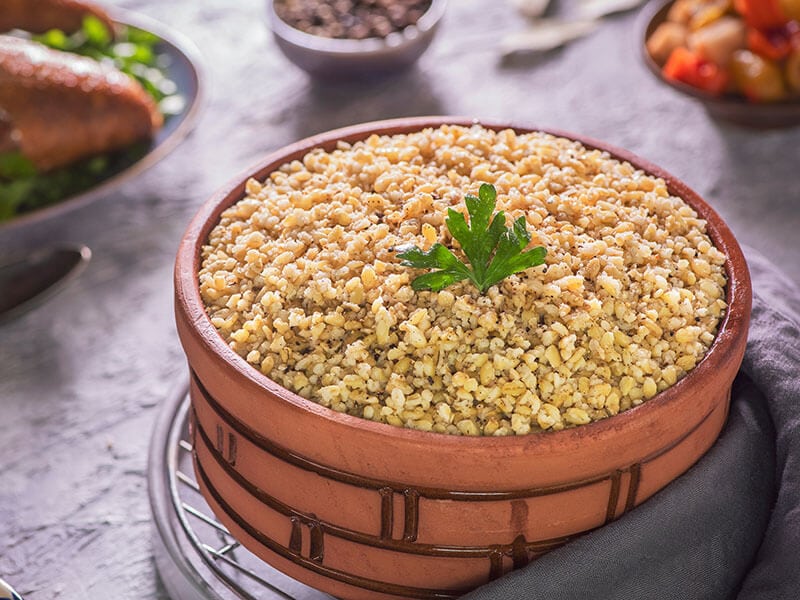 Finding a staple meat dish in Palestine? Look no further than Freekeh – green durum wheat grains with distinct smoky flavors. Although this recipe belongs to the meat dish category, Freekeh is the star here.
Besides its iconic smokey and savory taste, Freekeh is also nutrient-dense, similar to bulgur and other whole grains. It has more protein than brown rice and contains fewer calories and carbohydrates than quinoa.
It is also a terrific lower-glycemic alternative for individuals who want to keep an eye on their blood sugar levels. However, Freekeh is not gluten-free like other grains, such as quinoa and wheat berries.
If you wish to enjoy Freekeh like a true local Palestinian, you can apply the mahshi method by combining the grains with herbs and putting them inside aubergines and vine leaves.
Palestinians enjoy Freekeh with chicken. However, if you are after a vegan option, feel free to eliminate the chicken and let Freekeh steal the spotlight!
2. Musakhan – Sumac Chicken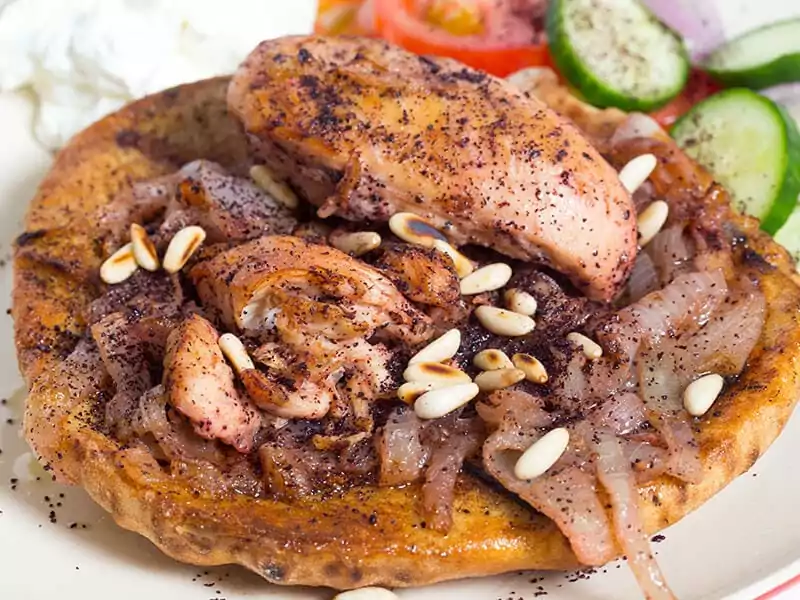 If you want to cook or dine like a true local, you must not miss out on Musakhan – a mouthwatering combination of olive oil, sumac, caramelized onions, and freshly roasted chicken over flatbread (taboon).
Although the recipe differs from one family to another, the chicken is usually poached before being roasted separately. Then, place some almonds or pine nuts on top for extra crunchiness.
Nowadays, people often serve this national dish as a wrap, a pizza, or as a lasagna.
3. Shish Barak – Lamb Dumplings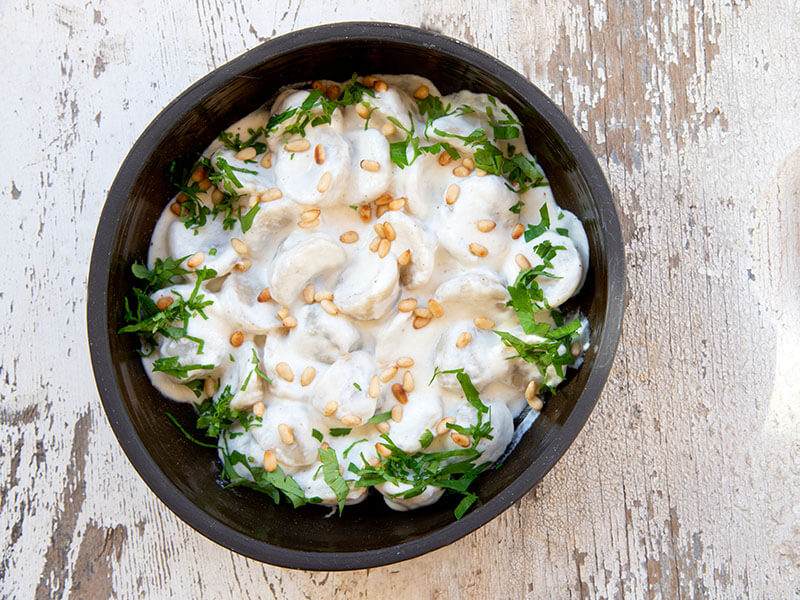 These handmade Middle Eastern lamb dumplings are worth dying for! Indeed. Shish Barak is the ultimate comfort recipe of Arabic and Palestinian food.
These meat-filled dumplings cooked in a yogurt-based sauce make a brilliant dinner idea. In addition, Shish Barak freezes quite nicely as well. You can prepare two batches of them and freeze one. This way, you will always have a simple supper to go back to.
However, be careful in seasoning your fillings. In my opinion, it works best with modest spices like cumin, cilantro, and shatta (chili paste). These options allow your meat to blend harmoniously and not overshadow the yogurt sauce.
4. Qidreh – Chickpeas Rice and Lamb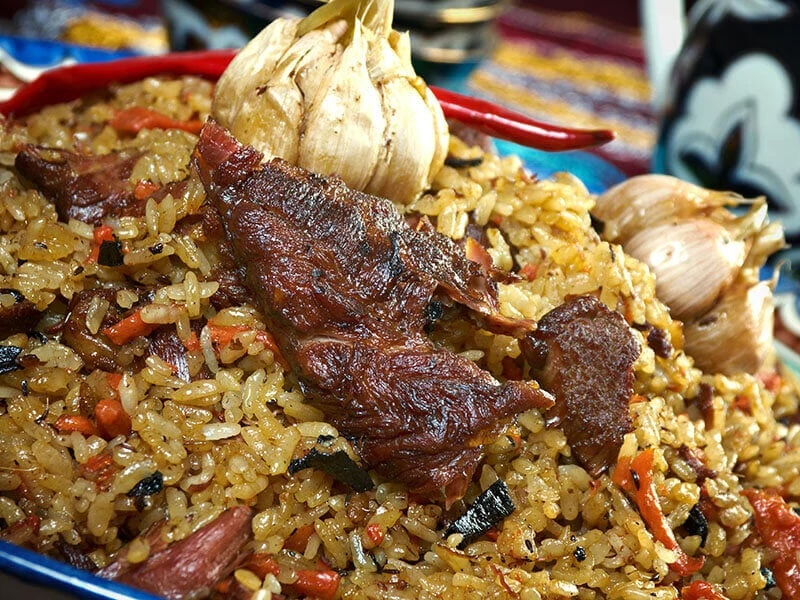 One Palestinian meat dish for your must-try list is Qidreh – a traditional dish from Hebron. In case you don't know, Hebron is the second holiest city in Palestine, just after Jerusalem.
Qidreh comprises meat (typically lamb and chicken) cooked with chickpeas and rice. What makes Qidreh unique is its flavorful and spicy broth brimming with condiments like cumin, allspice, and turmeric.
Traditionally, people prepare Qidreh in a large copper or brass pot and cook in a communal wood-fired oven. This cooking process gives Qidreh a unique taste.
Palestinians love having Qidreh at social gatherings of friends and family. It is the mainstay throughout the holidays, such as Ramdan and Eid, as well as in the winter to warm you up with its hearty taste profile.
Serve the dish with a cool Arabic salad and plain yogurt as a side for extra enjoyment.
5. Maqluba – Upside-Down Chicken and Rice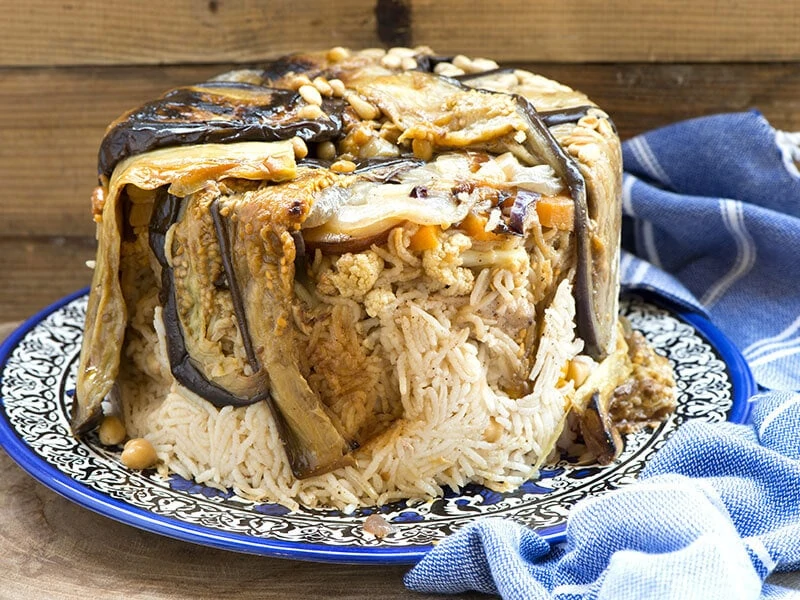 Maqluba is one of the most impressive dishes to enjoy when visiting Palestine. Its name literally means "upside-down", which refers to how local people serve the dish. Besides Palestine, it's also a unique dish of Syria, Lebanon, Jordan, and Iraq.
This ideal Palestinian lunch option consists of rice and veggies (typically potatoes, tomatoes, cauliflower), spices, and meat such as lamb or chicken. All components are placed in a copper pot with the meat at the bottom, followed by the veggies and rice.
Here comes the best part. Local Palestinians will turn the copper pot upside down, giving rise to the dish's name "maqluba".
A nice tip is to enjoy maqluba with a cucumber and tomato salad and yogurt on the side. You will fall in love with the soft simmered meat and the flavorful rice. Such a combination is always fail-proof!
6. Mansaf – Lamb Cooked in Yogurt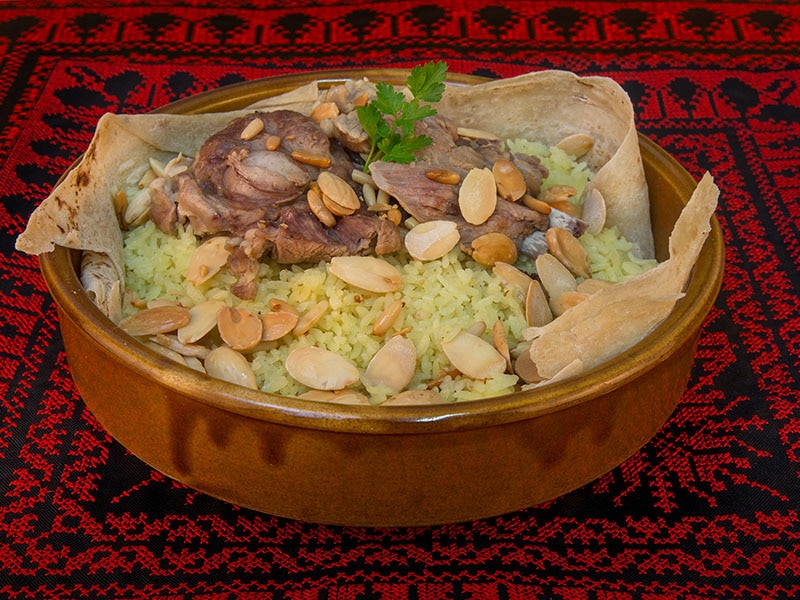 Although Mansaf is Jordan's national dish, its popularity has grown significantly in Palestine. When you see Palestinians standing around a table with the left hand behind their backs, you can have a wild guess that they are enjoying Mansaf.
Meat (mainly lamb or camel) and meat broth or ghee served with bread, are believed to have been the original ingredients for Mansaf. After its popularization in Jordan in the 1920s, white rice was introduced to the dish.
This classic dish features rice and roasted lamb slices fermented in yogurt. At the bottom, you can find shredded shark – a thin bread similar to tortillas, to soak up the sauce. Almonds and pine nuts are sprinkled on top as a final touch.
Its name is derived from the term "huge dish" or "big tray", which signals that the food mainly appears at large gatherings, from weddings to funerals.
7. Maftoul – Couscous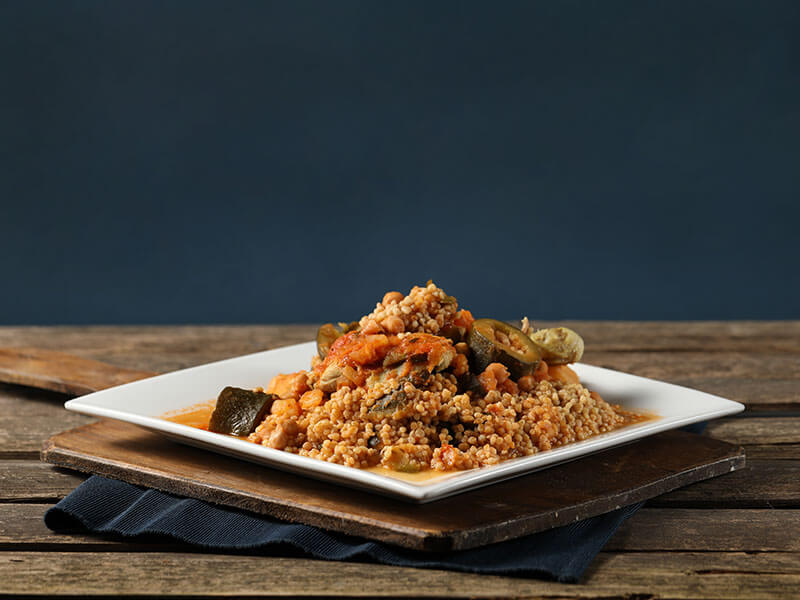 A brilliant Palestinian dish you must try is Maftoul, often known as enormous couscous. Its rich and filling flavor will surely warm your soul on a chilly night.
Local Palestinians, especially rural women, are often the chef behind the making of Maftoul. Normally, they will sauté chopped onions and peppers, then simmer everything in a savory broth. Warm spices are essential to give the meal more depth and richness.
Serving this wheat-based dish is pretty straightforward. The most frequent method is to ladle a savory soup on top of your roasted bone-in chicken parts or falling-apart tender chunks of beef and lamb.
If you wish to make the meal vegetarian, call for a mild tomato broth with whatever vegetables you prefer!
8. Hummus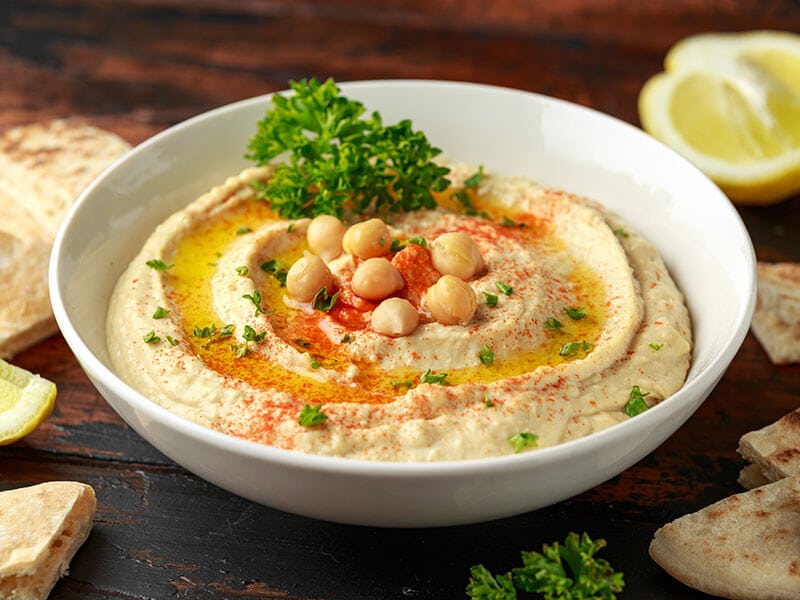 Forget about premade hummus! In Palestine, you can get your hands on an extremely fresh version of this delectable dip. This big hit recipe contains skinless chickpeas dried and simmered with tahini, lemon juice, and garlic.
This simple dip is simple to prepare yet so tasty and nutrient-packed. Not only is it high in fiber and protein, but it also takes less than 10 minutes to put together! You also don't need to worry about whether hummus is vegan-friendly since traditionally-made ones are completely plant-based.
When served, make sure to drizzle with olive oil. Then, you are safe to dip your veggies or flatbreads and enjoy! Its warm and tangy flavor will imprint the image of Palestinian foods deeply into your mind!
Did you know that May 13th is International Hummus Day?
9. Makdous – Stuffed Eggplants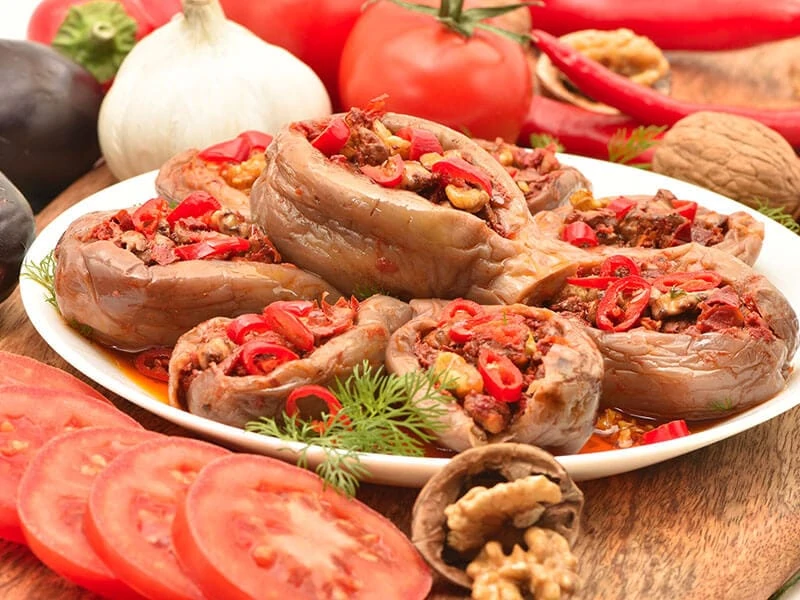 Fancy a vegan Palestinian dish? Why not Makdous or oil-cured eggplants? Traditionally, the dish features tiny baby eggplants filled with a tasty blend of roasted red peppers, garlic, walnuts and marinated in olive oil.
Not only popular in Palestine, but Makdous is also a big hit in the food culture of Iraq and other countries in the Levant.
After making, local people prefer storing these tangy eggplants in a jar. Whenever they want, they can take this premade snack out and enjoy it! Or, they can use these eggplants as the filling for sandwiches and wraps. Such a convenient and versatile dish!
10. Mujadara – Lentils with Bulgur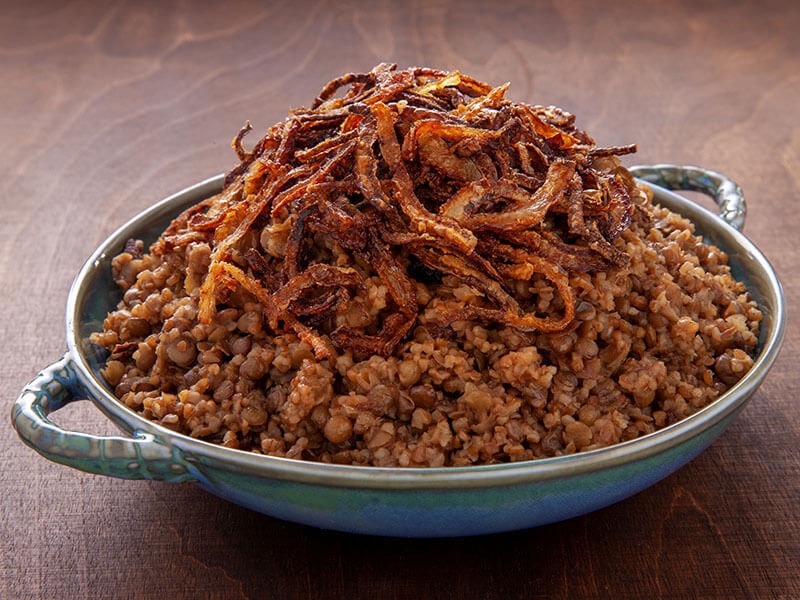 There is an ancient proverb that says, "A hungry man would sell his soul for a meal of mujadara". After trying the dish, I completely agree!
The mixture of lentils, bulgur wheat, and fresh salads is a fail-proof vegan dish you can note on your "Palestinian foods" list. It is one of the healthiest and oldest traditional dishes in the country.
Its popularity spreads across other Eastern Arab nations as well. Depending on where you are, it has a different name. Besides Mujadara, you can hear people calling this recipe under the names of Majadra, Mejadra, Mudardara, etc.
Remember to top your mujadara plate with fried onions. Also, accompany it with plain yogurt and flatbread. Who would say no to such a lovely meal with rice at the bottom, cooked lentils, and onions on top! I know I would not!
11. Falafel – Crispy Chickpeas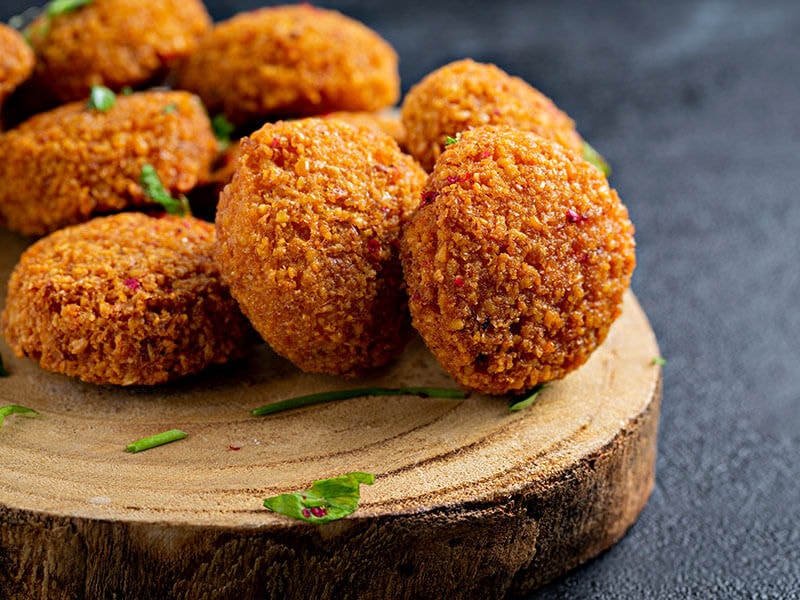 Did I mention Falafel as a Palestinian icon early in the article? This famous dish began as street food for Yemenite immigrants to make a living in the 1950s. Since then, the recipe has grown in popularity and entered various countries like those on the food menu of Israeli and Palestinian.
Typically, you will have pickled veggies dipped in hummus paste and served on pita or flatbread sandwiches. However, a traditional Palestinian Falafel is spicy deep-fried balls of ground chickpeas. Sometimes, people use fava beans to replace chickpeas.
In Palestine, individuals seldom prepare falafel at home. If you want some, you have to acquire freshly-fried Falafel from one of the many eateries accessible in town. Missing out on this amazing street food is a huge loss for your Palestine vacation!
12. Taboon – Flatbreads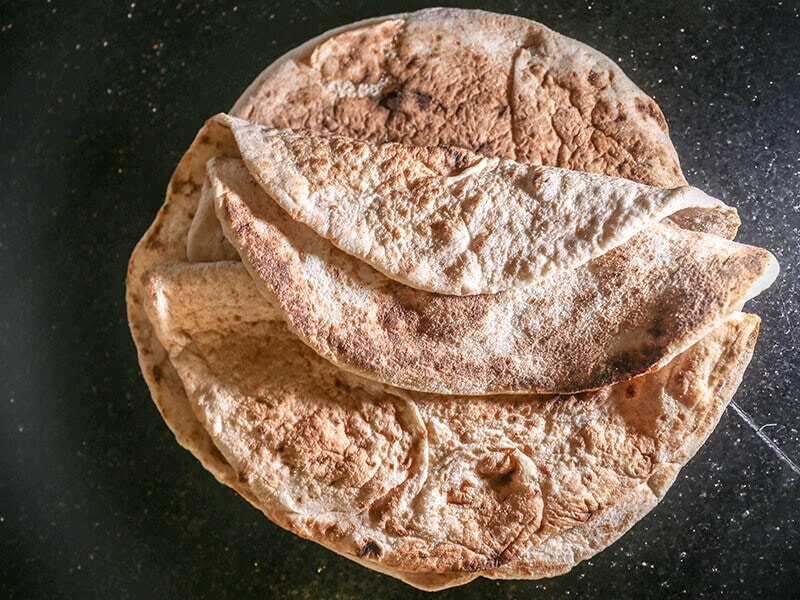 Welcome to a staple of Palestinian cuisine – Taboon. This enormous circular flatbread baked in a unique clay oven offers a crunchy and chewy texture, as well as airy pockmarks all over its surface.
Taboon has various variations, depending on the fillings. Within the Palestine border, spinach and onion mixture, raisins and pine nuts, cheese curds, and onion mixtures are all common fillings for Taboon.
Besides the Palestinian version, Israeli foods also contain a popular flatbread called Laffa. In Jerusalem, people call Taboon an Ashtanur.
Enjoy Taboon like a true local by dipping it in hummus or smothering it with caramelized onions for Masakhan. You can use it for wrapping and filling like pita bread.
As delectable as it is, freshly-baked taboon can only last two days even if kept in an airtight container.
A popular flatbread in Israel called Laffa, Iraqi pita, or Ashtanur in Jerusalem is baked in a tannur or taboon. It's widely available in bakeries and food stands, where it's typically used to wrap shawarma or other foods.
13. Knafeh – Sweet Cheese Pastries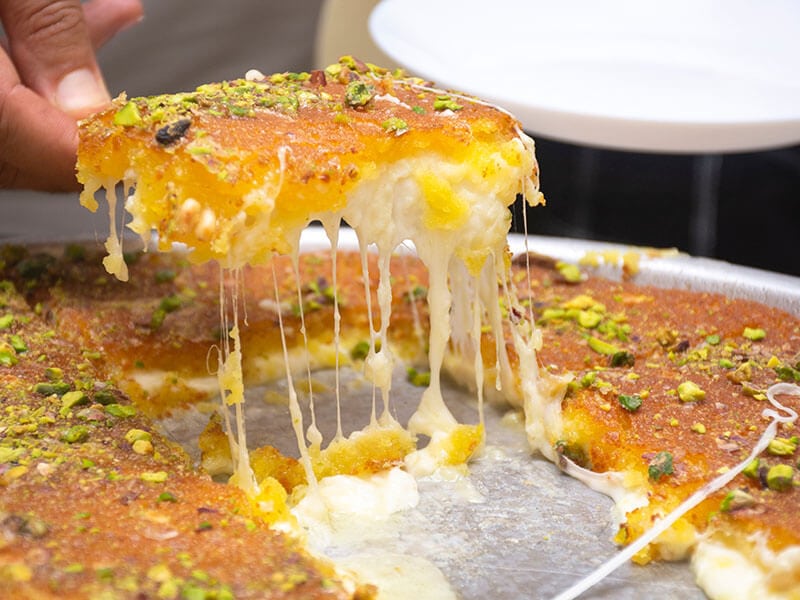 Here comes a traditional Palestinian Dessert composed of semolina dough with a butter filling and mild white cheese. What makes Knafeh stand out from other pastry options is its caramelized layer of honey syrup.
Originated in Nablus, this delicacy becomes more elegant when you top it with pistachios and serve everything warm. When combined, you can taste the ideal blend of rich and sweet, soft and crunchy in each bite.
Besides Palestine, Knafeh is also a popular dessert in Libya, Egypt, Syria, and other countries in the Middle East, the Balkans, and North Africa. In these regions, the dish has different names, such as Kanafeh, Kunafeh, or Konafi.
If you are in Nablus, make sure you check for these large, circular platters of yellow pastry!
14. Qatayef – Folded Pancakes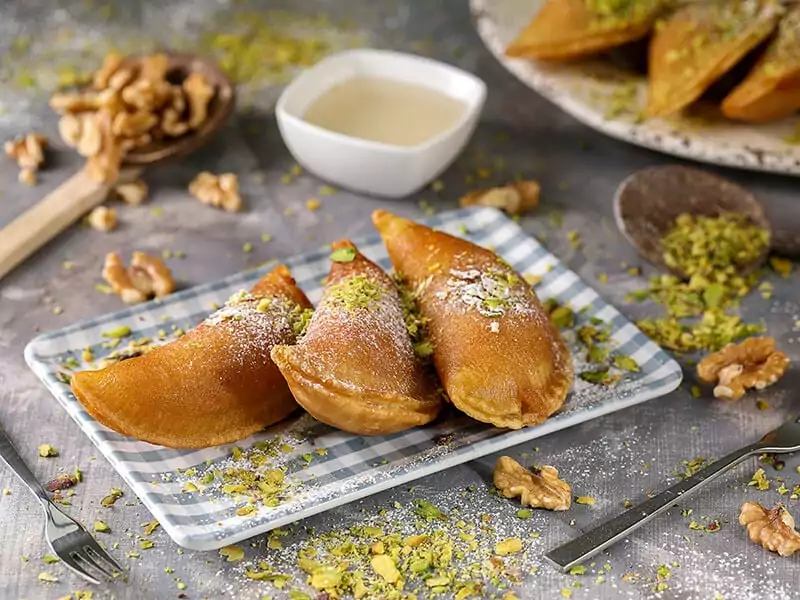 If you ask any Palestinian what cuisine springs to their mind when they hear the term Ramadan, the response will be Qatayef. These little folded pancakes filled with cheese, nuts, spices, and showered in sweet syrup will surely impress your tastebuds.
If you happen to be in Bethlehem during Ramadan, find the Mahsiry Qatayef store on Hebron road, as it offers these legendary pastries. Outside of this holy month, you may get your Qatayef in Nazareth at Deran al-Seraya in the Old City.
There are tons of different ways to prepare Qatayef. You can bake, fry or just enjoy it as it is. You can make it savory or sweet, opened or closed. Every mouthful of Qatayef guarantees to bring sticky sweetness and crispy texture to satisfy your craves.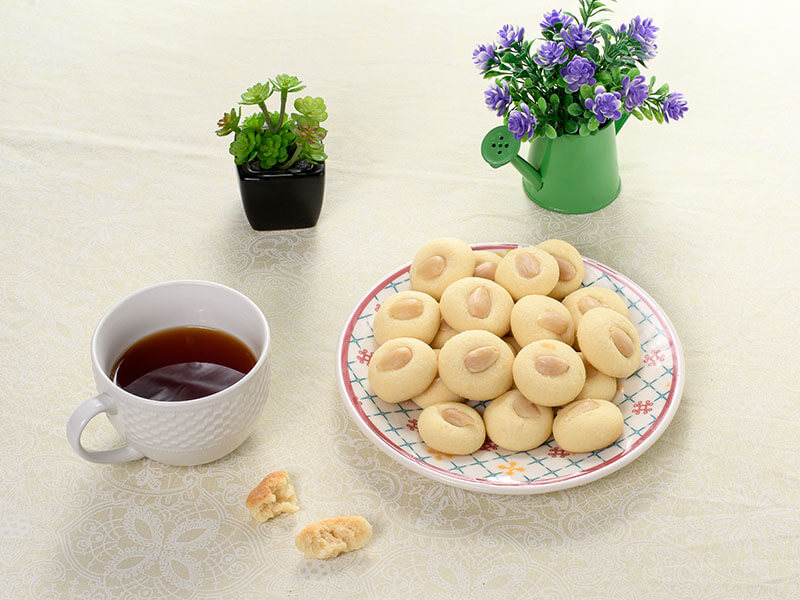 Ghraybeh is a shortbread cookie made with ground almonds. Its creamy texture and buttery flavor are appealing to pastry lovers. Local Palestinians had a special bond with Ghraybeh since their childhood.
In addition, visitors often receive these cookies as a gift during Ramadan and Eid. They are fresh for a long time if properly packed at room temperature. Remember to sprinkle powdered sugar on top to make them appear even more festive!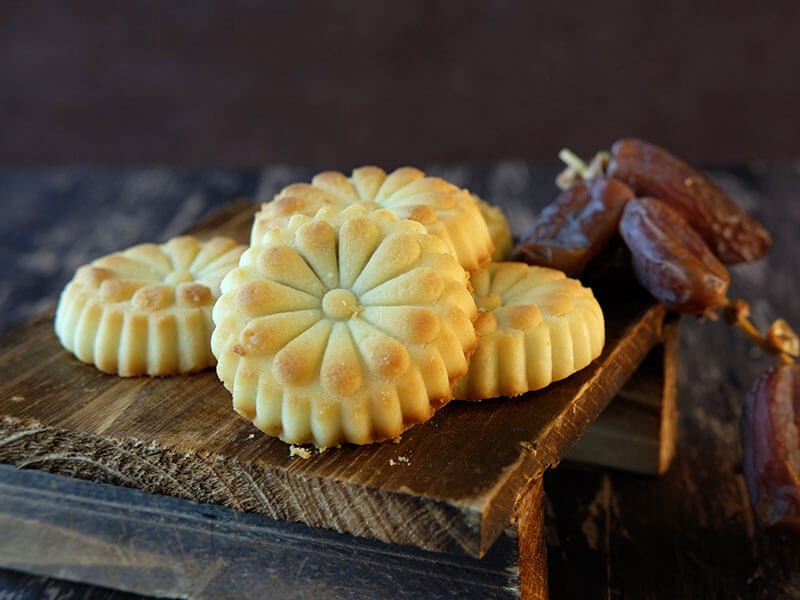 If Ghraybeh is unique for its ground almond ingredient, Ma'amoul cookies are famous for their date filling. Technically, they are flour-based filled butter cookies created from dried fruits like figs, dates, walnuts, or almonds.
These Middle Eastern shortbread pastries have various shapes, from round to crescent, depending on the maker's preference. Local people prefer to hand-decorate these cookies or create them in tabe, which are unique wooden molds.
Have these scrumptious Ma'amoul cookies in your mouth, and you will fall in love with the way they melt. You can rest assured that these Palestinian treats are safe as the natural sweetener of dates has minimal added sugar.
17. Qizha – Black Seed Paste Blends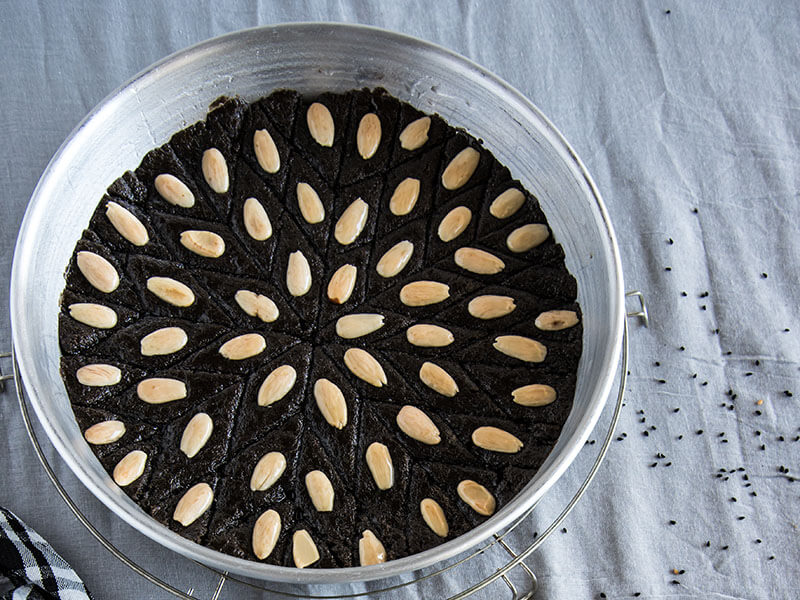 Qizha is indeed the most peculiar food you can try in Palestine. It is a popular black seed paste made from crushed nigella seeds. Besides the main pungent and harsh flavor, you can catch up on hints of sweetness and a minty, oniony aftertaste.
You can combine Qizha with other condiments like tahini or bake it into pies and pastries. Surprisingly, the elderly in Palestine often consume a scoop of this Nablus specialty every day to avoid illness.
18. Za' atar – Spice Blend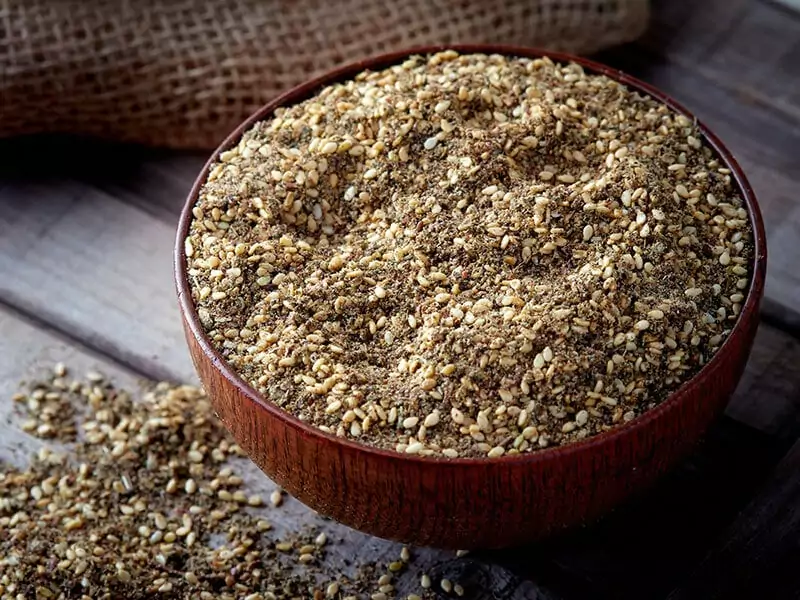 In Palestinian cuisine, za'atar has an extremely wide application. You can find it in flatbreads, pastries, salads, and even beverages and flu cures. Za'atar is a combination of various spices. It is also the name of wild thyme.
Thanks to the high antioxidant contents, the herbs in Za'atar can keep your body active and your mind alert. It is a tradition for Palestinian children to eat a Za'atar sandwich before a test for better concentration.
19. Dukkah – Toasted Nutty Spices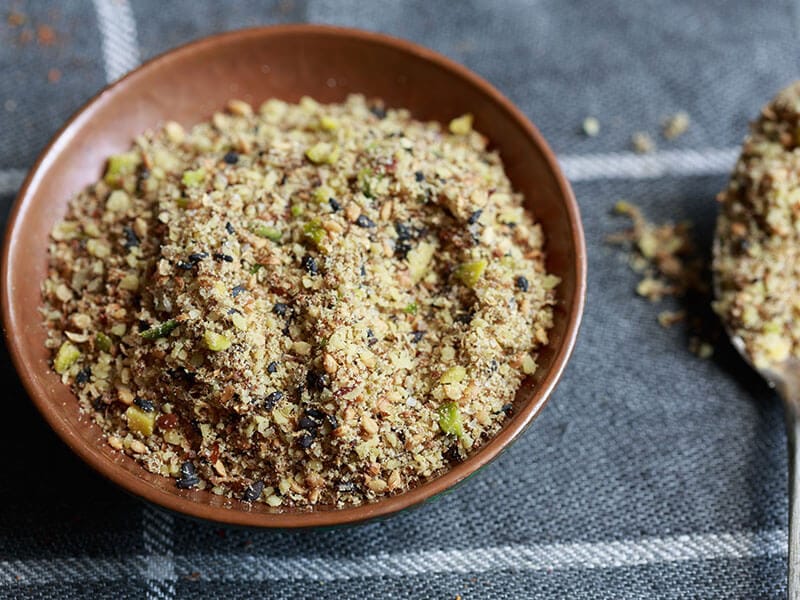 Another lovely Palestinian condiment you can use to season crackers, croutons, and handmade bread is Dukkah, or Duqqa, Du'a. Its ingredients vary depending on where you are. In Palestine, Dukkah has a base of wheat berries and legumes.
Premade variants of Dukkah are available in paper cones at many spice markets in Palestine. To consume this famous spice, dip your bread in olive oil first and then with dukkah.
Expect to feel a flavor explosion in your mouth: a fantastic combination of spices, nutty delicious olive oil, and chewy bread.
20. Sumac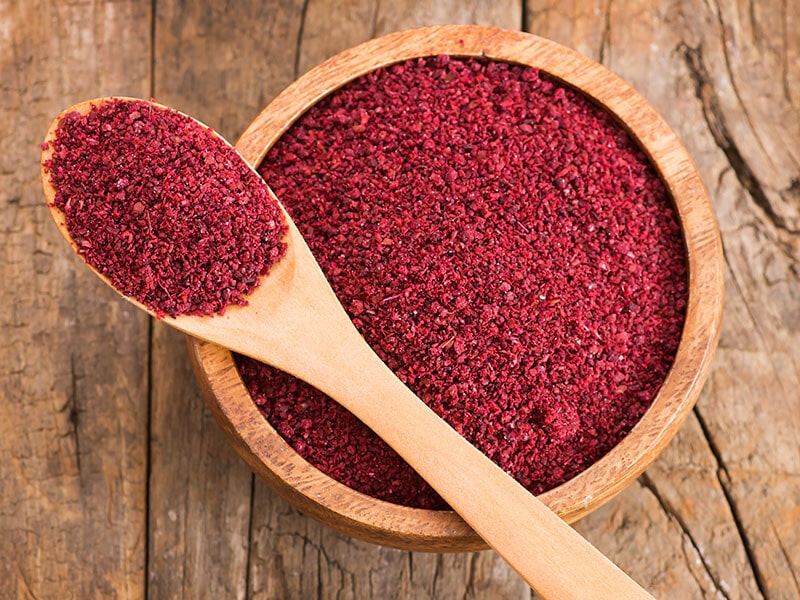 Coming from the hills of Palestine, sumac possesses a tart flavor and is ideal for marinating poultry or beef. If you are a fan of Musakhan, you will sense this natural spice heavily in the dish's taste.
Sumac is a coarse powder derived from mature red berries. Thus, it is tangy, fruity, and astringent in flavor, which is similar to lemon but less sour.
A small tip is to sprinkle sumac over meat dishes shortly before serving for the best flavor effect. You can also place it in a salad to provide a fresh and zesty taste.
---
Explore Various Palestinian Dishes Right Away!
Palestinian foods cover a wide range of cuisines, just like Indian. If the West Bank provides heavier foods such as meats and traditional bread, Gaza offers more diversifying options like fish, spices, and pastries.
Does my list of Palestinian dishes make you rethink what you see or hear about the country on social media? Share your thoughts in the comment section below! And keep following me to explore more amazing Central Asian dishes!
Sahtein!