The allure of Syrian foods lie in their distinctive flavors and tastes, which stem from a fusion of influences from the Middle East, the Levant, and beyond.
For those seeking an authentic culinary experience, it's essential to seek out local-favorite restaurants that serve up genuine Syrian delicacies.
Without further ado, let's embark on a journey to explore the enticing dishes that grace both everyday Syrian meals and special occasions.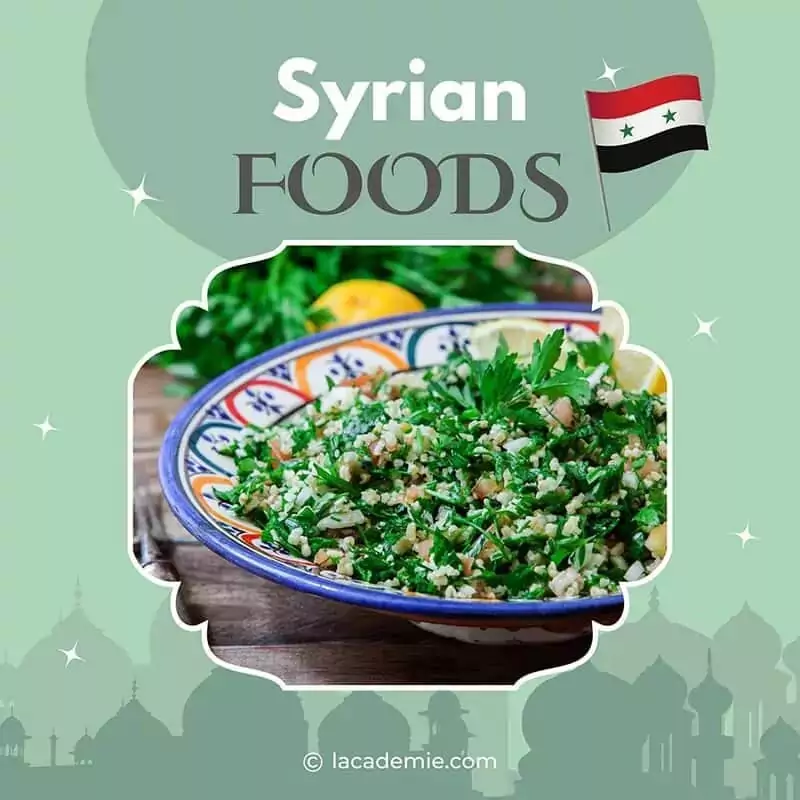 Overview of Syrian Cuisine
Syrian cuisine is a rich and diverse culinary tradition that has evolved over thousands of years. It is characterized by its unique flavors, a variety of textures, and an emphasis on fresh ingredients.
The food reflects the country's geographic location, bridging the Mediterranean, Middle Eastern, and Mesopotamian regions, resulting in a harmonious blend of culinary influences. Syrian food is known for its generous use of spices and herbs, creating dishes that are both flavorful and aromatic.
Historical and Cultural Influences
Syrian food has been shaped by a variety of historical and cultural influences, with different civilizations leaving their mark on the cuisine. Throughout history, the region has been ruled by various empires, such as the Assyrians, Persians, Greeks, Romans, Byzantines, and Arabs.
Each of these ruling powers introduced new ingredients, cooking techniques, and dishes that have contributed to the rich tapestry of Syrian cuisine.
Additionally, Syria's position along the Silk Road allowed for the exchange of spices, ingredients, and culinary ideas between the East and West. This exchange further diversified Syrian food, creating a unique blend of flavors and techniques.
Religion has also played a significant role in shaping Syrian cuisine, with Islamic dietary laws and Christian fasting traditions influencing the ingredients and dishes that are commonly prepared.
Common Ingredients and Spices
Syrian cuisine is known for its use of fresh and high-quality ingredients, including a wide range of vegetables, fruits, grains, legumes, nuts, and seeds. Meat, particularly lamb and sheep, is also a common component of many dishes.
Olive oil: Widely used for cooking and as a dressing for salads and dips.
Bulgur wheat: A staple grain in many dishes, such as tabbouleh and kibbeh.
Chickpeas: A popular ingredient in dips, salads, and stews.
Tahini: A sesame seed paste used in sauces, dips, and desserts.
Bokharat: also known as "seven spice," is a popular blend that includes allspice, cumin, coriander, cloves, nutmeg, cinnamon, and cardamom, with paprika as an optional addition. This blend is frequently used in many dishes, especially mahshi, which consists of rice-stuffed zucchini or lamb, or cabbage.
Za'atar: A spice blend made from thyme, sumac, sesame seeds, and salt, often used as a topping for flatbreads and in salads.
Sumac: A tangy, lemony spice used to season meat, salads, and rice dishes.
Cumin: A warm, earthy spice used in a variety of dishes, including soups and stews.
Cinnamon: Commonly used in both sweet and savory dishes, including desserts and meat dishes.
Pomegranate molasses, rosewater and orange blossom water: Distilled flower waters used to flavor desserts and beverages.
Syrian Breakfast Dishes
Kickstart your day with the most crucial meal, breakfast, as it fuels your body with the energy it needs to conquer the day.
1. Syrian Pita Bread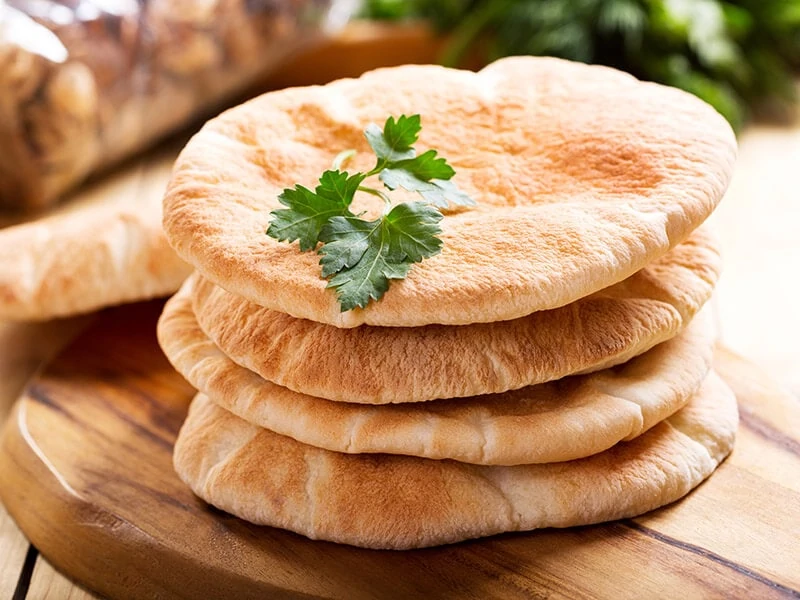 If you know the appearance time of Pita, you will surely be shocked. The first Pita appeared in the Middle East and Mediterranean cuisines, including Syria, 4000 years ago. When you dig into the dish's history, you will find it originated from the West of the Mediterranean Sea.
The round-shaped Pita is made from wheat flour and water; its interior is hollow and looks like a pocket because it takes a certain time to rise. The traders carried it across the Sahara and Arabian desert, turning it into a staple dish in Syria.
Once upon a time, the dough was left out to react with natural yeast in the environment to rise. However, time flies, and people's thoughts also change. They have started adding beers to reduce the rising process.
Pita was cooked on a fire traditionally, while the modern version is cooked in an oven. You can eat it alone or stuff some toppings, such as meat and vegetables, to have a nutritious, quick meal.
2. Tis'iye/Fatteh (فتّة) – Pita with Chickpeas and Yogurt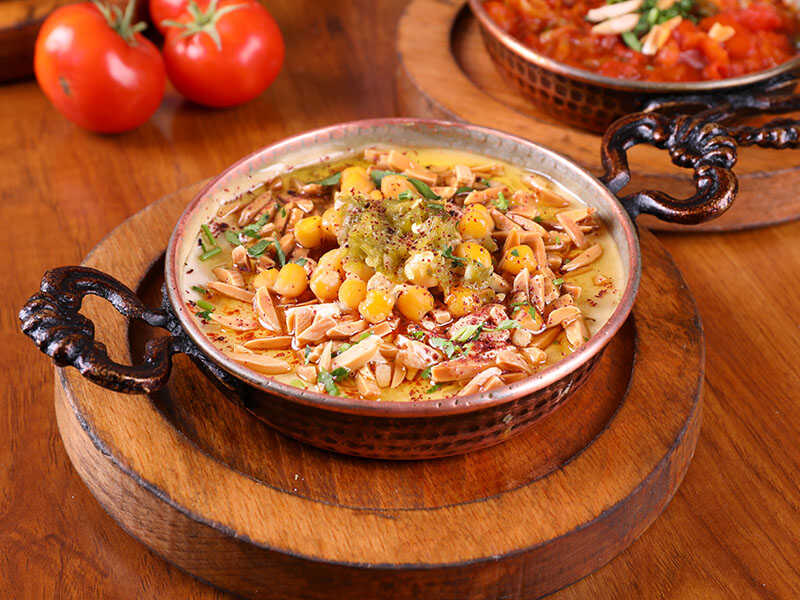 Fatteh is a Syrian casserole with some layers, including crunchy pita bread as a base, creamy warm sauce, chickpeas, toasted pine nuts, chopped parsley, and more for toppings. The classic version requires a deep-fried pita; however, you can roast it instead.
Do you know where the name comes from? The origin is from "futt Khobez" – an Arabic term meaning smaller pieces of broken bread. Like Labneh, you can find various variants of nations you land in.
The root of this food is still a conversational topic. Some say that the birthplace is in Egypt's south and Levant area, while others assume it comes from the Northern Levantine region.
Some proofs show that this dish appeared in the 13th century during the Abbasid Caliphate. Nevertheless, it is just a story of the past. Fatteh is still a worthwhile dish you should try to understand about Syrian food culture.
During Ramadan, countries in the Middle East such as Jordan, Syria, Lebanon, Egypt, and Palestine, commonly serve Fatteh for Iftar meals. Additionally, it is customary to serve this dish in celebration of a woman's first pregnancy.
3. Ful Medames (فول مدمس) – Fava Bean Salad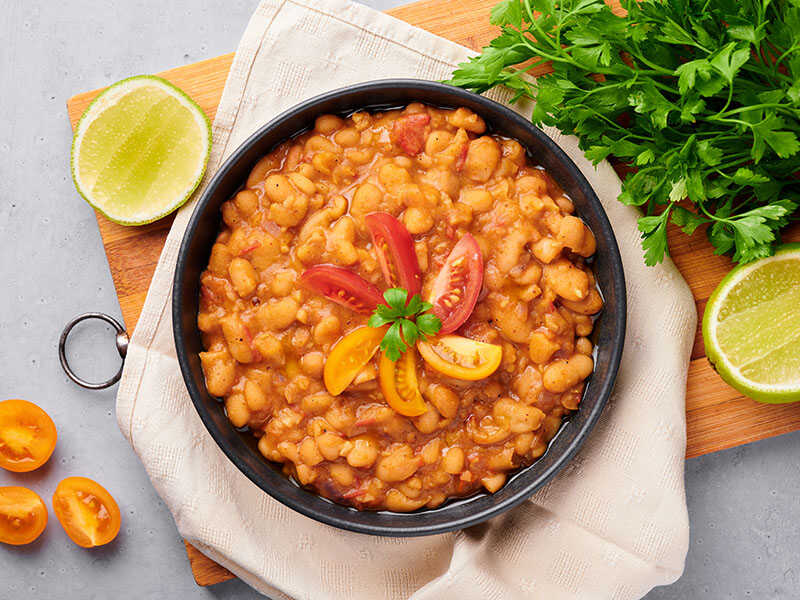 If you find "Ful Medames" too difficult to remember, you can call it "Ful". I can confidently say that the ancient Egyptian dishes have been a culinary hit and are loved until now. Historians found the remnant of this food in Pharaonic tombs in the 12th Dynasty (1991-1786 B.C.)
Ful is a common breakfast food in Syria, especially in Aleppo. Its name can reflect its cooking methods. "Medames" means "buried" since people cook the fava beans by burying the pot in hot coals overnight, so they can become tender and melt right in your mouth.
Many people consider it a "gift from God" thanks to its heavenly flavor when mixed with lemon juice, garlic, and more. For more fulfilling meals, you can dip pita bread into it.
Dry beans are the best ingredient, yet it takes time to soak; thus, you can replace them with canned beans to save time.
4. Makdous (مكدوس) – Cured Eggplants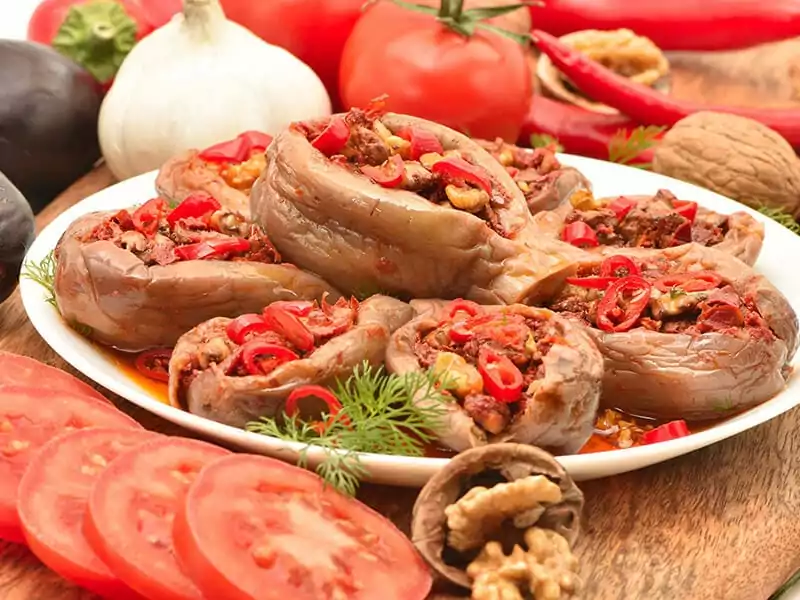 Eggplants are a favorite vegetable of many Syrians, and it is not strange why their fame spread worldwide. In addition to Syria, you enjoy Makdous in the Levant regions, consisting of Jordan and Lebanon.
You can prepare some jars of pickled eggplants stuffed with crushed nuts, chili pepper, and garlic and marinated in olive oil. It needs time to ferment, so you can make it in advance and add it to your breakfast.
The Levant nations are also Makdous's birthplace. It appeared for the first time in Syria, while other opinions assume that Damascus or Homs. No one can give you the exact time it was born, but it must have existed for a few centuries.
The best time to ferment this dish is early autumn, when the eggplant season is almost to end.
Syrian Lunch and Dinner
If you travel to Syria, let's find a local restaurant and order the following foods for lunch and dinner. Your experience will be more accomplished with them.
5. Muhammara (محمرة) – Red Pepper Dip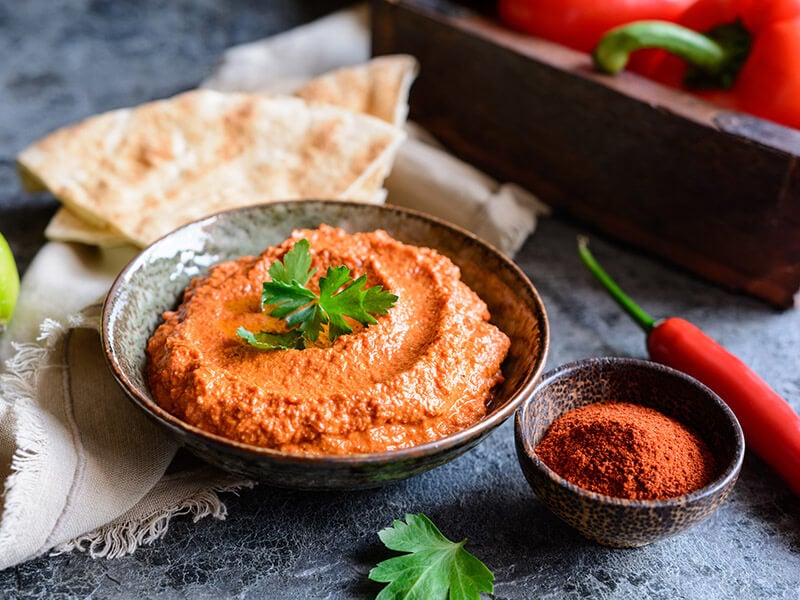 Why not warm up your stomach with some Muhammara dip? The moderate sweetness and spiciness will be a potential candidate for boosting your taste buds. This dip is derived from a city in Syria-Aleppo. As you know, many delicious recipes are from the same place.
This food is also popular in the Middle East and Anatolia. Besides eating with bread, you can spread it on grilled fish or meats to enhance the overall flavor.
Aleppo peppers are an indispensable ingredient in this dish. Their Scoville scale is 10000 with an intense and fruity scent. For the most experience, you should ground the peppers with your hands after sun-drying them.
6. Falafel (فلافل) – Chickpeas Patties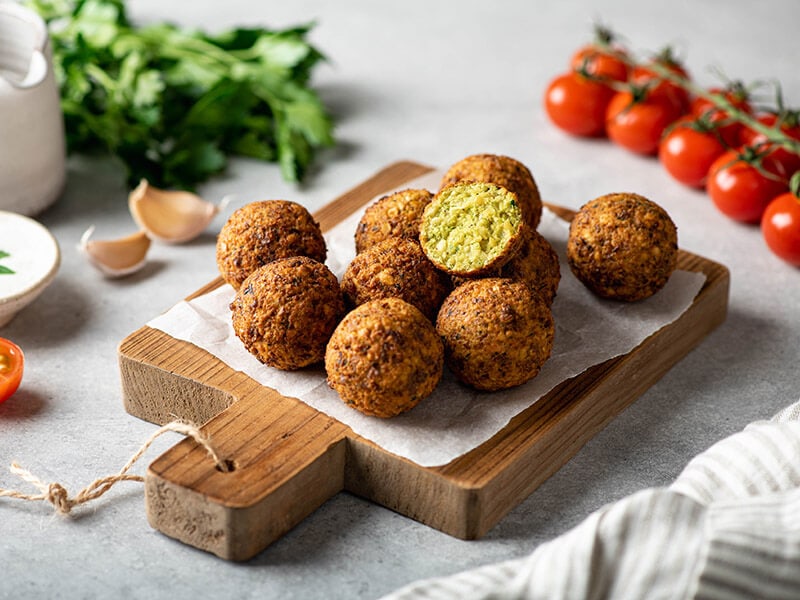 Falafel is one of the mysterious dishes in Syrian cuisine, its origin is still a secret that I think experts need to spend more time determining the exact answer. However, it is not as important as the dish's taste.
There are numerous theories about the birth of falafel. Many agree that it came from Egypt 1000 years ago, and the Egyptian Copts brought it to the Middle East. Meanwhile, a few believed these delicious cakes were born in India in the 1500s.
Others thought it appeared in the late 19th century since it showed up in Egyptian literature. The initial version was served in restaurants in Alexandria, a port in Egypt, made from fava beans.
Fava beans mean "Ful" in Egyptian, and they saw their connection. The present-day falafel uses chickpeas and commonly goes with pita bread. Thanks to its flavor and nutrients, it has become a well-known dish in many states.
Falafel is a street food icon you have to try whenever traveling to Syria.
7. Mehshi – Meat-Stuffed Zucchini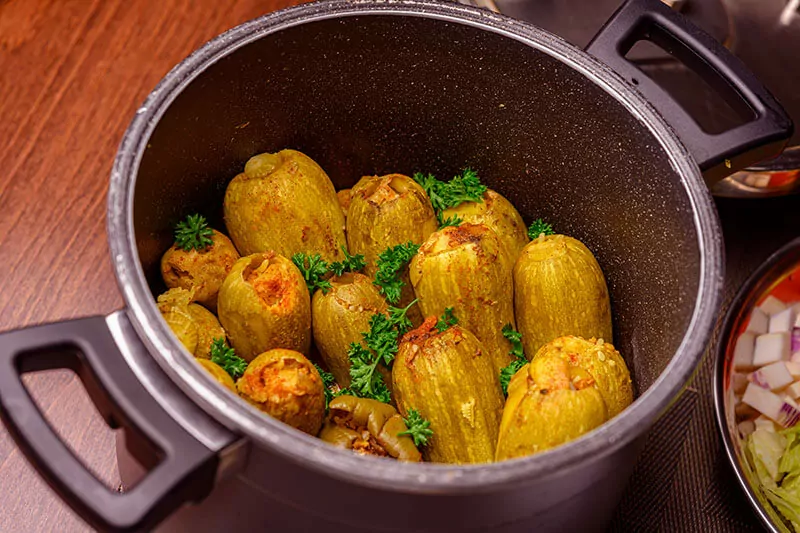 For those who love veggies, this Mahshi is a must-try dish. The first place consumed Mahshi is Ottoman, yet its aroma and flavor spread to Egypt and the Levant through the Balkans. You cannot count how many people love it.
If you have tried stuffed vine leaves (dolma), you will find the cooking technique quite similar. However, the chefs use eggplants, gourds, tomatoes, peppers, and other sizable vegetables in place of the leaves.
It is such a versatile dish as you can serve it as an appetizer or an ideal Syrian dish for lunch. The Syrians usually stuff meat, various chopped veggies, or spiced rice to make Mahshi.
8. Kibbeh Bil Sanieh (كبة) – Baked Lamb Kibbeh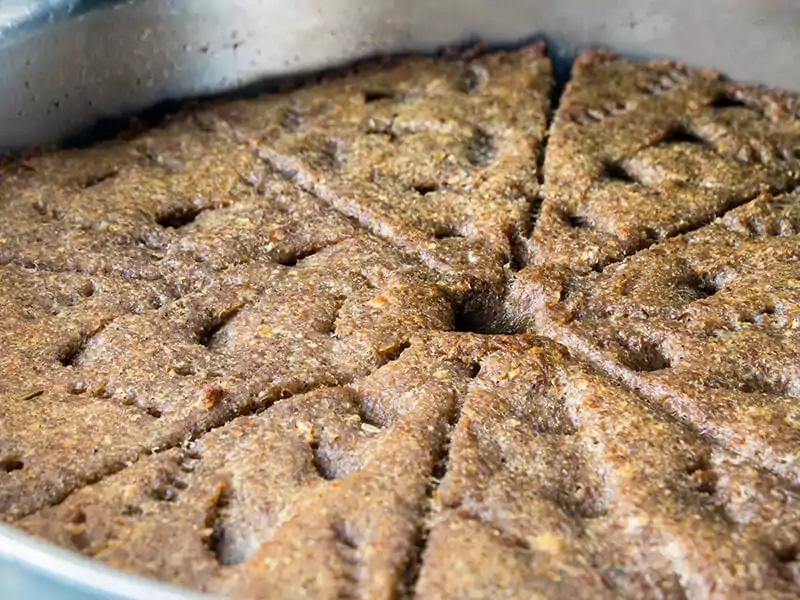 In Syria, people consider it as a national dish; you can also find different variants in the Middle East, Egypt, Iran, and more. The Levant immigrants brought this food to Latin America during the 19th-20th centuries.
The Syrian version uses lamb meat for the filling. In others, chefs can use any ground meat, and the most regular is beef. Nonetheless, I recommend using ground lamb to create a special experience.
Can you guess how many types of Kibbeh are found? 15 types of Kibbeh are found. Kibbeh requires you to knead meat and bulgur like you play dough; after that, you will spread it below and above the cooked lamb.
The most impressive feature of this food is it doesn't use complicated spices but salt and ground allspice. They are easy to find in the Caribbean and the Middle Eastern and have a subtly spicy taste.
9. Yalanji (يالانجي) – Stuffed Grape Leaves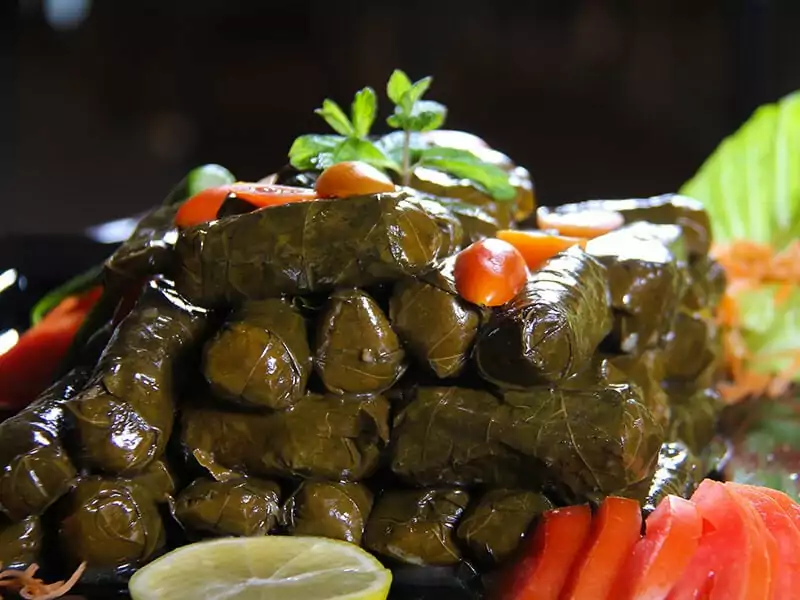 Another stuffed dish I'm sure you will be surprised to hear its translated name is Yalanji. Yalanji is a cold appetizer that captivates tourists' hearts. The filling is made from rice and different kinds of chopped vegetables.
Indeed, Yalanji is a Turkish word meaning "liar" because there is no meat in the filling, making it an excellent vegetarian choice. This food's origin is unclear, but its fame has reached other countries besides Syria: the Middle East, Turkey, Greece, and even Middle Asia.
In Syria, a "meaty version" of Yalanji is Yabarq. The filling has meat and rice, then cooked in lemon juice. Don't skip this delightful food if you want to make a twist for your meal.
10. Shish Barak (شيشبرك) – Meat Dumplings In Yogurt Sauce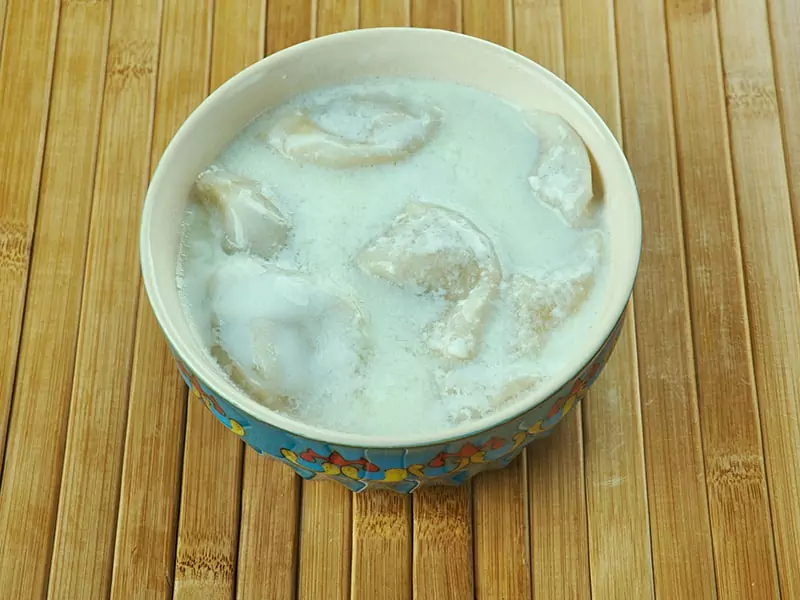 It has been a traditional dish in Arabia since the 14th century. The origin is hard to determine, but many historians think it was derived from pre-Islamic Persia and spread its popularity to other Middle Eastern and Asian nations.
That's why you can find a ton of variants in the countries you visit. You should plan a lot of time to prepare this recipe as it requires pretty many steps. But all things are worth it after you taste the flavor.
The filling includes ground lamb or beef, coriander, garlic, and other fresh herbs. It is stuffed in dough and stewed with goat and yogurt mixture. The food is more popular in the spring when dairy products are straightforward to access. If you have tried making Italian ravioli, you can find this is quite similar.
11. Mujadara (مُجَدَّرَة) – Bulgur and Lentils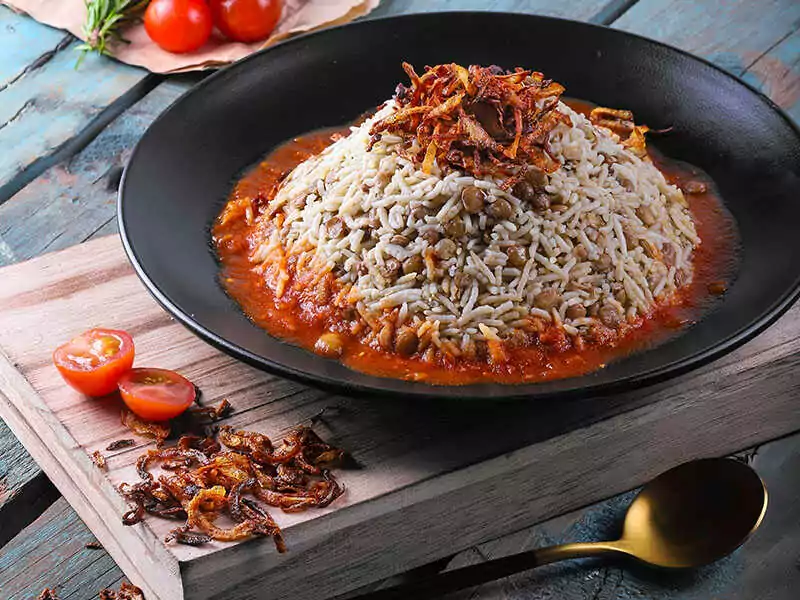 As its name implies, Mujadara is a fulfilling dish. Simple ingredients can create a savory taste; can you believe that? I changed my mind when I enjoyed it in Syria.
It is cooked lentils (brown or green is acceptable) mixed with rice or bulgur/groats and tasted with caramelized onions fried in olive oil. It is one of the no-meat dishes that vegetarians can try; therefore, its nickname is "the dish of the poor".
This food is also popular in the culinary scene of Lebanon, Syria, Israel, Egypt, and many more. The Iraq writer – Mohammed bin Hassan al-Baghdadi wrote this recipe in his cookbooks published in 1226. This is the first recorded recipe.
It was the most common food the poor could reach during the Middle Ages because it didn't need meat or expensive ingredients. Its flavor is so surprisingly delicious that the Eastern Arab says, "A hungry man would sell his soul for a dish of "Mujaddara". This quote also relates to a biblical episode.
12. Jazmaz (جظ مظ) – Shakshuka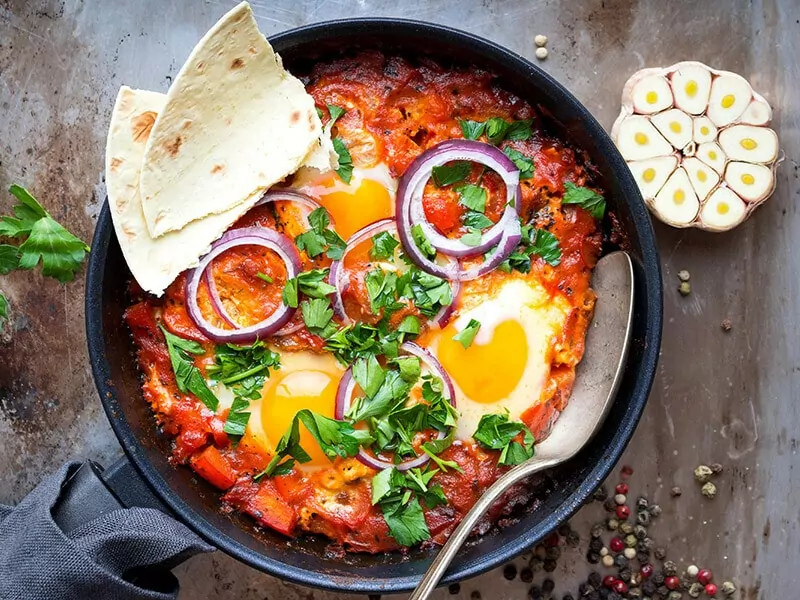 Shakshuka is a simple dish but attracts a lot of foodies. If you want to have a quick meal in one skillet, you should not miss this food.
The residents in North Africa first created the dish, but people in many other places, namely Syria, Palestine, Egypt, and more, have enjoyed it. The ingredients cannot be easier with eggs, green peppers, simmering tomatoes, garlic, and onions.
You can enjoy it any time of the day, yet I prefer lunch or dinner as I have plenty of time to dip flatbread or baguette to taste all the sauce. Don't forget to add olive oil and spice to elevate the flavor.
13. Horaa Osbao/Harak Osbao – Pasta with Lentils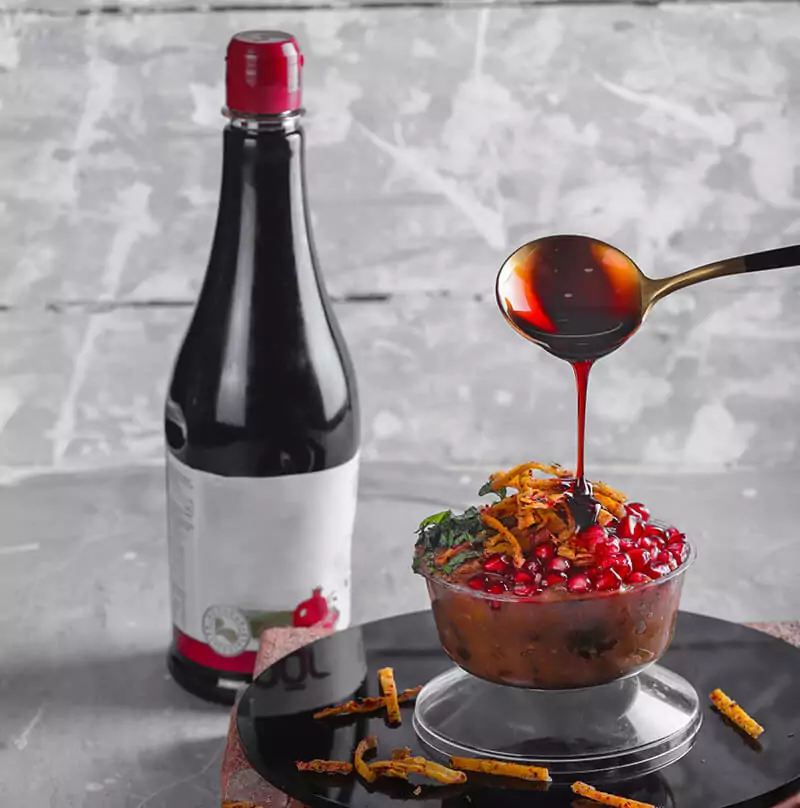 If you are vegetarian and want to immerse yourself in Syrian cuisine, let's try Harak Osbao. It is a nutritious and budget-friendly dish you can find on your travels, but don't underestimate its traditional value.
This pasta is one of the oldest foods. It will provide you with many nutrients, including a rich source of protein. In the winter, you can eat this nutritious Syrian evening meal to warm your body in the freezing weather.
What's better than experiencing the winter in Syria and enjoying the steaming food? You will have a more "real" local feeling when spreading some fried pita bread and pomegranate seeds to add more texture to your mouth.
14. Batersh/Mutabal Hamwi – Smoked Eggplant Dip
The previous dish is perfect for the winter, while Batersh is an excellent choice to relieve the heat of summer. The upcoming summer cannot be great if this cold food is absent.
This food hailed from the city of Hama. Besides being a specialty of this region, it is also popular in other central areas. The 3 layers include chopped or mashed grilled eggplant for a base, minced beef cooked in tomato sauce for the middle layer, and freshly chopped parsley with some walnuts for the topping.
Don't forget to add some salt and squeeze lemon to the eggplants unless you want the dip to be tasteless.
15. Syrian Fattoush (فتوش)
Fattoush is the vibrant and scrumptious salad that takes the spotlight right after the famed Taboulleh in Syrian cuisine. This classic Middle Eastern delight graces the tables of countless Syrian and Lebanese homes, ready to please palates at traditional family gatherings.
Fattoush boasts a medley of fresh seasonal vegetables and herbs, tossed in a tangy lemon vinaigrette and topped with crispy, day-old pita bread.
Its name, derived from the Arabic word "fatteh," which translates to "crumbs," hints at the essence of this salad – the golden fried bread that sets it apart. In fact, "fatteh" is an entire category of dishes that revolve around these irresistible crumbs.
When it comes to enjoying Fattoush, Syrians have a unique approach. They scoop a portion of the salad onto a lettuce or vine leaf, creating a yummy parcel that can be conveniently savored using their fingers.
16. Shawarma (شاورما)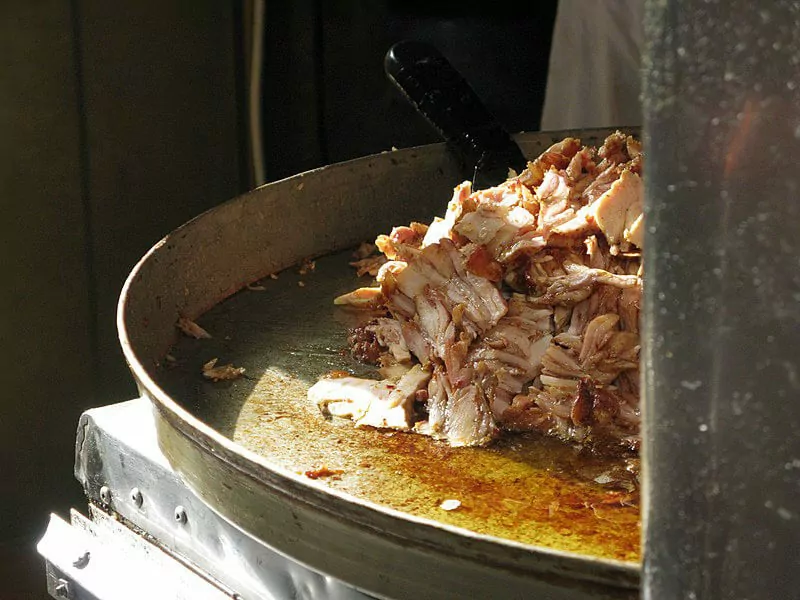 Shawarma, a mouthwatering Middle Eastern dish with deep roots in the Ottoman Empire. This enticing creation is an Arabic interpretation of the Turkish term "çevirme," which signifies the revolving rotisserie that defines its cooking technique.
The method of roasting meat on horizontal spits is an age-old practice, but the Shawarma technique specifically emerged in the 19th-century Ottoman Empire, in present-day Turkey, as the iconic doner kebab.
Shawarma showcases thinly sliced meat, masterfully arranged in an upside-down cone configuration, and expertly cooked on a rotating vertical spit or rotisserie. Though lamb or mutton is the conventional choice, this adaptable dish can be made with various meats, such as chicken, turkey, beef, or veal, to cater to diverse preferences.
Renowned as a beloved street food throughout the Middle East, Shawarma makes for a delightful option when entertaining friends or family members.
Syrian Wedding and Festivals Dishes
Special foods are indispensable on all occasions, especially weddings and festivals. You can find some places selling these dishes on normal days; however, soaking in the festival atmosphere and tasting them will bring you a different experience.
17. Tabouli/Tabbouleh (تبولة) – Parsley And Bulgur Salad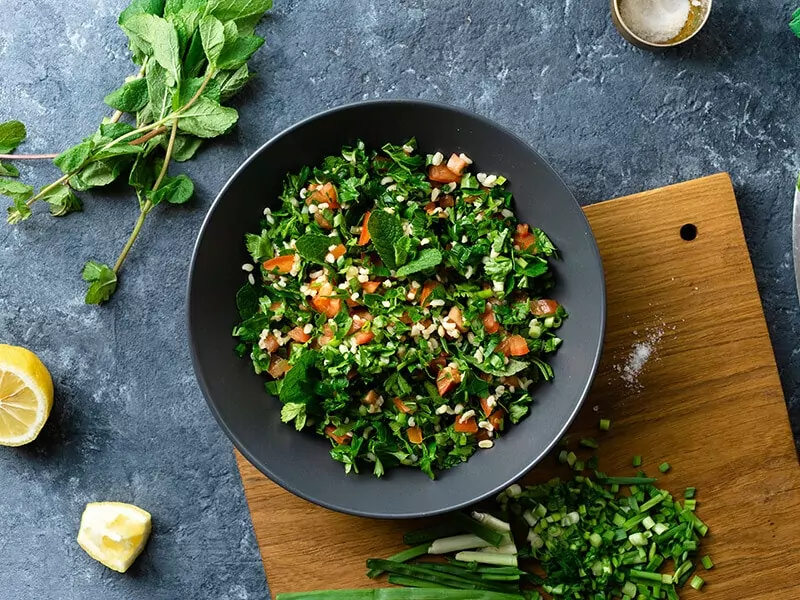 If you usually watch the news, you probably know about a 2009 event relating to Tabouli. During this time, 350 workers worked continuously for more than 10 hours to produce the largest bowl of Tabouli salad.
It was recorded in the Guinness World Record as the biggest salad globally, with 9,532 lb 12 oz in weight. This salad was born in the mountains of Syria and Lebanon, dating back to the Middle Ages.
It has quickly become an indispensable dish in Lebanese and Syrian meals. The ingredients, including tomato, mint, onion, and more, make it perfect and nutritious to serve as an appetizer. You cannot skip this food if you have an upcoming Syria tour. If not, you will regret it for the rest of your life.
Tabouli is simple to make at home. Let's give it a try.
18. Mansaf (منسف) – Lamb Cooked in Sauce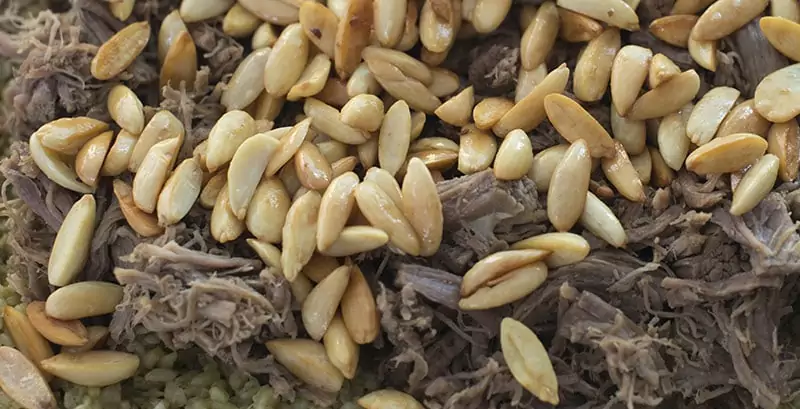 Mansaf is one of the well-known traditional Jordanian foods; you can catch it in almost all gatherings, from funerals to weddings. I say that to help you imagine the popularity of Mansaf.
It appeared a long time ago and was consumed by Bedouin tribes. The first Mansaf didn't have sauce. It was just lamb or camel meat with flatbread, broth, and butter. Time flies, and people create sauce made from rice, yogurt, and jameed to enhance the whole flavor.
Though its birthplace is Jordan, it has various variants. Among them, the Syrian Mansaf is the most delicious. This food was changed by citizens in the Horan region in the South of Syria to adapt to the local's taste.
This variant includes bulgur wheat soaked into ghee and the basic ingredients of the original Mansaf. Locals often serve it warm, along with fried vegetables and Kibbeh.
19. Maqluba/Maqlooba (مقلوبة) – Upside Down Eggplant and Rice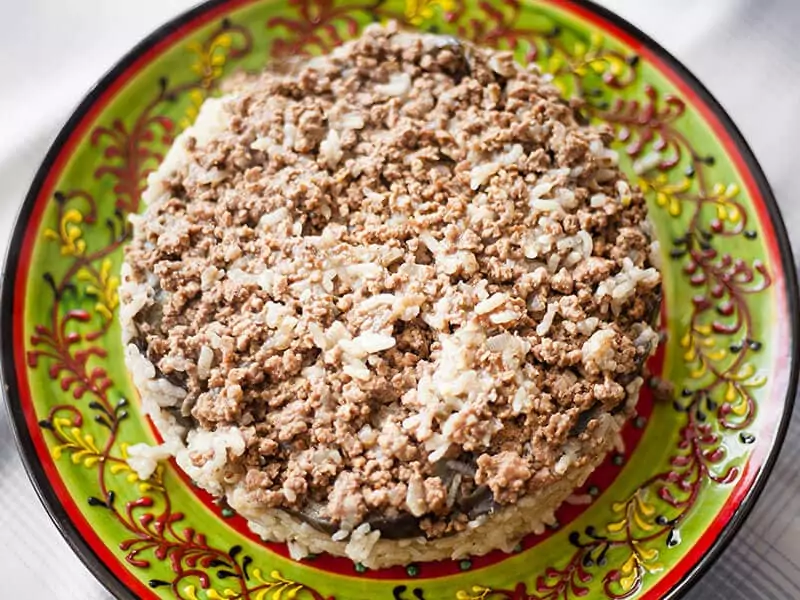 As you know, Syrian meals cannot be complete without eggplants. Thus, I will introduce a staple dish called Maqluba. This food is a savory dish with meat, eggplants, and rice. Easy to cook and store, this food usually appears in Muslime families during Ramadan.
You only need to add all ingredients to a flat round pot and cook in slow heat for a certain time. The result is an eye-catching cake, and you will turn it over to place it on a plate. The interesting fact is that "Maqluba" means "flipped over".
I cannot provide you with the exact birthday of this dish. However, it was printed in Baghdad Cookery Book written by Muhammad bin Hasan al-Baghdadi in the 18th century. It is an old dish served commonly in Jordan and has many famous versions, including the Syrian one.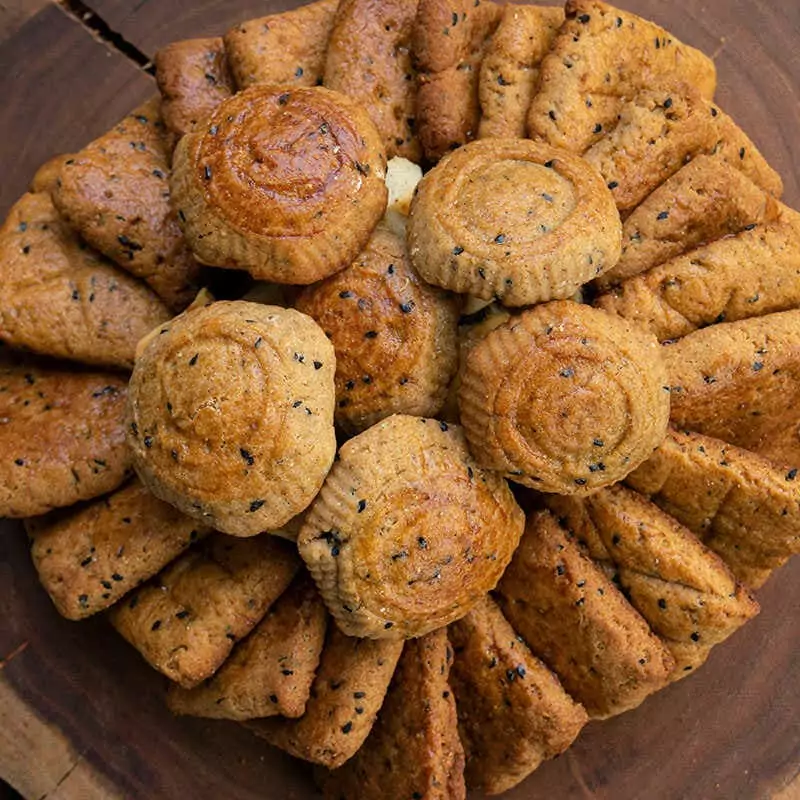 No one can tell you the correct answer to the question about Ma'amoul's hometown. Yet, many people know that it has been an all-important dessert of Syria for hundreds of years. 
You can find these cookies in regions belonging to the Levantine. Ma'amoul also plays an essential role in Islam and Christian holidays. These religions have enjoyed this dessert to celebrate the end of the Lent and Ramadan periods for centuries.
In the traditional version, chefs stuffed date paste into the dough. The date with natural sweetness could captivate anyone's heart. The pistachio and walnuts are used to fill more modern cookies.
Why don't you bring the Syrian atmosphere to your home by making Ma'amoul?
21. Halawet El-Jibn (حلاوة الجبن) – Sweet Cheese Rolls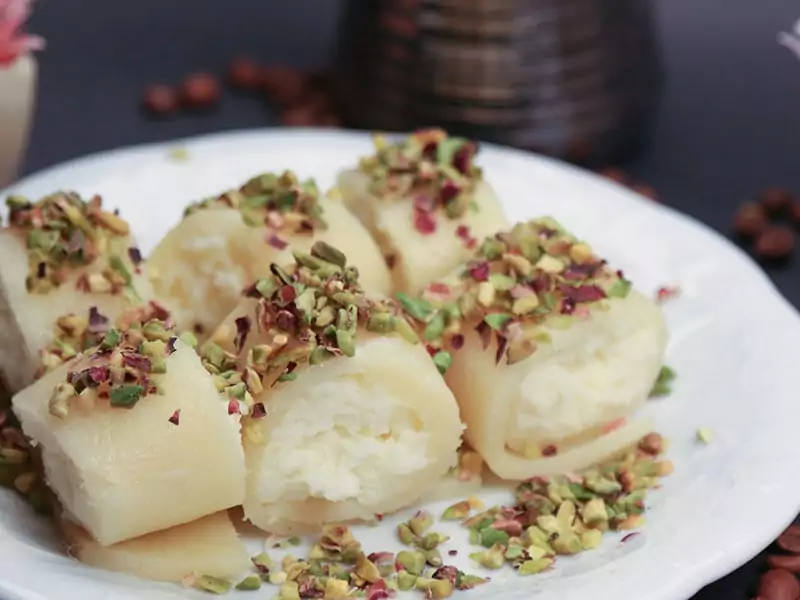 Halawet el-jibn is an exquisite Syrian dessert that translates to "sweetness of the cheese" in Arabic. This tasty treat consists of a semolina and cheese dough, enveloping a luscious cream filling, and adorned with a sprinkling of pistachios.
The birthplace of this delectable dessert is the city of Hama in Syria, with some attributing its origin to the city of Homs. Its fascinating history dates back to the 1870s, when a sweets vendor from Hama, a member of the Salloura family, concocted this innovative recipe of sweet cheese pancakes lovingly wrapped around a creamy center.
Halawet el-jibn has since transcended borders, finding its way into other Middle Eastern regions, and even journeying to Turkey and Germany with Syrian immigrants. This delicate, melt-in-your-mouth dessert is guaranteed to captivate your taste buds and leave you longing for more.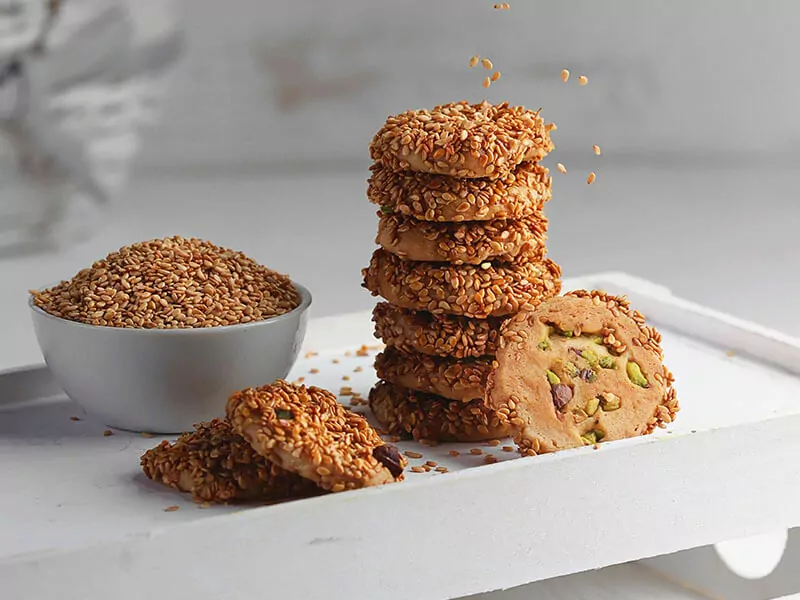 Barazek is a Syrian-Palestinian cookie that takes center stage with its star ingredient, sesame seeds. Often adorned with scrumptious pistachio pieces, these cookies are a true taste sensation.
This exquisite treat traces its roots back to the Ottoman era in Damascus, specifically the Al-Midan neighborhood. Today, Barazek's popularity has soared beyond borders, gracing the shelves of countless pastry shops throughout the Levantine region and beyond.
As one of the most renowned Syrian desserts, Barazek boasts a multitude of mouthwatering variations.
Succumb to the allure of these nutty, scrumptious cookies that promise to melt in your mouth with each addictive bite. Indulge in the harmonious fusion of textures and flavors, and let Barazek transport you to the enchanting world of Levantine sweets.
FAQs
Welcome to our frequently asked questions (FAQs) section, where I explore the rich flavors and culinary heritage of Syrian cuisine.
---
---
Try Syrian Foods Right After Landing In Syria
After a long time sitting on a plane to Syria, your stomach starts to growl. Why don't you find a local restaurant and other unique Syrian foods? In case you don't know what you should order, you can remember my post.
This article has introduced to you a few must-try and impressive dishes. Besides enjoying these suggestions, you can explore Syrian cuisine on your own by walking on crowded streets in this nation.
Don't forget to let me know via the comment box if you find other fantastic foods. You can inspire the love of worldwide cuisines by liking and sharing this post with others. Sharing is caring, right?