Indonesian foods are famous for their savory flavors with tons of different seasonings! If you are into fried rice, you may enjoy Indonesian cuisine because rice is so popular in this country. But Indonesian foods are more than just rice!
How many Indonesian dishes do you have in hand? In case you are finding a brand new one for the meal tonight, it's time to explore some of them in this food list! The article will provide you with the best Indonesian dishes ever!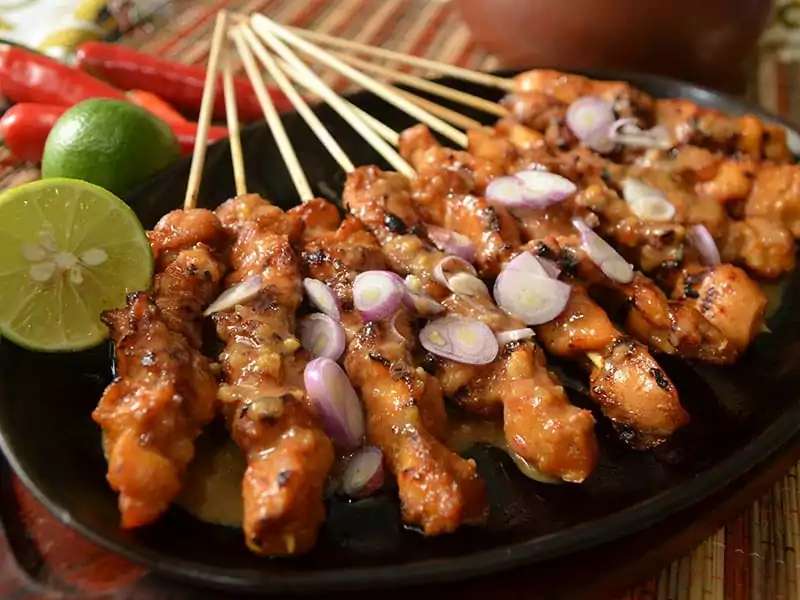 Introduction To Indonesian Cuisine
Let's dive into the vibrant world of Indonesian cuisine, a rich tapestry of flavors and textures that tells the story of the nation's diverse culture and history. Unravel the secrets behind the mouthwatering dishes that have captivated food enthusiasts worldwide.
Flavors And Ingredients
Indonesian cuisine is an enchanting medley of flavors, boasting a rich blend of sweet, sour, spicy, savory, and bitter notes. The cuisine is characterized by its generous use of fresh herbs, spices, and ingredients such as chilies, garlic, shallots, tamarind, and lemongrass. From scrumptious street food to sophisticated regional dishes, Indonesian food can suit every palate.
Regional Influences And Culinary Diversity
Indonesia's archipelago, with more than 17,000 islands, has cultivated a diverse culinary heritage shaped by various cultures, traditions, and climates. Influences from India, China, the Middle East, and Europe have all left their mark on Indonesian cuisine, resulting in a wide array of regional specialties that showcase the country's rich history and culinary creativity.
Staple Ingredients
Explore the staple ingredients that form the foundation of Indonesian cuisine, a harmonious blend of spices, herbs, and local produce that come together to create the unforgettable flavors that define this culinary paradise.
Rice
Rice is the cornerstone of Indonesian cuisine and serves as the foundation for most meals. The beloved grain is prepared in various ways, such as steamed, fried, or even ground into flour for desserts.
Noodles
Noodles are another popular staple in Indonesia, with dishes like Mie Goreng (fried noodles) and Bakmi (boiled noodles with meat) taking center stage in many meals. Wheat and rice noodles are commonly used, catering to different preferences and textures.
Spices And Herbs
Indonesian cuisine is known for its bold flavors, which come from a colorful palette of spices and herbs. Key ingredients include turmeric, galangal, coriander, cumin, and the essential Indonesian spice blend, Bumbu. These flavors not only impart delicious taste but also offer various health benefits.
Coconut
Coconut plays a significant role in Indonesian cooking, both in sweet and savory dishes. Coconut milk adds richness and depth to curries and soups, while grated coconut lends a subtle sweetness to desserts and snacks.
Tofu And Tempeh
Tofu and tempeh, both soy-based products, are popular protein sources in Indonesian cuisine. They are versatile ingredients, taking on the flavors of the spices and sauces they are cooked in, and can be found in dishes like Sambal Goreng Tempe and Tahu Gejrot.
---
Indonesian cuisine consists of various traditional foods that can attract you at first sight! You have to try the many dishes that Indonesian cuisine has to offer whenever you have the chance. Find out what they are!
Rice Dishes
Rice is undoubtedly the most essential staple food of Indonesians! That's the reason why you may find a lot of dishes containing rice in this country. Here are some of the most well-known rice dishes in Indonesia!
1. Nasi Goreng (Indonesian Fried Rice)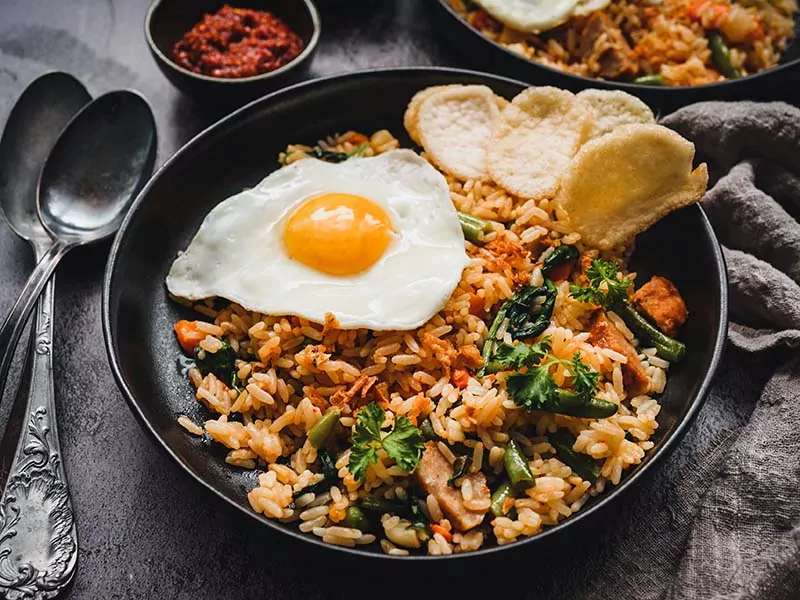 Nasi Goreng is a fried rice dish cooked with meat and veggies. It is one of the most popular national dishes of Indonesian cuisine. This food starting with "N" has a special smoky smell with a fried egg on top. This dish has many variations from different parts of the country.
If you want some fulfilling Indonesian breakfast dishes, you can try this fried rice dish! The aroma of soy sauce and the primary taste of this dish traces back to Chinese fried rice. In Indonesia, you can order a unique Nasi Goreng dish for yourself with a lot of topping options!
In Jakarta, you will find "nasi goreng" displayed at street food stalls throughout the city.
2. Nasi Campur (Mixed Rice)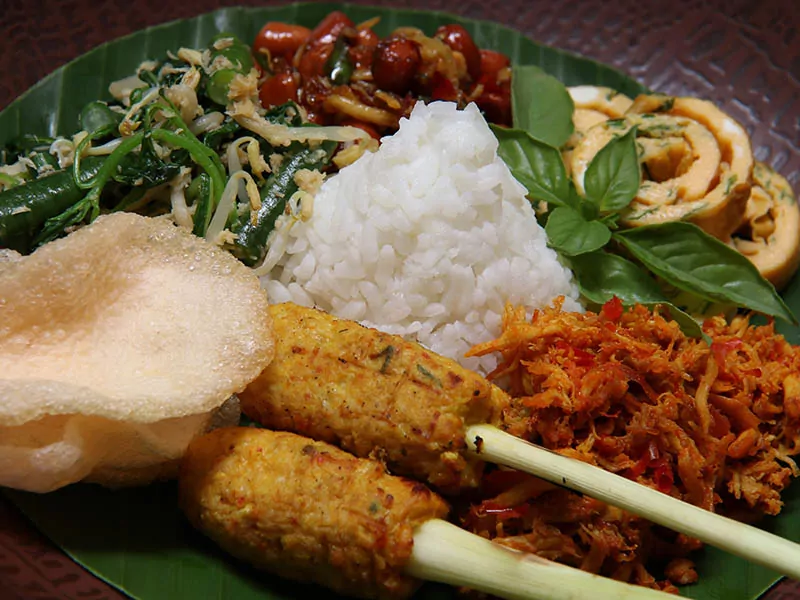 If you have ever tried Nasi Campur, you may find it somehow more like a buffet party than a dish.
Nasi Campur is one of the best Indonesian national dishes ever. It includes steamed rice and many other local side dishes such as rendang, satay, veggies, prawn crackers, etc.
All of those things are served right away or wrapped in a banana leaf, especially when you buy it from a street vendor. Although this dish comes in an array of variants, I recommend trying the version in Balinese food culture first.
A
3. Nasi Padang (Steamed Rice With Curry)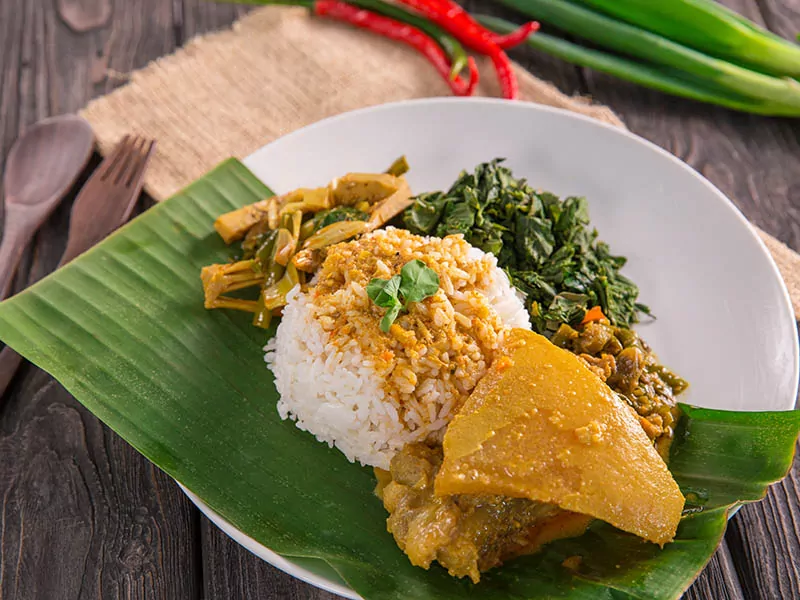 Nasi Padang originates from West Sumatra, Indonesia, and is named after Padang – the capital of this province. It is usually called Padang-style rice with a lot of side dishes. Freshly cooked white rice is combined with jackfruit curry, fish, veggies, meat, and sambals.
Nasi Padang is made and contributed to Indonesian cuisine by Minangkabau people, which are an ethnic group of Indonesian natives. Do you know that Nasi Padang is also considered a type of nasi campur? It is definitely a filling mini banquet that can satisfy your stomach!
Nasi Padang is typically presented in two distinct styles. At smaller food stalls, you'll receive a plate of rice and can select from an assortment of dishes to be placed on your individual plate, known as "pesan" in Indonesian.
However, at more established indoor Nasi Padang restaurants, you'll be served around 20 different dishes on your table, allowing you to choose and consume only the ones you desire. This style of serving is called "hidang," and you pay exclusively for the dishes you eat.
4. Nasi Uduk Betawi (Cooked Rice With Coconut Milk)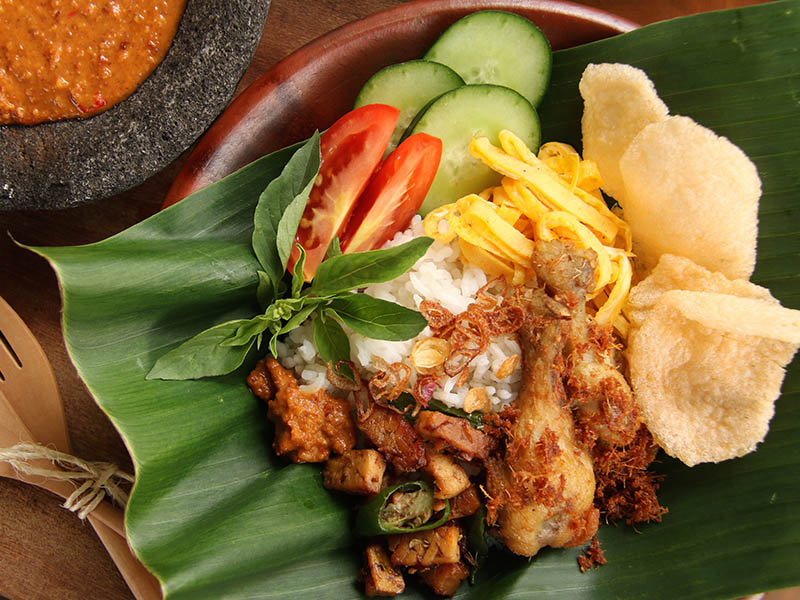 Nasi Uduk Betawi may remind you of the previous nasi campur, but the cooked rice is the key point because the water is replaced with coconut milk, herbs, and spices in the cooking process. Therefore, the rice in this dish is creamier and has more flavors than plain white rice.
This dish originates from Jakarta. Its toppings are usually fried chicken, sliced omelet, sambal, tempeh, nutcrackers, and some fried shallots on top.
Nasi uduk can be enjoyed as a breakfast meal, often accompanied by a straightforward side dish such as telur dadar gulung (rolled fried egg).
Although there are many unique variations across Jakarta's neighborhoods, this dish is especially prominent in West Jakarta's Slipi and Central Jakarta's Kebon Kacang area near Tanah Abang.
This economical meal is favored by the city's bustling commuters. Street vendors serve nasi uduk at various times of day. Generally, stalls situated near residential zones, markets, train stations, and schools are open from morning until noon, whereas those near offices and roadside locations operate from afternoon to midnight.
Soup Dishes
If you want a lighter meal than rice dishes, how about having Indonesian soup dishes versions? They are easy to absorb and also really delicious! They are also considered the national foods of Indonesia for their signature characteristics like the colors and taste.
5. Soto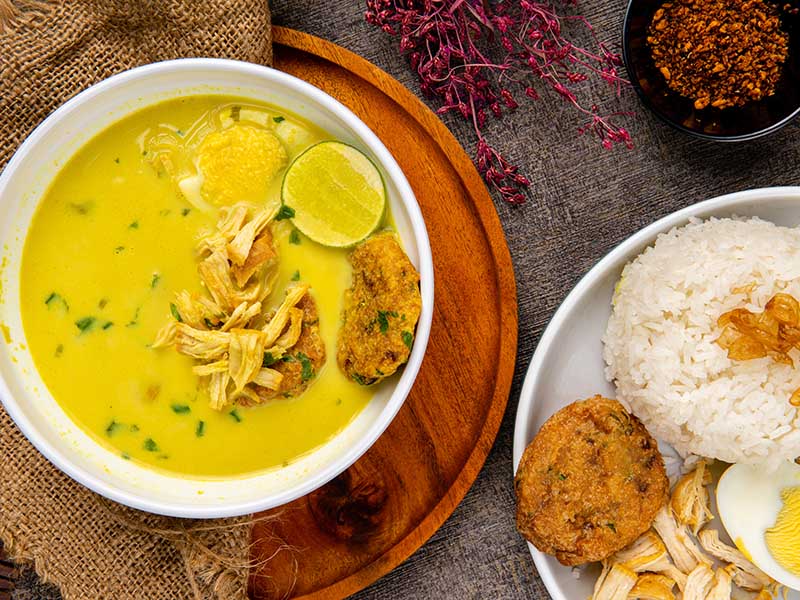 Soto is the general term in Indonesian that refers to "soup." It appears everywhere in Indonesia, from Sumatra to Papua; but it is actually from Java. Soto has developed throughout the cuisine history of this country and gained many recipe versions from different regions.
If you're finding delectable Indonesian dinner recipes, reach for Sotos! Some most well-known types of Soto are Soto ayam with chicken and turmeric; Soto betawi from Jakarta with meat cooked in coconut milk; Soto medan with shredded meat, fish cakes, and potato fritters.
For an unforgettable soto experience in Indonesia, don't miss out on the delectable offerings at Soto Kesawan, Asih Jaya Restaurant Soto Lamongan, and Soto Betawi Haji Husen, where you can savor the exquisite taste of their celebrated dishes.
6. Nasi Rawon (Black Beef Soup)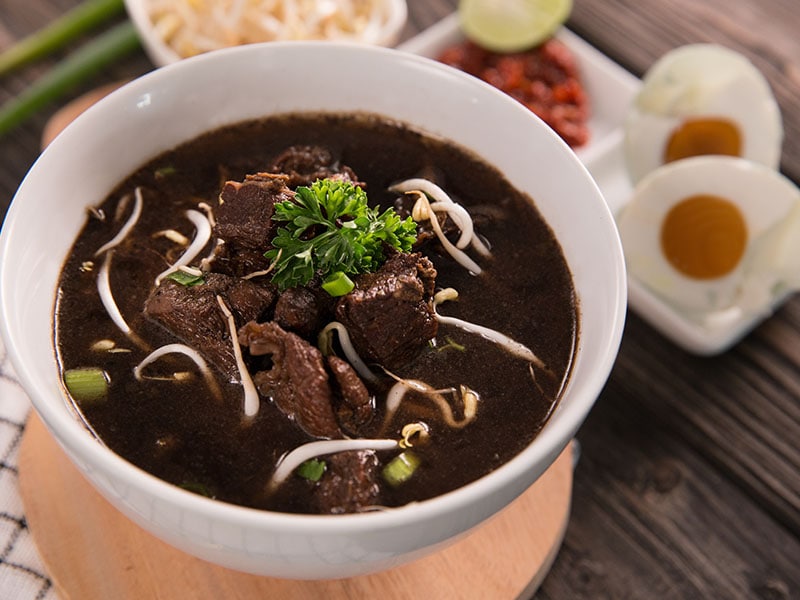 Rawon is a traditional beef soup from East Java. It is one of the oldest dishes of ancient Java, from the era of Mataram Kingdom! The unique dark color of this soup comes from the main spice, which is black keluak nut.
The special dark-colored nuts also give Rawon the nutty and delicious taste. The beef soup also contains diced beef, garlic, red chili, galangal, bay leaves, kaffir lime leaves, etc. It is usually served with steamed rice and bean sprouts.
7. Sayur Asem (Sour Soup)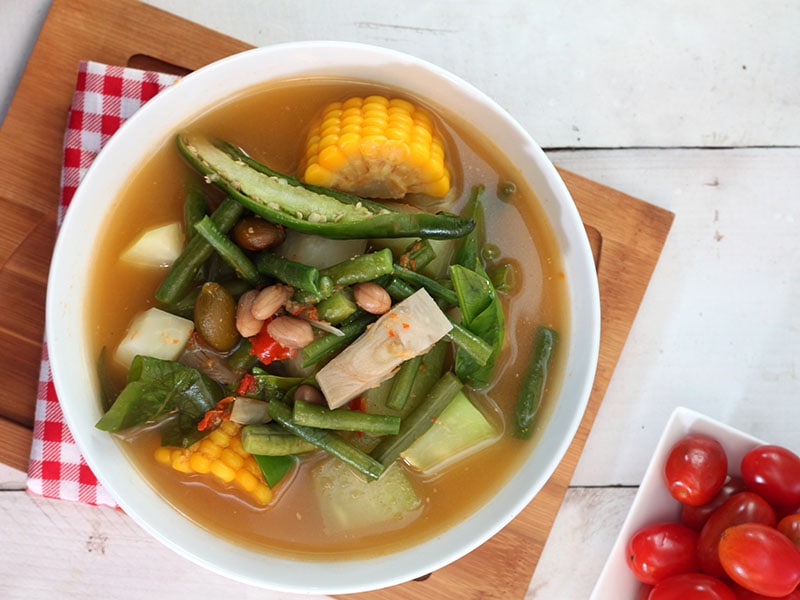 This Betawi dish in Western Java, Indonesia, may remind you of some Thai soups because of its sourness. Sayur Asem is made from tamarind extract, resulting in its sour flavor. It may be enriched with fish or meat stock, including peanuts, young jackfruit, and corn.
There are also thousands of Sayur Asem variants, some of which are Sayur Asem Jakarta, Sayur Asem kangkung with water spinach, or Sayur Asem ikan asin with salted fish. The edition from Karo of North Sumatra is more special with torch ginger and sour seed pods.
8. Sop Buntut (Oxtail Soup)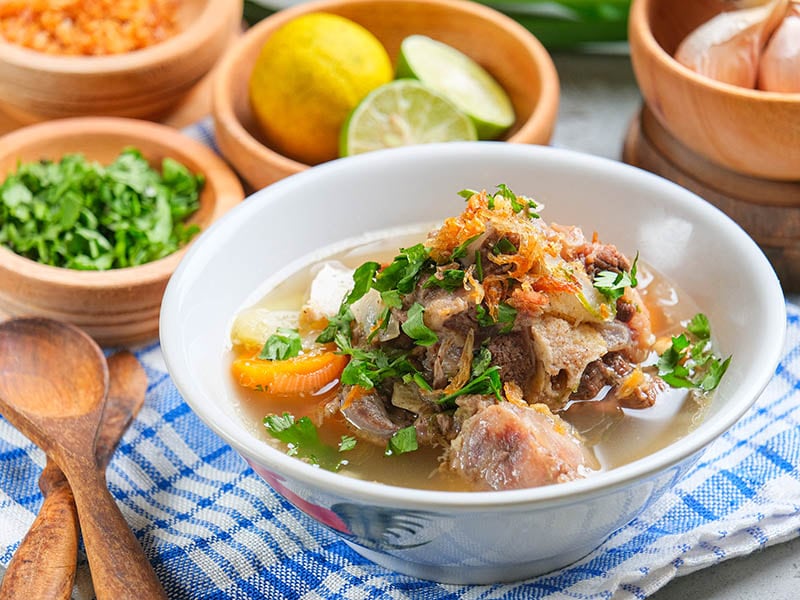 In Indonesia, Sop Buntut is a super famous dish with the meat around the ox's tail boiled in rich beef broth, including potatoes, leek, celery, fried shallots, carrots, black mushrooms, etc. Sop Buntut is usually served with steamed rice, sweet soy sauce, and some chopped chilies.
This dish has a fried variant, which is called Sop Buntut goreng. The well-seasoned oxtail is first deep-fried in oil, then served separately from the soup. It can be an interesting version of Sop Buntut for those who love fried foods!
Meat Dishes
Below are some most tasting Indonesian dishes with meat like beef, chicken, fish, and many others. They may be your favorite Indonesian delicacies, so take a look at this list:
9. Rendang (Slow-Cooked Beef)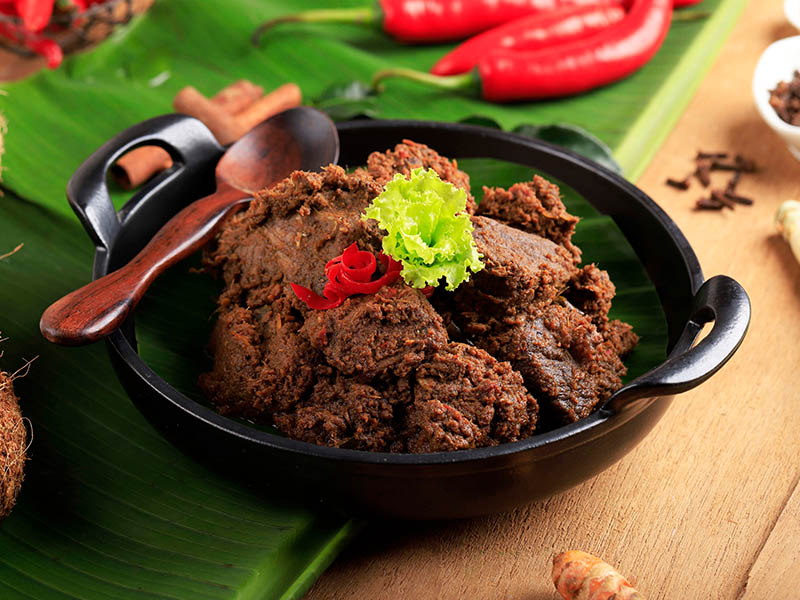 Rendang is another traditional Indonesian dish from Padang. It has been recognized as one of the most delicious foods on the planet! Rendang includes beef that is cooked for a long time (a few hours) to get the tenderness and richness of the beef.
Rendang is seasoned with a lot of herbs and spices such as ginger, turmeric, galangal, lemongrass, etc. But the secret weapon behind the creaminess and richness of Rendang is coconut milk and the slow-cooking process. If it is the first time you taste Rendang, you'll be super surprised!!
10. Otak-Otak (Grilled Fish Cakes)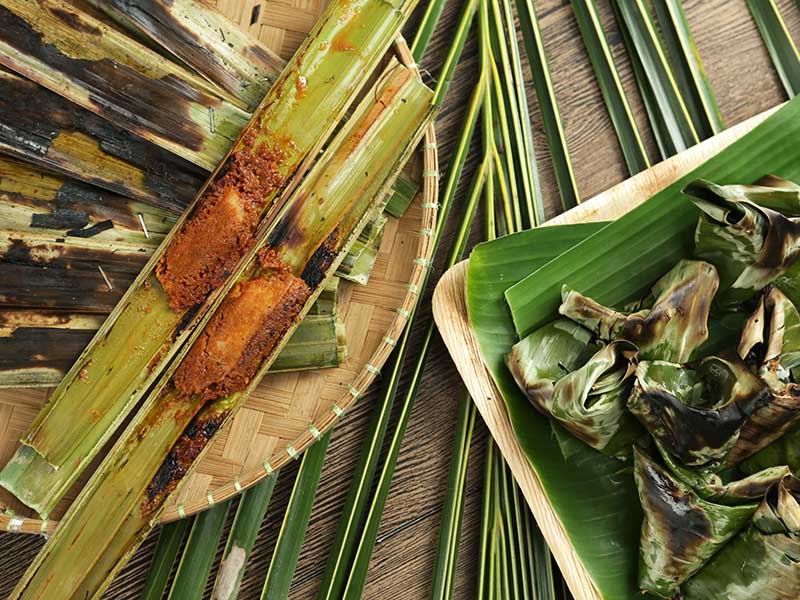 Deriving its name from the Malay term "otak", signifying "brain", this dish pays homage to its delicate consistency. If you haven't had the pleasure of trying it yet, don't hesitate! Locals consistently rank this regional delicacy as a top must-taste experience.
Otak-Otak is the Indonesian version of fish cakes that is super famous beyond the nation. To make this special dish, the locals will mix and grill (or steam) some ground fish paste with seasonings, then wrap it in banana leaves for storing.
Mackerel and wahoo are the two most common types of fish used to make Otak-Otak. Some more modern variations of Otak-Otak even replace fish with crab, fish head, or prawn meat. In Makassar and Jakarta, this dish is often used with peanut sauce.
11. Ayam Goreng (Fried Chicken)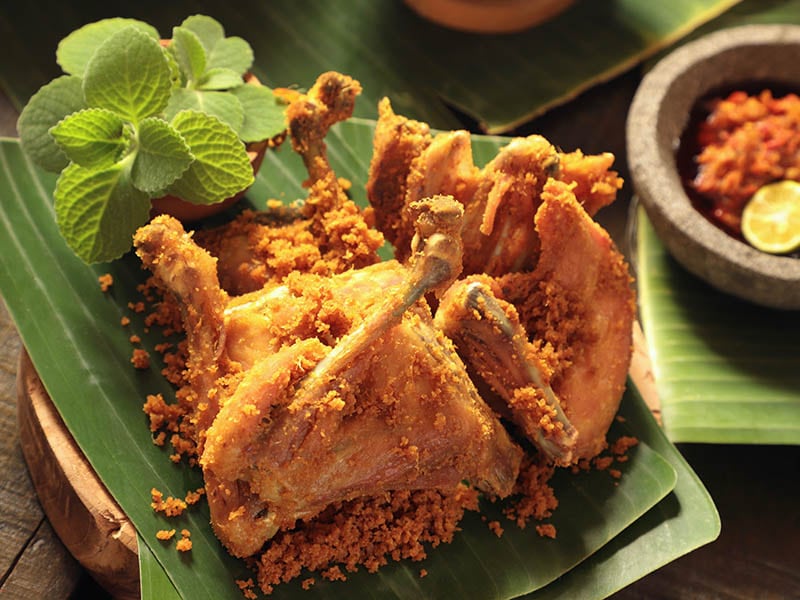 Ayam Goreng is literally the Indonesian variation of fried chicken. You may have tasted a thousand types of fried chicken, but Ayam Goreng is something different! They will marinate the chicken in a mixture of signature spices and then fry the prepared meat in coconut oil.
There are actually a lot of Ayam Goreng versions across the archipelago based on the local seasonings, but they are all aromatic and delicious from the first bite! Indonesians really love eating chicken, so Ayam Goreng routinely appears on their dinner table.
Don't be surprised to see many side dishes accompanying fried chicken as well! The Indonesian are fantastic at combining different dishes together to make a full-course meal where every dish is like an instrument, each contributing to the harmonious symphony of delectable flavors.. 
12. Pempek (Fish Cake With Vinegar Sauce)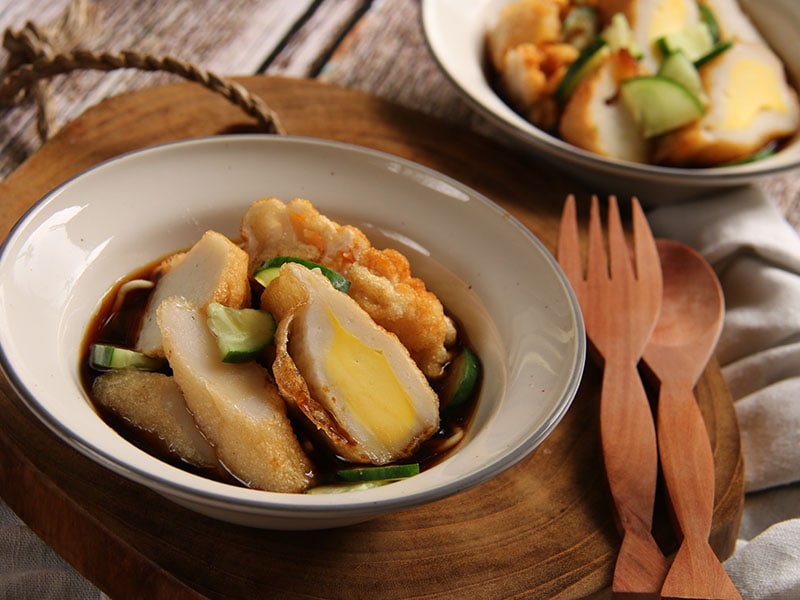 Pempek, also called empek-empek or mpek-mpek, is a Palembang specialty with fish cake made from fish and tapioca. Pempek is usually served with kuah cuka, which is a mixture of vinegar, sugar, and chili.
The locals may eat Pempek with noodles and some sliced cucumber. This dish originates from Palembang city in South Sumatera province. Some people say that Pempek comes from an ancient dish called kelesan (sago dough and fish flesh) invented in the Srivijayan era.
13. Babi Guling (Roasted Pork)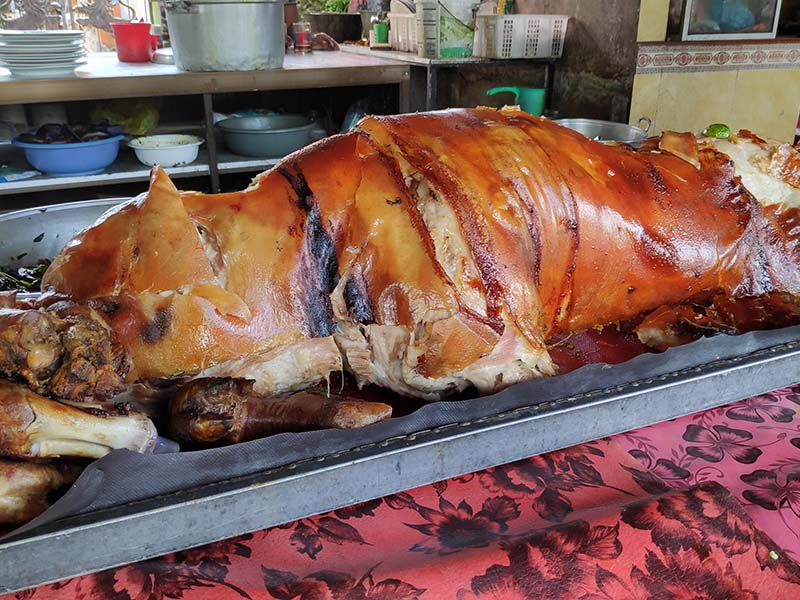 Babi Guiling is the Indonesian version of roasted pork. Before being roasted, the whole pig is stuffed with a special spice mix containing lemongrass, galangal, chili, coriander, garlic, and shrimp paste. Then, the prepared pig will be roasted on fire outdoors.
This traditional dish is magnificent and usually served on Indonesian special celebrations. But you can find it from a warung – Indonesian food vendors, in the form of a dish with steamed rice, a piece of roasted pork on top, sambals, and fresh vegetables.
14. Pepes Ikan (Steamed Fish Wrapped In Banana Leaves)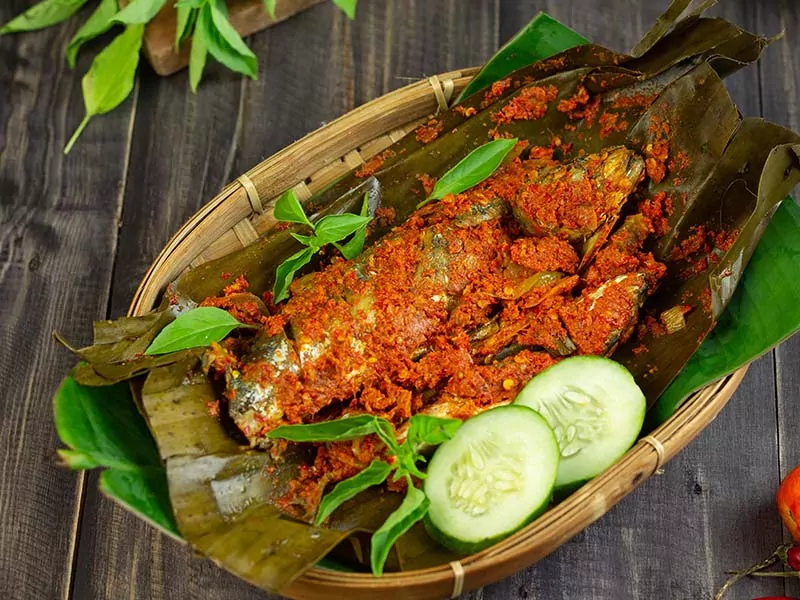 You may want to learn about the "pepes" cooking method. This is a traditional way of cooking in Indonesia, which is grilling or steaming something (beef, chicken, fish, etc.) seasoned with spices and wrapped in banana leaves. Pepes Ikan is a typical dish cooked by this method.
The cook will marinate the fresh fish with garlic, shallots, coriander, chilies, herbs, and spices to make a complete Pepes Ikan dish. This dish also consists of many variations all over Indonesia and East Timor. The most well-known version is called ikan pepes mas with carp.
15. Bakso (Meatballs)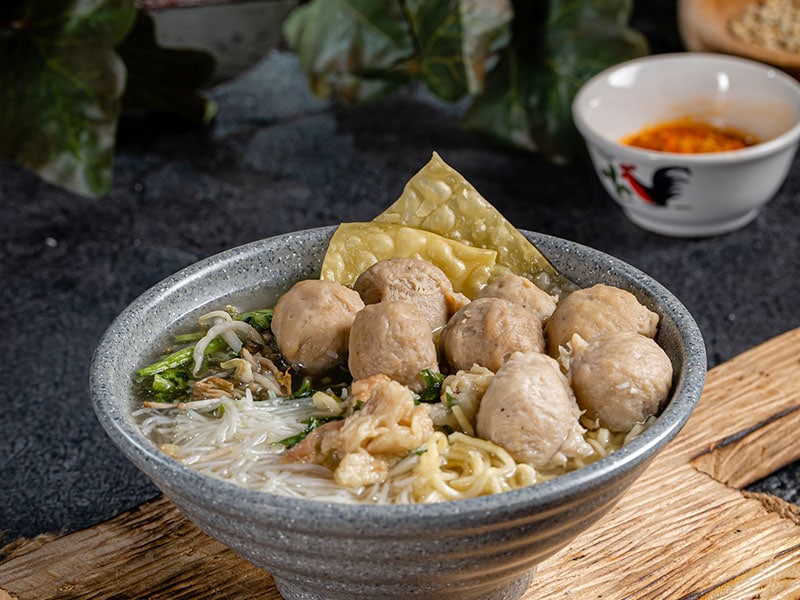 Bakso is literally Indonesian meatballs. Meatballs are definitely an all-time favorite dish all over the world. But there must be something special about this Indonesian version that makes the former U.S. President Barack Obama write its name in his favorite food list!
Bakso actually includes meatballs from beef, pork, chicken with noodles, fried dumplings, tofu, and soup. This dish is in the daily cuisine of Indonesia and can appear everywhere, in every house, restaurant, or street vendor. I suggest trying Bakso Alex, Bakso Solo Samrat, or Bakso Klewer Prawirorejo for a delightful experience.
16. Opor Ayam (Coconut Gravy Chicken)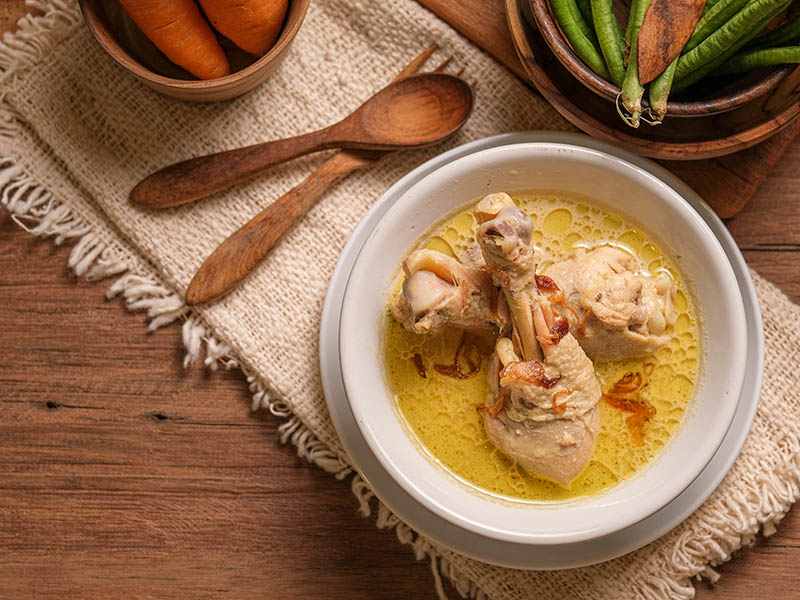 Opor Ayam is a traditional Indonesian dish, including braised chicken cooked with coconut milk and some unique herbs and spices of this nation, such as ginger, cumin, galangal, lemongrass, coriander, and garlic.
Opor Ayam originates from the central to Eastern regions of Java islands in Indonesia. It is commonly served with packed rice cakes in a diamond shape (ketupat) or tube shape (lontong) and chile-fried potato (sambal goreng kentang) during Ramadan.
Street Food Dishes
If this is the first time you've come to this Southeast Asian country, I bet that you will be absolutely amazed by how the foods from street vendors in Indonesia taste! Believe me or not, let's come through this yummy section with the most popular Indonesian street delights.
17. Satay (Skewered Meat)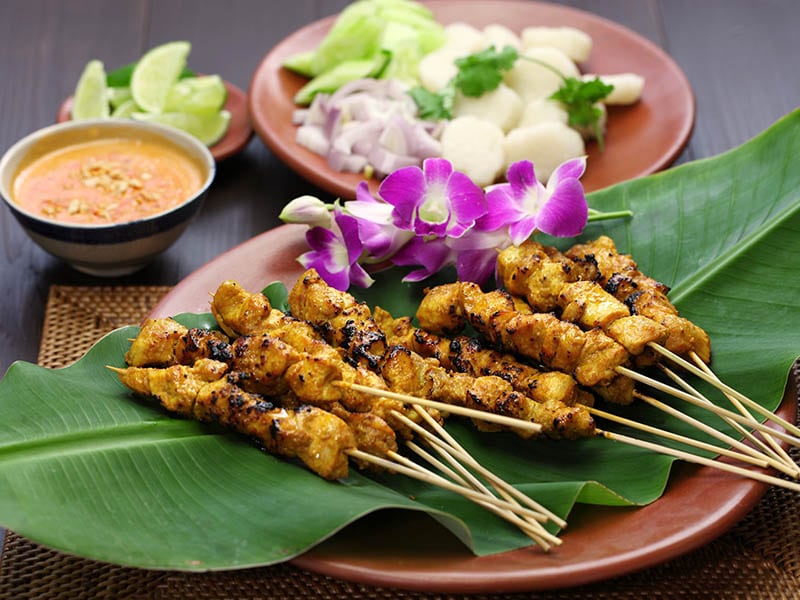 Do you know that Satay is also one of Indonesian cuisine's most popular traditional foods? Aside from being a famous Indonesian treat, this dish can be found in Malaysia and Singapore as well. Like soto, Satay also consists of many different versions.
Satay, or sate, includes grilled or skewered meat dipped in peanut sauce. Satay ayam from chicken is the most common variation in Indonesia. Satay daging from beef and stay kambing from lamb are also mouth-watering Satay types.
18. Siomay (Steamed Fish Dumplings)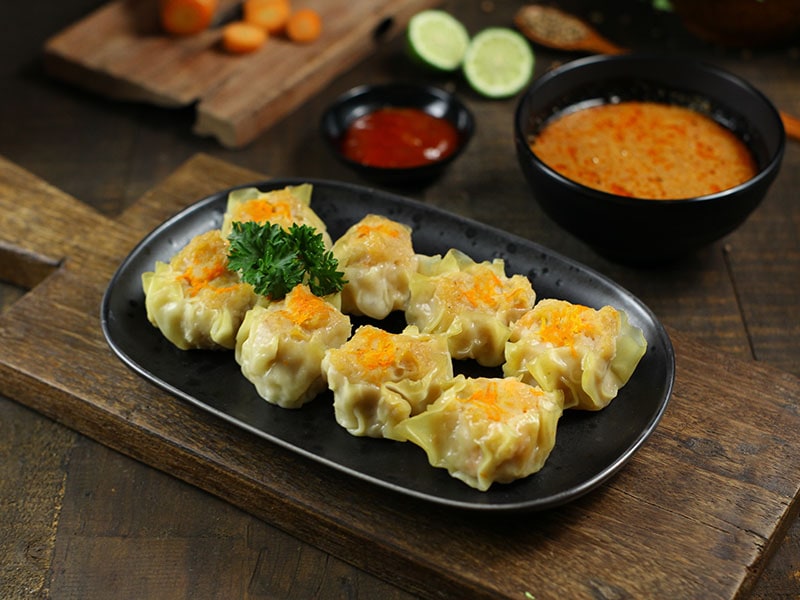 Siomay, also called Somai, is Indonesian dumplings including steamed fish and vegetables. It is inspired by a Chinese dim sum dish called shumai. Indonesians usually use mackerel, prawns, and tuna for cooking Siomay. Other ingredients may be potatoes, cabbage, tofu, and boiled eggs.
Siomay is often sliced into small pieces and served with a combination of kecap (sweet soy sauce), peanut sauce, chili paste, and some lime juice for a complete dish.
19. Batagor (Fried Dumplings)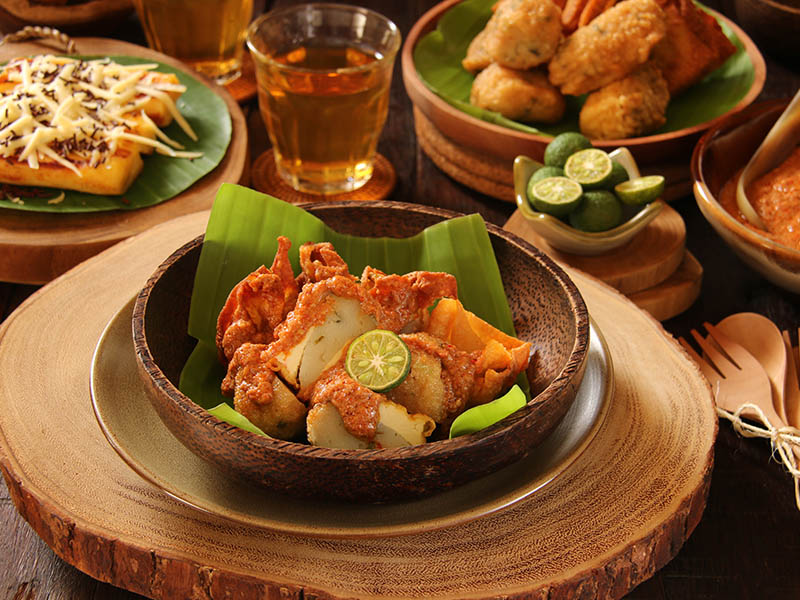 Together with siomay, Batagor is another well-known type of dumplings sold everywhere across Indonesia, especially in Bandung, West Java. Its name, Batagor, is a blend of bakso – tahu – goreng. Bakso is meatball, tahu is tofu, and goreng means "fried."
As its name suggests, Batagor's filling usually contains tofu, minced mackerel or wahoo, and tapioca flour. It is then wrapped in the wonton cover and fried in oil. The final dish is served with the same dipping sauce as siomay.
Batagor is renowned for its delicious taste, the crispy texture of its deep-fried wonton skin and tofu, as well as its delightful sweet and savory peanut sauce.
20. Pisang Goreng (Fried Bananas)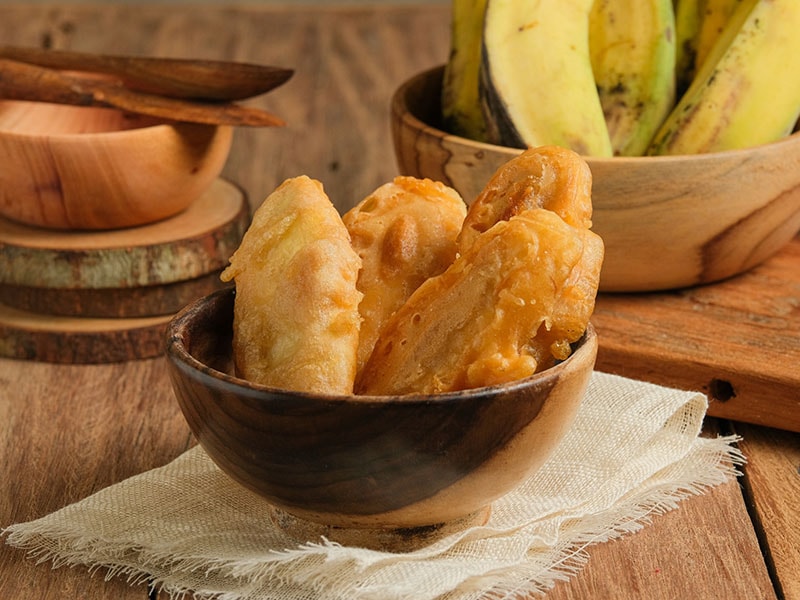 Pisang Goreng is simply slices of bananas dipped in batter and deep-fried in oil. It is such a ubiquitous street food in this country that you are not considered as being in Indonesia if you have yet tasted this incredible Indonesian sweet treat! It's that famous!
It is a simple yet delicious dish with ordinary Indonesian fruit like bananas. The crispy fried batter outside and the juicy, tender banana piece inside will conquer any food lover's heart! Want to know more about Indonesian vendor foods? Just try Pisang Goreng!
21. Pecel Lele (Fried Catfish)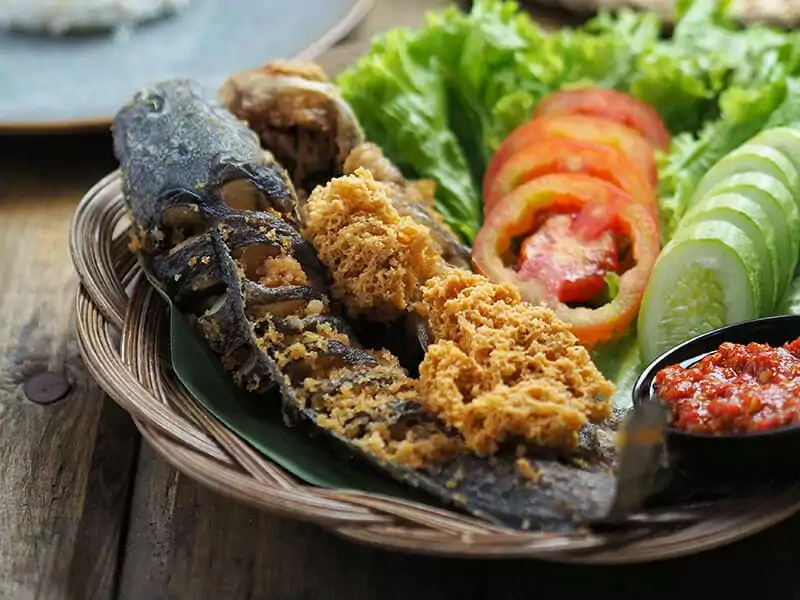 Pecel Lele is a popular street food around Indonesia, especially in Java. It is an affordable dish that is usually sold in the evening. It includes fried catfish dipped in sambal sauce and is often served with fresh veggies as a side dish.
You can always make Pecel Lele by yourself with enough ingredients, but if possible, you should come to Indonesia and enjoy this dish right at the place it was born!
This dish and its variations are all popular foods in Singapore, Malaysia, and other neighboring countries of Indonesia.
22. Gorengan (Deep-Fried Snacks)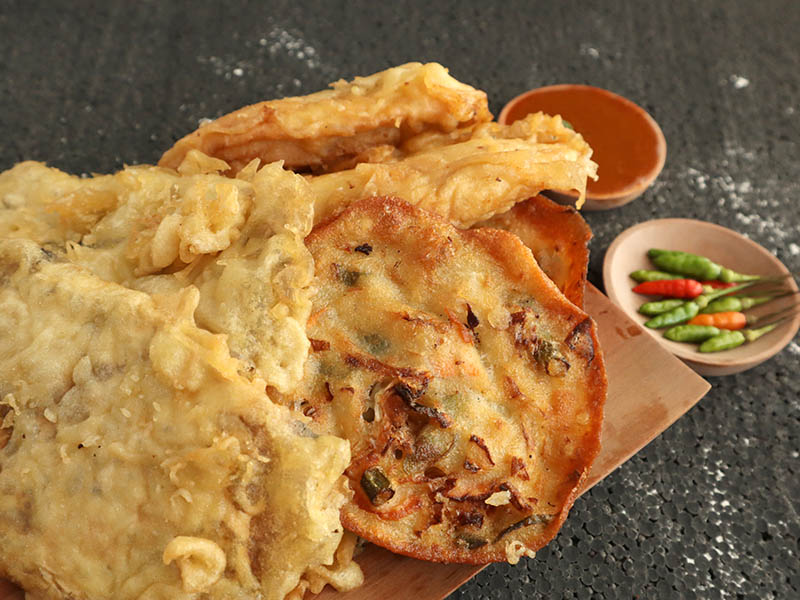 Gorengan is the general name referring to all types of deep-fried fritters sold in small food carts along Indonesian streets. Some of them are battered before frying, like the earlier pisang goreng (fried bananas); some are not.
You may find fried cassava, fried breadfruit, fried stuffed tofu, fried sweet potatoes, bakwan (vegetable batter fritters from cabbage, carrot, bean sprouts, and soybean cakes), and many more in a plate of Gorengan. This is definitely a must-try street food when you get to Indonesia!
Vegetable Dishes
23. Gado-Gado (Indonesian Salad With Peanut Sauce)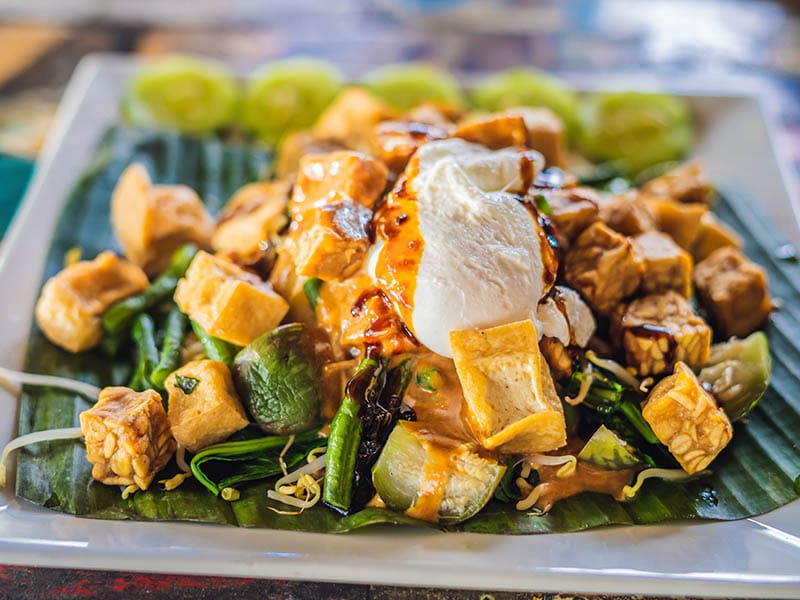 Indonesian cuisine consists of many types of salad mixed with peanut sauce, and Gado-Gado is a typical one among them. Gado-Gado in Indonesia means "mix-mix," and it truly is a mixture of cooked or uncooked vegetables, fried tofu topped with the sauce.
Gado-Gado's veggies usually include boiled potatoes, sliced raw cucumber, bean sprouts, corn, cabbage. The peanut sauce consists of shrimp paste and tamarind juice. Besides the original version, this dish also has many variations from other parts of the country like Betawi and Padang.
26. Balado Terong (Eggplants with Chili Sauce)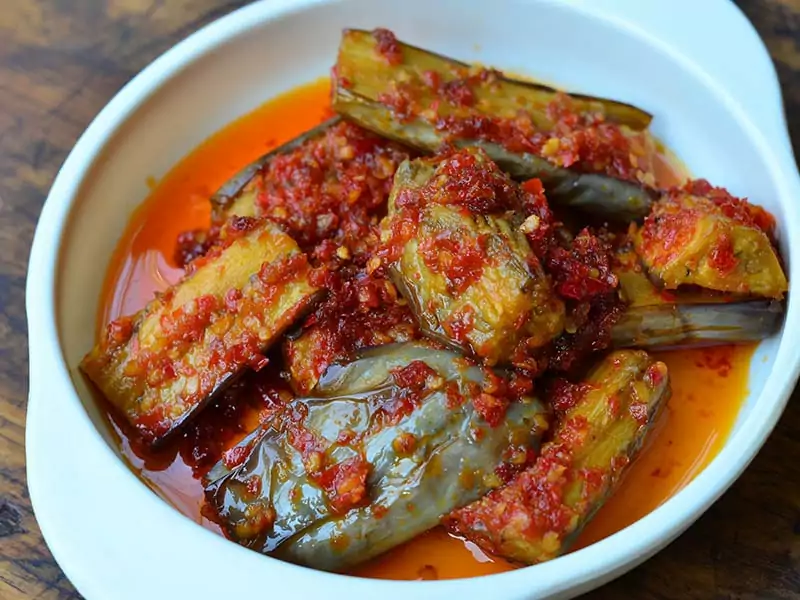 Balado Terong, or sambal terong, is really eye-catching with the bright red color of the chili sauce made from balacan (shrimp paste). The eggplants are well-prepared then grilled with that special sauce. It always goes with a suitable portion of steamed white rice.
This dish is Padang food that comes from West Sumatra, Indonesia. The secret weapon lies in the "balado" in the name, which is literally spicy and hot sauce used for almost any raw ingredients like eggs, potatoes, tofu, squids, prawns, and many more.
Stew Dishes
24. Gudeg (Jackfruit Stew)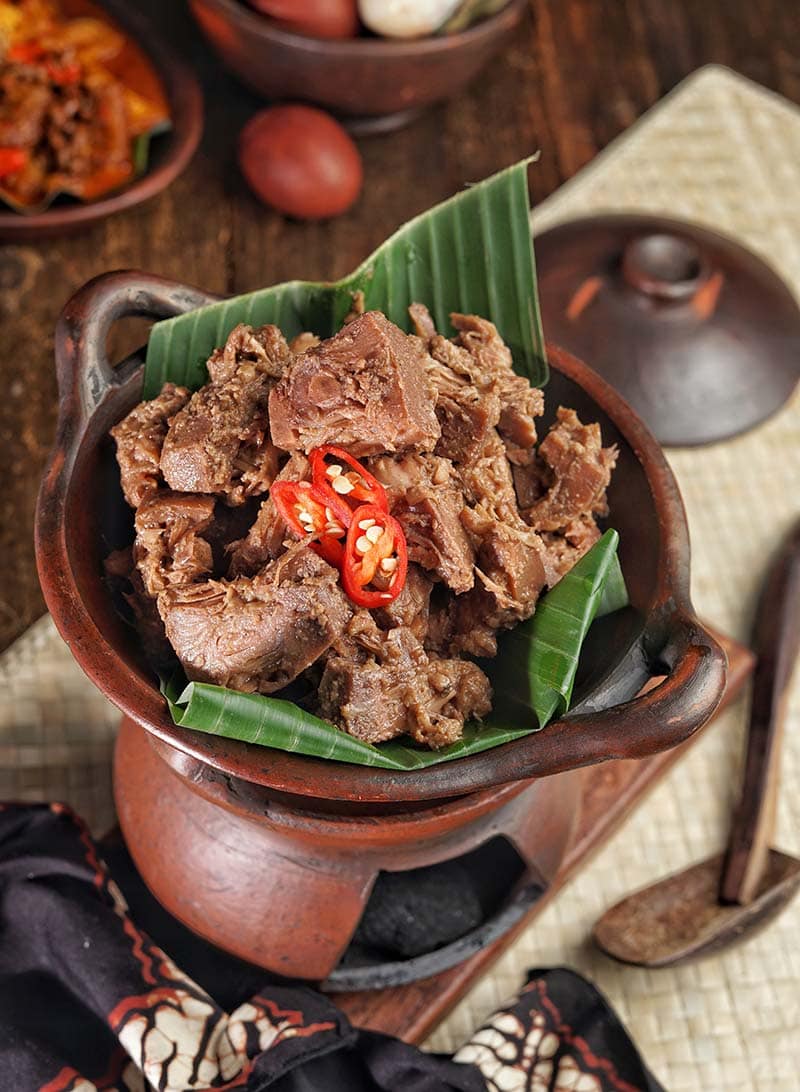 Gudeg is an Indonesian stew made from young unripe jackfruit. Jackfruit is a famous fruit in this country. You can eat it raw or cook it into a beautiful Gudeg dish! It also has many variations throughout the country, such as Yogyakarta style, East Javanese style, or Solo style.
To make Gudeg, young jackfruit will be cooked on low heat with coconut milk, lemongrass, macadamia, Indonesian bay leaves, and many more herbs and spices.
The food beginning with "J" will absorb the liquid and become tender after a while. Then, serve it with anything you like!
Noodle Dishes
25. Mie goreng or Bakmi Goreng (Stir-Fried Noodles)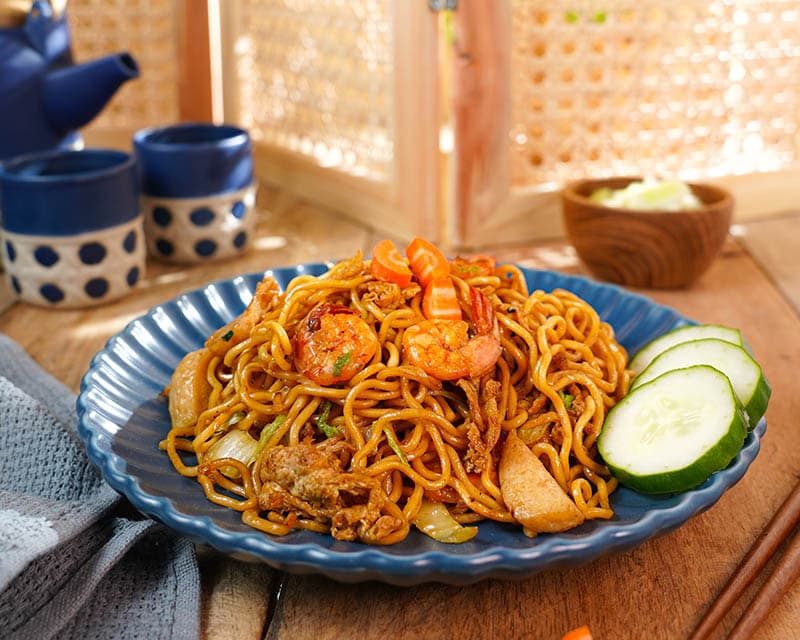 Mie goreng or Bakmi Goreng is a noodle dish that originated from Chinese cooking tradition. Bakmi is Chinese-style wheat noodles, but it has a thickness of Japanese udon. In this dish, it will be stir-fried with meat, veggies, and eggs.
Bakmi Goreng has many variations in Indonesia, with different types of meat as the main ingredients, such as bakmi ayam (chicken noodles) and bakmi bangka (noodles with minced pork). In Thailand, there is a khao soi dish, a curry-soup dish with bakmi noodles.
Desserts
You may find that Indonesian desserts are the best sweet treats on the planet! There are a lot of options for you to choose from, but if you can, try them all when you are in Indonesia! It is undoubtedly the paradise of sweet foods.
27. Martabak Manis (Indonesia Pancakes)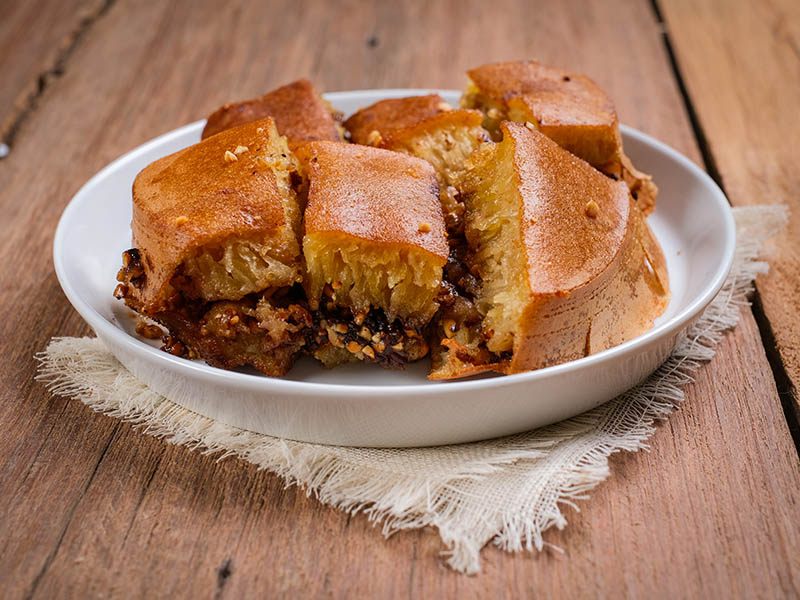 Original Martabak Manis includes thick pancakes with sweet fillings inside. Its texture is super fluffy with a buttery taste. When you buy Martabak Manis from food stalls, you can pick your favorite filling flavors: peanut, chocolate, condensed milk, cheese, etc.
Another variation of martabak is the savory one called martabak telur. This version will have crunchy pancakes, which are a mixture of eggs, scallions, and meat. Beef or chicken will be used in this delectable edition.
A noteworthy fact about Martabak Manis is that most locals sell this dish in the evening, after 6 PM. So, it may be a yummy snack for you to enjoy when the night comes.
28. Serabi (Rice Flour Cakes)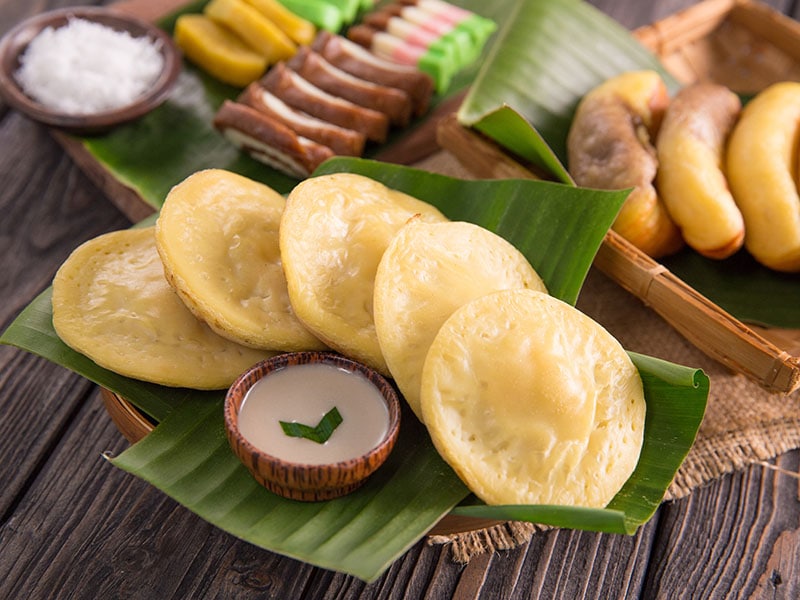 Serabi can be described as circular cakes that are often eaten as a snack. According to the flavors, Serabi has two typical variations: the sweet one called Serabi manis and the salty one called Serabi asin.
Serabi has a lot of topping options for you to pick, such as melted cheese or fruits like sliced bananas. Serabi pieces sometimes get the green color from pandan leaves.
29. Es Pisang Ijo (Green Banana Ice)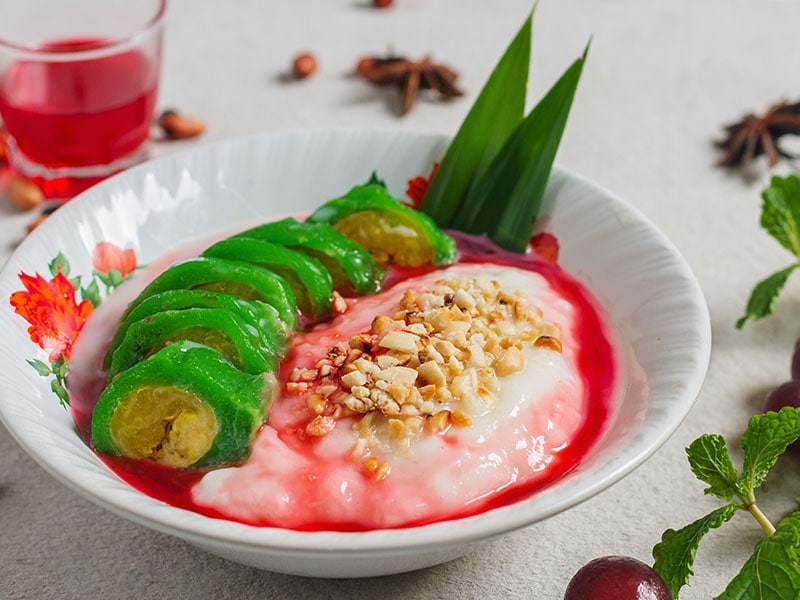 A dessert with ice? Can it be? Yes, with Es Pisang Ijo – a stunning Indonesian dessert in ice! This country has an almost entirely tropical climate, so its cuisine consists of many dishes having ice to cool down the body heat.
The bananas are wrapped in green dough and then steamed with boiling water. Then, they will be served on ice with some DHT syrup, a signature sweet red liquid from Makassar, and dried peanuts. Scoop a spoon with everything in the dish, and you'll be amazed!
30. Kolak Pisang Ubi (Sweet Potato And Banana Stew)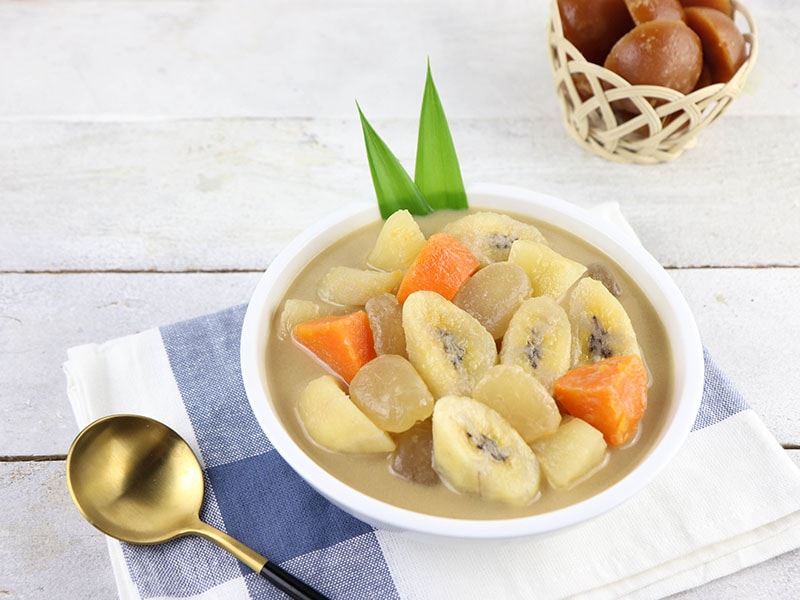 Kolak Pisang Ubi is a very famous sweet treat during Ramadan. This dessert is just simply the sweet potato and banana being stewed together in a pot. Other variations of Kolak Pisang Ubi may consist of pumpkin, jackfruit, cassava, potatoes, or tapioca pearls.
One special thing is that this dish can be served both hot and cold, on almost any occasion or celebration of Indonesian. You can easily find it at any restaurant or street vendor in Indonesia.
31. Es Cendol (Pandan Jelly With Coconut Milk)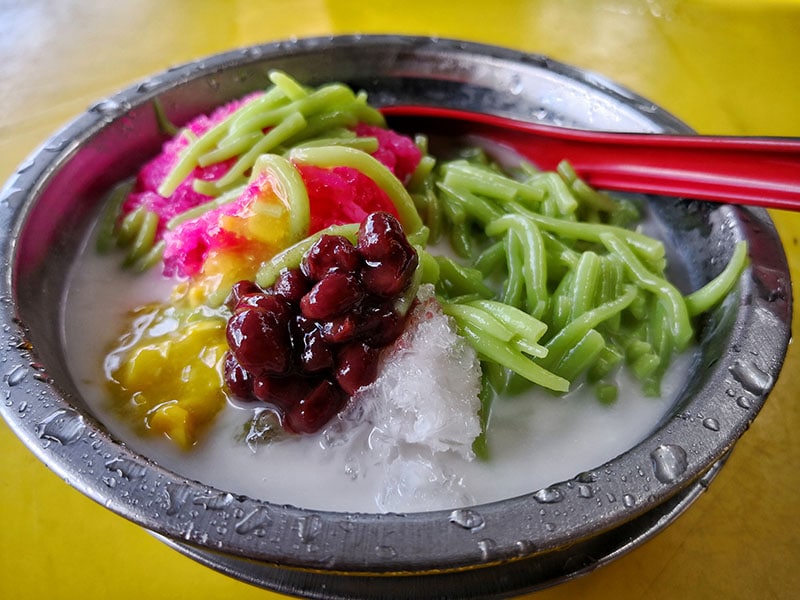 You may think that Es Cendol tastes like es pisang ijo at first glance, but this dish actually has more ingredients, colors, and flavors than the former one. Es Cendol includes green droplets made from pandan leaves, rice flour, mung bean flour, coconut milk, palm sugar syrup, and ice.
Es Cendol originated from West Java villages and has become so famous that you can look for it in any traditional market or even a five-star hotel's restaurant! It also has some variants in other countries such as Vietnamese's chè bánh lọt, Thai's lot chong, or Singapore's chendol.
32. Onde-Onde (Sesame Seed Balls)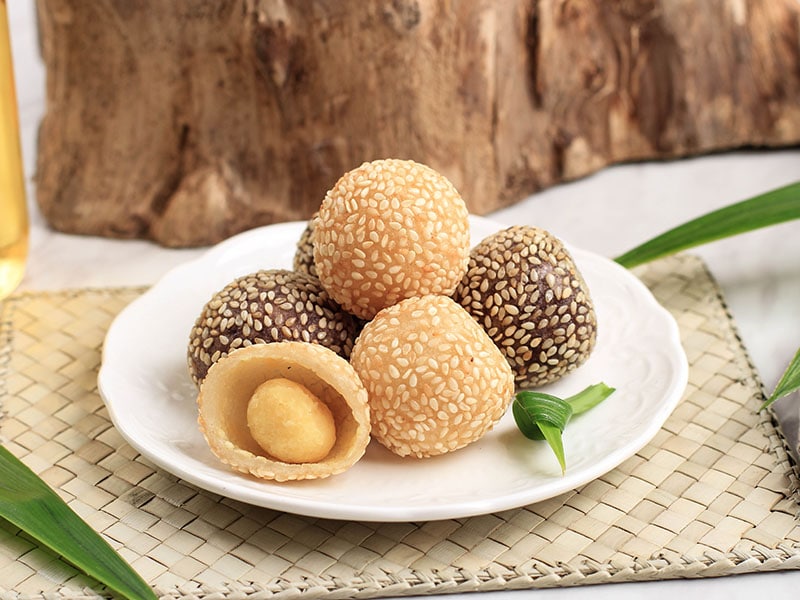 Onde-Onde is basically mung bean paste covered with glutinous rice flour and a layer of sesame seeds outside, then deep-fried in hot oil. They are chewy outside and soft inside, which is an interesting feeling!
A popular variant of Onde-Onde from Malaysia includes sweet potato flour with palm sugar filling. Palm sugar is a particular type of sugar that is mostly made from coconut palm and contains vitamin B and ascorbic acid. These nutrients are really good for your health!
You may be surprised to know that this sweet treat is also similar to some street foods of other Asian nations, such as bánh cam of Vietnamese, or butsi of Philippian. But Onde-Onde is a bit different from these variations – you'll know when you taste it!
Vegetarian Dishes
Great news for vegetarians and even vegans: Indonesian cuisine has many dishes that are safe for you to enjoy! It is the heaven of vegetables and vegan-friendly foods with thousands of different types and options.
33. Tempeh (Fermented Soybeans)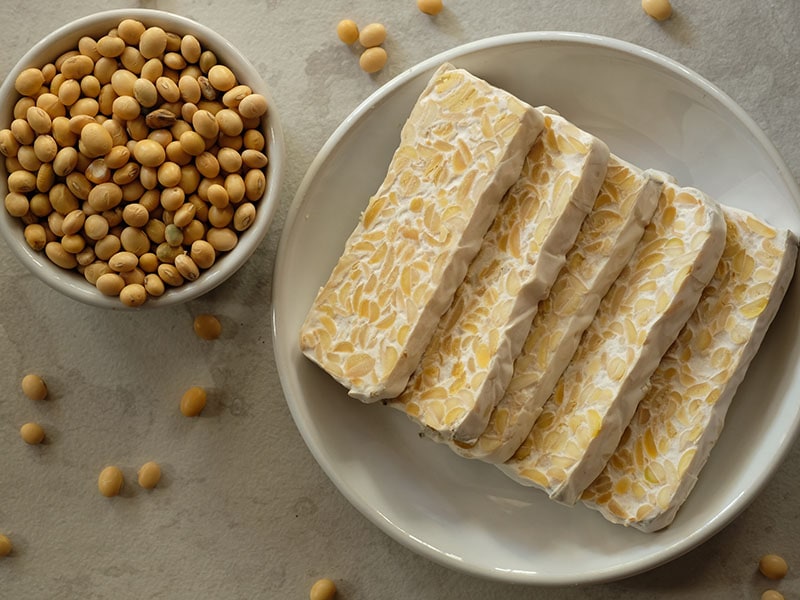 Tempeh, or tempe, is a famous traditional food from Java, an island of Indonesia. This dish has been recognized as a great source of protein. It may sound somehow like tofu, but it actually is a whole soybean product that the Javanese accidentally invented.
Raw Tempeh is wrapped in banana leaves and sold everywhere around Indonesia. Cooked Tempeh is used for many purposes, such as complementing salads and rice dishes. It has a firm texture with an earthy flavor in both raw and cooked forms.
Tempeh is also a versatile food that can be served in many different ways!
34. Perkedel Jagung (Indonesian Corn Fritters)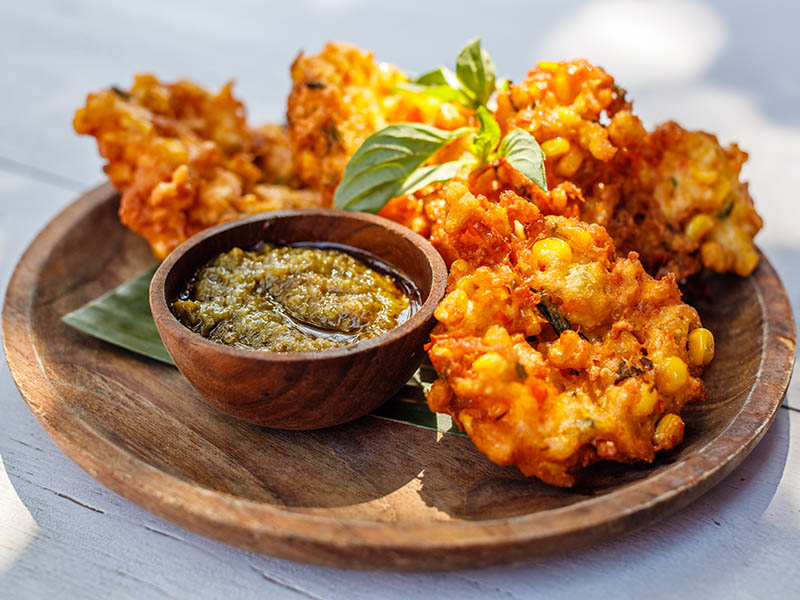 Perkedel Jagung is an Indonesian fried corn cookie. Corn has appeared in Indonesia since the 16th century by Portuguese and Spanish traders. It has become popular and has turned into one of Indonesia's most important staple foods. Perkedel Jagung is a good treat made from corn.
A mixture of fresh corn kernels, wheat flour, eggs, shallots, garlic, and other spices is deep-fried in hot oil. It is a simple yet tasty snack or appetizer that can be served everywhere in Indonesia!
35. Tahu Goreng Kecap (Fried Tofu with Sweet Soy Sauce)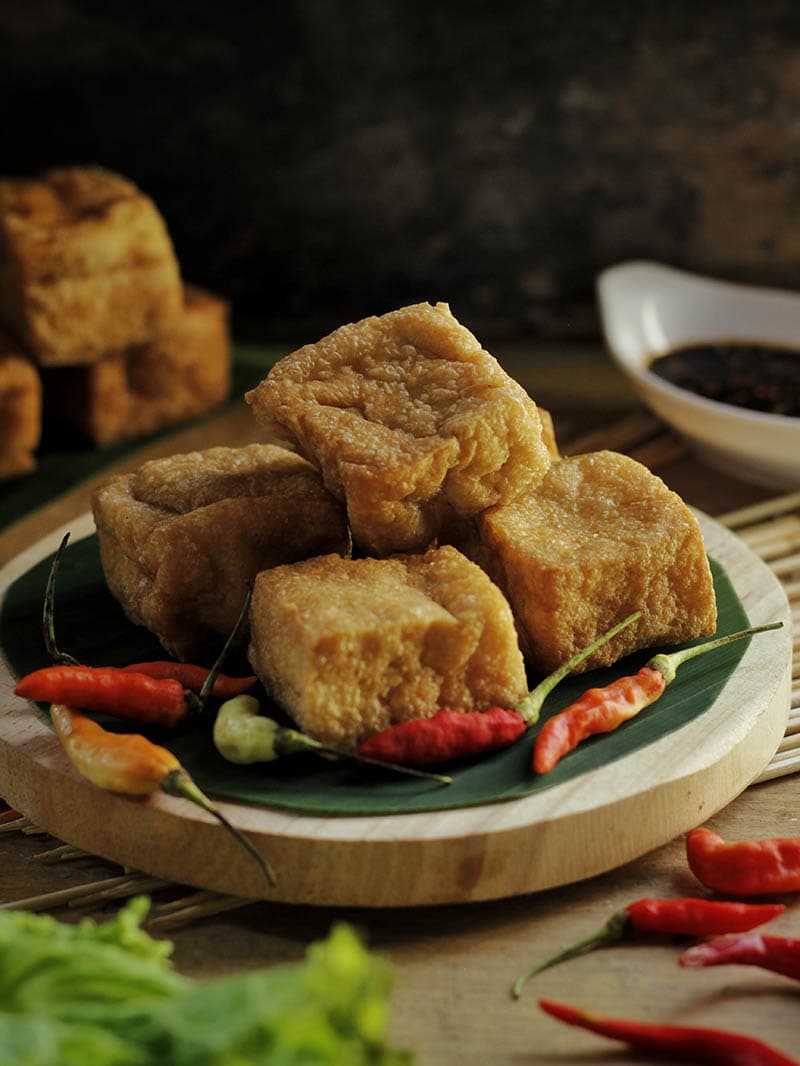 Tahu Goreng Kecap includes fried tofu served with fresh veggies (tomatoes, cabbage, bean sprouts, etc.) and sweet soy sauce. The sauce is a mixture between many herbs and spices like soy sauce, chili, shallots, galangal, and shrimp paste.
This dish was born for you if you like tofu and fried foods! It is easy to make at home, but enjoying the original dish right in Indonesia will be great. This will be a refreshing and delectable Halal dish that is suitable for vegetarians and vegans!
36. Tinutuan (Manadonese Vegetable Porridge)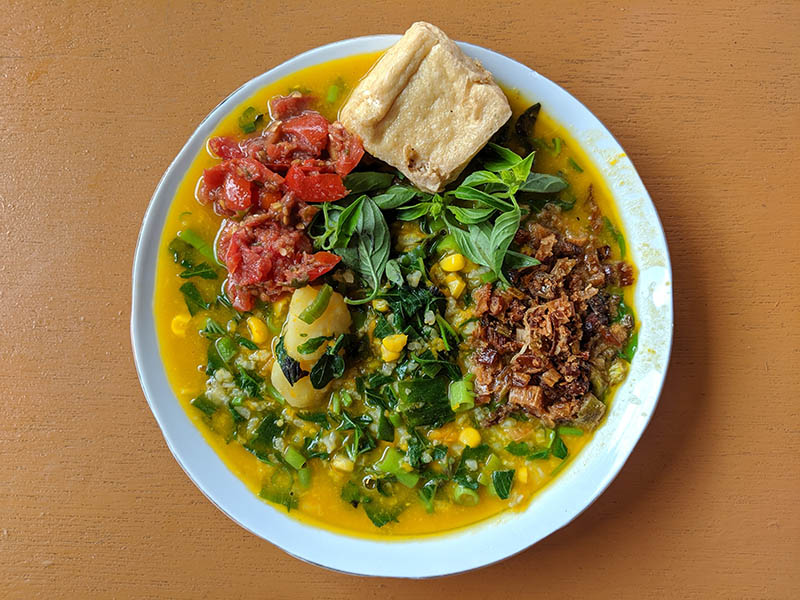 Tinutuan, also called bubur manado, is an iconic dish from 1970 of Manado, the capital city of North Sulawesi, Indonesia. This veggie porridge is super friendly with vegetarians and vegans. The vegetables usually include pumpkin, corn, and cassava leaves.
Titutuan often appears in the restaurants of some big Indonesian cities like Jakarta, Yogyakarta, or Denpasar. It does not show up everywhere, so if you want to taste this delectable dish in Indonesia, you should look it up on the internet first!
Dining Etiquette And Traditions
It's time to uncover the unique dining etiquette and traditions that accompany the vibrant Indonesian cuisine, and immerse yourself in the customs and rituals that shape this rich gastronomic experience.
Indonesian Meal Structure
Indonesian meals typically consist of a main dish accompanied by rice and a variety of side dishes, such as vegetables, meat, and fish. Meals are often served family-style, with each dish placed in the center of the table for everyone to share.
Eating With Hands
Many Indonesians prefer to eat with their hands, particularly when enjoying traditional dishes. To do this, use your right hand to form a small ball of rice and use your fingers to pick up pieces of the main dish. This method is believed to enhance the sensory experience of the meal.
Communal Dining And Sharing
Communal dining is an integral part of Indonesian culture, reflecting the importance of togetherness and sharing. Meals are often enjoyed with family or friends, with dishes placed in the center of the table for everyone to partake in.
Spice Levels And Adjustments
Indonesian cuisine is known for its fiery flavors, but spice levels can be adjusted to suit individual preferences. Many restaurants and street food vendors are happy to accommodate requests for milder or spicier dishes, ensuring an enjoyable culinary experience for all.
Tips For Exploring Indonesian Cuisine
These helpful tips will help you make the most of each flavorful adventure while navigating the rich tapestry of dishes and dining experiences.
Sampling Regional Dishes
Indonesia's diverse culinary landscape offers a wealth of regional dishes to explore. Be adventurous and try local specialties from various regions, such as Sumatran Rendang, Javanese Gese Gudeg, or Balinese Babi Guling, to experience the full spectrum of Indonesian flavors.
Visiting Local Markets
To truly immerse yourself in Indonesian cuisine, visit local markets where you can find fresh produce, spices, and traditional snacks. Markets provide a fascinating glimpse into daily life and offer an opportunity to learn about regional ingredients and cooking techniques.
Trying Street Food
Indonesia's street food culture is a treasure trove of delicious and affordable dishes. From Sate Ayam to Martabak, street food stalls offer an authentic taste of Indonesian cuisine. Don't hesitate to explore local street food vendors to enjoy a genuine culinary experience.
Participating In Cooking Classes
Taking a cooking class is an excellent way to learn about Indonesian ingredients and techniques, as well as to gain hands-on experience in preparing traditional dishes. Many cities and tourist destinations in Indonesia offer cooking classes, ranging from short workshops to full-day courses.
Dining At Authentic Indonesian Restaurants
To fully appreciate the depth and variety of Indonesian cuisine, dine at authentic local restaurants, known as "warungs" or "rumah makan." These eateries often serve traditional dishes made from family recipes, providing an unparalleled taste of Indonesia's culinary heritage.
FAQs
Find answers to your burning questions in your Indonesian food FAQs section, where I tackle the most common curiosities and provide insights to guide you on your delectable journey through this culinary wonderland.
---
Indonesian Culinary Gems: Are You Ready to Taste?
Whether you are a tourist or a food lover, I'm sure you will fall in love with Indonesian cuisine with various dishes! From a small street vendor to a high-class restaurant, every dish in this complete list is a masterpiece that people of all ages can enjoy!
If you find this article interesting and helpful, why don't you like and share it to spread the word to other people? You can also leave a comment below to tell me about your experiences with these foods or some stories you want to tell!