If you're looking for delicious side dishes for fried chicken, you've come to the right place. These tasty sides will make sure that everyone on the table will scrape their plates clean. From crispy fried okra to savory baked potatoes, there are many ways to improve your fried chicken.
Fried chicken is undoubtedly beloved by people of all ages. Its crispy exterior and juicy, tender inner flesh are always an incredible treat to the palates. And because fried chicken is easy and quick to prepare, it's become a popular main dish in many households.
However, fried chicken needs a companion to become truly well-rounded in flavors and textures. You can pair fried chicken with fried side dishes to enhance the crunchy sensation, or you can serve it with mashed potatoes for a soft, fluffy bite alongside the crispy chicken.
Without further ado, let's find out what side dishes you can serve with fried chicken.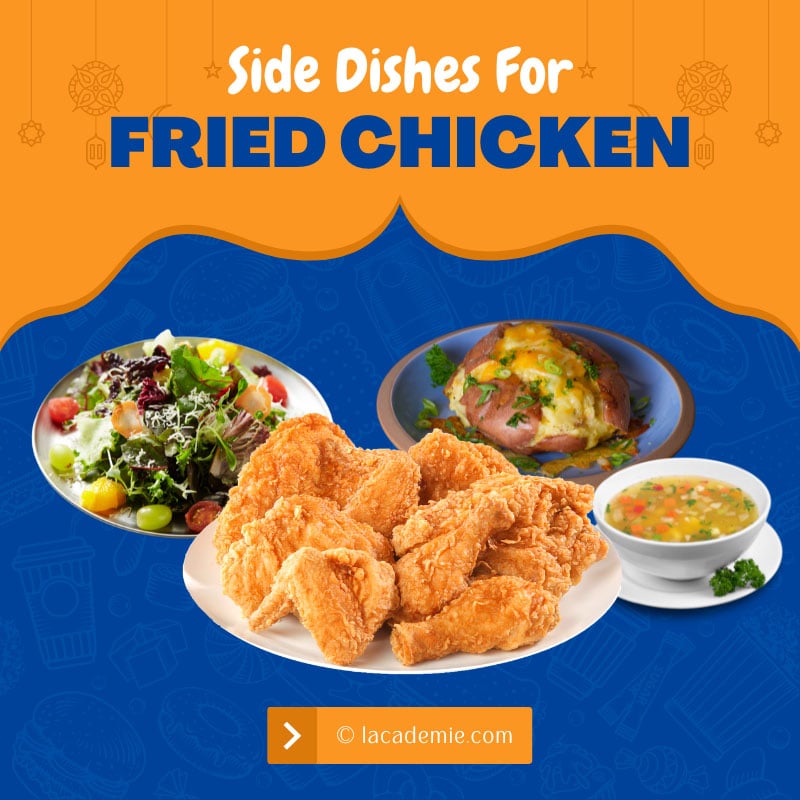 Top Side Dishes To Serve With Fried Chickens
There are plenty of side dishes for fried chicken for you to consider. Depending on your preferences or needs, you can pick a specific category to find the most suitable ones for you or your family.
Fried Side Dishes
Fried Okra
Fried Green Tomatoes
French Fries
Hush Puppies
Side Dishes With Minimal Cooking
Cool Beans Salad
Cherry Tomato Salad
Black-eyed Pea Salad
Barley Corn Salad
Cucumber-pomegranate Salad
Coleslaw
Thyme Zucchini Sauté
Potato Salad
Baked Side Dishes
Twice-baked Potatoes
Baked Crispy Parmesan Potatoes
Hasselback Sweet Potatoes
Biscuit
Baked Bean
Squash Casserole
Peach Cobbler
Cornbread
Green Bean
Boiled Side Dishes
Mashed Potatoes
Corn on the Cob
Mac and Cheese
Fried Side Dishes For Fried Chicken
If you like crispy bites to enhance the crunchy sensation from your fried chicken, I'd recommend you to give these fried side dishes a try.
At its core, fried okra is an incredibly simple dish. To prepare this, you simply need to cut okras into smaller pieces, deep them in an egg mixture, and deep fry them. Even if you're not familiar with this dish, you'll still only need 30 minutes to throw everything together.
Although fried okra might seem like an indulgence, especially when paired with fried chicken, it's relatively healthy. This is because okra is an amazingly nutritious food, which is packed with antioxidants, vitamins, fibers, folate, and magnesium.
Crispy with a juicy, tangy middle, fried green tomatoes will certainly be a side dish hit on your shared gathering party, even with small children. With salt, pepper, and garlic, these fried green tomatoes will deliver a satisfying bite packed with exquisite aromas and relish.
Even though you can use regular all-purpose flour to prepare fried green tomatoes, I'd suggest opting for those made from low-protein wheat. These have a finer texture, ensuring a crispy bite and preventing the flour coating from slipping off the tomatoes.
It goes without saying that French fries are a classic side to fried chicken. They are quick, easy, and hassle-free to prepare, and everyone loves these golden sticks. Sprinkle in some spices like garlic powder, black peppers, or paprika, and everyone will devour these French fries.
If you're serving French fries alongside fried chicken, don't forget to bring a bowl of tangy or spicy dipping sauce to the table as well.
When you're finished with your fried chicken, you can use the remaining oil to whip up a hearty dish of hush puppies. Made from cornmeal batter with a pinch of salt and seasonings, these hush puppies bring about a pleasant swirl of sweet and salty flavors.
If you want your hush puppies to be ready as fast as possible, you'll need to preheat the oil, which should be around 365 degrees Fahrenheit.
You'll certainly love these crispy hush puppies. Watch this video to know more:
Side Dishes That Involve Little Cooking
If you think that serving fried dishes or potatoes with fried chicken is a bit too heavy, you can opt for these light, nutritious, and healthy side dishes. Rest assured, these side dishes are just as delicious.
Cool bean salad will make you look like a cool person, especially when you serve it with fried chicken. Despite its heavy look, the cool bean salad is very light and satisfying. Not to mention that the vibrant flavors this salad brings about will balance out the meaty bite from fried chicken.
A fan of spicy food? You can add paprika or hot sriracha to this salad. The spicy kick and the refreshing flavors from this cool beans salad are definitely a perfect complement to fried chicken.
Whenever the weather gets hot, my first thought for fried chicken side dishes is cherry tomato salad. Indeed, it's hard to beat the juicy, tangy, and fresh flavors from this simple salad, especially when it's served chilled.
As if the enticing taste from cherry tomato salad is not enough to make it stand out already, this fried chicken side dish only takes 10 minutes to whip up. With the time you save, you can invest your efforts in your fried chicken to make it even more delicious.
Mashed potatoes are ideal for people who prefer a bowl of soft, buttery, and starchy side dishes. Offering an amazingly fluffy and creamy bite, mashed potatoes can be prepared in a blink of an eye. In other words, mashed potatoes are suitable for busy people and novice chefs alike.
Mashed potatoes are a simple side dish, but when paired with fried chicken, they will bring about an exquisite taste. Creamy potatoes alongside crispy chicken, what more can I possibly ask for.
You don't have to worry about messing up your mashed potatoes when you have this detailed instruction at your disposal.
Black-eyed pea salad is a gluten-free side dish, perfect for people seeking to incorporate healthy dishes into their meals. Fresh, healthy, and nutritious, black-eyed pea salads will balance out your fried chicken.
For black-eyed pea salad, you'll need to combine various vegetables and greens together. With black-eyed peas as the base, you can add corn, carrots, tomatoes, kale, spinach, red onions, parsley, and your favorite dressing. A guaranteed delicious side dish!
If paired with fried chicken, pasta salad can make the meal somewhat heavy. This is where barley corn salad comes in. A perfect substitute for pasta salad to sate pasta lovers, this incredible side dish will bring refreshing flavors to your dinner table.
The thing I like about barley corn salad is that it's delicious, savory, fulfilling without being too heavy. Its light and appetizing taste will make sure that your palates feel "revitalized" between each bite of fried chicken.
Cucumber-pomegranate salad is perhaps one of the simplest side dishes for fried chicken you can think of. And because there's no cooking involved, you can rest assured that all the essential nutrients in the fruit and vegetable are preserved.
As the name indicates, crunchy cucumber and tangy pomegranate are the stars of this dish. There are a few ways to flavor up this salad; you can add simple garlic and basil leaves. Or you can opt for some creamy feta cheese, zesty lime juice, and spicy black pepper.
What's the best way to make sure that everybody will finish your vegetable side dish? Whip up some classic coleslaw, of course! Sure, the combination of cabbage and carrots might not sound that amazing, but there's a reason for coleslaw's popularity – their absolute deliciousness.
Aside from using fresh cabbages and carrots, the key to the perfect coleslaw lies in the dressing cream. It should be creamy and tangy enough to boost the flavors and textures of the vegetables.
Coleslaw salad will bring a fresh taste of summer to your fried chicken.
Side dishes for fried chicken don't get any simpler than this. Flavored with onions, parsley, and thyme, zucchini is then cooked until it becomes tender. If you're in a pinch, you can cut down the cooking time and serve crunchy zucchini – the taste would still be amazing.
Thyme zucchini sauté is a great vegetable side dish for fried chicken. It will give you a more balanced and nutritious meal while still making sure that your taste buds are satisfied.
Potato salad is that exquisite, complicated-looking side dish that you serve with fried chicken to impress your guests. Enhanced with eggs, mayo, mustard, and various seasonings, potato salad tastes as good as it looks, if not more.
One incredible thing about potato salad is that it's pretty straightforward to make. There's no complicated step, hard-to-find ingredients, or expertise required. You only need to choose the right potatoes – which is Yukon gold, and the rest will be smooth sailing.
Try out this easy and hassle-free potato salad recipe.
Steaming Baked Side Dishes Accompanying Fried Chicken
To make these side dishes, you'll need a baking oven. The advantage of these is that you only need to spend a short time preparing. During the long hands-off baking time, you can focus on your fried chicken instead.
Don't know which dishes to make with the remaining baked potatoes in your fridge? Bake it again now! Double the baking, double the flavors! Twice-baked potatoes will bring twice the fun to your fried chicken meal.
For this recipe, if you only have raw potatoes, you'll need to bake them until their skins turn crispy first. Only then can you top cheese, fried bacon, butter, and other herbs on the potatoes for further baking.
Twice-baked potatoes require a lot of preparation time, but once you get a bite of these cheesy, oozy potatoes, you'll think that they're worth the effort. Not to mention that these deliciously savory bites will undoubtedly make the perfect potato side dish for fried chicken.
Soft, fluffy potato wedges with crispy parmesan crusts. A tender, cheesy bite further enhanced by aromatic garlic, rosemary, parsley, thyme, paprika, and pepper. These baked crispy parmesan potato wedges are undoubtedly a force to be reckoned with.
As delicious as this fantastic side dish may sound, it will not outshine your main course – fried chicken. If anything, these savory wedges only reach their highest potential when they're served with fried chicken.
Here's how to make easy and delicious oven baked potato wedges.
If you're growing bored with potatoes, you can try sweet potatoes for a change. Just because sweet potatoes don't seem to be as prominent as their counterparts doesn't mean that they're any less tasty.
Hasselback sweet potatoes may look complicated, but they're pretty easy to prepare. The idea behind this dish is to infuse the vegetable with herbs, garlic, butter, salt, and peppers. And you only need 10 minutes to whip up this side dish.
Imagine bringing a tray of hot biscuits to serve alongside crispy fried chicken. Everyone certainly will be thrilled. Buttery and savory, the Southern staples will make sure that no one leaves the table on an empty stomach.
Of course, there are several types of biscuits that you can serve with fried chicken. However, the one that suits the crispy meat best is buttermilk biscuits. And as long as you know how to rewarm biscuits properly, these buttermilk biscuits will always taste fresh and palatable.
When the temperature plummets, baked beans make an enticing side dish, especially when it's paired with fried chicken. I know that baked beans are usually associated with grilled meat, but trust me when I say that this side dish goes perfectly well with fried chicken.
A big reason baked beans and fried chicken are such an ideal combination is because of their contrasting textures. Crispy fried chicken served side by side with thick, creamy, and soft beans. Truly a divine match.
Baked beans can't get any simpler than this with this recipe.
Such a scrumptious side dish that your family will keep begging you to make for years to come, squash casserole boasts an enticing flavor and texture. Mildly sweet, the humble yellow squash then transforms into an irresistible side thanks to butter, cheddar cheese, and crispy crackers.
You can also customize squash casserole to suit your personal preferences better. For instance, dried fruits and nuts complement yellow squash's flavor rather well.
Yes, I admit peach cobbler is indeed a well-known sweet to welcome spring. But that doesn't make it any less suitable for fried chicken.
A great side dish for sweet-tooths, the peach cobbler has a nice buttery sweetness, which is enhanced by the delicate fruity notes of peach and fragrance from spices.
Even though peach cobbler is not a conventional dish to serve with fried chicken, it doesn't hurt to try pairing these two at least once. Plus, you can also enjoy it as a yummy side dish for your Hamburger Helper to create the ultimate comfort food combo. Trust me; you'll be surprised by these pleasurable flavor fusions.
A classic baked good that goes well with chicken, cornbread strikes the perfect balance between sweet and savory flavors. Its crumbly, melt-in-your-mouth texture will make your fried chicken taste even more heavenly.
When serving cornbread with fried chicken, you can add an extra side of creamy gravy. Pour the gravy on top of the cornbread, and people will lick their dishes clean.
Crispy and savory, these oven-baked green beans will bring you a delicious and healthy side dish to go with fried chicken. Sweet, crunchy beans with granular breadcrumbs. This fantastic side dish will make the crowd go crazy.
Your green bean fries will taste even more amazing if paired with Ranch dressing. You can also opt for other kinds of dipping, such as guacamole, hummus, or salsa.
Boiled Side Dishes You Can Prepare Under 30 Minutes
If you're in a pinch and need to whip up a hearty side dish for fried chicken within less than 30 minutes, the recipes below will certainly help you. No worries, they may not take much time, but they're still mind-blowingly delicious.
Mashed potatoes are ideal for people who prefer a bowl of soft, buttery, and starchy side dishes. Offering an amazingly fluffy and creamy bite, mashed potatoes can be prepared in a blink of an eye. In other words, mashed potatoes are suitable for busy people and novice chefs alike.
Mashed potatoes are a simple side dish, but when paired with fried chicken, they will bring about an exquisite taste. Creamy potatoes alongside crispy chicken, what more can I possibly ask for.
You don't have to worry about messing up your mashed potatoes when you have this detailed instruction at your disposal.
Corn on the cob requires next to no preparation and little cooking time. If you're hard-pressed for time, you can even make this side dish inside a microwave. The required steps to rewarm corn on the cob are quite easy too, so you can consider making this dish in advance.
However, if you have some time on your hands, take it slow and gradually grill your corn. There you have your perfect dish using griddle for your summer meal. Make sure that you slater a generous amount of salt and butter on the corn.
When placed alongside fried chicken, corn on the cob indeed looks humble. However, it is the sweet and savory flavors that make this simple side dish shine, especially when it goes with fried chicken.
Who doesn't love mac and cheese? A creamy bite of chewy, starchy macs, combined with crispy fried chicken. One bite and your palates will be greeted with an explosion of divine flavors.
Mac and cheese is ridiculously easy to prepare, and it only takes you roughly 20 minutes to throw everything together. This dish might not be strange or unique, but it will surely delight everyone all the same.
Make Fried Chicken Perfect With Amazing Side Dishes
Fried chicken is truly a crowd-pleaser; it's hard to find someone who doesn't like this delectable dish. And while fried chicken is a savory and fulfilling dish on its own, it will only truly shine when you pair it with a suitable side dish.
If you've reached this point of my article, I suppose that you've found a suitable side dish to serve with your fried chicken. I hope that you like the suggestion. If you want to suggest any side dish for fried chicken, feel free to leave a comment below.
Nutrition Facts
8 servings per container
---
Amount Per ServingCalories340
% Daily Value *
Total Fat 17.8g

27

%
Cholesterol 114mg

38

%
Sodium 606mg

26

%
Potassium 765mg

22

%
Total Carbohydrate 39.8g

13

%

Dietary Fiber 4.8g

16

%
Sugars 6.5g

Protein 7.1g

15

%
---
Calcium

48

%
Iron

2

%
Vitamin D

10

%
* The % Daily Value tells you how much a nutrient in a serving of food contributes to a daily diet. 2,000 calories a day is used for general nutrition advice.