Besides the famous chicken Adobo, many Filipino chicken recipes have a special place in the hearts of locals, be it chicken salad, hearty stew, or noodle soup for rainy days.
With influences from many Western and Eastern cultures, the wonderful Filipino cuisine is defined by rich traditions and indigenous flavors created to suit locals' liking.
Whether you're in the Philippines or overseas, it's so easy to whip up these specialties and get a taste of Filipino culture in the comfort of your kitchen. I'm walking you through some of the best Filipino chicken dishes, origins, and simple recipes in today's journey.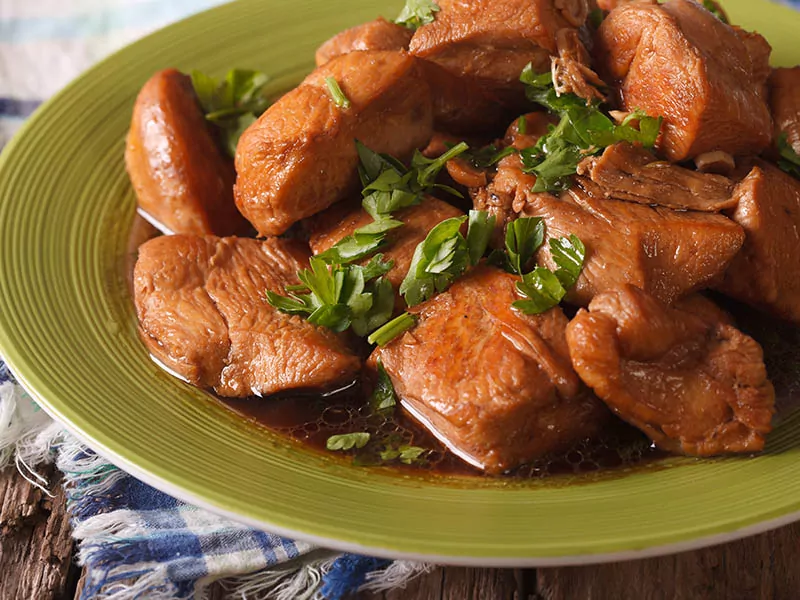 30 Crowd-Pleasing Filipino Chicken Recipes To Try Out
If you're ready to travel to the Philippines in the comfort of your kitchen, roll up your sleeves and get to work with these delicious recipes!
Adobong Manok (Filipino Chicken Adobo)
Filipino Cocido
Filipino Chicken Paella
Chicken Bicol Express
Chicken Inasal (Filipino Grilled Chicken)
Chicken Skin Chicharon
Chicken Sotanghon Soup (Glass Noodles Soup)
Pinoy-Style Buffalo Chicken Wings
Chicken Sopas (Chicken Macaroni Soup)
Chicken Tocino
Filipino Chicken Barbecue
Sarciadong Manok (Chicken Sarciado)
Filipino-Style Chicken Curry
Tinolang Manok (Chicken Tinola)
Chicken Sisig
Chicken Pastil
Ginataang Manok (Chicken Cooked in Coconut Milk)
Lechon Manok (Filipino Roast Chicken)
Arroz Caldo (Filipino Chicken & Rice Soup)
Afritada (Filipino Chicken Stew)
Lumpiang Shanghai (Filipino Spring Rolls)
Pininyahang Manok (Pineapple Chicken)
Chicken Pancit
Chicken Pastel
Kalderetang Manok (Chicken Caldereta)
Filipino Chicken Potato Salad
Binakol Na Manok (Chicken Binakol)
Filipino Chicken Empanada
Sinampalukang Manok (Stewed Chicken with Tamarind)
Asadong Manok (Chicken Asado)
Get A Genuine Taste Of Filipino Culture With These Chicken Recipes
Are you eager to get to the kitchen? Here are some delicious Filipino chicken recipes you can try with or without going to the Philippines.
Total time: From 1 hour 55 minutes to 12 hours 55 minutes (Including marinating time)
First off on my list is chicken Adobo. More commonly known as Adobong Manok, this traditional delight is considered the unofficial national dish by many. This is because it's made with familiar elements accessible in any region.
In essence, chicken Adobo is a chicken stew, wherein the chicken is braised in a marinade mixture and simmered for half an hour. Simple, it's a great recipe that you can whip up to taste Filipino culture.
The secret to perfecting this widely treasured Filipino food lies in the balance of vinegar, garlic, spices, and soy sauce. At its best, Filipino chicken Adobo is a burst of savory and sweet flavors with a mild heat. The palatable graze on top is sure to satisfy your taste buds.
Why don't you give the famous Filipino chicken Adobo a try?
Total time: About 3 hours
Filipino Cocido traces its origin back to Spain but has been adapted and treasured by the Filipinos for hundreds of years. Other than chicken, this rich stew is also made with Portuguese sausages, beef, and pork-based in each region.
This delicacy gets its tasty and hearty flavors from the chickens and a unique sweetness from saba bananas. It's warm and comforting and proper comfort food that Filipino folks long for in the cold weather.
Since this chicken Cocido contains all the essentials for a great family meal, it can be served as a standalone meal or with a side of berenjena sauce. Keep this Filipino recipe in your back pocket to keep your belly full and warm.
Total time: About 45 minutes
The most famous Spanish culinary icon, Paella, is a favorite for many foodies. In this Filipino variation, you can use jasmine rice or regular rice, coconut milk, chorizo, chicken, and boiled eggs. Locals also use malagkit (glutinous rice) to make their typical version of Paella.
This chicken Paella is one of those signs the holiday season is around the corner. It's the perfect Filipino Christmas dish and New Year's Eve dinner to treat your loved ones. The soft, tender rice infused with many flavors makes it a true gustatory delight.
The trick is to toss in some paprika or turmeric for a more delicious color. If you want some extra layers of flavor, add a bit of everything like mussels, squid rings, and crabs.
Total time: From 30 minutes to 50 minutes
This Bicol Express might be a famous Filipino chicken stew that your soul craves when days are long and nights are cold. The dish is named after a passenger train that services Manila to the Bicol region.
This chicken recipe is a harmony of sweet, salty, and spicy flavors. Green chilies bring heat, while Bagoong, a shrimp paste, lends itself to a saltiness. Lastly, a drizzle of coconut milk brings a mild sweetness to balance out those sharp notes.
If you're health-conscious about your diet, this cozy winter dinner is a healthy take on Filipino cuisine. Boneless chicken breasts, its main show star, are low in cholesterol and fat compared to pork and beef.
Total time: About 1 hour 20 minutes
Inasal gets its name from the city of Bacolod, located on Northwestern Negros Island. In Ilonggo, "Inasal" merely means "char-grilled" meat. Easy to make yet delivering a gustatory joy, it's the ultimate Filipino recipe to level up your meal routine.
This Inasal delight consists of chicken pieces marinated in a unique blend of spices before being grilled to perfection. In terms of flavor, it's so smoky, citrus, and peppery. With a tender and succulent texture, every bite will send you to heaven.
The trick to pulling this authentic recipe lies in the marinade and the marinating time, which should ideally be 2-4 hours. The rest is a breeze!
You can enjoy it with a bowl of quality white rice and Sinamak (Filipino's variation of spiced vinegar), or simply a dipping sauce of soy sauce and calamansi (a popular citrus fruit in the Philippines.)
Making chicken Inasal from scratch doesn't get easier than this!
Total time: About 50 minutes
Look no further than this delicious chicken skin Chicharon recipe when that fried food craving hits. If you're not currently in the Philippines, where you can buy this finger food from any balut vendor, fret not because it's a breeze to make at home.
Crispy and delicious, it's quite the fried treat to level up your cooking game. For the best experience, this chicken Chicharon should be eaten right after frying when it's still warm.
Traditionally, Filipino folks serve this finger food as an appetizer, a convenient and tasty Filipino snack, or dip it in a sauce of choice. An alcoholic beverage also pairs beautifully with the chicken.
The next time you've got some extra chicken skins, save them for this Filipino recipe!
Total time: From 45 minutes to 52 minutes
For peeps who have yet to try this chicken Sotanghon soup, think of it as the Filipino take on the chicken noodle soup. Whether as a light meal, midday snack, or family-friendly Sunday dinner, this signature Filipino soup will not disappoint.
A combination of mung bean thread noodles, shredded chicken, shiitake mushrooms, and a savory ginger-flavored chicken broth makes up for a flavor profile that you've never tasted before. It's so hearty, delicious, earthy, and flavorful; you'll want to finish all the soup.
Bone-in, skin-on chicken is your best bet for this recipe. The soup is perfect, but some fabulous chicken noodle soup side dishes can double up the coziness. Simmer up a bowl of this Sotanghon soup to keep you warm on a gloomy and cool day.
Total time: About 2 hours 5 minutes
Let's be honest! Chicken wings are the ultimate potluck recipe loved by everyone, including Filipino folks. And if you're on the other side, I bet you just haven't found the right chicken wing recipe for your desire yet.
In this Pinoy version, chicken wings are coated in a hot and tangy flour mixture layer. Then, they're deep-fried until golden brown and all crispy. Juicy, tender, and super savory, these Buffalo chicken wings might be the best you've ever had.
In most cases, the go-to pairing for this fried chicken is a creamy, hot, and tangy dipping sauce. Give it a try, and you'll love how easy they are to whip up.
Total time: About 1 hour 30 minutes
To be addicted to mac and cheese means to be addicted to love. That's right! While it's the best comfort food to eat when you're feeling down, this Filipino chicken macaroni soup takes self-indulgence to a whole new level.
Each spoonful is packed with delectable bite-sized chicken pieces, macaroni, vegetables, milk, and flavorful broth. It honestly tastes like coziness on a rainy day. Feel free to twist this basic recipe to your liking with other favorite ingredients.
Other than chicken, you can also use ground pork or beef to lend this Sopas its meaty flavor. When it comes to serving with this bowlful of goodness, other everyday Filipino side dishes would be some pandesal (Filipino bread rolls), bread, or crackers.
Or else, enjoying the chicken soup on its own will also give you the warmth you seek!
Total time: About 40 minutes
If you know something about Filipino cuisine, you're probably familiar with Tocino. This famous Filipino breakfast fare combines sweet and savory tastes. With less fat and tender meat, chicken Tocino is an excellent option for those who are health-conscious.
As with other traditional Filipino meals, chicken Tocino is best eaten with a bowl of garlic fried rice and a sunny-side-up. A side of green salad is also perfect for balancing out the savory flavor of the Tocino.
Making your chicken Tocino from scratch is not much of a challenge. Marinate the chicken in a spice blend of soy sauce, vinegar, pepper, and pineapple juice for two days. Then, all that's left is to pan-fry it until the meat is caramelized and both sides are brown and crispy.
Total time: From 4 hours 5 minutes to 1 day 30 minutes
Have you ever had trouble seeking the next family favorite barbecue dish? I've got you covered. At its best, this Filipino chicken barbecue is a medley of tangy, sweet, and savory tastes. Its texture is super tender and succulent that feels like it's melting across your tongue.
A well-kept secret to creating the most irresistible BBQ appetizer lies in the marinade, a mixture of soy sauce, vinegar, banana ketchup, lemon juice, and brown sugar. Also, the chicken should be marinated overnight to absorb maximum flavor.
Fire up your grill! Here comes a taste of the Filipino summer.
Prepare the most scrumptious Filipino chicken barbecue with this guide!
Total time: From 45 minutes to 53 minutes
When you're looking to expand your palate horizon, Sarciadong Manok is just the right thing for you. This chicken stew consists of chicken slices braised in an abundance of tomatoes.
Sarciadong Manok, with its fulfilling flavors, serves as a great main course for any meal of the day. For the best authentic taste, you'll want to plate it on a bed of rice. Toss in some paprika to suit your taste if you'd like some kick to the chicken.
Flavor-wise, chicken Sarciado is rich, hearty, and heartwarming like a big, warm hug.
Despite coming together in less than an hour, the delectable stew tastes like it's been simmered for hours.
Total time: From 45 minutes to 50 minutes
The thought of curry may make you reminisce about the quintessential food of India. But if you're never tasted this Filipino version of it, you're missing out! A favorite in the heart of many Filipinos, this chicken curry is served in both daily dinners and fiestas.
The best thing about it is that everything can be cooked up in one pan, thus saving you the cleaning afterward. A handful of elements, such as coconut milk, chicken, fish sauce, and celery, create a drool-worthy harmony of flavors.
As a result, the chicken pieces are tender and drenched in a hearty, creamy sauce. After you pan-fry each element, the dish cooks itself. For spicy food lovers, a dash of bird's eye chili or smiling labuyo lends the kick you desire.
Total time: About 55 minutes
When it first gets crisp in the fall, be well-prepared with this chicken Tinola. This timeless Filipino delight involves cooking chicken, spinach, and green papaya in a ginger-flavored broth.
This chicken soup is feel-good comfort food at its purest in terms of flavor. Packed with flavors, warm, and steamy, it's something that still tastes good even on the next day. For added dimensions, the taste of fish sauce gives your dish an extra umami flavor.
I recommend having it at least once a week to chase the chills away in the bleak winter. Not only is it healthy and great-tasting, but the cooking process is quite simple.
Learn how to cook up chicken Tinola with an instant pot!
Total time: From 20 minutes to 35 minutes
Are you a fan of chicken livers? If so, you'll appreciate this recipe. To prepare some authentic chicken Sisig, the essential ingredients include chicken, chicken livers, onions, ginger, calamansi juice, and soy sauce.
Asides from the fact that it's time-saving, this recipe is also many's favorites due to its low budget. Plus, it's the perfect way to turn your leftover chicken into a delicious dish that satisfies anyone.
Chicken Sisig is one of the most popular party foods for good reasons. Whether as an appetizer or main course, the dish goes well with basically any flavor profile, giving you plenty of options to level up your dinner plan.
Total time: 40 minutes
Many Muslim recipes are available in a diverse nation like the Philippines. One of which is this famous chicken Pastil. It owns a special place on the breakfast tables in the region of Mindanao.
The main ingredients for this Filipino recipe are chicken breasts, soy sauce, turmeric, and garlic. The shredded chickens are super fragrant, rich, and delicious on a bed of rice and banana leaves.
To elevate the flavors of this Pastil, locals tend to serve it along with a spicy condiment named Palapa. If that's not your taste, go ahead and have it with some sliced cucumbers and boiled eggs. Trust me; you'll keep coming back to this classic Filipino meal.
Total time: About 1 hour
Simply put, Ginataang Manok translates to chicken stewed in coconut milk. Besides the typical elements such as chickens, coconut milk, and green papaya, each family has its version, whether with a spicy kick or extra creaminess.
Traditionally, this comforting Filipino soup is served for lunch and dinner, often accompanied by a steamed rice bowl. From the first sip, you'll be overwhelmed by its full-of-flavor, rich, and creamy taste.
Since coconut milk is the show's star, Ginataang Manok is the ideal Filipino meal for peeps who have a thing for coconut recipes. If you're anything like me, you won't be able to resist scooping another bowlful of white rice to pair with this chicken stew.
Total time: From 3 hours 20 minutes to 5 hours 40 minutes
This crowd-pleasing Lechon Manok wins over the hearts of many Filipinos, especially on a cozy dinner at home. In every busy street of the Philippines, this roast chicken is one of the most beloved Filipino street foods, and that's for good reasons.
Although taking a bit more prep time, the scent of this chicken marinated overnight makes the whole thing worthwhile. Since the chicken needs cooking for about three hours, you'll need a spit-roaster with an autopilot mode for convenience.
This Filipino version of roast chicken is unlike any of its sorts in terms of flavor. Each juicy bite gives off a medley flavor of ginger, fish sauce, lemongrass, and garlic. Not just a lunch or dinner main course, it also makes a staple in lots of Filipino celebrations and parties.
Total time: From 35 minutes to 50 minutes
Take out your crockpot and whip up this crazy delicious Filipino delight when you're feeling under the weather. Arroz Caldo, at its core, is a porridge featuring rice, chicken, chicken broth, and heavily infused with ginger, fish sauce, and garlic.
After that comes a wide range of toppings, such as calamansi juice, boiled eggs, or green onions, with its name meaning "warm rice" in Spanish. The porridge has a similar texture as the Chinese congee and Italian risotto.
This drool-worthy crockpot soup in Filipino style is as tasty as it is incredibly nutritious. Without a doubt, the tender loving care that Filipinos long for when the temperature drops. To keep the rice from burning, the trick is to stir it regularly.
Here's how to dish up Arroz Caldo that feels like a hug!
Total time: From 50 minutes to 1 hour
Simple as it is, chicken Afritada perfectly captures the essence of Filipino traditional cooking. Pan-fried chicken pieces and veggies are braised in a rich tomato-based sauce to create a delight to the eyes and a joy to the palate.
It's safe to say that every household has its version of chicken Afritada. For instance, sliced hotdogs can be added to make the course more kid-friendly or a tasty twist with pineapples and cheese.
Before you know it, that simmered pot of Afritada is ready to serve. Savory, hearty, and complex flavors, the dish is excellent for regular meals and special celebrations. Don't forget to eat it over a bed of rice for an authentic Filipino taste.
Total time: From 22 minutes to 40 minutes
Are you hosting a party and not sure what to serve? You're in the right place. These easy and crispy spring rolls have a spot on every Filipino local celebration table. Besides being the ultimate go-to party food, anyone can serve it as a snack or an appetizer from Filipino cuisine.
In most cases, the fillings for Lumpiang Shanghai are a mixture of ground pork, chicken, veggies, and seasoning. This filing is then wrapped in a special thin crepe called lumpia wrappers and fried to perfection.
With just roughly 20 minutes of prep time, these delightful spring rolls have the same effect as if you've worked in the kitchen all day. Set them out with a sweet-sour dipping sauce, and watch your guests go wild!
Total time: 45 minutes
Chicken and pineapple? This unexpected combination turns out to be a crowd-pleasing recipe that Filipino swear by. Ranking as one of the world's biggest pineapple crops, it's no surprise this tropical fruit is a staple in Filipino cuisine.
This pineapple chicken stew gets its famous sweet-sour taste from pineapple juice and its chunk. Most folks use coconut milk or evaporated milk based on their liking to create a thick consistency. Chicken and veggies are also added to one pot to simmer.
From the tasty variety of colors to the umami, rich and creamy taste, Pininyahang Manok is the ultimate tropical delight. The next time you have some pineapples on hand, give this recipe a go!
Total time: From 30 minutes to 55 minutes
Chicken Pancit is undoubtedly one of the most treasured Filipino noodle dishes nowaday. Little do many people know, this course traces its history back to Chinese culture. Its name means "convenient food," it's a quick and easily prepared meal you can rely on.
Any cut of chicken will do with this recipe. However, boneless and skinless chicken thighs are your go-to if you're afraid of overcooking it. Toss it in with thin rice noodles and veggies to stir-fry. Finish it with a dash of squeezed lemon, and you're all set.
As with other Asian noodle fares, the Pancit is prized for its long shape, symbolizing longevity. Therefore, it's customary for Filipinos to serve this noodle dish in holiday meals, on wedding anniversaries, and even on Catholic feast days.
Travel to the Philippines in your kitchen with this chicken pancit recipe!
Total time: 1 hour
Another creamy chicken stew that drew inspiration from the Spanish influence, chicken Pastel, is a Filipino favorite for kids and adults. Simple yet big enough on the flavor, it's the must-try specialty for anyone taking a visit to the Philippines.
This Filipino take on the Spanish Pastel de Pollo removes the flaky pie crust. Instead, the chicken meat is mixed with mushrooms, sausages, potatoes, sour cream, carrots, and simmered.
Sons the pastry, this chicken Pastel is commonly paired with white rice. It's so tasty, rich, and creamy in every bite. All the ingredients are mostly available at the supermarkets, making it easy for people who live overseas and crave this Filipino delight.
Total time: About 1 hour
When you've had hungry mouths to feed, this comforting and straightforward chicken Caldereta is here to save the day. Initially using the goat shoulder, this family-friendly version uses chickens, cheese, vegetables, and liver spread.
Spices like vinegar and soy sauce give the dish a note of tanginess and its famous deep red color. The addition of cheese lends itself to extra creaminess while balancing out intense flavors.
Finally, the liver spread is the rich and complex element that gives Caldereta a unique Filipino taste. All of these elements are simmered in a tomato-based sauce with occasional stirring.
It's common practice to slather this chicken stew on crusty bread. Or else, you can also indulge it with a bowlful of steamed rice.
Total time: From 30 minutes to 40 minutes
Perk up your regular meal routine with this fresh twist on chicken potato salad. Not only is it a tasty and straightforward Asian side dish to treat your family, but the salad also makes a well-loved party food to impress your guests.
And it's not a complete Filipino delight without a hint of sweetness in it. In this recipe, sweet pickle relish to create that burst of sweetness and tanginess in one bite. Meanwhile, the use of potatoes creates a starchy texture that balances out the creaminess of the salad.
Even though there's no strict rule for preparing this Filipino salad, the result is usually creamy, sweet, and savory all at once. You can make a batch two days in advance and freeze the chicken salad for two days without a hitch.
Total time: About 50 minutes
Are you looking for a steaming bowl of Filipino food-for-the-soul to recharge your spirit after a tough day? If that's a yes, chicken Binakol is an easy recipe you can always count on. Thanks to the coconut trips, the soup will get you hooked right away.
Since this comforting soup isn't yet famous outside the Philippines, think of it as a close version of Tinola. While they both give off an intense ginger taste, Chicken Binakol is likely sweeter. The latter is cooked in coconut juice rather than regular water.
Traditionally, chicken meat, coconut juice, fish sauce, and veggies are cooked up on a coconut husk or a bamboo tube over the fire. But these days, people can whip it up with a pot on a regular stove.
Total time: About 1 hour 20 minutes
It's not much of a far stretch to say that chicken Empanadas are one of the most popular snacks in every busy city in the Philippines. That's right! If you're making these treats at home, feel free to deep-fry or bake them.
Originally, these Spanish-inspired savory pastries often involved fishes but have been transformed with ground chicken or beef filling to suit the liking of Filipinos. Flaky and golden pastries are stuffed with fillings like chicken, onions, and green peas.
This delicious ground chicken recipe varies from region to region and among different households. No matter how they're made, these delightful pastries always satisfy even the pickiest eaters around the table.
Total time: About 40 minutes
The truth is, eating sour foods is as much of a challenge as it is a treat. Sinampalukang Manok is a great recipe to make you pucker up a bit without sacrificing other of its delightful flavors.
As you may have guessed, tamarind leaves create the base of this chicken soup with its dominantly sour and savory taste. Everything else is up to your desire. The soup is so simple; it mainly doesn't require any other vegetable to awaken your taste buds.
This Filipino specialty is cravable during the cold, warming, hearty, and tart. I suggest adding spinach, mustard greens, or a kick of heat with some chilies for more versatility.
Total time: About 1 hour 10 minutes
Wrapping up my list is nothing less than perfection! Asadong Manok, or chicken Asado, consists of tender chicken pieces and potatoes in a thick tomato-based sauce.
This Asado dish gets its unique umami taste from soy sauce and sweetness from sugar. On the other hand, the tomato sauce creates a pleasant tanginess with other elements.
One of the most authentic stews in Filipino culture, you'll find chicken Asado often served at birthdays and fiestas. This savory viand goes down wonderfully with steamed white rice or simply as an indulgent course by itself.
Challenge Your Taste Buds With A Taste Of Filipino Cuisine!
I hope you've had a great time exploring these delicious Filipino chicken recipes on this journey with me. Many of those are pretty simple to make, and the ingredients are available in the supermarket.
For some authenticity, make sure to have these traditional Filipino meals with your loved ones. Also, try eating your food with only a spoon and a fork, no knives, or better, with bare hands. It's customary to enjoy a family meal in the Filipino style.
Let me know what your favorite dish is down below. And don't be shy to share these recipes with the people around you. Now, roll up your sleeves quickly and get to the kitchen!
Nutrition Facts
4 servings per container
---
Amount Per ServingCalories218
% Daily Value *
Total Fat 6.4g

10

%
Cholesterol 73mg

25

%
Sodium 1380mg

58

%
Potassium 546mg

16

%
Total Carbohydrate 14.5g

5

%

Dietary Fiber 0.5g

0

%
Sugars 11.8g

Protein 25g

50

%
---
* The % Daily Value tells you how much a nutrient in a serving of food contributes to a daily diet. 2,000 calories a day is used for general nutrition advice.