If you're a fan of seafood, crab with tamarind sauce, also called Cua Rang Me, is a Vietnamese delicacy you shouldn't miss. It is, quite literally, a party of flavors that combines crab's natural sweetness with the delightful sour taste of tamarind.
The dish looks visually impressive and feels right at home on the table of a fancy dinner. At the same time, it's simple enough for you to make and enjoy on the weekends with your loved ones. In other words, there's no reason not to get to the kitchen and cook up this mouth-watering recipe.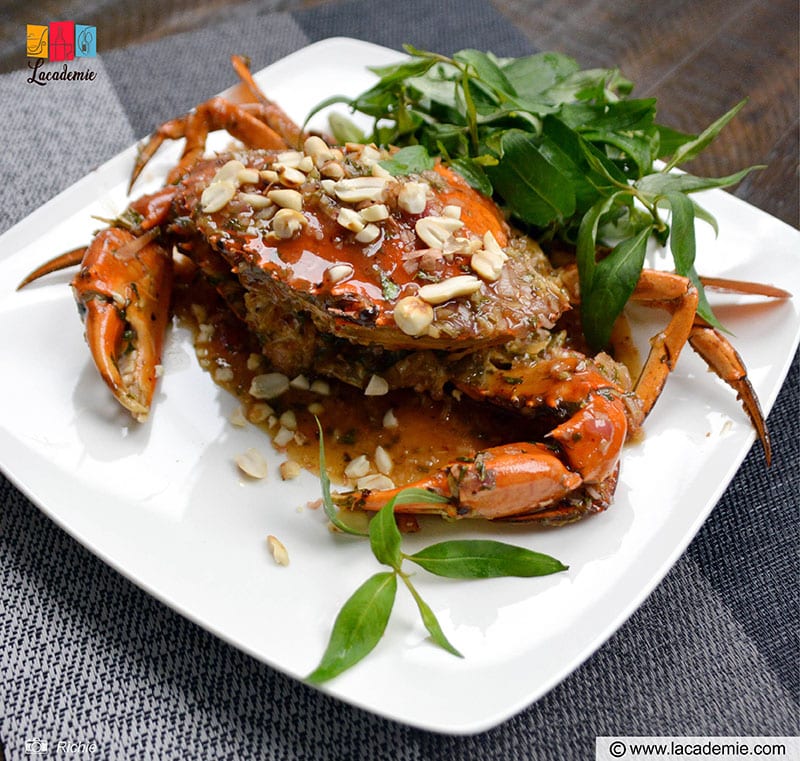 What Is Cua Rang Me And Why You Should Try It?
Vietnam is a country with a long coastline and an extensive collection of fresh seafood. For this reason, the Vietnamese have come up with numerous delicious seafood-based dishes, and Cua Rang Me is one of the most well-known ones.
The delicacy contains fried crab bathed in sweet, spicy, tangy, and savory sauce made with tamarind. Every bite brings you a harmonious blend of flavors that can't be found in any other dishes.
As such, it's no surprise that people in every part of Vietnam enjoy Cua Rang Me tremendously. They often make it on special occasions and weekend family dinners.
Tools
The tools included in this section are for two tasks, cleaning the crab and cooking them.
Chopping boards: You should use different chopping boards for cleaning the crab and cutting the spices
Knife: For cutting the ingredients
Scissors: For cleaning and preparing the crab
Wooden spoon: For stirring the crab and sauce
Tongs: For handling the seafood
Small/large pans: For roasting the peanuts and cooking the crab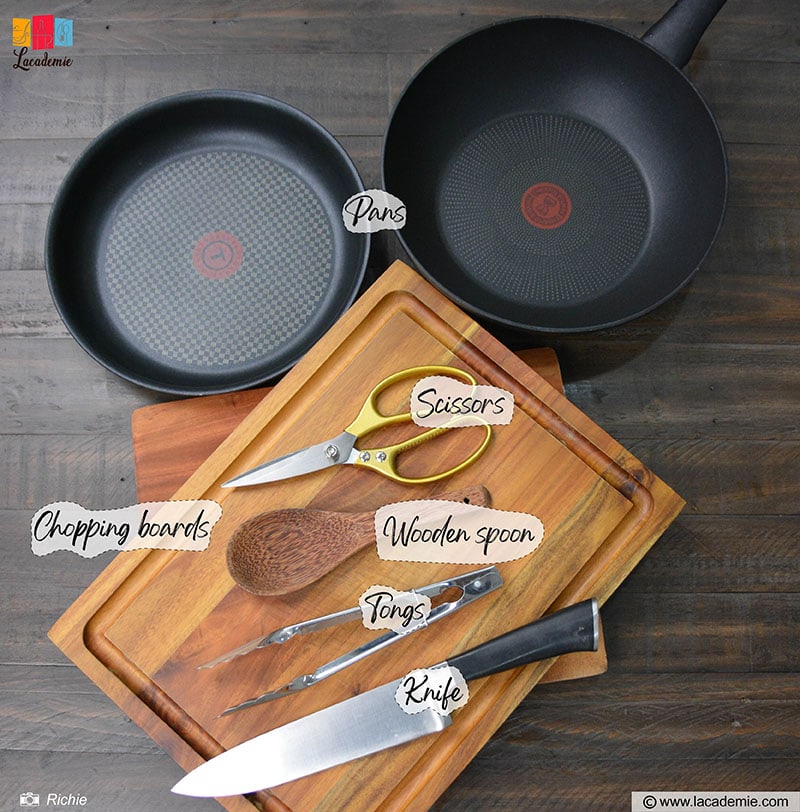 Ingredients
Crab and tamarinds are the most important ingredients in today's dish, so you should go for the freshest options available.
Crab: Saltwater crabs are the best options for this recipe. You should opt for a whole crab that's still alive.
Laksa leaves: These leaves are a favorite in Vietnamese cuisine. They appear in many recipes as one of the main ingredients, or a vegetable served on the side.
Peanuts: The mildly sweet taste of roasted peanuts is an excellent match to elevate this dish. You can also use other kinds of nuts that you like.
Crispy flour (bot chien gion): Helps the crab keep its moisture when fried. Cornstarch, wheat flour, or all-purpose flour are suitable alternatives.
Tapioca flour: A mixture of tapioca flour (or cornstarch, wheat flour, etc.) and water works well as a thickener for the tamarind sauce.
Garlic and shallots: Great ingredients for adding fragrances.
Ginger and lemongrass: These vegetables lend a peppery and spicy flavor to the dish. They're also incredibly aromatic.
Brown sugar, pepper, red pepper powder, soup powder (Vietnamese bot canh): Spices to enhance the delicacy's flavor.
Vegetable oil: For frying the crab and making the sauce.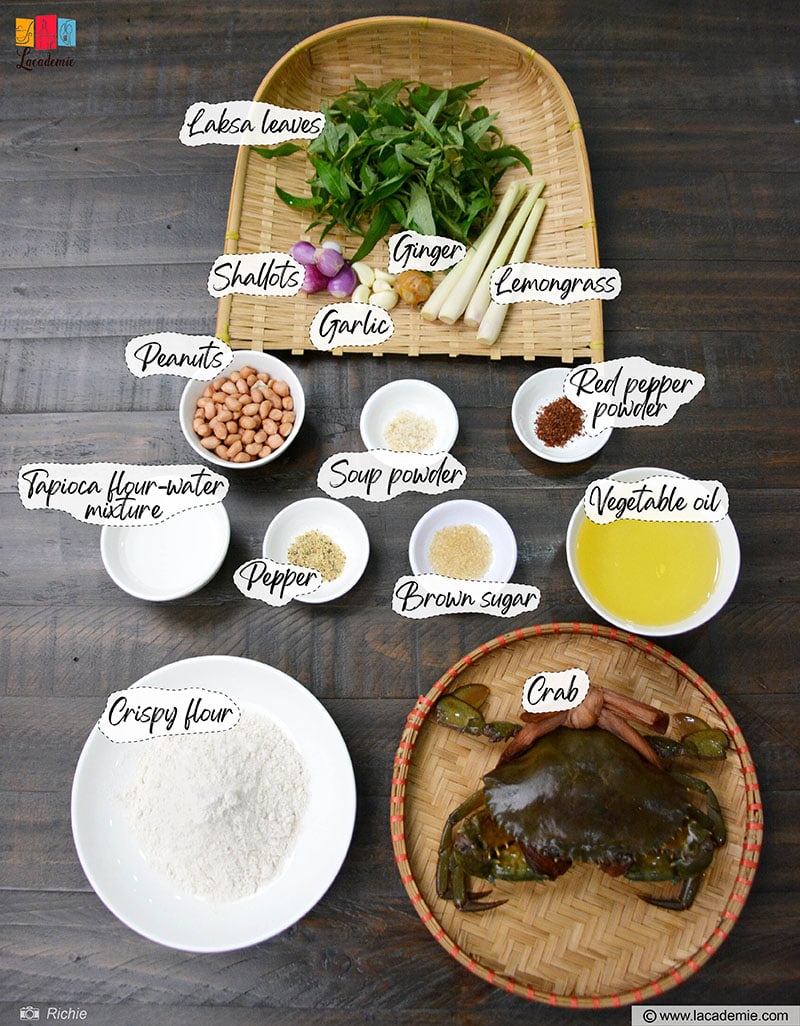 For The Sauce:
Sour tamarind: Be careful not to purchase sweet tamarind (ripe tamarind) by accident.
Fish sauce: Almost all Vietnamese recipes include this ingredient. What can I say? People in Vietnam simply love fish sauce.
Brown sugar: This kind of sugar is a bit lower in calories and contains more minerals than granulated sugar.
Oyster sauce: A thick and dark sauce that adds a sweet and salty flavor.
Chili sauce: Brings a bit of heat to the tamarind sauce.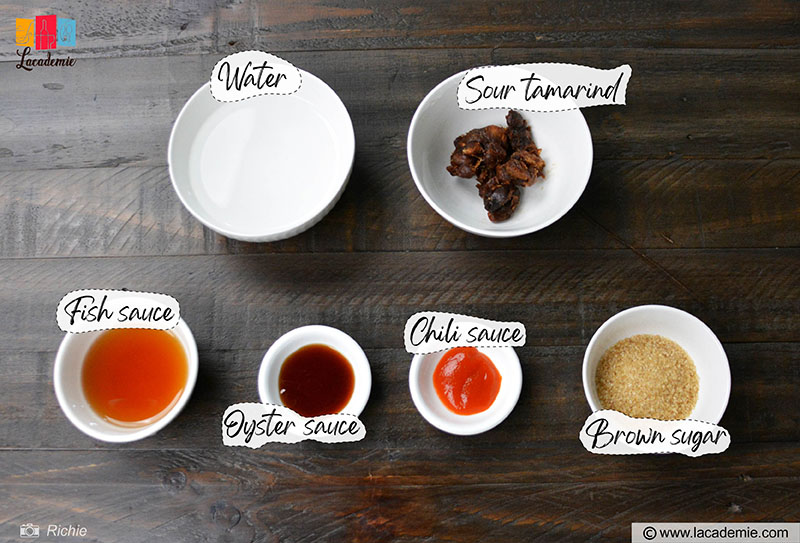 Directions
Contrary to what some people might think, the steps to make Cua Rang Me are not complicated at all. Simply follow my instructions, and you'll have an impressive dish in no time.
Step 1: Prepare The Ingredients
Important note: Since this recipe asks for fresh live crab, you should learn the proper way to clean crab in advance.
First, place your crab in the freezer for about 45 to 60 minutes. After that, take it out and clean it carefully.
Chop the crab into smaller pieces and season them with 1 teaspoon of soup powder, 1 teaspoon of red pepper powder, and 1 teaspoon of brown sugar. Mix well and let the crab sit for 15 minutes to absorb the spices.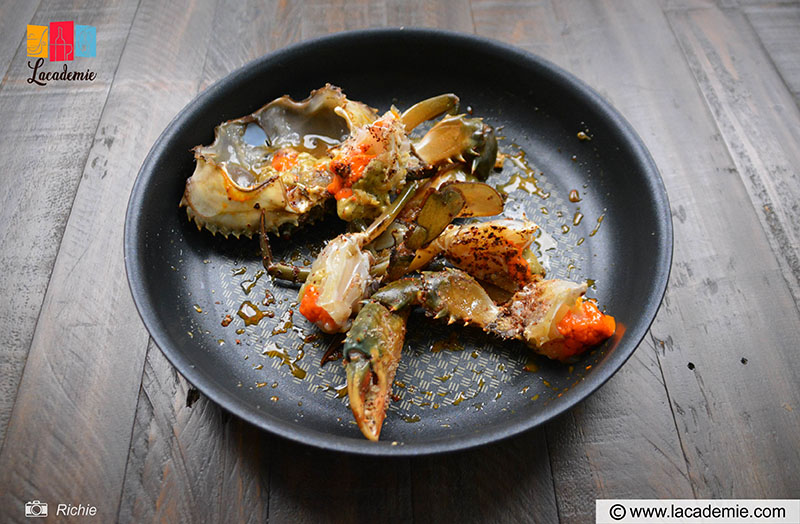 Mince lemongrass, garlic, and shallots. Next, finely chop the laksa leaves and thinly slice the ginger. You should keep some laksa leaves unchopped for serving.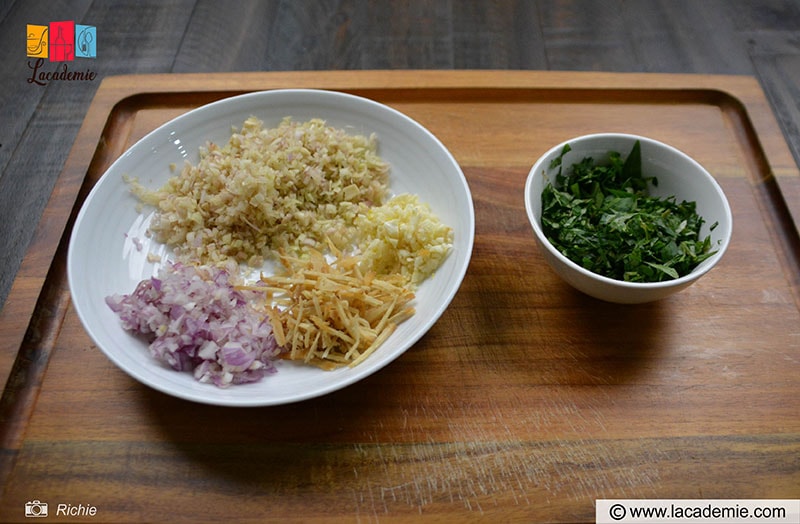 Soak the sour tamarind in warm water, and press them with a spoon to release the flavor. Whisk the tapioca flour in cool water.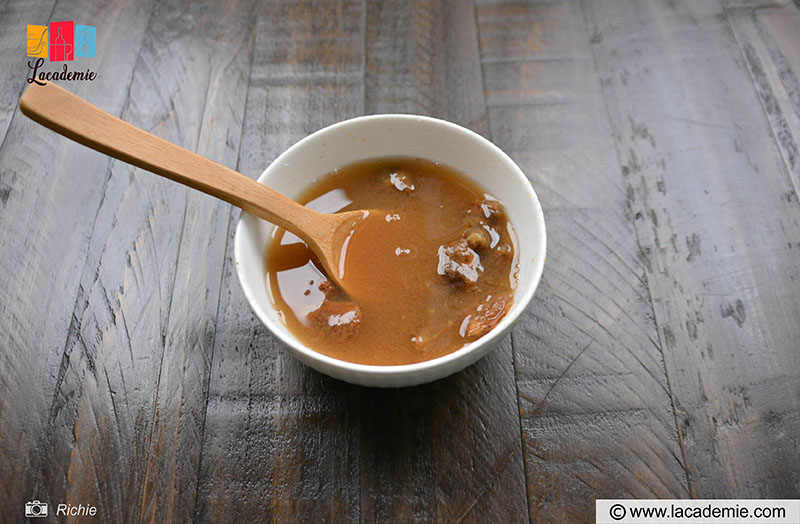 Step 2: Roast The Peanuts
Heat a pan on the stovetop and roast the peanuts for 5 minutes or until golden brown. Wait for them to cool and remove the skin.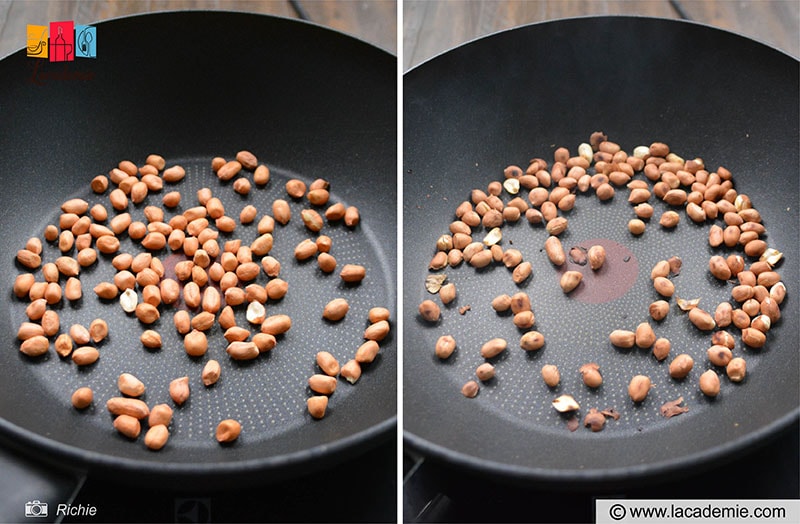 Step 3: Fry The Crab
Add some oil to the pan. Roll the crab meat through the crispy flour to create a "protective" layer that keeps the crab from drying out when fried. Once the oil is heated, fry the crab for about 5 minutes until all sides are cooked. Set aside.
Note: You should wait for the oil to be hot enough before adding the crab to prevent splattering.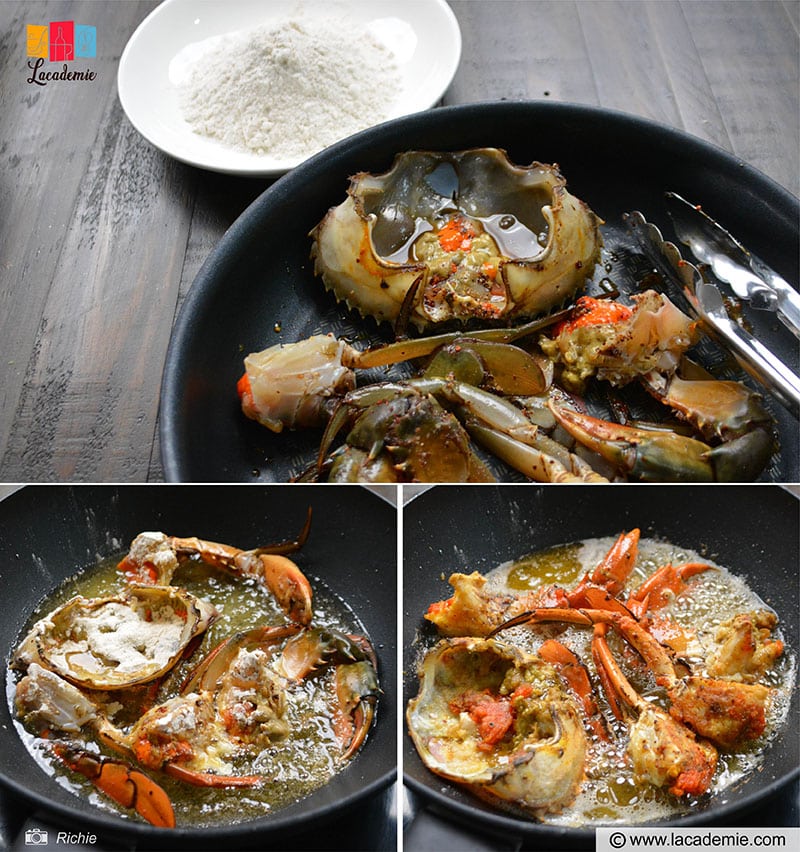 Step 4: Cook The Crab With Tamarind Sauce
Add a little oil to a clean, heated pan and fry the minced lemongrass until fragrant. Next, add the shallots, garlic, and ginger to the pan and stir for 2 to 3 minutes.
When the herbs and spices turn aromatic, add the tamarind water. Stir and season the mixture with oyster sauce, chili sauce, fish sauce, and brown sugar.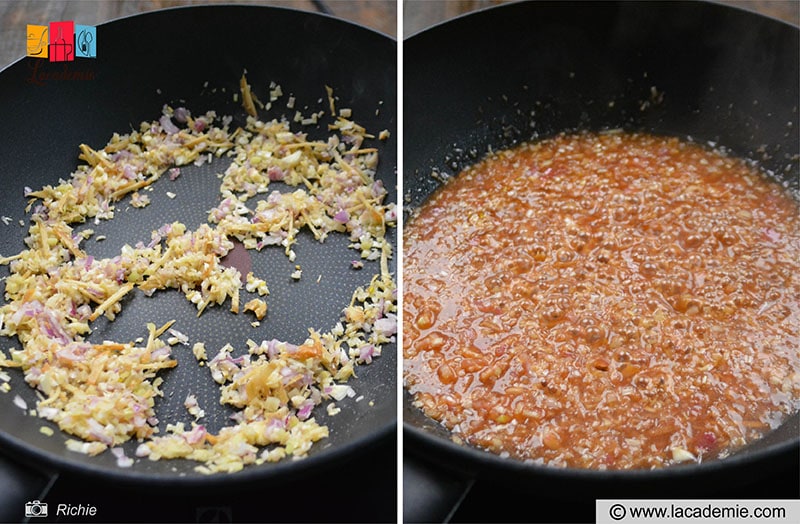 Next, put the fried crab in the pan and stir for 2 to 3 minutes. Add the chopped laksa leaves and continue stirring for another 5 minutes to infuse the crab with all the spices.
Lastly, pour the tapioca flour-water mixture and stir until the sauce is slightly thickened. Turn off the heat, and your dish is ready for serving!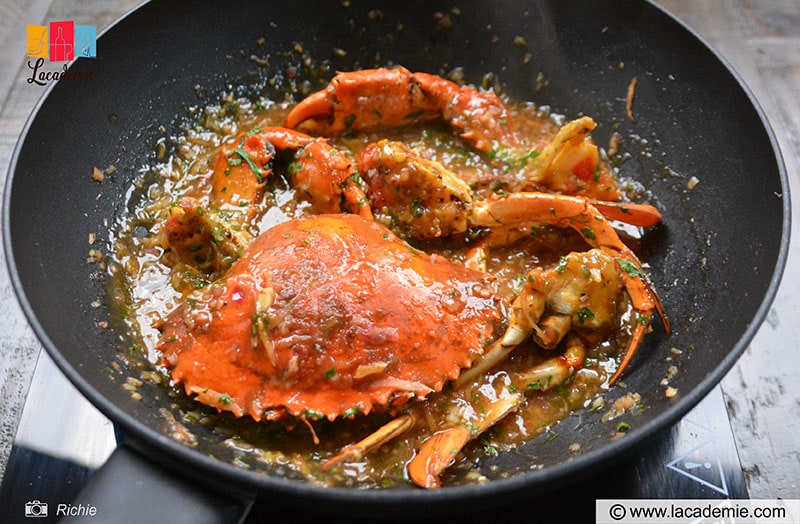 Step 5: Present The Dish
Drizzle a little sauce on the plate, then arrange the crab pieces to form a whole crab. Pour some more sauce on the crab shells and sprinkle it with roasted peanuts. Remember to place some laksa leaves on the same plate. Enjoy while the dish is still hot.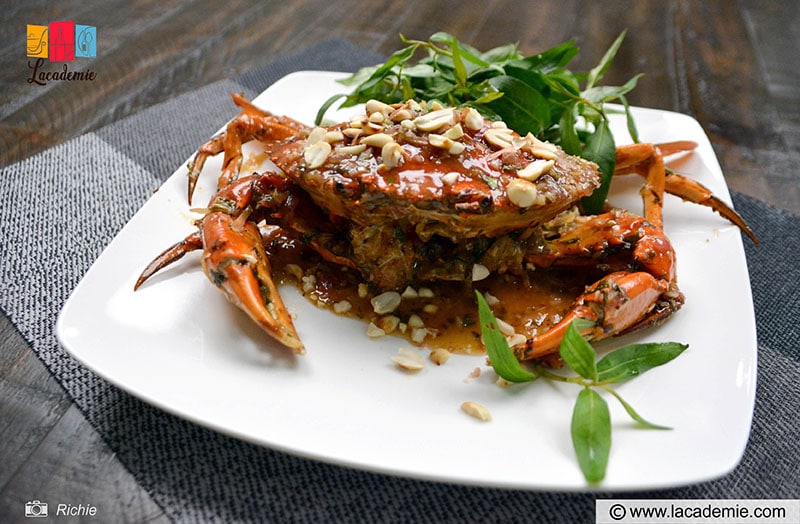 Tips For Cooking, Serving, And Storing
If you wonder what to serve with Cua Rang Me or need some handy tips to help with the cooking process, this section will give you all the answers.
Rock crab, Dungeness crab, blue crab, and Vietnamese mud crab are some of the best kinds of crab for this dish.
Fresh tamarind is the ideal choice, but tamarind paste and powder are also acceptable substitutes.
It's very important to buy live crab because eating improperly stored dead crab can make you sick. In case you can't find live crab, frozen crab is an acceptable choice, but the dish won't taste as good.
Some Asian stores will clean and prepare the crab for you. If you find it challenging to handle a live crab, try asking the store staff for help.
Cua Rang Me tastes outstanding when served with steamed rice, banh mi (Vietnamese bread), banh da (Vietnamese rice crackers), and a glass of cold beer.
You can store the leftovers in the fridge for up to 2 days. However, I don't recommend doing so since this dish is best enjoyed right after cooking.
Enjoy This Flavorsome Seafood Dish!
If you've never prepared a whole crab before, this recipe might seem a little intimidating at first. But don't worry! As long as you follow the steps in my post, I guarantee that you'll have trouble whipping up this delicious Vietnamese seafood dish.
Sweet and savory flavors combined with tangy and spicy notes, Cua Rang Me is a delicacy that can please everyone. If you've tried this dish, share with other readers and me what you think about it in the comment section. Also, please like and share the post with people around you.
Nutrition Facts
1 servings per container
---
Amount Per ServingCalories693
% Daily Value *
Total Fat 6.6g

10

%
Cholesterol 295mg

99

%
Sodium 8440mg

352

%
Potassium 2659mg

76

%
Total Carbohydrate 61.3g

21

%

Dietary Fiber 4.7g

16

%
Sugars 26.5g

Protein 94.8g

188

%
---
* The % Daily Value tells you how much a nutrient in a serving of food contributes to a daily diet. 2,000 calories a day is used for general nutrition advice.