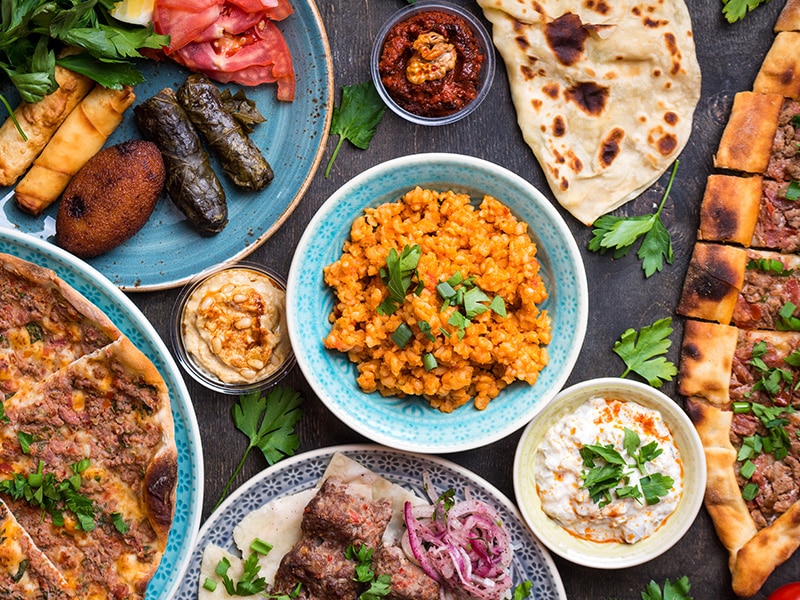 Many tend to shy away from Middle Eastern recipes, either because the ingredients are a bit odd or they think the flavors might be strange. That couldn't be further from the truth. Look past the foreign names, and you will find that these recipes are a lot more familiar than you think.
Middle Easterners' diet is rich in vegetables and nuts. Meat is usually well-seasoned with warm spices and cooked to absolute perfection. This makes their dishes very rich in flavors with strong aromas. Give them a try and discover some of the most amazing foods this region has to offer.
30 Middle Eastern Recipes You Can Make At Home
Middle Eastern cuisine is wonderfully diverse, and it's not at all difficult to find something you might love. Here are four categories of foods for you to choose from when you are trying to decide what to make: appetizer, main dish, side dish, and dessert.
Middle Eastern Appetizer Recipes
Lamb Burgers
Falafel Sandwich
Middle Eastern Cauliflower Tacos
Lebanese Stuffed Onions
Middle Eastern Main Dish Recipes
Instant Pot Lentil Soup
Roasted Butternut Squash Soup
Shakshuka
Koshari
Shish Taouk (Chicken Kabobs)
Middle Eastern Spiced Rice
Shawarma Chicken Pita
Spicy Lamb Pizza
Za'atar Roast Chicken
Chicken Kofta Meatballs
Middle Eastern Side Dish Recipes
Middle Eastern Roasted Sprouts
Bulgur Pilaf
Kuku Sabzi (Persian Herb And Leek Frittata)
Israeli Salad
Lebanese Cucumber Yogurt Sauce
Hummus
Middle Eastern Roasted Vegetables
Mutabal
Middle Eastern Quinoa Salad
Middle Eastern Dessert Recipes
Ghoraibi (Butter Cookies)
Pecan-Orange Baklava Pie
Sahlab Pudding
Buza 'Ala-Tamr (Date Ice Cream)
Rosewater Shortbread Cookies
Turkish Delight
Chocolate Halva
Start Your Meal Right With These 4 Middle Eastern Appetizers
You can find these dishes a lot in Middle Eastern home kitchens and street corners, and even restaurants sometimes. That means they can be made from very typical ingredients in very little time but still taste so effortlessly good.
Take a break from the typical American cheeseburger and try out these flavorful Middle Eastern lamb versions instead. They still include a meat pattie and some veggies between two buns, just using different foods and aromatic spices for a new tasteful twist.
Surprisingly, these lamb burgers don't require many ingredients. They can be made with most things you have in the pantry and topped off with some feta cheese or garlicky yogurt. Even so, the end results will still blow you away with their complex flavors and textures.
Falafels are crunchy and savory deep-fried balls of chickpeas and fava beans that are well-loved in many places, especially in the culinary world of Iraqi. Stuff them into some pita bread with loads of colorful vegetables, and you can have a fantastic meal starter.
Despite being one of the Middle Eastern's classic dishes, you can find the ingredients to this recipe anywhere, even the pita bread and tahini sauce. The vegetables and spices are very common and adjustable, so you can always make it how you like it.
Your Taco Tuesdays will never be the same with these cauliflower tacos. They are infused with aromatic Middle Eastern spices and sauces, giving you a unique way to eat veggies that isn't at all boring or untasteful.
Crunchy cauliflowers covered in earthy seasonings is a taco filling you will find yourself loving more than you expected. This taco is so flavorful that it will go with any other dishes. Truly a delightful treat anyone can enjoy.
Impress all your friends and family with these strange yet utterly delicious stuffed onions. They can be filled with anything you want, although the most common choices are either diced vegetables or ground meat.
This recipe will give you a thoroughly rich and flavorful dish from straightforward ingredients, all thanks to the way it is cooked. The onions' signature tangy-sweet taste sinks right through the fillings during the baking process, tying everything together in the best way possible.
Top 10 Middle Eastern Main Dish Recipes For All Occasions
From simple rice to heart-warming chicken, there is always a Middle Eastern main dish for all your meals. Take a look to see what you should bring to your dining table the next time you want to serve a crowd-pleasing dish.
Lentils are small edible legumes that are high in protein and low in fat. They have an earthy and peppery taste with a texture very similar to ground beef. In fact, they make a great meat replacement for most vegan recipes.
This healthy soup is filled with lentils and cumin, making it the perfect heart-warming dinner meal for all the winter days to come. It's so flavorful that you can just enjoy it all on its own with some pita bread and feta cheese.
Let's make Instant Pot Lentil Soup in the chef level with this video:
When fall comes around, and you can get your hand on some butternut squash, don't forget to try out this cozy soup. It's a naturally creamy soup with an earthy scent that becomes so much more smoky and caramelized thanks to the squash getting roasted.
In order to give a Middle Eastern taste to this soup, you can swap out the regular seasonings and use za'atar, sumac, or tahini. This gives it an extra layer of warmth and brings so much more depth to the already toasty flavor.
Shakshuka is a one-pan dish of poached eggs simmered in a mixture of tomatoes, onions, garlic, and various spices. Brightly colored, incredibly flavorful, and packed with healthy ingredients, this dish is a dream come true for vegetarians everywhere.
You often see this hearty savory dish is mostly eaten as breakfast. However, it tastes great, both hot and cold, so you can always make some as a light meal to start the day, then save the rest for later.
Detailed instruction on how to make this easy breakfast food. You can see this video to know more:
You can find this dish anywhere when you come to Egypt, from street corners to high-end restaurants and, of course, home kitchens as well. It's the ultimate comfort dish for many Egyptians.
This dish includes chickpeas, lentils, pasta, rice, and more ingredients all drenched in a special tomato sauce, topped by crispy onion rings. It sounds like a hot mess at first, but give it a try, and you will fully understand the magic behind this unusual dish.
Learn how to make an authentic dish of Koshari by this video:
You can find these delicious chicken skewers all across the Middle East. At first glance, they may seem like regular grilled chicken, but the secret is all in the way they are marinated. A simple combination of yogurt, garlic, and lemon is what makes this recipe so outstanding.
Marinating the chicken not only gives it a bright and earthy flavor but also tenderizes the meat and gives you the juiciest chicken bites. If you love regular kebabs and want to try them in a new way, check this recipe out.
Quick guide on how to grill chicken to make savory chicken kabobs:
Are you tired of eating rice in the same old way? Put a Middle Eastern twist to your recipes by scenting your rice with heart-warming spices. There are many types of rice and seasonings to choose from, so you never have to worry about running out of new things to try out.
The important thing to remember when making this type of recipe is to be patient. The preparation process for rice can take a while, but if done right, it will give you the most tasteful and wholesome base that goes with any kind of food.
Shawarma is a street food made of roasted meat cut into thin slices and stacked on top of each other. The meat is very flavorful because it is thoroughly marinated in warm spices and seasonings like garlic, pepper, and cinnamon.
This recipe is a simplified version of the original dish in Lebanon. Instead of roasting the chicken on a rotisserie, you can just fry it on a large skillet instead. Wrap it in pita bread with some veggies and tangy sauce, and you can have an easy, authentic dinner for the whole family.
If you love to get experimental when it comes to cooking, give this easy Middle Eastern pizza a try. It features minced lamb, herbs, feta cheese, and various vegetables placed on top of a flatbread.
This recipe is much simpler than it looks because all you need to do is gather up the ingredients and toss them in the oven. It's so simple yet so unbelievably delicious. There are also no limits to how creative you can get with the toppings, so feel free to do what you like and see how it turns out.
Za'atar is a Middle Eastern spice made from a blend of aromatic herbs like thyme, cumin, oregano, sumac, and sesame seeds. It carries a complex mixture of tangy and nutty flavors with a lemony undertone.
Roasting your chicken with this delectable Middle Eastern spice will give it a divine aroma no one can resist. It also helps to tenderize the chicken, leaving it juicy and bursting with flavor with every bite. Serve this recipe at any meal and see how quickly the plate gets cleaned up.
Make your own Za'atar roasted chicken with these step-by-step guides. Check out this video:
Koftas are basically meatballs made mainly of meat like beef, chicken, or lamb mixed with various Middle Eastern herbs. If you like the savory and smoky taste of kebabs but don't want to put in too much effort, these kofta balls are the next best thing.
Packed with aromatic herbs like parsley, mint, and garlic, these balls will be the highlight of the dish no matter how you choose to eat them. Many like to drizzle yogurt sauce over them or simmer them in tomato sauce. You can also turn them into a main dish with some curry.
9 Simple And Healthy Middle Eastern Side Dish Recipes
These side dishes are very light, effortless, and based mostly around vegetables. They are a great way to balance out your meal while loading yourself up with nutrients at the same time.
Brussel sprouts and Greek yogurt may sound like a strange combo at first, but just wait until they are blended and well-roasted. The crunchy sprouts will be caramelized around the edges while drenched in a tangy sauce, making them ten times more delightful to eat.
This unusual recipe also offers you a brand new way for you to eat vegetables. Don't hesitate to try it with other veggies as well. It's simple enough that you can whip it up without too much fuss, but still complex enough that you won't get bored of it even after your plate is clean.
Bulgur is a Middle Eastern staple grain loved for its nutty taste and high nutritional value. It's quite similar to brown rice but a lot chewier in texture and stronger in flavor.
You can use bulgur in most rice recipes if you want to bring a different twist to your everyday meal. This traditional Turkish dish, however, is all about drenching bulgur in sweet tomatoes to get a hearty and healthy side dish for all your casual dinner nights.
Omelette fans will love this frittata. They are made from similar ingredients with minimum differences in cooking methods. This Persian version, however, is filled with various herbs, from parsley, cilantro, chives to spinach; anything you have in your pantry will work.
Containing more than just aromatic herbs, this frittata also includes walnuts and black pepper, which give it an extra versatile layer of flavor and texture. As it is already so flavorful, you can eat it as a side dish or with some pita bread for a light breakfast or small appetizer.
With cucumbers and tomatoes drenched in olive oil and lemon juice, this healthy side dish will bring summer to your kitchen. You are free to add anything else to make the dish more diverse. Some common suggestions are chickpeas, bell peppers, and feta cheese.
You can eat this salad as a side to any dish because of how light and simple it is. It's especially good to go with heavier meals like grilled meat or kebabs. The refreshing taste helps to lighten up the overall meal without disrupting any other flavor.
Fresh, cool, and creamy, this Lebanese yogurt sauce is the perfect companion for all your summer feasts. It can be made with just a few simple ingredients and takes almost no time at all
You can use this sauce in a lot of different ways. It works great as a side dish for grilled meat, dressing for summer salads, dips for all your crunchy snacks, or even as a sandwich spread. Serve it with some toasted bread to have a unique appetizer to start all your meals with.
It's impossible to talk about Middle Eastern cuisine without mentioning hummus. This is a classic and well-loved dip made from chickpeas, garlic, tahini, and various fresh herbs. It's thick in consistency with a savory taste that wonderfully complements everything it goes with.
Another great thing about hummus is how versatile it is, not just in eating styles but also in the ways you can make it. There are many variations of this dip, like lentils, avocados, red pepper, artichoke, etc. Combine it with any veggie you like to fit your personal preference.
Take advantage of all the leftover vegetables in your fridge and make this simple comfort food to brighten up your day. This dish is as simple as it can be. Just gather up all your veggies, spice them up, and put them in an oven to roast.
These roasted veggies can make a fantastic light lunch or side dish for all your regular and Middle Eastern meals. How can anyone not love crunchy caramelized veggies smothered in creamy, tangy tahini dressings?
Mutabal is a velvety and smoky dip made mainly with eggplant, tahini, and olive oil. It also sometimes has a squeeze of lemon to lighten the flavors. You can adjust the dish to be as spicy as you want by adding spices like cumin or paprika.
This rustic dip can marvelously complement any food it goes with, from complex grilled food to simple salads. It's because the charred eggplant combined with nutty tahini can create a unique savory taste that meshes well with all kinds of flavors.
This colorful salad is not only filled with incredible flavors and textures, but it's also an amazing source of nutrients. With quinoa as the main ingredient and various other vegetables, it's loaded with proteins, fibers, and great minerals to keep you energized and healthy.
Much like most salads, this one doesn't take much effort to make either. You only need to be concerned with cooking the quinoa and let the rest of the dish fall together naturally.
7 Middle Eastern Dessert Recipes That Both Look And Taste Good
Wrap up your festive meals with these smooth and sweet desserts from the Middle East. They are made from very basic ingredients with a few features from some very fragrant fruits and nuts. On top of the wonderful taste, they also look so gorgeous on your dining table.
These Egyptian butter cookies are deliciously crumbly and soft with a sweet, nutty taste you can't stop coming back to. On top of that, they come together effortlessly in just less than thirty minutes with just a few simple ingredients.
To make them more interesting, you can lace them with some extracts. It could be vanilla or almond to complement the subtle nutty flavors, or better yet, try making some orange flower water to create a wholly authentic recipe.
Baklava is a Turkish sweet pastry made of layers of phyllo dough and filled with a variety of nuts. There are many variations of this dessert, with different fillings and syrups. This recipe uses orange zest for a citrus-scented inside and honey to add floral notes to the overall pie.
Aside from the utterly sweet flavor, this pie's crispy and flaky texture is one of its main attractions. It carries the signature buttery taste everybody loves in pastry, but with the unusual crunchiness, it becomes so much more fascinating and fun to eat.
Chase away all your winter blues with this milky dessert. It's a rich and sweetened pudding made from milk, cornstarch, and sugar. What's even better is it only takes around fifteen minutes to complete.
You can enjoy this pudding on its own as it is sweet and tasteful enough. However, it could also make a perfect canvas for other toppings and flavor combinations. Get as creative and add anything you like, such as walnuts, cinnamon, coconut, or rose water.
Dates are edible stone-fruits found mainly in the Middle East and South Asia. It's known for its extremely high sugar content, making it incredibly sweet and rich in flavor.
Try out this brand new ice cream flavor and get ready to have your breath taken away because of how delicious it is. The dates not only make the ice cream sweet but also thicken it and make it so much more buttery smooth. If you can find these fruits, give this recipe a try.
Rosewater is a commonly used ingredient in Middle Eastern desserts. It has that sweet hint of floral note that's aromatic but also quite subtle. Infuse it in your shortbread cookies for a soft fragrant that will melt everyone's heart from the very first bite.
These cookies will also make fantastic gifts. Even though they look pretty delicate and soft on the outside, they are actually quite solid and crunchy with a great shelf life. You can easily mail, put them in boxes or keep them in the fridge to be used when ready.
Turkish Delights are soft, squishy, and chewy candy containing nuts and infused with rosewater, citrus, or various fruits. They are sweet treats that not only kids but also adults will fall madly in love with.
The most traditional flavor of these gummy candies is the soft pink rosewater. However, there is no limit to what you can use to make it. Make a whole pot of rainbow with different fruits like mango, raspberry, mint, or pomegranate.
Make yourself some Turkish Delight with this easy instruction:
Halva is a Middle Eastern confection made from tahini with a texture similar to fudge. It is semisweet with a nutty undertone. Pair it with chocolate to make bittersweet desserts no one can turn down at your next holiday party.
The chocolate + halva combo is one that will never get old because there are so many ways you can make it. You can turn it into sweet treats like candy bars and cookies or sophisticated pastries and soft puddings. It brings a brand new twist to familiar dishes that I'm sure you will love.
Diversify Your Meal With These Recipes
The Middle East is wonderfully diverse in all aspects, including cuisine. Its clever use of foods and spices creates unique dishes with bold flavors that you won't be able to forget. Don't look past these recipes if you have been looking for new ways to eat familiar dishes.
Middle Eastern recipes are always full of surprises, whether it's something popular like hummus or a strange dish you have never heard of before. Each cooking session brings a new learning opportunity. Explore their full potential and let me know what you have discovered.
Nutrition Facts
6 servings per container
---
Amount Per ServingCalories397
% Daily Value *
Total Fat 22.1g

34

%
Cholesterol 98mg

33

%
Sodium 176mg

8

%
Potassium 356mg

11

%
Total Carbohydrate 10.3g

4

%

Dietary Fiber 0.7g

3

%
Sugars 8.9g

Protein 38.4g

77

%
---
Calcium

258

%
Iron

3

%
Vitamin D

3

%
* The % Daily Value tells you how much a nutrient in a serving of food contributes to a daily diet. 2,000 calories a day is used for general nutrition advice.