Most of the modern dishes in Saudi Arabian cuisine may be traced back to other nations, such as Egypt and Yemen. But for authentic Saudi Arabian foods from the past, not everyone really knows much about them.
On the other hand, Saudi Arabian cuisine has become a synthesis of various influences. Saudi Arabian dishes could range from flavorful meat-based meals to filling rice dishes and delightful desserts. So if you're ready for a mesmerizing food journey, let's get started!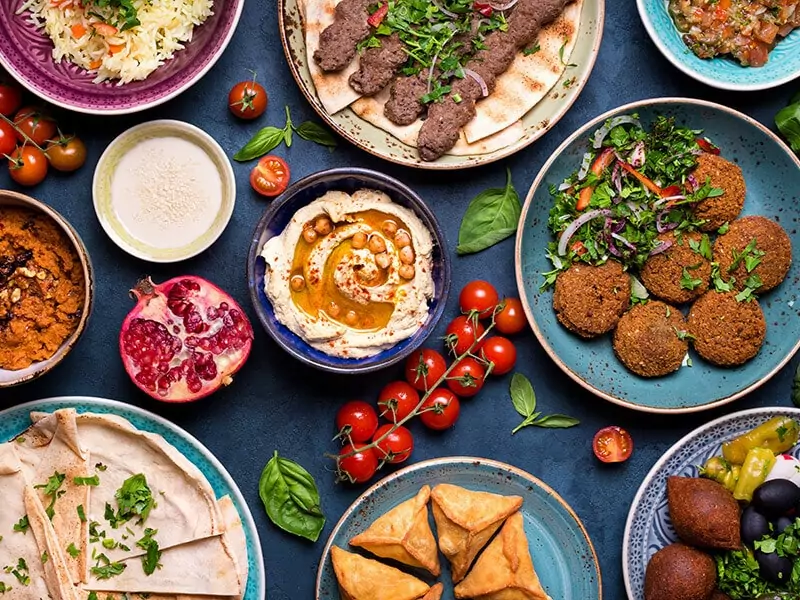 1. Shawarma – Chicken Sandwich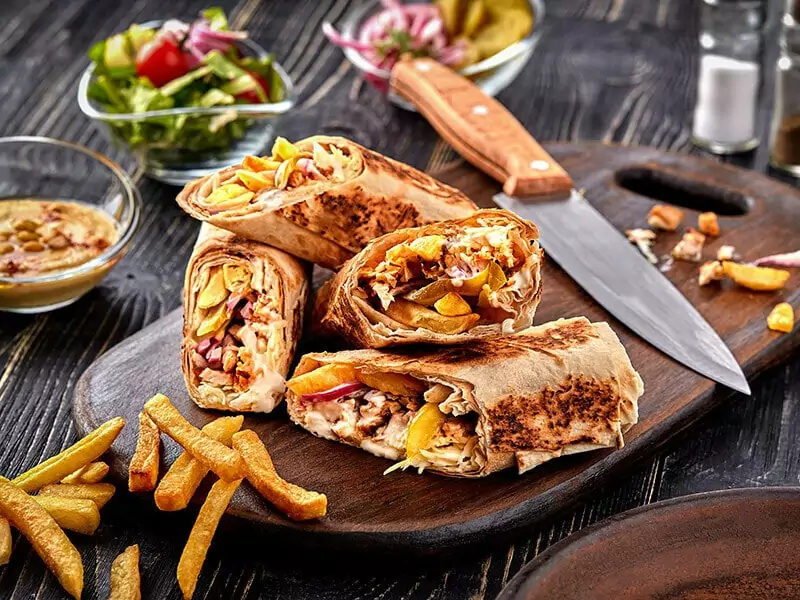 Not only is Shawarma a popular Arabic meat dish, but it's also one of the world's most famous street foods. To make Shawarma, the meat (either chicken, lamb, or mutton) is cut into thin slices, marinated, skewered in a cone shape, then finally roasted on a spit or rotisserie.
This flavorful dish was created in the 18th century in Turkey. It was first introduced in Greece, where it was given the name gyros (meaning "turn" in Greek). Shawarma became its official name when it expanded throughout the Middle East.
Making Shawarma at home might be challenging since a rotating spit is not common in a typical household. However, if you're really craving it, you can use a panini grill to recapture the true essence of this dish.
2. Shakshuka – Eggs Poached In Sauce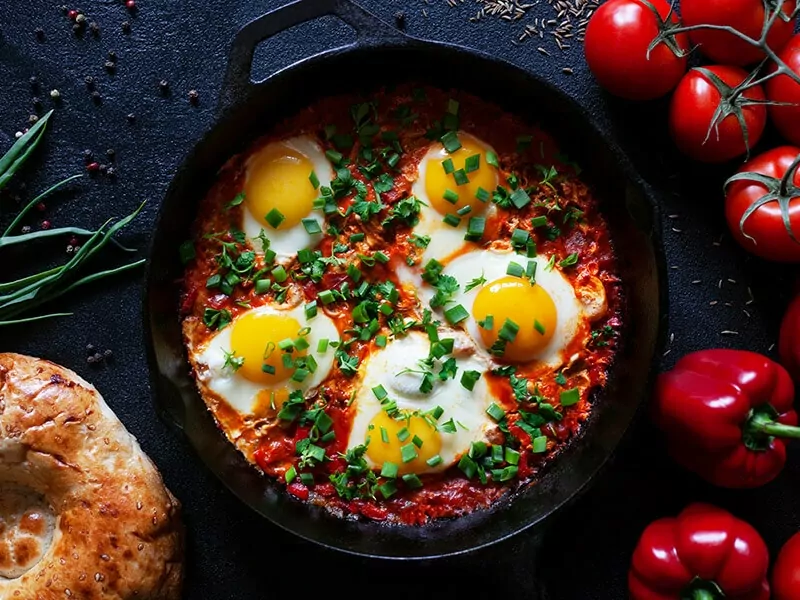 Since time immemorial, eggs have been a dietary mainstay in Saudi Arabian cuisine. This is totally understandable since eggs are convenient, inexpensive, and delicious. Plus, they also carry tremendous nutritional benefits.
Because of that, there are many egg-based breakfast items in this country. One of the most popular is Shakshuka. This Saudi Arabian breakfast dish consists of an egg poached in a tomato-based sauce with onions, olive oil, paprika, and cumin.
According to an American cookbook author, Shakshouka was invented after the arrival of tomatoes to Ottoman North Africa in the mid-16th century. This addictive breakfast option is also gluten-free, which is excellent news for visitors with celiac disease.
3. Falafel – Deep Fried Balls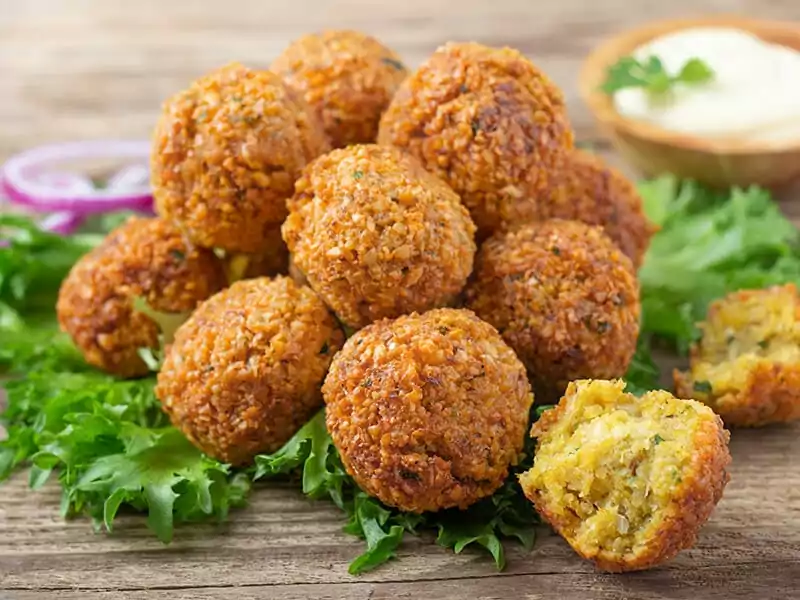 The term "falafel" is used to describe a wrapped sandwich, which explains why these deep-fried balls are commonly served in a pita or a flatbread.
Despite the controversial origin history, you can easily find this delicious dish on many streets in Saudi Arabia. Created in the shape of a ball with ingredients like beans or chickpeas, Falafel will be a perfect alternative to meat-based foods.
4. Ka'ak – Bread Rings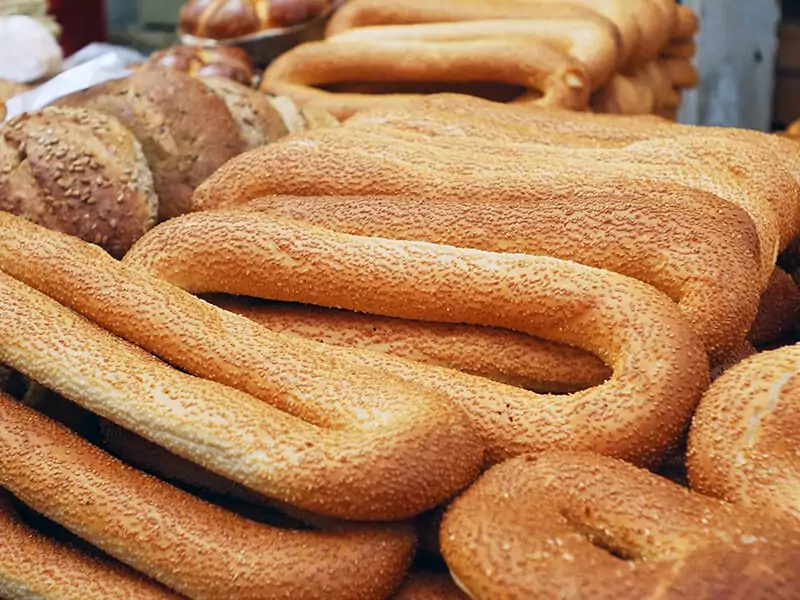 Bread is an essential aspect of Middle Eastern cuisine since the people here love to dip their baked goods in different condiments. The word Ka'ak itself can refer to many different kinds of bread and biscuit throughout the Arab world.
The most popular variation of Ka'ak is the bread rings. This yummy treat is a soft ring-shaped bread with sprinkled sesame seeds on the outside. Ka'ak is typically served as a sandwich or side dish for breakfast. Sometimes people eat it with Falafel to further enhance its flavor.
If you have the chance to visit Saudi Arabia, you can catch sight of street vendors carrying the wooden trays with Ka'ak on their heads.
5. Martabak – Pancakes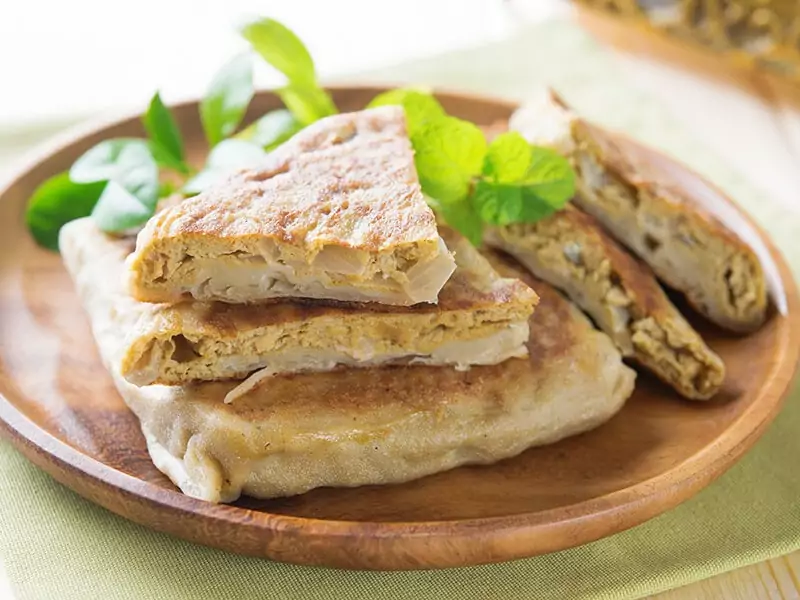 Murtabak is a famous pan-fried bread or stuffed pancake in Saudi Arabia and many other countries around the Arabian Peninsula and Southeast Asia. This renowned street food was brought to Southeast Asia by Tamil Muslim traders.
The name and ingredients can differ depending on where you are. Murtabak can be filled with egg, cheese, curry, and different herbs like mint and coriander help to keep the pancakes fresh. There is no restriction when it comes to Martabak fillings.
Martabak also has a sweet variation called martabak manis. These sweet pancakes use vanilla extract as essence and contain different fillings like chocolate sprinkles, crushed peanuts, or sugar.
6. Hummus – Chickpeas Dip with Olive Oil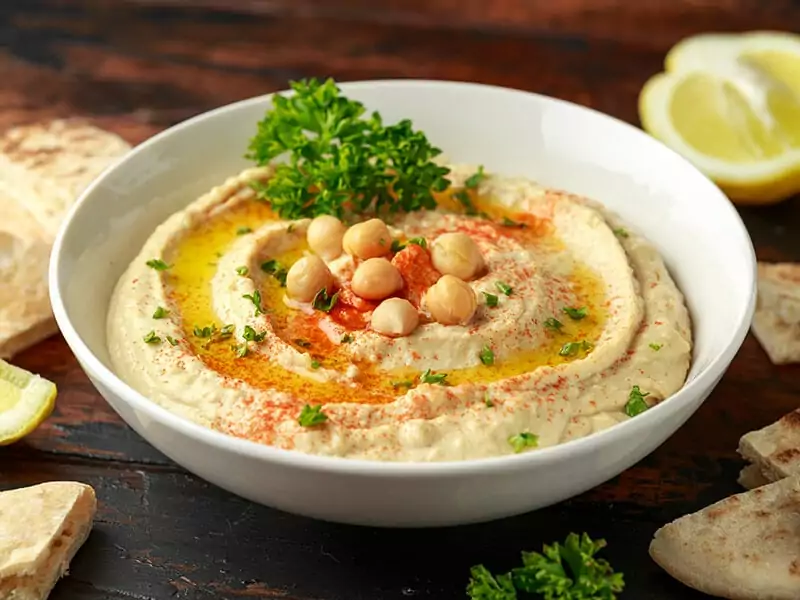 Hummus is a famous Saudi Arabian delicacy that every visitor should try. It is usually served as a dip with pita bread in Middle Eastern cuisine. In the West, it's commonly served as a snack or appetizer and eaten with crackers.
Hummus carries a rich source of protein from chickpeas. This ingredient also matches well with the typical garnish for Hummus like olive oil, lemon juice, and sesame seeds.
The home-cooked version is really easy to prepare, so don't waste your money on the unhealthy store-bought version.
Take a look at this simple tutorial of Hummus and make it right now!
7. Ful Medames – Stewed Fava Beans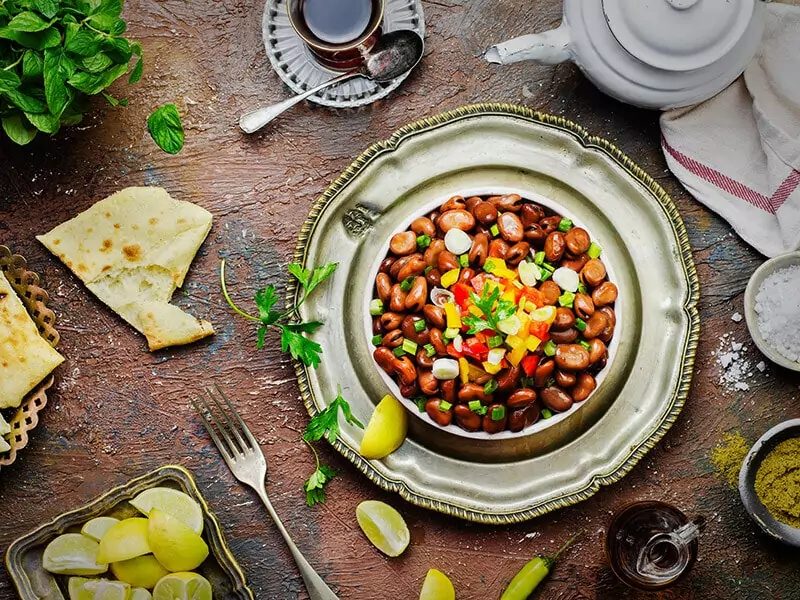 Ful Medames, sometimes known as fūl, is a hearty breakfast made with thick bread and a mashed fava beans dip. During Ramadan, this dish becomes even more popular, and it is frequently consumed during Suhoor (pre-dawn breakfast).
This stewed fava beans dish is traditionally cooked and served in a large metal jug. In the 4th century, the Jerusalem Talmud mentioned this cooking method, indicating that it has been practiced in the Horn of Africa and Middle Eastern countries.
Ful Medames is still considered an irreplaceable part of Saudi Arabian cuisine until this very day.
8. Asida/Aseeda – Arabic Boiled Flour Pudding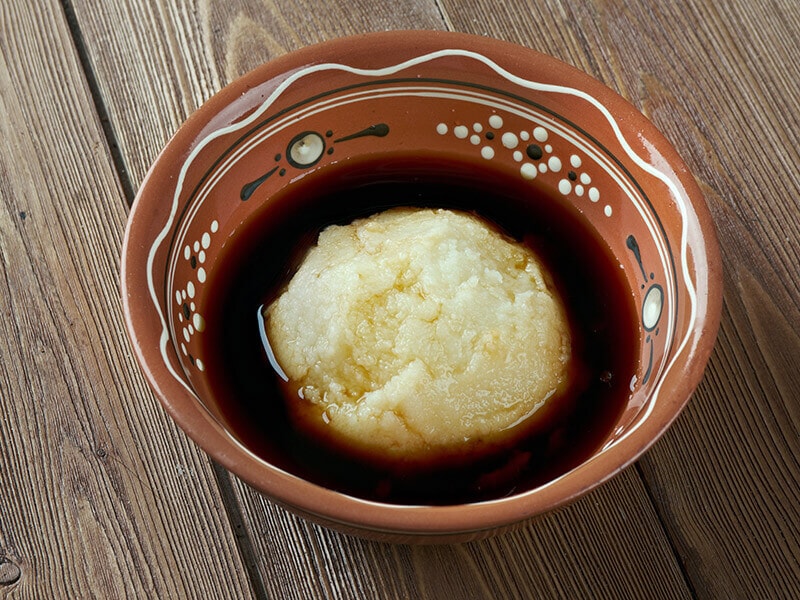 Asida, or Aseeda, is an Arabian dessert prepared from a baked wheat flour lump of dough that has a similar texture to gruel.
The dish comes from Ethiopia, a country in East Africa, but now it is a well-known breakfast item in many Middle Eastern nations. It is even regarded as one of the most popular traditional foods in many Arab nations, like Saudi Arabia, Yemen, Sudan, and so on.
This thick flour pudding was mentioned in Arabic cookbooks from the 10th century but it still manages to maintain its popularity until this day. Now, it is frequently offered at religious festivals such as Mawlid and Eid, as well as other customary festivities.
Asida is often eaten by hand, without the use of utensils, as is the case with other traditional dishes from these regions. This pudding is so simple and filling that you can enjoy it without any side dishes. It can also be eaten by women in labor.
9. Qahwa – Arabic Coffee
Like many other countries, the locals here need a bit of caffeine to shake up their morning routine.
For generations, Qahwa has been an integral element of Saudi Arabian culture, and it is the most significant sign of hospitality when it comes to greeting visitors. Qahwa is an Arabic coffee made with ground roasted coffee beans and spices like cardamom and cloves.
This drink is accessible all day and night. It usually pairs with fresh dates or other sweets. Since the flavor of Arabic coffee is quite strong, it is generally served in small cups or mugs.
10. Majboos/Kabsa – Meat and Vegetables Rice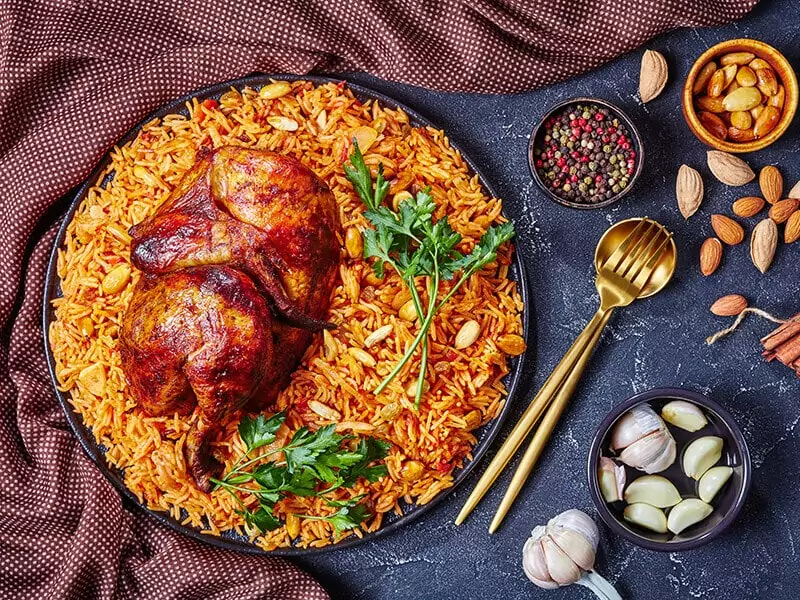 Kabsa is a national Saudi Arabian dish that consists of rice and beef served on a communal platter. Sometimes, beef can be replaced with camel meat, chicken, or lamb.
Despite its Yemen origin, this dish is considered one of the most well-known national dishes in the Arabian Peninsula.
This Saudi Arabian lunch dish is traditionally served on a round metal plate on the floor and eaten with the right hand. You can also use a spoon, but using your hand will make the food experience more authentic.
11. Gursan – Meat and Vegetable Stew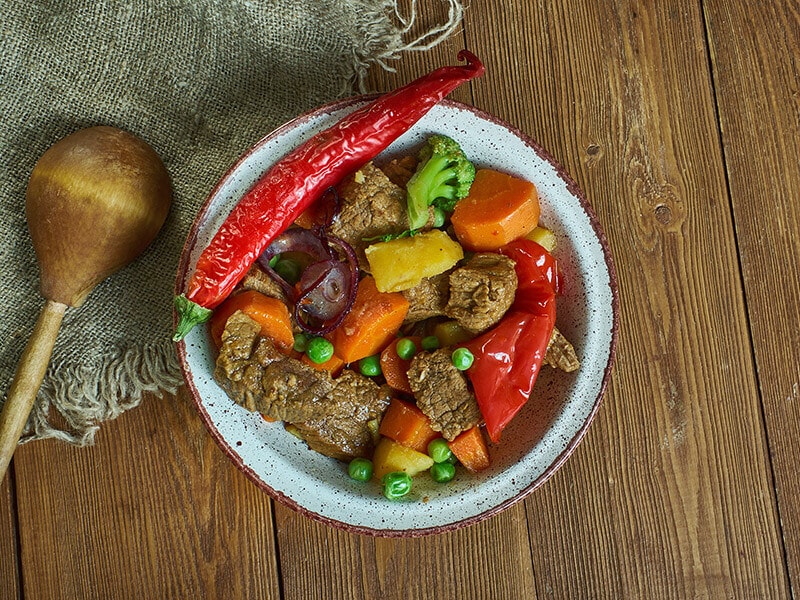 Gursan is a traditional Saudi Arabian meal made with meat, vegetables, and paper-thin sheets of bread.
To make this dish, the locals will first cook meat and vegetables in a broth and place a layer of dry and thin bread sheets on top. The bread will then absorb all of the juices, resulting in a thick and nutritious soup that can satisfy your taste buds.
Gursan is frequently served with various meats, chicken, and veggies. It also comes in a pre-baked version that you can buy in many supermarkets.
12. Jalamah – Lamb Stew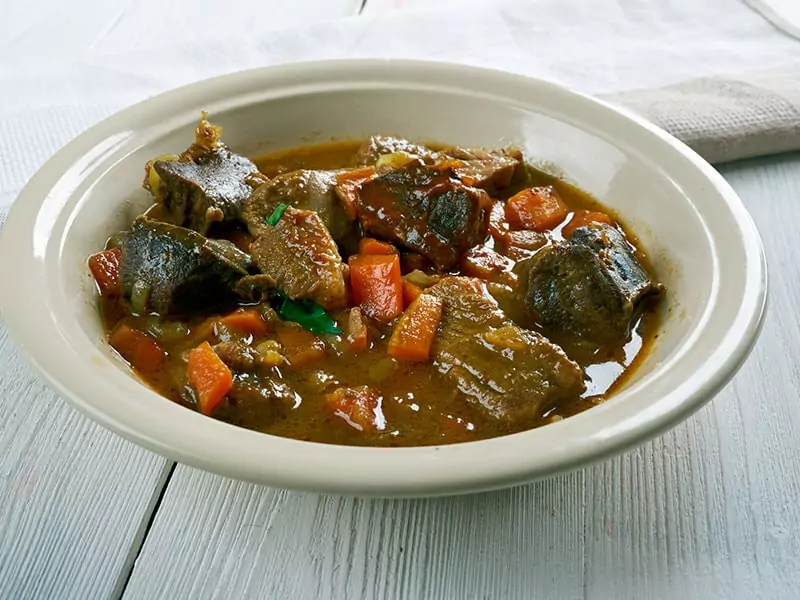 This lamb dish has been a typical dish for centuries in Asir – a region of Saudi Arabia. Jalamah is made with pieces of young lamb flesh that have been cooked with fat, onions, and a mix of Arabic spices like cinnamon, black pepper, and coriander.
The dish is frequently served with flatbread or rice on the side to absorb the rich broth. This dish is typically prepared during festive events like Eid al-Adha (a traditional holiday when people sacrifice animals like cows or lambs and donate to the poor).
13. Dajaj Mashwi – Grilled Chicken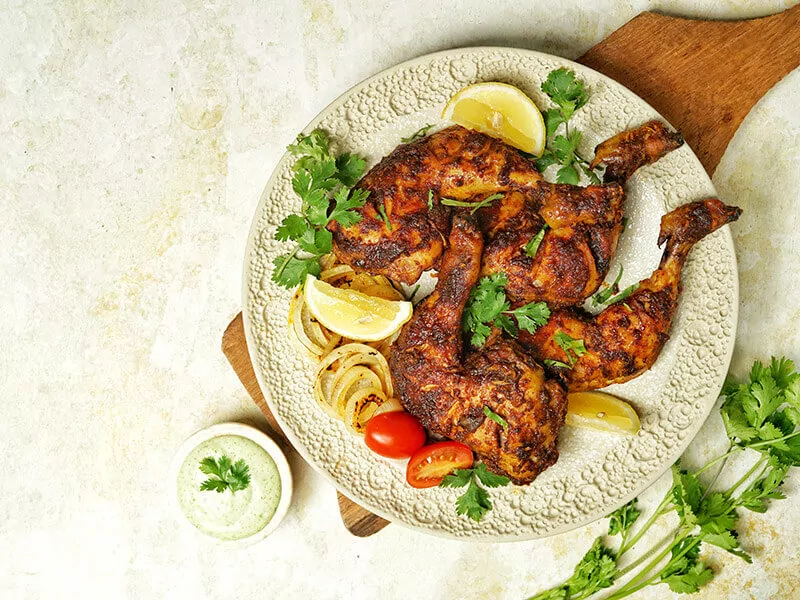 Dajaj Mashwi is a Saudi Arabian barbecue dish made of thin boneless chicken breasts that are marinated and grilled.
Some common marinating ingredients are dried herbs and spices like red chili powder, ginger, and lime juice. Remember to not over-marinate the chicken to avoid the meat from being tough and dry.
This delicious grilled chicken dish is traditionally served with a garlic dipping sauce and a mixed salad on the side. Sometimes the locals will pair it with Arabian Pilaf or soups.
14. Sambousek – Saudi Arabian Samosa
Samosa has long been a mainstay in the local cuisines of countless countries around the world, and that also includes Saudi Arabia.
In this Western Asian country, this dish is called Sambousek and made out of meat, onions, cheese or pine nuts. The locals love to enjoy these tiny pastries during the holy month of Ramadan; however, it can also be an everyday meal.
Depending on the location, Sambousek or Samosa can have various shapes, such as triangle, cone, or half-moon.
15. Ruz Al Bukhari – Fragrant Rice and Roasted Chicken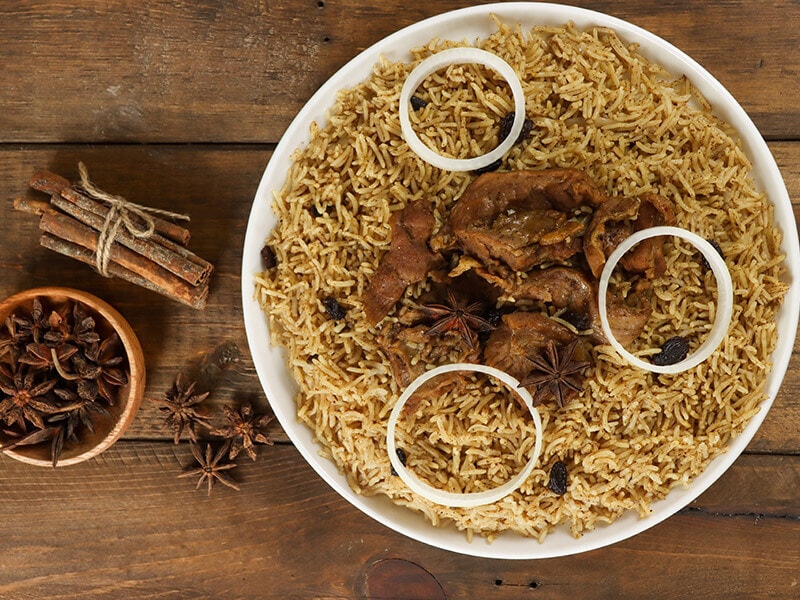 Ruz Al Bukhari literally translates to Bukhari rice, which is fragrant rice loaded with flavors and spices. This Saudi Arabian dinner dish gained its name from Bukhara, a city in Central Asia that was once a major market town on the Silk Road.
The dish is flavored with star anise, coriander seeds, nutmeg, and cumin. It is also frequently garnished with raisins and fried onions.
This dish also pairs well with Salata Hara – a spicy tomato sauce. Some variations of the meal might contain almonds and pine nuts.
16. Tharid/ Thareed – Meat and Vegetable Stew Over Crispy Bread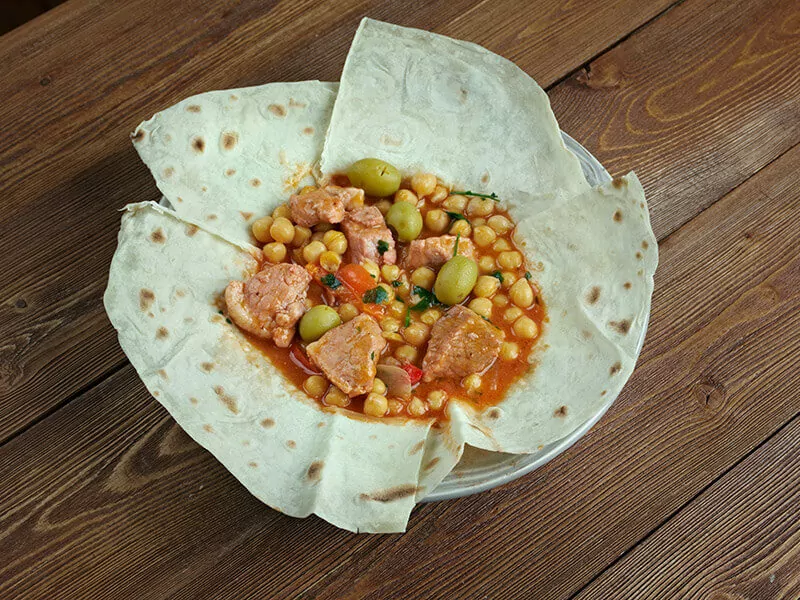 In Arabian culture, fasting is considered the best way to strengthen people's relationship with God and purify the soul. Therefore, during Ramadan, the Saudi Arabians only have 2 meals a day, one of which is usually Tharid – another famous comforting stew.
Tharid can be found in the Arabian Peninsula, Xinjiang, and North Africa. It is an especially famous dish in UAE. The recipe has multiple variations and was brought to Spain by the Moors.
This stew is quite similar to Gursan, but the preparation technique might have some differences. The most common way to eat Tharid is to place the bread and meat in several layers. However, you can simply dip the bread into the broth and enjoy.
17. Jareesh/Harees – Crushed Wheat with Meat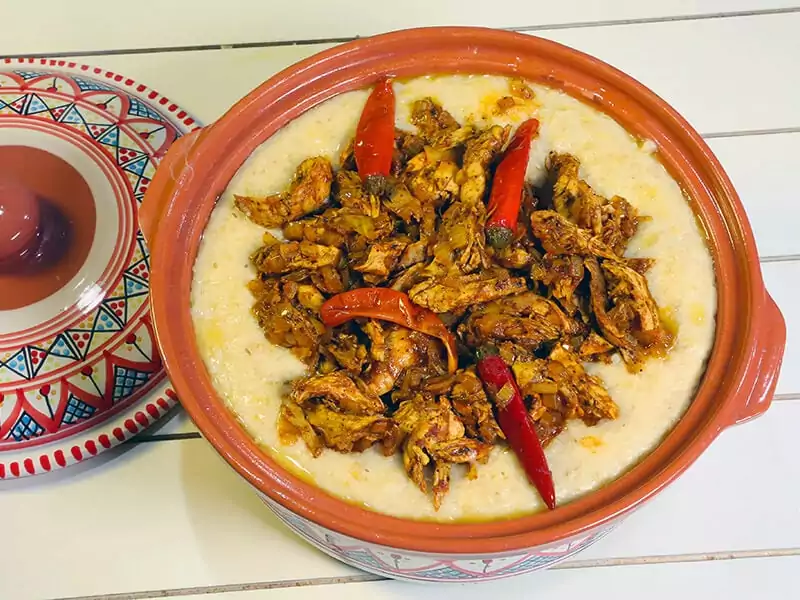 Looking for a dish that can warm your heart and soul? Then you must try Jareesh, one of Saudi Arabia's oldest dishes. If you're visiting Saudi Arabia during the month of Ramadan, Jereesh is worth your attention.
This yummy dish is cooked with boiled and crushed wheat, rice, meat and flavored with some spices like parsley, cumin, and coriander. Jareesh is also the root of Haleem, a famous stew and street treat in Pakistan, Turkey, India, and other Middle Eastern and Asian countries.
If you're visiting Saudi Arabia during the month of Ramadan, be sure to order some Jareesh and share with your friends, it is definitely worth your attention.
18. Mansaf – Lamb Meat and Rice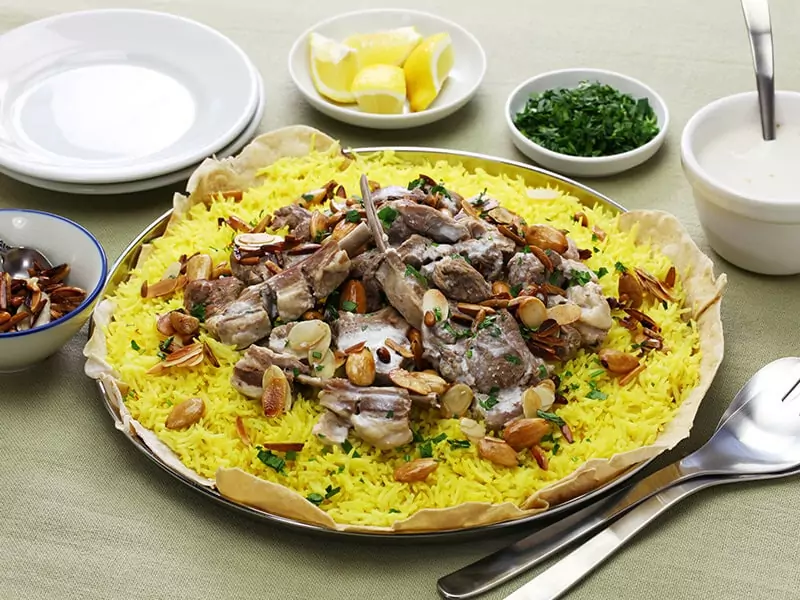 Since sheep farming has long been a part of Saudi Arabia's nomadic lifestyle, this country has many popular dishes that feature lamb meat. One of the most well-known ones is Mansaf.
This traditional Arab lamb dish comes with rice or bulgur in fermented, dried yogurt sauce. It was originally made with camel meat, bread, meat broth, or clarified butter. After its popularization in northern Jordan, the locals started to include rice or bulgur in the 1920n.
Although Mansaf is a national dish of Jordan, it is still a go-to lunch option for the people of Saudi Arabia. This dish also makes its appearance at important festivals such as Christmas, Easter, Eid ul-Fitr, Eid ul-Adha, and special events like marriages or graduations.
19. Saleeg – Roasted Meat & Creamy Rice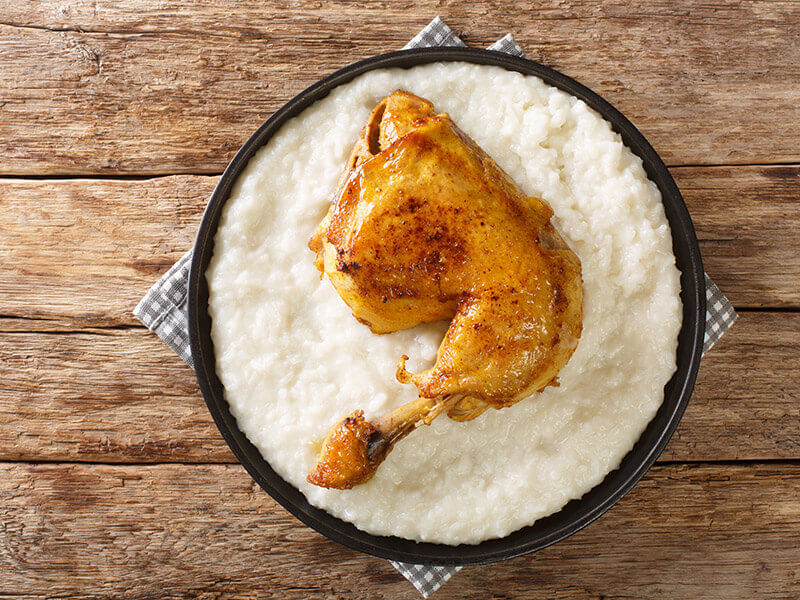 Saleeg is a simple white-rice dish in Saudi Arabia that originated in the Hejaz region (the West of Saudi Arabia).
The meat will be boiled in water mixed with spices like black pepper, cinnamon, and cardamom to make this delicacy. The rice will then be cooked in that flavorful broth and served hot with butter and roasted meat on the top. Some people compare its taste to Italian risotto.
The locals here love to enjoy this dish with spicy tomato sauce, ghee as a garnish, and a salad on the side. It's also usually eaten at traditional occasions like Shabana (a traditional Ramadan festival).
20. Mandi – Chicken Rice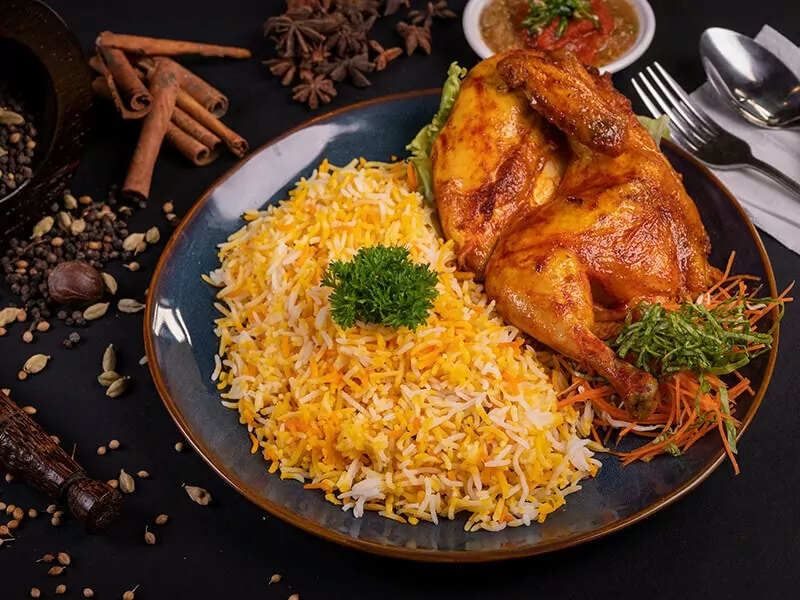 This traditional Yemeni dish is incredibly popular throughout the Arabian Peninsula. Many regions even see it as a staple dish.
The way people make this dish is quite unique. The meat and rice are cooked in an underground pit, an ancient structure that uses the earth element to trap heat and smoke or steam food.
The meat typically comes from a young and small lamb to enhance the flavor. Mandi is usually served during special occasions such as weddings in Saudi Arabia.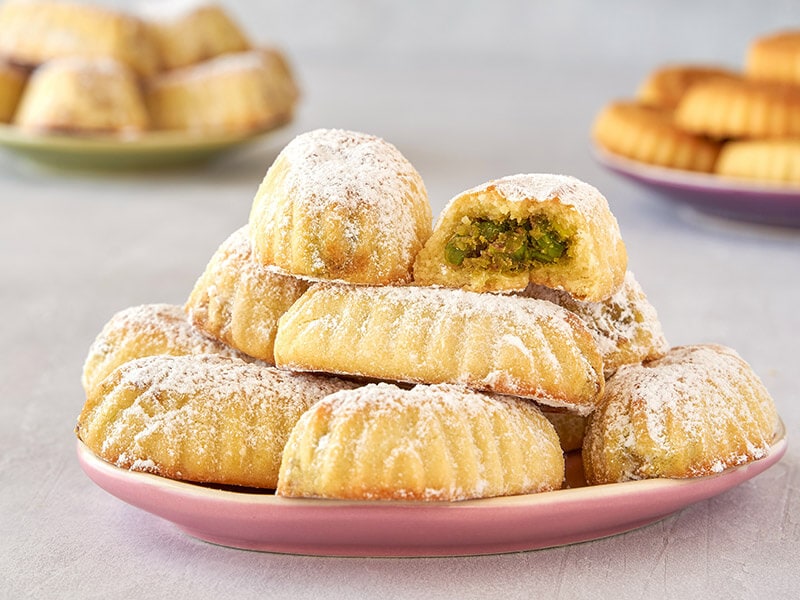 Making Maamoul during the Easter holiday has been a tradition for generations in Saudi Arabia. This sugary treat is not only tasty, but it's also super fun to make. In fact, there is no homemaker in this country that doesn't know its recipe.
Maamoul is Arabic for "stuffed", describing how it is loaded with various fillings. Each filling type has its own mold. Traditional holiday fillings include dates, but sweetened walnut and pistachio fillings are also popular.
These cookies will taste even more incredible when paired with Arabic coffee or chocolate.
22. Qatayef/Katayef – Sweet Pancakes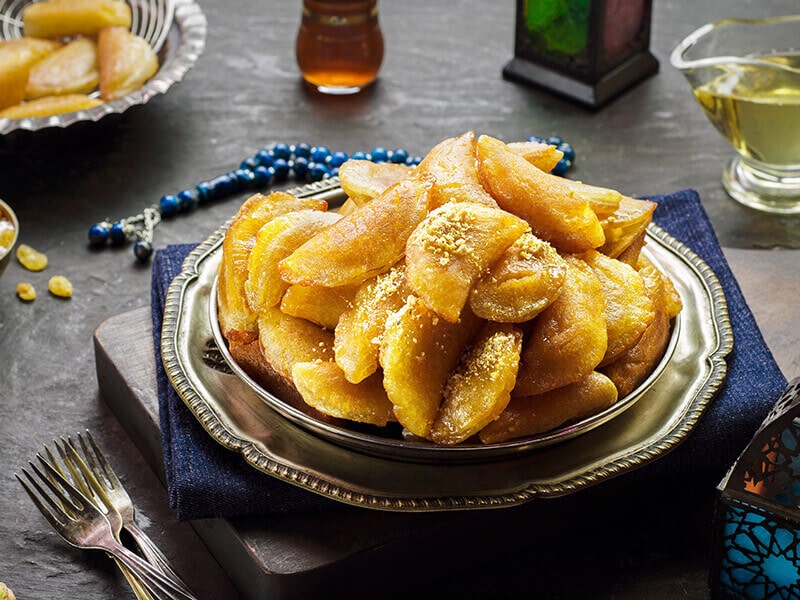 If Ramadan had a culinary mascot, it would undoubtedly be Qatayef. These tasty Middle Eastern pancakes are stuffed with nuts or white cheese and soaked in sweet rose syrup, making it the perfect treat to satisfy your sweet tooth during the Holy Month of Ramadan.
During Ramadan, bakeries and supermarkets would fill their shelves with Qatayef dough throughout the Middle East. However, since the demand is so high, they frequently run out of stock. So make sure to pre-purchase them before this time.
23. Basbousa – Coconut Semolina Cake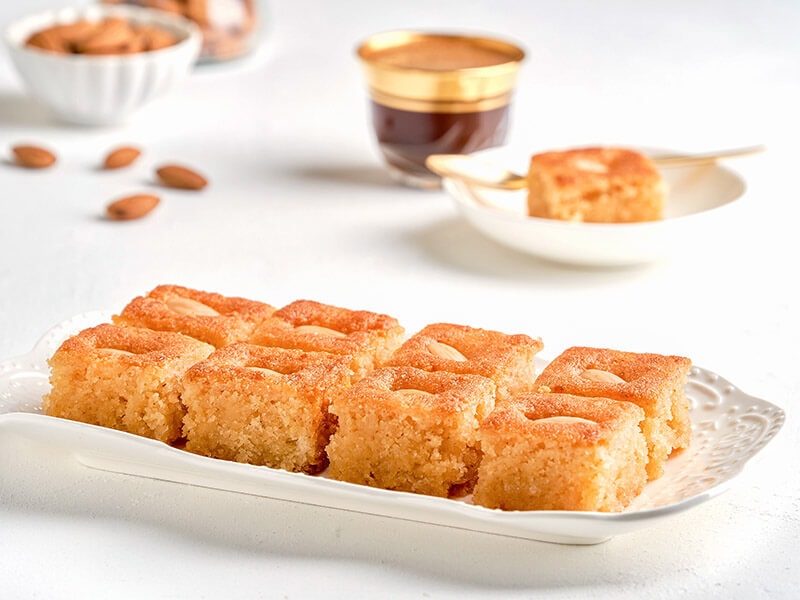 Basbousa is a syrup-soaked semolina cake originating from Egypt but is now widespread across the Arab world. The treat is particularly famous in Palestine, Jordan, Syria, and Lebanon.
The semolina batter is cooked on a sheet pan, then sweetened with simple syrup, orange flower water or rose water to create this delightful dessert. Before serving, the locals will cut the cake into diamond or square bite-sized pieces.
This is the go-to dessert for Christians when they are fasting during Eid and Ramadan since Basbousa can easily be turned vegan.
24. Baklava – Layered Pastry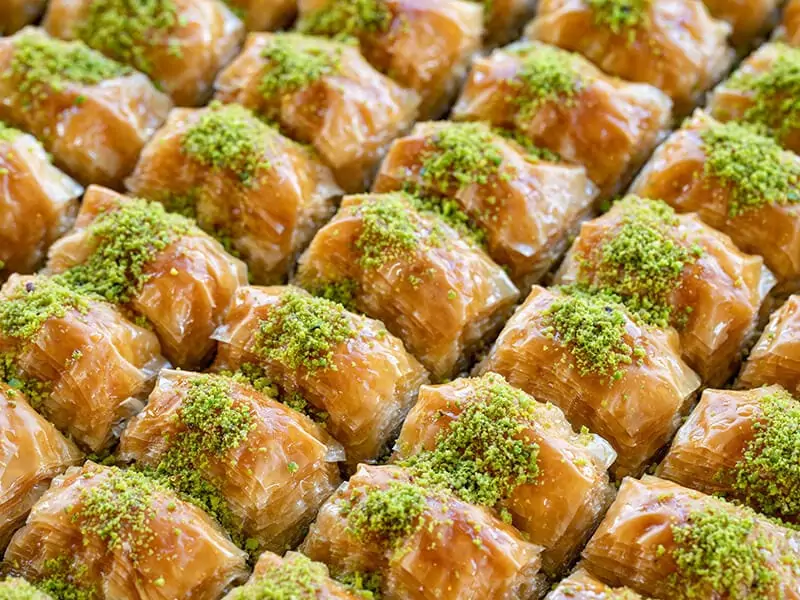 Baklava is a layered pastry treat consisting of filo pastry with chopped nuts filling. The crispy layers of buttery phyllo, the sweet flavor of syrup, and the nuttiness of pistachios all combine to form an utterly delightful, light yet rich dessert.
The origin and history behind this sweet treat are a mystery. Regardless, it's still a trendy dessert in Turkish, Iranian, and Arab cuisines.
25. Knafeh – Sweet Cheese Pastry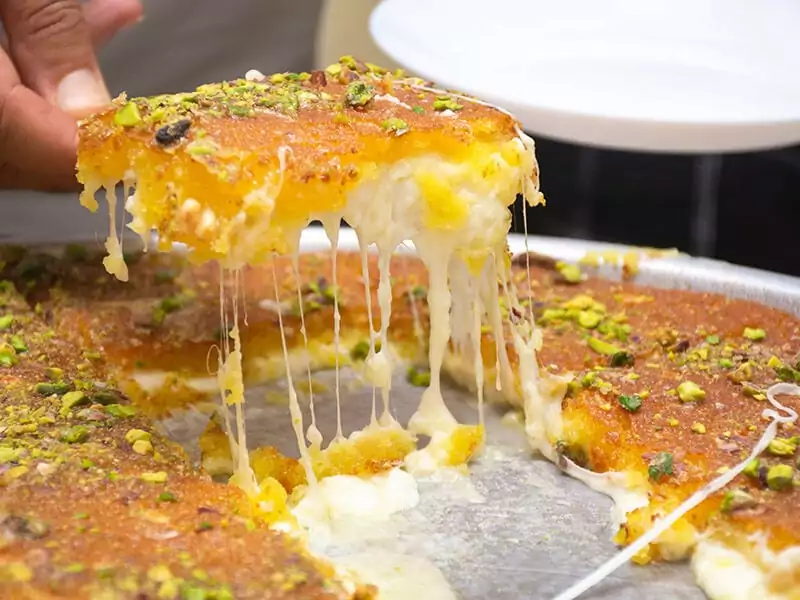 You can never go wrong with cheese when it comes to desserts. Knafeh contains Kataifi, a spun pastry soaked in a sweet syrup and stacked with cheese, clotted cream, or pistachios. Overall, this delicacy is a phenomenal treat to enjoy in this country.
Knafeh is not just a traditional Middle Eastern dessert, but it's also a well-loved icon in the Balkans, Turkey, and Greece.
This cheese-based dessert was allegedly invented and recommended by doctors to assuage the appetite of caliphs during Ramadan.
This dish has also been referenced in writing around the 10th century. But the modern versions of Kanafeh might be different from those in historical texts.
If you've never tried Knafeh, now it's time how to make it.
26. Masoob – Banana Bread Mash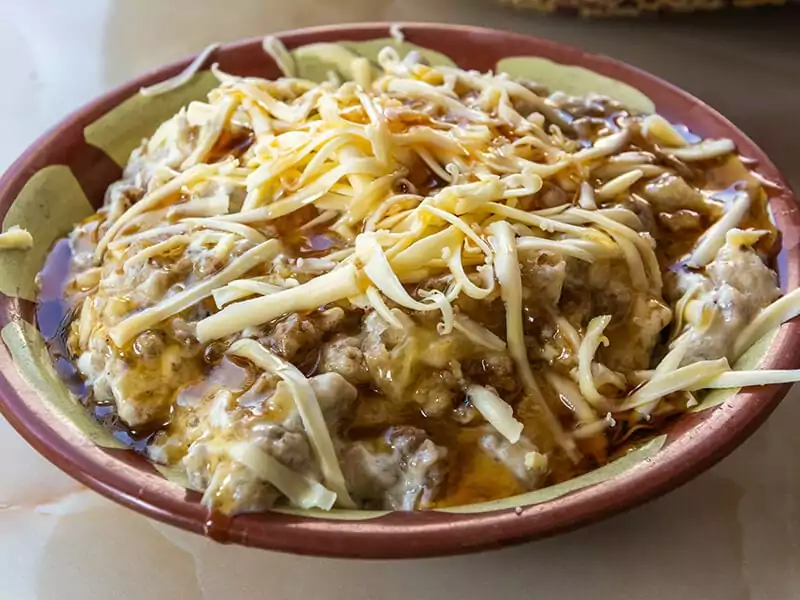 Made with overripe banana, cream, dates, and flatbread, Masoob has quickly spread out and become a well-known dessert throughout Middle Eastern countries.
This banana-based treat can be paired with various types of bread, the most common option being Pita or whole wheat bread slices. This dish will taste even better with a cup of cold brew coffee in the morning.
Although the appearance of this dish may not be attractive, I'm sure its taste won't be a let down.
27. Muhallebi – Milk Pudding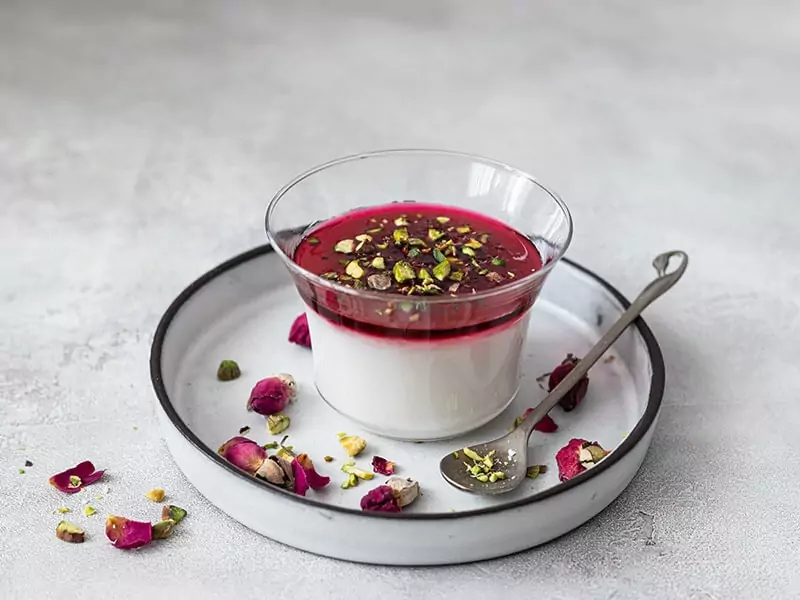 This smooth and silky milk pudding is here to melt away your problems! Muhallebi is not only delicious but it also has a light and delicate aroma that everyone loves.
Muhallebi has been an important dessert in Arab cuisine for a very long time. To be exact, in the late 7th century, a Persian cook from Sassanid Persia served this delightful dessert to an Arab commander named Al-Muhallab ibn Abi Sufra.
He was so impressed with it that he called it by his own name. The first recipes, which date back to the 10th century, included three variations: milk thickened with crushed rice, milk thickened with grains (comes with chicken), and an egg pudding without rice.
Nowadays, Muhallebi is cooked with rice, sugar, milk and thickened with rice flour or semolina.
28. Camel Milk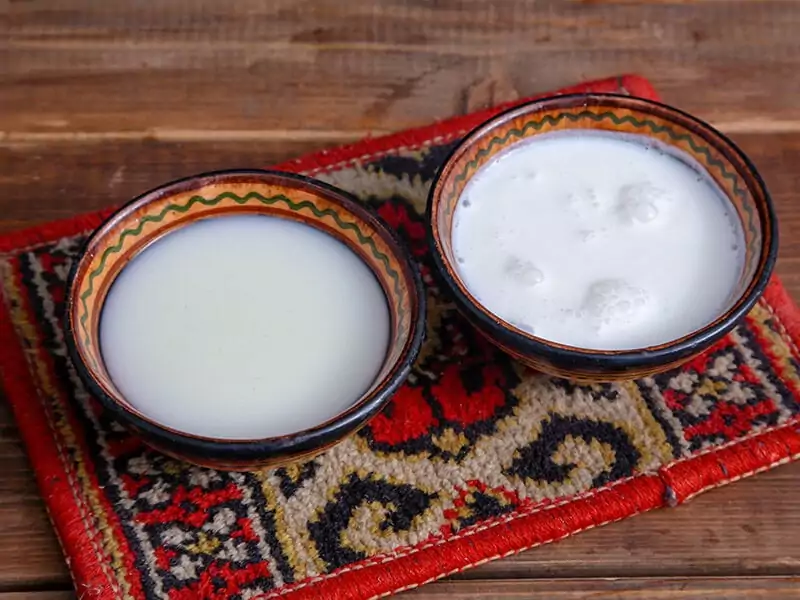 For millennia, camel milk has been a lifeline for the Bedouins. It has been the only source of nutrition for desert dwellers at times.
Although camel milk might sound strange, this drink is definitely worth exploring. Middle Eastern camel milk is quite smoky and nutty, which is different from the sweet, creamy, and salty camel milk from America. If you're lactose intolerant, camel milk is an ideal alternative.
Camel milk is incredibly beneficial for your health. It is even considered a remedy for a variety of diseases and ailments. According to recent studies, camel milk is a good source of fat, protein, and vitamins. Plus, this fantastic drink also helps you digest without discomfort.
29. Sobia – Oats Drink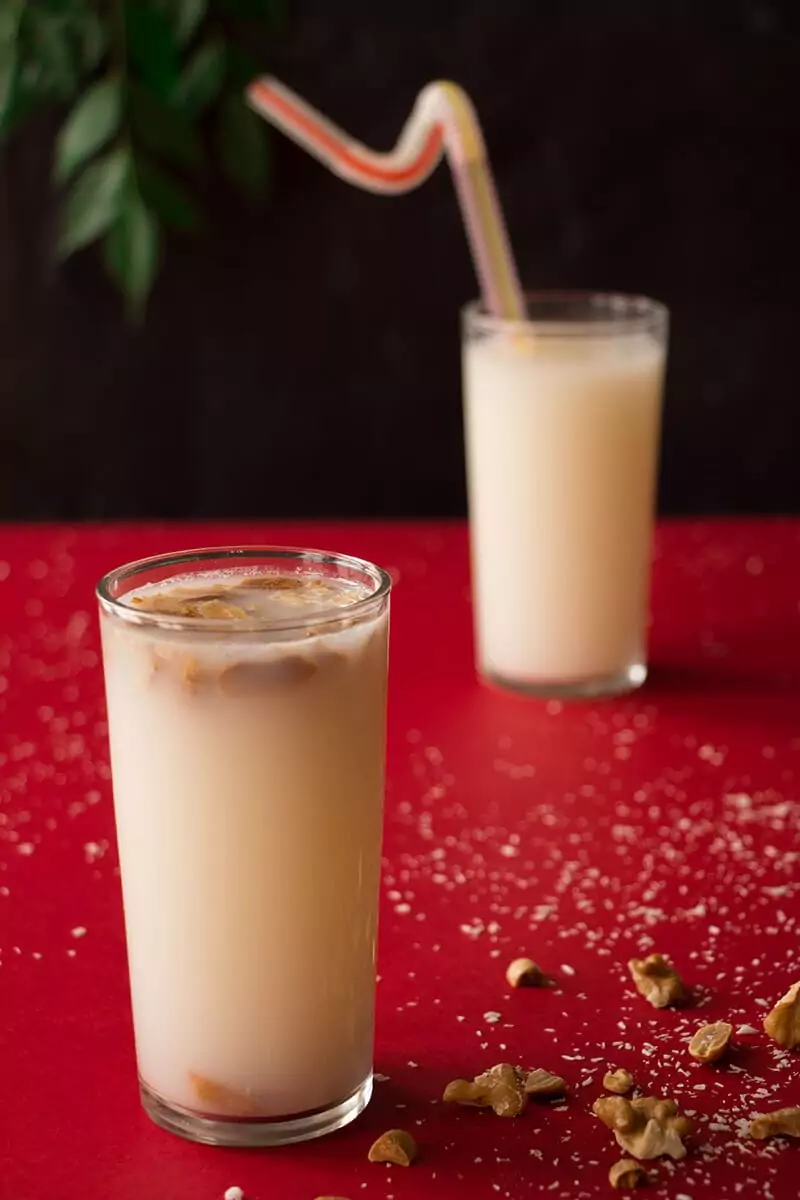 In short, Sobia is a cool drink that originated in the Hijaz but is now widely accessible throughout Saudi Arabia, particularly during Ramadan.
It's produced with a lightly fermented blend of barley/ brown bread, date palm sap, herbs, and spices. Depending on the flavor, it might be white or colored.
Like camel milk, this oats drink offers many health benefits, such as calming your nerves and warding off stress.
This tasty drink is also popular in Egypt. However, the people in Egypt use coconut powder, dairy, and rice to make this drink instead of oats.
30. Jallab – Sweet Summer Drink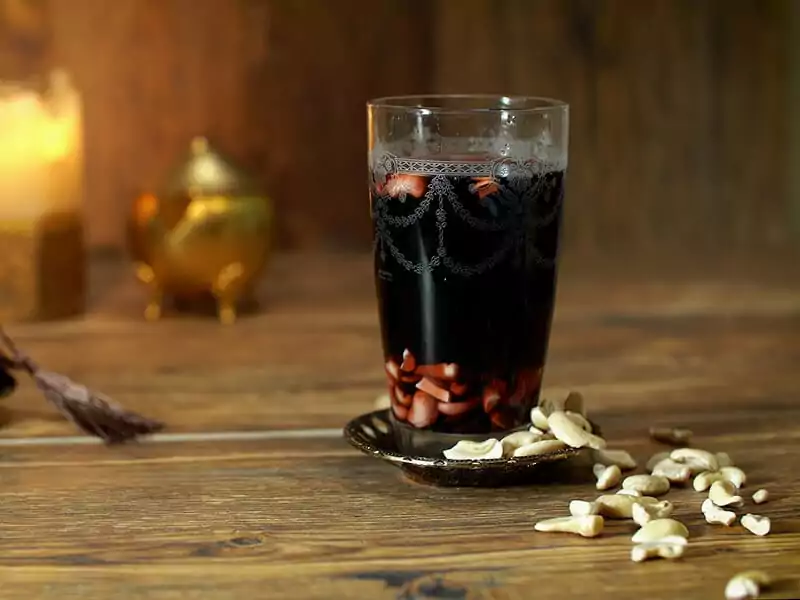 Jallab is a popular Middle Eastern drink made from diluted fruit syrup, which has the same name as the drink. This fruit syrup contains grenadine syrup, grape molasses, dates, and rose water, and it's smoked with Arabic incense.
When it is made into a drink, it will come in a tall glass with crushed ice, golden raisins and floating pine nuts. A Jallab without nuts is not a Jallab!
This date raisin drink is also quite famous in other Western Asian countries like Syria, Jordan, Palestine, and Lebanon.
---
Get Out Of Your Comfort Zone And Try Out Some New Foods!
And there you have it, a handy list of Saudi Arabian food ideas for you to explore during your trip. Your journey won't be complete if you don't try out this country's traditional delicacies, so forget Mcdonald's, Starbucks or KFC and find out more about these national gems.
Have you tried any of these dishes? Which one is your favorite? Is there any dish on your Saudi Arabia culinary bucket list that I have missed? Share your thoughts in the comments section below!
Also, don't forget to like and send this article to your friends and loved ones if you enjoy reading it. Wish you all a wonderful day and see you next time!