Afghan cuisine, with influences from Persian, Central Asian, and Indian cuisines, is primarily a blend of the country's rich traditions and complex flavors. The core of the cuisine lies in the use of mutton, beef, poultry, and fish, which are often paired with rice and traditional Afghan bread.
Vegetables, dairy products, and a variety of fresh and dried fruits are also commonly incorporated, providing a healthy, balanced diet. Rice-based dishes and a variety of naan breads form the backbone of Afghan meals.
Tea is a cornerstone of Afghan hospitality, enjoyed in large quantities on a daily basis. The cuisine reflects the nation's ethnic and geographic diversity, with Qabili Palau – a flavorful rice dish cooked with raisins, carrots, nuts, and meat – recognized as the national dish of Afghanistan.
If you are interested in Afghan foods and want to learn more about this distinctive cuisine, you are lucky since you have come to the right article. From main courses to desserts, you can have all you might need here.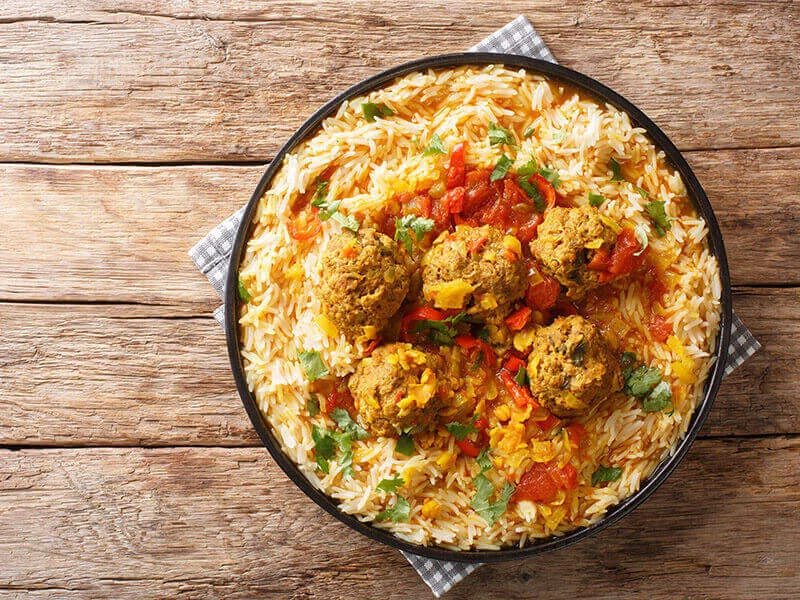 1. Afghani Cilantro Chutney
This Afghan culinary idea will surely be flavorsome because the ingredients list calls for all the pungent fresh herbs like cilantro and parsley with some other strong spices. However, don't mistake cilantro for parsley, as one small confusion is enough to ruin this dish.
Afghan cilantro chutney is also versatile; you can pair it with almost every Afghan dish like the traditional Bolani, dumplings, or snacks. Its goodness will help to elevate the main course's taste to another level.
2. Lavash (Flatbread)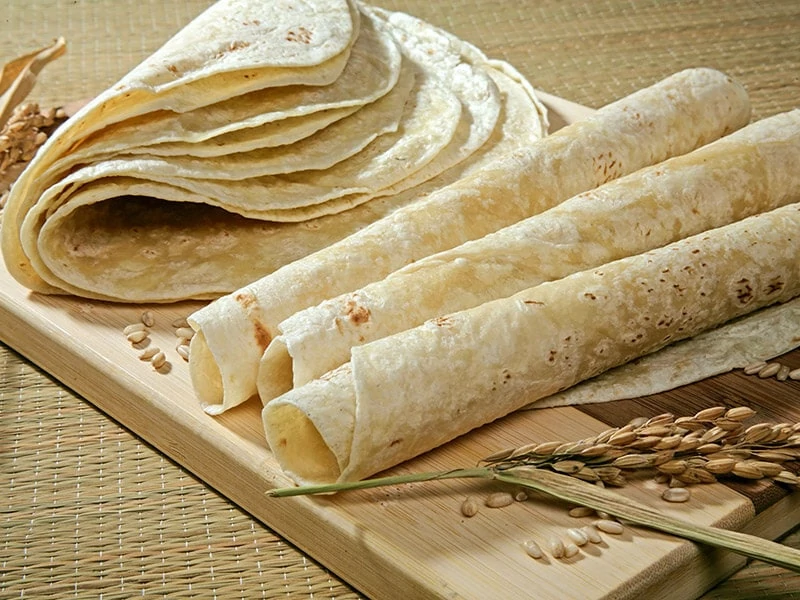 Afghan Lavash with naan, a signature kind of bread in India, yet, they are relatively different. First, lavash has toppings, and Afghans will sometimes sprinkle poppy or roasted sesame seeds onto the food. 
Secondly, naan is made of leavened dough, while Afghanis make lavash unleavened (to preserve the original taste of the ingredients). This Afghani flatbread has hard or soft variants and with or without fillings.
Spicy meats and cheeses are the ideal partners for this typical Lavash. In Afghanistan, people serve lavash to wish for a smooth start for a new marriage, harmonious husband and wife, abundant children, and a prosperous family.
3. Bolani (Stuffed Fried Flatbread)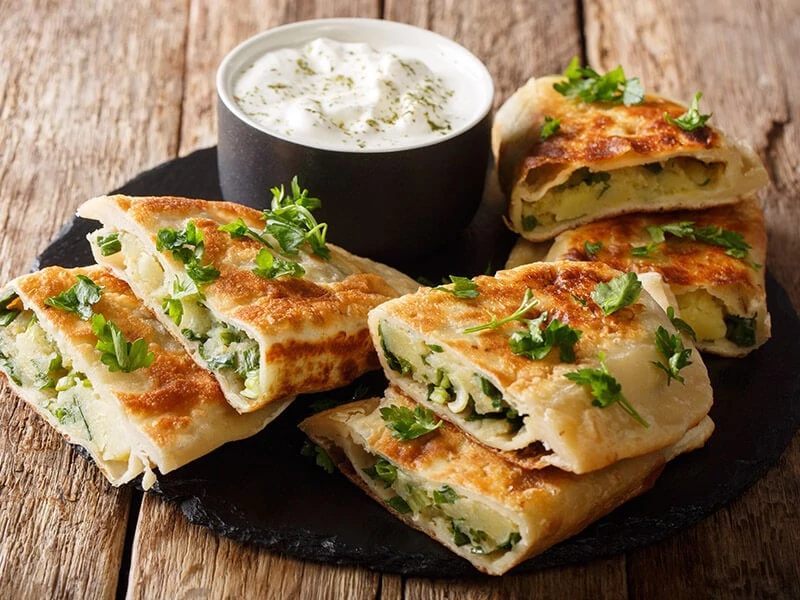 Bolani is a noteworthy dish that prominently features lavash, or other soft flatbread, as its main ingredient. While the idea of stuffing fillings into a "shell" is a common technique across various global cuisines, the method employed in the creation of Bolani is unique.
Serving as an ideal side dish for a homemade Afghan lunch, Bolani's filling is typically a simple blend of red lentils, pumpkins, chives, potatoes, among others.
The thought of dipping the crispy Bolani into a bowl of traditional Afghani cilantro chutney is nothing short of mouth-watering. Its refreshingly distinct taste and texture makes Bolani a delightful culinary adventure.
4. Tukhum Bonjan (Fried Eggs with Tomatoes)
Tukhum Bonjan is a must-mention when discussing popular Afghan breakfasts. The importance of the first meal of the day in Afghan culinary tradition necessitates a nutritious start.
Comprising mainly tomatoes, eggs, and a medley of hot, aromatic spices, Tukhum Bonjan is a delightful blend of flavors. It's typically enjoyed with milk-based tea and flatbread, balancing the dish's robust tastes.
A taste of Tukhum Bonjan provides a delightful exploration of Afghan cuisine, whether as a hearty breakfast or a new culinary adventure.
5. Kabuli Pulao (Afghan National Dish)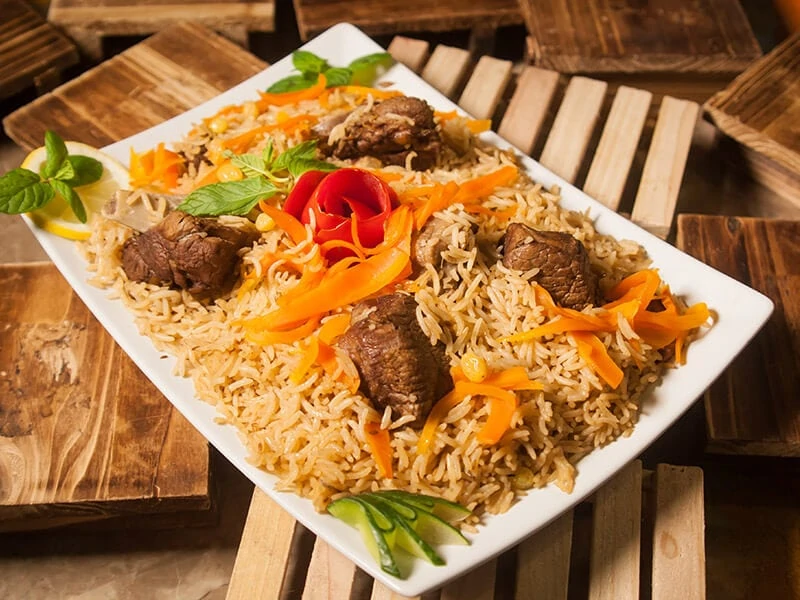 Kabuli Pulao, a notable dish in Afghan Foods, transforms leftover lamb into a robust and delicious meal. Guaranteed to captivate your taste buds, the first bite of Kabuli Pulao is a delightful experience.
Sometimes referred to as "qabli palaw," with "qabli" translating to "able," Kabuli Pulao holds intriguing cultural significance in Afghanistan. A woman's skill in preparing this national-style pilaf traditionally signifies her readiness for marriage.
In the past, Kabuli Pulao, an exquisite mix of long-grain rice, meats such as beef, lamb, or chicken, and vegetables, was a privilege reserved for the upper-class families in Kabul. For both newcomers to Afghan cuisine and its seasoned fans, Kabuli Pulao offers a rich, historical flavor journey.
6. Rice Mastawa (Sun-Dried Mutton Cooked with Rice)
Rice Mastawa is a warming meal ideal for chilly winter nights. With its rich, stew-like consistency and flavorful taste, it's hard to resist this satisfying dish.
Rice Mastawa's unique flavor comes from two distinct ingredients: sun-dried mutton, known as lahndi, and quroot, a form of salted and dried yogurt.
In its preparation, all ingredients simmer together in one pot, with aromatic additions made prior to serving, typically accompanied by vegetables. Rice Mastawa offers an intriguing taste experience, whether you're an Afghan cuisine veteran or a first-time taster.
7. Aush (Noodle Soup)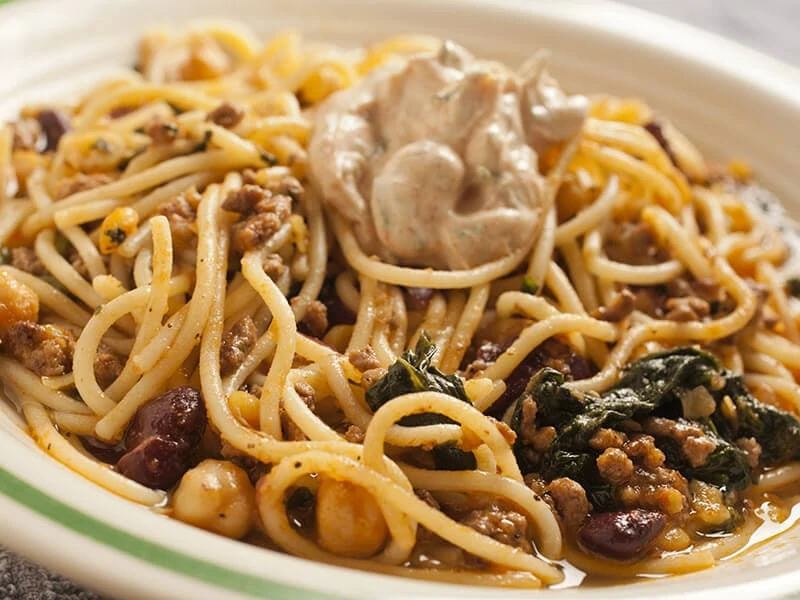 Aush is one of Afghani's most famous delicacies, and tourists should taste it at least once while visiting this hidden gem. This food whose name begins with "A" is ideal on a cold day.
Aush comes in two main varieties in Afghanistan. The first variety is a meatless or vegetarian-friendly variant with chickpeas and vegetables. The second one has savory fillings with noodles and meatballs from lamb or beef.
Aush will be the special tomatoes or tomato broth, which will provide a mild sourness and richness while also creating perfect harmony in the dish.
8. Borani Banjan (Eggplant Dish)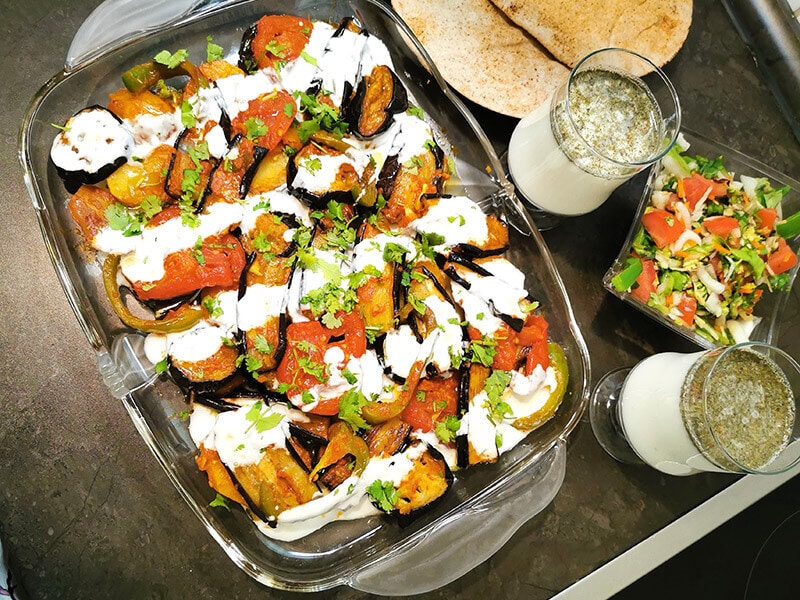 Borani Banjan, an iconic dish in Afghan Foods, is an aromatic blend of eggplants, tomatoes, and a variety of spices. Its appeal lies not only in its rich, layered flavors but also in its colorful presentation.
Preparing Borani Banjan demands attention to detail. Cooks need to skillfully balance the flavors, ensuring the tomatoes and spices complement, rather than overpower, the subtle taste of eggplant.
Upon completion, Borani Banjan is typically garnished with a tangy yogurt sauce and fresh herbs, adding another depth of flavor. Whether you're a seasoned fan of Afghan cuisine or trying it for the first time, Borani Banjan is sure to delight your palate.
9. Chopan Kabob (Roasted Lamb Racks)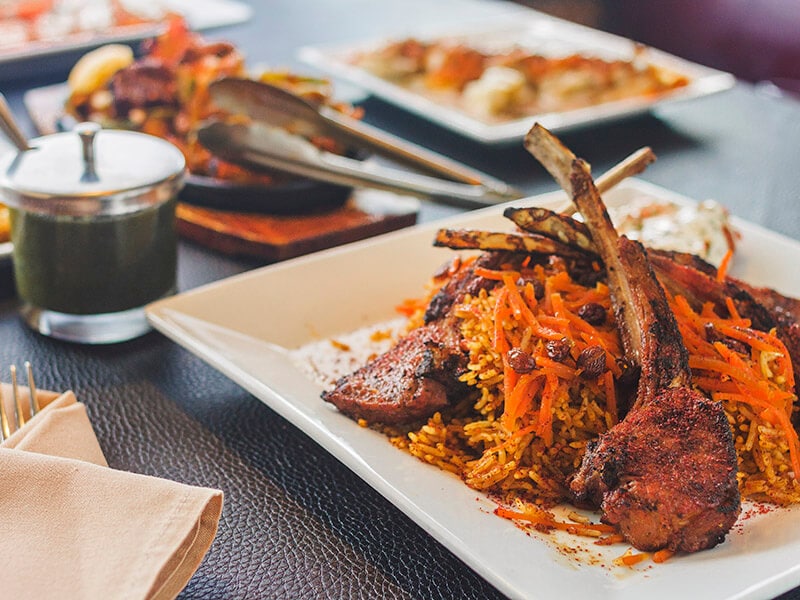 Don't confuse Kabob with Kebab, although both are ways to process lamb. To make a Chopan or Lamb Kabob, they will use a whole cut of lamb rack (not the boneless portions) and the fat from the sheep tail for more flavors.
Chopan Kabob appeared from a long time ago when the ancient sheepherders seasoned their lamb with salt and grilled/roasted them on the hot fire for food. Nowadays, the chopan kabob is a prevalent dish in Afghanistan and stands for Pashtun culinary cuisine.
You can find Chopan Kabob on the road by finding the stalls called dunkan-e-kebabi. Based on your preferences, they will serve you this kabob with suitable side dishes. Flatbread or long-grain rice are many people's favorite choices.
10. Aushak (Leeks and Scallion Dumplings)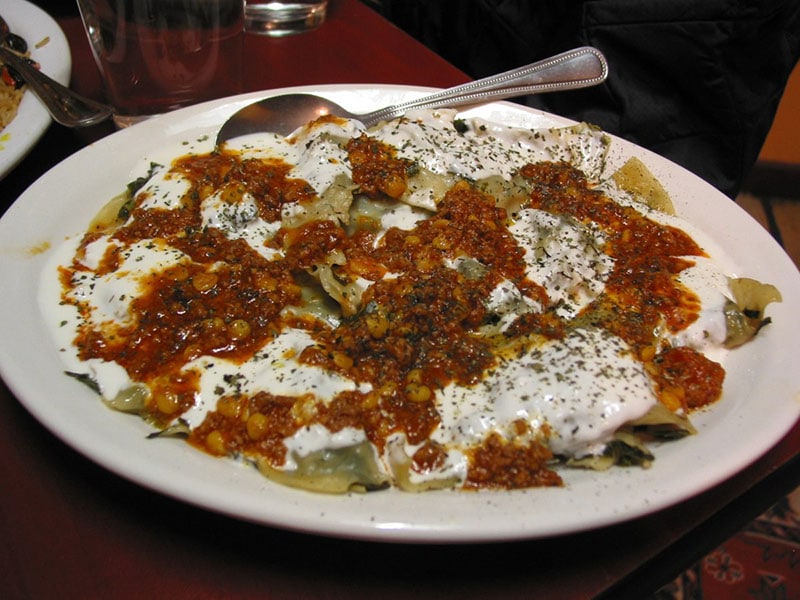 There is usually no meat inside Afghani dumplings, and you can expect the full fillings with only chopped spring onion, chives, gandana (leek), and some kinds of herbs.
But don't pass it too quickly; Afghan people serve this aushak with minced lamb/beef sauce (ragu) that is cooked in tomato sauce and seasoned with dried mint. Sometimes, they also offer you some tasty chakkah on the dish.
Because this dish requires more effort and time, Afghans will likely prepare it on special occasions or family gatherings.
11. Mantu (Meaty Afghan Dumplings)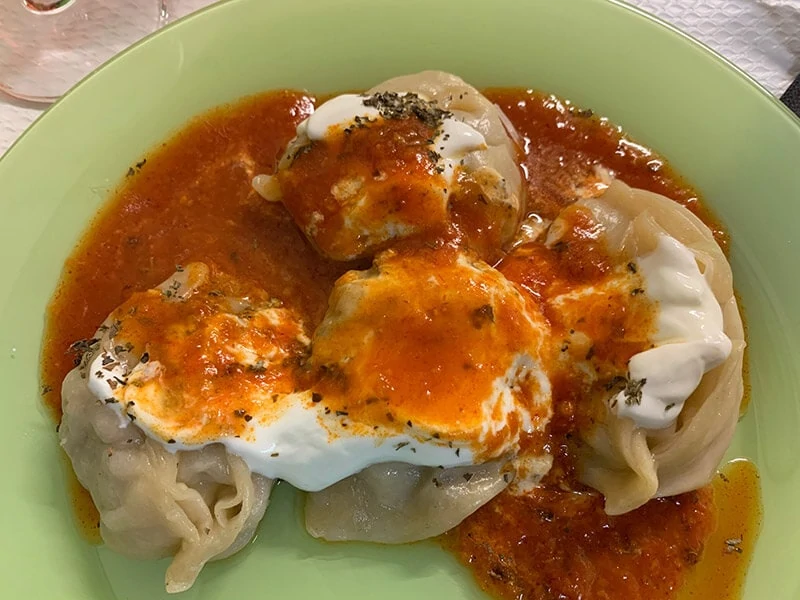 Mantu, mantoo, manto, or manti are all used to describe a meatier variation of Afghani dumplings filled with minced beef or lamb. Plus, you can also find it in Saudi Arabian native cuisine.
As illustrated, this dish looks relatively similar to the Chinese dim sum or the Korean mandu, yet the taste will be entirely unique, thanks to the use of hot Afghani spices.
Afghani people will steam these dumplings until cooked and eat them with yogurt and tomato sauces for more taste layers. Furthermore, if you are not a fan of fried foods, these healthier steamed dumplings should be your top choices.
12. Gosh E-fil (Elephant's Ear Pastries)
"Gosh E-fil" is an Afghan dish that shines in its simplicity, captivating with its shape reminiscent of an elephant's ear. The dough, carefully kneaded and then fried until crispy, is the heart of this delicacy.
Crafting Gosh E-fil requires skilled hands. The makers must ensure a thin crust to prevent an overbearing greasy sensation.
Once fried, the treat is garnished with icing, powdered sugar, crushed or chopped pistachios, and cardamom to taste. Gosh E-fil is delightfully straightforward to eat, promising a hassle-free experience, even for first-time tasters.
13. Afghan Jalebi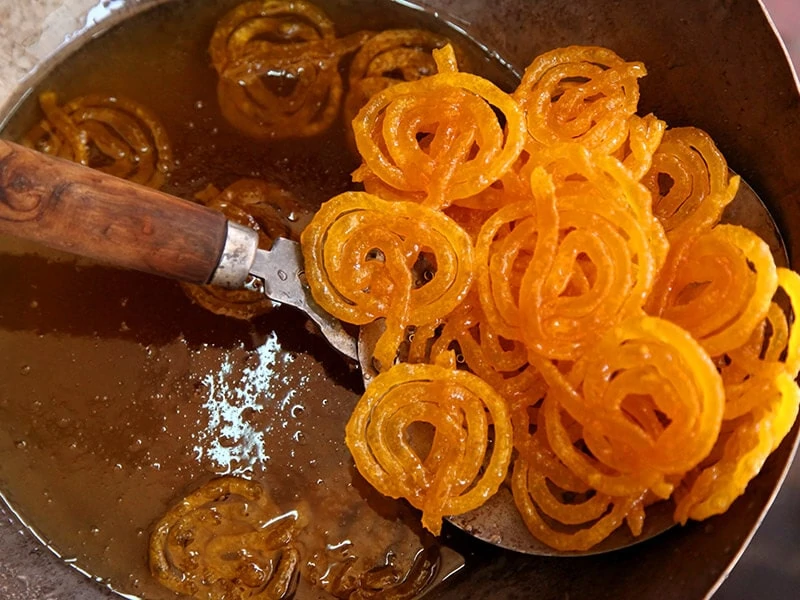 Jalebi is the second most famous Afghani sweets or dessert. Jalebi is made from a flour mix combined with fermented sugar, butter, and saffron powder to lend the cake an eye-catching golden color.
Jalebi is the processing stage, Afghani will put the mixture into a bag, cut a small hole, and directly "drizzle" the paste-like mix into the steaming hot oil pan.
The natives will suggest you have it when it is still hot, so you should try that way of eating too.
Fun fact: You can find this food in Bangladesh under the same name, or Shahi Jilapi. Here, this crunchy snack is often served as a fast during Ramadan.
14. Sheer Yakh (Afghani Ice-Cream)
Have you tried ice cream with noodles before? If it is a new term for you, you should experience this distinctive sheer yakh as soon as you have a chance.
The term "sheer yakh" means "frozen milk," and Afghani, from all age groups, enjoy this titillating sweet treat.
The cream base in this dish will be a bit denser than the regular one, and they usually add in some chopped, flavorful nuts and powdered spices to flavor this sheer yakh.
15. Sheer Khurma (Milk with Dates)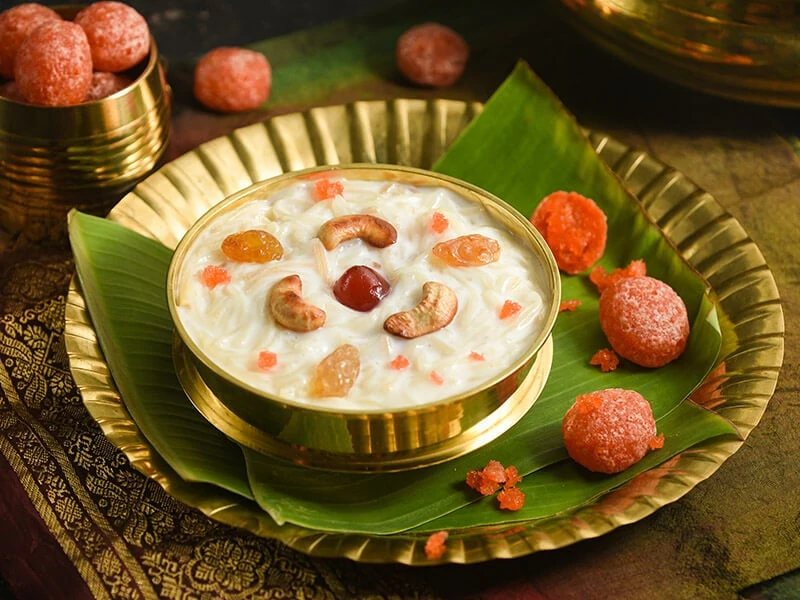 This sheer khurma (or sheer khorma) is a traditional festive Afghan dessert. Besides being served on sacred or religious occasions of the Muslims, this sweet dish can be used hot or cold as a light breakfast or tempting dessert for family's important guests.
The toppings are often plums, dried nuts, and the sugary milk base . This dish is even richer and milkier than you might think because of the buttered vermicelli.
The most pleasing instruction to make a perfect sheer khurma bowl is here!
16. Malida (Whole Wheat Afghan Treat)
You can find Malida in both Afghanistan and the northern regions of India. Yet, the Afghan variant, which is also the authentic one, has a slight difference in appearance.
In its born-in country, Malida is a meaningful Afghan sweet confection that is frequently prepared for sacred occasions (weddings, festivals, religious ceremonies). That shows how vital this sweet treat is in Afghanistan.
Providing the full flavors from cardamom, sugar, and crunchiness from breadcrumbs, Afghani loves to eat the treat with strong tea to balance the tastes.
17. Haft Mewa (Fruit and Nut)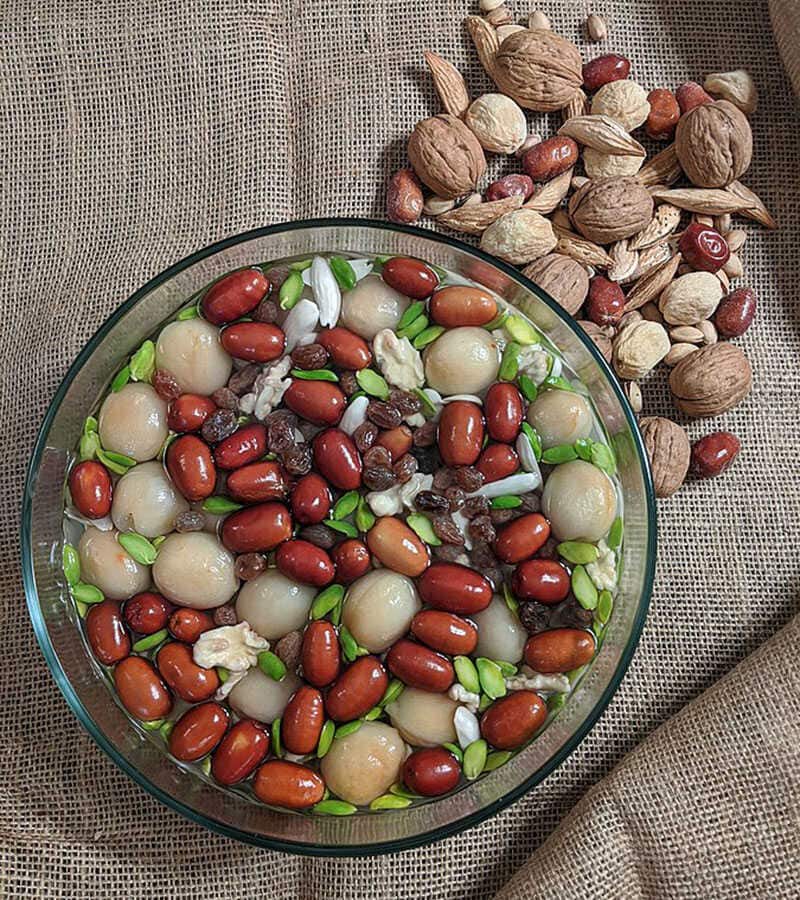 "Haft" means "seven," and "mewa" means "nuts/fruits" in the Afghani language, and it has the name since there are seven main fruits in the haft mewa ingredients list.
The fruits used are fixed, including almonds, walnuts, red/green raisins, apricots, pistachios, and berries. Each of the mentioned fruits/nuts provides a distinctive color so that the haft mewa bowl will be absolutely colorful.
Afghani will serve this dessert with sweet rosewater and eat it on the first breakfast of the Afghani new year (or the first day of spring).