Modern Israeli foods is a gastronomic mix of traditional Jewish cuisines brought to Israel by Jews worldwide.
The popular meals in this country are not only tasty, but they are also one of the world's healthiest dishes, thanks to various cultural and culinary influences.
In this list, I will give you some recommendations about this country's most well-known and well-loved savory and sweet dishes. You may have known some of them, but there are bound to be some you've never tasted.
Remember to try out all of these dishes when you have the chance to travel to this Middle Eastern country. Give the new dishes a chance to shine, too; they might become your new favorite.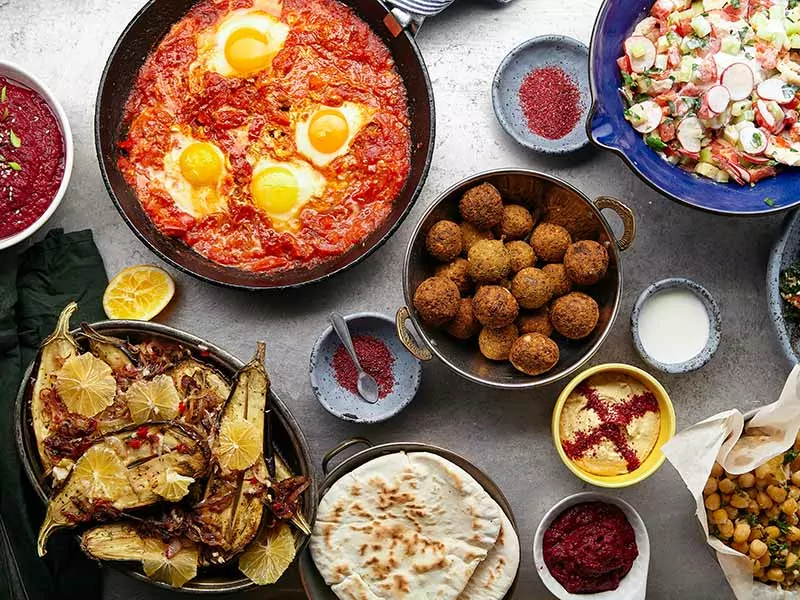 Israeli Breakfast Dishes
Nowadays, people tend to skip breakfast to save time at work. This is not a good idea since breakfast can provide the energy your body requires for the entire day. So go ahead and check out these breakfast options and brighten your day.
1. Shakshuka – Poached Eggs in Spicy Tomato Sauce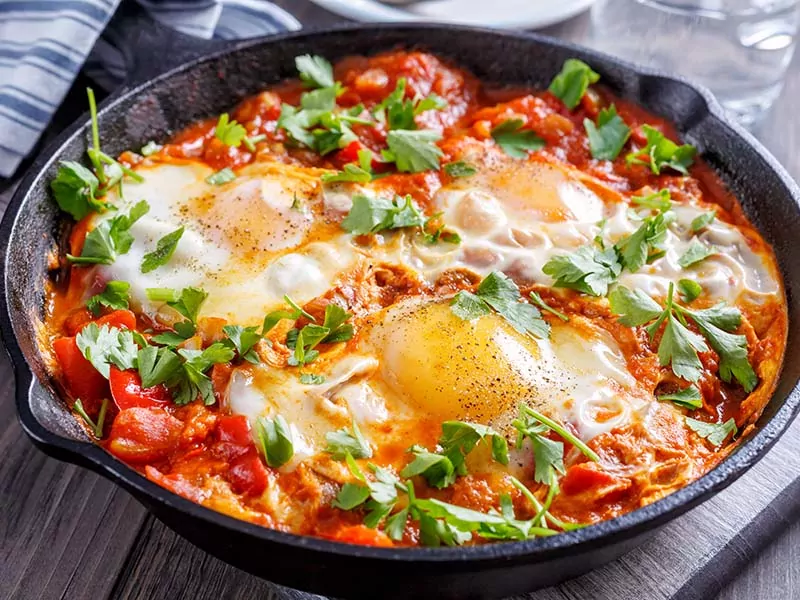 Regarding the most attractive breakfast meals in Israel, I'll recommend Shakshuka immediately. This dish is packed with bold flavors. Overall, it is one of the best dishes to dive into during your visit to this Middle Eastern country.
Traditional Shakshuka is claimed to have originated in North Africa, but it is now a famous Middle East recipe, with various versions in Israel, Egypt, and other nations.
Nowadays, people sometimes use spinach, butternut squash, or other veggies to create Green Shakshuka or Orange Shakshuka – fun, modernized versions of the typical red Shakshuka in tomato sauce.
2. Sabich – Breakfast Sandwich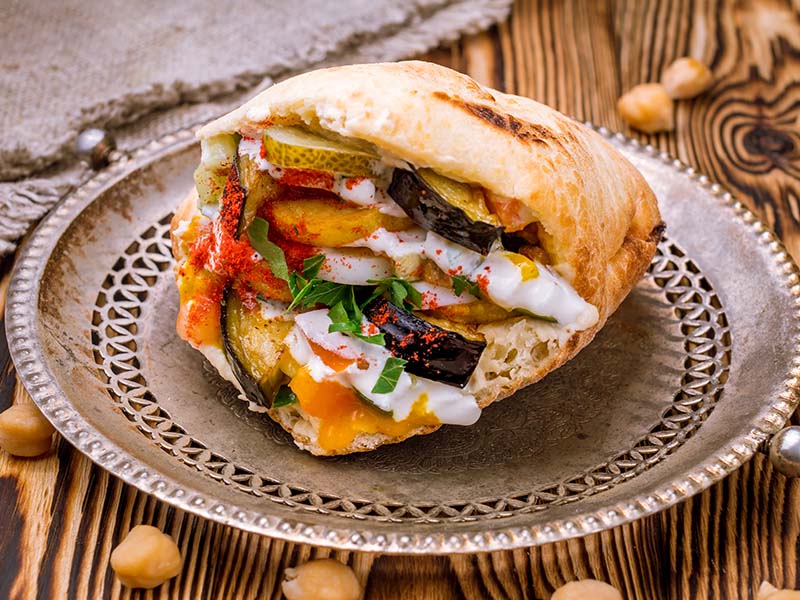 According to the locals, there was a man born in Iraq with a small sandwich business. He came up with the idea of stuffing pre-cooked eggplant and hard-boiled egg in a sandwich to make a quick filling breakfast. That was when this delicacy first appeared to the public.
Sabich is a pita bread sandwich made out of a tomato-cucumber-parsley salad with olive oil, lemon juice, tahini sauce, and Israeli pickles on top. Not only is it super delicious and filling, but it is also healthy with rich protein and vitamins.
People usually eat Sabich every day for breakfast. However, it becomes even more popular on Shabbat day since observant Jews don't cook on this day. This lip-smacking salad sandwich still tastes terrific when served cold.
3. Laffa – Flatbread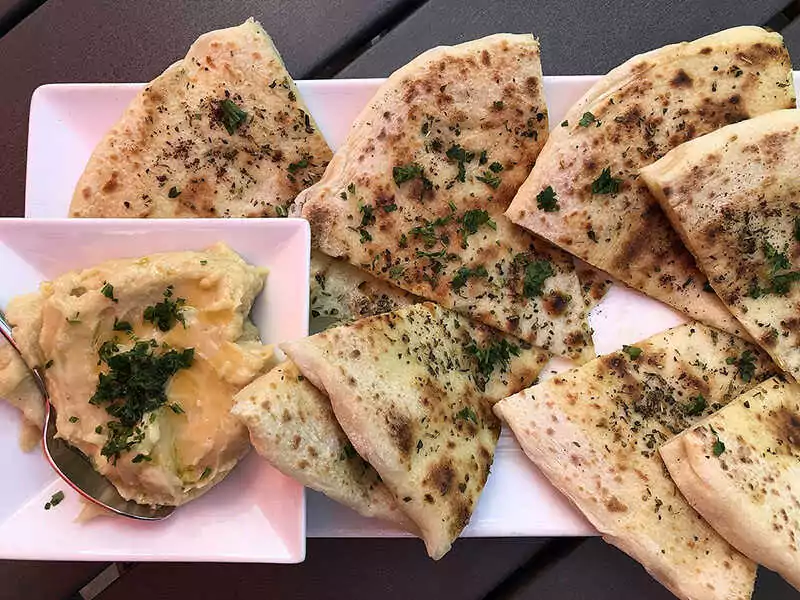 Bread has been one of the most convenient and portable food. Each country has its own version of this staple dish. For example, the French have their baguette, the Indians have their naan, and the Israelis have their Laffa.
Originated in the Middle East and Iraq, this famous flatbread has become an essential part of Israeli culture's diet. In Israel, Laffa bread is generously covered with olive oil and za'atar (a spice mixture of sumac, dried thyme, oregano, and toasted sesame seeds).
The locals sometimes use this flatbread as a substitute for Pita bread in a Sabich recipe. Additionally, it also goes perfectly with Falafel, Kebabs, Shawarma, and Hummus dip.
4. Malawach – Yemenite Jewish Pancakes/Flaky Bread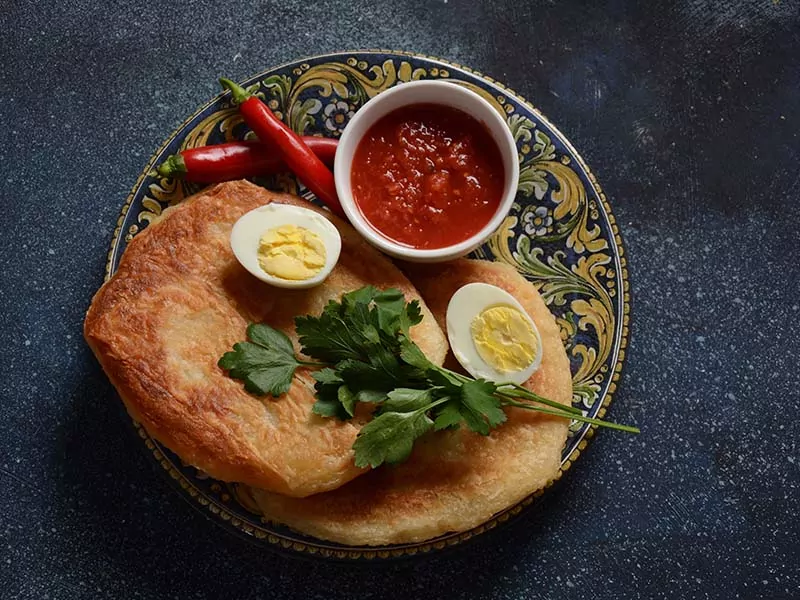 Western people love pancakes for breakfast, but Middle Eastern locals prefer eating Malawach – a traditional flatbread similar to Laffa. This food originated in Yemen and was brought to Israel by Yemeni Jews.
You might think Malawach is just an ordinary flatbread, but this gleaming dough's flaky texture and buttery flavor will surely whet your appetite. This bread is also a versatile player; it can be savory or sweet, depending on the toppings of your choice.
Although it is a typical breakfast item, you can eat Malawach at any time of the day. It can also be a perfect snack to share with your friends and loved ones. Feel free to use your fingers to devour this tasty bread; no one will judge you!
5. Hummus – Chickpeas Dip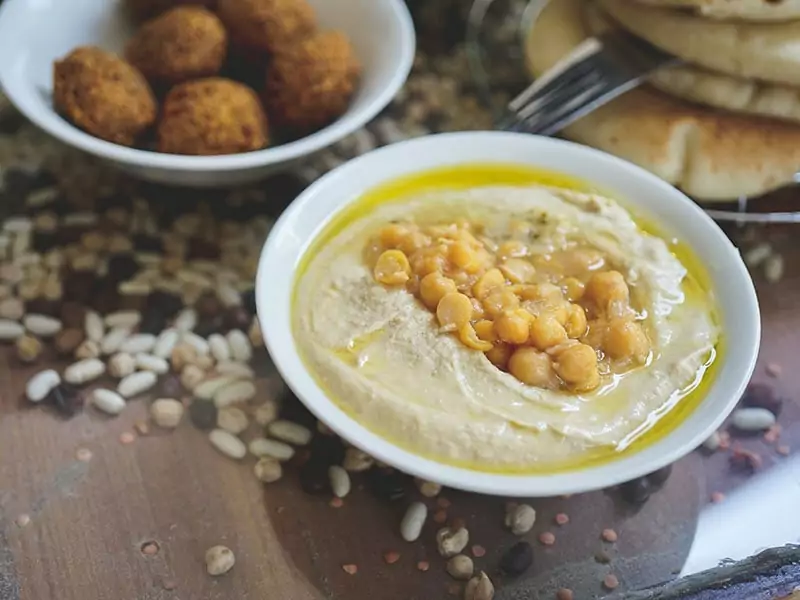 Another vital cultural part of the Israeli cuisine I want to mention is Hummus – a well-loved chickpeas dip popular throughout the Middle East. The locals enjoy this iconic dish at breakfast, lunch, or snack times.
Hummus is now available in stores all over the world in a variety of flavors. Despite that, homemade Israeli Hummus is unbeatable.
Hummus can go with pita bread, as a dip for vegetables, or in sandwich forms. Just imagine starting your day with fresh pita dipped in flavorful Hummus; how amazing is that!
6. Baba Ganoush – Roasted Eggplant Dip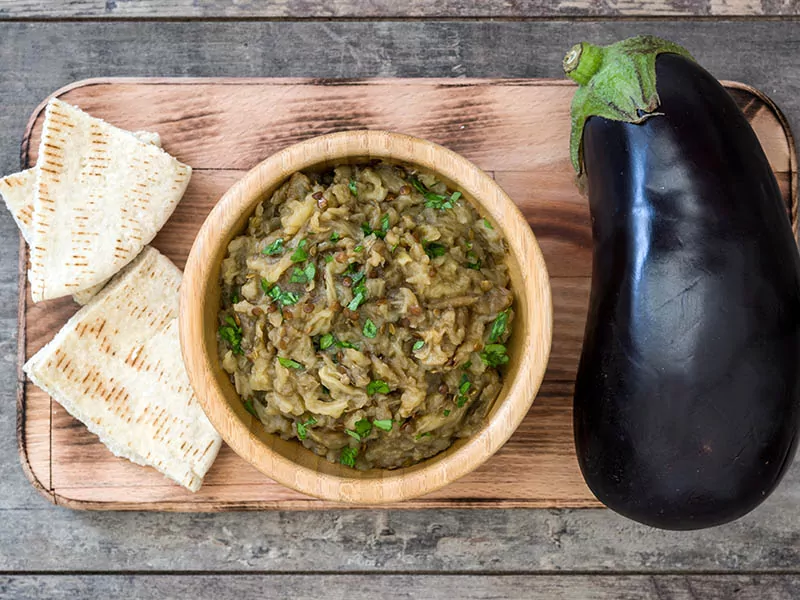 If you're into the Israeli dipping tradition, why not try Baba Ganoush – the cousin of Hummus? Both dips are from the Eastern Mediterranean and frequently go with pita bread and crisp vegetables.
To make this dish, wrap some eggplants in foil and roast them in the oven. Wait for them to cool down, discard the skin and blend it with some seasonings until smooth. Lastly, garnish it up and enjoy!
This dip is vegan and gluten-free, so it is the perfect dish for those who follow special diets. Besides serving it with bread in the morning, you can also pair it with raw veggies like carrots and cucumber rounds.
7. Falafel – Deep Fried Balls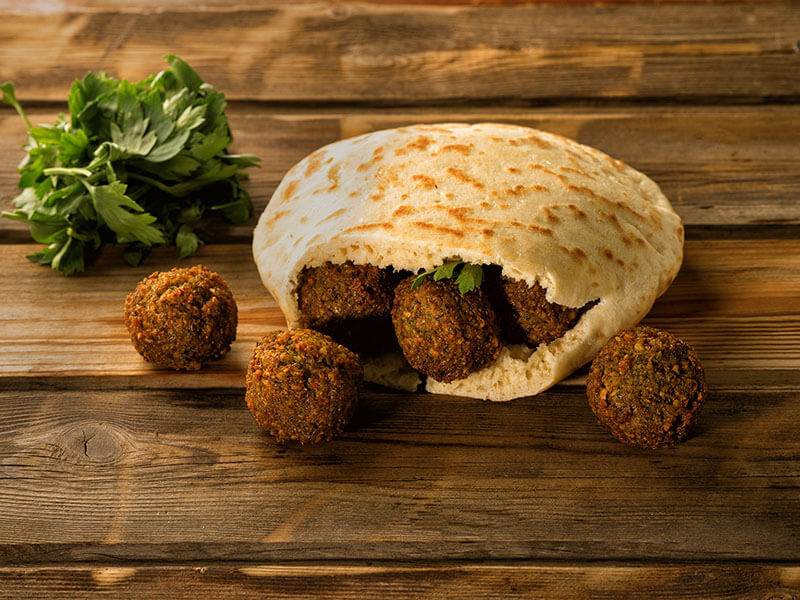 Although most people believe Falafel originated in Egypt, this dish is considered one of Israel's national dishes. This delectable deep-fried dish is commonly served stuffed inside pita bread.
People started to sell Falafel on Israel's streets in the 1950s due to the Yemenite's immigration. Because of its affordable price with rich protein, this dish soon became a hit and an alternative to meat-based foods during that time.
Falafel is now available on practically every street in Israel. There is an array of filling options for you, including carrots, cabbage, fried eggplant, as well as the traditional Israeli salad. So be sure to grab some during your trip.
8. Israeli Breakfast Salad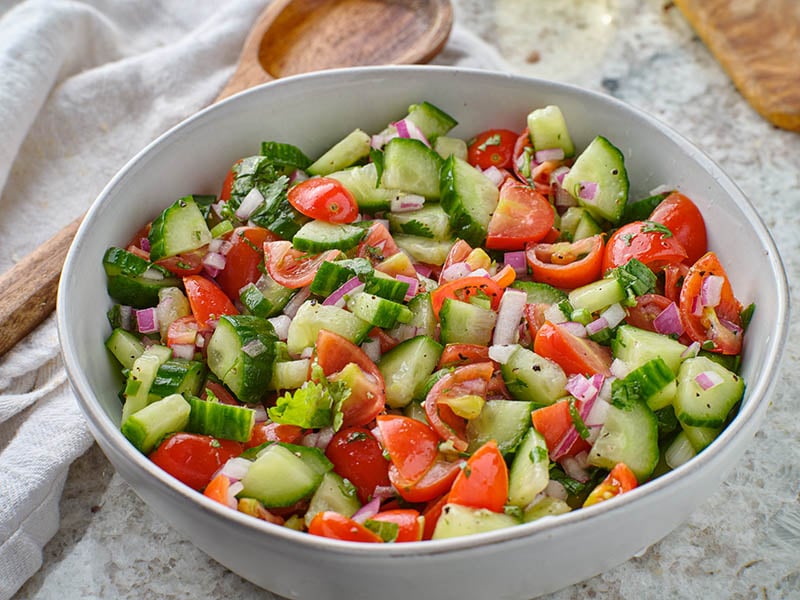 This refreshing dish is a Middle Eastern salad made with finely chopped vegetables, lemon olive oil dressing, and fresh parsley.
After the Kibbutzim adoption, this breakfast salad quickly migrated to all areas of Israeli cuisine. Despite its simplicity, it is one of the go-to dishes for breakfast in this country.
Starting your day with a bowl of salad might not be that common in Western countries, but eating salads for breakfast can improve your digestion, boost your productivity and help you lose weight. Overall, this nutrient-dense Israeli dish is an excellent addition to your daily diet.
9. Jachnun – Yemenite Jewish Rolled Pastry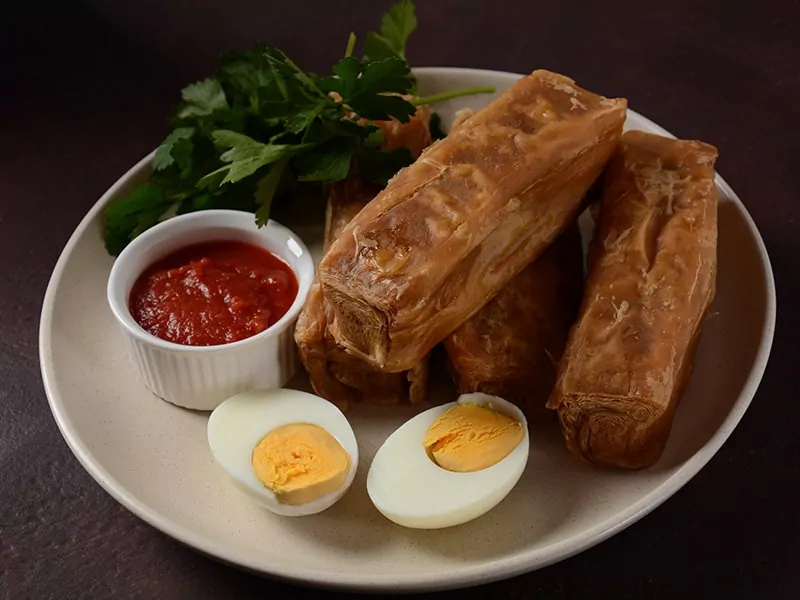 Shabbat (Jewish Day of Rest) is more than any holiday in Israel. During this day, people will postpone all of their work and focus on the celebration with a plethora of festive foods. Among all these incredible dishes, Jachnun stands out as a way to show human ingenuity.
From simple ingredients, the Israel bakers manage to turn them into a lavish delicacy. There's even a popular restaurant called Jachnun Bar in Israel's largest marketplace, which serves this dish with several savory and sweet toppings for your choice.
10. Ka'ak Al-Quds – Jerusalem Sesame Bagel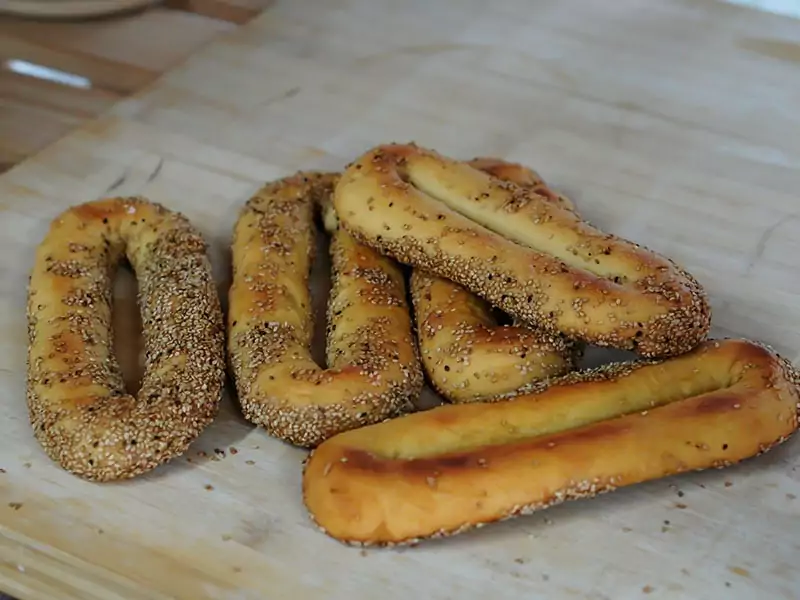 Another kind of bread that I want to mention in this list is Ka'ak Al-Quds (Jerusalem bagels). Besides Laffa flatbread, Jerusalem bagels are possibly the world's most famous traditional Israeli bread.
According to popular belief, the Jews from Poland are the ones who brought Ka'ak Al-Quds to Israel.
Unlike the round and dense New York-style bagels, the Jerusalem bagel has a thin, long, and oval shape. They are also soft and airy, with a slight sweetness from the honey sesame on top.
If you have a chance to visit Israel, you might bump into plenty of ka'ak-laden wooden carts selling these bagels. The sellers will push their carts through the streets and yell "Kaaa'aaad!" to attract the attention of buyers, primarily students and workers.
Israeli Lunch and Dinner Dishes
Now that you've learned about some of the most well-known breakfast options in Israel, it's time to move on to bigger meals of the day. Look at these delectable dishes for lunch or dinner and try them out during your trip to this lovely country.
11. Israeli Pearl Couscous Salad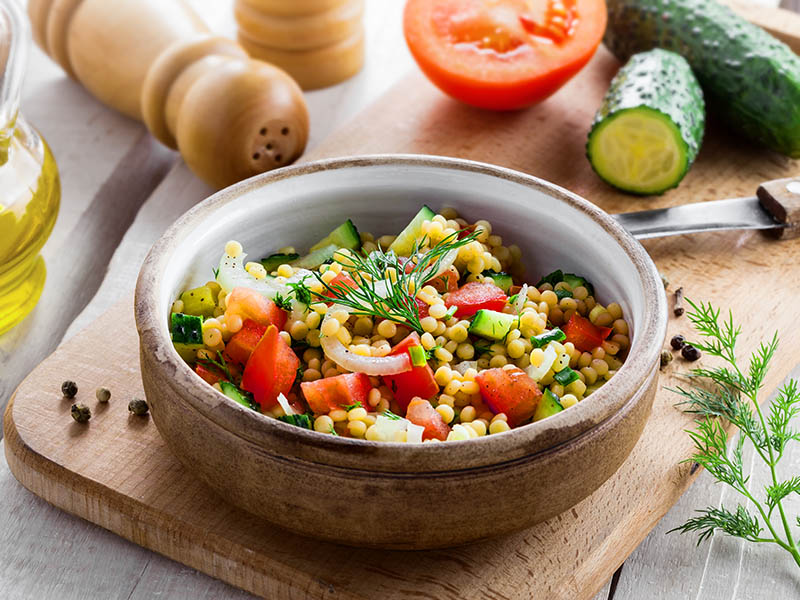 If you're looking for a light lunch for your stomach, you should definitely give pearl couscous salad a try. This refreshing salad consists of the usual salad veggies like tomatoes, cucumber, and onion. But the main ingredient of this dish is the Israeli couscous (or pearl couscous).
The tiny balls of toasted machine-made couscous, also known as Ptitim, are an ideal base for a salad, pasta sauce, risotto, etc. This unique dish was invented in Israel around the 1950s when rice was scarce owing to austerity.
At first, Ptitim was made in rice form. However, it eventually became ball-shaped, inspired by the couscous in North Africa. Israeli couscous is larger than standard couscous and has a rounder appearance. Sometimes, people will call Ptitim gourmet couscous.
It just takes a few steps to make a bowl of Israeli couscous salad. Take a look!
12. Bourekas – Cheese Puff Pastry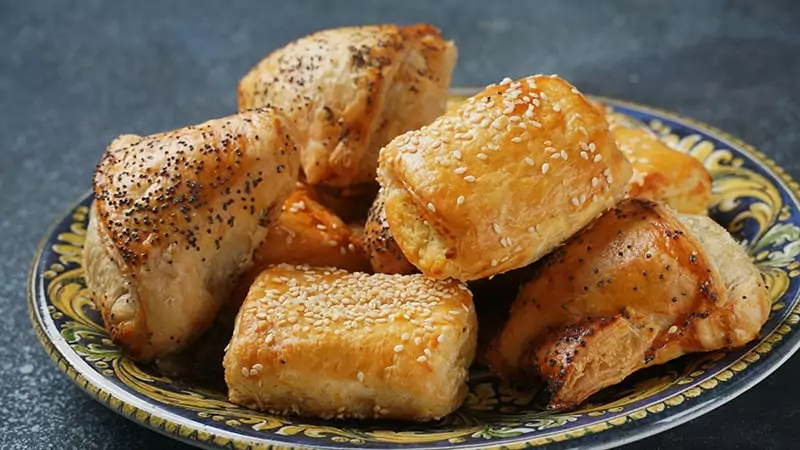 Who can resist this cheesy and flavorful treat? These delectable baked pastries are full of everyone's favorite filling, such as potatoes, mushrooms, meat, and cheese. This dish has been described as the Israeli counterpart of the Jewish-American bagel.
This dish was brought to this country long ago by Jews from the Balkans, Turkey, and Salonika. Nowadays, Bourekas is one of the most popular lunch dishes in Isreal. It is also a standard Sabbath breakfast recipe.
You can buy Bourekas at a very low price all around Israel. If you want to try them out, be sure to visit Jerusalem's Mahane Yehuda market, Tel Aviv's Levinsky market, and Carmel market. This dish is also available at restaurants and cafés across the nation.
13. Chicken Shawarma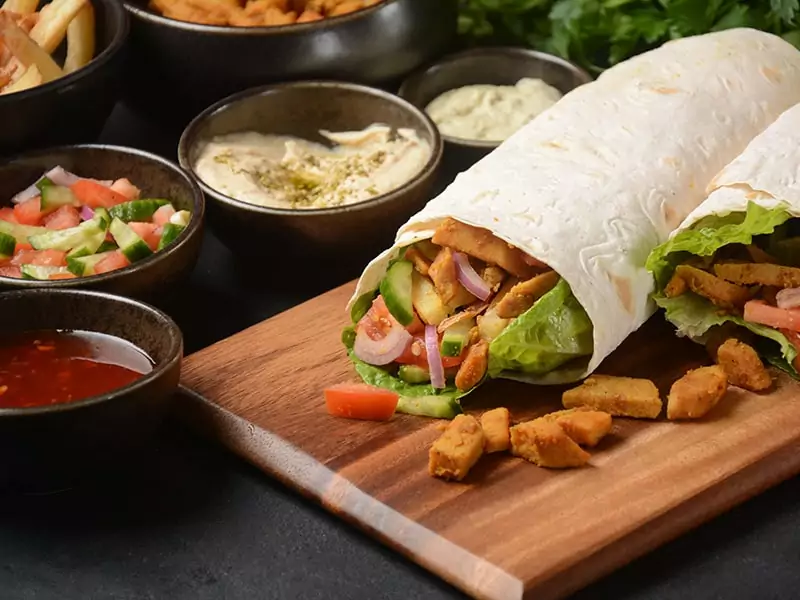 Shawarma is truly the essence of the Middle East, with seasoned, marinated meat stacked on a spit to roast for hours. This dish initially used lamb, but it's more commonly made with chicken or turkey in Israel nowadays.
The grilled chicken usually comes with pickled veggie, Hummus, and Tahini sauce. Some Shawarma recipes call for a yogurt sauce, but this is not the case in Israel since eating meat with milk violates the Jewish dietary laws.
The Shawarma technique of grilling a vertical stack of meat arose in Turkey around the 19th century. Thus, this tasty dish is extremely similar to the Doner Kebab, Turkey's worldwide famous street food.
14. Israeli Fattoush Salad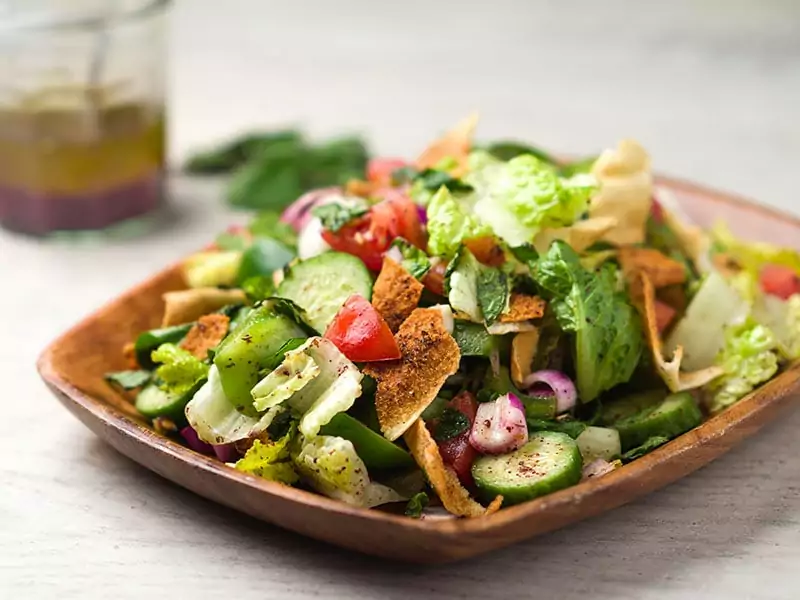 You might think bread and fresh vegetables won't pair well. But Fattoush, a Levantine salad, will prove you wrong! Moreover, this beautiful Israeli lunch dish isa great way to use old pita leftovers and any in-season vegetables or herbs.
At first glance, Fattoush resembles Panzanella from Italy. But instead of using stale bread to soak up the salad, the Israelis fry the pita until crispy and golden, making the dish more delicious and fun to eat.
Research has shown that this salad originated in northern Lebanon, where the farmer smashed dry leftover pita bread into little bits and combined them with different veggies to make this dish. This explains why this dish is named Fattoush (the fatt means "little bits" in Arabian).
This easy-to-follow Fattoush recipe will bring a fresh summer vibe into your daily lunch.
15. Me'orav Yerushalmi – Jerusalem Mixed Grill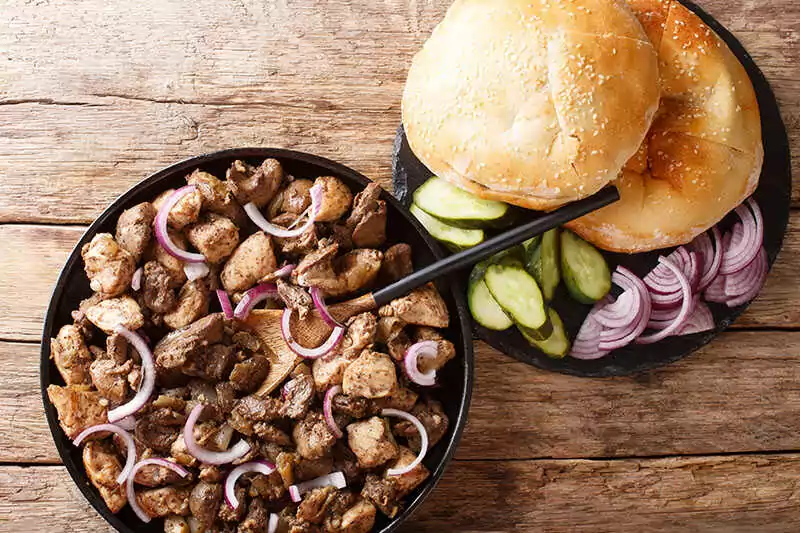 Unlike other tasty Israeli dishes from the Middle East, the Jerusalem mix was most likely produced in an Israeli restaurant. The meat chunks are fried or roasted over an open fire; its aroma is so enticing that you can smell it from miles away.
This dish is customarily eaten on a plate as the main dish during lunchtime. The locals usually pair it with Hummus or Israeli salad to enhance its flavor.
Me'orav Yerushalmi is supposed to have originated at the Mahane Yehuda Market, but the true inventor of the dish is still unknown. Israeli cooks even set a Guinness World Record for the world's most enormous Jerusalem mixed grill in 2009. How amazing is that!
16. Mujadara – Israeli Rice with Lentils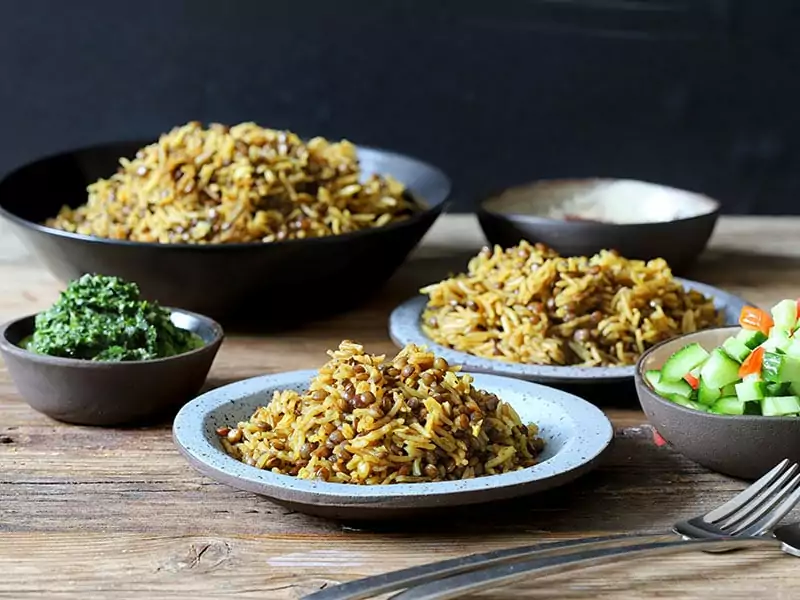 Due to the country's geographical location, Israeli cuisine has endless healthy veggie products. That also includes rice and lentils – the main ingredients of Mujadara.
Lentils provide a rich source of essential vitamins and fiber. At the same time, rice does a great job of controlling diabetes issues. Both of these ingredients, combined with some flavorful caramelized onions, bring this dish to the next level.
Although the origin of this dish is in the Levant, many variations go by different names in other nations. People can find the first record of this dish in an Iraqi cookbook in 1226. It has become one of the most favorite dishes across the Middle East area from that point on.
The name Mujadara actually means "pockmarked" in Arabinan, which describes how the lentils look like pockmarks when scattered through the rice.
17. Tabbouleh/Tabouli – Fresh Parsley and Bulgur Wheat Salad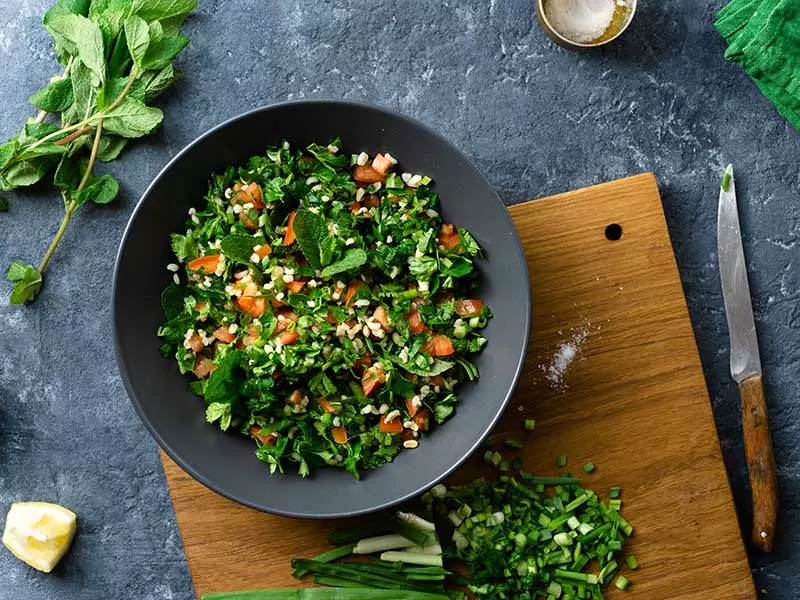 Besides Israeli couscous salad, Tabouli is another healthy lunch option for those on a diet. While the main ingredient of that salad is the pearl couscous, bulgur is the "star of the show" in an Israeli Tabbouleh recipe.
Besides the bulgur, people also add greenery to the dish by using a ton of parsley, fresh cucumbers, and chopped tomatoes. Some variants include lettuce or substitute semolina for bulgur.
Despite its Lebanon and Syria origin, Tabbouleh is considered one of the most well-known salads in Israel.
18. Israeli Carrot Salad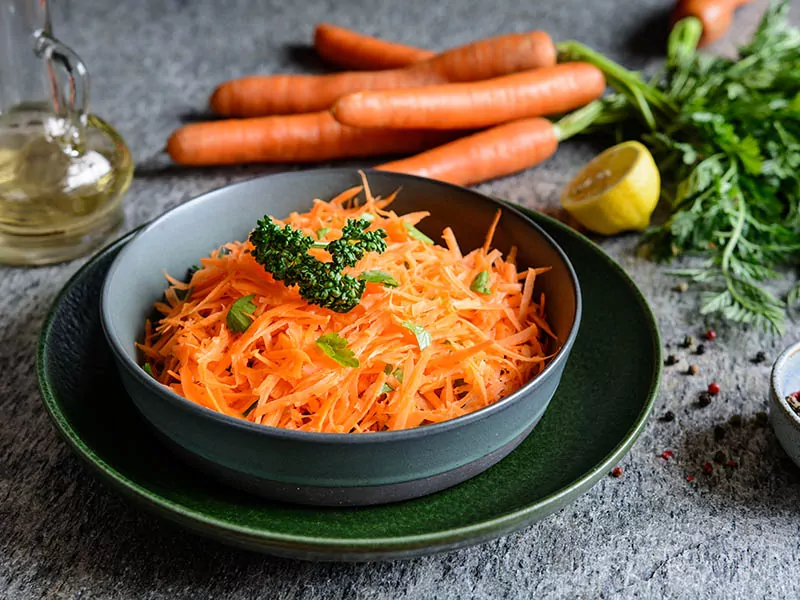 If you are looking for a quick, healthy, and diet-friendly dish, this spicy carrot salad will be an excellent lunch option for you.
Carrot salad recipes vary depending on the cuisine of each country. In Israel, the carrots are shredded and seasoned with cumin, paprika, harissa, and lemon juice. Sometimes, people also add Charif (a fiery hot sauce brought to Israel by Yemenite Jews).
This dish is super simple to make, plus it is super colorful and tasty. The shredded carrots have the same soft, smushy texture as regular cooked carrots.
19. Latkes – Potato Pancake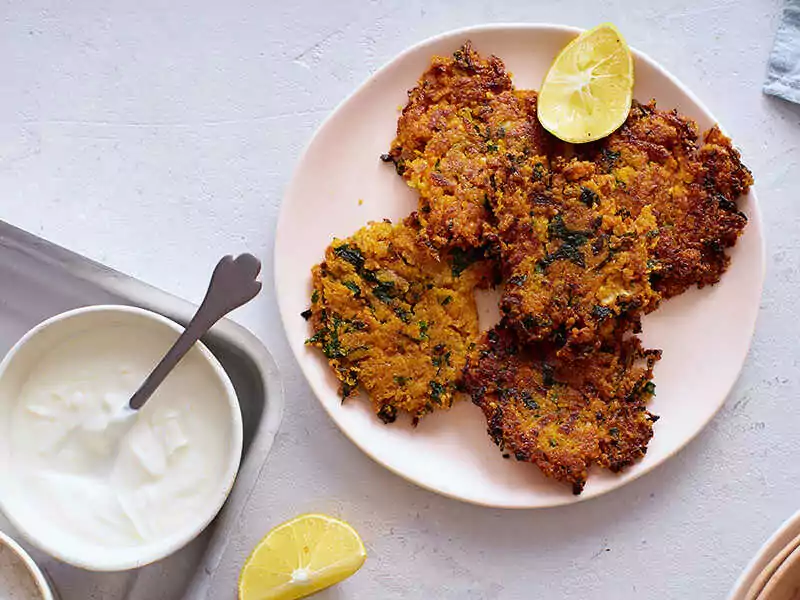 Latkes are a renowned Israeli potato dish that Ashkenazi Jews brought to the country. These delicious potato pancakes are typically made out of mashed or grated potatoes, flour, eggs, onions, and matzo meal. However, every family in Israel has a different take on Latkes.
During Hanukkah, Ashkenazi Jews usually make this dish to celebrate the miracle of the oil in the Jewish Temple in Jerusalem. In other countries, like in Luxembourg cuisine, latkes are the ideal side food to go with F'rell Am Rèisleck – a trout-based delicacy. 
Latkes have been around since the Middle Ages in various forms. Some said they are traditionally made with cheese, fried in butter or poppyseed oil, and served alongside fruit preserves.
20. Ceviche – Fresh Fish with Citrus Juices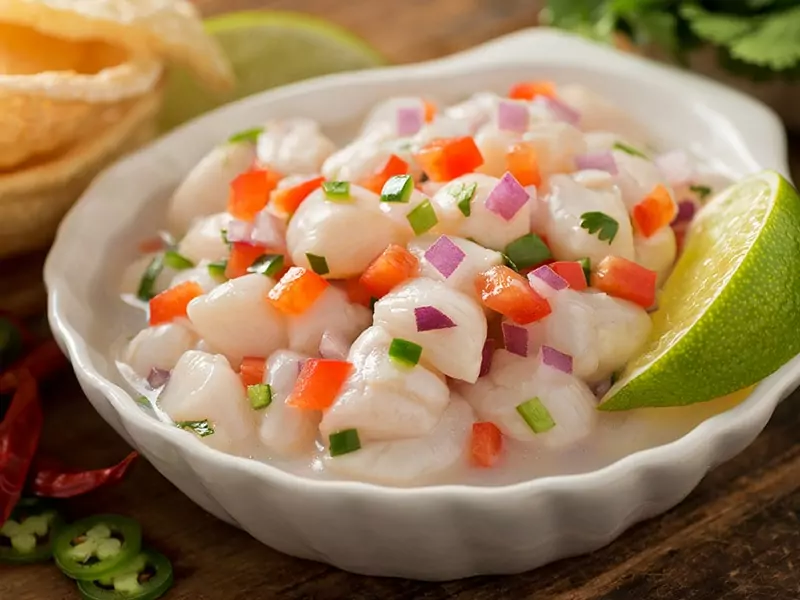 Ceviche can be found everywhere in the world, but the Ceviche in Israel still stands out, providing a unique exotic burst of flavor. Although the dish originated in South America, the Israeli version with fresh fish or shrimp won't disappoint you.
Ceviche is a plate of marine paradise with mouthwatering fresh seafood. The cooks don't use any heat to prepare this dish. Instead, they cure it in lemon or lime juice and serve it cold.
With just one bite, you will be able to explore the sea with your mouth. The robust flavor of raw seafood and tangy citrus juice will surely leave you in awe.
21. Maqluba – Upside-Down Chicken and Rice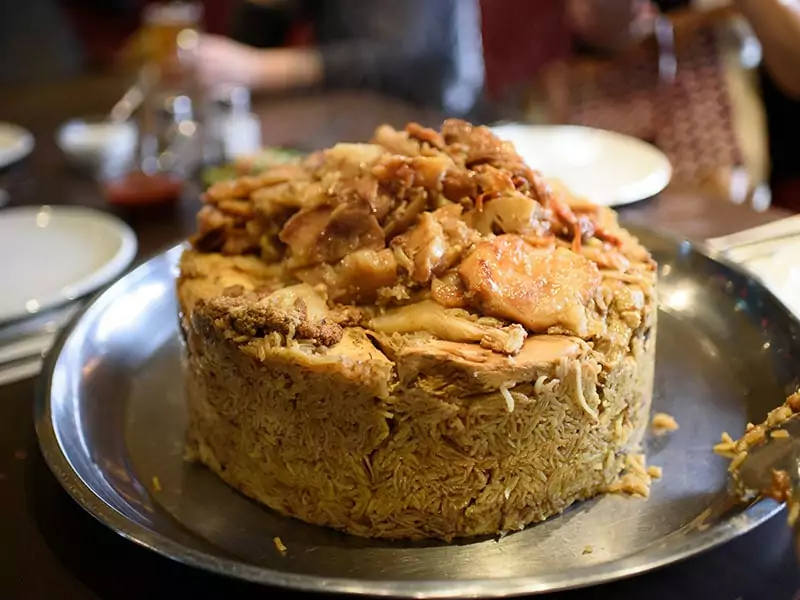 Maqluba, meaning "upside-down" in Arabic, is a traditional rice dish cooked and flipped onto a serving plate to form a stunning food tower. This dish also includes stewed meat (usually chicken) and fried vegetables.
Maqluba has been around for centuries. However, it still maintains its popularity throughout the Middle East.
You may be intimidated by its height, but its flavor is truly out of this world. You can find this mouthwatering casserole in many restaurants in East Jerusalem. If you want to cook it at home, remember to use a non-stick pot. It will help you have an easy and clean flip.
22. Musakhan – Sumac Chicken with Onions and Flatbread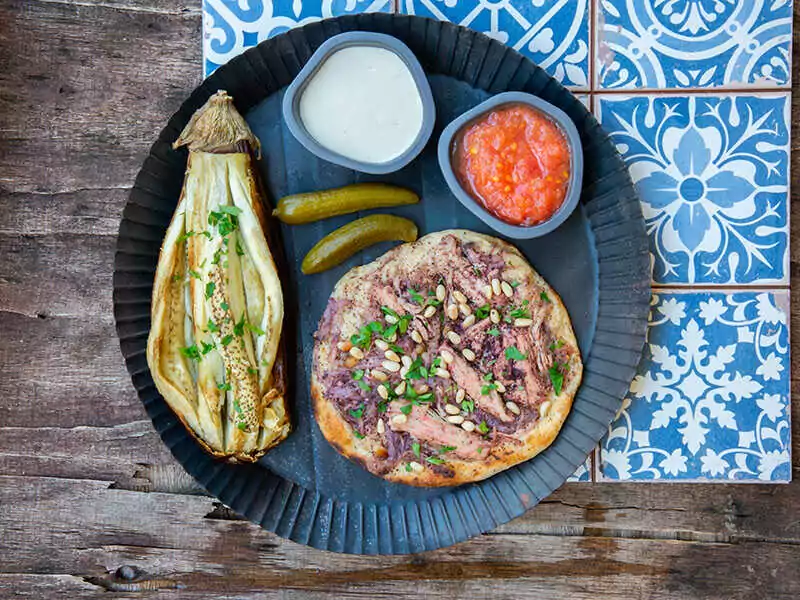 Even though it is Palestine's national dish, you can find this amazing Israeli dinner delicacy in East Jerusalem. This filling dish is made of roasted chicken, sumac, onions, olive oil, and fried pine nuts.
Israeli restaurants usually serve this chicken over flatbread and with soup. The locals traditionally consume this dish with their hands
Musakhan is typically served during the olive harvest season to celebrate the beginning of the oil season. Still, it is also enjoyed all year during family gatherings and other special occasions.
23. Schnitzel – Fried Chicken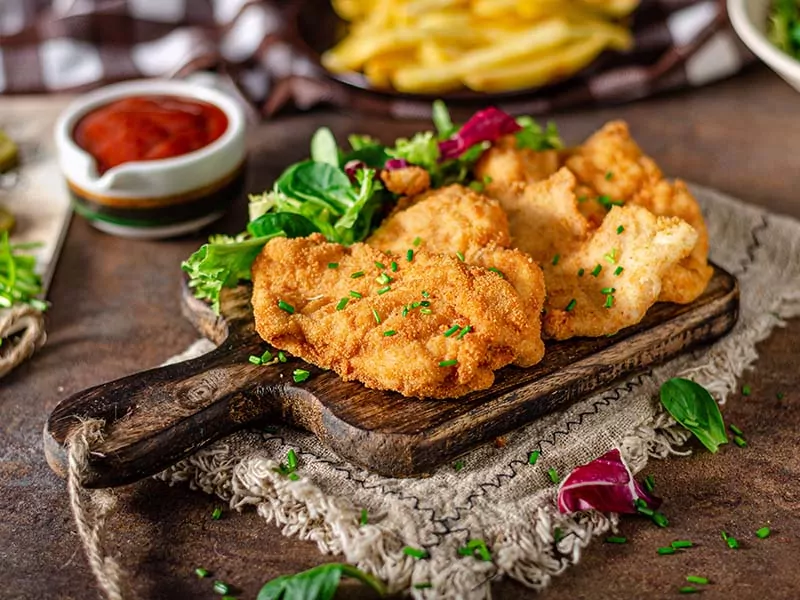 Though it is not a part of traditional Israeli cuisine, Schnitzel is frequently found on the dinner table of Israeli households. It usually consists of breaded chicken breast, fried in a large amount of oil, and served hot, ideally with thick-cut fries.
Ashkenazi Jews brought the Schnitzel to Israel from Europe. At first, the dish is made with veal meat, but the locals eventually replaced it with chicken or turkey since they are cheaper and more accessible.
Nowadays, people usually enjoy this chicken steak in a pita with Hummus, French fries, and vegetable salad, similar to the Falafel I mentioned earlier.
Israeli Desserts
The moment you step into an Israeli bakery, you will find tons of different Israeli sweet treats piled up like pyramids, from sweet bread and tasty pastries to cookies. If you find the dishes below tempting, note down the names below and find them during your trip.
24. Chocolate Rugelach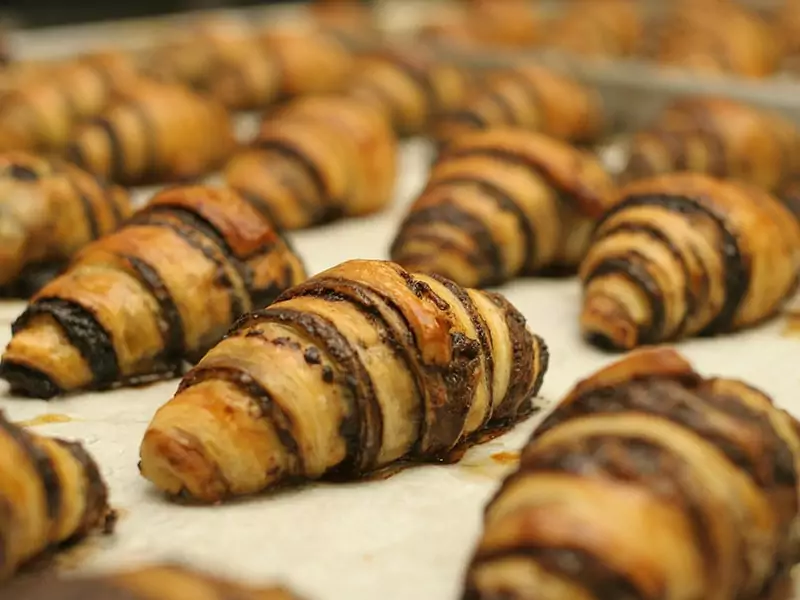 If you're a fan of chocolate, this tasty chocolate Rugelach in Israel is the right fit for you! Although this popular treat is a delicious dessert, it is also a common breakfast item in this country.
Rugelach shares the same Viennese ancestor with the French croissant, which explains the similarity in the shape and texture of these two famous desserts.
When you first bite into this crescent-shaped pastry, you will understand why this dish has developed a cult of devotees. The silky cream cheese with a hint of cinnamon filled with rich chocolate makes this pastry one of the most awaited desserts for foreign visitors.
25. Challah – Braid Egg Bread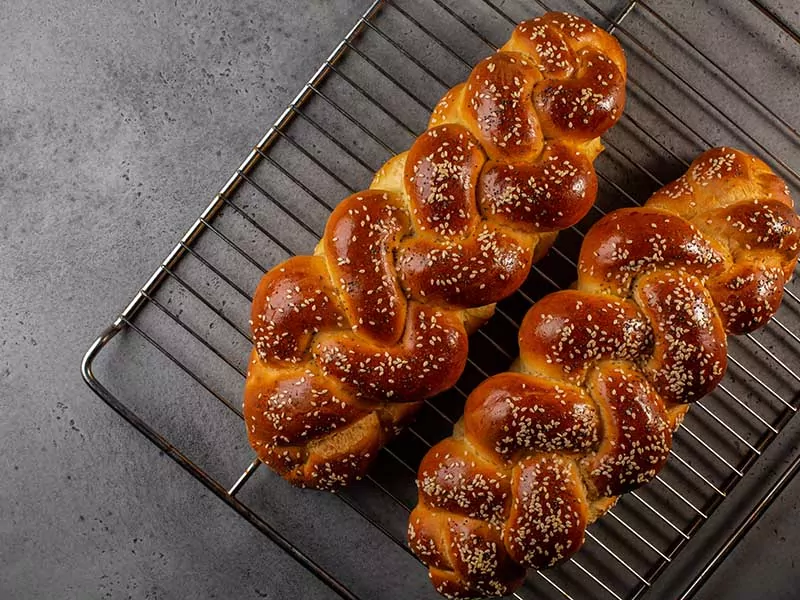 In Jewish tradition, Challah is the bread of celebration and is typically served on special occasions like Shabbat and important Jewish festivals, making it an indispensable sweet on Hanukkah festival. However, this appealing dessert is also available year-round.
Challah is a dense, slightly sweet loaf with a gleaming golden exterior and a pillowy interior. Despite its magnificent appearance, this dish is quite simple to prepare.
You will usually find two loaves of Challah at the dinner table on Shabbat day. Not only is it a festive edible decoration, but it also symbolizes connection, love, and peace. Challah is best served with medium-dry white wine and dry red wine.
Nothing is better than the smell of a freshly baked Challah. Let's learn how to make it!
26. Knafeh – Sweet Cheese Pastry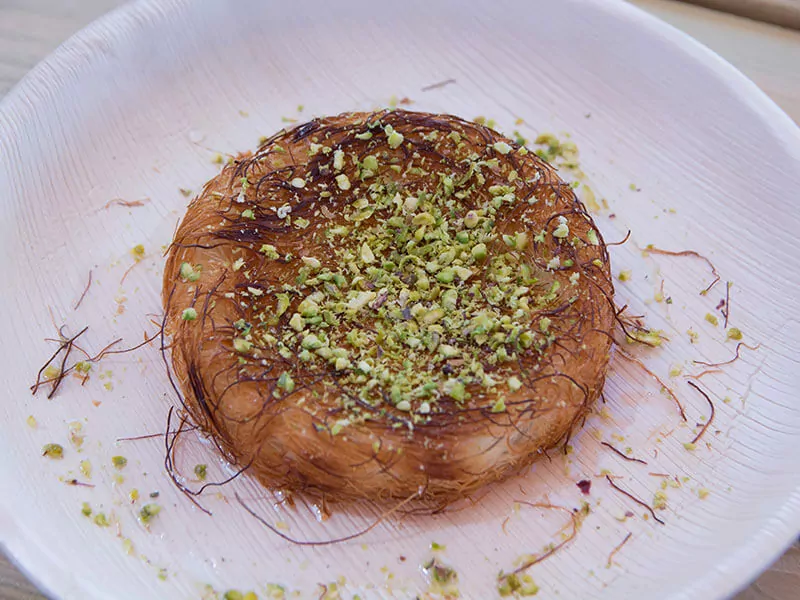 You can never go wrong with cheese when it comes to desserts! The sweet goat cheese of Knafeh matches so well with the layers of light, flaky pastry, making this dish a phenomenal treat that no one can resist.
This sweet pastry is well-loved in the Middle East but is also a famous icon in the Balkans, Turkey, and Greece. Legend has it that this dish was invented and recommended by doctors to assuage the hunger of caliphs during Ramadan.
This Middle Eastern delicacy is often colored with orange food coloring and topped with crushed pistachio nuts on a huge circular shallow plate.
27. Sufganiyah – Jelly Donuts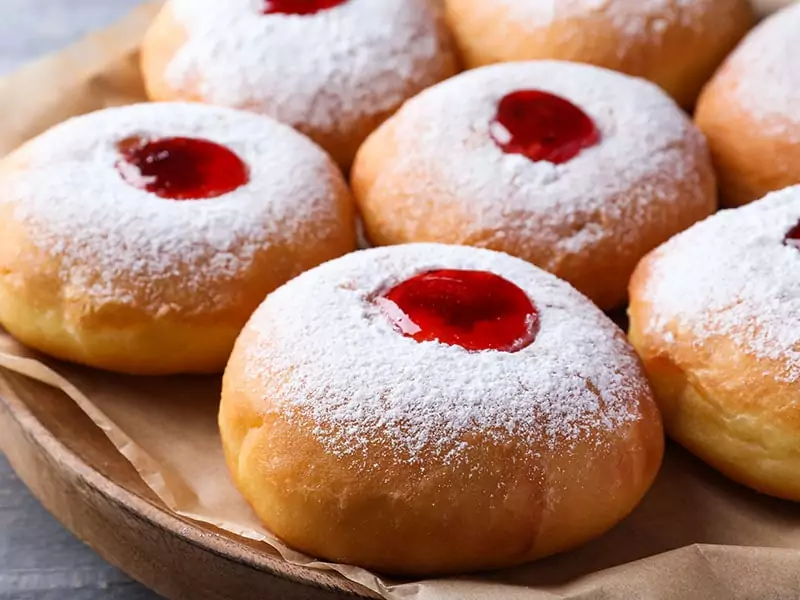 A jelly-filled donut sprinkled with powdered sugar, now doesn't that sound appetizing? The preparation of this dish is a little daunting and time-consuming, so it is not a typical daily treat. However, it is truly an irresistible dessert.
These jelly donuts have been a must-have dessert for Hanukkah since the 16th century due to the tradition of eating deep-fried pastries at this Jewish festival. Thanks to it, the creation of modern Israel took off and formed a new national identity.
If you're not a fan of jelly, Sufganiyah also comes with different topping options such as custard, Nutella, and pudding.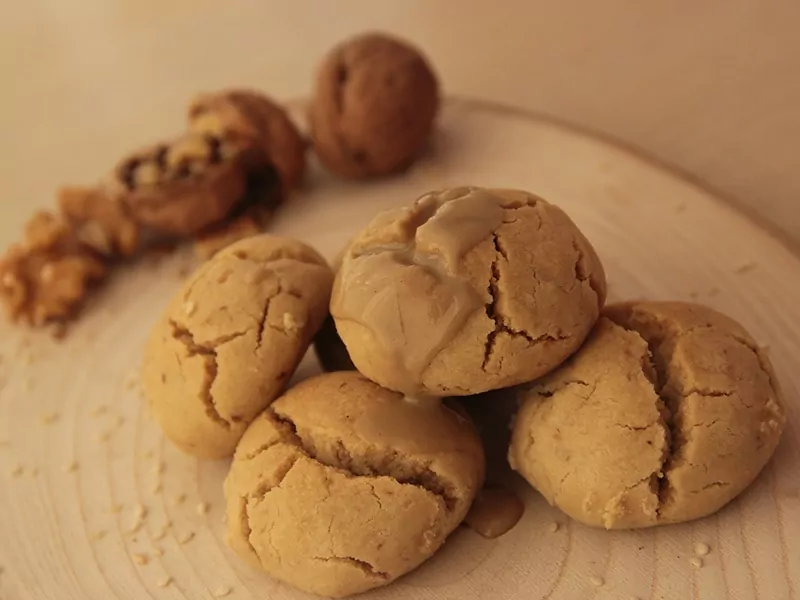 Traditional Tahini cookies are made by combining flour, sugar, butter, and tahini (a Middle Eastern condiment of toasted ground sesame). The dough is then molded into round, flat biscuits, with an almond or pine nut on top.
Although most people refer to these cookies as "Tahini", the Israelis actually call them "T'chinah". Either way, these yummy cookies are undoubtedly an Israeli obsession.
This Israeli dessert appears to be ordinary and unremarkable at first glance. However, the crumbly, shortbread-like texture and nutty, buttery flavor of this treat really set it apart from other cookies around the world.
29. Stuffed Dates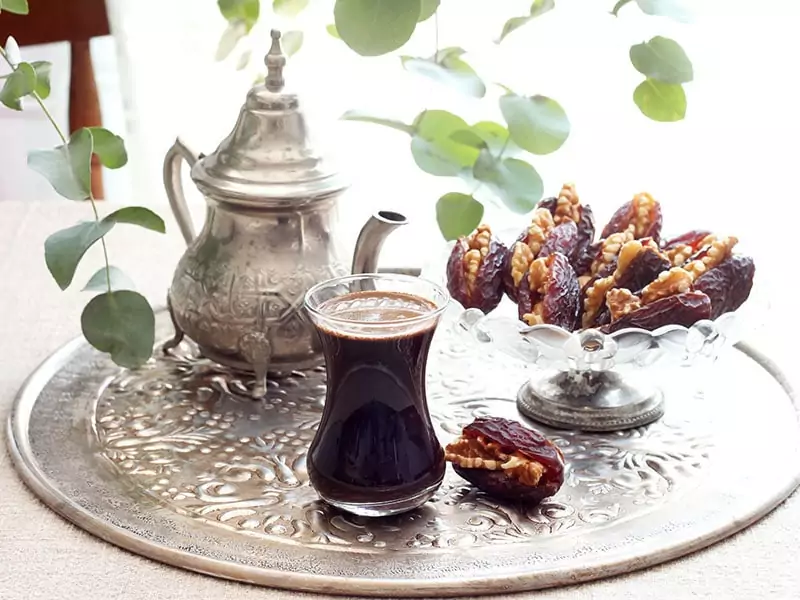 Stuffed dates sprinkled with chocolate are the perfect finale for an Israeli feast. Because the Israelis are known for their healthy eating habits with plenty of vegetables, heavy lunches, and light dinners, it's no surprise that one of their traditional desserts is dried fruit and nuts.
These stuffed dates are frequently made without chocolate and consumed throughout the day. Besides the youngsters, these lovely treats are also perfect for those who want to satisfy their sweet cravings while keeping their energy levels high.
30. Malabi – Rosewater Milk Pudding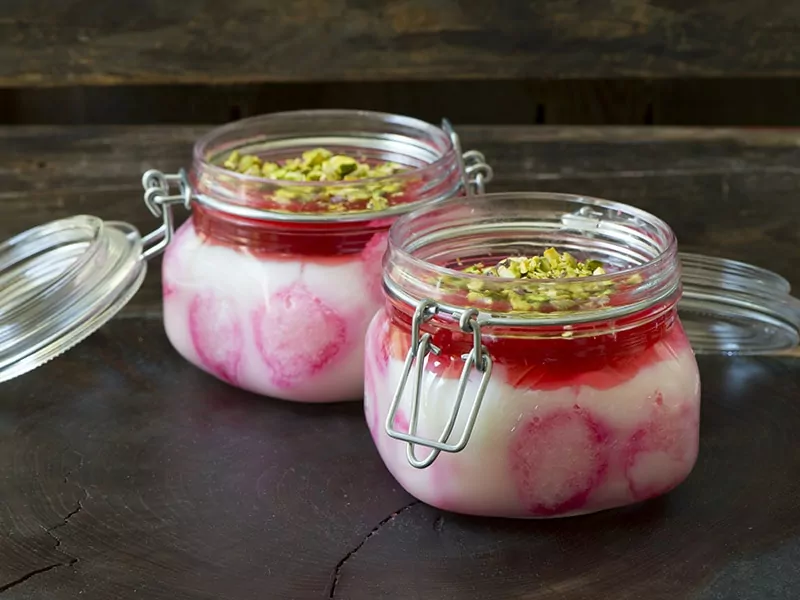 Malabi is an iconic Israeli delicacy based on centuries-old rice flour puddings with almond or cow milk. This dessert is available across Turkey, the Middle East, and Mediterranean Europe.
The famous rice pudding is usually topped with pistachios, coconut, and a rosewater or orange flower water syrup in this country. Sometimes, the locals will dye it bright red using food coloring.
This festive delicacy is available on every Israeli household's holiday dinner table. If you're planning on making it at home, feel free to use dairy milk replacements such as soy or almond milk to adapt to your special dietary needs.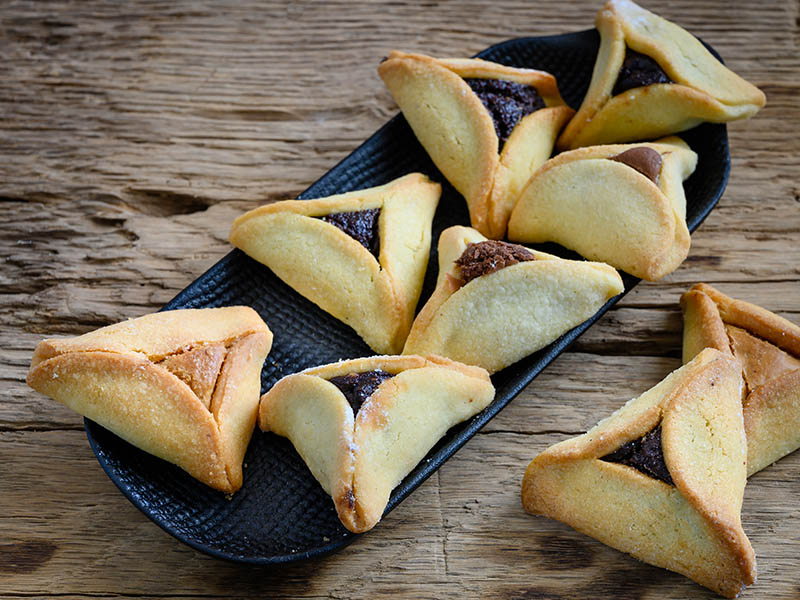 Last but certainly not least, Hamantash is another important dessert of Israeli cuisine. These traditional cookies have an Ashkenazi Jewish origin and come with various fillings like poppy seeds, dates, raspberries, and many more.
Because the cookies are famous during the Jewish holiday of Purim, they're formed into triangles to resemble the hat or ears of Haman, the villain in the Purim story. Despite the harsh history behind this dish, Hamantash is truly a warm and hearty treat that everyone adores.
Israeli Drinks
Don't leave yet; you forgot your beverages! Besides the stunning sweet and savory dishes, the drinks in Israel are equally impressive. So take a look at this section and learn more about them!
32. Sachlav/Sahlab – Sweetened Warm Milk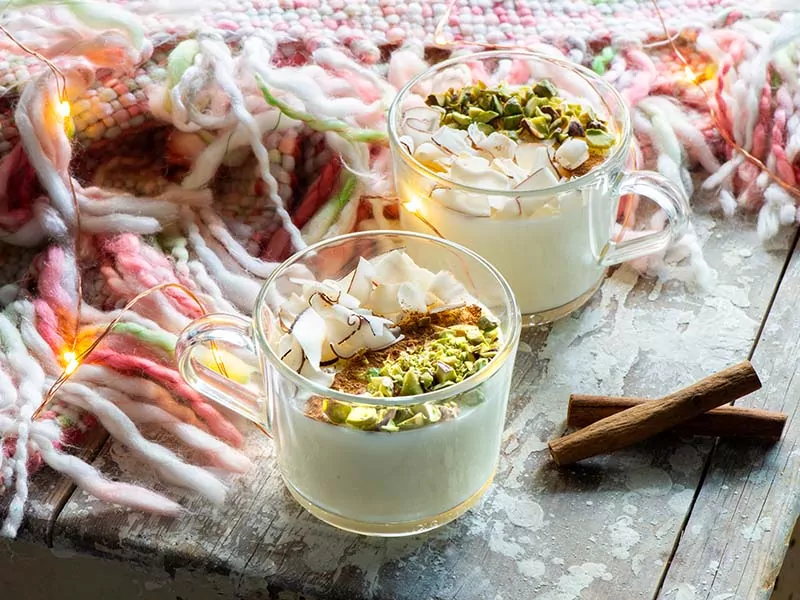 Want to warm yourself up during the cold months in Israel? Make yourself some Sachlav! Sachlav is a creamy drink made with pulverized orchid bulbs and scented with vanilla and rose water.
Using orchid bulbs flour to make drinks was standard among the Ancient Romans. However, this method is also well-known in the Ottoman Empire. Additionally, it was also common in Germany and England before the rise of tea and coffee.
Sachlav is the ideal canvas for your creativity. With the addition of dried fruits, nuts, or a splash of cinnamon, you've got yourself a first-class ticket to Israel.
33. Arak – Alcoholic Anise-Flavored Drink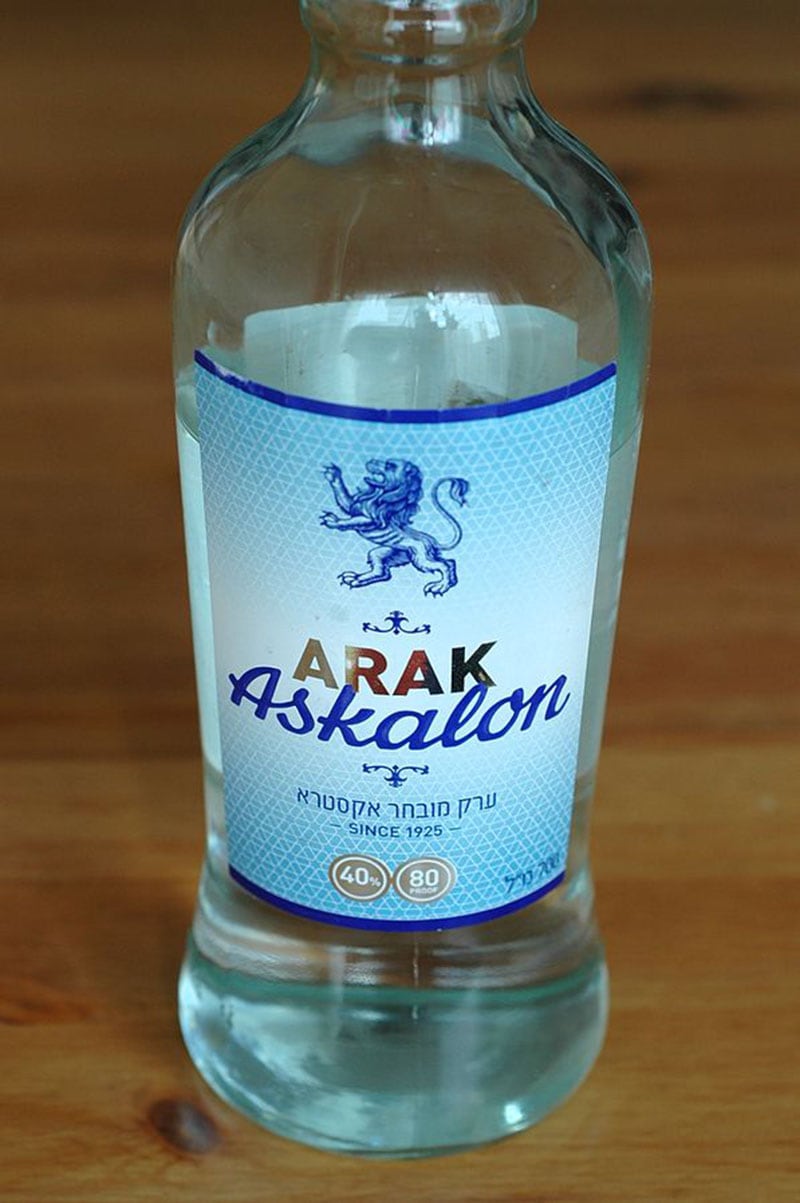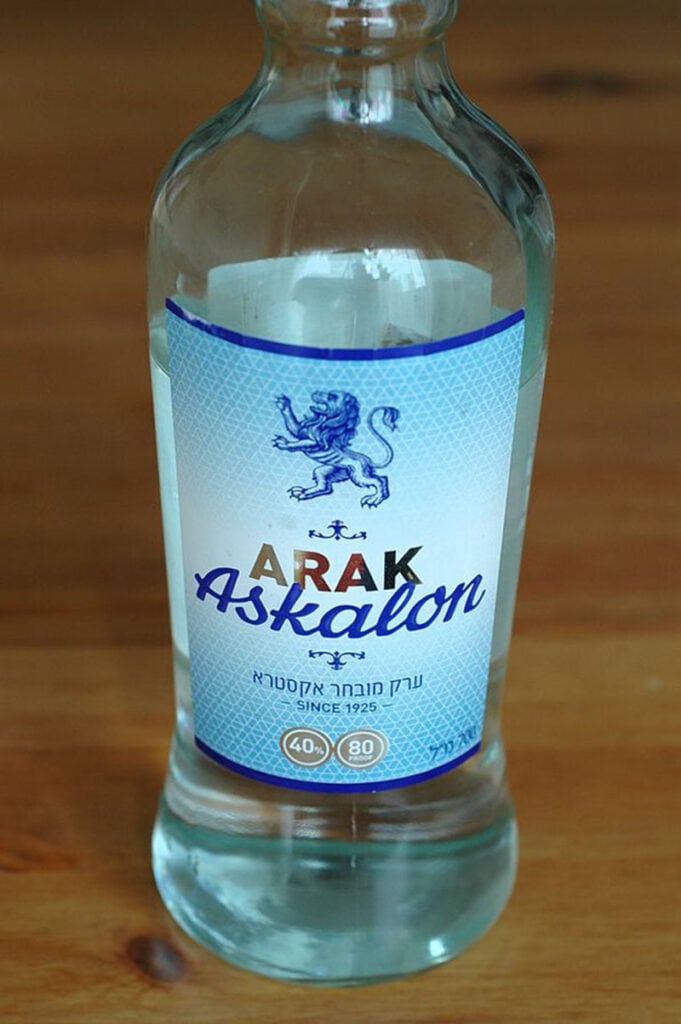 Arak is a Lebanese liqueur that came to Israel as a result of migration from Middle Eastern and North African nations. This anise-flavored alcoholic beverage is trendy among millennials and can be found in practically every Israeli pub or club.
To create this drink, the bartenders use neutral alcohol, the fermented juice of figs and grapes, and, of course, anise seeds. They also blend it with water, grapefruit juice, or lemonade and serve it with ice.
34. Pomegranate Juice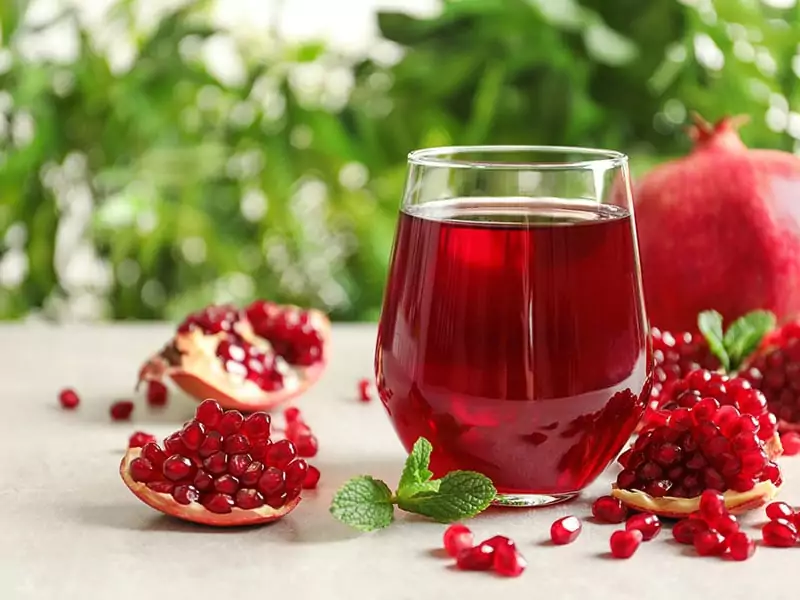 Pomegranates are considered the crown jewel of Israel fruits due to the huge amount of health benefits it offers. You can find this healthy and refreshing drink at almost every street booth, making it one of Israel's most famous street food.
The sellers from these booths will make the juice out of fresh pomegranates right before your eyes. Pomegranate juice is inexpensive, refreshing, and super healthy. So, when you visit this Middle Eastern country, try out this tasty ruby-colored drink.
35. Arabic Coffee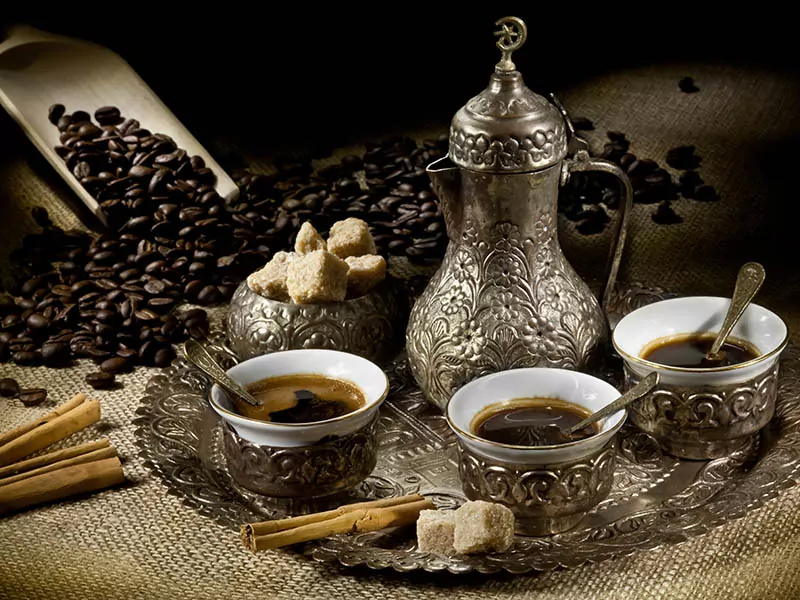 Coffee lovers can find plenty of delectable coffee delicacies in Israel, and Arabic coffee is one of the best options. This is also a must-try drink in other countries, especially in Saudi Arabian cuisine which the locals refer to as Qahwa. 
What is unique about this drink is that it comes in a traditional Arabic coffee pot, also known as a dallah. Its vintage shape is very eye-catching and intriguing to foreign visitors.
Arabic coffee is made with cardamom, saffron, and rose water and served in a small delicate cup with a selection of sweets and pastries on the side. If you want to have this coffee in the morning, pairing it with anise cakes or dates cakes are also a great idea.
36. Mint Tea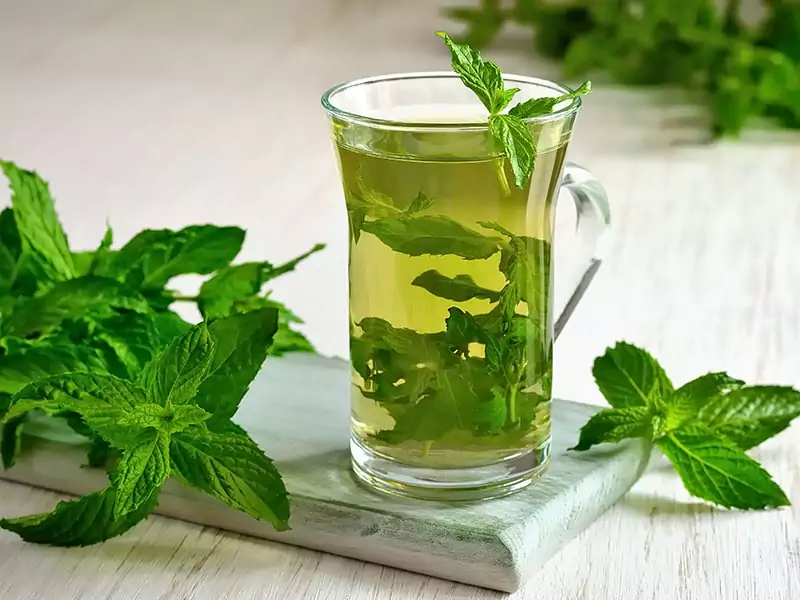 Tea is enjoyed all year in Israel, although it is especially popular in the winter. The most well-loved one is mint tea, made with water and fresh spearmint leaves known as "nana".
If you're in the mood for something soothing and relaxing, just steep fresh mint leaves in hot water, and you will get a delicious cup of warm mint tea.
Learn from the Middle Eastern locals and customize it with ginger, lemon, and herbs to make it even more flavorful and healthy. You can also add a dab of honey or Silan (also known as date syrup) to sweeten it if you like.
---
Tackle Food Ideas Confusion With A Single Click!
As you can see, Israel has a wide variety of wonderful dishes to enjoy. I've created a pretty detailed list of the most popular foods, but there will be many more delicious and exquisite dishes that might catch your eyes when you visit.
If my article has helped you learn about Israeli cuisine and culture, don't forget to give it a big thumbs up and share it with your friends and family.
Also, comment below and share your thoughts about the dishes you want to try in Israel. Thanks for all your support. Stay safe, and I hope to see you soon!