When it comes to Vietnamese rice dishes, you will find countless recipes on the internet. Vietnam is one of the top five biggest rice producers in the world, so it can be seen as a symbol in Vietnamese culture, especially in culinary practice.
It would take days to list all rice dishes in Vietnam, so let me sum them up with the most popular rice-based delicacies across the country. They are distinguishing and tasty that you can hardly find in other cuisines.
Wait no more! Follow me to explore how delightful Vietnamese food is. They are a great deal of information for your next trip to Vietnam.
The Best Rice-Based Dishes In Vietnam
As a significant rice production, the Vietnamese cultivate different types of rice. Some are long, some are short, and some feature fragrant aromas. The way the locals use them in cooking is also creative. With 19 ideal Vietnamese dishes here, I'm sure you can't wait to try them someday.
FYI, rice can be translated to "gao" (for uncooked ones) and "com" (for cooked ones). That's why most Vietnamese rice-based specialties' names start with the word "com".
Total time: 1 hour 35 minutes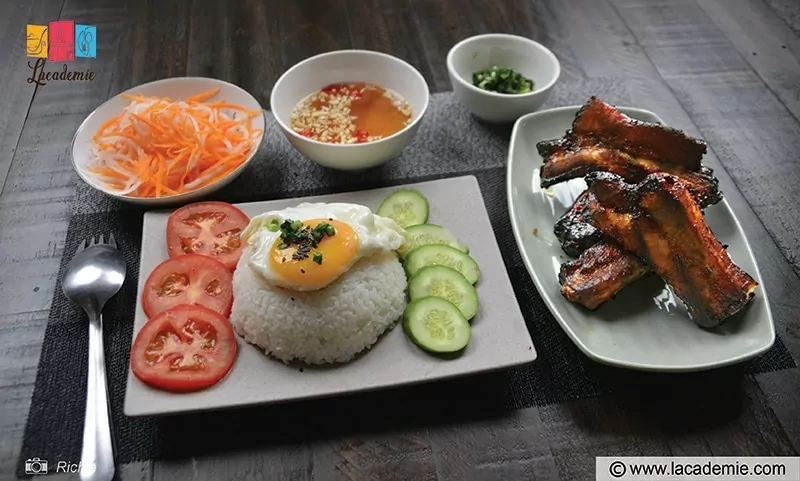 Let's begin the topic with one of the most well-known street foods in Vietnam. "Tam" means "broken rice grains", which are fragmented in the field or during dying/milling/transporting.
In the past, it was a staple food for poor farmers in the Mekong Delta region. But nowadays, this is a must-have ingredient in the dish called Com Tam, which is widely spread in Southern Vietnam.
Com Tam is a Saigon specialty with broken rice, grilled ribs, pickles, and sauce. Besides pork ribs, other options served in Com Tam are Vietnamese steamed omelets with pork, fried eggs, or shredded pork skin flavored with roasted rice powder.
Eating this delicacy is very straightforward for foreigners as it is typically served on a plate with a fork and a spoon. Furthermore, Com Tam is incomplete without the sauce. In fact, it is one of the most important parts of this dish.
The sauce generally consists of fish sauce, garlic, sugar, and chili. It features a perfect balance of sweet, savory, spicy, and sour flavors. Of course, you can skip the chili if you are sensitive to capsaicin.
Total time: 2 hours
Hoi An is a beautiful city in Quang Nam province where you can sightsee many ancient French-colonial houses and other architecture with strong foreign influences. But there is more about this city. I mean, their food.
And Hoi An chicken rice is a must-try Vietnamese chicken idea for tourists. If you are familiar with white rice, let's get ready to be amazed by the attractive yellow rice in this delicacy. To have this nice yellow shade, the locals soak rice grains in turmeric and cook them in chicken broth.
You can already feel the fragrance of the rice, let alone the chicken meat and other components. A full plate of Hoi An chicken rice includes rice, shredded boiled chicken, onion slices, shredded green papaya, and herbs. Finally, serve it with soy and chili sauce for a flavorful dish.
If you want to prepare Hoi An chicken rice like a native, just follow this instruction!
Total time: 40 minutes
Baby clam rice is a Hue signature dish consisting of rice, sauteed baby clams (aka "hen" in Vietnamese), and vegetables as the main components. If you haven't been to Vietnam, Hue is a city in the central region of the country with many historical sightseeings.
Com Hen is a complex dish in terms of flavors and textures due to its various ingredients. But this combination owns an amazing harmony of sourness, saltiness, sweetness, and spiciness in one bite.
To recreate baby clam rice, you should start by soaking clams to remove dirt, then clean it again with water. And don't discard the broth of cooked clams! You will serve it along with your at-room-temperature bowl of Com Hen.
Baby clam rice – a Hue signature food can be your new homemade recipe.
Total time: 30 minutes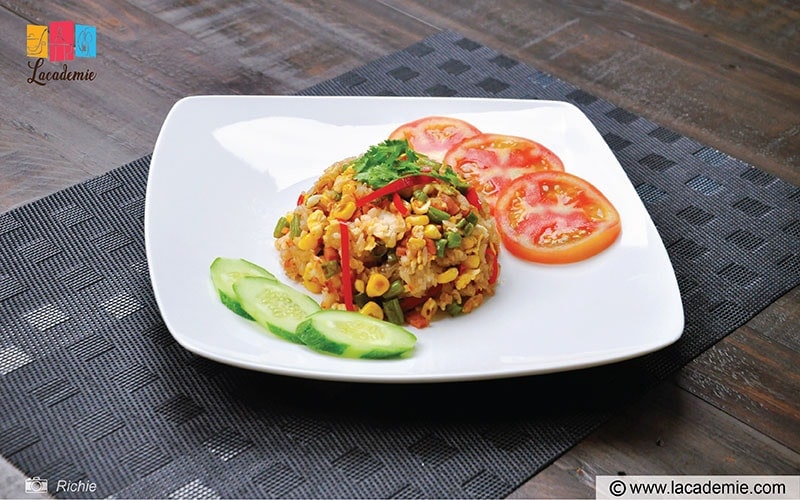 Vietnamese fried rice is one of the easiest rice dishes as you only need around 30 minutes to make it. What's better, the ingredients are easy to find and affordable. It is also a great way to use up leftover rice.
The main proteins in this fried rice are shrimp, sausage, and chicken eggs. To increase its nutrients, ideal vegetables you should add are string beans, carrots, and cow-horn pepper. Combining them with white rice and other ingredients, you will have a full-of-color treat to savor.
Another fried rice version that you will love is a simple Vietnamese red fried rice. It contains white rice fried with tomato ketchup to enhance its vibrant reddish-orange color. FYI, this fried rice is an ideal accompaniment to shaking beef.
Fried rice is excellent for meal prep as you can prepare it in advance and store it in an airtight container for up to 5 days. That's why they are a favorite meal for busy people.
Total time: 2 hours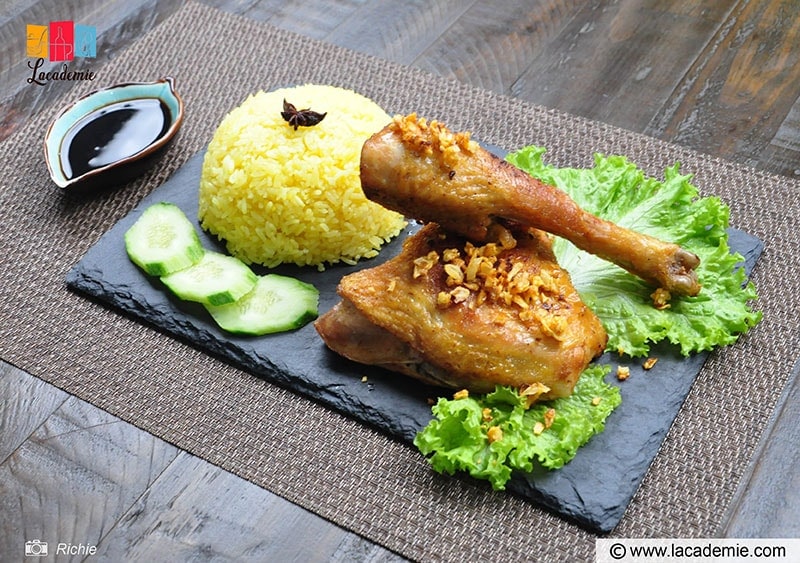 Fried chicken with rice is a well-loved Saigon food for a fulfilling meal. At first look, you will be hooked by fluffy yellow rice with a golden brown and crispy chicken leg or wing.
Similar to the above recipe, this rice delight is not too hard to make at home. But if you want to infuse the Vietnamese vibe in it, you must have different types of sauce on hand.
They are soy sauce and a special Vietnamese-style sauce – sate. It is a spicy red sauce made with chili, garlic, and shallot. Most rice dishes in Vietnam are incomplete without a small bowl of accompanying sauce.
For the chicken, you must marinate it for 30 minutes before boiling the meat. After that, transfer the boiled chicken to a skillet to fry it. Avoid frying your food for a long time; otherwise, your chicken will come out dry and tough.
Total time: 55 minutes
Have you ever heard about Vietnamese clay pot rice? The clay pot is a traditional cookware that the natives use to cook rice or stew dishes. It is prominent in Vietnam's countryside and is closely associated with Vietnamese cuisine culture.
Rice cooked in this cookware may not be as fast as cooked in a rice cooker or other appliances. However, a clay pot can bring more harmony in flavor and make the diner feel nostalgic about the past when electric and automatic cookware were unavailable.
What will make you like this rice dish more is its crispy base, let alone the fragrant and fluffy rice. For a hearty meal, serve the rice with other food, such as Vietnamese-based soup, meat, and vegetable dishes.
7. Vietnamese Crispy Rice (Cơm Cháy)
Total time: 2 hours 45 minutes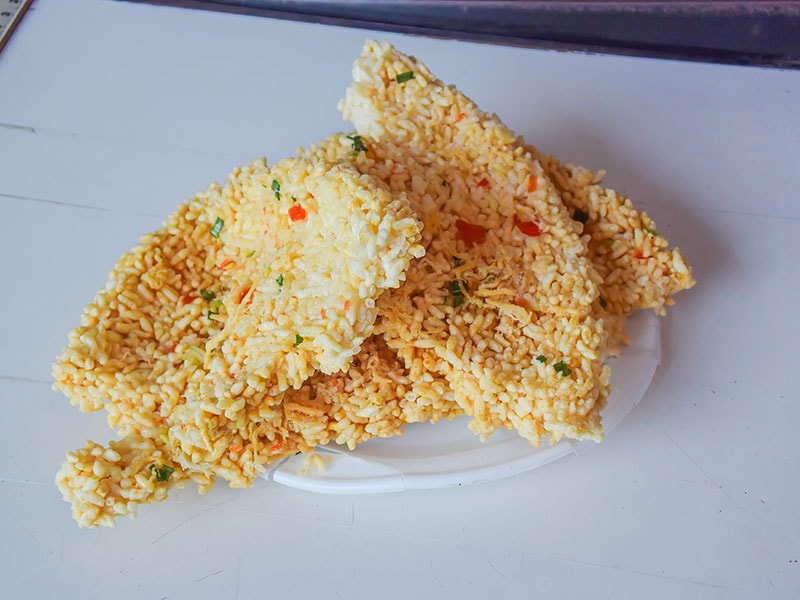 Com Chay translates to "burned rice", but it is not burned. Com Chay refers to crispy rice crackers with appealing golden color and toppings.
Crispy rice topped with pork floss is a specialty in Ninh Binh province. It starts with choosing a quality and suitable rice variety. In Ninh Binh, they choose glutinous Huong rice with short and fluffy grains.
After cooking, the rice grains will undergo the drying process. The locals dry them under the sun until the rice is crispy and slightly golden.
However, it is a time-consuming process. So if you want to make it at home, you can bake the cooked rice in the oven for hours until the rice comes out dry and very crispy.
To add more flavor, drizzle a bit of sauce over dried rice, then add chili and dried pork floss. Now you will have a great snack in munch all day long.
8. Vietnamese Squeezed Rice Ball (Cơm Nắm)
Total time: 50 minutes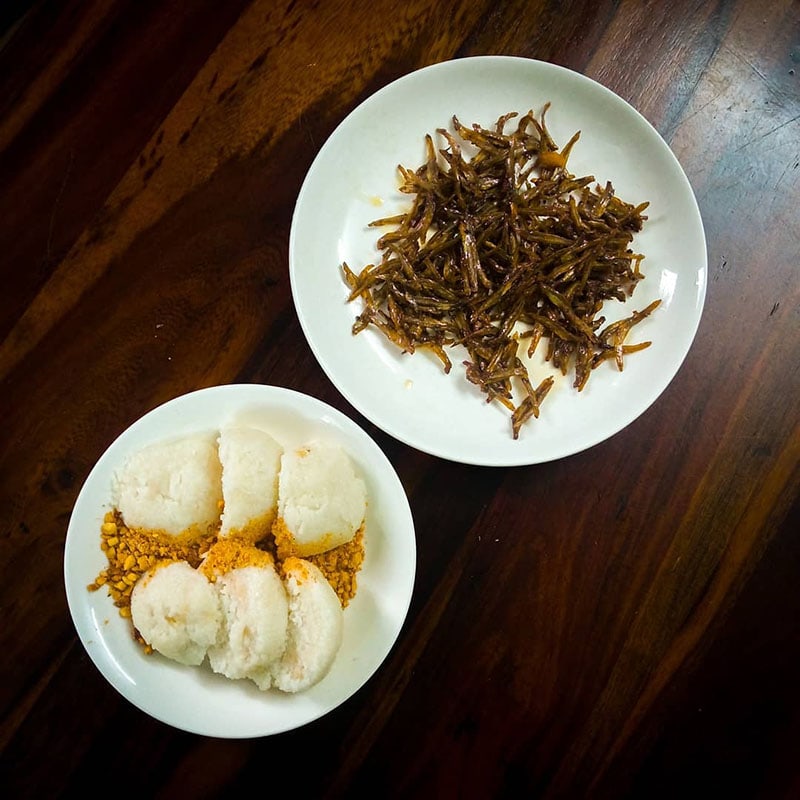 Overall, squeezed rice balls are a rustic specialty in Northern Vietnam. And this is one of the most basic Vietnamese rice recipes. Why?
Because they are simply white rice balls served with a mixture of salt, sesame, and crushed peanuts, making them perfect Vietnamese vegan food. If you prefer a savory treat, enjoy these rice balls with pork floss or Vietnamese pork sausage.
To recreate it by yourself, you should opt for quality and aromatic rice. They should be a bit sticky (but not the glutinous variety), so the rice grains will not fall apart after rolling.
Total time: 1 hour 10 minutes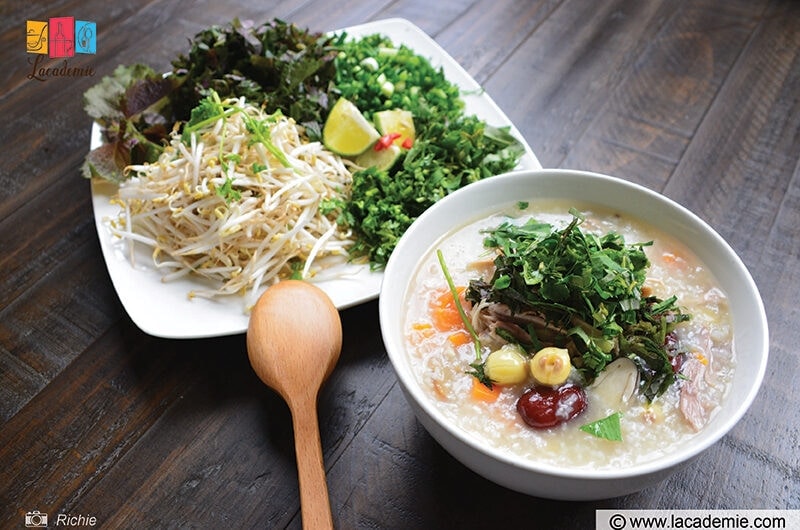 Here is another rice-based meal that looks totally different from the mentioned dishes. This is congee, a hearty treat cooked from rice. Basically speaking, congee is a rice porridge that can be served as a meal or a side dish.
There are many styles of congee with various ingredients. In this Vietnamese congee, chicken is an essential part of enhancing congee taste and nutrition. With the addition of dried jujube fruit, it is a good option for a nutritious Vietnamese food item.
Regarding the rice, you can use 1 or 2 varieties. This chicken congee is a combination of normal white and glutinous rice.
To prepare this dish, rice will be boiled in a lot of water until it is completely soft so that you don't even need to chew to swallow it. That's why congee is a food remedy for sick people.
It is also an excellent meal to prepare ahead of time. Store the congee in the fridge and serve it the next morning for breakfast!
Total time: 2 hours 30 minutes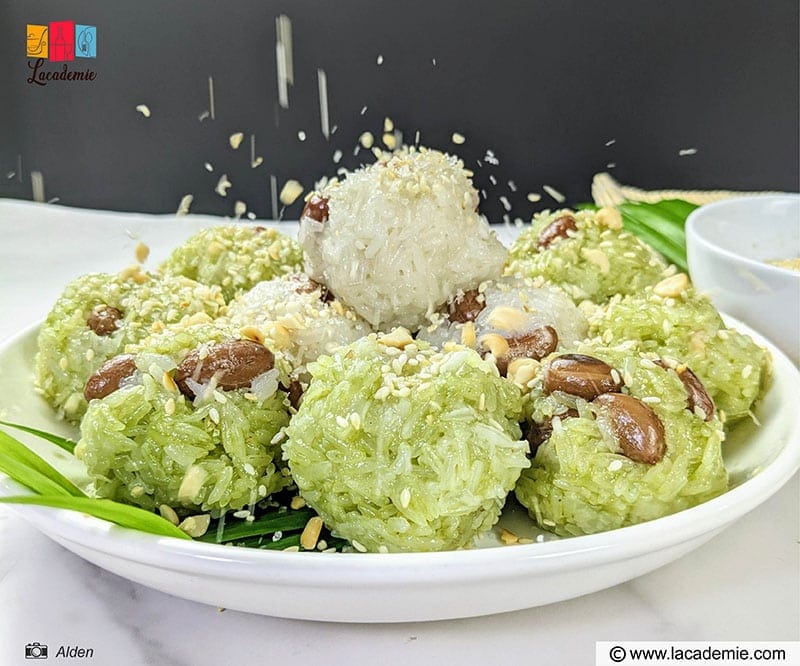 Peanut, in Vietnamese, is "dau phong" (in Southern parts) or "lac" (in Northern parts). It is a sweet-salty or semi-sweet treat that Vietnamese love to enjoy as a fulfilling breakfast. It is also an ideal snack if you consume it at an appropriate level.
Sticky rice is a short-grain rice variety. To create this delicacy, the critical part is cooking the rice to perfection. A flawless "xoi" should be soft, chewy, and of course, sticky.
The first step is to soak the glutinous rice in warm water, then let it dry completely so the rice can absorb the flavorings better. If you can buy pandan leaves, use their extract to flavor the rice. This extract also adds color to your Xoi Dau Phong.
Before steaming the rice, you should stir-fry it to bring out the best flavors of rice and other components (such as coconut milk, pandan extract, and cooked peanuts). Keep in mind that you only need a few minutes to stir-fry the rice until fragrant and swells slightly.
Total time: 42 minutes
This is one of the most eye-catching sticky rice dishes called Xoi Gac. Gac is a popular perennial melon in Southeast Asia. They have a vibrant orange-reddish color that people commonly use as food and medicine.
For culinary purposes, the aril of ripe gac fruit's seed is what creates the color and flavor of this sticky rice delight. With attractive color, Xoi Gac has been a favorite food served in special events, such as weddings, baby's birthdays, or celebrations for New Year.
Nowadays, it is also a common breakfast or snack in Vietnam. If you want to make it at home, you can search for frozen gac seeds. They will not change the quality of your sticky rice.
The rice is flavored with coconut milk as well. As a result, you will have a semi-sweet and aromatic dish. To savor it as locals, Xoi Gac regularly goes with Vietnamese ham or toasted peanuts and sesame seeds.
The vibrant orange rice dish is Xoi Gac, including 2 main ingredients: sticky rice and gac fruit aril.
Total time: 3 hours 45 minutes
When you visit Hanoi – Vietnam's capital, you can see many street vendors selling a sophisticated dish with a bright yellow color wrapped in big banana leaves. It is Xoi Xeo, a kind of rice-based delight made with glutinous rice, mung bean, fat, and deep-fried shallot on top.
Xoi Xeo is an iconic breakfast dish in the capital. And thanks to its deliciousness and low cost, its popularity has also spread to Saigon.
Let's discuss Xoi Xeo's ingredients! Turmeric powder is the main component to coat a vibrant color on the rice. For the mung bean, people will peel, soak, and steam them carefully. After that, they will smash and roll them into a ball.
To serve it, the locals will hold a mung bean ball in their palm and use a knife to cut them into thin slices over the bed of yellow cooked sticky rice. Then add a tablespoon of liquid fat and fried shallot.
What for breakfast while in Hanoi? Xoi Xeo is the best option. Let's see how a local street vendor prepares it.
Total time: 11 hours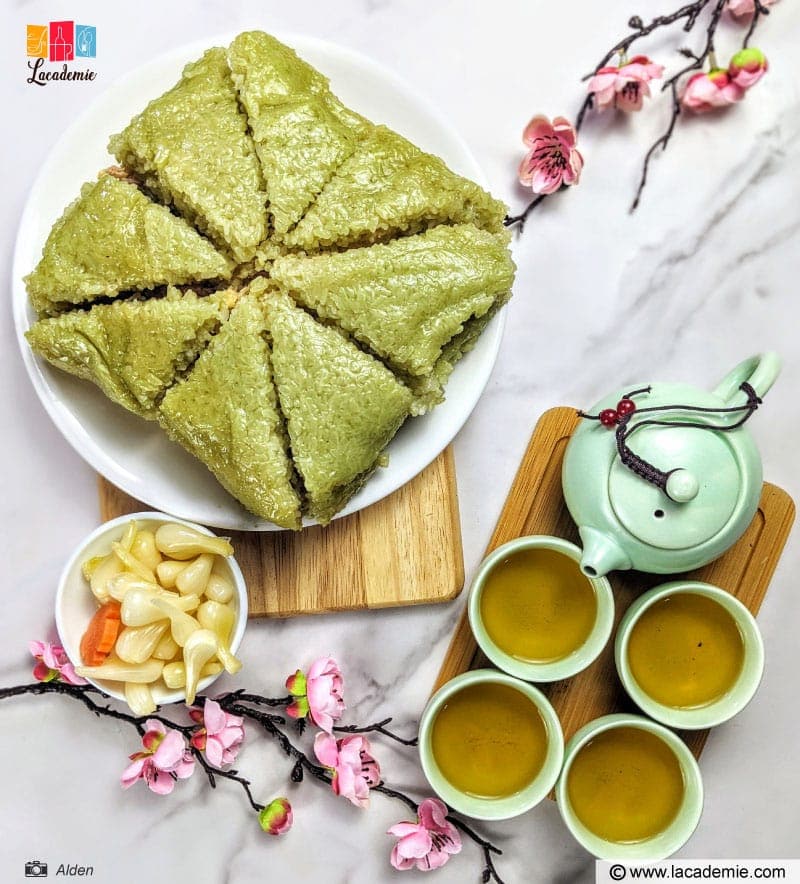 Tet holiday on Lunar New Year is a big occasion in Vietnam. And Banh Chung is a symbolic food served during this time. The story of Banh Chung is meaningful that all Vietnamese children have been told or taught at school.
Banh Chung was a creation of Lang Lieu – a prince of the 6th Hung King, to participate in a competition on Tet. All princes have to prepare a dish to show their respect to their ancestors.
Lang Lieu created 2 kinds of cakes, including a square-shaped sticky rice cake (Banh Chung) and a round steamed sticky rice cake (Banh Day). And the former represents the earth, while the latter represents the sky.
Besides sticky rice, Banh Chung consists of mung beans and pork. The presentation is also challenging for beginners, so it would be better if you had a Banh Chung mold. In Vietnam, you can see the locals prepare the cake without mold.
The wrapping step is essential. People use dong leaves (or banana leaves) to wrap the cake, then tie it with bamboo strings. Don't tie it tightly since the cake will expand while cooking in water.
14. Vietnamese Cylindrical Sticky Rice Cake (Bánh Tét)
Total time: 1 hour 10 minutes
Another traditional "cake" for Lunar New Year is Banh Tet, but this one is more common in central and southern areas.
The ingredients to make Banh Tet are pretty similar to Banh Chung, such as sticky rice and pork meat for the filling. The main differences between them are the shape and the leaf people use.
This cake has a thick cylindrical shape, and it is covered by banana leaves. It starts with soaking mung beans and sticky rice, then assembling them with pork and leaves. You also need strings (e.g., plastic ribbon/rope) to wrap them tightly.
Cooking Banh Tet is time-consuming as well. It would take at least 6 hours to cook them in hot boiling water. But with the support of a pressure cooker, you can shorten the cooking time (around 45 minutes).
For serving, you can slide them into smaller slices, then peel off the leaves and enjoy with pickles. Plus, you can pan-fry leftovers until both sides turn golden brown.
Total time: 30 minutes
Sticky rice in bamboo is a specialty not only in Vietnam but also in other Southeast Asian nations, such as Cambodian, Thai, Lao, and Burmese. Vietnamese sticky rice in bamboo is a special treat that you can find in Central Highlands, especially among ethnic minorities.
Due to their nomadic lifestyle, the natives used bamboo tubes to store and cook rice, and they could carry it anywhere. And thanks to these tubes, this rice dish is delicious with a unique taste.
The rice in Com Lam is sticky rice (aka glutinous rice). After soaking rice in water, they will flavor them with ground ginger and salt, then stuff rice into these tubes. For a pleasant aroma, the locals also wrap tubes with banana leaves before cooking them.
People cook Com Lam on a charcoal stove until the fragrant smell releases from the tubes and their outer shells are slightly burnt.
To eat the rice, you will need a knife to remove a part of the shell tube vertically. Then serve them with grilled chicken or just simply a bowl of roasted sesame, salt, and crushed peanuts.
Total time: 45 minutes
Hell rice literally translates to Com Am Phu in Vietnamese. But why does it have this name and what is its history? First of all, Hell rice is a specialty of Hue city (central Vietnam).
There was an unproven theory that Hell rice was sold during the Ghost Festival (15th July) during the Minh Mang period (1820–41). FYI, Minh Mang was the last Vietnamese emperor.
Another legend about its name was related to the Nguyen emperor. Back then, he disguised himself as a normal person to check his kingdom's quality of life. He visited the house of a poor old widow and asked for a meal.
She treated him to a plate of mixed food, including white rice and some leftovers. Surprisingly, this simple treat has become one of the most delicious rice dishes he'd ever had. And she named it Hell rice since it was served in a dark place, under dim light that looked like hell.
Nowadays, you can only find Hell rice in a few traditional restaurants. The most famous one is Quan Com Am Phu, located on Nguyen Thai Hoc street, Hue city.
Today's Hue Hell rice contains white rice (usually cold ones), vegetables (e.g., carrots, daikon, cucumber), pork, shrimp, egg, and herb. All components (except the rice) are cut into strips. They are simple yet so tasty.
17. Phu Quoc Crab Rice (Cơm Ghẹ Phú Quốc)
Total time: 50 minutes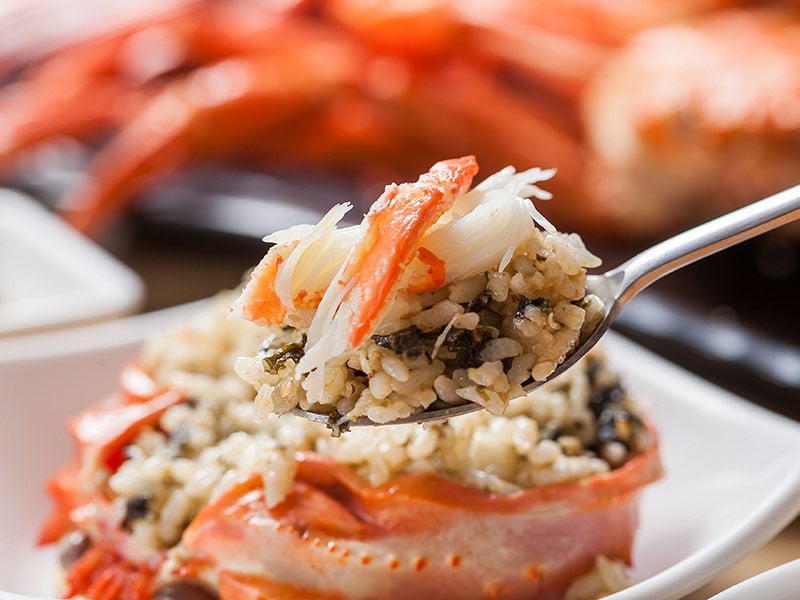 When you visit Phu Quoc, don't miss their crab rice delicacy. Phu Quoc is the biggest island in Vietnam, known for a wide variety of seafood. Crab is one of the best things here, with a firm, meaty, and moist texture.
The combination of crab and rice features the quintessence of Vietnamese sea and land. It is also a rustic treat that the locals love to cook and serve to their guests.
You can order it in various restaurants in Phu Quoc. They all have distinctive ways to make this dish more appealing. It generally includes fried rice, sweet crab meat, and chopped vegetables (like carrots and green beans). Enjoying it with ketchup and chili soy sauce is preferable.
18. Ben Tre Coconut Rice (Cơm Dừa Bến Tre)
Total time: 2 hours
Ben Tre province is located in the Mekong Delta. This region is famous for its abundance of coconut trees. Therefore, using this fruit to create a rice-based specialty is familiar here.
However, making Com Dua Ben Tre requires a lot of attention and meticulousness, from selecting the ingredients to the cooking steps. It also takes longer to cook rice compared to the conventional way. 2 hours is the approximate time to cook this delight.
To create this masterpiece, the rice grains are cooked in coconut. The locals use coconut juice in place of water to increase its subtle sweetness on every fluffy rice grain. Then they use a double boiler to cook this dish to perfection.
Some places also add carrots, mushrooms, lotus seeds, or green beans to make the delight more flavorful and colorful.
Total time: 1 hour (excluding fermenting time)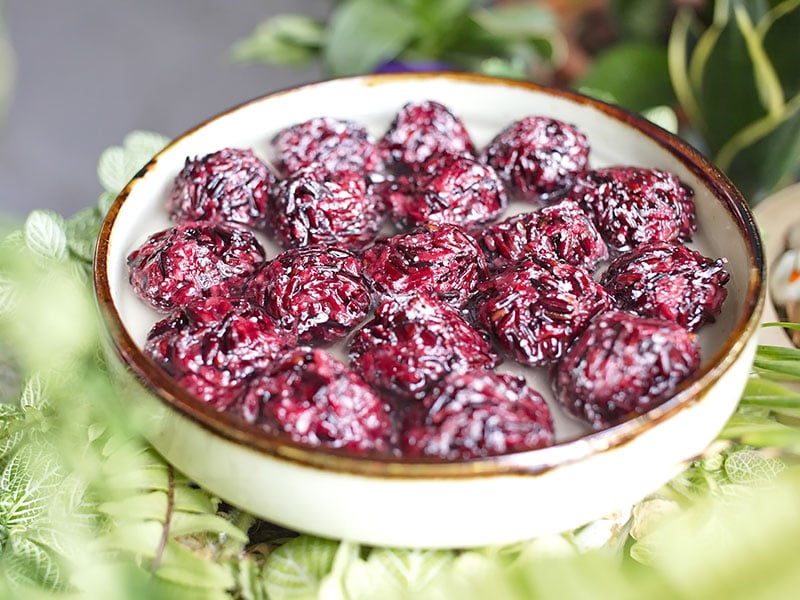 Rice pudding is a common dessert in many foreign countries, but have you ever tried this one-of-a-kind Vietnamese dessert with rice? It is a Southern Vietnam dessert made from fermented glutinous rice and yeast.
The ingredients are pretty simple but making this rice wine dessert is relatively tricky. People typically mix cooked rice with yeast, then roll them into bite-sized balls. However, you should pay more attention to the ratio between yeast and rice to prevent mold.
In addition, keep rice balls in a clean container to make sure they can ferment properly. After a few days, the rice will soften and release a milky liquid taste like an alcoholic. That's why it is called a rice wine dessert.
FYI, there is a cousin version of this dessert in Northern Vietnam called Ruou nep. However, you don't need to roll the rice into balls, and this version is served without liquid.
Here is how to make Vietnamese rice wine dessert in the Southern method.
The Elegance In Vietnamese Rice Delicacies Is Beyond Your Expectation!
This country has always been a tourist destination, thanks to its beauty and warm hospitality. What's better, Vietnamese cuisine is also something that all visitors need to explore because they are so fresh and delicious.
In this topic, you just have a quick view of how Vietnamese can optimize the use of rice. Rice is undeniably a staple in Vietnam, but the way they transform it into these goodies is amazing.
Last but not least, if you like this insightful article, please give it a thumbs-up. Or you can leave your comment in the box below if you still have other questions regarding Vietnamese rice-based dishes.
Thank you, and hope to see you in the next posts!
Nutrition Facts
2 servings per container
---
Amount Per ServingCalories1154
% Daily Value *
Total Fat 56.1g

87

%
Cholesterol 354mg

118

%
Sodium 8098mg

338

%
Potassium 503mg

15

%
Total Carbohydrate 268.3g

90

%

Dietary Fiber 115.1g

460

%
Sugars 31.4g

Protein 100.2g

200

%
---
Calcium

563

%
Iron

19

%
Vitamin D

15

%
* The % Daily Value tells you how much a nutrient in a serving of food contributes to a daily diet. 2,000 calories a day is used for general nutrition advice.