How many Vietnamese chicken recipes can you name? If you can only think of two or three dishes, my friend, you're missing out on a lot. From filling main dishes to light and fresh appetizers, chicken appears everywhere on a typical Vietnamese menu.
In today's post, I'll introduce to you an array of tasty chicken delicacies from this Asian country. These dishes are all super easy to make and suitable for many occasions. Let's dive right in and explore the wonderful cuisine of Vietnam!
19 Vietnamese Chicken Dishes You'll Make On Repeat
Here are the essential chicken-based recipes from Vietnam that every food lover should try. I have selected dishes from different parts of the country to make this list more diverse.
Total time: 1 hour 10 minutes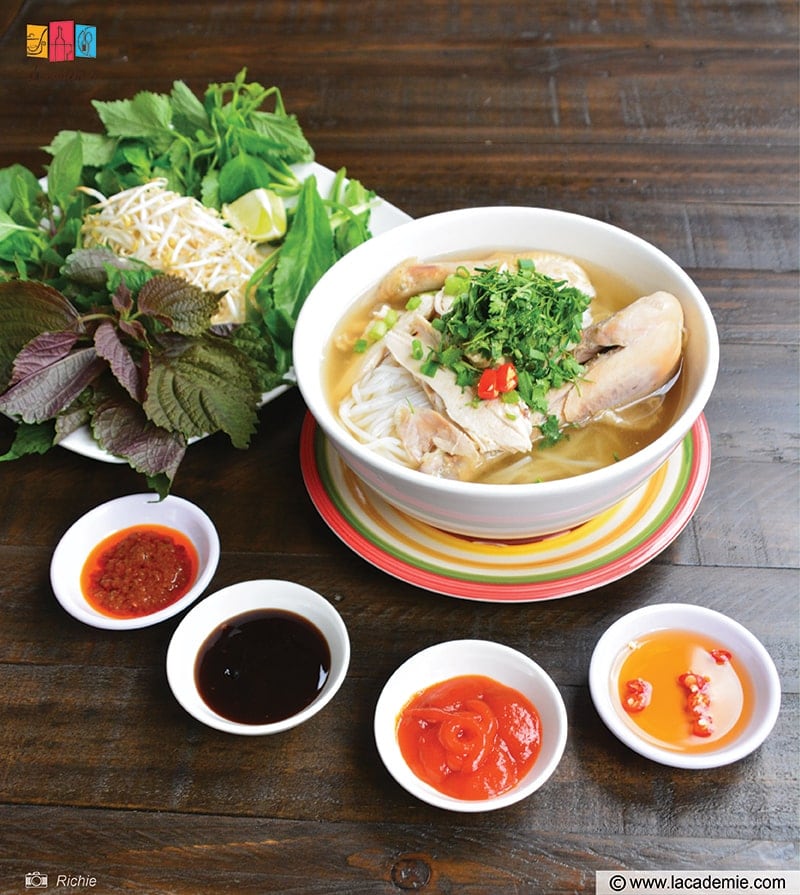 When asked about authentic Vietnamese cuisine, Pho is probably the first thing to come up in many people's minds, and for good reasons. Flat rice noodles paired with a clear and rich broth cooked for hours on end create a flavorsome combination that no foodies can say no to.
Interestingly, the Pho found in Saigon and Hanoi is slightly different regarding sweetness and condiment choices. Moreover, people in Southern Vietnam typically enjoy their Pho with various herbs, while the Northerners prefer a simpler version with no added aromatics.
Historically, Pho Bo (beef Pho) was the original version. It was not until the 1930s that chicken Pho appeared due to the limited beef supply. The elastic texture of shredded chicken provides a different yet very addicting mouthfeel to this famous Vietnamese noodle recipe.
Some people might worry that chicken won't give the broth enough umaminess. While chicken broth is indeed a bit lighter than beef broth, it boasts a more refreshing taste that goes exceptionally well with bean sprouts, basil, and other fragrant herbs.
Total time: 25 minutes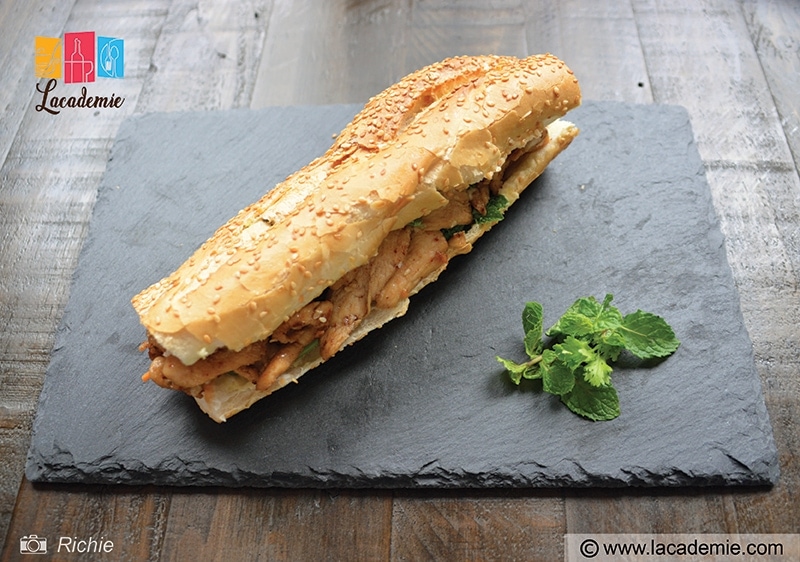 Besides Pho, Banh Mi is a Vietnamese classic you can find anywhere in the country. It's not an exaggeration to say that every Vietnamese has had this delicious street food. There are plenty of choices when it comes to the fillings for Banh Mi, but chicken is undoubtedly among the top choices.
In this recipe, you'll marinate the chicken breasts with a mixture of garlic, honey, chili powder, and sauces for at least 15 minutes. The marinade lends a sweet, savory, and slightly spicy taste to the chicken.
Of course, no Banh Mi would be complete without crunchy pickled vegetables, like carrots and onions. Not only do these veggies add more texture to your Banh Mi, but their freshness also creates a more balanced treat.
Total time: 1 hour 10 minutes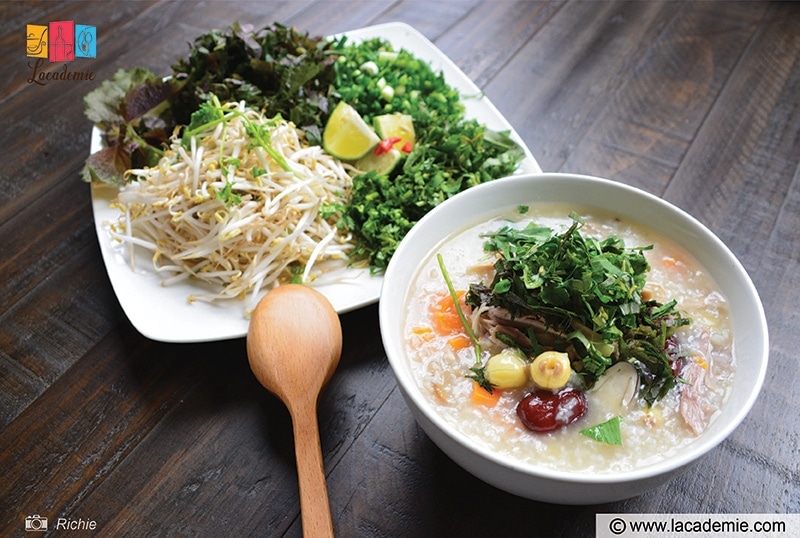 Chao Ga is an incredibly nutritious yet easy-to-digest recipe that's ideal for sick people, children, and the elderly. It also makes for an excellent morning dish when you suffer from a bad hangover.
While many recipes use an instant pot to save time, I prefer the traditional method, which takes longer but yields the best-tasting result. First, you'll boil a whole chicken with various spices and a little white wine. If possible, opt for free-range chicken as it's firmer than commercially raised ones.
During the cooking process, the aromatics will gradually infuse their flavors and fragrance into the chicken, making it taste better than ever. Then, make use of the chicken broth to cook the roasted rice with veggies until tender.
You can combine sticky rice and regular rice to create a more diverse texture or use whatever kind of rice you have at hand. To maximize the dish's flavor, remember to top it with herbs, such as laksa leaves and coriander.
Total time: 1 hour 50 minutes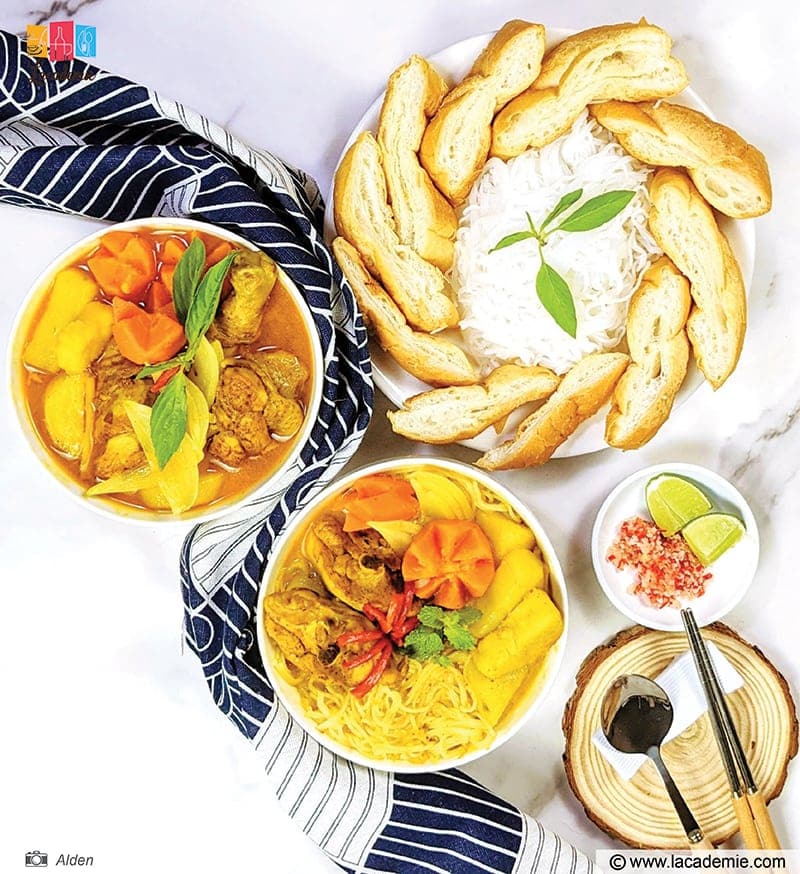 Curry is a staple of Asian cuisine, with many countries boasting their unique styles. For example, Thailand and India are known for their spicy curries, while the one from Japan is quite mild. Like the Japanese version, Vietnamese curry lies more on the sweet side.
With the addition of soy and coconut milk, the curry has a fatty broth that strikes a great balance between sweet and savory. Chicken is the preferred meat choice for most Vietnamese curry recipes, but some households also add pork to the dish.
Root vegetables, such as sweet potatoes and carrots, also play an important role in the recipe. To prevent them from breaking apart during stewing, you should fry them briefly first. That said, be aware that they can become bitter if cooked too long.
Total time: 2 hours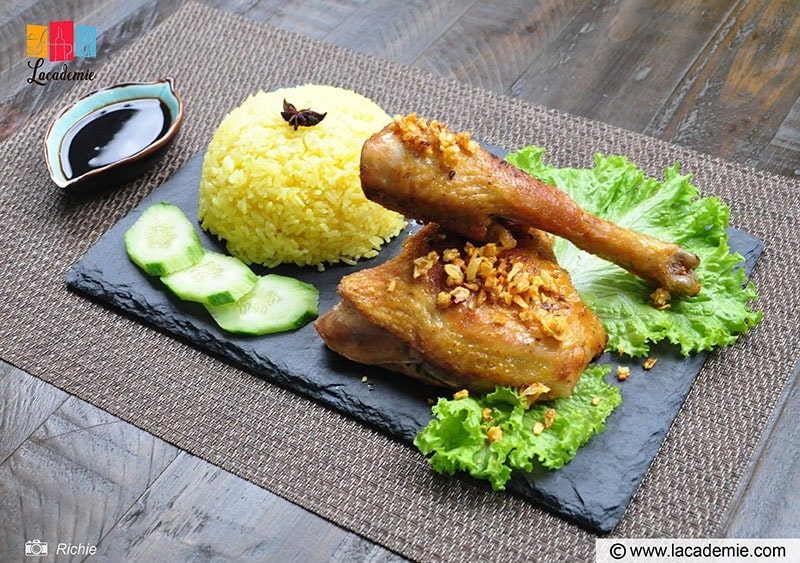 Saigon, the biggest city in Southern Vietnam, is home to many tasty Vietnamese rice delicacies, and Com Ga Xoi Mo is one of them. The fried chicken in this delicacy is extra crispy, thanks to a special technique called Xoi Mo, in which the cook continuously pours hot oil over the bird.
While the chicken is no doubt the star of this recipe, it would be a big mistake to overlook the rice, which the locals cook with the chicken boiling water and spices. As a result, the rice has an appealing yellow color and is especially fragrant. Since you'll fry the rice afterward, you should cook it a little drier than usual.
Interestingly, Com Ga Xoi Mo is most likely a Chinese-inspired dish. Don't be too surprised, as Saigon is a place of great cultural interference!
Total time: 55 minutes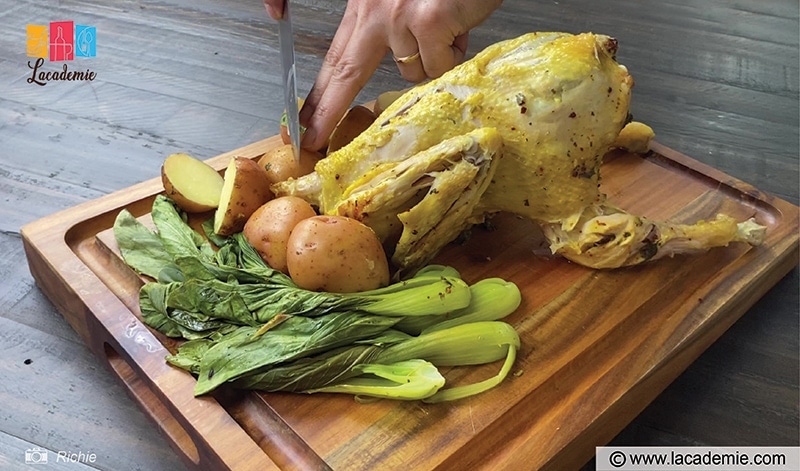 If you find fried chicken with rice too greasy, I'm sure that Ga Hap Muoi should be more up your alley. By steaming the bird, you eliminate the need for extra oil and preserve all of its nutrients.
Don't let the notion of steamed food being bland fool you, the chicken will turn out as flavorful as any other cooking method. This is because you'll infuse the chicken with various spices by adding an array of aromatics to the cavity.
More importantly, don't forget to make a coarse salt bed and place some lemongrass and ginger over it. These extra spices will take the aroma and taste of the chicken to a new level, making each bite a sensory explosion of flavor.
Total time: 2 hours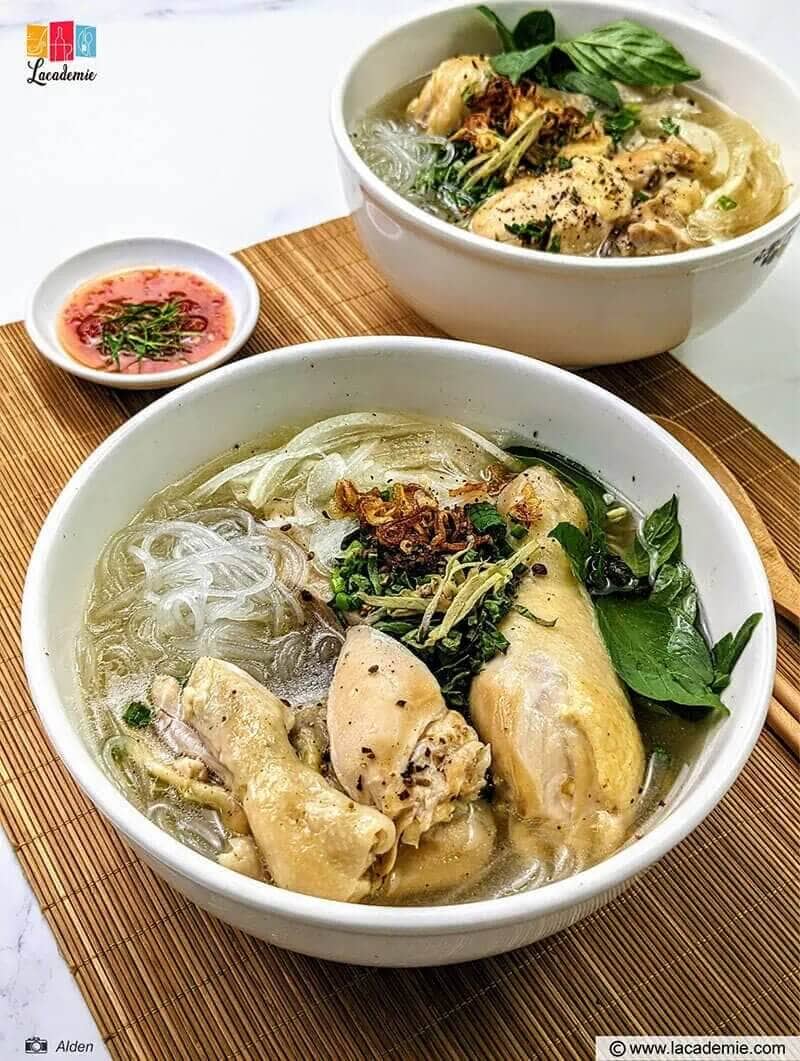 Miến noodles (glass or cellophane noodles) are transparent kinds of noodles made from canna starch. In Vietnamese cuisine, these slippery noodles are the key ingredients in many famous dishes, such as Mien Ga (chicken noodle soup), Mien Mang Vit (duck and bamboo shoot noodle soup), and Mien Luon (eel noodle soup).
Since the recipe is easy to cook, Mien Ga is a popular breakfast, especially for those living in Northern Vietnam. The clear and flavor-packed broth combines with firm-boiled chicken and springy noodles to create a dish that people of all ages can enjoy. Moreover, Mien Ga is also a common dish on special occasions and parties.
Total time: 25 minutes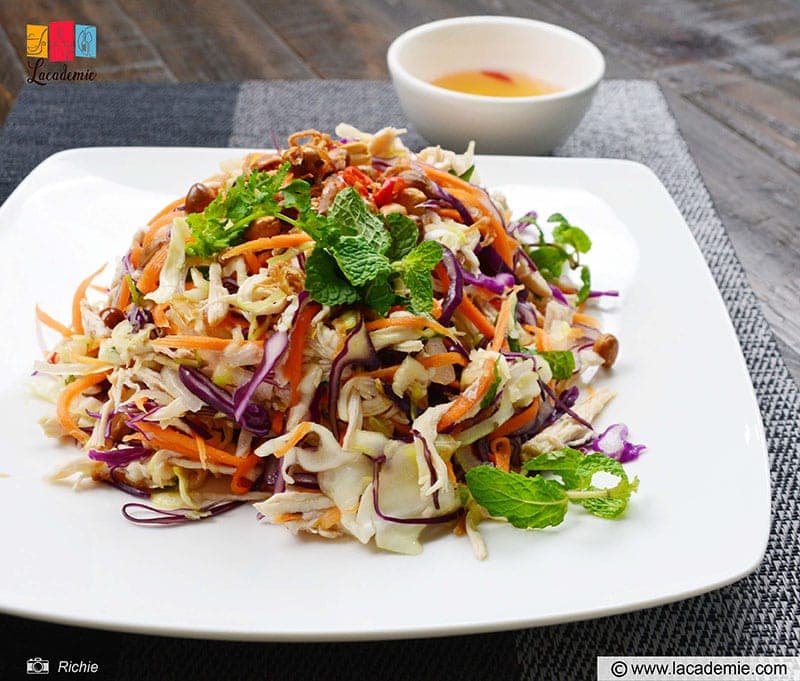 Let's take a break from hearty main dishes and experience this traditional Vietnamese salad. Goi Ga is a fresh, healthy, and crunchy combination of shredded chicken, onions, carrots, cabbages, and coriander. It's a perfect Vietnam starter or side dish for your party!
What sets this vibrant dish from other salad recipes is the dressing, which is a blend of fish sauce, lime juice, sugar, garlic, and vinegar. This combination gives the salad a sweet and sour taste that pairs perfectly with greasy, meaty treats.
You can enjoy Goi Ga with rice porridge or Vietnamese prawn crackers (Banh Phong Tom). Don't forget to top the salad with roasted peanuts and crispy fried shallots.
Total time: 55 minutes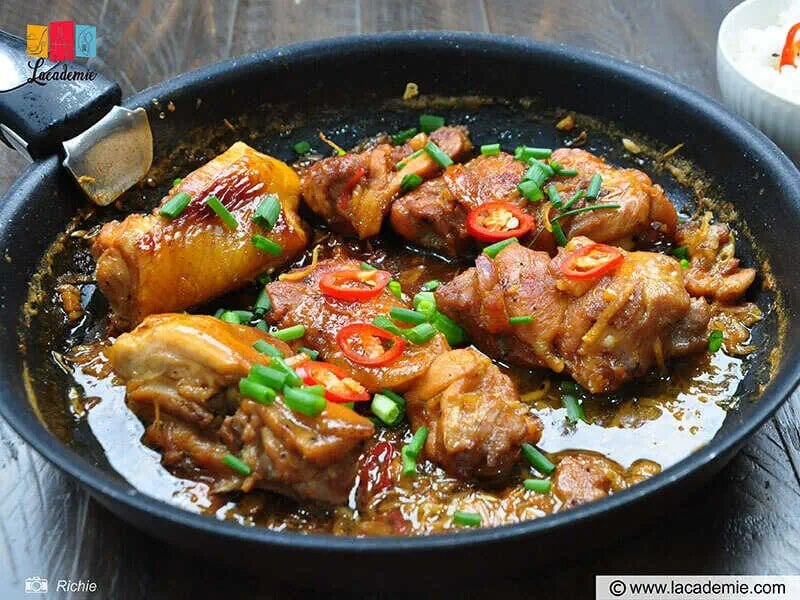 Ga Kho is a dish that many Vietnamese grow up eating. Easy to make in large batches and super tasty, this recipe ticks all the boxes of an outstanding family meal! In Vietnam, people love to have this chicken-based delicacy with steaming hot rice.
Making Ga Kho Gung usually starts with marinating the chicken in fish sauce, ginger, and a couple of other aromatics. Once the chicken has absorbed all the spices, you'll then add it to a pot and pour some water. The last step is to braise your chicken over low heat until cooked.
There's no exact recipe for Ga Kho Gung, as each family will twist the ingredients to fit the members' tastes. Some people caramelize a little sugar before adding the chicken to give it a sweet coating. Others might switch the ginger for lemongrass and chili peppers.
Total time: 50 minutes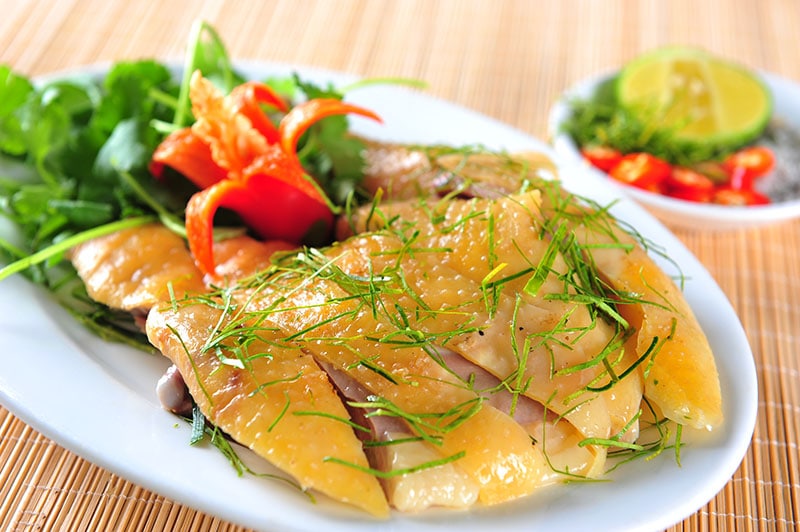 Although simple, Ga Luoc is an irreplaceable part of Vietnamese customs. People in Vietnam consider a whole boiled chicken a symbol of prosperity and abundance, which explains why it's a must-have during the Lunar New Year celebration and many special occasions.
Cooking this health-giving Vietnamese dish is also not as easy as it seems. The Vietnamese often add fragrant herbs, such as ginger or scallions, to the water to enhance the chicken's taste. More importantly, you'll have to add the kitchen at the right water temperature to prevent its skin from cracking.
When the chicken is cooked, transfer it immediately to a cold bath to maintain the bright yellow color. For serving, don't forget to whip up some Muoi Tieu Chanh, a dipping sauce made from salt, pepper, and lime juice.
Total time: 45 minutes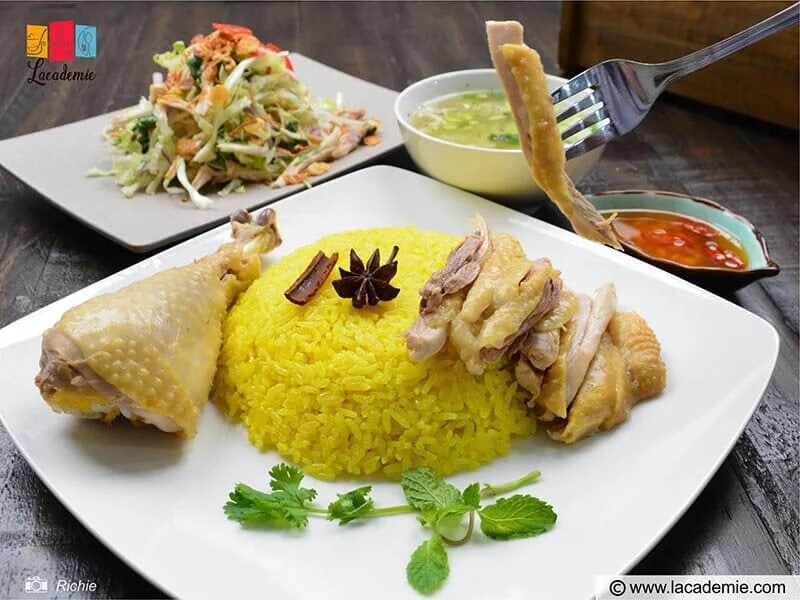 This recipe originated from Tam Ky, a coastal province in Central Vietnam. Unlike Com Ga Xoi Mo, which has roots in China, Com Ga Tam Ky is an authentic Vietnamese delicacy, and the difference in origin is reflected clearly in how the locals prepare this dish.
While Chinese cuisine is famous for many greasy treats, Vietnamese culture favors less oily cooking techniques. As such, the chicken in Com Ga Tam Ky is boiled rather than fried. After boiling, people utilize the leftover water for cooking the rice to give it a yellow-tinted color.
Since the recipe is quite simple, the chicken's natural firmness is its biggest selling point. For this reason, I highly recommend choosing free-range chicken when you recreate this classic Vietnamese dish.
12. Steamed Wet Pancakes With Chicken Innards (Bánh Ướt Lòng Gà)
Total time: 1 hour 30 minutes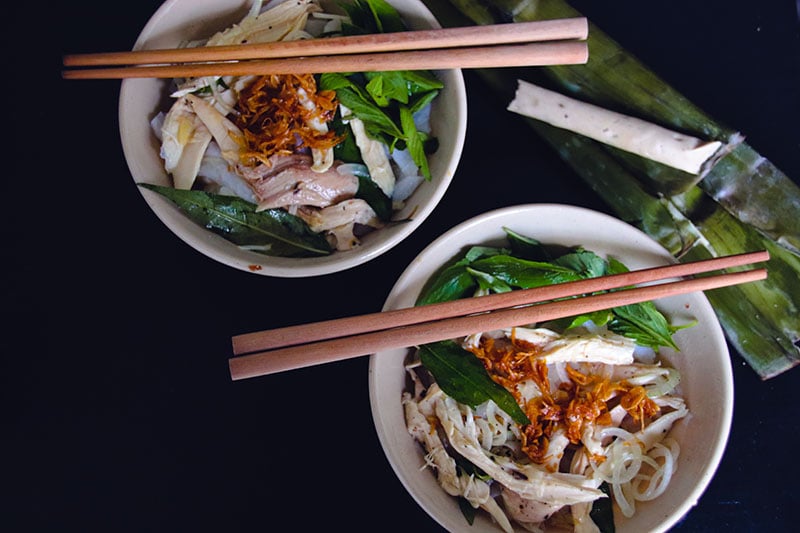 This specialty combines chicken innards with Banh Uot (steamed wet pancake), a unique Vietnamese treat made from rice flour and has a paper-like thickness. It's one of Vietnam's most well-loved street food, with many regional variations.
In this variation, the locals pair Banh Uot with boiled shredded chicken, stir-fried chicken innards, bean sprouts, fried onions, and herbs. To elevate the flavor of this dish, remember to prepare a bowl of sweet and spicy dipping sauce on the side.
In Vietnam, this dish is especially popular in Da Lat, a highland province with cool weather all year round. Enjoying Banh Uot Long Ga on a breezy morning or night is an experience everyone should have at least once.
Total time: 1 hour
Hanoi is the capital of Vietnam and is home to an array of mouth-watering delicacies. My favorite chicken recipe from this area is Bun Thang, a one-of-a-kind noodle dish made from up to 20 different ingredients!
In a serving of Bun Thang, you will typically find shredded chicken, fried eggs, cilantro, saw leaf, and Cha Lua (Vietnamese ham). The cook will arrange these ingredients on top of white, thin vermicelli noodles and finish with a sprinkle of dried shrimp.
Try a spoonful of this delicacy, and you'll feel layers upon layers of different flavors tickling your taste buds, creating a culinary experience like never before. Highlighting the multitude of ingredients is a clear and light broth that tastes ten times better when mixed in shrimp paste.
Let's learn an effortless way to make Bun Thang at home!
Total time: 1 hour
Ga Nuong Sa is a classic dish that showcases the Vietnamese masterful way of mixing and blending fragrant herbs and spices. Honey, lemongrass (Sa in Vietnamese), garlic, pepper, and other spices come together to create a zesty, sweet, and savory marinade that amplifies the chicken's flavor flawlessly.
The marinated chicken is then grilled, leaving it with beautiful charred marks and hints of smokiness. Loved for its bold yet balanced flavor and tender texture, this recipe is a taste sensation whether you choose to enjoy it with rice, noodles, or a refreshing salad.
Total time: 1 hour 15 minutes
Five-spice powder is a traditional spice blend of Asian cuisine typically consisting of star anise, cloves, pepper, fennel, and cinnamon. This harmonious combination of spices creates a unique flavor profile that is sweet, sour, bitter, savory, and salty.
The Vietnamese have found many great ways to incorporate this culinary blend into their daily meals, and Ga Nuong Ngu Vi is one of the best ones. This dish takes the simple, yet beloved chicken, and adds depth and complexity to its taste with a tantalizing marinade.
Vietnamese Five-Spice Grilled Chicken is an immaculate choice whenever you're in the mood for an outdoor barbecue. You can also pair it with steamed rice for a satisfying and cozy dinner with your loved ones.
Total time: 45 minutes
Indulge in a fusion of flavors with Ragu Ga, a unique blend of Vietnamese and French cuisine. This dish has a rich history, tracing its roots back to the time of French colonization in Vietnam. Today, it has become a staple in Vietnamese households, cherished for its comforting and hearty taste.
Imagine tender chicken pieces, slow-cooked with succulent vegetables like potatoes and carrots, and infused with a perfect balance of spices. But wait, there's more! The locals have added their special twist by adding a touch of fish sauce, elevating the dish to new heights of umami goodness.
To experience this dish in the true Vietnamese fashion, pair it with baguette, fluffy steamed rice, or vermicelli noodles!
Indulge yourself in hearty Vietnamese Chicken Ragu.
Total time: 50 minutes
Speaking of a dish that is likely to have a French origin, Ga Roti is another must-try. The recipe is especially popular in Saigon.
Although the closest translation of this dish to English is rotisserie chicken, Vietnamese chefs don't actually roast the bird. Instead, they pan-fry marinated chicken thighs or drumsticks to give them a nice sear, then simmer them in coconut water until the sauce thickens.
The delicate balance of sweetness from the juice of coconut and savory spices in the marinade creates an irresistible coating for chicken. If you're looking for a dish that's sure to impress and delight the palate, look no further than Ga Roti!
Vietnamese herbal chicken soup is the perfect dish to enjoy when you're feeling under the weather. Made with a blend of aromatic herbs known to have anti-inflammatory and immune-boosting properties, like astragalus root and goji berries, this soup is both soothing and health-giving.
In terms of flavor, the plethora of herbs lends a unique and addicting taste to the dish. Plus, the aroma you'll feel when simmering this soup on the stove is simply out-of-this-world. Last but not least, the chicken is slow-cooked until melt-in-your-mouth tender.
Total time: 40 minutes
End your culinary journey with a dish that every Vietnamese kids knows and loves: Canh Ga Chien Nuoc Mam. With its prominent presence in Vietnamese cuisine, it's hard to find a dish that doesn't feature Nuoc Mam.
The sauce takes center stage in this recipe, infusing the chicken wings with its distinct, bold flavor. The secret to this dish lies in the perfect balance of Nuoc Mam, simple spices, like garlic and pepper, and a touch of cornstarch to add thickness to the coating.
You can enjoy the fish sauce-coated chicken wings on their own, but I highly recommend serving them with hot rice. The neutral taste of the rice serves as the perfect backdrop, highlighting the explosive taste of the chicken.
Master Canh Ga Chien Nuoc Mam in just under 3 minutes!
Enjoy Chicken In The Vietnamese Way!
As you can see, the Vietnamese are really experts in turning chicken into mouth-watering dishes. After reading today's post, I believe that you have got plenty of great cooking ideas for your next party or family gathering.
Is there any dish that I've missed? Feel free to let me know in the comment section. Since Vietnam has many great recipes, it's hard to list all of them in one go. Lastly, please share today's post to help it reach more people. Thank you very much!
Nutrition Facts
2 servings per container
---
Amount Per ServingCalories376
% Daily Value *
Total Fat 10.5g

16

%
Cholesterol 97mg

33

%
Sodium 601mg

26

%
Potassium 857mg

25

%
Total Carbohydrate 24.1g

8

%

Dietary Fiber 2.7g

8

%
Sugars 8.4g

Protein 35.4g

70

%
---
* The % Daily Value tells you how much a nutrient in a serving of food contributes to a daily diet. 2,000 calories a day is used for general nutrition advice.