Vietnamese chicken glass noodle soup (Miến Gà) is a dish I will never get tired of. It's a traditional recipe containing tender chicken and gelatinous cellophane noodles bathed in an oh-so-flavorful broth infused with aromatics and spices from Vietnamese cuisine.
On top of that, this noodle soup is surprisingly easy to make! Unlike authentic Vietnamese Pho Bo (beef Pho), which takes hours to simmer, you can whip up Mien Ga in about an hour with super simple steps. So why hesitate? Follow my recipe and make this uplifting noodle soup today!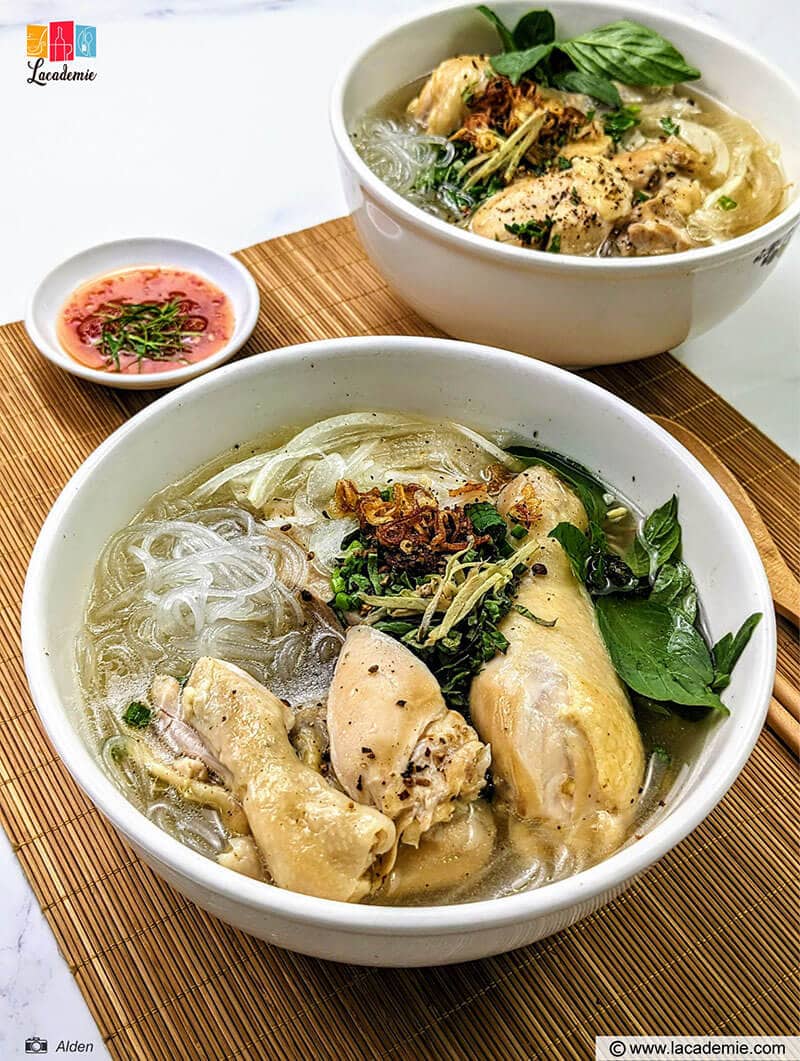 Things You'll Love About Mien Ga
It's hard not to love Mien Ga, especially if you're a fan of scrumptious Vietnamese noodle soup recipes. If you haven't tried this dish before, here are some reasons to give it a try.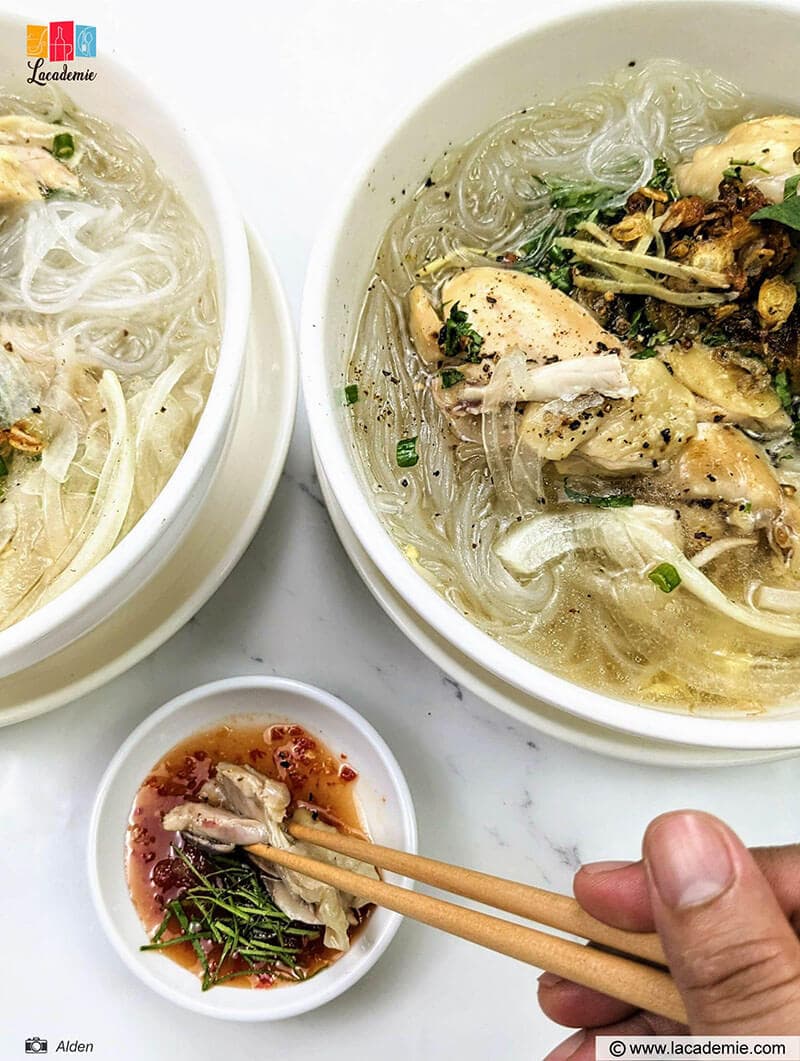 First, the broth is incredibly clear and flavorful, which is the result of simmering chicken with fragrant spices. This process also tenderizes the chicken without drying it out, so rest assured that it will still be juicy.
And let's not forget about the Mien (glass or cellophane) noodles. They are made from arrowroot, mung beans, or rice and have a nice chewiness, making them such a joy to slurp up. And they are versatile, too, as there are an array of Vietnamese delicacies that you can make with them besides Mien Ga.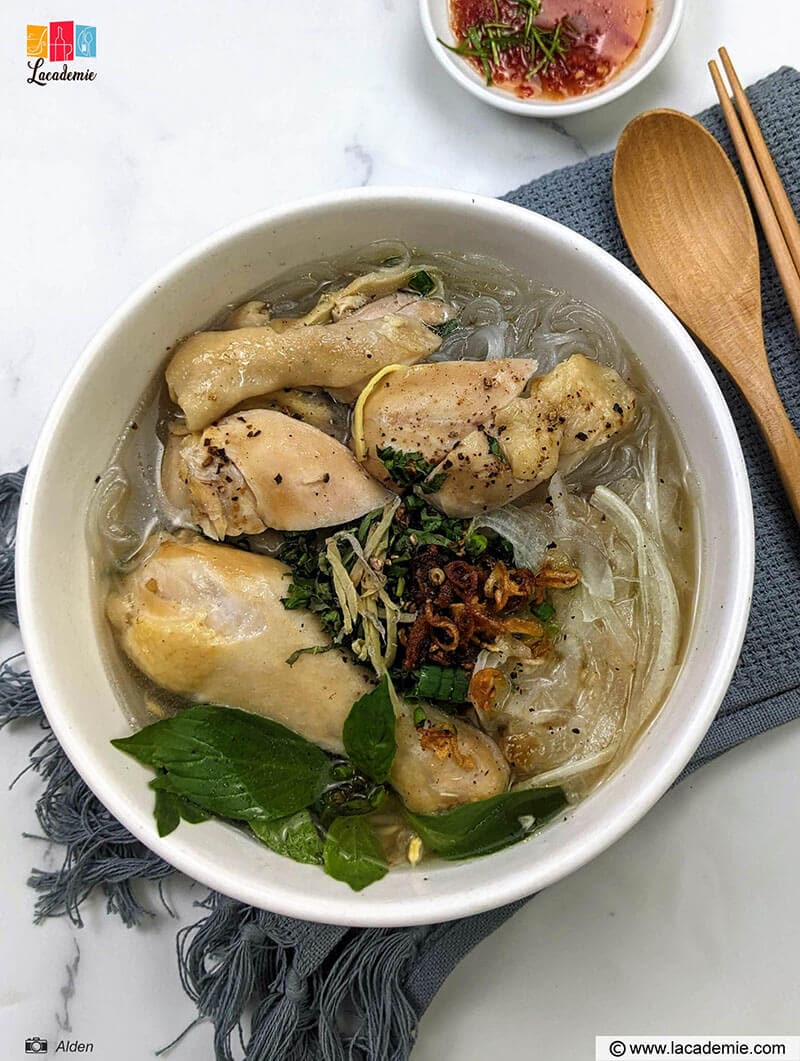 All in all, Vietnamese chicken glass noodle soup is a heartwarming dish perfect for any occasion. Being low in calories and rich in protein, it also makes for a healthy and energizing treat. In fact, people in Vietnam often enjoy Mien Ga on days when they feel sick or under the weather.
Tools
Let's first take a look at the list of kitchen tools needed for making Mien Ga. The cooking process will be much smoother if you prepare them all in advance.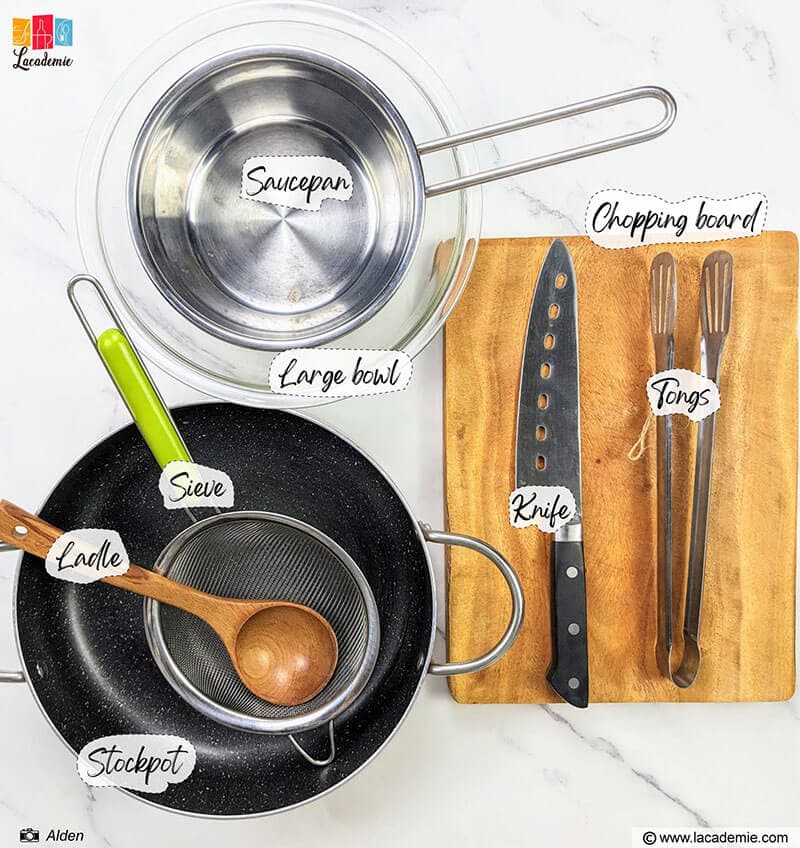 Stockpot: For cooking the chicken and the broth.
Saucepan: For blanching the noodles.
Ladle: For skimming the broth and spooning the noodle soup.
Sieve: Helps you drain the noodles.
Knife and chopping board: Basic but essential tools for cutting the ingredients.
Tongs: For transferring the chicken and vegetables.
Large bowl: I put the blanched and drained noodles in here.
Ingredients
After having the right tools, time to get the necessary ingredients. Here is the list:
Chicken drumsticks: Preferably from a free-range chicken. You can also use other cuts that you like or even a whole bird if cooking for many people.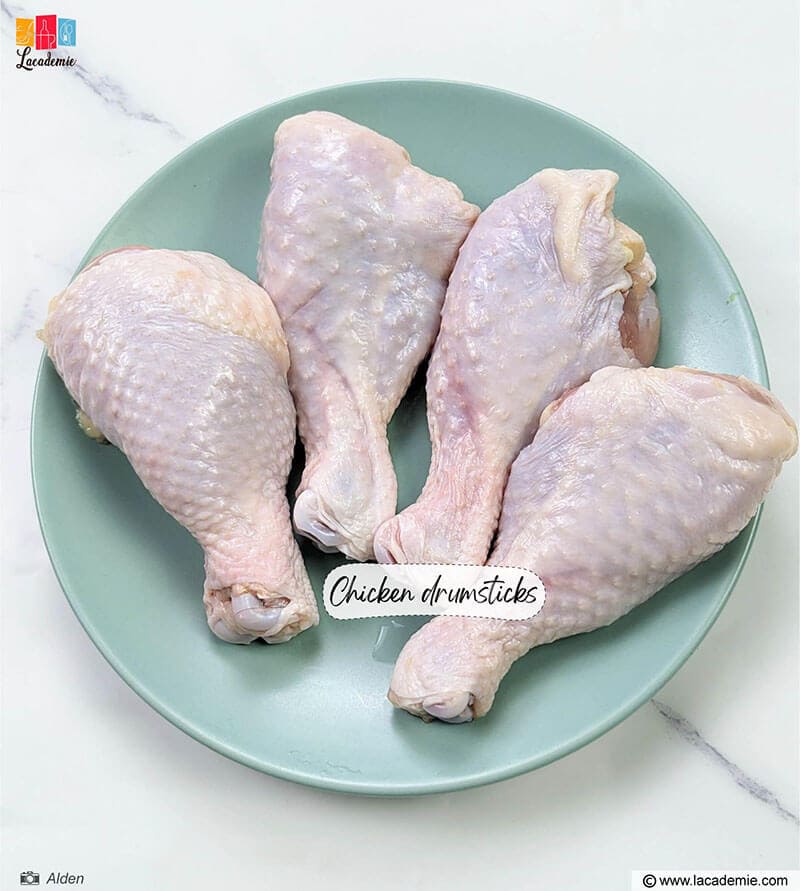 Glass noodles: Available in dry form in most Asian/Vietnamese stores. Be careful not to mistake it for vermicelli noodles.
Chicken broth: I prefer making my own chicken broth to using canned products. Feel free to go for the option most fitting for you.
Fried shallots: For garnishing.
Spices and seasonings: Onion, ginger, salt, sugar, and ground pepper.
Herbs, for serving: Scallions, cilantro, bean sprouts, laksa leaves, Thai basil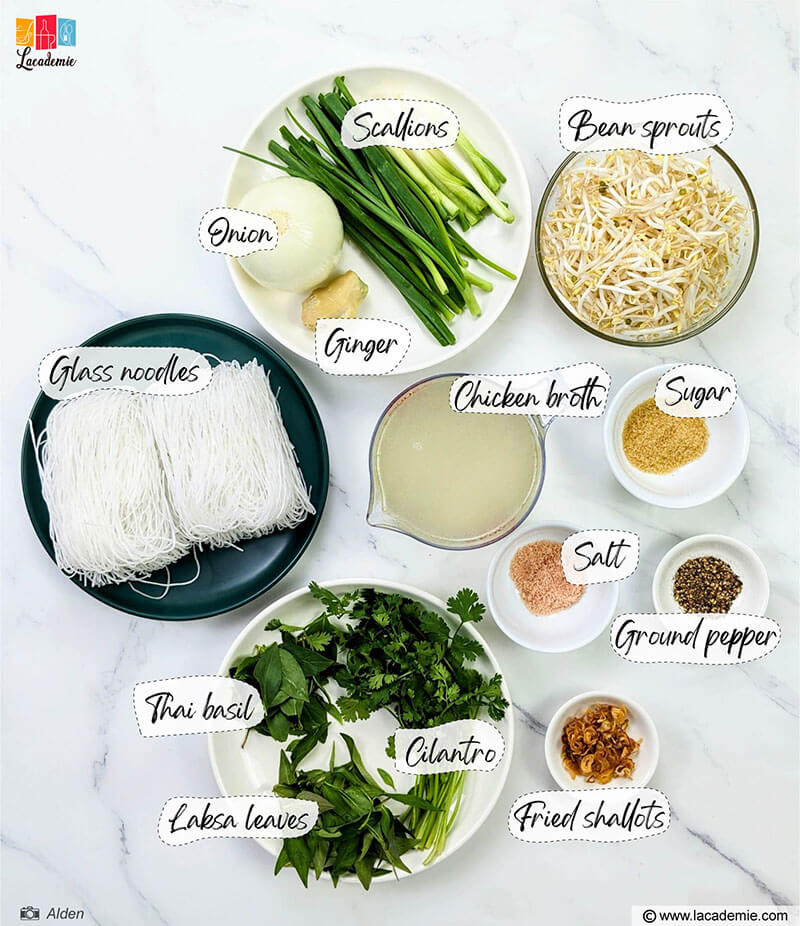 For the dipping sauce: Lime juice, chili pepper, sugar, and salt.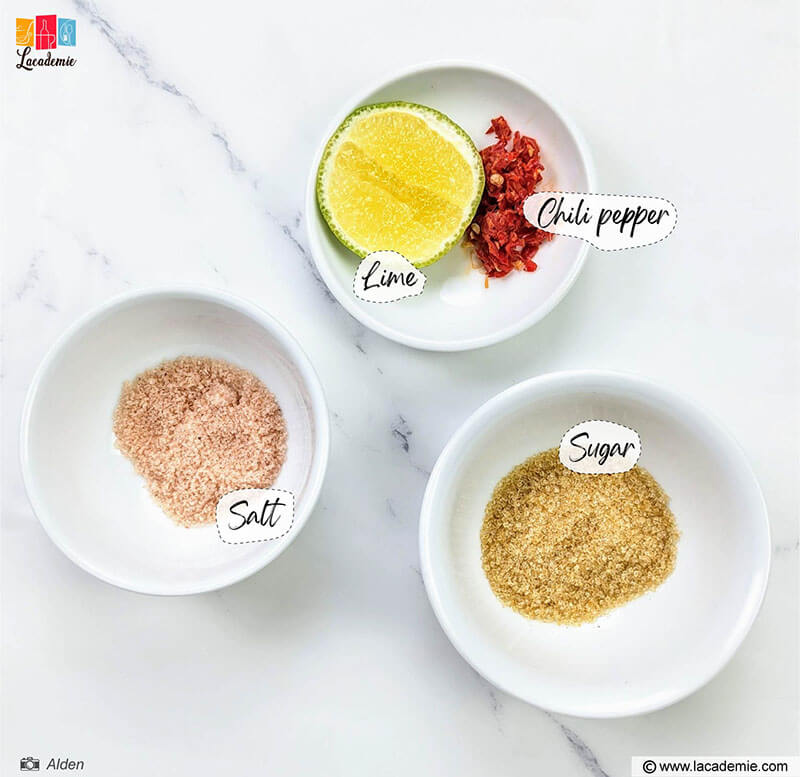 Directions
Ready to start cooking? I'm sure that you are! Check out the detailed instructions for making authentic Mien Ga.
Step 1: Prepare The Vegetables
Separate the white parts and green parts of the scallions. Keep the white parts (scallion roots) intact; you'll add them to the stock. Mince the green parts.
Cut the onion in half. Thinly slice one half and keep the other half uncut.
Cut half of the ginger into round slices. Julienne the remaining half.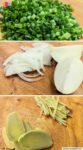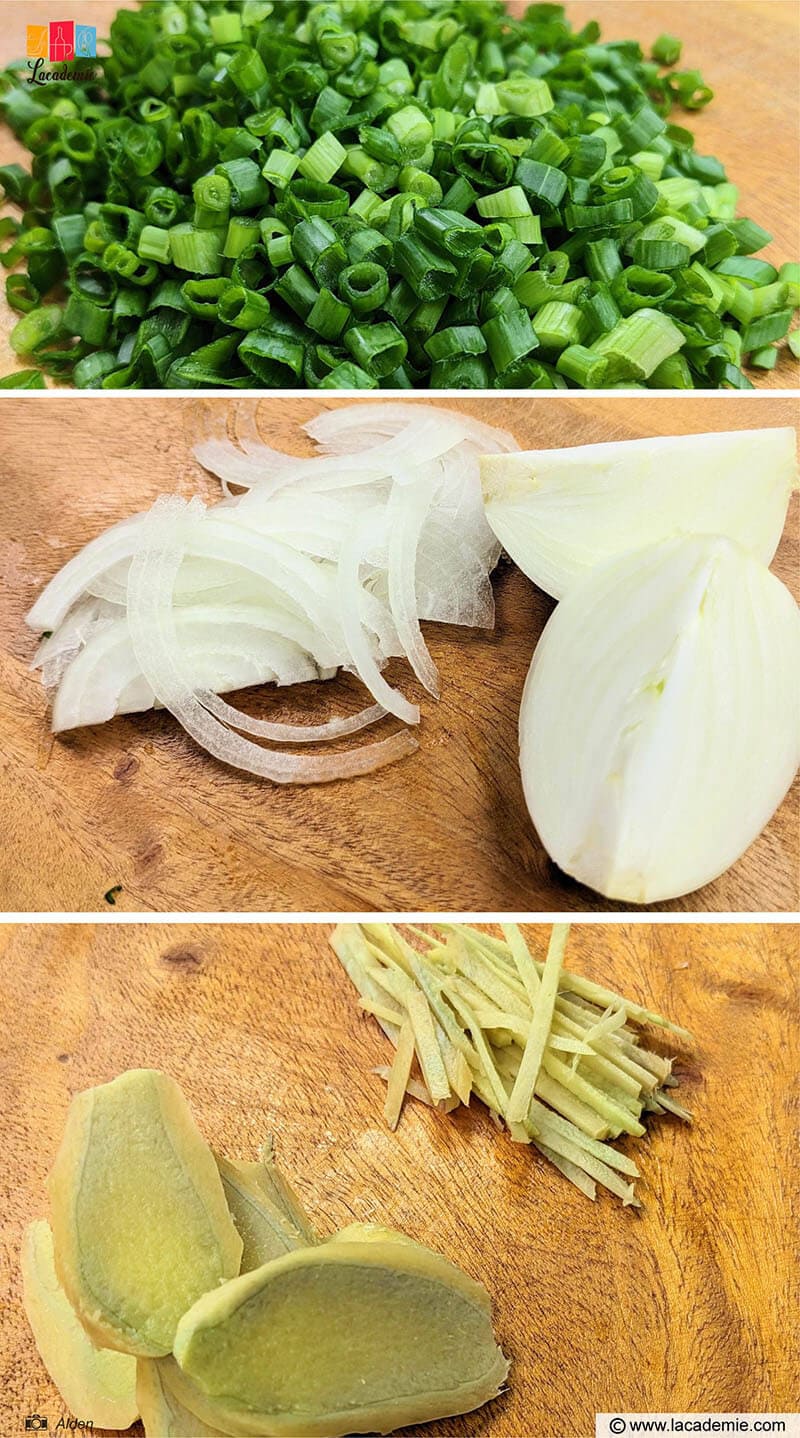 Finely chop the cilantro and laksa leaves.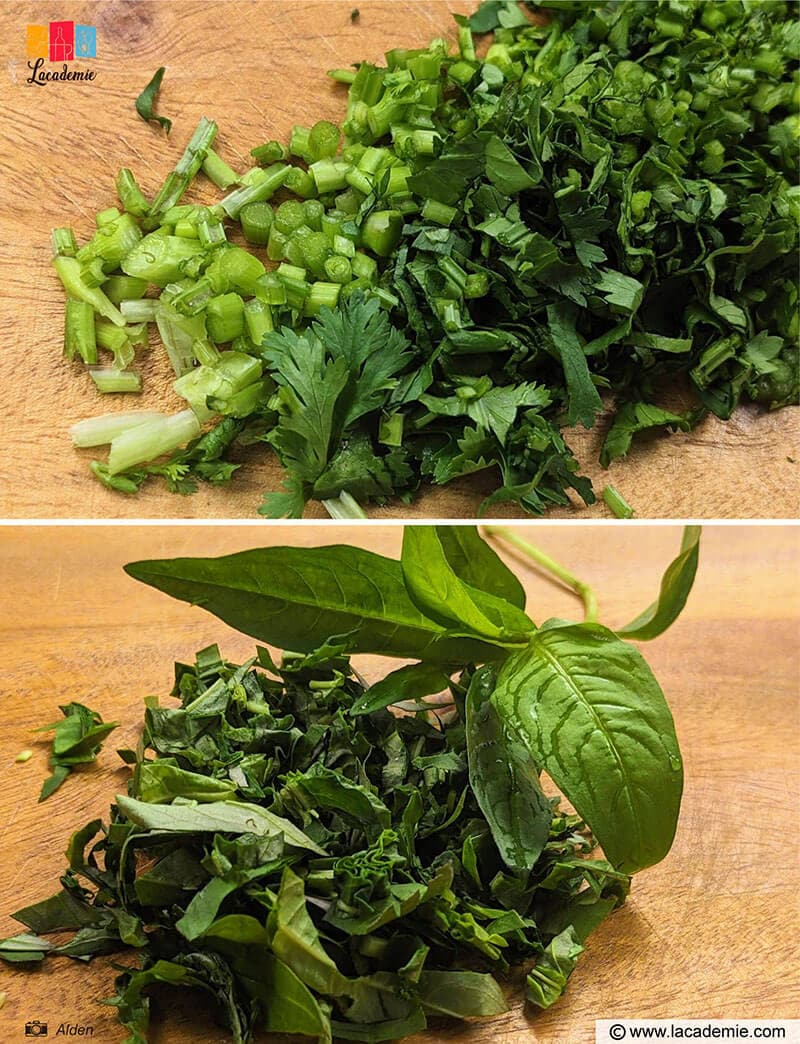 Step 2: Cook The Broth
Pour the chicken broth into a pot and bring it to a boil. Once the broth comes to a rapid simmer, turn the heat to high. Add the chicken and cook the broth to a rolling boil. Then, skim off the foam and reduce the heat to medium.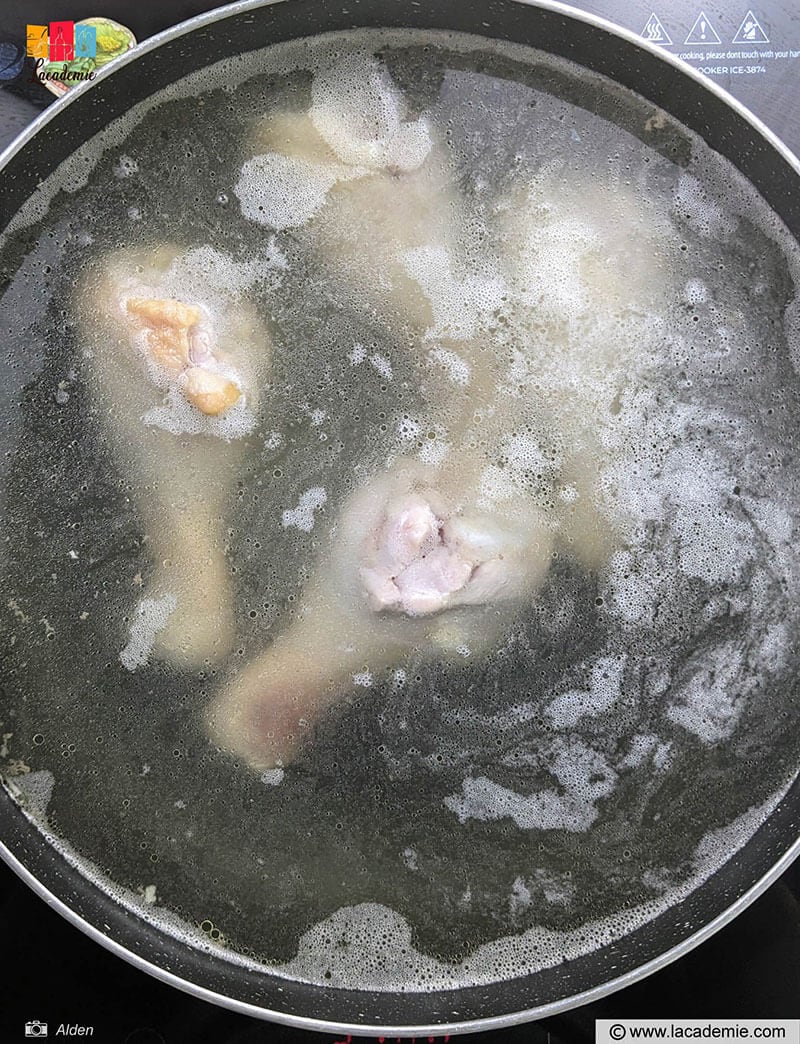 Add the uncut onion, ginger slices, and scallion roots to the pot. Simmer for about 30 minutes or until the chicken is cooked. Skim off the foam frequently.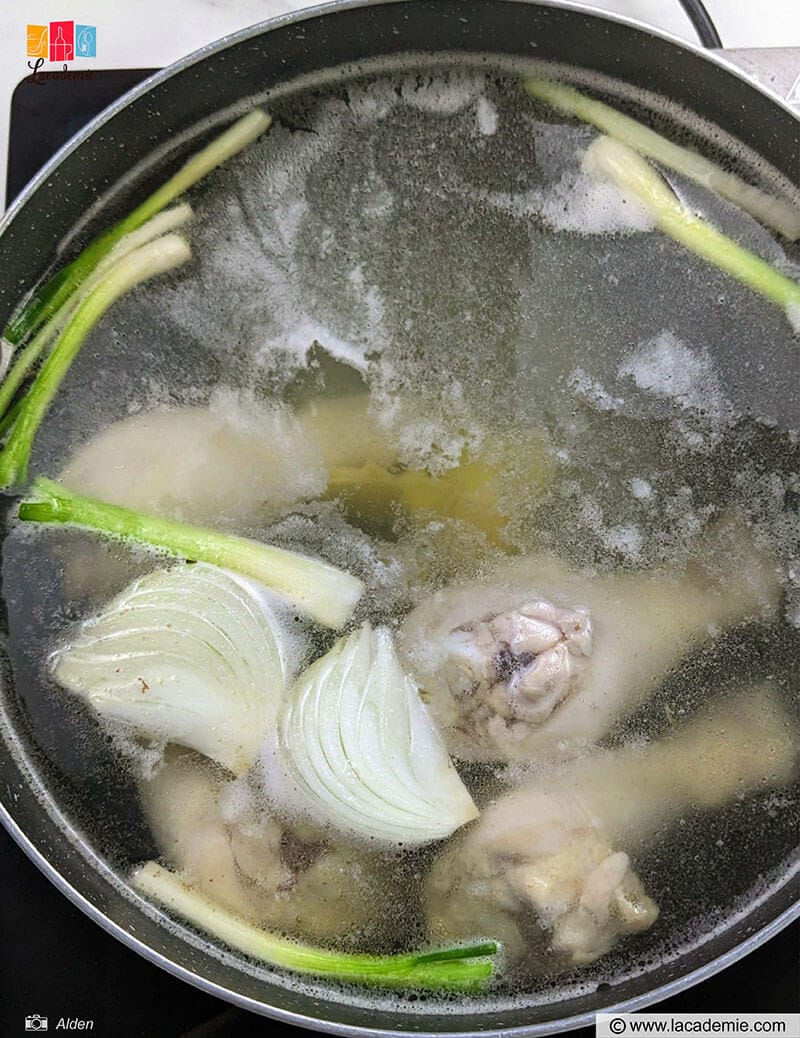 Then, remove the chicken drumsticks from the stockpot. You can either chop them into bite-sized pieces or leave them whole.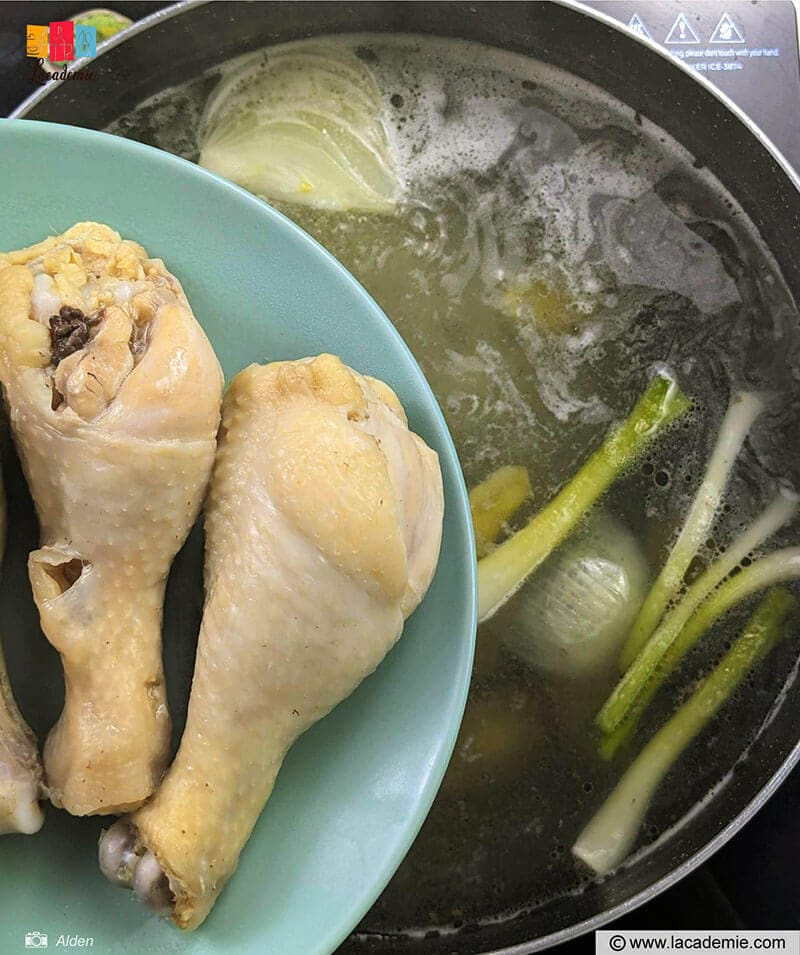 Season the broth with 1.5 tablespoons of salt and 1 tablespoon of sugar.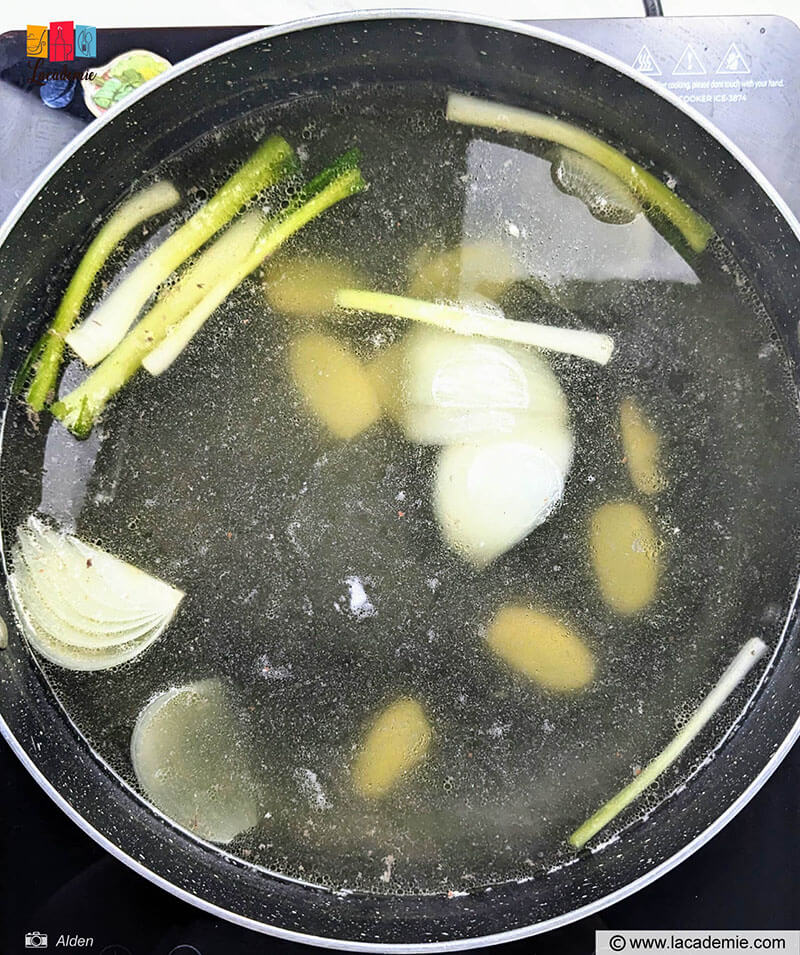 Step 3: Blanch The Glass Noodles
Fill the saucepan with water and bring it to a boil. Cut the heat and blanch the noodles for 3 minutes or until the noodles soften. Drain the noodles.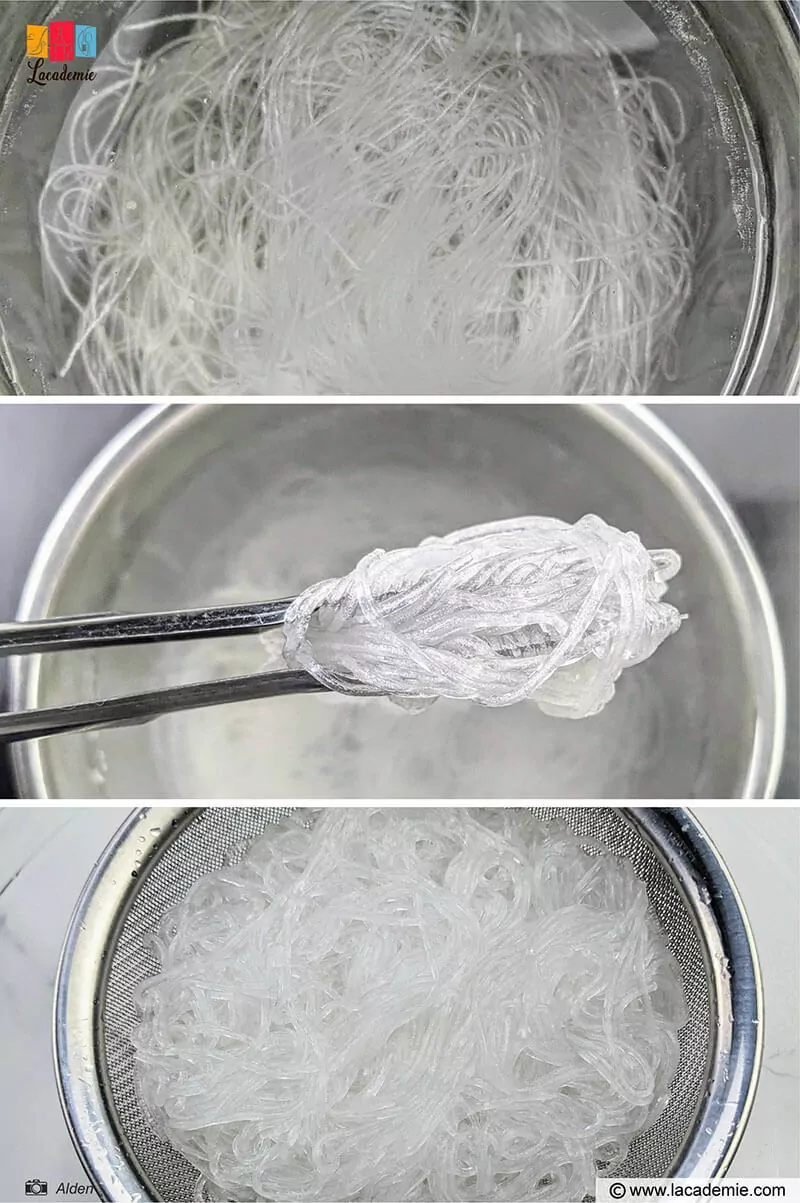 Step 4: Make The Dipping Sauce
Combine 1 teaspoon of sugar, 1 teaspoon of salt, 1 minced chili pepper, and juice of half a lime. Stir well, and your dipping sauce is done. You can add a few kaffir lime leaves, but this is completely optional.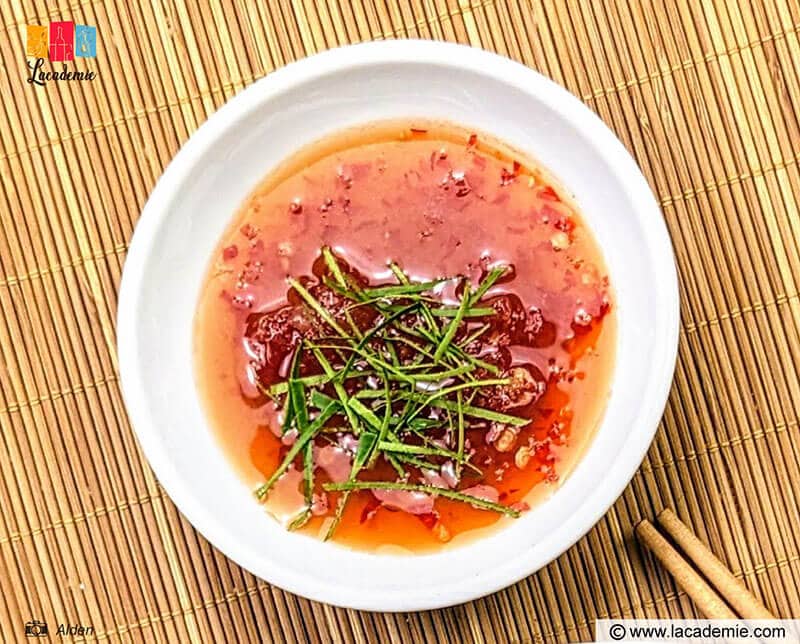 Step 5: Serve The Dish
Blanch the bean sprouts, then add them into a bowl together with the glass noodles. Place the chicken over the noodles. Pour the broth into the bowl and garnish it with the sliced onion, scallions, cilantro, laksa leaves, julienne ginger, and fried shallots.
Sprinkle a little ground black pepper on top, and enjoy!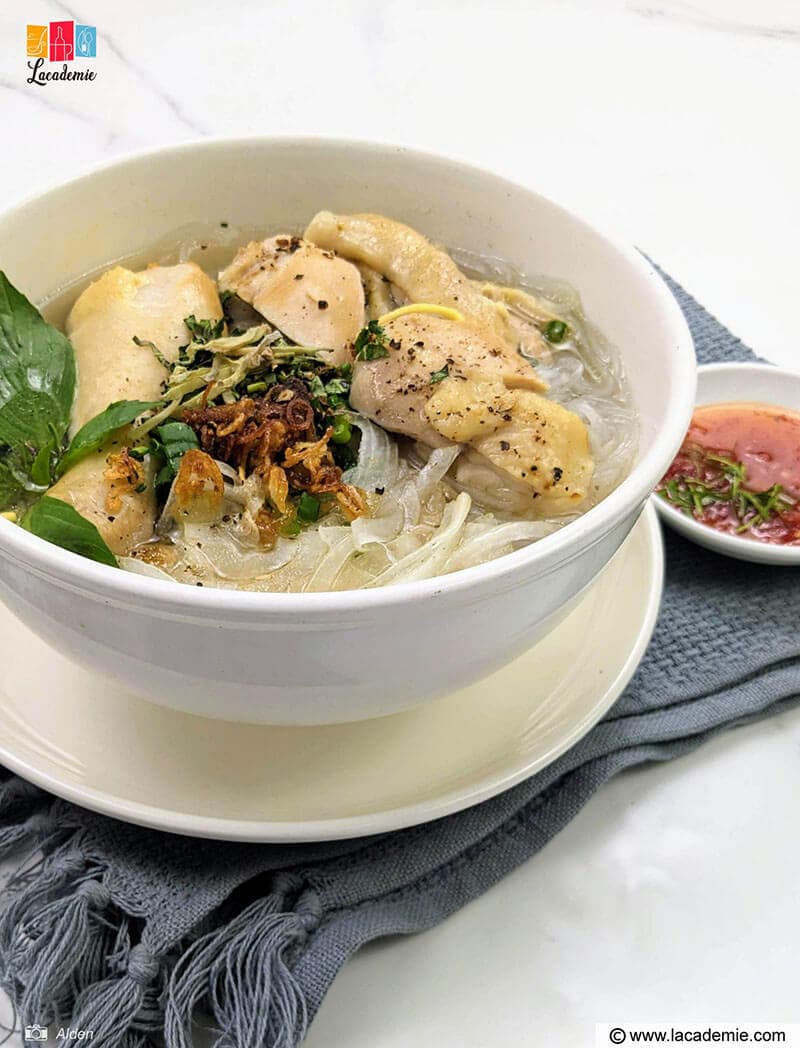 Tips And Tricks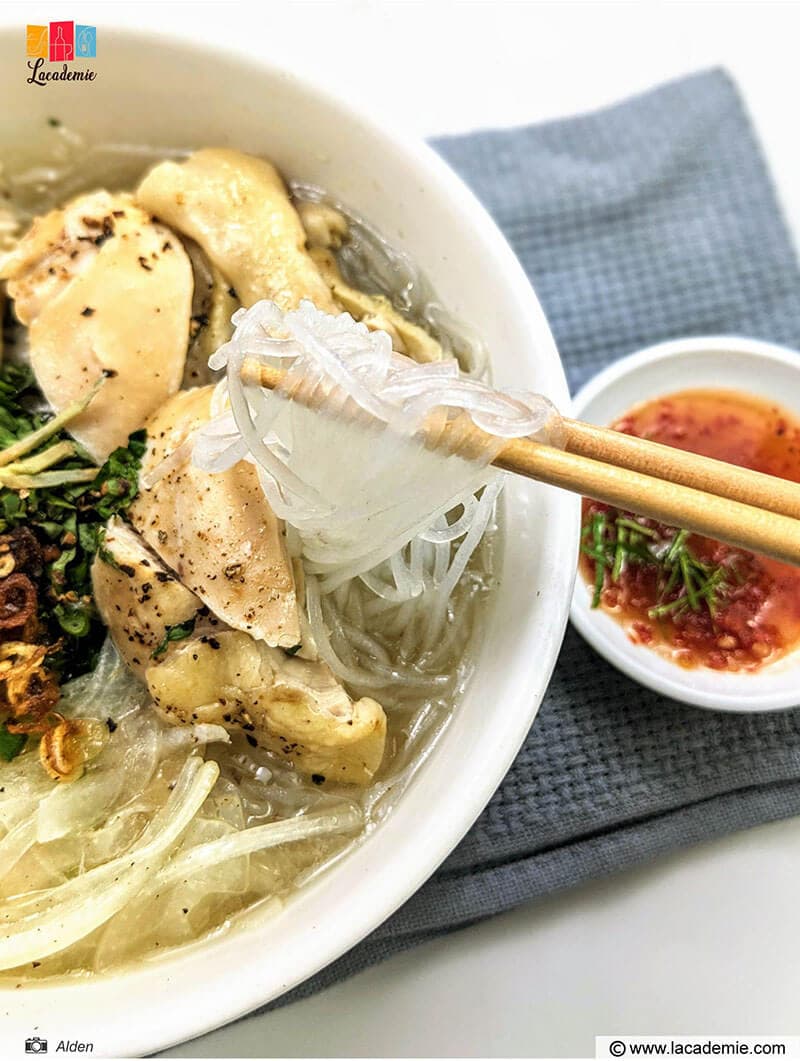 Now that you've learned the right way to cook Mien Ga, check out the following tips and tricks to level up your dish further.
Once you have poured the broth onto the noodles, you should enjoy your Mien Ga as soon as possible. Otherwise, the noodles will become mushy.
Arrowroot glass noodles (Mien Dong) are the best options for this recipe. However, mung bean glass noodles are great alternatives as well. As long as the noodles are long, gelatinous, and not mushy or broken apart, your Mien Ga will turn out delicious.
Use bone-in and skin-on chicken for the most flavorsome broth.
You can try making Mien Ga with shredded chicken. For this option, I recommend using chicken breasts instead of drumsticks.
How To Store And Make This Dish In Advance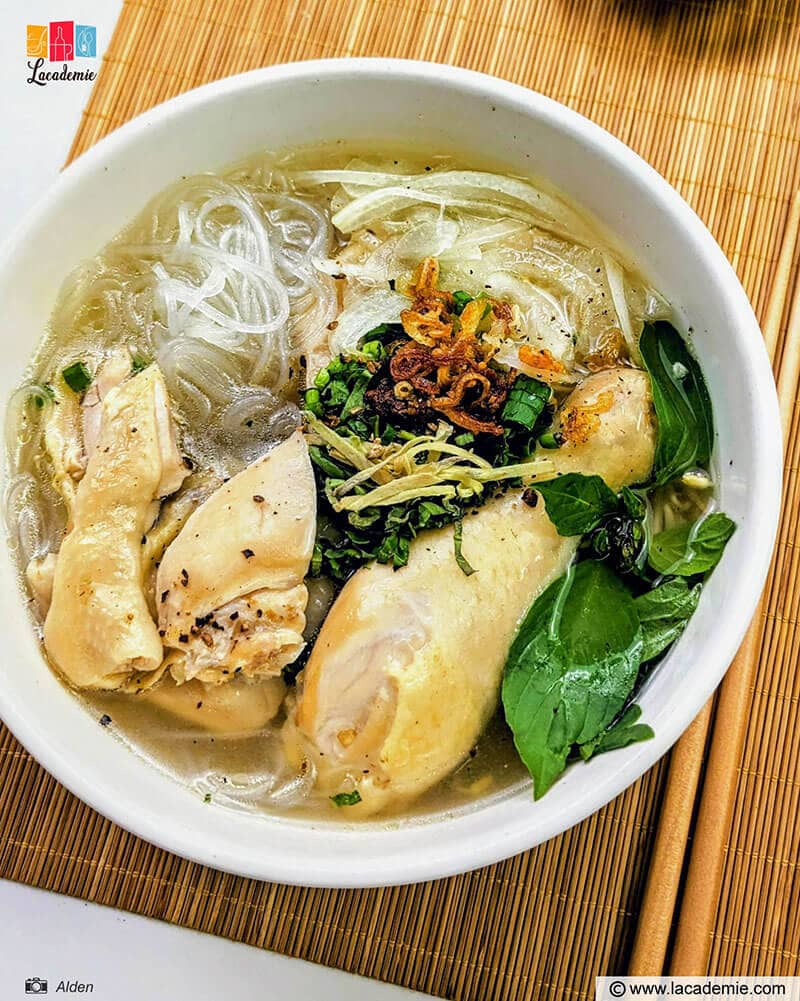 Mien Ga is a great dish to make ahead, as cooking the broth takes some time. In addition, the broth will even taste better when you reheat it.
If you want, you can cook the chicken and the broth a day in advance and store them in the fridge. Since it only takes about 5 minutes to blanch the noodles, I recommend cooking them right before serving the dish.
For storing leftovers, it's important to keep the noodles and the broth in different containers to prevent the noodles from getting soggy. The broth and chicken will last about 3 to 4 days when stored in the fridge and up to 3 months if frozen.
Variations You Can Try
If you have taken a liking to Vietnamese Mien Ga, there are a couple of variations that you should try!
Chicken glass noodle stir-fry (Mien Ga Xao): Glass noodles have a slightly chewy texture that is excellent for stir-frying. If you're experienced in cooking, you can impart a little "wok hei" during cooking and give the dish a unique smoky flavor.
Mixed chicken glass noodles (Mien Ga Tron): If you don't like the greasiness of stir-fried dishes, you can simply blanch the noodles and mix them with the chicken, hoisin sauce, and chili sauce. As for the chicken stock, pour it into a separate bowl and serve on the side.
Chicken glass noodles with baby bamboo shoots (Mien Mang Ga): This is closer to the classic version than the previous options. You can use either dried or fresh bamboo shoots for cooking.
FAQs
Last but not least, don't miss these frequently asked questions to gain a better understanding of this traditional Vietnamese dish!
Warm Up Your Soul With A Bowl Of Mien Ga
Mien Ga is a simple noodle soup that can lift up your mood with its impeccable aroma and delightful broth. The dish is also packed with health-giving ingredients, so don't hesitate to make it for your loved ones who are feeling down or ill.
What's your take on today's recipe? Do you run into any problems while cooking it? Please leave a comment to let me know if there are any improvements I can make in future posts. Also, a like and share would be greatly appreciated. And if you want to learn more tasty Vietnamese dishes, consider subscribing to Lacademie's Youtube channel!
Nutrition Facts
4 servings per container
---
Amount Per ServingCalories738
% Daily Value *
Total Fat 21.3g

33

%
Cholesterol 105mg

35

%
Sodium 3667mg

153

%
Potassium 522mg

15

%
Total Carbohydrate 98.5g

33

%

Dietary Fiber 4.6g

16

%
Sugars 7.8g

Protein 33.4g

66

%
---
* The % Daily Value tells you how much a nutrient in a serving of food contributes to a daily diet. 2,000 calories a day is used for general nutrition advice.