When it comes to the most well-loved Asian appetizers, Vietnamese egg rolls (or "Chả Giò") are certainly in the top spots. These rolls were a big part of my childhood, as my grandmother used to make them at every family gathering.
Crispy on the outside and flavorsome on the inside, Cha Gio is a perfect dish to enjoy with your loved ones on any occasion. The golden rolls can satisfy even the pickiest eater when paired with fresh vegetables and sweet-savory Vietnamese-style dipping sauce.
If you've been looking for a simple way to make this fantastic dish at home, you're in the right place. Check out today's recipe and cook delicious egg rolls for your family!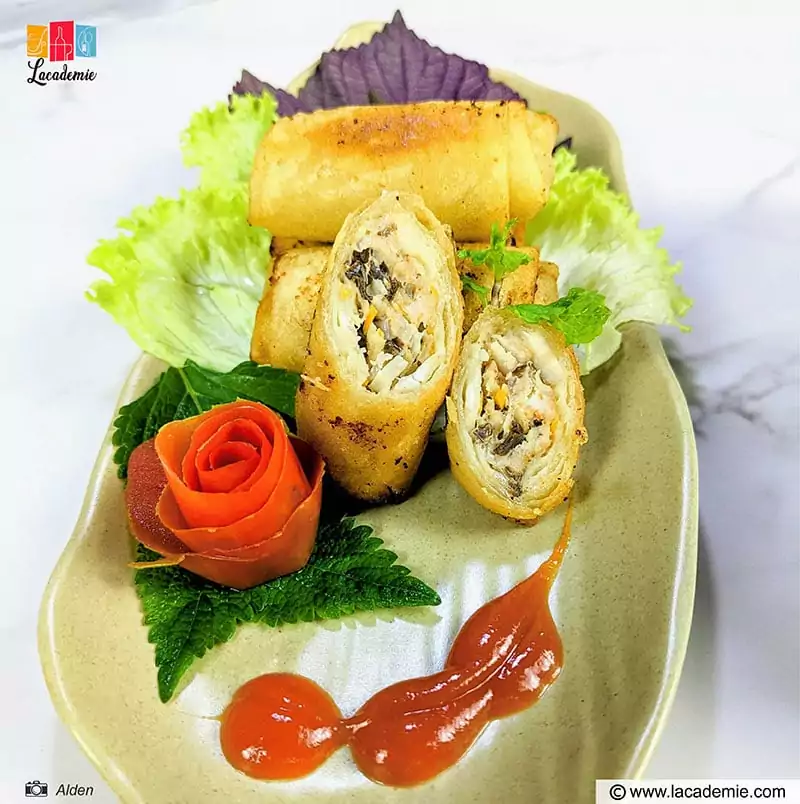 Cha Gio 101 – A Classic Vietnamese Dish
"Chả Giò" is a Vietnamese appetizer or side dish that includes ground meat and vegetables wrapped in rice paper (or other kinds of wrappers) and deep-fried. If you travel to the Northern part of Vietnam, the locals will call this dish "Nem Rán".
While ground pork is the most common choice for the filling, the Vietnamese also use shrimp, crab, chicken, or tofu (for the vegetarian versions). Depending on the household, some people like to add carrots and taro, while others prefer mushrooms or jicama.
People in Vietnam usually serve Cha Gio at the start of a formal banquet. They also enjoy these rolls with rice or vermicelli noodles in family meals.
Necessary Tools
The following kitchenware are all you need to cook up some yummy Vietnamese egg rolls.
Paper towels: For absorbing the excess oil.
Pan: For frying the rolls (preferably a heavy-bottom pan).
Tongs: For handling the egg rolls. You can also use a pair of chopsticks.
Knife: For cutting up the ingredients.
Chopping board: Provides a flat and nice surface for cutting.
A large bowl: For mixing the meat filling
Basting brush: For brushing the edge of the rolls with eggs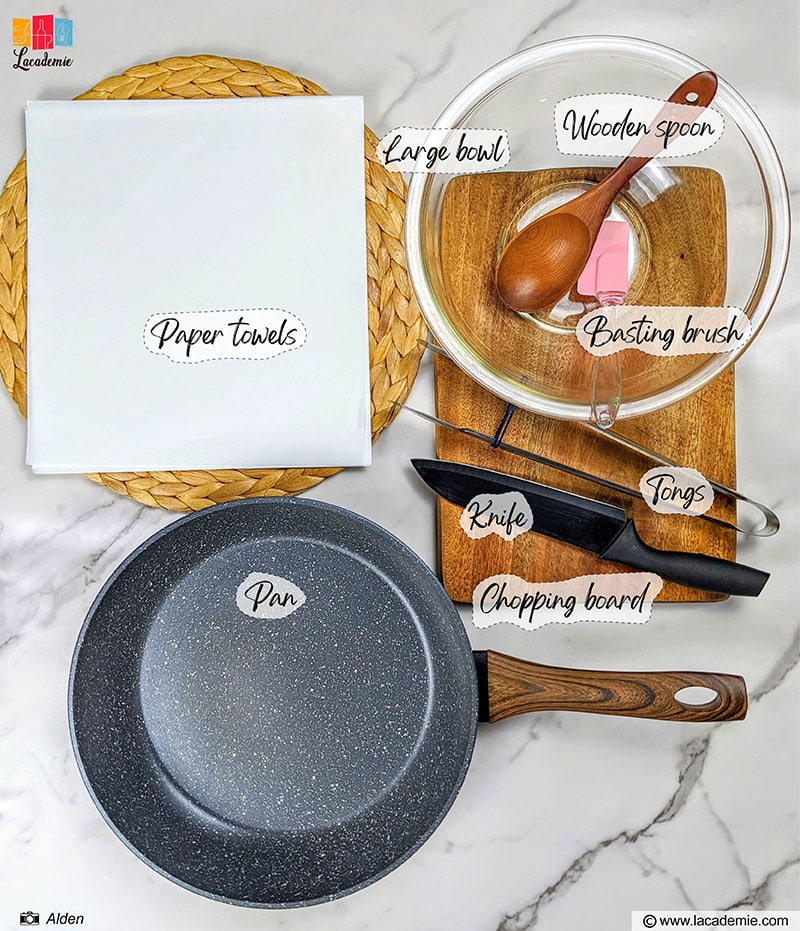 Ingredients
To gather all the needed ingredients, I suggest taking a quick trip to the nearest Asian store or market.
Ground pork: The most popular meat choice for the filling.
Ground shrimp: Gives the filling a more diverse texture.
Wood ear mushrooms: Mild-tasting mushrooms that absorb other spices really well. They are a bit chewy when cooked.
Shallots: Adds more aroma to your egg rolls.
Carrot: Brings a little sweetness and a crunchy mouth-feel to the dish. Its bright orange color also adds to the visual appeal.
Taro: A root vegetable that's quite similar to potato in texture once cooked.
All-purpose spring roll wrappers: For wrapping the rolls. Some recipes might ask for rice paper, but I prefer this type of wrapper.
Egg: For sealing the edge of the rolls.
Fish sauce: Remember to buy Vietnamese-style fish sauce.
Oyster sauce: A little oyster sauce will add depth to the flavor.
Sugar, salt, and pepper: Basic spices for pretty much every recipe.
Cooking oil: For frying the rolls. Opt for a type of oil with a neutral flavor, such as vegetable oil.
Fresh vegetables: lettuce, spearmint, beefsteak plant, Vietnamese balm. For serving with the rolls.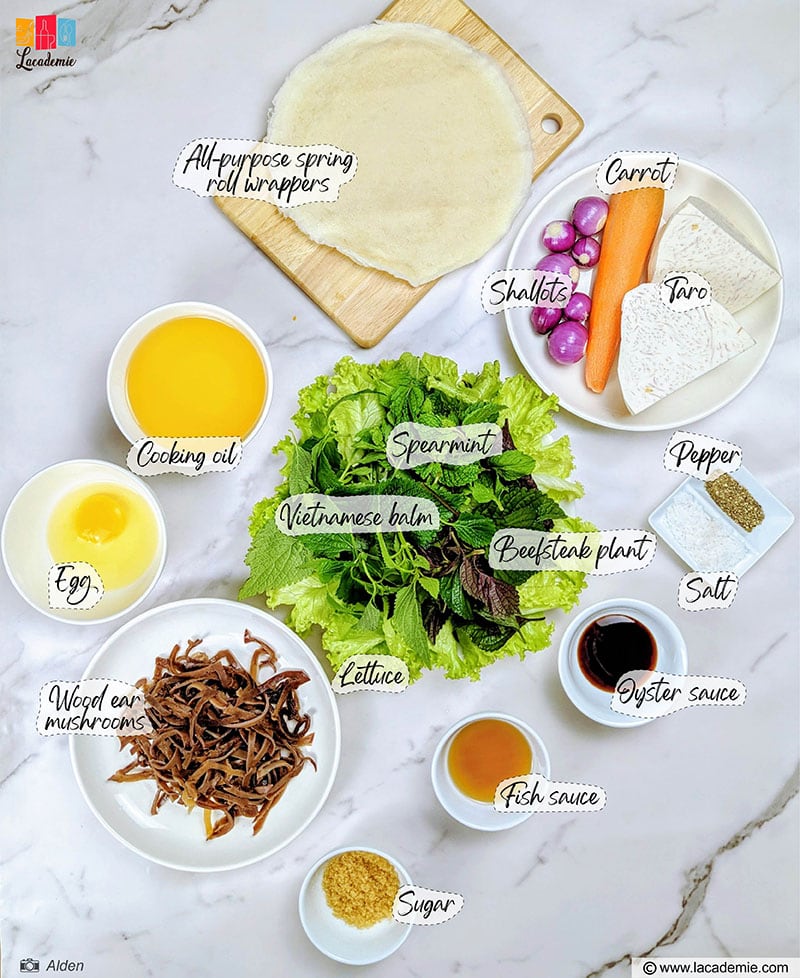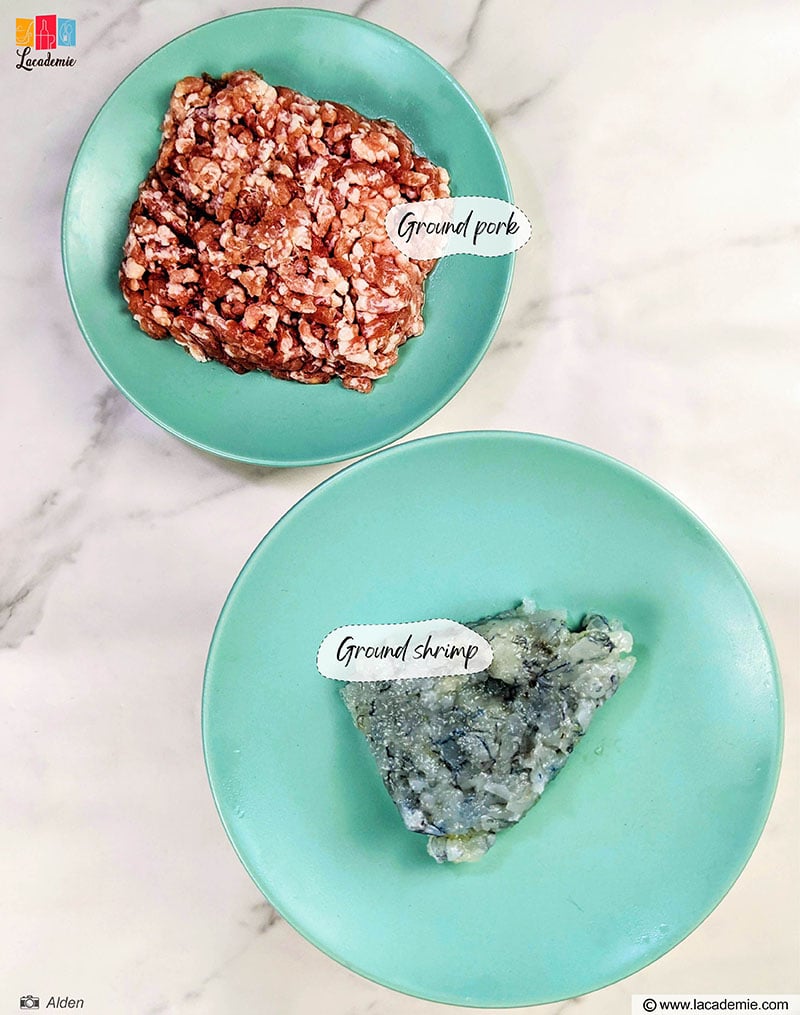 Instructions
Now that you've had all the required tools and ingredients, it's time to cook! Follow these steps for a tasty Vietnamese-style appetizer.
Step 1: Prepare The Filling
Slice the taro, wood ear mushrooms, and carrot thinly. Mince the shallots.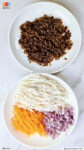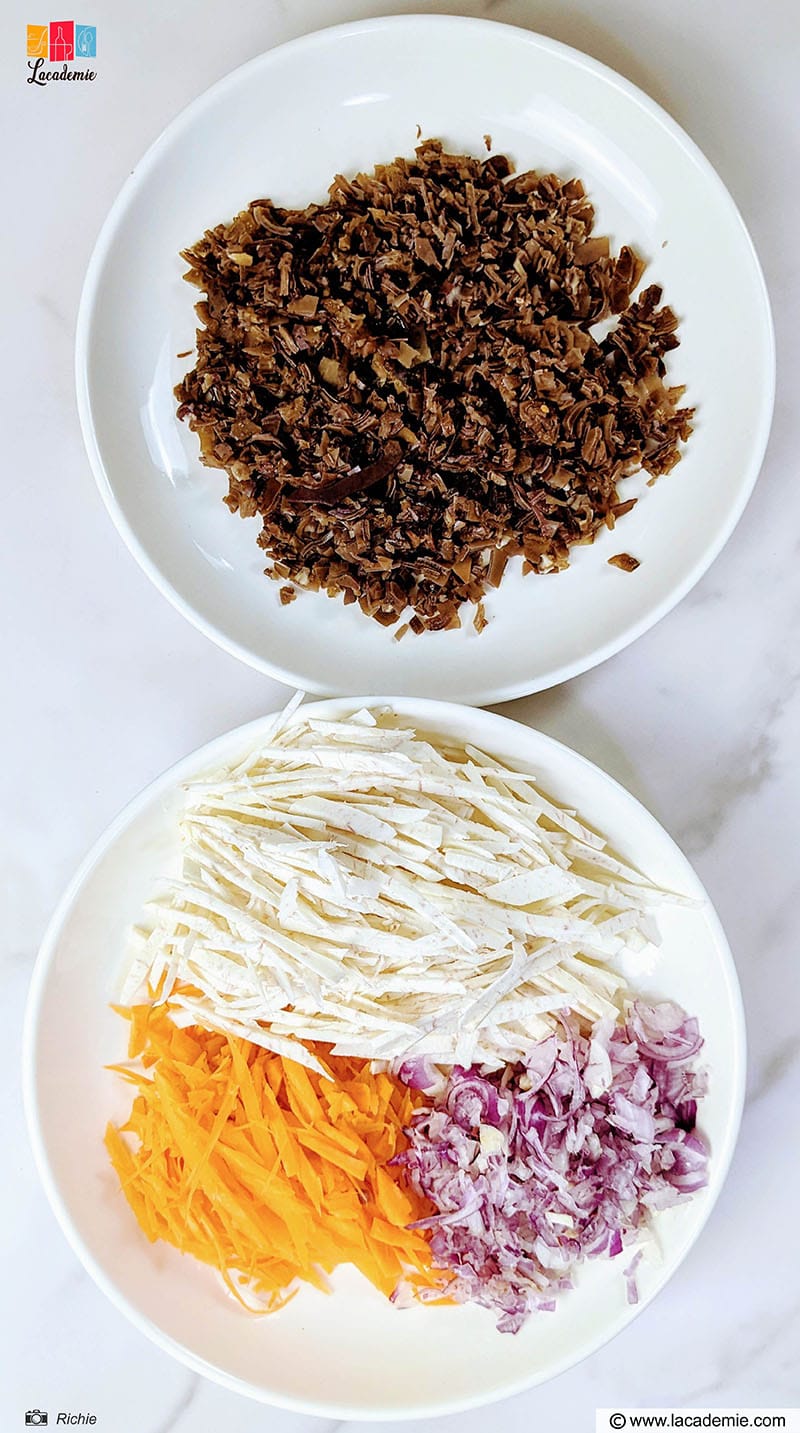 Put the ground pork, ground shrimp, taro, carrots, wood ear mushrooms, and shallots in a large bowl.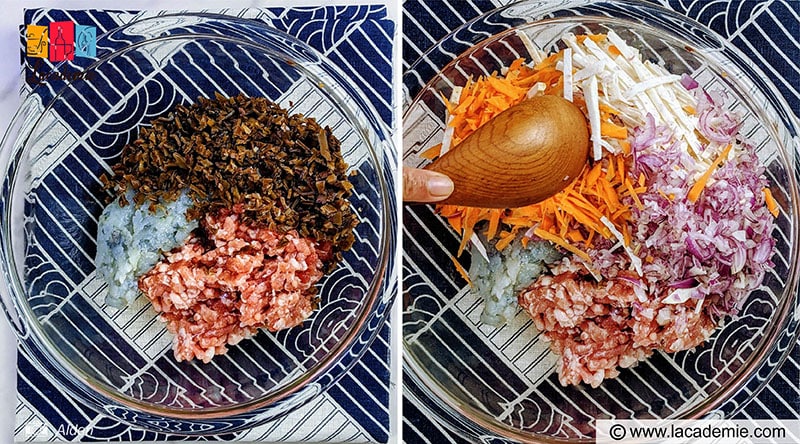 Next, season the mixture with 1 tablespoon of fish sauce, 1 teaspoon of pepper, ½ teaspoon of salt, 1 tablespoon of sugar, and 1 tablespoon of oyster sauce. Mix well and refrigerate the filling for 20 minutes.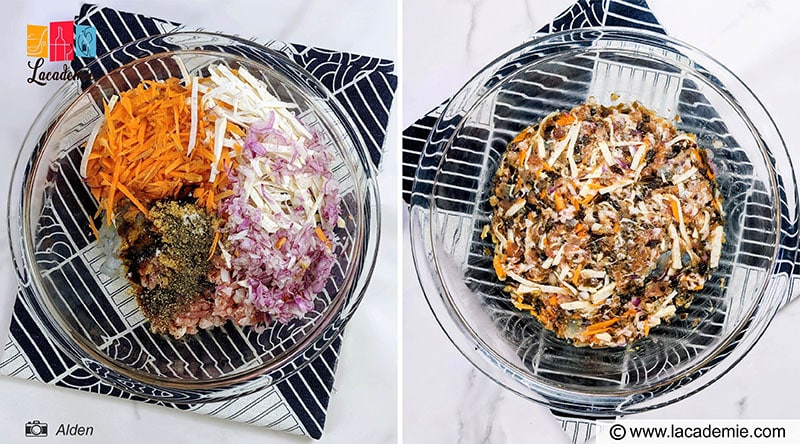 Step 2: Make The Egg Rolls
Beat an egg in a small bowl. Next, spread a wrapper on a flat surface.
Fold one end of the wrapper and place some filling on the folded part. Don't add too much filling, or the rolls might break apart.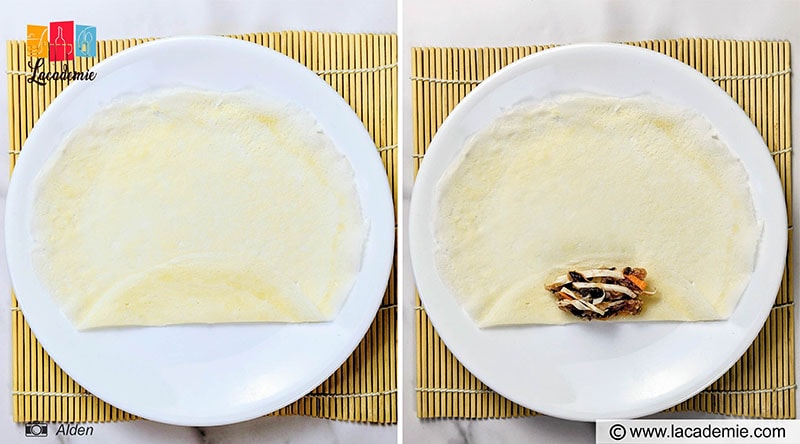 Then, fold the two sides of the wrapper over the filling.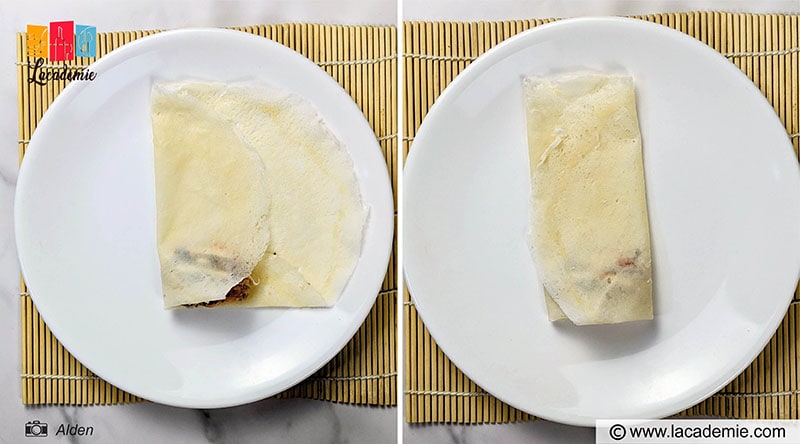 Carefully roll the wrapper up. Use the beaten egg to seal the edge to help the roll keep its form when frying.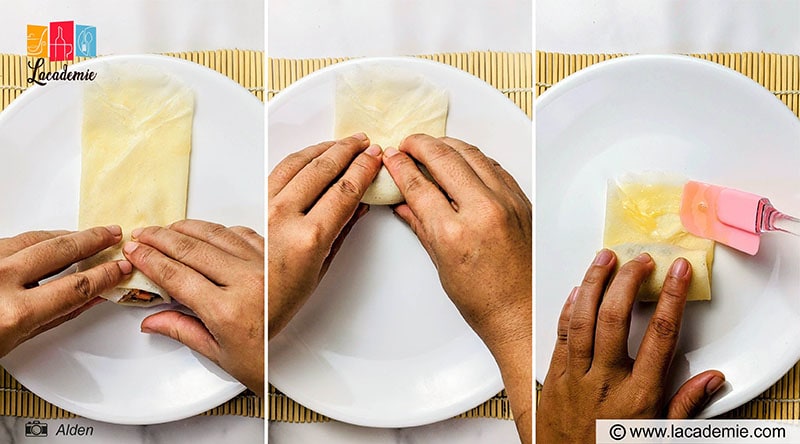 Place the finished rolls on a plate. Repeat the above steps until you run out of the filling.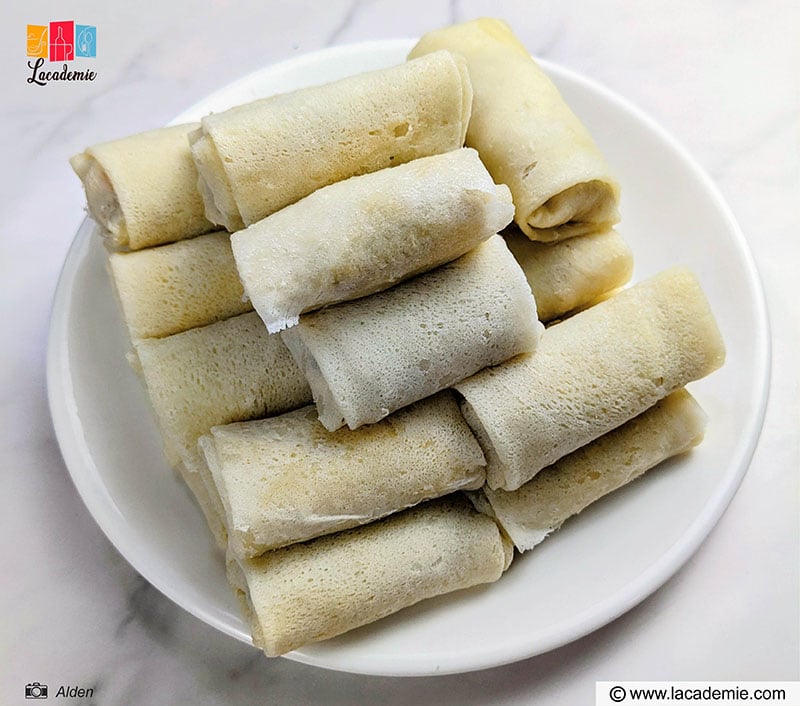 Step 3: Fry The Egg Rolls
Pour cooking oil into a pan. You should add enough oil to cover the egg rolls slightly. Once the oil is heated, add the rolls and fry them over medium heat until golden brown and crispy. Remember to flip them occasionally so all sides are cooked.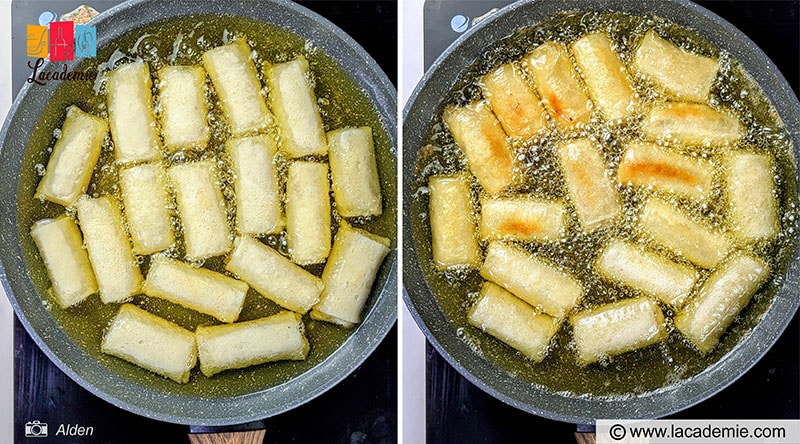 Lastly, transfer your perfectly cooked Cha Gio onto paper towels to absorb the excess oil.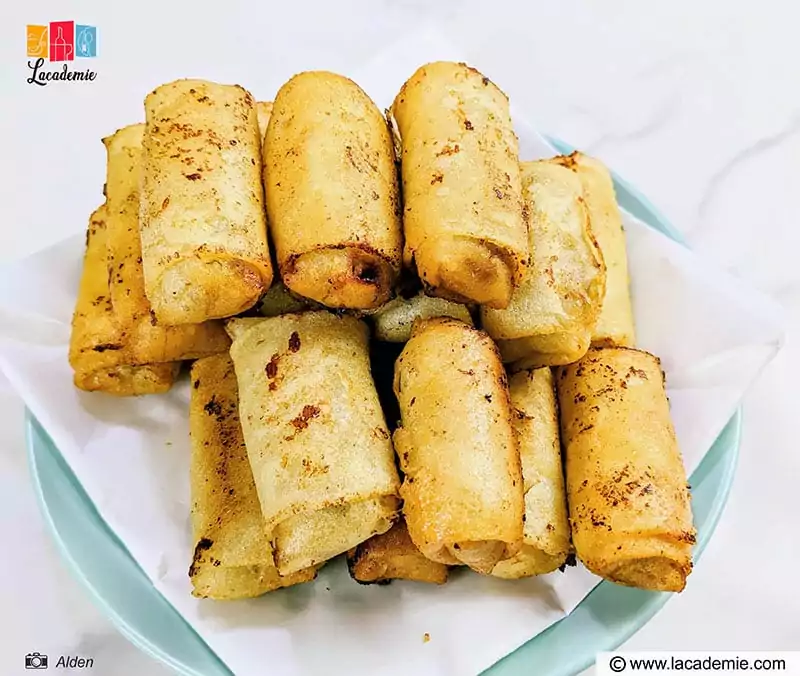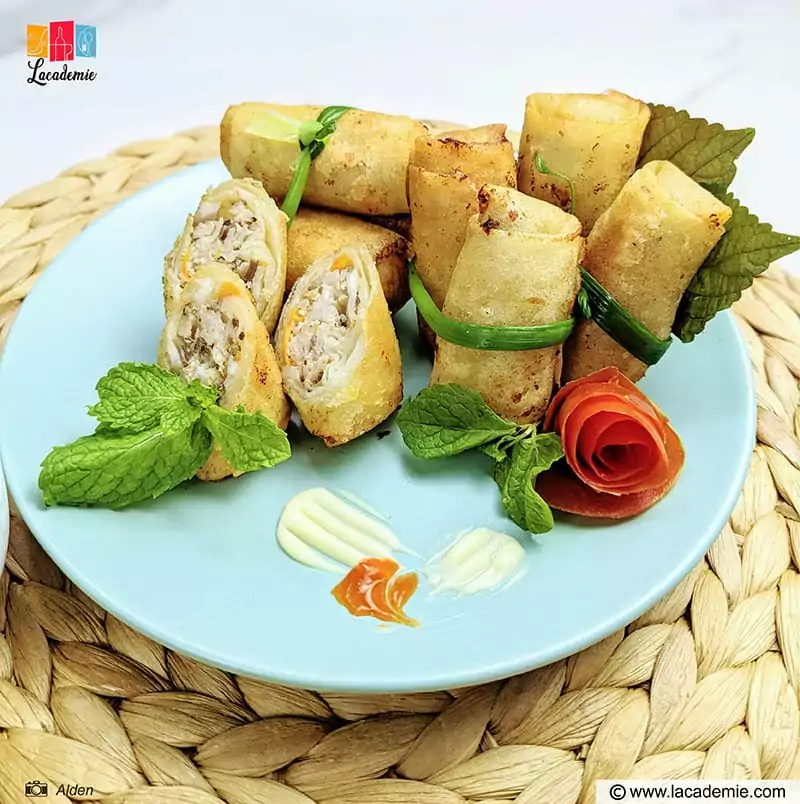 Need Some More Tips? Check These Out!
The section will provide you with handy tips and tricks to improve the texture of these rolls and help you make them easier.
If the wrappers stick together and are a bit moist, try placing them in the fridge for about 30 minutes to 1 hour.
Avoid frying the rolls on high heat, as doing so will cause them to be raw on the inside yet burnt outside.
To keep the rolls' crispiness for longer, you can use the "double fry" trick. First, fry them on low heat to cook the filling, then drain off the excess oil. When you're about to serve the rolls, fry them a second time until crispy.
To prevent the rolls from breaking apart during frying, don't wrap them too tightly or loosely.
Add a few drops of lemon juice when frying the rolls to improve their crispness.
You can use water to seal the edge instead of beaten eggs.
Once you've finished wrapping the rolls, refrigerating them for 15 to 20 minutes before frying will result in crispier results.
Fry the rolls in small batches to prevent them from sticking together and tearing in the pan.
If you own an air fryer, you can use it for cooking the rolls. I recommend frying for about 10 minutes at 325 degrees F or for 5 minutes at 350 degrees F.
The Best Way To Serve And Store Egg Rolls
Cha Gio makes for an excellent appetizer when served with fresh vegetables. Moreover, these egg rolls also taste phenomenal when paired with rice or vermicelli noodles.
The locals especially love to enjoy them with Vietnamese Bun Thit Nuong. You can dip them in sweet and savory fish sauce, chili sauce, or a mixture of mayonnaise and chili sauce.
For the leftover rolls, put them in airtight containers and refrigerate them for up to 4 days. When you need to reheat the Cha Gio, air fry them for about 5 minutes at 325 degrees F or let them sit in the oven at 350 degrees F for the same amount of time.
Moreover, you can also freeze the uncooked rolls in freezer-safe containers for up to 3 months. Better yet, you don't need to defrost them before frying. Simply add about 5 minutes to the cooking time.
Let These Egg Rolls Start Your Meal With A Bang!
Vietnamese egg rolls will always be on my list of the most delicious dishes of all time, and after this post, I'm certain that it will be on yours, too! Although you might find wrapping the Cha Gio a bit tricky at first, your efforts will pay off in the end.
Since there's no "wrong way" to make the filling, feel free to alter the recipe and create your version of Cha Gio! Are you having a blast with these scrumptious rolls? If yes, please press the like button and share this recipe with your families and friends!
Nutrition Facts
20 servings per container
---
Amount Per ServingCalories165
% Daily Value *
Total Fat 4.8g

7

%
Cholesterol 49mg

17

%
Sodium 500mg

21

%
Potassium 78mg

3

%
Total Carbohydrate 17.9g

6

%

Dietary Fiber 0.5g

0

%
Sugars 1.7g

Protein 11g

22

%
---
* The % Daily Value tells you how much a nutrient in a serving of food contributes to a daily diet. 2,000 calories a day is used for general nutrition advice.