Vietnamese sesame balls (Bánh Cam) are delightful sweet treats with crispy outer shells wrapped around sweet mung bean paste filling. They have been one of the most well-loved street foods in the country forever and were mentioned by CNN in their list of 30 best fried foods in the world!
If you love trying out new and exciting desserts, this is the recipe for you. They work great as snacks, too, so you'll also have something tasty to munch on during the day. And if you want, you can also enjoy them for breakfast. Sounds good? Let's learn how to make these delicious sesame balls!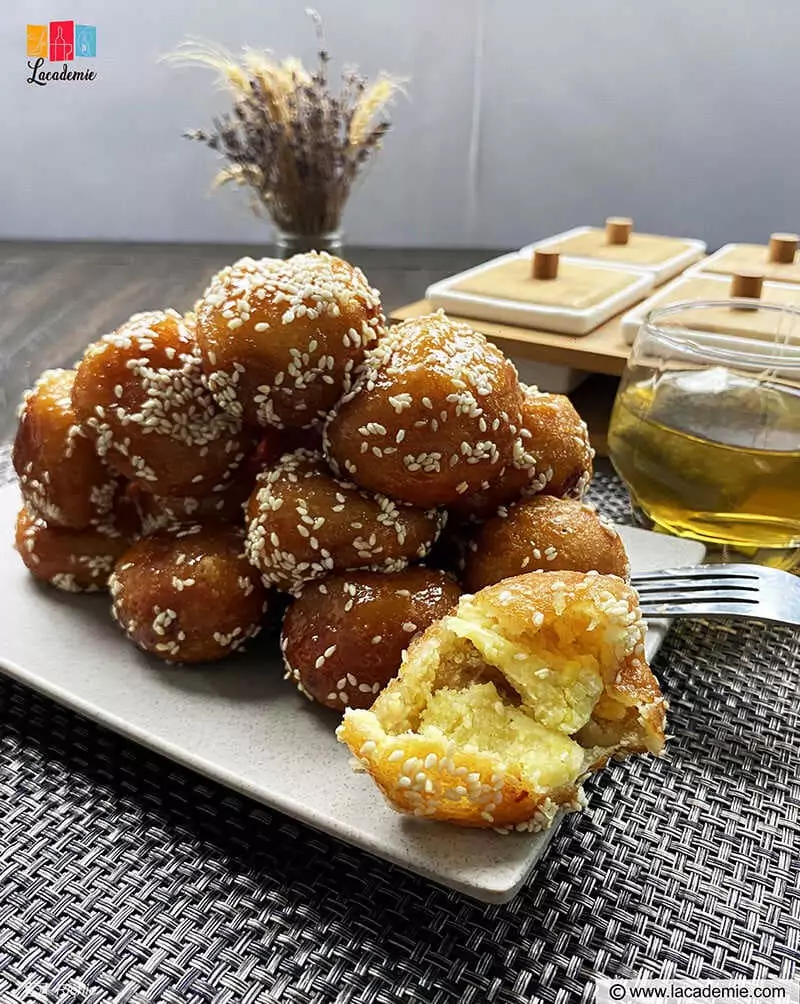 What Is Vietnamese Banh Cam?
Banh Cam is a traditional Vietnamese sweet treat featuring a crunchy shell made from glutinous rice flour and a mung bean filling. The dough is shaped into ball forms, fried to perfection, then rolled through sugar syrup and sesame seeds.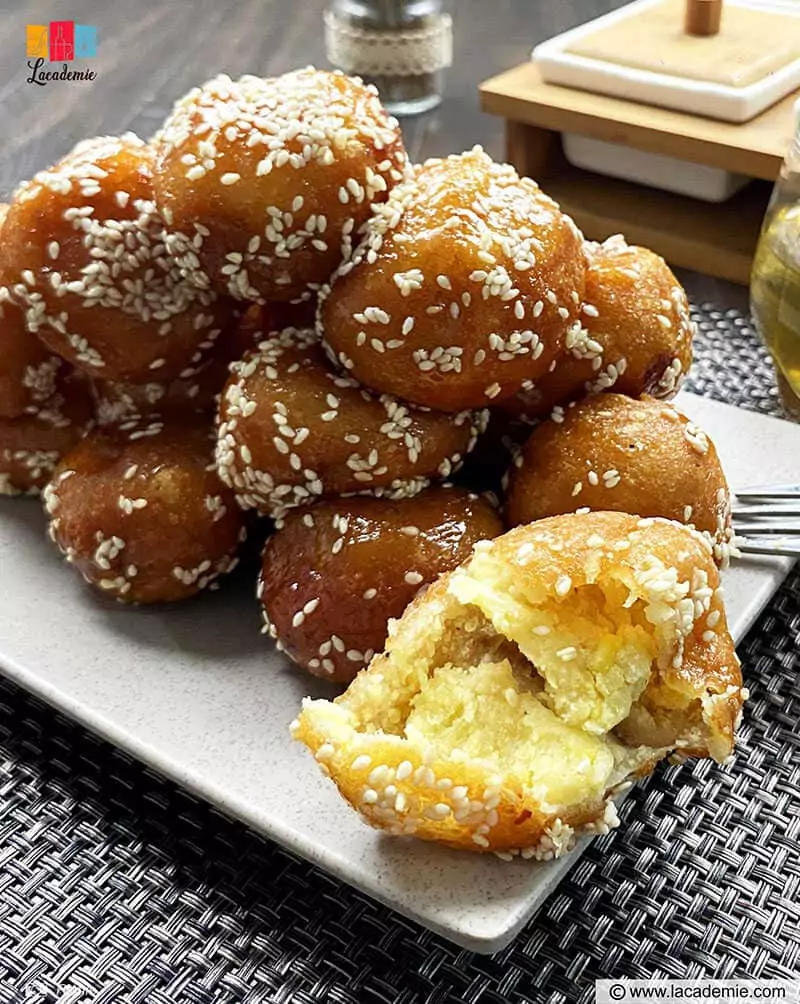 Banh Cam literally translates to "orange cake", but don't expect to find any orange flavor in these treats. In fact, this name is simply a reference to their appearance, which somewhat resembles an orange. In Northern regions, the locals call this dessert and snack Banh Ran, meaning "fried cake".
Some people believe that Banh Cam is inspired by Jian Dui, a Chinese fried pastry with a similar shape. However, Jian Dui's filling typically consists of lotus paste, red bean paste, or sweet black bean paste.
Tools
First, let's go over all the tools you need to cook this recipe. The good thing is that all of them are basic kitchenware that you should already have.
Non-stick pan: For frying the sesame balls.
Mixing bowl: For mixing the mung bean filling.
Tongs: Allows you to handle the sesame balls with ease.
Food wrap: For covering the mixing bowl while the dough is resting.
Sieve: For sifting the flour.
Other handy tools: Spoon, saucepan, and pan's lid.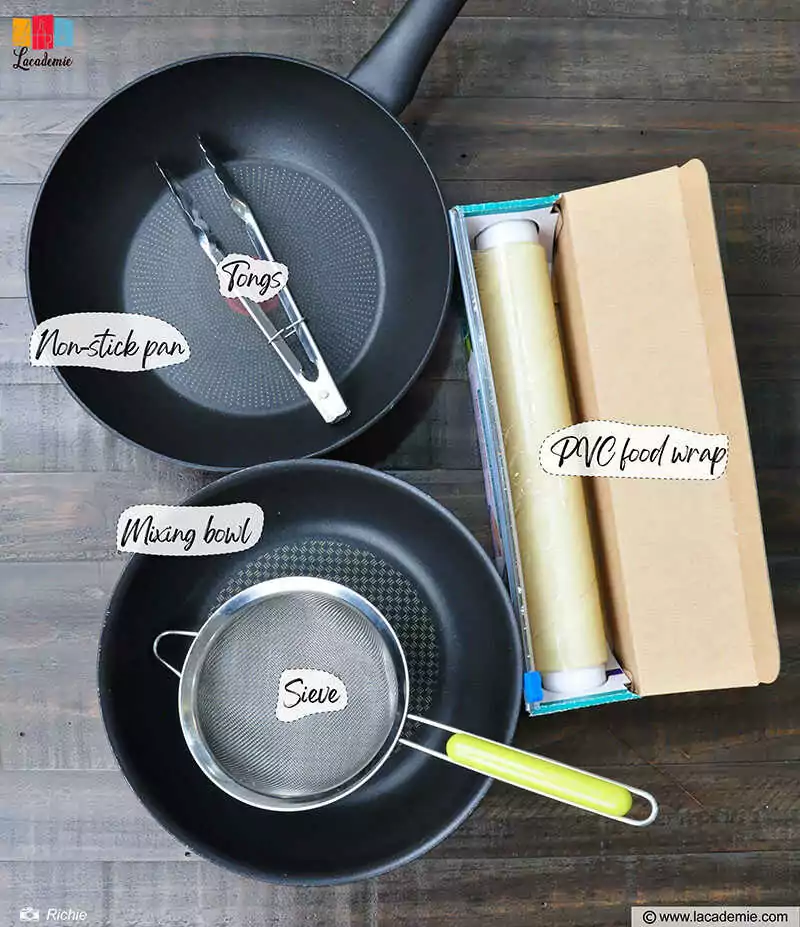 Ingredients
The ingredients listed below will allow you to make the perfect Vietnamese Banh Cam with ease.
For the outer shell: Glutinous rice flour, rice flour, and baking powder. The glutinous rice flour gives the shell a mochi-like, slightly chewy texture, while the combination of rice flour and baking powder allows the outer part to crisp up nicely when fried.
Mung beans: The main ingredients for the filling. To save time, purchase peeled split mung beans.
Sugar: A must-have sweetener for most dessert recipes. You also need sugar to make the syrup.
Roasted sesame seeds: White sesame seeds are the more popular choice, but you can also use black sesame seeds or a mix of both.
Grated coconut (optional): For people that want the filling to have a little coconut-y taste. I love adding this ingredient, but it's absolutely optional.
Ginger: Adds extra spice and aroma to the sugar syrup.
Other ingredients: Salt, water, and cooking oil for frying. You should use neutral-flavored oil.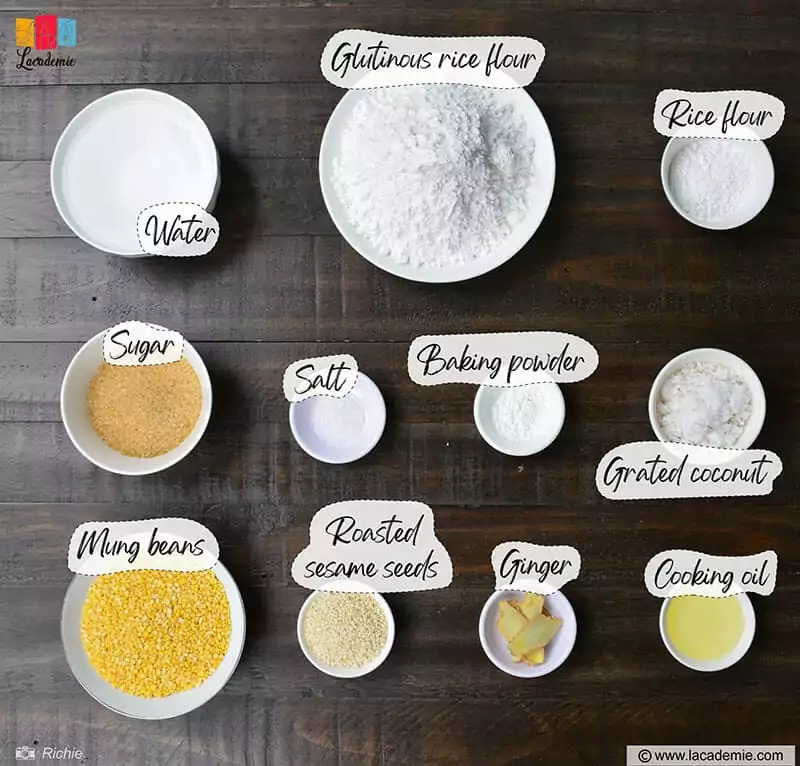 Directions
Already gathered all the needed tools and ingredients? Okay! Let's start making your delicious Banh Cam!
Step 1: Prepare The Ingredients
Soak the peeled split mung beans in warm water for 1 to 2 hours.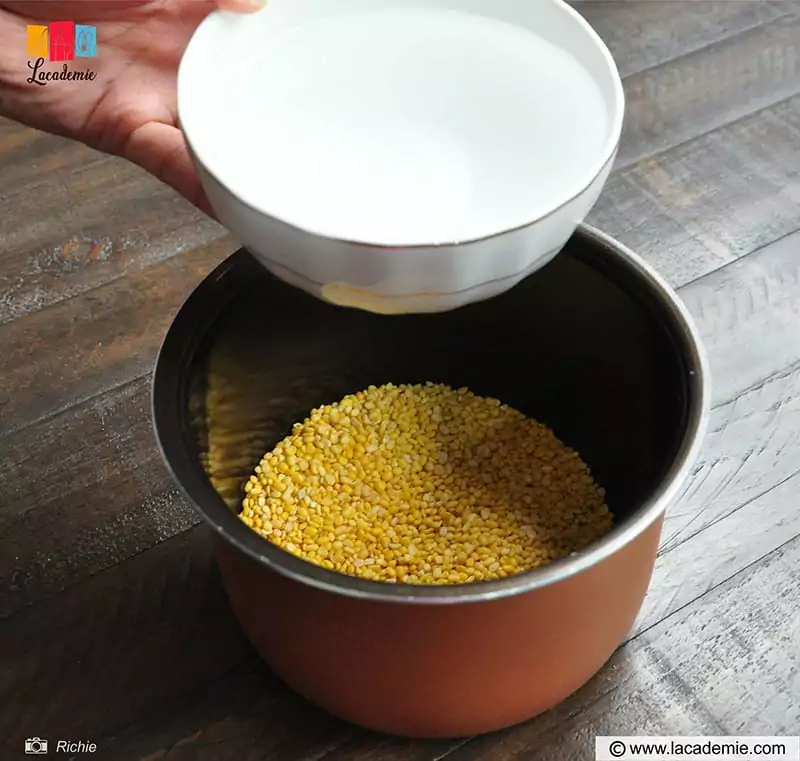 Next, cook 1 cup (about 230 milliliters) of water with 1.4 ounces (40 grams) of sugar to dissolve it. Alternatively, you can mix the sugar with warm water. Afterward, allow the mixture to cool.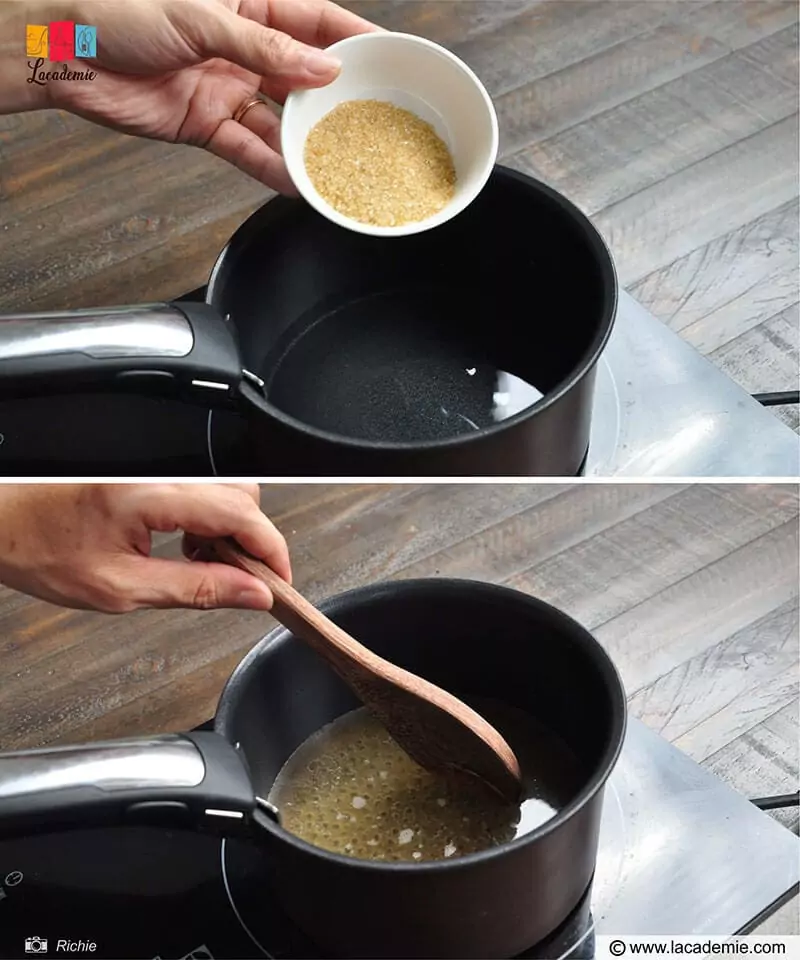 Step 2: Make The Dough
Sift and combine the glutinous rice flour, rice flour, and baking powder in a mixing bowl. Sifting the flour will remove any lumps, resulting in a smoother dough.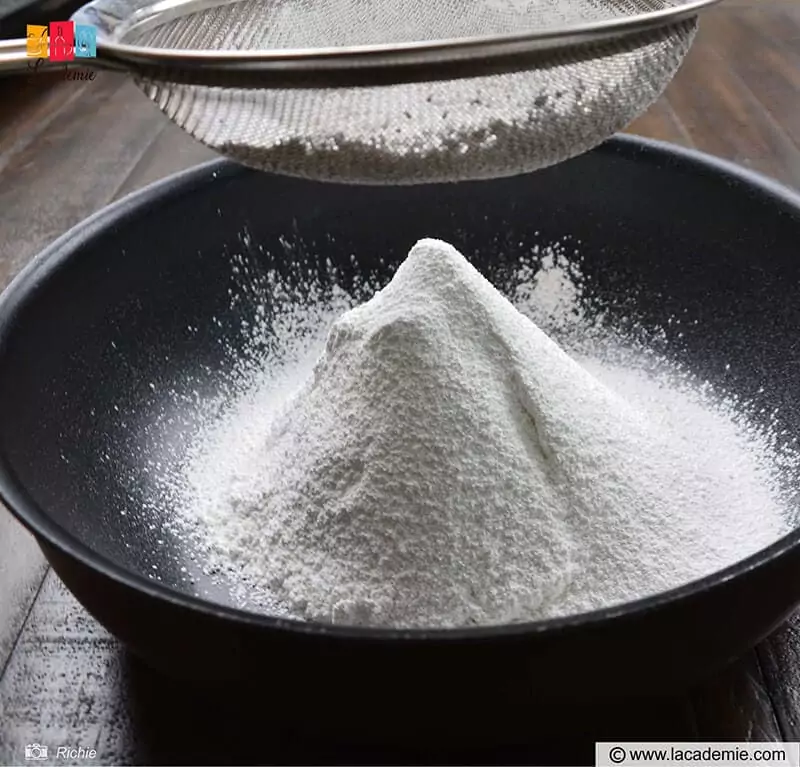 Add cooking oil to the flour mixture, then gradually pour in the sugar water. Mix well.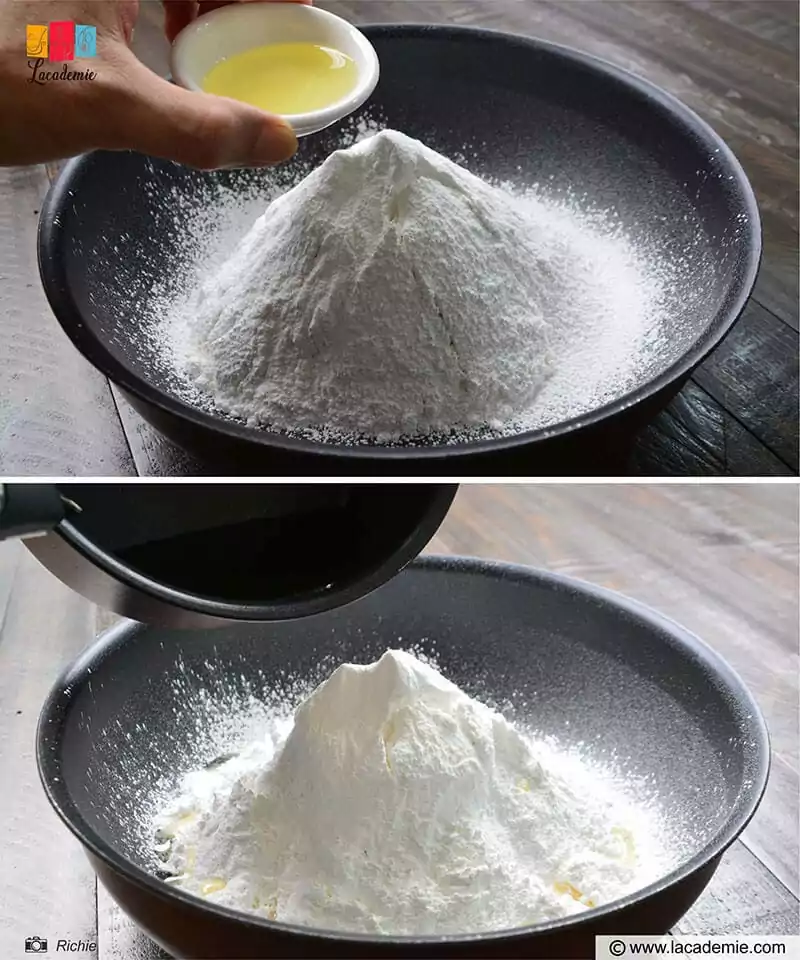 Notes: Do not add the sugar water all at once, as doing this might make the dough too wet. Instead, pour it in little by little and decide whether the amount used is enough. Ideally, your dough should have the consistency of play dough.
Mix the dough for about 10 minutes or until smooth. Cover the mixing bowl with plastic wrap and allow your dough to rest for 2 to 4 hours.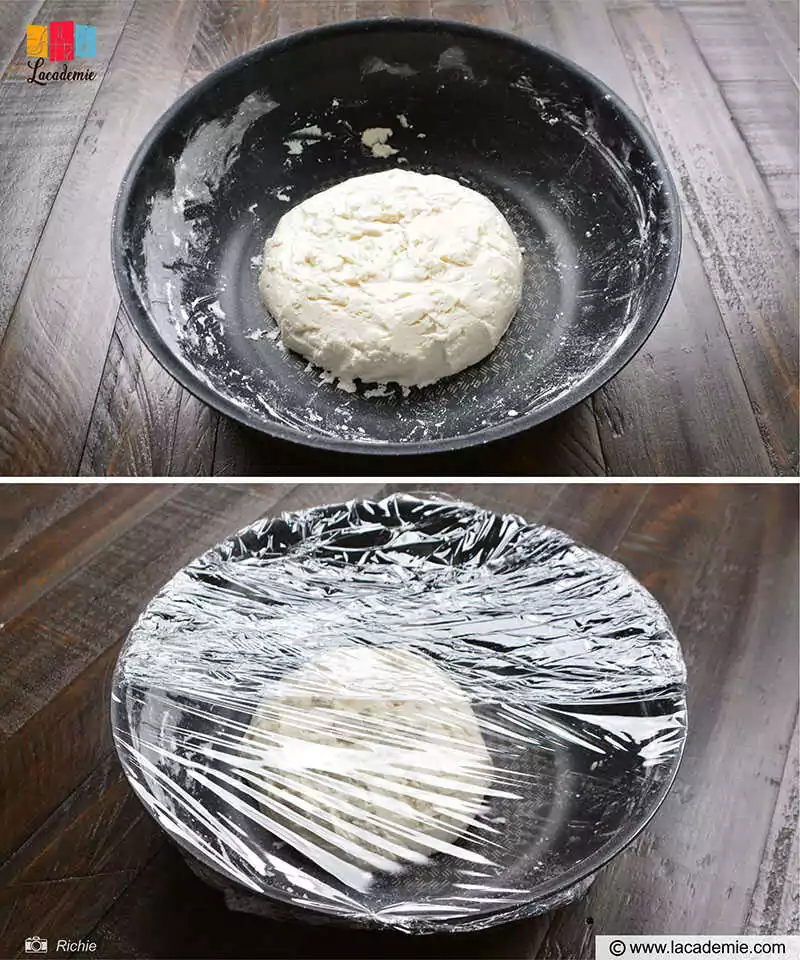 Step 3: Make The Filling
Drain the mung beans and add them to a saucepan. Then, cook them with 0.85 cups (about 200 milliliters) of water for 30 minutes over low heat. Cover the saucepan to prevent the water from evaporating, which causes the beans to be burned.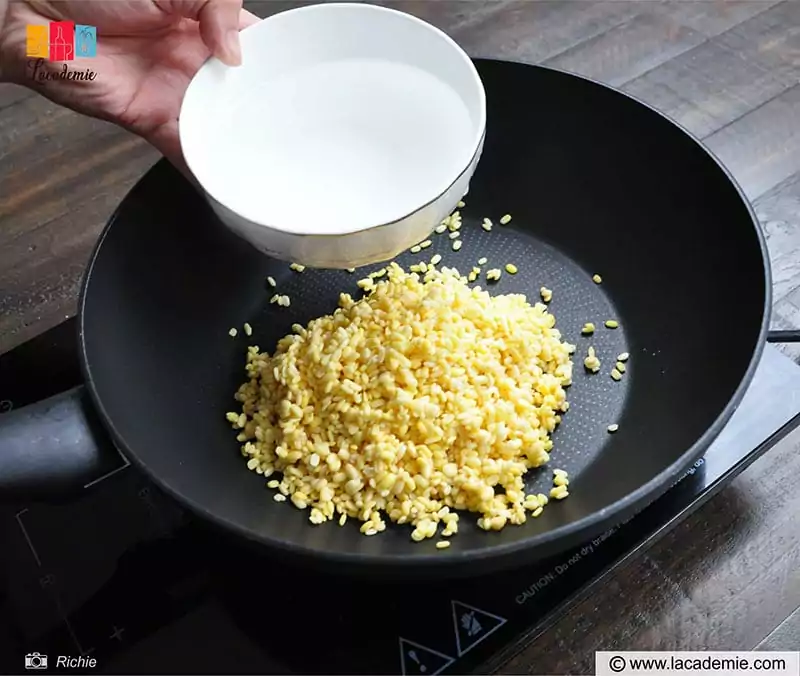 Once the beans have tenderized, add 1 teaspoon of salt, 1.8 ounces of grated coconut (if using), and 1.4 ounces of sugar to the saucepan. Stir well until the mixture is smooth.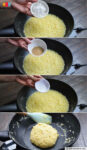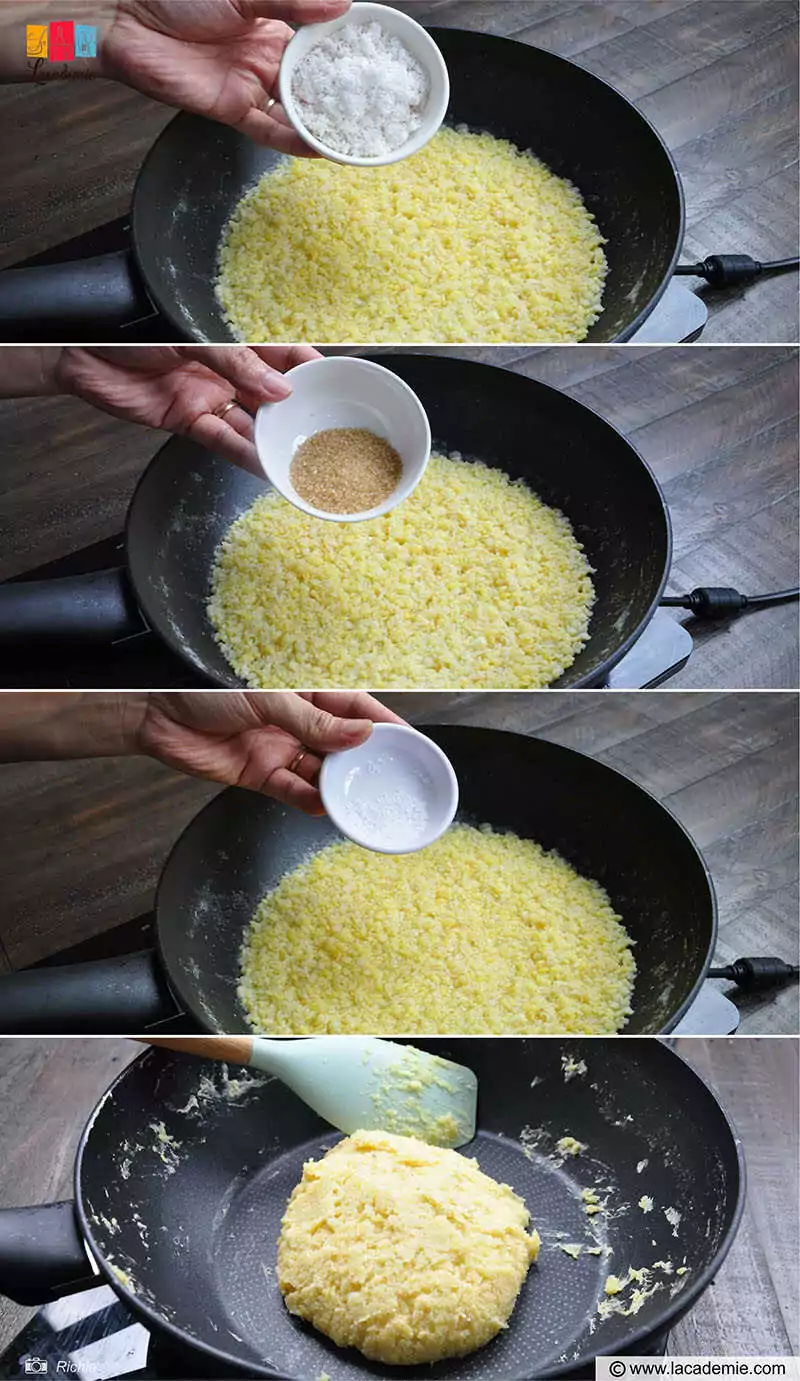 Step 4: Shape The Sesame Balls
Shape the dough into balls (about 1 ounce in weight and 1 inch in diameter). Likewise, shape the filling into balls that are a little smaller than the dough balls (about 0.8 ounces in weight).
Repeat the above step until you run out of dough and filling. You should be able to make 20 to 24 balls with this recipe.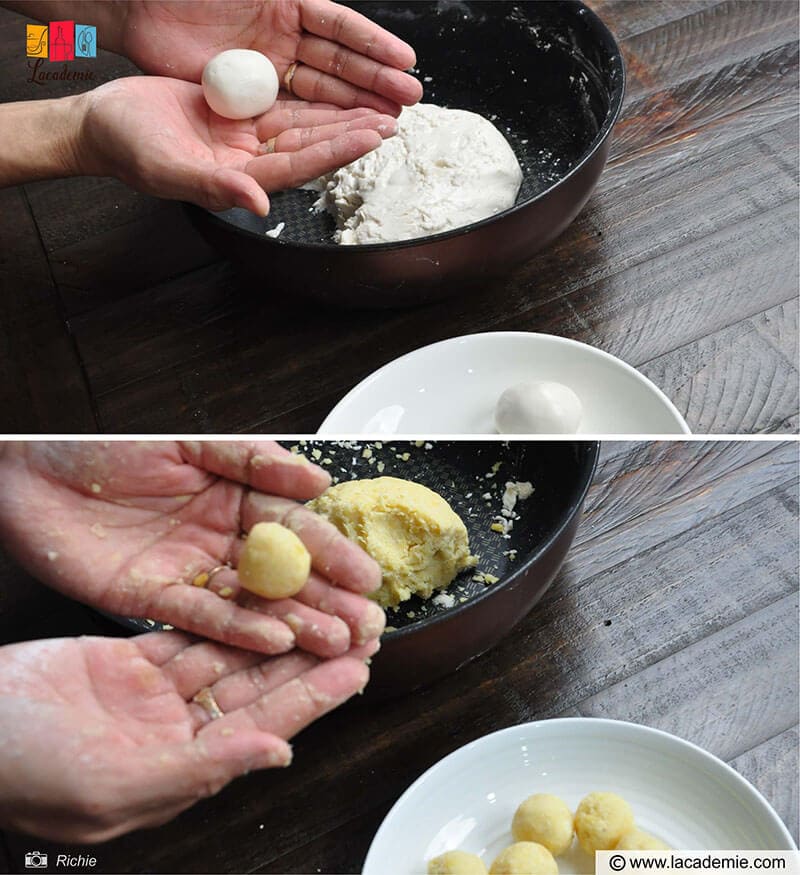 Coat your hands with a layer of flour so that the dough doesn't stick to them.
Flatten the dough ball using your palm and add the filling in the middle. Roll the dough into a ball once again, making sure that the shell wraps around the filling completely and evenly.
Repeat these steps for the rest of the ingredients.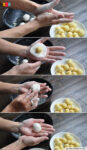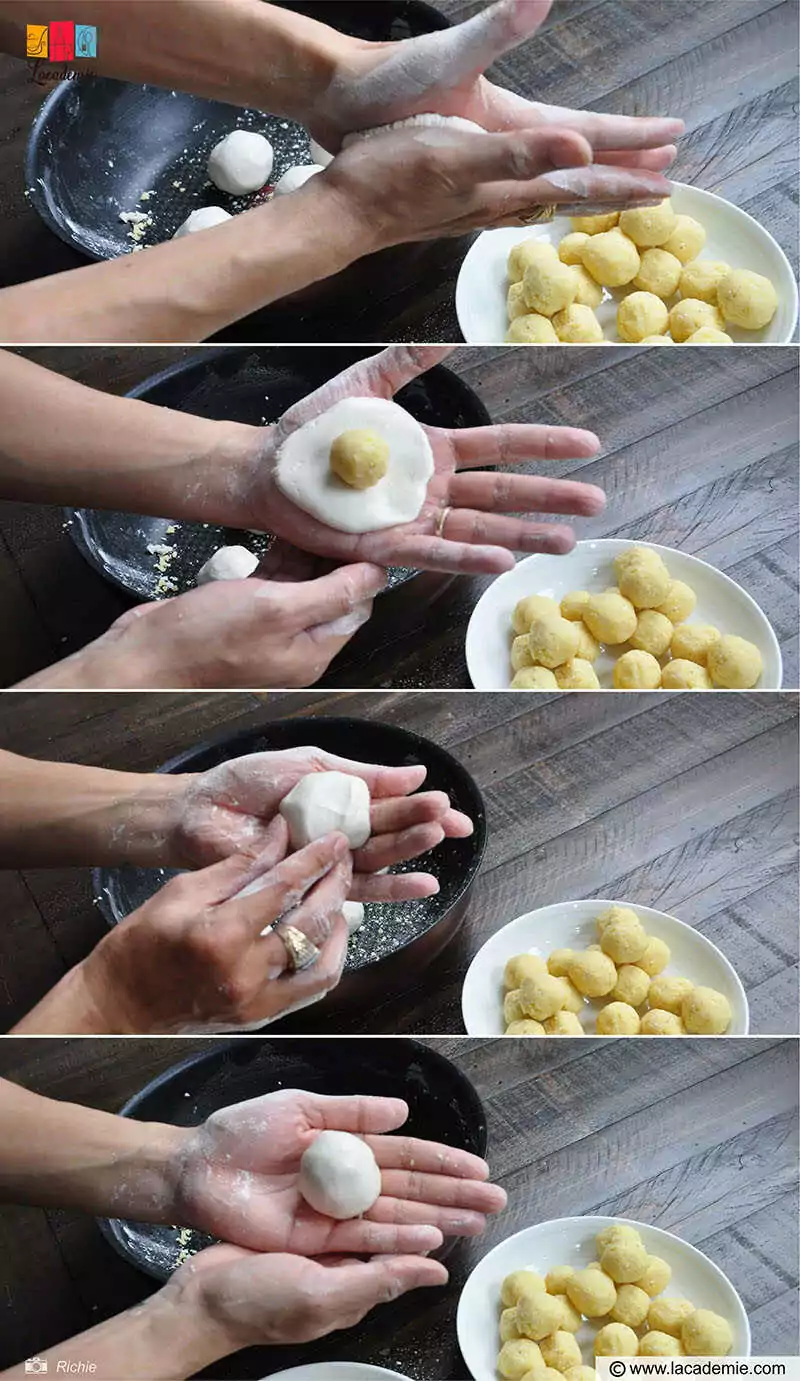 Step 5: Fry The Sesame Balls
Heat about 1 cup of cooking oil in a frying pan. The oil doesn't need to get too hot, as it will splatter when you add the sesame balls.
Put the sesame balls one by one into the pan. Fry them until golden brown on all sides.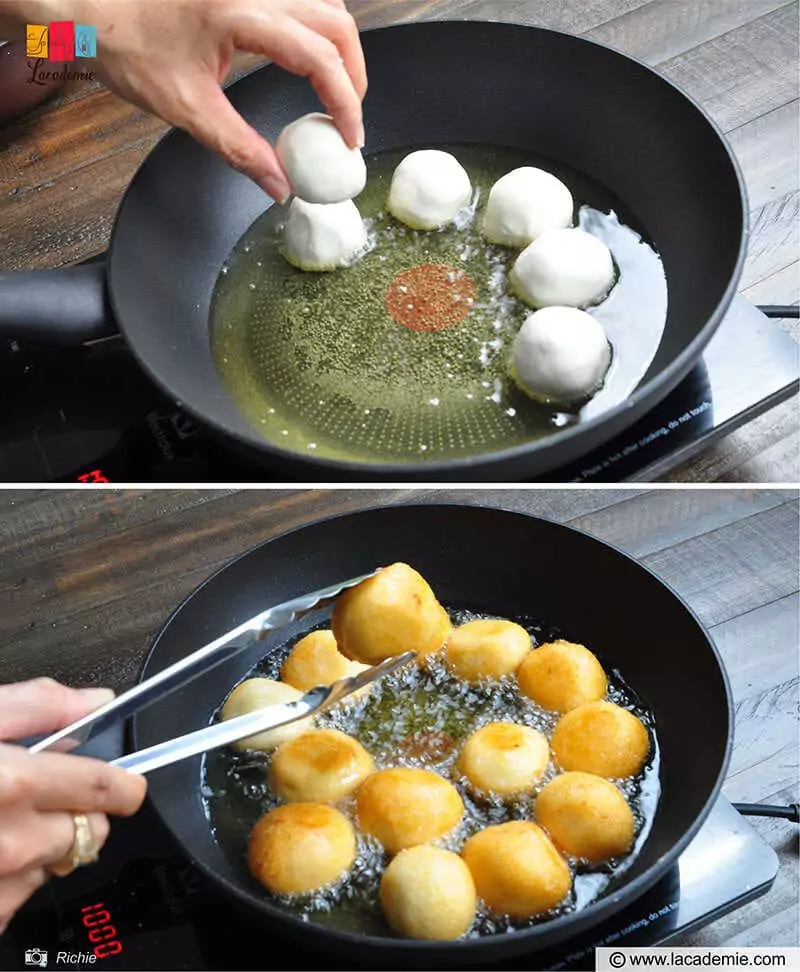 Once cooked, transfer the balls onto a plate lined with paper towels to get rid of the excess oil.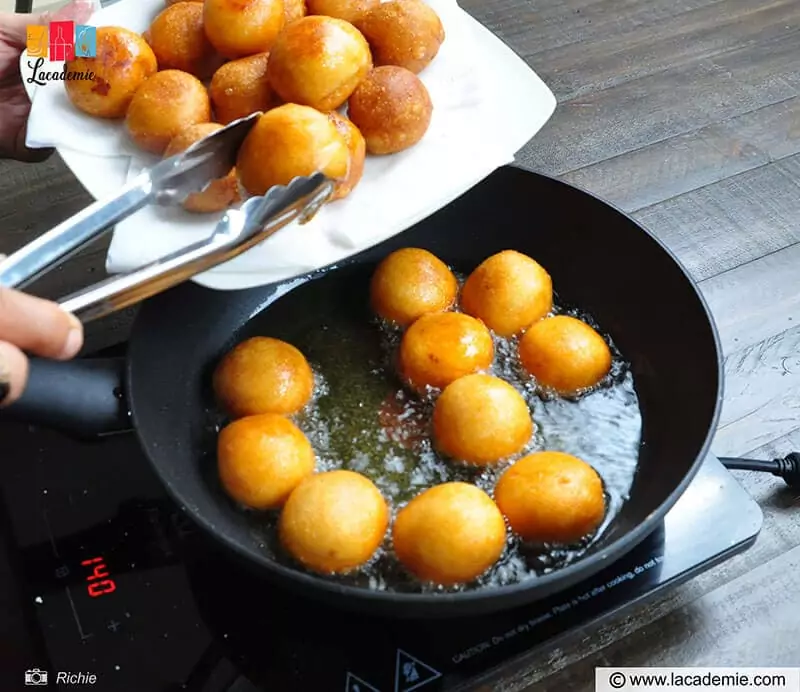 Note: There's no need to add all the sesame balls at once. If you overfill the pan, the balls might stick together, and you won't be able to flip them easily. Instead, cook them in multiple batches.
Step 6: Make The Sugar And Sesame Glaze
Cook 1 cup of water with some ginger for 5 minutes on low heat, then remove the ginger. Add about 7 tablespoons of sugar and stir well. Once the sugar has dissolved, add the roasted sesame seeds and continue to stir until the glaze thickens slightly.
Note: Avoid overcooking the sugar syrup and sesame seeds, as the sugar can solidify and become overly sweet.
Roll the Banh Cam over the sugar and sesame glaze to coat.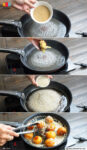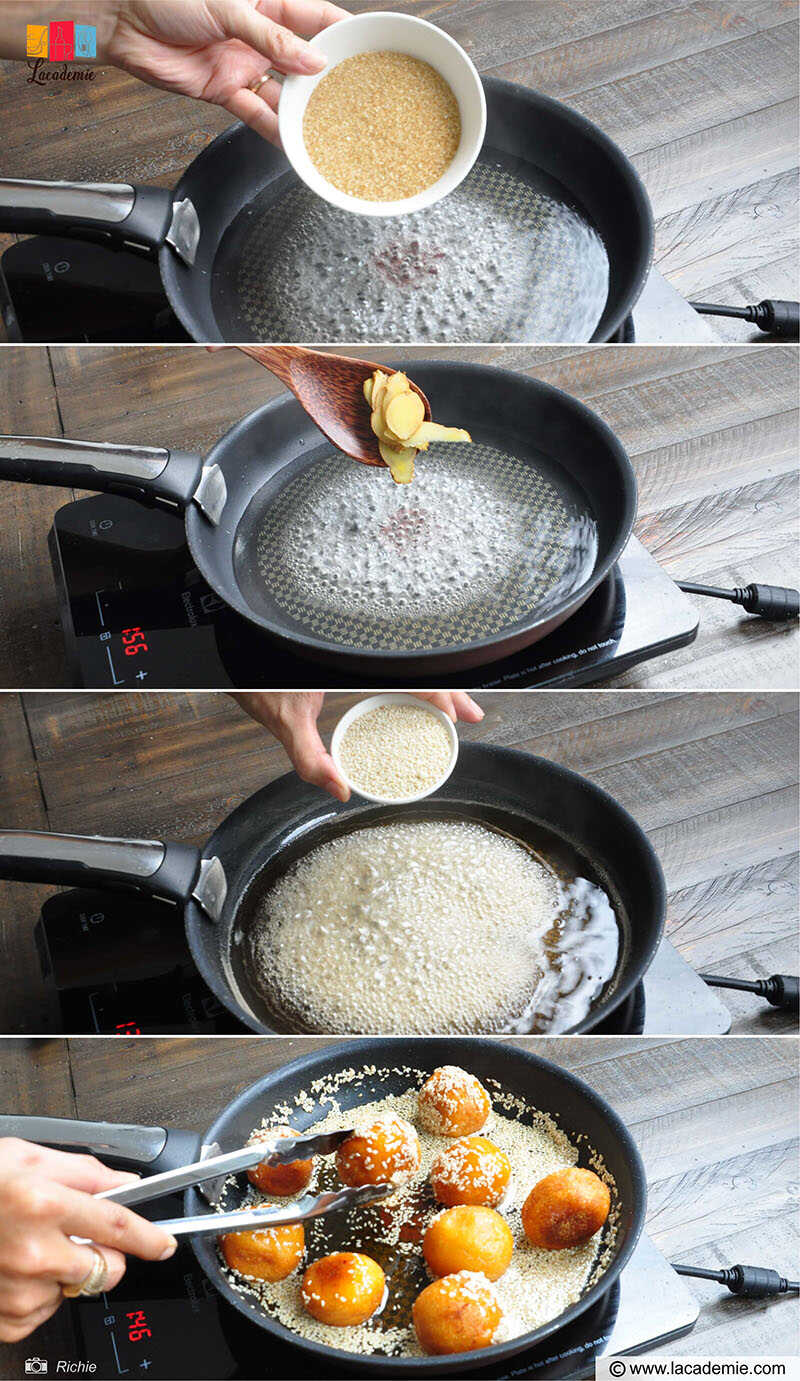 Enjoy your delicious Vietnamese sesame balls with herbal or green tea to balance their sweetness.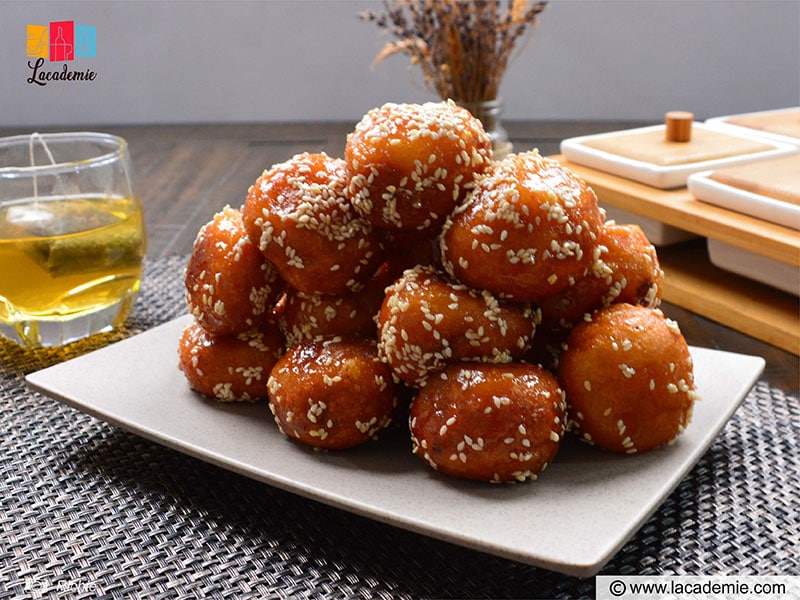 How To Enjoy Banh Cam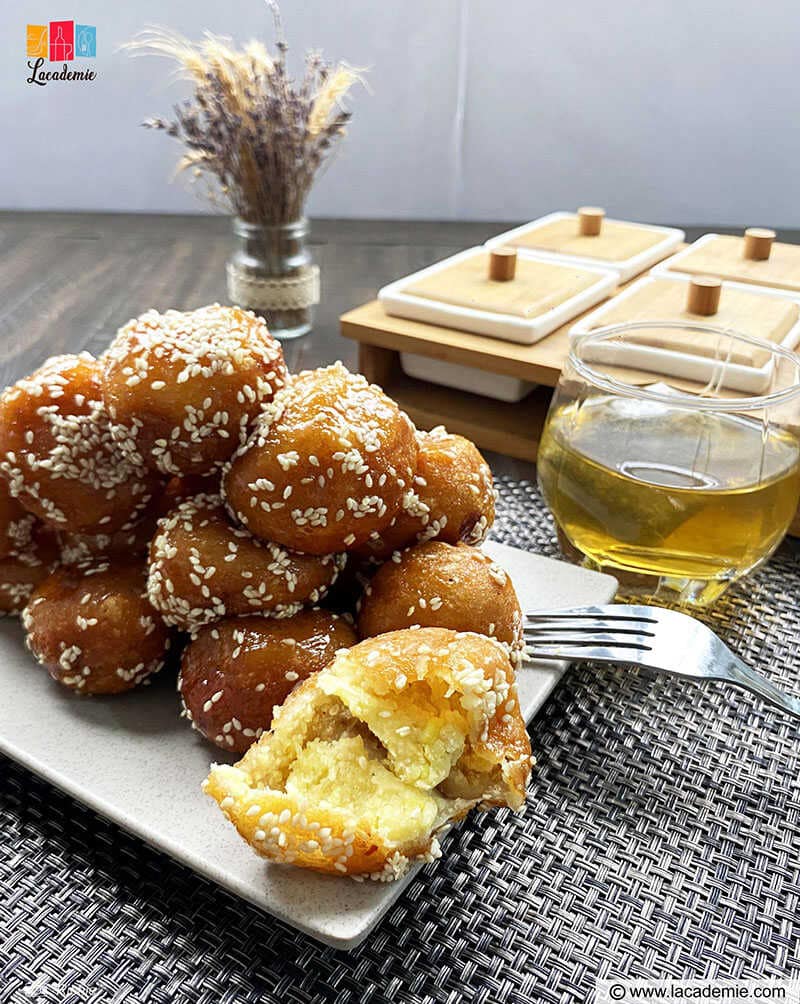 Banh Cam makes for excellent desserts or snacks. Many people, especially students, love having them for a quick, on-the-go breakfast, too. If you have some time to spare, brew yourself a cup of Vietnamese iced coffee or tea, and enjoy your Banh Cam with it.
In Vietnam, you can find many street vendors selling them on the street. Since they are so cheap, the locals often buy a bunch of them. And to be honest, it's hard to stop with just one Banh Cam!
The Best Way To Store And Make Banh Cam In Advance
Storing leftover Banh Cam is very straightforward. Simply put them in an airtight container and refrigerate them. The sesame balls will stay good for 1 to 2 days. When you want to serve them, pop them in a microwave or toaster oven for about a minute or briefly refry them.
If you want to make this dish ahead of time, I recommend preparing the dough and storing it uncooked in a refrigerator. You can keep them for a couple of days this way.
Other Variations To Try Out
The recipe I've provided will yield the classic version of Banh Cam. But wait! There are other variations that you can check out as well.
In addition to the sugar syrup glaze, you can try coating the sesame balls with melted chocolate. Although this is not the traditional way, the slight bitterness of the chocolate brings an interesting twist to these snacks.
If you prefer not to glaze your Banh Cam at all, you can roll the balls in sesame seeds, then fry them.
Instead of deep-frying, you can also air fry the dough balls to reduce the amount of oil used. To do so, line the basket with parchment paper, spray the Banh Cam with a little oil, then fry them at 320 degrees F for 10 to 12 minutes.
You can make a savory version of this dish by swapping out the mung bean filling for a combination of ground pork, wood ear mushrooms, cassava, carrots, shallots, onions, and scallions.
FAQs
Below you will find some frequently asked questions regarding Banh Cam. Give them a read to learn more about this Vietnamese snack and dessert.
Why The Wait? Try This Recipe Today!
Crunchy on the outside and chewy and soft on the inside, Banh Cam is an excellent dessert or snack that people of all ages will adore. More importantly, making it is a total breeze if you follow my recipe. So what are you waiting for? Give this treat a try right away!
Do you have any further questions about today's recipe? If so, please comment below, and I'll try my best to answer them. In addition, you can show your love for Vietnamese sesame balls by giving the post a good rating and sharing it with others. Thank you for reading, and I'll see you again soon!
Nutrition Facts
8 servings per container
---
Amount Per ServingCalories469
% Daily Value *
Total Fat 5.9g

8

%
Sodium 323mg

14

%
Potassium 164mg

5

%
Total Carbohydrate 96.6g

32

%

Dietary Fiber 8g

32

%
Sugars 23g

Protein 9.7g

18

%
---
* The % Daily Value tells you how much a nutrient in a serving of food contributes to a daily diet. 2,000 calories a day is used for general nutrition advice.