Are you looking to try some Filipino snacks at their most drool-worthy? If that's a yes, you're in the right place. In Filipino food culture, "merienda" is a term that refers to light meals or some healthy and tasty snacks outside of the three staple meals: breakfast, lunch, and dinner.
Therefore, the country has a wallop of delicious snacks that are super munchable and provide you with some energy to get through a hunger strike. Today, I've rounded up the most treasured recipes that Filipino eat during these times of the day.
So if you're an ultimate foodie like me, let's travel through the country and discover the best Filipino snacks!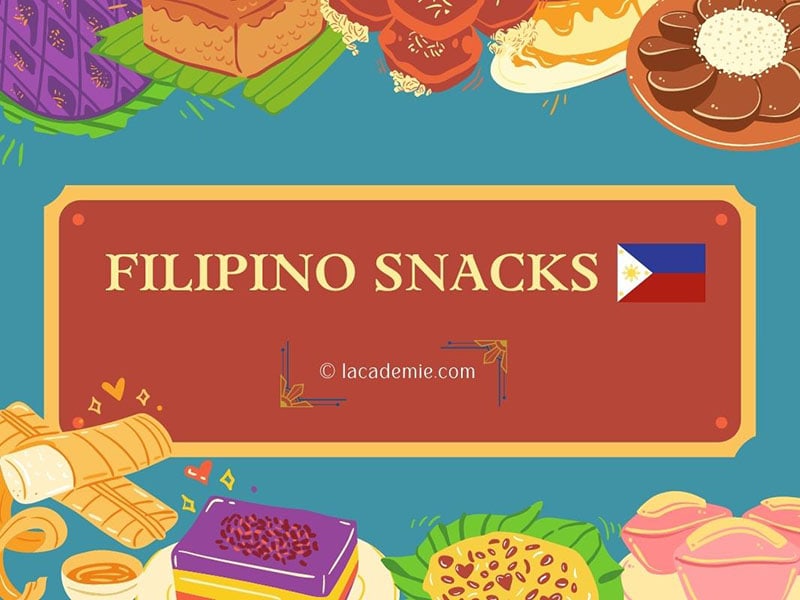 26 Best Filipino Snacks That Always Hit The Spot
If you're all set, here are some Filipino snacks at their finest that you can enjoy while waiting for lunch or dinner with ease!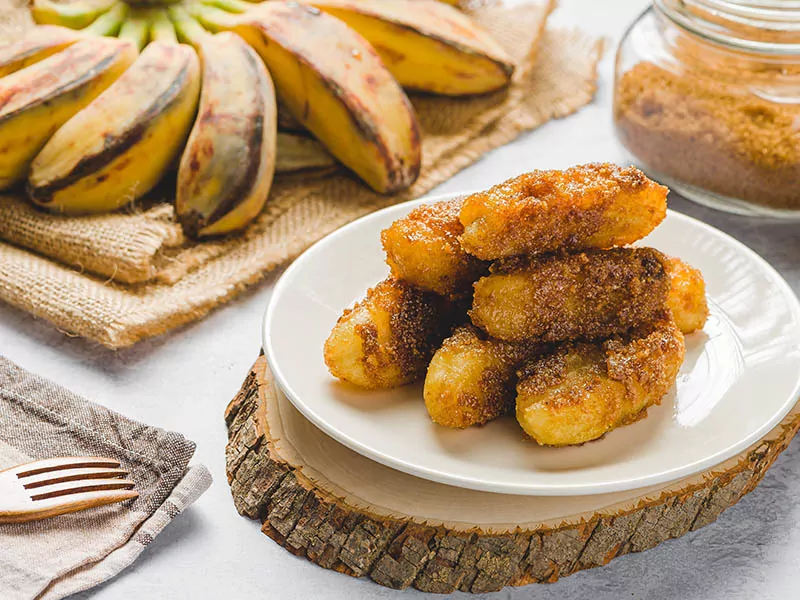 Banana Cue stands out as one of the Filipino culture's most popular snacks. Peeled Saba bananas (native Filipino banana cultivator) are coated in melted brown sugar and deep-fried until golden brown. The result is sweet and gooey with a great crunchiness on the exterior.
Banana has long been considered a healthy fruit with low calorie and high fiber content. Enjoying it for a mid-afternoon merienda (a light meal between lunch and dinner) can keep you full for longer by slowly releasing energy without gaining any weight.
Create your version of Banana Cue based on this recipe!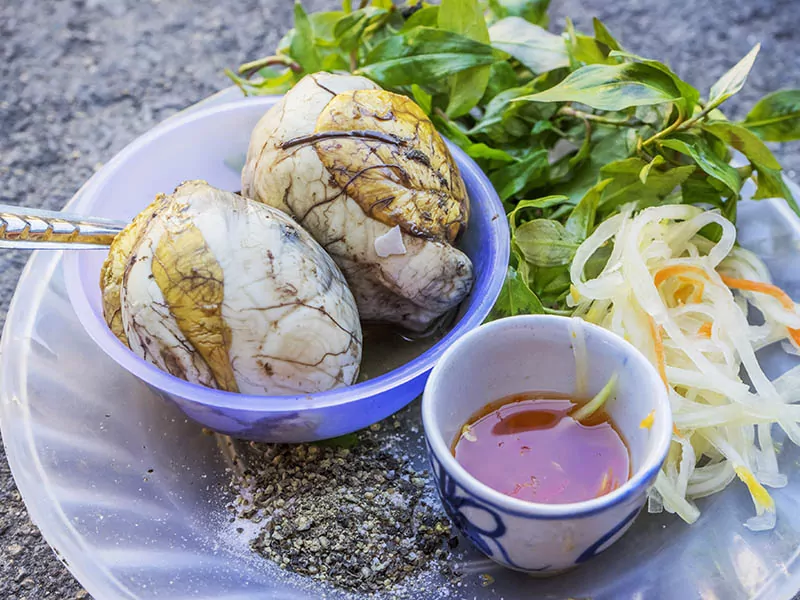 There are no creative ways to describe Balut other than a fertilized duck egg. You heard that right! To create this Filipino snack, duck eggs are incubated for around 18 days before being steamed and eaten straight from the shells.
With the undeveloped egg exposing its tiny carcass next to the yolk, it's understandable why many foreigners steer clear of it as they travel the country. But if you get past its nightmare look, the taste is just phenomenal.
The mildly savory flavor and a fermented hint make you feel like devouring a creamy pudding. Ever since the 1800s, when Balut was first created, it's been included as a part of traditional Filipino cuisine, a culinary fascination!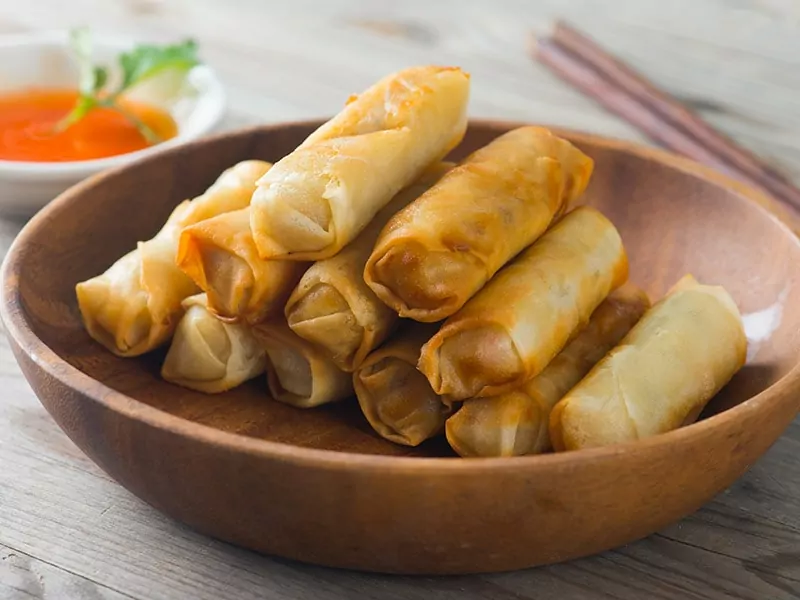 Portable and easy to make, Lumpia is a favorite snack for Filipino adults and children. First introduced to the country by Chinese settlers, this delicacy shares many traits in common with the Chinese egg roll that you're familiar with.
Typically, the filling of Lumpia consists of ground pork and a mix of vegetables. This medley is then wrapped in a special thin crepe called Lumpia crepe. It's so juicy, meaty, and flavorful that you'll return for a second or third serving.
Homemade Lumpia has never been so easy with this expert guide!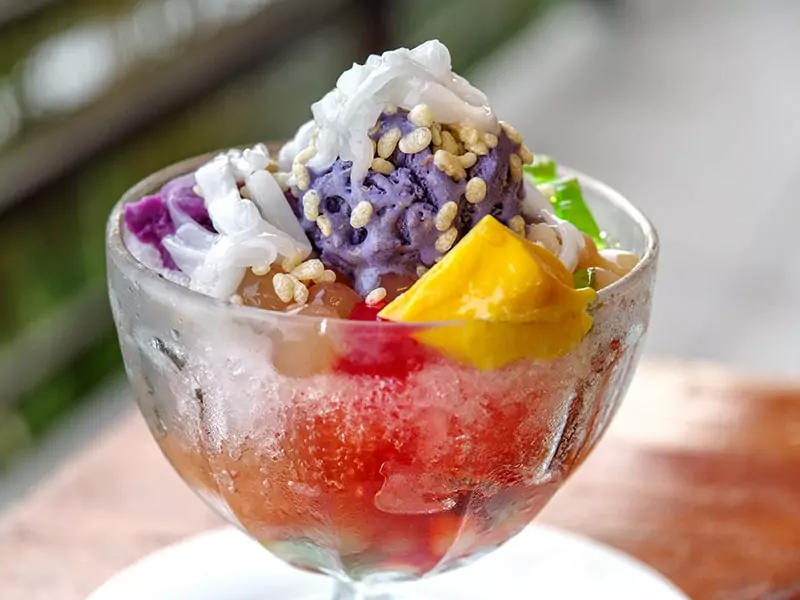 The truth is, the Philippines is one of the hottest countries in the world. So if you're walking its streets during summer, Halo-Halo is one of your essential Filipino street foods to cope with the hot and humid weather.
There were mixed layers of sweetened beans, shaved ice, saba bananas, ice cream, and fruits in a tall glass. Vendors everywhere have their version of this well-loved Filipino specialty.
But the flavor is always refreshing and delicious, with all sorts of textures contrasting each other in a satisfying mouthfeel!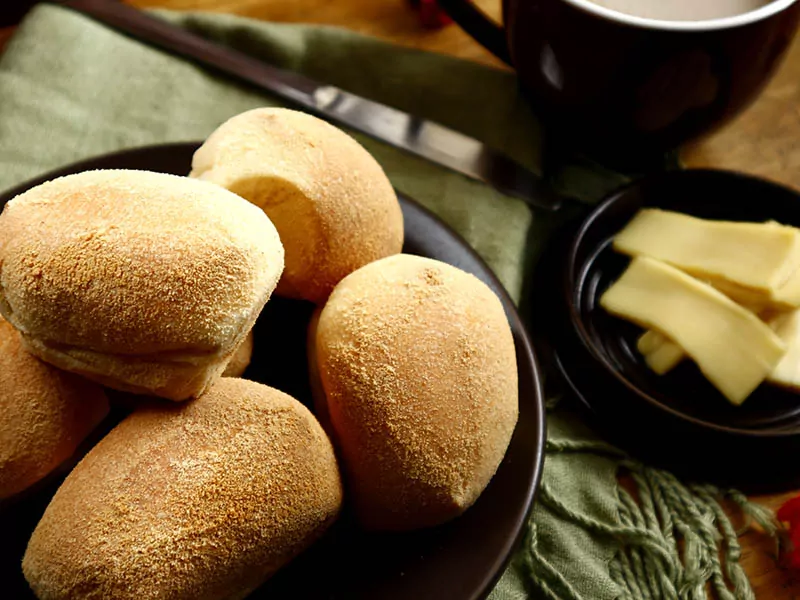 If you're familiar with Filipino food culture, Pandesal is something you must've come across. The story of this quintessential food is an excellent example of how the colonial era shaped Filipino cuisine, with its strong ties to Portuguese and Spanish explorers.
No surprise, Pandesal is beloved for its soft, fluffy, and mildly sweet taste. Without being excessively dense or complex, this bread is the perfect canvas for you to get creative.
From jam and butter or other savory fillings like pulled pork and cheese, this Filipino specialty will make your afternoon snack ten times better.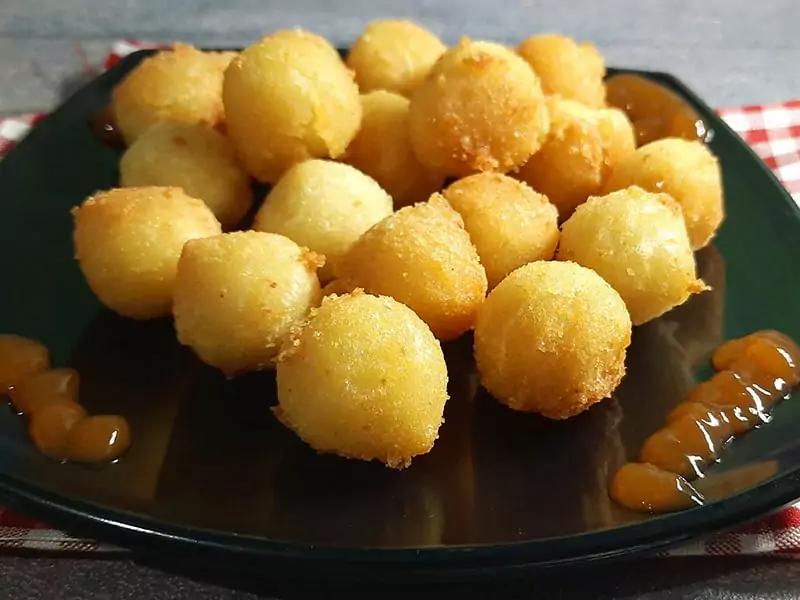 Although primarily associated with hefty main courses, Filipinos tend to serve Bola-Bola as a classic Filipino appetizer or a light meal for mid-afternoon. The direct translation for the word "bola" is a ball, so no further explanation is needed!
On the outside, it's a crusty, golden brown cortex that locks the juiciest and most decadent filling of ground meat, soy sauce, and garlic. You'll find this snack owing a particular spot at almost any Filipino celebration and fiesta.
These tasty meatballs are tossed in with noodles or simmered with a delicious yet straightforward Filipino soup. The next time you fancy a Filipino-style snack, opt for these mouthwatering meatballs!
Here's how to prepare Bola-Bola in your kitchen!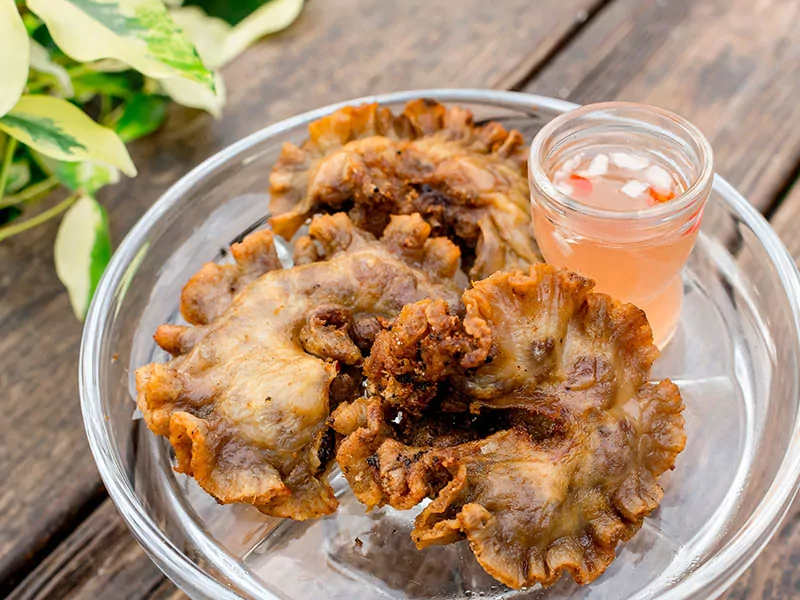 Essentially a Filipino staple snack, Chicharon looks and tastes like heaven. Pork rinds or fried bacon are boiled and deep-fried to perfection in this dish. Whenever you need a cheap Filipino snack, these cracklings are the way to go!
The texture of Chicharon is what sets it apart from the rest. Each bite is incredibly crispy, while the inside is bursting with juice. You can munch on this addictive Filipino pork delight alone all afternoon or have it with a dipping sauce for extra layers of flavor.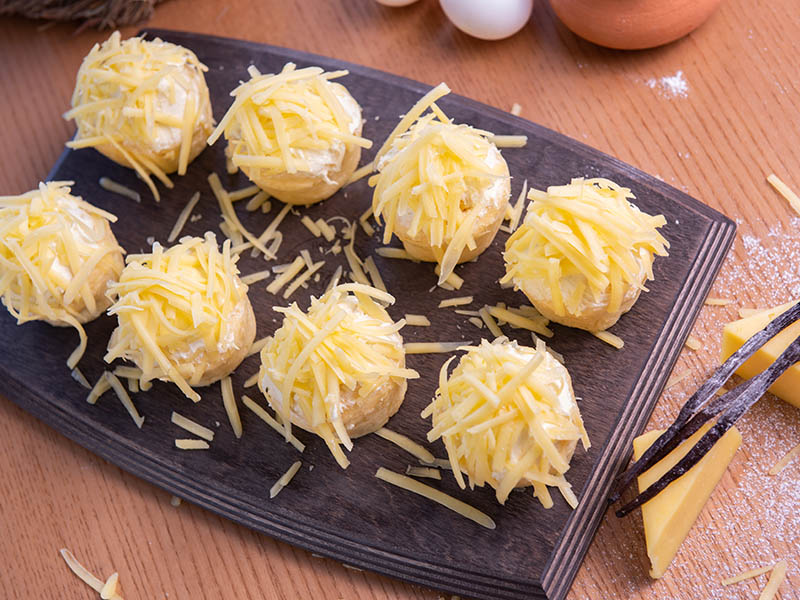 Originating in French cuisine, Ensaymada has quickly risen to the top snack foods in Filipino culture and is a much-loved merienda treat. Texture-wise, this baked good feels like a beautiful marriage between bread and pastry.
Ensaymada is so soft and tender that it melts across your tongue after prepping the ingredients, resting, and baking the dough. In the Philippines, you can just walk into any panaderia (bakery) to buy this bread. That's how much love it gets from locals!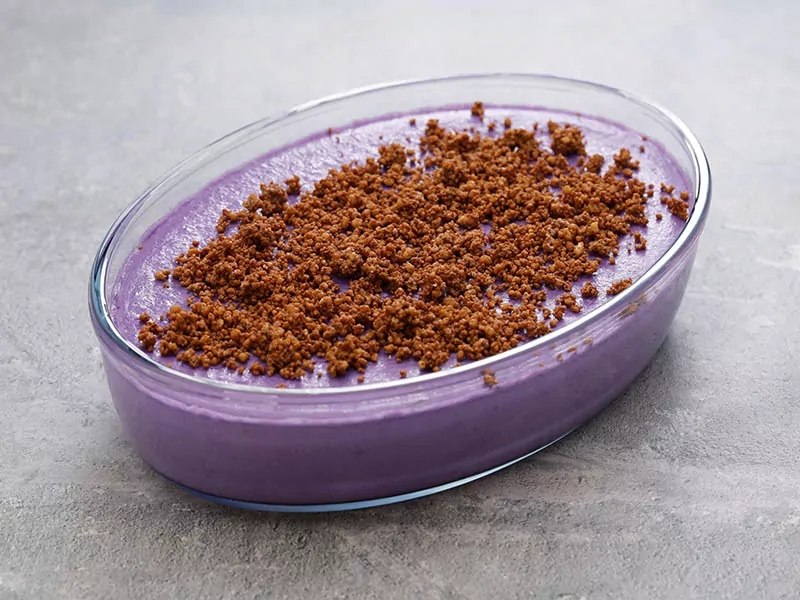 Another mainstay recipe in Filipino snack time, Ube Halaya, is a versatile topping for a host of tasty Filipino desserts and sweet treats. The making of this Filipino delight is quite simple. However, it is likely to take a good amount of tedious muscle work.
A few drops of Ube extract can be added for vivid color. But honestly, some fresh purple yam is enough to make the most eye-catching food ever. Ube Halaya can be served hot, but that's nowhere near as delicious as it is cold with some latik or coconut bits.
One of the easiest dishes to impress everyone – Ube Halaya.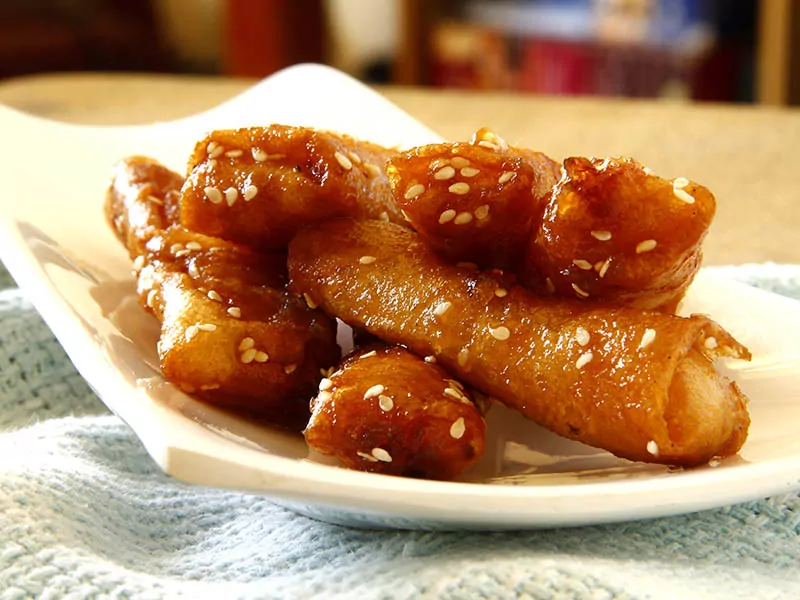 The only thing that's better than one Filipino snack? Try combining two addictive sweet concoctions! Turon, at its core, is packed with ripe saba banana and jackfruit slices, all dredged in sugar and wrapped up by a thin spring roll.
A final touch before serving Turon is to roll it in a caramel coating. It's safe to say that Turon is heaven for any sweet tooth visiting the Philippines. This finger food's so sweet, crunchy, and fulfilling that you can't stop till the last one.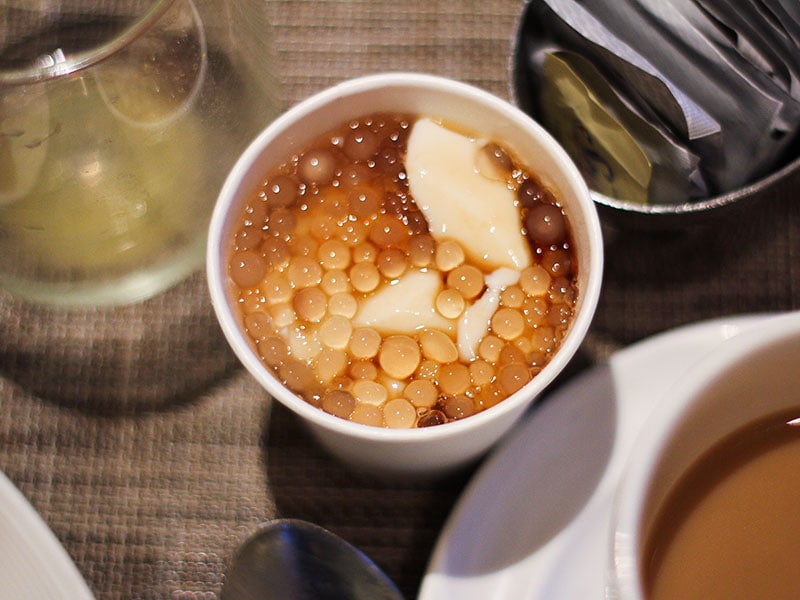 Legend believes that Chinese migrants introduced taho to the Philippines before the colonial era. Although said by some to be the Filipino version of douhua (Chinese syrup and soybean pudding), Taho is like nothing else!
This layered dessert is made up of three elements. The steamed silken tofu at the base provides a creamy, smooth, and rich nature. In contrast, that is crunchy in texture and subtle in flavor.
Locals add a drizzle of syrup that ties every layer together in a sweet, refreshing, and delicate treat, either served warm or chilled.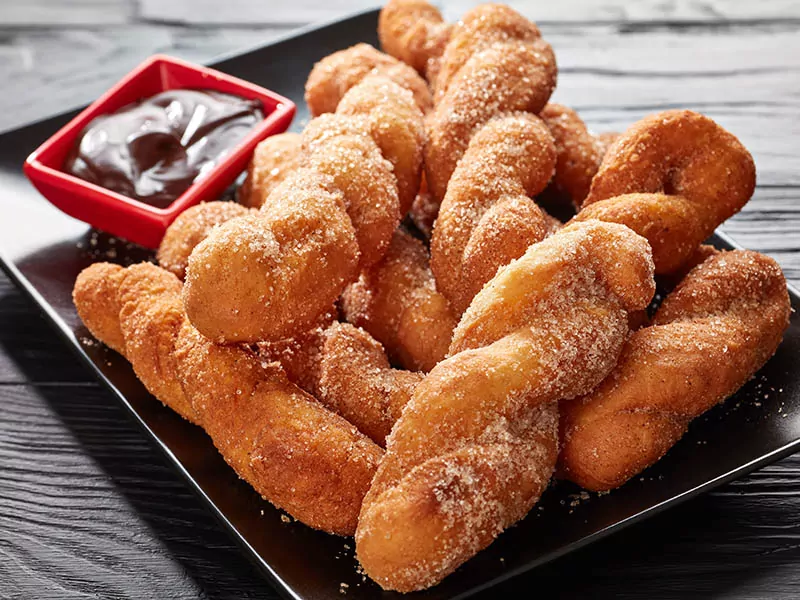 Can you hear those belting calls from Shakoy sellers on every corner of Manila streets to try out this special treat? Shakoy, or Bicho-Bicho, is essentially a twisted donut coated in a generous layer of sugar.
As a popular merienda snack in the Philippines, Shakoy comes in many variations, ranging from soft and fluffy to hard and crunchy. Besides an afternoon snack, locals also enjoy this twisted donut for a typical Filipino breakfast or dessert to round out a heavy meal.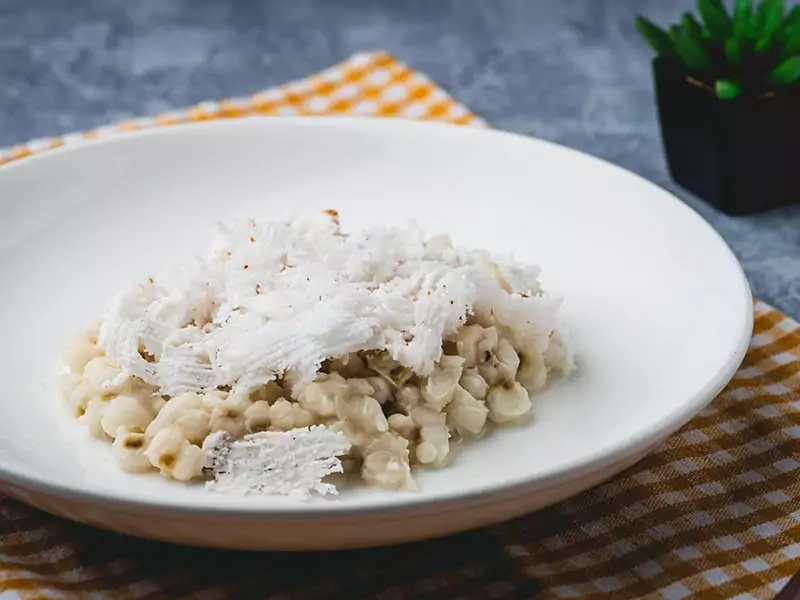 Ditch the regular popcorn! In the Philippines, corn is surely one of the most crucial agricultural resources, second only to rice. Thus, it's no surprise locals have created Binatog, transforming corn kernels into a crazy-addictive snack and street food.
Dried and mature corn kernels are soaked in saltwater until all puffed and then boiled. This delightful bowl is then crowned with typical toppings such as grated coconut, sugar, or margarine right before it's served.
The result? A fluffy, soft, and full-of-flavor treat makes your taste buds dance with joy after every bite. You'll find Binatog vendors selling it in large metal tins because a little bit is never enough!
See what a typical Binatog looks like on the busy streets of the Philippines!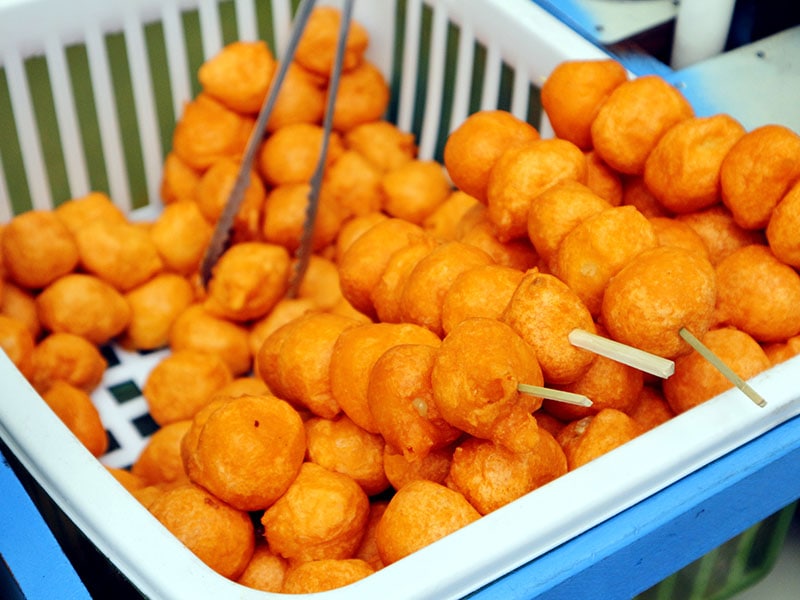 Filipino cuisine is the right destination if you're looking for some palatable quail egg delicacy! At first glance, Kwek Kwek is instantly recognizable for its vivid orange color, which comes from a unique orange batter-fried coating around the little egg.
These hard-boiled eggs with a crispy layer on the outside are lovely and affordable snacks for kids and adults alike. Kwek Kwek Kwek is sold on every busy street from early morning till the evening, so it'll be hard to miss it.
The traditional way of enjoying this particular delight is with vinegar or sweet chili sauce as a wonderful Filipino complementary dish. It's quite the proof that good food doesn't always equal higher cost. Once you give it a taste, you'll soon find yourself craving for more!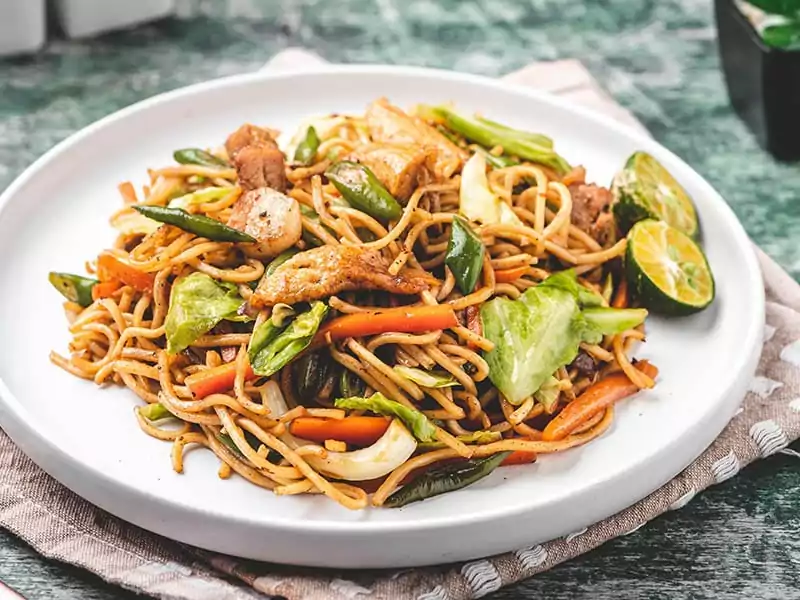 Even casual fans of Filipino food culture are familiar with "Pancit," the generic term that refers to noodle dishes. This variant of Pancit utilizers Lo Mein, a type of flour stick noodles and lots of meat, veggies, and other seasoning elements.
Filipinos first created Pancit Canton with inspiration drawn from Chinese cuisine. If you've tasted Chow Mein, its Chinese relative, you'll find that the noodles used are different, wherein Chow Mein is the rice stick noodles.
Pancit Canton has it all, from savory to meaty and tangy in some regions when it comes down to the flavor. As a symbol of longevity, this noodle dish is a staple in special celebrations like Birthdays and wedding anniversaries as a cake.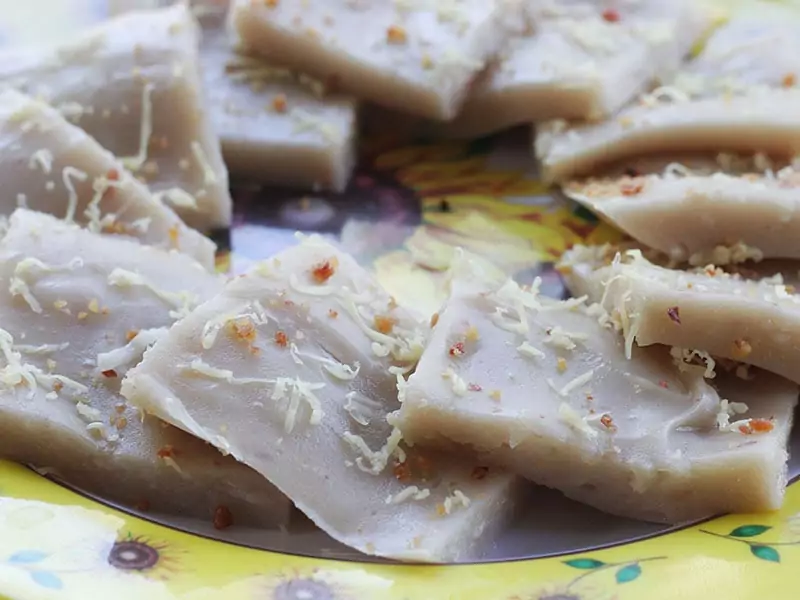 After you've digested a heavy meal, a rich, creamy, and light-as-a-feather dish like Maja Blanca is the perfect early afternoon snack. Since the traditional way of making this treat calls for just three ingredients, it's easy to recreate it from scratch at home!
This Filipino dessert combines two layers: a thick coconut-flavored pudding and a generous drizzle of toasted coconut on top. As a result, Maja Blanca has a contrasting texture, crunchiness, and softness, creating a satisfying mouthfeel.
This is how you can make the ultimate Maja Blanca for beginners!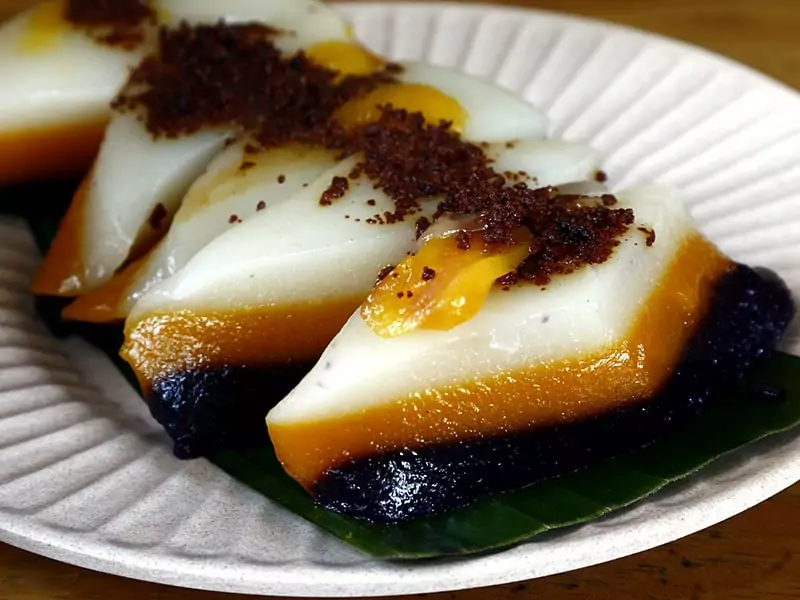 Is the only thing better than sticky rice? Multi-layered sticky rice with the colors of a rainbow! That's right. Sapin-Sapin is the quintessential Filipino layered snack that's as decorative as delectable.
It's safe to say that each province has its take on this classic. However, most of them stay faithful to its legal with three layers. Sapin-Sapin starts with a jackfruit-flavored rice cake, followed by coconut milk and purple jam.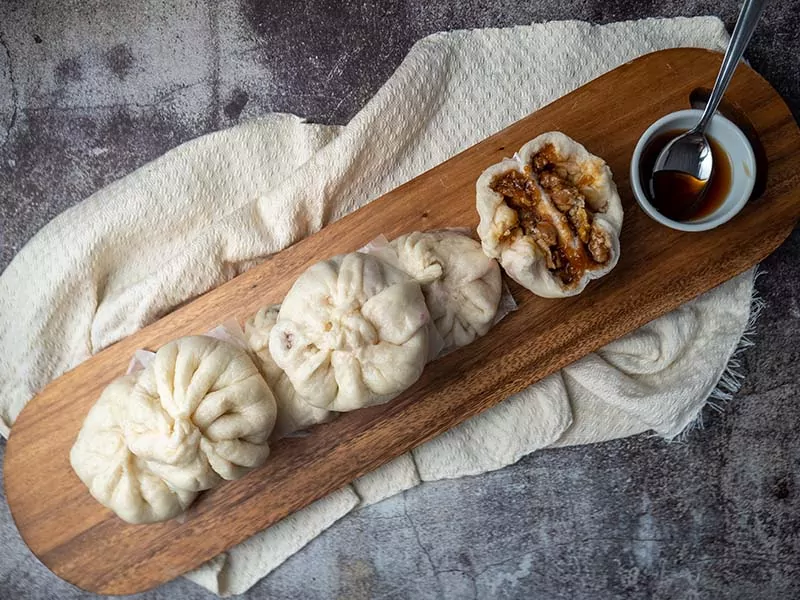 Any folk who knows something about Asian-style dishes is familiar with a steamed bun with different names. Essentially a staple in Asian countries, it's considered a convenient meal packed away in a soft and fluffy white soft bun.
At its core, Siopao Asado is filled with Asado (Filipino braised pork in a sweet and savory sauce). Generally, making this steamed bun requires lots of love and labor. But the melt-in-your-mouth and the steamy outcome are undoubtedly worth it all.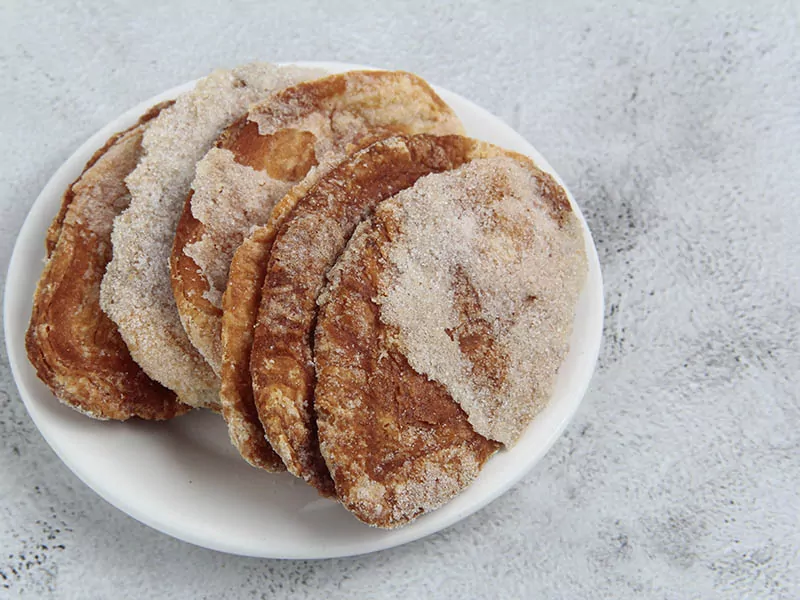 Let's be honest! What's better than a tray of delightful cookies when you're gearing up for the rest of the day's work? Otap, or puff pastry cookies, is so well-loved across the country, especially in the region of Cebu, where its roots can be traced back.
Otap is instantly recognizable for its long and oval shape. When you pop one in your mouth, the texture feels super buttery and flaky with a denseness that resembles French biscuits. Plus, the sugar-coated surface adds extra sweetness.
Not only an incredible baked good for tea time, but Otap also makes an excellent gift for folks who return home from the Philippines. These goodies wrapped in parchment papers and gorgeous boxes are the best culinary souvenir!
Fill your kitchen with the smell of freshly baked Otap with this tutorial!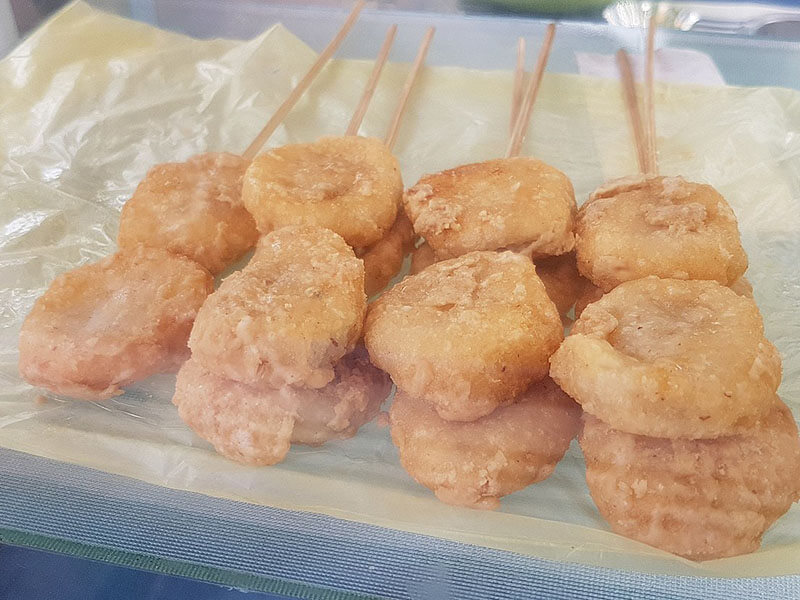 Are you looking for something to keep you full all afternoon? If that's a yes, Cascaron might be the ticket! These deep-fried dough balls can be commonly seen alongside streetways of busy roads in the Philippines and for good reasons!
Glutinous rice flour is shaped into a ball and deep-fried to perfection in this Filipino goodie. This luscious ball is smothered in a sweet syrup-like brown sugar for a finishing touch. It's so sweet and sticky that you can't stop after just one or two.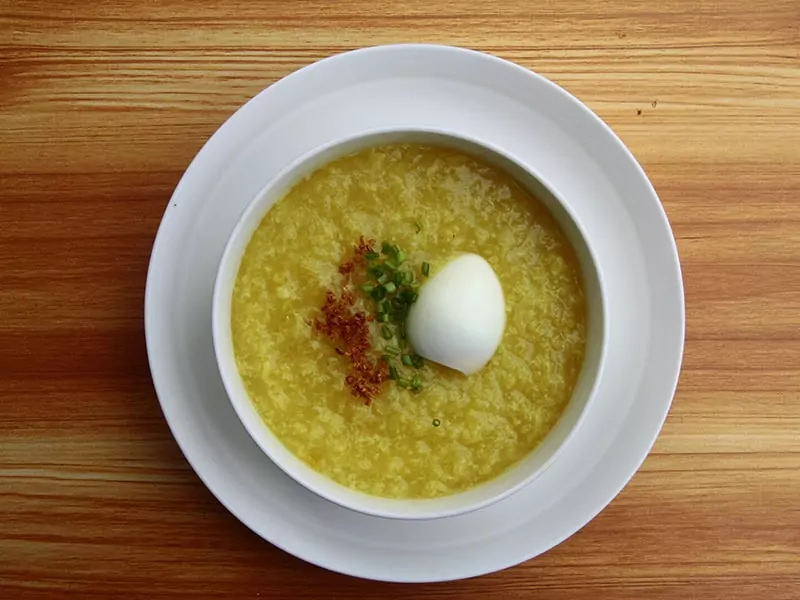 If you wouldn't think any snack would lead you into a healthy eating pattern, feast your eyes on this beauty! Any Filipino mother will tell you that the most significant power of Lugaw lies in its therapeutic properties, which is this Filipino chicken dish are also fed to the sick.
Lugaw is the ultimate comfort food that locals crave on a cold, rainy day in Filipino culture. It's so easy to make that you don't have to travel to the country to taste this dish. A warm and healing flavor, this porridge can serve as a snack, main course, or side dish.
A hearty bowlful of Lugaw is flavored with meat like chicken and fish, ginger, fish sauce, and sometimes saffron. However, if you want a plain and basic merienda snack, all it takes is only water, salt, and rice.
Easy and mouthwatering; Lugaw is worth trying!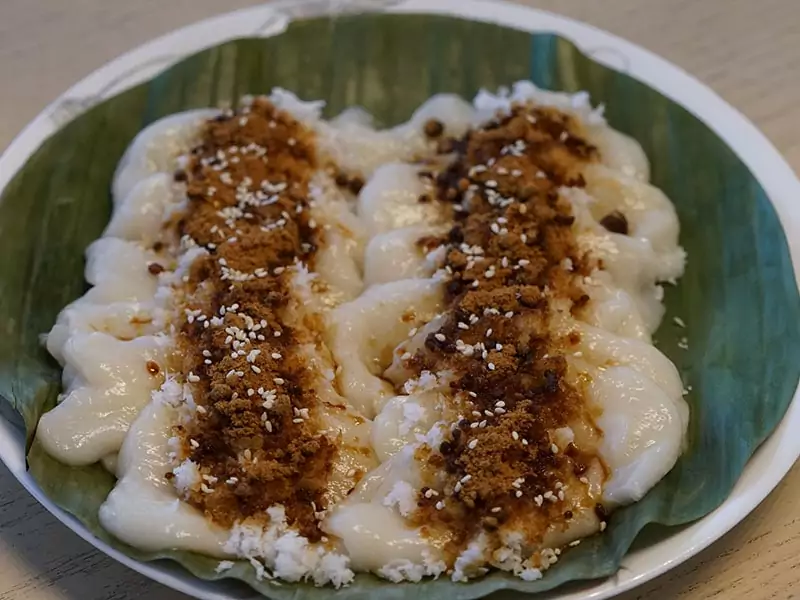 Another rice cake delicacy that holds a special place in Filipino cuisine, Palitaw, is often enjoyed as a leisure snack or dessert. The chewy, flat, and pillowy-soft rice cake is grated in a coconut, sugar, and sesame seed mixture.
Some say Palitaw's texture is similar to that of the world-famous Japanese mochi. I am pairing this dish with coffee or tea to enjoy your afternoon break to the fullest!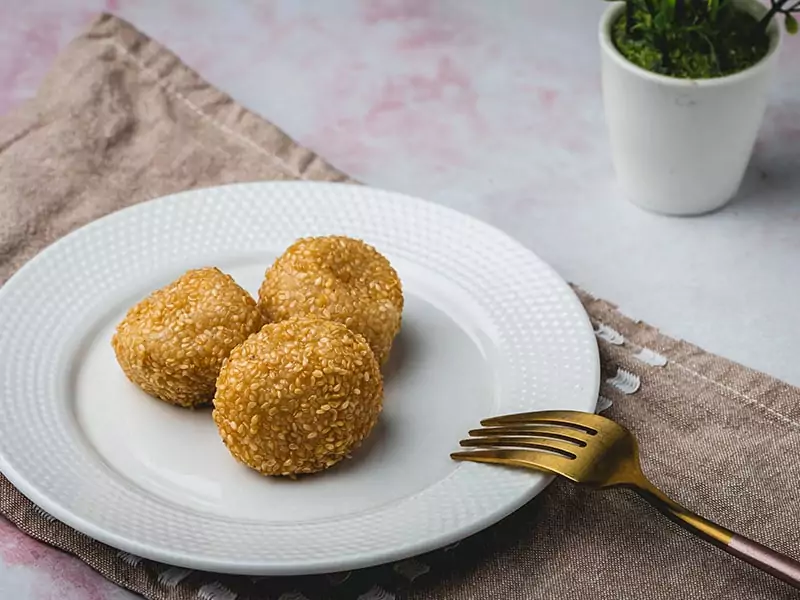 Originally an adaptation of Jian Dui from China, Buchi has been made to suit the taste of Filipinos. In short, this sesame ball is prepared by forming a ball of glutinous rice flour stuffed with a sweetened red bean filling and rolled in sesame seeds.
These golden, crunchy balls deliver a nutty, chewy, and toothsome flavor. As with many other baked goods, Buchi should be devoured immediately after it's made. The longer it sits outside, the drier it will become.
Treat yourself to some balls of goodness with a simple Buchi recipe!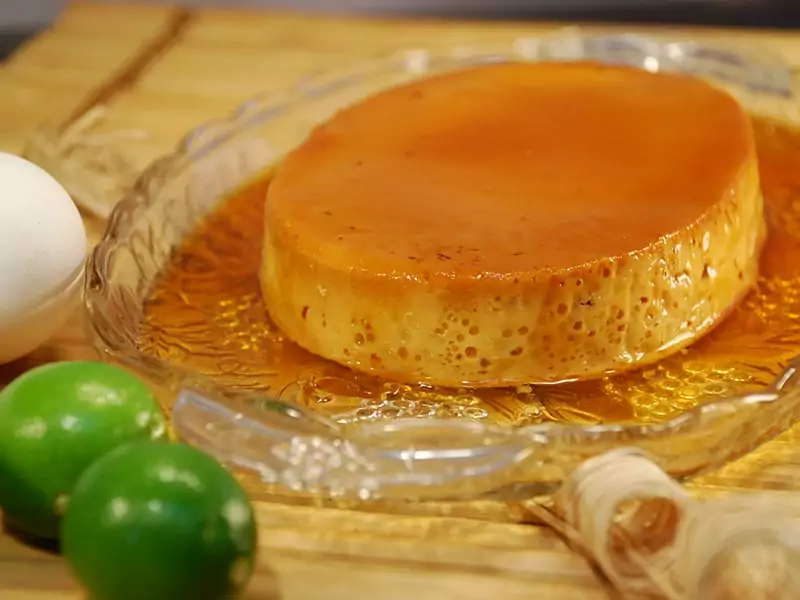 Leche Flan is the Filipino take on creme caramel, a massive icon in French cuisine, and is no less delicious. This phenomenal dessert has a vibrant and smooth texture that makes your taste buds dance with happiness upon baking in the water and chilling overnight.
Thanks to egg yolks, if you've had this Flan in Spain or Latin America, you'll realize that the Filipino variety is much richer. It tastes so sweet, rich, and super-creamy with caramelized sugar on top.
Visually speaking, Leche Flan is undoubtedly an exquisite dish. That's why many home cooks shy away from making it from scratch. Although it does require a bit of know-how, this Filipino snack is relatively easy.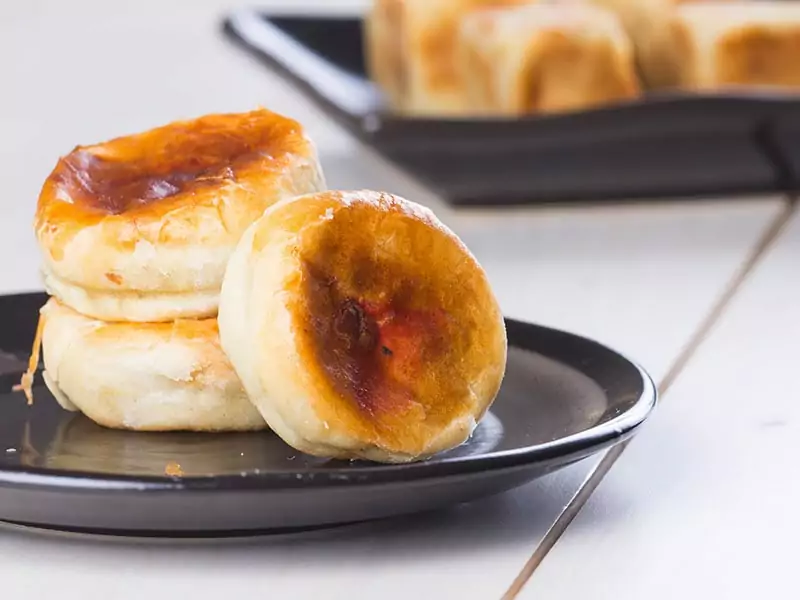 Hopia is heaven for those who have an affair with flaky baked goods. This Filipino flaky pastry is probably one of the most complex and most consuming snacks to make in the country. The repeated rolling and folding create a texture that makes Hopia stand out.
When it comes to Hopia's filling, the options are endless. It shouldn't be a puzzle to discover your favorite, from popular flavors like red bean paste and sweet white onions to unique Filipino elements like Ube and Yema!
Flavor-wise, Hopia is light, flaky, and so sweet it'll conquer every sweet tooth. It gets better and better with every bite, especially when paired with a hot coffee or teacup. Just the way that locals enjoy their Hopia!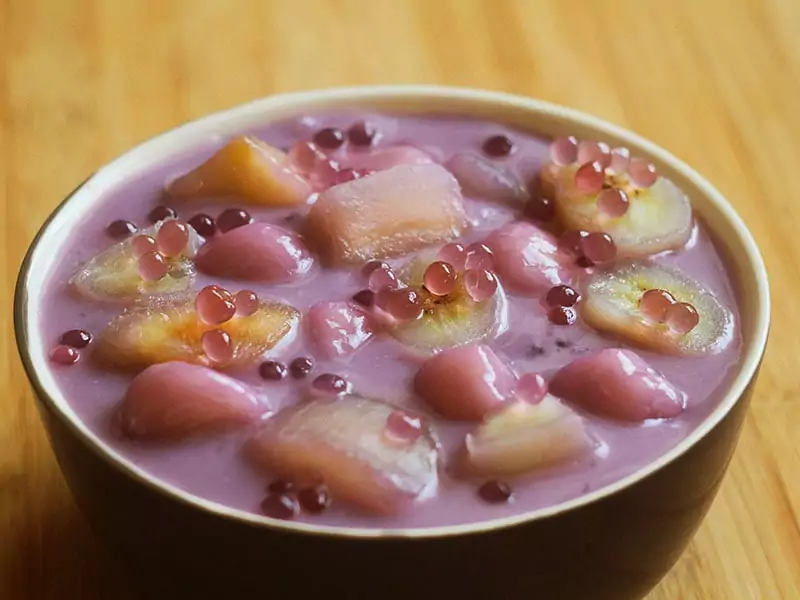 In Tagalog, Ginataang Bilo-Bilo merely means chewy rice balls in coconut milk. Merienda is the time for some freshness, and this recipe is full of it. Simply put, it's a dessert soup featuring coconut milk at the base and a variety of tubers and fruits.
The best thing about this Filipino delicacy? It's customizable with your favorite add-ins, including jackfruit slices, saba banana, and even sapo pearls for an extra crunchy texture.
Whether warm or chilled, Ginataang Bilo-Bilo is a Filipino dish that's healthy and is delicious at the same time. You can whip up a big batch of it and leave a big jar in the fridge for 4-5 days with a bit of faff.
Sit Down To Eat For The Sacred Merienda!
With a great diversity in food culture, Filipino cuisine deserves the spotlight as big as its Asian neighbor. In the meantime, I hope this round-down of the country's most prized snacks has inspired you to visit it and enjoy the most authentic version one day.
Is there a merienda signature that I happened to miss? What's your favorite dish among these crazy-delicious delights? Tell me everything in the comment box!
Nutrition Facts
15 servings per container
---
Amount Per ServingCalories133
% Daily Value *
Total Fat 8.4g

13

%
Cholesterol 76mg

26

%
Sodium 13mg

1

%
Potassium 27mg

1

%
Total Carbohydrate 11.7g

4

%

Dietary Fiber 0.4g

0

%
Sugars 0.1g

Protein 2.5g

4

%
---
* The % Daily Value tells you how much a nutrient in a serving of food contributes to a daily diet. 2,000 calories a day is used for general nutrition advice.