Vietnamese mini savory pancakes ("Bánh Khọt") are a classic dish of Southern Vietnam. These little treats boast a beautiful golden batter that's crispy on the outside yet tender and fluffy on the inside. With the addition of mung beans and meat or seafood topping, every bite is heaven on earth!
In today's post, I'd like to introduce you to a fail-proof recipe to make Banh Khot. With just a little more than an hour of cooking, you'll be able to enjoy these iconic Vietnamese pancakes in the comfort of your home!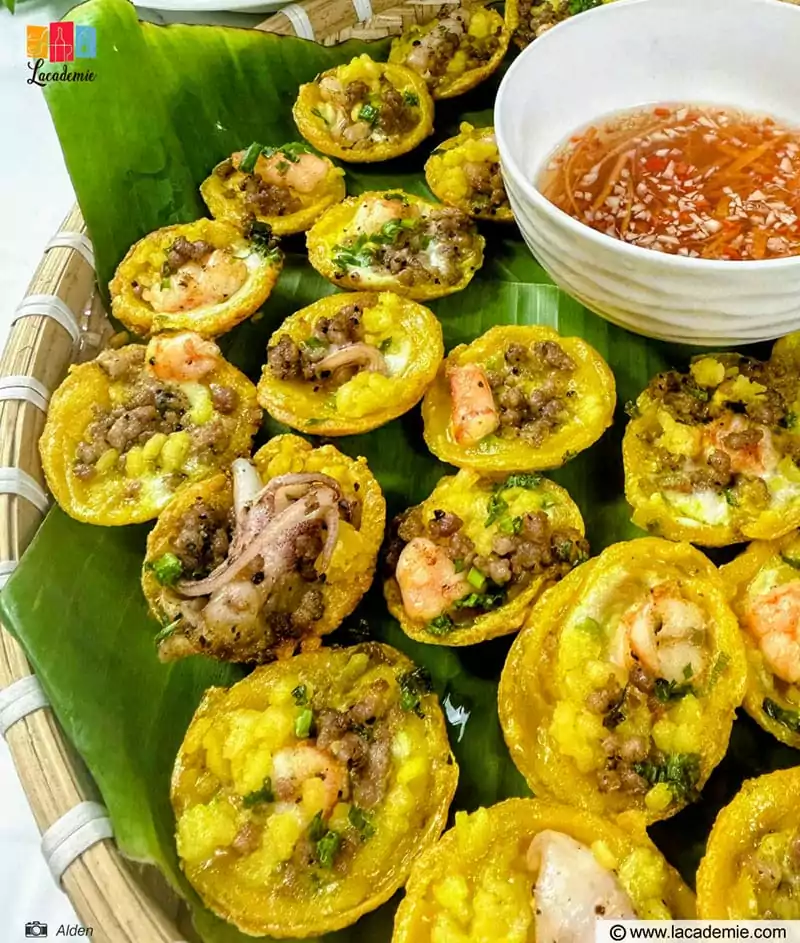 What Is Banh Khot?
Banh Khot is a delicacy of Vung Tau, a coastal province in the Southern part of Vietnam. Despite being a Southern Vietnam classic, many food lovers believe that Banh Khot is inspired by Banh Can, a specialty of central Vietnam, due to the resemblance in their shapes.
The locals often top these pancakes with seafood, such as prawns or squid, ground pork, and mung beans. Similar to Banh Xeo, Vietnamese people enjoy Banh Khot with their well-loved sweet, savory, and spicy Nuoc Cham and an array of fresh herbs.
You might find Banh Khot somewhat similar to Banh Xeo, another popular Vietnamese dish. In fact, the batters for these two delicacies are almost identical. However, while Banh Khot takes the shape of small pancakes, Banh Xeo is bigger and often folded in half.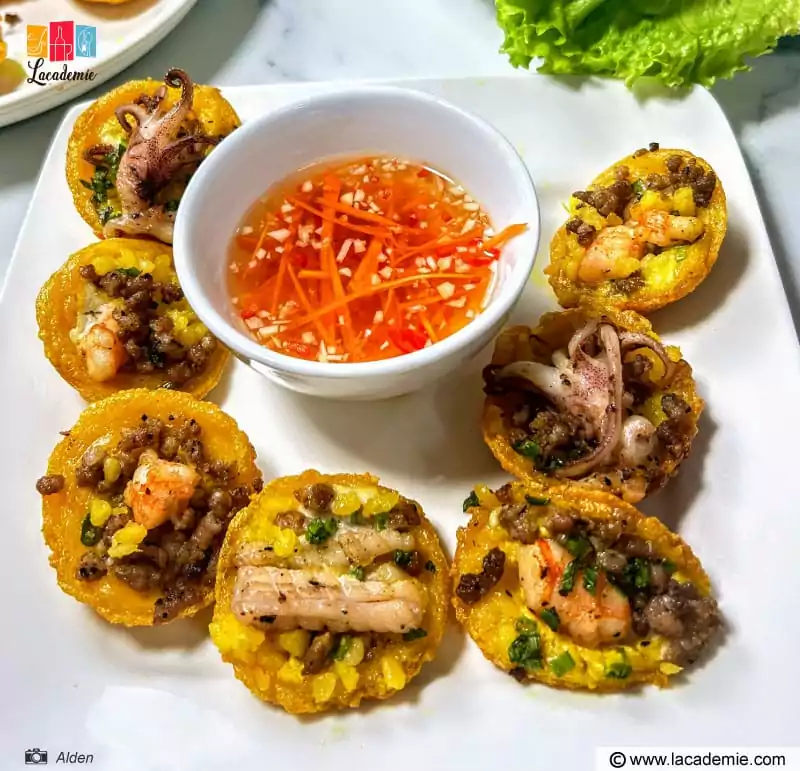 Tools
A Banh Khot pan is a must-have tool for making this recipe. Fortunately, you can find it quite easily on online shopping sites.
Banh Khot pan: A special pan designed specifically for making mini pancakes.
Pot: For cooking the mung beans and coconut milk.
Pan: For stir-frying the seafood and meat topping.
Ladle: For mixing and stirring the ingredients.
Measuring cup: Pour your batter into a measuring cup so you can add it to the pan easier.
Tongs: Help you place the topping on the Banh Khot.
Mixing bowl: For mixing the batter.
Knife and chopping board: Use a sharp knife and a high-quality chopping board for the best cooking experience.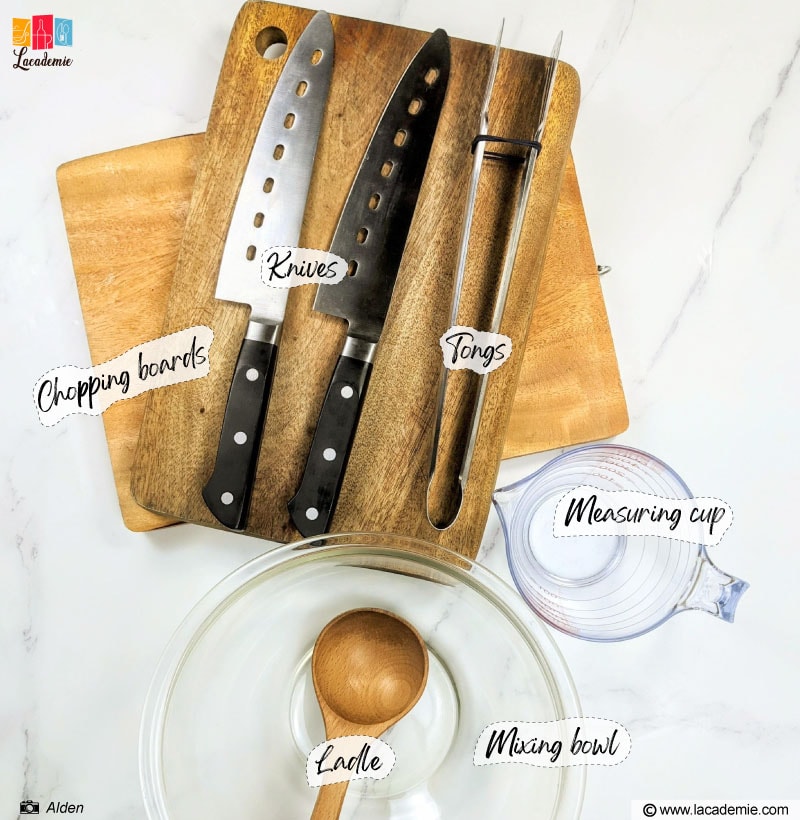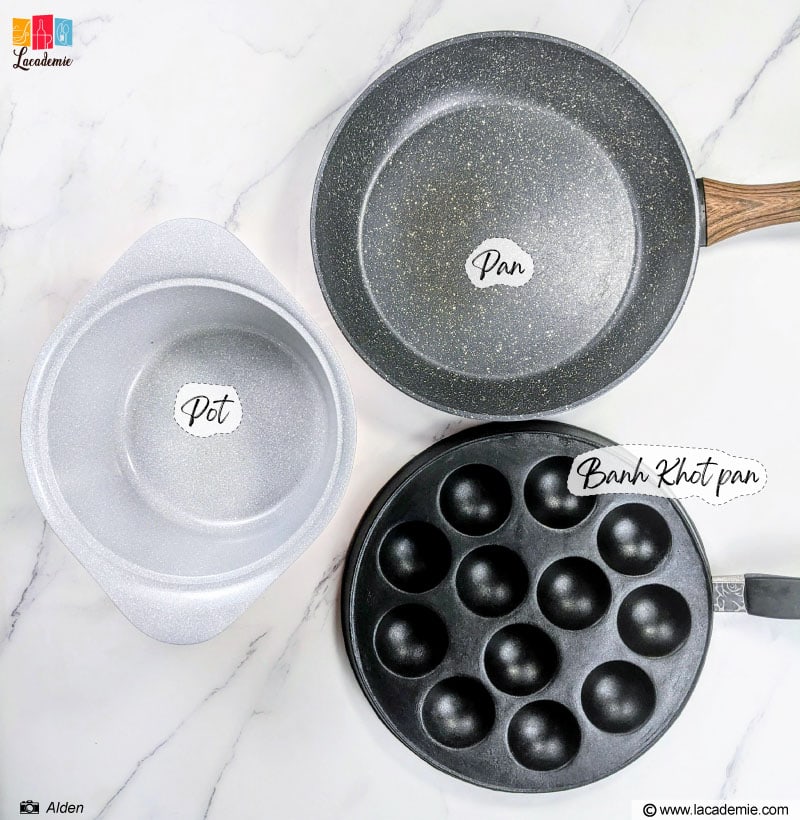 Ingredients
I'll separate these ingredients into 3 groups: for the batter, for the topping, and for serving.
For The Batter
Rice flour: The ideal flour base for Banh Khot batter.
Turmeric powder: Adds color to your pancakes.
Coconut milk: Adds sweetness, aroma, and a touch of fattiness.
Soy milk: This is the secret ingredient to the crispiest Banh Khot.
Other: Water, salt, cooking oil.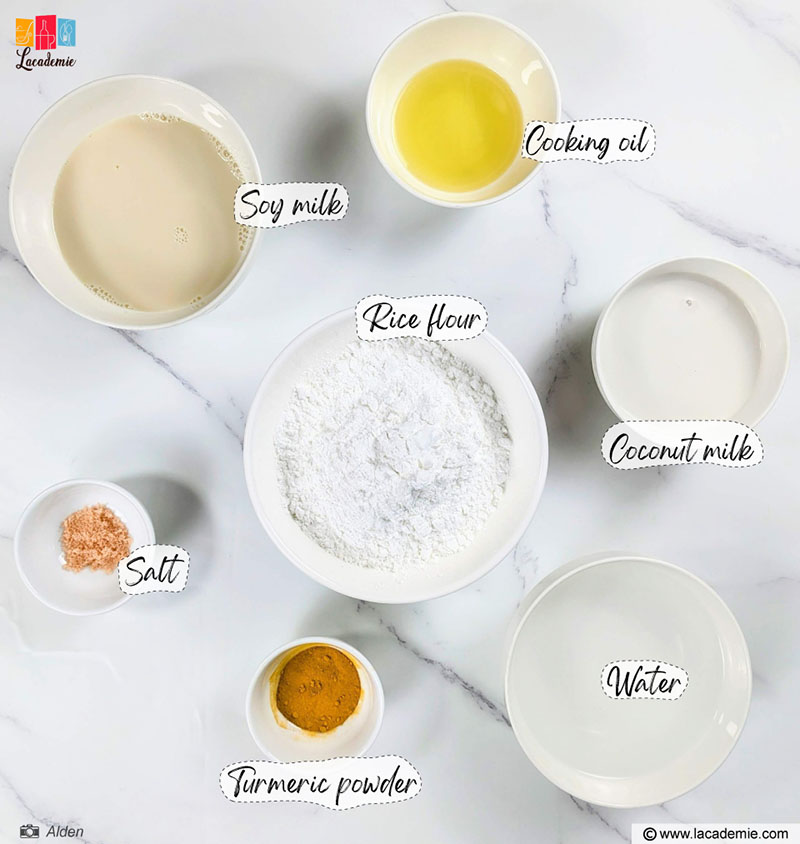 For the Topping
Mung beans: Improves the pancakes' flavor, texture, and aroma.
Seafood: Prawns and squid.
Ground pork: If you prefer meat over seafood, ground pork is a great choice.
Spices: Salt, sugar, pepper.
Scallions: For sprinkling on top of the Banh Khot.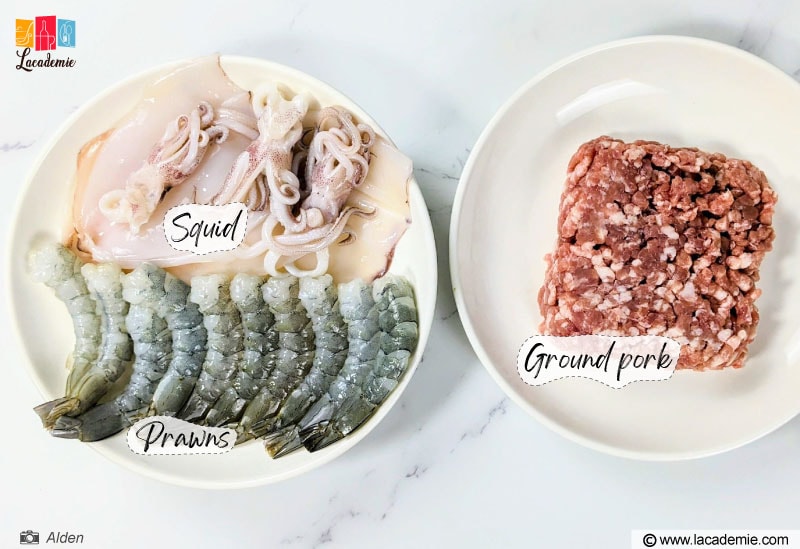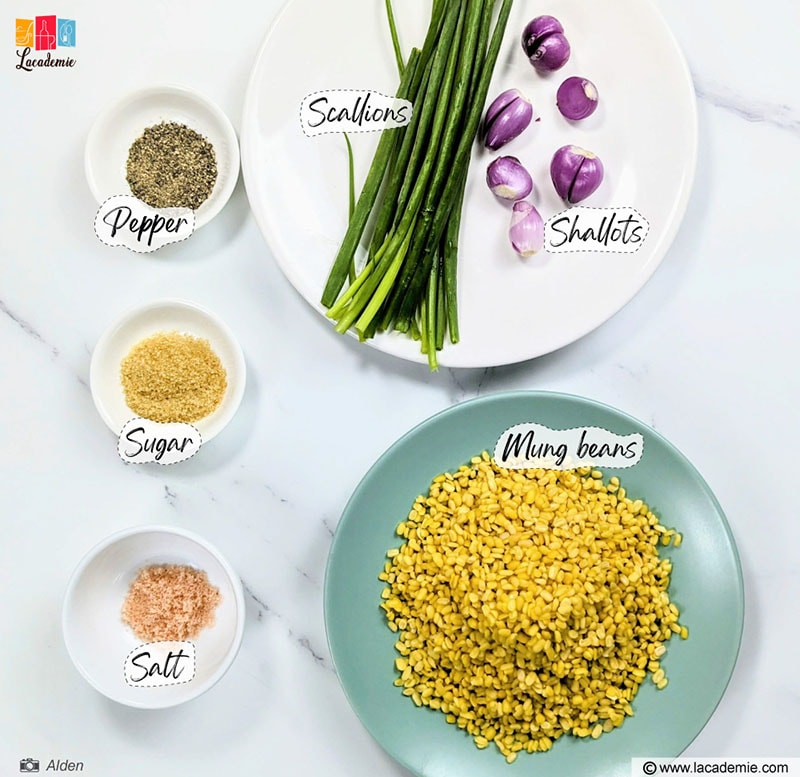 For Serving
Fresh herbs: Lettuce, fish mint, peppermint, beefsteak plant, Thai basil.
Fish sauce: The core condiment for making the dipping sauce.
Lime juice: Adds some tartness to the dip.
Sugar: The sweetness of sugar balances out fish sauce's savoriness, creating a tastier dip.
Carrots: Adds color and a crunchy bite.
Chili pepper: Feel free to add more or less chili pepper based on your tolerance for spicy food.
Other: Garlic and warm water.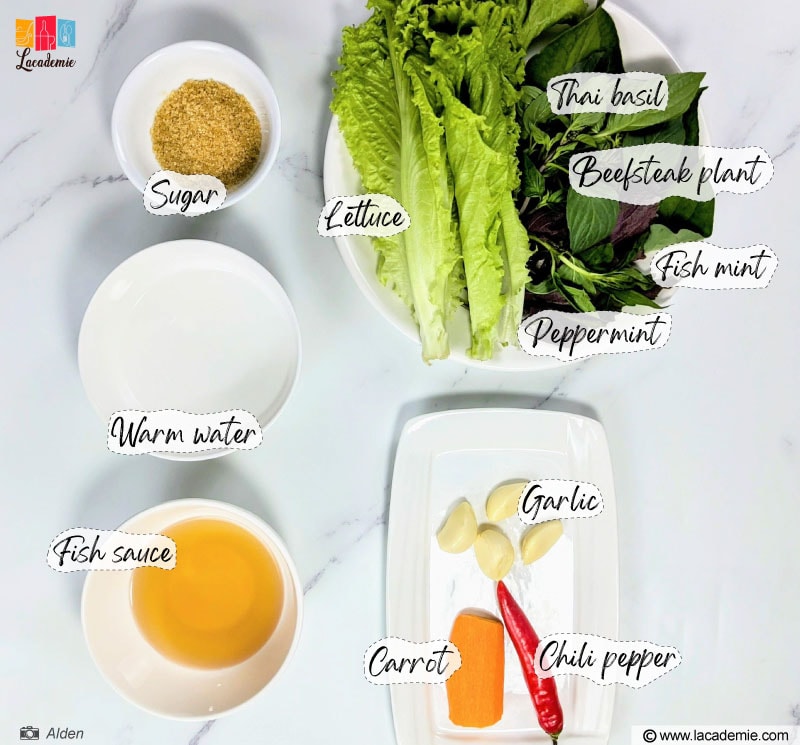 Directions
Without further ado, I'll share with you my favorite Banh Khot recipe right now. Let's get to the kitchen!
Step 1: Prepare The Ingredients
Remove the prawns' heads, peel their shells, and devein them. Cut the prawns into bite-sized pieces. If the prawns are on the smaller side, you can leave them uncut.
Likewise, chop the squid into bite-sized pieces.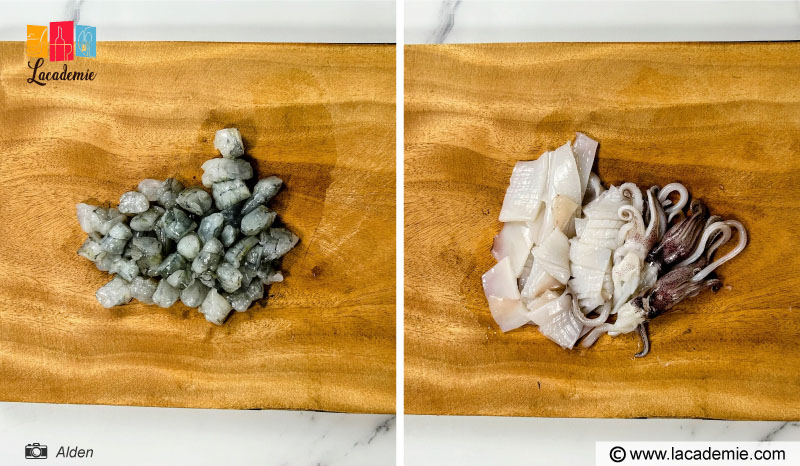 Finely chop the scallions. Mince the shallots, chili pepper, and garlic.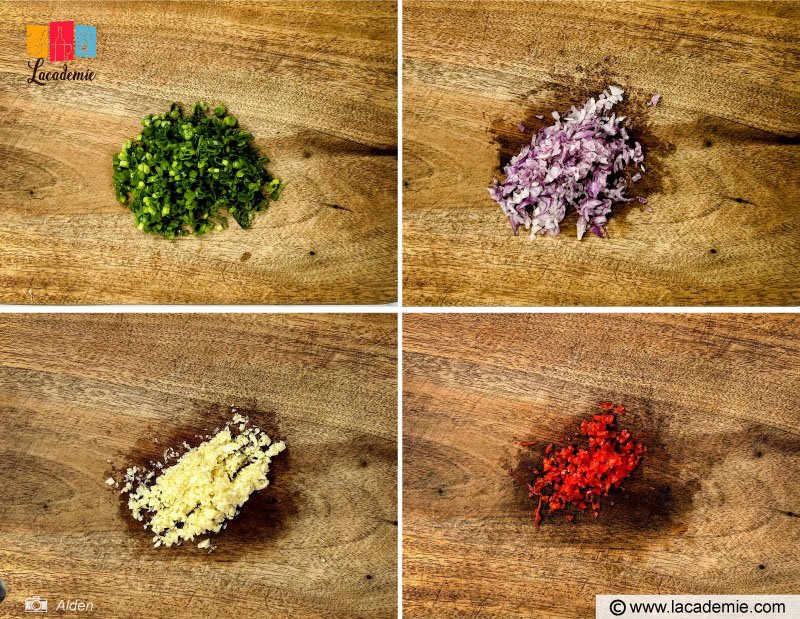 Julienne the carrots.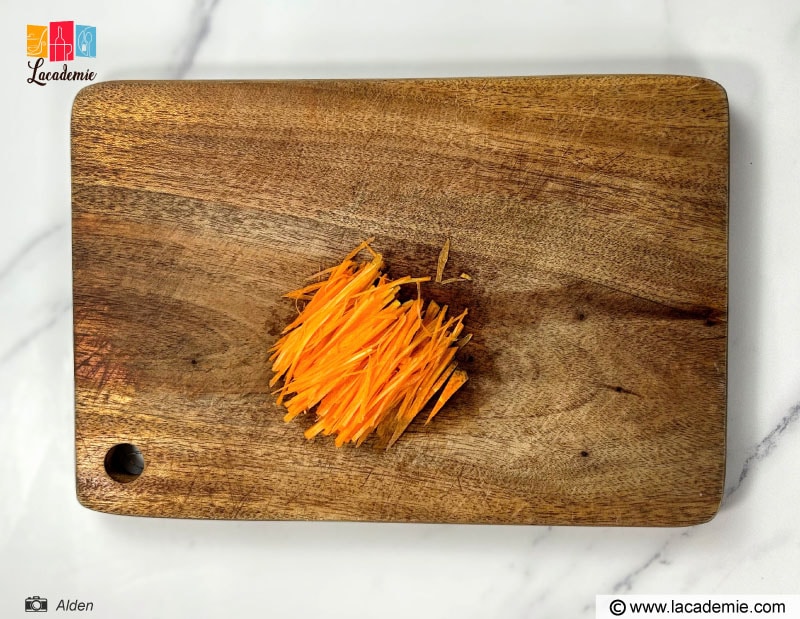 Put the carrot slices in a bowl, then add a little sugar and toss well. Doing this will increase their crispness.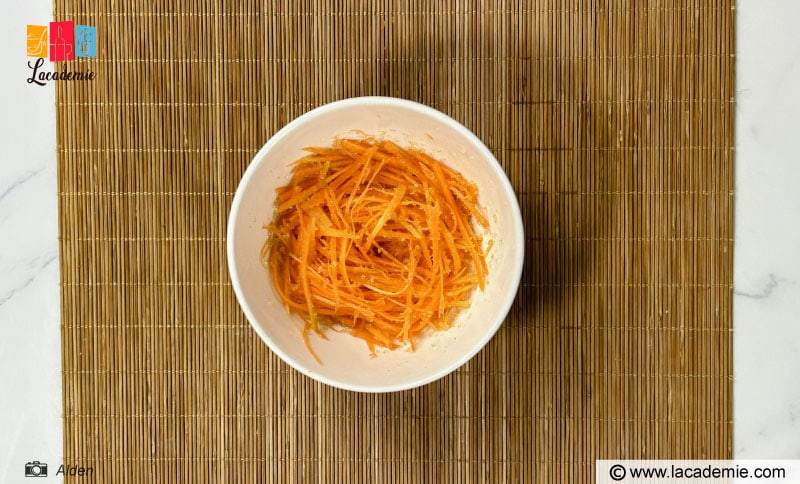 Step 2: Make The Batter
Add the rice flour, turmeric powder, soy milk, coconut milk, water, and salt to a large mixing bowl and stir well.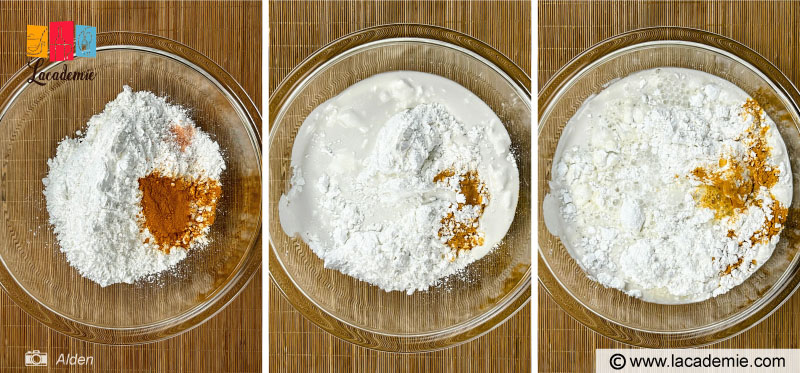 Add 1 tablespoon of cooking oil to the batter and let it rest for about 60 minutes.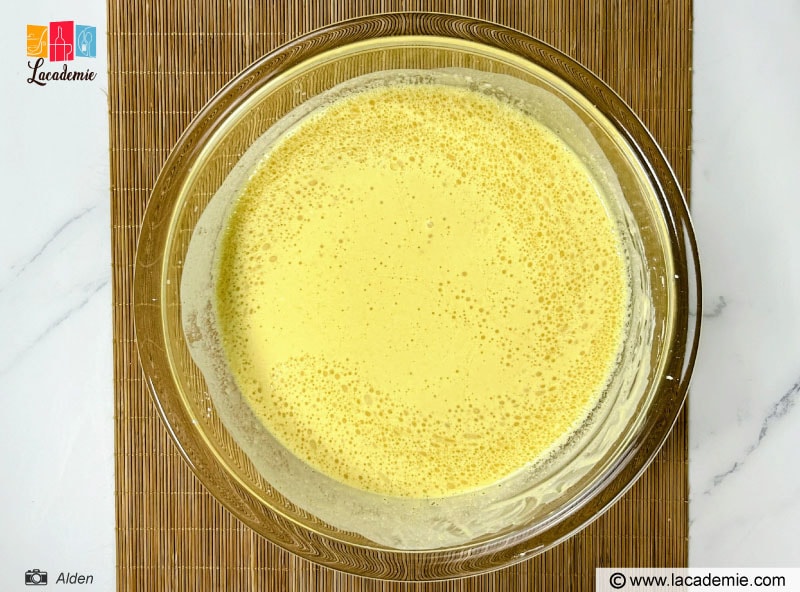 Step 3: Stir-Fry The Prawns, Squid, And Ground Pork
Place the pan on the stovetop and add 1 tablespoon of cooking oil. Fry the minced shallots until fragrant, then stir in the prawns and stir-fry them over medium heat. Add 1 teaspoon of salt and 1 teaspoon of pepper.
Do the same thing with the squid.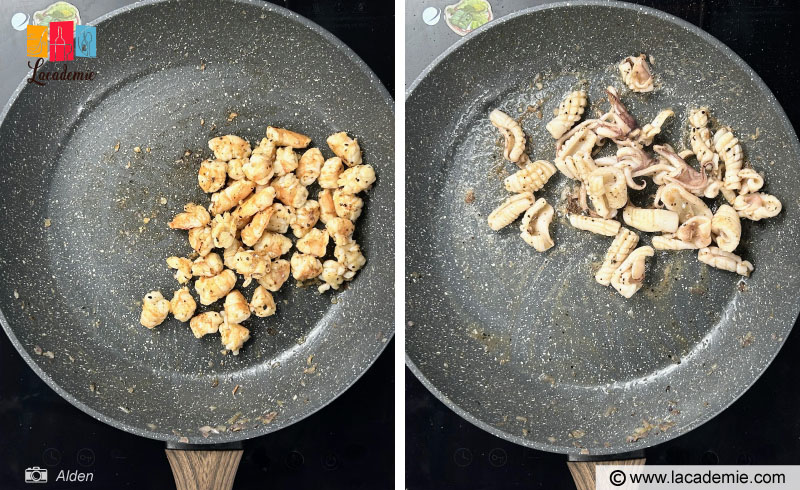 Likewise, stir-fry the minced pork in the same manner, and season it with 1 teaspoon of salt, 1 teaspoon of pepper, and 1 teaspoon of sugar.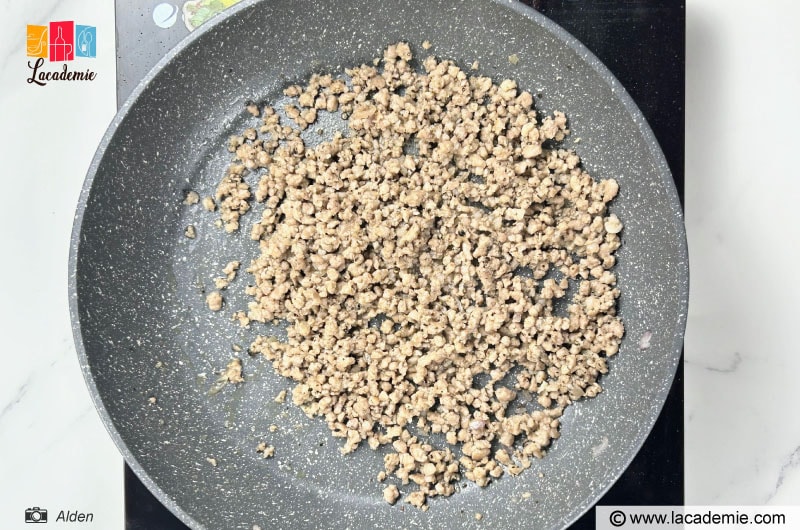 Step 4: Cook The Mung Beans
Put the mung beans into the prepared pot and cook them on medium heat for about 20 minutes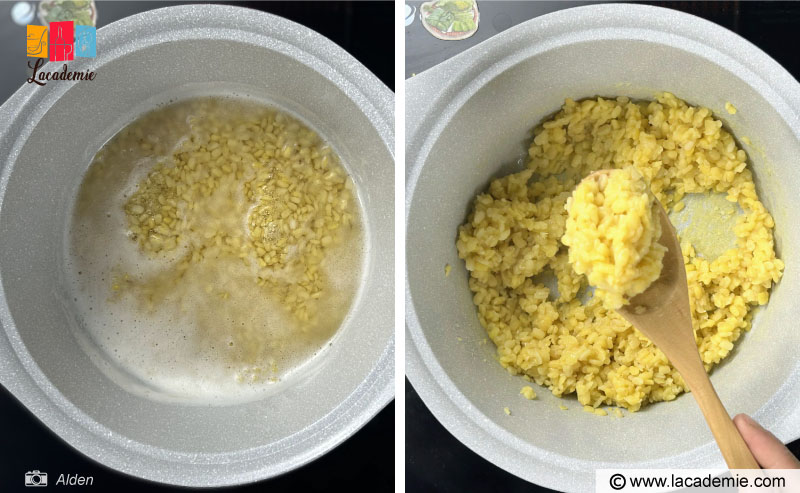 Step 5: Cook The Coconut Milk
Pour 100 milliliters of coconut milk into another pot. Simmer on low heat until the coconut milk is slightly hot and thickens. Add a little salt and turn off the heat. The coconut milk will turn solid when it's cool.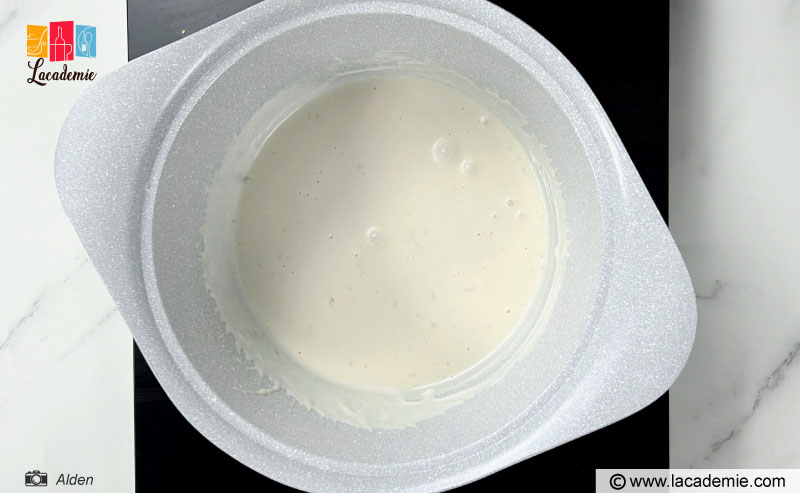 Step 6: Make The Dip
Pour 3 tablespoons of fish sauce, 1 tablespoon of lime juice, 2 tablespoons of sugar, and about 7 tablespoons of warm water (100 milliliters) into a bowl. Stir well to combine.
Add the minced chili pepper and garlic to the dip and give it a good stir. Then, add the marinated carrot slices.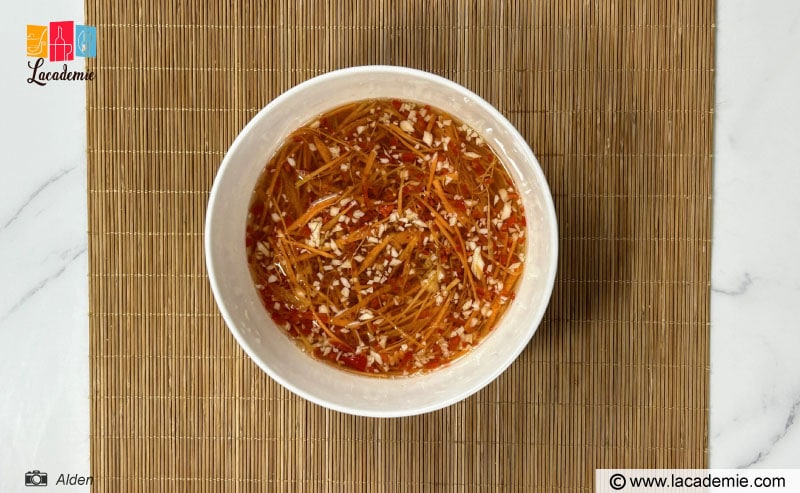 Step 7: Cook The Pancake
Heat the Banh Khot pan on high heat. Then, lower the heat and add a little cooking oil to each slot.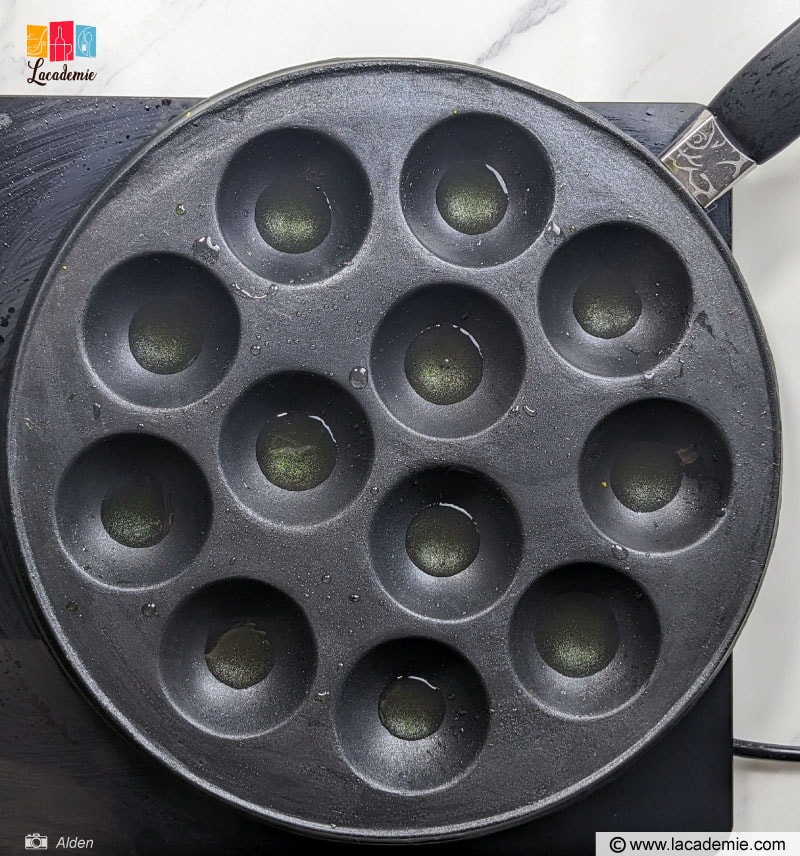 Once the oil is heated, pour the batter into the pan, filling about ⅓ of the slots' capacity.
When the batter at the edge of the pancakes is cooked, drizzle a little oil on the rim and add more batter. The extra oil will create a crispier Banh Khot.
Add a dollop of coconut milk to the pancakes when the second layer of batter is cooked.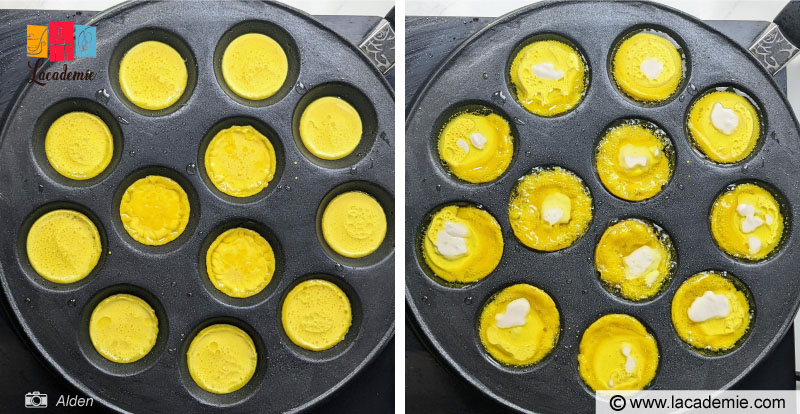 Top each pancake with seafood or pork as you prefer. Then, sprinkle the scallions over them.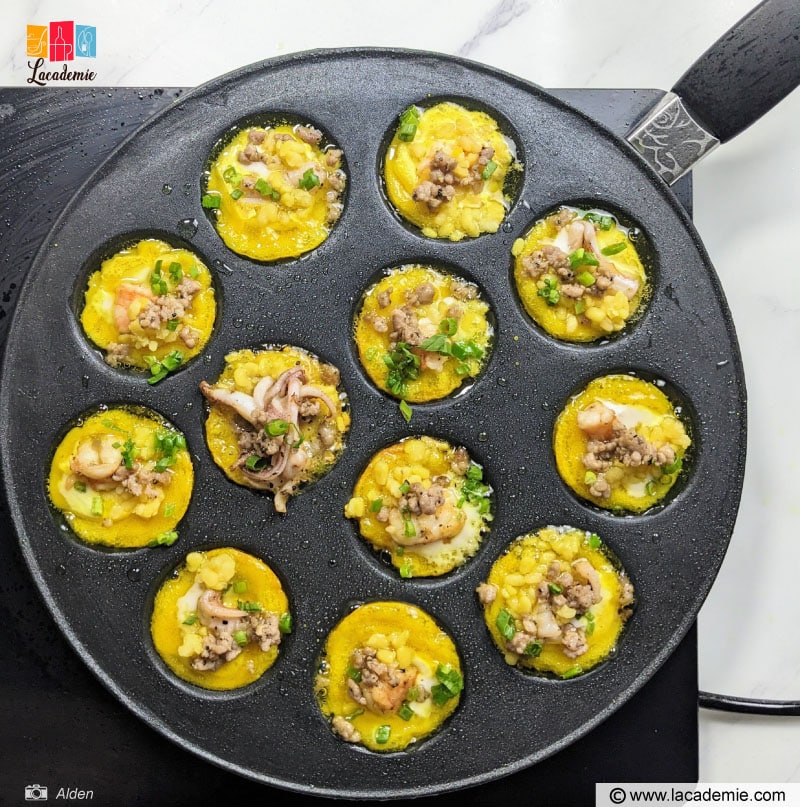 Cook your Banh Khot on low heat until the bottom turns golden. Remove the pancakes from the pan using a spoon.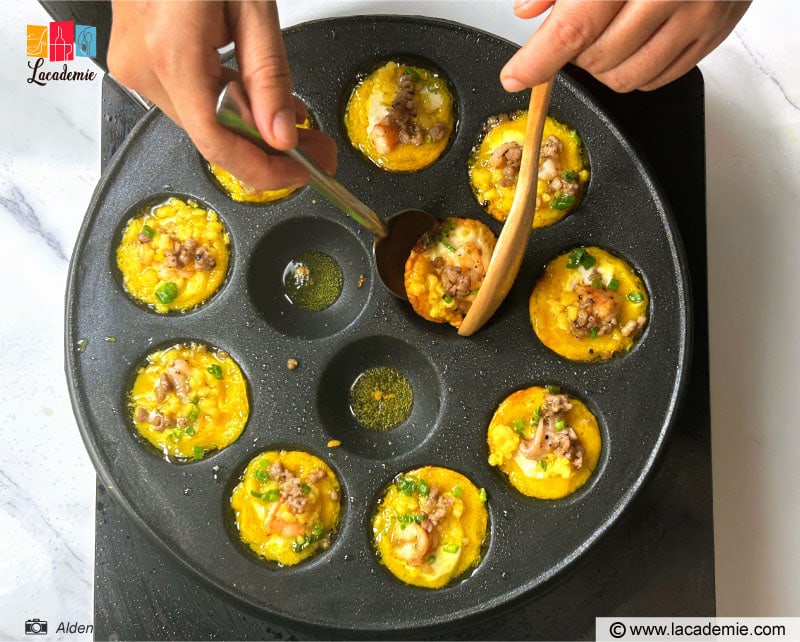 Repeat until you use up the prepared batter and topping.

Step 8: Enjoy Your Banh Khot
Arrange your Banh Khot on a plate together with fresh lettuce, fish mint, peppermint, Thai basil, etc., and a bowl of dipping sauce. You can enjoy this delicacy by rolling it in rice paper or eating it directly with herbs.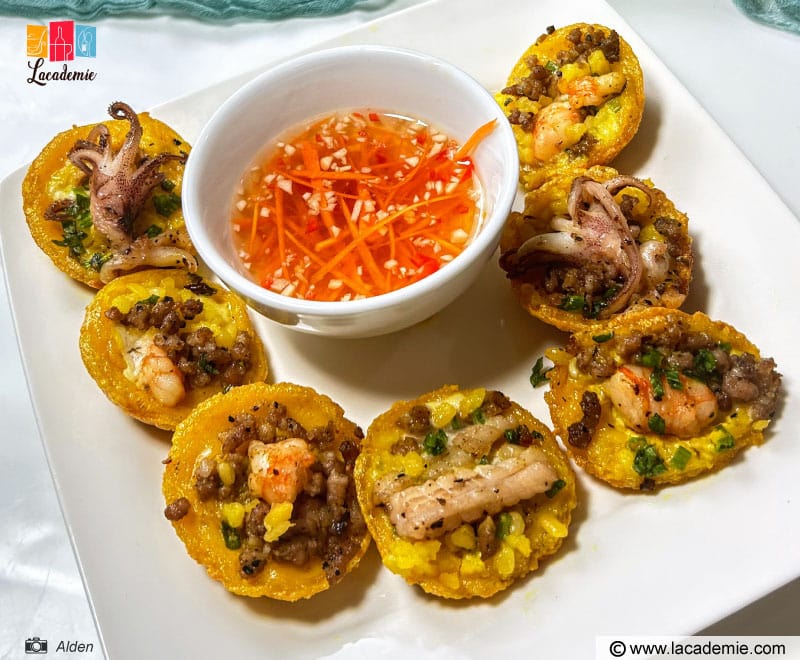 Further Useful Tips
Don't forget to check out the following tips for alternatives and an easy way to turn Banh Khot into a vegetarian-friendly recipe.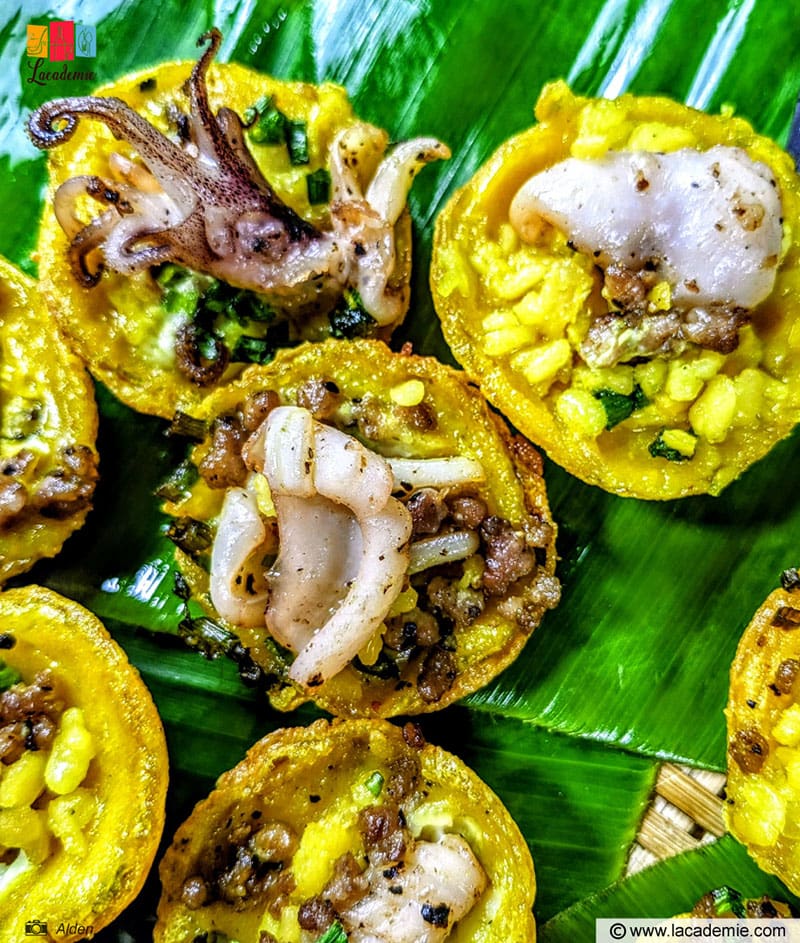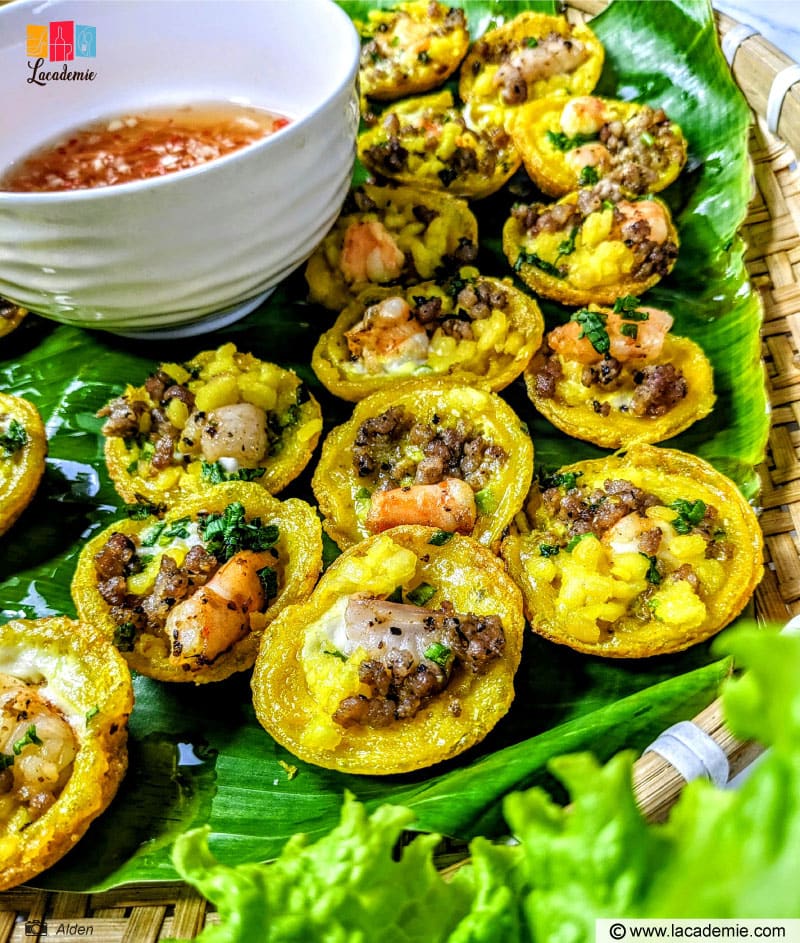 You can blend cold rice with a little water and use this mixture to replace soy milk.
Feel free to customize the topping to your liking. Besides seafood and pork, I also love adding quail eggs to my Banh Khot.
If you want to go vegetarian, try making the topping with mung beans and finely chopped mushrooms.
To save time, you can also use pre-made Banh Khot or Banh Xeo flour. The result might not be as delicious, though.
Savory Pancakes Have Never Tasted This Good!
Banh Khot is what many people consider to be a perfect cousin to Banh Xeo. These mini pancakes are super easy to whip up, making them a great choice when you want to treat your family to a delicious Vietnamese recipe without putting in too much effort.
If you have a thing for Asian dishes, you shouldn't miss out on these Vietnamese mini pancakes. Give them a try, and share your experience with me in the comment section below. If you enjoy this post, don't hesitate to share it around! Goodbye, and see you soon with more tasty recipes.
Nutrition Facts
6 servings per container
---
Amount Per ServingCalories570
% Daily Value *
Total Fat 18.6g

28

%
Cholesterol 227mg

76

%
Sodium 1274mg

54

%
Potassium 842mg

25

%
Total Carbohydrate 64.2g

22

%

Dietary Fiber 5.9g

20

%
Sugars 8.9g

Protein 36.6g

72

%
---
* The % Daily Value tells you how much a nutrient in a serving of food contributes to a daily diet. 2,000 calories a day is used for general nutrition advice.