It's proper to say that Filipino pork recipes are a massive combination of grilled, barbecued, boiled, and breaded dishes. Beyond the well-known Adobo, this dynamic cuisine has so much to offer. And with some delights, it's not a puzzle to recreate from scratch at home.
Whether you're preparing for a family gathering or simply feeling fancy and want to spice things up, these terrific Filipino dishes are sure to satisfy. Let's take your weekly meal to a whole new one right now!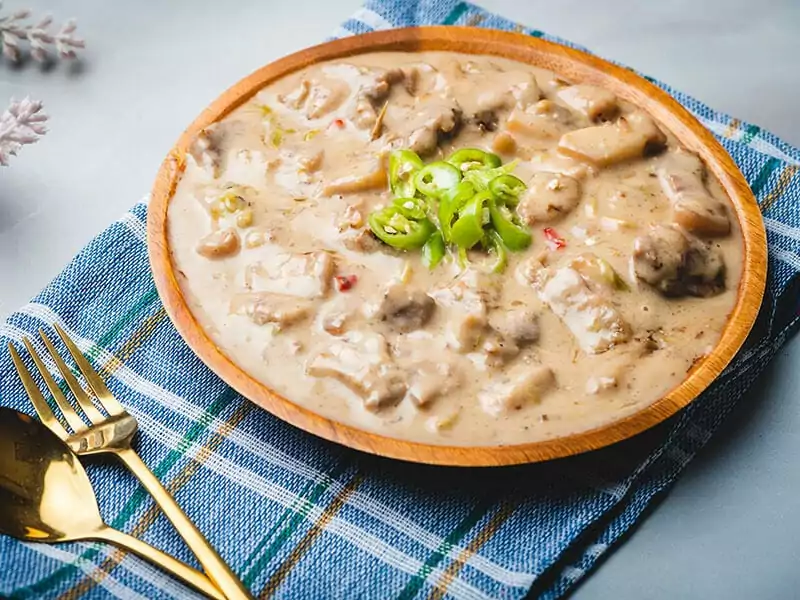 25+ Most Delicious Pork Recipes From Filipino Cuisine
Gather your ingredients and utensils; these tasty Filipino pork recipes will make tonight's dinner something you've never had before!
Total time: 1 hour 10 minutes
Essentially one of Filipinos most loved specialties, pork Adobo is sure to satisfy your meaty cravings. As you may have heard, Adobo, a traditional Filipino cooking method, involves simmering proteins like meat and seafood in a medley of soy sauce, vinegar, and garlic.
Coconut is often added to balance out the vinegar's acidity. The result is a burst of tangy, sweet, and savory. You can serve pork Adobo with an Asian complimentary dish or a Western side based on your taste, but the easiest way to enjoy it is with a rice bowl!
Recreate the timeless pork Adobo with this guideline!
Total time: 1 hour 20 minutes
Pork Embutido is especially popular in the Philippines during the holidays, but that doesn't mean you can't whip it up for a beautiful dinner! This Filipino Christmas delight consists of ground pork, veggies, and raisins wrapped around hard-boiled eggs and sausage.
The aroma, shape, and flavor of Pork Embutido will always put you in a festive mood. Unlike other meatloaves, this ground pork delight is traditionally steamed, giving it away a better and juicier texture. Give it a try!
This Pork Embutido is so good; it feels like Christmas has arrived!
Total time: 1 hour
Warm-up those chilly winter nights with a bowlful of pork Tinola. In this recipe, pork ribs are simmered in a flavorful broth of ginger, garlic, chili leaves, and patis, creating a melting pot of irresistible goodness.
This Filipino pork soup is so easy that any amateur can achieve it without a hassle. The rich, mildly spicy, and comforting dish pairs well with some steamed white rice while hot and a tasty and straightforward Filipino dessert to round the meal out.
Besides pork ribs, feel free to experiment with other parts like belly and butt cubes to find out what your favorite is!
Total time: 1 hour 12 minutes
A mouthwatering pork stew that Filipinos take pride in, pork Mechado is a traditional dish made of pork slices, potatoes, carrots, bell peppers, and a luscious tomato sauce to bind everything together.
Typically, the pork is cut into slices or cubes to absorb the marinade better. Pork Mechado is very affordable and simple to whip up, as expensive and complicated as it looks.
Some fish sauce and a big bowl of steamed rice are simple Filipino side dishes you need to enjoy this stew.
Total time: 1 hour 20 minutes
Calling all fried food lovers! Bagnet, or crispy pork belly, is the top favorite among Filipinos. Like other deep-fried recipes, this delicious Filipino food is created with a fried pork belly that's been boiled beforehand for extra tenderness.
Undoubtedly, the ultimate pairing for Bagnet is bagoong monamon, a local Filipino fermented anchovy dip. The hearty, meaty, yet mild flavor profile of Bagnet is complemented by that burst of fishy and umami taste of the dip, which is super-addictive from the first bite!
Total time: 35 minutes
A delight influenced by Chinese cuisine adopted into local Filipino cuisine, sweet and sour Pork is easy yet full of beautiful flavors. This dinner-worthy dish can be finished in about an hour with not so many ingredients.
When appropriately done, sweet and sour pork is a color fusion with a harmony of sweetness and tanginess. The classic accompaniment for this dish is plain white rice. But you can spice it up with some Lumpia (Filipino egg roll) or dumplings.
If it's your first time dishing up this dish, cornstarch can be added to create a thick sauce. Meanwhile, sugar is the key behind that sparkling brown color that makes everyone drool.
Total time: 1 hour 15 minutes
Like the world-famous Adobo, Pork Humba's base sauce is also a combination of soy sauce and vinegar. However, Pork Humba tends to be on the sweeter side, thanks to the addition of sweetening elements such as pineapple juice and brown sugar.
With "Hum" merely translates to tender and "Ba" meaning Pork in Filipino, you can already tell how great this dish is. It captures the pure essence of Filipino cuisine, with a perfect balance of sweet and savory tastes.
A golden tip for nailing Pork Humba is not to rush it. That's right! Instead of combining all the ingredients, take the extra effort to brown the pork belly. Also, simmer it on low flames to ensure all parts are cooked evenly and tenderly.
An easy-breezy Pork Humba recipe you can make at home!
Total time: 50 minutes
In Filipino food culture, "Paksiw" refers to recipes that involve cooking in vinegar and garlic. On the other hand, "Lechon" translates to the spit-roasted pig. Therefore, if you have some leftover Lechon Kawali (Filipino fried pork belly), this recipe is your go-to!
You'll need to sauté the pork in a sauce of brown sugar, garlic, vinegar, and other simple spices to make this dish. Sweet, savory, and with a hint of sourness, Lechon Paksiw is the best way to use up leftover pork and turn it into a delectable dinner.
Total time: 1 hour 15 minutes
Another Filipino delicacy that drew inspiration from Chinese cuisine, pork Asado, is a one-pot recipe that'll impress your family and guests. This Filipino version is all about braising despite its name, which means grilled or roasted pork!
The pork is slowly and steadily cooked in a sweet and savory sauce of minced garlic, black pepper, and chili powder until it fully tenderizes. Preferably, you should plan the dish, so you'll have time to let it rest overnight for the best texture.
Pork Asado and the best way to whip it up!
Total time: 1 hour 10 minutes
Whether you are cooking for a special celebration or simply feeling fancy, Bicol Express is something you can't go wrong with. In essence, it's a Filipino stew using pork, coconut milk, and chilies as the base to create the purest comfort food.
Hot, comforting, and palatable, Bicol Express is what those rainy days call for. Most commonly, locals enjoy it with warm rice. But really, this meaty course is so fulfilling; you can eat it as a standalone dish.
You can see this video to know more:
Total time: 25 minutes
Considered an odd couple by many, crispy pork and fried tofu are a match made in heaven in Tokwa't Baboy. The ingredient that stands out from this dish is Lechon Kawali. If it's not available, feel free to replace it with other pork meat with the same amount of fat.
In terms of flavor, Tokwa't Baboy is so tangy, umami, and hearty that it hits the spot every time. You can't go wrong with this Filipino staple, whether served as a main course, appetizer, or even a snack to munch on.
Total time: 4 hours 25 minutes
Are you looking for an addictive Filipino soup that makes a nourishing meal for the whole family? If so, Nilagang Baboy is your best bet. To many people's surprise, this warming soup used to be peasant food due to the use of a less-expensive cut from the Pork: bones.
But it's these tough bones that create the soul of Nilagang Baboy. They lend the soup a deep-flavored broth and many health benefits all in one bowl. It also gets a harmony of flavor from pork ribs, sweet potatoes, sweet bananas, and fish sauce.
The tender meat and delicious broth go down wonderfully with rice daily. While it takes a bit long to simmer, the result will make everyone in the house run to the dining table!
Total time: 1 hour 10 minutes
If you ever have trouble looking for a crowd-pleasing recipe, pork Sinigang is a guaranteed dinner winner! In this dish, pork ribs and a host of vegetables cook together in a tamarind-based broth until all the flavors are melded.
Without a doubt, this comforting stew is perfect for the cold months. I like this pork Sinigang because it is easy to whip up and tweak to your liking. That's right. You can use any cut of the pork for this stew, and it'll turn out just as lip-smacking!
This cooking tutorial will make Pork Sinigang a breeze!
Total time: 35 minutes
Since the nation is a massive archipelago, it is no surprise that seafood is abundant in its food culture. Shrimps are no exception. Rellenong Hipon is a timeless delicacy that transforms shrimps, ground pork, and lots of vegetables into some tasty finger foods.
The best thing about it yet? Rellenong Hipon is a great meal-planning recipe for any meal of a busy week. You'd need to store a big batch uncooked and fry only before serving. This way, it's so tasty and addictive without getting all soggy.
Homemade Rellenong Hipon made easy with step-by-step instructions!
Total time: About 35 minutes (Using instant pot) and About 50 minutes (Not using instant pot)
Paksiw Na Pata stands a chance of being the savory stew you've ever made. Better yet, making this dish is way easier than you may expect. Assembling all the ingredients and letting them simmer away to perfection is all it takes!
Pork hock is without a doubt the main attraction of this recipe. This cheap yet versatile cut brings a tender and rich bite that melts across your tongue. The stew also gets a tanginess from soy sauce, pineapple juice, and a subtle fruitiness from banana blossoms.
Total time: 1 hour 45 minutes
Lumpia Mollica is one of the most treasured variations of the famous Lumpia, a Filipino snack that evolved from the good-old Chinese spring roll. You can freely twist the basic recipe until it tastes the way you desire.
Besides ground pork as the show's star, this Lumpia version also stars tons of spices, carrots, stalk celery, and onions. At its best, this fried food is incredibly crunchy on the outside and tender, juicy on the center, making every bite feels like heaven on a plate.
So whether you have a big party ahead or roll on a hectic schedule, keeping some of this easy Filipino food can come in to save the day any minute now!
Total time: 1 hour 10 minutes
Let's be real here! Dinakdakan is not the usual, ordinary pork dish on your culinary journey. But if you're willing to try it, you'll probably pick up a taste for it and even make it more often!
Owing to its origin in the region of Ilocano, Dinakdakan is packed with local foods such as calamansi dressing (popular Filipino citrus fruit), chili pepper, and grilled pork parts, including pig's belly and liver. Other elements like the ear and liver can also be tossed in.
In terms of flavor and texture, this pig face stew is somewhat similar to pork Sisig (another famous Filipino pork dish), except it's creamier and with many chunks of meat. It's a hearty main course best enjoyed with warm rice and an excellent Filipino appetizer for any meal.
Total time: 30 minutes
Pork and tomatoes are a true match made in heaven. This combination and plenty of cabbages and fish sauce make up a family-friendly dinner. It's so juicy and bursting with flavors that you'll fall in love with it from the first taste.
Although complex, Kinamatisang Baboy takes only 30 minutes from the kitchen to the dining table. Nutrition-wise, it's also a great addition to your weekly menu, providing fiber, vitamins, and protein.
Kinamatisang Baboy easily tops your list of favorite soul food as soon as the cold winter hits; get ready with this cozy pork soup!
Total time: 1 hour 15 minutes
Pork pieces are sauteed in garlic and onions before blended with shrimp paste, vinegar, and water in this classic Filipino pork stew. Thanks to its appealing look and delicious flavor, Binagoongan Baboy is easily an all-time favorite for many.
Shrimp paste may be quite strong-smelling; it's the key to the best savory and delicious salty base. Vinegar is often used to balance out the fishy taste, thus creating a lovely balance between bold flavors. It's a pot of goodness for sure!
Total time: 1 hour
If you're looking for a classic that perfectly captures the soul of Filipino cuisine, I suggest giving pork Pochero a try! Traditionally, locals serve this stew for a Sunday lunch or special occasions, whether the family gathers together for a big, hearty meal.
Unlike most pork stews, this one tends to lean on the sweeter side due to the addition of a particular ingredient: saba bananas (a native banana cultivator in the Philippines).
Pork Pochero also gets its meatiness from pork belly, its starchiness from potatoes, and a delicious body provided by a simple tomato-based sauce. All in all, this sweet, sour, and savory dish is sure to hit the spot!
Total time: 15 minutes
While "sinuglaw" essentially refers to "to grill," "law" comes from the word "kinilaw," which translates to "cooked raw by soaking in vinegar." With Sinuglaw being the combination of these two words, you'd already know it's a beautiful cross between two opposite dishes.
In the Mindanao and Visayas regions of the Philippines, Sinuglaw and Kinilaw are two culinary icons that are very commonly served. You'll find them in any market or restaurant menu for sure.
Simply put, Sinuglaw is a marriage between fish ceviche and grilled pork belly. It no denies that this unique recipe is an explosion of flavors. It has lots of fans throughout the country with a hearty, sweet taste without sacrificing the freshness and excellent heat.
Take a peek at how this expert chef makes Sinuglaw!
Total time: About 45 minutes
As its name implies, pork Bistek is the Filipino version of the Western pork steak. But it's not a complete Filipino take without a tasty twist: calamansi juice. The tangy note complements the mild heat of pepper so that your final result is full of flavors.
Keep in mind that to whip up the best pork Bistek, you should let the meat marinate for at least 30 minutes. It allows the meat to absorb the flavors, but it also helps it to tenderize much better.
Don't hesitate to garnish it with some onion rings and sauce before bringing it to the table for extra appeal. If you want to enjoy a taste of the classic beefsteak while still fitting the bill, this recipe is a fantastic alternative!
Total time: About 30 minutes
For home cooks who love a taste of Filipino cuisine without much time to spare, Tortang Giniling might be your new favorite! This dish is an omelet made by pan-frying eggs with ground pork, bell peppers, potatoes, and simple seasonings.
More often than not, this Filipino omelet is shaped into a round patty or a half-moon shape. This palatable omelet takes 30 minutes to finish and makes a quick meal without skipping the flavors or nutritions.
What I like about Tortang Giniling is how versatile it is. Quick, easy, and delicious, it makes a great meal, light brunch, or snack for any time of the day.
Total time: 1 hour 20 minutes
It's safe to say that Afritada is a mainstay delight in everyday Filipino meals. Usually using chicken, this version stars pork belly as the main attraction. Garlic, soy sauce, sweet peas, and patis (fish sauce) also contribute to a fusion of incredible flavors.
The sentimental feel of the dish can only be thoroughly enjoyed homemade. With the sauce alone, it's easy to finish a whole plate of steamed rice in one sitting. But you can serve it as a standalone meal or a party centerpiece for the entire family to enjoy.
The leftovers can be reheated the next day and enjoyed on some crusty bread. A well-kept secret for creating the best balance of meaty texture is to combine different pork parts such as pork shoulder and butt. The rest is up to you!
Easy and delicious; here's how to cook Pork Afritada to perfection!
Total time: 25 minutes
Pork Salpicao may be your new dinner favorite for good reasons! Legend has it that this delicacy is of Hispanic origin, considering its name sounds Portuguese or Spanish. This delight isn't famous, so you can freely create a plethora of variations.
At first glance, some peeps may mistake it for pork Adobo, but they're as different as chalk and cheese in terms of flavor. After marinating in brown sugar, paprika, soy sauce, and Worcestershire, the pork tenderloin has a spicy, tangy, sweet, and unique taste.
Like other viands, warm rice is the best pairing for this pork tenderloin. Cooking it should be a breeze; remember to allow for at least 2 hours of marination ahead. Rest assured, it won't be the last time you make it!
Total time: 3 hours
As you may have noticed, Lucban Hardinera is closely similar to another Filipino meatloaf: pork Embutido. However, rather than using ground pork like its counterpart, Lucban Hardinera calls for chopped pork pieces.
Though there's no single set recipe, the typical Lucban Hardinera is a mixture of pork, pineapple, raisins, pickles, and hotdogs. This Filipino delicacy is often found on celebration's fiesta tables and during special gathering parties.
The most notable thing that sets this pork loaf apart from the rest is how it's cooked. Lucban Hardinera is wrapped in aluminum foil in a log shape and steamed in llanera. The result has a rich texture and a hearty, pineapple-like flavor that'll awaken your appetite.
Total time: 30 minutes
Walking the streets of the Philippines, you'll often come across pork Sisig, a well-loved Filipino snack food and meaty main course that Filipinos take pride in. Authentically, Sisig is made out of pork ears and mask; but pork belly works.
Although there're many Sisig versions from region to region, a basic recipe usually starts with boiling, grilling, and chopping pork parts and tossing them in the pan along with other seasonings.
Compared to other pork dishes, this famous Filipino street food is considered simple and easy. Yet the flavor is so fatty, savory, and with a hint of sweetness that doesn't disappoint.
You can see this video to know more:
Total time: 35 minutes
Having its root in Ilocano, Igado is still extremely popular in the region nowadays. In this dish, strips of pork liver, tenderloin, and vegetables are slowly braised in a vinegar-soy sauce mixture that does wonder its flavor profile.
If you've made pork Menudo before, you'll realize these two share a lot in common. The thing that distinguishes them is the base sauce, which for Menudo is a tomato-based one.
When it comes down to the flavor, Igado is loved for its richness and earthiness provided by the liver. This pairs well with the tangy and salty sour, giving the whole dish a complex taste that makes you want to return for more.
Expand Your Palate With These Filipino Classics!
By trying these new foods, you can learn about the culture of the Philippines and have yourself equipped with cooking more and more every day. And Filipino cuisine is the stop you'll never forget in your culinary adventure.
So what are you waiting for? Grab your apron and get to the kitchen! And before that, don't forget to share this great list with your friends if you find it helpful.
Nutrition Facts
4 servings per container
---
Amount Per ServingCalories618
% Daily Value *
Total Fat 61.3g

94

%
Cholesterol 80mg

27

%
Sodium 169mg

8

%
Potassium 14mg

1

%
Total Carbohydrate 4.4g

2

%

Dietary Fiber 0.2g

0

%
Sugars 3.5g

Protein 11.3g

22

%
---
* The % Daily Value tells you how much a nutrient in a serving of food contributes to a daily diet. 2,000 calories a day is used for general nutrition advice.