Is pink pork safe to eat? I bet you will ask your parents or friends this question when you cut the pork and find out it is still pink. What will you do if they do not know the answer? You don't have to panic in this scenario because this post will blow your mind with a click!
Besides answering your question, this article also provides you with full information on why your pork is still pink, the risks of eating undercooked pork, and how to check the doneness of the pork. Everything you need is here, let's sit back and find out!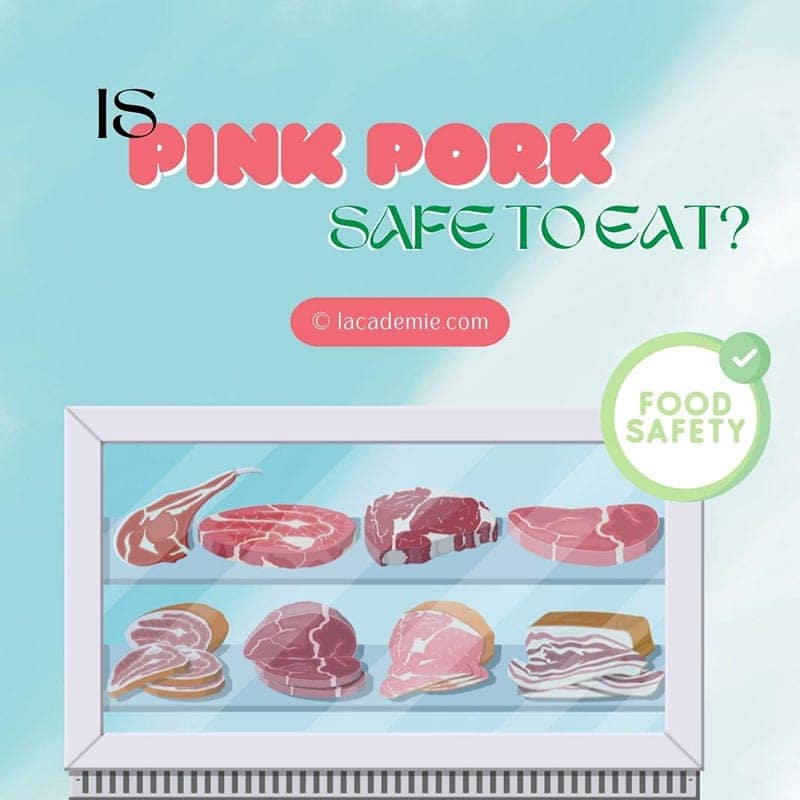 Nutrition Facts About Pork
You already know that pork plays a vital role in providing energy and nutrients for the body to function. Nevertheless, it can be a factor that deteriorates your health. This is the truth about pork:
Beneficial Effects
Pork is a great source of protein, minerals, and vitamins important for blood formation. It gives you amino acids and thiamine, which boost your body function. Besides, selenium and ZinC help improve the immunity system and brain function.
Pork also gives other important nutrients such as iron, creatine, and taurine. A moderate pork intake is good for your muscle building and protects you from developing heart diseases.
Adverse Effects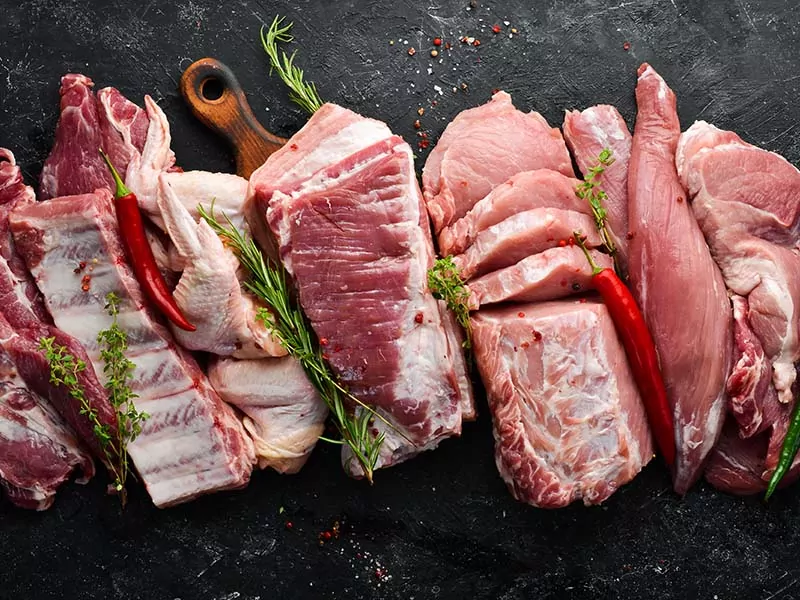 On the other hand, red meat is not as good as you think. High consumption of pork can lead to some health problems. Plus, eating raw or undercooked pork may be risky because it contains harmful substances and parasites.
Infection with parasites can affect people who have weak immune systems. Some illnesses will have no symptoms or a few mild ones, so it isn't easy to realize. That's why you always need to cook your pork before eating. (1)
Why Can Pork Be Pink?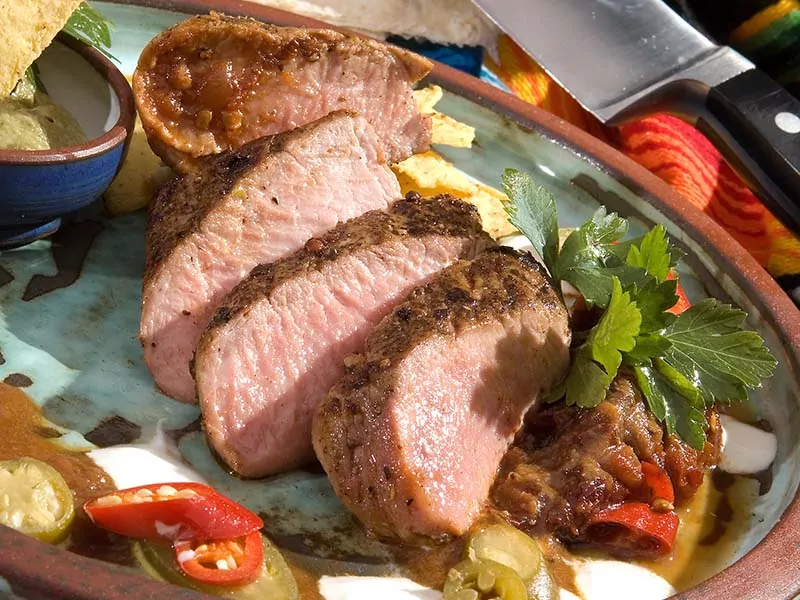 When pork is cooked, it will turn tan or white. Sometimes, you find your pork is still pink or slightly pink despite reaching recommended temperature. Why does this happen?
Nitrates are one of the factors causing color maintenance. They are chemicals used as food additives for enhancing the color of food. The reaction between nitrates and protein prevents the oxygen from releasing, resulting in a pink color remaining. (2)
Besides, the length of cooking time can contribute to this issue. Protein reacts with amino acids for a long time can lead the meat to turn gray or brown. However, chemical differences in this reaction can lead to the meat cuts becoming pink.
Do you know that your pork cuts also affect the color of your meat? Meat cuts such as pork belly have more fat and will get higher chances of staying pink inside due to containing more myoglobin.
Plus, the PH level, cooking method, or ingredients can be attributable to the pink color of the pork. For example, when searing or grilling meat at a high temperature, some proteins denature faster than usual, triggering pink pork.
All things considered, the pink part inside the pork doesn't mean rare pork.
Why People Avoid Eating Pink Pork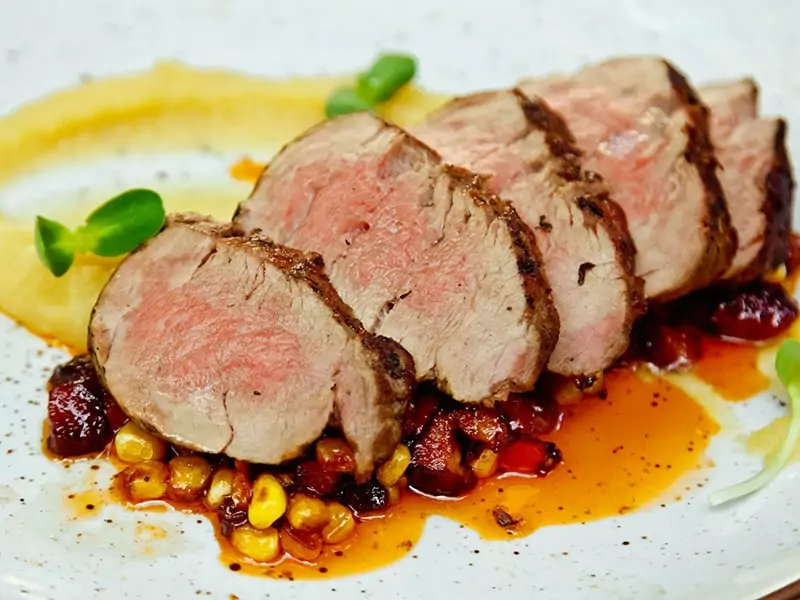 Some can mislead pink pork with undercooked pork. People who consume undercooked pork are more likely to contract trichinosis. It is a disease caused by eating raw or undercooked meat with infected parasites.
Here are some common symptoms of trichinosis:
Fever
Vomiting and nausea
Muscle pain
Headache
Diarrhea
Cough
These are just weak signs of trichinosis. Some symptoms can last for a few months or even months. Moreover, if this infection becomes heavy, the chance is patients will catch heart and breathing problems. In some severe cases, it can lead to death. (3)
Besides, USDA recommended cooking the pork until its internal temperature reaches 160 to kill bacteria inside the pork, or it's not safe to eat. Therefore, people are used to cooking pork to a well-done level.
More importantly, eating undercooked pork can deteriorate your health due to Salmonella bacteria or E. coli. Some symptoms of E. coli are the same as trichinosis. So, always remember to cook your meat to protect your health.
Learn more about symptoms if you happen to eat undercooked pork.
Is Pink Pork Safe To Eat?
So, the pink color after cooking cannot prove that your pork is rare, but is it safe enough for you to eat? Let's find the truth:
General Answer
You can check the doneness of the pork thanks to its internal temperature. When the middle part of the pork reaches between 145°F and 165°F, it is safe to eat. Remember that the minimum temperature must be 145°F. If this number is below, you have to cook for more minutes.
Hence, as long as its internal temperature is between 145°F – 165°F, you can eat this pork without any problems. This information should answer the question of whether you can consume medium rare pork. Nevertheless, is this true for types of pork? Keep reading to find out!
Check the temperature to know whether you can eat it.
Pork Loin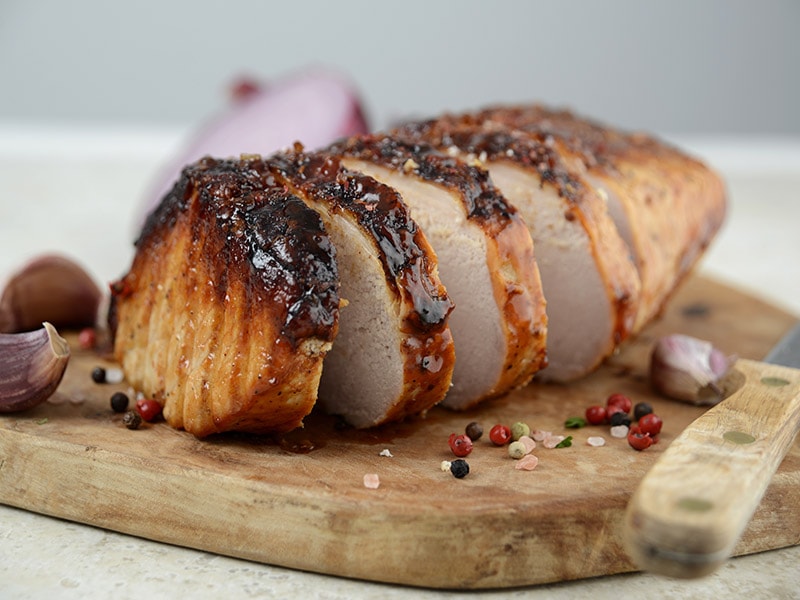 Pork loin is often compared to pork tenderloin due to their confusing names. However, these are two different meat cuts. Pork loin will take you about 15 – 20 minutes to cook. After that time, if the pork reaches a temperature of 145°F, it is ready to serve even if there's pink in the middle.
Pork Chop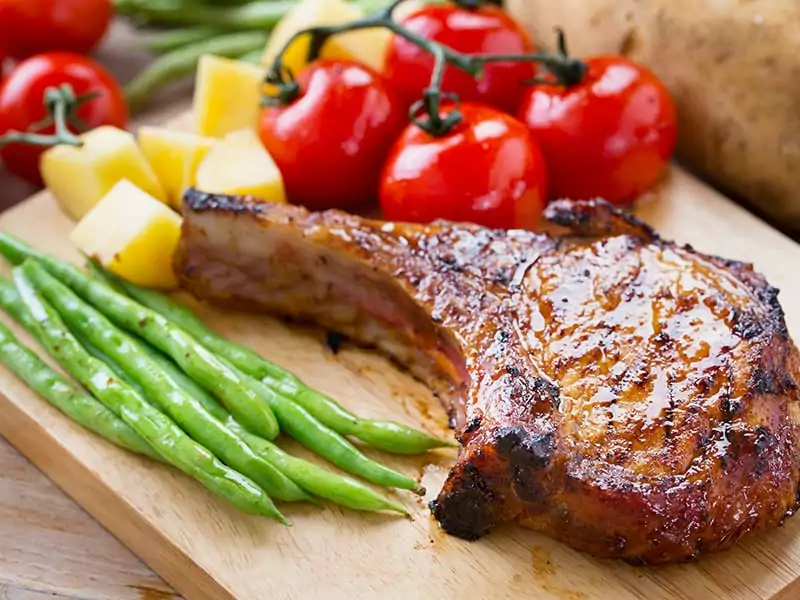 You get confused when your pork chop has a beautiful white color outside with a firm texture, but there's a little bit of pinkness inside. Should you recook it or keep on eating this pork chop with other side dishes?
If you don't know the correct length of time to bake pork chops at 350. Don't worry, check the temp of the middle pork. If it shows 145°F, your pork chop is perfectly fine.
Pork Ribs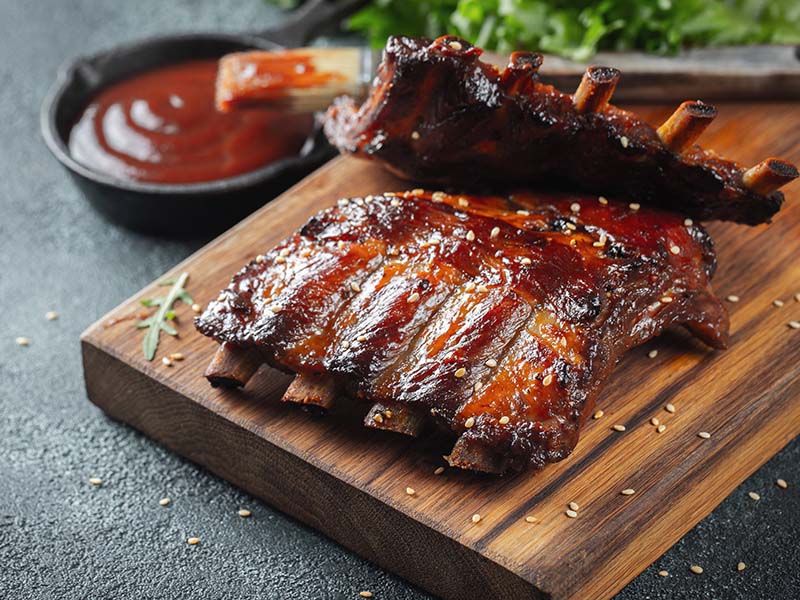 Cooked pork ribs will turn white, and you can easily slide in and out or pull the flesh off the bone. In this case, a little pinkness in pork ribs doesn't matter.
You can eat pork ribs when the temperature of the center part reaches at least 145°F. Nevertheless, they will be a little tough and chewy.
In this case, I would suggest you increase the temperature to 180°F-200°F. You can adjust the temperature to your favorite taste.
Pork Butt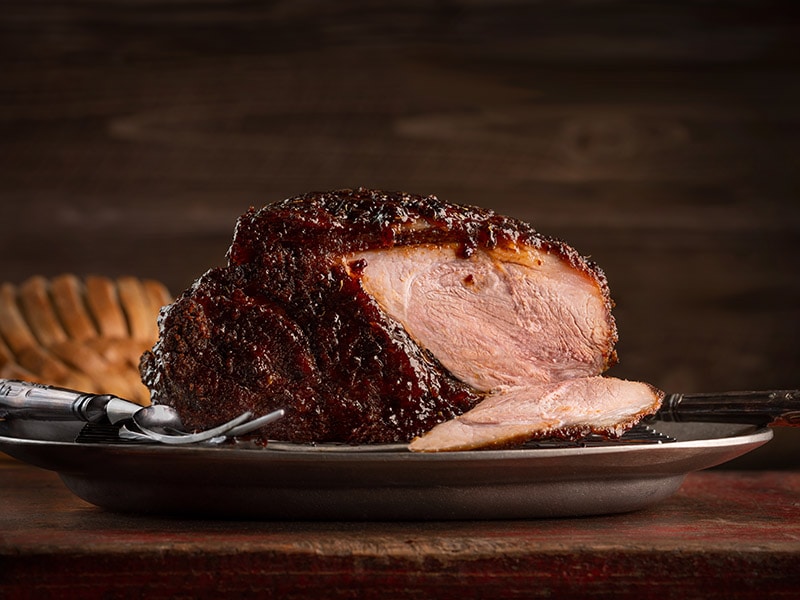 Pork butt is one of the thickest cuts of pork. This type of pork is fully cooked when its finish temperature reaches between 195°F and 203°F. At the temperature of 145°F, pork butt will have pinkness in the middle, but they are safe to eat.
Ground Pork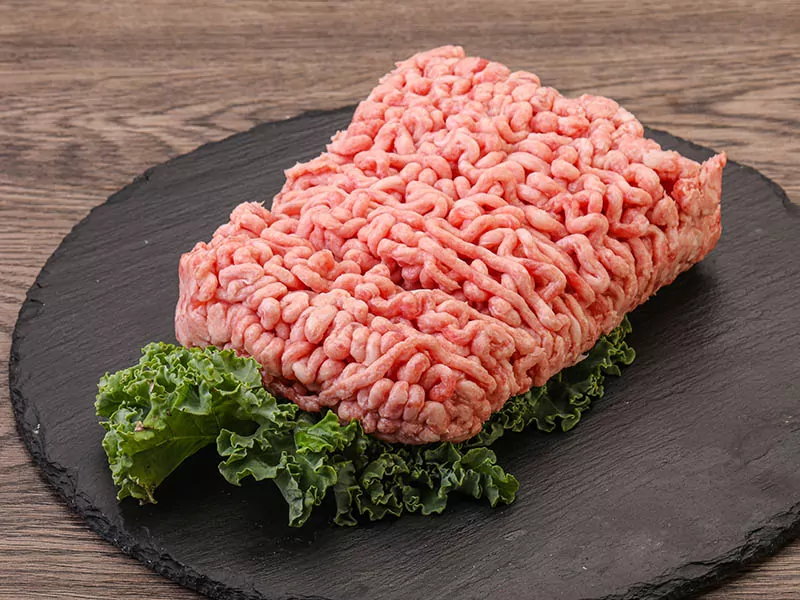 Due to the large area of bacteria exposure and lower quality, this type of pork may get underated. But I guarantee you can still make delicious dished with minced pork.
But remember you need to cook ground pork until it reaches 160°F to kill the bacteria. If the temp is below, your pork is not safe to eat, resulting in contracting food poisoning.
How To Tell If Pork Undercook
Before cooking your pork, you'll first need to determine whether your pork has gone bad. This step is very important as spoiled pork might cause food poisoning even when you've cooked them thoroughly.
Some would be confused between pink pork and undercooked. Here are some tips you can apply to distinguish the two types.
Temperature
The most precise way is to measure the internal temp of your pork chops. The lowest recommended internal temperature is 145°F. If the number is below 145°, your pork is not good to eat.
Without temperature, you can determine by your senses, including sight and touch.
Color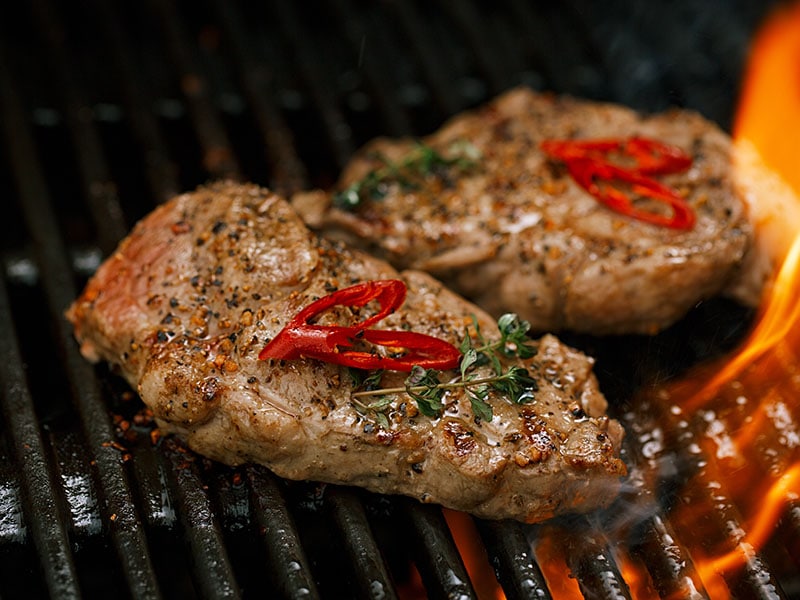 When you cut your pork and pull them apart, you can easily recognize whether it's rare or cooked. Besides, if you see unclear or pink meat juice melting out, it's pretty sure that you need to cook it for more minutes.
Texture
For this method, use a fork or knife to check the pork. When you press the meat, if you feel hard to slide in and slide out, and its texture is springy, it needs more time on the heat. If it is firm, and the clear juice melts out, you can turn off the heat.
How To Tell If Pork Is Cooked?
When you finish cooking, you can check the doneness of your pork in several ways. Here are some useful methods you can try:
Using Thermometer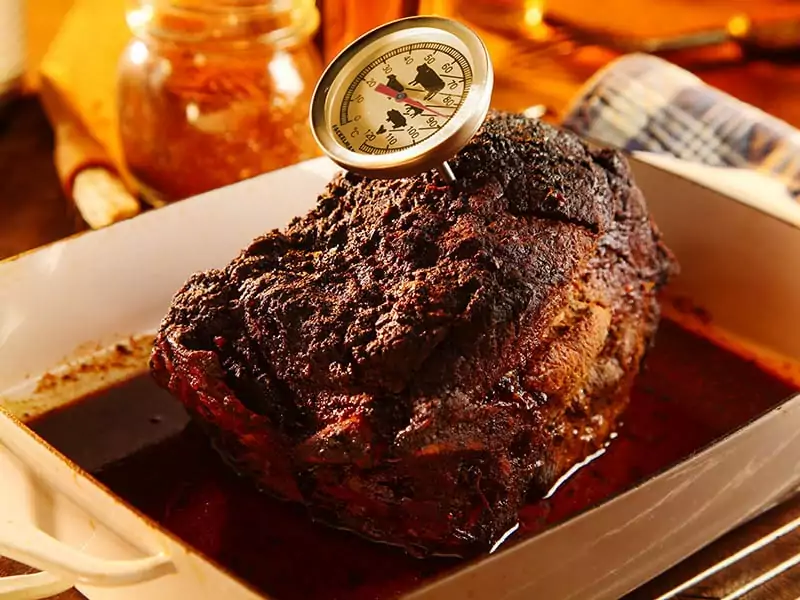 This is the fastest method to identify the quality of your pork. All you need to do is stick your thermometer in the middle of the pork. Or for those who can't handle the heat, you can select some recommended wire thermometers for meat.
If it reaches between 145°F and 165°F, your meat is ready to serve. If not, you should recook it for several minutes.
Let's see how to use the thermometer properly.
Without Thermometer
You do not have a thermometer? Don't worry, there's always a second choice for you. There are distinctive points you can notice once the pork is done. Let's check them out!
Pork Sausages
Just like other kinds of sausages on the market, you can hardly identify your pork sausage with only look. So, the best way to cook it carefully.
You should simmer your sausages in the liquids first or boil them for about 20 minutes before cooking. In this way, they will be moist inside and cook well.
Pork Tenderloin
You've prepared several accompaniments to go with pork tenderloin, and the last step is only checking the meat. With this type of pork, you can use a knife to cut it. Then if it can easily slide out and in and the texture is firm but not hard, your pork tenderloin is done.
Another way to determine is by measuring time and temperature. I recommend you sear the pork tenderloins for a few minutes, then bake them in the oven for about 20 minutes at 375°F. Besides, you can cook pork tenderloin at 400 in the oven for a different timespan if you want more crispiness.
In case you use a gas stove or wood stove, you should spend about 30 minutes grilling the meat. I can confirm your meat will reach a standardized temperature.
Pork Chop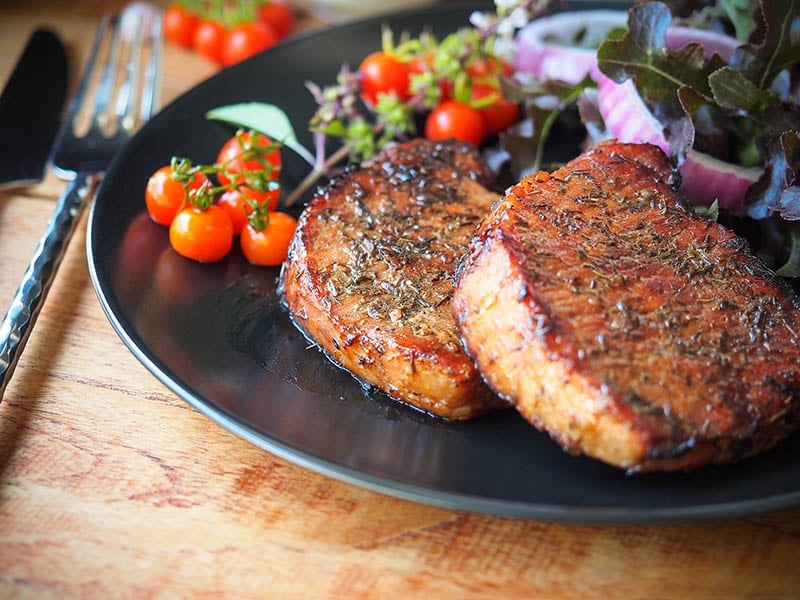 There are different ways to find out if your pork chop is done. But the most common method is to press your fingers or tongs into the middle of the pork chop. If your meat is firm, you can eat it. If it is soft, you need to cook it more.
Slow-Cooked Pork
Slow cooking is the safest and easiest method to ensure you cook your meat sufficiently. When you cook your pork slowly for a long time, no matter what kitchen tools you use, they are all done.
You can check your meat by pulling the flesh away from the bone. If it goes easily, then finish cooking. The meat still keeps juicy and tender when you cook for more minutes.
Using your fingers to check the doneness of pork.
FAQ
I guess you may explore some other issues about pink and undercooked pork after reading this post. And I've prepared this part to help you deal with them.
Now Your Problem Is Solved!
Answering whether pink pork is safe is a piece of cake. I think 145°F should be your spell when cooking. If the pinkness still frightens you, then increase the temperature to 155°F to make sure your pork is edible.
I hope you can gain a lot of wisdom from this post. Don't forget to share it with your family and friends with this precious information. If there are any questions, ask me via comment. Thanks for reading!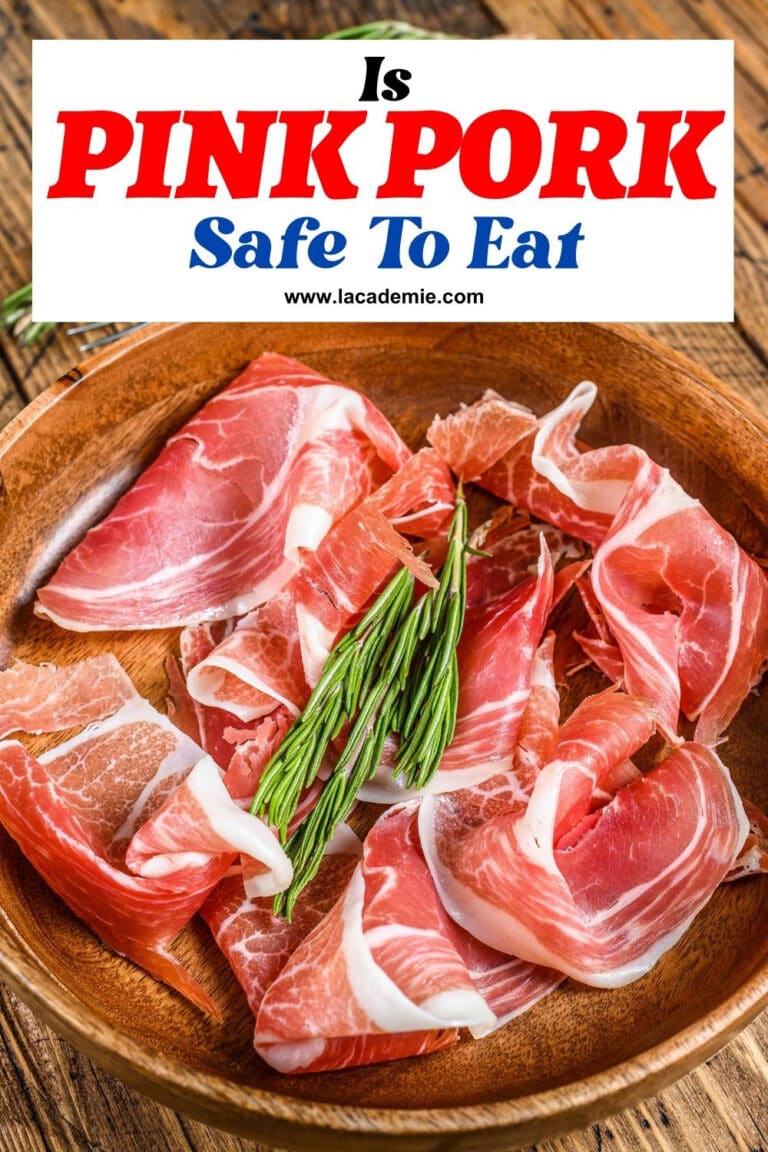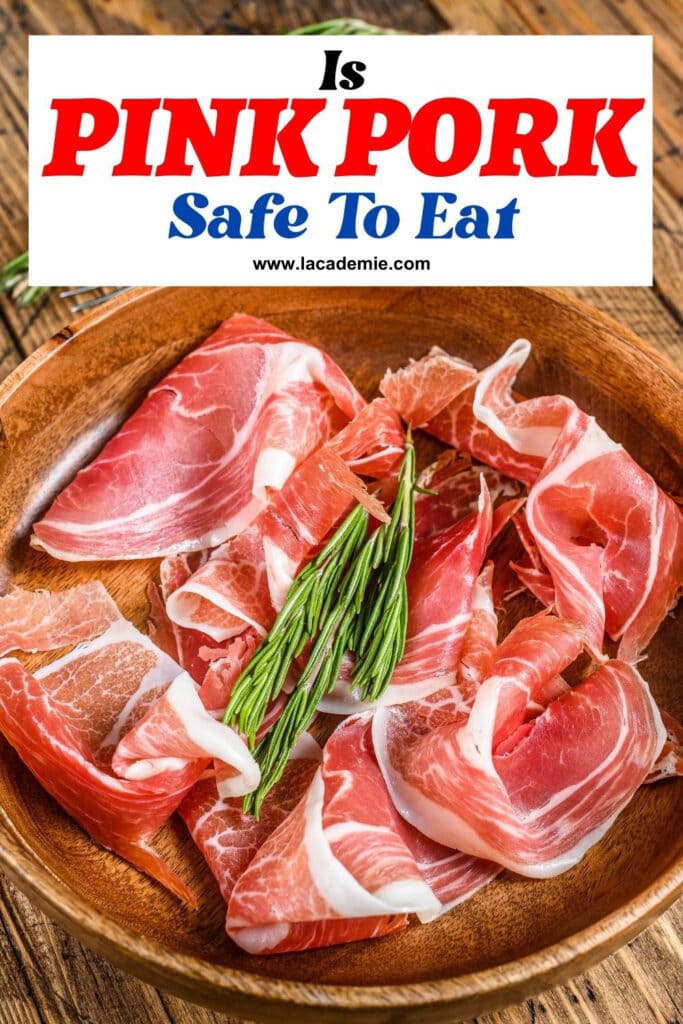 References
Healthline. 2019. Pork 101: Nutrition Facts and Health Effects.
Efsa.europa.eu. 2017.
cdc.gov. 2020. Centers for Disease Control and Prevention.