How long to bake pork chops at 350? And how to know if the pork chops are done? I bet you have searched these questions dozens of times, but too much information makes you even feel more confused. Stay here, you'll find all the things you need!
Through this post, you can broaden your knowledge about pork chops and remember to note down useful instructions along with cooking tips provided. Now, pick up your pen, you are almost there!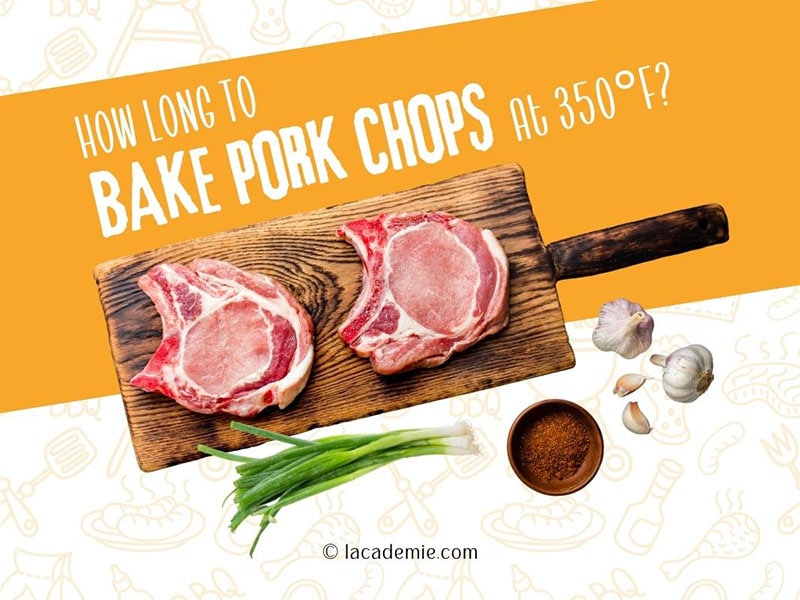 Overview About Pork Chop
Pork chop is one of the most delicious parts of a pig. It lies in the loin of the pig, from the hip to near the shoulder. In addition to baking, you can grill, roast, and sear pork chops.
Types of Pork Chop
There are a wide variety of pork chops of various sizes and shapes. The most common and expensive type is the pork loin chops. Here is the list of the must-know types.
Boneless Pork Chop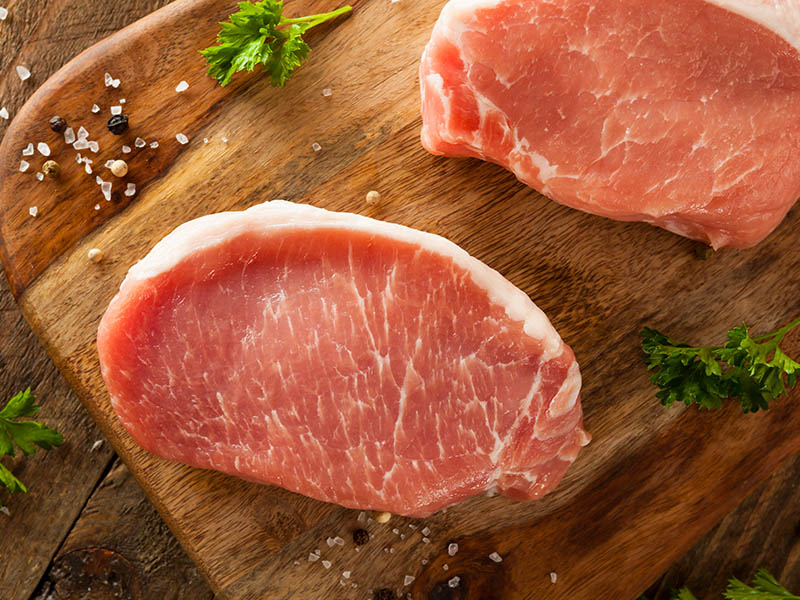 This part is above the loin chops without bones. This part consists of lean meat and a bit of fat outside. Due to its bonelessness, it tastes less flavorful, and you can cook it fast.
Loin Chop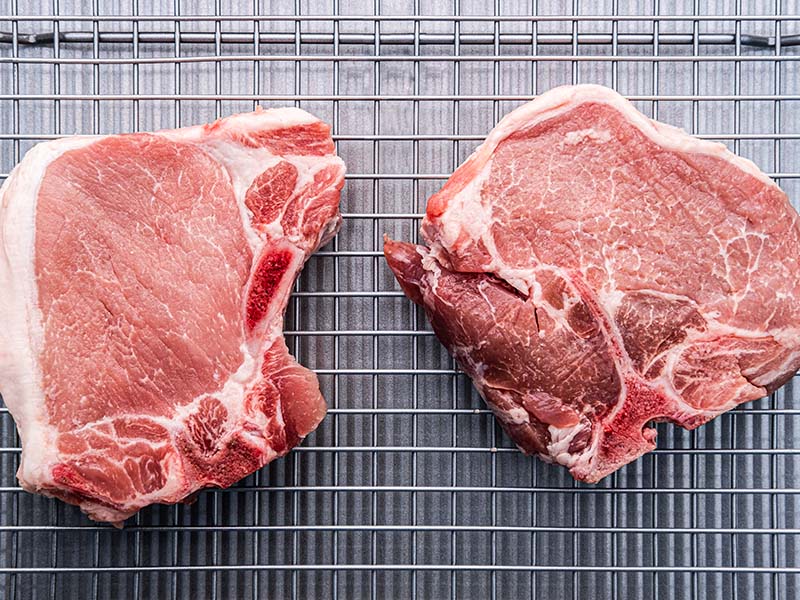 This part is a center-cut loin chop which means it comes from the hip and loins toward the back of the pig. It contains a T-shaped bone that separates the loin and tenderloin. Plus, it is very lean and has more flavor thanks to the bone.
Rib Pork Chop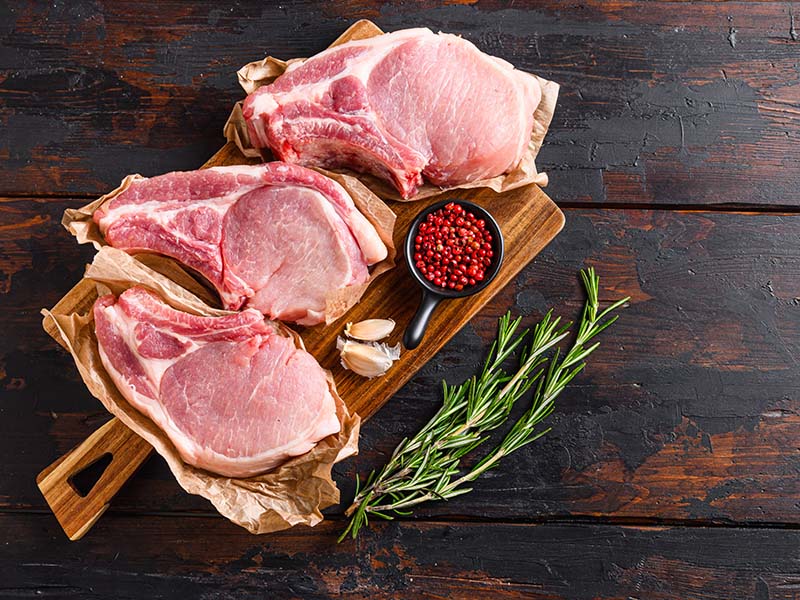 Rib pork chop is considered the best part of a pork chop. It is cut from the rib section (from the shoulder to the middle part of the loin. Rib pork chop has lots of lean meat and a rib bone on one side. There may be a layer of fat outside.
Sirloin Pork Chops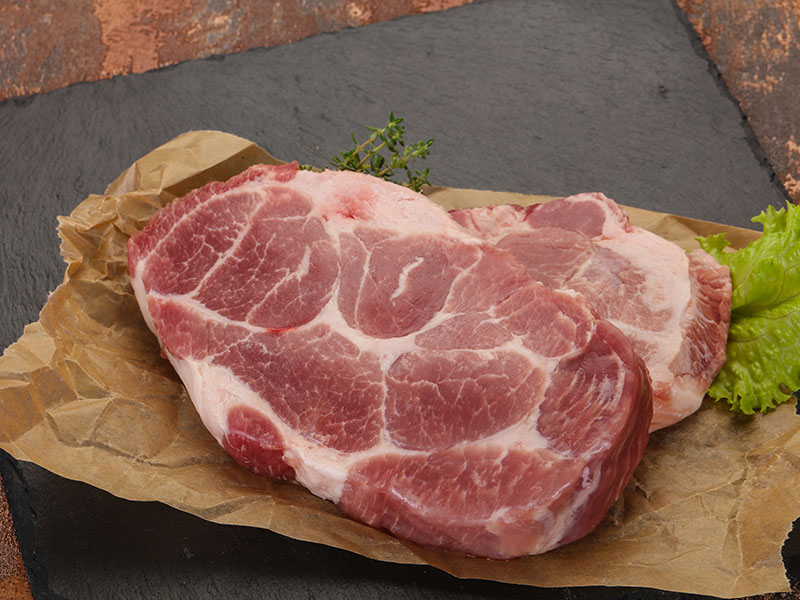 Sirloin lies on the loin, which is close to the hip. This part has a lot of bones and connective tissues. They consist of loin, sirloin, and tenderloin. Sirloin pork chops have a prominent pork flavor but require more cooking time.
Shoulder Pork Chops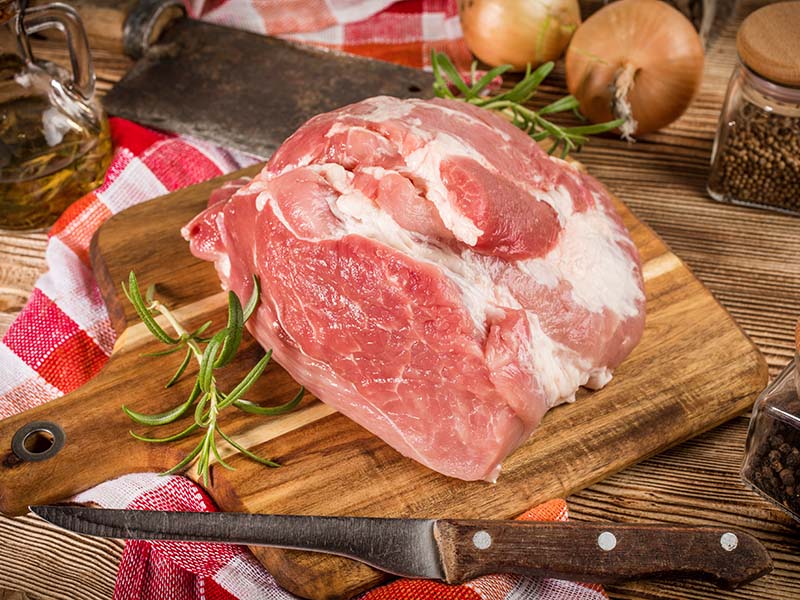 This dark-red color part of pork chops comes from the shoulder of the pig. Shoulder pork chops contain a high amount of fat, and connective tissues along with blade bone; therefore, they have a meaty, rich flavor and texture.
Nutrients In Pork Chops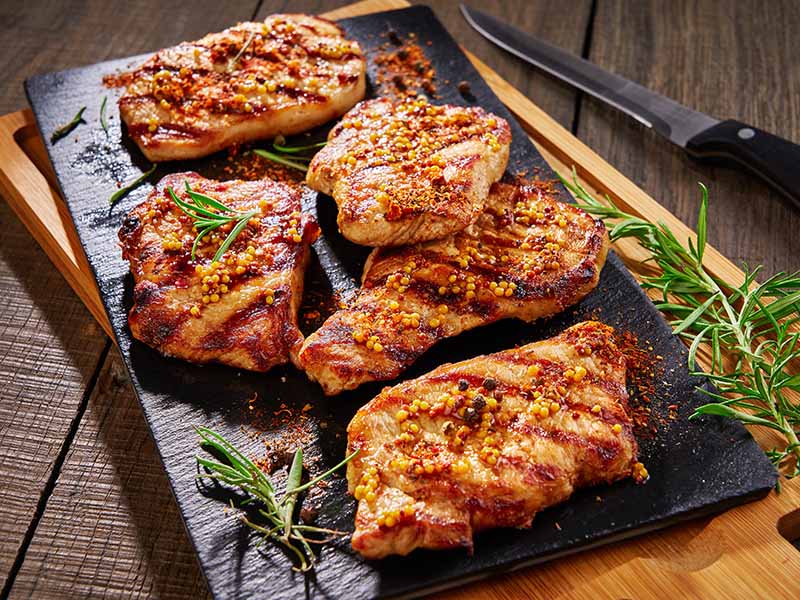 Pork chops are low in fat and rich in protein, vitamins along with important minerals. It contains a high amount of iron and zinc that helps strengthen the immune system. Besides, selenium is a good nutrient source that prevents cancer and heart diseases.
However, eating too many pork chops does more harm than good for the body's health. When you consume this type of red meat, chances are you have a higher risk of getting cardiovascular disease. (1)
Uncooked or overcooked pork chops also contain harmful substances that affect your health. Raw or undercooked pork chops will be prone to bacteria and parasites that lead to taeniasis or cysticercosis. So, you always need to cook your pork chops properly. (2)
Learn more about the nutrition content of boneless pork chops.
Why You Should Bake Pork Chops At 350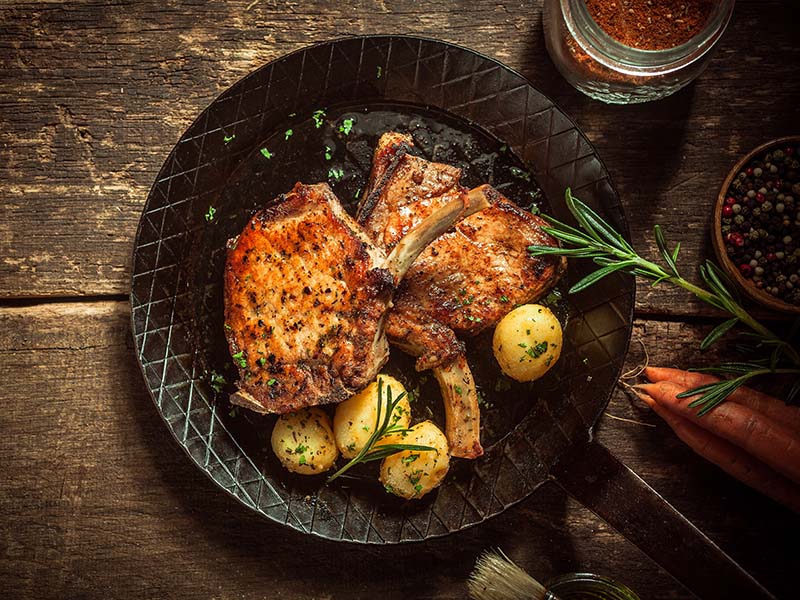 Have you ever wondered why 350°F is the perfect number for various dishes? You may find many people talking about the recommended duration to bake potatoes at 350°F. But why pork chops?
Have you ever heard about the Maillard reaction? It's the chemical process when the mixture of proteins, amino acids, and sugar in food turns brown and creates a lot of flavors and aromas, making your food tasty and savory. (3)
In this way, baking at 350° can retain a tender, juicy texture and the beautiful color of your pork chops. It also ensures that your dish is safe and high-quality.
Pork chops baked at 370 or 400 can be overcooked, leading to a loss of bright color and nutrients. With higher temperatures, the pork chops won't cook evenly, and they can be dried outside and raw in the middle.
The Ideal Baking Time For Different Types Of Pork Chops At 350°F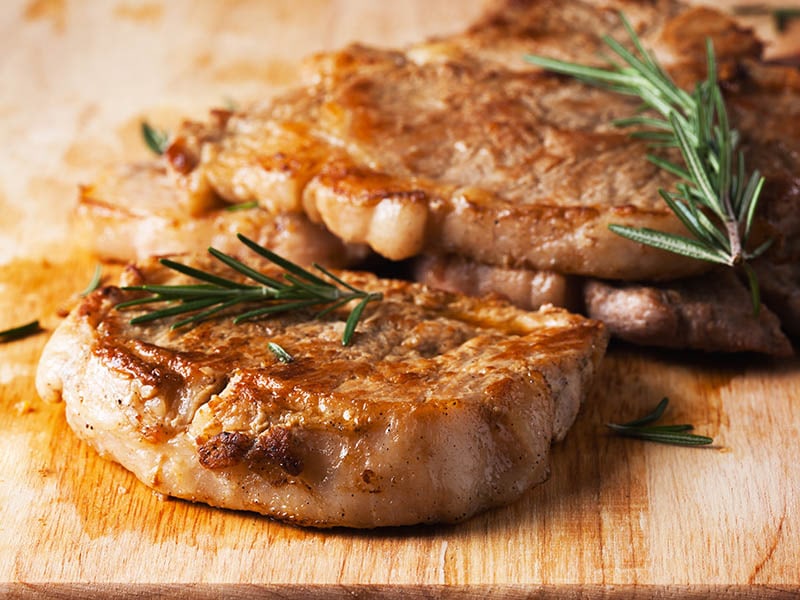 Besides heat, a perfect baked pork chop also depends on the time and the types of pork chops you bake. And the time needed to bake pork chops also depends on the thickness of your pork chop and whether you bake them covered or not.
The most popular thickness for pork chops is 1 inch, if your pork chops are thinner, you just need to decrease the time by 5-10 minutes. On the contrary, when your pork chops are more than 1 inch, the time to cook will take 5-10 minutes longer.
Always remember to preheat the oven to 350° before you bake. This process of preheating will take about 15-20 minutes.
This section will fully provide you with a guideline to help bake 1-inch pork chops. With other sizes, follow the rules above. Now, let's check it out – the key to baking pork chop.
This table below will show you the information about the time to bake the types of pork chop you have:
| | |
| --- | --- |
| Type Of Pork Chop | Time To Bake At 350 |
| Boneless pork chop | 25 – 30 minutes |
| Bone-in pork chop | 30 – 35 minutes |
| Frozen pork chop | 40 – 45 minutes |
| Seared pork chop | 18 – 20 minutes |
| Breaded pork chop | At least 30 minutes |
| Stuffed pork chop | 25 – 30 minutes |
| Covered pork chop | 20 – 30 minutes |
Boneless Pork Chop
If you want boneless pork chops at 350°F, 25 – 30 minutes is ideal. Your dish should be brown on the outside and tasty, with its moisture retained.
Bone-in Pork Chop
Due to the bone, baking bone-in pork chops will take longer than boneless pork chops. You have to wait for between 30 – 35 minutes.
Frozen Pork Chop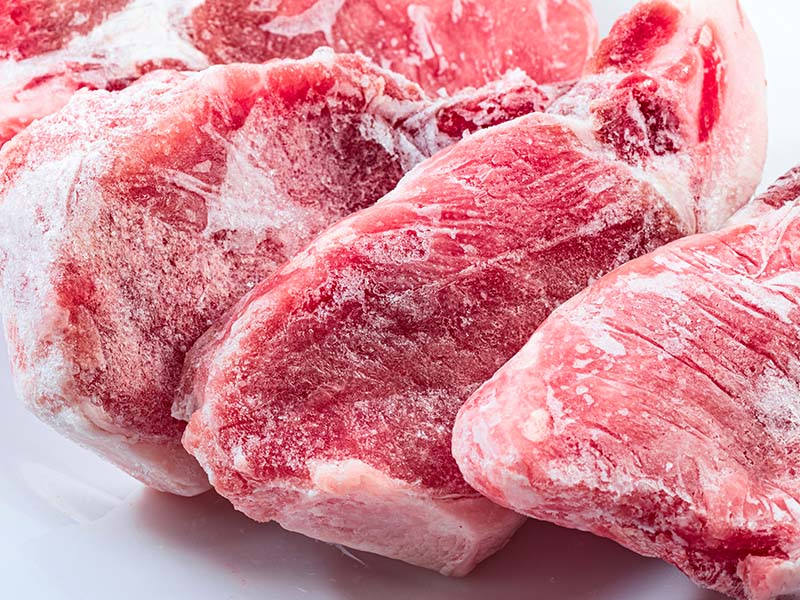 You should thaw your frozen pork chop before baking. Let it in your refrigerator for about 12 – 24 hours to thaw. Once fully defrosted, you just need to bake it for about 25 – 30 minutes.
If you don't have time for defrosting, it's still safe to bake frozen pork chops except for waiting a bit extra time. Your pork chops will need about 40 – 45 minutes to be cooked at 350°F.
Stuffed Pork Chops
As stuffed pork chops contain plenty of ingredients, you usually have to bake them for about 25 – 30 minutes so that they are all done.
The time also depends on the stuffings and the thickness of your pork chops; therefore, you should check the internal temperature to determine whether the pork is done. When it reads a minimum of 145 °F, turn off the heat.
Breaded Pork Chops
The bread will make a cover around the pork chop, so it will take more time to fully bake the pork. With a temperature of 350°F, you should spend at least 30 minutes, and remember to check it halfway.
For breaded pork chop, I'd rather bake it at a higher temperature to get the perfect color and texture.
Seared Pork Chops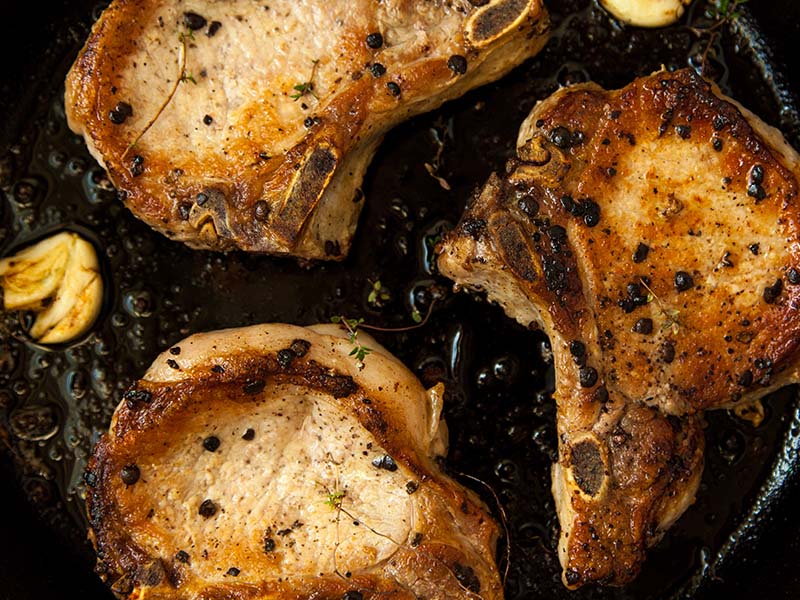 With this type of pork chop, the time is based on the time you seared with vegetables. Generally, it will take a shorter time in the oven, about 18 – 20 minutes. The longer you spend searing your pork chop, the less time you need to bake.
In addition, it is recommended to sear each side of the pork chops for 2 – 3 minutes until it turns brown. While baking, you should check the internal temperature of pork chops to measure the doneness of the pork 5 minutes before the recommended time.
Pork Chops Covered With Foil
Foiled pork chops take you a little more time to cook in the oven. Covered boneless pork chops will take about 20 – 25 minutes, while covered bone-in pork chops need 25 – 30 minutes.
How To Bake Pork Chops at 350° In The Oven
This section will instruct you on how to have perfect pork chops in the oven from the preparation to the end of the baking process. Check this out!
Ingredients To Marinate Pork Chops Before Baking
To enhance the flavor and color of your pork chop, adding some ingredients is a vital step you need to do. Also, make sure to check for signs of spoiled pork chops before cooking. This is a sample recipe for you to try!
Prepare:
1 pound of thick-cut pork chops
1 tablespoon of island vibe seasoning
1 teaspoon black pepper
1 teaspoon Mediterranean herb blend
Lime
Salt
Cooking oil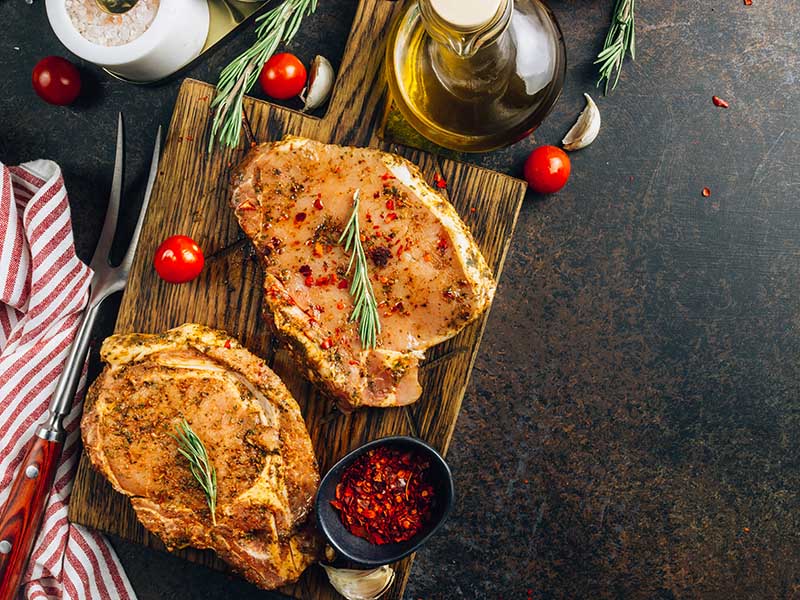 Step-By-Step To Bake Pork Chops In The Oven
Have you gathered all the ingredients? If the answer is "yes", here is how to bake your pork chops at 350°F properly.
Step 1: Preheat Your Oven
Don't forget to preheat your oven to make sure it reaches a suitable temperature when you put your pork chops in. Turn it on at 350° and let it get ready in 10 – 15 minutes.
Step 2: Clean Your Pork Chops
While waiting for the oven, you should clean and season your pork. You can use lime or vinegar to clean your meat to purify and deodorize the meat before seasoning. Rub the lime all over the pork chops and rinse them with room temperature water. Then, use paper to pat the pork dry.
Step 3: Season Your Pork Chops
Spray a little bit of oil on the surface of the pan to prevent drying out or sticking your meat.
Mix all ingredients and add them evenly on two sides of the pork chops, use your fingers to spread the spice. In this way, your pork chop would taste flavorful every bite. Pat some melted butter or cooking oil on both sides of the chops to keep them juicy and moist.
Wait for 1 – 2 minutes, and then put your pork chops pan inside the preheated oven.
Step 3: Bake Your Pork Chops
Cook your pork chops for 20 minutes. If you want to have a more beautiful color and strengthen the crispness, bake for 10 minutes on broil.
Remove the pork chop from the oven and let it rest for about 5 minutes. It would have a nice color and crispy outside. You can spread BBQ sauce on the pork chop surface. The outcome is absolutely gorgeous!
Let's bake these tender and juicy pork chops in the oven.
How To Bake Pork Chops At 350 In The Air Fryer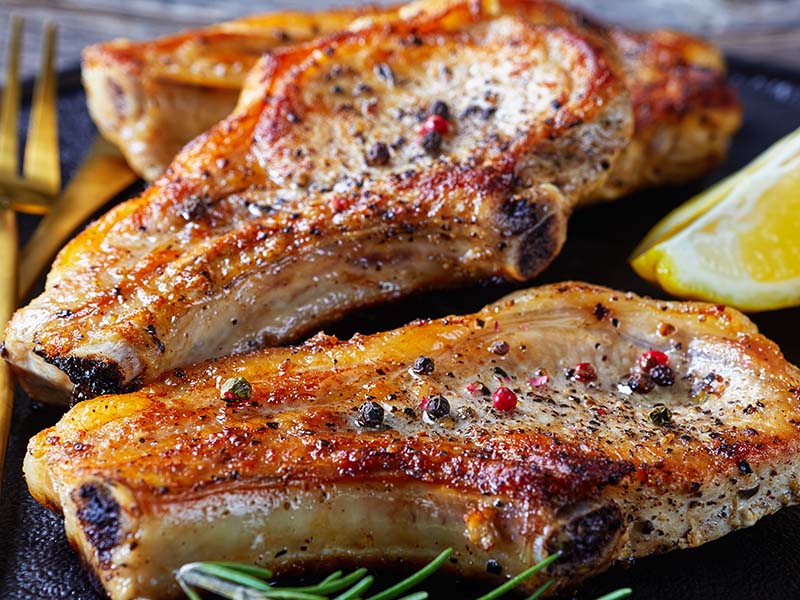 You can use the same ingredients to season your pork chop meat as the recipe for baking in the oven.
Step-By-Step To Bake Pork Chops In The Air Fryer
Step 1: Preheat Your Air Fryer.
Set the air fryer to 350° for a few minutes. This will help your pork chops get the perfect crispiness.
Step 2: Season Your Pork Chops
After washing and drying the pork chops, mix them with prepared ingredients and spread them evenly on two sides of each pork chop. Wait some minutes for the meat to absorb the seasoning.
Step 3: Bake Your Pork Chops
Spray oil on the basket of the air fryer and put your seasoned pork chops in the machines. Bake for 15 to 20 minutes and flip them over after 7 – 10 minutes. Your baked pork chops are ready to serve!
Tip: Let your pork chops rest for about 10 to 15 minutes before cutting. This will help keep the moisture and juicy flavor.
How To Know If Your Pork Chops Are Done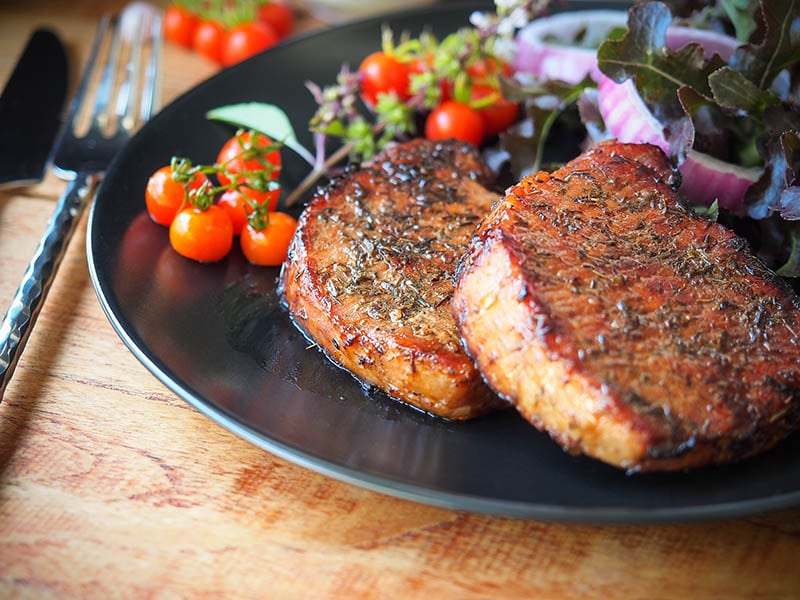 Although you set the right time as instructed, your pork chops sometimes may not be the same as you expect. Don't worry, there are some ways to help you check how they're done.
Properly baked pork chops will have a beautiful golden brown color outside. Sometimes, there's a little pink in the middle of the pork chop and that makes you wonder whether you can safely eat pink pork.
Don't worry, the pork is safe to eat in this state. However, If your meat is bright pink and the juice melting out is unclear, it is not ready to serve.
The most precise method to check the doneness of pork chop is using a thermometer. Insert the thermometer into the thickest part of the pork chops. If the temperature reaches at least 145°F, your pork is perfectly done. In this case, a little pinkness doesn't matter.
You also can use a fork, chopstick, or other similar utensils to press the pork chops. Overcooked pork chops are solid and dry, while you'll need to cook the soft ones for some more minutes. Properly cooked pork chops will be firm but not too hard.
This is how you use a thermometer to check the pork chops.
Excellent Side Dishes To Serve With Pork Chops
When enjoying pork chops, don't forget to add such delicious side dishes to balance your meal. Vegetables would be a great choice. Here are some recommended dishes for you:
Cabbage is one of the best side dishes you can have with pork chops. Roasted cabbage has a caramel color and is crispy outside, and it brings you a mild and sweet flavor. A mix of pork chop with this veggie dish is out of this world!
Make a flavorful side dish with simple ingredients.
Do you know that potatoes go perfectly with pork chops? Mix baby potatoes with seasoning and baking powder, then bake them for about 40 minutes. These golden crispy potatoes will melt in every bite.
How about trying soft and sweet cauliflower with melted cheese on top? Such a delicious and beautiful dish! It only takes you 25 minutes to finish. Bake your pork chops and prepare cauliflower at the same time and enjoy such a delicious meal!
Get ready to cook wonderful creamy and cheesy cauliflower.
Amazing brussels sprouts with bacon, why not? Bake bacon and brussels sprouts in olive oil, and you will have a tasty, sweet, and smoky flavor. This crispy side dish blends with tender and juicy pork chops. You won't want to miss it!
Grab your apron and make the tastiest roasted brussels sprouts ever.
FAQs
It appears that 350°F is considered a magical temperature for baking pork chops. However, some of you may wonder whether you can bake your dish at different temperatures. Therefore, I have answered some questions about this problem, and here's the deal:
Now Bake Your Pork Chops
Now you can start making super delicious baked pork chops for yourself and your beloved family. A cozy dinner would be a great choice to enjoy pork chops.
I hope this post provided you with the most detailed guideline about how to bake pork chops at 350. If you have any questions, don't hesitate to ask me via comment and share this post with your friends as well as your family. Thanks for reading.
Nutrition Facts
2 servings per container
---
Amount Per ServingCalories423
% Daily Value *
Total Fat 26.5g

40

%
Cholesterol 91mg

31

%
Sodium 711mg

30

%
Potassium 47mg

2

%
Total Carbohydrate 4.2g

2

%

Dietary Fiber 1.2g

4

%
Sugars 0.6g

Protein 40.9g

80

%
---
* The % Daily Value tells you how much a nutrient in a serving of food contributes to a daily diet. 2,000 calories a day is used for general nutrition advice.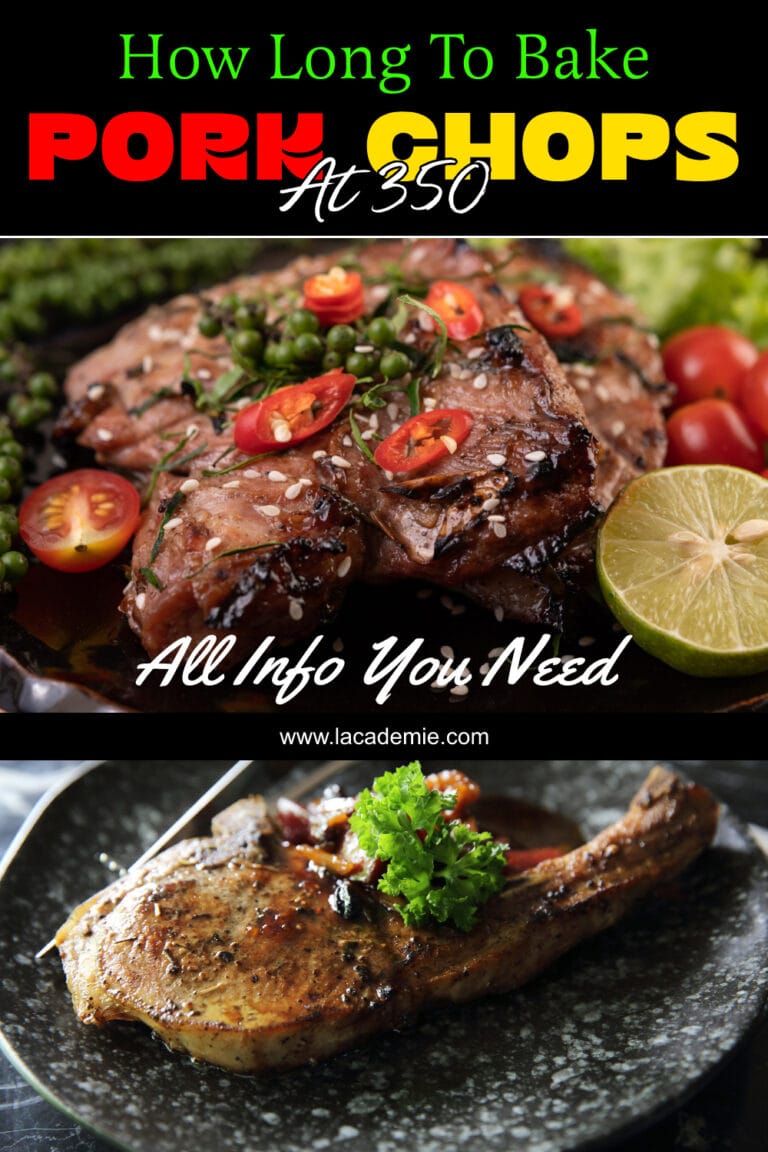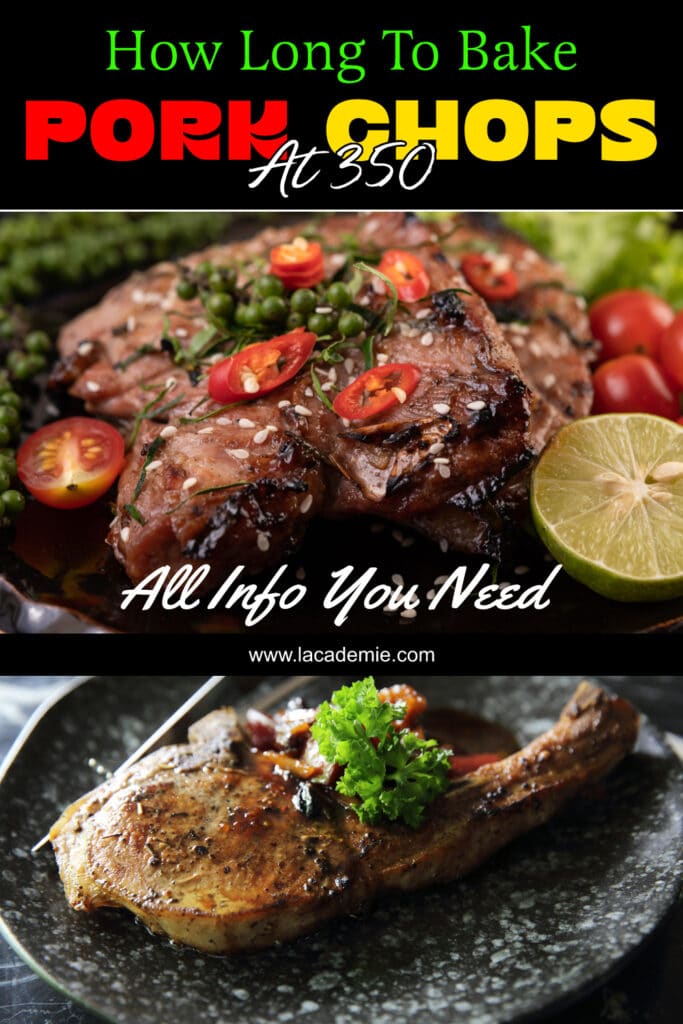 References
Healthline.com.2021.Are pork chops nutritious? Everything you need to know.
Healthline.com.2020.Can you eat pork rare? All you need to know.
Martins, S.I., Jongen, W. M., & Van Boekel, M. A.(2000). A review of Maillard reaction in food and implications to kinetic modelling. Trends in food science & technology, 11(9-10), 364-373.