This is the most comprehensive guide on how to tell if pork is bad that you can find. It starts from how to identify the earliest sign of spoilage to the answers to some of your concerns about whether you can still eat it or not.
Your concern should go beyond whether that specific piece of pork has gone bad or not. If you really want to know, I can tell you about the tips and tricks on how to extend the lifespan of that piece of meat you just bought.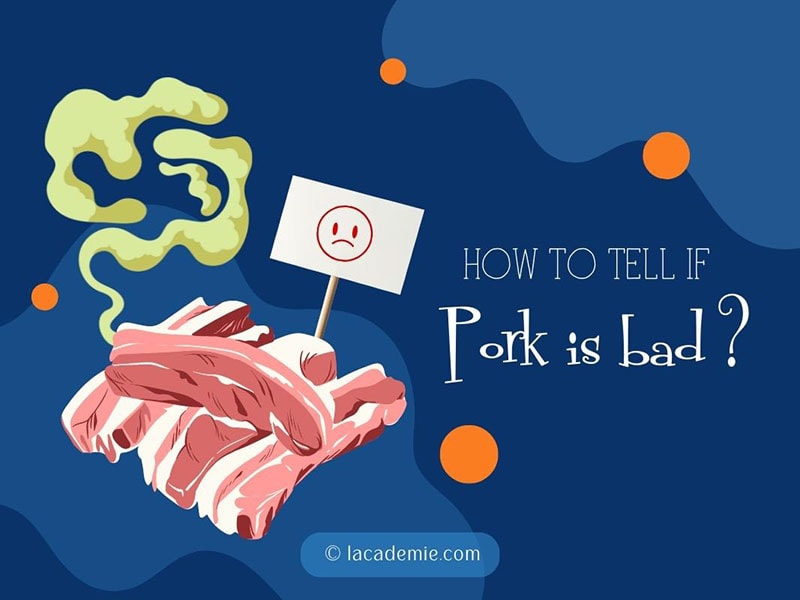 You Buy Your Meat Fresh, But Something Goes Wrong Because of These Factors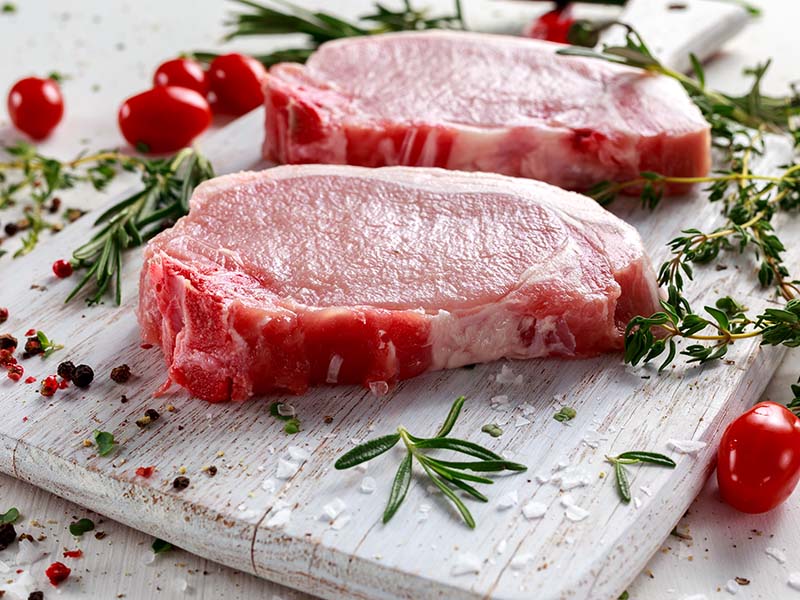 You bought a piece of meat from the store and forgot it in your car for a few hours. If you are like me, you'd be wondering if that piece of pork is still safe to eat. There are a couple of elements at play here that could potentially ruin your cut of pork.
What makes pork go bad is a combination of a few elements, temperature, humidity, and bacteria. These factors also influence how long cooked pork can stay at room temperature.
These three usually lend a hand in the spoilage of almost anything. Given the right condition, the bacteria will grow like crazy, effectively rotting your meat.
Temperature
There is a range of temperatures that will cause your food to go bad much quicker. This food "danger zone" is between 40℉ and 140℉. When your pork is left to sit out in between these temperatures too long, harmful bacteria and microorganisms will spawn at an alarming rate.
Humidity
Another thing that contributes extremely well to the growth of these nasty bacteria and harmful microorganisms is the humidity. High humidity has been associated with an increase in bacterial development.
Though different bacterias and fungus require different levels of relative humidity (the measure of water vapor content in the air), most bacterias grow best in the 60% and above humidity range. As the humidity rises, the risk of bacterial growth increases accordingly.
Bacteria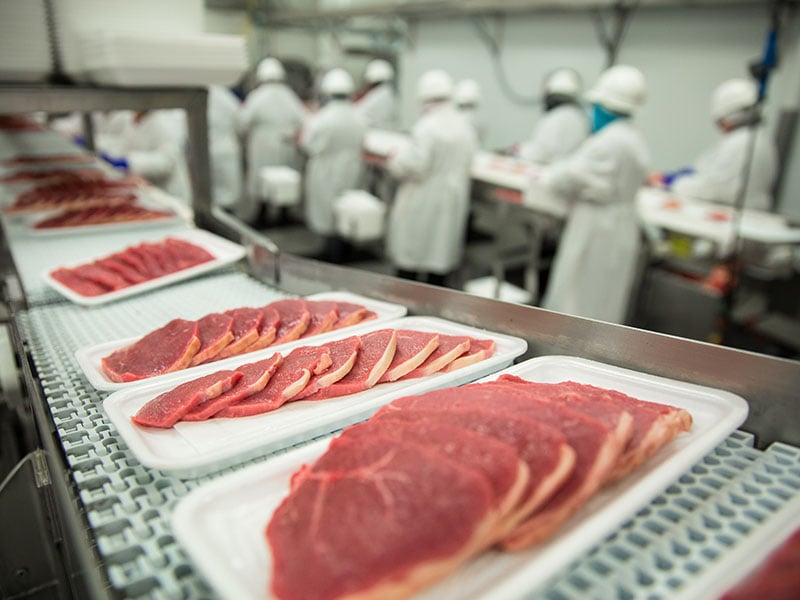 And of course, you cannot forget our star player. There is quite a line-up of bacteria that could cause you some serious health issues. The most prominent of them are: (1)
Yersinia enterocolitica
Staphylococcus Aureus
Salmonella Enteritidis
Enterococcus
Listeria monocytogenes
Right off the bat, you may recognize the bacteria Enterococcus as one of the most common bacteria that causes food poisoning. What is more alarming is that Enterococcus is resistant to many types of antibiotics.
The most dangerous title on the list, however, belongs to the bacteria Yersinia enterocolitica. Symptoms of poisoning by this bacteria may include severe fever, stomachache, and intense and often bloody bowel movement.
Staphylococcus Aureus is the reason why you get staph infections. So be extremely wary of germs that are present everywhere and especially in food that is left out in the danger zone.
Early Warning Signs Of Fresh Pork Going Bad
So now you know what contributes to ruining your perfectly good piece of fresh pork. But all of these things take time. The rotting of meat is even more so. Let me show you how to tell if your meat has started to go bad.
Smell
Fresh pork should not have any strong odor to it but a rather mildly metallic scent that comes from the blood circulation of the pig. Once you catch a whiff of a sour, unpleasant odor of ammonia or rot, that is a sign that your pork has passed its prime
Slime
Same with color, fresh pork does not have any sticky texture but rather feels slightly damp to the touch. This is one of the reasons why you should always handpick your pork to make sure that it has no funky slime developing on it.
Texture
The texture of a fresh piece of pork is soft but firm to the touch, like a relaxed muscle. When you poke a piece of fresh pork, the space where you touched it should not leave any mark or indentation. If it is mushy to the point where you can leave a dent, don't buy it.
Color
Think of a slight blush color like your lips. That is what a fresh piece of pork should look like if it is stored properly. If the pork has been on display for too long, the blood left in the meat will start to oxidize and turn brownish gray.
Packaging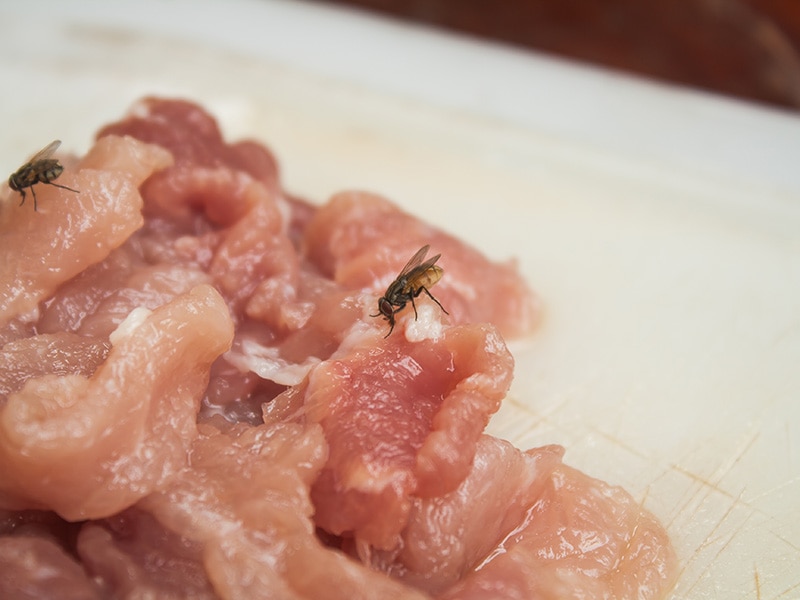 Another indicator that isn't directly related to the piece of meat is the packaging that it comes in. You should not feel any bloating in the packaging as good quality control requires pork to be stored airtight.
If the packaging starts to become loose and inflated, the pork has gone bad. You can use the same tip to check if ham has spoiled. When the product fails this test, turn away at once!
Learn how to put food safety first by identifying bad pork.
How To Tell If Cooked Pork Has Spoiled
You can usually tell that fresh pork has gone bad much easier than cooked pork. When you cook it, you could have covered most of the surface area with marinade or sauces, which could be deceiving. But just because it's tricker doesn't mean it's impossible.
Smell
The first thing I encourage you to go for is the smell because your nose is one of the sharpest senses in your repertoire. In the case of cooked pork that already has an acidic smell, it gets a bit trickier. You would often smell a faint trace of ammonia once it starts to spoil.
Additionally, if your cooked pork has a lot of aromatics and spices, such as flavorful Chinese pork recipes, the odor of bad pork might not be easily detectable. In this case, you will need to rely on visual cues to tell the quality of your food.
Slime
The second indicator is the sticky texture that the cooked pork may take on once it has started to go bad. Touch your cooked pork to see if you can feel the slime. Combine that with a sniff test, and you can be sure.
Taste
But the two tests that I listed above are only applicable if you are not making something watery, like pulled pork and its side dishes.
When you prepare such a dish with a lot of liquid, you have to rely on your tastebuds to do the job for you. Give it a quick taste to see if it is slightly sour. That's how you know it has gone bad.
Mold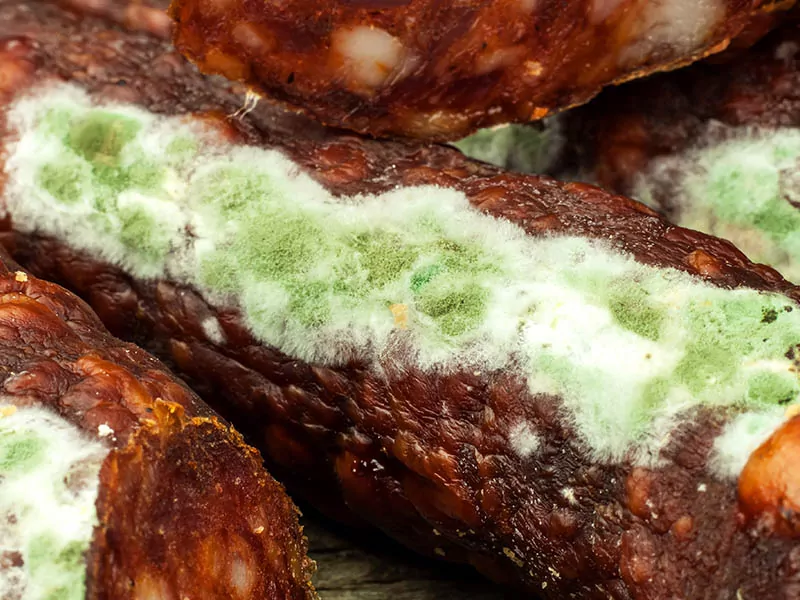 When you can identify this final element on your cooked pork, I am sorry to say that your pork is too far gone. And don't just scoop out the fuzzy white part. Mold is a type of fungi, which means that what you can see is only the flowering part. The actual mold could be everywhere.
Pro-tip: to make sure that you are not eating cooked pork that has gone bad, remember to add a label on top of it stating the date that it was prepared and what kind of product it is. It also helps to take out the confusion by adding a use-by date.
Typically, pork will stay good in the fridge for 3-4 days, whereas it will be fine in the freezer for 2-3 months. So date your food, my friend.
Old Pork Will Go Bad Faster
It is basic logic that if a piece of pork has already passed its peak freshness when you purchase, it will have a much shorter shelf life when you bring it home. So ideally, you would want to go for the newest, most freshly harvested portion of meat.
But do you really know how to tell old and new meat apart? Let me break down for you the basics of how to tell if a cut of meat is already on its last leg and how to pick out the best of the many different options.
How To Tell If Pork Is Old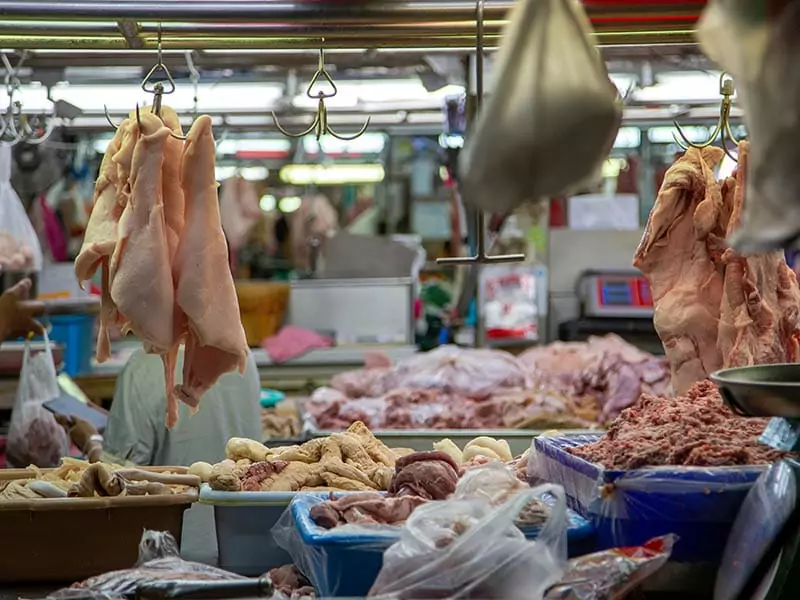 This is a basic deduction when it comes to buying meat. You always want to pick the freshest cut of the day, something cut to order. But sometimes, all you have to pick from is the prepacked variety that you find at the grocery store meat counter.
Follow these simple rules to know whether you are buying old pork or not.
The color will be paler, not as vibrant pink as a fresh cut of pork.
If you are able to touch it, feel if the pork's meat tissue is too soft. It should feel like you are touching into muscle and not a pouch of liquid.
If the meat has been frozen, make sure there isn't a strong odor or the blood has turned brown.
Tips On How To Select The Freshest Pork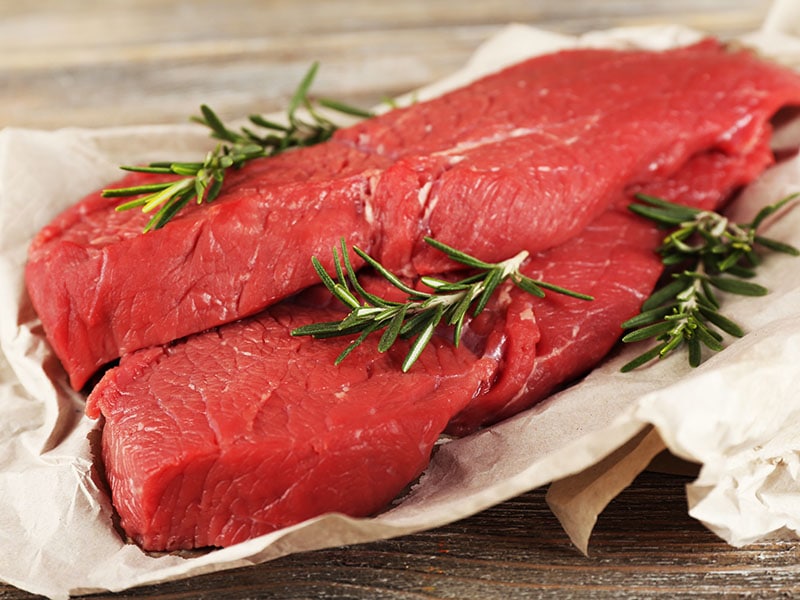 There are a few cardinal rules to selecting the best meat when it comes to pork. Usually, you can depend on the reliable color and texture of the pork to identify the best cut of pork.
But there are a few insider tricks that you can apply to be able to make your shopping experience a bit better.
You should go to the butcher or grocery stores as early as you can. The meat put on display in the morning is typically fresher then.
Make sure the meat packaging isn't damaged or misshapen. That is an early warning sign of poor quality control.
Pay attention to the source. If the meat is sourced locally, then it would have spent less time in transport. Additionally, you can support local businesses.
Check the dates. This is an obvious but often overlooked tip. You should always aim to buy the pork packaged on the same day you are buying for the best quality.
Learn how to select fresh pork from a professional butcher.
Should You Be Eating Bad Pork?
There are many reasons not to eat bad pork other than the obvious sour and pungent taste that it might have. You could be setting yourself and your close ones up for some serious trip to the ER.
Once the pork has stayed in the danger zone for too long, the number of bacteria and microorganisms explodes exponentially. As a byproduct of their blooming numbers, they also produce toxins that can upset your stomach.
Even if you cook off the bacteria when the meat has gone bad, the toxins will stay behind. So once you start to notice the warning signs of meat that is going bad, the best thing to do is to part ways with them.
What Happens When You Accidentally Eat Bad Pork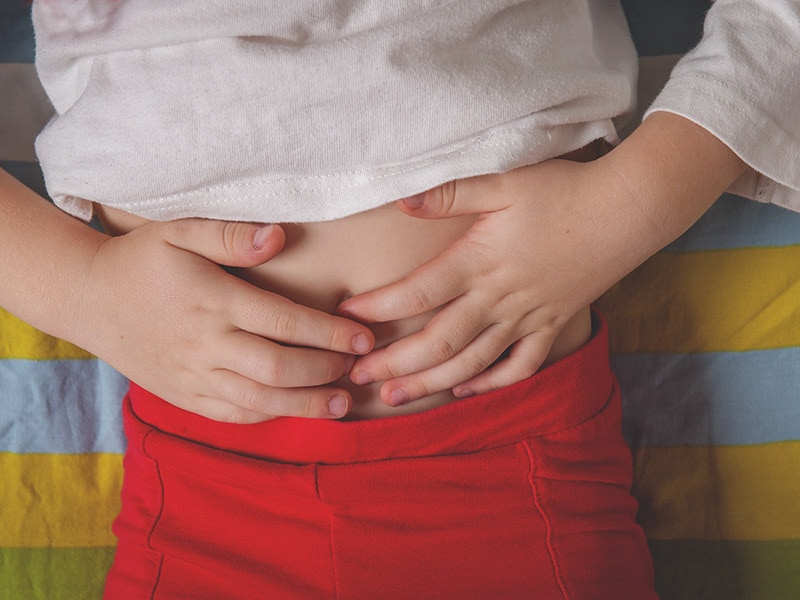 If you try to eat a piece of bad pork, you are putting yourself at risk of food poisoning. According to the CDC, the symptoms can be all or a combination of the following: (2)
Upset stomach
Stomach cramps
Diarrhea
Fever
Nausea
Vomiting
So the next time you are tempted to salvage a piece of bad pork, my advice to you is not to. Consuming rancid meat that can be detrimental to your health and the people around you. So make smarter choices.
Take control of the situation when you or your loved ones have food poisoning.
How To Prevent The Pork From Going Bad
There are many delicious leftover pork recipes to try. But before diving into them, let's see how you can keep your pork longer. These are tested methods to prepare your pork for consumption.
Be Mindful Of The Temperature
This is your reminder to check the temperature of your meat at all stages of the preparation process. When it comes to food, the danger zone is from 40℉ to 140℉. Bacterias will multiply very rapidly if your meat stays in this zone for too long.
Keep the meat cold at all times to prevent it from coming up to the danger zone. Once you do cook it, make sure the internal temperature reaches 145℉ to 160℉, which is sufficiently high to kill off those nasty germs. (3)
Freeze It
You can freeze your pork both raw and cooked. So if you still wonder about whether freezing cooked pork tenderloin is safe, then please rest assured.
However, raw meat keeps much longer in the freezer than cooked one. The former will stay shelf-stable in the freezer for up to 6 months, whereas the latter should only be preserved at that temperature for 2-3 months.
Cut It Into Smaller Portions
This is applicable when you have a big piece of meat that you don't plan on using up in one sitting. Try separating the cut into smaller individual portions that you may need so that you can defrost them in smaller batches, just enough for your needs, instead of the whole cut.
Label It
This ties back to the proper storage techniques that you should apply when handling meat. Whenever you put something in the freezer for an extended amount of time, it is always good to put the preparation date down as a point of reference.
FIFO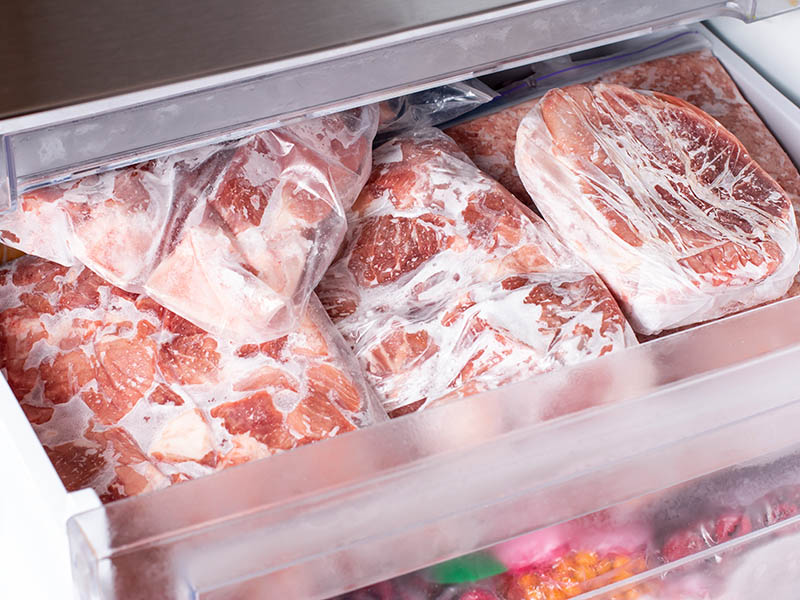 This is a product consumption method utilized in many restaurants. The acronym stands for First In First Out. This essentially means that you should prioritize using up all of your older products first before moving on to the newest ones.
As long as you follow these easy steps, you can rest assured that you are providing your family with the best quality products.
FAQs
You get the importance of handling food, especially pork safely. To ensure that you are equipped with everything you need to know when it comes to safely handling pork, I have compiled a list of frequently asked questions. I hope these answers serves you well
Knowing If Pork Is Important For Food Safety
Food safety is just one of those things that you really cannot lack. It is imperative that you are always maintaining the guidelines and regulations made to save you and those around you from getting sick.
So if you see a piece of pork that is grayish in color and has a funny smell, I hope you know now what to do with it. Share this article with the next person you see trying to save a rancid piece of meat. It is a lost cost, and they should know why! Leave a comment and see you next time!
Reference
Chang, L., 2022. Harmful Bacteria Found in Samples of U.S. Pork.
CDC. 2021. Food Poisoning Symptoms.
USDA. 2020. How Temperatures Affect Food.
Home & Garden Information Center | Clemson University, South Carolina. 2022. Safe Handling of Pork.
Fda.gov. 2022. Refridgerator And Freezer Storage Chart.