I love cooking up this Crockpot barbacoa pork to serve it with different recipes. It can go with virtually anything, though accompaniments from Mexico are usually the top choices. You can put barbacoa pork in quesadillas or on top of nachos with a good dollop of sour cream.
How about pairing it with signature Mexican-style bread or rice for a full meal? My mouth is watering already! This really is such an easy, set-and-forget recipe with the Crockpot doing most of the work for you, so dive into it and learn how to bring this traditional flavor to your home.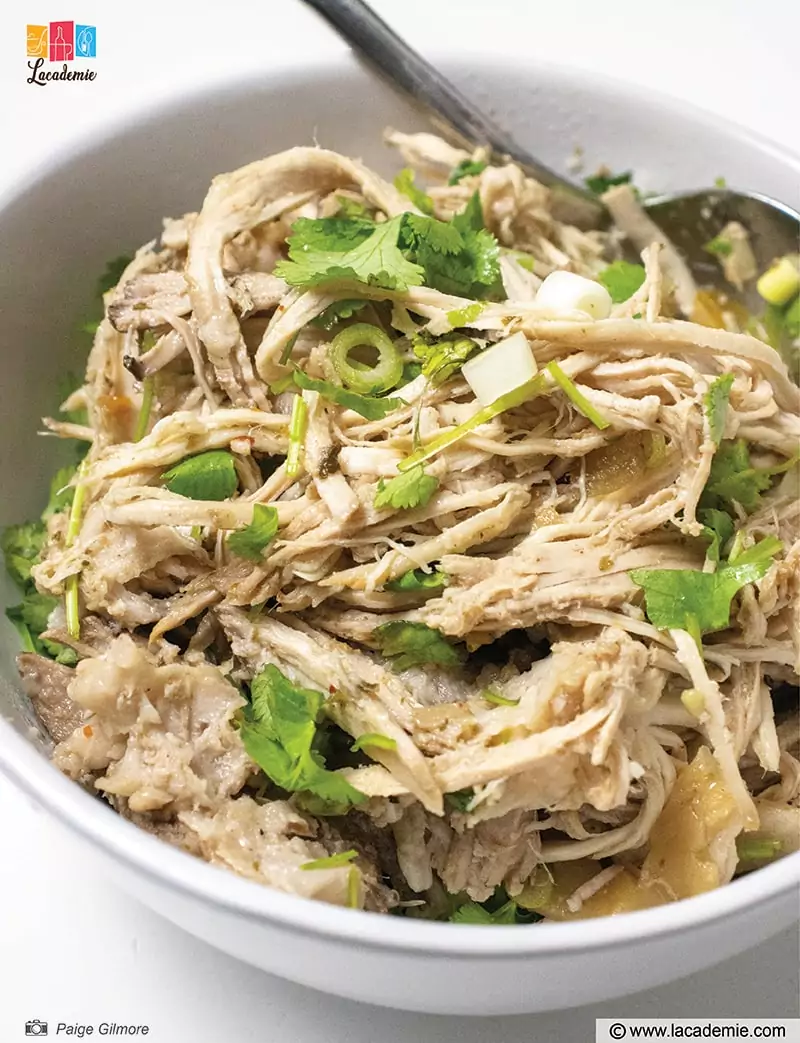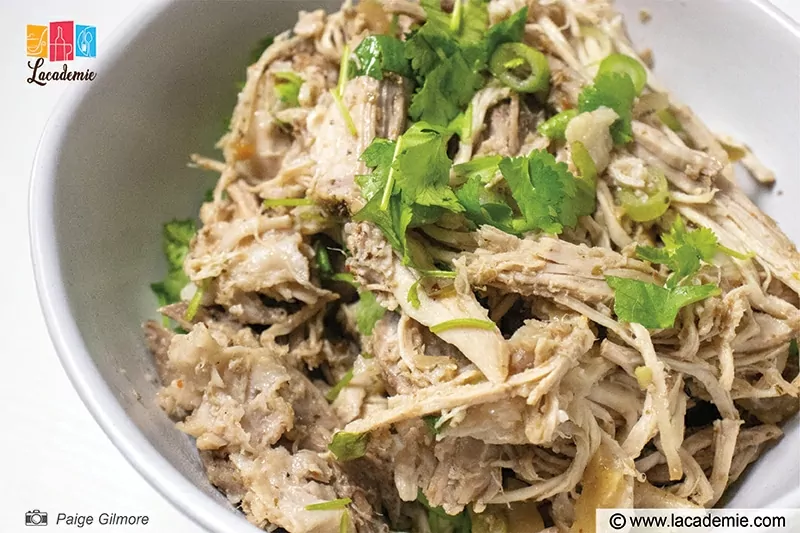 What Is Crockpot Barbacoa Pork?
Barbacoa is a dish/ way of cooking meat that originated from the indigenous people in the Caribbean and later became an integral part of Mexican and Tex-Mex cuisine. You can make it from various kinds of meat, such as lamb, beef, goat, or pork.
This meat dish is extremely tender and juicy because it is usually steam-cooked in an underground oven pit or slow-cooked over an open fire for a long time. However, doing so may prove a little too time-consuming or downright impossible in case you live in a big city.
That's when a Crockpot comes to the rescue. It allows you to have this tender, delicious barbacoa pork without much effort. This dish will be a new Crockpot attraction for your Mexican meal or fancy party.
You can pop the pork in your tacos alongside fresh crispy lettuce and zesty guacamole. A cheesy quesadilla is nice, too. There are countless other side dishes to try, which you will soon discover in the other sections.
Tools
Creating barbacoa pork in your kitchen is quite easy. All you need is the following kitchen tools:
Crockpot: replaces the underground oven or open fire that traditional barbacoa requires. It is certainly easier to use.
Chopping board: to cut the pork.
Sharp knife: to cut the pork.
Two forks: to shred the pork. You can do the shredding with just one pork, but two will make the task easier.
Bowl: to hold the pork.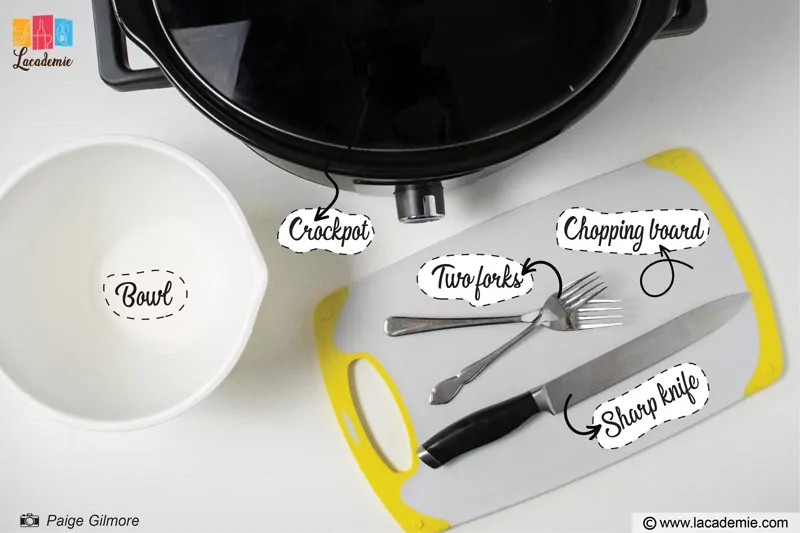 Ingredients
To recreate my Crockpot barbacoa pork recipe, you will need all of the following ingredients.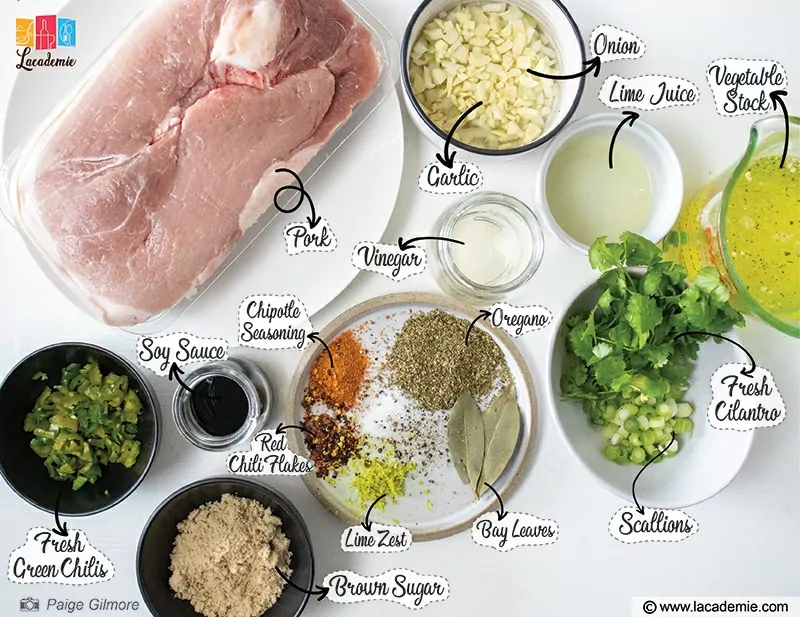 Pork: while barbacoa can be prepared with many kinds of meat, pork is always readily accessible, affordable, and quite delicious. I also find it works exceptionally well with Mexican spices.
While they are the most suitable choices for this dish, beware that pork butt and shoulder have some differences that will affect your dish. And choose a chunk of pork with a suitable size that can fit nicely into your Crockpot. If it is too big, consider cutting it into smaller pieces.
Onion and garlic: the perfect condiments for your pork.
Vegetable stock, soy sauce, and vinegar: they keep your pork moist as well as infuse tons of deep flavors into the meat.
Brown sugar: adds a deep sweetness and caramel flavor that makes this dish so tempting.
Lime zest: complements the Mexican flavors in the pork. If possible, you should add plenty of lime juice as well for an even more intense flavor.
Bay leaves and oregano: these herbs diversity the flavor of the dish. You don't need to use a large amount of them, though.
Scallions and fresh cilantro: help balance the meaty flavor of the dish.
Chipotle seasoning, fresh green chilis, red chili flakes: these are the indispensable spices in any Mexican-flavored pork dish, especially this one.
Salt and pepper: to taste.
How To Make Crockpot Barbacoa Pork
Follow those simple steps to recreate the perfect Crockpot barbacoa pork. I hope you don't mind getting your hands dirty!
Step 1: Prepare Your Ingredients
Leave your Crockpot in someplace where it can sit for up to 8 hours. Spread half the onions and garlic in the bottom of your Crockpot.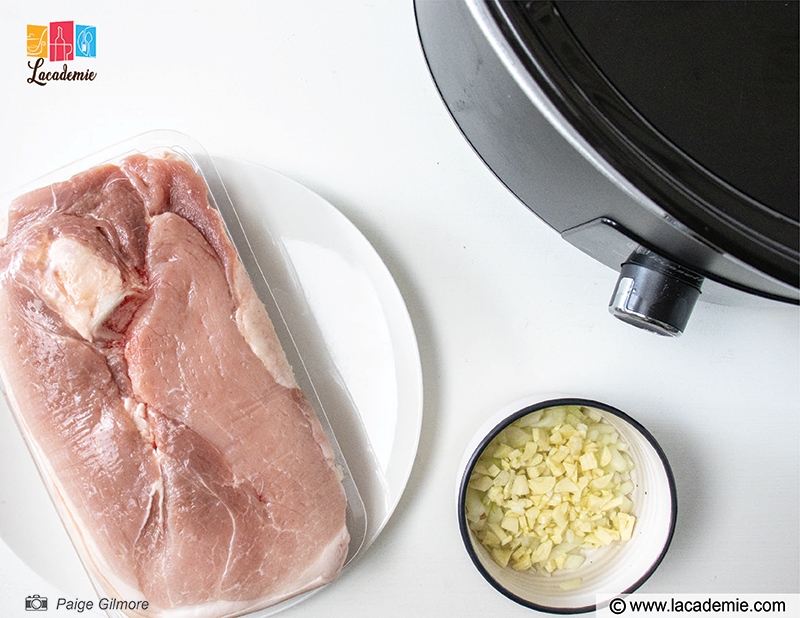 Step 2: Add Your Pork And Other Ingredients
Place the pork on top of the bed of onions and garlic, then layer the rest of these aromatics over the top. Sprinkle your brown sugar, oregano, lime zest, chili flakes, bay leaves, and chopped fresh chili over them.
Next, pour in the vegetable stock, soy sauce, apple cider vinegar, and lime juice. Don't forget to add a suitable amount of salt and pepper.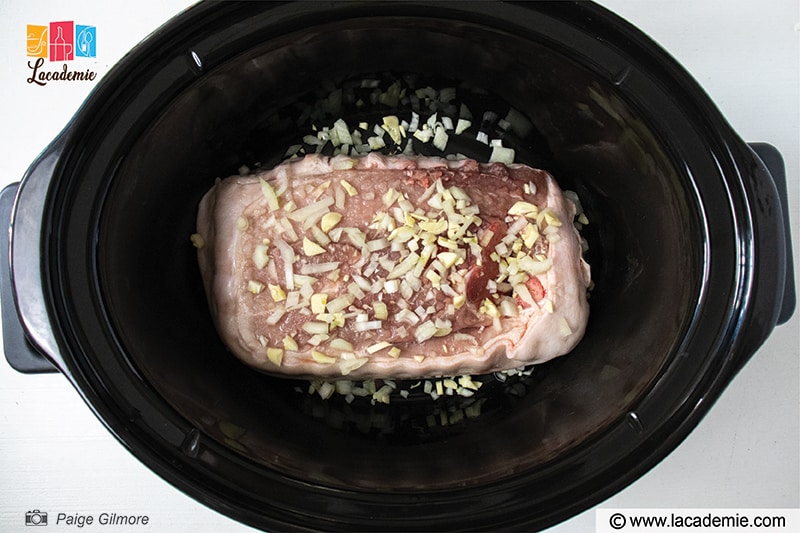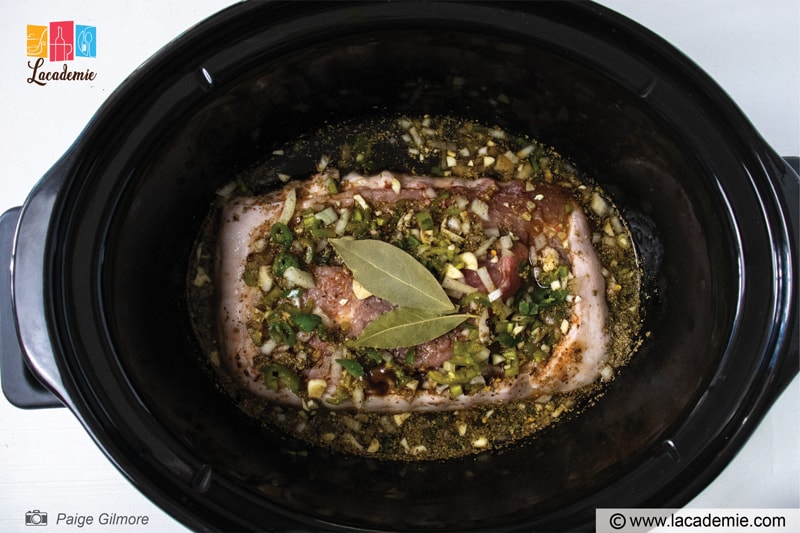 Step 3: Cook Your Crockpot Barbacoa Pork
Gently stir the ingredients around the pork and close the lid of the Crockpot. Set your heat setting to low and cook for 8 hours or until the pork is falling apart.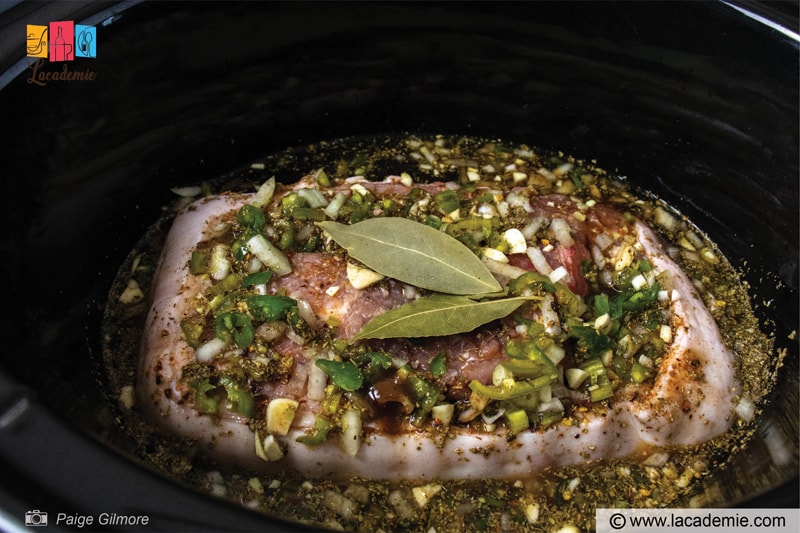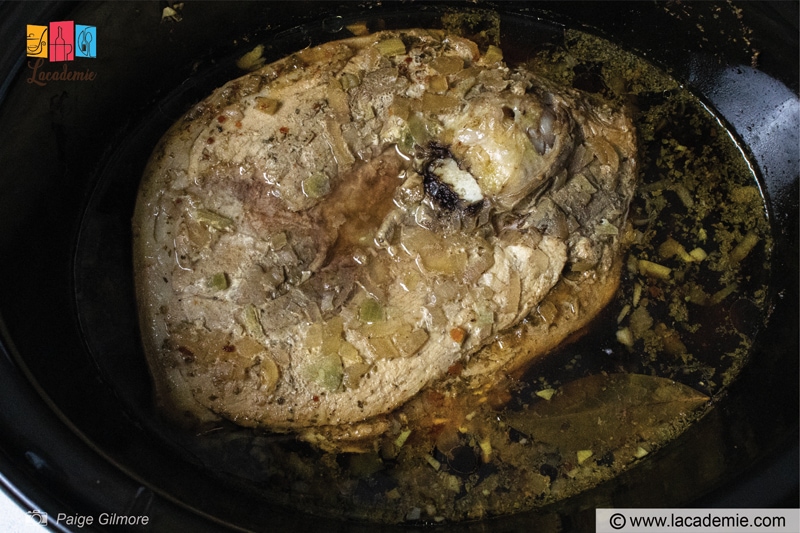 Step 4: Shred The Pork
When your pork is fully cooked, shred the pork with two forks until you have created bite-sized pieces.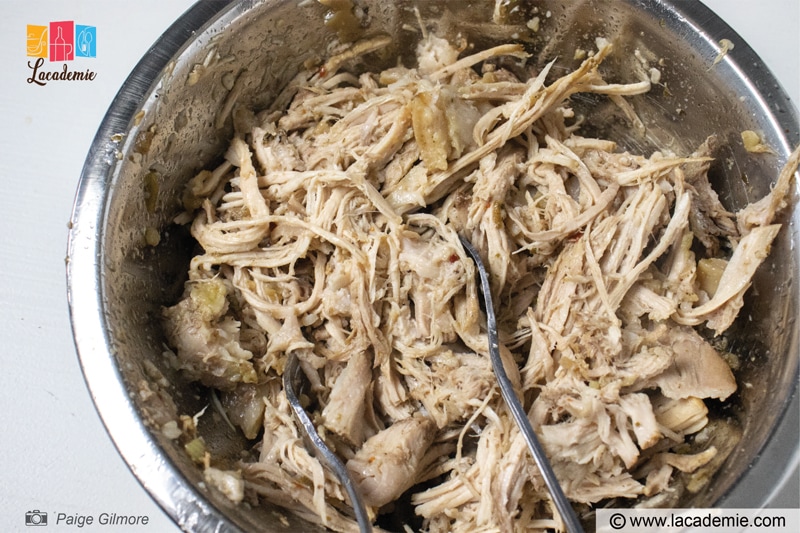 Step 5: Garnish And Serve Your Crockpot Barbacoa Pork
Sprinkle the scallions and cilantro over the top of your shredded pork. Serve hot and enjoy!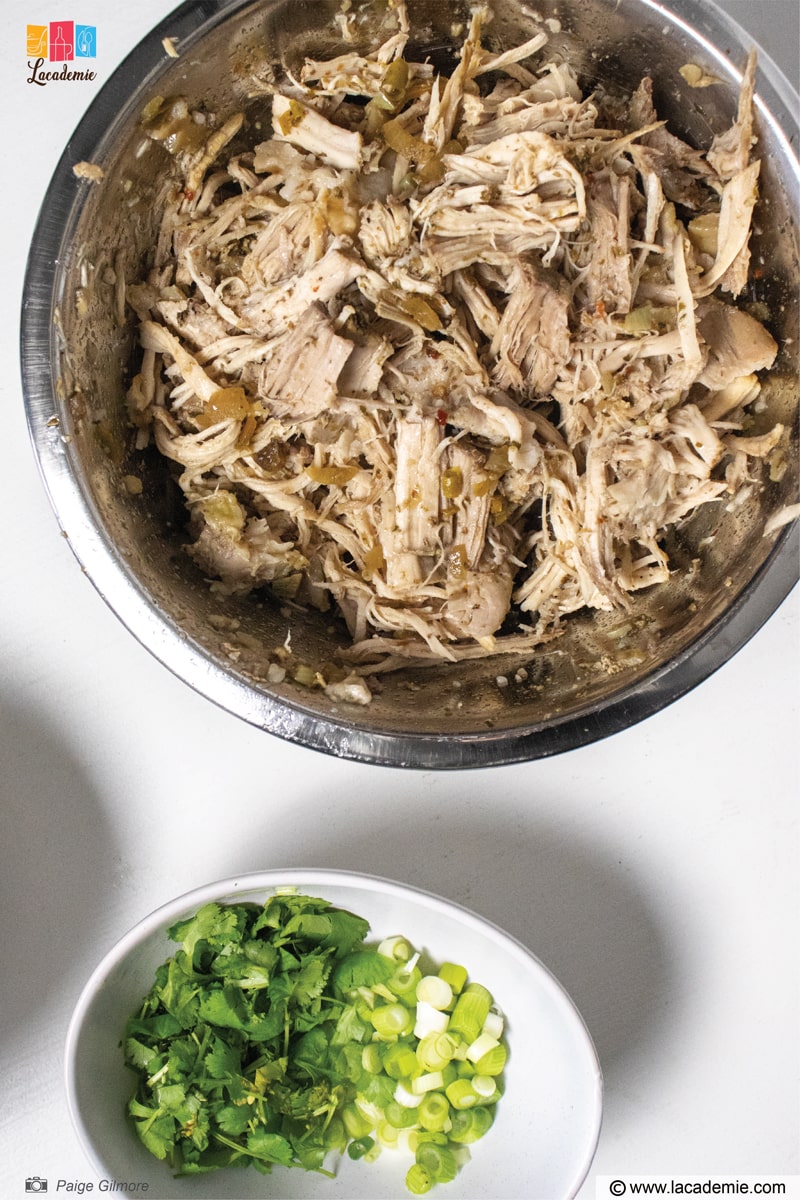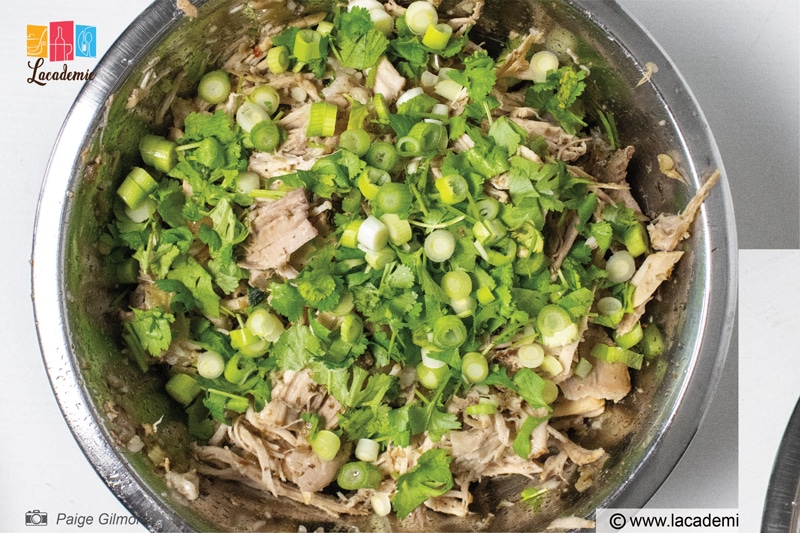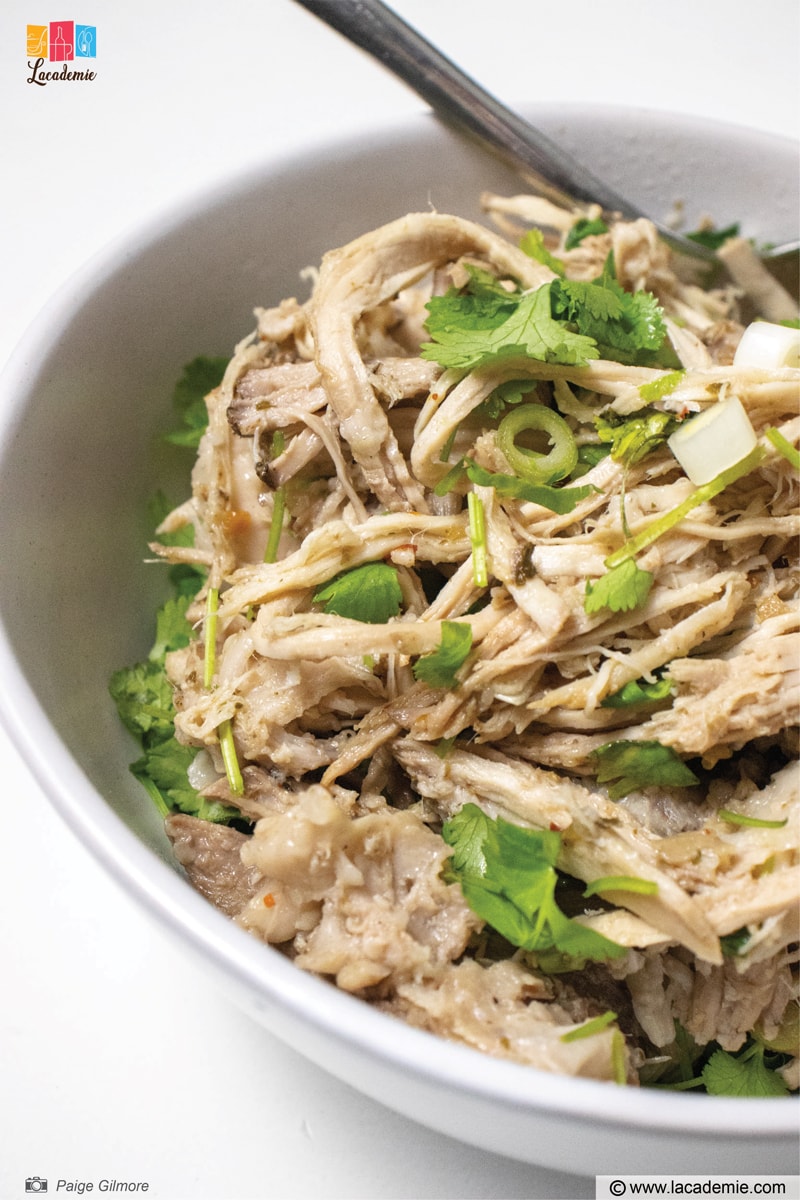 Tips And Serving Suggestions
There aren't too many components making this recipe, and its simplicity makes the finished product super versatile. Scroll down to find go-to serving suggestions, which will give you a good idea of just how flexible barbacoa pork is.
Tips for Crockpot Barbacoa Pork
To get the perfect Crockpot barbacoa pork at home, I recommend the following tried and tested tips.
Make sure the pork is easily shredded with forks once cooked. If you use a larger piece of pork, then adjust the times accordingly as well as add extra sauces and liquids.
Haste makes waste: This type of pork recipe can't be cooked quickly at high temperatures. The meat will still be tough if you use the high heat setting and cook for a shorter period of time.
You can make this recipe as spicy as you like! By contrast, reducing the amount of heat doesn't hurt its deliciousness. Therefore, increase the chilies or reduce them depending on your spicy preference.
What To Serve With My Crockpot Barbacoa Pork?
Have you prepared some juicy Crockpot barbacoa pork yet? It's time to discover how versatile it is. Here are a few tasty accompaniments to serve with this pulled pork for your friends and family.
Tacos
Quesadilla
Nachos
Burrito
Burger buns and salad.
Sour cream
Storing Crockpot Barbacoa Pork Is Easy
Like other kinds of foods, Crockpot barbacoa can be refrigerated for 3 – 4 days. In case you want to save it for the next month (or season), just freeze it, and your pork will stay good for several months.
Don't forget to keep it in a freezer bag or, even better, a vacuum-sealed container to avoid freezer burns.
Crockpot Barbacoa Pork: Let's Make Pork Great Again
Whether served with a pulled pork burger, tacos, quesadillas, or nachos, this Crockpot barbacoa pork recipe will never fail to impress you. Its sinfully succulent, tender goodness is simply too tempting to ignore.
Besides, this dish is a great option for when you're entertaining a large number at a party. I love to just set up a dish of Crockpot barbacoa pork alongside a variety of different side dishes so that my guests can have fun building the meal they want to pair with my pulled pork.
I hope you love this recipe. Feel free to like and share my recipe with your friends and family. Don't forget to leave a comment if you have any useful tips to share with other readers or want to tell me about your experience with barbacoa pork.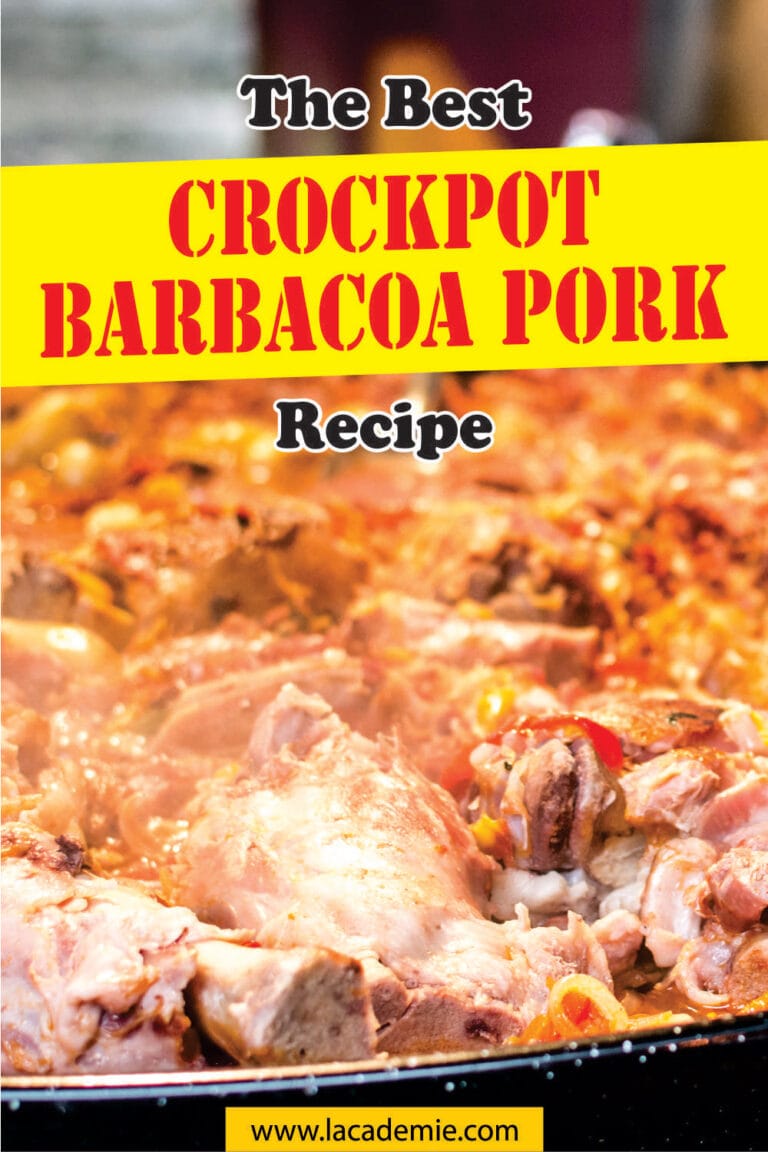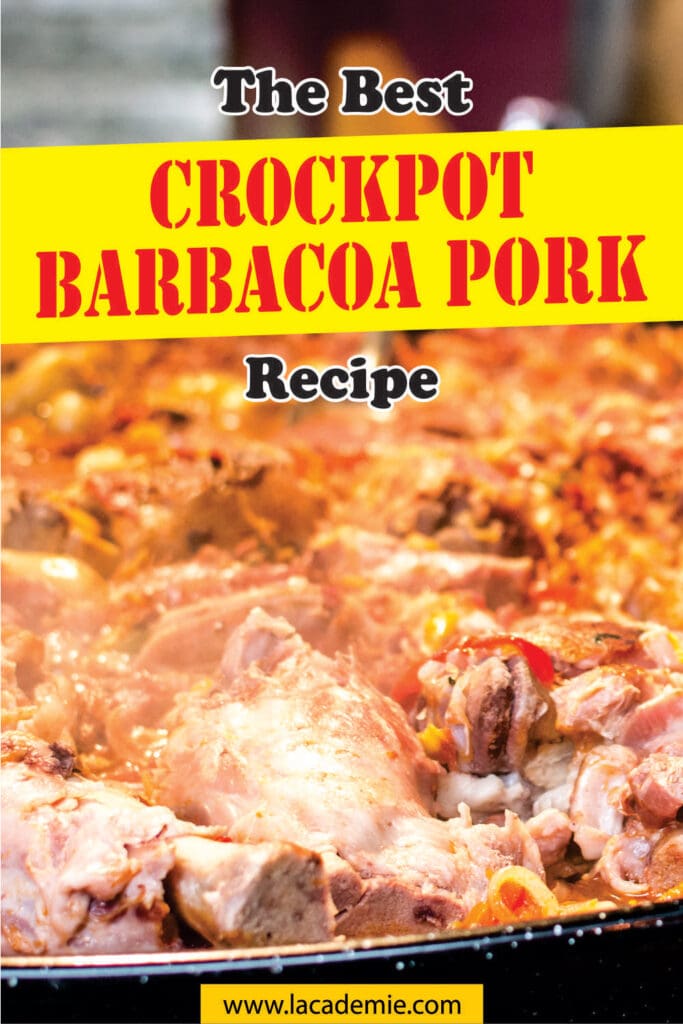 Nutrition Facts
8 servings per container
---
Amount Per ServingCalories389
% Daily Value *
Total Fat 16.2g

25

%
Cholesterol 146mg

49

%
Sodium 424mg

18

%
Potassium 763mg

22

%
Total Carbohydrate 8.3g

3

%

Dietary Fiber 1.2g

4

%
Sugars 5.6g

Protein 49.2g

98

%
---
* The % Daily Value tells you how much a nutrient in a serving of food contributes to a daily diet. 2,000 calories a day is used for general nutrition advice.