Boiled pork belly with garlic sauce is a health-giving Vietnamese dish anyone can make with absolute ease. Featuring tender pork slices and a flavorsome sauce packed with flavor, it's a recipe that, despite its simplicity, will leave you wanting more.
Cooking can be a chore sometimes, especially on busy days, and this easy-to-make dish is a true life savior every time. With just a few simple ingredients and about 30 minutes, you'll be able to cook up a full meal that can fill up a whole family. No wonder it has been a staple in Asian cuisine for so long!
Scroll down to learn the perfect recipe for making boiled pork belly with garlic sauce at home!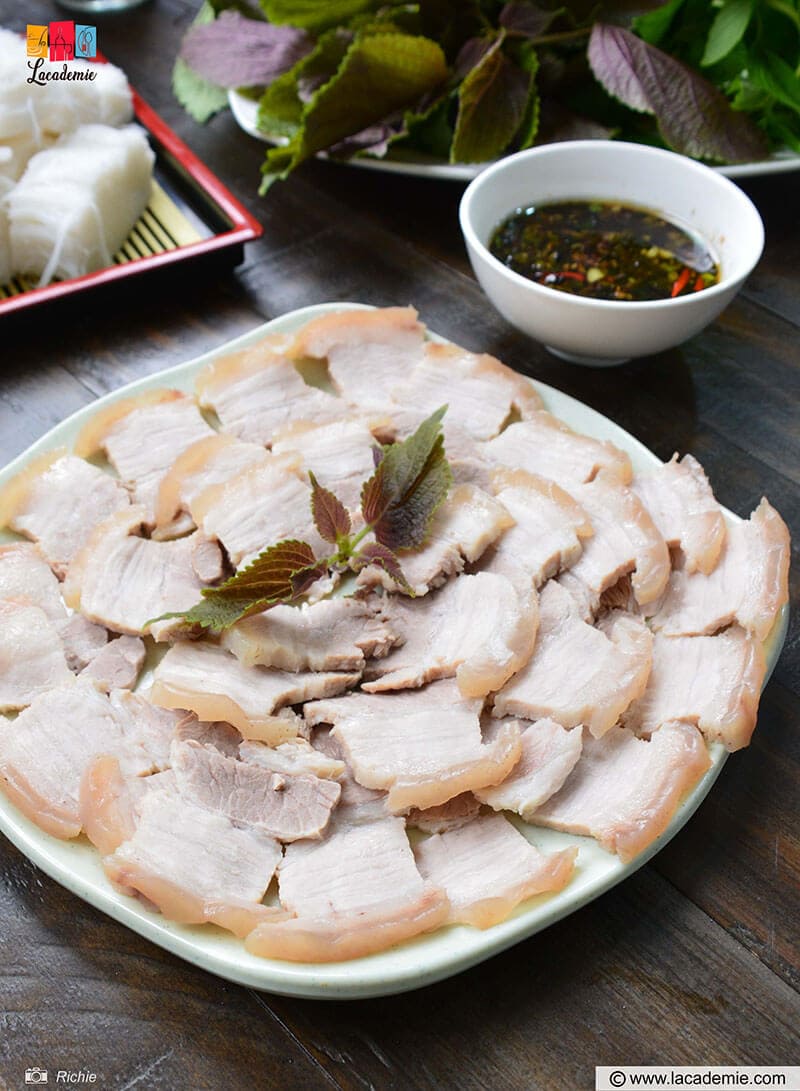 Why This Recipe Works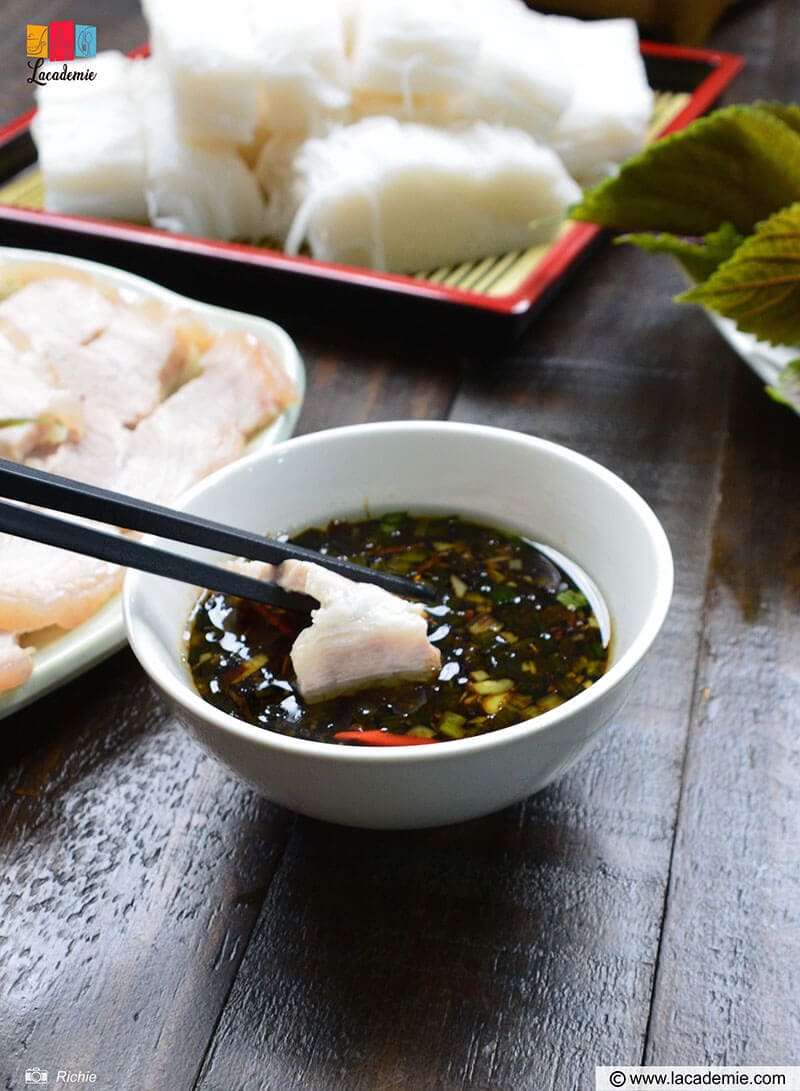 If you haven't tried boiled pork belly with garlic sauce before, here are some reasons that will convince you to do so:
Super quick and easy to make: Cooking this recipe is a cakewalk, even if you aren't that skilled in the kitchen yet. All you have to do is prepare a pot of hot water, toss in the pork, and wait for it to cook. Then, whip up the garlic sauce, which takes less than 5 minutes!
Incredibly delicious: As long as you follow this recipe, your pork will be super tender and juicy. Moreover, the garlic sauce makes for an impeccable dip, adding tons of flavor to the overall mild-tasting boiled meat.
Healthy and filling: Boiling is a fat-free cooking technique, meaning that your food will be low in calories. Besides, it's also filling enough to serve as a main dish for any family meal.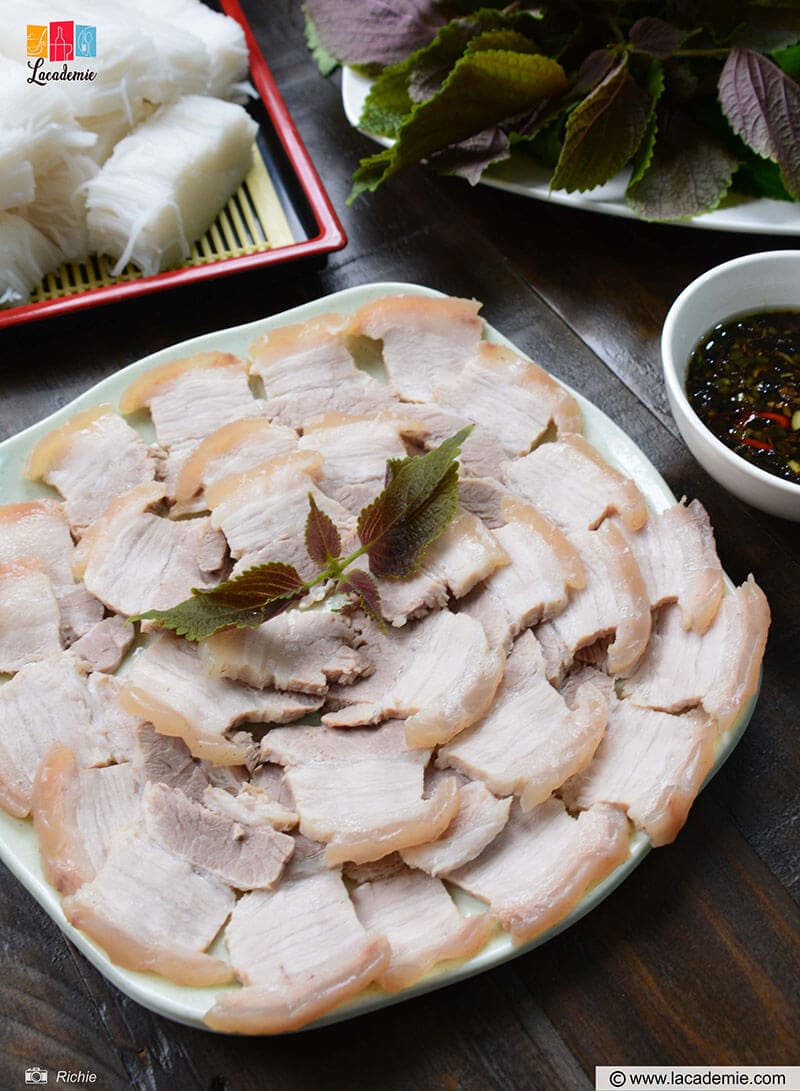 Tools
Before jumping to the recipe, check this tool list to ensure that you have all the necessary kitchenware.
Knife and chopping board: For slicing the pork.
Pot: Helps you boil the pork.
Tongs: For transferring the ingredients in and out of the pot.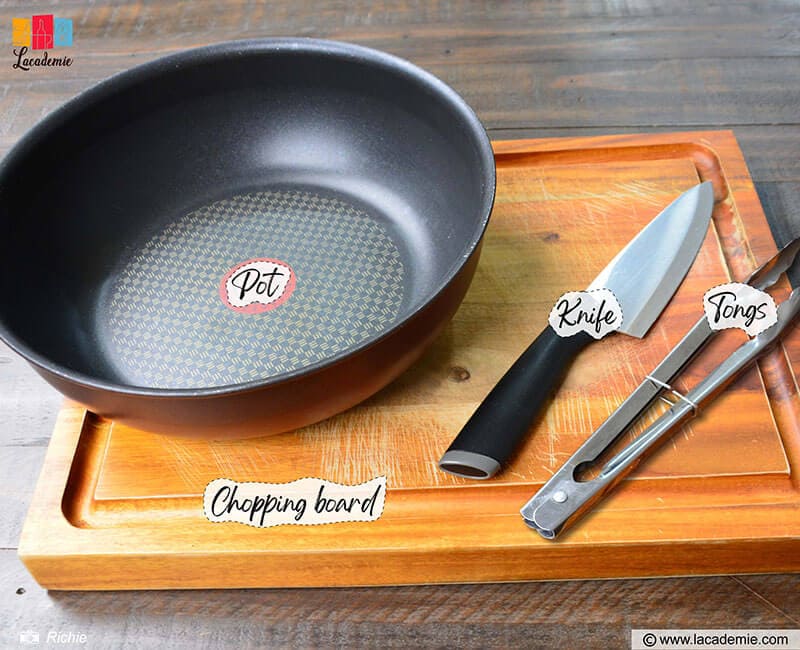 Ingredients
Now that you've prepared the needed tools, it's time to purchase the following ingredients.
Pork belly: I like to use boneless and skin-on pork belly. You can also go for pork shoulder, which is leaner.
For adding to the boiling water: Leek, ginger, onion, and white wine.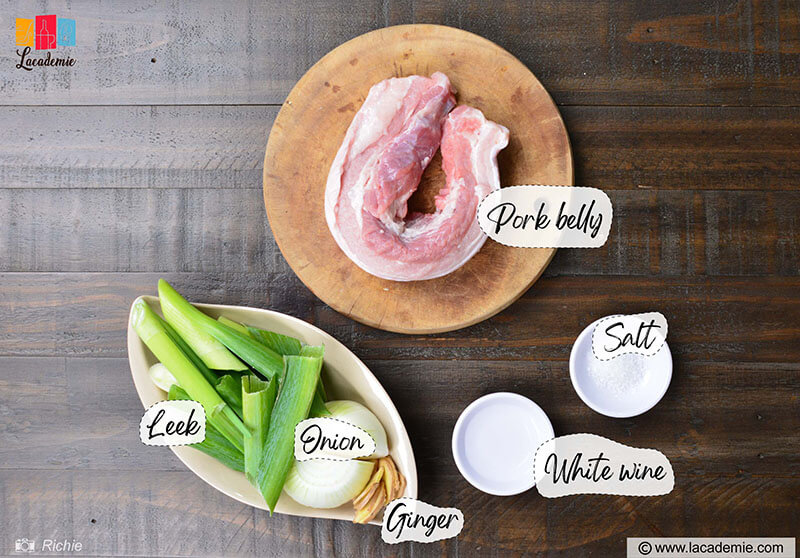 For the sauce
Soy sauce: The base for the dipping sauce. Soy sauce has a dark color and a salty, umami, and slightly sweet taste.
Vinegar: Adds tangy notes to the sauce, which brightens it up and balances the flavor.
Vietnamese scallion and oil garnish: One of my favorite garnishes in Asian cuisine. It brings a little fatty touch to the sauce.
Spices and seasonings: Garlic, sugar, and chili pepper.
For serving
Vermicelli noodles: Asian vermicelli noodles made from rice flour are the best choice.
Herbs and vegetables: Vietnamese balm, beefsteak plant, peppermint, fish mint, cucumber.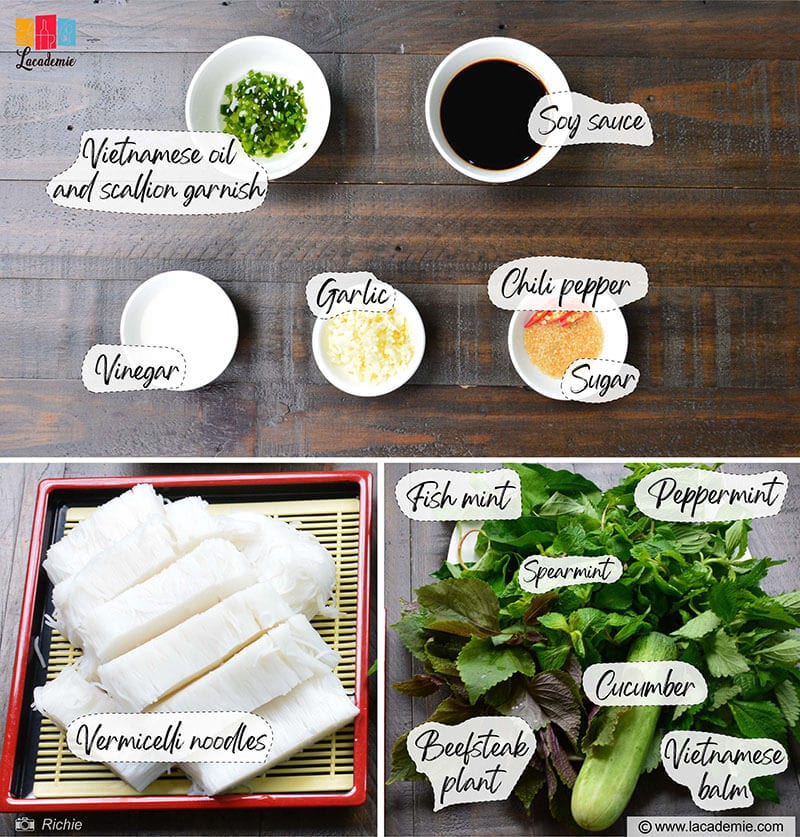 Directions
Here is a simple recipe for making boiled pork belly and a mouth-watering garlic dipping sauce.
Step 1: Prepare The Ingredients
Wash the pork belly and vegetables. Then, drain and set them aside.
Add 1 teaspoon of salt to a pot of water, then blanch the pork for 30 seconds to 1 minute over medium heat.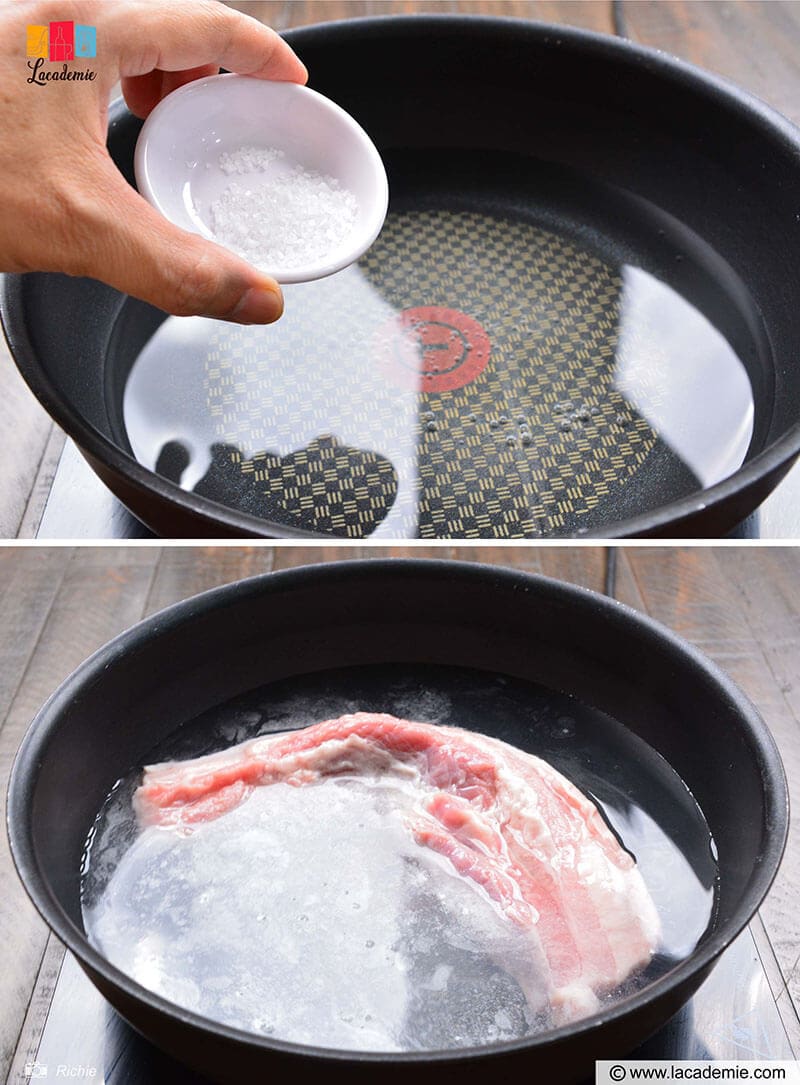 Note: This step is crucial for removing impurities and odor from the meat.
Step 2: Boil The Pork Belly
Dispose of the water you used to blanch the pork and fill the pot with new water.
Add the leek, onion, ginger, and white wine to the pot. Boil the water for 5 minutes to infuse it with herbs and spices.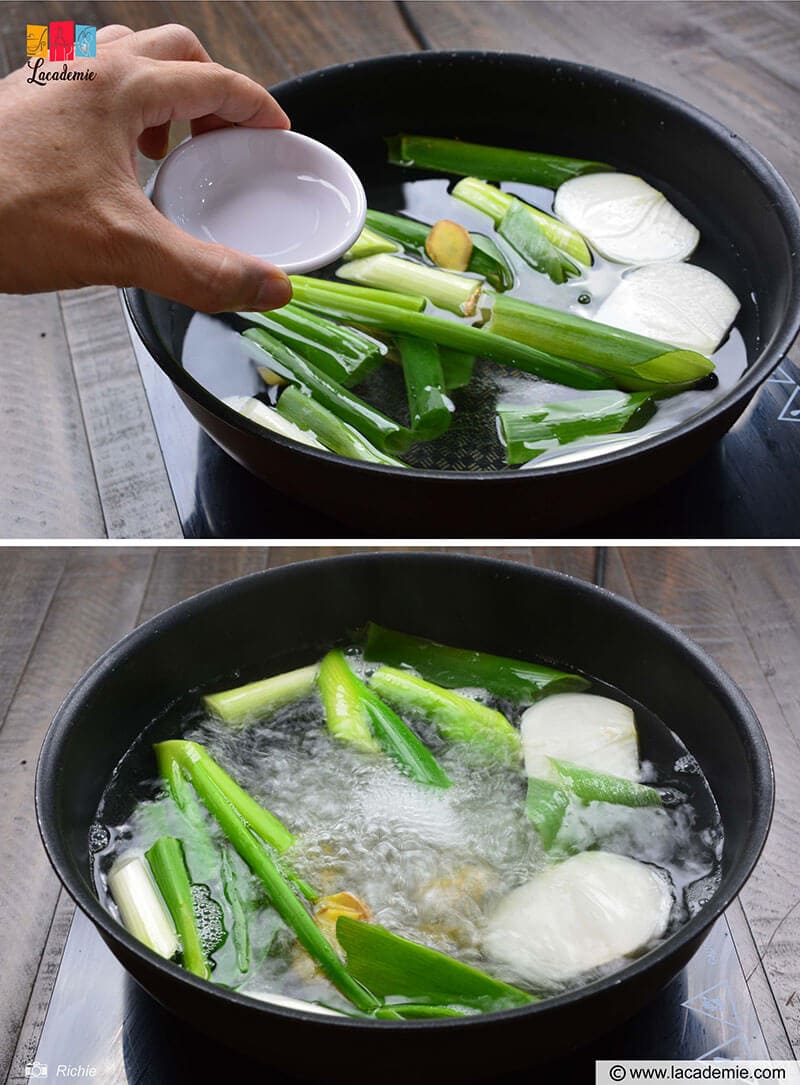 Next, put the pork in the pot and boil it for 30 minutes.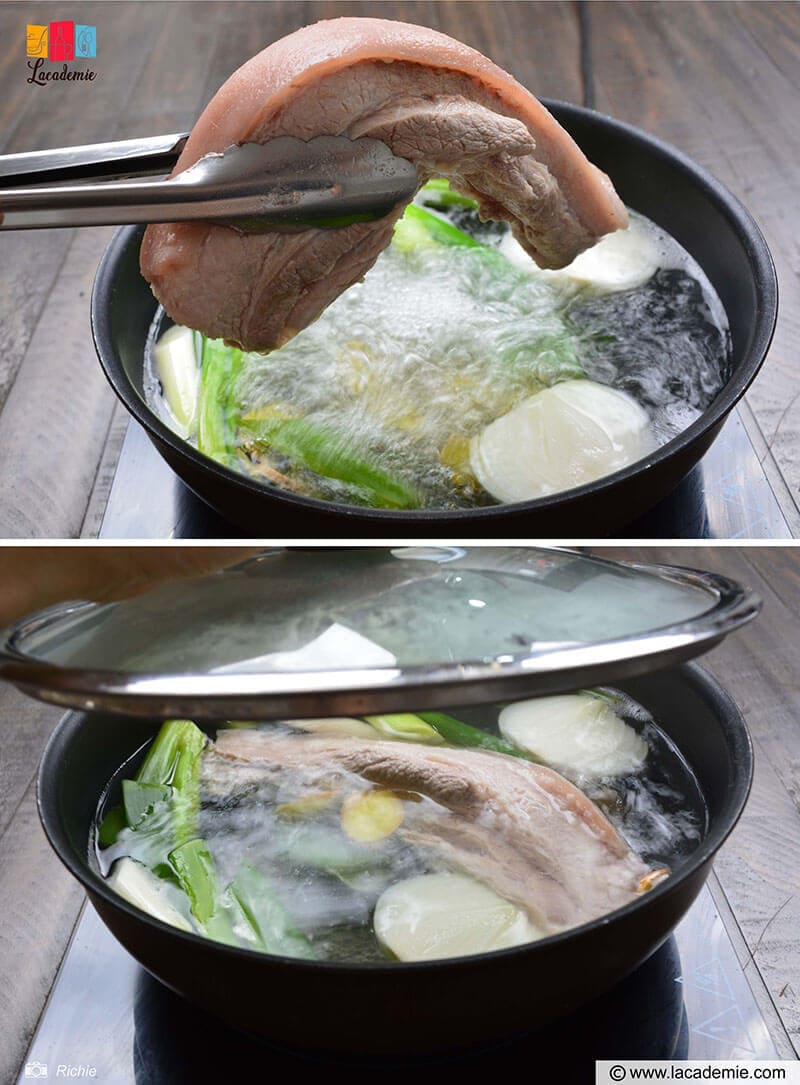 Note: You should cover the pot to ensure the meat is cooked thoroughly.
After cooking the pork, transfer it to an ice bath or cold water, which improves the texture and color and prevents browning.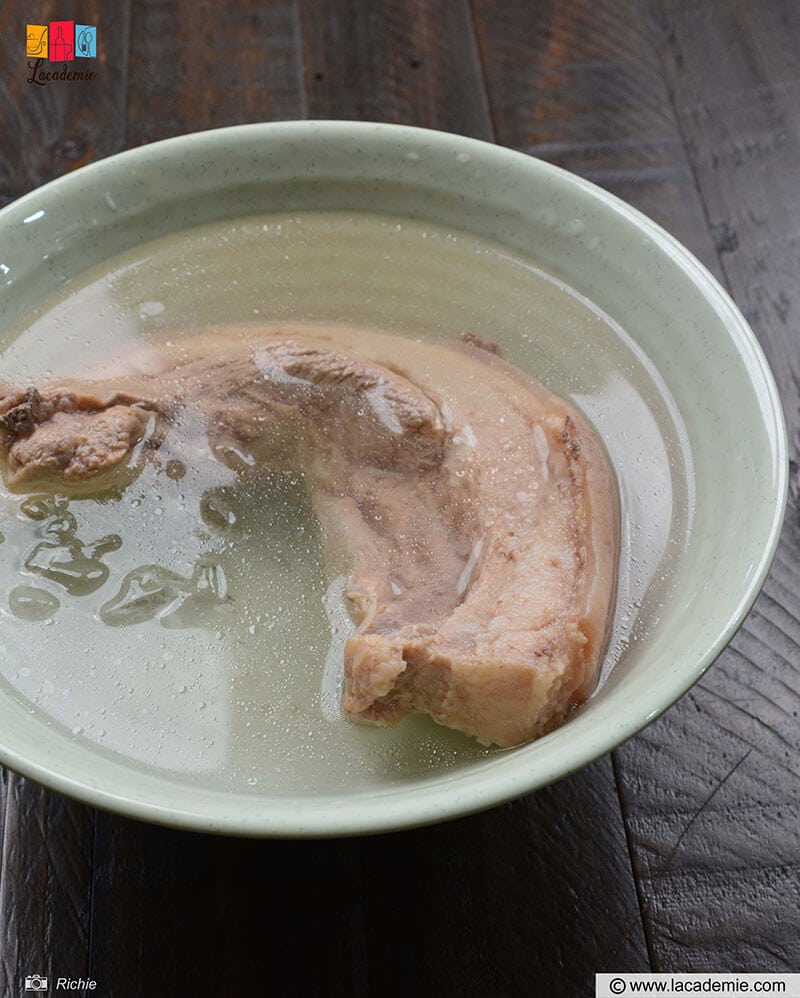 Step 3: Make The Sauce
Start by adding the Vietnamese scallion and oil garnish to a saucepan.
If you don't have this garnish on hand, heat some oil in the pan and add chopped scallions. Then, stir in some minced garlic and fry them until fragrant.
Next, pour in the soy sauce, sugar, chili pepper, and vinegar. Stir well until the sauce boils, then cut the heat.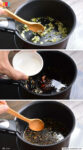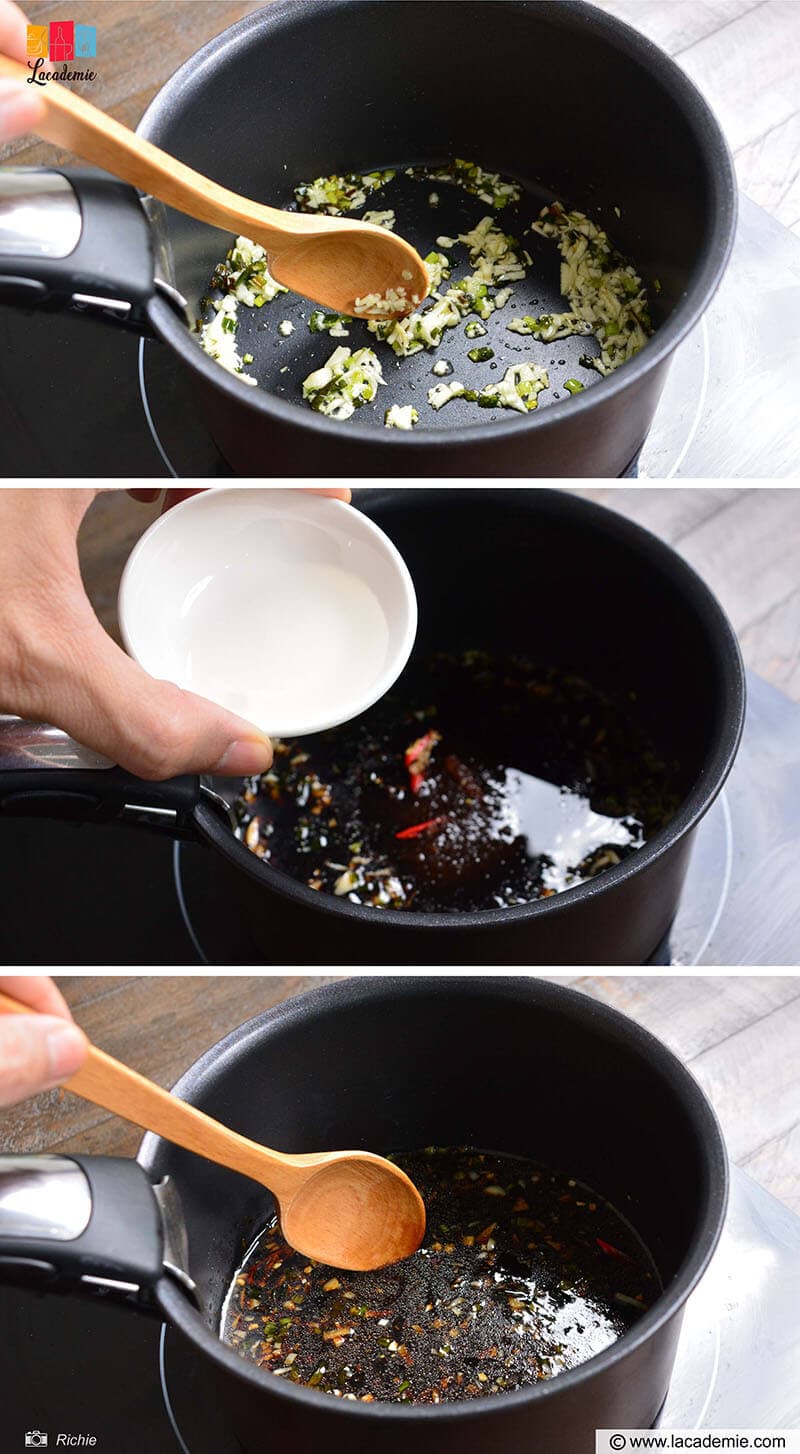 Step 4: Cut The Pork
Place the boiled pork belly on a chopping board and cut it into thin slices. Arrange the pork pieces on a plate.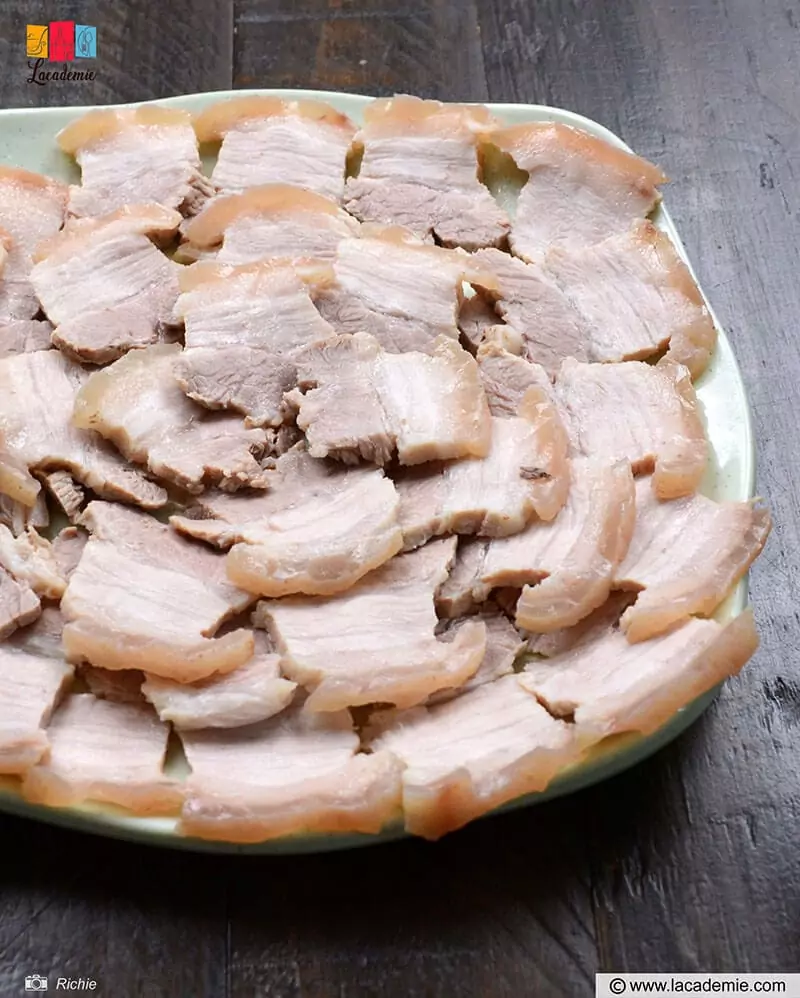 Step 5: Serve The Dish
Serve the boiled pork with a plate of vegetables and herbs and a bowl of dipping sauce on the side.
You can enjoy this dish with vermicelli noodles, which is also the way that I like best. Bundle together some pork, herbs, and noodles. Dip them in the sauce and take a bite!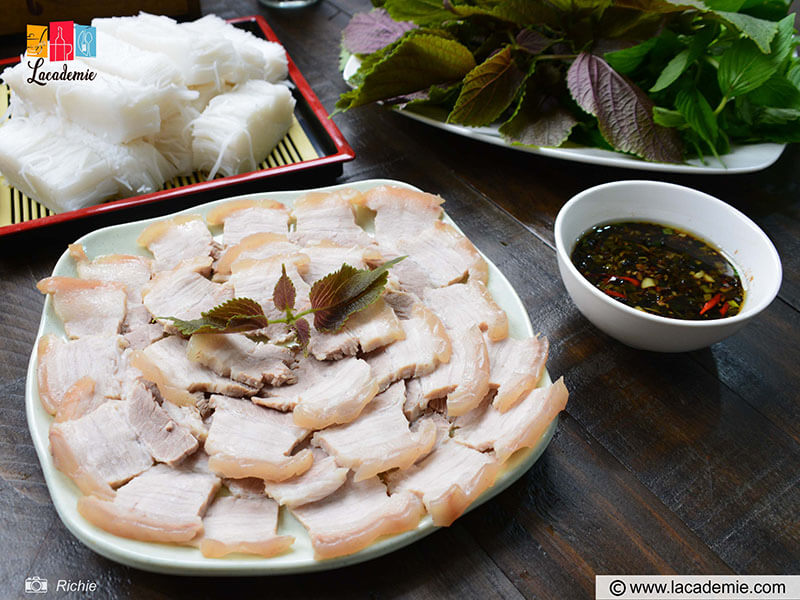 In addition, you can also wrap them in rice paper, similar to how you make Vietnamese fresh spring rolls. The dish tastes great both ways, so don't hesitate to try them out!
How To Store The Leftovers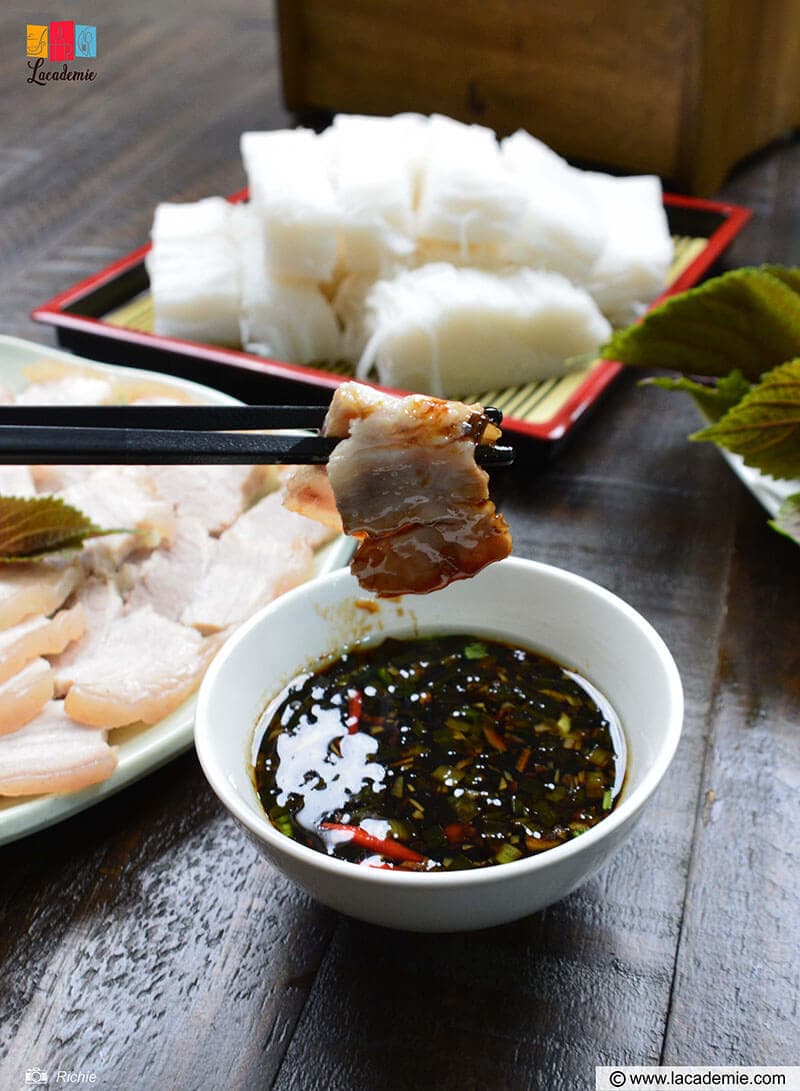 Another thing that I love about this dish is how it is to store the leftovers. Simply put the pork in an airtight food container, then place it in the fridge, and you're good to go. Your boiled pork will last for about 3 days.
In addition, you can also freeze it for about 3 months. Before freezing, remember to transfer it into a freezer-safe container first. To reheat, you can pop the pork in a microwave or briefly cook it on medium-low heat.
Ways To Switch Up The Recipe
When you've mastered this version of boiled pork and garlic sauce, you can also try out the following variations of the dish.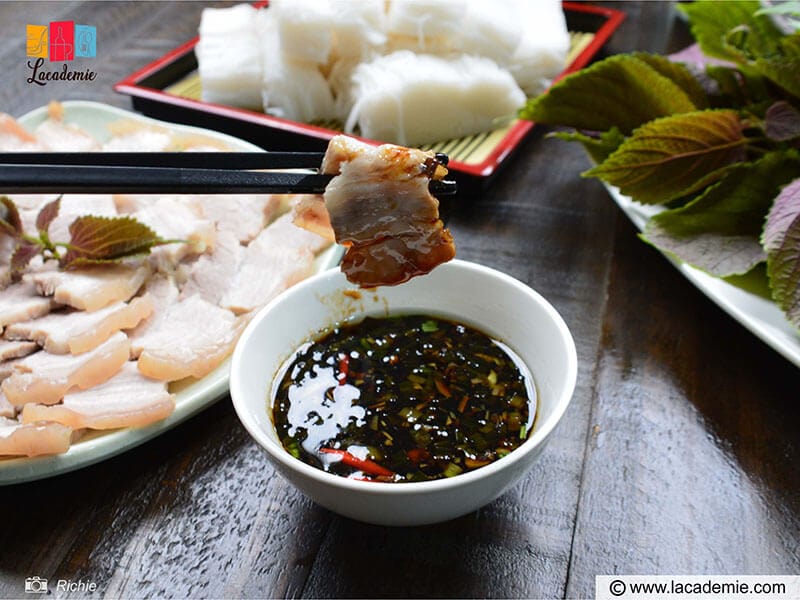 Use skinless pork: While I enjoy the crispy, slightly chewy skin of boiled pork, some people might want to remove it, as it is the most calorie-dense part.
Serve it with Vietnamese dipping sauce (Nuoc Cham): This dip uses fish sauce as the base and is infused with spices, giving it a savory, sweet, and spicy taste.
Try out fermented shrimp paste: For people that want something truly unique, you can dip the boiled pork in fermented shrimp paste, which is what the Vietnamese use in their iconic Bun Dau Mam Tom. Note that this ingredient has a really intense flavor profile, so you should dilute it a little first.
Add some crushed peanuts: Peanuts bring an earthy and nutty flavor to the dish. They go well with vermicelli noodles, too.
Add more chili pepper or chili oil to the sauce: If you're a fan of spicy dishes, feel free to spice up the sauce!
Serve the pork with other side dishes: Steamed rice, sauteed or stir-fried vegetables, and vegetable salad are all great side dish options.
FAQs
In this part, I've gathered a number of commonly asked questions about today's dish. Give them a quick read!
Tasty And Healthy – A Flawless Combination
Boiled pork belly with garlic sauce is a healthsome and delectable recipe for when you're tired of greasy treats. Since the cooking process involves no oil, you'll be able to cut down on a lot of calories. Yet, it's still satisfying enough to be a complete meal.
How do you find today's post? What's your favorite sauce to pair with boiled pork belly? I'd love to hear your thoughts and ideas, so please leave a comment! Lastly, don't forget to like and share the recipe so that more people can know about it. Have fun cooking, and see you on other yummy dishes!
Nutrition Facts
4 servings per container
---
Amount Per ServingCalories455
% Daily Value *
Total Fat 31g

48

%
Cholesterol 66mg

22

%
Sodium 1761mg

74

%
Potassium 146mg

5

%
Total Carbohydrate 21.9g

8

%

Dietary Fiber 1.7g

4

%
Sugars 4.5g

Protein 22.1g

44

%
---
* The % Daily Value tells you how much a nutrient in a serving of food contributes to a daily diet. 2,000 calories a day is used for general nutrition advice.