If you're looking to add a touch of deliciousness and a beautiful sheen to your meal, then Vietnamese scallions & oil garnish (Sốt Mỡ Hành) is a must-try. You can make this simple recipe in under 5 minutes, making it the perfect garnish to have on hand for any occasion.
Not only is Sot Mo Hanh easy to make, but it's also incredibly versatile. It's a match made in heaven for your favorite Vietnamese dishes, like Com Tam (broken rice), Banh Hoi (woven rice vermicelli), and many more. Scroll down to learn how to make Sot Mo Hanh today!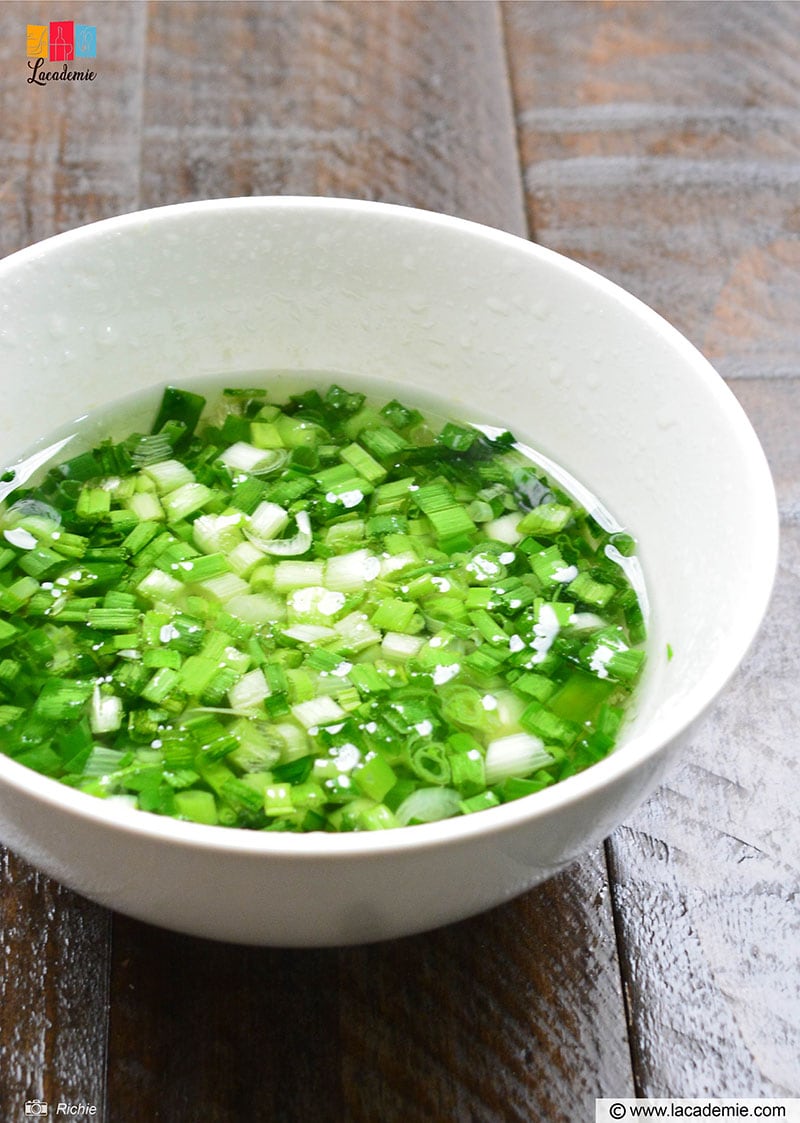 Sot Mo Hanh – A Garnish That Every Vietnamese Love
If fish sauce is the heart and soul of Vietnamese cuisine, then Sot Mo Hanh is undoubtedly its national garnish. This unique garnish consists of thinly sliced scallions sauteed with heated oil until tender and fragrant.
The result is a beautiful combination of soft scallions in aromatic and savory oil. Though simple, it can elevate numerous dishes with its vibrant color, attractive sheen, and distinct green onion flavor.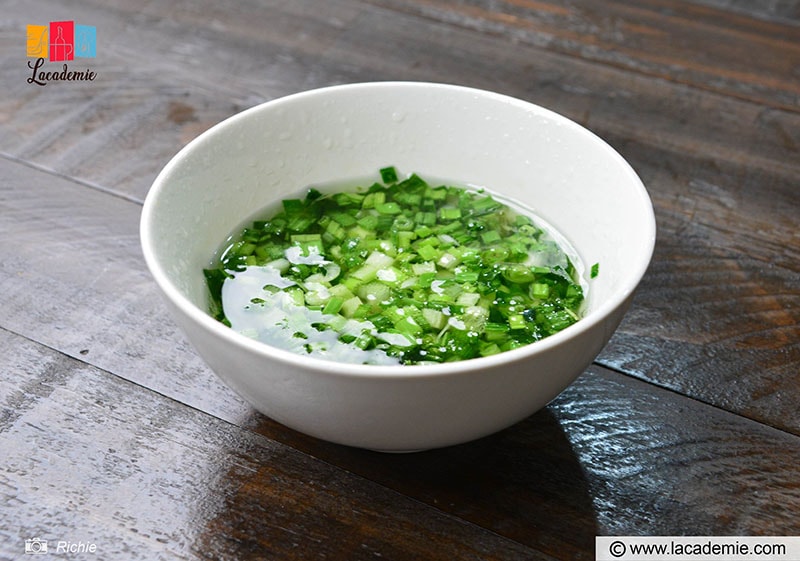 Besides Com Tam and Banh Khot, other great examples of Vietnamese delicacies that won't taste the same without Mo Hanh include grilled clams, Bun Thit Nuong (grilled pork noodle salad), and Bap Nuong (grilled corn). For these dishes, Sot Mo Hanh is the cherry on top that ties everything together, adding depth and complexity.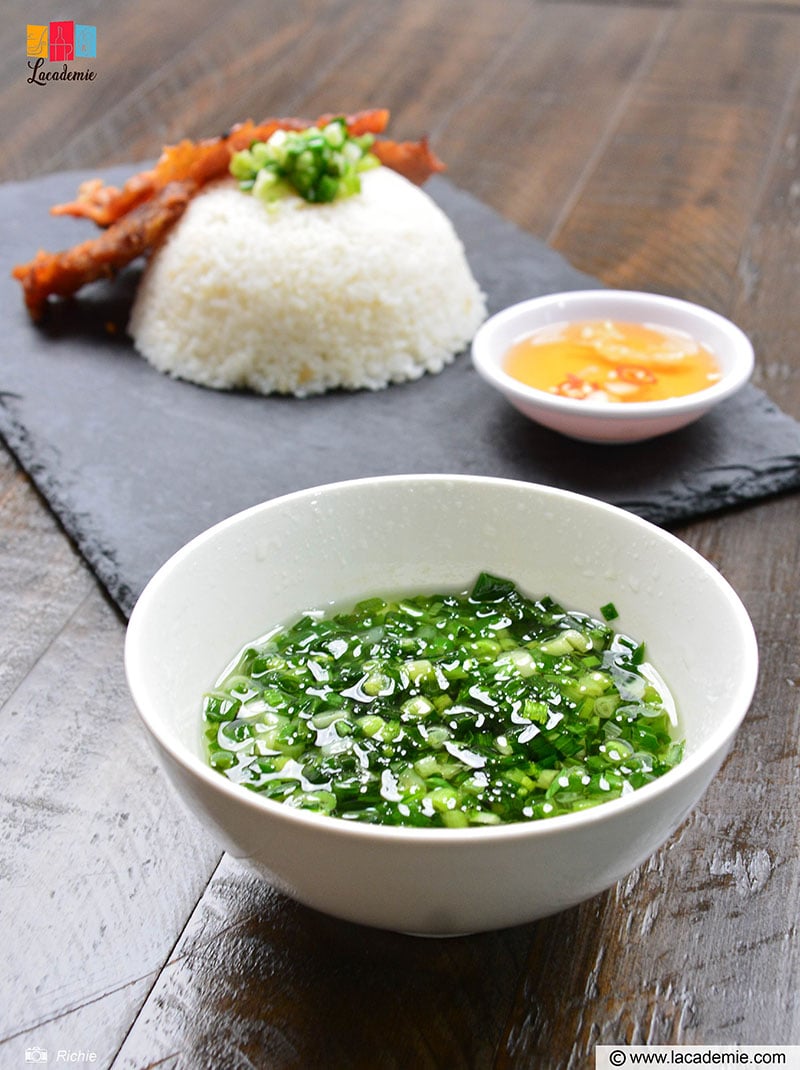 Tools
You might have guessed this already, but the required tools for today's So Mo Hanh recipe are super simple.
Saucepan or a small pan: For heating the oil and sauteeing the scallions.
Knife and chopping board: For cutting the scallions into small pieces.
Microwave: Provides you with a quick way to make Mo Hanh without needing to use a stovetop.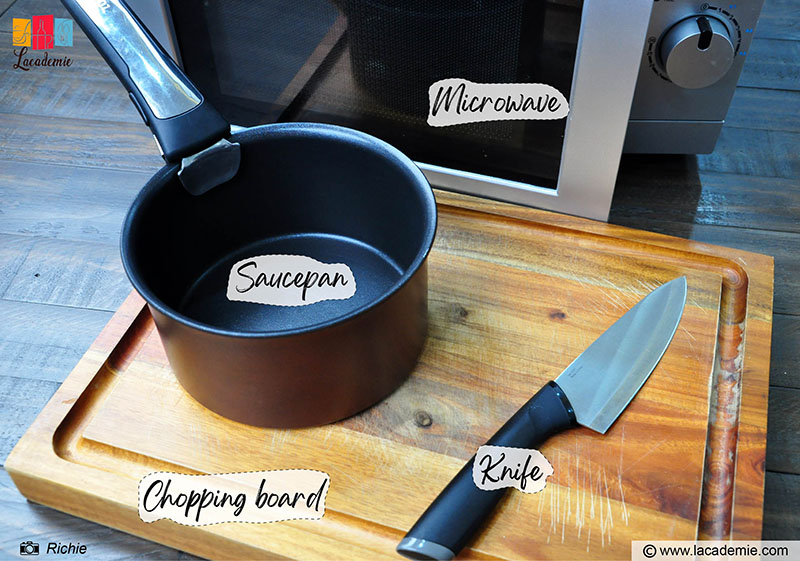 Ingredients
Essentially, oil and scallions are the only ingredients you need. However, to make the garnish a bit more flavorful, I also use some additional spices.
Olive oil: Peanut, sunflower oil, and other types of vegetable oil are also great choices.
Scallions: You might also know them as "green onions." The star of today's recipe.
Salt and sugar: Simple spices that give the garnish more flavor.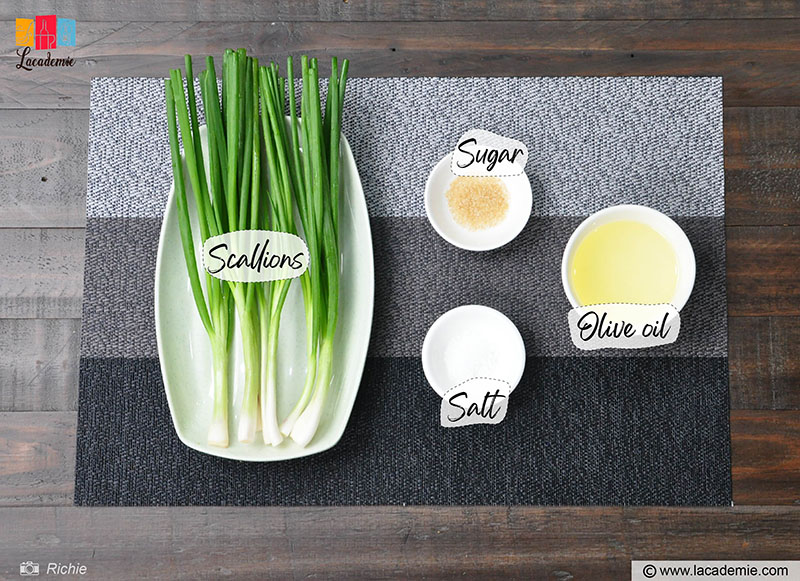 Directions
There are 3 methods that you can use to make Vietnamese scallions and oil garnish. I'll include all of them in this section, so feel free to pick the one that suits you the most.
Step 1: Prepare The Ingredients
Wash the scallions and let them dry. Allow them to dry completely before proceeding to the next steps, as wet scallions can cause the oil to splatter.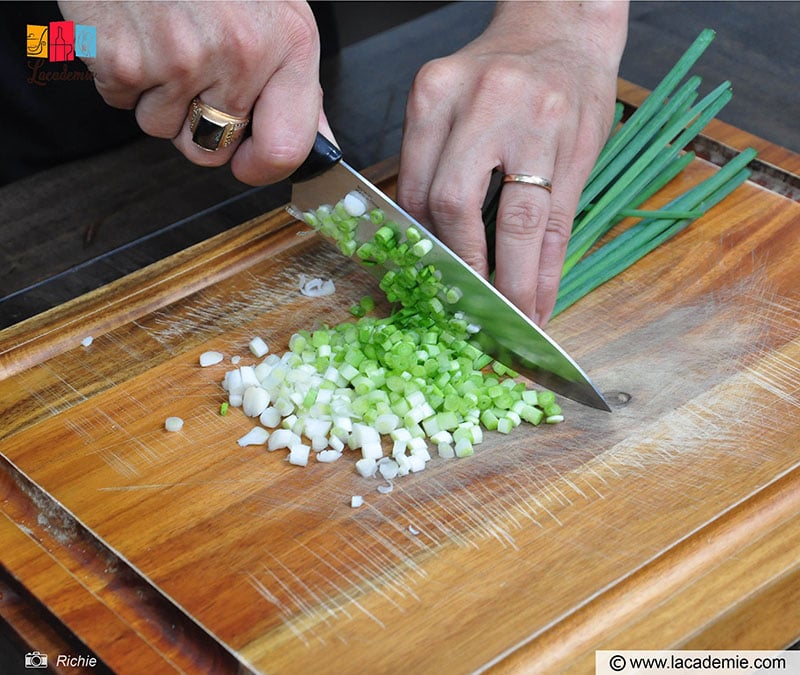 Slice the scallions thinly and mix them with ½ teaspoon of salt and ½ teaspoon of sugar.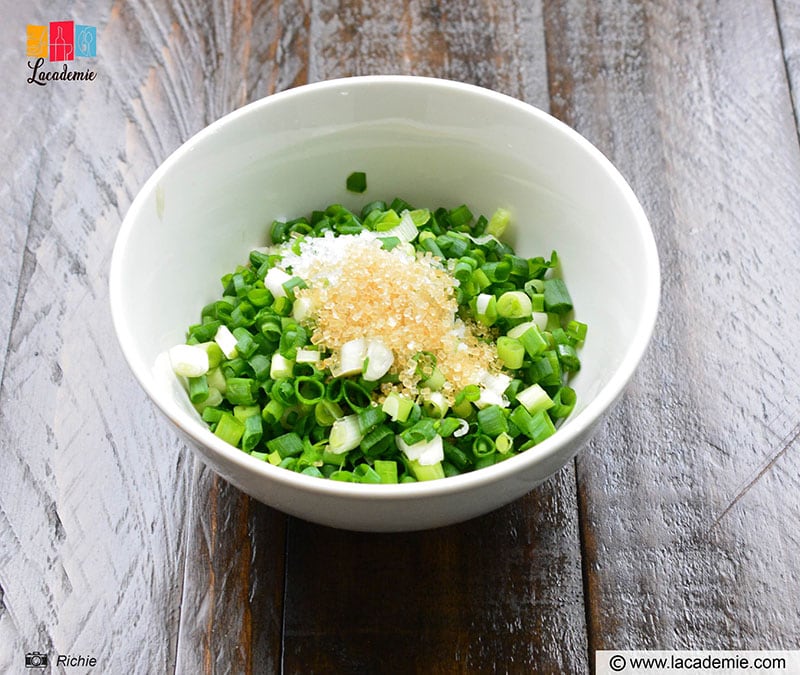 Step 2: Make The Scallions And Oil Garnish
As promised, here are 3 ways to make Sot Mo Hanh at home:
Method 1: Pour Hot Oil Over The Scallions
This is an extremely simple and quick way. Moreover, your scallions will retain their natural green color and are less likely to taste burnt.
First, heat the oil in a saucepan. Then, pour the heated oil directly into the scallion bowl.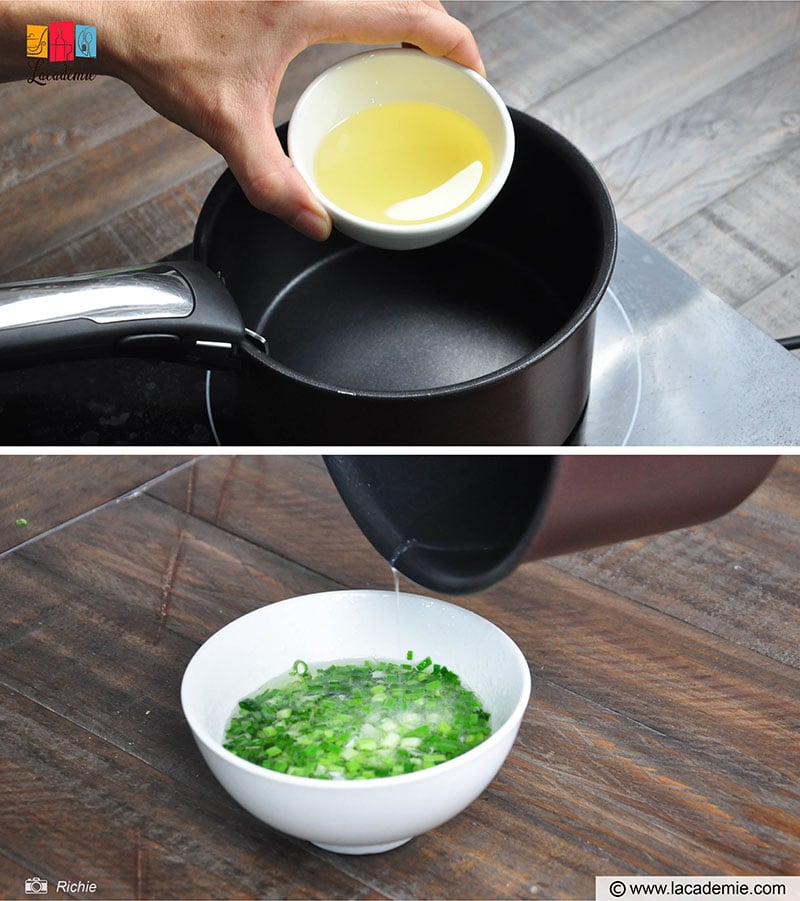 Method 2: Cook The Scallions In A Saucepan
Heat the oil in a saucepan. Then, add the scallions and stir them well for 1 to 2 minutes over medium heat.
Remember to stir the scallions quickly and continuously to prevent them from being burnt.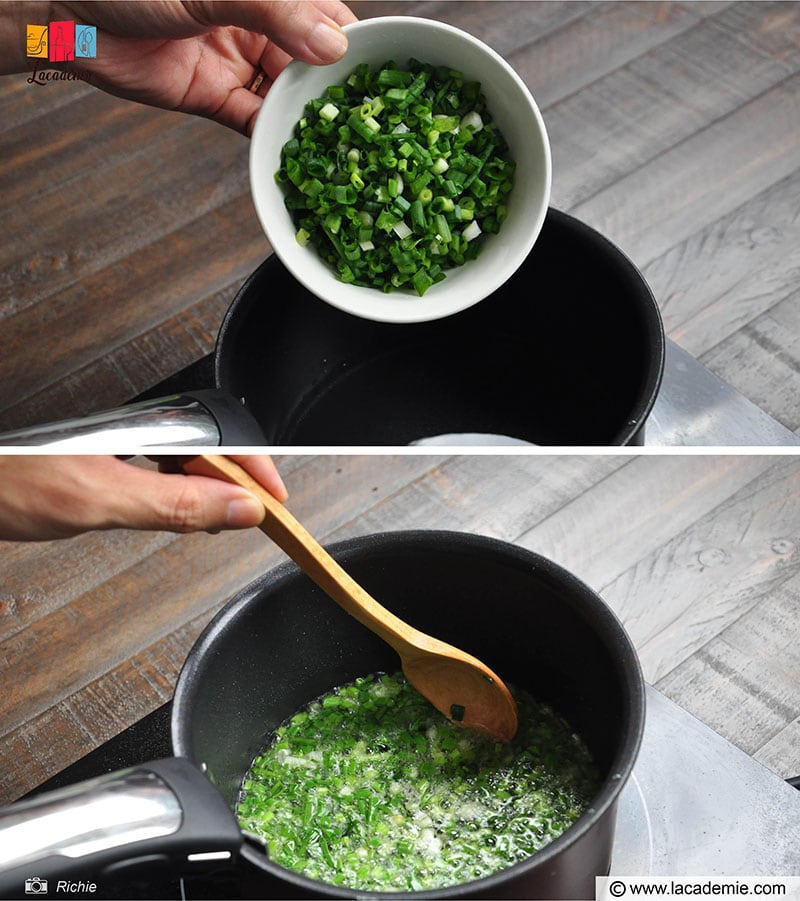 Method 3: Use A Microwave
Mix the scallions and oil in a microwave-safe bowl. Heat the mixture in a microwave on high for 30 to 60 seconds.
After that, wait for the bowl to cool before taking it out, or you can wear a pair of oven mitts.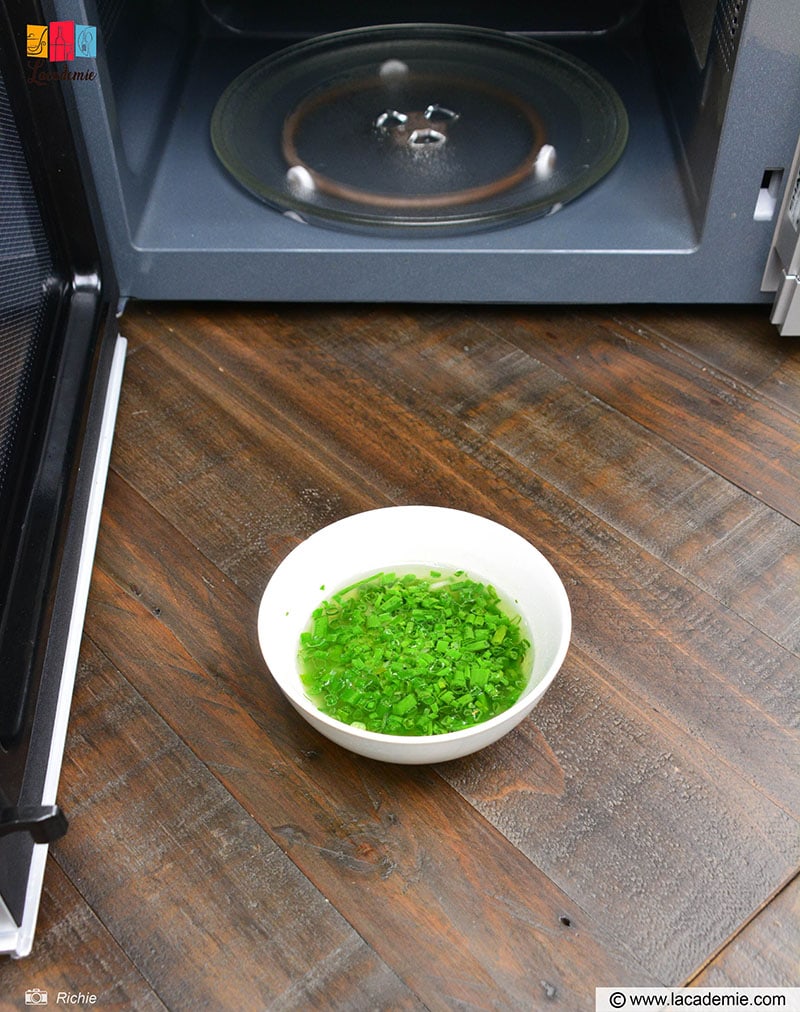 Storing Your Vietnamese Scallions & Oil Garnish
Sot Mo Hanh is really easy to store and will last for a while (although I doubt that there'll be any leftovers).
All you need to store your delicious batch of scallion and oil garnish is to put it in an airtight container and refrigerate it. Make sure that the scallions are submerged in the oil. The garnish will last for up to a week this way.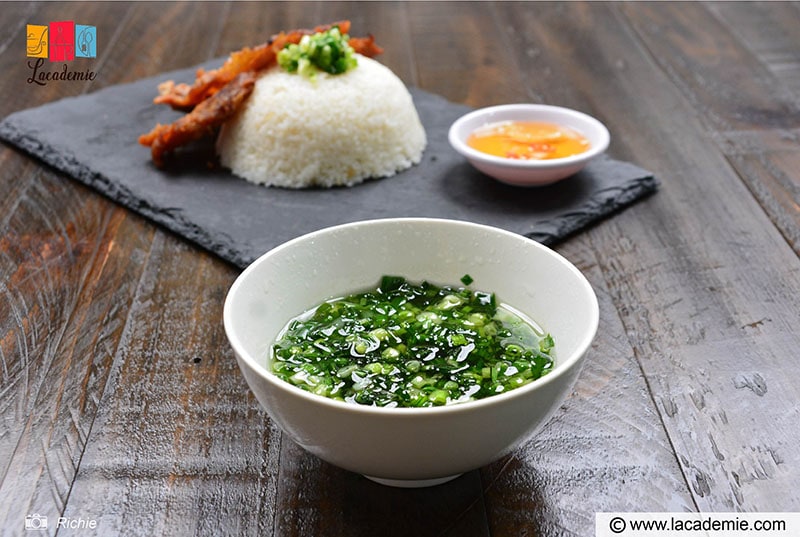 Time To Start Cooking!
Vietnamese scallions and oil garnish is a flavorful condiment that can add an extra layer of depth to many Vietnamese-style dishes. Not only is it versatile, but it's also incredibly easy to make. And with the 3 methods I've shown you above, you can finish creating this garnish in under 5 minutes.
How's your experience with today's recipe? If you've tried my Sot Mo Hanh recipe and it turned out delicious, please like this post and comment below. Moreover, it would be great if you could share the recipe with other Vietnamese food fans!
Nutrition Facts
10 servings per container
---
Amount Per ServingCalories62
% Daily Value *
Total Fat 6.7g

10

%
Sodium 118mg

5

%
Potassium 28mg

1

%
Total Carbohydrate 0.9g

0

%

Dietary Fiber 0.3g

0

%
Sugars 0.4g

Protein 0.2g

0

%
---
* The % Daily Value tells you how much a nutrient in a serving of food contributes to a daily diet. 2,000 calories a day is used for general nutrition advice.