Vietnamese rice paper salad ("Bánh tráng trộn") is a famous snack commonly found on the streets of Saigon and other Southern provinces. It is a delectable combination of rice paper with green mango, meat jerky, dried shrimp, roasted peanuts, and other flavor-packed ingredients.
When coming to Vietnam, you'll find many street stalls selling Banh Trang Tron. The vendors whip up this dish at an impressive speed and hand it to you in a plastic bag with a pair of single-use chopsticks.
Cheap and simple as it might sound, this salad is the ultimate comfort food for hot summer days when you crave a refreshing and easy-to-make snack. In this post, I'll give you a recipe that takes Banh Trang Tron straight from the busy streets of Vietnam to your home kitchen!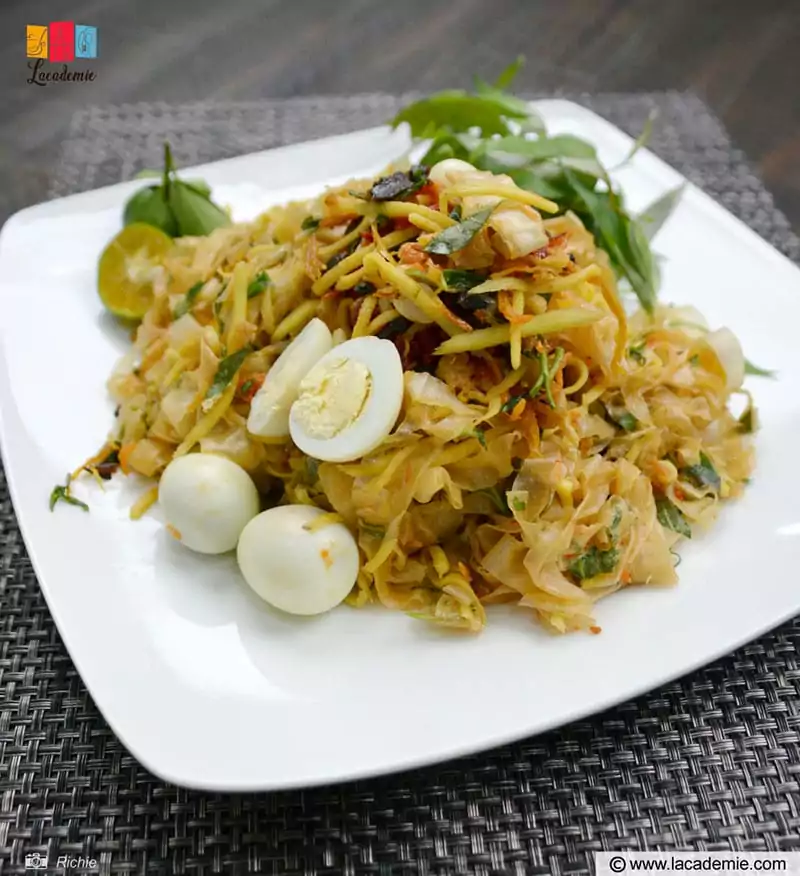 Banh Trang Tron – From A Classic Dish To A National Phenomenon
Rice paper, or "Bánh Tráng", is an indispensable part of Vietnamese cuisine. The people in Vietnam have invented many mouth-watering treats that include this classic ingredient. For example, it appears in many iconic dishes, such as "Gỏi Cuốn" (fresh spring rolls) and "Chả Giò" (egg rolls).
Originating from Tay Ninh, a province situated in Southeast Vietnam, Banh Trang has long become a nationwide phenomenon with countless variations. Among those variants, Banh Trang Tron is arguably the most well-known one.
It's hard to tell when exactly Banh Trang Tron gained immense popularity. When I was a student, high schoolers used to go crazy over this street treat, thanks to its low price and addictive flavors. Even today, you will still find most Banh Trang Tron vendors standing near school gates.
While rice paper is typically crispy and has a mild taste, it will turn slightly chewy and full of flavor once it soaks up the sauce and seasonings. In addition, the dried ingredients, such as beef and chicken jerky, give the treat a diverse texture.
Tools
Since Banh Trang Tron is a street food, it comes as no surprise that it doesn't require any fancy kitchen tools to make.
Scissors: For cutting the rice paper and Vietnamese mint.
Peeler: For shredding the green mango.
Food prep gloves: I highly recommend wearing food prep gloves while tossing the salad to ensure food safety.
Mixing bowl: Pick a large bowl so that you can toss the ingredients without worrying about making a mess.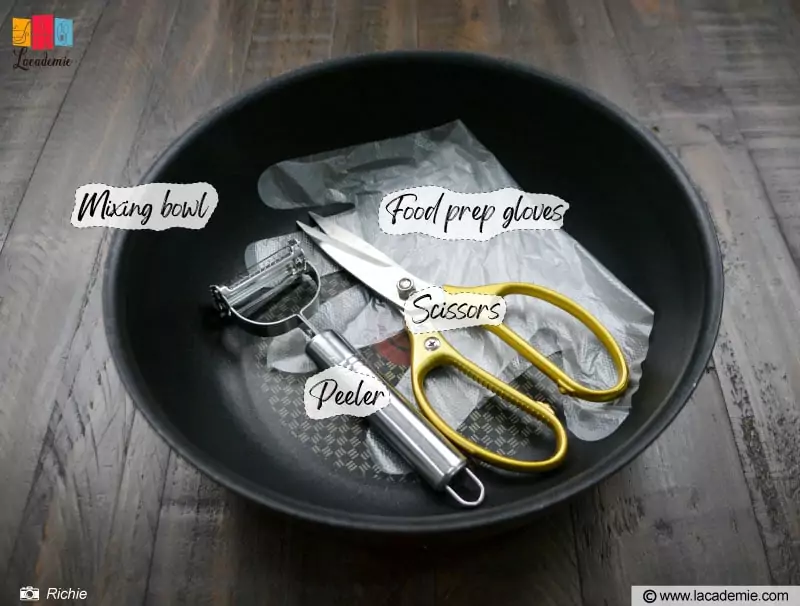 Ingredients
Here is what you need for a standard serving of Bang Trang Tron. Note that the ingredients are easily customizable so feel free to add your favorite kinds of jerky or herbs.
Rice paper: I prefer the soft type, but you can also use crispier rice paper if you want.
Green mango: Unripe mango adds a sour and slightly sweet flavor to your salad. It also has a unique crunchy texture.
Quail eggs: For many people, hard-boiled quail eggs are the best part of Banh Trang Tron, with which I absolutely agree.
Roasted peanuts: Bring a nutty flavor and crispiness to the dish.
Vietnamese-style mayonnaise: The locals call this ingredient "bơ vàng", which is a mixture of cooking oil and egg yolk. I suggest making Vietnamese-style mayonnaise at home since it's quite hard to find outside of Vietnam.
Fried shallots: Add more fragrance and crispness.
Vietnamese sweet, sour, and chili sate sauce: You can use the plum sauce as a substitute.
Homemade Banh Trang Tron sauce: In Vietnam, street vendors will use a special sauce that's a by-product of making beef jerky. However, I'll show you an alternative recipe later.
Meat jerky and dried seafood: I use a mixture of beef liver jerky, curry beef jerky, chicken jerky, dried squid, and dried small shrimp.
Vietnamese mint: For mixing with the rice paper and serving on the side.
Kumquat: A little kumquat juice will make your Banh Trang Tron tastier.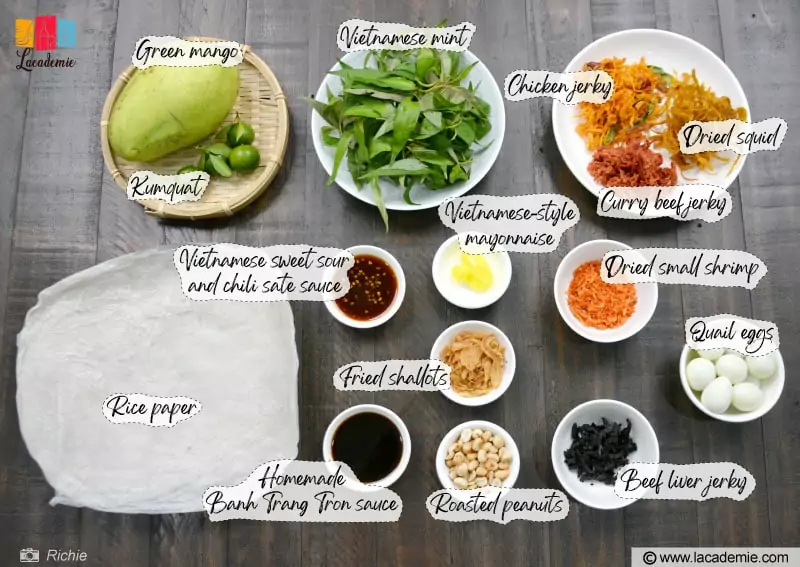 Directions
In just 3 quick and simple steps, you'll have a delectable rice paper salad to enjoy any time of the day!
Step 1: Prepare The Ingredients
Roll up the rice paper and cut it into bite-sized strips (about 0.5 inches wide) using scissors.
Cut the Vietnamese mint finely and leave some stems uncut for serving on the side.
Shred the mango into thin, long strips.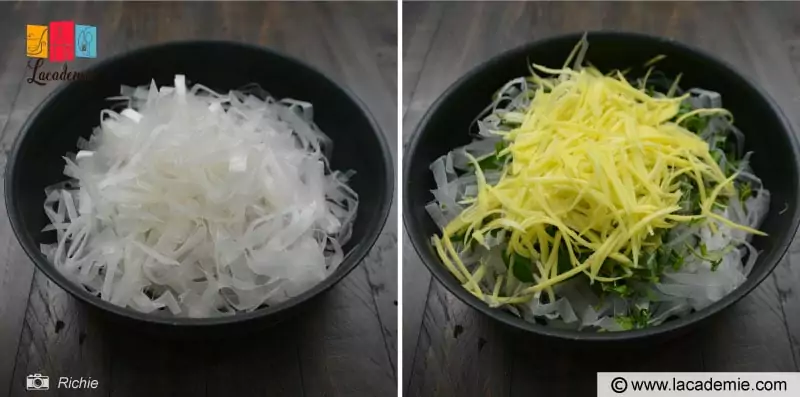 Mix ⅓ ounces of water with 3 teaspoons of vinegar, 5 teaspoons of soy sauce, and 3 teaspoons of sugar to make the Banh Trang Tron sauce.
Step 2: Mix The Ingredients
Add all the ingredients, except the quail eggs, into a mixing bowl. Put your food prep gloves on and toss everything together.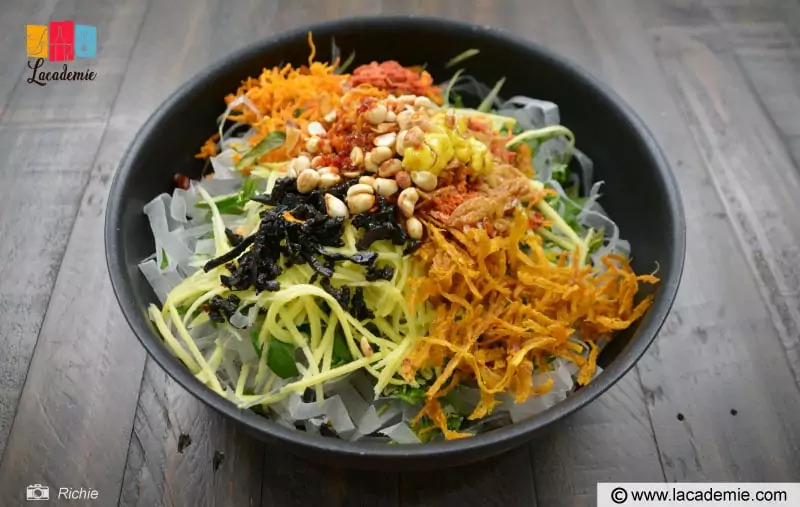 Once every ingredient is combined, add in the boiled quail eggs and toss the salad another 3 to 4 times.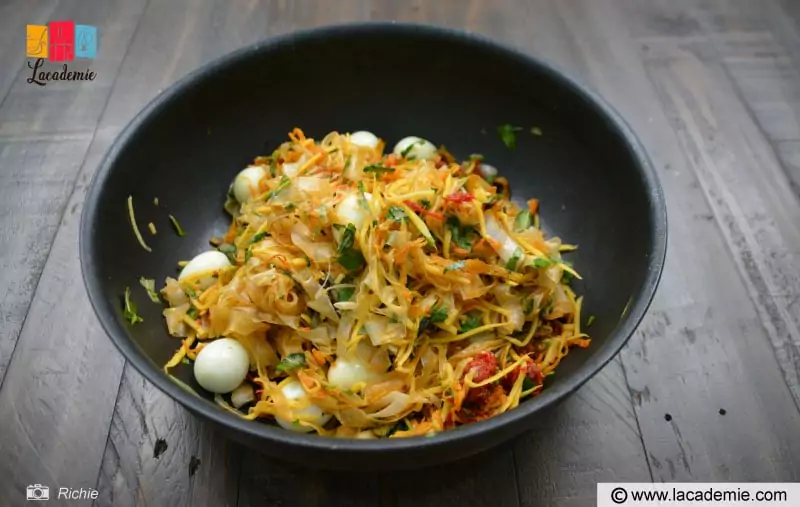 Step 3: Finish The Dish
Put the rice paper salad on a plate with some Vietnamese mint on the side. Sprinkle more meat jerky, fried shallots, and roasted peanuts on top to make the dish look more appealing.
Squeeze a little kumquat juice on the rice paper and mix well before serving to enhance the Banh Trang Tron's flavor. Enjoy!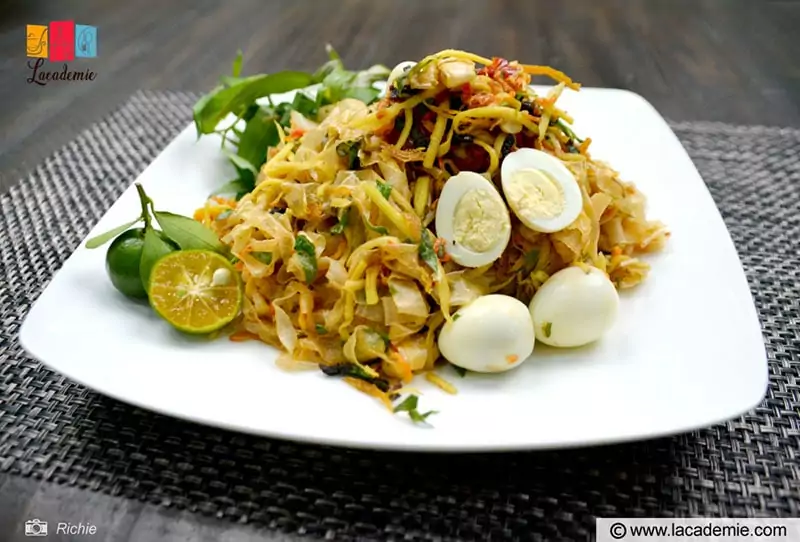 Handy Tips For The Best Rice Paper Salad
I believe that you'll have no trouble making this rice paper salad at all. However, don't skip the tips in this part, as they can help you make the best-tasting Banh Trang Tron every time without fail.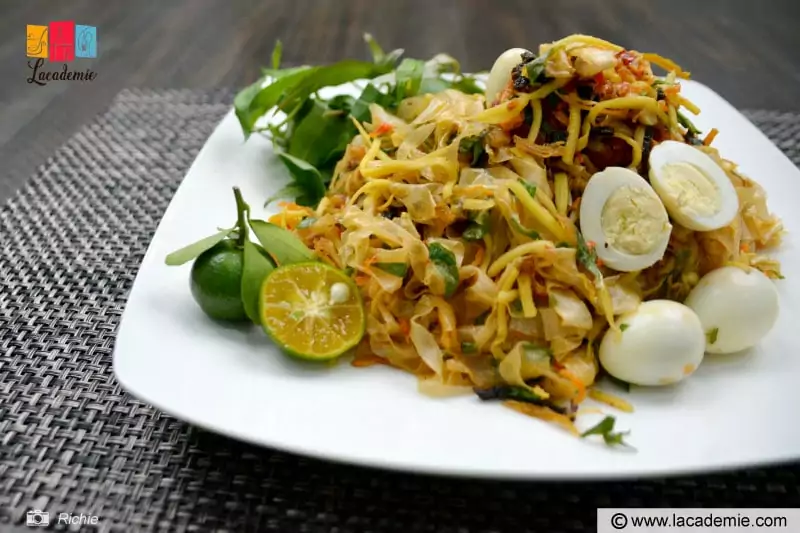 You can find some of the ingredients on online shopping sites, but for the most authentic flavor, I highly recommend going to an Asian or Vietnamese store.
If you want the rice paper to have a softer texture, let it rest for about 2 minutes after tossing it with the sauce.
As mentioned above, feel free to adjust the ingredients to your taste. For fans of spicy food, try adding a little chili pepper powder to the salad.
Banh Trang Tron is not an ideal make-ahead recipe, as the rice paper can become overly soggy if you let it sit for too long. Since it only takes about 15 minutes to whip up, you should make and enjoy it immediately.
Pork cracklings and Vietnamese scallion oil (Mo Hanh) are great additions to the salad.
Have The Best Snack Time With Banh Trang Tron!
From teenagers to grown-ups, Banh Trang Tron has captured the hearts of countless foodies in Vietnam. If you give this dish a try, I'm sure that you'll understand why it is considered one of the best street foods in Vietnam.
After enjoying your homemade Banh Trang Tron, don't forget to comment your thoughts on the dish. Since this recipe is easy to customize, I'd love to hear what you've added to it. Lastly, please give this article a like and share it with other snack lovers!
Nutrition Facts
4 servings per container
---
Amount Per ServingCalories466
% Daily Value *
Total Fat 15.5g

24

%
Cholesterol 280mg

94

%
Sodium 970mg

41

%
Potassium 521mg

15

%
Total Carbohydrate 61.5g

21

%

Dietary Fiber 4.2g

16

%
Sugars 22.4g

Protein 22.5g

44

%
---
* The % Daily Value tells you how much a nutrient in a serving of food contributes to a daily diet. 2,000 calories a day is used for general nutrition advice.