Grass jelly with basil seeds (Sương Sáo Hột É) is a refreshing and unique dessert that many people in Vietnam and other Southeast Asian countries love dearly. The combination of tender and cooling grass jelly and slightly crunchy basil seeds makes this dish ideal for hot days.
In addition, all ingredients are bathed in a sweet and fatty coconut milk-based soup that boosts overall enjoyment tenfold. Better yet, both grass jelly and basil seeds are nutritious and can help improve your wellness. Delicious and healthy, isn't this dessert a dream come true?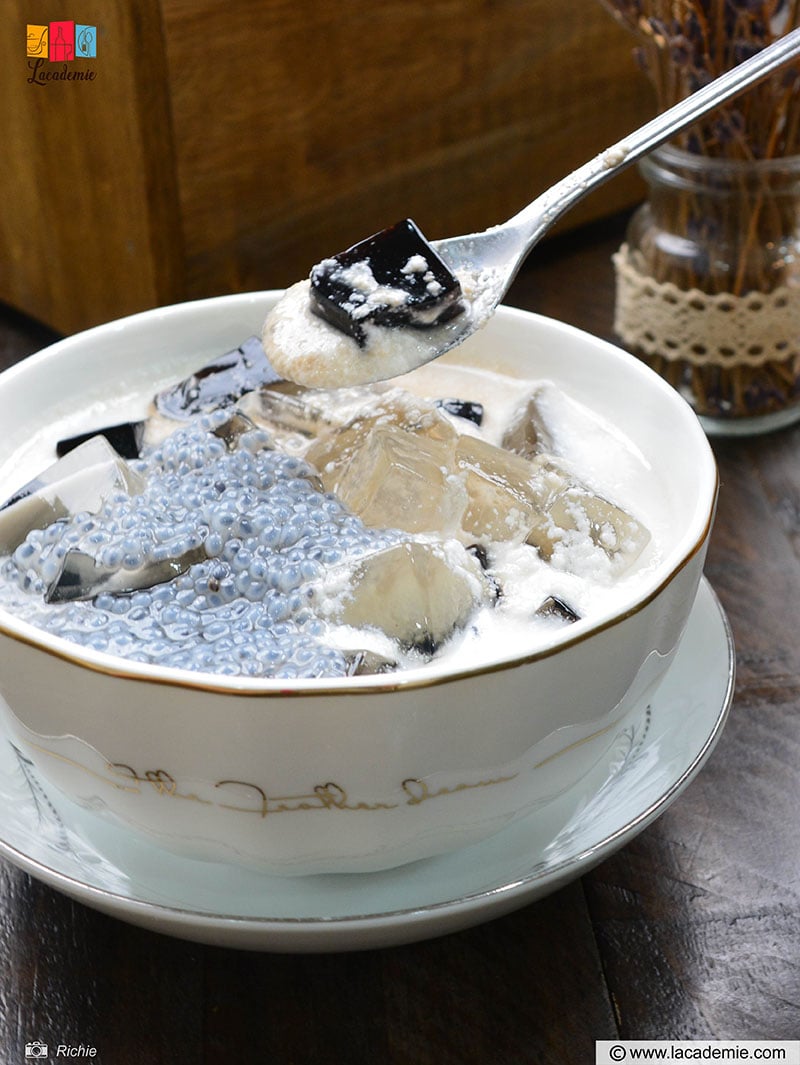 Suong Sao Hot E – More Than Just A Dessert
Suong Sao (grass jelly) is made from the leaves of the Mesona chinensis plant, a plant species commonly found in Southeast Asia. It has a slightly bitter taste, which, contrary to what you might think, is one of the unique points that make people love it so much.
Hot E (basil seeds) are small and black seeds derived from the, well, basil plant. They have a gelatinous coating once swelled up and are a favorite ingredient in drinks and desserts, thanks to their unique texture.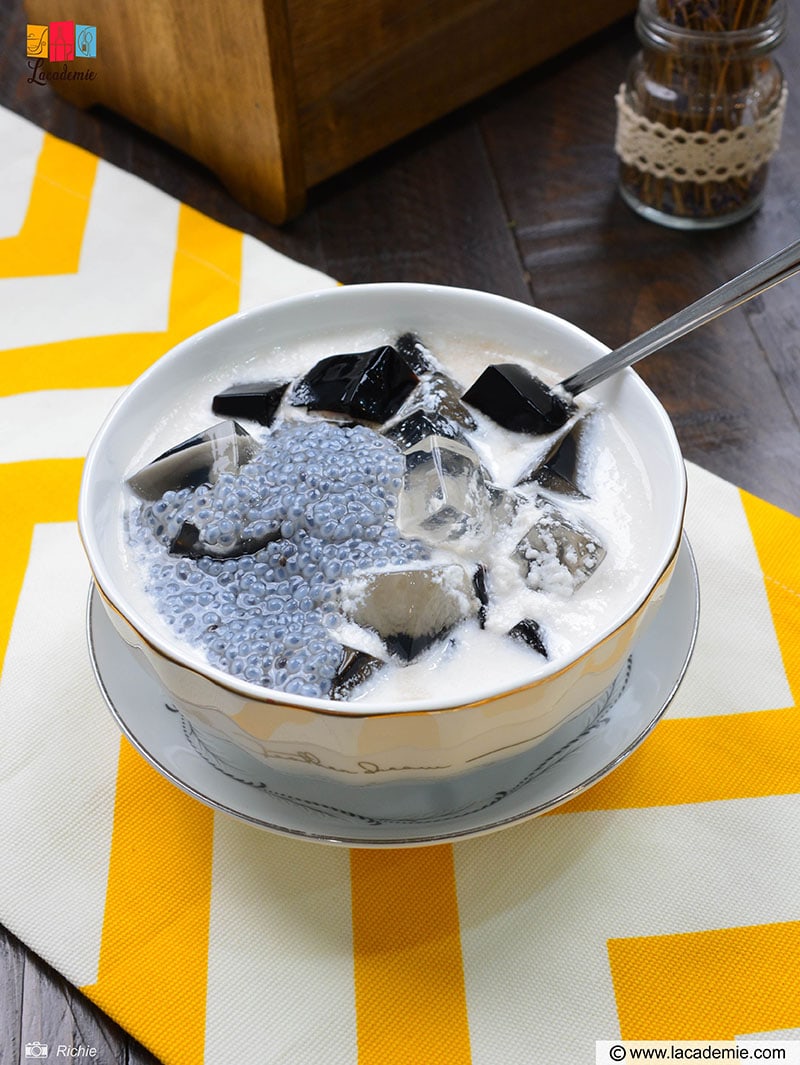 As I said before, both of the main ingredients in this dish have nurturing effects on your body. The grass jelly is rich in antioxidants, which help prevent cancer and reduce cholesterol, blood sugar, etc. At the same time, the basil seeds are full of minerals and fiber.
Tools
First, there are a couple of tools that you need to have. The good news is that most people should already have them in their kitchen, as they are all basic cookware.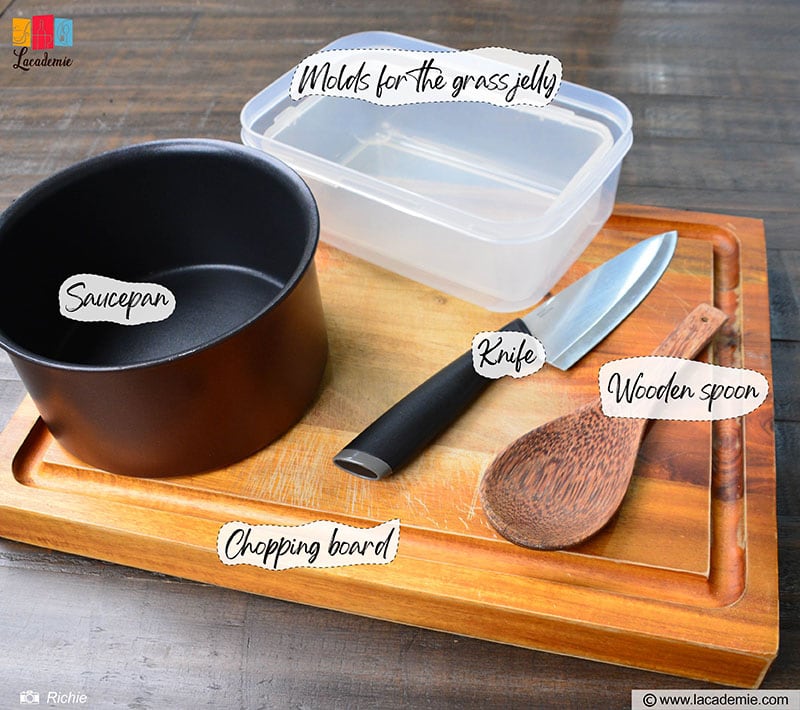 Knife and chopping board: For slicing the grass jellies.
Saucepan: For cooking the grass jellies and sweet soup.
Wooden spoon: For stirring the ingredients.
Molds for the grass jelly: Any square-shaped mold or container will do the job. I use 2 plastic containers.
Ingredients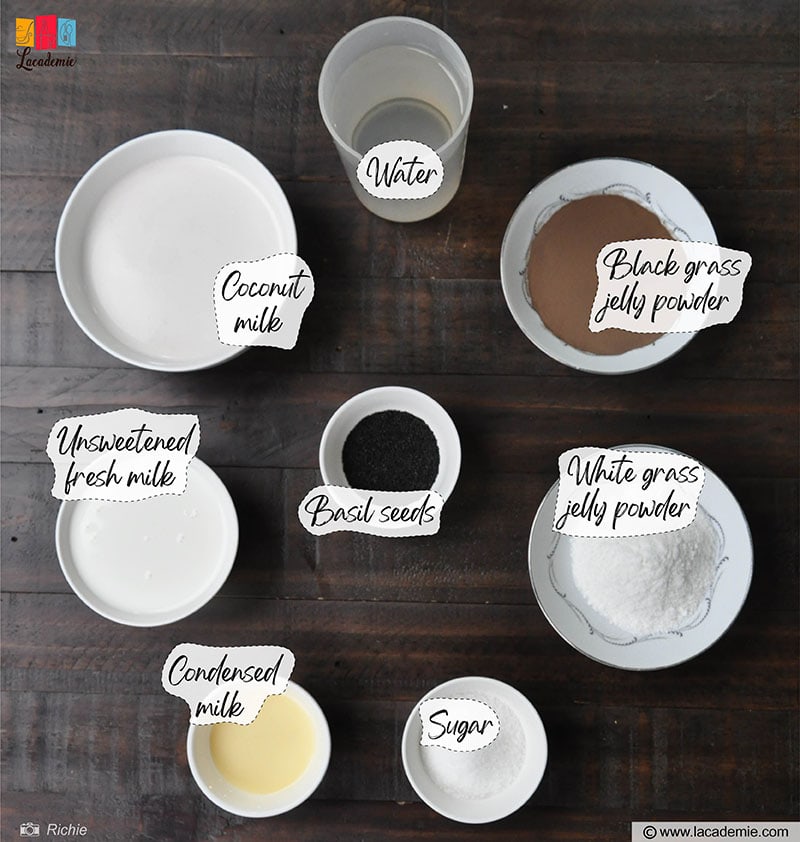 Grass jelly powder: I use 2 kinds of grass jelly powder, black and white. They taste slightly different and require different cooking times. Don't worry. I'll cover this in the detailed recipe later.
Unsweetened milk: Fresh, no-sugar milk is the best choice.
Basil seeds: Remember that you'll always need to soak the basil seeds. Otherwise, they'll be too hard to enjoy.
Coconut milk: The main base for the sweet soup.
Condensed milk: Since you'll use zero-sugar milk and coconut milk, which has very little sweetness, for the soup, condensed milk is the ideal sweetener.
Water: For dissolving the grass jelly powder.
Sugar: Add sweetness to the jelly.
Directions
Making grass jellies is the most important step in today's recipe, as you want them to have the perfect texture. But worry not! The detailed instructions below will give you everything you need to know.
Step 1: Make The Grass Jellies
Combine the white grass jelly powder with 1.8 ounces (50 grams) of sugar and 1 quart (1 liter) of water. Stir well to dissolve the powder fully.
Bring the white jelly mixture to a boil. Once boiling, cook it for another 1 to 2 minutes and turn off the heat.
Pour the mixture into a mold and wait for it to cool.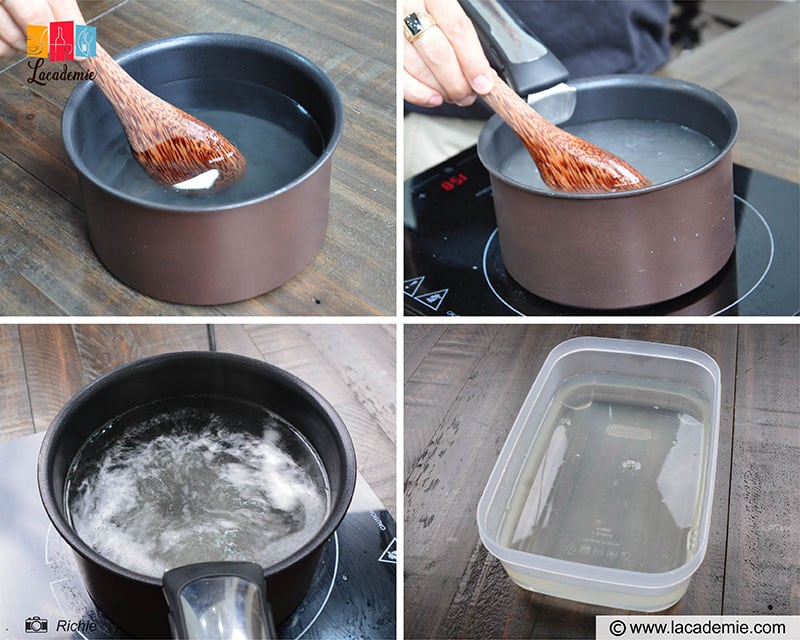 Repeat the previous steps with black grass jelly powder, using the same amount of water and sugar.
Note: You'll need to spend a little more time stirring the mixture, as black grass jelly powder takes longer to dissolve in water.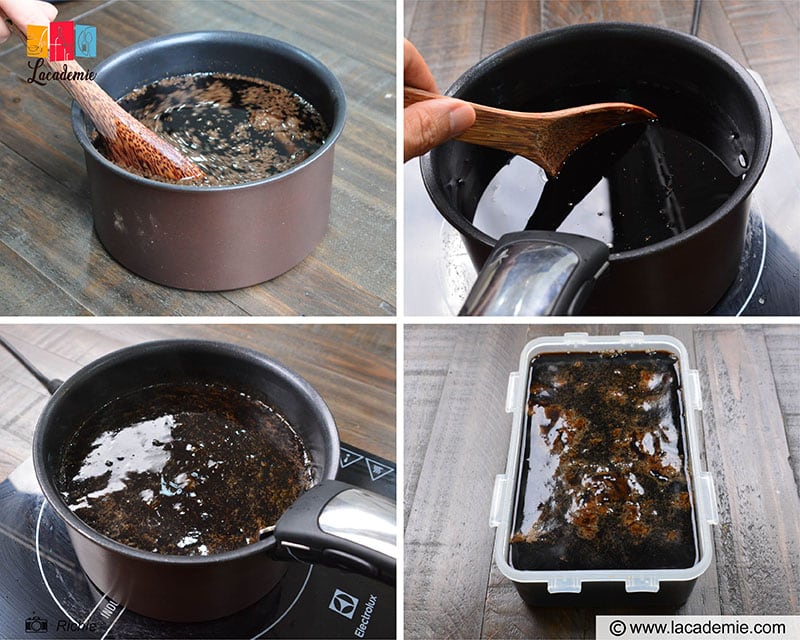 When both of them have cooled, place them in a fridge for 2 to 3 hours and allow them to solidify.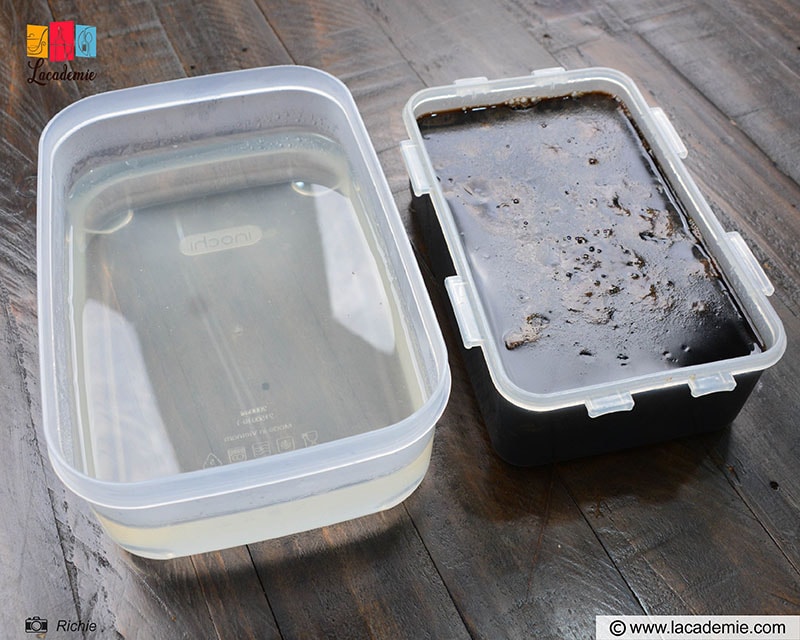 Step 2: Make The Sweet Soup
Wait about 2 to 3 hours for the grass jellies to form. Add the coconut milk, fresh milk, and condensed milk to a saucepan. Next, boil the mixture.
After that, pour in 1 cup (250 milliliters) of water to reduce the milk mixture's fattiness. Cook for 1 to 2 minutes more, then cut the heat.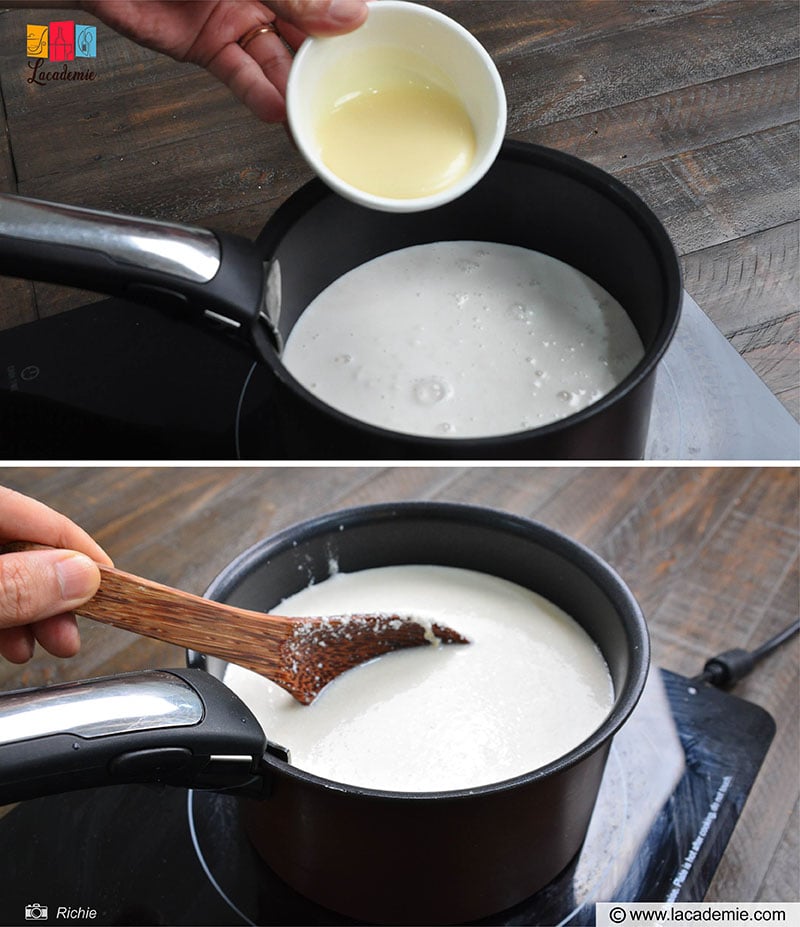 Step 3: Soak The Basil Seeds
Soak the basil seeds in 1 cup of warm water for 5 minutes. The seeds will absorb the water quite quickly. Remember to stir them well to help them swell up evenly.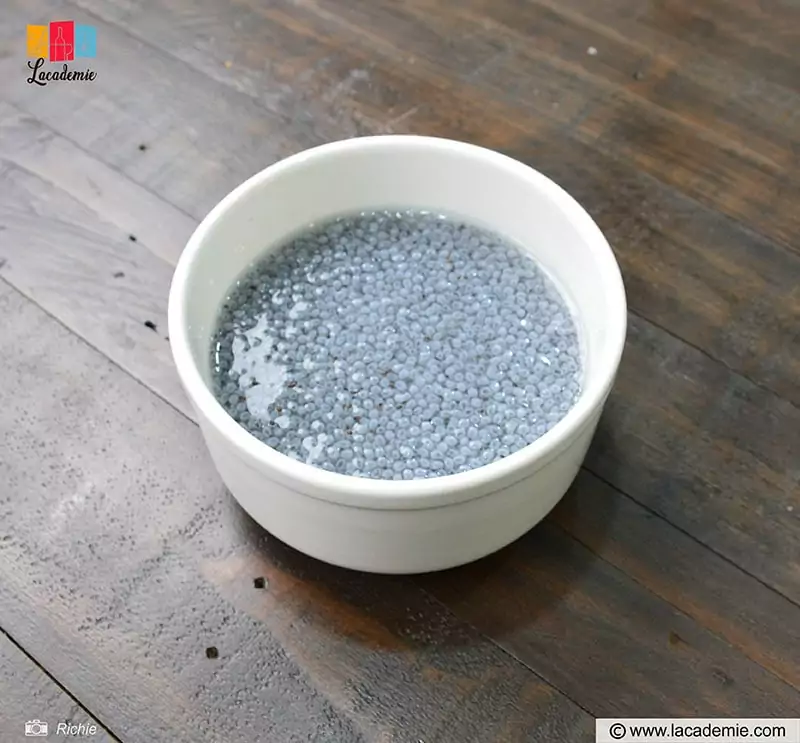 Step 4: Assemble The Dish
Take the jellies out of the fridge and gently press them with your fingers to test their texture. If they have completely solidified, remove them from the molds and cut into bite-sized pieces. Keep the two types of jelly separate.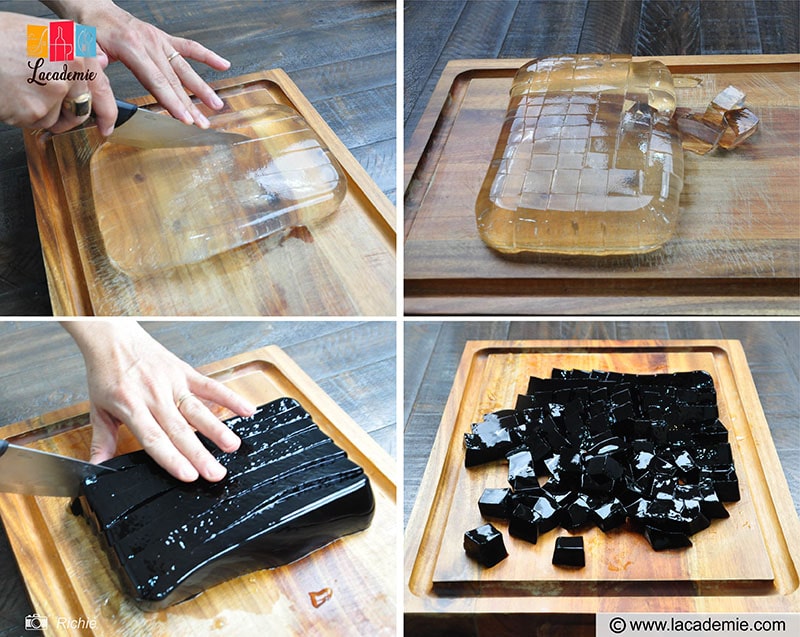 Spoon the jellies into a bowl or glass and pour in the sweet soup. Add the basil seeds and enjoy. I highly recommend adding some ice to the dish or serving it cold to fully feel the cooling effect of the jellies!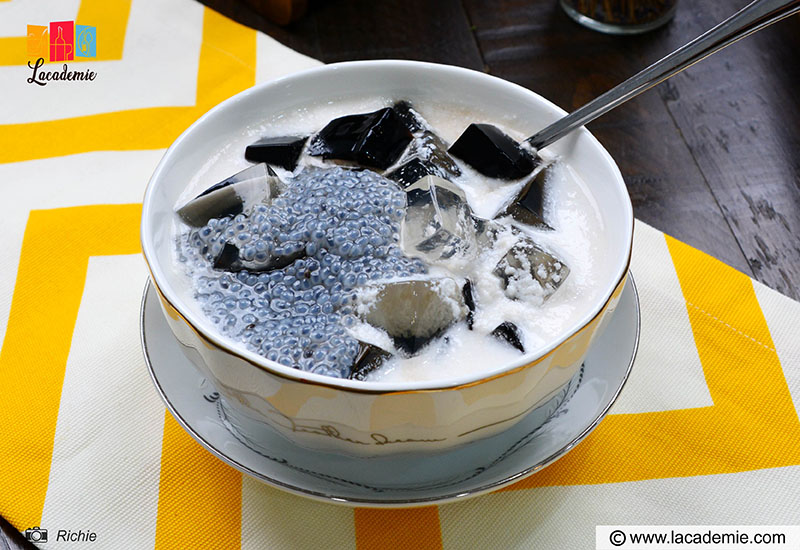 Tips And Tricks
Did you know that you can boost the enjoyment of your Suong Sao Hot E even further? That's right; simply follow these tips and tricks!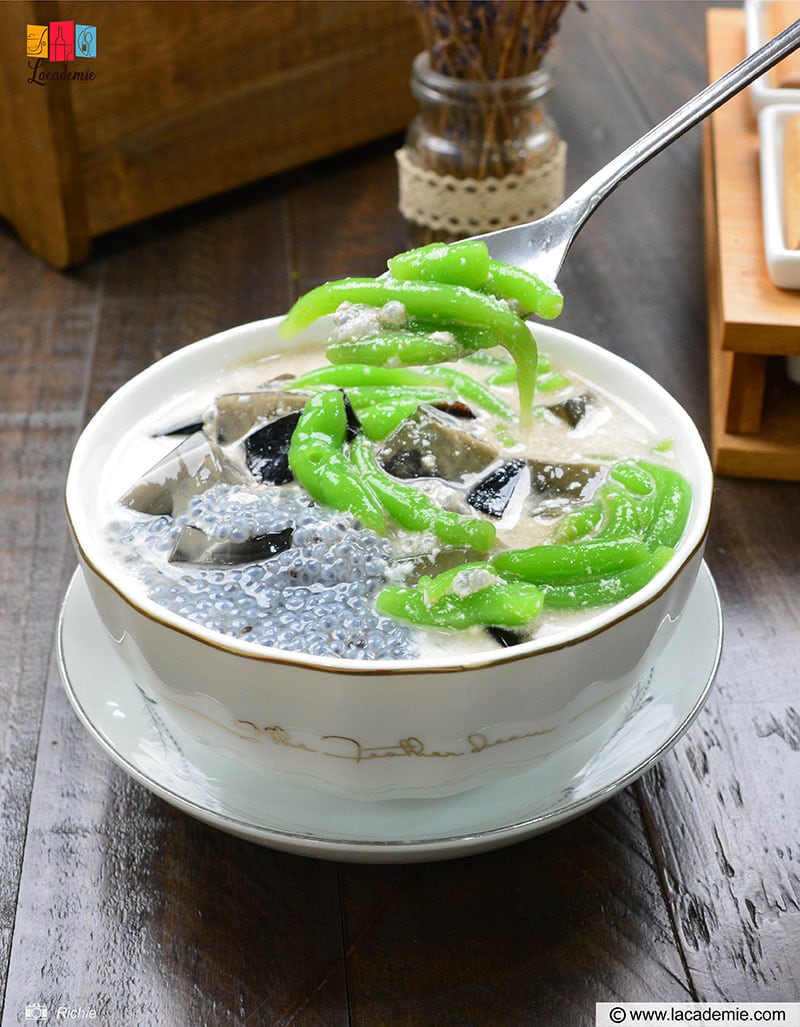 A few drops of banana flavor concentrate can boost the dish's flavor quite well. In addition, you can also throw some Che Banh Lot (cendol) into the mix.
White (granulated sugar) is the best choice for this recipe, as it won't affect the color of the final dish.
You can make this dish with chia seeds. Since they take longer to swell up (about 20 to 30 minutes) and are smaller than basil seeds, you will need to change up the amount used.
Ideally, the grass jelly should be tender enough to "melt in your mouth," which is what I aim for in my recipe. However, if you prefer crunchier jelly, you can cut down on the water.
Beat The Summer Heat With This Sensational Dessert
Suong Sao Hot E is the perfect dessert (or snack) to enjoy in the summer, thanks to the cooling properties of the grass jelly. Besides, it's super tasty and provides many health benefits. Is there any reason not to start making it right now?
Did your family enjoy this Vietnamese dessert? Feel free to leave a comment and tell me about your loved ones' reactions! Moreover, please give the recipe a good rating if you find it yummy and share it around, too. Lastly, remember to subscribe to Lacademie's Youtube channel to learn more about Vietnamese cuisine.
Nutrition Facts
4 servings per container
---
Amount Per ServingCalories447
% Daily Value *
Total Fat 31.2g

48

%
Cholesterol 5mg

2

%
Sodium 68mg

3

%
Potassium 366mg

11

%
Total Carbohydrate 40.9g

14

%

Dietary Fiber 8.6g

32

%
Sugars 31.1g

Protein 6.9g

12

%
---
Calcium

210

%
Iron

3

%
Vitamin D

20

%
* The % Daily Value tells you how much a nutrient in a serving of food contributes to a daily diet. 2,000 calories a day is used for general nutrition advice.