Vietnamese fermented fish noodle soup, or "Bún mắm", is a unique dish that the people in Vietnam adore. Infused with the umaminess and intense aroma of fermented fish, this delicacy has a signature flavor that you just can't get enough of once you're hooked.
Truth be told, Bun mam is an acquired taste. Some people absolutely love it, while others might find it too overwhelming. Nevertheless, I strongly encourage you to give this dish a try and see for yourself.
No more beating around the bush! Let's jump right into today's recipe and learn how to make the most authentic Vietnamese fermented fish noodle soup.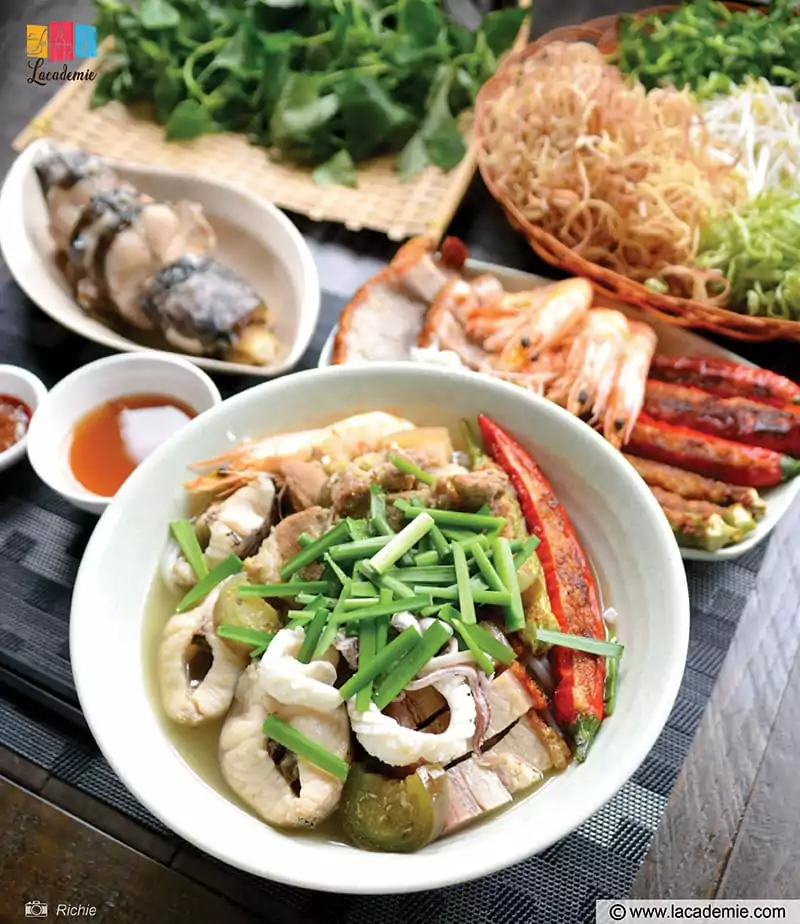 Bun Mam 101 – A Gem In Vietnamese Cuisine
"Bún mắm" is a delicacy that originated in the Southwestern regions (or Mekong River Delta) of Vietnam. It consists of fermented fish broth, usually made from moustached danio or snakeskin gourami, other seafood, and crispy pork roast.
The locals simmer the fermented fish until it fully dissolves, then strain it to make the broth. This cooking process results in a highly aromatic stock packed with pungent seafood flavor. To complete the dish, people in Vietnam enjoy it with a wide array of herbs and vegetables.
Initially, Bun mam was an invention of Cambodian cuisine, which the Vietnamese adapted. Regardless, it has long been a favorite dish of countless Vietnamese people, especially during and after the 1970s, when this fragrant noodle soup came to Saigon.
Tools
If you're worried that this dish might require some sort of fancy tool, rest assured. Here are the simple tools that you need to make today's recipe.
Meat pounder: You'll use this tool to smash the lemongrass stalks and make them easier to mince.
Pan: For stir-frying the pork roast.
Wooden spoon, ladle, slotted spoon: Handy kitchenware for handling and stirring the broth.
Sieve: For filtering the dissolved fermented fish.
Tongs: This tool helps you transfer hot ingredients.
Knife: You should use 2 knives, one for raw and one for cooked ingredients.
Cutting boards: Likewise, use 2 cutting boards to ensure food safety.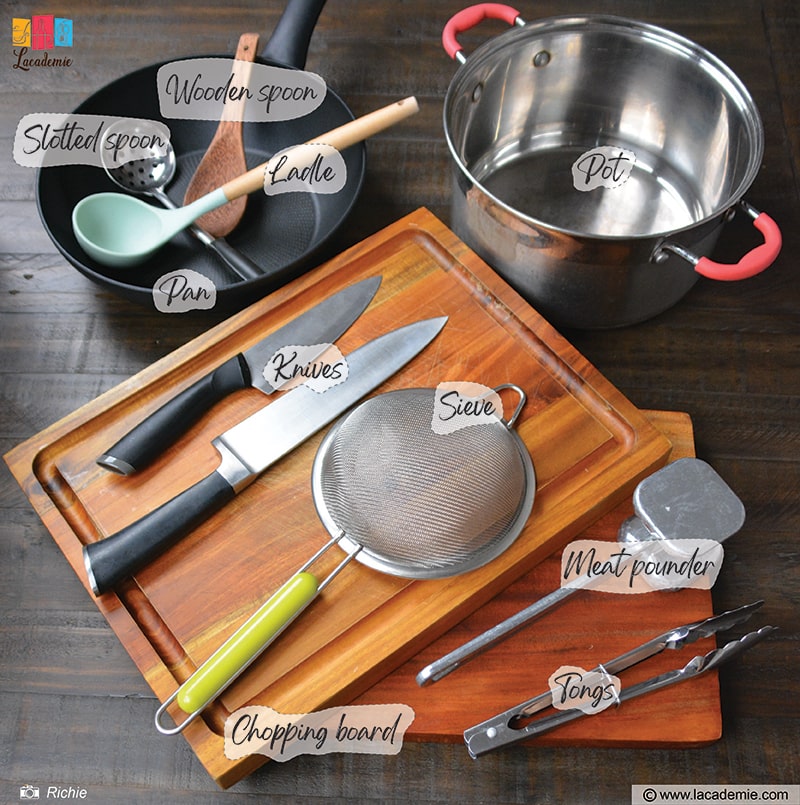 Ingredients
You'll need to make a trip to the nearest Asian grocery store in order to gather the ingredients for this recipe.
Fermented fish: Look for cá linh (moustached danio) and cá sặc (snakeskin gourami) for the most authentic flavor.
Snakehead fish: People in Vietnam prefer wild-caught fish rather than farm-raised ones as they have a better texture and flavor.
Pork belly: You can also use pork knuckle, pork shoulder, or your preferred cut of pork.
Chinese-style roasted pork belly, also called crackling pork: You should have no trouble finding it at a Chinese BBQ store.
Featherback fish paste: For making the stuffed okra and peppers.
Squid and shrimp: Seafood is a must-have part of this dish.
Pineapple: The refreshing sweetness from pineapple balances the savoriness of the broth and brings everything together.
Chives: Their flavor will reduce the pungency of the fermented fish.
Vegetables: White radish, sponge gourd, eggplant, okra, peppers, etc.
Fresh herbs: Your dish won't be complete without fresh herbs like yellow velvetleaf, water lily, common knotgrass, etc.
Thick vermicelli noodles: The traditional noodle type of choice for Bun mam.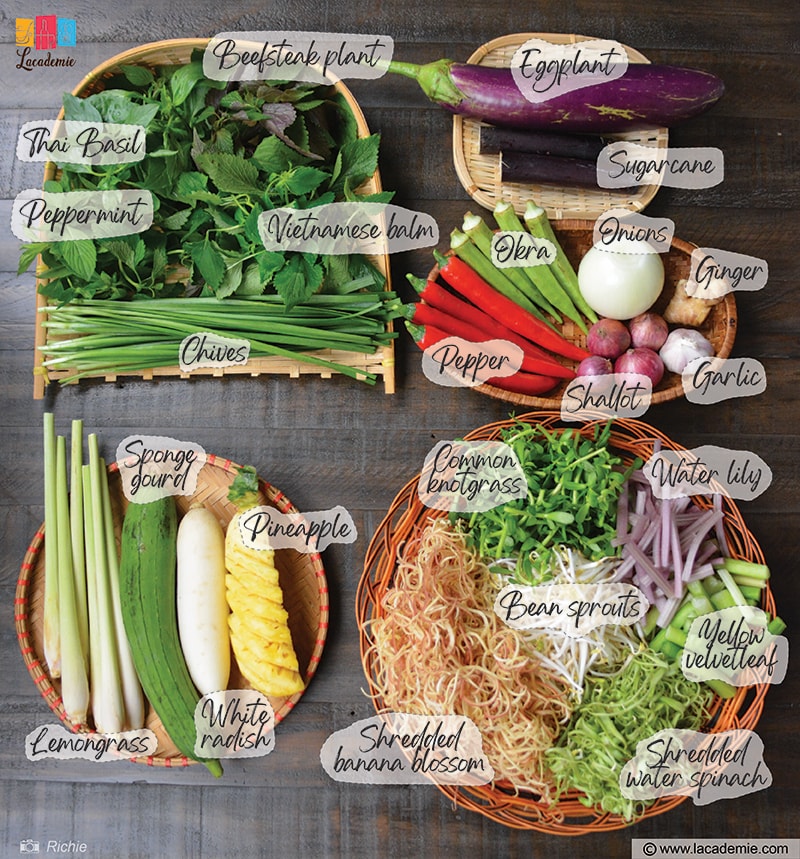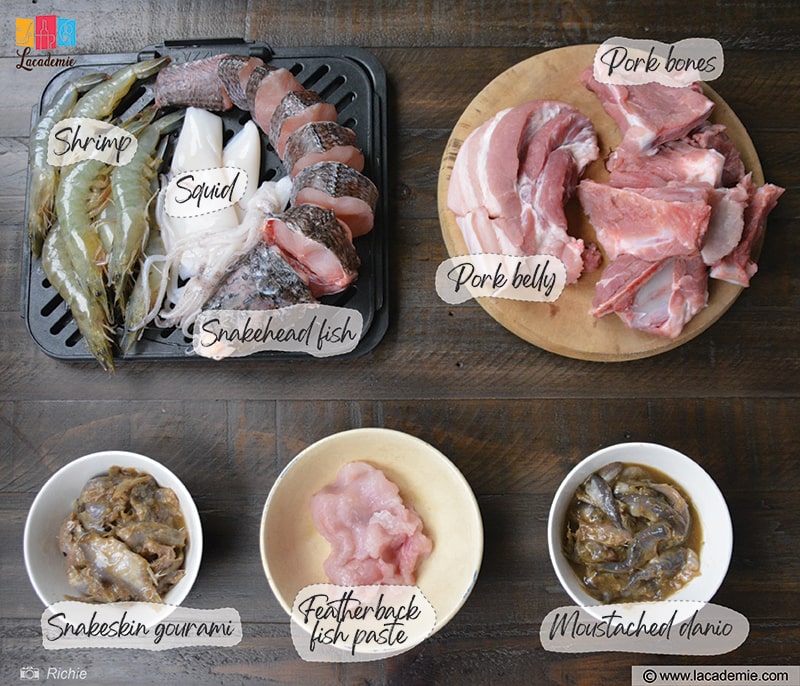 Spices and condiments: Asian people love having lots of spices and condiments in their recipes. You'll need rock sugar, brown sugar, soup powder, salt, pepper, and fish sauce.
Tamarind: For making the dipping sauce, you can also opt for chili fish sauce.
Cooking oil: For cooking and blanching the noodles.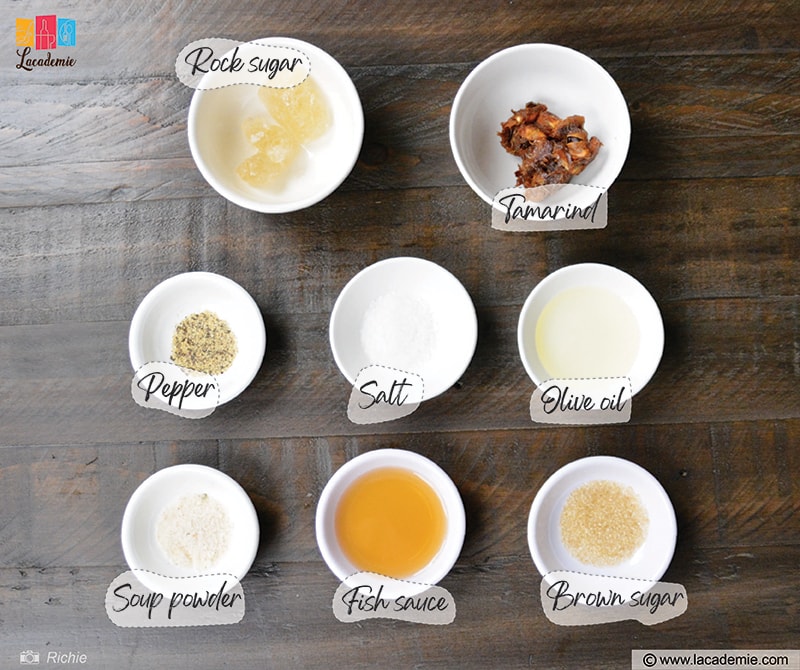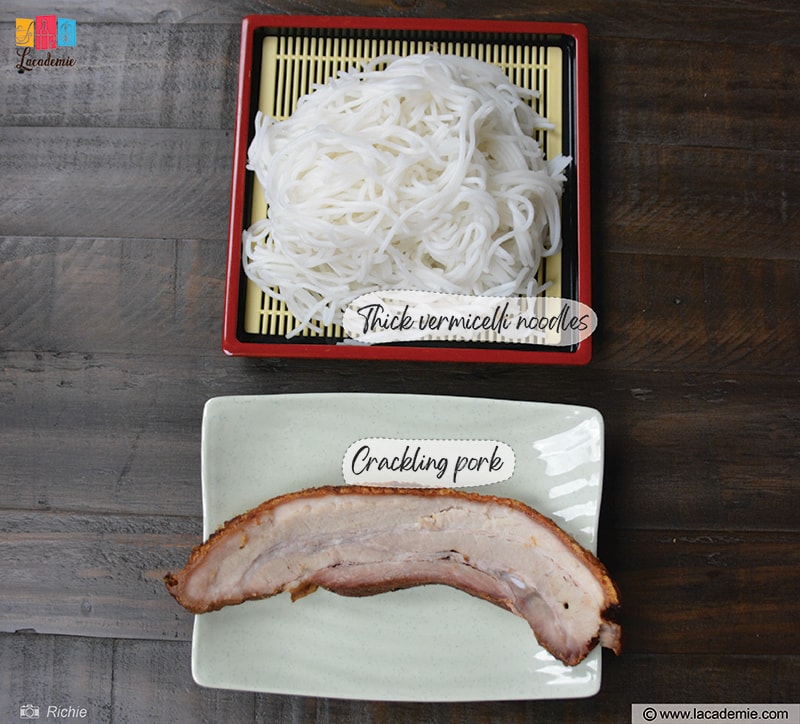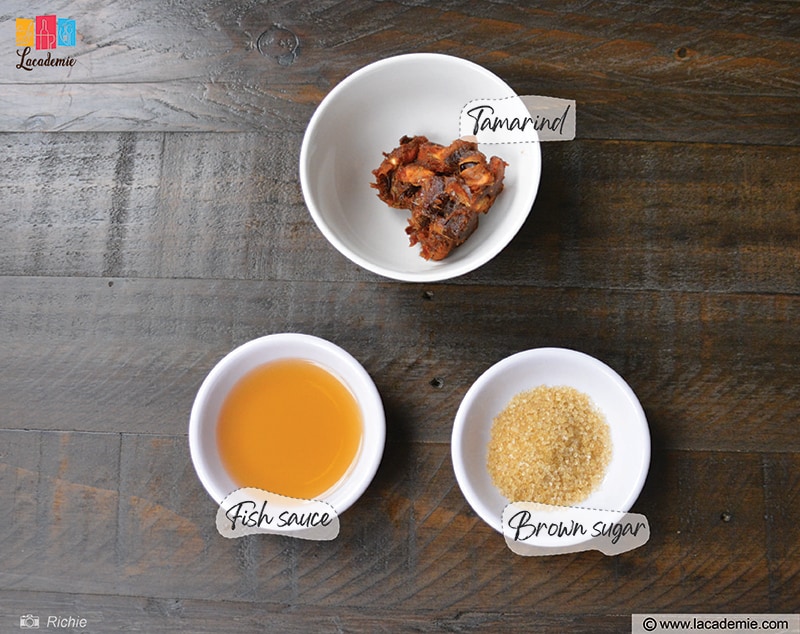 Directions
Vietnamese fermented fish noodle soup is not hard to make at all. Follow these steps closely, and you'll have a delicious meal in no time!
Step 1: Wash The Ingredients
Clean the shrimp's heads and devein them. You can skip this step if you don't want to add the shrimp's boiling water to your broth.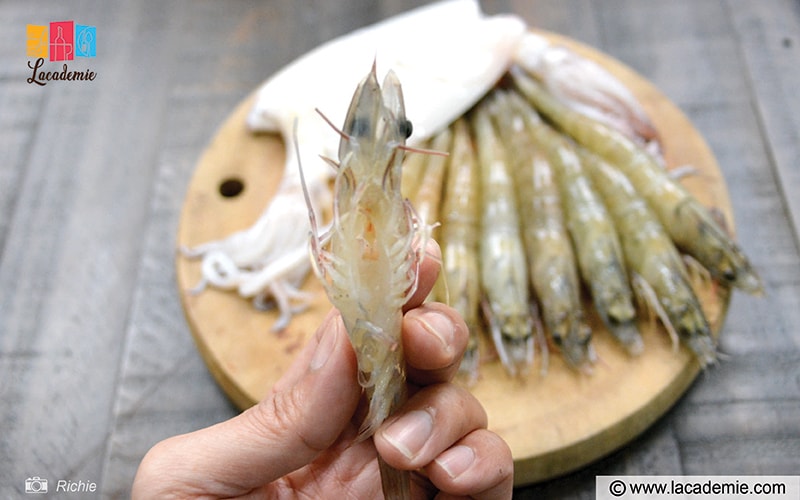 Chop the snakehead fish into smaller pieces. Wash the pork belly, bones, squid, and vegetables thoroughly.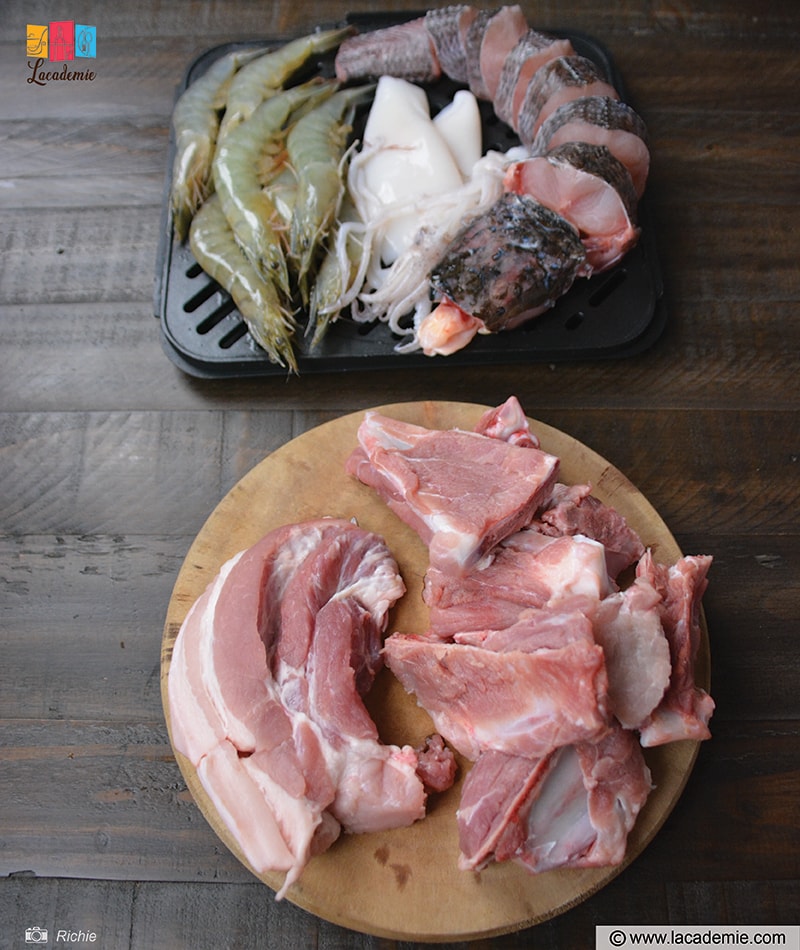 Step 2: Prepare The Ingredients
Cut the pork roast into bite-sized pieces (about 0.8-inch or 2-cm thick) and place them on a plate.
Use a meat pounder to crush the lemongrass, then mince them. Remember to keep the upper parts of the stalks for later use.
Mince the shallots, garlic, and half an onion. Cut the chives, pineapple, sponge gourd, and white radish into pieces.
Use the tip of a spoon or a teaspoon to remove the seeds/cores of the cow horn peppers and okra.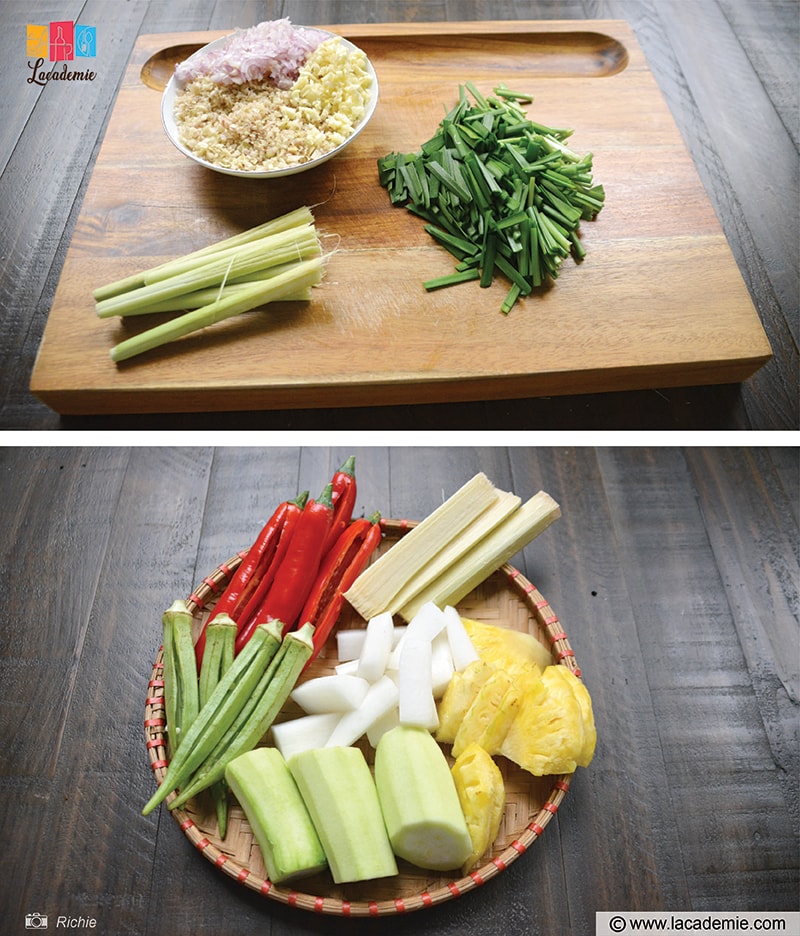 Slice the eggplant in half and cut it into bite-sized slices. Soak them in salted water to prevent them from browning.
Cut the pork belly into bite-sized pieces, about 0.4 to 0.8-inch (1 to 2-cm) thick.
Make thin, cross-hatch pattern slits on the sides of the squid, then slice it to create a more attractive shape when cooked.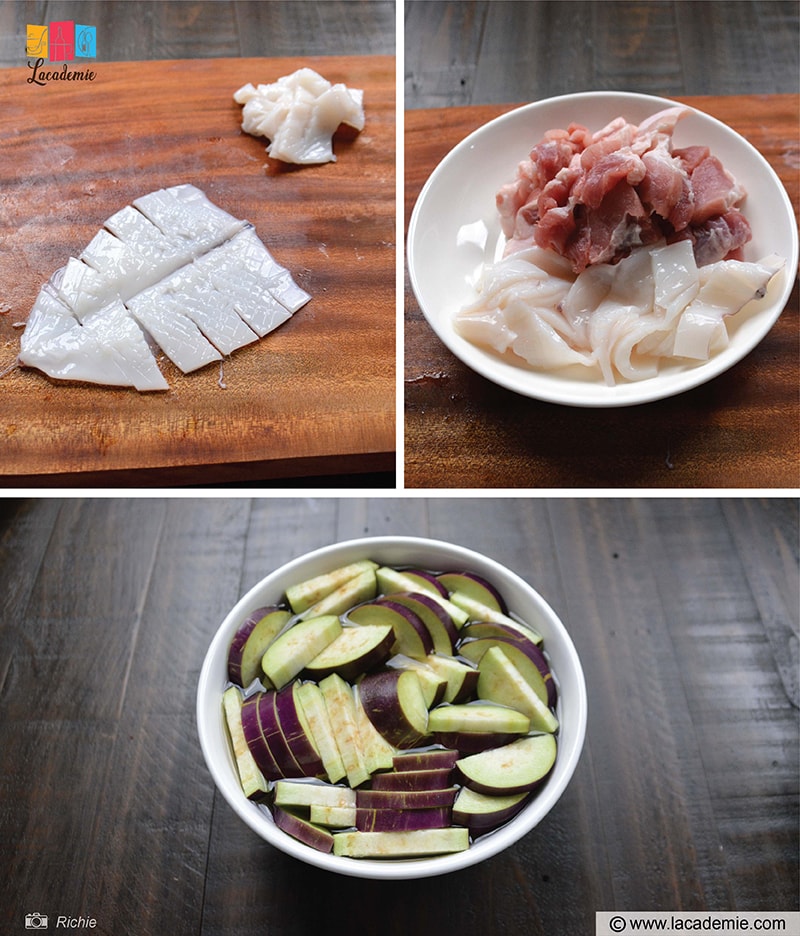 Step 3: Cook The Fermented Fish Broth
Pour 1 liter of water and 2 types of fermented fish into a small pot. Add 2 shallots and 3 lemongrass stalks. Simmer for 10 to 15 minutes over low heat until the fish falls apart.
Once the fish has completely disintegrated, use a sieve/strainer to filter out the bones.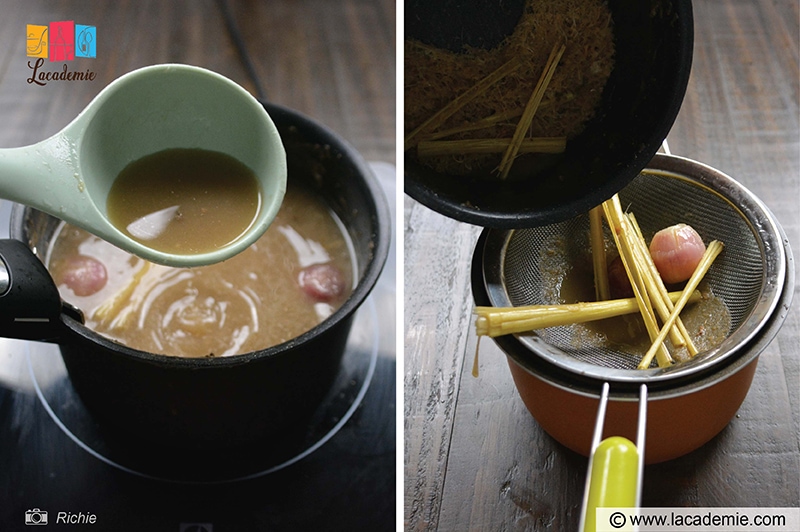 Step 4: Make The Broth
Add 2 teaspoons of salt into a pot of boiling water and blanch the pork bones for 2 to 3 minutes. Then,transfer the bones to a cold water bath and wash thoroughly to remove debris and odor. This step will help you achieve a clear and aromatic broth.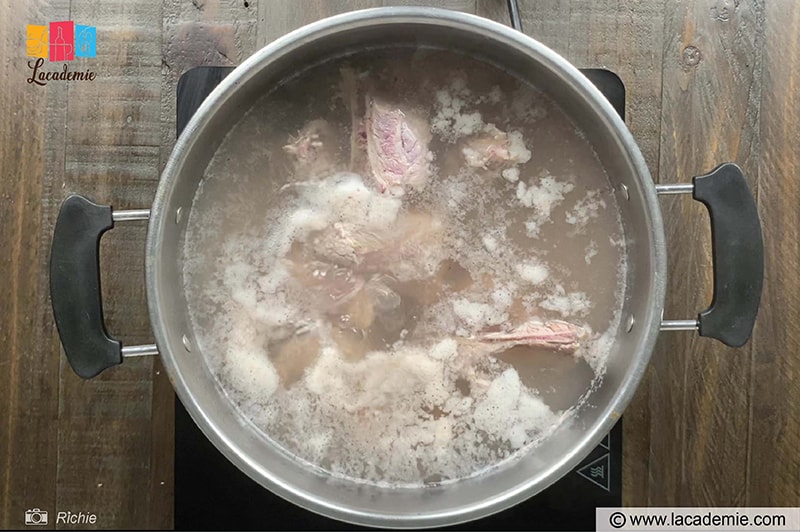 Next, pour 1 liter of water into a pot together with a few shallots and 3 stalks of lemongrass. Season with 1 teaspoon of brown sugar, 1 teaspoon of soup powder, and 1 teaspoon of salt.
Add the snakehead fish to the pot and cook for 10 to 15 minutes over medium heat. After that, remove the fish from the pot and set aside.
Add the shrimp and squid to the same pot. Cook the seafood for 5 to 10 minutes. Then, transfer them to a cold water bath to retain their crispness.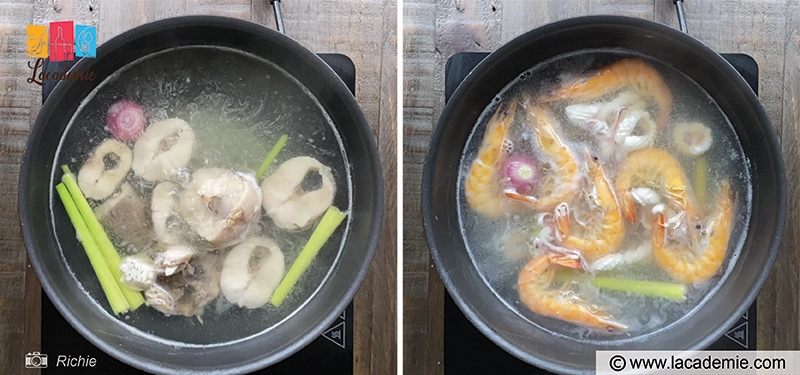 Add 2.5 liters of water, pork bones, half an onion, sugar canes, sponge gourd, white radish, pineapple, and the seafood stock into a pot and stew for 1 hour and 30 minutes over medium heat.
After 30 minutes, pour in the fermented fish broth and continue stewing over low heat. Remember to skim the broth frequently to make it clearer.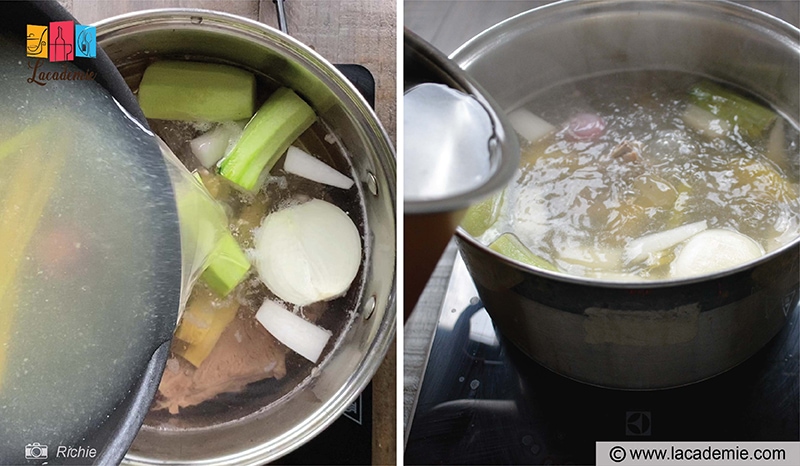 Step 5: Stir Fry The Pork Belly
Heat some cooking oil in a pan and fry the minced lemongrass, shallots, and minced garlic until fragrant. Add the pork belly and stir fry for 10 minutes to make the meat firmer and more aromatic.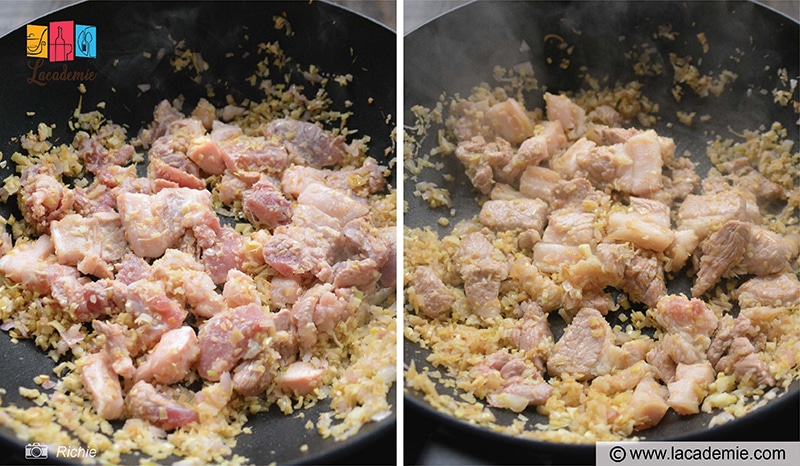 Step 6: Make The Stuffed Okra And Peppers
Season the fish paste with 1 teaspoon of pepper, 1 teaspoon of brown sugar, 1 teaspoon of cooking oil, and 1 teaspoon of soup powder. Mix well. Next, add the minced onion and mix until well combined.
Use a teaspoon or a small spoon to stuff the fish paste mixture into the okra and peppers.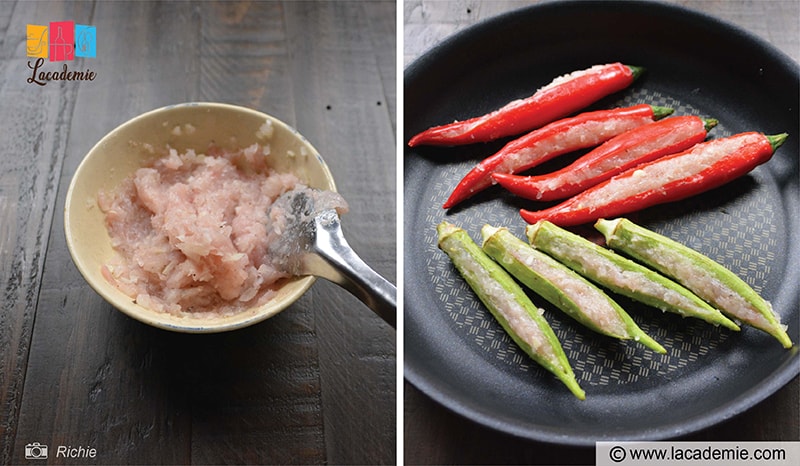 Pour some olive oil into a heated pan and fry the okra and peppers until fully cooked on all sides. Transfer them to a plate lined with paper towels to absorb the excess oil.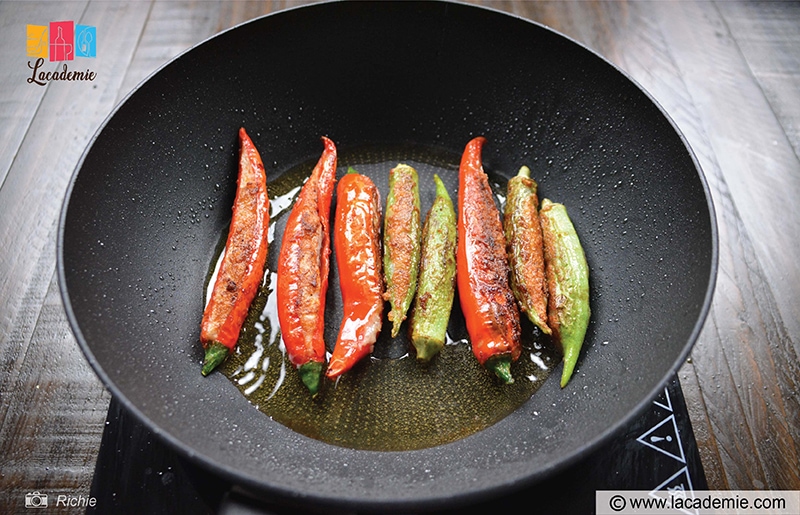 Step 7: Finishing The Dish
After stewing the broth for 1 hour, remove the vegetables but keep the pork bones. Add the stir-fried pork belly and continue cooking over low heat for 15 to 20 minutes.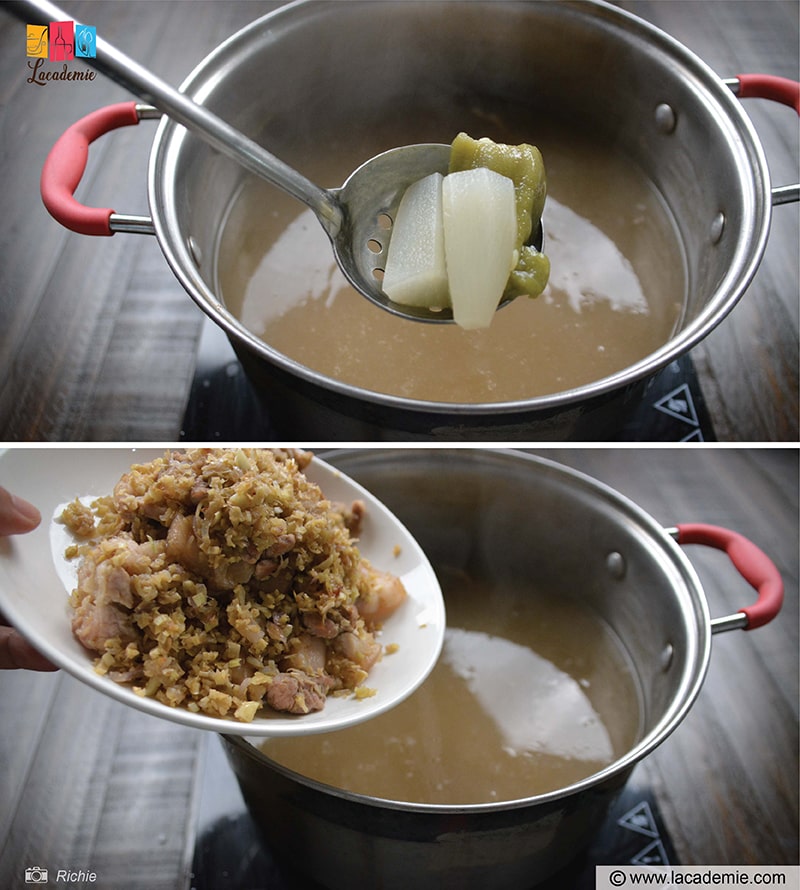 Meanwhile, mix 50 milliliters of hot water, 75 milliliters of fish sauce, and 4 teaspoons of sugar with tamarind in a small bowl. Stir until combined, then filter out the tamarind's seeds.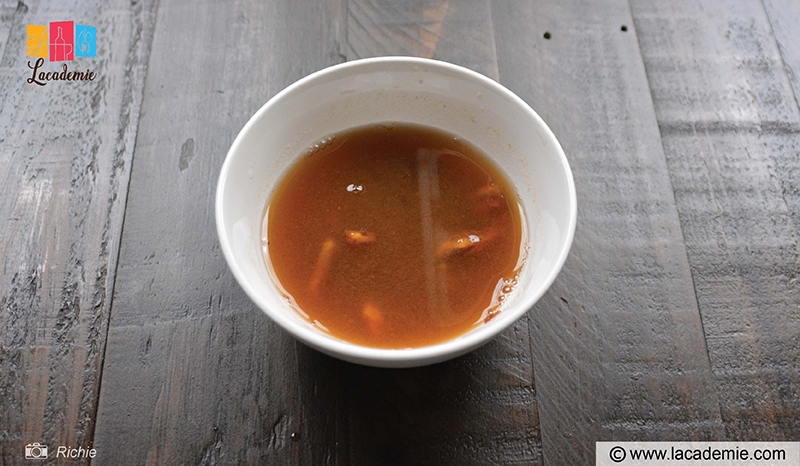 Season the stock pot with 0.15 pound (70 grams) of rock sugar, 2 teaspoons soup powder, and 2 teaspoons brown sugar, or adjust to taste. Note that the fermented fish already has a high salt content. Add the eggplant to the pot and cook for another 5 minutes over low heat.
Next, blanch the noodles in boiling water with cooking oil to prevent them from sticking. Peel the shrimp, keeping the heads.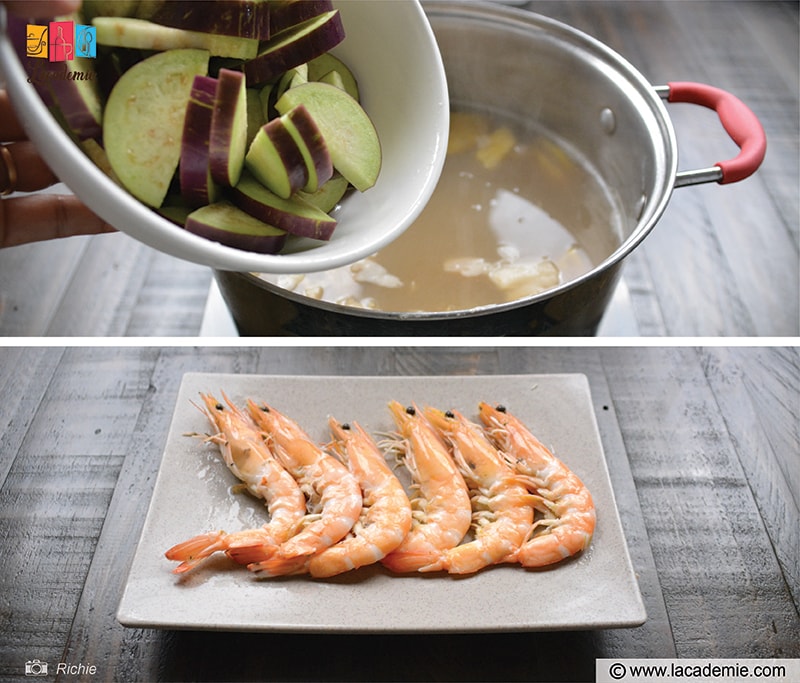 Step 8: Present The Dish
Arrange the roast pork, fish, squid, shrimp, okra, and peppers over the noodles. Fill the noodle bowl with the broth. Remember to include some eggplant slices and pork belly. Sprinkle some chives and ground peppers on top. Serve with herbs.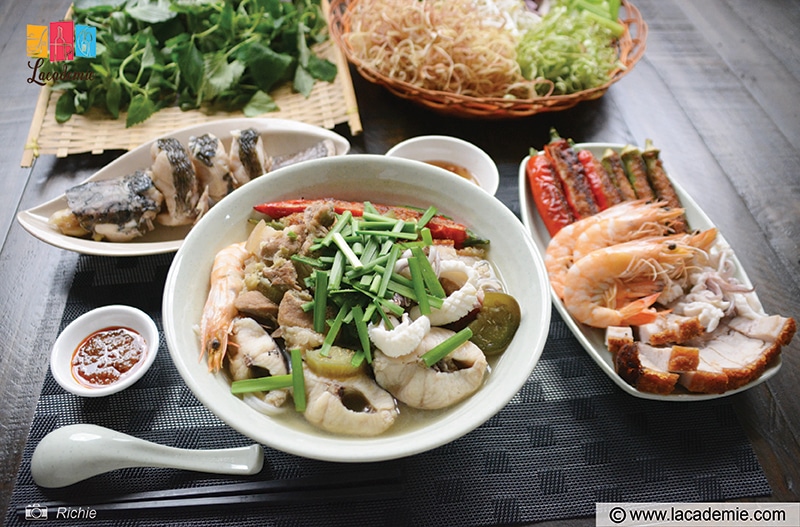 Handy Notes And Tips You Should Know
I know that there are quite many steps to follow, but don't worry. Here are some useful tips to help make the cooking process easier.
The fermented fish has a strong and unique flavor that many people love. However, if you find the taste too strong for your liking, try making this dish without them, which will result in a different, but still very enjoyable noodle soup.
Add the accompanying herbs to the broth while it's still hot and just as you're about to eat them.
Some people like their peppers hot and spicy. If you're one of those people, consider keeping the pepper seeds.
If you can't find snakehead fish, you can substitute it with other white, freshwater fish.
Serve your noodle soup with chili sauce or Shacha sauce for more flavors.
Fall In Love With Vietnamese Fermented Fish Noodle Soup Today!
As I've mentioned earlier, Bun mam is not exactly a dish for the faint-hearted. However, if you're a fan of pungent, flavorful dishes with unforgettable fragrant, I'm sure today's recipe won't let you down!
Have you tried Bun mam before? Do you adore it or find it a bit too much? I'd love to know what you think about this Vietnamese delicacy in the comment section. If you enjoy today's recipe, please press the like button and share it with other home cooks!
Nutrition Facts
10 servings per container
---
Amount Per ServingCalories844
% Daily Value *
Total Fat 35.9g

54

%
Cholesterol 147mg

49

%
Sodium 3568mg

149

%
Potassium 467mg

14

%
Total Carbohydrate 84.6g

29

%

Dietary Fiber 7.1g

29

%
Sugars 19.7g

Protein 50.9g

100

%
---
* The % Daily Value tells you how much a nutrient in a serving of food contributes to a daily diet. 2,000 calories a day is used for general nutrition advice.