Pakistani street foods and their exotic flavors might still be a secret to you. Yet, if you are interested in finding more about them, I'm always ready to help!
Asian cuisines, in general, have never disappointed me about how versatile and palatable their foods are, and these below recommended Pakistani delicacies can partly prove that.
This country's cuisine encases all the most unexpected features, and you will definitely feel satisfied once giving them a go!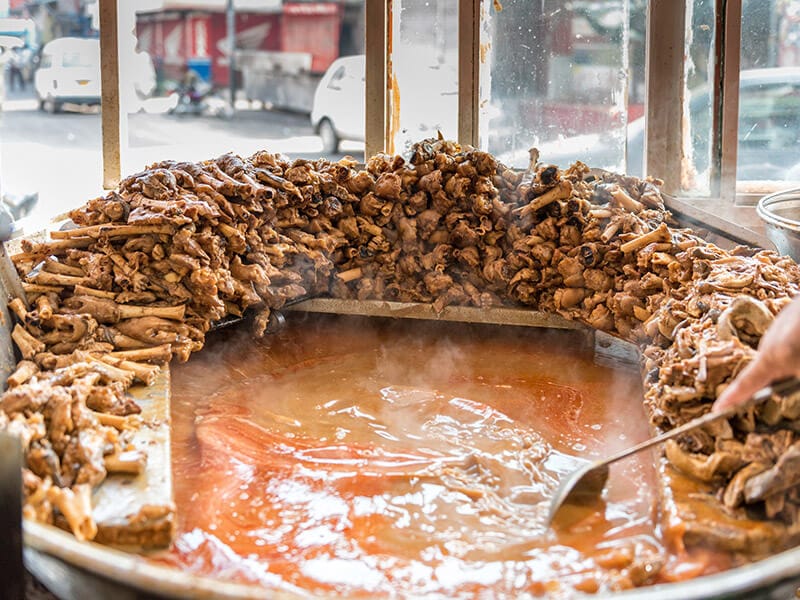 Pakistani cuisine is part of the Halal culinary culture of Islam, so you won't find dishes made with pork or alcohol in this country. However, Pakistanis love food that includes meat and spices, so these dishes in this country are well made and numerous.
1. Karahi or Butt Karahi
(Curry)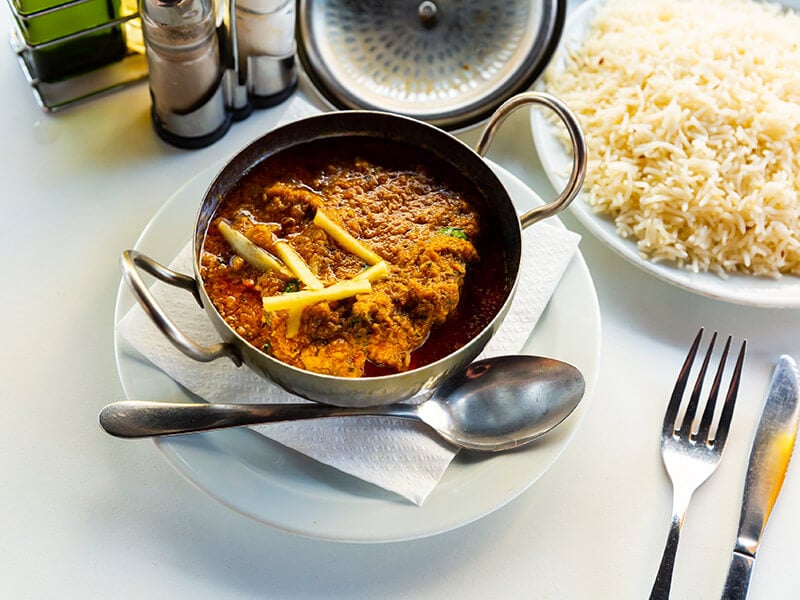 Karahi is one of the best Pakistani foods and a must-have in the hearts of all Pakistanis. You can find Karahi catered for from the smallest roadside shops to luxury restaurants. Usually, Karahi uses goat/lamb meat, but many cooks also cook it with chicken or shrimp.
In Pakistan, the chefs will mainly cook Karahi with a unique sauce consisting of tomatoes, onions, and tallow. This sauce makes the Pakistani version of Karahi different with a mild sour taste and irresistible toothsomeness.
To balance the whole food's taste, you can consider rice or Naan for the starch base. These two options always work well with the full-of-flavor dishes. Karahi is a long-favored late-night dish in this country, and people typically buy it in a huge batch. Interesting, isn't it?
Let's discover more about Butt Karahi through this video!
2. Nalli Biryani
(Bone Marrow Biryani)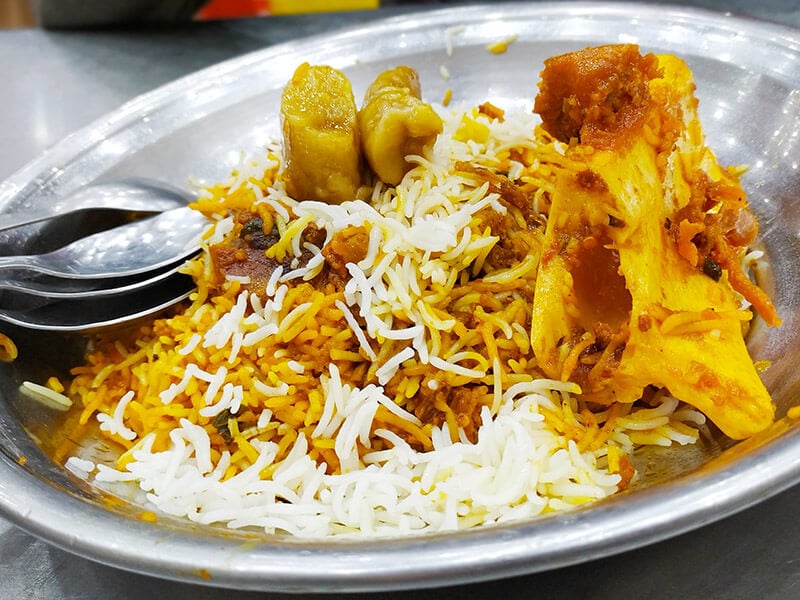 If you find this dish familiar, that is expected since this palatable Pakistani delicacy has its cousins in many other South Asian countries such as India. Although Biryani is the most popular rice dish in South Asia, its true origin is quite unclear. 
Yet, one sure thing is you can mostly find this bone marrow Biryani in Pakistan. The most recommended place to have it is in Karachi (in southern Pakistan). Locals prepare the dish by combining flavored mixed rice with some big stewed beef bones as toppings.
If you have never tried combining these two components together, you should consider giving it a go once you visit this country. Since the overall texture of this Biryani version is pretty dry, the sellers might serve your food with a cup of light yogurt (Raita).
3. Nihari
(Beef Stew)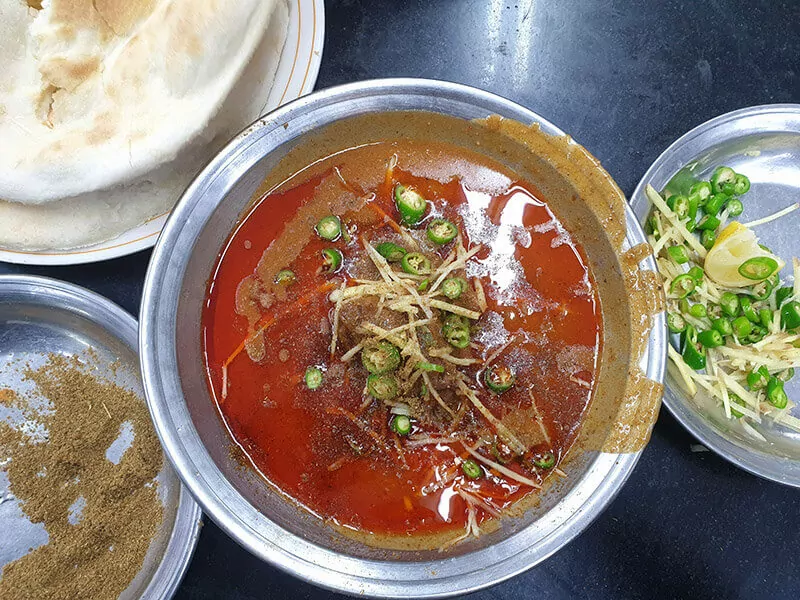 Nihari is a thick red beef stew and is eaten warm. It is made from beef meat on the bone and cooked slowly overnight. Just as many other Pakistani dishes, Nihari is typically hot and spicy.
Initially, Pakistanis only liked to eat Nihari for breakfast. However, today they eat these dishes for lunch or sometimes for dinner. Therefore, it can be a great dinner dish for a whole family since it will be hearty and nutritious (with some starch bases used).
When serving, the sellers will offer you some accompanying garnishes, including ginger strips, green peppers, or some cilantro to enhance the flavor. It is traditionally served with a typical Pakistani and Indian flatbread called Naan or a sweet bread called Sheermal.
This cake is always a perfect starch base that can balance the strong spices from the delicious Beef Stew. Nihari started out as a luxurious delicacy during the Mughal Empire (1526-1857) that was made exclusively for the Mughals royal family.
Later, this dish was widely spread in the empire and was immediately accepted thanks to its deliciousness.
4. Chicken Tikka Masala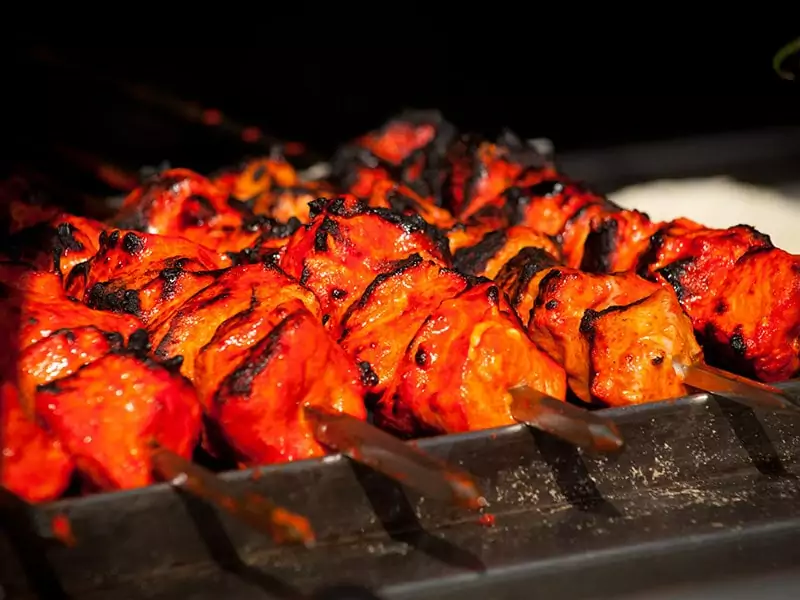 Chicken Tikka Masala might be a familiar treat to you since this food appears in many South Asian restaurants globally, and you might have tried it once. But believe me, to experience the authentic taste of any dish, it would be best to try it in its motherland.
To prepare this dish, the Pakistani chefs must marinate the boneless chicken cubes with various spices and yogurt before processing. After that, they will grill the food in the skewers on a traditional stove meticulously to avoid burning it.
When eating, Pakistani people will suggest various ways to enjoy their signature dish. Yet, I highly recommend you to have Chicken Tikka Masala alone. On the other hand, feel free to eat it with some kinds of starch bases like rice or flatbread. All are tasty!
5. Shawarma
(Grilled Cone-Shaped Stacked Meat)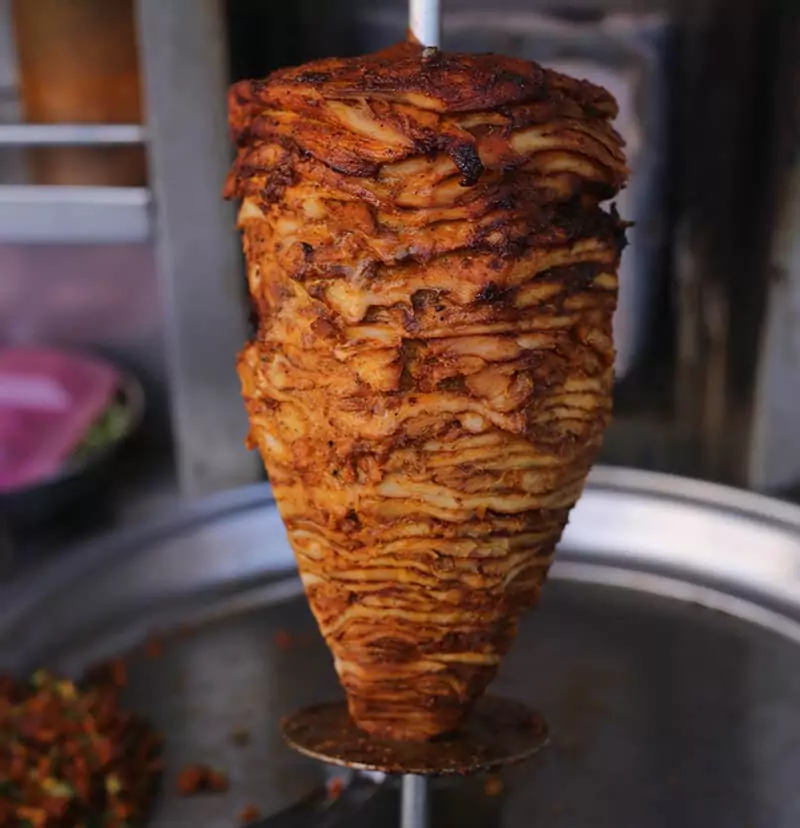 This Shawarma is a true delight for a meat lover that you can easily find in every Pakistani locality. To talk about the food's origin, it started to appear in the era of the ancient Ottoman Empire in the 19th century.
In recent days, you can find many variations of this food. In Pakistan, the chefs will prepare Shawarma from mutton, lamb, or poultry (especially dark turkey meat).
After marinating and roasting the whole food, the cooks will slice it into pieces right after you make an order. They will offer you several Pita (flatbread) options or as a filling for sandwiches. Otherwise, you can try eating it alone to feel the authentic taste.
---
When it comes to the best Asian vegetarian-friendly recipes, you should never neglect those from South Asia, especially Pakistan.
Thanks to the significant influence of their country's religion, Pakistanis have created many vegetarian dishes to serve in holidays and daily life. Because of the much attention, these dishes are exciting. Now, let's see what I have prepared for you.
6. Haleem
(Pakistani-Style Wheat And Barley Stew)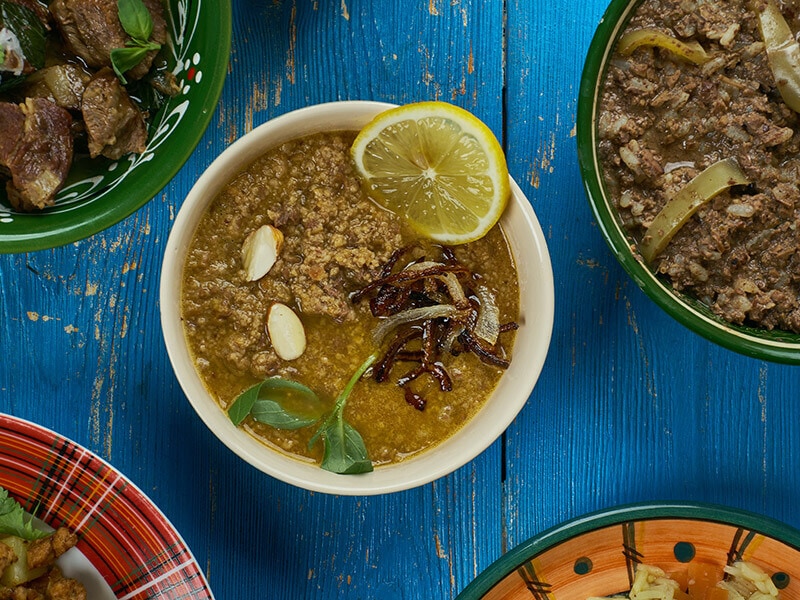 The first dish in this category of Pakistani vegetarian-friendly foods is Haleem. Although this Indian-originated delicacy also has some meat variations, those filled with only veggies like chana (chickpeas), wheat, and barley are more famous.
The preparation of Haleem is quite a feat when the cook needs to prepare a lot of ingredients and spices. One needs to slow cook Haleem for about 6 hours for them to blend well with each other perfectly.
Pakistani residents see Haleem as a calorie-packed treat, so they usually have them for breakfast and lunch (to have enough energy for the rest of the day). My recommended combination for you when having Haleem is to pair it with green tea, milk, and Roti.
7. Kabuli Pulao
(Mixed Steamed Rice)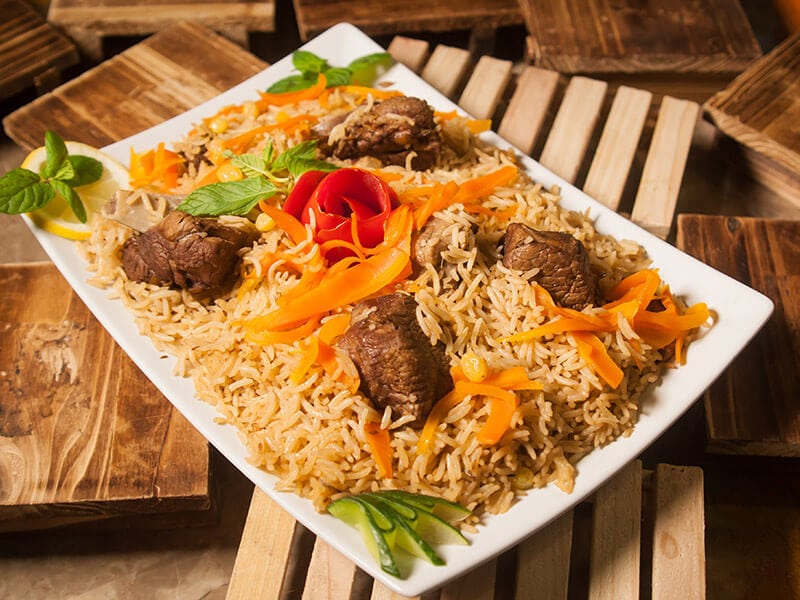 This dish has a fascinating development history closely related to the history of the Silk Road located in West Pakistan. Kabuli Pulao was initially an Afghani dish that followed the famous trade route to Pakistan and became hugely popular here, undergoing transformative changes along the way.
In Pakistan, people prepare this dish with mixed rice (from long to short grains), meats (chicken, mutton, and beef), and many dry spices. However, this dish is not the same as Biryani.
You can tell them apart by the type of rice used, and Kabuli Pulao is usually milder in taste and has a more varied aroma. Sometimes, the chefs will use saffron to have a beautiful light yellow color for the rice grains.
In addition, chefs from eateries or restaurants in this country also add and change spices to create their own unique versions. You can identify the stalls selling Kabuli Pulao on Pakistani streets by finding ones with huge bell-shaped cooking vessels specialized for cooking this dish.
8. Pakora
(Fried Vegetable Fritters)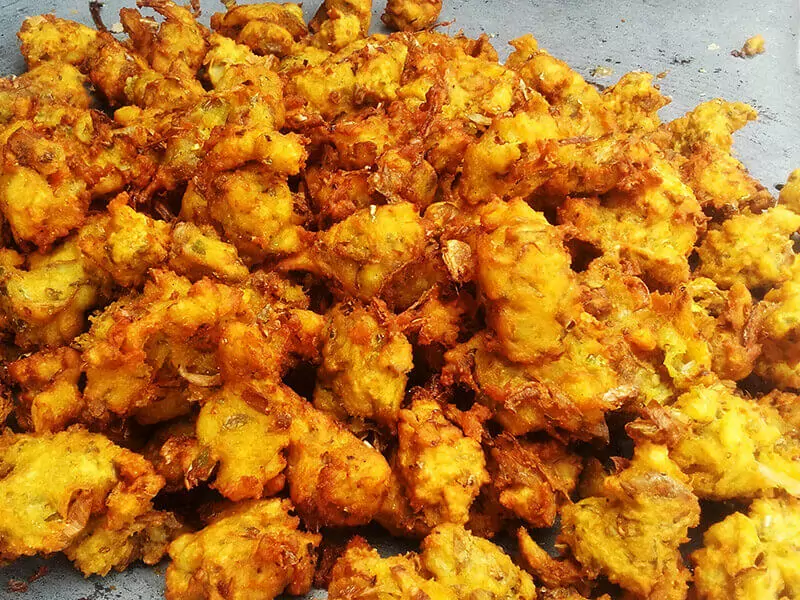 If fried meaty treats are not for you, these Pakoras can become your savior. This Indian-originated delicacy is well-known in Pakistan, and people in this country adore these healthy Fritters a lot.
The ingredients for Pakoras are pretty varied. You can have this treat made of potatoes, onions, bananas, or ground nuts; each has a unique exquisiteness. Some include a mix between those mentioned components.
Yet, overall, Pakora is a fried treat, so people in Pakistan add a lot of other pungent condiments (chili powder/flakes) to make its taste more versatile. In case you still wonder about the authentic taste of Pakora, you can easily find it on the streets of Pakistan.
9. Bhutta
(Grilled Corn On The Cob)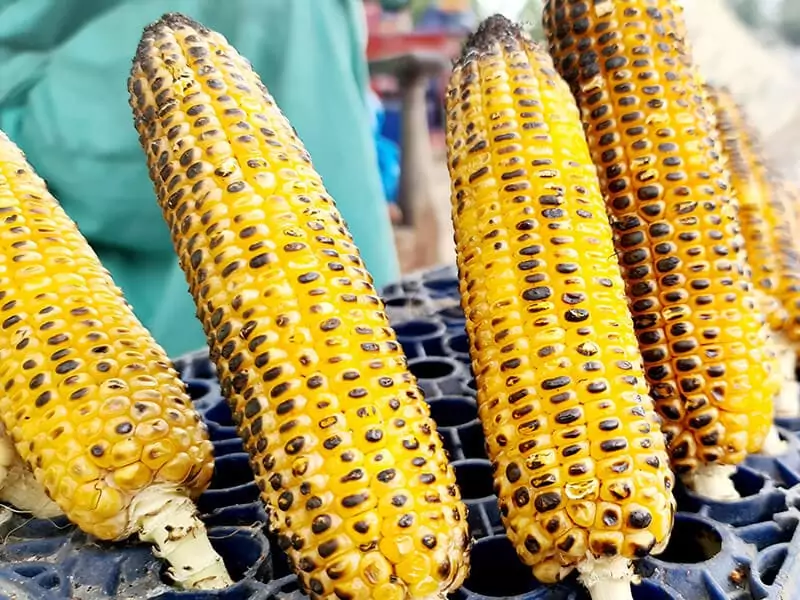 It might be only grilled corn to you, but how Pakistanis make it helps this Bhutta taste absolutely enticing. Vendors roast the corn on its own cob on an open fire stove until its surface becomes seared. After that, they will flavor it with some tasty spices.
To find the stalls selling Bhutta on the roads of Pakistan, you can ask the local people for their favorite "bhuttawallahs". Or else, spending time wandering on the streets can also help you find the best Bhutta ever.
Remember, this treat is more prevalent during the monsoon season because that is the time when they harvest corn in this country.
10. Masala French Fries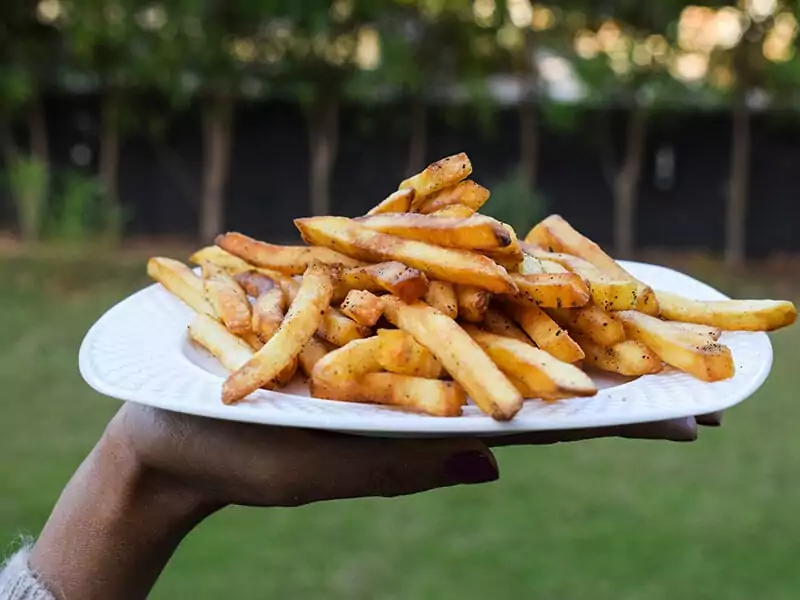 This favorable Masala French fries is another example of how important Masala spices are to Pakistani finger-licking snacks. You may be familiar with normal French fries, so let's try this creative mix of French fries and authentic Pakistani spices for an exciting experience.
The making of this treat is also relatively basic, with deep-frying the thinly sliced potatoes until all the pieces offer a beautiful golden hue. When eating the dish, you can feel a lovely zing from cumin/pepper that the chefs sprinkle on it. This taste is hard to find elsewhere.
There is no special requirement for you about the dipping sauce for this fried treat. You can have anything you like. From mayonnaise to some kinds of commercial chili sauce, everything will be fine when combined with this tasty treat.
11. Chaat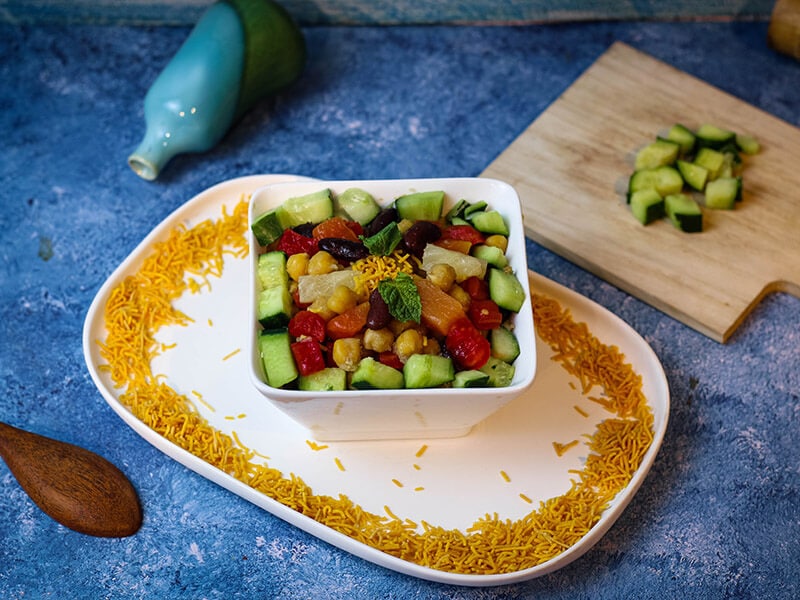 Chaat is another Pakistani delicacy that has its origin in India on today's list. This treat existed in Uttar Pradesh during the reign of Mughal Emperor Shah Jahan (late 17th century). Nowadays, this delicacy is not only famous in Pakistan but also in other nations.
In the Indian language, its name means "to taste/lick," and a platter of Chaat includes various components (primarily vegetarian). Some more frequently used ingredients are potatoes, gram, crispy fried dough, and others.
When receiving the food, you can ask the vendors for an accompanying sauce such as tamarind sauce or some yogurt. Both options can help to harmonize every ingredient in your Chaat.
---
Besides all the vegetarian or savory dishes above, I will recommend you with something that is a bit lighter and more convenient to eat on the go. These suggestions below are absolutely toothsome, and you should never neglect them.
12. Paratha (Unleavened Wheat-Based Flatbreads)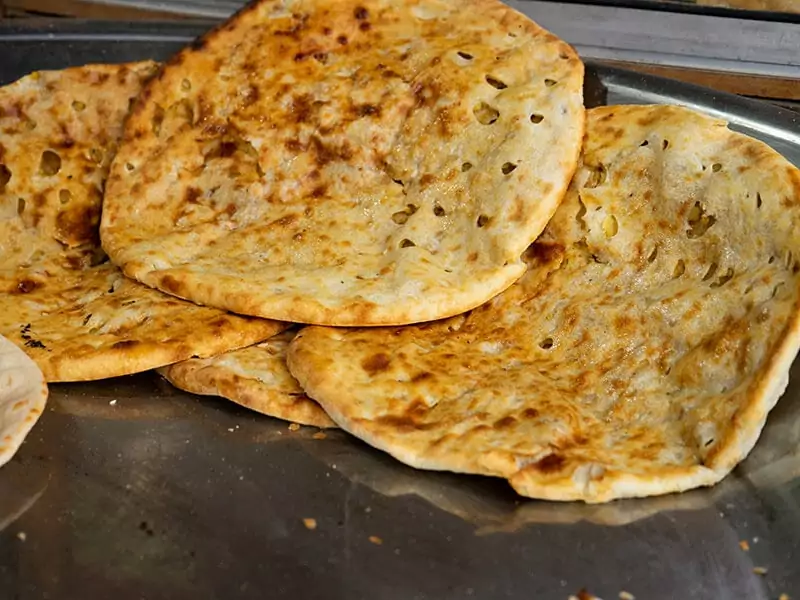 Paratha is a dish that first appeared in the Indian subcontinent and has been playing a significant role in various countries' cuisines, especially Pakistan and India. Paratha is quite versatile; it can be great food for breakfast or a light starch base for a hearty dinner.
About the name of this dish, it combines "parat" and "atta" (which means "cooked dough" in English). In Pakistan, people love eating Parathas with some veggies ingredients such as boiled potatoes, pickles, or vegetable curries.
If you want to pair it with a meaty dish, it will still be alright. Believe me; it can hardly go wrong when you match Parathas with Pakistani delicacies. The most suggested way to eat Paratha is to dip it into a cup of Doodh Pathi when eating; the flavor is mind-blowing.
13. Halwa Puri or Halwa Poori
(Crispy Round Pastry With Halva)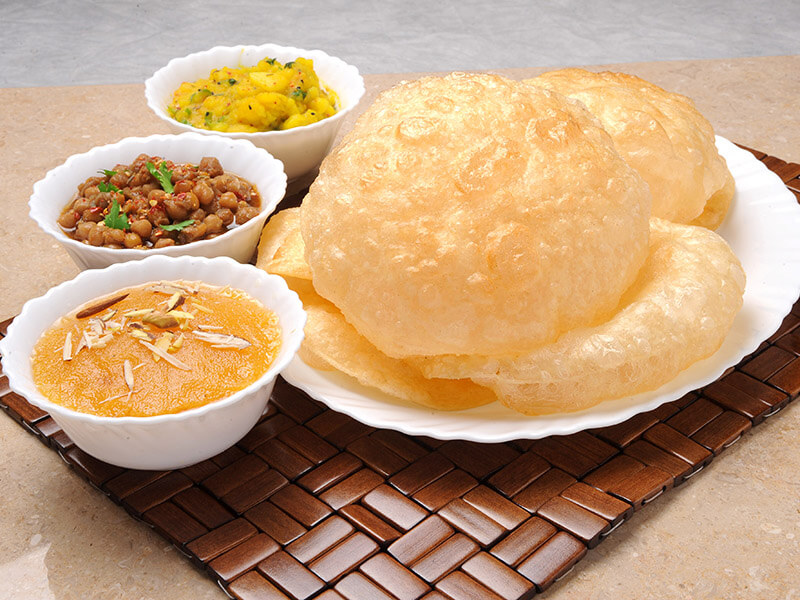 There are many different theories about the birthplace of Puri. Some say it originated in Punjab; some mention other places in the Indian subcontinent, most of them outside Pakistan.
But when you ask Pakistanis about their most favored breakfast, especially in the area of Lahore, the answer is usually Halwa Puri. A complete serving of Halwa Puri includes puffed and hollowed Puri balls, Halva (nut and butter confections), or chickpea curry.
To best enjoy Halwa Puri, you should break a part of the crunchy, freshly made Puri and fill its hollowed interior with other side dishes. After that, you should have a mouthful of it and prepare a cup of Pud Pathi at the side.
14. Dahi Bhalla
(Deep-Fried Croquet with Creamy Topping)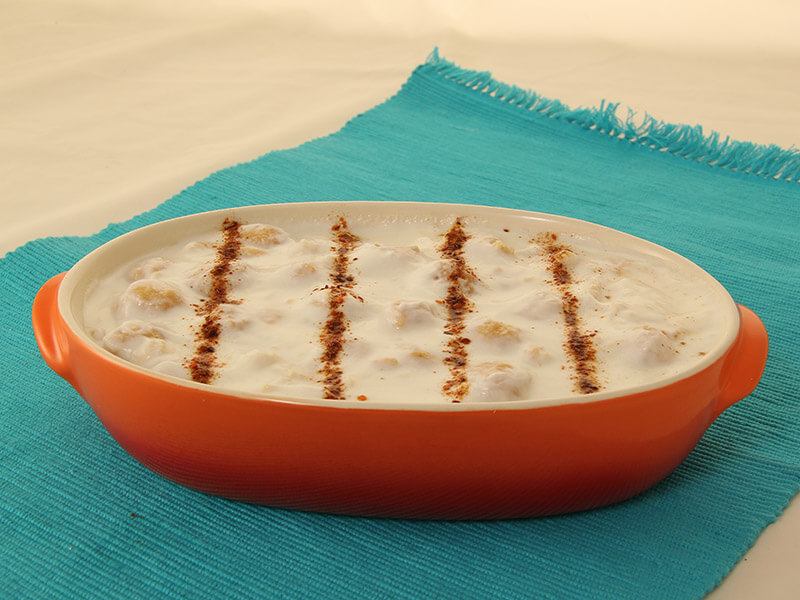 Mughal Khansamas were the first ones to prepare this favorable Dahi Bhalla. Many historians believe that the ancient Mughals living in the 18th century created this delicacy out of curd, spices, and various kinds of herbs.
Under the fine surface of creamy toppings, as shown in the picture, there are various deep-fried, crunchy Croquettes mixed with green bean paste. You should pair these tasty croquet pieces (better to be cold) with chutneys or Dahi yogurts when eating.
15. Bun Kebab or Burger Anday Wala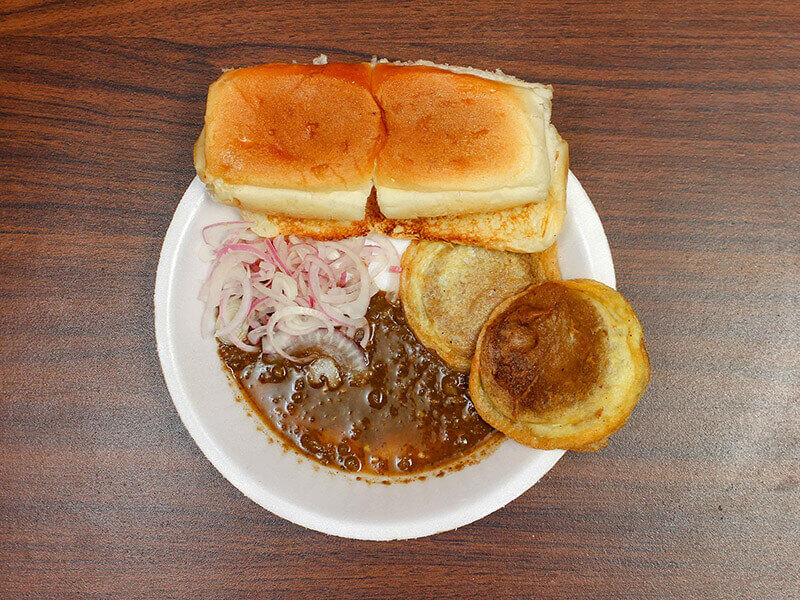 There are a lot of controversies about the true origin of this delight. People are not sure about whether Bun Kebabs were originally from Pakistan or India. But that does not matter a lot to you and me. As long as this food is scrumptious, then it is worth trying once there.
Basic Bun Kebabs consist of buns, ground beef/lamb patties, ground lentils, or other things. You can also find many variations with different kinds of fillings in other localities in Pakistan. It is not an exaggeration when I tell you that all of them are tasty.
It is also pretty convenient to eat on the go. Just buy one from any street vendor and nibble it on the way. 
16. Papadum or Spicy Papad
(Deep-Fried Black Gram Bean Flour Dough)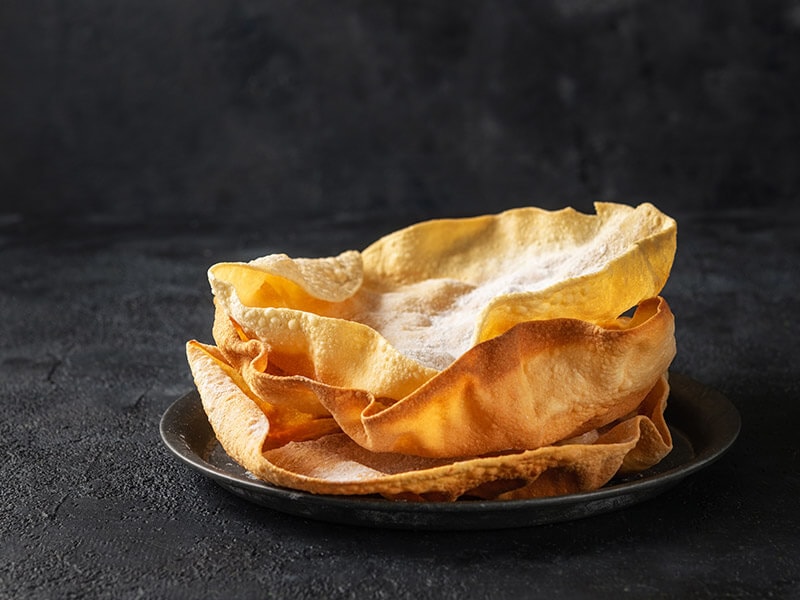 After various suggestions above, you can see how deep Indian cuisine affects the gastronomy of Pakistan. There are various foods there with Indian roots in Pakistan, and Papadum is also a dish like that.
A portion of Papadum typically consists of gram bean flour that the cook deep-fries instead of baking or grilling. Other ingredients can also be rice, tapioca, or millet flour. The next step of making Papadum is to flavor the dough.
Since Pakistani chefs often use hot spices or red chili powder to flavor their treat, local Papadum is usually spicy. Thanks to that, you can use Papadum as a hearty side dish or as a crunchy, tongue-burning snack.
17. Samosa
(Fried Pastry With Savory Fillings)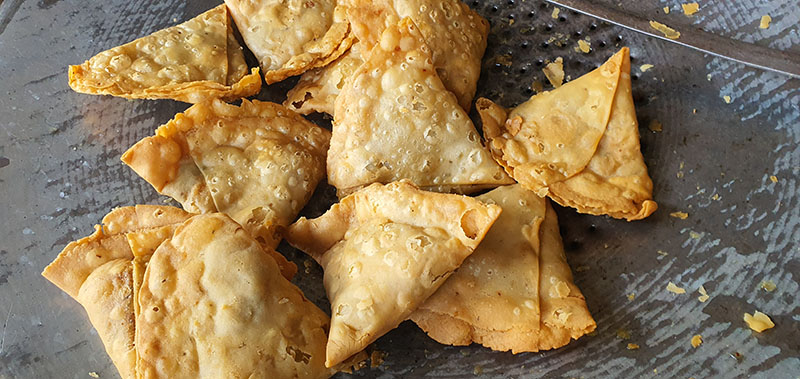 Talking about typical Pakistani snacks, triangle-shaped Samosas are always on the top list. This famous South Asian treat came from Middle Eastern and Central Asian cuisines centuries ago. This delight is well-known for having a crunchy texture and flavorful fillings.
To make Samosa, chefs need to prepare a layer of thin dough as the wrappings and various other fillings such as veggies, beans, lentils, and meats. Each region of Pakistan has a distinguished kind with a different signature flavor.
For example, Samosas in western Pakistan mainly include minced meats and a less spicy taste, while Lahore-style ones mostly have veggies. Remember to eat Samosa with yogurt or chili sauce to have a better experience.
---
Are you ready to know more about Pakistani sweet treats and drinks After trying all of the food above, you might want something lighter, soother to refresh your taste buds. Then, you won't be sorry for giving my upcoming suggestions a go.
18. Doodh Patti
(Milk Tea)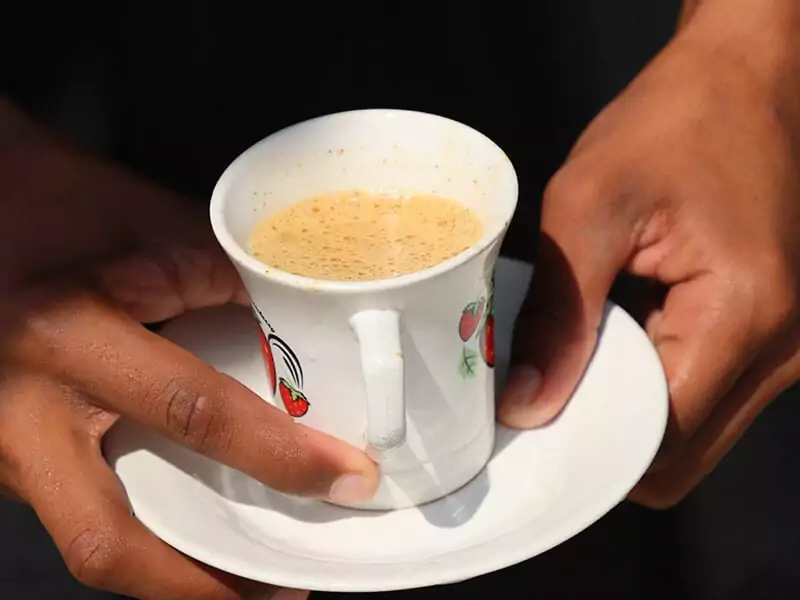 Once searching more about the most suggested Pakistani drinks, you will know that people in this country don't use alcohol in both beverages and inside foods. Therefore, you can find various kinds of tea and milk mixed treats in this country.
Doodh Patti is a very simple drink. This light drink is absolutely appealing with only black tea, herbs, sugar, and milk. One significant feature about this drink is it doesn't include water, making it denser and thicker than the regular tea in other cuisines.
Wandering around the Pakistan streets in the early morning, you can see local people gathering around the Doodh Patti stalls and relaxingly enjoying their cup of tea.
19. Gola Ganda
(Crushed Ice On A Stick)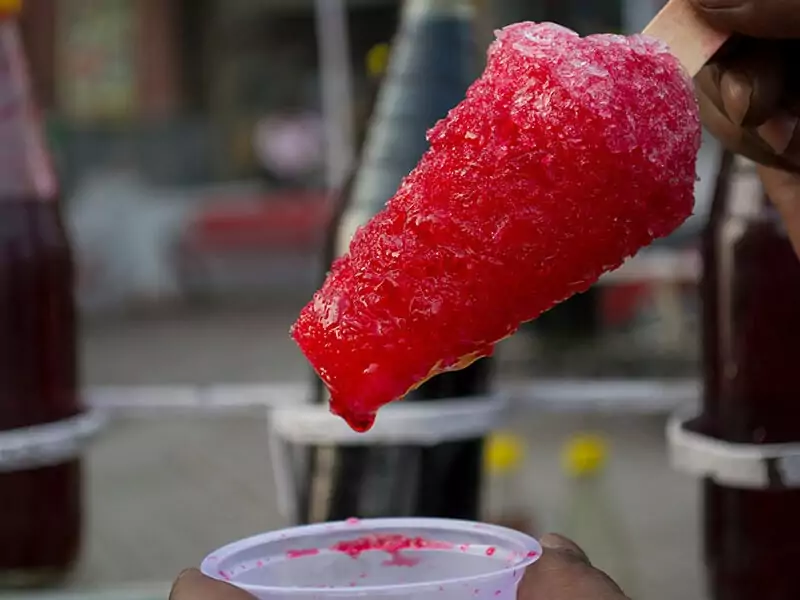 Who can resist such a palatable cold treat on a hot summer day? Gola Ganda is an incredibly simple icy dessert that consists of only the most basic ingredients you might think of. The sellers only prepare it with ice cubes, chaat masala, and ice cream sticks (to hold).
The syrup used depends on your preferences. Once eating this rustic treat, you can feel the tempting sweetness from the syrup gradually spread on your tip tongue, and a cooling effect comes right after.
Gola Ganda can make you feel more refreshed without filling up your stomach. Therefore, after having a serving of this cold treat, you can still enjoy some other delicacies on your street food tour in Pakistan.
20. Kulfi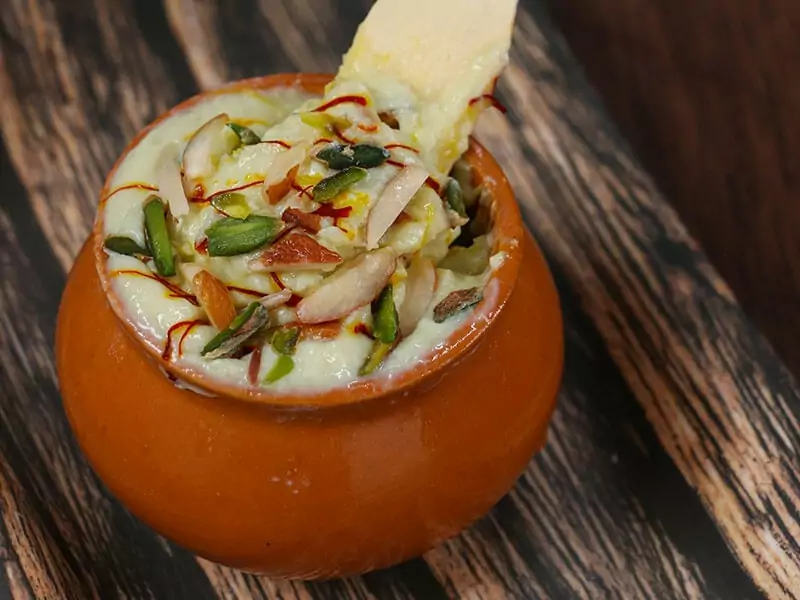 If you prefer something milkier than the previous Gola Ganda, you can opt for Kulfi. But it isn't really ice cream. Its texture is relatively denser, thicker, and often goes with toppings like saffron or crushed nuts.
People living in the Indian subcontinent around the 16th century invented this cool Kulfi. You can create this treat by putting the Kulfi mixture inside a small, lovely clay cup before freezing it with Himalayan ice.
Today, you can find this delicacy appears as a prevalent Pakistani cool treat or Indian-related cuisines' desserts. Everyone in these regions adores the lovely sweetness from the slow-cooked milk mixture and the fragrance from the toppings.
21. Rabri
(Sweet Pudding)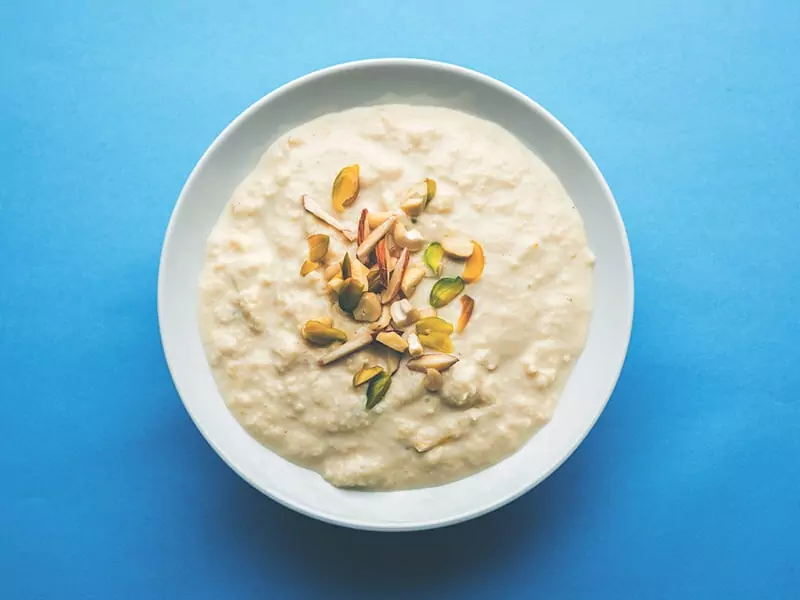 Don't confuse the previous Kulfi with this Rabri; they are not the same thing. Rabri is an older dessert because its first record was in the early 15th century, though its birthplace was also in the Indian subcontinent.
Actually, the texture of this unique Rabri doesn't resemble typically smooth and bouncing puddings. The texture of Rabri is somehow like string cheese because when you cut it, you can barely see the milk strands.
To be honest, Rabri is extremely sweet and milky as it has only condensed milk and sugar. If you have a sweet tooth, then this favorable Rabri can surely make you drool.
22. Jalebi
(Syrup-Covered Sweet Pretzels)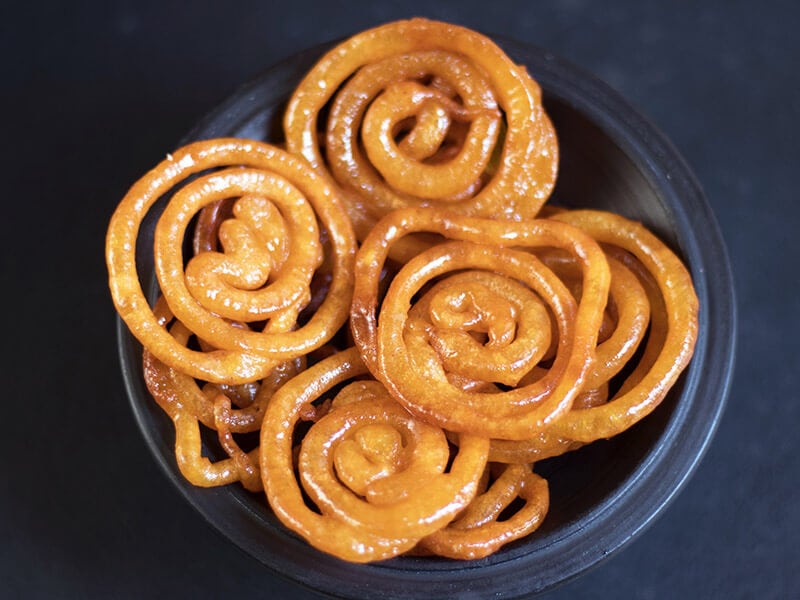 It is quite easy to find a favorable sweet treat without butter in Asia, and this famous Jalebi is one of the most-favored suggestions for you. The main ingredients for a standard portion of Jalebi are maida flour, water, and sugary syrup.
The mixture of maida flour and water needs to be a bit thick so that the cooks can form it into pretzel-like pieces when processing it in a big, oil-frilled pan. After deep-frying, the vendors will dip these Jalebi pieces in the syrup (sugar, rose water, lime juice).
Because of that, Jalebi's taste won't be boringly sweet. You can sense a light, lovely aroma while enjoying this treat of Arabic origin.
In Pakistan, people have Jalebi, no matter if it is hot or cold. The temperature doesn't affect its deliciousness.
23. Faluda or Falooda
(Cold Beverage with Vermicelli)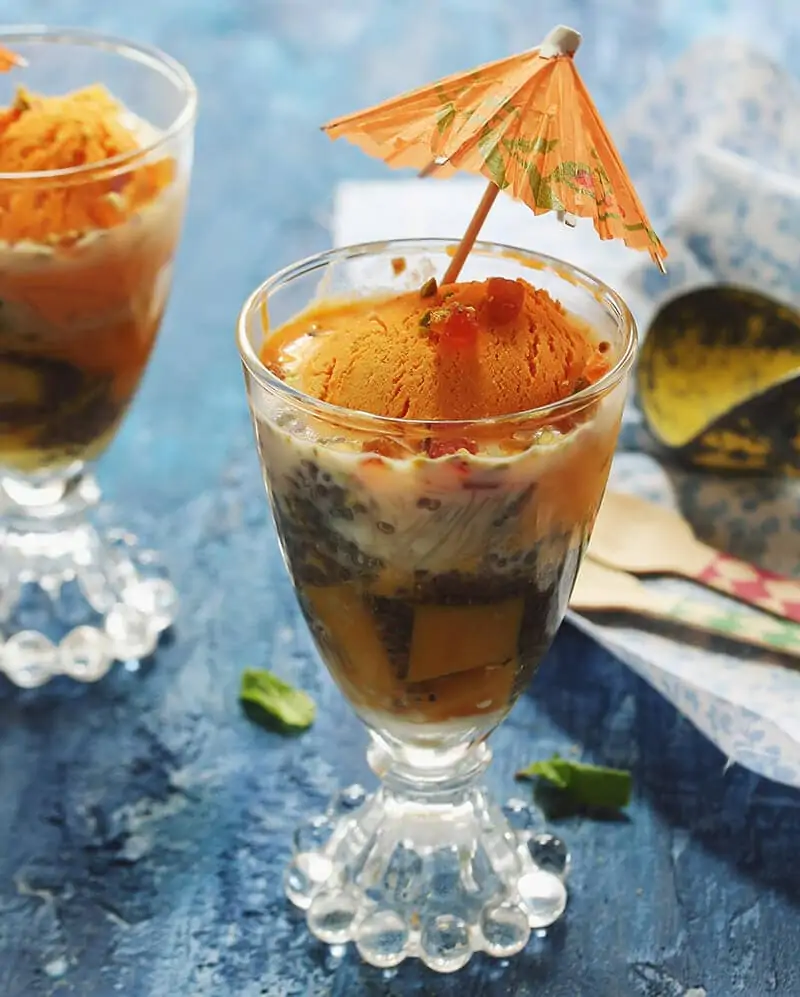 The appearance of this Falooda glass immediately impresses me at first glance. Thanks to a baby, dreamy pink color, and refreshing flavor, people in Pakistan have been in love with this Persian-originated beverage for centuries (from the 16th and 18th centuries).
In a cup of cold Falooda, there is typically transparent vermicelli, rose water/syrup, and sweet basil. In some modern variations of this dessert, they add a scoop of ice cream for more flavor. Some other accompaniments for Falooda are sago, cornstarch, etc.
Besides finding it on the street vendors, you can also see they serve Falooda as a dessert on special occasions in Pakistani cultures (like Islamic weddings or holidays). Enjoy one whenever you can!
Let's Get Ready For Your Next Trip To Pakistan!
If you want to understand Pakistani culture, you must try their cuisine. Pakistani cuisine will take your taste buds to a new level of bliss, and these delicacies are not only tasty but also nutritious.
After spending your time to experience all of my recommendations above, feel free to leave me some of your opinions about them. Your contribution will be a massive inspiration for me in future articles.