What does a bowl of spicy Vietnamese beef noodle soup (Bún Bò Huế) have? If your answer is "beef" and "noodle", you're far off the mark. For those including Vietnamese spices and herbs in their response, that's a little closer to the truth. But this recipe is more complicated than that.
Making authentic spicy Vietnamese beef noodle soup is a little more challenging than other noodle dishes from this Southeast Asian country in terms of finding the ingredients. But read on, and I promise that the stimulating kick you get out of it is totally worth your time.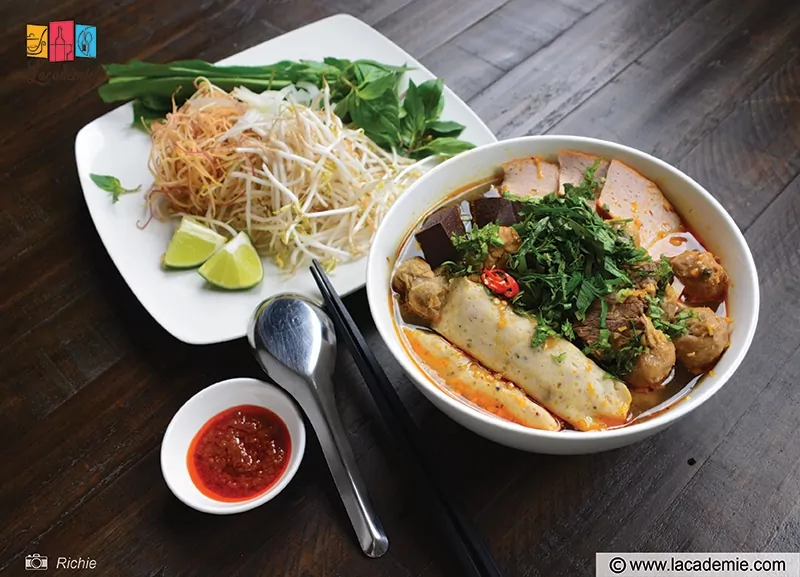 What Is Special About Spicy Vietnamese Beef Noodle Soup?
There are several beef-based dishes in Vietnam, like Vietnamese Braised Beef Stew or Beef Pho. But have you ever tried a dish called Bún Bò Huế?
The Vietnamese name of this dish literally means "Beef noodle soup from Huế". As you can guess, this delicacy stems from Huế, the capital of Thừa Thiên-Huế province in central Vietnam. The city was once the seat of the country's imperial court and the pinnacle of royal cuisine.
Legend has it that the noodle soup was created around the 16th century by a woman who followed the first Nguyễn Lord to settle down in the then-new land. The Nguyễn Lords would go on to be a long line of powerful rulers, while Bún Bò Huế would become popular all over Vietnam.
Another name of the dish is spicy Vietnamese beef and pork noodle soup. That is because it usually includes a variety of Vietnamese pork-based foods (and pig blood curds!). Other ingredients that characterize the classic flavor of this dish are lemongrass and shrimp paste.
Do you know what makes this dish spicy (as its name suggests)? That heat (and the vibrant red color) comes from the accompanying sate sauce (sa tế – Vietnamese lemongrass chili sauce). This noodle soup usually goes with a lot of greens and vegetables, creating a nice balance in flavor.
Tools
This delicate noodle soup only requires a few tools that most modern kitchens already have, so there is nothing fancy about this part.
Multifunction pressure cooker: for simmering beef bones and beef shank in the broth. This step is traditionally done in a cooking pot over many hours, but a pressure cooker (or similar devices) can shorten the cooking time significantly.
Cooking pots: You need at least one large pot (such as a stock pot) and one saucepan for different steps of making this dish.
Skillet: for preparing the sate sauce.
Chopping board and knife: for preparing the ingredients for the dish.
Meat mallet: for tenderizing lemongrass garlic.
Soup ladle: an important tool for any noodle soup.
Slotted spoon: for removing beef brisket and pork knuckles after cleaning it in hot water.
Small bowls and plates: for containing the spices and condiments.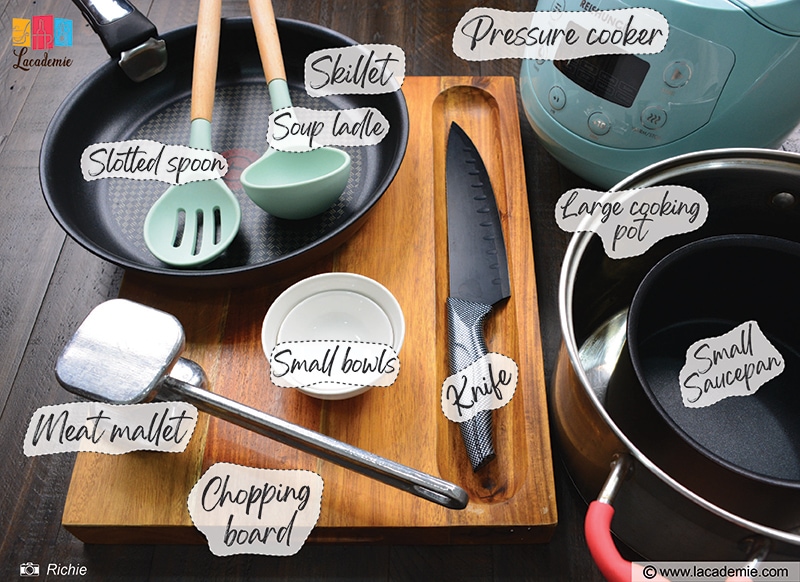 Ingredients
Born in one of the cradles of Vietnam's fine cuisine, spicy Vietnamese beef noodle soup requires several ingredients that you may have difficulties purchasing outside the country. But you can find them online or buy them from large supermarkets/ gourmet stores.
Beef: While it is possible to choose any cut of the meat for this recipe, I recommend beef briskets with some muscles attached for a nice balance of meaty savoriness and chewiness. You can switch to beef tendon for a gelatinous texture.
Pork knuckle: an important ingredient to create the rich and flavorful broth of this dish.
Pig blood curds: You can find this iron-rich food from certain meat purveyors or in Asian markets. Otherwise, feel free to replace it with cow blood or simply leave it out.
Beef meatballs: one of the various sources of protein for this noodle soup.
Vietnamese cinnamon pork pate (chả quế): this baked or roasted dish adds a nice fragrance and flavor to the whole noodle soup.
Huế-style pork sausage (chả huế): It is just natural to enjoy this Huế-originated noodle soup with another delicacy from this beautiful land.
Rice noodles: This dish tastes best with large strands of noodles, though you can choose products with finer strands.
Fine shrimp paste: While its raw form has an intense smell, the condiment transforms into a subtle flavor that is quite delicious and important to the success of the dish.
Lemongrass: a vital aromatic ingredient that creates the classic flavor of this dish. You also need some other similar herbs, such as shallots, onions, lime juice, etc.
Spices: Besides usual condiments, spicy Vietnamese beef noodle soup calls for cinnamon, cardamon, and anise.
Herb garnishes: Choose anything you like, but ensure that they are a mix of aromatic herbs and fresh greens. I usually pick coriander, laksa leaves, scallion, saw leaves, basil, shredded banana blossom, and bean sprouts.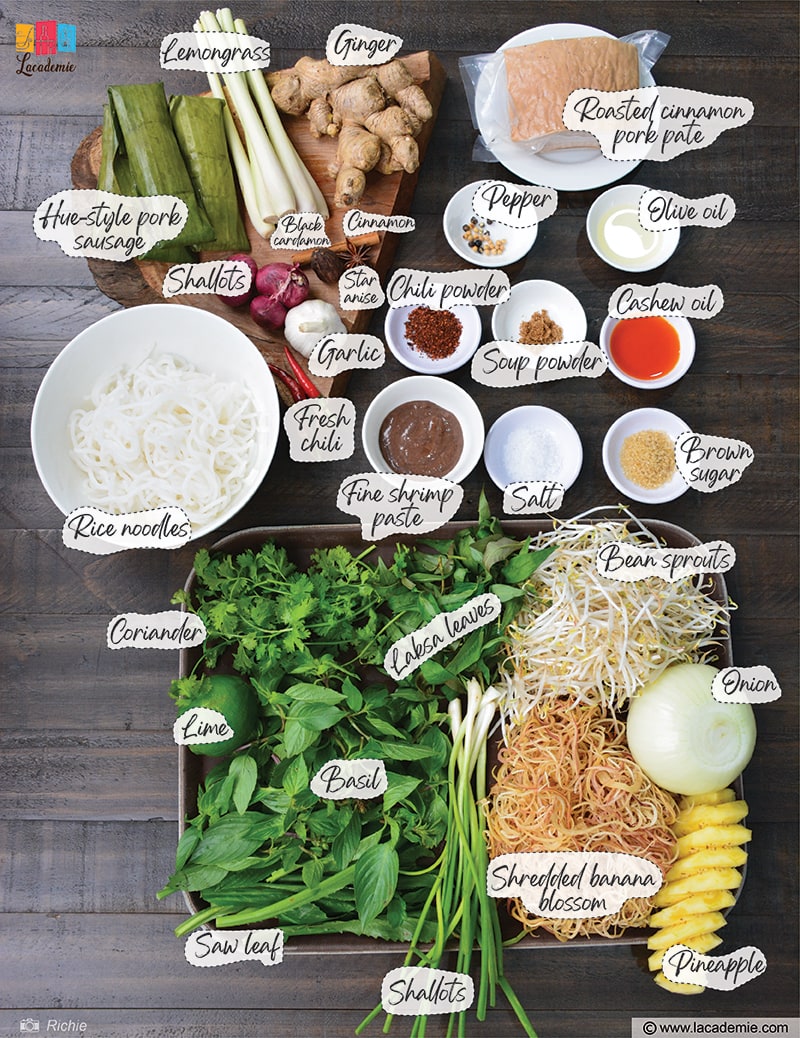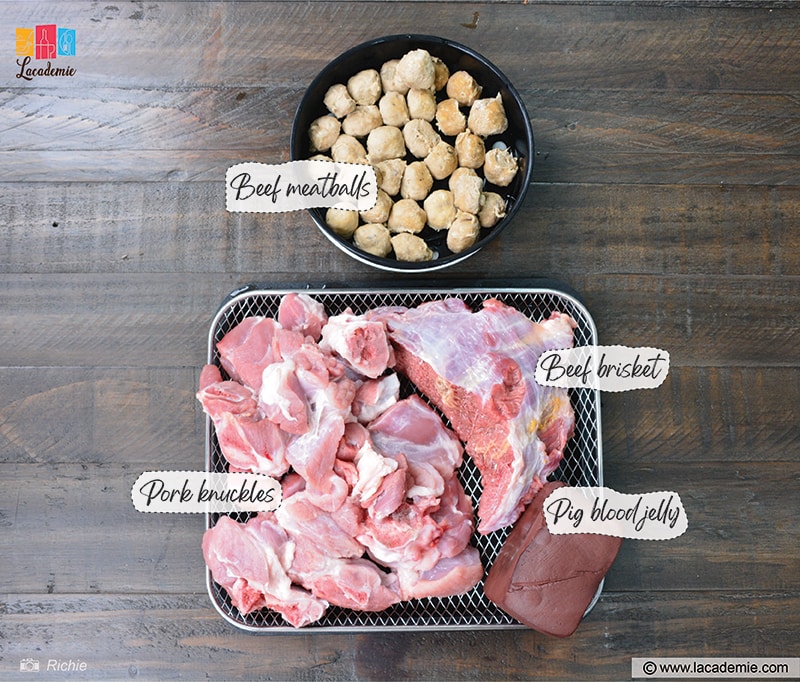 Instructions
If you think the long list of ingredients looks a little intimidating, don't worry because putting them together into a delicious dish is more simple than you think. Here is all that you have to do.
Step 1: Prepare The Ingredients:
Wash the vegetables and let them drain.
Put the following ingredients on the baking tray: pineapple slices, whole onions, shallots, garlic, cinnamon, ginger, anise, and cardamom. Bake in the oven for 15 minutes. Crush the baked ginger with a meat mallet.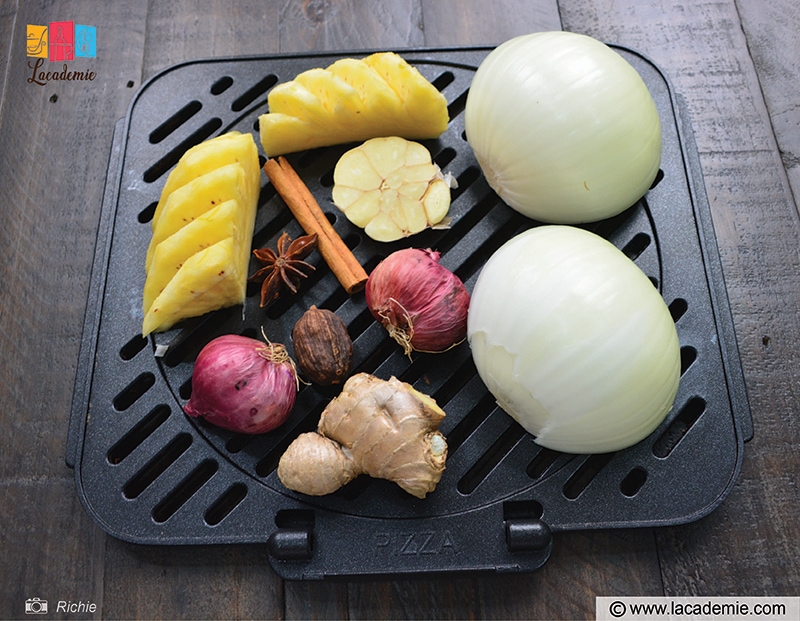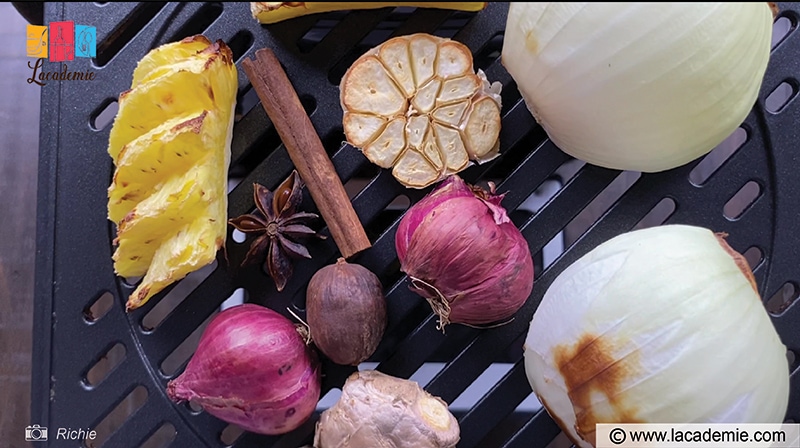 Parboil the meats in a stock pot to clean it. Heat water with salt, ginger, and scallion, then add the beef brisket, pork knuckles, and pig blood jelly. Cook for 3 – 5 minutes with the lid off. Skim off the impurities that float to the top.
After that, get the meats out with a slotted spoon and keep them somewhere cold (with ice or in the fridge) to prevent browning.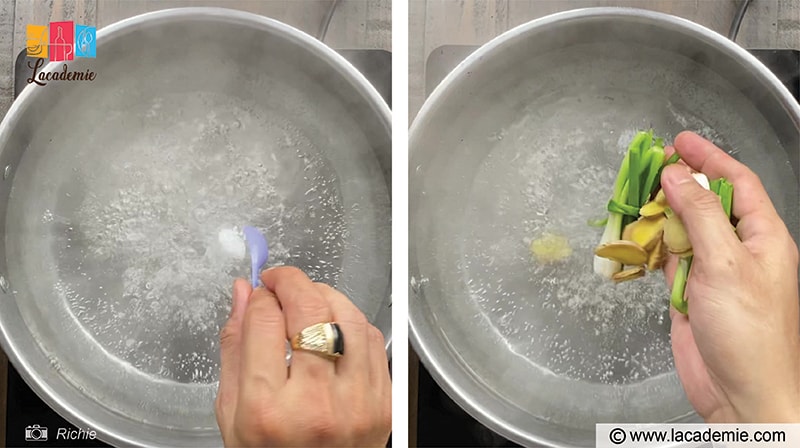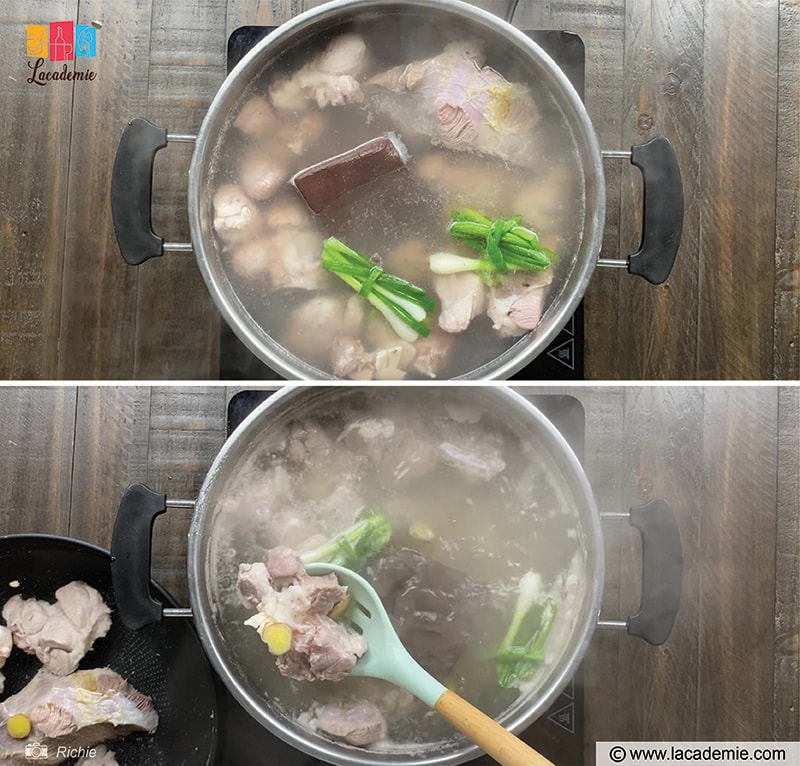 Finely chop 1 lemongrass stalk (you may want to tenderize it with the meat mallet first), 2 shallots, and 4 garlic cloves. Set them aside to make the sate sauce later.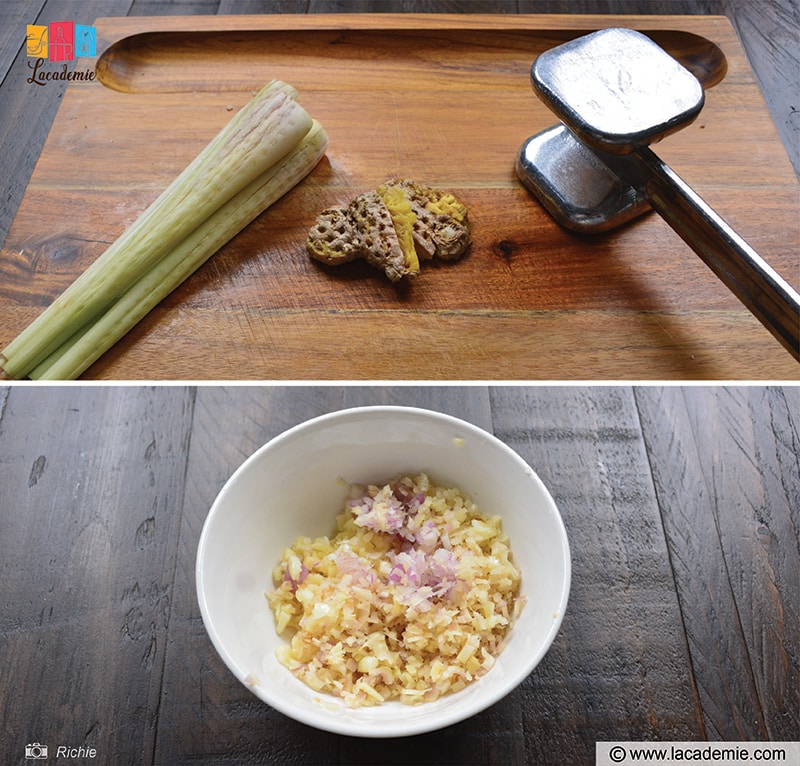 Step 2: Cook The Meats
To the pressure cooker, add the beef brisket, 1 liter of water, half the baked ingredients (minus cinnamon, cardamom, and anise), white pepper, and 3 lemongrass stalks. Set the pressure cooker on stew mode for 20 – 30 minutes.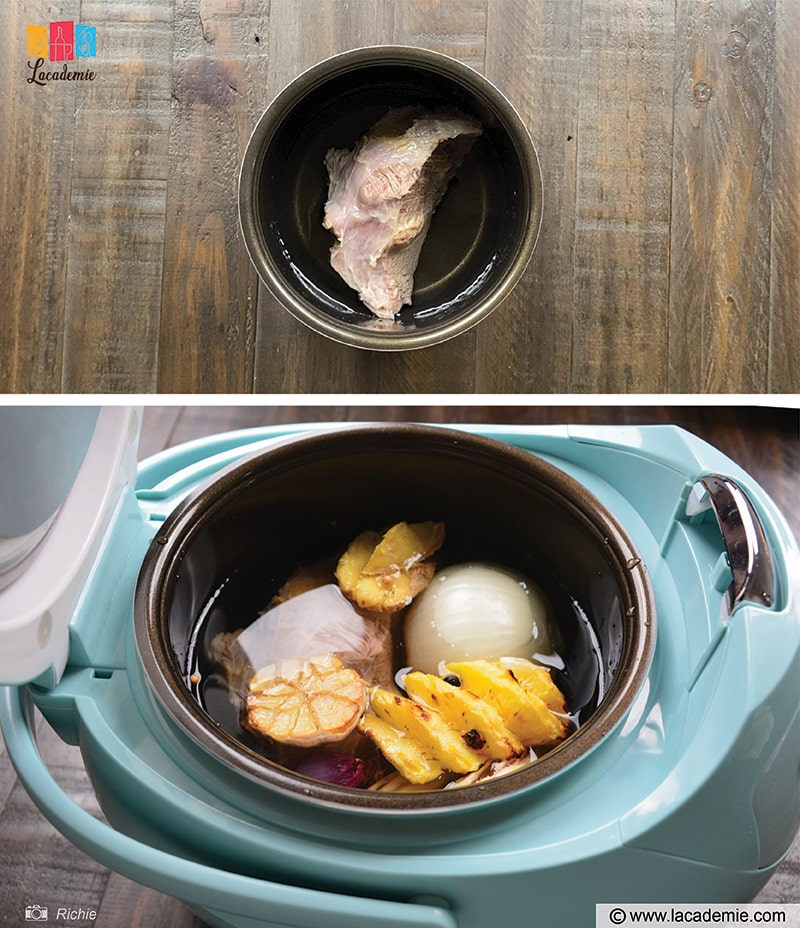 Fill a stock pot with 3.5 liters of water. Add the pork knuckles, the rest of the baked ingredients, 3 lemongrass stalks, 1 teaspoon of salt, and one teaspoon of brown sugar.
Cook on medium heat for 1 hour 30 minutes to 2 hours. Keep the lid off. Occasionally skim off the foam to keep the broth clear.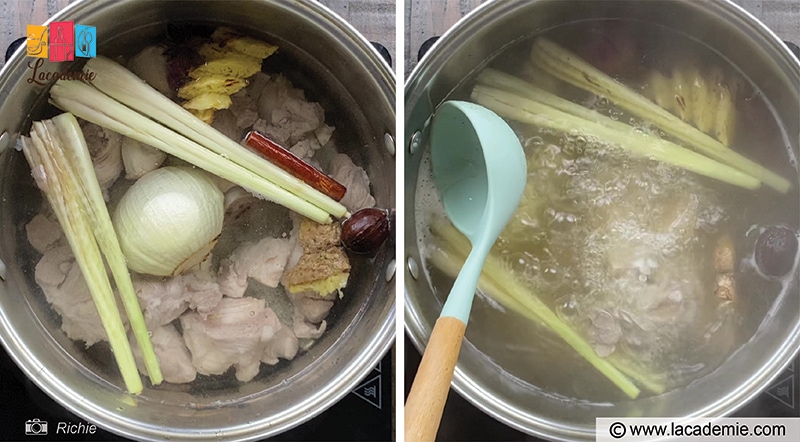 Step 3: Prepare The Sauces
In a saucepan, cook shrimp paste and 2 teaspoons of brown sugar in hot water (a small cup of water is enough). Stir well. When the mixture bubbles, turn off the heat and let it cool.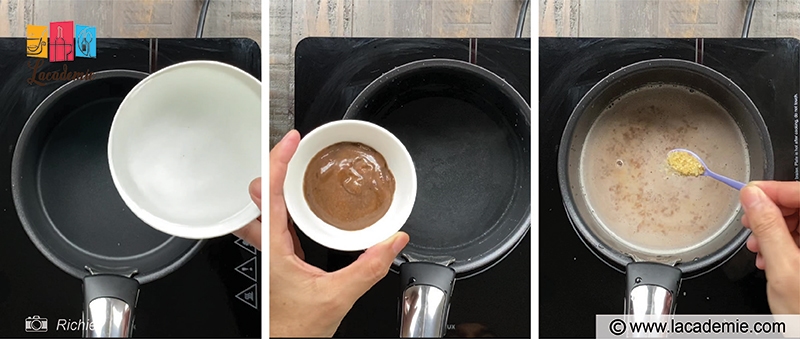 Place a skillet on the stovetop and heat it with olive oil. Sautee the ingredients for the sate sauce (chopped lemongrass, shallots, and garlic) along with chili powder and cashew oil.
Stir constantly until the sauce releases a fragrant smell, then take the skillet off. Don't overcook, or the sauce will get burned.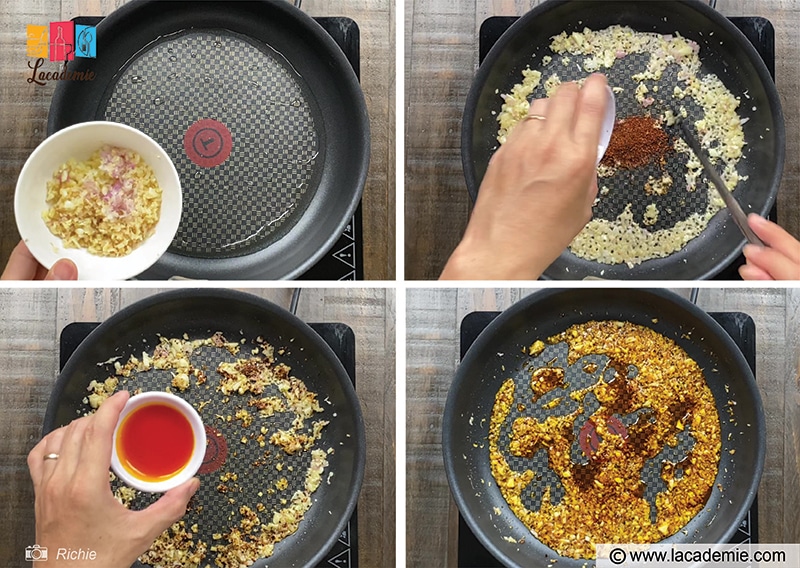 Step 4: Prepare The Noodle Soup
Finely chop onions, scallion, coriander, laksa leaves, and fresh chiles.
Get the beef brisket, pork knuckles, and other ingredients out of the pots. Set the meats aside to cool down and drain.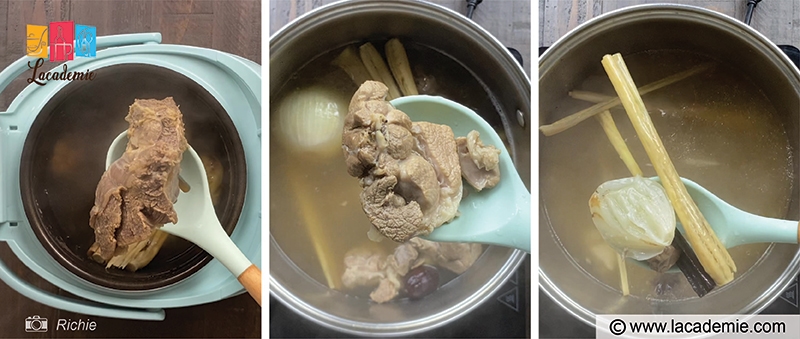 Prepare the broth by pouring the beef stew water, the liquid part of the shrimp paste mixture, and the sate sauce into the pot with pork knuckle stew water. Give it a gentle stir. You can keep a portion of the sate sauce to serve with the finished dish.

Cut the beef, cinnamon pork pate, and pork sausage into thin slices. Dice the pig blood jelly into bite-sized cubes.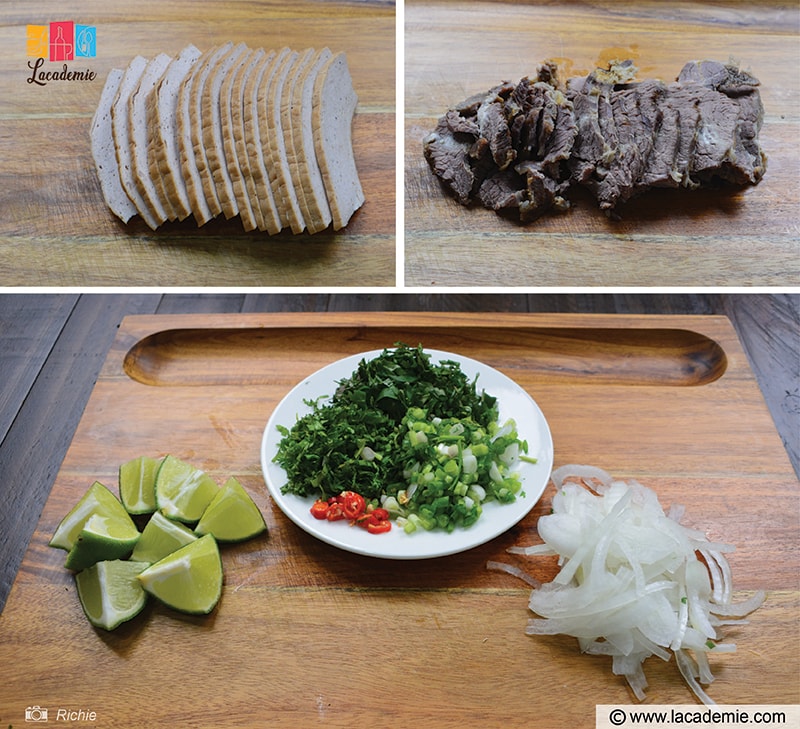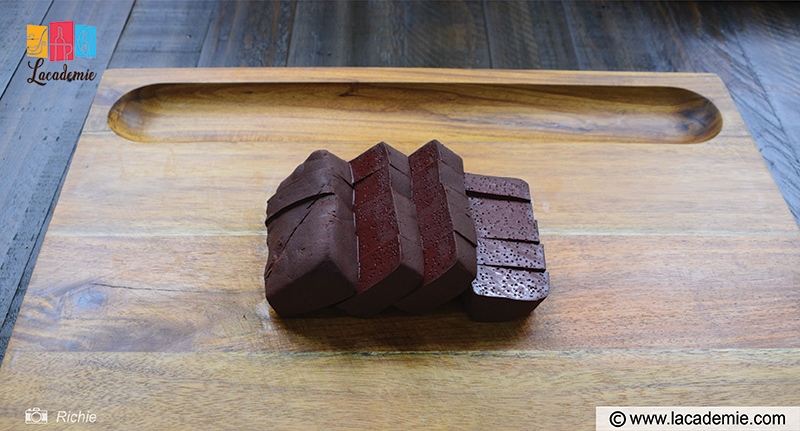 Send the pig blood jelly cubes and beef meatballs into the broth and cook over medium heat for 5 minutes. Add brown salt and brown sugar to taste..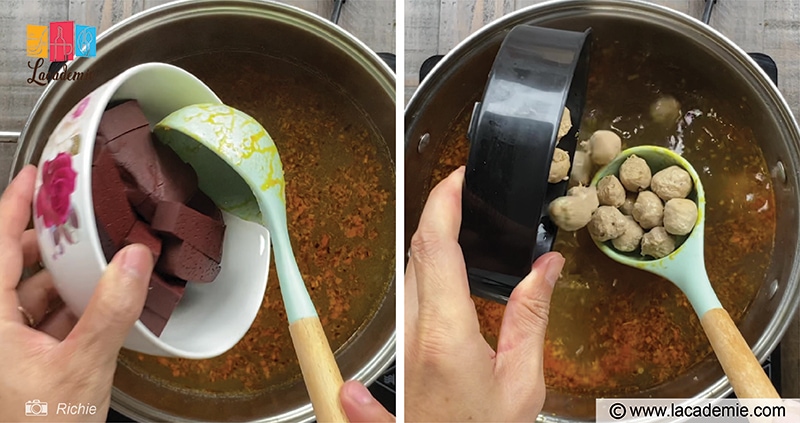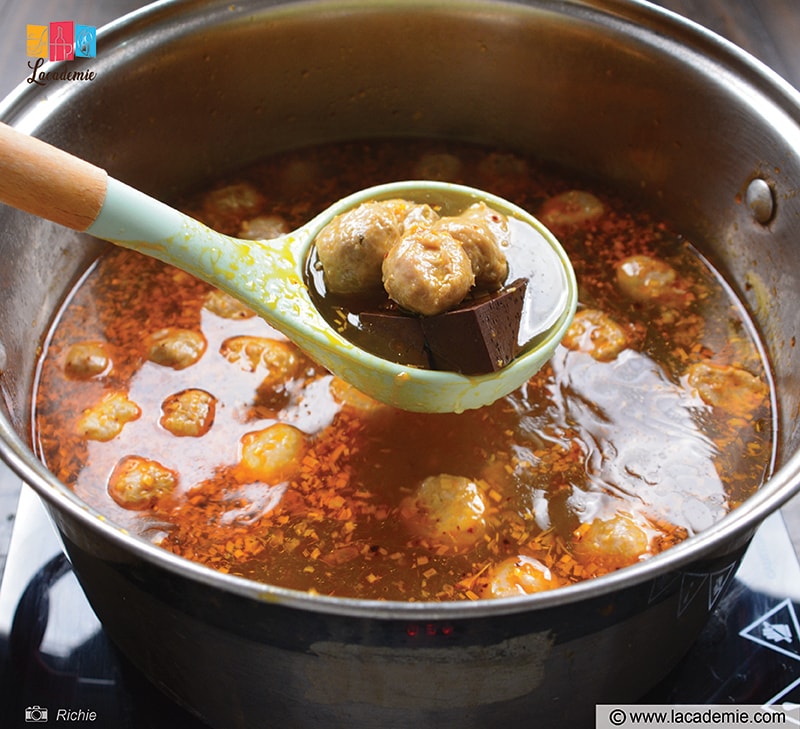 Parboil the noodles in hot water mixed with a little cooking oil (to keep their strands separate) for the best experience.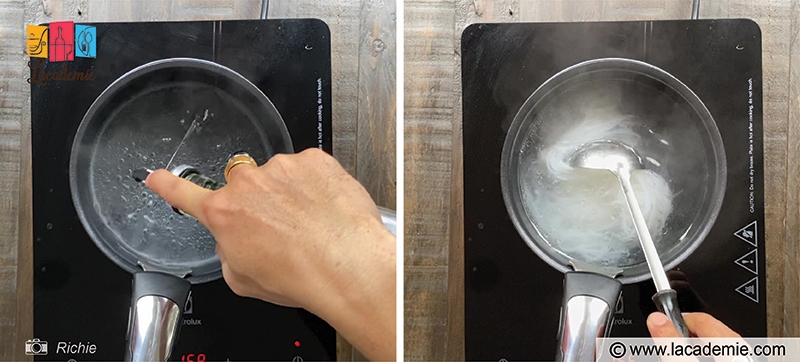 Step 5: Decorate And Serve
Put some noodles in your bowl, followed by slices of cinnamon pork pate, pork sausage, beef, and a pork knuckle on top. Gently pour the broth into your bowl, along with the pig blood jelly cubes and beef meatballs.
Garnish with the chopped aromatic herbs you saved earlier. Serve with fresh greens and sate sauce.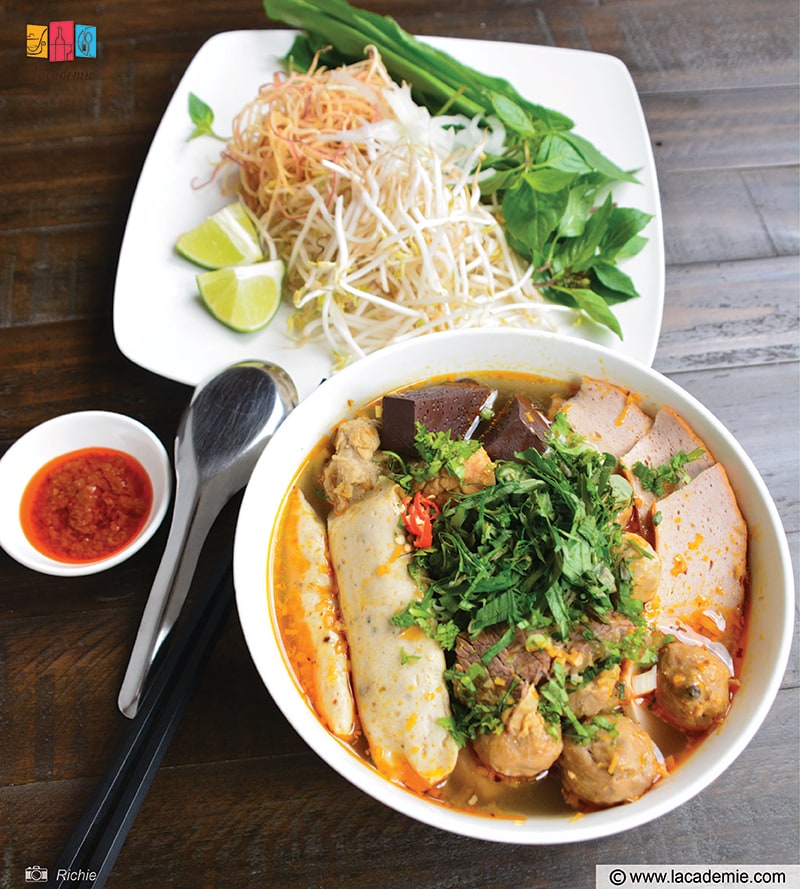 How To Store
If you want to make spicy Vietnamese beef noodle soup ahead, it is best to store the components (noodles, meat, broth, and sate sauce) separately in airtight containers. They can keep their optimal quality for 2- 3 days in the fridge and up to 3 months in the freezer.
Make A Grown Man Cry With Spicy Vietnamese Beef Noodle Soup
You can easily customize this noodle soup to suit your preference. Whether you want to moderate the flavor or use a liberal amount of sate sauce for a tongue-burning sensation, it's all possible.
You probably notice that this recipe boasts a huge amount of protein and isn't really among the healthiest dishes to enjoy on a diet. But if you're looking for an exciting entry into Vietnamese cuisine and a chance to hone your cooking skills, it is worth a try.
What do you think about this recipe? Don't be afraid to share your tips or experiences in the comment section! And please share this post with your friends if you find it useful.
Nutrition Facts
5 servings per container
---
Amount Per ServingCalories754
% Daily Value *
Total Fat 42.4g

65

%
Cholesterol 163mg

55

%
Sodium 1810mg

76

%
Potassium 700mg

20

%
Total Carbohydrate 32.8g

11

%

Dietary Fiber 1.2g

4

%
Sugars 2.8g

Protein 57.1g

114

%
---
* The % Daily Value tells you how much a nutrient in a serving of food contributes to a daily diet. 2,000 calories a day is used for general nutrition advice.