If you want a savory, protein-rich dish, Vietnamese beef stew (Bò Kho) is here to answer your call. While Pho seems to be always stealing the spotlight when it comes to Vietnamese dishes with beef, this specialty will show you another interesting way to use this kind of meat.
You may wonder how your common beef stew differs from the Vietnamese version. Though the melt-in-your-mouth tenderness of the meat is the same, what I'm about to show you will stimulate your nose and taste buds tremendously thanks to a liberal amount of spices.
The side herbs that bear the mark of a tropical country teeming with vegetables are another interesting feature. Let's dive into this guide to know more!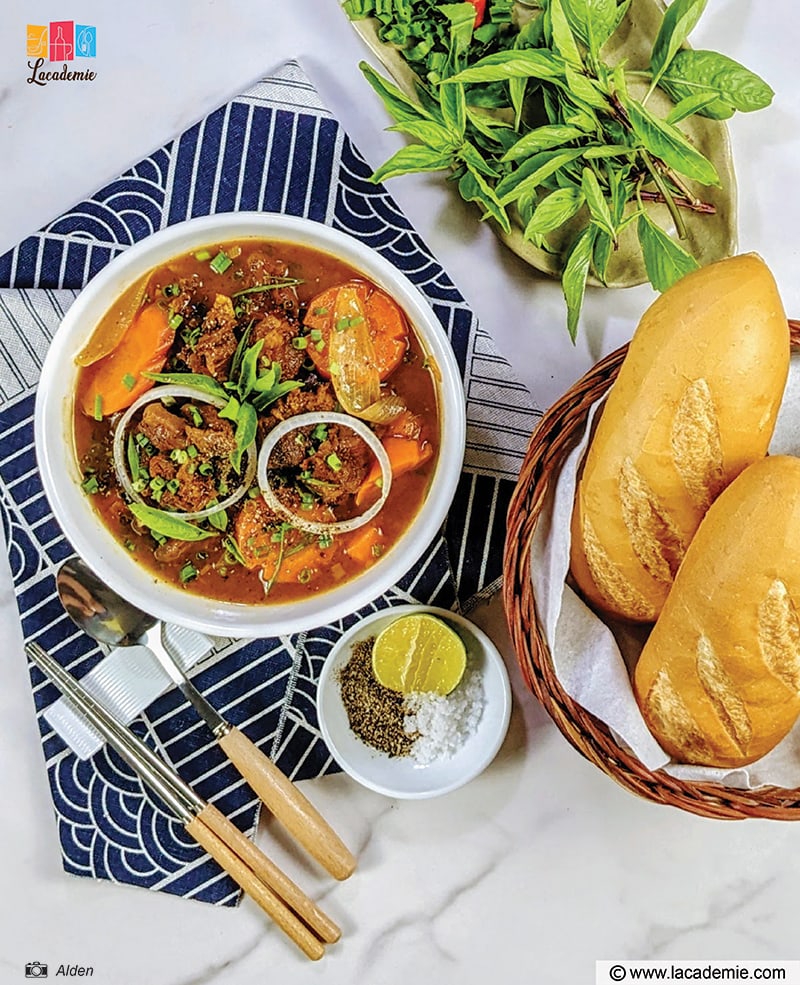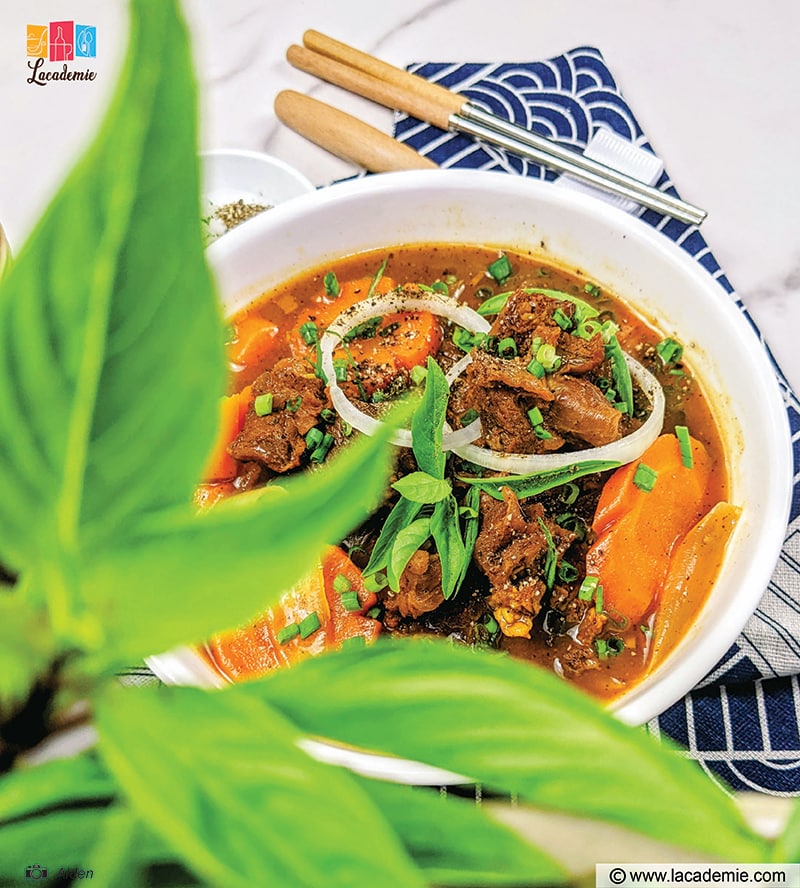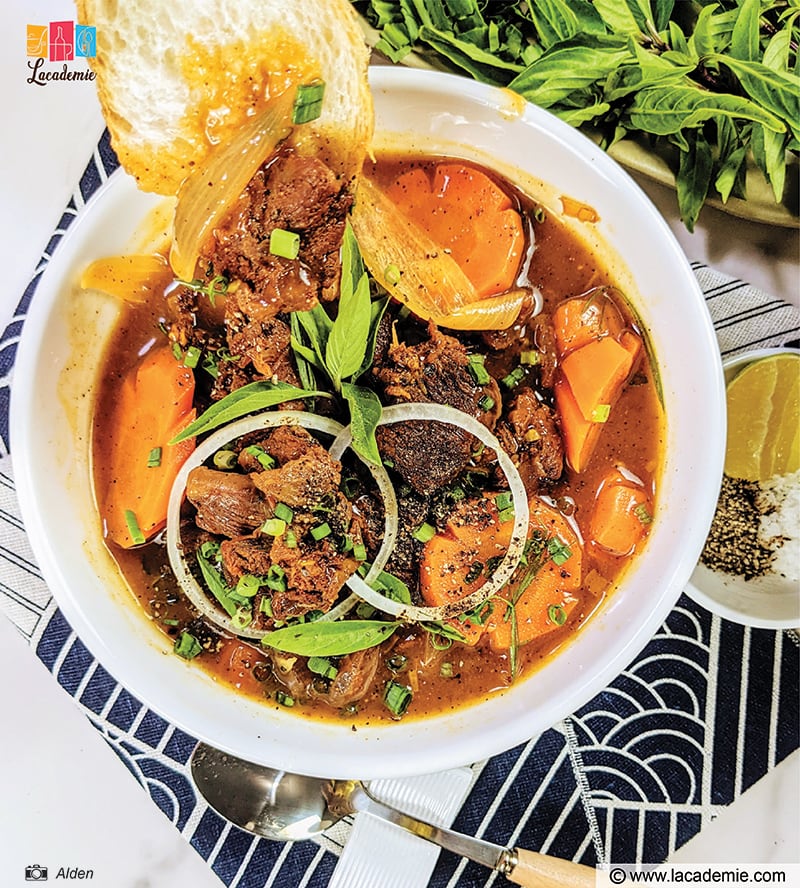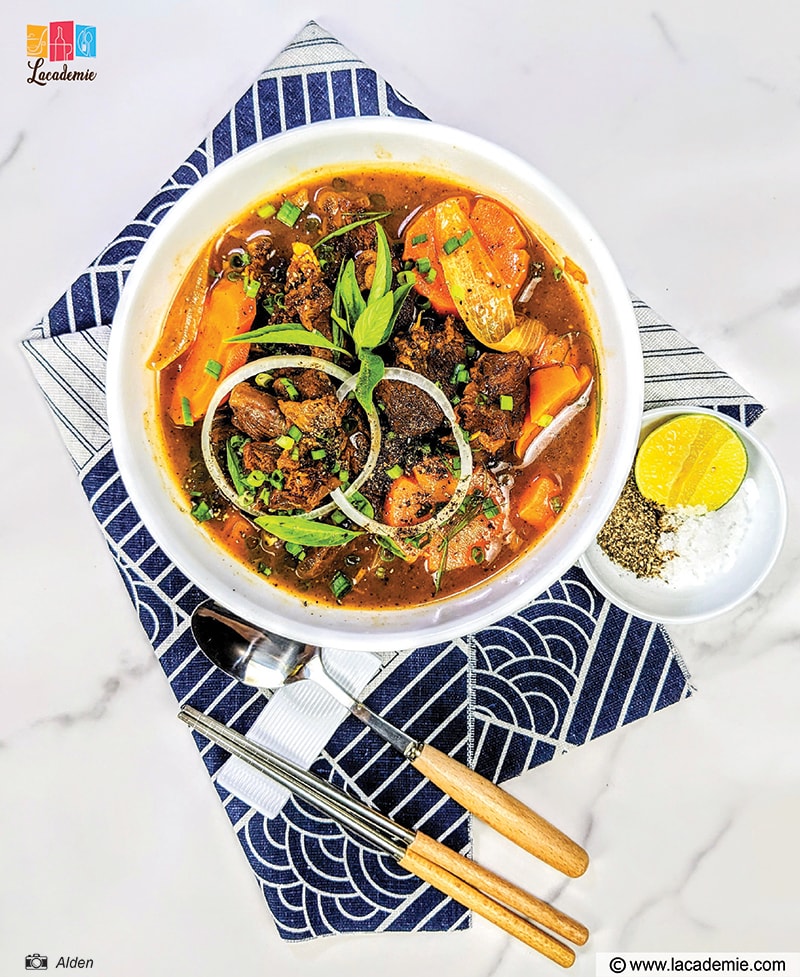 A Few Interesting Things To Know About Vietnamese Beef Stew
If you can speak Vietnamese, the name "Bò Kho" may confuse you. It means something like "braised beef" ("Kho" is a cooking technique close to braising), but this recipe is actually a stew. The word "Kho" probably refers to the step of pan-roasting the beef before stewing it.
Compared to other famous dishes, Vietnamese beef stew is relatively young. People created it sometime around the mid-20th century in south Vietnam. Local Chinese communities had a great influence on the regional cuisine, contributing to its differences from Western counterparts.
In Vietnam, locals usually serve this stew dish with short, crisp-crusted Vietnamese baguettes and aromatic herbs. The latter creates an amazing symphony of flavors in your mouth, from savory beef, tender stewed vegetables, mildly sweet bread, and strong, peppery herbs.
That's why many Vietnamese people love to cook this dish for a scrumptious family meal or intimate gatherings. It is also a popular dish for breakfast and lunch in the country. A hybrid dish known as Hủ Tiếu Bò Kho (Vietnamese beef stew with noodles) also earns the same status.
Tools
As you may guess, this recipe requires the same set of kitchen tools as any beef stew. There is no need to buy anything new.
Mini stock pot: for pan-roasting and later stewing the beef. You can choose a bigger or smaller pot depending on how many servings you want to cook for. Possible substitutes are Dutch ovens or deep frying pans with lids.
Chopping board and knives: for preparing the beef and vegetables.
Tongs: for getting seared beef cubes out of the pot more easily. If you can do so with other tools (like a spatula or pair of long chopsticks), omit this one.
Spatula: for sauteing the vegetables.
Soup ladle: You can't cook a good stew without them. The slotted ladle is for removing the aromatic spices from the pot after cooking.
Mini chopper: for mincing the aromatics. You can use a food processor instead.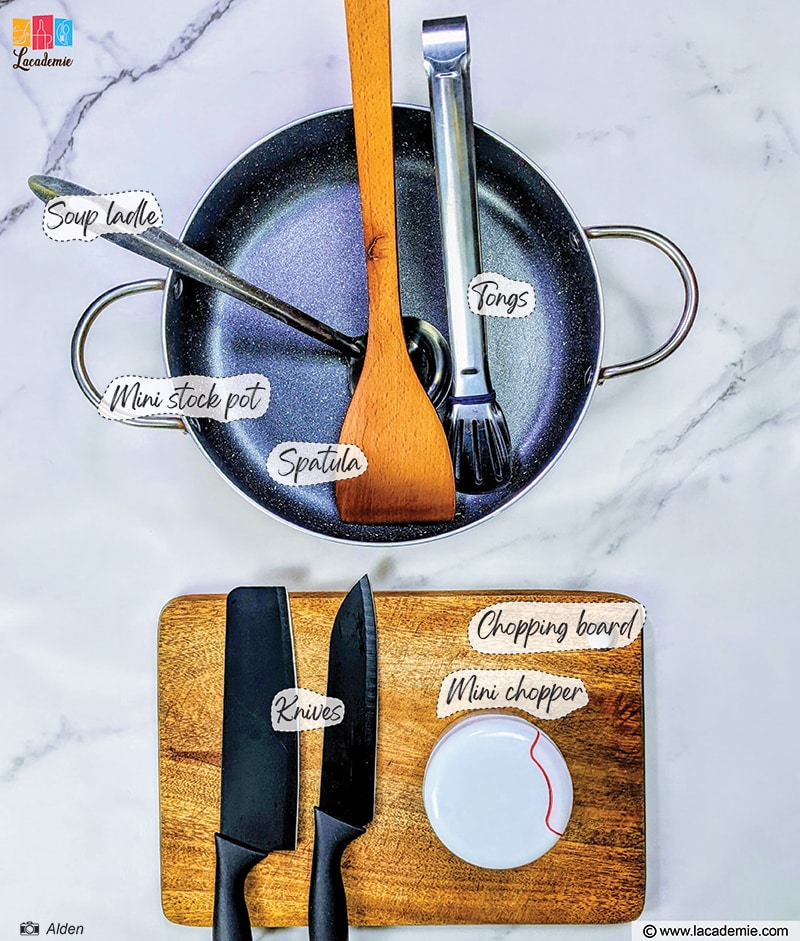 Ingredients
In this recipe, the devil is in the spices and herbs. You may need a trip to an Asian food store to get the necessary ingredients, though online retailers and big supermarkets may offer what you need.
Beef: the best cut of meat for this recipe is beef shank because of its leanness and intense flavor. Beef chuck is another great choice.
Onion: for adding more flavors to the stew.
Tomatoes: A rich stew should be balanced with the tanginess of these veggies.
Carrots: No beef stew is complete without fork-tender carrot pieces.
Aromatics: garlic, shallots, lemongrass, star anise, cinnamon, bay leaves, etc.
Spices and condiments: Vietnamese fish sauce, brown sugar, five-spice powder, black pepper, chili powder, ginger powder, turmeric powder, cashew powder, minced lemongrass, etc.
While you can buy commercial Vietnamese beef stew seasoning, I recommend making your own so that you can customize it to your liking.
Coconut water: This is the liquid used for cooking genuine Vietnamese beef stew. Interestingly, you can replace it with soda water.
Cornstarch: for thickening the stew in case you want to serve it with bread.
Side herbs: scallions, saw leaves, and Thai basil. The last one is extremely important and present in any variation of Vietnamese beef stew.
Vietnamese baguettes: Many locals consider it the most popular starchy side dish to serve with Vietnamese beef stew. You can replace it with other types of bread, rice noodles, or plain rice.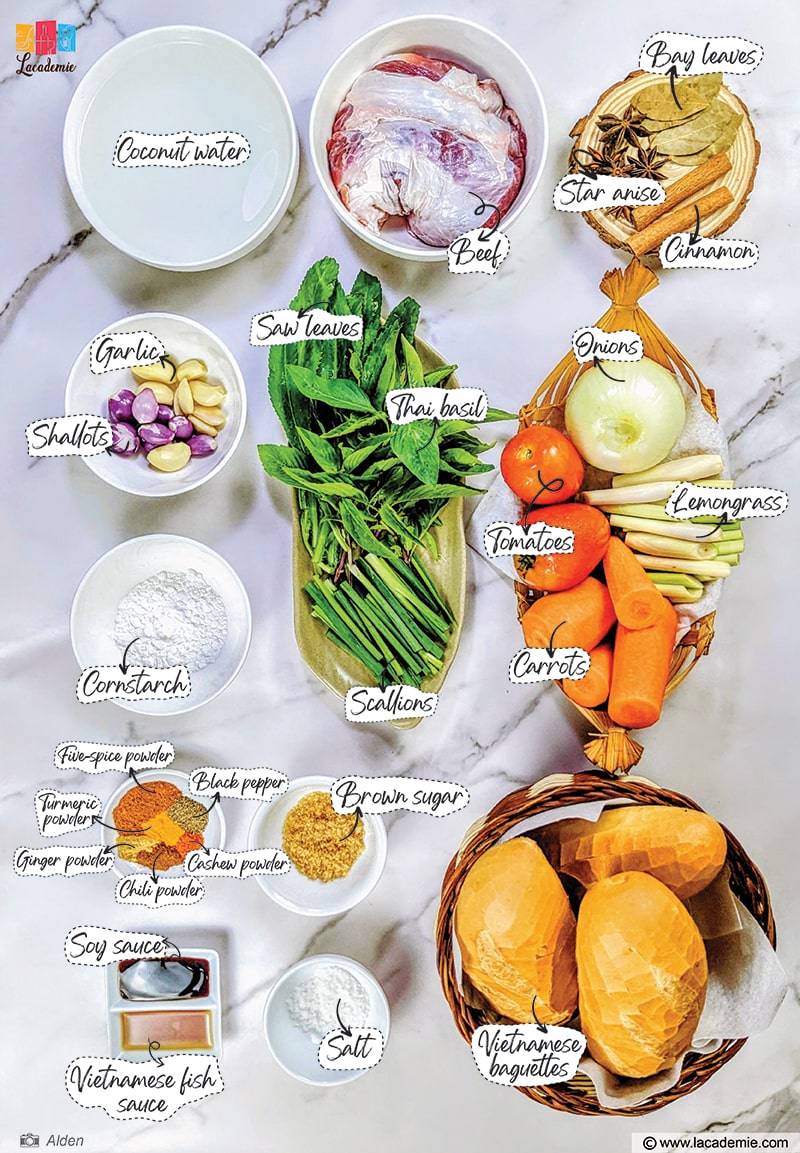 Instructions
Have you got all the ingredients yet? It's time to turn on the oven and treat yourself to an amazingly fragrant version of beef stew.
Step 1: Prepare The Vegetables
Cut the carrots into thick slices (but still thin enough to cook evenly). You can increase the visual appeal of the dish by turning the slices into flowers.
Cut the onion into wedges. For the tomatoes, quarter them and dice into cubes.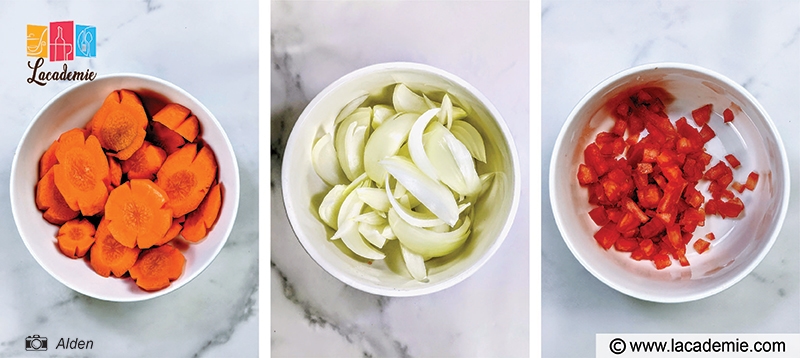 Use a mini chopper to mince lemongrass, garlic, and shallots separately. To make this process smoother, you should slice the lemongrass stalks first. Don't mince all the lemongrass: save some stalks and cut them into baton-like pieces for later.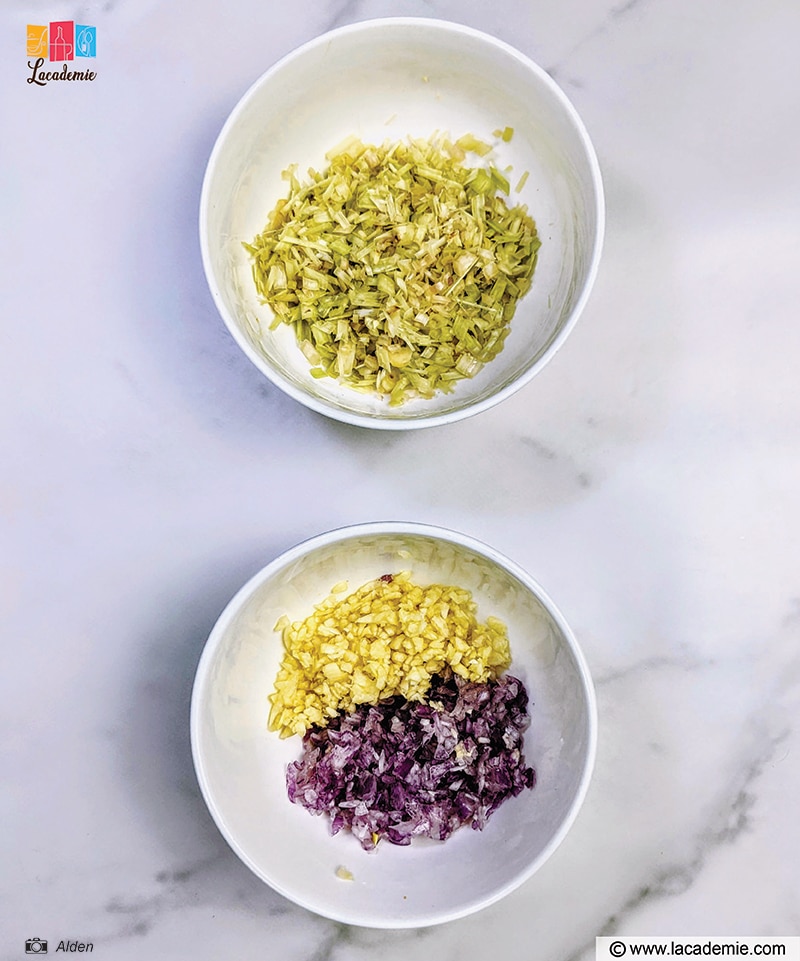 Step 2: Marinate The Beef
Cut the beef into bite-sized cubes.
Soak the meat in a mixture of minced aromatics (lemongrass, garlic, shallots), five-spice powder, turmeric powder, ginger powder, cashew powder, black pepper, chili powder, Vietnamese fish sauce, brown sugar, and oyster sauce.
Mix vigorously and marinate for 20 – 30 minutes.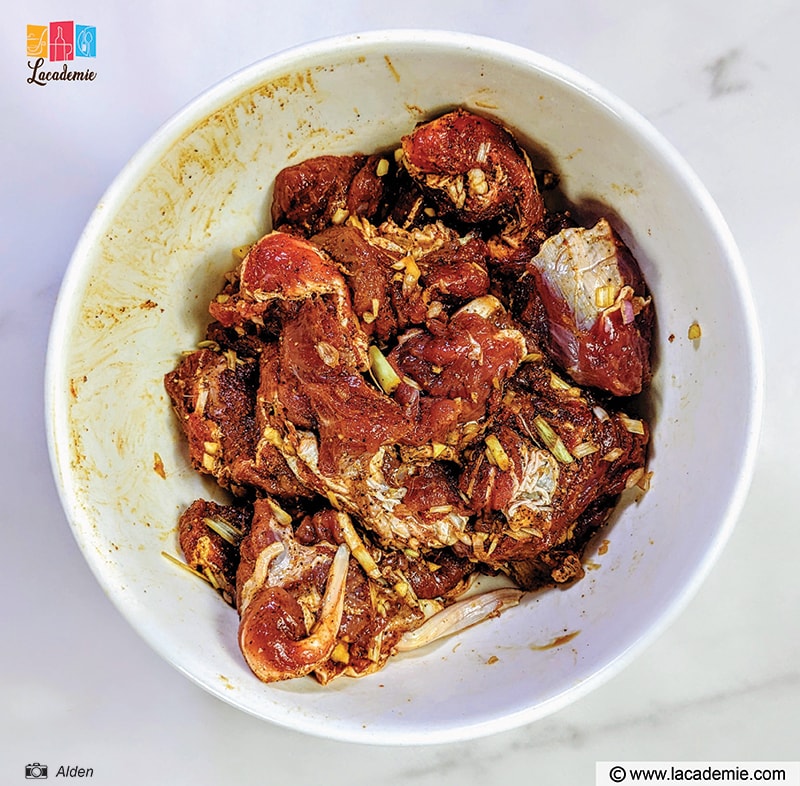 Step 3: Stew The Beef
In the mini stock pot, sear the beef cubes on all sides for a few minutes. Set aside.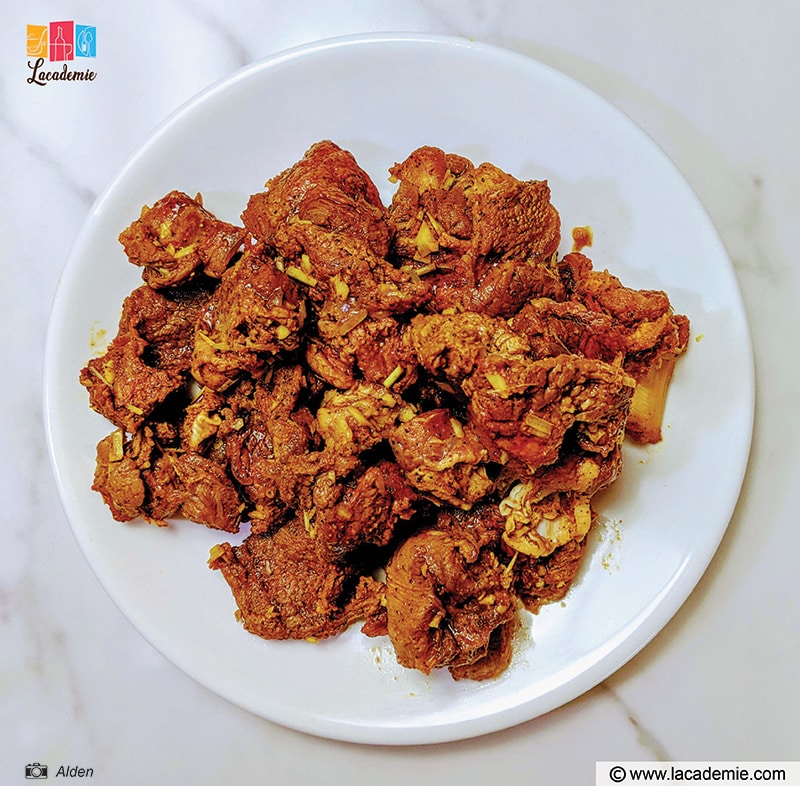 Saute minced shallots and garlic in olive oil, then add tomato cubes to the pot. Stir-fry until they turn soft.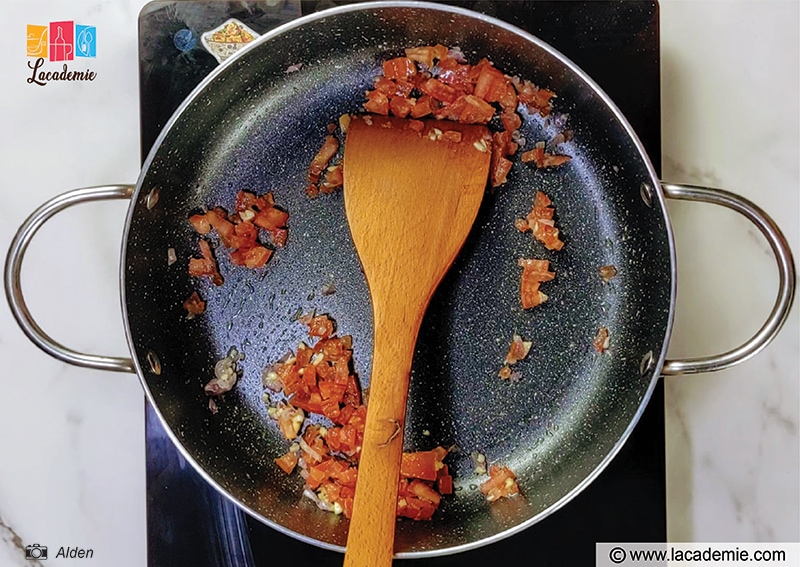 Add minced garlic and lemongrass batons, then cook until fragrant. Return the beef to the pot and give a good stir.

Add star anise, cinnamon sticks, and bay leaves to the pot. Cook for 2 minutes.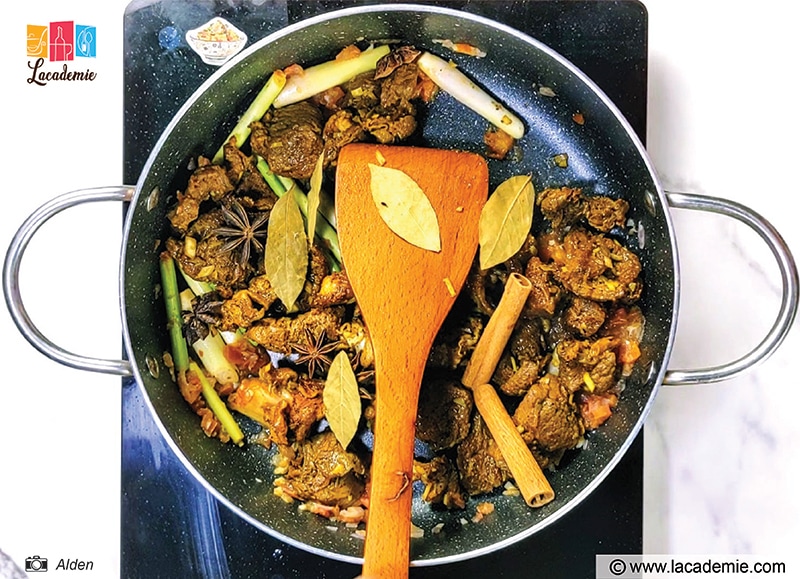 Pour coconut water into the pot and turn down the heat. Season with salt and brown sugar, then stew for 1 hour 15 minutes. Add more coconut water to the pot if the liquid evaporates during the process.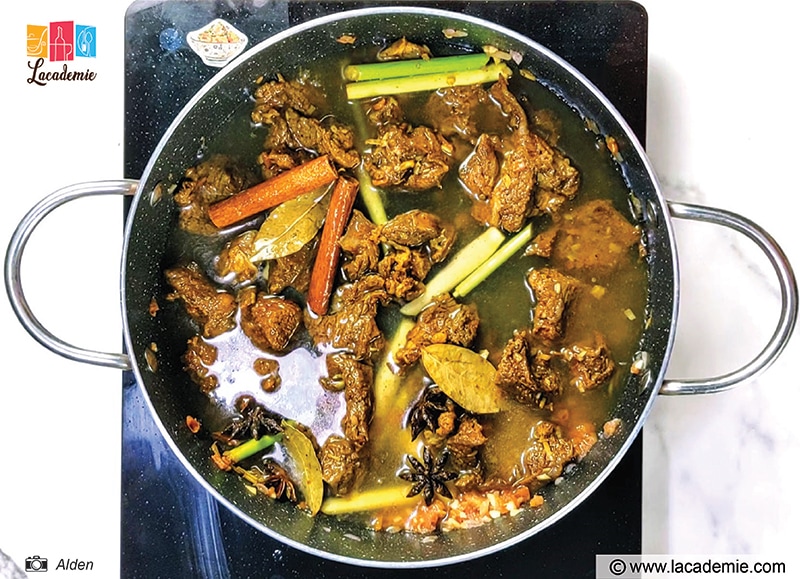 Add carrot slices and cook for another 15 minutes.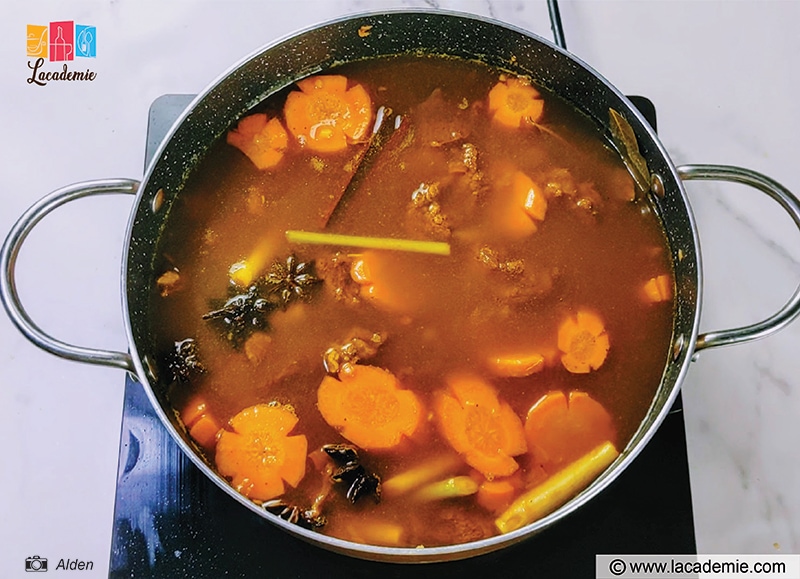 Step 4: Decorate And Serve
Remove star anise, bay leaves, cinnamon sticks, and lemongrass batons from the pot.
Turn up the heat and add onion wedges.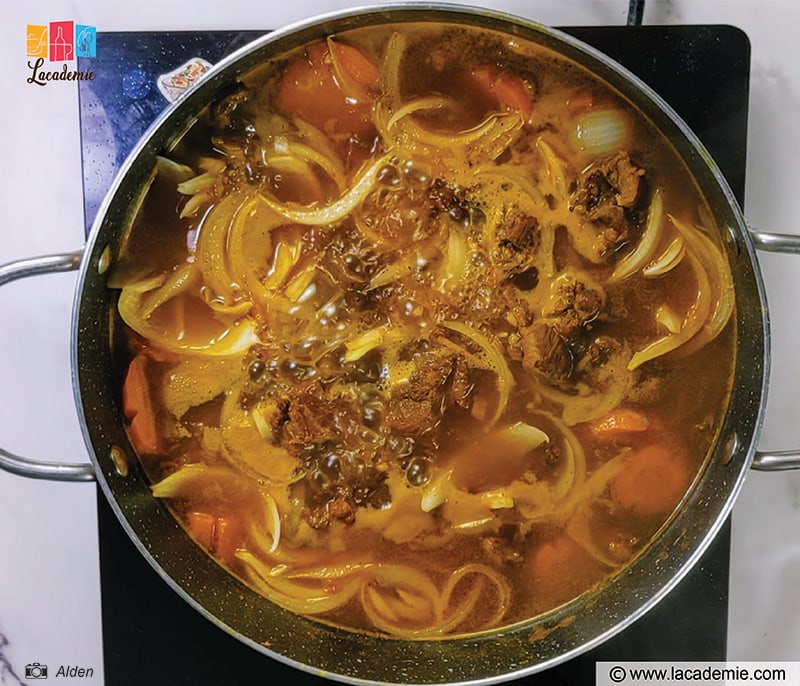 Mix cornstarch with a little water, then stir the mixture with the stew to thicken it.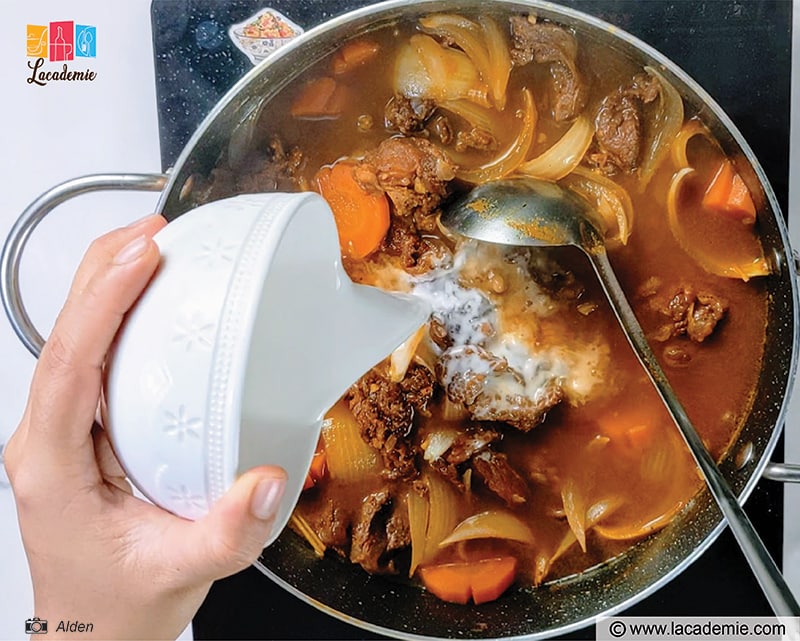 Garnish the stew with Thai basil, scallions, and onion slices/ rings on top.
Tricks And Tips
Here are a few details you should know before putting your apron on. Though simple, they can make a difference in your stew.
You should choose a tough cut of beef that has both muscles and marbled fat. When properly simmered, it will turn out tender enough and give you an excellent mouth feel of richness and savoriness. That's why shank or chuck steak is the best choice.
The beef will shrink after being cooked, so don't slice the meat too thinly.
Don't add too many aromatics and spices to the broth. Otherwise, you won't experience the full flavor of the beef.
The cornstarch is to help the broth become sufficiently thick so that you can dip pieces of baguettes in it. If you plan to enjoy the stew with rice or rice noodles, omit this ingredient.
You can roast or bake star anise and cinnamon sticks lightly to improve their fragrance. Smashing the lemongrass for the same effect.
Storage
If you want to save your Vietnamese beef stew for later, transfer it to a sealed container when it cools down. In theory, the fridge will help you keep it edible for 3 – 4 days, while the freezer can increase the storage time up to between 4 and 6 months.
In reality, you can push beyond that time frame, like refrigerating the stew for a few weeks. However, I suggest you finish it within the limits set above for the best experience.
Be Still With Beef Stew: Your Favorite Vietnamese Dish Is Here
I hope you have had a whale of a time cooking this monstrously delicious stew. Has your kitchen turned fragrant with its refreshing herbal scent yet? Unlike many Vietnamese dishes that require a lot of vegetable sides, this one only asks for a few popular herbs, making it easy to prepare.
How convenient is it! I'm sure you will love it, and so will your friends if you introduce this post to them, so please do so. Feel free to ask any questions or share interesting tips in the comment section. Happy cooking, and see you soon!
Nutrition Facts
3 servings per container
---
Amount Per ServingCalories577
% Daily Value *
Total Fat 12.4g

19

%
Cholesterol 149mg

50

%
Sodium 3417mg

143

%
Potassium 2015mg

58

%
Total Carbohydrate 54.3g

18

%

Dietary Fiber 9.8g

36

%
Sugars 17.9g

Protein 60.7g

120

%
---
* The % Daily Value tells you how much a nutrient in a serving of food contributes to a daily diet. 2,000 calories a day is used for general nutrition advice.