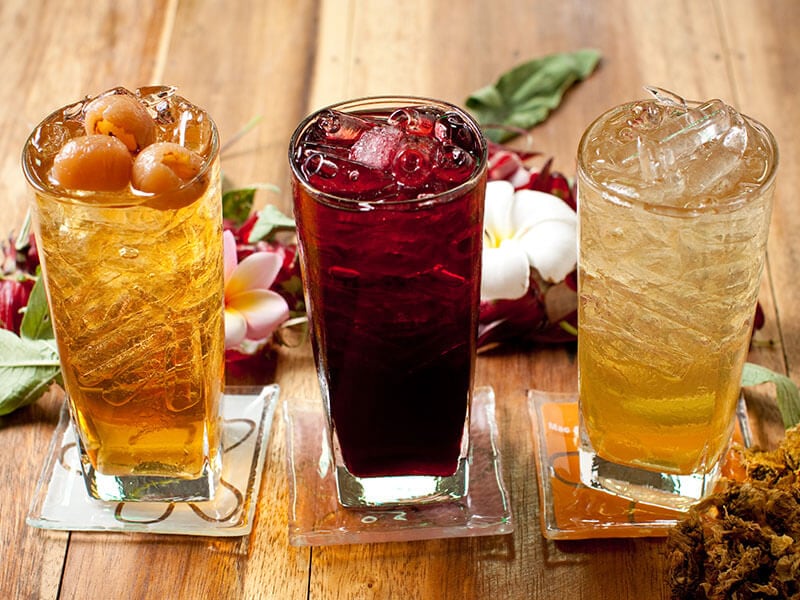 If you want to survive Thailand's scorching heat, you need these Thai drinks. These incredibly refreshing beverages will not only satisfy your thirst, but they can also help you discover new things about this country's cuisine culture.
Because there are countless delicious drinks in Thailand, the never-ending drink menus might exhaust you. So here's a rundown of the most irresistible alcoholic and non-alcoholic drink items that you can't ignore if you have the chance to visit Thailand. Enjoy!
4 Fruity Drinks In Thailand That You Should Never Miss
The easiest way to mentally escape the insufferable heat in Thailand is to drink a cold fruity juice or smoothie. Check out these fruit-based drinks below and try them out during your visit.
Non-alcoholic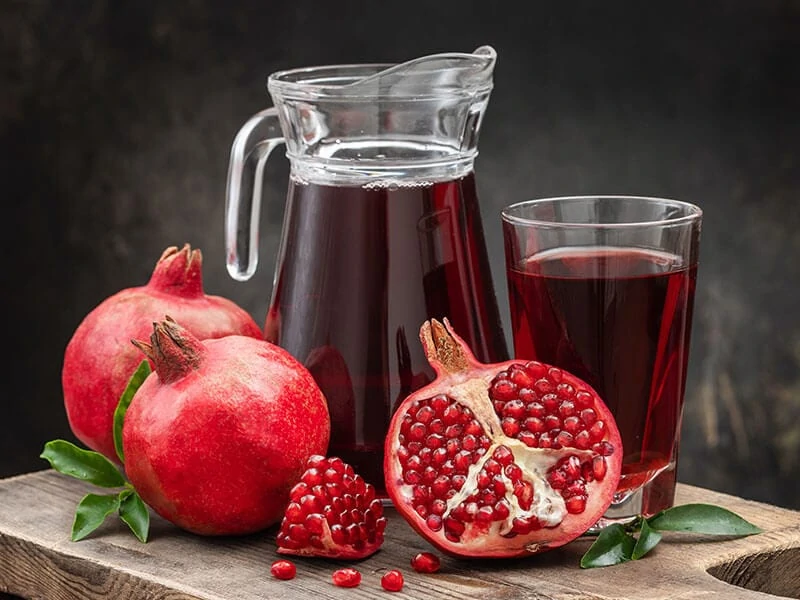 What can be more refreshing than a cup of freshly squeezed pomegranate juice? Although Thailand has countless fruits and fruit juices varieties, pomegranate juice is still one of their favorite drinks.
Besides being delicious and energizing, pomegranate juice is also high in vitamin C, fiber, and antioxidants. Many Thai beverages are high in sugar, so it's great to have a drink that benefits your health rather than harming it.
While strolling through the local markets, you will often catch sight of the street stalls selling fresh pomegranate juice in slender plastic bottles. Remember to buy from the stalls that make the juice right before you.
Where to find it: This drink is available at many street vendors in Thailand markets as well as the local cafes and restaurants.
Curious about how Thai vendors make pomegranate juice for their customers? Take a look!
Non-alcoholic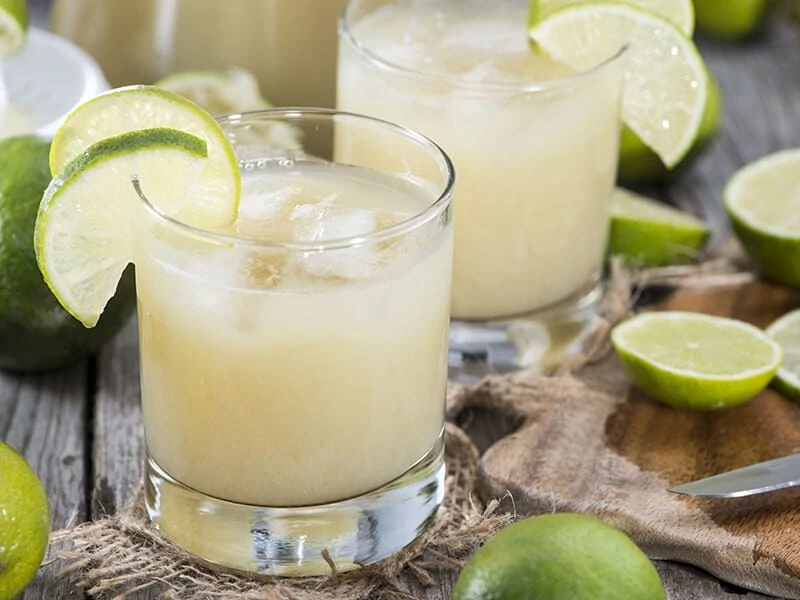 Nam Manao is a simple combination of lime juice, water, and sugar. It's a simple, refreshing tropical beverage comparable to those found in hot climate countries. For example, an identical drink called Nước Chanh is one of Vietnam's most popular beverages.
The street vendors in Thailand usually sweeten Nam Manao with sugar, but Thai restaurants often serve this drink with sugar syrup on the side. The sweet and tangy flavor of lime juice perfectly complements the spicy dishes of Thai cuisine.
Where to find it: You can find it in many cafes, restaurants, and street vendors across Thailand.
3. Smoothie
Non-alcoholic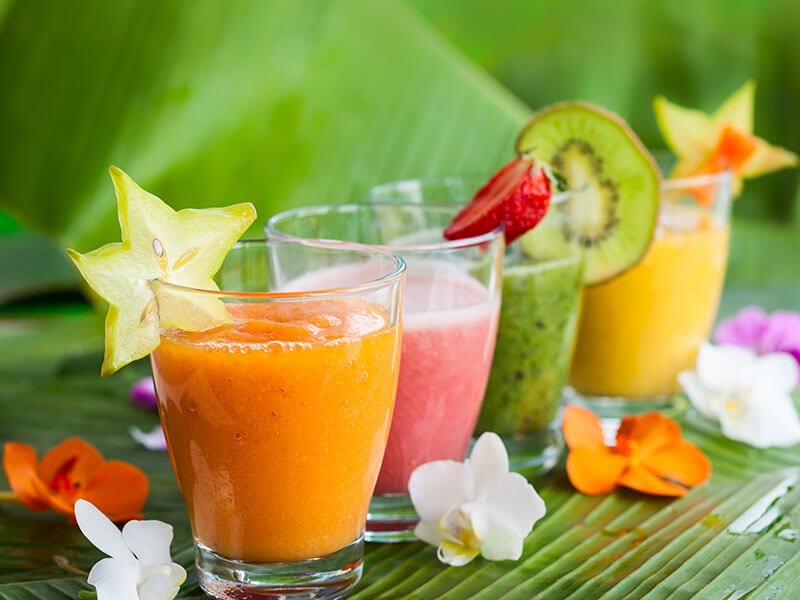 The Thais know how to take advantage of its abundant supply of exotic fruits. This extravagant Thai street treat can be made in all types of fruits, such as watermelon, dragon fruit, carrot, apple, or pineapple.
The climate in Thailand allows many varieties of fruits to grow year-round. Because of that, the smoothies in this country always taste fresh and delicious.
Plus, some Thai smoothies can provide specific health advantages. Some of them can aid digestion and are recommended in a healthy diet.
Where to find it: This drink is in cafes, restaurants, and street vendors across Thailand.
Let's visit Train Night Market Ratchada in Bangkok and see how vendors make their smoothies!
4. Coconut Water
Non-alcoholic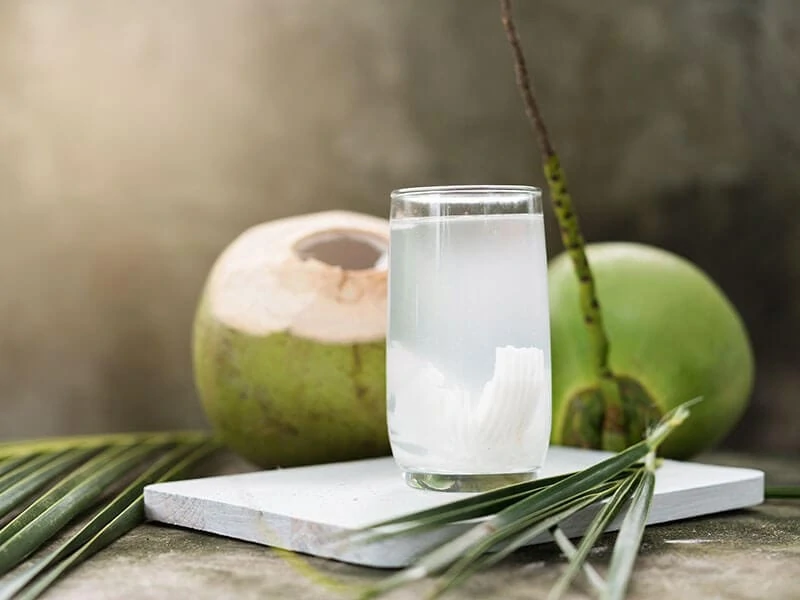 Either it's bottled or drunk straight from a coconut, this is undoubtedly one of the most iconic drinks in this country. Fresh Thai coconut water is famous for its delectable flavor, cooling effects, and nutritional benefits.
When you buy coconut water in a local market, it will almost certainly come with thick, juicy pieces of shaved coconut. Some vendors will mix it with lots of sugar water to give it a taste boost.
Where to find it: This drink is available in Thai cafes, restaurants, and street vendors. Bottled coconut water can also be found in convenience stores and supermarkets.
3 Iconic Dairy-Based Thai Drinks That You Must Try Once
Milk is a common and essential drink in almost every country worldwide, including Thailand. Although it tastes great on its own, the Thais also incorporate it in many traditional drink recipes. Here are the most recommended ones:
Non-alcoholic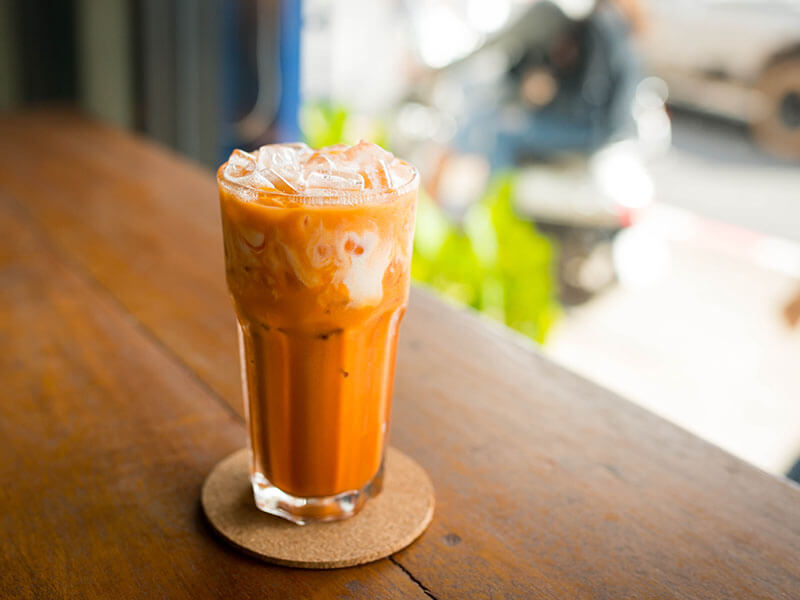 This iconic milk tea drink is a must-try street dish in Bangkok, but it has also gained popularity overseas. This flavorful iced tea contains strong black tea, milk powder or condensed milk, sugar, and spices. Nowadays, most locals use pre-packed tea since it is more convenient.
Usually, Cha Yen can be identified by its distinctive orange color. However, this actually comes from artificial coloring. The authentic tea should have a natural amber color.
Cha Yen usually comes with ice. Some vendors will modernize it by adding tapioca pearls and different toppings to the drink. You can even ask for an unsweetened version (Mai Waan).
Where to find it: This drink is available at the local markets, motorcycle food carts, cafes, and restaurants for only 15THB to 20THB. Store-bought versions are also available in convenience stores and supermarkets.
Want to know how the locals make Cha Yen? This will help you out!
Non-alcoholic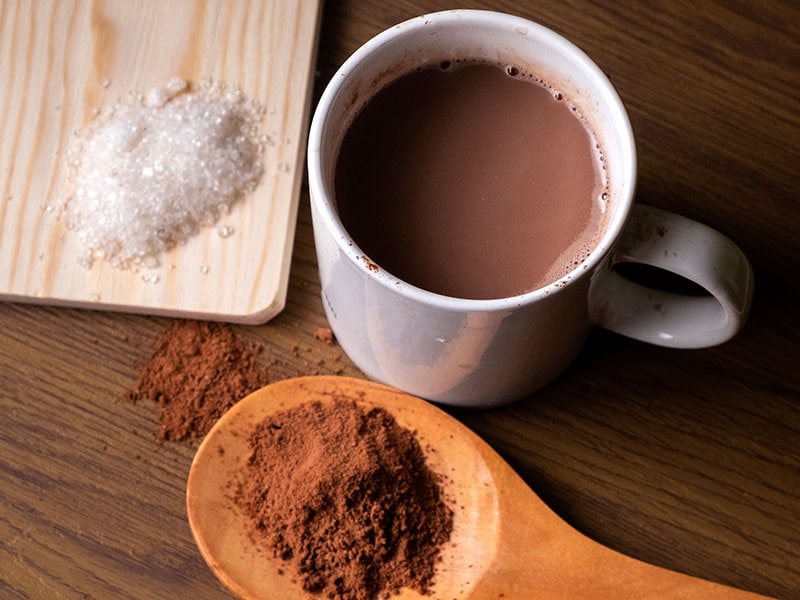 This chocolaty, malty drink is extremely popular in Asia, especially Southeast Asia. Despite its Australian origin, this drink has made its way into Thai cuisine and created a significant impact on the life of the locals.
Locals sell Milo milk in almost every cafe, restaurant, street vendor, or convenience store. The ones served in cafes or restaurants are always more expensive, so I recommend buying this drink from the street stalls near you.
Where to find it: This drink can be found at any convenience store and supermarket. Locals also serve it in cafes and restaurants.
Non-alcoholic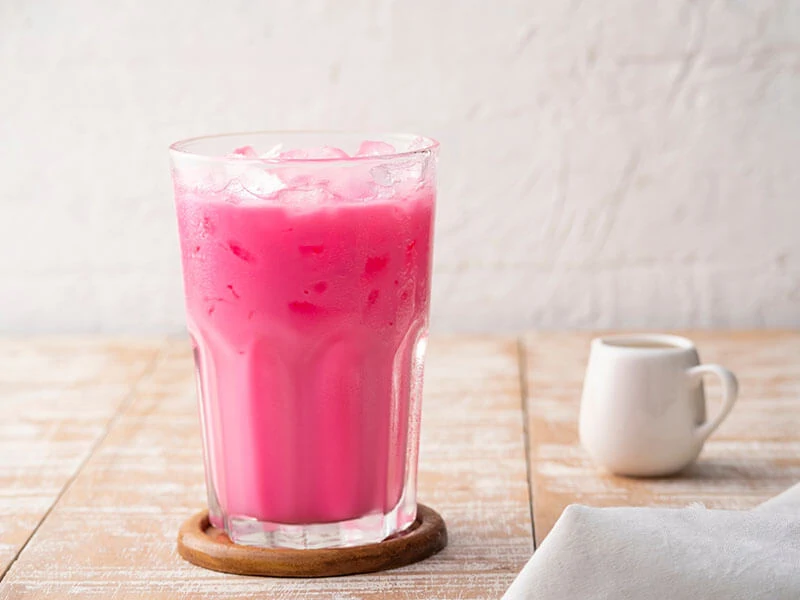 Nom Yen, which literally means "iced milk" in Thai, is a famous Thai sweet treat with its unique pink color. This drink is basically cold milk flavored with sala syrup. Sala syrup gives Nom Yen a distinct vibrant color and a unique sweetness.
This refreshing drink is perfect for balancing off the spiciness of traditional Thai recipes. The locals love to enjoy this drink on a hot summer day while walking through the markets.
Nam Yen is extremely popular with Thai children. Knowing this, Thai vendors often sell Nom Yen in plastic bags outside elementary schools.
Where to find it: This drink is available at the street stalls around Thailand, especially outside Thai elementary schools.
Let's see how street vendors in Thailand usually make Nom Yen!
3 Delightful Alcoholic Beverages To Explore In Thailand
How about something boozier? Thailand offers lots of tasty alcoholic drinks to help you clear away toxins and relax your brain. So take a look at your best options in this section below!
8. Mekhong – Thai Spirit
Alcoholic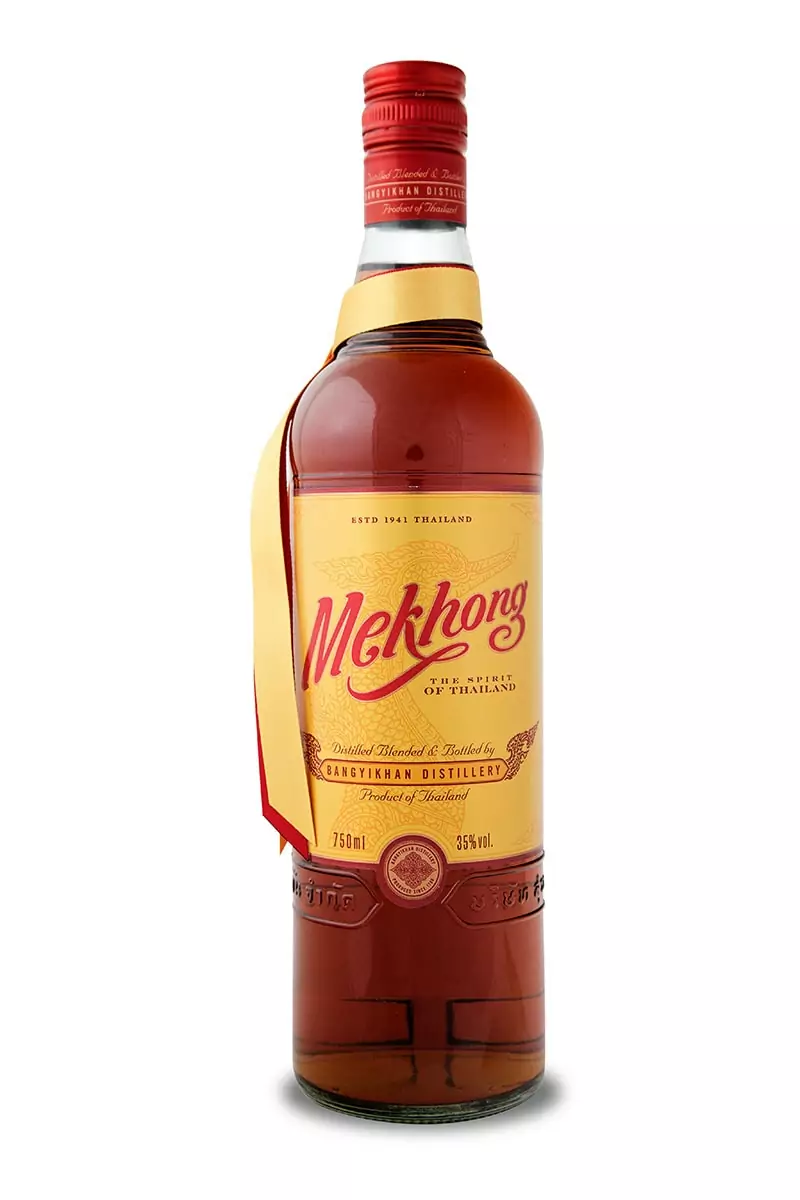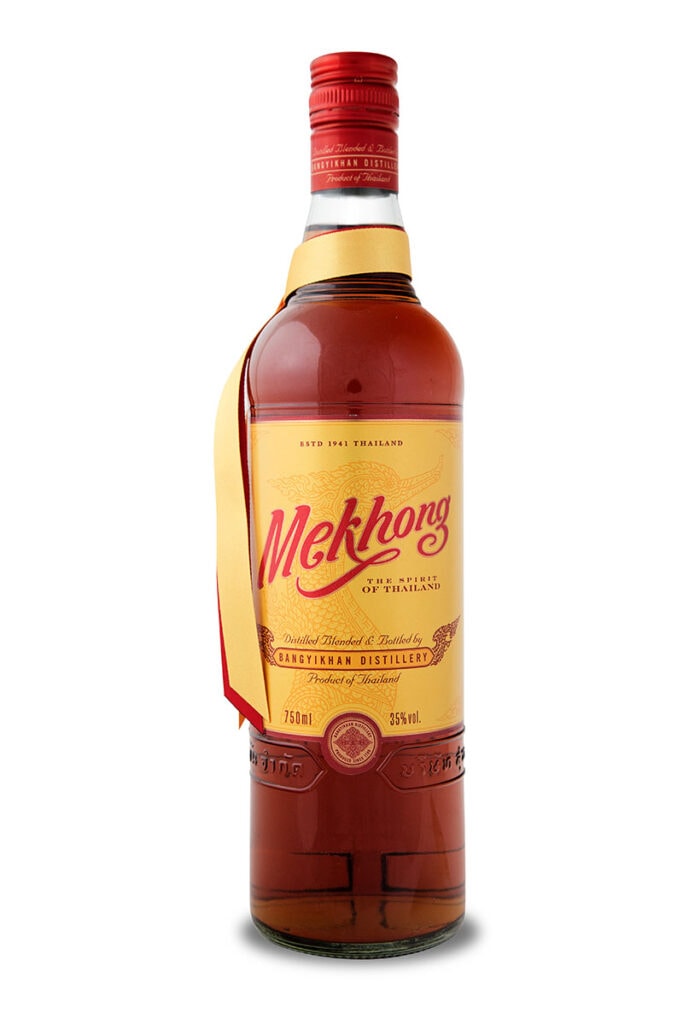 Named after an important river in Thailand, Mekhong was the country's first-ever domestically produced spirit. Ever since its introduction in 1941, this beloved alcoholic drink has been a staple of Thai cuisine.
The locals create Mekhong from 5% rice and 95% molasses. The locals also enrich it with caramel, giving the drink its signature golden color.
Mekhong has a unique sweet and spicy aroma, with an herbal and aromatic scent due to a huge amount of herbs and spices in the spirit.
This local rum is either served dry with ice or incorporated in cocktails, with the most famous creation being Sabai Sabai, a cocktail that mixes Mekhong with lemon juice and soda.
Where to find it: This drink is in supermarkets or enjoyed at a local bar or pub.
If you want to know what Mekhong tastes like, check this out!
Alcoholic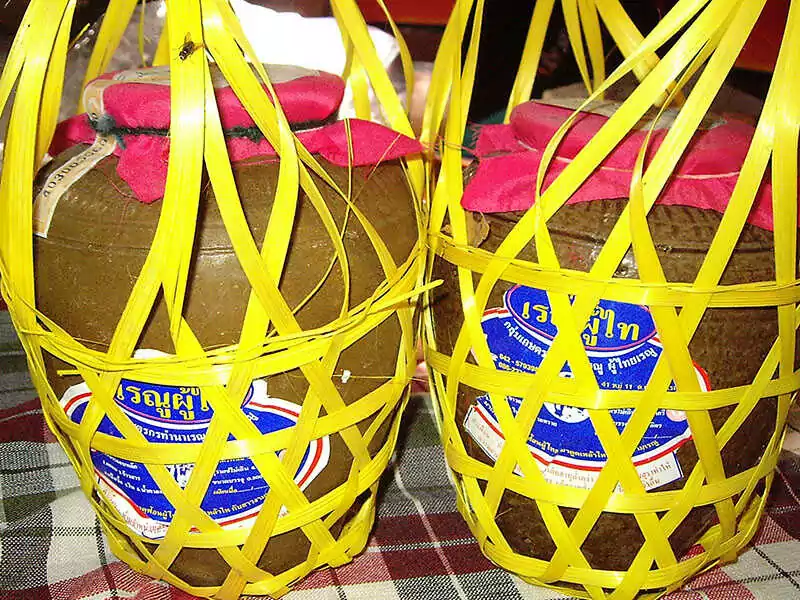 This home-brewed rice wine has its origin in the Northeast of Thailand. To create this signature drink, Thai brewers mix steamed sticky rice with lukpaeng, a wine starter made from rice starch, yeast, herbs, and spices. After a few weeks of fermenting, the winemakers will filter it.
Drinking Sato is a well-known tradition in Isan, a region in Northeast Thailand. Sato has become more prominent because of the internal migration of people from Isan across Thailand.
Thai people love to enjoy Sato on all of their special occasions as it helps keep Thai proud tradition alive. Locals often serve this drink at room temperature in a giant bowl so the guests can dip their own cups in it.
Where to find it: This drink is available in Thai markets, especially the ones in Isan.
10. Singha – Thai Beer
Alcoholic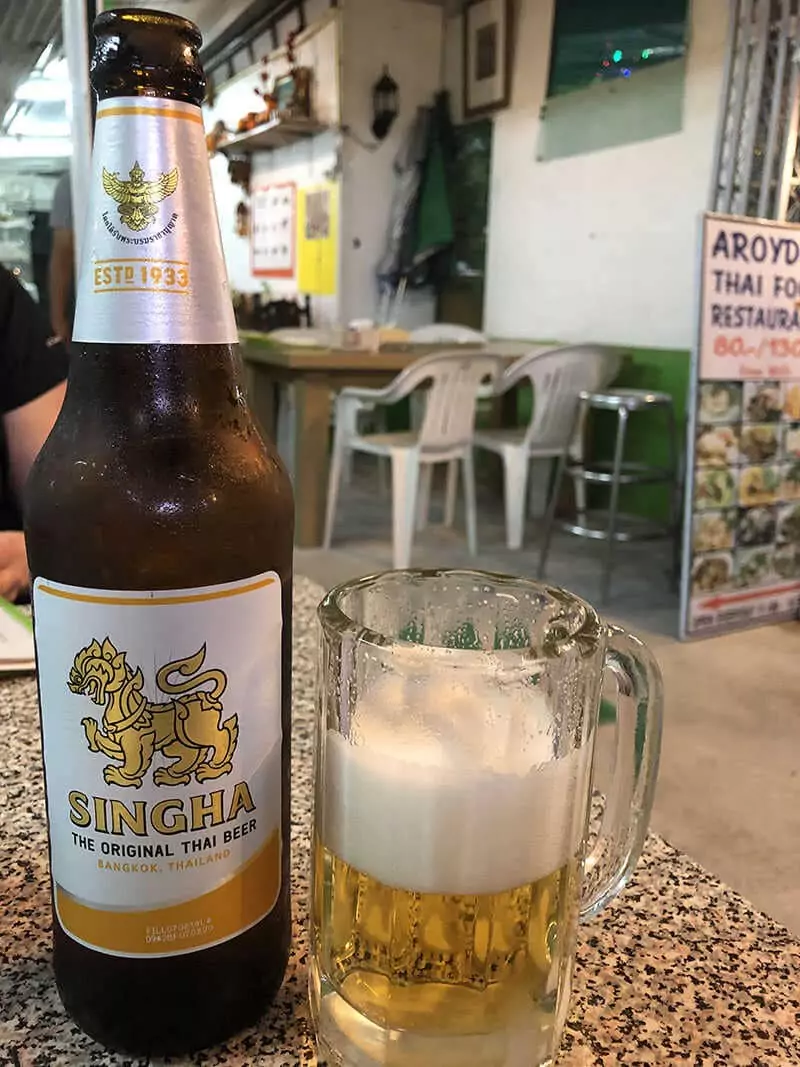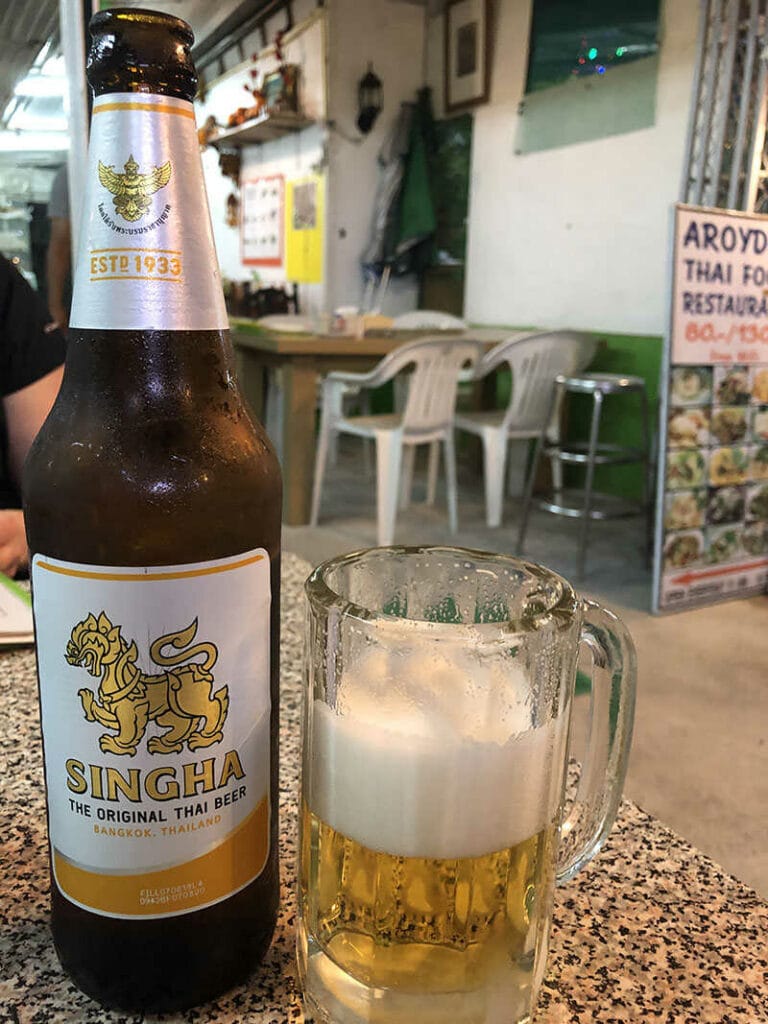 Singha is undoubtedly the most recognized Thai beer in the Western Market. What sets this beer apart from others in the market is its strong malty flavor and intense alcohol level for a mass-produced beer (6% APV).
Winemakers create this drink from high-quality barley malt, three types of European hops, and 100% artesian water. The full-bodied brew has a golden yellow hue and distinct rich flavor. This beer tastes fantastic when paired with delicious Asian dishes.
This iconic Thailand alcohol is widely affiliated with significant sports clubs such as Manchester United. It even has a partnership with the Red Bull Formula One Racing Team.
Where to find it: This drink is in almost every supermarket, bar, pub, and convenience store in Thailand.
11. Sang Som – Thai Rum
Alcoholic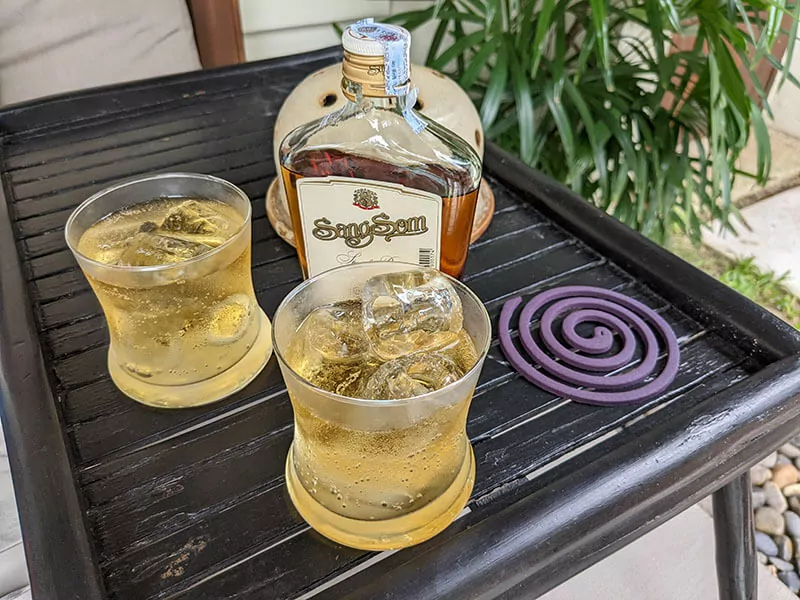 Sang Som is a sort of Thai rum made from distilled sugarcane or distilled molasses. Similar to Mekhong (the Thai spirit I mentioned earlier), this golden classic contains plenty of herbs and spices, which give it a deep, earthy flavor that no one can resist.
Sang Som has been the best-selling spirit in Southeast Asia ever since its introduction to the market in 1977. The locals sometimes mix this rum with juices and sodas to create a refreshing summer drink.
Where to find it: This drink is available in every supermarket, restaurant, marketplace, bar, pub, and convenience store in Thailand.
Others Delicious Drinks In Thailand You Shouldn't Ignore
Don't leave; there are even incredible beverage options that you should try while visiting this lovely country. Give this section a read to know what they are and where to find them!
Non-alcoholic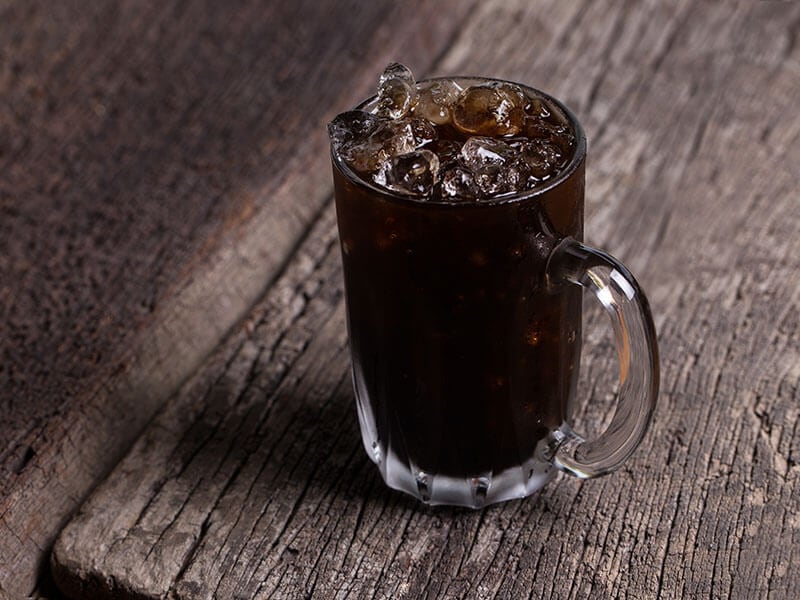 Thailand produces a wide range of specialty coffees. Oliang is the most common drink in Thailand due to its accessibility and affordability.
It might not be a coffee enthusiast's favorite drink, but if you're looking for a quick and cheap drink to energize you in the morning, give Oliang a try.
This coffee-based concoction can also be flavored with various additional ingredients, including roasted rice and caramel. This produces a distinct flavor akin to Americano, although it's not identical.
The locals often drink Oliang with sugar and ice. You can also add milk and turn it into Cafe Boran if you like. Some locals even spice it up with Sang Som.
Where to find it: This drink is in almost every cafe, street store, motorbike food cart, and restaurant across the country. The cost of this drink is between 15 and 30 THB.
Non-alcoholic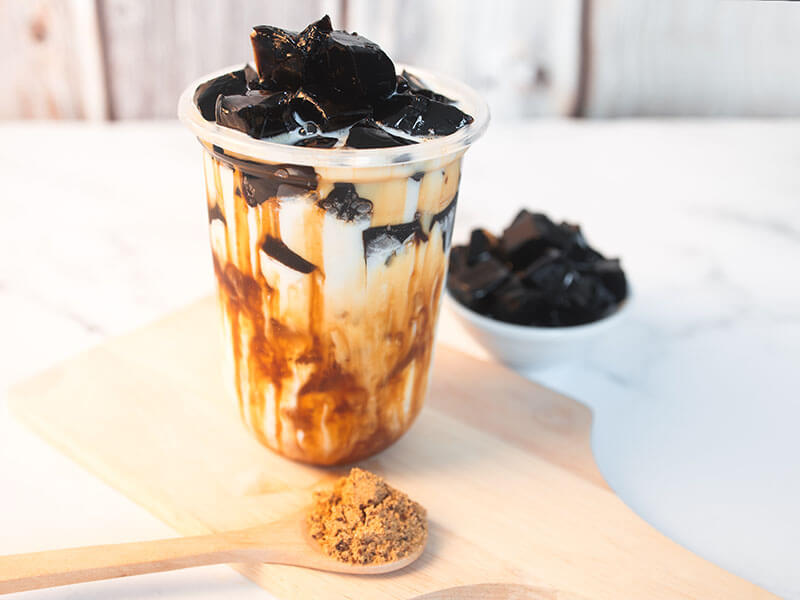 Asian people love their grass jelly! That is why grass jelly is such an essential ingredient in many Asian recipes, one of them is this grass jelly drink. Grass jelly drinks come in various flavors and can be found in teas, juices, and sodas.
Chao Kuai (or black grass jelly) are naturally delicious gelatinous cubes created from plant proteins. Sometimes, locals will make fruit or chocolate-flavored grass jelly, but nothing can beat the natural taste and texture of Chao Kuai.
Where to find it: Nearly every street stall in Thai markets sells this drink. You can also find it in cafes and restaurants.
Grass jelly drinks can be found all over Thailand; here is how the vendors make it!
14. Nam Oy – Sugarcane Juice
Non-alcoholic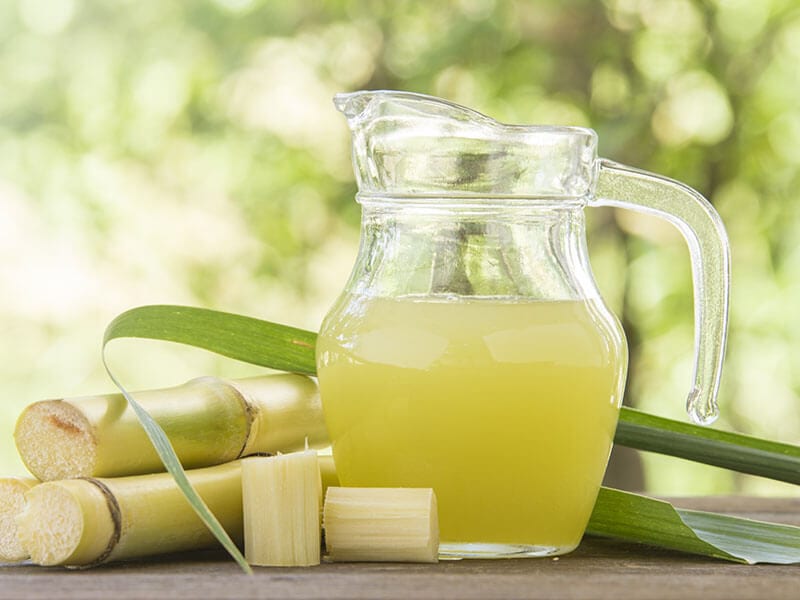 No other drink can be more ideal for summer than sugarcane juice! Nam Oy is, without a doubt, one of the most popular beverages in Thailand among both visitors and residents.
This drink is made using a strong processing machine. With this device, vendors can easily extract fresh juice from sugarcane sticks and sell it to customers in disposable plastic cups.
Even without added sugar, Nam Oy is incredibly sweet, so be sure to drink it slowly to avoid having a sugar rush. Other countries might flavor the drink with kumquat juice to balance its natural sweetness.
Where to find it: This drink is available in many street vendors across Thailand.
The Drinks In Thailand Are Truly Spectacular!
While visiting this Southeast Asian country, the food and the drinks are definitely a must-try. Yes, the opulent royal palaces, tropical beaches, and ancient ruins are all worth exploring. But discovering Thailand's cuisine is the easiest way to learn more about this lovely country.
Now that you have reached the end of this article, you hope you have found the perfect drink to buy and try out while exploring Thailand. Don't forget to leave a thumbs up and share this article with everyone you know if you have time. Bye for now!