Vietnamese crab noodle soup is a finger-licking noodle soup from Vietnam. If you find Phở or Bún Bò Huế (spicy Vietnamese beef noodles) too familiar, this one will provide a nice change of palate. While it isn't as popular as the previous names, don't underestimate how tasty Bún Riêu is.
Cooking this delicacy may take some time. But be patient, and your effort will be rewarded with an amazing taste you can't forget. The traditional version of the dish is extremely challenging to recreate outside Vietnam, so I will show you an easier but no less exciting way of cooking it.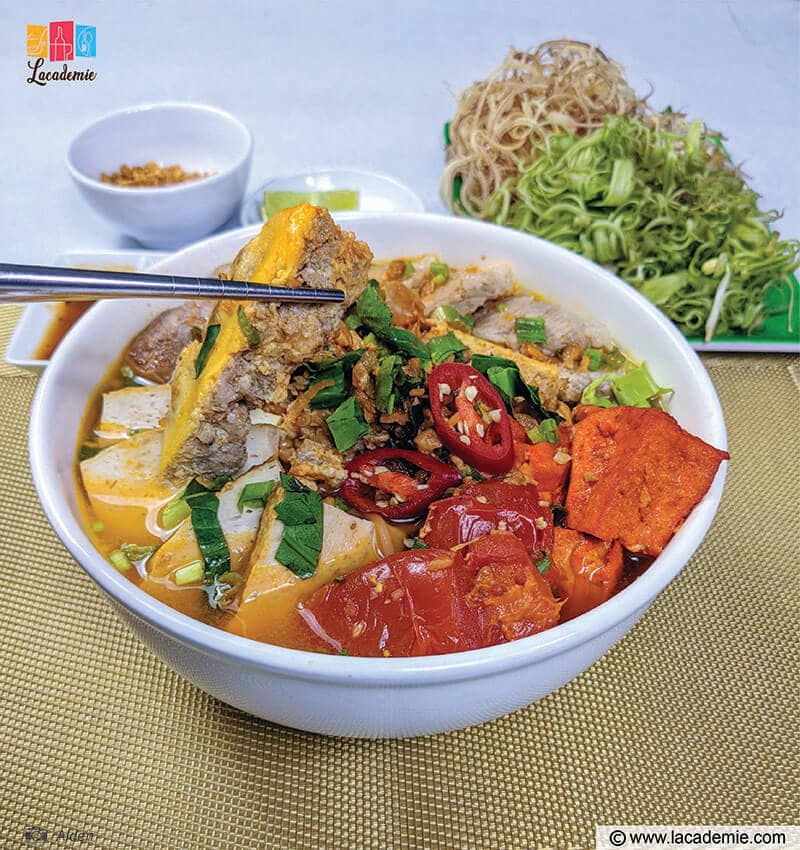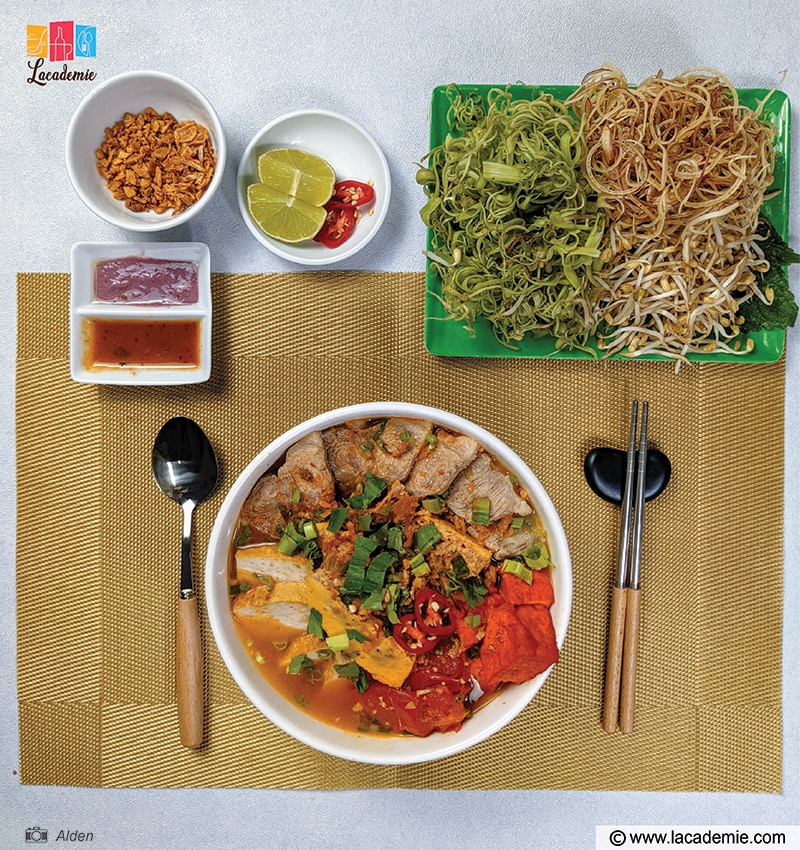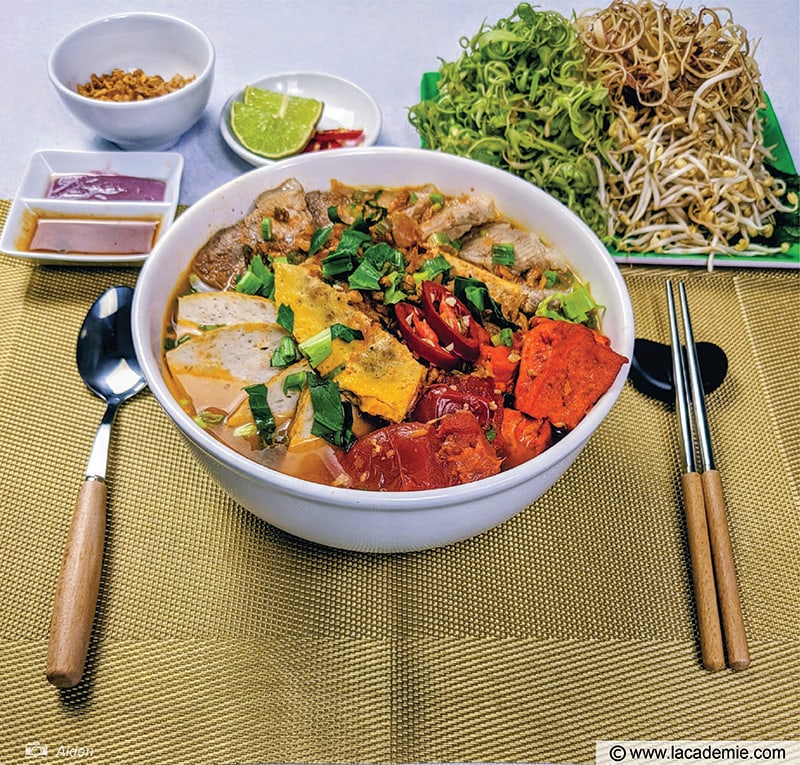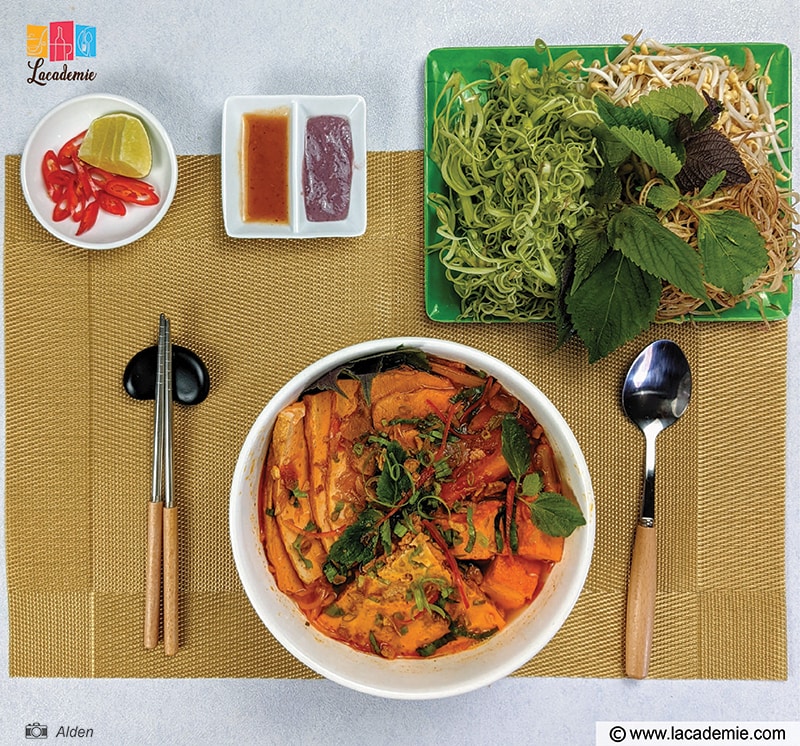 A Few Interesting Things To Know About Vietnamese Crab Noodle Soup
Vietnamese crab noodle soup is a simple and rustic dish whose roots are connected with the agricultural past of Vietnam. Its main ingredient is small freshwater crabs that are found in countless paddy fields in the country.
Locals mince them (both their flesh and shells) into a fine paste before cooking it into deeply savory broth as well as steamed crab cakes. While some other versions of Bún Riêu replace crabs with fish or snails, this recipe is the most popular one throughout Vietnam.
The main flavor of this noodle soup is tartness, which usually comes from tomatoes and tamarind paste. This characteristic gives it its name, as "riêu" means a sour soup or noodle soup made with crabs in fish in Vietnamese.
Vietnamese crab noodle soup started as a poor man's food, though people from all walks of life enjoy it these days. Its pleasantly sour taste and large number of accompanying greens and herbs are quite refreshing to enjoy in the heat of the summer. Try this dish to see if you agree!
Tools
Since this is a noodle soup, you're going to need the following kitchen gadget to create the best Vietnamese crab noodle soup:
Cooking pot: for preparing the noodle broth. Pick one with the size suitable for making this dish; I go for a medium-sized stock pot.
Steamer: for steaming the crab cake.
Skillet: for cooking the tomatoes.
Spatula: for helping with preparing the sauteed tomatoes.
Soup ladle: a vital tool to cook a soup noodle dish.
Strainer: for handling the crab mixture to make the crab cake.
Chopping board and knives: for preparing the ingredients.
Lemon squeezer: an optional tool.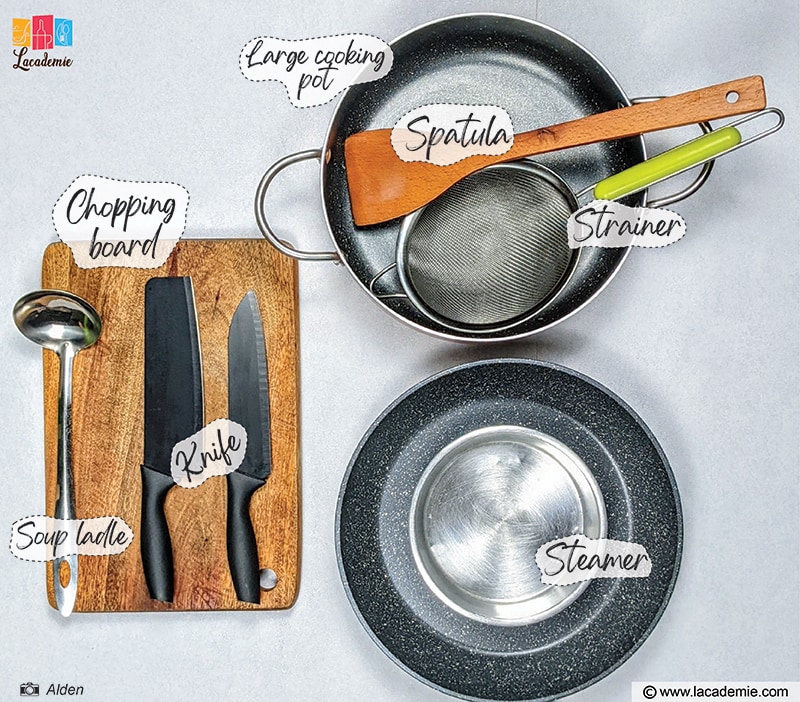 Ingredients
Take a quick glance at the following list to see if you have the necessary ingredients for making this dish. While you can be flexible with the garnishes, make sure that you get the main ingredients right.
Minced crab: This recipe follows the traditional way of using fresh pounded paddy crabs. That can be difficult to get, so you can replace it with any canned crab mince product. But if you have small freshwater crabs and a set of pestle and mortar, it may be fun to try the old-fashioned way.
Pork paste and minced meat: for making the crab cake. I recommend minced pork made from a blend of both lean meat and fat, but you can go for a lean meat-only version to cut down on calories.
Eggs: for binding the crab cake ingredients.
Tomatoes: Choose big, juicy, and sufficiently tangy ones. Sweet tomatoes don't work for this recipe.
Pork bones and pork leg: for making the broth. The bones should have some meat on them to create a flavorful broth. While the bones are discarded after being cooked, you will cut the pork leg into thin slices to serve with the noodles.
Shrimp paste: The savoriness of this condiment defines the overall flavor of this noodle dish. Don't worry about the smell because it will blend with other ingredients under the heat and become more subtle.
Noodles: Pick your favorite brand of rice vermicelli, but it should have long and thin strands.
Fried tofu and cinnamon pork pate: The first one is a traditional ingredient of Vietnamese crab noodle soup, while the second isn't. You can omit the latter, though having both will make your dish more nutritious.
Veggie sides: The must-have ingredients are shredded raw water spinach, banana blossom, and bean sprouts. Vietnamese balm (kinh giới), saw leaves, and perilla are something you should have as well.
Shallots: for adding more flavors to the crab cake. Fried shallots are one of the usual toppings for this dish.
Water: This recipe is going to need a lot of drinking/ bottled water to cook.
Curry seeds: for creating the cashew curry oil that adds flavor and colors to the dish.
Dried tamarind: for making the sauce and adding even more tanginess to the dish.
Spices and seasonings: salt, sugar, cashew oil, black pepper, fresh chili, scallion, etc.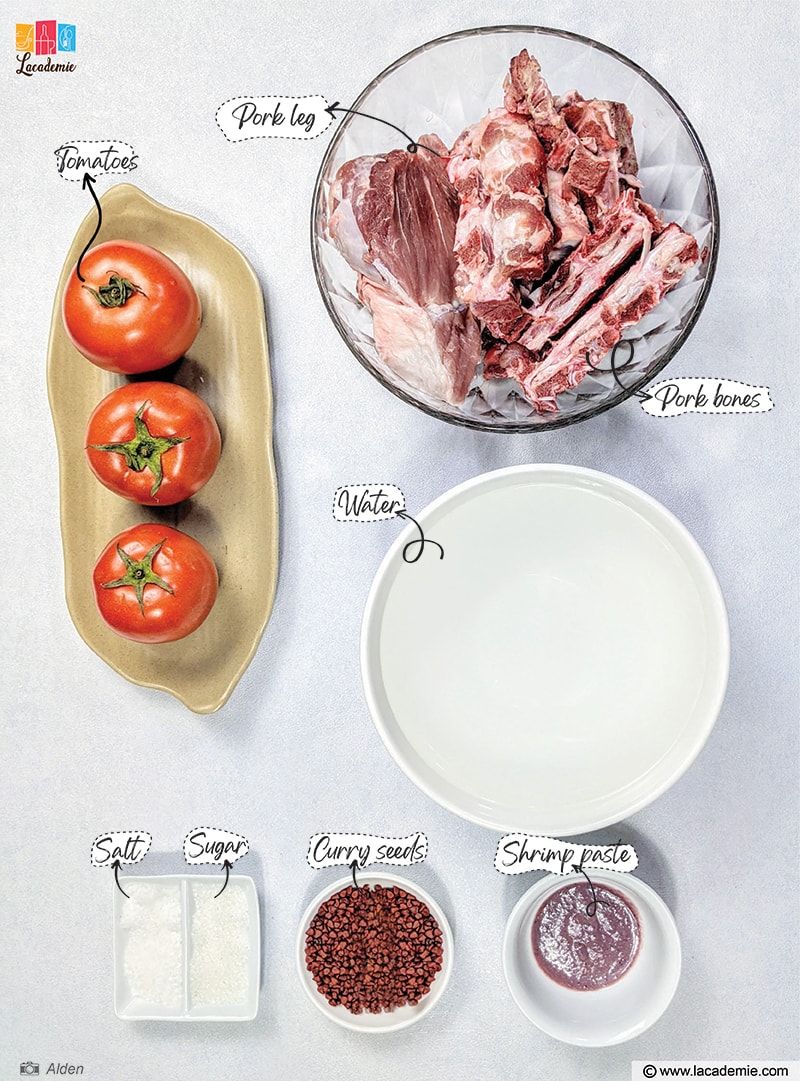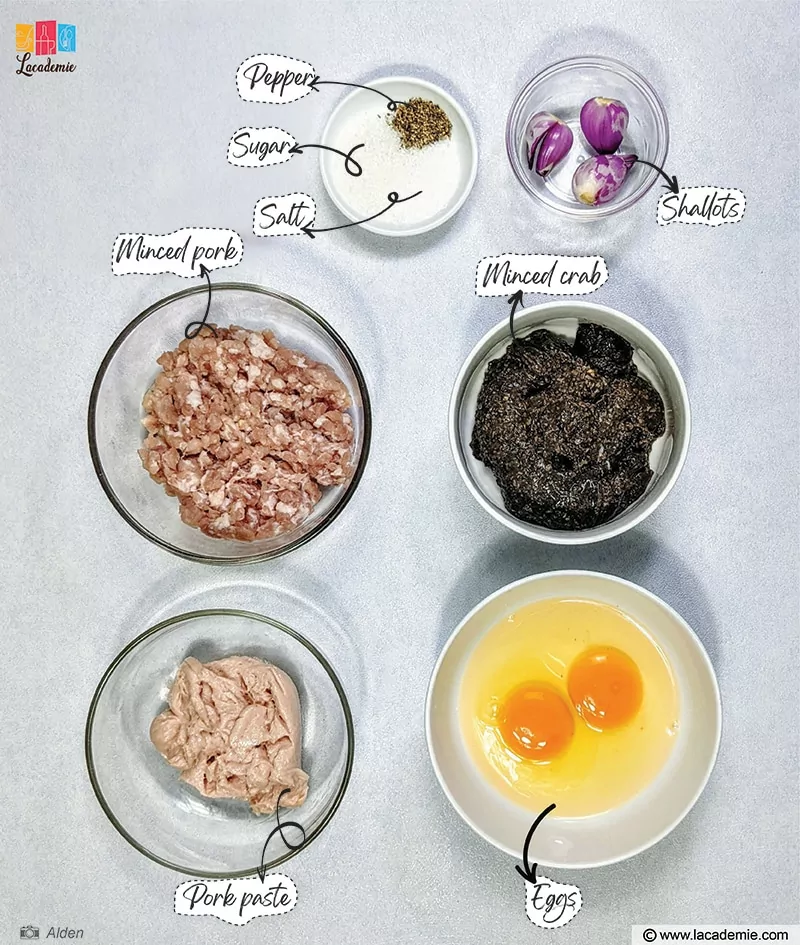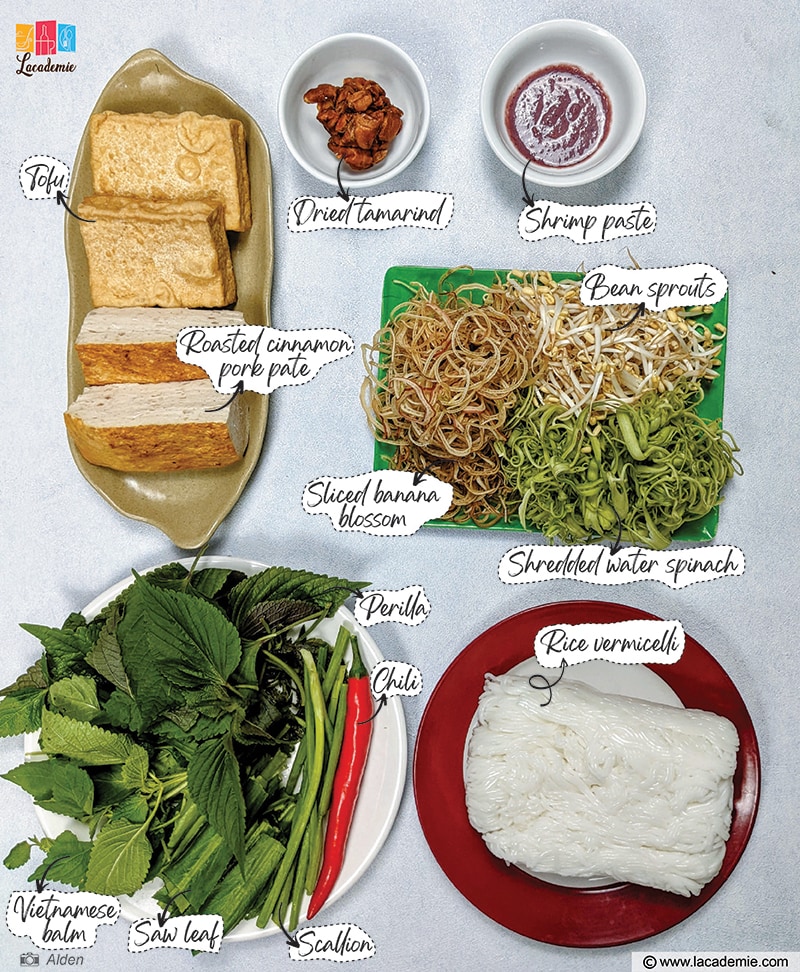 Instructions
If you're familiar with cooking other Vietnamese noodle dishes, making this one will be a walk in the park. In case you're not, well, there is a first time for everything. But stick to this guide, and you will find it easy anyway.
Step 1: Prepare The Ingredients For The Noodle Broth
Cut the tofu into bite-sized pieces and set aside.
Mince garlic and shallots. Remove the stem of each tomato, then cut the veggie through the middle part into wedges.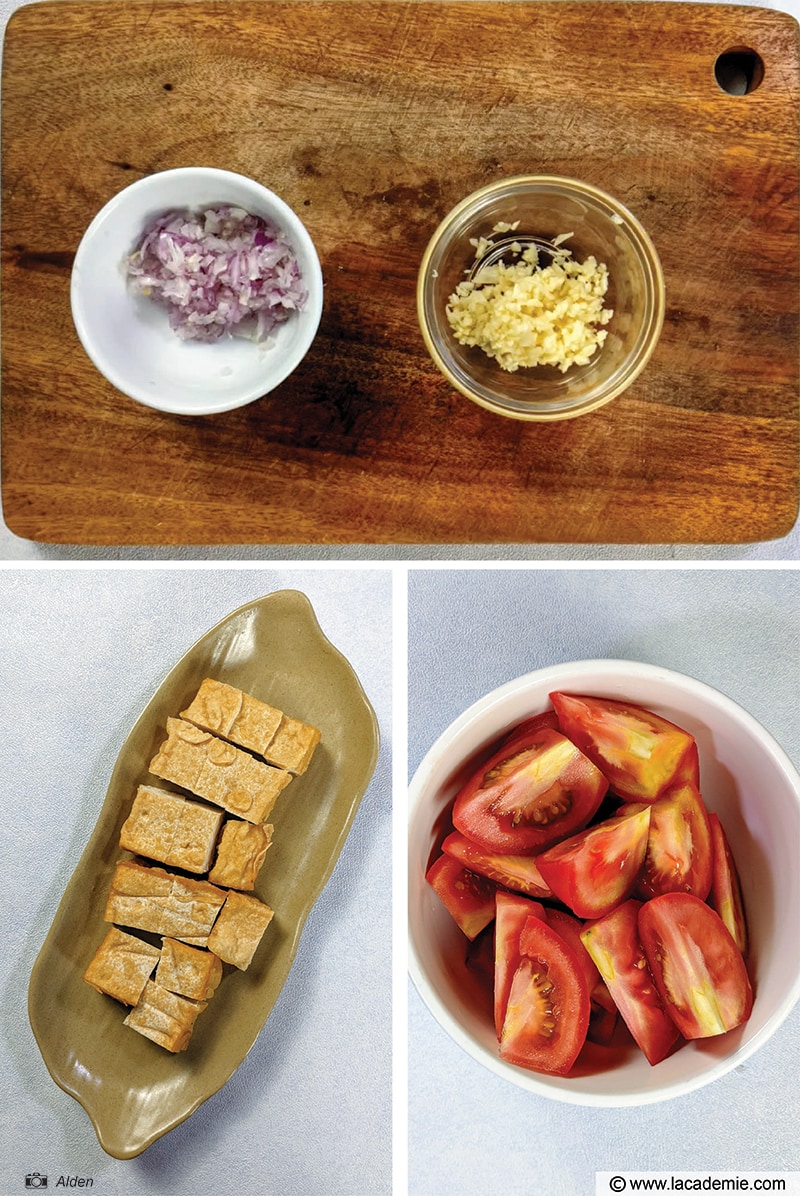 In a skillet, saute minced garlic in olive oil until fragrant. Add the tomato wedges and stir well.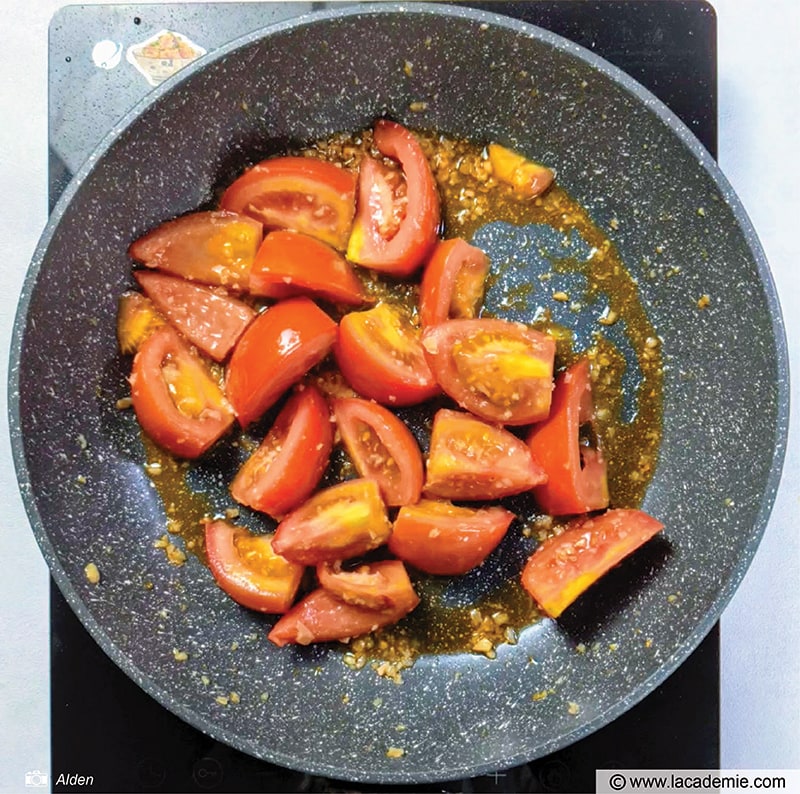 Make cashew curry oil by frying curry seeds in cashew oil for 3 – 4 minutes. When the mixture cools down, remove the solids and keep the oil.
Step 2: Prepare The Minced Crab Broth
Mix the minced crab with warm water. Remove the solids with a strainer and keep the liquid.
Pour the minced crab liquid into a stock pot and bring it to a boil. With a strainer, skim off the crab meat that floats to the surface and set aside. Take the stock pot off the stovetop.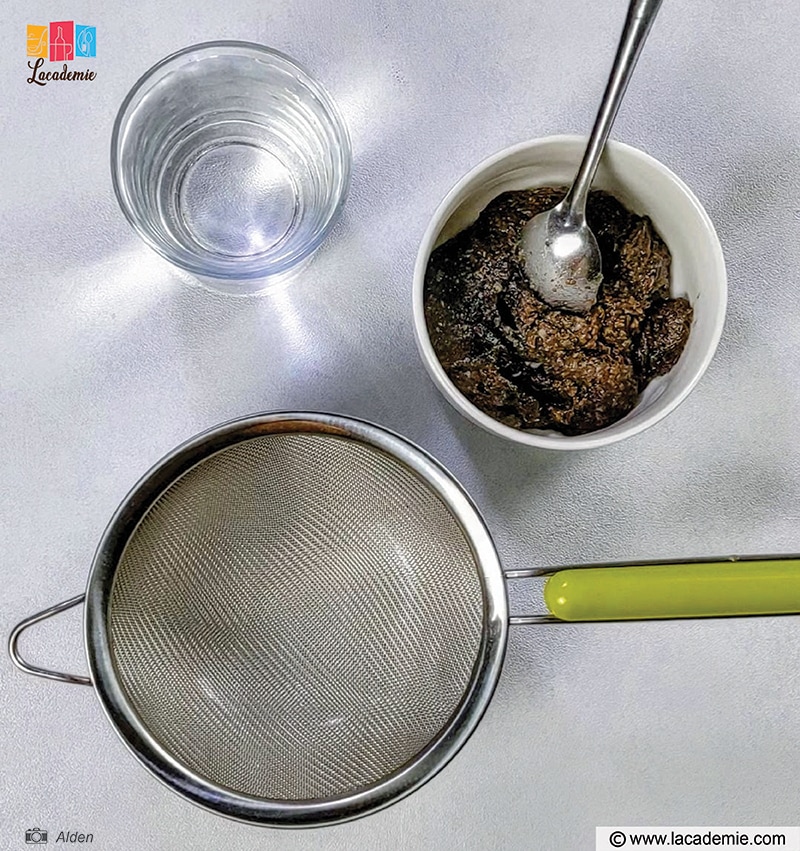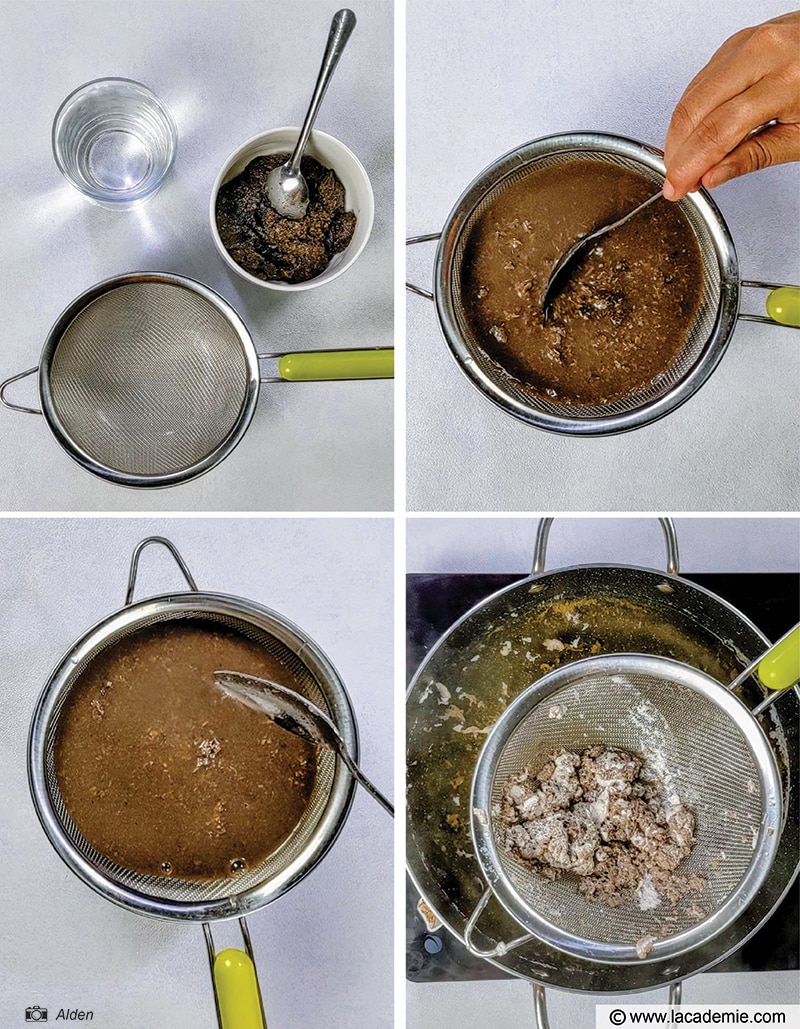 Make cashew curry oil by frying curry seeds in cashew oil for 3 – 4 minutes. When the mixture cools down, remove the solids and keep the oil.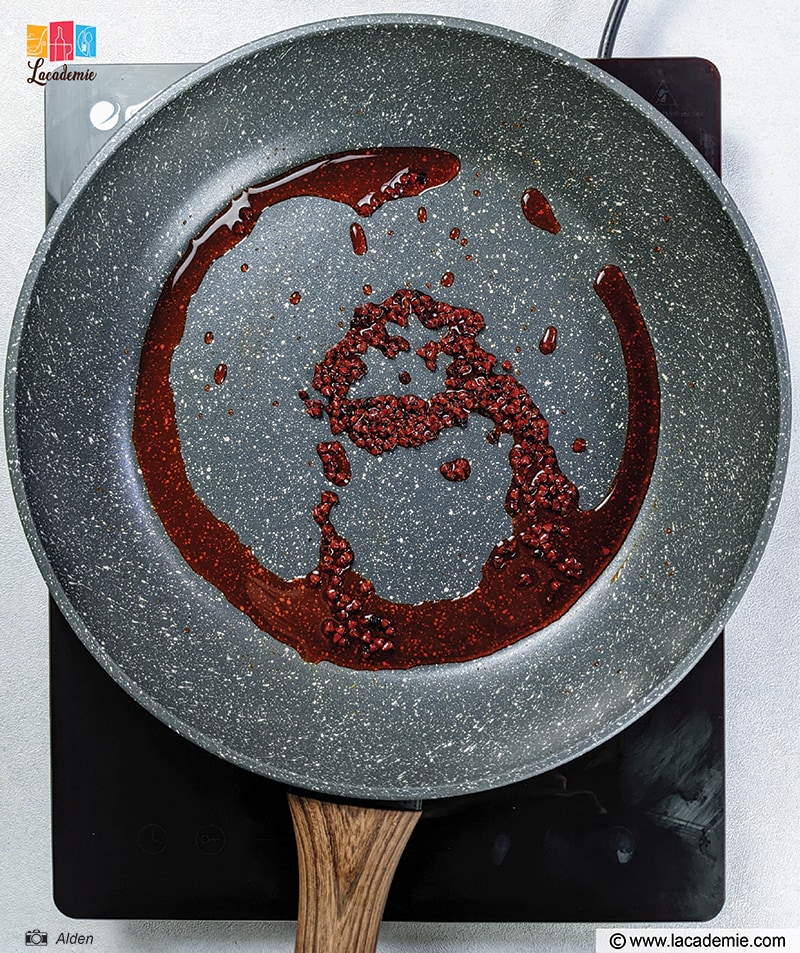 Step 3: Make The Crab Cake
Mix pork paste, minced pork, crab meat, and seasoning. Whisk the eggs and set some aside, then blend the rest with the crab mixture and stir well. Steam the mixture for 30 minutes. Brush the surface with the remaining eggs.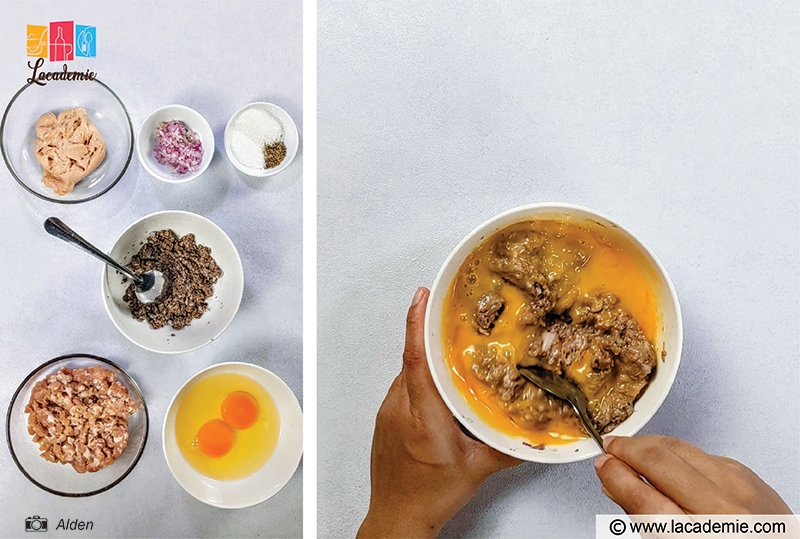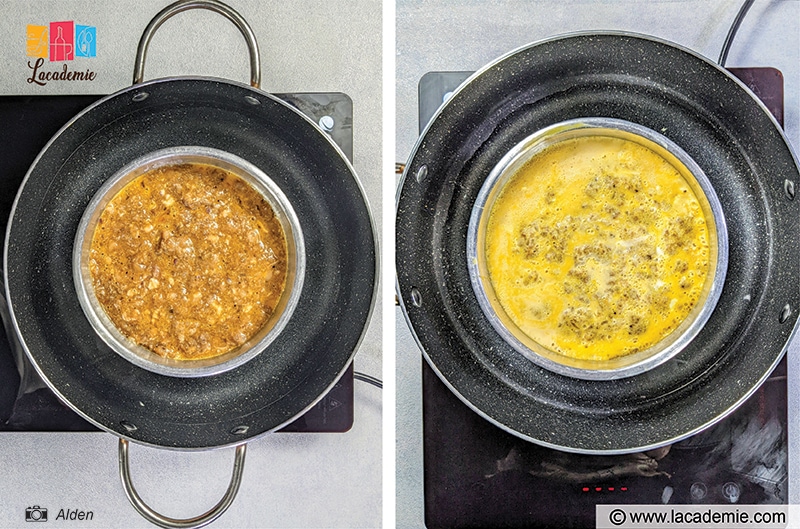 Step 4: Prepare The Broth
Fill the stock pot with water and bring it to a boil. When the water bubbles, add the pork bones, pork leg, and some salt to the pot. Cook on medium heat for 45 minutes. Don't put the lid on, and skim off the foam regularly.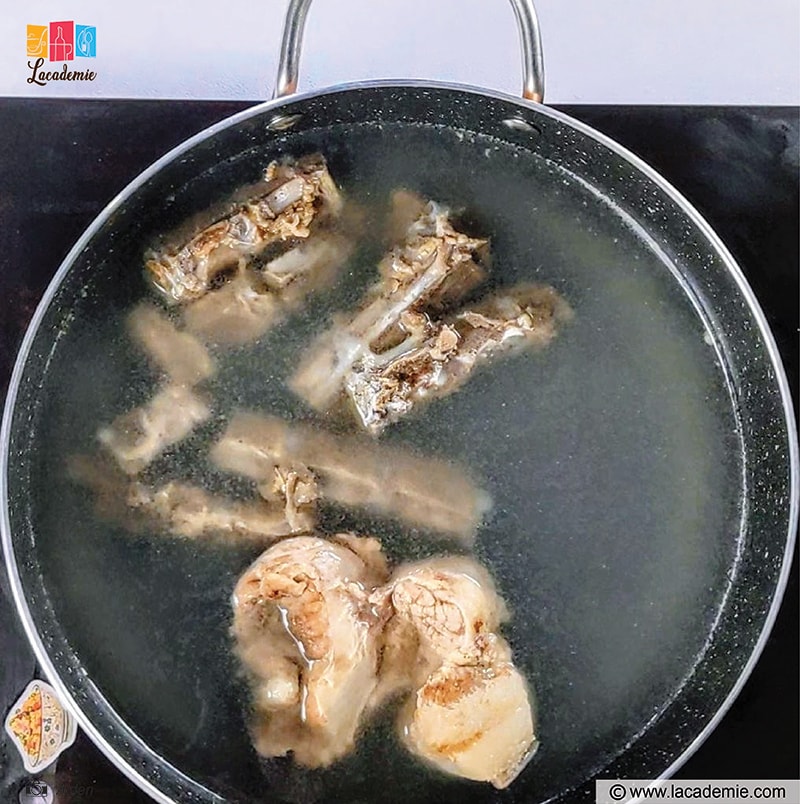 Remove the pork bones and pork leg from the pot before pouring the crab broth, stir-fried tomatoes, tofu pieces, shrimp paste, cashew curry oil, scallion, and seasoning to taste.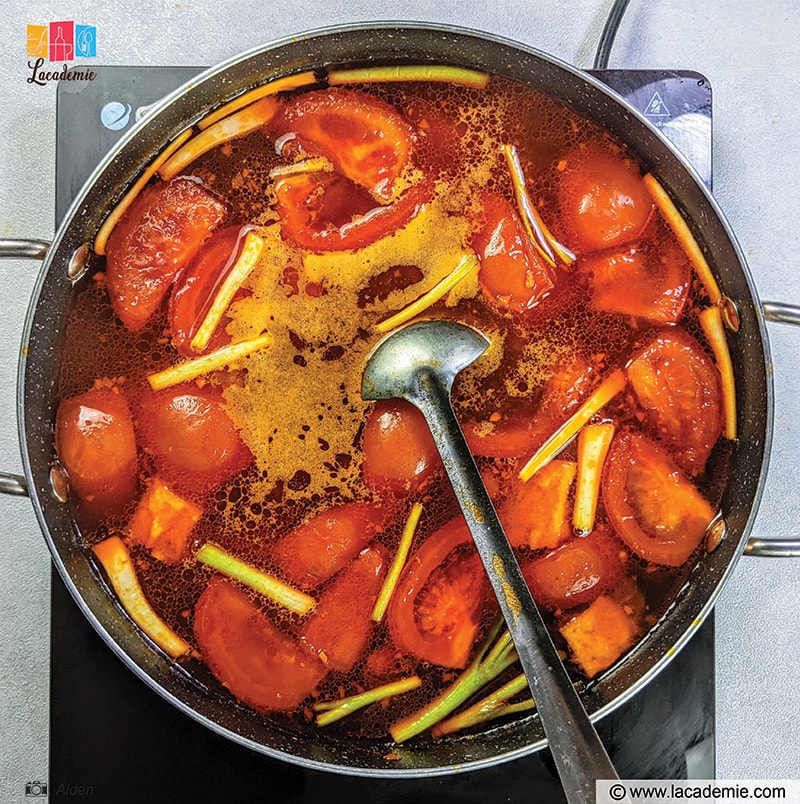 Step 5: Prepare The Garnishes And Sauce
Make tamarind paste by diluting dried tamarind in warm water. Mix it with as much shrimp paste as your taste allows and some sugar (optional).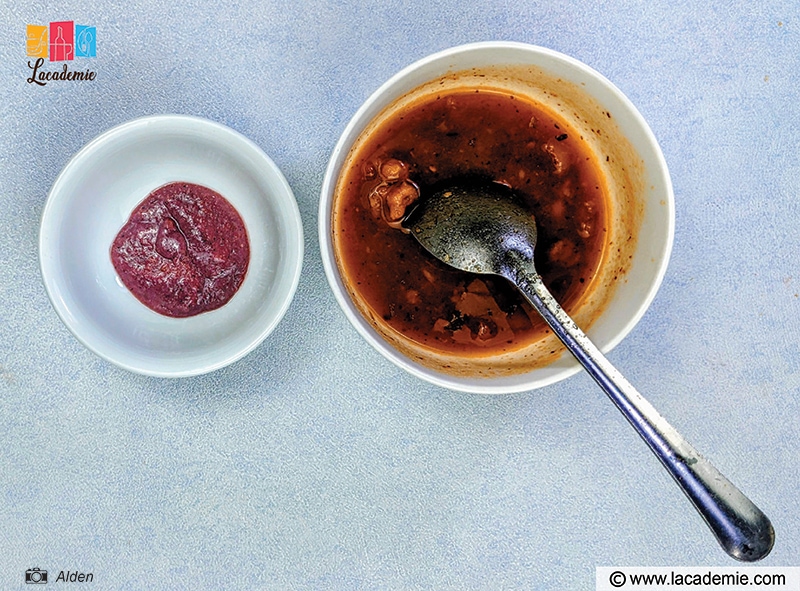 Cut cinnamon pork pate, pork leg, and crab cake into bite-sized pieces. Arrange them along with the sauce and the rest of the side dishes (fried shallots, vegetables, etc.) Put the rice noodles into your bowl, ladle enough broth into it, drizzle some sauce over the noodles, and enjoy!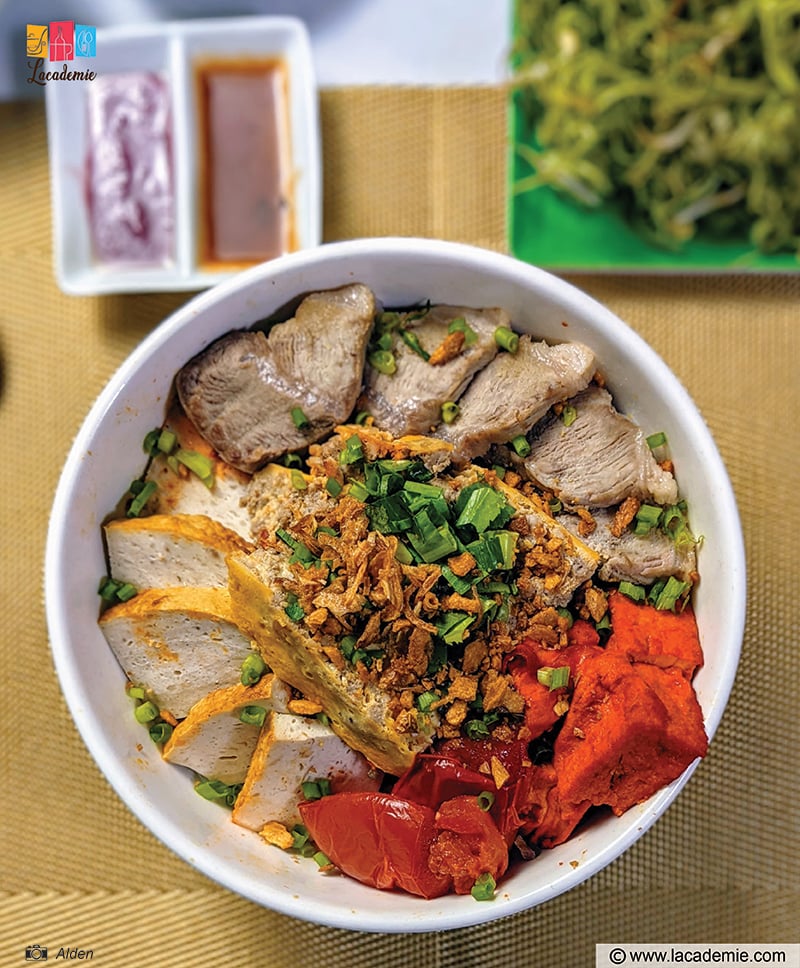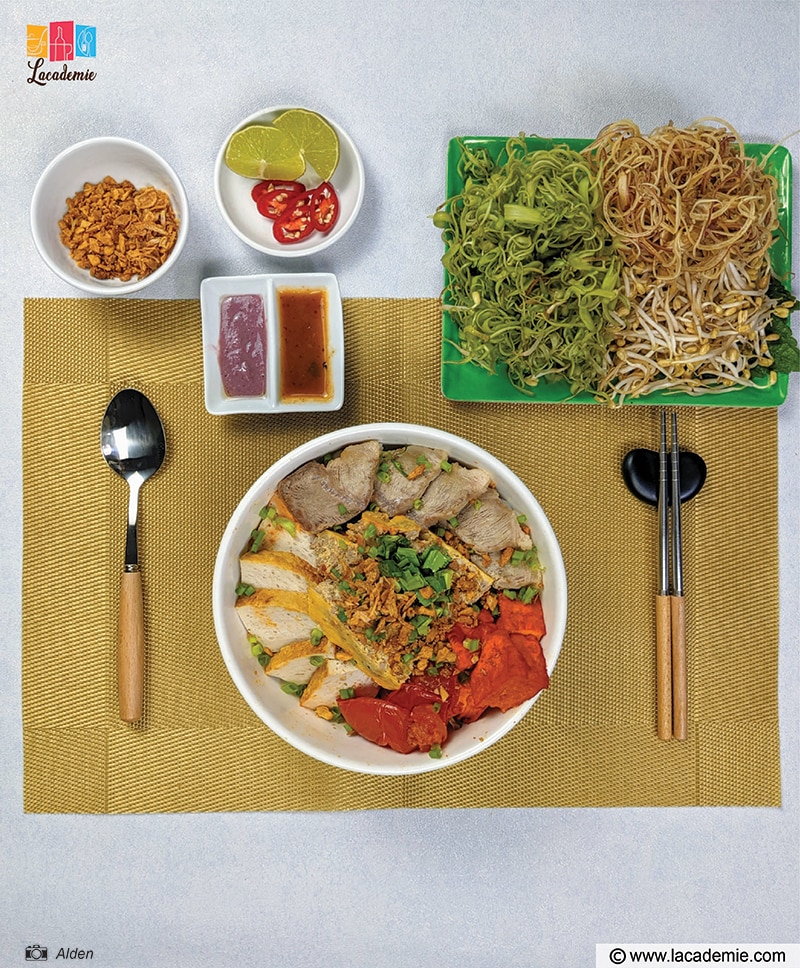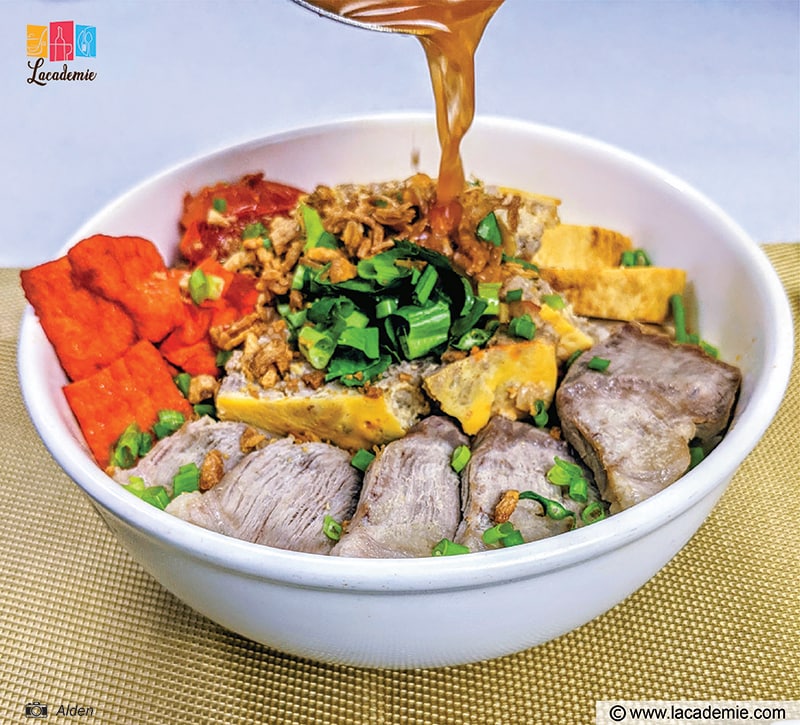 Tips And Tricks For Cooking Vietnamese Crab Noodle Soup At Home
Do you know what else you can do to cook and enjoy Vietnamese crab noodle soup more easily? Just pay attention to these little details:
You should parboil fresh rice noodles in hot water for 1 – 2 minutes to make them softer and tastier. If you want to cook dried noodles, follow the instructions in the package.
To cut down on the amount of oil, you can cook the tofu in an air fryer rather than using the traditional method of frying.
While this recipe doesn't demonstrate it, many Vietnamese people like to have crab noodle soup with pig blood jelly. If possible, you can add this iron-rich to your rich for an authentic experience.
Can't stand the smell of shrimp paste? Then you can add dried shrimp to the broth and enjoy this noodle dish with chili sauce.
Before steaming the crab cake, don't forget to brush the surface of the steamer/ cooking pot with some oil so that the cake won't stick to it.
You can add other types of Vietnamese pork sausage to the recipe to increase its nutritional profile.
While you're cooking the broth with pork bones and pork leg, don't stir the broth or put the lid on. Otherwise, the broth will turn cloudy.
Vietnamese Crab Noodle Soup: People's Food, People's Choice
Once upon a time, Vietnamese crab noodle soup was made from the cheapest of ingredients and only enjoyed by the working class. Even as modern versions boast all kinds of meaty, expensive toppings, this delicacy still keeps its rustic charms that so many fall in love with.
Anyone who only spares a passing glance at its English name may mistake this as a seafood-based dish. But the essence of Vietnamese crab noodle soup comes from the fertile paddy fields that have raised generations of Vietnamese people.
Of course, it is difficult to feel those things with canned crab meat bought at a supermarket, but the deliciousness of this dish is easy to detect. Share with me what you think about this recipe in the comment section, and don't forget to introduce this post to other people around you. Many thanks!
Nutrition Facts
5 servings per container
---
Amount Per ServingCalories532
% Daily Value *
Total Fat 20.9g

31

%
Cholesterol 146mg

49

%
Sodium 1507mg

63

%
Potassium 1332mg

39

%
Total Carbohydrate 50.5g

17

%

Dietary Fiber 4.2g

16

%
Sugars 6.9g

Protein 37.2g

74

%
---
Calcium

395

%
Iron

6

%
Vitamin D

6

%
* The % Daily Value tells you how much a nutrient in a serving of food contributes to a daily diet. 2,000 calories a day is used for general nutrition advice.