Korean fruits play an essential role in the daily diet of people. They are eaten as a dessert or added to many wonderful Korean recipes. Therefore, it is necessary to explore some essential things about them before taking a trip to Korea.
Besides culinary features, they are tied with many cultural traditions of Koreans. It is time to expand your knowledge and comprehend this beautiful country. Please enter the paradise of Korean fruits now.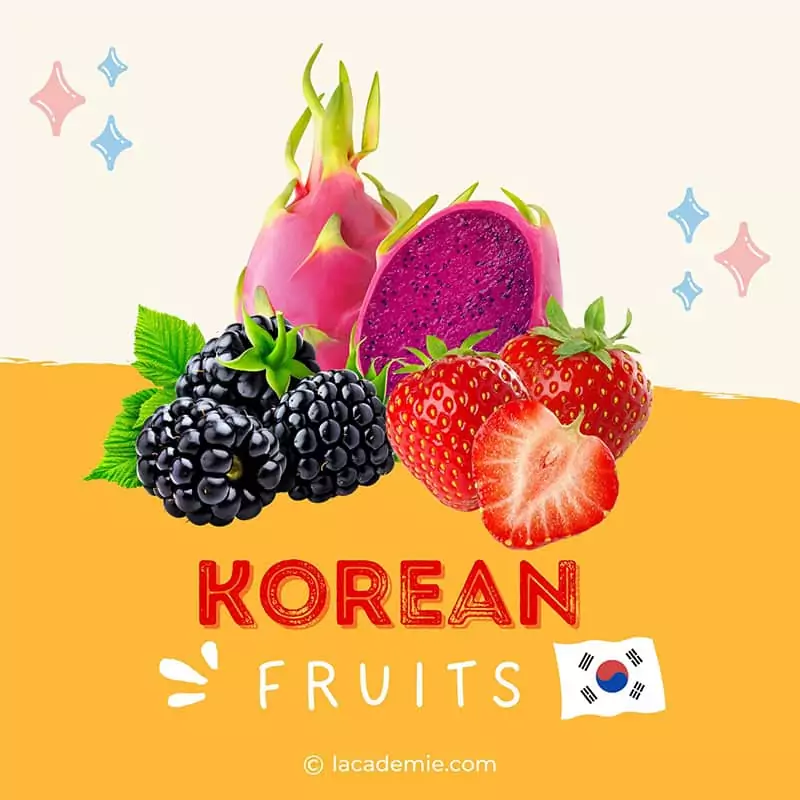 Yummy Korean Citrus Fruits To Stimulate Your Taste Buds
Citrus fruits always leave a profound impression on my mind because of their fantastic and distinctive flavor. There are various kinds of citrus fruits in Korea, it is time to tickle your taste buds with delicious Korean citrus fruits in this section.
1. Yuzu – Yuja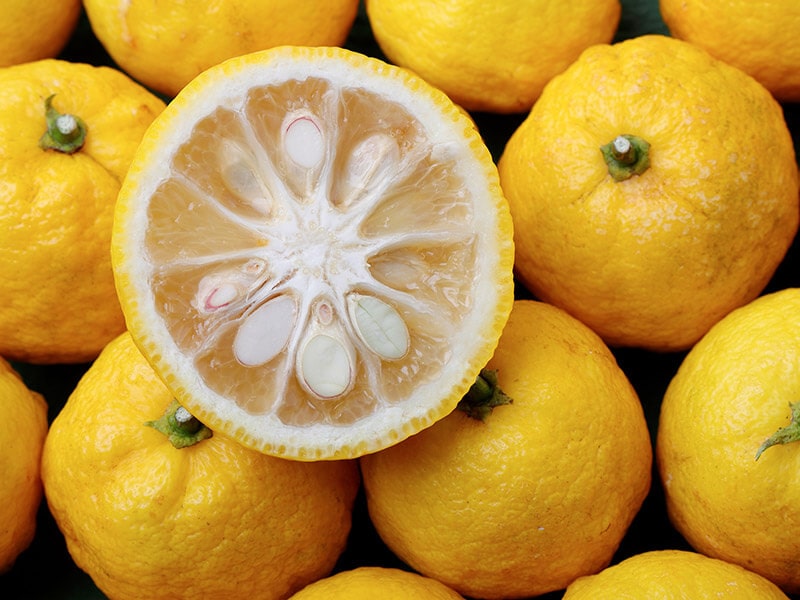 If you love the distinctive taste of citrus fruit, you do not miss Yuzu. It is native to Central China and appears in thousands of delicious Chinese foods. Also, it is possible to find it in Japan, Australia, Spain, France, and Italy.
It is a hybrid species of Ichang Papeda and Mandarin Orange. Its appearance is similar to grapefruit but smaller. It has uneven skin with yellow or green colors. You will find about 5 to 8 succulent segments in each Yuzu.
Its characteristic is a combination of lemon, lime, and grapefruit with prominent tartness, so it is rare to consume raw Yuzu. Koreans often make marmalade, Yuzu tea, salads, and other desserts.
It is hard to buy Yuzu at the supermarket in the United States because they cannot import it. This fruit appeared in the US in the 1800s, so you can only purchase it from the trees in the gardens.
Nutrients: High in calories, carbs, fiber, protein, vitamin A, C, and thiamine.
Season: The season lasts from June to August.
How to eat: It is easy to peel its rind and consume the flesh. You can cut it into 2 halves to get the juice. Moreover, it is possible to use its skin for many foods.
Let's learn the ways to make yummy Yuja tea from Yuzu fruit.
2. Korean Orange – Hallabong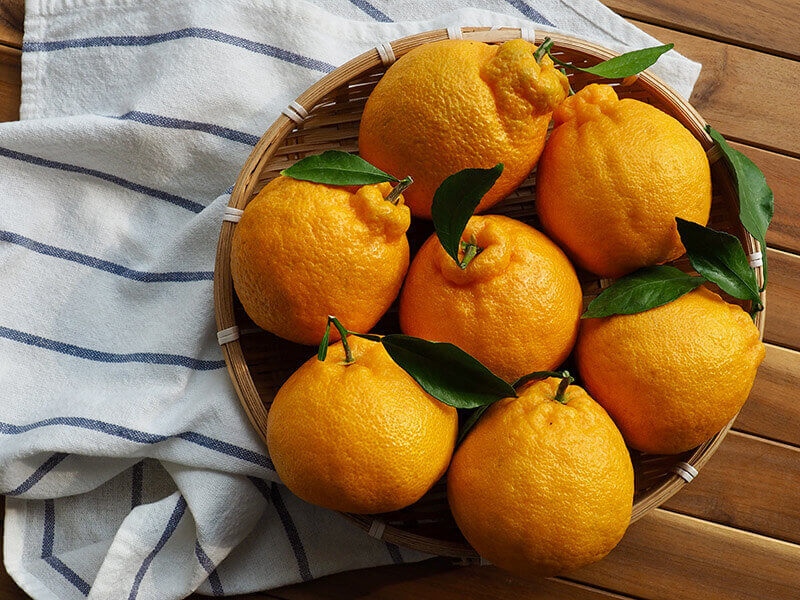 Jeju Island is a famous tourist place in Korea, and it has many delicious Hallabong. Also, it is a favorite Japanese food when native to this country. Its "Hallabong" name comes from the name of Hallasan in Jeju Island.
This hybrid fruit is a combination of Ponkan and Kiyomi, and it was born in 1972 in Japan. It looks dominant in large size and bright yellow color. Many segments will show up after peeling their skin like other citrus fruits.
The juiciness and softness of it will captivate you immediately. Thanks to the high sugar content, it is hard to resist the excellent sweetness. Besides, you can find a hint of characteristic tartness.
In Korea, its cultivation often occurs in a large greenhouse at a constant temperature. It is perfect for enjoying Hallabong juice on summer days. It is used commonly in Korean sweet desserts and drinks.
Nutrients: Add calories, carbs, protein, fat, fiber, vitamin C, A, and thiamine to your body.
Season: It is ripe from December to March or the late-January to the early February in Korea.
How to eat: You can apply the ways to consume Tangerine for this fruit.
3. Tangerine – Gyul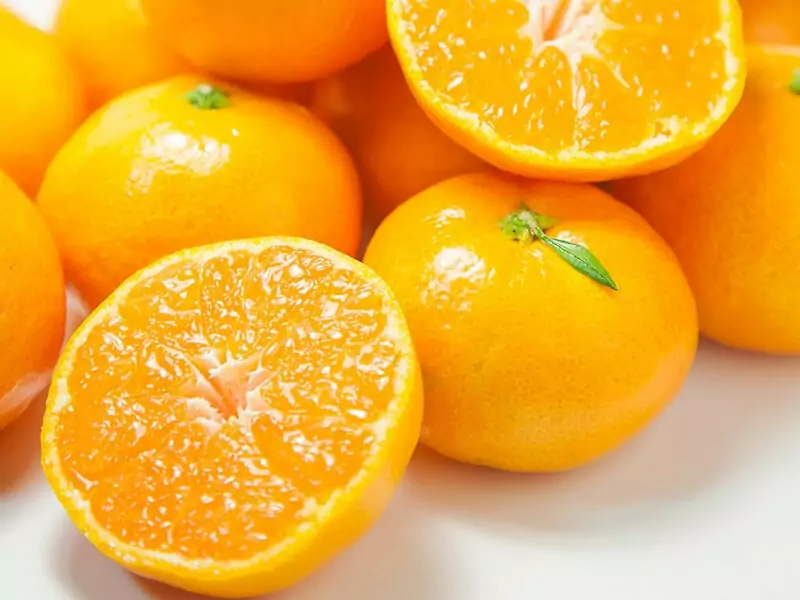 When speaking to well-known Korean fruits, it is essential to refer to Tangerine. It is a type of orange and belongs to the citrus fruit group. It is native to the Americas, and you can find it most on Jeju Island. Noji is a famous variety of this yummy T-something fruit in Korea.
Compared to famous oranges, it looks smaller and less round. Furthermore, its sweetness is more substantial, and the tartness is less than oranges. Ripe Tangerine is often bright yellow, and some small segments will appear after removing its rind.
On Jeju Island, it grows naturally, so people do not need to spend a lot of time caring for it. The weather conditions in Jeju are suitable for the development of this fruit. Koreans will eat it raw or add it to salads, desserts, and main dishes. Its peel is also a valuable element for cooking.
Nutrients: Calories, sodium, carbs, fat, fiber, vitamin C, and protein.
Season: The season lasts from October to January.
How to eat: The easy way to eat it is to peel the rind and separate its segments to enjoy. Or, you can cut it into slices and eat its flesh from the skin. If you want to get juice, just cut it into 2 parts and squeeze.
Listen to the health benefits of incredible Tangerine.
4. Kumquat – Geum Gyul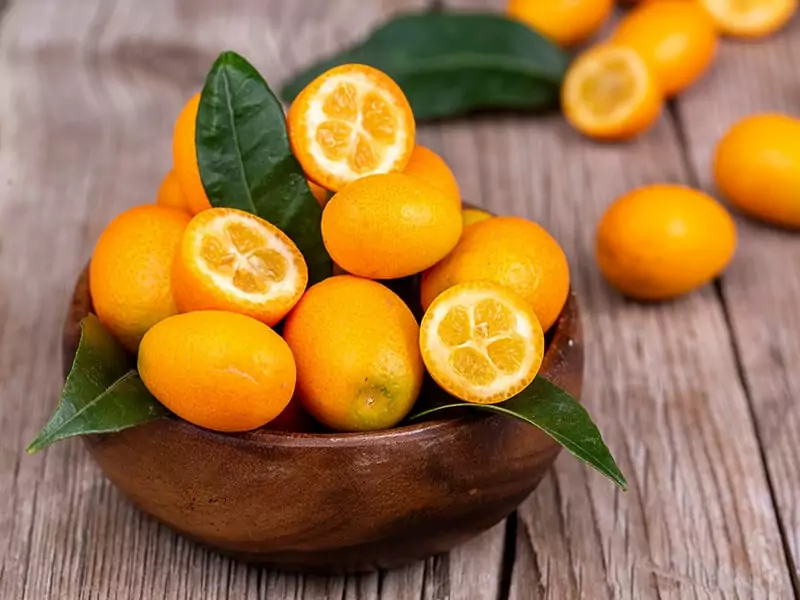 Have you ever tried Kumquat? If not, please try it right now! It is also known as Cumquats in Australian English. This fruit is a cold-hardy citrus loved by a lot of people. It is native to Southern China, and its first record existed in Imperial literature in the 12 century.
Besides East Asian countries, it appears in Southeast Asia, South Asia, North America, and Europe (1846). You can think of the appearance of orange when looking at it, but it is a smaller version. Its size is pretty similar to a large olive.
Like other citrus fruits, it has a typical sour and tangy flavor with a hint of sweetness. It has various types that are different in shape and taste. Round Kumquat has a sweet peel and sour flesh, while Oval Kumquat has a sweeter peel and tart-sweet flesh.
There are many ways to take advantage of Kumquat's values in cuisine. It is perfect for drinking a cold Kumquat juice on summer days. Besides, Koreans often make many delicious snacks from it.
Nutrients: High in vitamin A, C, sodium, fiber, and antioxidants.
Season: You can buy it in the spring in Korea.
How to eat: Because its rind is sweet and safe, you can consume it without peeling. Furthermore, it is good to squeeze to get juice from it.
Fall In Love With Mouthwatering Korean Fruits Belonging To Berry Category
Do you love berries? Have you ever tried excellent berries in Korea? If not, you should give them a shot on your trip. There are many excellent different types of fruits belonging to berry category in Korea. Let's refer to this list in the section for your upcoming trip.
5. Persimmon – Gam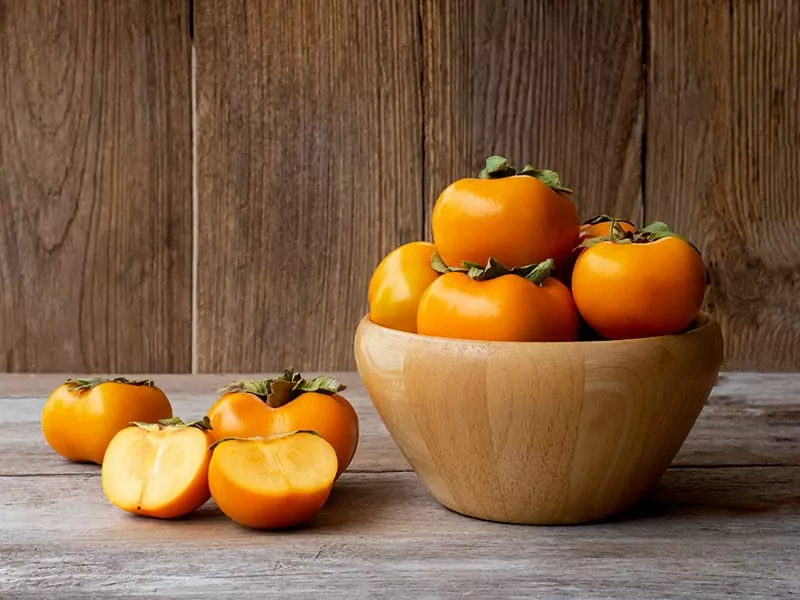 Persimmon is an indispensable name in this exotic Korean fruits list. It is a member of the Ebenaceae family and native to China, Northeast India, and Indochina. South Korea, Japan, and China are the most persimmon producers worldwide.
It appeared in Korea in the 14 century and gradually spread across this country. People often call it Korean mango. Depending on the varieties, its skin has yellow-orange or deep red-orange hues. Dried Gam is a good choice for making Sujeonggwa with ginger and cinnamon.
Usually, ripe Persimmon will have orange, dark brown, or yellow shades. Sweetness is the dominant flavor of this fruit. Its flavor can remind you of the taste of honey. This fruit is a rich source of fructose, glucose, and sucrose. It will become dry after being stored for 3 to 5 days.
There are many ways to take advantage of dried persimmon in cuisine. It is fantastic to prepare excellent teas and drinks from them. Therefore, you can come across many persimmons hanging outside in Korean houses.
It has 2 main types, including astringent and non-astringent persimmons. The astringent version is similar to the heart shape and contains a lot of tannins. Meanwhile, the non-astringent one resembles a tomato and is low in tannin content.
Nutrients: Rich in calories, carbs, protein, vitamin C, A, fiber, and beta-carotene.
Season: Its season runs from October to December in Korea.
How to eat: After rinsing it, you can eat the whole fruit or cut it into small pieces for consumption.
Discover the flavor and the ways to consume 3 different types of Korean persimmon.
6. Blackberry – Bokbunja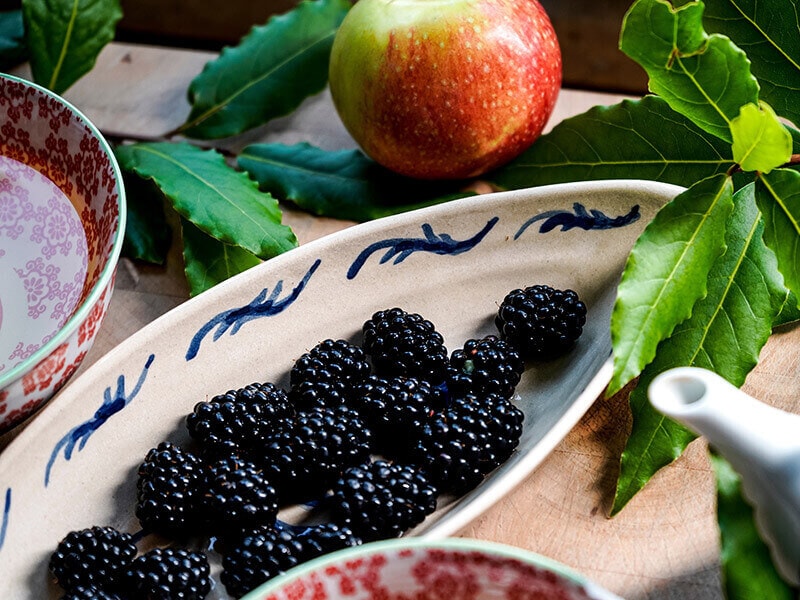 The fruit wine made from Korean blackberry is a favorite Korean drink of many tourists. This fruit is also known as Korean bramble. It is a raspberry that originated in Japan, Korea, and China.
Typically, it has a red color when unripe and turns black when ripe. You will be impressed by these succulent black fruits and their fantastic flavor.
Tartness is the prominent flavor of this fruit, but you can feel sweetness and tanginess from the ripest berries. Unripe berries are bitter and sour.
Blackberry cultivation develops strongly in South Korea, but you can find wild blackberries as an affordable street dish in any local Korean markets. Bokbunja Ju is a famous drink that is created by fermenting Blackberries.
Nutrients: It consists of calories, fat, carbs, fiber, protein, and vitamin C.
Season: It is common from July to August.
How to eat: You can consume whole fruit after rinsing.
7. Magnolia Berry – Omija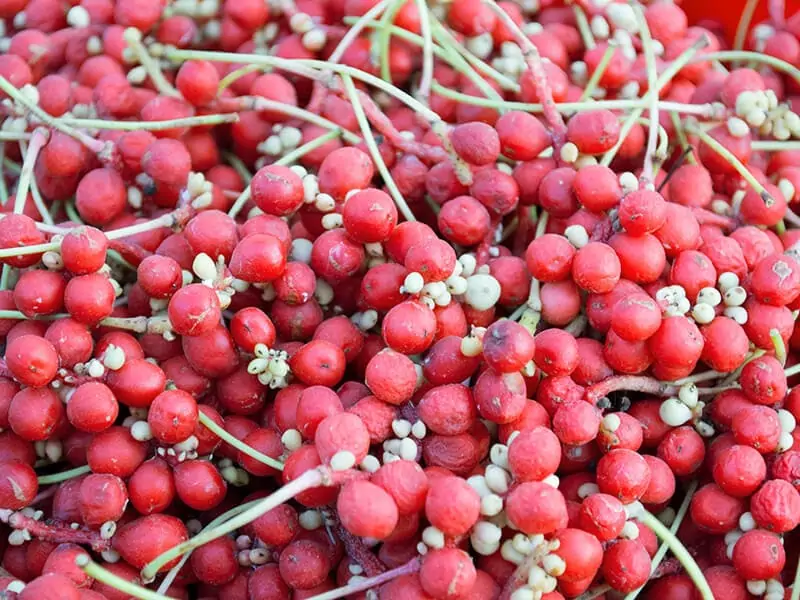 It is a shortcoming when you do not try Magnolia Berry or Magnolia vine in Korea. This is a type of vine plant that originates in the forests of Korea, Russia Far East, and Northern China. It is easy to find wild versions in Japan.
Magnolia Berry is a kind of red berry covered by a smoothie, shiny, and red skin. The spherical shape is the dominant feature of it. These berries are created from dense hanging clusters. It is possible to catch brownish-yellow seeds inside.
Its flavor is extraordinary since it mixes five flavors, including sweet, sour, salty, bitter, and pungent. So, Koreans and Chinese also call it "Five Flavor Fruit". You must try Omija Cha (Magnolia Berry Tea) when coming to Korea.
Nutrients: A source of calories, vitamin C, Copper, Folate, vitamin K1, and manganese.
Season: Its season often falls in mid-September.
How to eat: After washing it, you can eat Magnolia Berry right away. In addition, you can add it to salads, desserts, or cereals.
8. Kyoho Grapes – Podo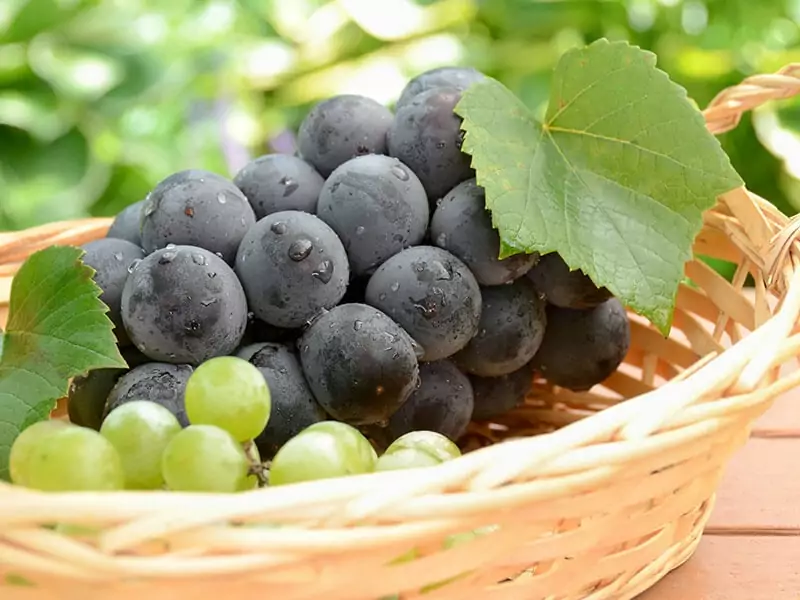 Almost tourists always want to try Kyoho grapes when taking a trip to Korea. This outstanding fruit is grown widely in East Asia. A Japanese Viniculturist produced it during the 1930s and 1940s. And, it got the Kyoho name in 1946.
It is straightforward to realize this fruit thanks to its characteristic blackish-purple or black colors. A thin slip-skin covers it, but Koreans permanently remove it. And, you should remove its seeds while consuming since it is bitter.
It has an enchanting sweetness, thanks to the high sugar content. Moreover, a bit of sourness will leave a profound impression on your mind after eating. You will love the juiciness of its flesh immediately.
You can find it in Taiwan and mainland China. In Korea, people usually consume it as a mouthwatering dessert. In addition, it is an excellent choice to add to many cocktails. In 2015, about 365000 hectares of land were used to cultivate Kyoho grapes.
Nutrients: Potassium, vitamin C, thiamin, dietary fiber, and resveratrol.
Season: It is available from the late-September to the early-December.
How to eat: You should remove its slip skin before consuming because it is bitter. It is perfect for adding it to salads and desserts.
9. Strawberry – Ddal Gi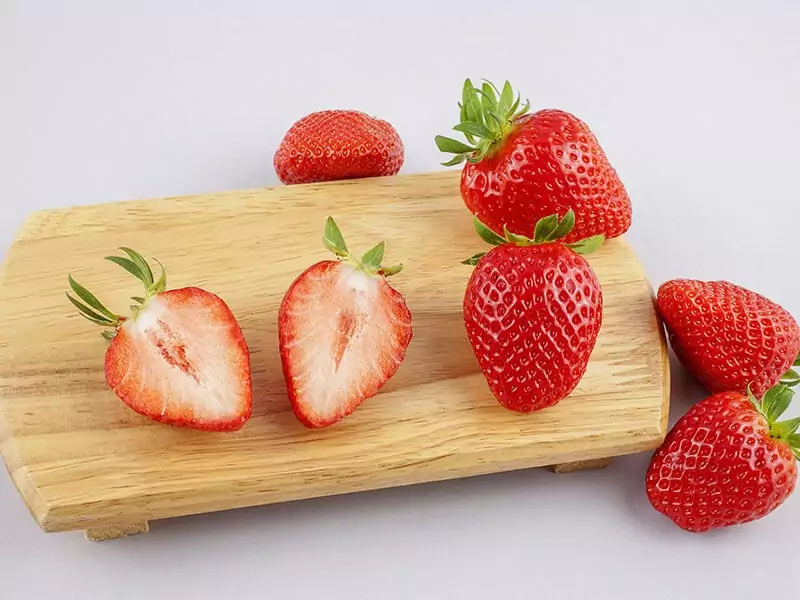 It is time to fall in love with the fantastic taste of strawberries. This fruit is a worldwide treat when used in many parts of the world. It is native to France as the first strawberry garden appeared in Brittany in the 1750s.
It is a favorite fruit in East Asian countries, and China was the top producer of strawberries worldwide in 2019 with 9 million tonnes. I assume that you will be familiar with its bright red shade. The juiciness and distinctive aroma will make you flutter.
Its flesh is a mix of red and white colors. You can feel the sweetness and a slight acidity when tasting this fruit. It is impossible to consume fresh strawberries or make delicious foods, such as juice, pies, jams, milkshakes, candy, and ice cream.
The incredible taste and aroma are suitable to add to soap, perfume, lip gloss, and other items. In Korea, strawberries are unique gifts on Valentine's Day since couples will exchange strawberries.
Nutrients: Rich in carbs, negligible fat, vitamin C, manganese, and unsaturated fatty acids.
Season: The season extends from December to June, and the peak season runs from February to March.
How to eat: The fastest method to taste strawberries is to eat the whole fruit after washing. You can create smoothies or juice from this fruit.
Go to the garden to pick yummy strawberries in Korea.
10. Dragon Fruit – Yong Gwa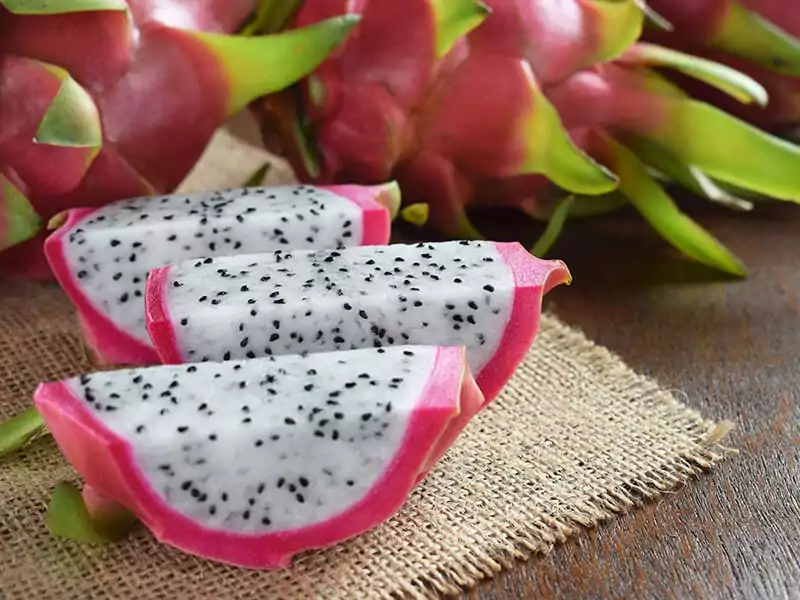 Dragon fruit is famous in Korea and many other Asian countries. Moreover, you can see it in Mexico, the US, the Caribbean, and Australia. It comes from American countries. People called it "Dragon Fruit" in 1963 because its appearance is similar to a dragon's head.
Unripe Dragon Fruit will have green leathery skin, turning to pink or red when ripe. Typically, you can come across its flesh in white or pink shades, depending on the variety. There are countless tiny edible seeds located everywhere in its flesh.
It is not good to consume unripe Dragon Fruit because it is flavorless. The mild sweetness and a bit of tartness of the ripe one will tickle your taste buds. It is believed that its taste resembles the mixed flavor of pear and kiwi.
Typically, if you want to enjoy sweet Dragon Fruit, it is better to select pink flesh. The flavor of the white flesh version will be milder.
Nutrients: It is a source of calories, carbs, protein, vitamin C, calcium, and sodium.
Season: Its season lasts from June to September.
How to eat: The easy way to consume it is to cut it into 2 halves and use a spoon to take its flesh. In addition, it is possible to remove its rind and eat its flesh directly.
Diversify Your Choices With Excellent Korean Fruits
If you have tasted all of the above fruits, you can consult these fruits to diversify your choices. Their outstanding flavor will satisfy your mouth immediately.
11. Korean Melon/ Oriental Melon – Chamoe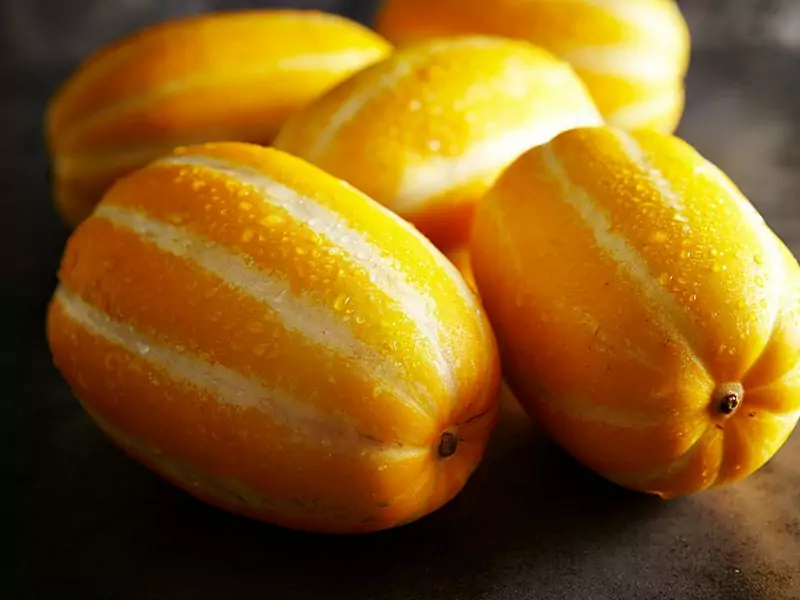 After consuming different satisfying Korean foods, you can refresh your taste buds with incredible Korean Melon or Oriental Melon. It is called Chamoe in Korean, and "Cham" means "true", "oe" means "melon".
This excellent fruit grows widely in East Asian countries, but it originates in Eastern India. It appeared in China over the Silk Road, and the Chinese brought it to Korea during the Three Kingdoms period.
It looks outstanding in a bright yellow rind. In addition, you can find some white stripes on this thin skin. It is impressive to consume its white and sweet flesh. Its taste is a combination of cucumber and honeydew melon flavors. It is less sweet than Western melon.
There are many different types of melon, and Luncheon Chamoe is the most common melon in Korea, China, and Japan. You can find other types, including Sunghwan Chamoe and Gotgam Chamoe.
If you have a chance to travel to Korea, you must participate in the Yeoju Geumsa Oriental Melon Festival to sample the yummy melons. Koreans usually use the shape of Oriental Melon to create National Treasures.
Nutrients: High in calories, protein, fiber, sugar, iron, carbs, calcium, and sodium.
Season: Its peak season lasts from March to June or October in Korea.
How to eat: Cut it into 2 halves and use a spoon to get its flesh out of the rind to consume.
Follow these instructions to consume Oriental Melon properly.
12. Apples – Sagwa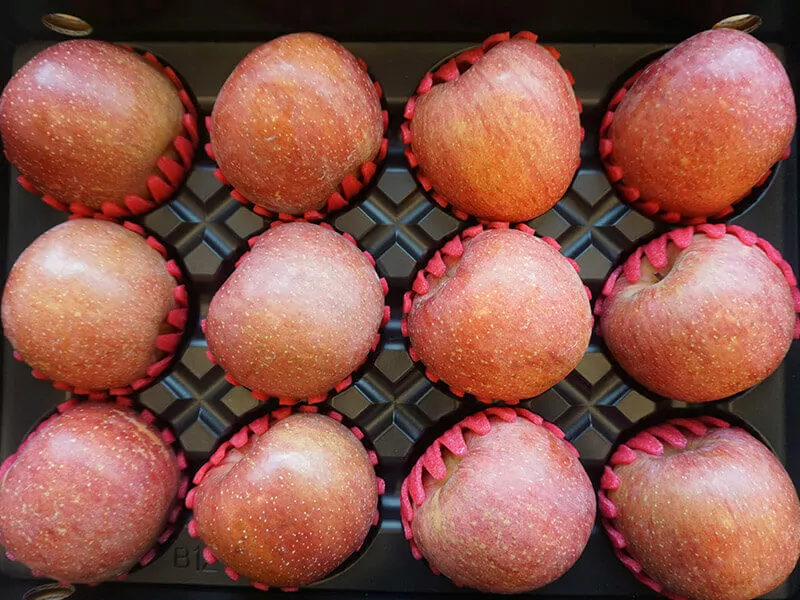 Apple is a worldwide fruit when appearing in many countries, and Korea is one of them. This delicious fruit is native to Central Asia and has been cultivated in Asia and Europe for a long time. Apples are associated with many important holidays in Korea.
Until now, people have found about 7500 varieties of apples worldwide. So, you can find apples in many different sizes, shapes, and colors. Usually, ripe apples have diverse shades, such as red, green, pink, yellow, or russeted.
It looks glossy as it has an epicuticular wax layer outside. The shade of its flesh is diverse when you can catch it in pink, yellowish-white, or green. The sweetness and tartness of it will stimulate your taste buds right away.
Apples have high prices in Korea, so people usually purchase apple boxes to give others presents. Apple is a similar word for "I'm sorry" in the Korean language, so it is a priority to give friends or relatives when you want to apologize.
Nutrients: Rich in calories, carbs, sugar, fiber, fat, and protein.
Season: The fall is the primary season of apples in Korea.
How to eat: It is safe to consume its skin after washing. However, the safest way to eat it is to peel its skin, cut it into small pieces to swallow, and remember to remove its seeds.
Take a trip to Korea to take a closer look at these excellent apples.
13. Korean Pear/ Nashi Pear – Bae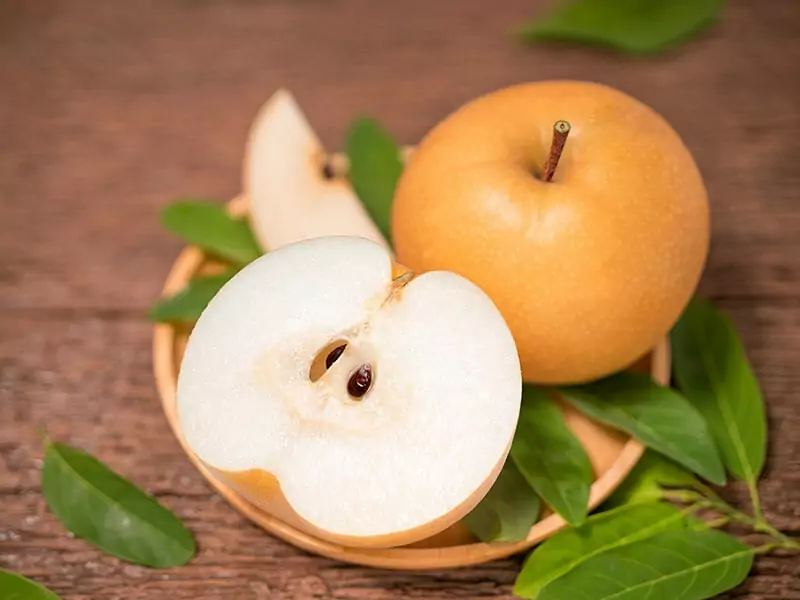 Nashi Pear (Korean Pear, Apple Pear, or Sand Pear) is a fantastic Korean sweet treat after each meal. This fruit is native to East Asia and spreads to India, Nepal, New Zealand, the United States, and Australia. Its flowers are the symbol of spring in this country.
Thanks to the green, pale green, or red skin, you can easily recognize this unique fruit starting with N. It looks extraordinary with numerous tiny spots on the skin. You will love the juiciness and incredible taste of its white flesh. You can feel the sweetness, a bit of acidity, and a hint of floral flavor.
Koreans will not use it in pies or jams because of its high water content, crunchiness, and grainy texture. Typically, people consume raw Nashi Pear after each meal. Moreover, it appears in soy or vinegar-based sauces and beef dishes.
Because of its high price, it becomes a popular gift for your guests or consumed in family gatherings. In Korea, some famous places contain its name, such as The Naju Pear Museum or Pear Orchard for Tourists. The bulgogi will be sweeter and softer with it.
Nutrients: Calories, protein, fiber, sodium, and vitamin C.
Season: Its season extends from December to February or March.
How to eat: The ways to consume it are similar to how you eat apples.
14. Green Plums – Maesil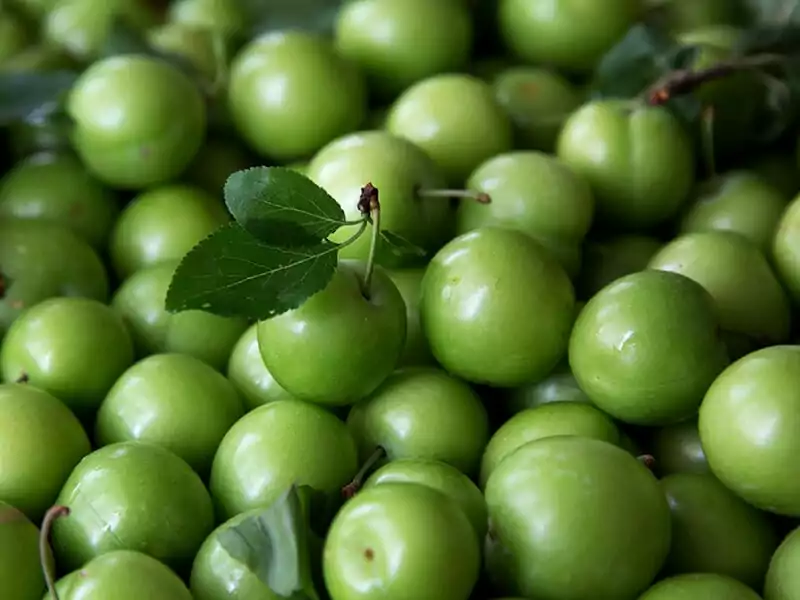 It is an exciting experience to taste the outstanding flavor of Green Plums in Korea. Chinese Pum, Japanese Apricot, or European Plum are other fruit names. It originates from a wild plum specie in Iran.
You can come across it in round-oval form. Typically, its edible flesh is pale green and smooth. You will be impressed by the green or yellowish shades and a pale blue blush on its skin. It looks smaller than round plums and bigger than mirabelle plums.
There is a tiny seed in the middle of this fruit. It is time to immerse yourself in its sweetness and acidity. You can think of the flavor of syrup while trying it. This healthy fruit is a common ingredient in honey plum tea and plum syrup of Korean cuisine.
Nutrients: It includes protein, calories, carbs, fiber, and sugar.
Season: The main season lasts from May to June and you can buy it all year-round in Korea.
How to eat: The most delicious way to eat it is to cut it into thin slices and combine it with vanilla ice cream, yogurt, and honey to eat.
15. Peaches – Bogsung-Aui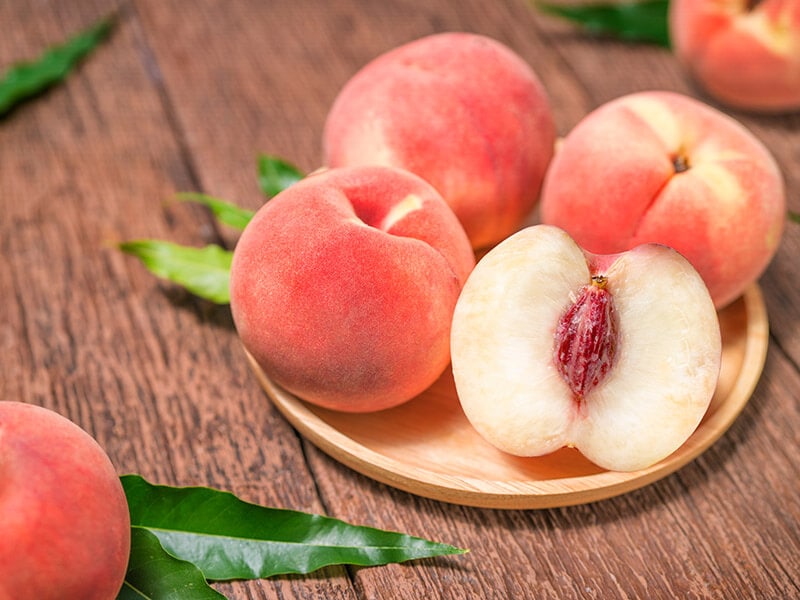 Peach originates in Northwest China and plays a crucial role in many yummy Chinese desserts. This fruit is associated with the tradition and culture of Korea. Koreans consider it the "Fruit of longevity, happiness, honor, and riches".
Orange or red are the standard colors of Peaches' skin. The high-quality part is whitish or yellow flesh with a delicate fragrance. Primarily, it is impossible to consume its firm and large red-brown seed. A wood-like husk will cover its seed.
The wonderful floral sweetness of Peaches will captivate you right away. There are two main types of peaches, including clingstones and freestones. The stone will stick in the flesh in clingstone peaches, which does not happen with freestones.
Nutrients: It includes calories, fat, carbs, fiber, protein, vitamin A, and C.
Season: Summer to Autumn is the best time for peach harvesting in Korea.
How to eat: It is simple to peel the entire skin and consume the flesh around the seed. Or, cut it into 2 parts, remove the seed, and consume its flesh.
Which Is Your Favorite Korean Fruit?
Korean fruits' incredible flavor always makes me want to taste them again. It is hard to resist the attraction of these yummy fruits. After reading this post, I hope you get all the valuable information about famous Korean fruits.
Do you love the delicious fruits I have introduced? Do you know any other fantastic options? Do not hesitate to share them in the comment section. To convey incredible information to many different people, let's share this article. Thanks for reading!