There is just something so comforting about Asian soups. Whenever you feel down due to everyday stresses or the chilly weather that causes your body to shut down, a bowl of these magical delicacies can give you all the necessary nutrients.
Another thing that makes these Asian-styled dishes so beloved is the pure nostalgic aspect. The food not only brings out an explosion of various flavors but also reminds you of that comforting feeling of your past.
Those are the reasons why you cannot miss out on the chance to recreate some of the most popular soups right here. Without needing any complicated steps or ingredients, the recipes can provide so many warm meals for you and your family.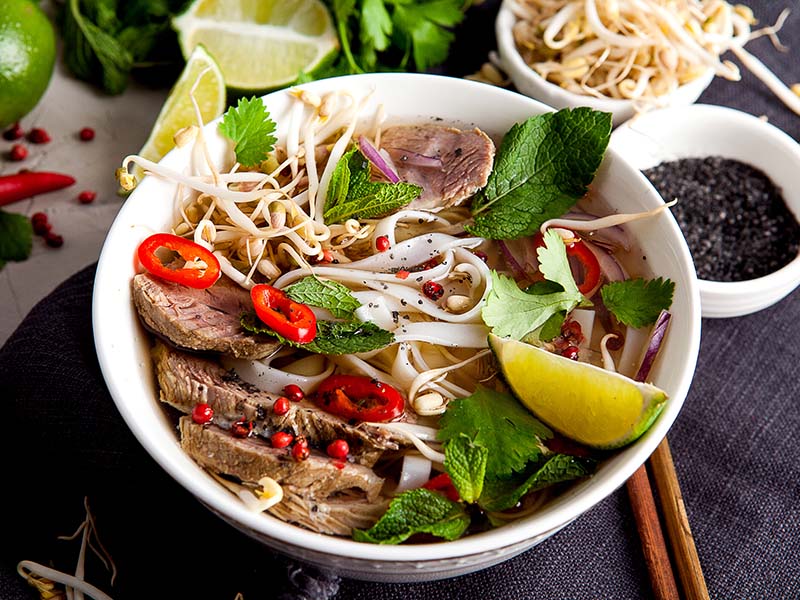 Some Of The Best Soups In All Over Asia
One of the advantages when you want to cook any Asian delicacy is that you can never run out of options. There are so many creative and bountiful recipes to try, and all you have to do is to find the right set of ingredients.
Total time: 1 hour 50 minutes (Including 40 minutes of resting time).
When it comes to staple Korean food, most people would say Kimchi or even Korean BBQ. However, there is another delicacy that is often not as popular worldwide, but in Korea, it's almost an inseparable part of the culture. The name of the dish is Miyeok Guk.
Aside from being part of a standard Korean meal, this type of soup from Korea is also a celebratory dish during birthdays. It's very comforting, delicious, and quick to make. For this variant, the necessary ingredients are sirloin steak, dried seaweed, and garlic.
First of all, if you think the seaweed will make the soup fishy, you're wrong. Instead, you can feel the umami oozing out from the vegetable. It gets even more pleasant when you factor in both beef broth and garlic. Thanks to the soy sauce, the taste becomes even better.
Korean seaweed soup is great when you want to celebrate a birthday.
Total time: 55 minutes.
While delicacies similar to Sam Gye Tang started appearing during the Joseon Dynasty of Korea (14th-19th century A.D), the current incarnation of this recipe made its debut in a book written by Prof. Bang Shinyong of Ewha Women's University in 1917.
At its core, this hearty dish from Korea consists of two parts. The first one is the chicken and the broth that comes from boiling the meat. The meat is super tender, and the stock packs so much protein. One sip of this "elixir" can fill you up with enough energy to last for days.
And the second part is the stuffing, and that's also where this specialty gets its popularity. It's full of delectable ingredients like sweet rice, ginseng, and dried jujube (a type of eastern fruit). They provide so much sweetness and herbaceous fragrance to the soup.
Total time: 15 hours.
Many beloved Korean dishes got their start during the influential Joseon Dynasty (14th-19th century A.D), and this current entry called Seol Leong Tang, is no exception. This soup provides an excellent way to warm yourself up during long winter nights.
The secret to a great Korean Beef Bone soup is to pick out the right components. If you want the soup stock to be rich and irresistible, infuse it with a generous amount of beef bones and beef brisket. They can improve the savoriness of the broth.
Aside from the beef, there are other things you can add to this Korean delicacy to make it more delectable. For example, rice is the standard choice for many Koreans since it can soak up the flavors. Chopped scallions make the soup look better with more color.
Total time: 35 minutes.
For some people, the best part of their week is when they get to go out and party their stresses away. However, this comes with a negative side effect the next day, with headache and nausea being the main culprits. That's why hangovers can be such a problem for most party animals.
That's why Korea has come up with a genius way to help you relieve your hangover with this delicacy called Kongnamul Guk. The feeling of this warm Korean breakfast is enough to kick away the annoying inconveniences. It helps you get back to your feet in no time.
The secrets to Kongnammul's amazing healing factor come from its ingredients, including bean sports, vegetable broth, and Korean red pepper. The inclusion of vegetables in this dish offers a level of freshness that your body needs to detox.
And the red pepper has the power to wake minds up instantly. That spiciness immediately clears your mind of any fogging.
When you want to feel warm inside, just make Kongnamul Guk.
Total time: 50 minutes.
Sometimes, you just want to curl yourself inside a comfortable, warm blanket during those miserable winter days. It's not easy being productive when the weather gets too cold. Well, it's time to say goodbye to those troubling times because I have the right remedy for you.
Thanks to its ingredients, Mu Dwenjang Guk can keep your mind sharp and energetic. First, there is the radish which is quite tender and fragrant, with a slightly bitter undertone. This particular vegetable contains many good nutrients for your health as well.
The best part about eating this is when your taste buds get to meet the broth. In this case, you will feel a heavy emphasis on umami, which is from a combination of dried anchovies and kelp. When you sprinkle in a bit of chili powder, the overall flavor gets even better.
Total time: 25 minutes.
Wonton originated during the Han dynasty of China (3rd century B.C – 3rd century A.D). Since then, thanks to the spread of Chinese culture and the dish's appearance in popular Chinese cookbooks, Wonton has become a popular staple around East and Southeast Asia.
While the Wonton is a very scrumptious meal, you can make it better with the inclusion of a broth (chicken or vegetable is fine). This keeps the Wonton moist and juicy. When you bite into it, you don't just taste the filling but the goodness that gets soaked up into the wrapping.
Apart from Wonton as the main player within this Chinese specialty, the other components play various supporting roles in increasing the flavors and texture of the soup. Bok Choy (Chinese cabbage) is the most notable with the crunchiness and the fresh taste it brings.
If you want to improve the savoriness, just add mushroom, soy sauce, and rice vinegar. The umami and acidity blend so well together.
Total time: 15 minutes.
Why do you have to order take-out when this Chinese Egg Drop soup is so quick to make at home? That's right; this Chinese-styled delicacy is not going to need too much effort since most of the ingredients exist in your home pantry anyway.
While the seasonings can vary from version to version, the core components consistently stay the same. They are whipped eggs, cornstarch, and your preferred type of stock (either vegetable or chicken). Sesame oil is also an essential part of the flavor if you like that nuttiness.
The secret to creating that unique texture in this special Chinese soup is to keep on stirring. When you do that while pouring in the whipped eggs, the action creates little whirlpools and breaks down the mixture into smaller pieces.
The process has the effect of both increasing the creaminess as well as mixing the seasonings like pepper and garlic powder to even out the taste.
Total time: 25 minutes.
The easiest way to wake yourself up during the lazy winter months is with a generous amount of spice. And lucky for you, the Sichuan province of China always offers the best choice, including this delicacy right here called Suan La Tang or Hot And Sour soup.
In case you haven't noticed, the "hot" here doesn't mean the temperature, but more on the heat of the overall flavor. That's because this recipe from China uses both white pepper and chili bean sauce. They might not numb your tongue, but they can give you a strong kick.
Of course, you can't call this specialty "Hot and Sour" without the sour part, which comes from Chinese vinegar. It provides a pleasant tanginess to enhance the palatability of this dish. As for bamboo shoots and dried mushrooms, they help the texture become more fantastic.
Total time: 1 hour 50 minutes.
Compared to other cuts of beef, oxtail can be quite underrated, considering it's at a portion near the rear of a cattle. However, a lot of cuisines try to incorporate the oxtail into their dishes, including China with this entry called Niu Wei Tang.
This beef-focused Chinese dish comes from the southern province of Guangdong. The main ingredients for this version are oxtail, tomatoes, and carrot. When you have a spoonful of the soup, the first thing that hits you straight in the face is the meaty richness.
That's because the oxtail contains a lot of that protein, so you can feel the taste spreading all over your body. The veggies are there to lessen the intensity of the soup and to make it palatable for many people. If the flavor is still lacking, you can sprinkle in some salt and sugar.
This Chinese Oxtail soup recipe feels just like home.
Total time: 7 hours 30 minutes (Including 3 hours of stock cooking).
If you have too much meat, it can cause a bit of trouble to your digestive system in the long run. In that case, you might as well try out this interesting delicacy called Cai Gan Tang. It's a type of vegetable-heavy soup that can help your body balance out the nutrients.
Unlike other recipes, Cai Gan Tang relies heavily on dried vegetables instead of fresh ones. This means you can make this dish any time since dried food can stay on the shelf for a long time. The main components are dried bok choy (Chinese cabbage), dates, and mushrooms.
The most surprising thing about the soup is the texture of these dried veggies. They feel almost like their fresher counterparts. The crunchiness from the bok choy is very apparent even after being dehydrated. The flavors are more mind-blowing since everything feels concentrated.
Total time: 1 hour.
Japan is popular for so many things, including animation, music, and even cuisine. However, most people only know the surface of Japanese culture, including its food. I'd like to take this opportunity to show you that the country is more than just sushi and sashimi.
When it comes to New Year's food, Ozoni is always a must-have. The Japanese signature delicacy is comforting as it exudes such a homely feeling. To recreate the savoriness in the broth, you can infuse water with kombu (dried kelp) and miso (Japanese soybean paste).
This gluten-free Japanese delicacy is not complete with just the broth alone. There are other components that you can use to improve the taste and aesthetic, like radish, taro, and mochi (a special Japanese rice cake). This keeps the texture unique with the softness of the radish and the chewiness of the mochi.
Total time: 20 minutes.
If you're curious about which delicacy truly represents the core of Japanese cuisine, the answer is Miso Shiru or simply Miso soup. It doesn't matter what you do, or where you come from in Japan, Miso soup will be the only thing that connects everyone.
So, why is this soup so important? That's because it's easy to make, and the ingredients are very iconic to Japanese culture, like Kombu (dried kelp), Katsuobushi (bonito flakes), and Miso (Japanese soybean paste).
When you boil these components in a pot, they release a very pleasant fragrance. The taste of this popular Japanese morning meal is not fishy despite the kelp and bonito coming from the sea. The flavor is even more pleasurable when you add the funky miso paste.
The broth goes especially well with small tofu cubes and seaweed. The tofu offers a soft texture with its mild nuttiness. The seaweed can be very fun to bite into since it's quite rubbery.
This Miso soup makes a great accompaniment to your main dish.
Total time: 35 minutes.
Creating a type of hot and sour soup is not something that only China is good at. Thailand is also the home of another similar delicacy called Tom Yum soup.
The origin of this soup dish from Thailand comes from two different Thai words, "tom" and "yum". "Tom" usually means the boiling process, while the "yum" means mixing ingredients to create a blend of sweet, spicy, and sour.
As you can guess from the name, Tom Yum soup is going to bring a variety of flavors to make this dish more exciting. First, the sourness is a combination between lime and tomatoes. The acidity enhances the delectability to a higher level.
The sweetness is quite special because, aside from the familiar sugar, you can feel another side that comes from chicken stock. And for the spiciness, it's always birdseye red chilies that pack the most punch to your taste buds.
Total time: 55 minutes.
If you prefer dishes with a bit more visible texture like creaminess, then this Thai-styled specialty is going to fit your criteria nicely. Tom Kha Gai can be considered a variation of the hot and sour soup, although the earlier version in the 19th century wasn't soupy.
Generally speaking, Tom Kha Gai still has the familiar trio of sweet, sour, and spicy that exists in Thai cooking. The sweetness comes from either brown sugar or coconut sugar. When you mix that with the tartness from lime juice, the flavors get even better.
Of course, the thing that makes this Thai delicacy stand out is its generous use of full-fat coconut milk. The blending between the richness in the chicken and the thickness of the milk is what attracts so many people to Tom Kha Gai in the first place.
Total time: 57 minutes.
It would be such a huge mistake if I didn't mention any unique curry dishes that Thailand has to offer. One of the most notable examples is, of course, the Thai Green curry. This delicacy looks and tastes so much different compared to other curries around the world.
First, you need to prepare a special green curry paste consisting of green chilies, cilantro, and lime leaves. Rather than exuding a certain level of heat like normal red curry paste, this one tastes more herbaceous and zesty. You still find a hint of spiciness, but it's not too intense.
To make the broth base of this special curry in Thailand, you boil coconut milk before adding the curry paste and other seasonings (brown sugar and fish sauce) to taste. In this recipe, the preferred protein choice is chicken since it's both sweet and rich.
When the curry thickens up in a pan, you know it's ready to serve. The best way to eat Thai Green curry is with a side of rice. The rice makes the texture more delightful.
Total time: 55 minutes.
A great thing about Indian, or South Asian cuisine in general, is that most of its dishes pack so many exotic and irresistible flavors. It's understandable since some of the most popular spices in the world originated from the Indian subcontinent.
And if you want to experience that explosiveness of Indian cuisine, look no further than this entry right here called Indian Mulligatawny soup. The term "mulligatawny" means "pepper water" in the Tamil language.
Despite not featuring any sort of meat, this scrumptious Indian dish makes up for it with a multitude of fragrant seasonings, like paprika, ground cumin, and ground cinnamon. Just these alone can turn your kitchen into a culinary garden with how good it smells.
As for the rest of the ingredients like jalapenos, onion, and tomatoes, they can improve both the texture as well as the freshness of the soup. Tomatoes can also provide a side of umami.
This tutorial on Mulligatawny soup is great for vegetarians.
Total time: 20 minutes.
When you're feeling a bit down to do anything worthwhile for the day, you don't want to make a complicated meal. Well, don't worry since this recipe right here is not only easy to cook, but the warmth and comforting feeling of it can heal your soul very quickly.
Unlike the normal tomato soup, this South Asian-inspired specialty can fill you up better with creamy coconut milk and a variety of aromatics (cayenne pepper, turmeric, and garlic). The consistency of coconut milk keeps the soup from being too diluted.
When you take a spoonful and put it in your mouth, the wave of delight just washes over you. The spiciness from cayenne pepper wakes you up, while the pungency of the garlic immediately clears your mind. The smoothness of this tomato soup helps the flavors spread even better.
Total time: 3 hours 30 minutes.
When the final leaf falls from the tree, you know another period of cold and dry months is going to fog up your mind. This can mean two things: One, you will need to prepare more winter clothes Two, it's also time to make a bowl of Vietnamese noodle soup or Pho.
If you're familiar with Pho, you will understand the importance of its broth. Since you will spend a lot of time cooking that magical elixir, you should pick out the best ingredients to extract the most flavors.
In this version, the stock includes oxtail, beef brisket, and various aromatics (star anise, cloves, and cinnamon stick). The beef parts offer the typical richness, while the aroma improves the fragrance. There is another version of Pho that uses chicken as the main ingredient.
Not only the cooking part but the serving is also just as important. Most Pho comes with a special noodle variety in Vietnam, raw onions, and cilantro. Place them inside a bowl and quickly pour the broth over. This heat makes the Pho taste even better.
Total time: 3 hours.
If you're a person who likes to add some spiciness to your life, I have the right Vietnamese-styled delicacy recipe for you. Introducing Bun Bo Hue, a delicacy that comes from the central region of Vietnam. It's meaty, spicy, and most importantly, so delicious it's going to conquer your palate.
Upon a first look, the recipe might come across as a bit too complicated for beginners. However, don't fret since most of the steps are not too confusing. You just need to find the right ingredients like beef bones, beef shanks, and chicken bouillon (chicken stock powder).
These three make up the base of the broth. But it's not enough to build up the savoriness of this tasty treat since you have to make a special chili oil called Sate, which includes cooking oil, paprika, and fish sauce. The spiciness adds a lot to the palatability.
This Bun Bo Hue is a recipe you cannot miss out on.
Total time: 45 minutes.
There are many ways to experience an authentic recipe coming from Vietnam, but nothing is more iconic than a bowl of Vietnamese Sour soup or Canh Chua on the dinner table. This delicacy has a unique ability to evoke a sense of nostalgia in many Vietnamese around the world.
What makes Canh Chua so good is how the soup can blend both sourness and sweetness to create a spectacular sensation. The sourness mostly comes from the special tamarind-based powder. It's never too intense, but you can still taste the tang.
And for the sweetness, it's mostly from sugar and chicken powder. The chicken powder essence gives a lot of depth to this dish. For Canh Chua, fish is always the best option for protein since the fat from the fish adds richness to the soup.
Total time: 15 minutes.
In a lot of Asian countries, soup doesn't just mean savory delicacies. There is a subsection of soups that can be considered desserts. And one of the most notable examples is the Black Sesame soup or Hei Zhi Ma Hu from China.
This little Chinese sweet treat has a very delightful consistency, with a huge emphasis on thickness and creaminess. To get your dessert to be like that, you mix the black sesame seeds with rice flour and water.
The rice flour can thicken up any liquid. This means if you boil the mixture in a heated pan for just the right amount of time, the soup turns into a very viscous concoction. As for the sweetness, you can add honey (or sugar if you don't have honey).
Total time: 1 hour 40 minutes.
If the essence of black sesame seeds is too strong for your taste, you might be interested in this alternate recipe called Red Bean soup. Thanks to the starchiness of the beans, you won't feel the intensity of the nuttiness anymore.
Most Chinese-styled desserts tend to be simple in both ingredients and preparation. That means you won't have too much trouble recreating this delicacy. You only have to get red beans, longan, and Sago (a type of starch similar to tapioca starch).
First, you boil the longan and red beans before tossing the sago in. During the cooking process, the starch from red beans can seep out and thicken up the broth. Finally, add the sugar according to your taste. This dessert is perfect for both summer and winter.
Total time: 1 hour 5 minutes.
Red bean soup is not a dessert exclusive in China since Japan has its version called Zenzai. While the base of both versions consists of red beans, Zenzai is different in that it has Mochi, a very stretchy type of rice cake in Japan.
This satisfying Japanese dessert requires you to get a type of red beans called Adzuki beans, Mochi, and sugar. And for the preparation, you still have to boil the beans until they soften up. This step will release most of the sweet and nutty flavor into the broth.
Instead of adding the Mochi into the boiling soup, use a microwave or oven to grill the rice cake until you get a caramelized surface. This has the effect of giving the soup a slightly smoky flavor. Season the soup with sugar and salt to taste, but I suggest not adding too much salt.
Zenzai might be a great Japanese-styled dessert after your main meal.
Total time: 25 minutes.
The thing that I love most about cuisine, in general, is that you get to discover so many unique dishes around the world. And when you see something so delectable, you just want to run straight to your kitchen and make it. That was my first reaction when I saw the Bilo-Bilo.
The most obvious thing you will notice about this dessert from the Philippines is the soup broth. It looks so creamy and delicious that you just have to take a sip. That might be your first mistake since the flavors will trap you forever. That richness of coconut is irresistible.
The experience does not just end there yet when you still have to taste the tapioca pearls and sweet potatoes at the same time. The pearls are pretty gelatinous, which can make chewing more fun. Oh the other hand, the sweet potatoes are starchy and satisfying in a way.
The Taste Of Asian Soups Is Insanely Delicious!
There is a reason why people love to make soups when they don't feel well. The warmth, the flavors, and the general healing nature of soups keep people's spirits up. That feeling is quite similar to the food your mother and grandmother used to make.
With the help of the Asian-inspired recipes above, I hope your menu options will never be too limited. After all, your mealtime only gets better when you can experience different cuisines each day.
And that's where I will be ending today's topic. Let me know in the comment which of the above entries you'd like to make. If you like it, come back and give this article a like and a share on your social media. Until you and I meet again, stay tuned for more!
Nutrition Facts
4 servings per container
---
Amount Per ServingCalories642
% Daily Value *
Total Fat 34.6g

53

%
Cholesterol 169mg

57

%
Sodium 663mg

28

%
Potassium 129mg

4

%
Total Carbohydrate 36.6g

12

%

Dietary Fiber 5.2g

20

%
Sugars 1.5g

Protein 44.3g

88

%
---
* The % Daily Value tells you how much a nutrient in a serving of food contributes to a daily diet. 2,000 calories a day is used for general nutrition advice.