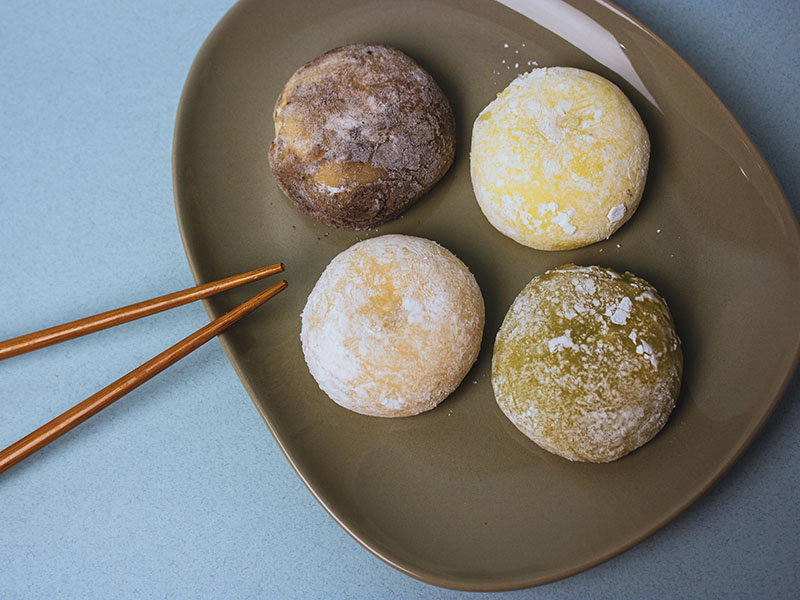 To be added to the list of gluten-free Japanese recipes, the dish can't contain some of the staple ingredients in Japanese cuisine like wheat flour and Shoyu (Japanese soy sauce).
Unfortunately, saying goodbye to wheat flour means you can't eat Ramen, Udon, or Tempura. And Shoyu is in almost every recipe in Japanese food culture. Therefore, can't you enjoy these as well?
Well, the answer is "you can". And this list of 18 gluten-free Japanese dishes is totally able to help you. You can find every taste in this dish, from sweet confection to savory hot pot. Are you ready to find out what to have for your next gluten-free meal?
Gluten-Free Japanese Dishes To Avoid Sad Stomachache
Celiac disease or any gluten sensitivity are autoimmune disorders like lactose intolerance. They are annoying, and they can come out from nowhere. One day, you are fine; the next day, you can't even tolerate a single piece of white bread.
The sad thing about Japanese dishes is that the Japanese use a lot of wheat flour in their food. People have it in their noodle soup, hot pot, and even in their batter for deep-fried foods.
However, it doesn't mean that you can't enjoy Japanese cuisine with your current statement. These 18 gluten-free recipes can prove that without gluten, your craving for Japanese food can still be satisfied without any change in taste.
Total time: 25 minutes.
If you worry about whether the regular cheesecake has gluten components, you can come to this version instead. And this sweet treat is not from North America or Europe. It's an iconic Japanese dessert created with Yoshoku cuisine (the modern food culture of Japan).
Japanese cheesecake has a less sweet taste and softer texture than regular Western cheesecake. The key is in its sugar content. Besides sugar, people also use less cheese in this Japanese variation.
This Japanese culinary highlight of cheesecake involves whipping the egg yolk and egg white separately. This act promises a fluffy texture for the cake. Traditionally, people in Japan use kitchenware named "bain-marie" (water bath) to bake their cheesecake.
However, you don't have to equip that big pot to make this dessert. In this recipe, you can use a cooker (instant pot) to make the cheesecake in about 20 minutes. With just eggs, cream cheese, chocolate, water, and a bit of effort, your afternoon snack is ready.
Here is an instruction on how to make Japanese cheesecake with your oven.
Total time: 45 minutes.
The biggest reason why you can't eat regular Karaage, which is an ideal chicken dish of modern Asian cuisine, is the gluten content of the batter. Therefore, replacing regular wheat flour in the recipe is a must if you want to enjoy this unique Japanese chicken dish.
The difference between Karaage and Western fried chicken is the fact that people marinate boneless pieces before coating them with flour. Those chicken pieces will be deep-fried after that, and the result is prominently crispy but still can keep its tenderness.
To flavor your chicken, you need to marinate them for at least 30 minutes. The marinade usually consists of minced garlic, grated ginger, Shoyu (Japanese soy sauce), salt, and Sake (Japanese cooking rice wine).
Determining which Shoyu to use is important since it is an irreplaceable condiment in Japanese cuisine. You need to make sure to use Tamari Shoyu since it doesn't contain gluten like other types of Shoyu.
Usually, people cover the chicken with flour and potato starch, but with gluten-free recipes, you only use potato starch for this coating process. It is a frequent substitute for other types of flour.
Total time: 45 minutes.
I'm sure that everybody has heard of Tempura at least once in their life. Tempura is a classic appetizer from Japanese cuisine. There are many types of it; the shrimp-based one in other Japanese dishes is just the tip of the Tempura iceberg.
To make Tempura, you need to prepare the batter from flour and eggs. The technique of deep-frying Tempura is actually the explanation for its enigmatic crispy texture. You need to submerge the Tempura in hot oil right after battering it.
The gluten-free version of Tempura doesn't differ much from the normal one. You just have to replace the wheat flour in the batter with cassava flour (or rice flour). The crunchiness and the taste are still the same, so you don't have to worry about that.
Another thing that you need to note is the sauce. You can dip Tempura in the mix of Mayonnaise and hot sauce or Ponzu sauce (a traditional sauce of the Japanese). With the sauce, you also need to check the gluten content in the ingredients.
Total time: 24 minutes.
Mochi is a customary food that you might have heard of before. The Japanese make this cute sweet in some of their specialties. And since it is made of glutinous rice, you don't have to worry about how much gluten it contains.
To make Mochi at home, you need to prepare glutinous rice flour, sugar, salt, and cornstarch. The recipe is so simple that you can finish making it in under 30 minutes.
There are many types of Mochi; some of them have fruits or bean fillings while others don't. However, to make good Mochi, you need to master making the rice coating. Therefore, this recipe will teach you how to make Matcha Mochi which is a good basic form.
One of the very famous Mochi types is Mochi ice cream which is Mochi with ice cream filling. This dish was invented by a Japanese-American woman named Frances Hashimoto, and it has become one of the globally iconic Mochi types.
Mochi ice cream is a perfect dessert for a hot afternoon, so you should try to make some.
Total time: 30 minutes.
Since Udon and Ramen are made of wheat flour, you can't consume these as foods without gluten. It's a sad story the more you think about it, but let me give you some good news. There are six more types of noodles in Japanese cuisine, and one of them is Shirataki.
Shirataki is made from Konjac starch, and it is totally gluten-free. In fact, compared with other noodle types, Shirataki is much healthier, and it is beneficial to consume if you are on a diet.
The Japanese are keen on making this dish during the hot summertime. With Shirataki noodles, summer vegetables like tomatoes and cucumbers, and boiled eggs, you can make a simple dish of Shirataki salad in just 30 minutes.
You also need to make the dressing sauce for the dish. The sauce is also easy to make with soy sauce, honey, sesame seeds, and vinegar. It delivers the sour-and-sweet taste along with a bit of saltiness to the dish.
Total time: 8 minutes.
If you need a colorful and appetizing meal for your breakfast, then Soboro Donburi is what you need. This recipe is one of the best Japan-originated morning meals. With the savory food on top and the rice underneath, this dish can give you all the energy you want for your morning.
The three colors in its name imply the main three components, including yellow scrambled eggs, green vegetables, and brown stir-fried ground meat. The vegetables can be green beans or spinach, while the meat can also be ground chicken, pork, or beef.
Intrinsically, Soboro Donburi is gluten-free with all of its elements. You can even decorate the dish with a bit of red with Beni Shoga (pickled ginger). The combination of salty food on top, mildly sweet rice, and sour ginger can give you the satisfaction that you always seek in food.
Total time: 15 minutes.
In Japanese, "soba" means "buckwheat", a pseudo-grain that doesn't contain gluten. Therefore, you can happily enjoy your Soba noodles. And today, allow me to introduce you to Zaru Soba, which is one of the best recipes to enjoy the nutty taste of Soba.
Zaru Soba is simply boiled Soba noodles with water, and then let it chill with cold water or with ice. The best thing about Soba is the fact that this noodle is not as sticky as others since it is not starchy at all.
Another crucial element of this dish is its sauce. People often make the salty and sweet Tsuyu sauce to go with this dish. Tsuyu consists of Dashi stock (a traditional Japanese stock), soy sauce, and Mirin (the sweeter cooking rice wine, compared with Sake).
To increase the variety of flavors, you should boil different types of Soba. If you enjoy green tea aroma, then Cha Soba is what suits you. And in case your favorite color is pink, Ume Soba can satisfy you with its plum flavor.
Total time: 15 minutes.
Since I have already shown you how to eat chilled Soba, let me fulfill my duty by giving you a recipe for hot Soba noodle soup. Toshikoshi Soba is how the Japanese start their year with the hope for a better and luckier future.
Eating Toshikoshi Soba is one of the Japanese customs, and it first started in the Edo period (1603 – 1867). To make the traditional Toshikoshi Soba, you need to prepare Dashi stock, soy sauce, Mirin, Sake, and salt.
For garnishing, you need Kamaboko (the Japanese pink fish cake), Wakame seaweed (pieces of dried seaweed), scallions, and Shimichi Togarashi (Japanese seven colors spice) if you can tolerate spiciness.
In some places, people also add shrimp Tempura to the dish to wish for the color yellow. The dish has many meanings with its decoration. Therefore, I recommend you try this interesting Japanese tradition if you have time.
Total time: 45 minutes.
Katsu is a representative recipe of Yoshoku cuisine due to how popular it is. Some people say Katsu is a cutlet (croquette with mincemeat) in the Japanese style. But the problem with the cutlet is its breadcrumb coating which is full of gluten.
To make this dish gluten-free, you need to change the regular breadcrumb to the gluten-free one. You can also choose other alternatives like almond flour or blended potato chips. You also need to check the soy sauce that you use in your sauce as well.
Chicken breast is the favorable part to make Chicken Katsu. With just salt, black pepper, and your breadcrumb alternative for seasoning, you can turn that piece of chicken breast into a tasty and crunchy culinary achievement.
I have some tips to share about making Chicken Katsu. You can either bake or deep-fry your chicken breast. It is optional and totally depends on you. Also, after deep-frying, you need to let your chicken rest a bit so the crispiness can properly develop.
There are two ways for you to savor Katsu with sauce. The first method asks you to cut the meat into pieces and dip each piece in the sauce. The second method is more common in Japan, which is pouring the sauce on the cutlet.
If you don't want to bake your chicken katsu, you can deep-fry it like this instruction.
Total time: 45 minutes.
Teriyaki is a special sauce in Japan. People use this sauce for marinating, seasoning, dressing, and dipping their food. You can see this classic Japanese sauce in every grilling dish.
To make Teriyaki sauce, you need to mix Sake, Mirin, soy sauce, and sugar. Grated ginger and minced garlic are also suggested as aromatics. If you want to use Teriyaki as dressing or dipping sauce, then adding cornstarch for thickening is necessary.
In this recipe, you need Teriyaki for marinating your steak. You can use any kind of steak that you want, but the best option is still the ribeye steak since this is the most flavorful part. The steak will taste sweet and sour after being submerged in this marinade.
Some more tips for cooking the steak are grilling it with coal and constantly controlling the internal temperature with the instant-read thermometer. The crunchy and juicy meat filled with the aroma of soy sauce and Sake is irresistible.
Total time: 30 minutes.
Most of the time, you can't eat pizza because of its dough. This part of the pizza is made of wheat flour like bread, so it's absolutely not gluten-free. Well, I can propose to you one of the best solutions: Tofu Pizza.
Instead of having the bread dough, the bottom of this pizza is made of firm tofu. Tofu pizza is one of the versatile Japanese-inspired tofu recipes. Tofu Pizza allows people to enjoy their pizza while ingesting healthy tofu.
To make this dish, you need to buy firm tofu for the dough and other toppings like tomato, ham, cheese (mozzarella and parmesan powder), mushroom, and ketchup. With this recipe, you will use your pan to fry the pizza, and it takes less time than normal pizza baking.
Tofu Pizza is small and square instead of being a big wheel like regular pizza. But I can guarantee you that its sweet-and-sour taste will not disappoint you when you take a bite.
Total time: 25 minutes.
Another gluten-free member of Yoshoku cuisine that I have to mention is Omurice. This special omelet is famous around the world due to its exotic look: a pouch of watery yolk on top of a small hill of fried rice. However, Omurice basically indicates fried rice with an omelet.
Omurice doesn't contain anything that includes gluten. Also, this dish is simple and can be prepared in under 30 minutes. Japanese people enjoy this dish as their breakfast or lunch since it's very nutritious and looks nice to start the day.
To make this dish, you need to prepare the fried rice and the omelet. Fried rice often includes mushroom, onion, carrot, and some other condiments. People often add chicken broth in to moisturize the rice.
Omurice is simple, but you might need some attempts to perfect this dish with its popular serving. You might overcook the egg by hesitating with the flipping part since the technique is too complex. A solution for you is making a regular flat omelet and rolling it with your rice.
And top-notch of this dish is the ketchup drizzle on top of the egg. You can try to turn it into a meaningful message to your loved ones. And with the perfect savory flavor of this dish, I'm sure they will be so proud of you.
Making the omelet part might take you a few tries, so here's a visual instruction for you.
Total time: 30 minutes.
Besides Teriyaki, Yakitori is also a famous BBQ sauce of the Japanese. The components of this sauce are similar to Teriyaki. Some people think they are the same, but they are not.
The addition of Mirin in Yakitori makes it more suitable for chicken meat. The "tori" in the name means "bird" in Japanese. With Teriyaki, people prefer adding honey or ginger and garlic for more flavors.
Chicken Yakitori is a representative chicken dish in Japanese theme that you don't have to worry about its gluten content. Maybe the soy sauce in Yakitori is the only thing that you need to check. To make Yakitori sauce, you need Sake, Mirin, soy sauce, and sugar.
People rarely use Yakitor for dipping like in this recipe; the sauce is for marinating the chicken. I recommend you leave that chicken in the sauce overnight so the flavors can seep deep into the meat.
After grilling, the chicken tastes flavorful while the meat is tender. Additionally, this dish is the ideal Japan-style snack on rainy days. The Japanese love having a beer with friends while munching Chicken Yakitori.
Total time: 20 minutes.
Dango and Mochi share a certain number of similarities. Both are made of rice flour, and both belong to the Wagashi (sweeties that eat with green tea) category in Japanese cuisine. However, they are not the same confection due to their appearances and compositions.
Regarding the appearance, Dango is usually skewed and grilled before serving with sauce. Like Mochi, there are many types of Dango due to the flavor of the rice cover and the fillings.
Traditional Dango is a mixture of rice flour, glutinous rice flour, and Uruchi rice flour. These days, the more common recipe includes glutinous rice flour and silk tofu. The latter method gives you a more moist Dango compared to the former.
There is no gluten content in Dango due to its ingredients for both recipes. If you want to add more sweetness to your Dango, you can blend some sugar with your rice flour before watering it. Another method is to make the dipping or dressing sauce for your Dango.
The sauce that is specifically used for this dish is Mitarashi sauce (sweet soy sauce). To make this sauce, you need soy sauce, Mirin, sugar, and water. Having this sauce on Dango gives you a salty and sweet taste that is suitable for being a dessert or an afternoon snack.
Total time: 20 minutes.
Kenchinjiru is a piece of evidence to show how important tofu is to Japanese cuisine. This vegetable and tofu soup is the epitome of the Shojin Ryori food culture (Japanese Buddhist cuisine).
Legend has it that a monk from Kenchiji temple once dropped his tofu while making vegetable soup. He insisted on cooking the mashed tofu, and he figured out that the broth tasted so much sweeter than regular veggie soup.
This soup is gluten-free as long as the soy sauce for the broth's base is gluten-free. Typical ingredients for the toppings include tofu, carrot, Saitoimo (Japanese taro), and shiitake mushroom, while the broth needs soy sauce, Dashi stock, Sake, and salt to make.
Kenchinjiru is one of Japan's favorite soups during the winter season. It is also a vegan and totally keto-friendly soup. The taste of the specialty is umami-packed and slightly salty. It is elegant and warm, which gives you a comfortable feeling.
Total time: 50 minutes.
When people start to talk about notorious rice recipes in Japan, you have to mention Sushi. Sushi first appeared during the Edo period. It was once a common fast food of the Samurai class. This dish is a gluten-free food since its two principal ingredients don't contain that protein.
To make Sushi, you need to prepare vinegared rice. The "vinegar" is a combination of sugar, salt, and rice vinegar. The accompanying food is usually on top of the rice. People prefer using seafood or vegetables for this purpose.
In this recipe, you will learn how to enjoy the modified Sushi recipe with crab, avocado, and cucumber. This dish is gluten-free and rich in vitamins and minerals.
Sushi is often served with other side dishes like Tempura, pickled food like Gari (pickled ginger), or Takuan (pickled radish). You also should prepare dippings sauce. The Japanese often use Wasabi and soy sauce for Sushi.
Total time: 1 hour.
One of the greatest culinary creations from Asia is dumplings. The Japanese created their own distinctive dumpling and named it Gyoza. Originally from China under the name Jiaozi, Gyoza has evolved and become drastically different from its parents.
Gyoza is a dumpling with a wrapper made of wheat flour, salt, and oil. Therefore, to make it gluten-free, you need to change the wrapper recipe to rice flour. In this recipe, you need to prepare a combination of sweet rice flour, chickpea flour, and tapioca starch.
The wrapper of your Gyoza needs some of your effort to endure the cooking process. There are two main steps to cooking your Gyoza. The first one is to pan-fry the dumplings until their wrappers turn brown. The next step is to add water and let the Gyoza simmer in that liquid.
This cooking procedure promises you to get a chewy wrapper. With the versatile filling that can be made from ground pork, chicken, shrimp, or tofu, Gyoza can prove to you why it is one of the best appetizers from the Japanese.
There are many styles of folding Gyoza that you should try.
Total time: 15 minutes.
I think the last thing that you want to get is crunchy munchies for a late-night snack or a Netflix-and-chill day with your fellas. You should choose this nutritious and homemade lotus root chips over those processed bags of gluten-free potato chips.
The Japanese lotus root plays the main role in many dishes like Karashi Renkon (lotus root with Japanese mustard) or Chikuzenni (simmered chicken and vegetables). It looks interesting, beautiful, and rich in vitamins and antioxidants.
To make Renkon Chips, you need to season your sliced lotus root with Shimichi Togarashi. You should also prepare a dipping sauce like Ponzu sauce or Amazu sauce (a sauce made from soy sauce, sugar, Mirin, Sake, and rice vinegar).
After air frying the lotus root, the result comes out crispy, slightly aromatic, and tasty. Its flavor is even better than regular gluten-free chips.
Making Gluten-Free Japanese Food Is No Longer A Hard Task
If you ever think that having an autoimmune disorder prevents you from enjoying Japanese foods, then I have to disagree with you. This list of 18 recipes has proved the opposite statement.
You now know how to make Japanese appetizers, desserts, and even late-night snacks. They are all gluten-free and waiting for you to start to make and try them.
I hope that this post has given you what you desire to know. And if you want to share your thoughts with me, please don't be shy to leave a comment. Also, in case you find this knowledge valuable, why don't you share it with your friends and family members?
Anyway, that is the end of today's topic. Until next time, take care!
Nutrition Facts
4 servings per container
---
Amount Per ServingCalories571
% Daily Value *
Total Fat 35.9g

54

%
Cholesterol 110mg

37

%
Sodium 1383mg

58

%
Potassium 82mg

3

%
Total Carbohydrate 43.5g

15

%

Dietary Fiber 0.9g

0

%
Sugars 1.3g

Protein 17.8g

34

%
---
* The % Daily Value tells you how much a nutrient in a serving of food contributes to a daily diet. 2,000 calories a day is used for general nutrition advice.